Atrium Lounge high tea
Update: PARKROYAL Collection Marina Bay has renamed Atrium Lounge to Portman's Bar. Their high tea offerings now differ, and what is mentioned in this article is no longer available.
My friend and I were floored by the architecture when we visited PARKROYAL COLLECTION Marina Bay to try the all-new Peppermint buffet. I determined to get us a table in one of the gorgeous birdcage pavilions that dot the fourth floor lobby here. When I found out that the Atrium Lounge serves high tea every day from 3pm to 5:30pm in these pavilions, I danced a happy jig in my mind.
I dig all things fanciful, gimmicky, and pretty. If I wasn't sold enough on the private table in the birdcage, I definitely was when I got told that the high tea set comes in a picnic basket. Do note that there is a minimum spending of $100 at the high tea, if you want to reserve the table in any of the birdcage pavilions.
Lime Restaurant Afternoon Tea Review: $29++ Per Person With Bak Kwa Scones And Earl Grey Tarts
Food at Atrium Lounge
This is high tea set, dubbed Picnic In An Oasis, is priced at $38++ per person, with 10 different items to munch on.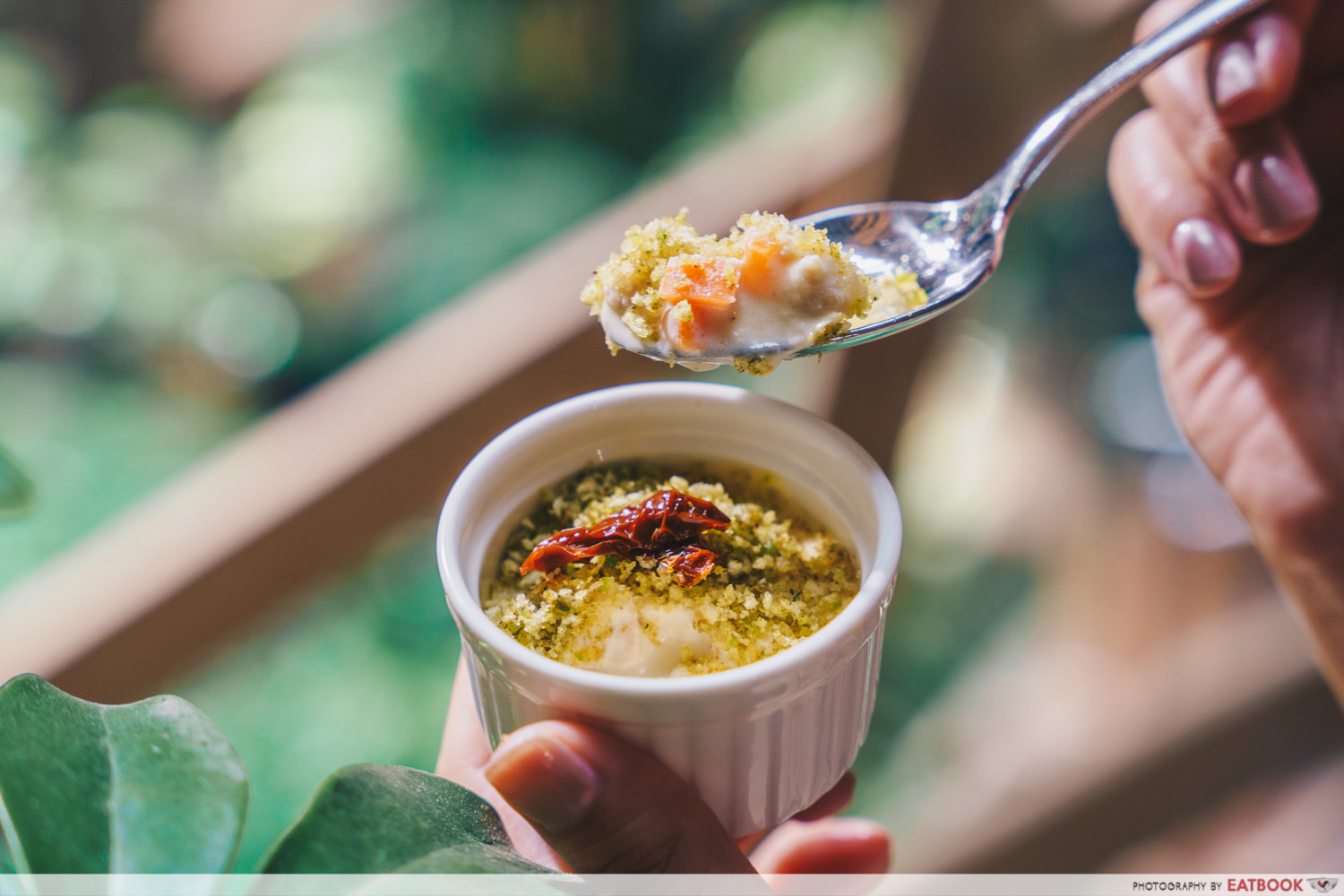 I personally found the Cranberry Jasmine Tea Scones to be dense, cakey and a little dry, and the accompanying mascarpone cream to be rather sacrilegious. This was quickly remedied when I moved on to the Forest Mushroom and Chicken Fricassee with Herb Crumbs, a chicken pot pie-like concoction which I wished for a bigger portion of.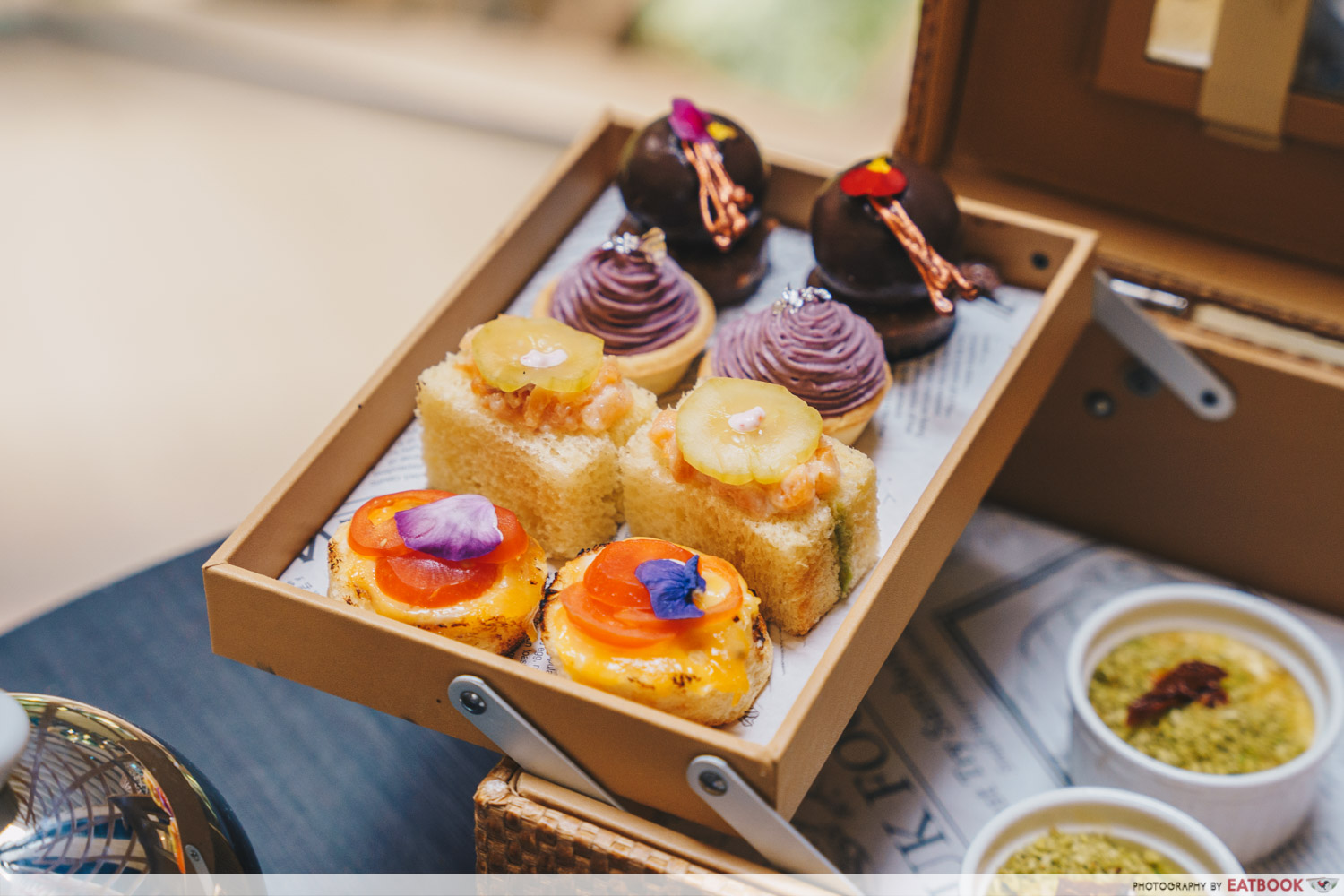 While I am almost always Team Savoury, the Pulled Smoked Wagyu slider fared averagely. The Salmon and Avocado, Pickled Cucumber and Tobiko Mayo Sandwich, and Tomato, Cream Cheese and Edible Flowers in an Open-Faced Sandwich were toothsome and flavourful indeed, but we found the bread a little bit stale.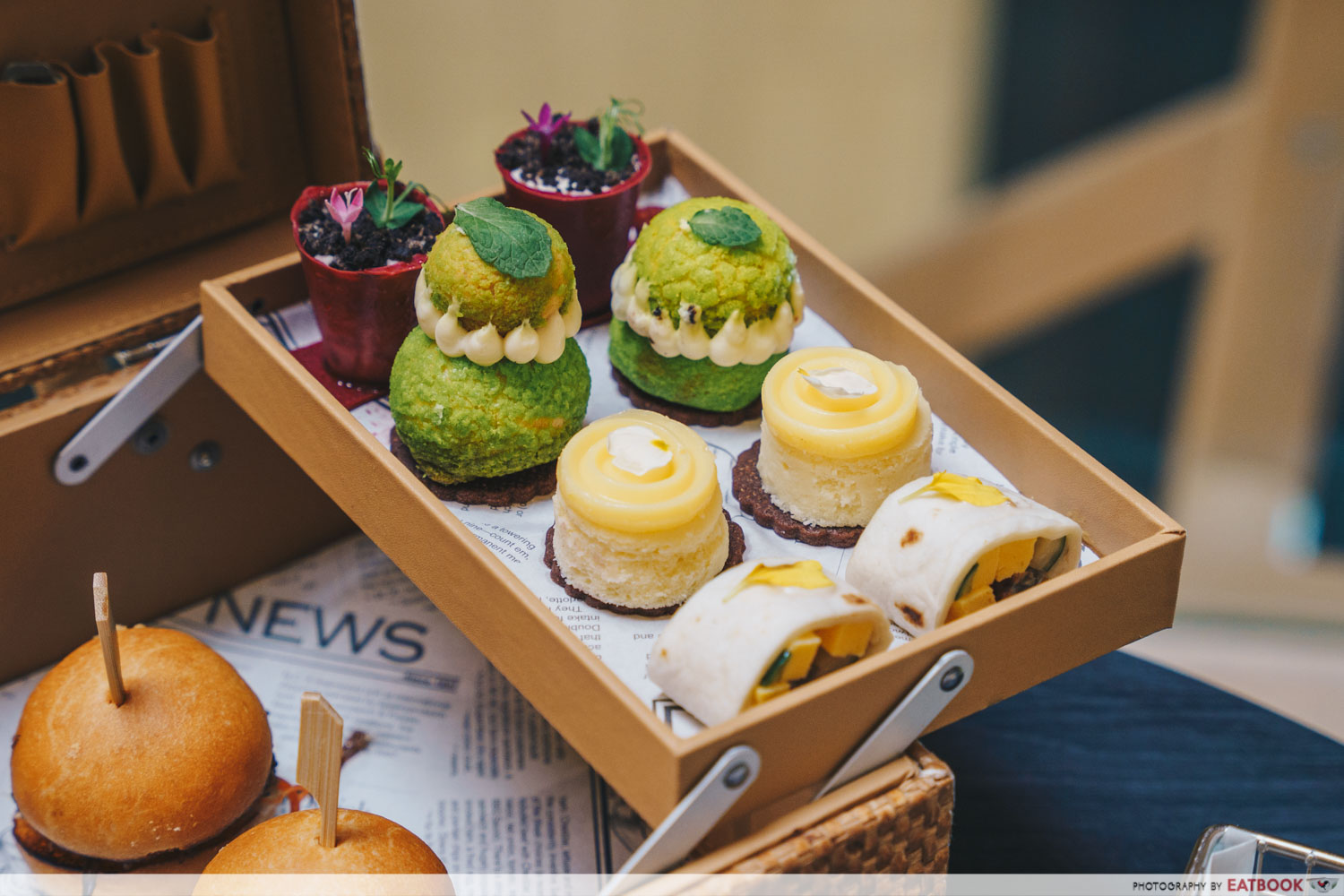 Much to my amazement, it was the sweets that stole the show at the Atrium Lounge High Tea. I say amazement because that's where I am almost always disappointed at other high teas.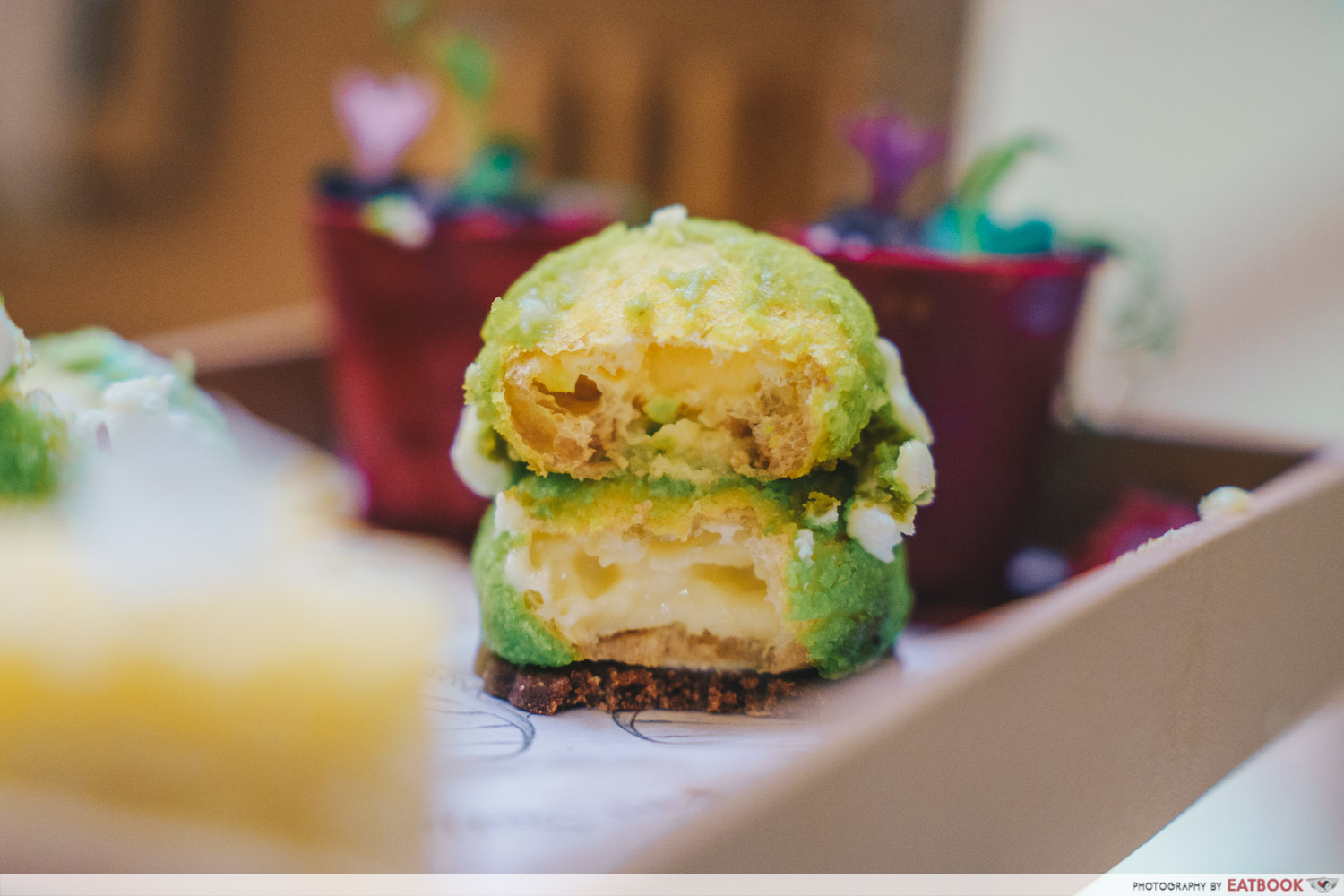 The Peppermint Passionfruit Choux Puff looks a little off-putting at first sight, owing to the shades of neon green craquelin on the choux. Our initial apprehension was ill-founded, because the passionfruit and mint was a refreshing pairing.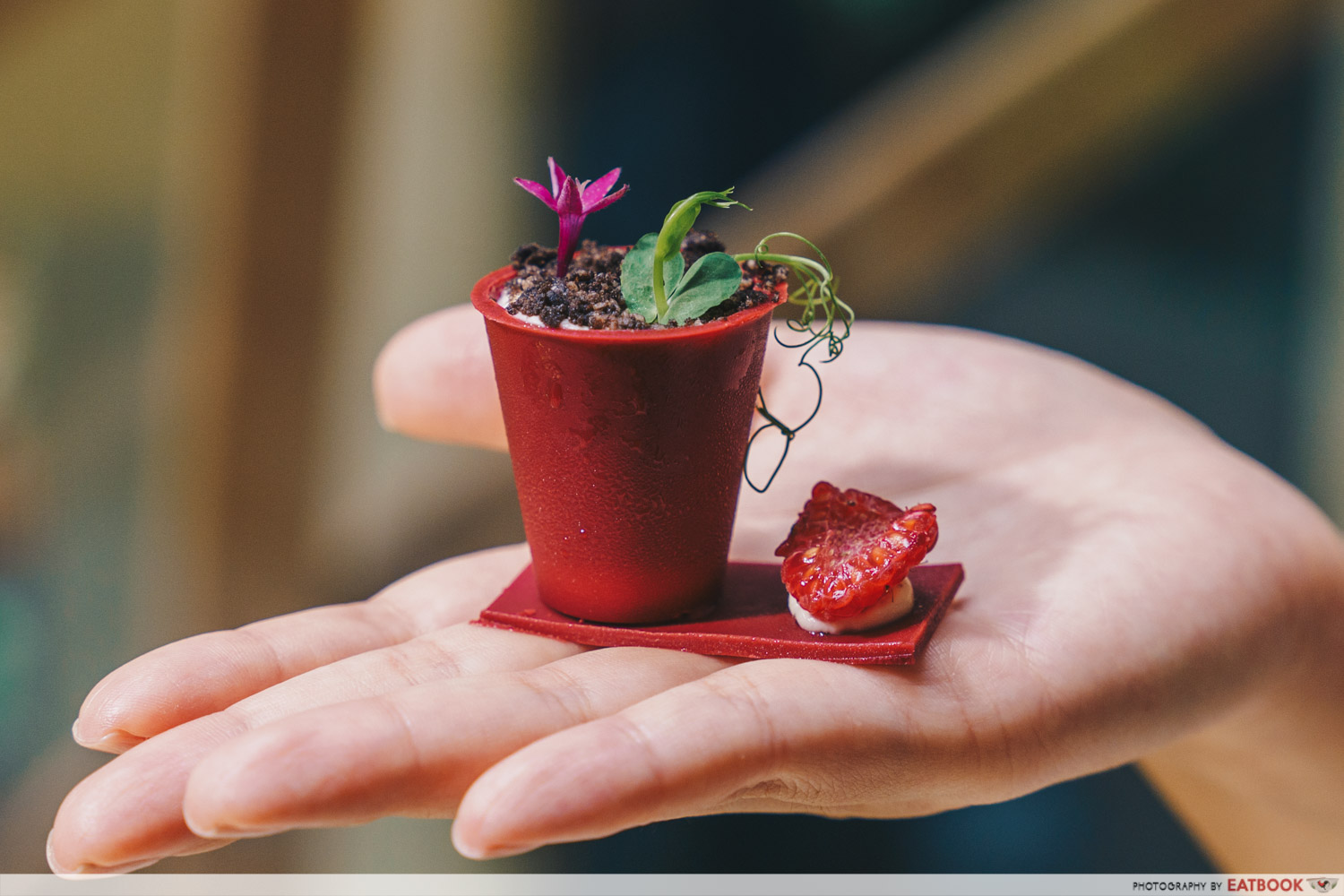 This flowerpot reminded me of Kki Sweets' dessert, 'J'. The version here at the Atrium Lounge sees super sweet Kyushu strawberries layered with mascarpone cheese, and Oreo "soil". Visually, I loved the curling tendrils of microgreens, and the striking fuchsia bloom against the red chocolate pot.
Besides the Kyushu strawberries, there was also Murasaki sweet potato in the Mont Blanc. The Japanese elements also extends to the yuzu curd that sits on a lightly baked Cheesecake, perfumed with Mexican tarragon. This was a pouf of citrus that melted in the mouth, the yuzu a welcome change from your regular lemon cheesecake.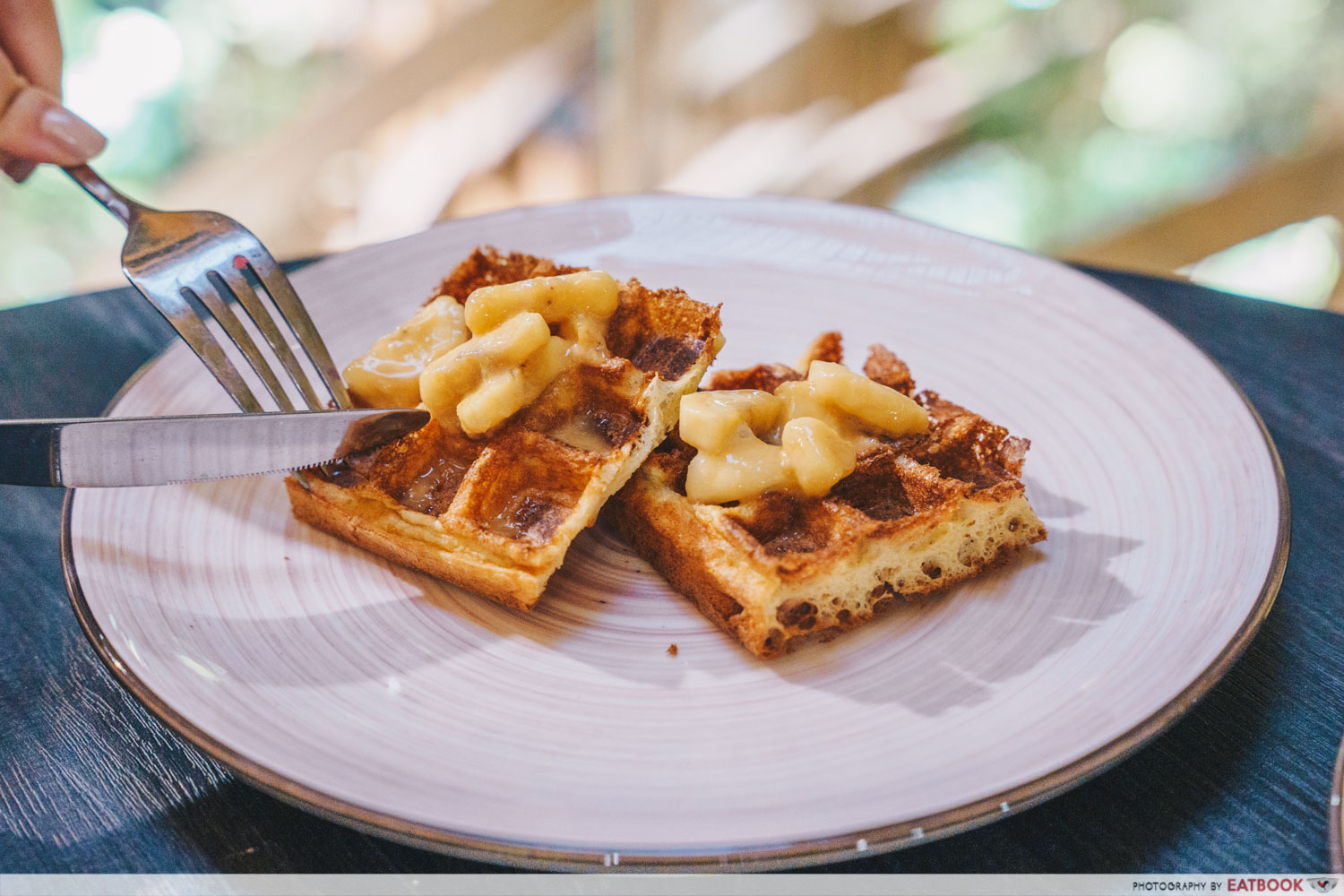 We were surprisingly stuffed at this point, but we made room for crisp Waffles and a caramel banana compote. Don't stand on ceremony, and eat the waffles as you would a slice of toast for the optimal dining experience.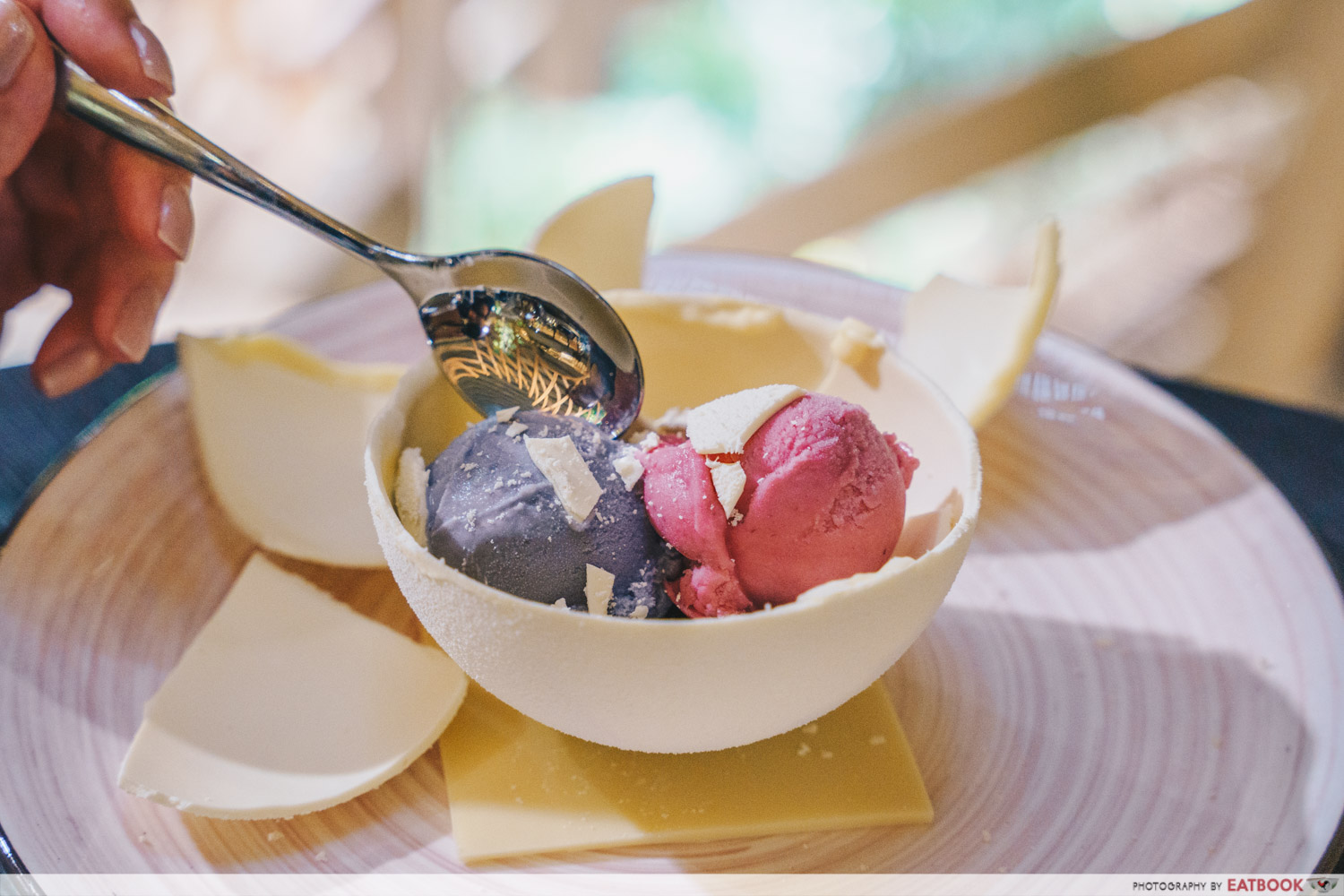 If you hadn't noticed the running botanical theme throughout the high tea, you'll definitely notice it in the lavender and cranberries ice cream. These come in a white chocolate globe that you crack open with the provided hammer, and enjoy with the ice cream. Lavender food usually makes me feel like I'm eating my mother's hand cream, but I found this lightly floral rendition quite palatable.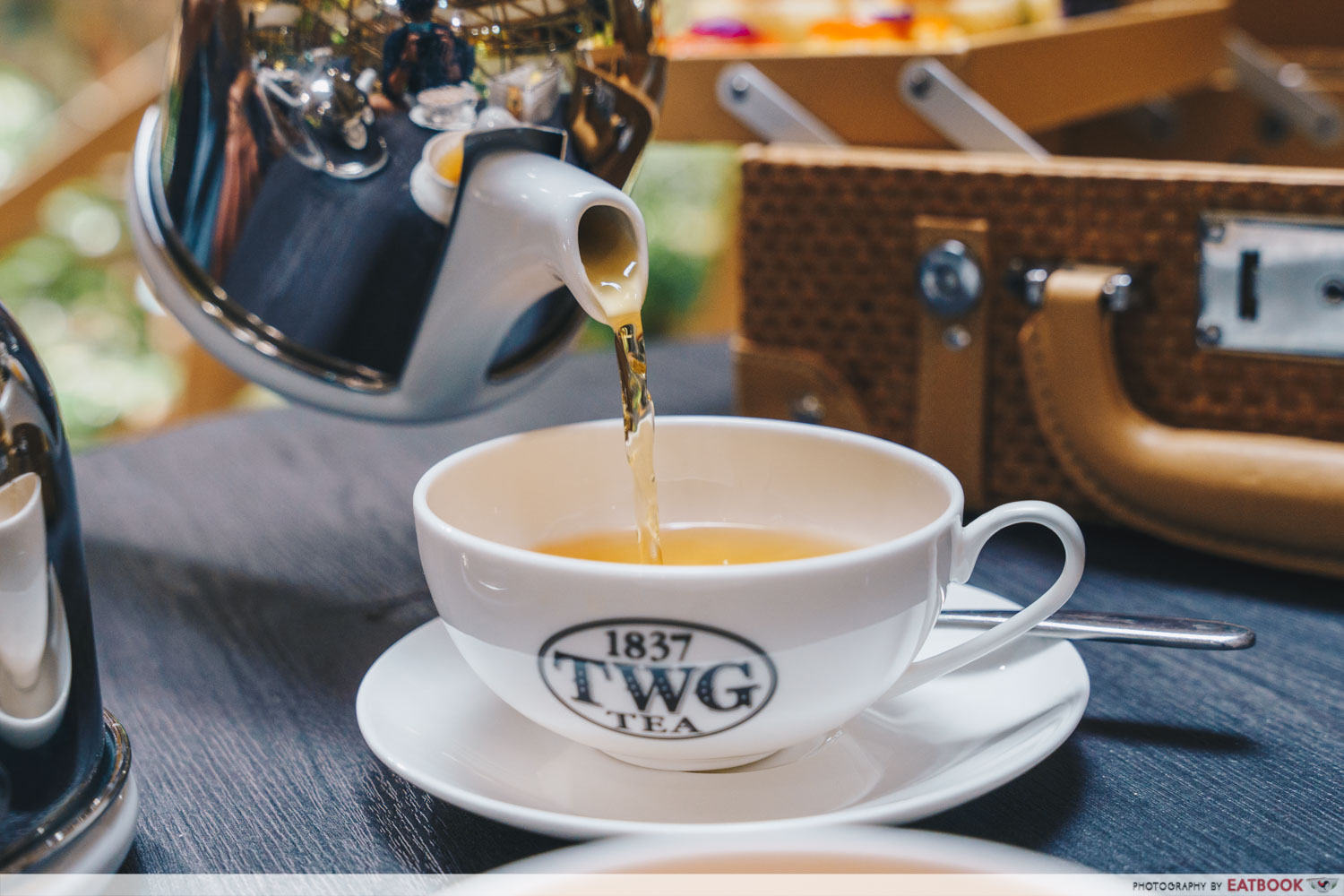 The experience is completed with your choice of coffee, or TWG Tea, to go with the high tea set. Get the tea, because it's atas tea, and that's how the tai tais do it.
The high tea set here at the Atrium Lounge is prepared in a halal kitchen, but isn't certified halal because the Atrium Lounge also serves cocktails. I recommend their signature Pavilion Nest ($22++) and Frame by Glass ($22++) if you're looking for a tipple to go with the set.
Ambience at Atrium Lounge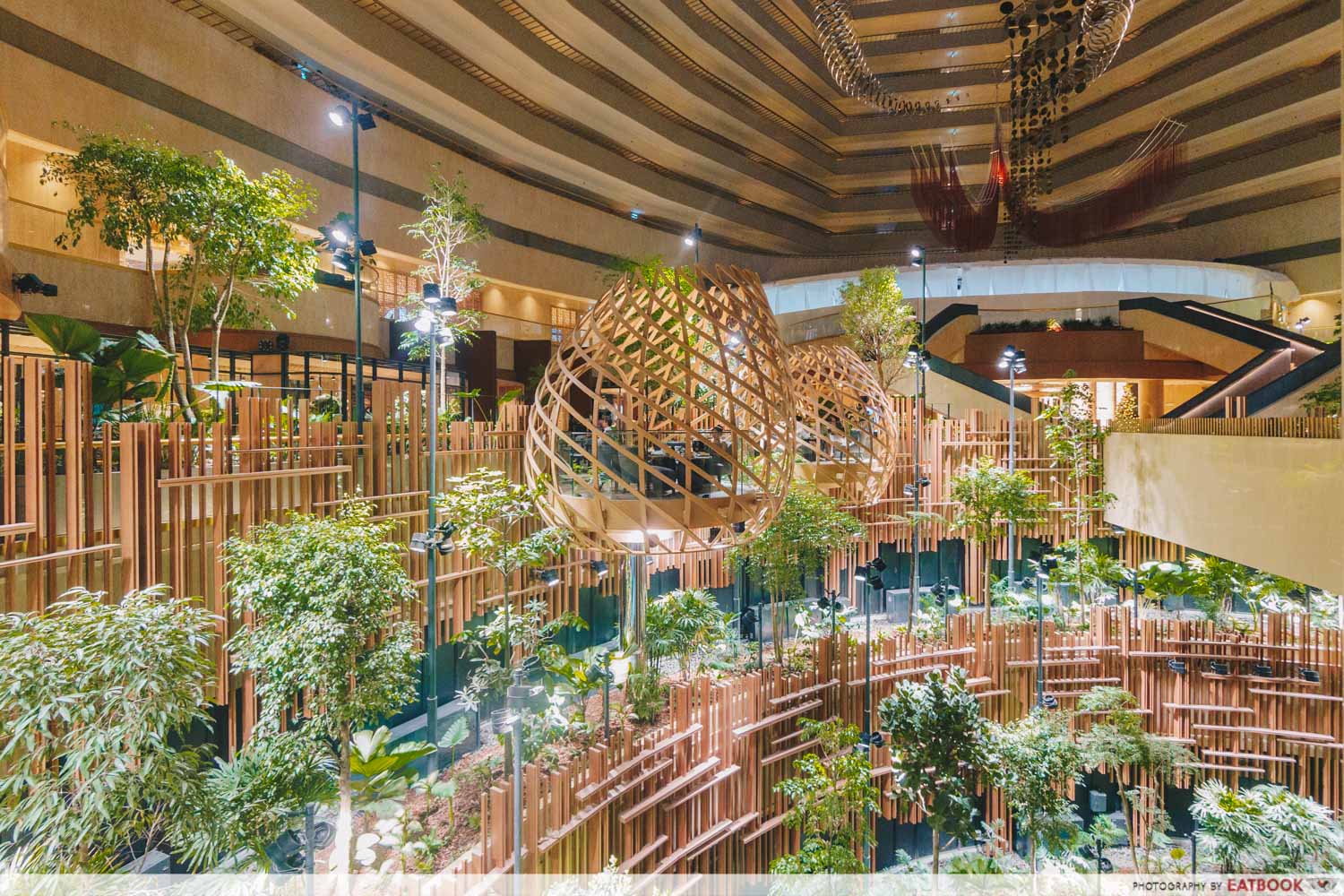 PARKROYAL COLLECTION Marina Bay is connected to Marina Square, and sits between City Hall, Esplanade, and Promenade MRT stations. Getting the table in the birdcage pavilion is central to this entire afternoon tea experience, so I highly recommend putting in the request for that table when you make your reservation.
As the hotel is still in the final stages of its renovation works, there was some drilling going on when we were there. However, this was very minor, and well contained. I also suggest staying the full duration of the high tea, so you get to see the changing light through the hotel's skylight as the sun sets. It's really quite magical.
The verdict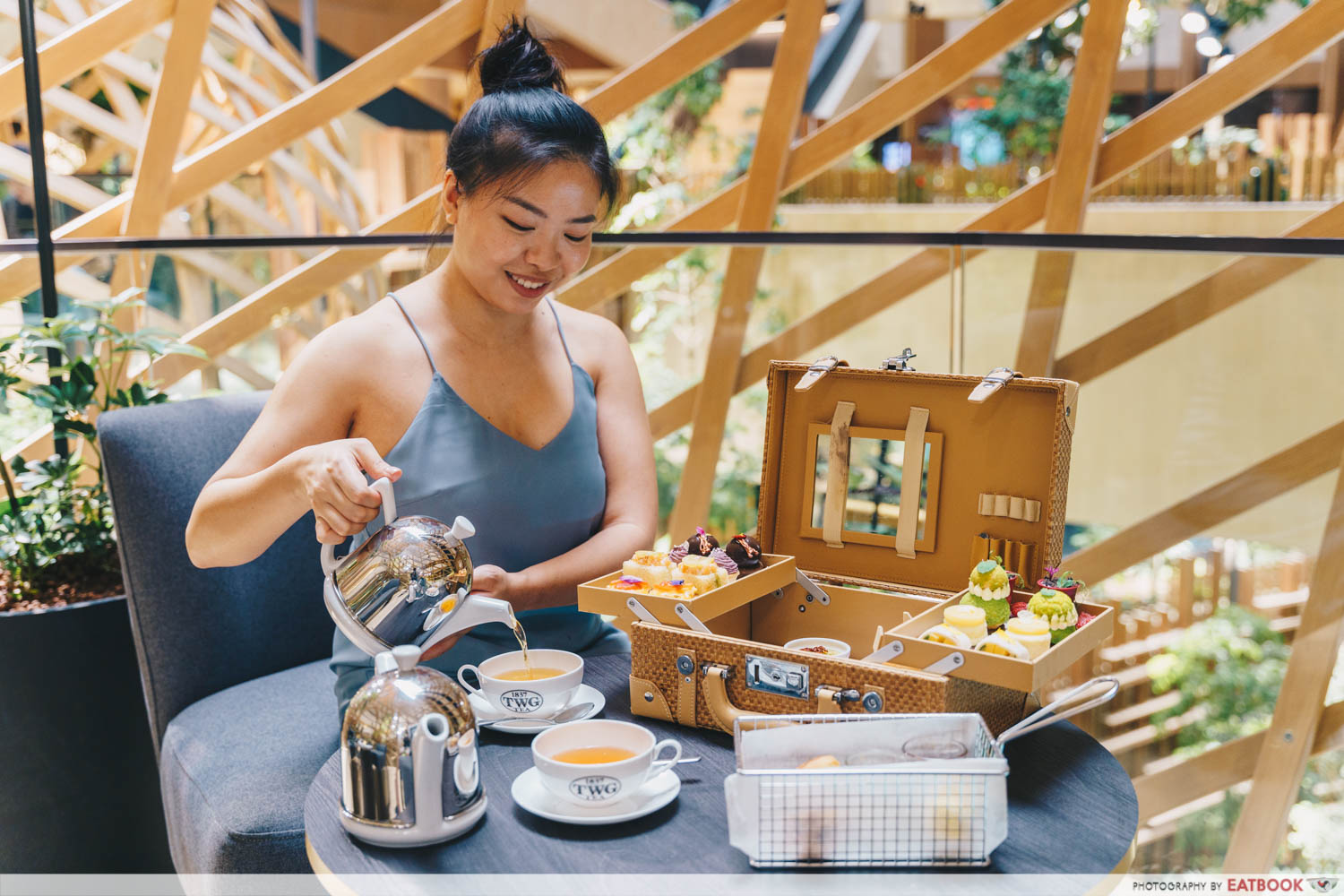 At $38++ per person, I found the spread of bites to be more than worth it. The gorgeous backdrop of the birdcage pavilions in the Atrium Lounge, suspended on the fourth floor of PARKROYAL COLLECTION Marina Bay, makes it even more so.
I often find myself disappointed by the selection of sweet treats in high tea sets, but those here at the Atrium Lounge are not shabby at all.
Cedele Afternoon Tea Review: $24++ Per Person With Truffle Fries, Rum-spiked Tiramisu And More
If you're looking for other grub in the area, check out our Marina Square food guide. Alternatively, we tried the new high tea at Cedele MBS and Lime Restaurant at PARKROYAL COLLECTION Pickering!
Address: 6 Raffles Boulevard, PARKROYAL COLLECTION Marina Bay, Singapore 039594
Opening hours: Daily 10:30am to 10:30pm
Tel: 6845 1119
Website
Atrium Lounge is not a halal-certified eatery.
Photos taken by John Lery Villaneuva.
This is a media tasting at Atrium Lounge.
Atrium Lounge High Tea Review: Wagyu Sliders, Japanese Desserts And More Enjoyed In A Birdcage Pavilion
Atrium Lounge High Tea Review: Wagyu Sliders, Japanese Desserts And More Enjoyed In A Birdcage Pavilion -

8/10
Summary
Pros
– Gorgeous ambience
– Generally good high tea items
– Well-priced
Cons
– Limited number of birdcage pavilions
– Scones were cakey
Recommended dishes: High tea set ($38)
Opening hours: Daily 10:30am to 10:30pm
Address: 6 Raffles Boulevard, PARKROYAL COLLECTION Marina Bay, Marina Square, Singapore 039594