---
Eat at these Marina Square food joints
---
Marina Square can be seen as your one-stop shopping destination, where you can find everything under one roof. Many may already be well aware about the plentiful food options offered here. But with so many options, we are often fumbling to make a decision. Hopefully, this list can help you narrow down your choices. Here we offer nine Marina Square food places that are worth a try!
---
1. iSteamboat
---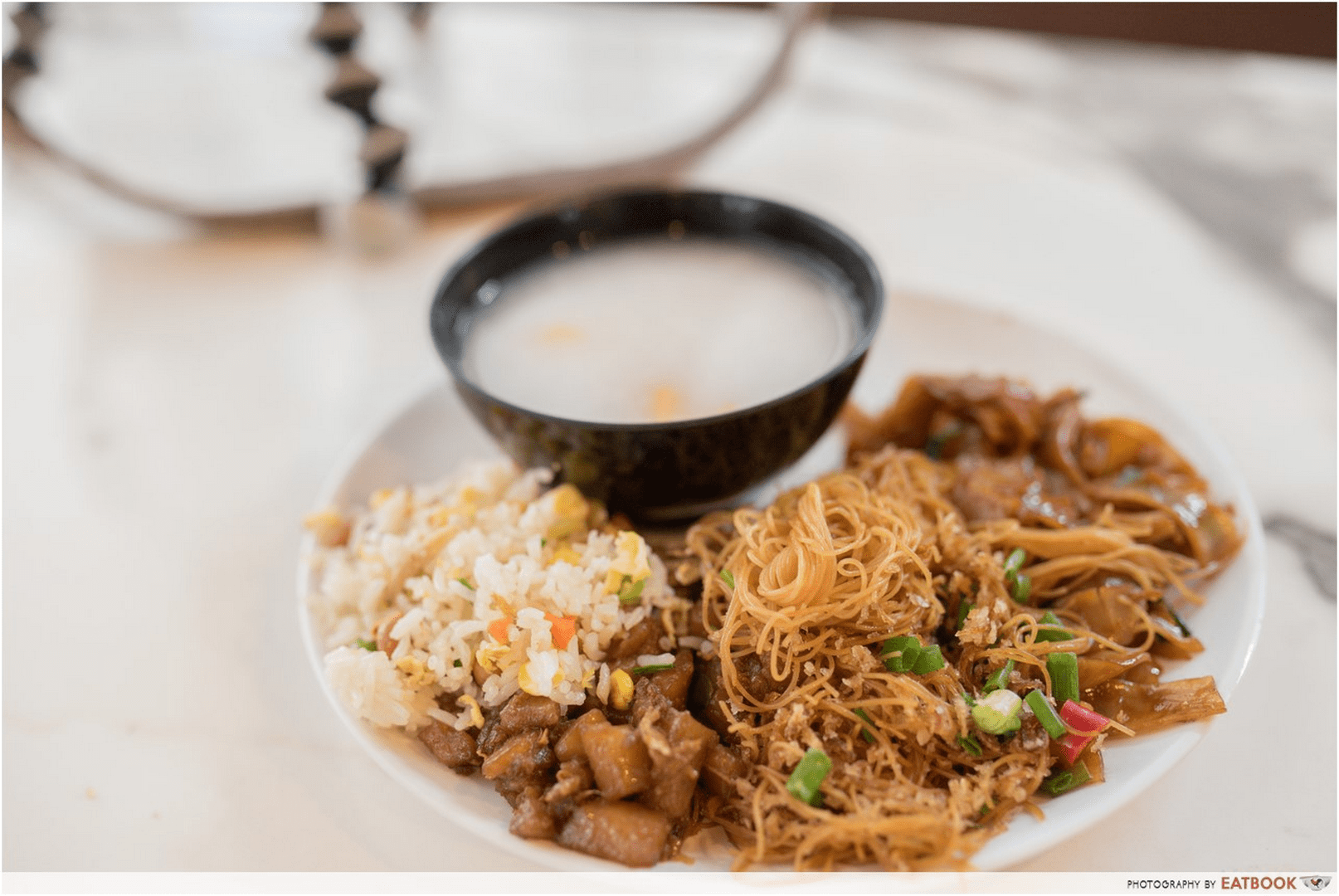 Available from 12pm to 2:30pm on weekdays and 12pm to 3pm on weekends, iSteamboat offers one of the most affordable Teochew Porridge Buffet at just $8.80++. Not only that, they also have an impressive four-tier Pagoda Steamboat Buffet that is available on Weekdays from Monday to Thursday ($22.80++ for adults, $11.40++ for children) and Weekends from Friday to Sunday ($26.80++ for adults, $13.40++ for children).  
From steaming to grilling, the various tiers allow you to cook your food just the way you want to. Given the spread, the price point, and unique steamboat experience, I'd say it's worth every penny.
iSteamboat Review: Teochew Porridge Buffet At $8.80++ At Marina Square
Unit number: #04-102A
Opening hours: Mon-Thur 12pm to 10pm, Fri-Sun 12pm to 10:30pm
Tel: 6338 7873
Website
---
2. Hifumi Japanese Restaurant
---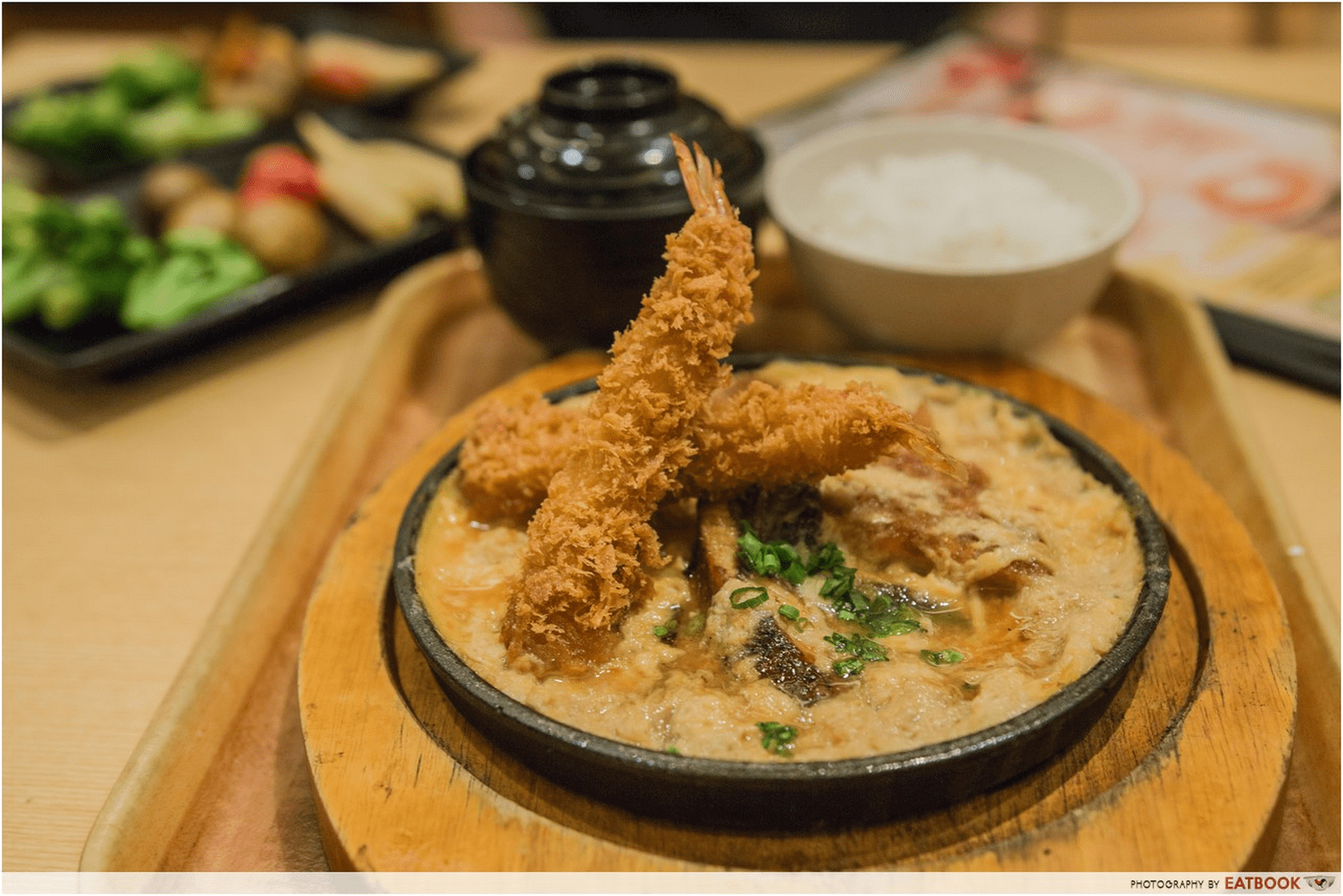 It's no secret that every Singaporean loves a restaurant a little bit more when it offers free-flow anything. Featuring unique entrées made from each season's harvest, Hifumi Japanese Restaurant serves a signature all-you-can-eat appetiser bar. The buffet line changes monthly, but some popular favourites, such as cheese fondue and takoyaki, are permanent residents.
The Mixed Toji ($16.99++) includes an ebi fry, pork katsu and unagi on a bed of beaten eggs in shoyu broth. If you are looking for their most value-for-money item, go for their Pork Kimchi ($9.99++) from their lunch promo menu. The hot plate had generous slices of fatty pork meat topped with a glistening yolk, and comes with rice and miso soup.
Check out our full review of Hifumi Japanese Restaurant!
Unit number: #02-106A
Opening hours: Mon-Fri 11:30am to 3pm, 5pm to 10pm, Sat-Sun 11:30am to 10pm
Tel: 6337 4721
Website
---
3. Mei Heong Yuen Dessert
---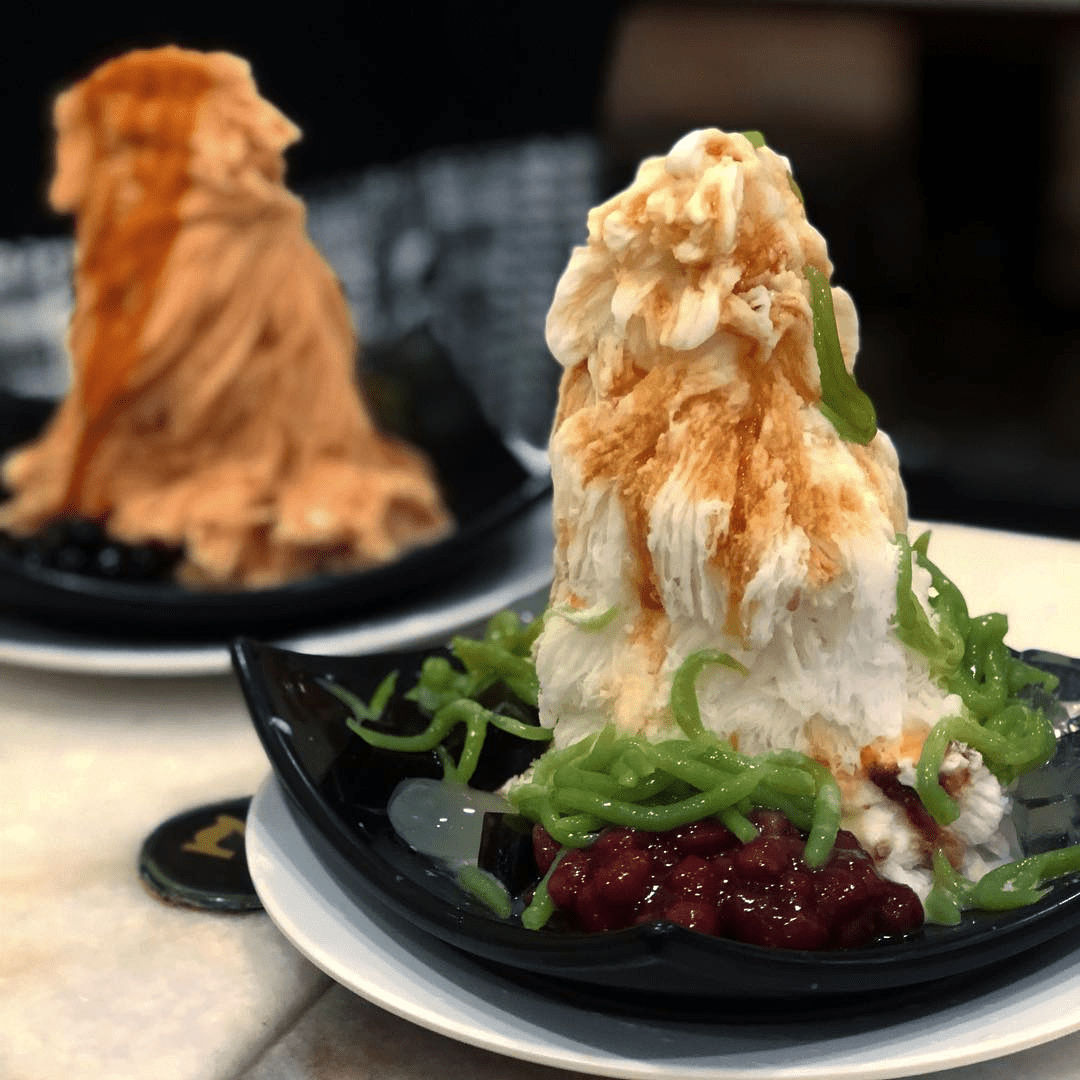 Although cafes and western desserts are all the hype, traditional Chinese desserts never fail to tug at my heartstrings. No matter what your dessert choice at Mei Heong Yuen Dessert is, it will sure to leave you riding on a wave of nostalgia.
The Red Bean Lotus ($3) and Sesame Paste ($3.50) are popular orders for those who are looking for a hot dessert. If you want to cool down on a hot sunny day, the Chendol Snow Ice ($6.50) or Mango with Pomelo & Sago ($5) promises to leave you feeling refreshed.
Unit number: #03-207
Opening hours: Daily 11am to 10pm
Tel: 6252 1661
Website
---
4. Beyond Pancakes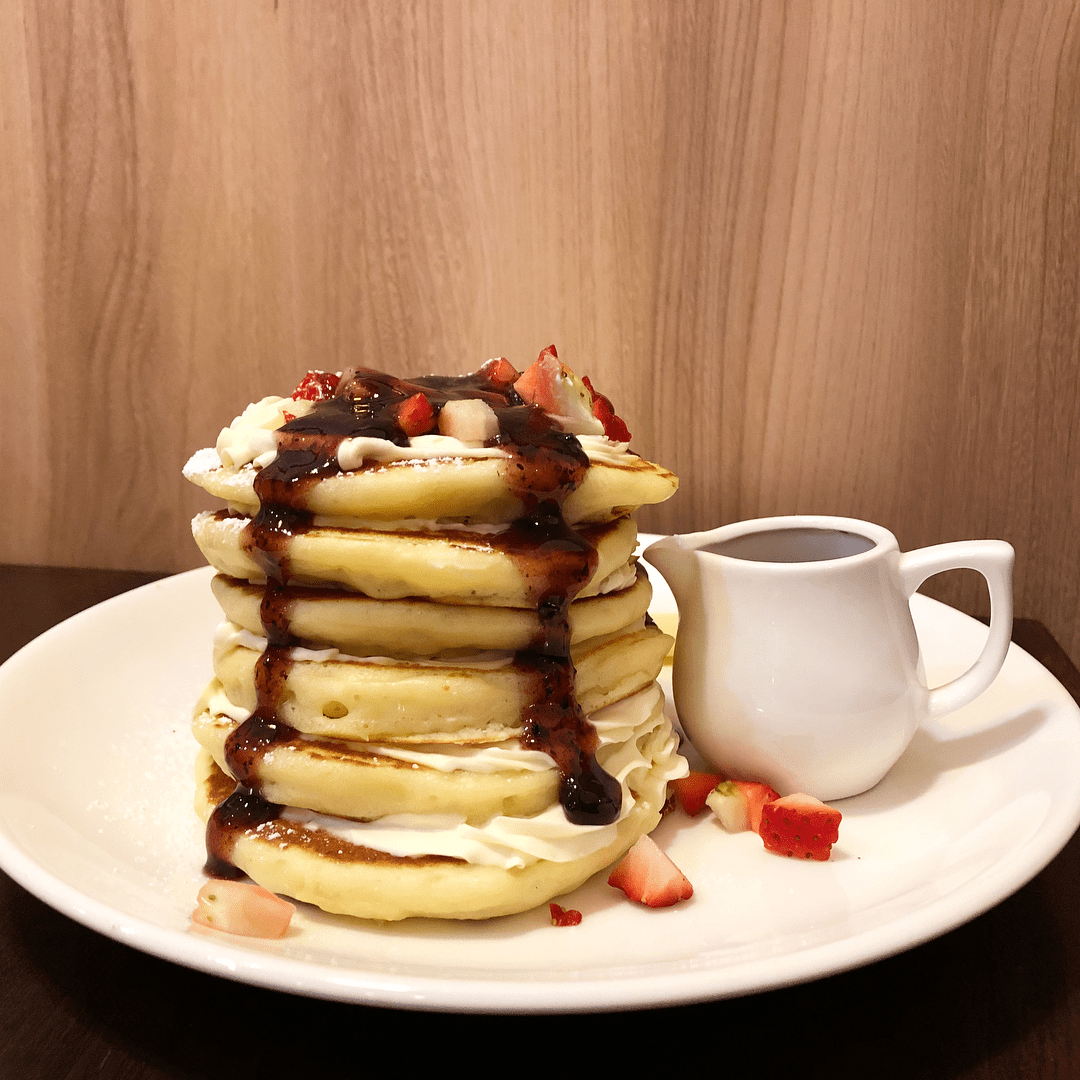 Muslims will be thrilled to hear that Beyond Pancakes is a halal-certified dessert shop. As you can guess from their name, pancakes are their main feature. That being said, they also offer other dishes that will interest those who prefer something else. The Nachos ($8.90++) here is a popular order; where tortilla chips we are used to is replaced with Pannenkoek – a Dutch-style pancake.
Pancakes here come in Short (two pieces), Medium (four pieces) and Tall (six pieces). The Original ($5.90++) flavour is a mut-get. The pancakes are fluffy and soft, and served with butter and maple syrup. If you're feeling adventurous, go for the Mount Berry ($13.90++) instead.
Unit number: #03-131A
Opening hours: Daily 10:30am to 10pm
Tel: 6909 0799
Website
Menu
---
5. Gu Thai Noodle Café
---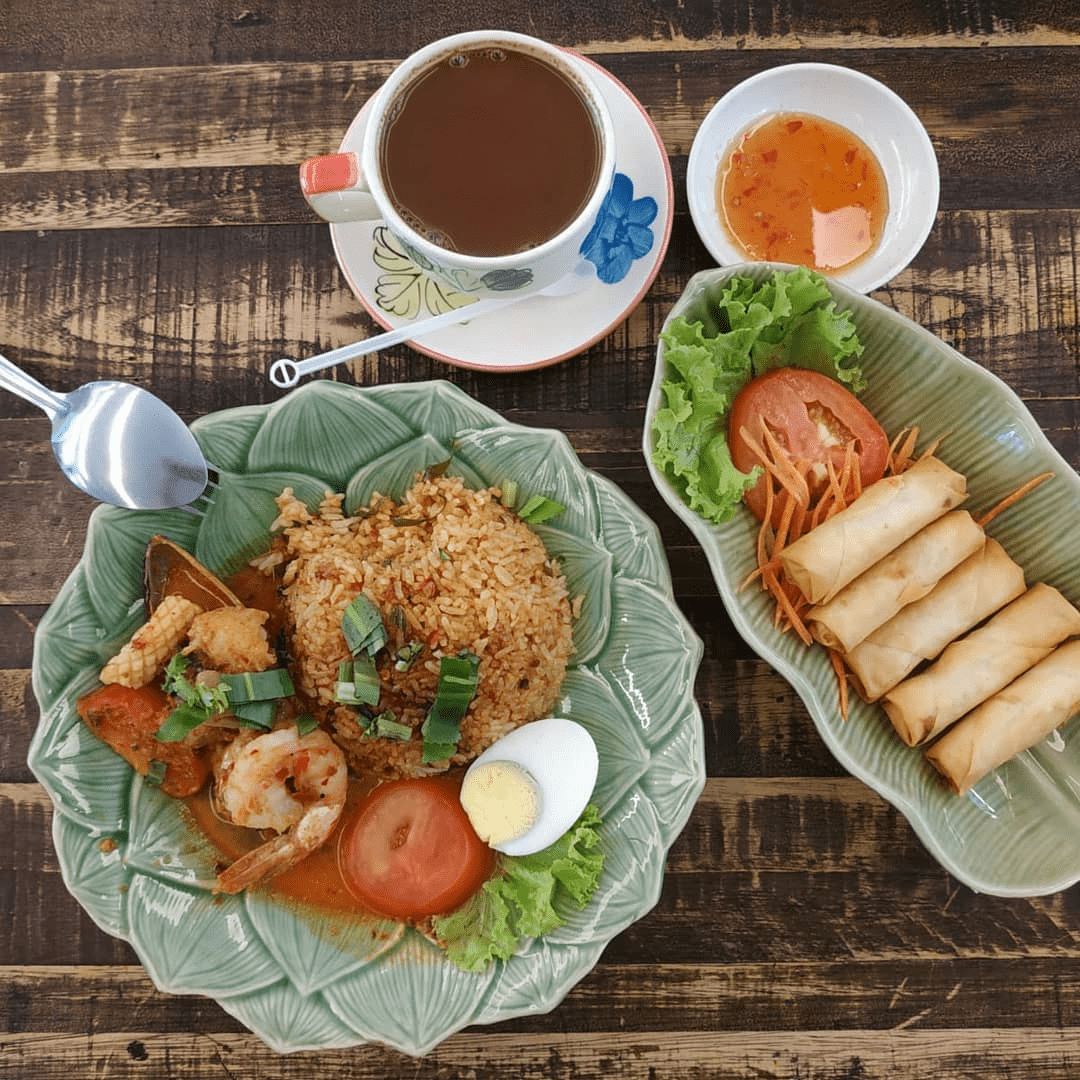 Gu Thai Noodle Café is a humble eatery offering Thai food at wallet-friendly prices. Go straight for their signature Boat Noodle Beef/Pork that is available in either Small ($1.90) or Large ($7.50).
What I like here is that you can choose from four different spice levels – Non Spicy, Less Spicy, Normal Spicy, Extra Hot. Beware, the 'normal spicy' option is enough to make you sweat. If you need a drink to go along, you can get a Thai Milk Tea ($2.80) or the refreshing Thai Lemongrass Drink ($2.80) to cool your tongue.
Unit number: #03-131
Opening hours: Daily 10am to 10pm
Website
---
6. Rong Hua Bak Kut Teh
---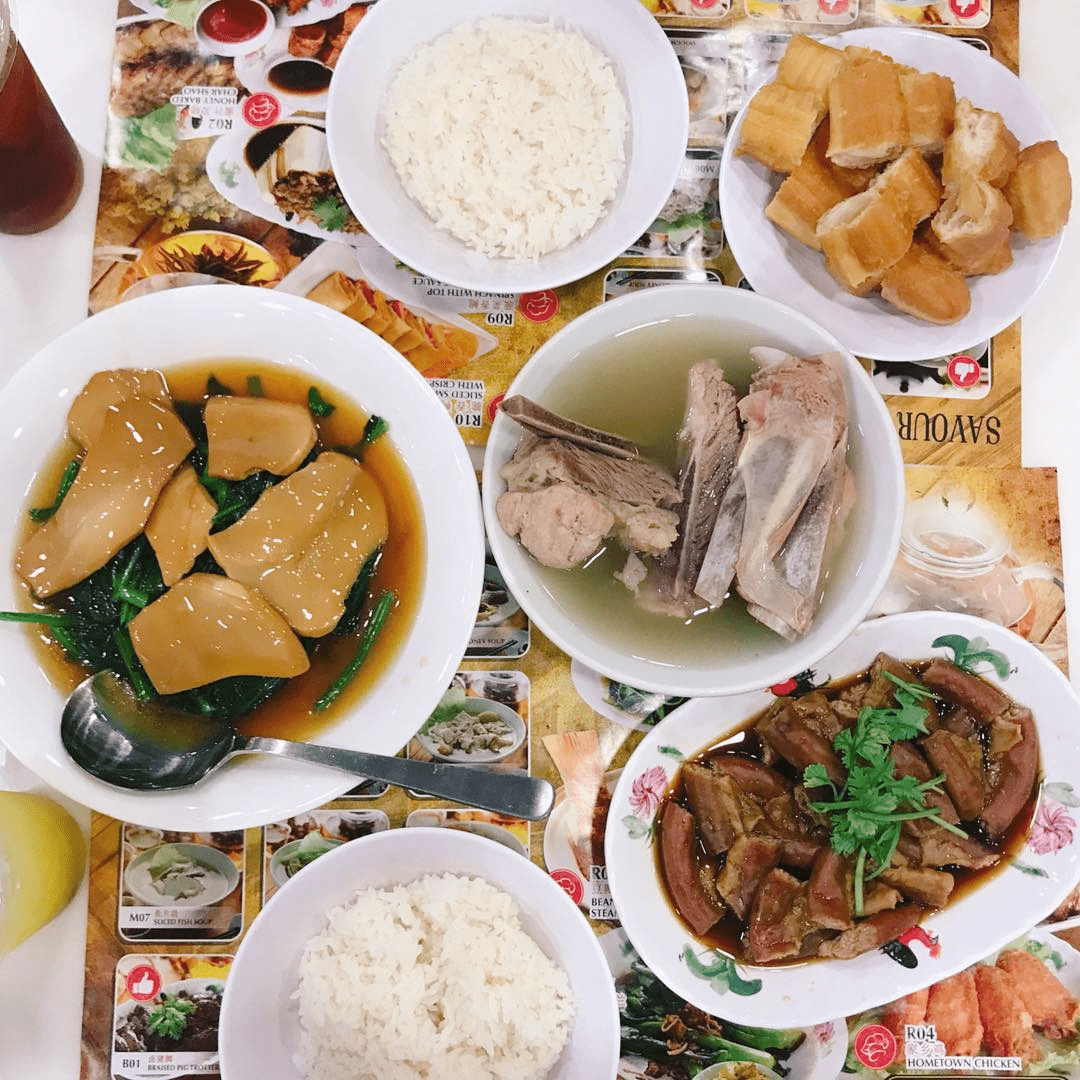 Image credit:
@eatwxin
Rong Hua Bak Kut Teh does not have a rich history like other BKT brands, but they deliver well in taste.
Boasting a good balance of garlic and pepper, the signature Pork Ribs Soup ($9.30) is typically what people come for. For those who want to try something new, the Pork's Tenderloin Soup ($9) and Sliced Fish Soup ($9) will not disappoint. Complete your meal by adding Plain Rice ($1.20) or Mee Sua Plain ($3).
Unit number:  #02-201
Opening hours: Daily 11am to 10pm
Tel: 6469 3536
Website
Menu
---
7. Tingkat PeraMakan
---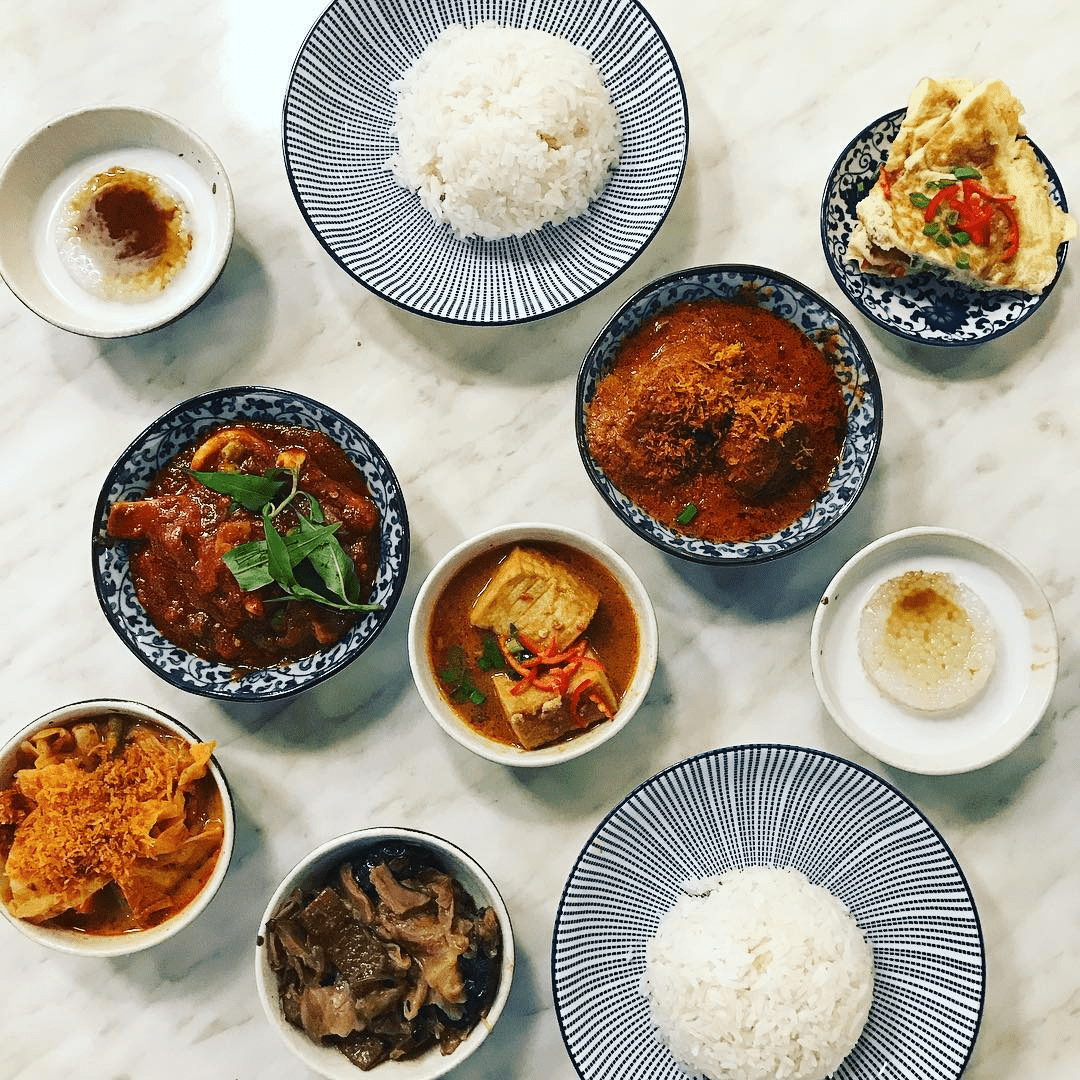 Image credit:
@t3_r3n_c3
Tingkat PeraMakan offers a more casual and affordable makan experience for those who want a taste of authentic Peranakan cuisine. The store is designed with an electric mix of turquoise and pink hues – good for a #InstaWorthy picture.
Each Set Meal is priced at $10. Satiate your hunger and get the Babi Pontay Set Meal, which comes with four dishes and a even sago gula melaka for dessert. If you're swinging by for tea, the Kaya Cake ($3.80 per slice) is a crowd-pleaser; rich and creamy kaya custard infused with coconut and pandan is wedged between soft, fluffy layers of sponge.
Unit number: #02-223/225A
Opening hours: Daily 11am to 10pm
Tel: 6264 1545
Website
---
8. redpan

---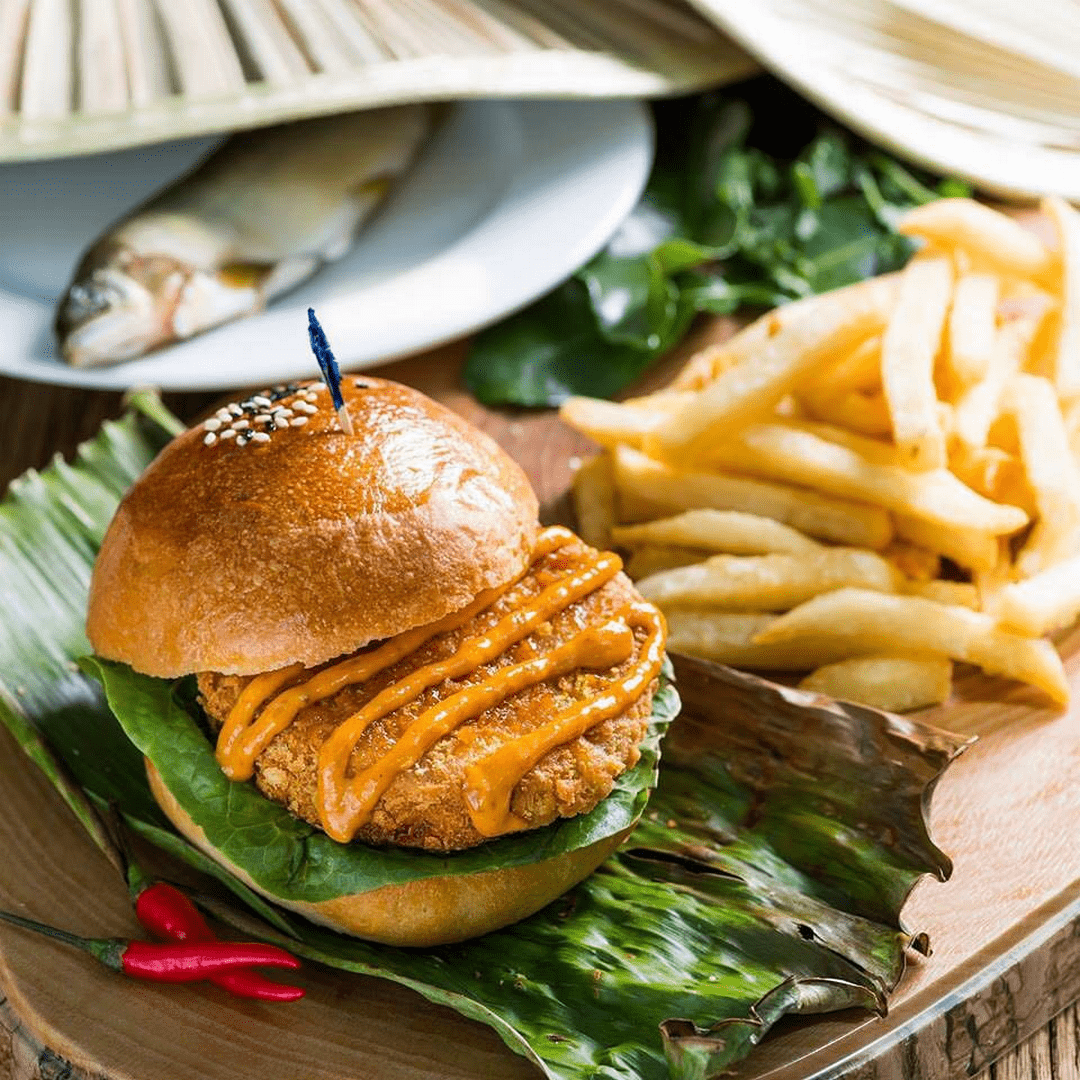 Image credit:
@redpansg
Opened by GRUB and DP Architects, redpan is a restaurant where design meets food. The menu here is comprehensive and features unique East-meets-West creations. When you're here, try their Truffle Floss Fries ($8++), where fries are cooked in truffle aioli and topped with chives and chicken floss. The Prawn & 'Hae Bi Hiam' Pasta ($16++) deserves a mention, where tagliatelle is tossed with house-made sambal and fresh sautéed prawns.  
End your meal on a sweet treat with the Red Date Butter Cake ($8++), which presents an interesting hybrid between a sticky date pudding and butter cake.
Unit number: #02-03/04
Opening hours: Daily 11am to 10pm
Tel: 6255 5850
Website
---
9. Ma Mère Boulangerie
---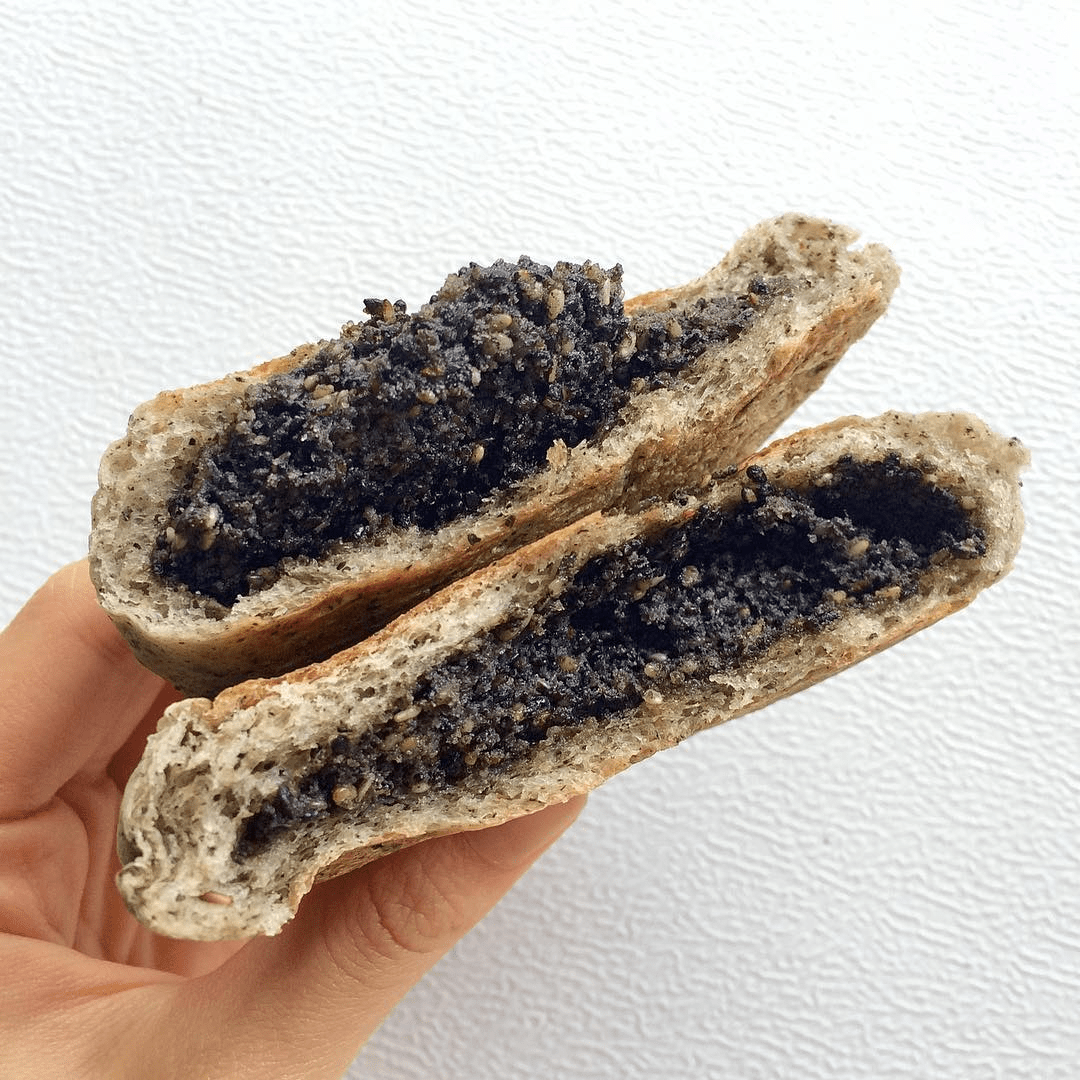 Ma Mère Boulangerie is best known for their fluffy buns that are stuffed with a generous filling.
The Black Sesame Bun ($1.70) comes filled with roasted ground black sesame seeds tossed with sugar, and encased within a soft and fragrant bun. The Pumpkin Bun ($2) is stuffed with a creamy pumpkin puree. Kids will definitely be enticed by the Milo Bun ($1.60) here, which is highlighted by a crusty top of the local chocolatey powder. Be sure to swing by after 6pm, because breads go at a discounted price then.
Unit number: #02-184/185
Opening hours: Daily 11am to 9pm
Tel: 6268 8728
Website
---
Have your fill at these exciting places at Marina Square
---
Marina Square is easily accessible from City Hall, Esplanade and Promenade MRT stations. Not only home to a wide variety of retail and lifestyle outlets, you will be spoilt for choice at the selection of food available.
Let us know in the comments below if we missed your favourite food spots here.
Address: 6 Raffles Boulevard, Singapore 039594