Bakbak offers bak kut teh with a twist
Update: Bakbak has permanently closed.

Though I never quite enjoyed the texture of meat when I was younger, bak kut teh was one of the few exceptions. My parents would sometimes order the Teochew-style version for lunch after we visited my maternal grandmother on Sundays. I liked the dish for its garlicky broth and peppery finish that felt somewhat comforting. I could easily peel the pork off its rib and the meat was chewy yet tender. If I saw a piece with a good marbling of fat, I'd take it before my parents did.
As a modern restaurant that opened in August, Bakbak is interesting to me for the way they give Teochew-style bak kut teh a twist. Japanese influences are apparent in both their dishes and restaurant design.
Food at Bakbak

We began with Sanuki Udon with Dragon Rib ($11), which is one of Bakbak's signatures. A steaming bowl of udon in clear broth came with a piece of dragon rib that peeked out of the bowl. In it was also iceberg lettuce, whole cloves of garlic that were cooked with the soup, as well as spring onions for garnishing.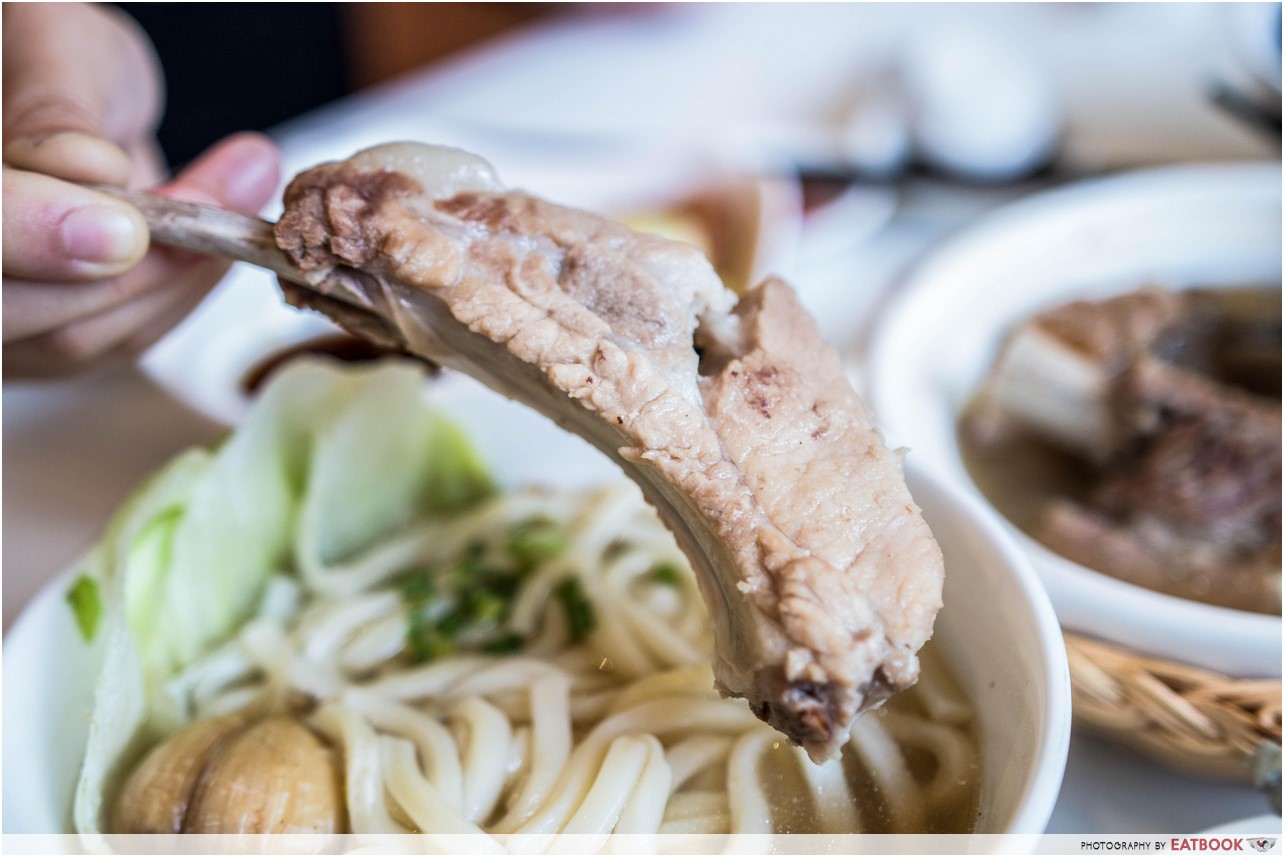 I took a sip of the soup and was glad that despite its light and clean taste, it didn't lack in umami flavour and was not too peppery. We crushed the garlic and mixed them in for a more intense taste. Slurping up the udon, I was pleased to find that it had soaked up the soup's flavour.
The noodles were soft yet chewy and tasted pleasantly fresh. Its thickness made each mouthful feel satisfying, and the spring onions added fragrance to them. The piece of dragon rib was slightly tough, as it was rather lean, but had enough meat to pair with my noodles.

Pork Rib Soup with Sea Cucumber ($17.50) is another signature main, and it had smaller pieces of pork ribs with a few thick slices of sea cucumbers. Its soup was distinctly more savoury than the previous dish, even though the same broth was used. What was surprising to us was how the soup's flavour could be deepened so much by the addition of sea cucumbers. This is the most popular main in Bakbak and it definitely was one of our favourites too.

I preferred the pork ribs in this dish more as they had some marbling of fat. The meat was less tough and was easier to tear off the bone. I picked up a slippery sea cucumber to try, and it was fresh with some bounce to each bite, without any sliminess.

Braised Pig Trotter ($8) is a popular dish at Bakbak, and one I particularly love to indulge in. We were served two trotters in a bowl of braising sauce that glistened with oil.

The restaurant staff cut them into bite-sized morsels for us upon request. The pork trotters were chewy as they weren't stewed till they could melt in your mouth, which is what I would've preferred. There were enough chunky fats to feel satisfied, and enough meat for every bite to feel substantial. I liked that the sauce was savoury without tasting too salty or greasy.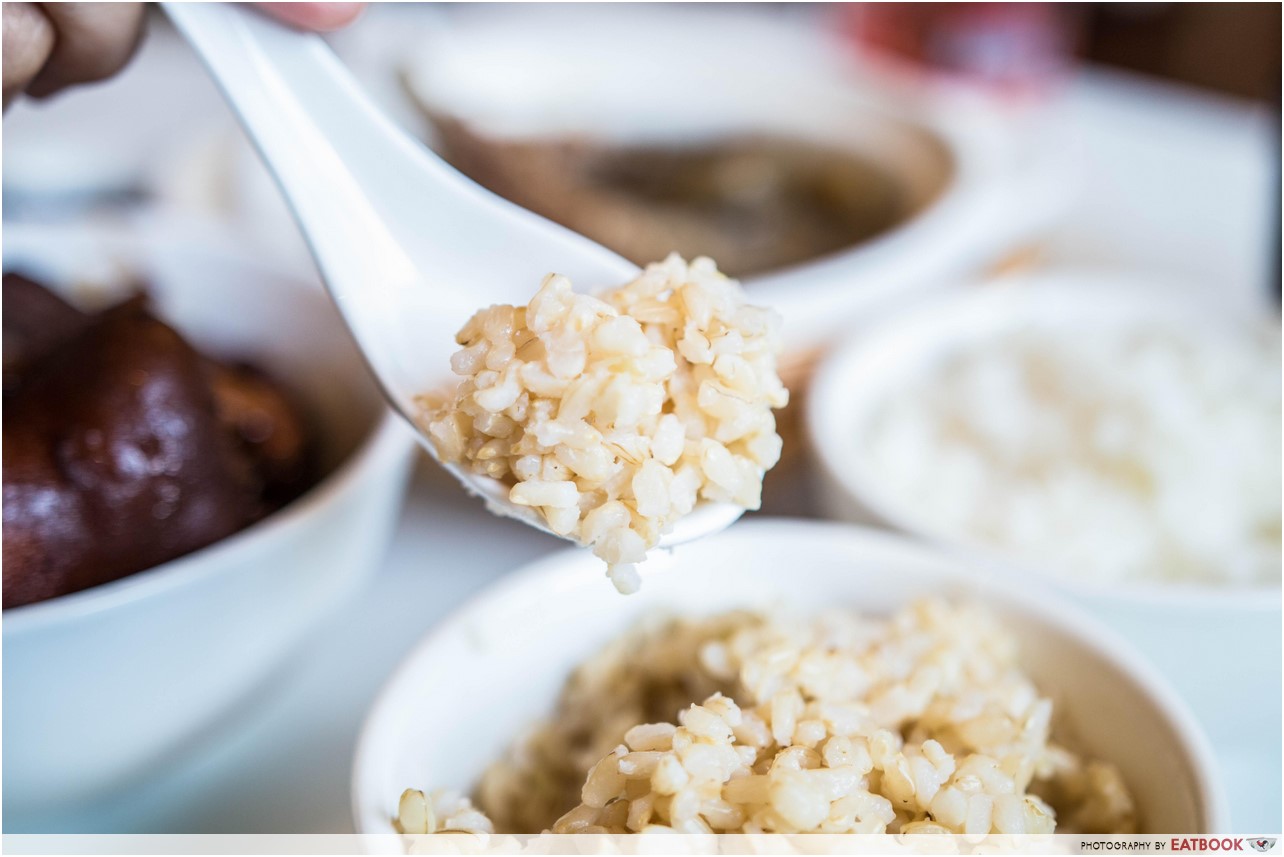 Bakbak serves both Japanese Pearl Rice ($1) and Australia Short Grain Brown Rice ($1.80). Interestingly, we felt that the latter was tastier, as though it had been flavoured during cooking though it hadn't. I enjoyed drizzling braising sauce over my rice as much as having it with the soup.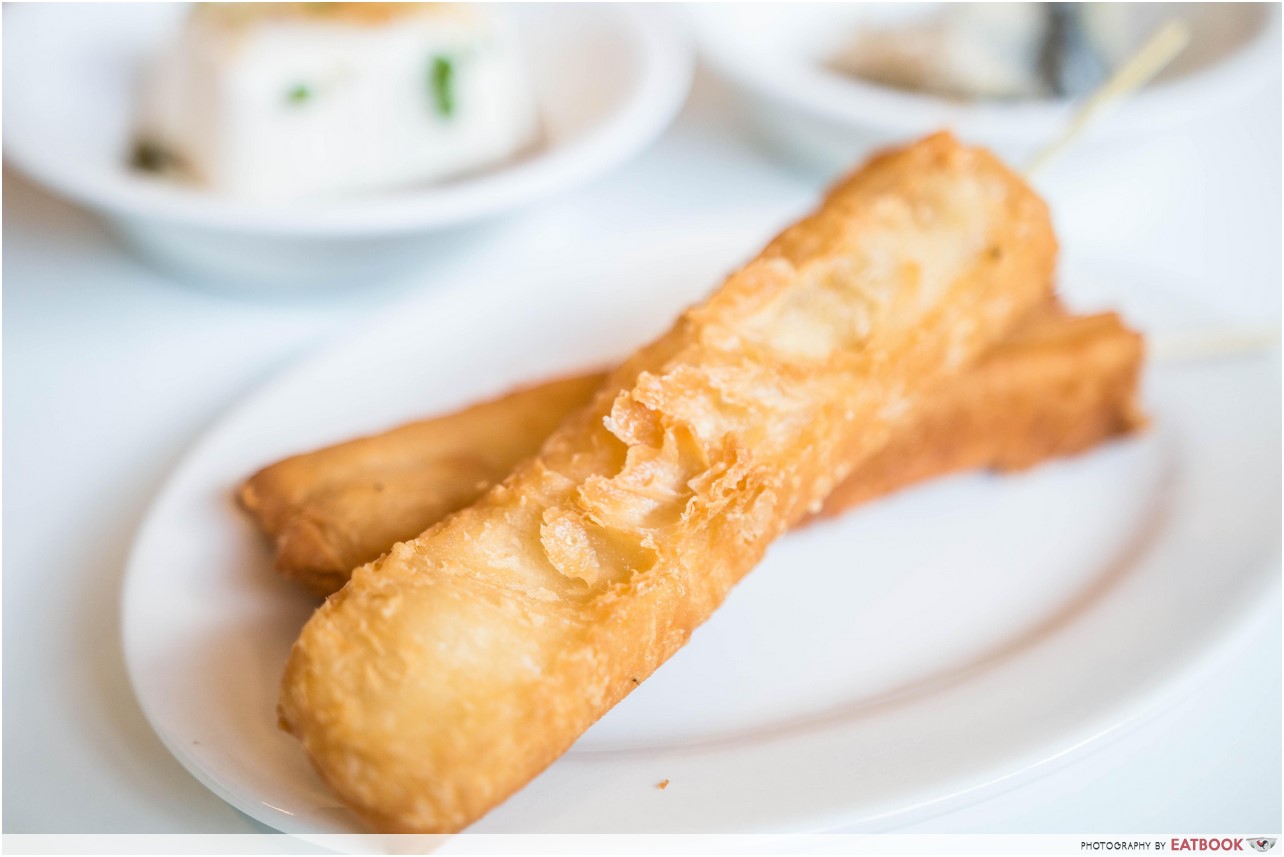 Bak kut teh isn't complete without you tiao (dough fritters), so we paired our soup with a side of Fried Dough ($2). They were conveniently pierced with a satay stick so our fingers didn't get greasy as we dunked our sticks in to soak up our savoury soup. As I took a bite into a fritter, I realised they had been flattened, making each piece easier to eat since it was less thick. This gave the fritters a firm texture, unlike the airy ones we were used to. Personally, the difference didn't matter much to me as they tasted the same. What mattered to me was their crispiness, especially at both ends.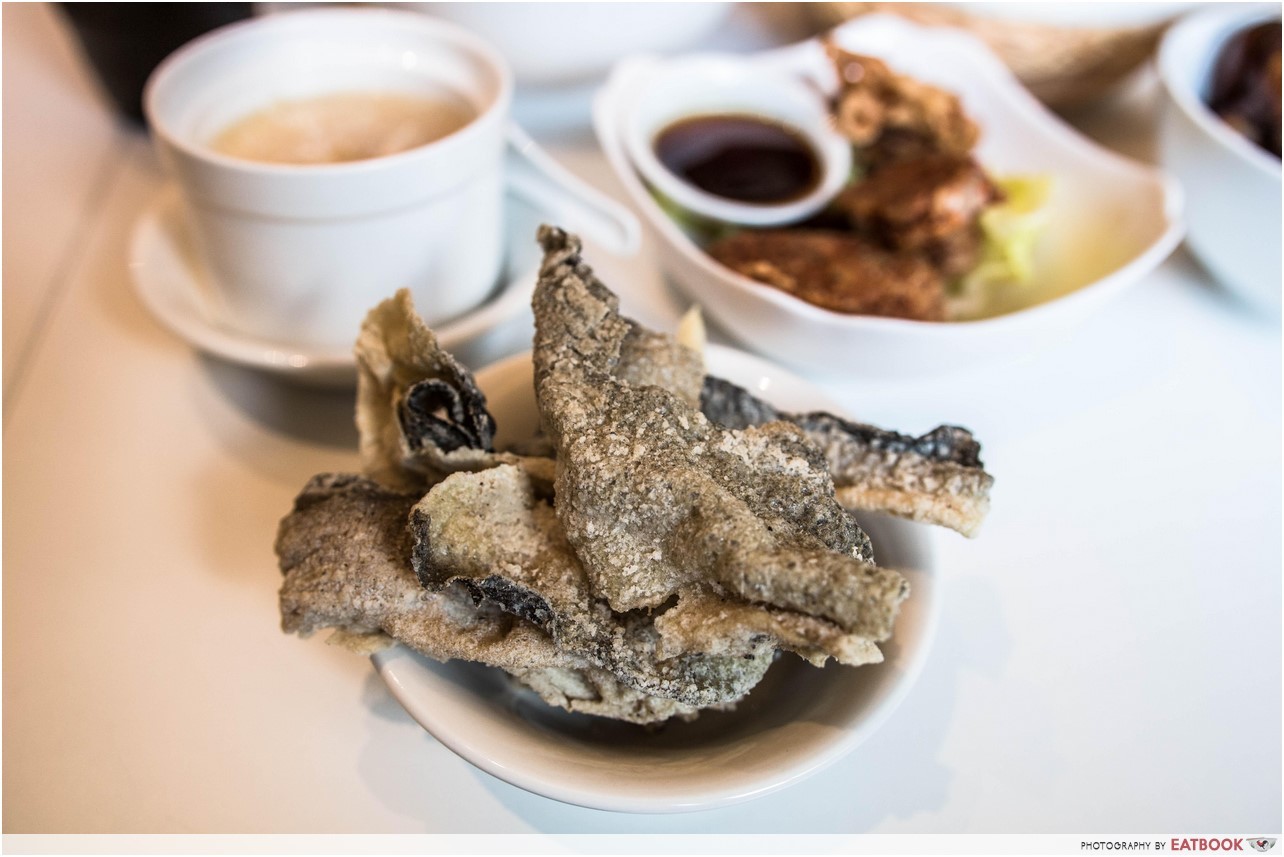 Instead of you tiao, you could have their Crispy Fish Skin ($3). A quick dip into soup softened them slightly and added some of the bak kut teh's flavours to it.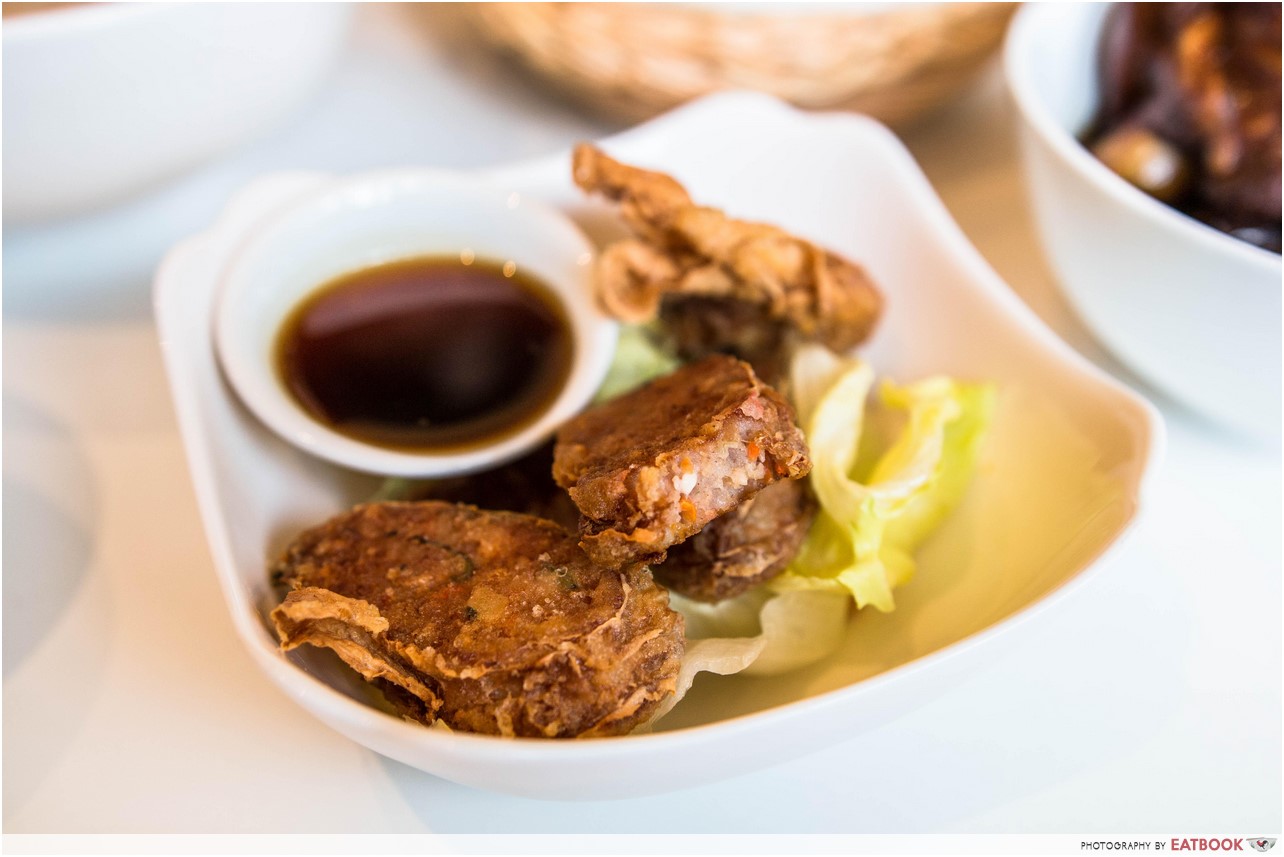 Our favourite side dish, however, was their Homemade Fried Prawn Roll ($11). The dish came with slices of prawn roll that were wrapped in crispy skin. Each slice was thick and large enough for a pleasant bite. Its minced filling felt meaty and not starchy. It was crunchy with carrot bits and was enhanced by the aroma of spices.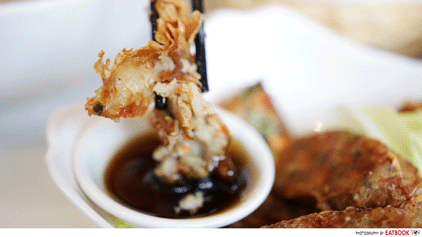 It was savoury and slightly salty on its own, but dipping it in thick, sweet sauce made it even more toothsome.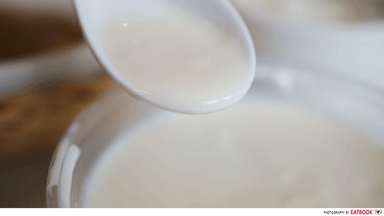 Ending off with dessert, we had a taste of their Organic Soy Beancurd ($1.20). I was expecting my spoon to carve a hole into the beancurd, so I was mind-blown when we discovered it was liquid. It was almost completely smooth, like a thick milk, textured with bits of beancurd. I can't say I've tasted anything like it. Its taste reminded me of tau huay, and it wasn't so sweet that it left an aftertaste. The best way I can put what this was into words is that it was like a thick soy milk that felt light on the palate and is simply delicious.
Ambience at Bakbak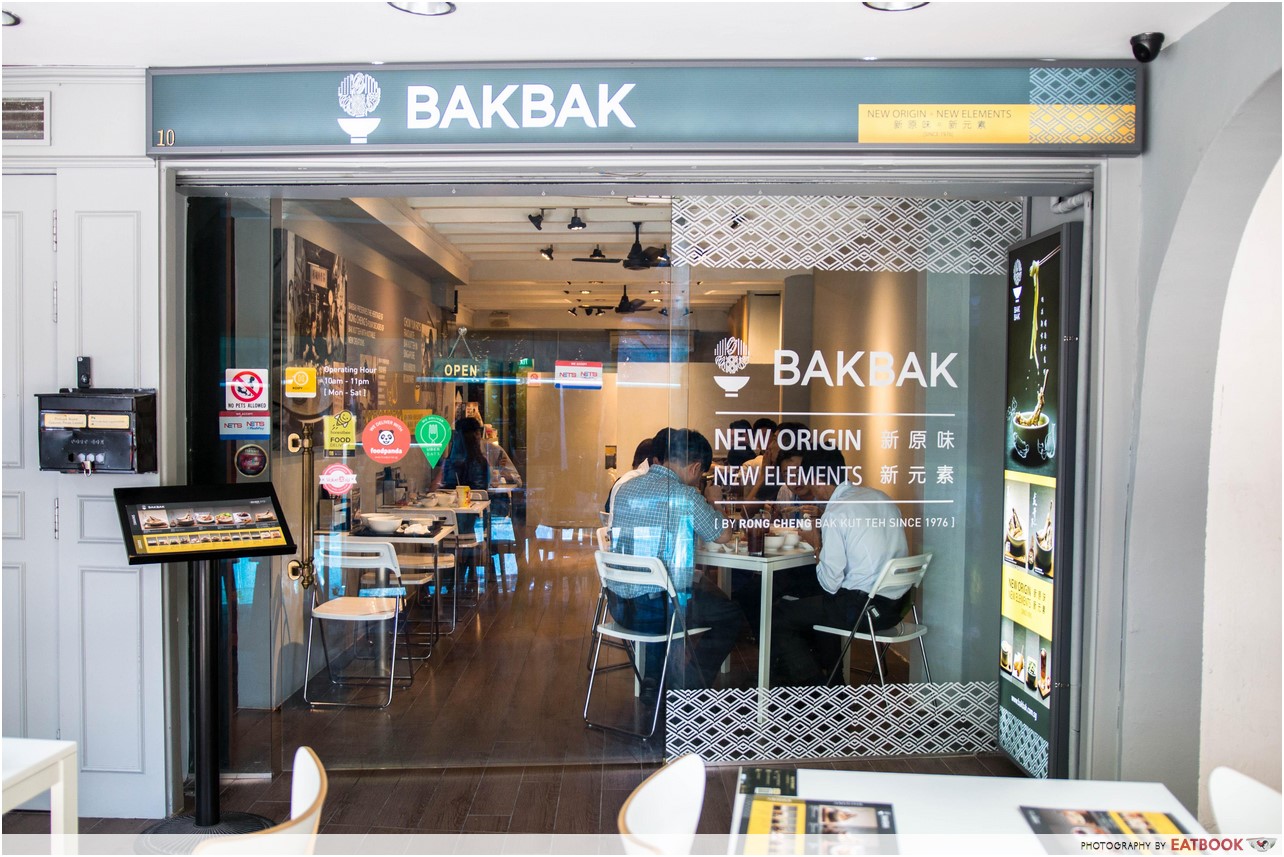 The restaurant is a shophouse that's a few minutes away from Clarke Quay MRT Station. While it's not in the most convenient location, it isn't hard to find either. The aircon was a relief from the blazing heat of the sun outside.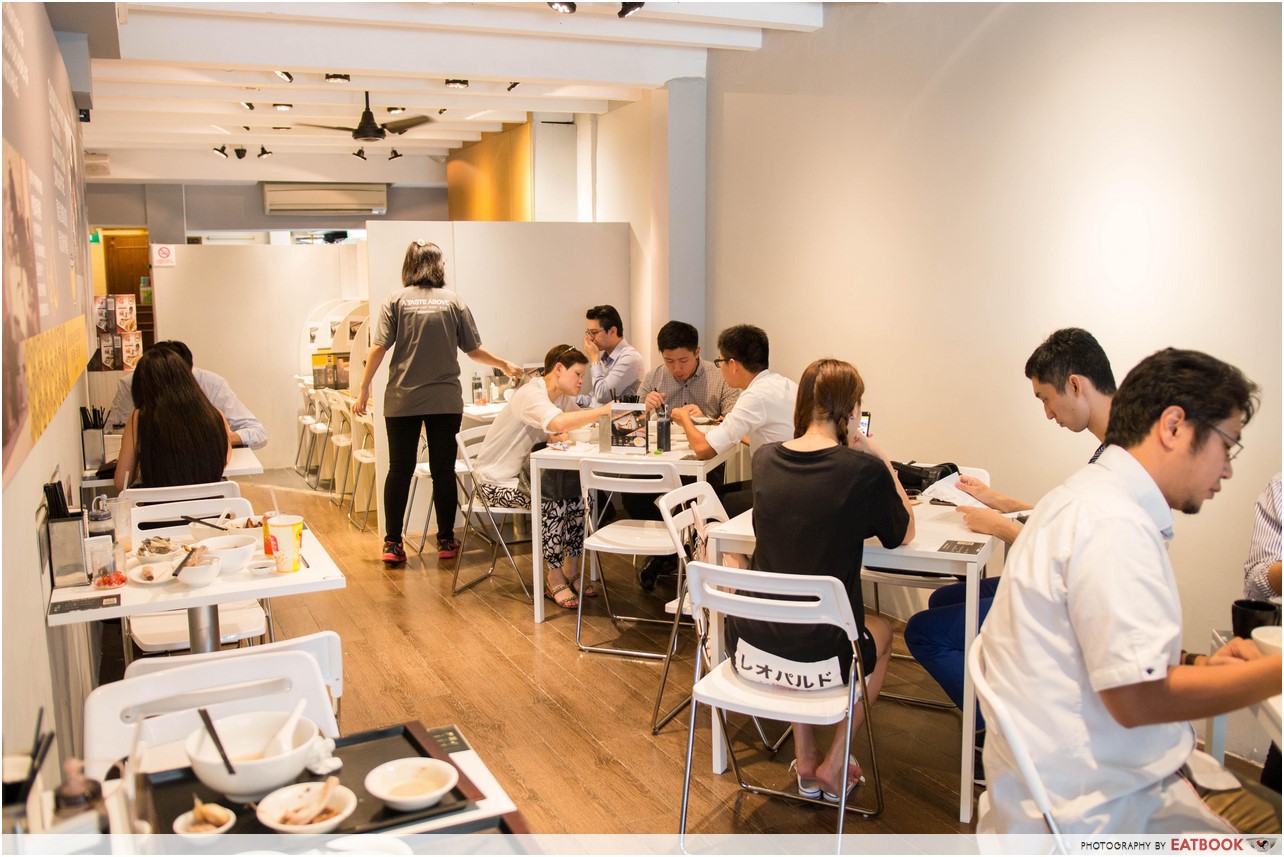 The office lunch crowd quickly filled the restaurant soon after we arrived. Weekday afternoons are when they are busiest, with queues forming outside. The restaurant is rather bare, making the chatter especially noisy then.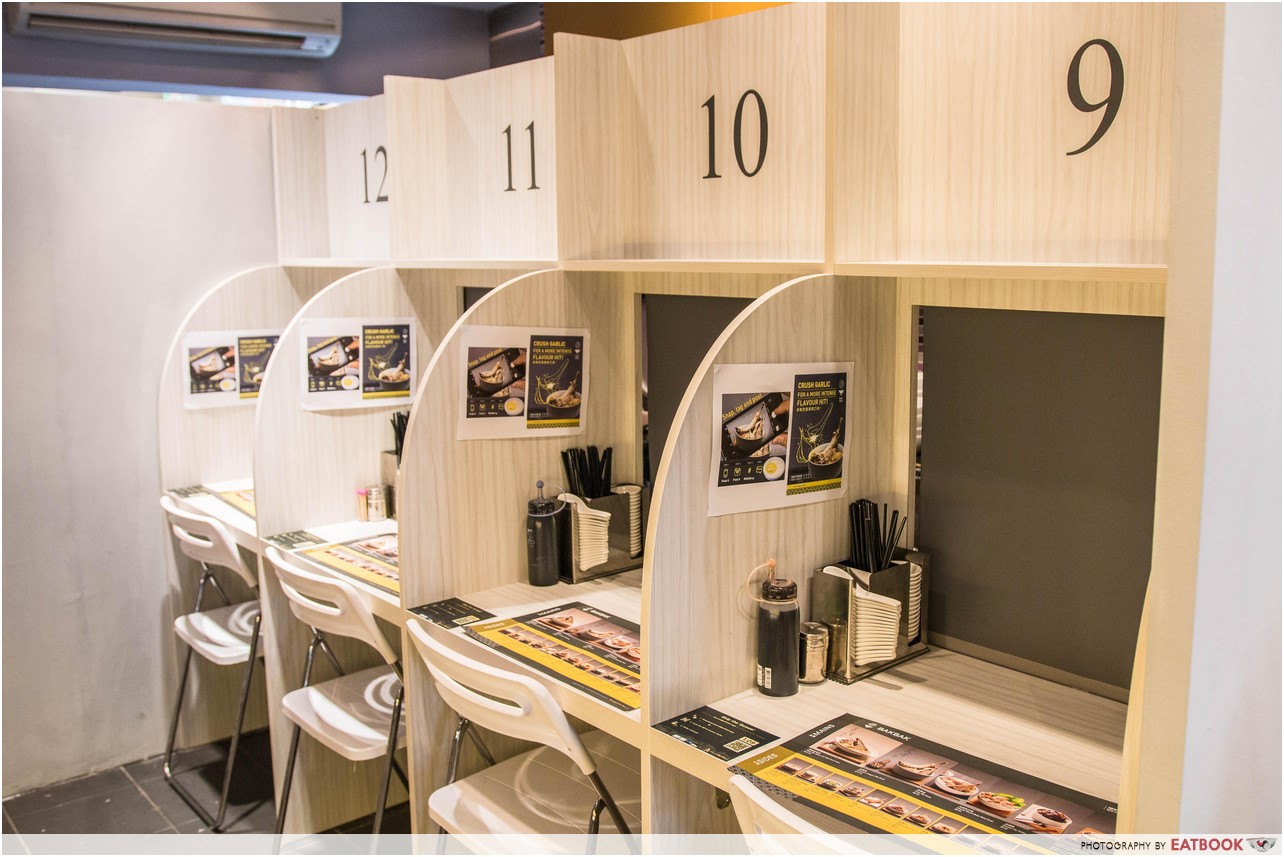 Further into the restaurant's first floor were booths for individual diners who do not wish to be disturbed, like those in Japan's eateries.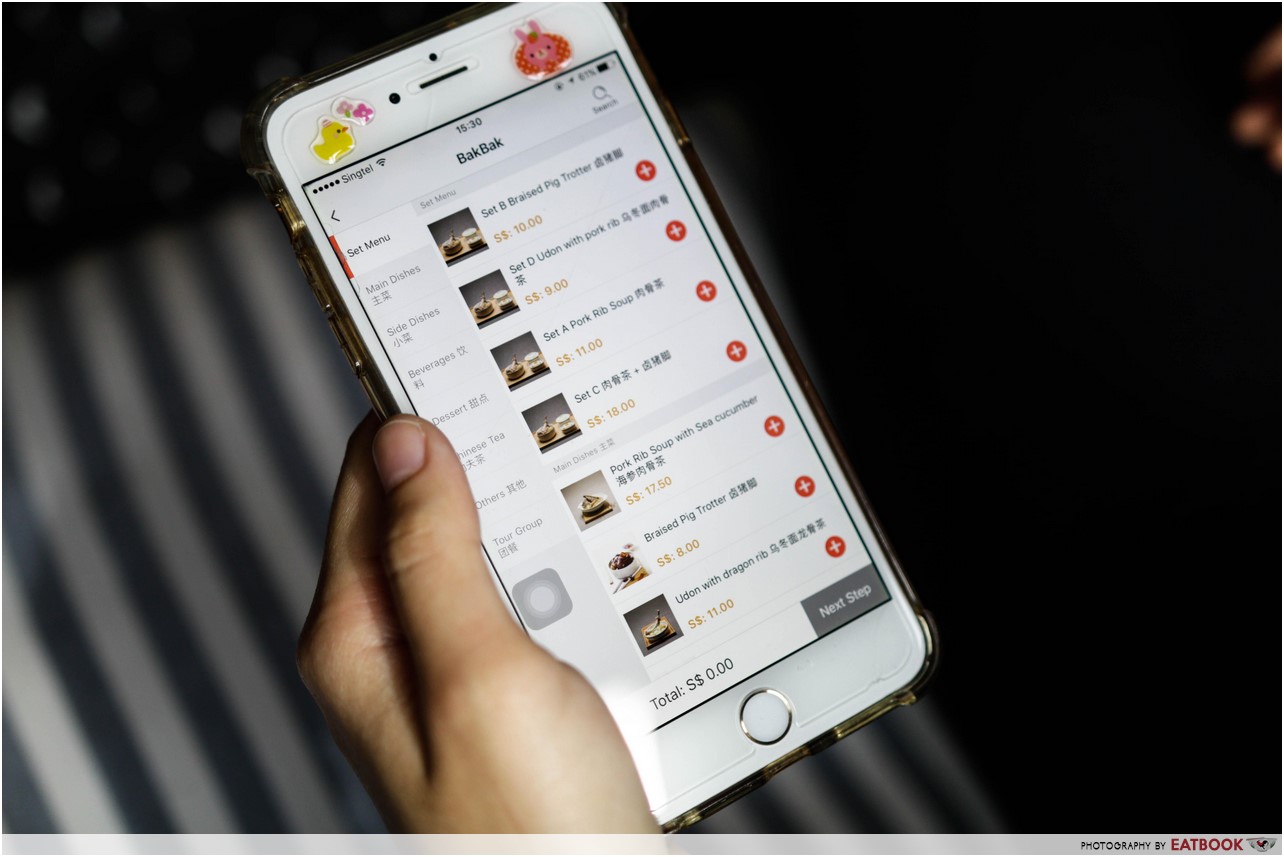 There is no service charge at Bakbak. Instructions were pasted on the corner of every table on how to dine if you don't want any interaction with their staff. Customers can download the app, ServedByAlfred, and scan a QR code on the table sticker. This links them to Bakbak's menu where they can order to dine in or takeaway and pay seamlessly.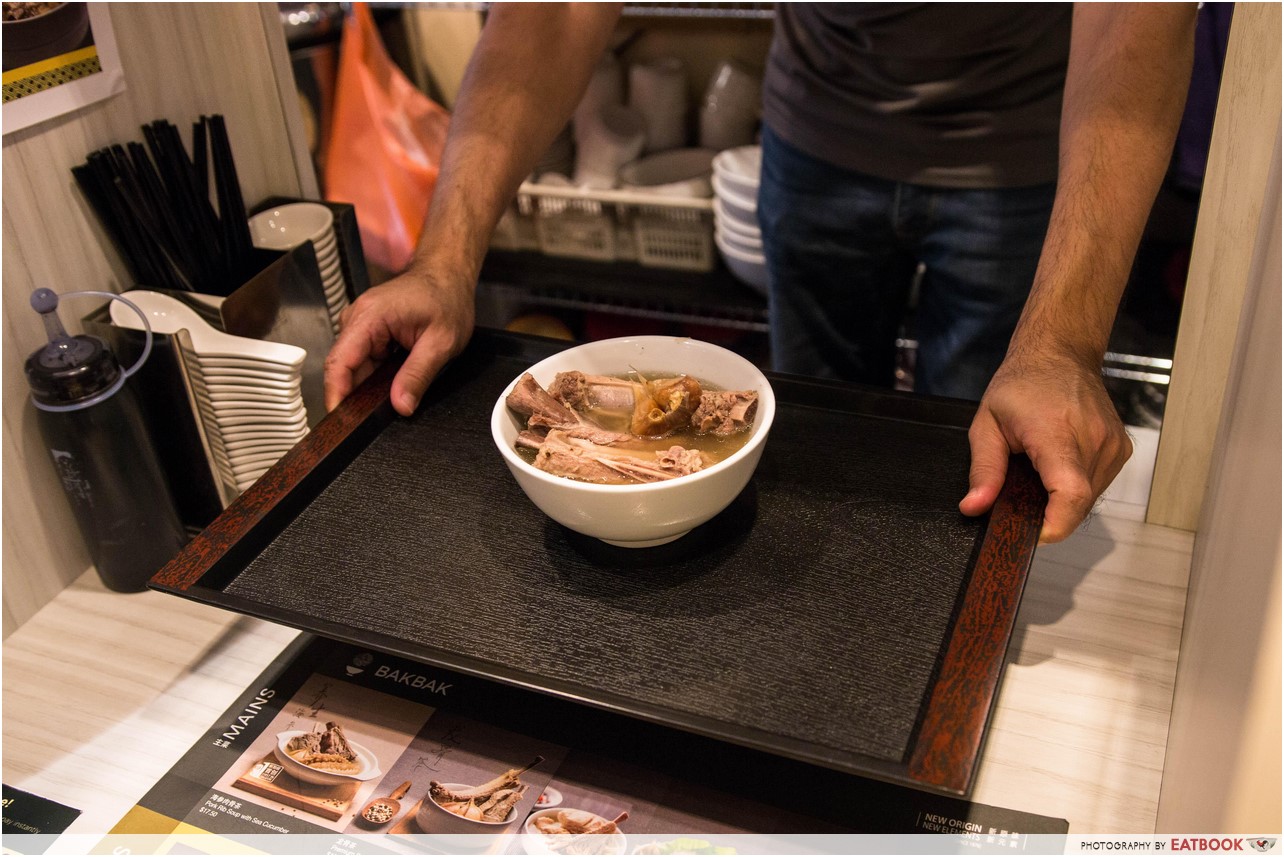 Customers at the solo booths will then be served through a curtain that will be temporarily drawn up.
The verdict

I really enjoyed some of the creations they introduced. Bakbak's Pork Rib Soup with Sea Cucumber is my favourite main dish but it's quite pricey, and perhaps should be shared between two. If that's not enough to fill you up, add some of their delectable side dishes to your meal. Bakbak impressed me by saving the best for the last, because the highlight for me was definitely their bean curd. That sweet ending is a huge reason why I would return with friends, and take the opportunity to introduce them to the unique menu twists. For traditional herbal bak kut teh, check out Hong Ji Claypot Bak Kut Teh at Thomsom. Alternatively, these hawker seafood soups make awesome nosh on rainy days too. 
Address: 10 Circular Road, Singapore 049366
Opening hours: Mon-Sat 10am to 11pm
Tel: 6222 8022
Website
Bakbak is not a halal eatery.
This was a media tasting at Bakbak.
Summary
Pros
– Satisfying portions
– Tasty dishes
– Friendly service
Cons
– Some ribs were slightly tough
– Expensive
– Need to download app for undisturbed dining, rather than use a restaurant device
Recommended Dishes: Sanuki Udon with Dragon Rib ($11), Pork Rib Soup with Sea Cucumber ($17.50), Homemade Fried Prawn Roll ($11)
Operating Hours:
Mon-Sat 10am to 11pm
Tel:
6222 8022
Address: 10 Circular Road, Singapore 04936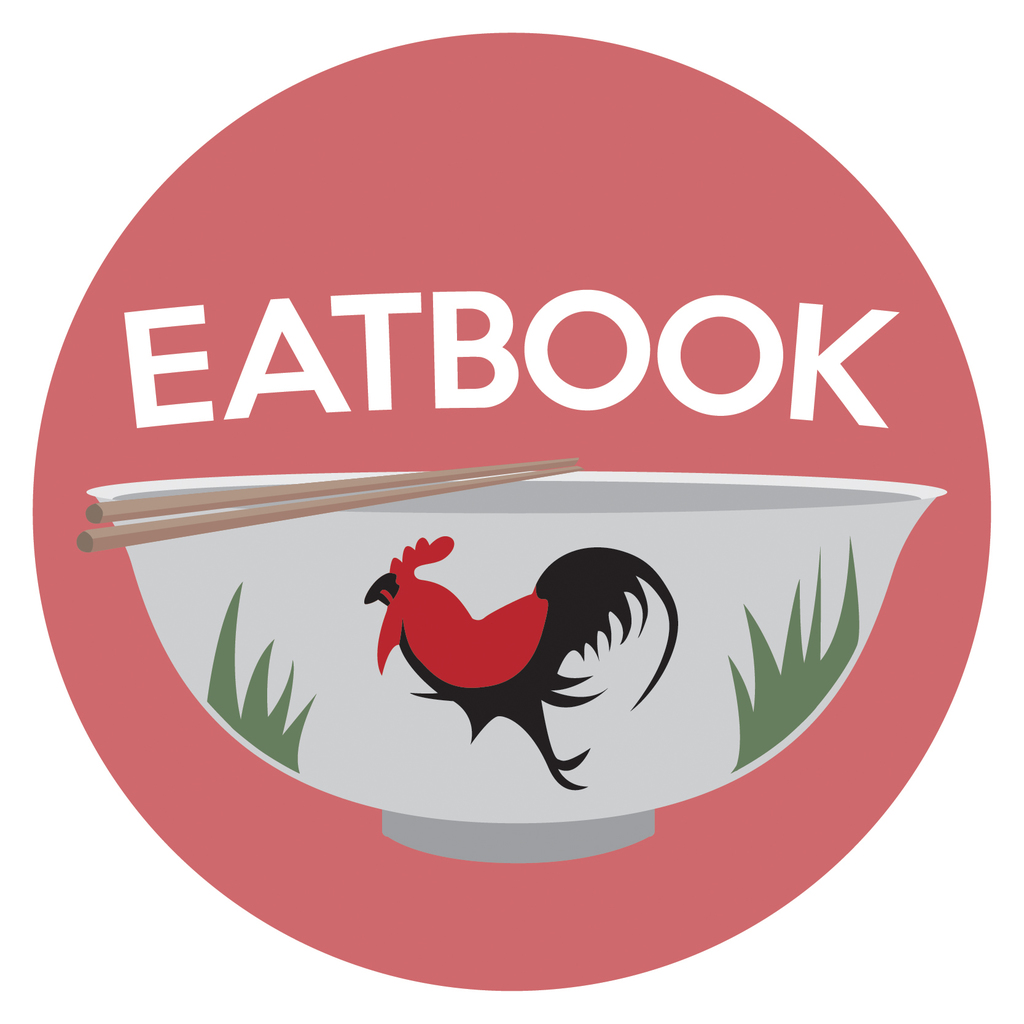 Drop us your email so you won't miss the latest news.