---
Finding an army stew under $10++
---
I have some qualms with eating army stews (budaejjigae) in Singapore. Most of them are made with really cheap processed products like spam and baked beans. Yet, these stews cost a fortune. I wanted somewhere I could enjoy a tasty and good-quality army stew without being broke.
Thus began my search for eight cheap army stews under $10++ per person in Singapore.
---
1. Star Army Stew
---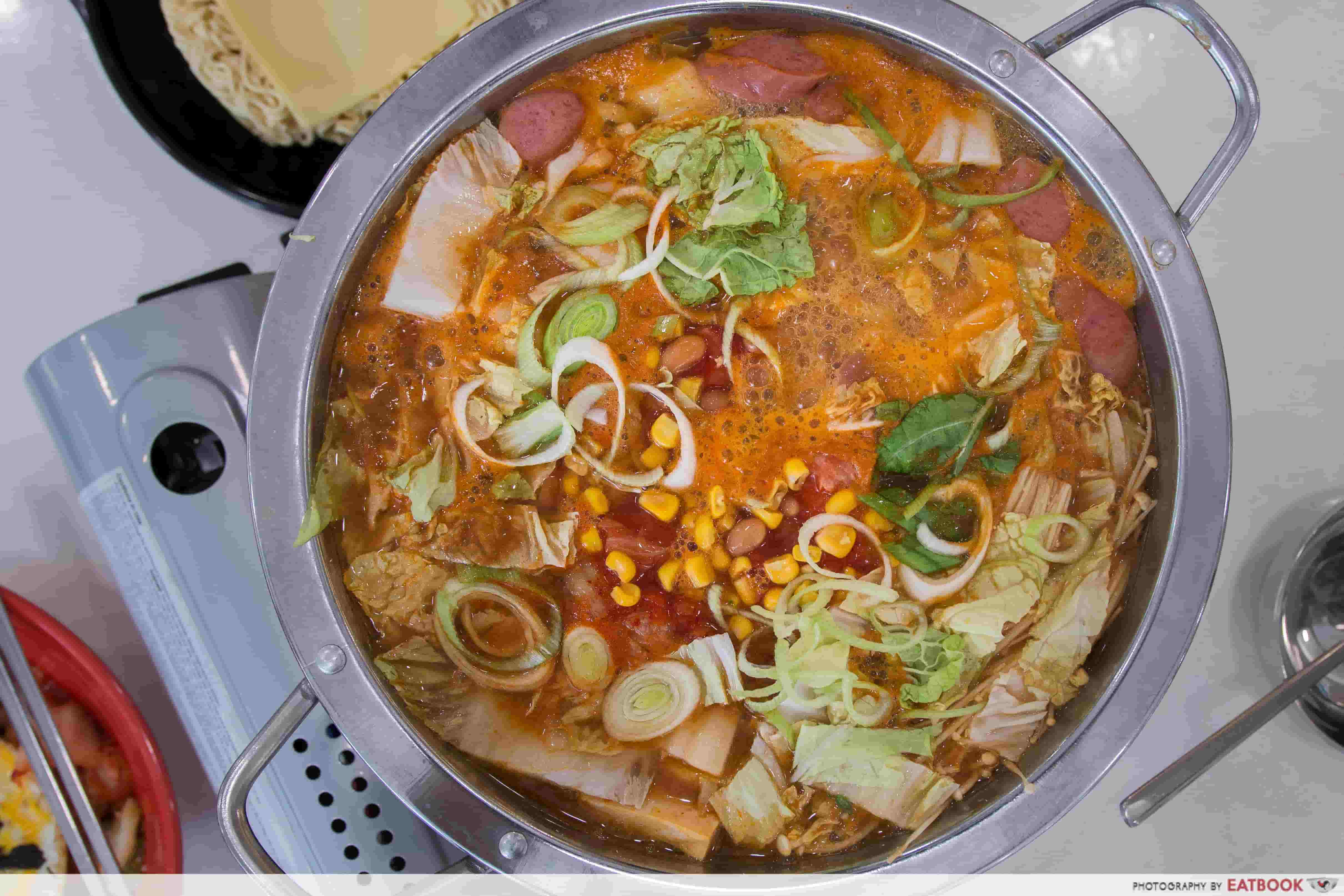 Star Army Stew is a Korean hawker stall opened by former MediaCorp actresses Cassandra See and Tang Miao Ling. The army stew ($19.90) here is meant to be shared by two people. However, from experience, it's large enough to be shared by a group of three.
Flavour is not compromised at this affordable price. They add gochujang to the broth to give it an extra kick and dimension of flavour. The base is then soaked up by the chewy tteokbokki and pork belly, making everything extra flavourful. Last but not least are the freshly cut veggies, which impart a delicate sweetness to the stew.
Check out our full review of Star Army Stew!
Address: 108 Ang Mo Kio Avenue 4, #01-74, Singapore 560108
Opening hours: Fri-Wed 1pm to 10pm
Tel: 8322 0161
Website
Star Army Stew is not a halal eatery.
---
2. Nene Chicken
---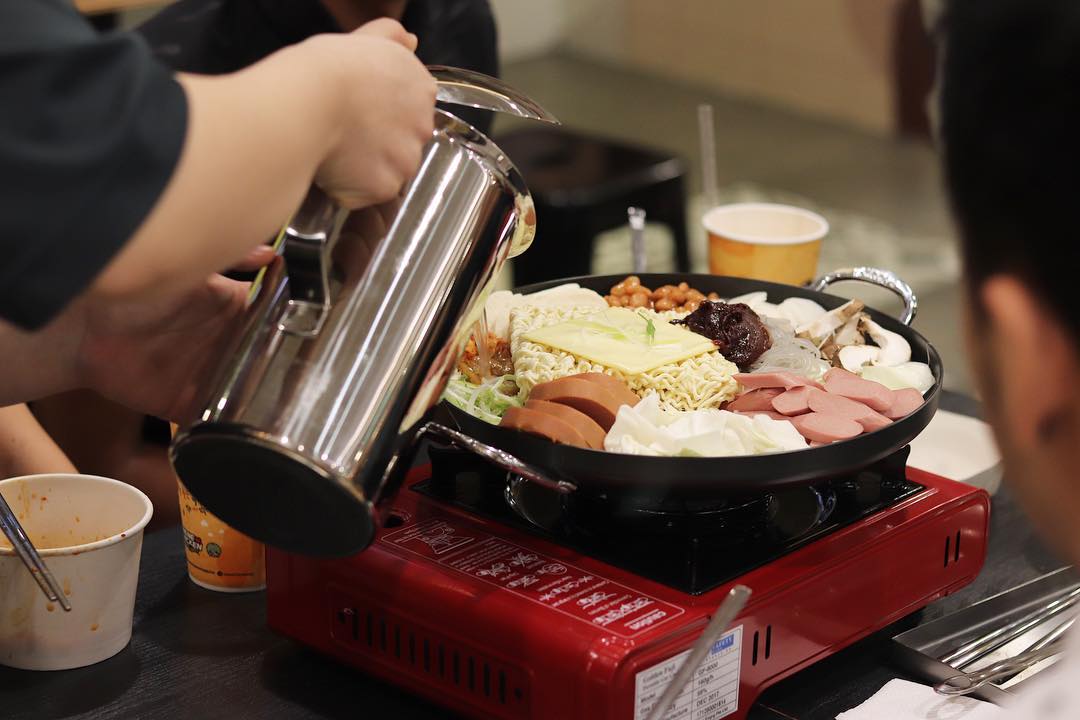 Image credit: @nenechickensg
Admittedly, Nene Chicken isn't a place that comes to mind when looking for a cheap budaejjigae in Singapore. However, there are certain outlets that sell army stew* ($29.90++ for 3 pax) at a reasonable price. Furthermore, they are one of the few halal certified places for Korean food, making them a must-visit for Muslims!
I appreciate how a slice of cheese is placed atop the ramen. When heated, it slowly bubbles and dissolves into the soup. A certain creaminess is imparted to the whole stew, giving it a burst of flavour. If you really love the soup, you can request for a free top-up!
*Available only at their Hougang, Bukit Panjang and Junction8 outlets.
Address: 90 Hougang Avenue 10, #02-24 Hougang Mall, Singapore 538766
Opening hours: Sun-Thur 11am to 9:15pm, Fri-Sat 11am to 10:15pm
Tel: 63434227
Website
List of outlets
Nene chicken is a halal eatery.
---
3. Seoul Shiok
---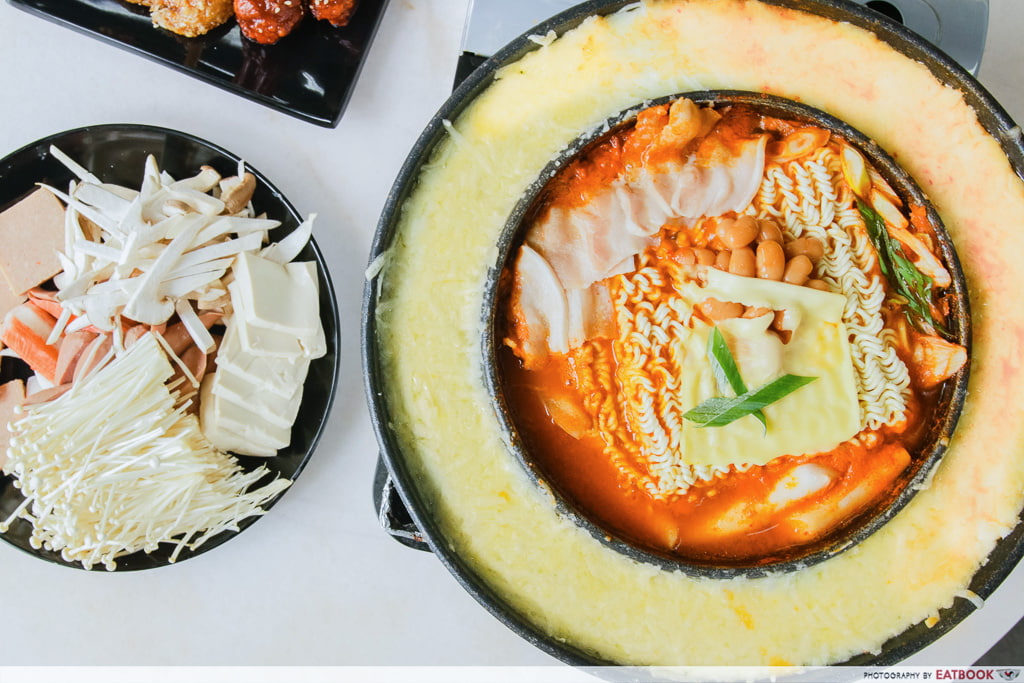 Army stew is common, but have you seen Army Stew with Cheese ($29.90)? Seoul Shiok fills the pot ring with mounds of shredded cheese to accompany your stew. They provide a wide variety of ingredients, including pork belly slices, instant noodles and tteokbokki. This concoction is made complete with a slice of cheese at the top. All of these are sufficient to feed a table of three or more.
Try dipping your pork belly into the stringy cheese. The oils from the cheese marry well with the richness of the pork belly, giving you an explosion of flavour in the mouth — yum!
Check out our full review of Seoul Shiok!
Address: 10 Sengkang Square, Kopitiam Square, Singapore 544829
Opening hours: Mon-Thur 11am to 10:30pm, Fri-Sat 11am to 11:30pm, Sun 11am to 10:30pm
Website
Seoul Shiok is not a halal eatery.
---
4. Supulae
---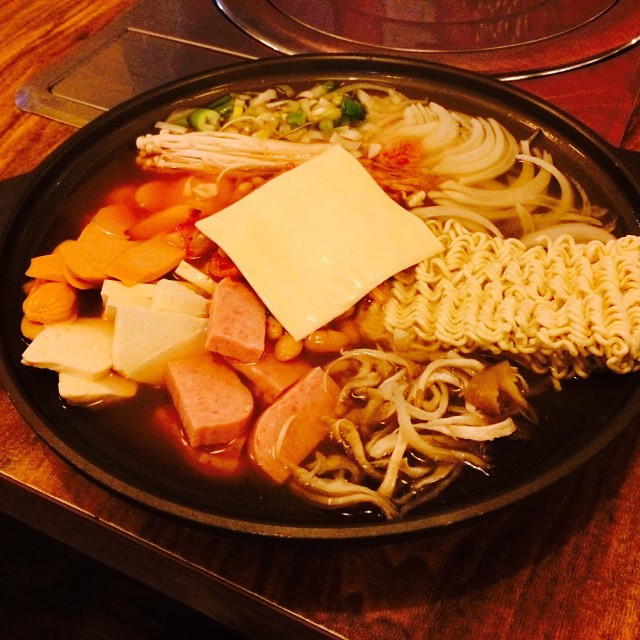 Image credit: @supulaekorenbbq
Supulae's army stew ($34.80++) is large enough to feed four people. You get to choose from their different selection of stews. Namely, Ham & Sausage, Beef Bulgogi, Beef & Octopus, and Kimchi & Pork.
The various stews have different flavour profiles. For something that's not spicy, the beef bulgogi is a fail-safe choice as it doesn't contain any gochujang or kimchi. Its lack of spice is compensated by the sweetness of its beef slices. As you drink it, you get a warm, hearty feeling. For a more authentic experience, you could try the ham and sausage. Hunky chunks of luncheon meat and sausage are strewn into the soup, giving you a satisfying bite of meat in every mouth.
Address: 80 Tanjong Pagar Road, Singapore 088501
Opening hours: Sun-Thur 5pm to 1am, Fri-Sat 5pm to 4am
Tel: 6225 2248
Website
Supulae is not a halal eatery.
---
5. 8 Korean BBQ
---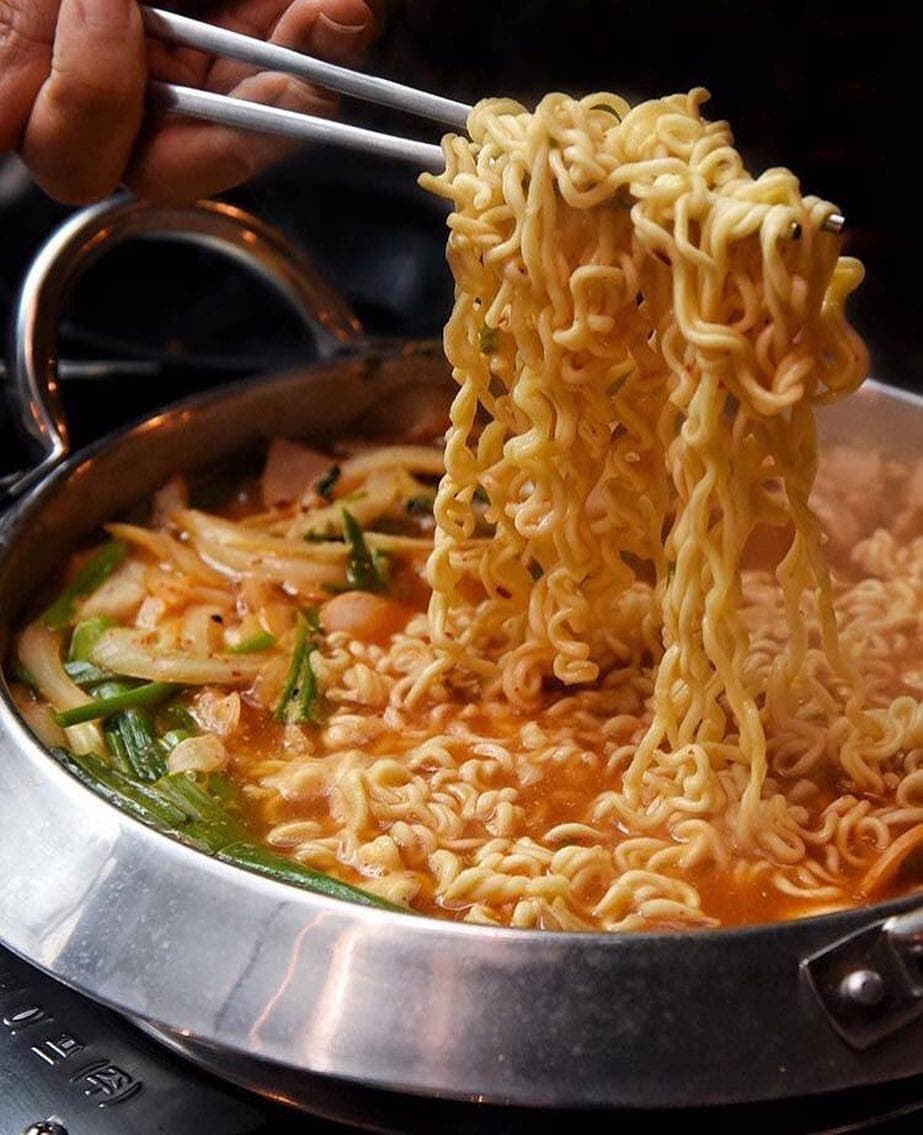 Image credit: @8koreanbbqshaw
8 Korean BBQ's Army Stew ($24++) is chock-full of flavour. Heaps of gochujang and kimchi are added to create this stew. The broth is then soaked up by the springy ramyeon noodles. Biting into them unleashes bursts of spicy and tart notes from the gochujang.
Because of the huge amount of noodles, this stew can be shared amongst three. There's also plenty of ingredients such as kimchi, hotdogs, cabbage to satiate your appetite. For those who enjoy traditional Korean stews, there's also plenty of other selections ranging from kimchi beef stew to seafood bean paste stew.
Address: 1 Scotts Rd, #04-20/21, Singapore 228208
Opening Hours: Mon-Fri 11:30am to 2:30pm, 5:30 to 10:30pm Sat-Sun 11:30am to 10:30pm
Tel: 8692 1188
Website
8 Korean BBQ is not a halal eatery.
---
6. Daejon House
---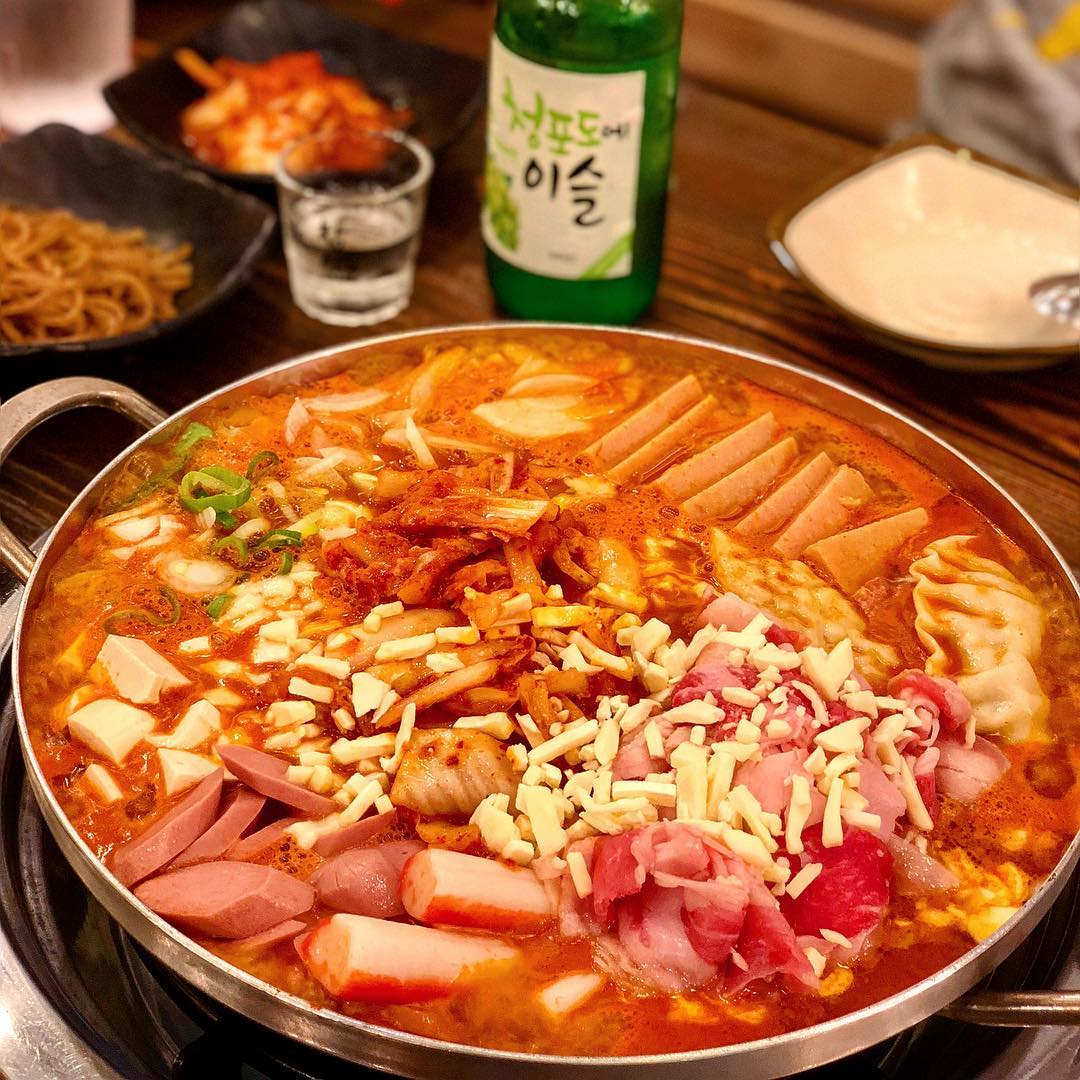 Image credit: @lumneats
The ambience at Daejon House is very much like a legit Korean restaurant. Its 20th-century decor is littered with posters, providing a sense of 80's nostalgia. They sit you down on a dark brown wooden table and offer you a few side dishes.
The army stew ($34.90++) here comes in a large portion that can feed four people. You can also opt for the smaller portion at $24.90++. What impresses me most is the effort taken to prepare the broth. Beef bones are boiled for hours, imparting their natural sweetness and flavours.
Address: Havelock II, 2 Havelock Road, #01-03, Singapore 059763
Opening Hours: Mon-Sun 10am to 10pm
Tel: 6532 2948
Website
Daejon House is not a halal eatery.
---
7. The Boneless Kitchen
---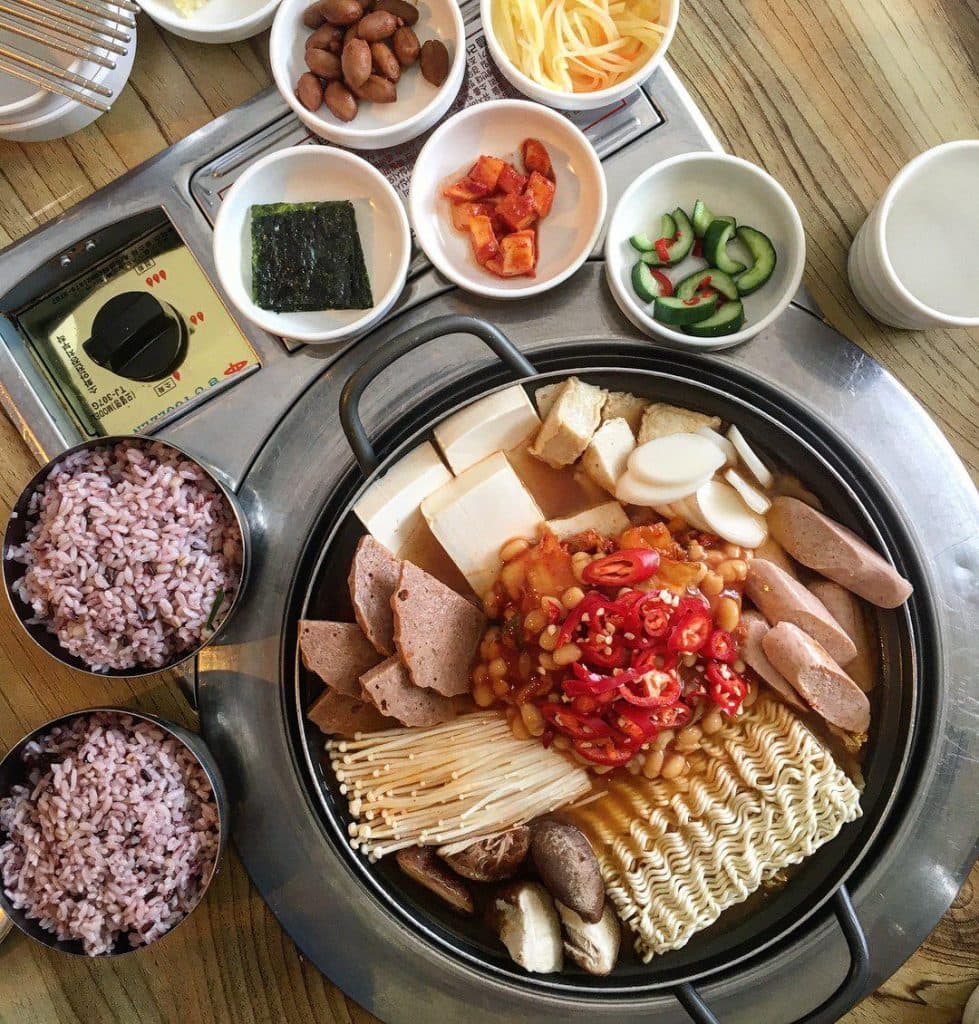 Image credit: @birdbirdeatsaway
The Boneless Kitchen seeks to make Korean cuisine accessible to vegetarian and vegans. Korean mains, after all, are very meat-centric. Speaking as a vegan, the restaurant's take on Army Stew Jeongol ($36.90) was my respite from salads and fruits.
This dish is made from seitan, tofu and mushrooms —  beefing up flavours of the stew. It can also be made vegan-friendly if you omit the cheese slices. Further amping up the flavours are gochujang and bean paste. Although the dish is a far cry from the real deal, it's a great alternative for a meal with your vegan friends.
Address: 1 Irving Place, #01-31, The Commerze @ Irving, Singapore 369546
Opening hours: Tue-Sun 12pm to 9pm
Tel: 8457 6464
Website
The Boneless Kitchen is not a halal eatery.
---
8. Mukshidonna
---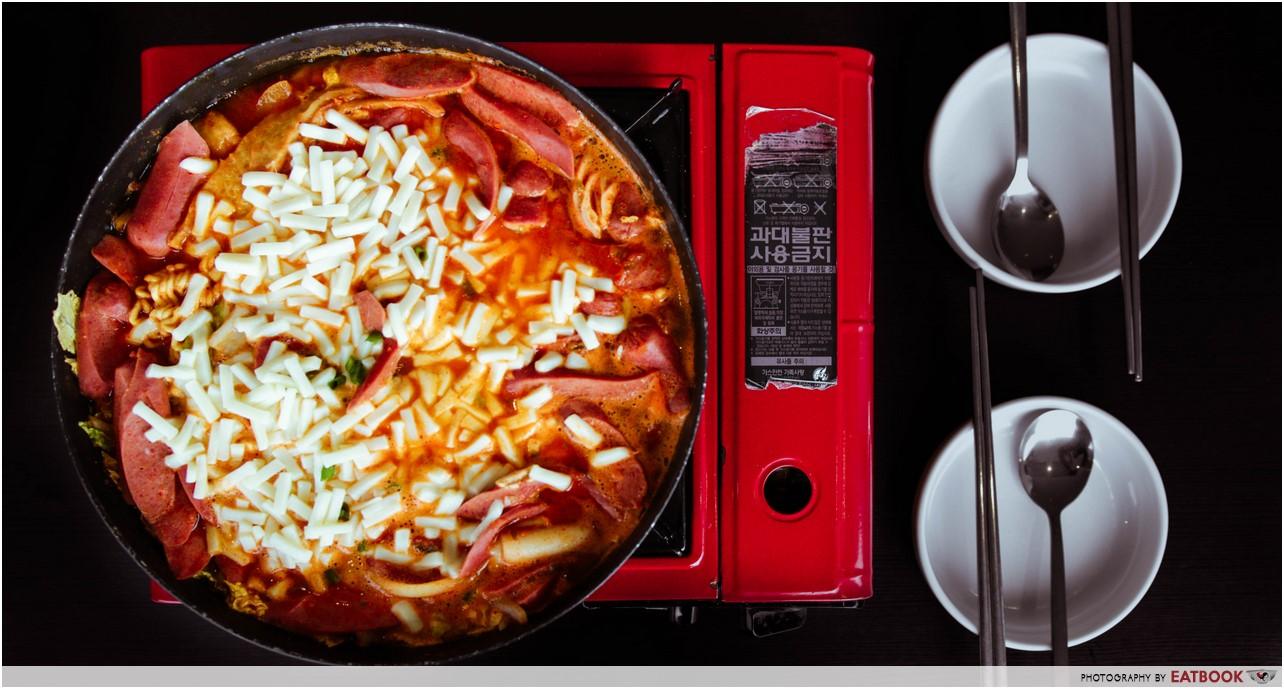 When I heard that Mukshidonna attained a halal certification, omo, I knew I had to pop-by for a visit. What's even more amazing is the price. The Cheese Tteokbokki Army Stew is only $13.90 and is big enough to feed two starving people. You can choose to add additional ingredients such as ham, mandu or even scallops for $3.
The stew will be very soupy at first, so you'll have to leave it on a medium-low heat, to allow the ingredients to soak it up. You can also expect a lot of hot dogs in this stew that will absorb the spiciness and sweetness of the gochujang soup base.
Check out our full review of Mukshidonna!
Address:1 Pasir Ris Close, #02-324, E!Avenue, Singapore 519599
Opening hours: Daily 11:30am to 10pm
Website
Mukshidonna is a halal-certified eatery.
---
Eating cheap Korean food
---
If you're anything like me and enjoy a great and affordable Korean meal, you could check out one of my personal favourites; Daebak Korean Restaurant. They have a hearty hotplate bulgogi that takes me back to Seoul. If that's not really your thing, you could also check out our listicle on  10 Korean places under $15++.