China Street Rickshaw Noodles sells $1 noodles
Update: China Street Rickshaw Noodles has closed down.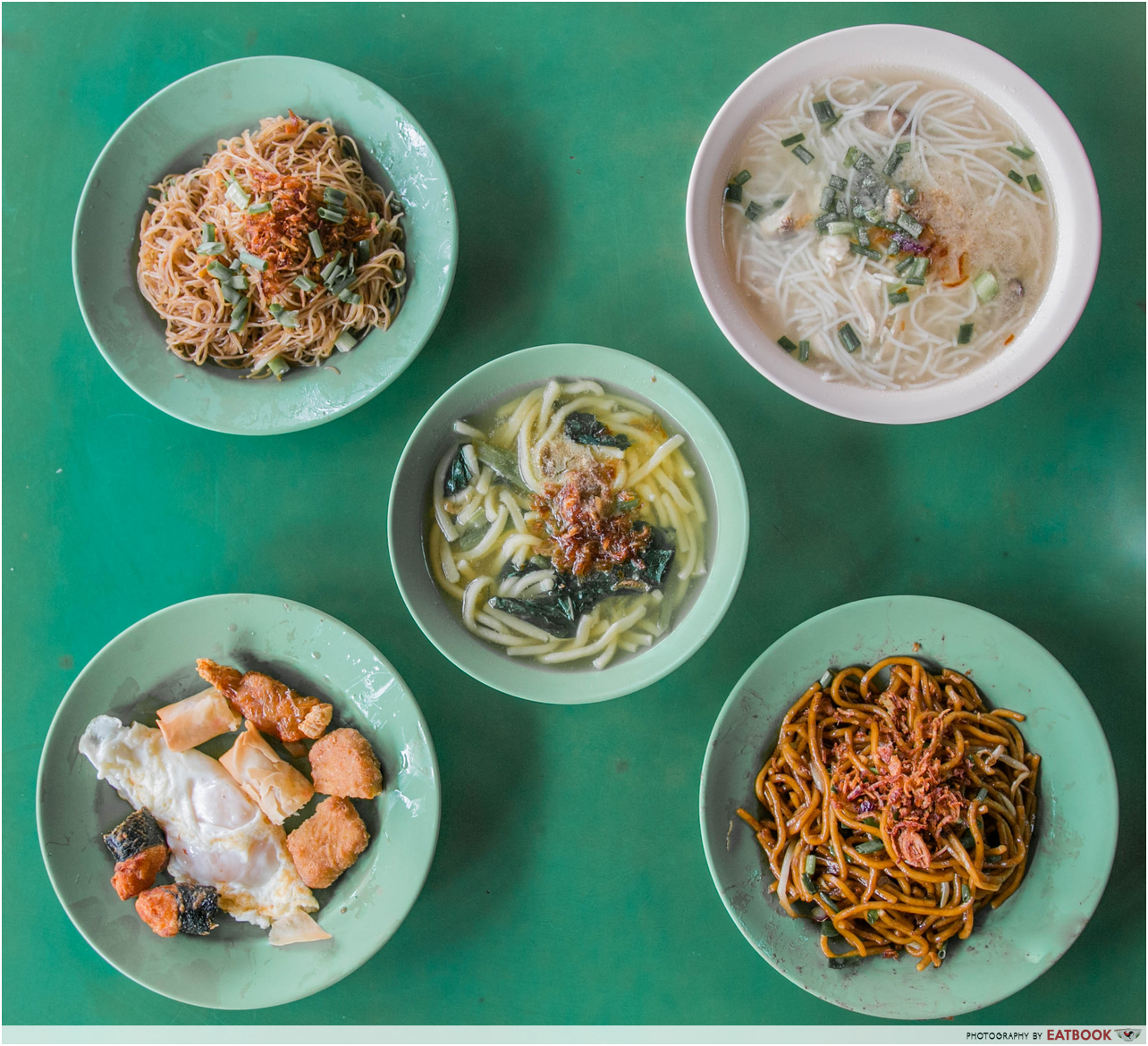 Tucked away in Maxwell Food Centre is a stall that has been selling simple bowls of noodles for over 70 years. China Street Rickshaw Noodles is named after the dish that started it all – la che mian. Back in the day, this was a go-to breakfast food for rickshaw pullers as it gave them the energy to do such labour-intensive work. Now, it's a meal that can be enjoyed regardless of what your job is. The best part is, all noodles are priced at $1 for a small bowl and $1.50 for a big bowl!
Food at China Street Rickshaw Noodles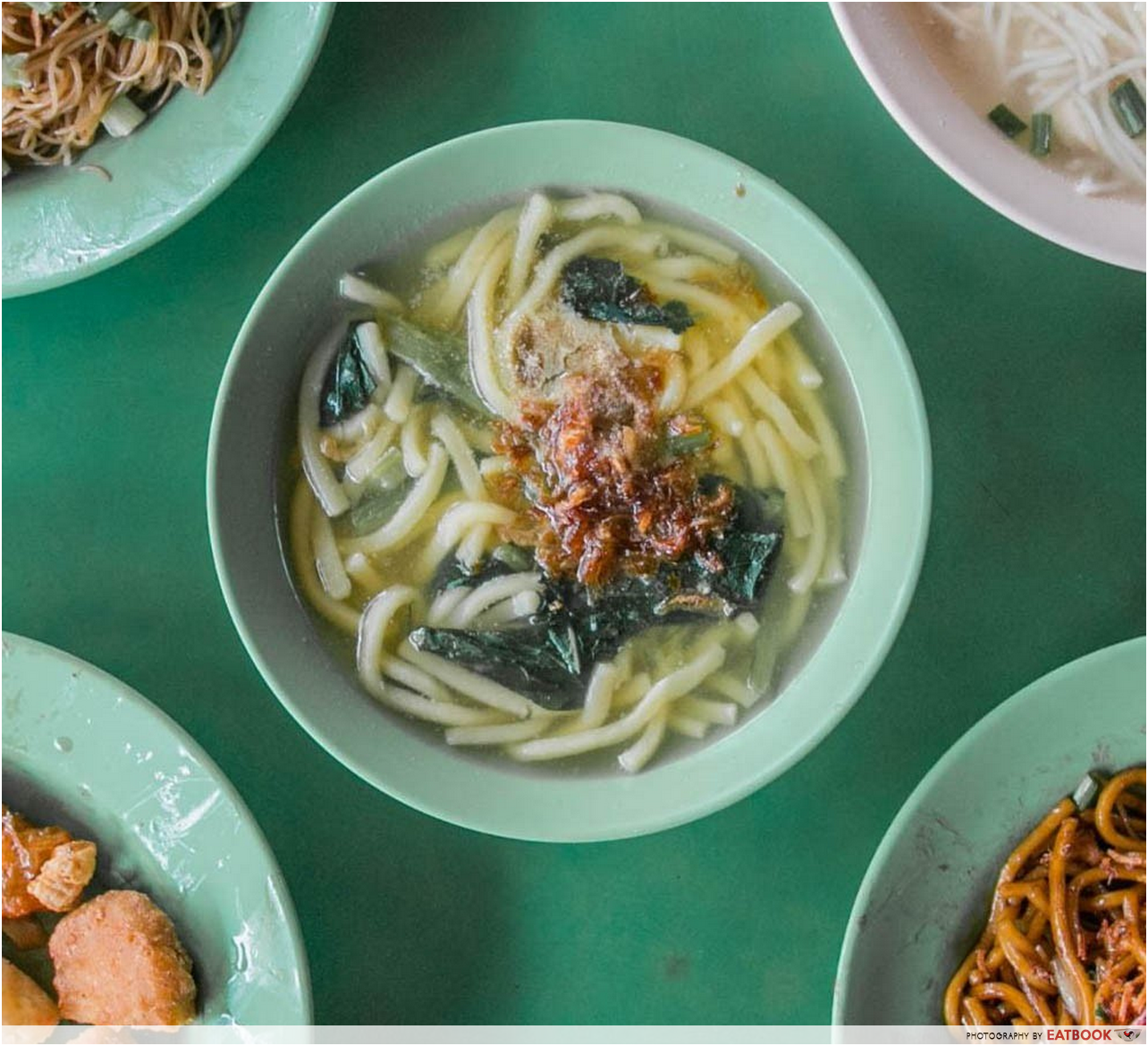 Since the noodles are so cheap, we decided to order all five listed on their menu. Unfortunately, they ran out of fried kway teow ($1/$1.50) so we were left with four.
This stall has been serving la che mian ($1/$1.50) since the early 40s. This dish comprises yellow noodles and a savoury anchovy broth. Though I'm not a big fan of yellow noodles, I found these noodles to be thicker and they didn't leave an overly strong aftertaste. The noodles were on the softer side as they had been boiled for hours in the clear broth, soaking up all that soupy goodness. This also came with some vegetables and fried onions that added more flavour to the otherwise plain dish.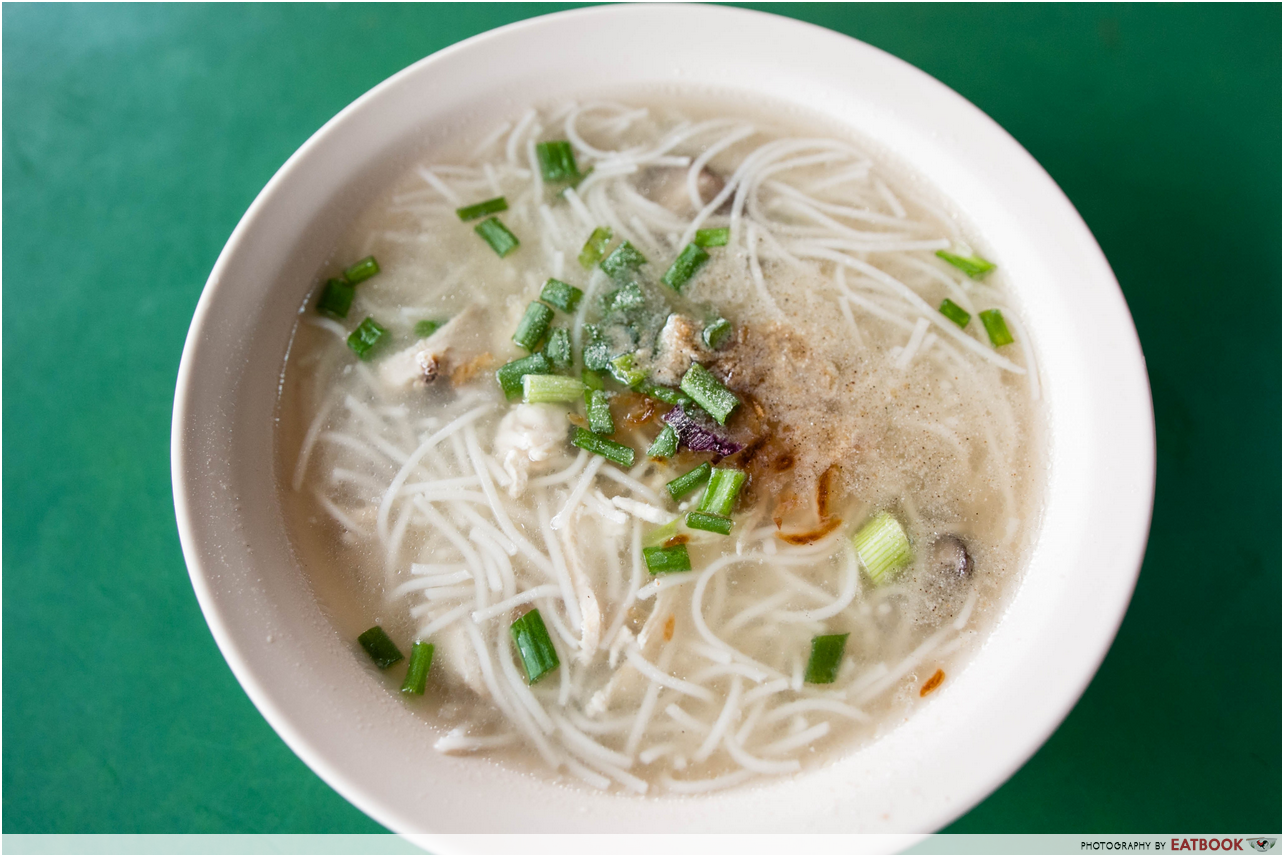 We got the large serving of mee sua ($1/$1.50) cooked in a clear soup. The soup was thicker than that of the La Che Mian as boiling the mee sua in the broth gave it more body.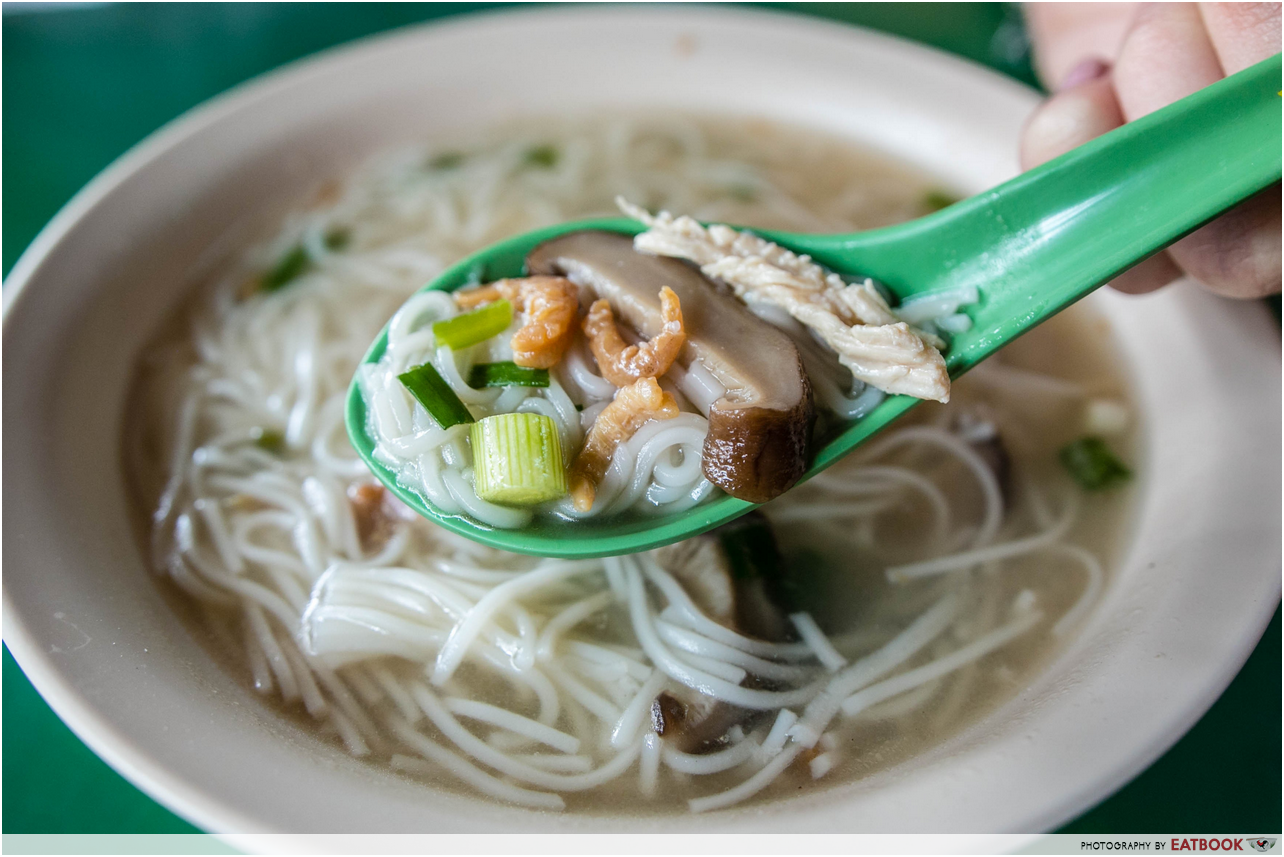 This dish came with mushroom slices, dried shrimp and chicken, which added more flavour and texture to the meal. I'd like to think that this could be the Singaporean alternative to chicken noodle soup, perfect for a cold and rainy day. This was my favourite as it reminded me of my grandmother's simple Fuzhou-style cooking.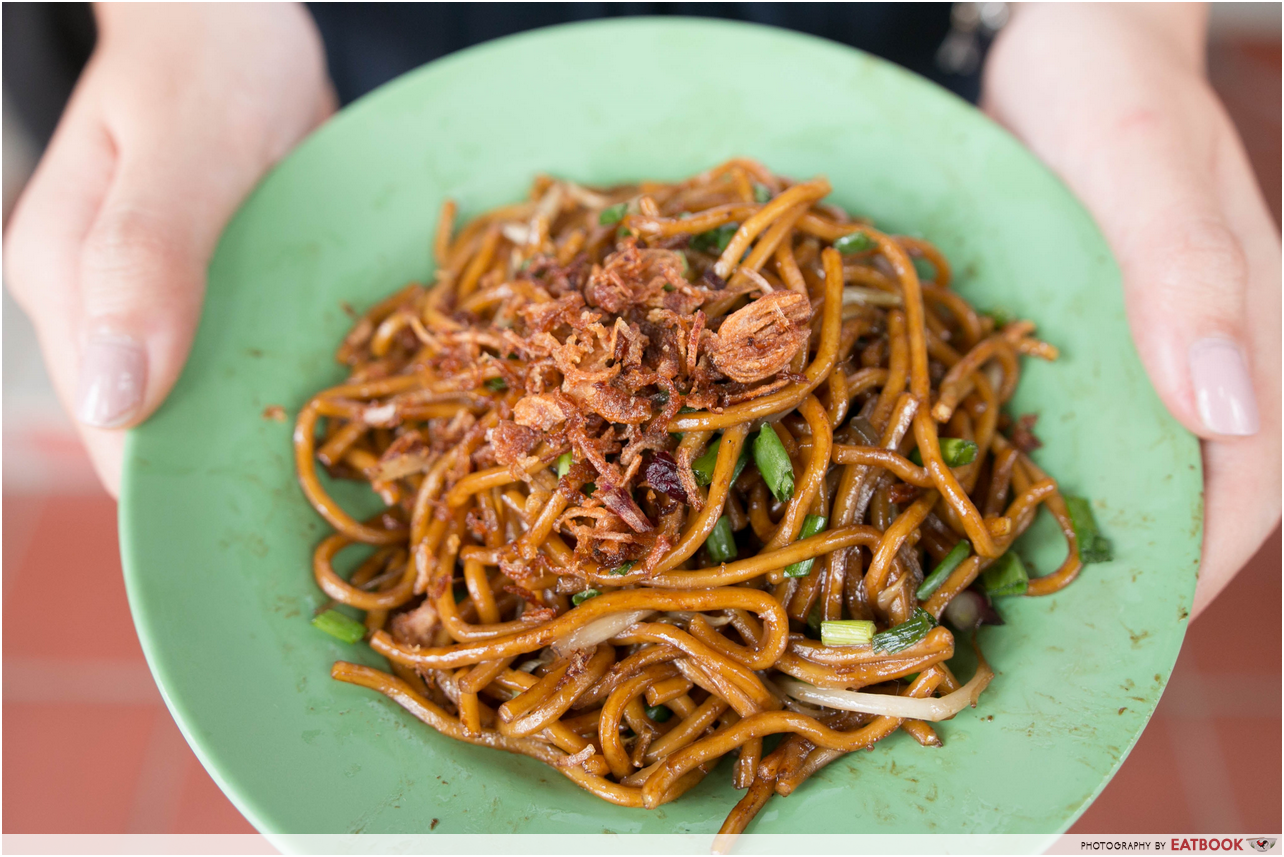 Economy noodles ($1/$1.50) were not soggy and had a nice, chewy texture. The sauce had a good balance between sweet and savoury. It also was substantial enough to cling onto each noodle. If you don't like oily food, you may want to give this dish a pass as it was on the greasier side.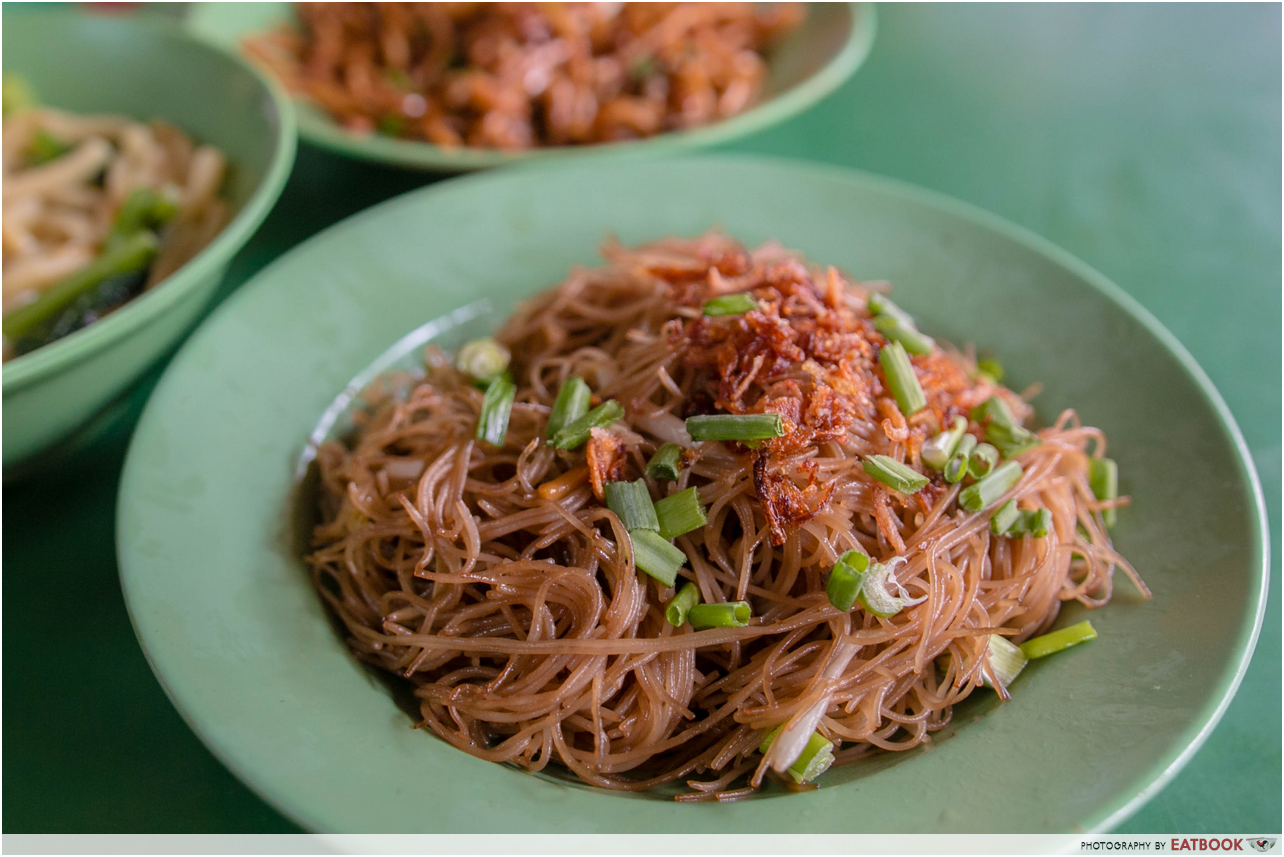 Bee hoon ($1/$1.50) from this stall was quite dry compared to the typical beehoon you can find elsewhere. I highly recommend getting a fried egg on the side for maximum satisfaction. Overall, it was a decently-sized portion for a dollar's worth of noodles.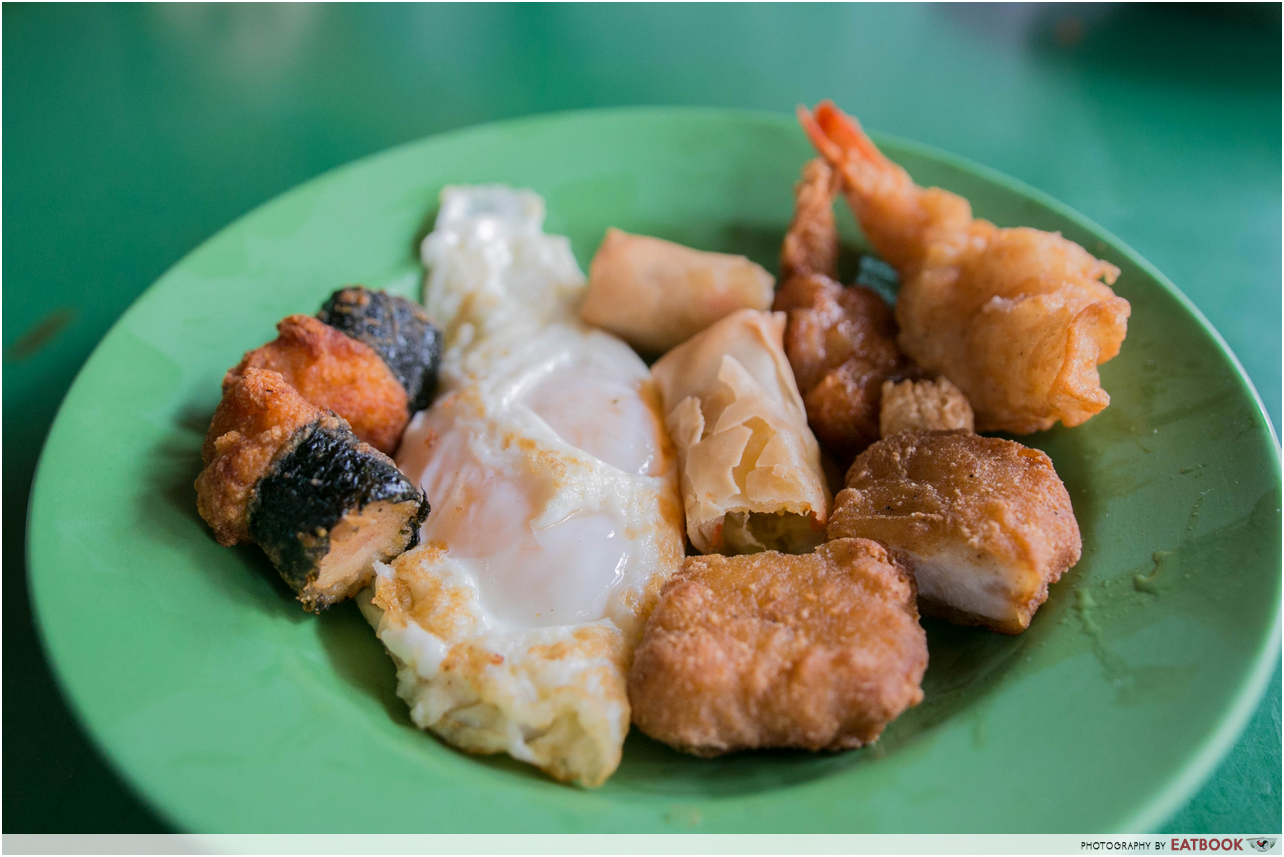 The fried egg was runny in the middle and the yolk added richness to the slightly lackluster bee hoon. You can also choose other sides, such as nuggets, seaweed chicken, ngoh hiang and luncheon meat. Each piece will cost you anywhere between $0.20 to $0.80.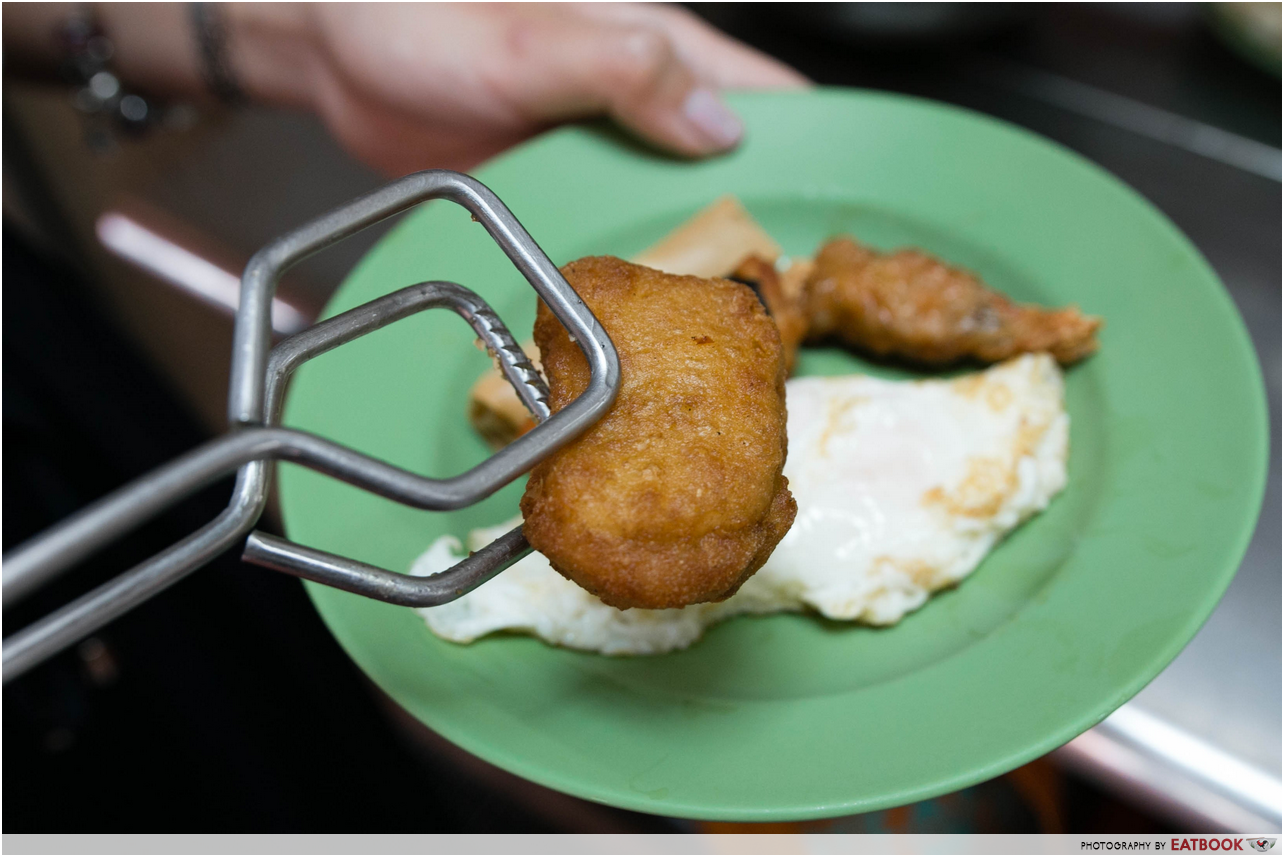 After selecting the ones you want, the aunties at the stall will help you re-fry them so you can enjoy your sides warm.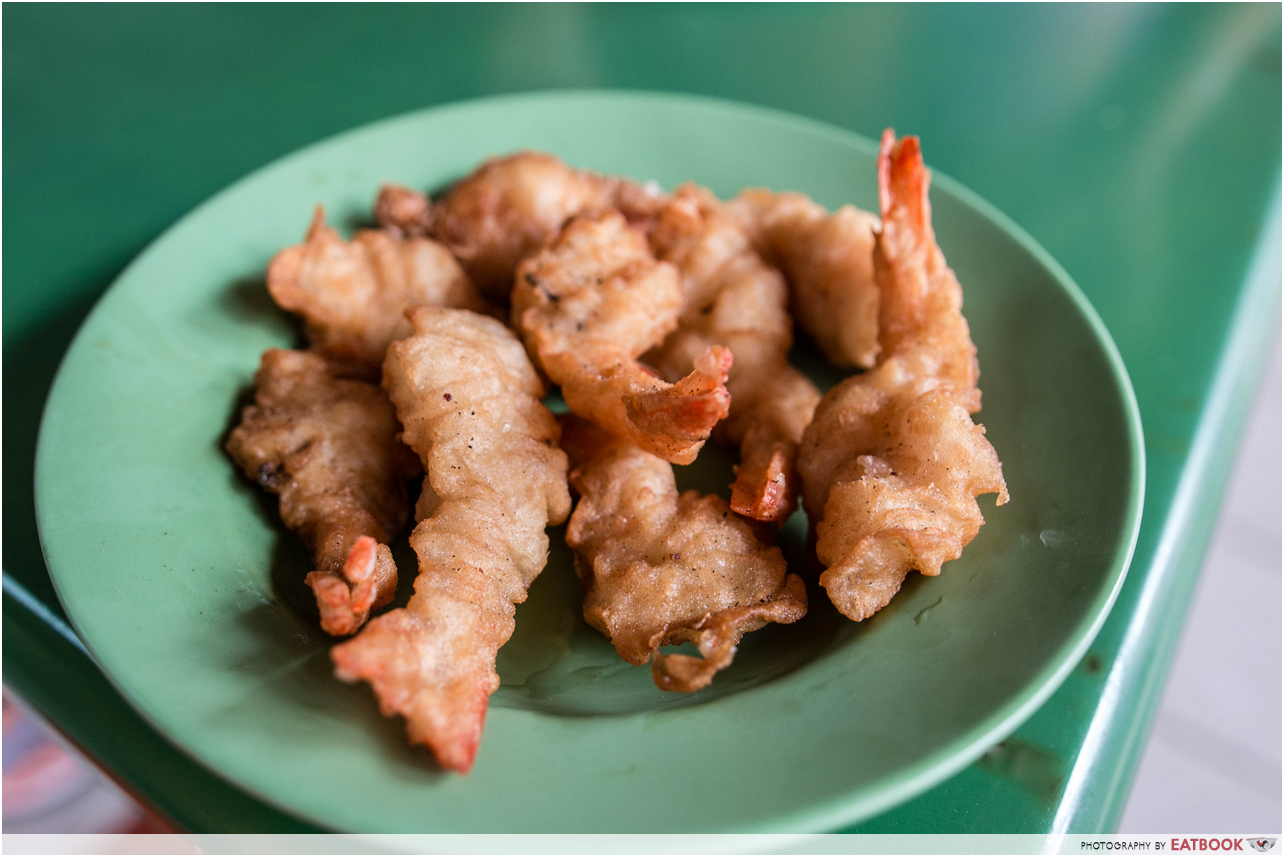 These battered prawns ($0.40 each) stood out among all the sides we tried. Though these were deep fried, they weren't overly oily or cloying. They were crisp on the outside and still had the mildly sweet taste of fresh prawns. Be warned, these are highly addictive.
Ambience at China Street Rickshaw Noodles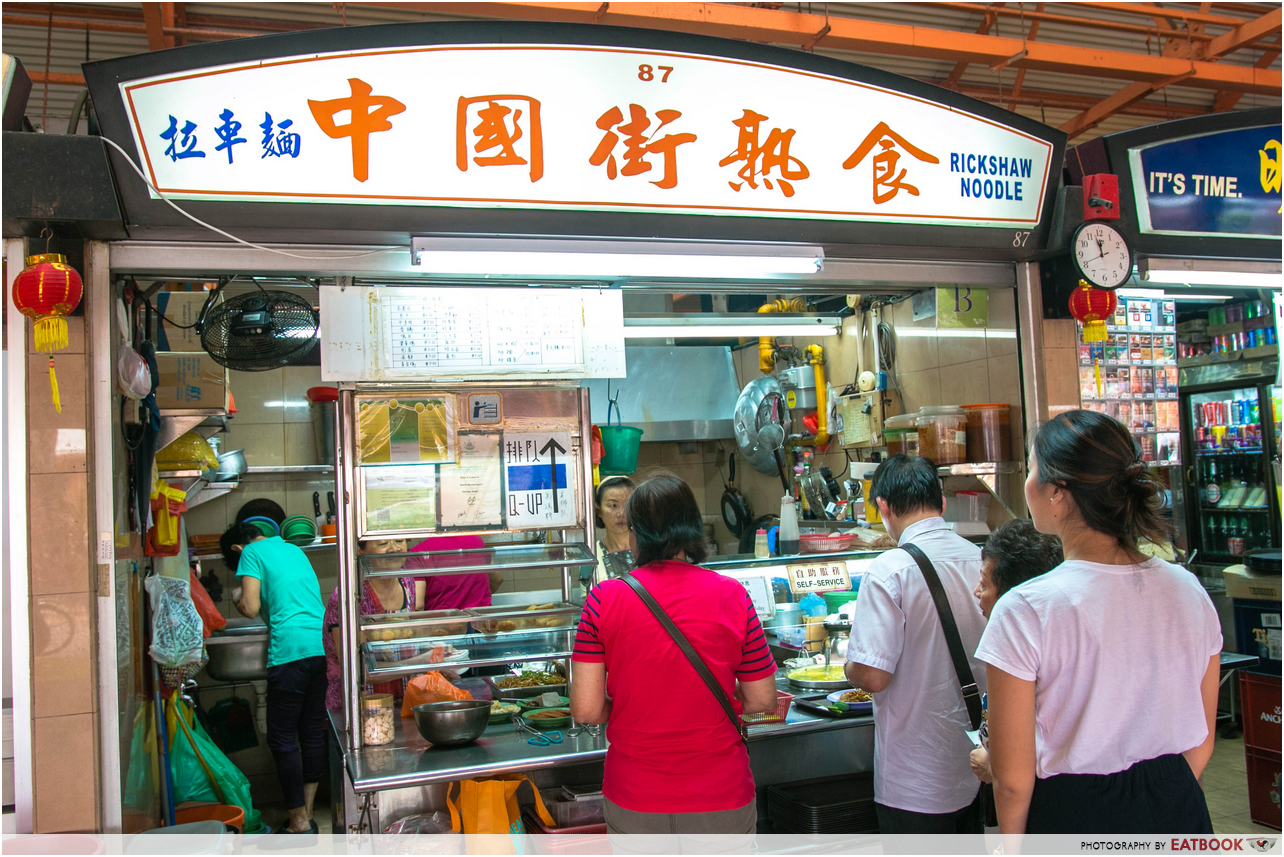 Though there was a steady stream of customers, the queue was kept short due to the fast service. Also, if your Mandarin is as poor as mine, one of the stall aunties can speak English so don't panic when you see that their menu is written in traditional Chinese.
The verdict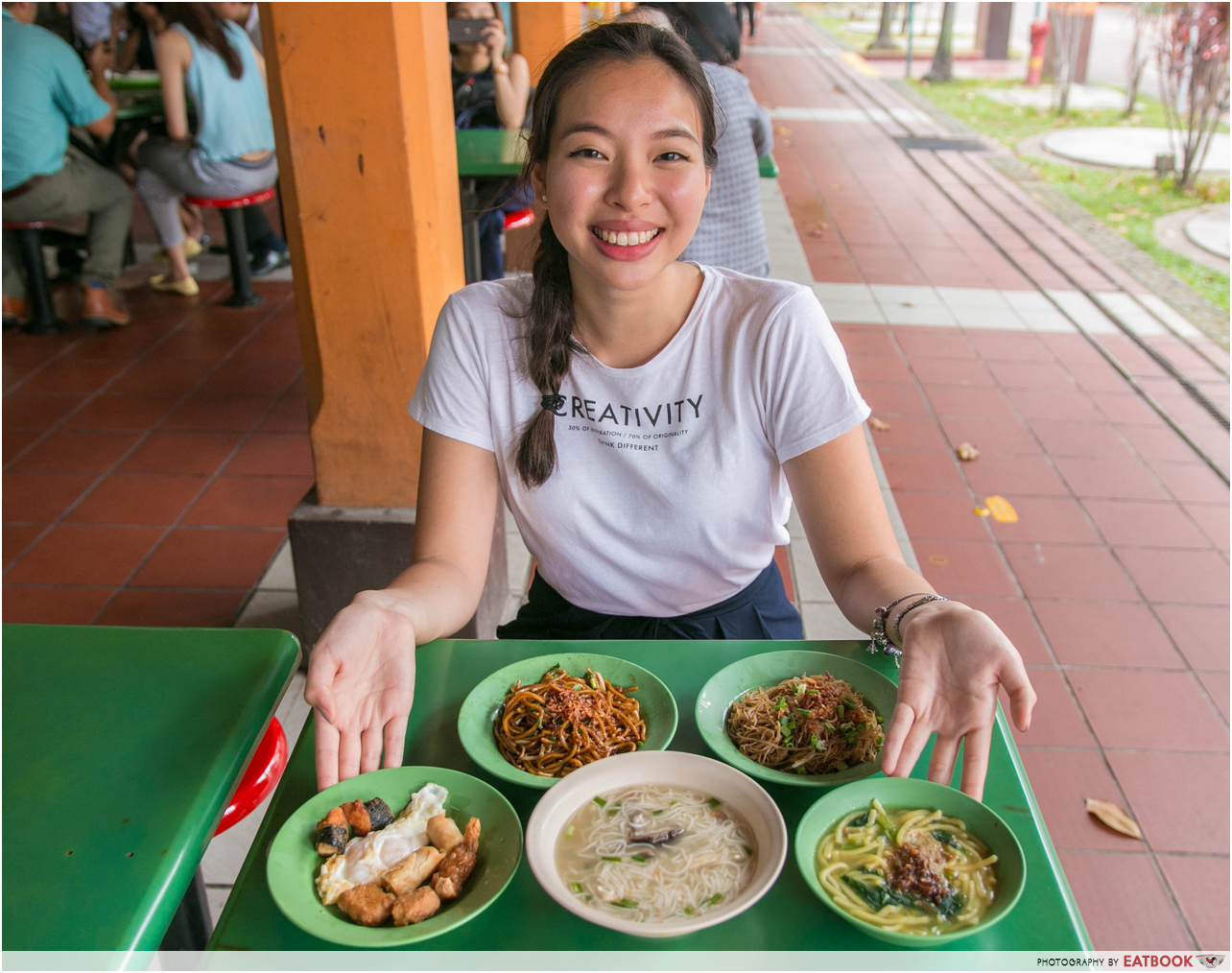 Though Maxwell Food Centre may be slightly out of the way now with all the construction going on around it, the incredibly affordable and comforting food at China Street Rickshaw Noodles makes it all worth it. The dishes here are good to have for breakfast with the family as they are classics that can be enjoyed by anyone of any age.

This is an independent review by Eatbook.sg.
Summary
Summary
Pros
– Very affordable
– A variety of mains and sides
Cons
– Short operating hours
Recommended Dishes: mee sua ($1/$1.50), la che mian ($1/$1.50), battered prawns ($0.40)
Operating Hours:
Saturday – Thursday: 6:30am to 1:30pm
Address: 1 Kadayanallur Street, #01-87, Maxwell Food Centre, Singapore 069184