---
Satisfy your cravings with claypot dishes
---
Claypots aren't used to just cook claypot rice. The porous pot retains water that is later released when put over the fire, making whatever was placed in it juicy and flavourful.
These claypot dishes are also plagued with a distinctive smoky flavour as they are cooked on an open fire; one that neither my mum nor myself can recreate at home. Here's a list of 10 spots for must-try claypot dishes.
---
1. Teriyaki Pork Jowl Claypot Rice
---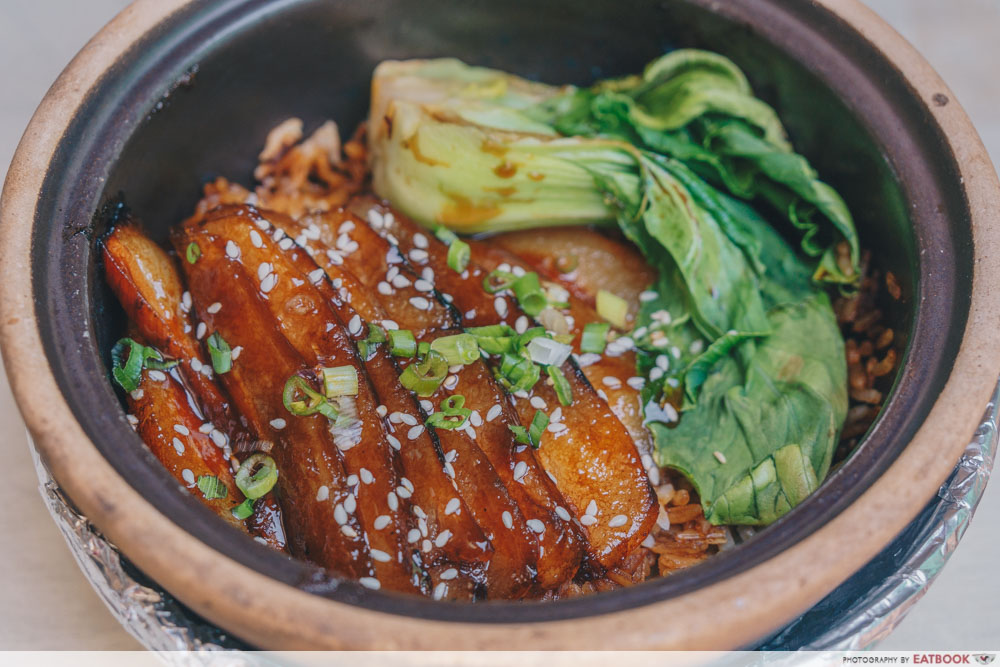 We don't often order claypot rice due to the long waiting time, but with enough R&D, the time for one at House Of Happiness has been cut by half. The classic claypot rice dish is also given a contemporary flair here. I'm a millennial who enjoys good food with an extra element of fun, and this Teriyaki Pork Jowl ($7) variant is to die for.
House Of Happiness Review: Claypot Rice With Teriyaki Pork Jowl And Tobiko By Mr Lorbak
Address: 294 Bedok Road, Singapore 469450
Opening hours: Wed-Mon 12pm to 10pm
Tel: 6241 2648
---
2. Claypot Flower Clam Jade Noodle
---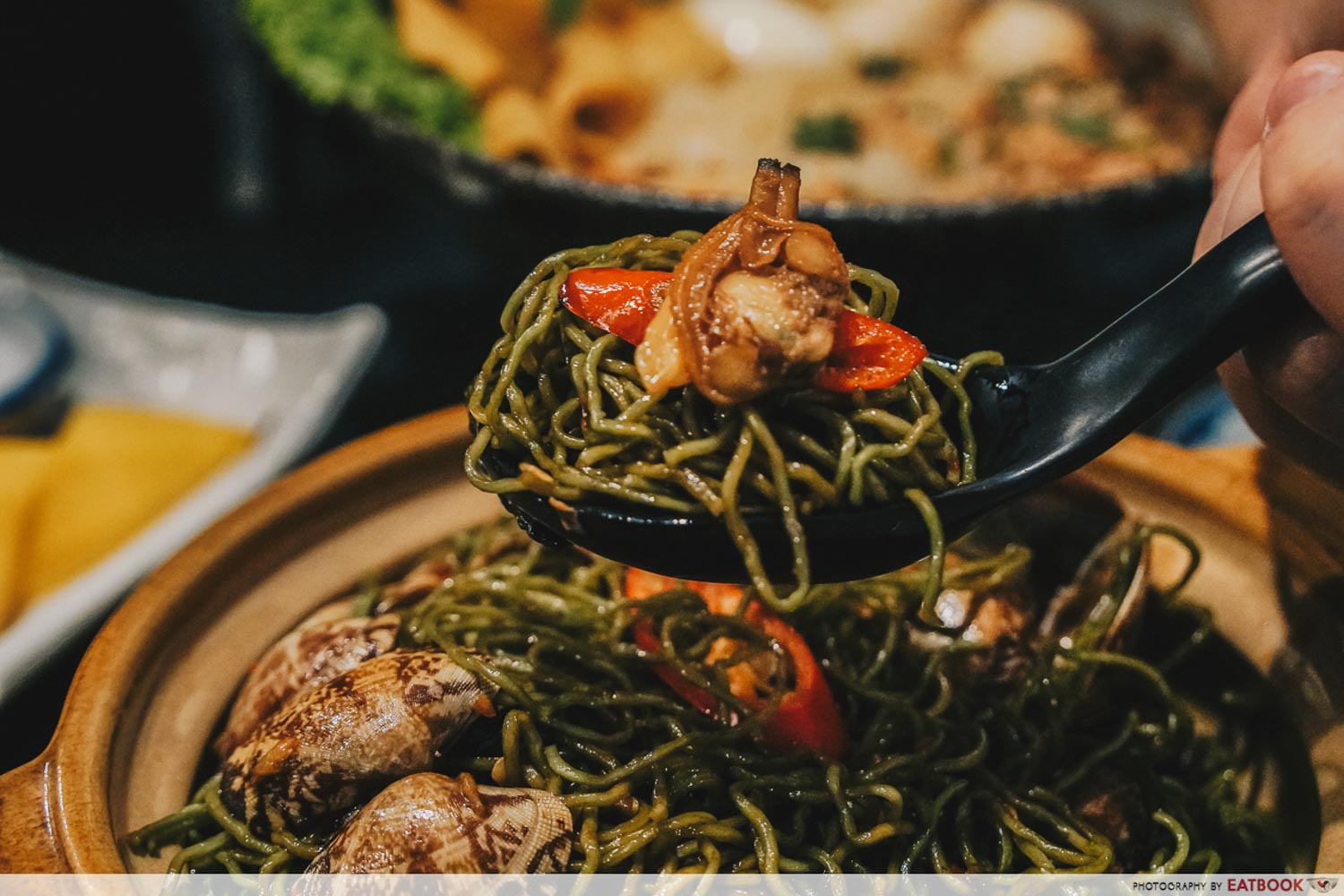 The Claypot Flower Clam (Lala) Jade Noodle ($12.90) from Noodle Thai Thai Kitchen might be one of the most underrated claypot dishes I've tried in Singapore. Mixing up the spinach noodles revealed not only plump clam meat, but also an aromatic sign of deliciousness to come. Spicy from chopped chilli and savoury from a luscious light brown sauce at the bottom, every slurp tasted as good as it smelled.
Noodle Thai Thai Kitchen Review: Legit Thai Food At Beach Road With Claypot Jade Noodles
Address: 327 Beach Road, Singapore 199560
Opening hours: Mon-Fri 11:30am to 3pm, 4:30pm to 10:30pm, Sat 11:30am to 10:30pm
Website
---
3. Claypot Hokkien Mee
---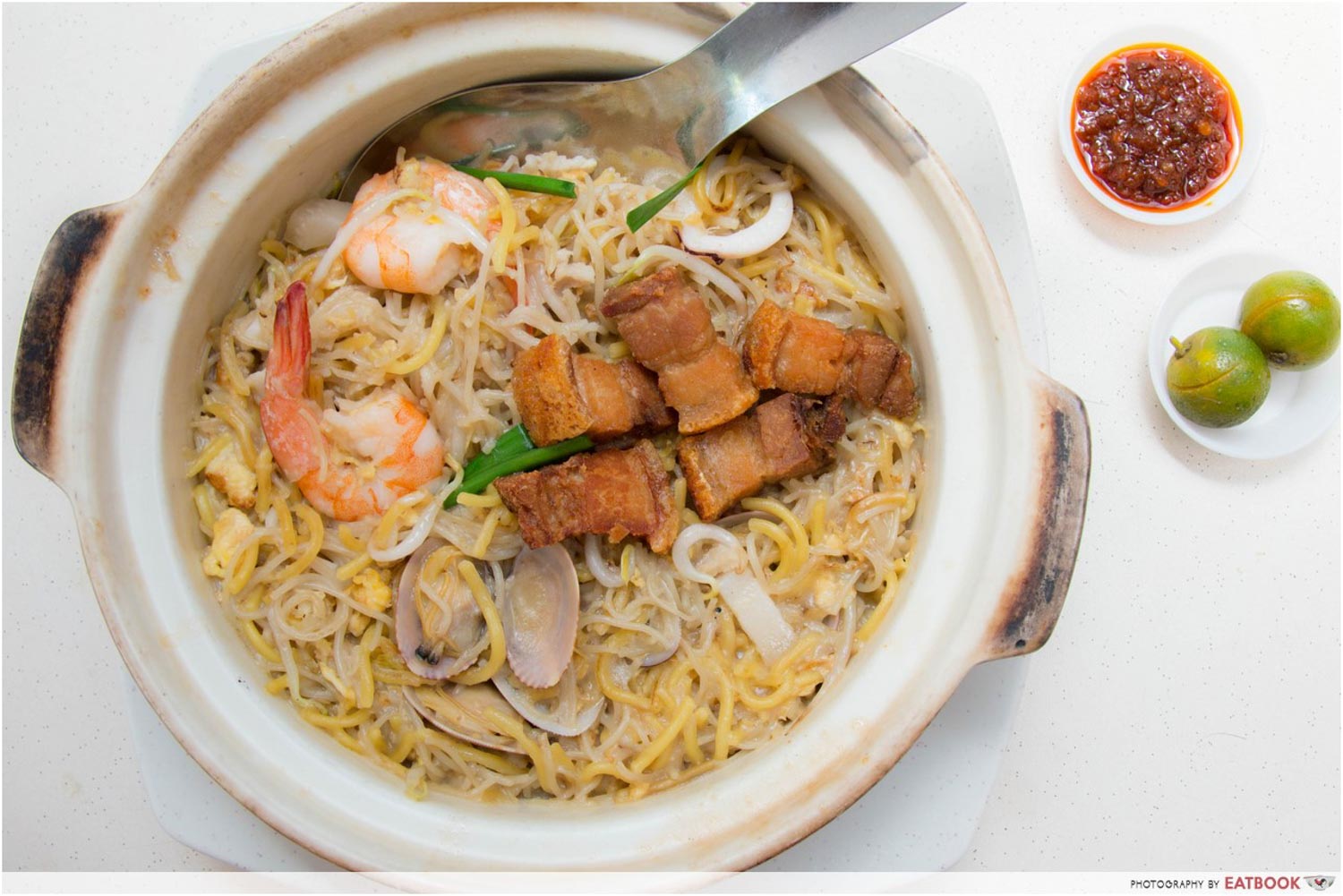 Claypot Hokkien Mee is done two ways at Kim Keat Hokkien Mee – dry or wet. The latter ($10/ $15) comes in a claypot with rich broth, clams and crispy pork belly. This tasty noodles have been widely raved about and seen all over our Instagram feeds. Be prepared to wait over 40 mins for Kim Keat's rendition on this local favourite. It's also featured in our Top 10 Hokkien Mee guide.
Kim Keat Hokkien Mee Review: Famous Claypot Hokkien Mee At Toa Payoh
Address: 2 Lorong 4 Toa Payoh, #01-264, Singapore 310092
Opening hours: Wed-Mon 11:30am to 9pm
Tel: 9456 0413
Website
---
4. Special Claypot Braised 'Mi Tai Ba'
---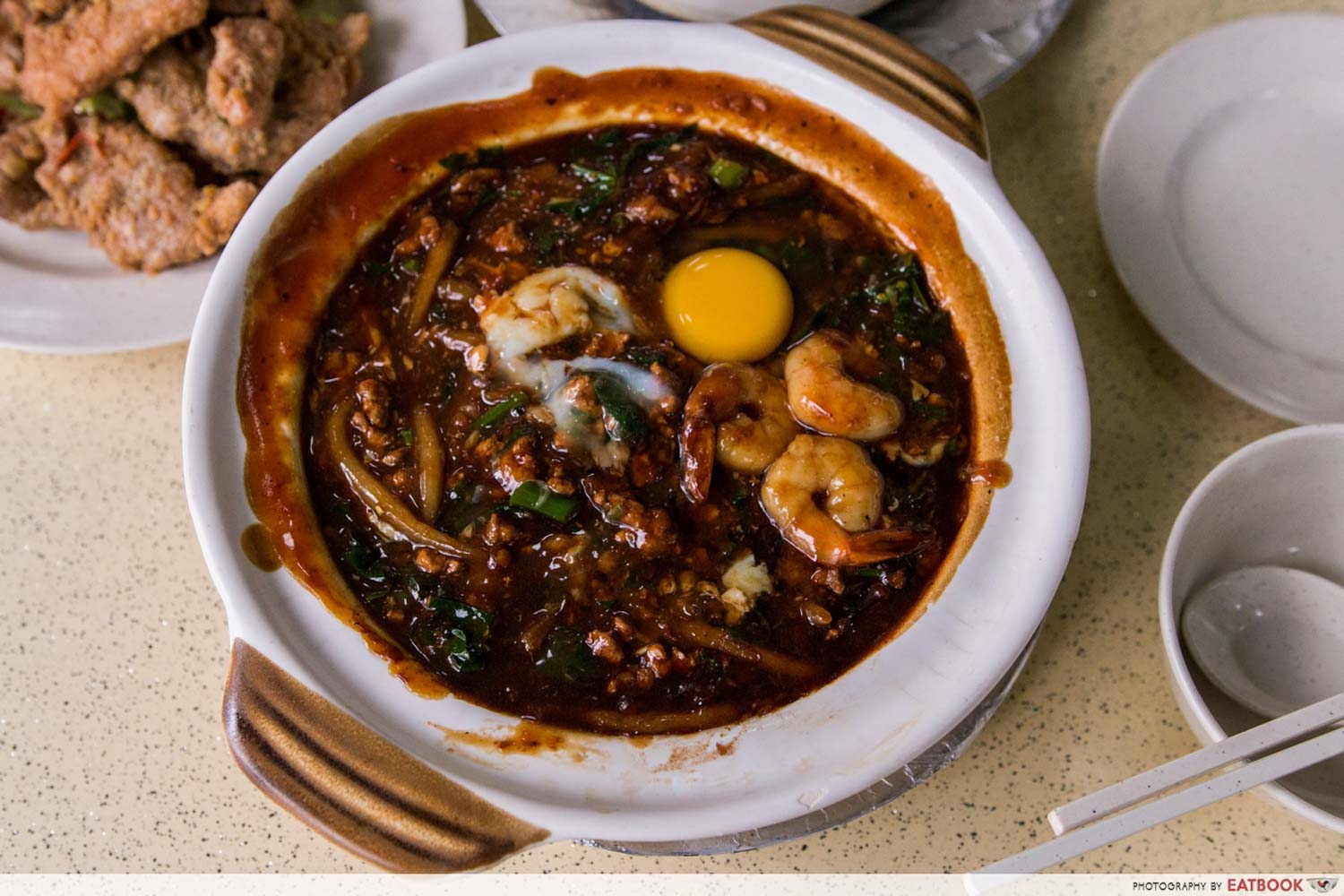 The Special Claypot Braised 'Mi Tai Ba' ($5/$8/$10) from 136 Hong Kong Street Teochew Fish Head Steamboat arrives bubbling with a raw egg contrasting beautifully atop viscous, dark brown gravy. The mee tai bak was slippery and tasty with a slight wok hei fragrance. There is also a Boss Prawn Bee Hoon ($8/$15/$25/$35) which delighted us in terms of sight and smell, but paled in comparison to the mee tai bak flavour-wise.
Address: 1 Upper Aljunied Lane, #01-02, Singapore 360001
Opening hours: Daily 11am to 2:30pm, 5pm to 11pm
Tel: 6285 1017
---
5. Claypot Laksa
---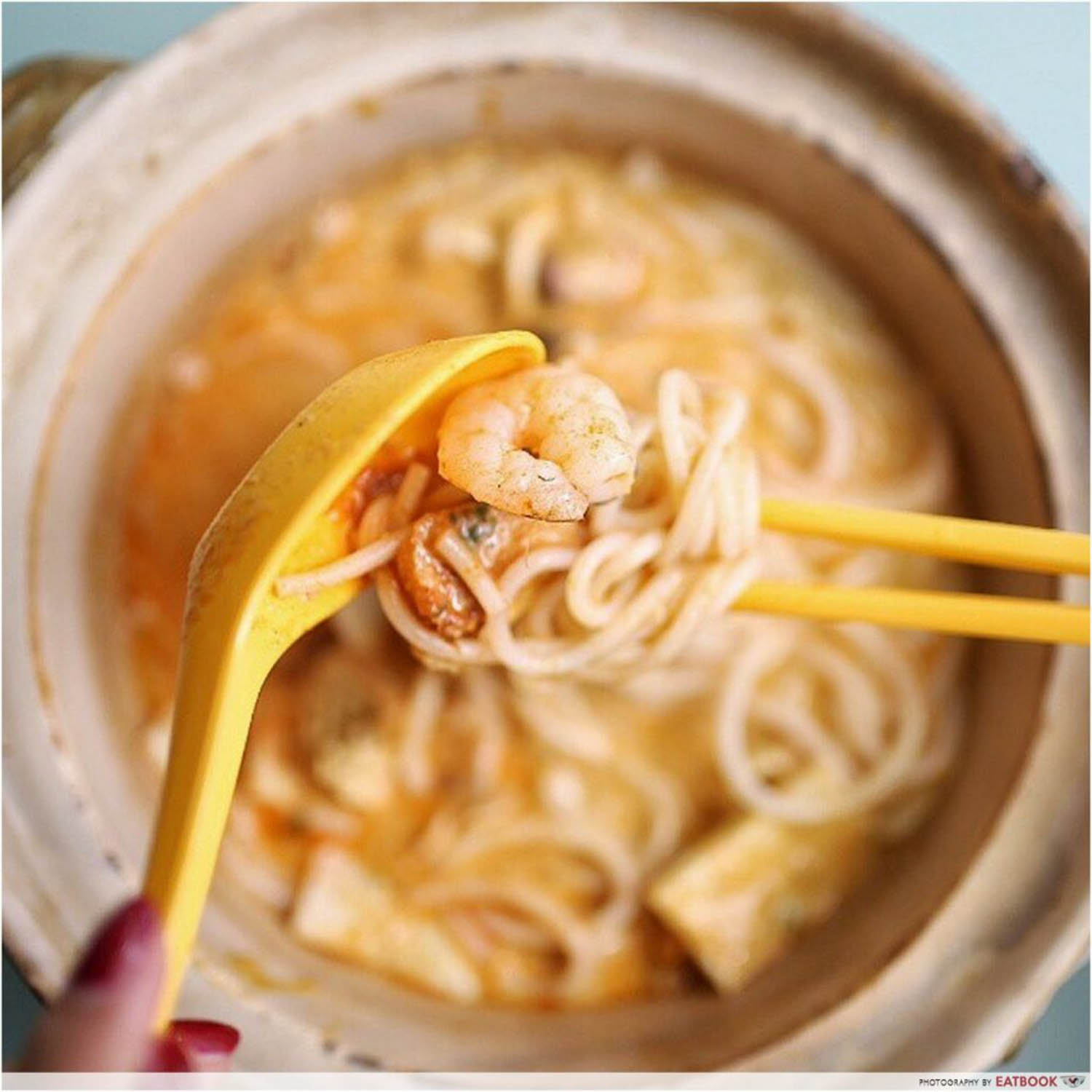 There are many Michelin Bid Gourmand 2018 awardees dotted around Queenstown, and Depot Road Zhen Shan Mei's claypot laksa is one of them. This laksa stays warm in the claypot down to the very last drop. Priced at $4/$5/$6, this two-time award-winner is known for its thick, spicy lemak gravy. Remember to give it an extra dollop of chilli for that added kick of spice.
10 Queenstown Food Spots To Check Out For Cheap And Good Hawker Gems
Address: 120 Bukit Merah Lane 1, #01-75, Alexandra Village Food Centre, Singapore 150120
Opening hours: Mon-Sat 9am to 5pm
Tel: 9088 9203
---
6. Sesame Chicken
---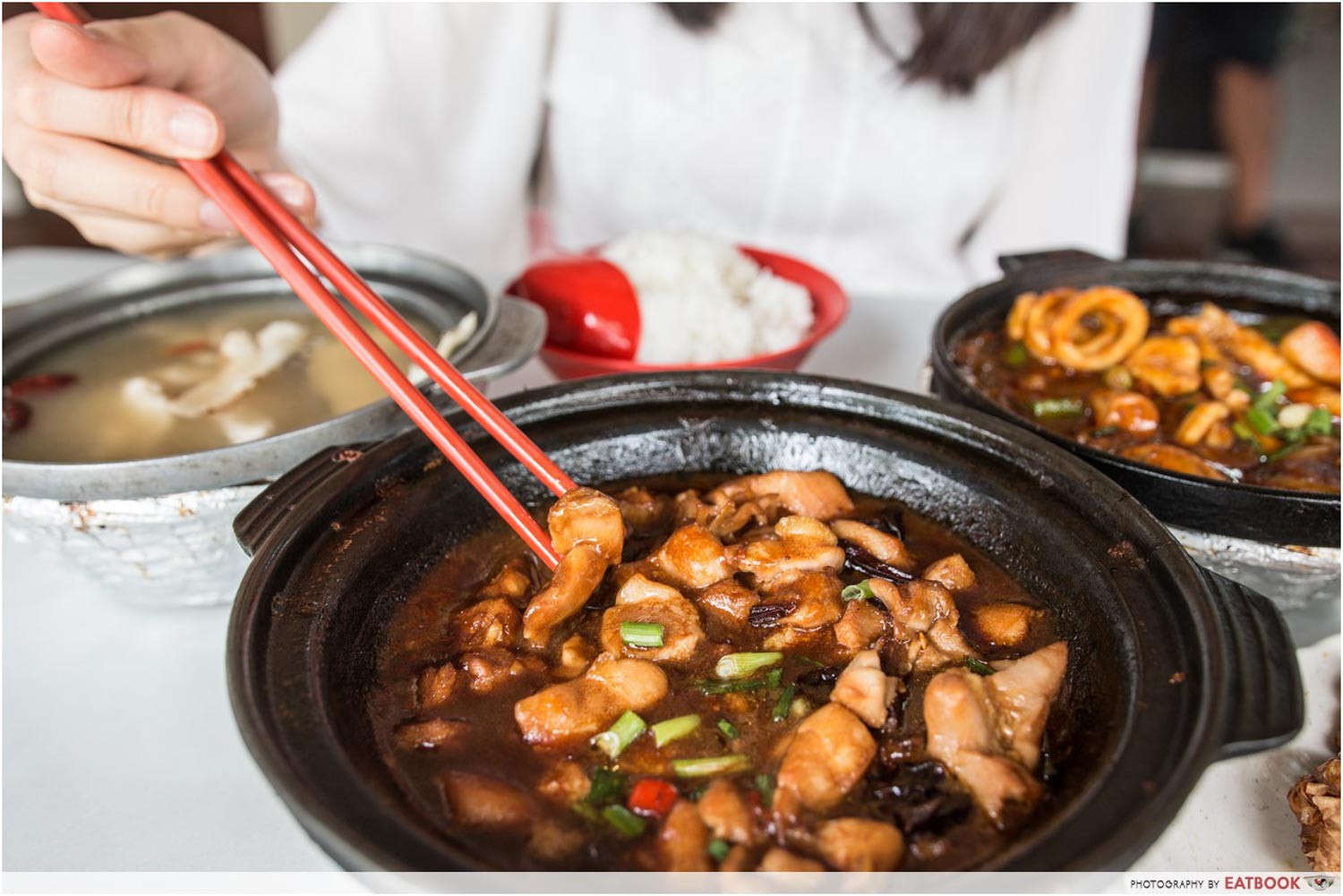 A stone's throw away from Serangoon MRT station is Lau Wang Claypot Delights. A fellow colleague swears by their Sesame Chicken ($4.80/$6.80). Chicken chunks and a drool-inducing gravy are generously filled inside a claypot. Those hankering for spicy food must also order their Sambal Seafood ($7), which has fish slices, squid, crabstick, and lady's finger in the mix.
Lau Wang Claypot Delights Review: Hawker Stall With 16 Clay Pot Dishes Near Serangoon MRT
Address: 263 Serangoon Central Drive, #01-43, Singapore 550263
Opening hours: Daily 11am to 10pm
Tel: 9001 0814
---
7. Tom Yum Claypot
---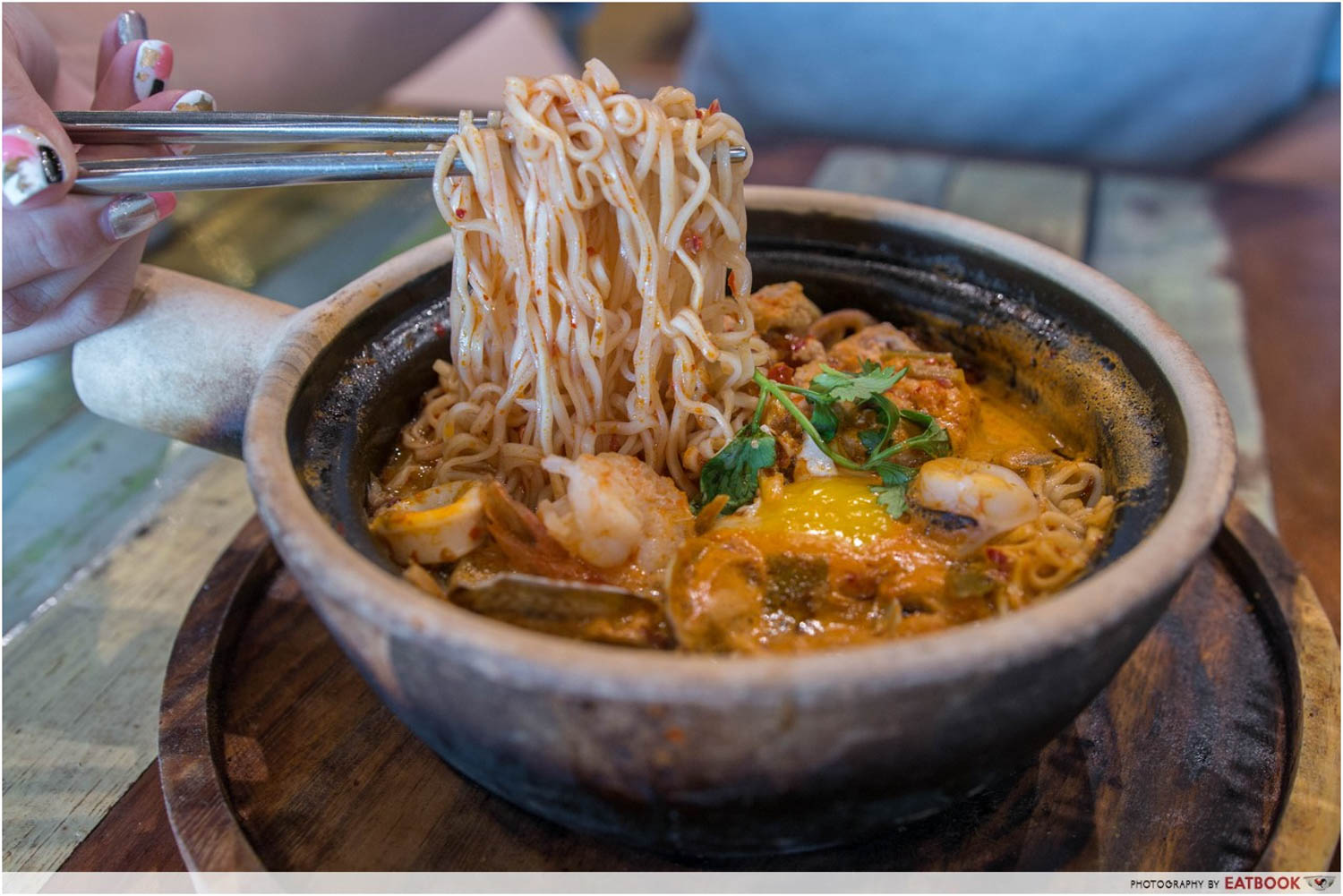 Thai food lovers are also not left out. Tomyum Mama serves a mean tom yum noodle in a claypot. Their Signature Tom Yum Mama Claypot ($12.90) features a variety of ingredients such as prawns, mushrooms, squid, clams, pork, and scattered pieces of crab, topped off with an egg. If the dish got you sweating buckets, get their Jumbo Thai Green Milk Tea ($12.90) to douse the heat.
Tomyum Mama Review: Claypot Tom Yum and Massive Thai Green Tea At Upper Thomson
Address: 244P Upper Thomson Road, Singapore 574369
Opening hours: Mon-Fri 12pm to 3pm, 5:30pm to 11pm, Sat-Sun 12pm to 11pm
Tel: 8687 9990
Website
---
8. Yew Chuan Claypot Rice
---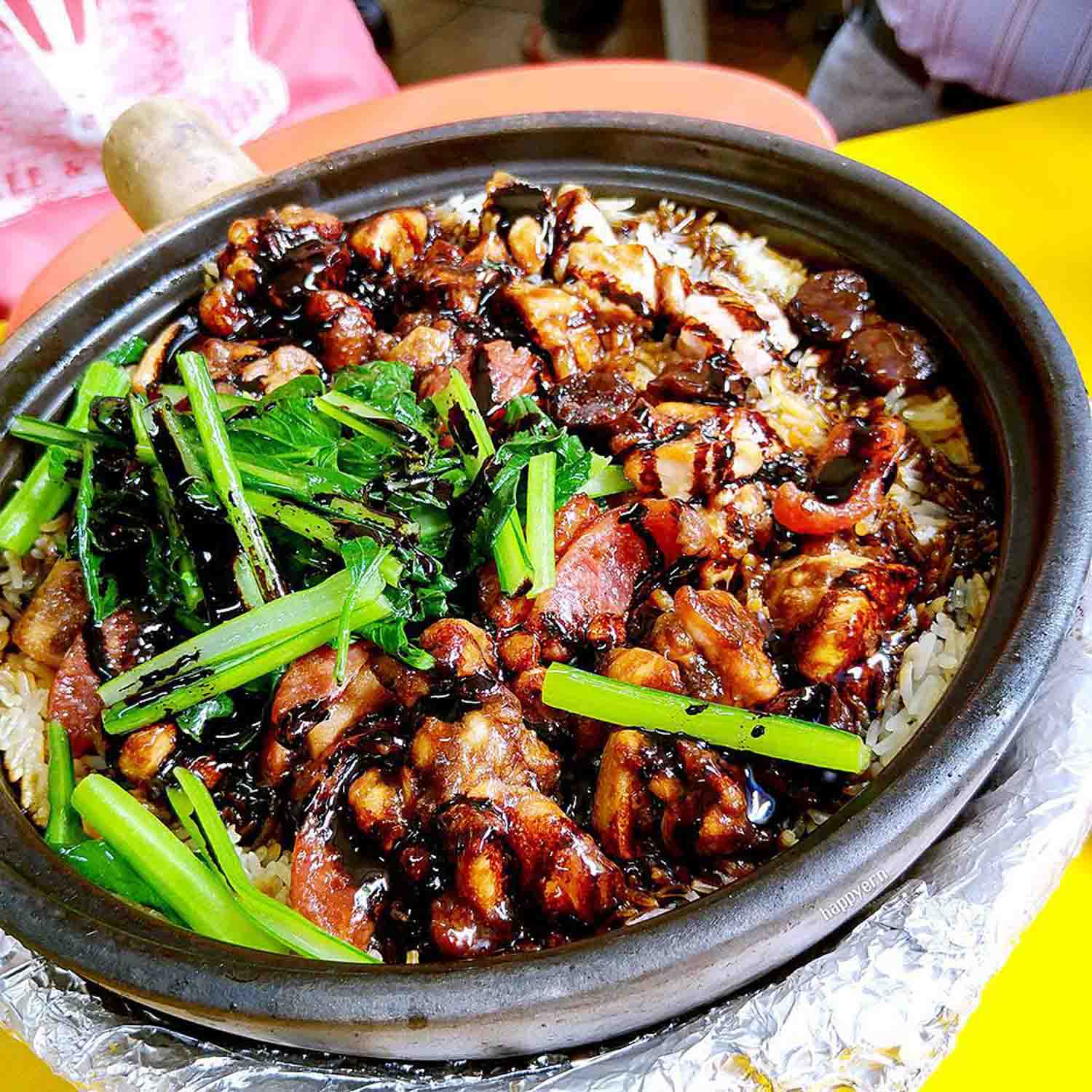 Image credit: @happyern
On a cool, rainy day, nothing beats good ol' claypot rice. I usually find myself craving for the one from Yew Chuan Claypot Rice. You will find well-marinated chicken chunks and Chinese sausages which nicely complement the rice, especially with dark soya sauce drizzled all over. Get a portion for one at $5, or $10 if you are sharing.
Address: 505 Beach Road, #01-73, Golden Mile Food Centre, Singapore 199583
Opening hours: Mon-Wed, Fri 12pm to 10pm, Sat-Sun 4pm to 10pm
---
9. New Lucky Claypot Rice
---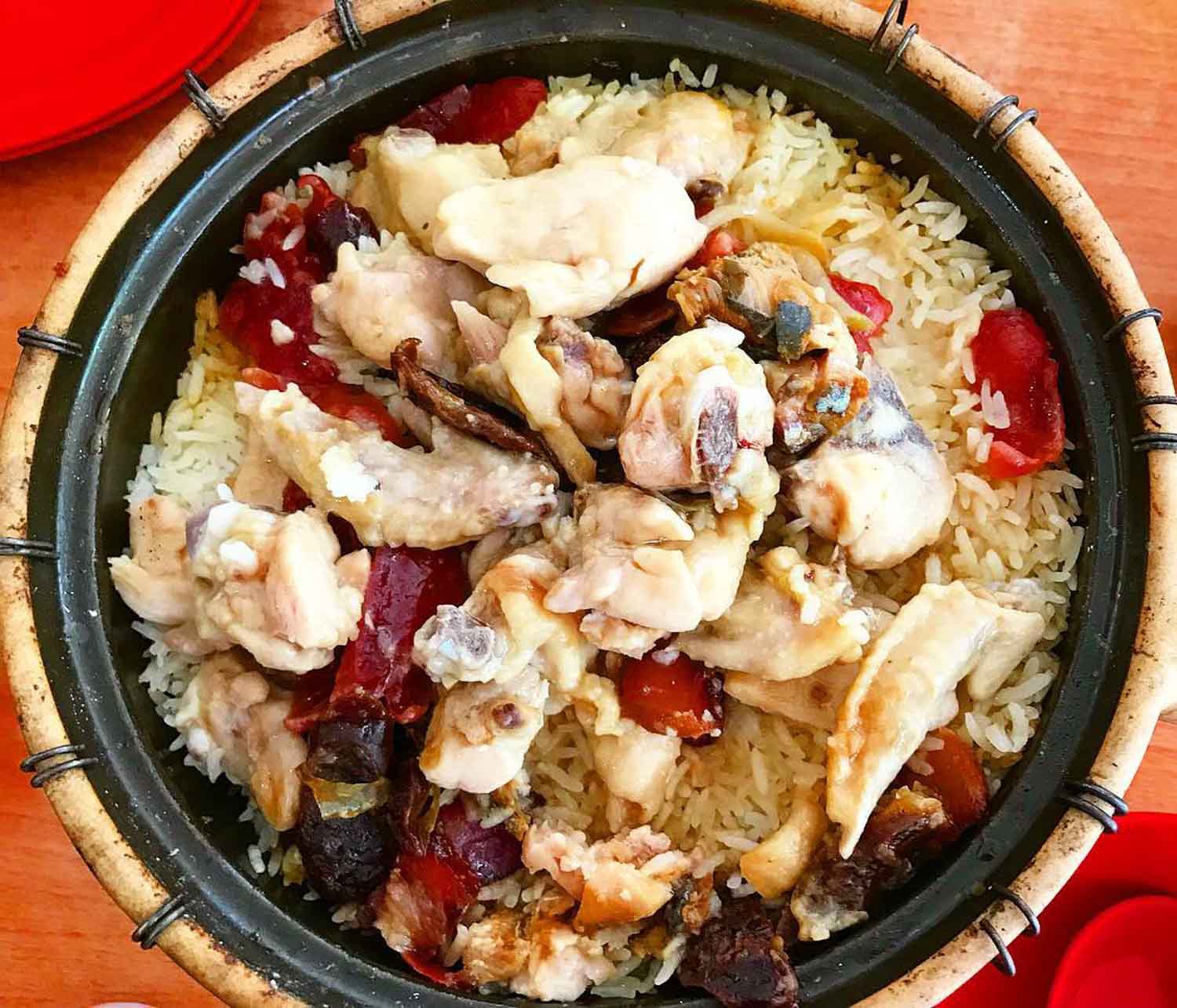 Image credit: @khunsenoritogabrielsan
Do not be fooled by the plain-looking pieces of chicken when you order the Claypot Wu Wei Rice ($10 for two) from New Lucky Claypot Rice. Each morsel is nicely seasoned, even on its own. When paired with fragrant charred rice and sauce, it becomes a killer combination. It's sadvisable to pre-order before you head down as the wait can be long.
Address: 44 Holland Drive, #02-19, Holland Drive Market & Food Center, Singapore 270044
Opening hours: Mon-Tue 11am to 1pm, 5pm to 8pm, Thur-Sun 11am to 1pm, 5pm to 8pm
Tel: 6778 7808
---
10. Special Pork and Prawn Porridge
---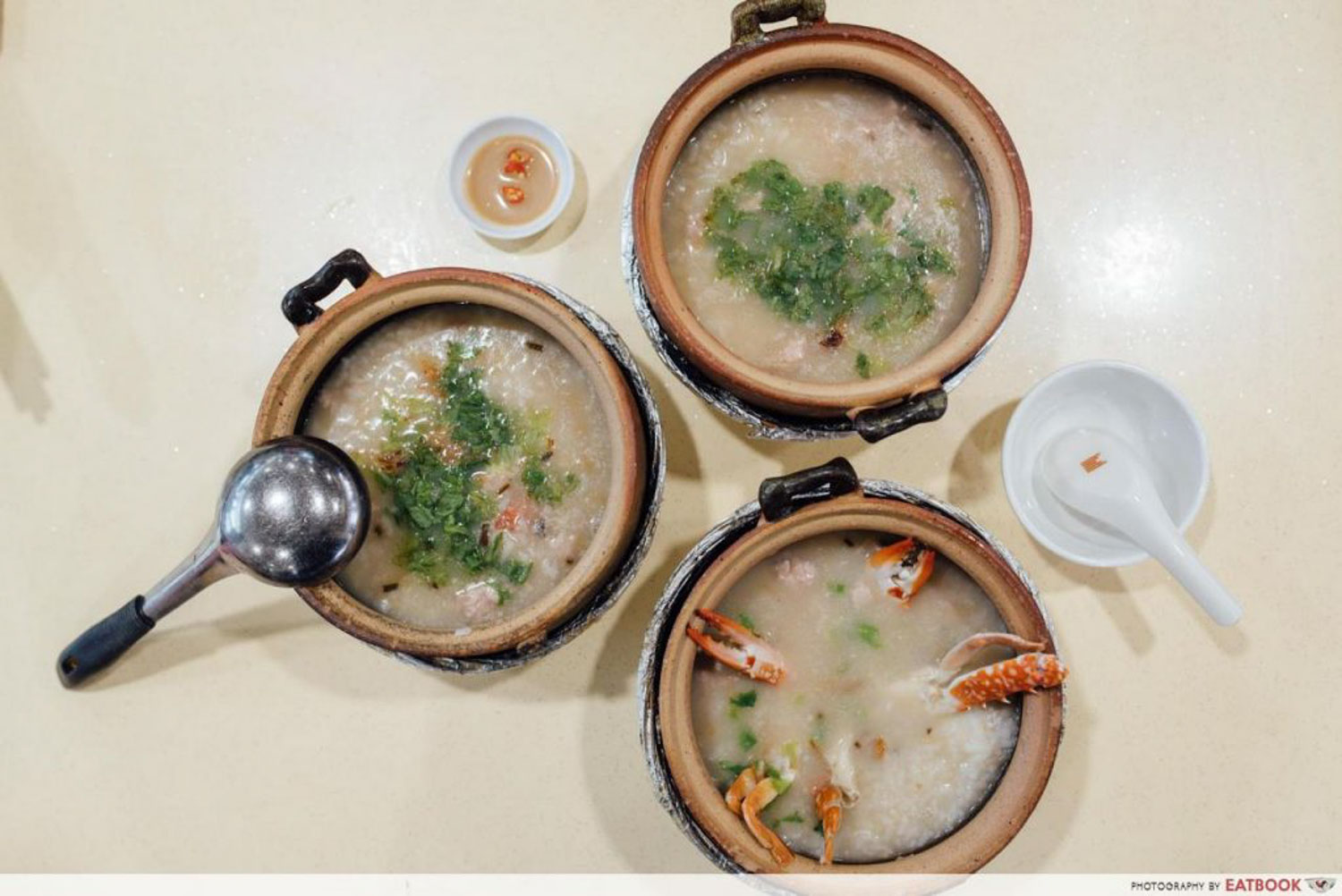 A common ethos applies at Swatow Is Here: a focus on wholesome porridge cooked with claypot. The porridge here straddles between grainy Teochew mui and silky Cantonese congee, and the end result is a creamy porridge with some bite. You won't go wrong with the Special Pork and Prawn Porridge ($5/$12/$18), but if you're looking for something more unique, order the Yellow Eel Porridge ($6/$13/$20).
Swatow Is Here Review: Claypot Porridge With Eel And Flower Crab At $8 Or Less
Address: Blk 46 Holland Drive, #01-359, Singapore 270046
Opening hours: Daily 11am to 2:30pm, 5:30pm till everything is sold out
Follow them on Facebook to keep track of their off days.
Website
---
More than just a way of cooking
---
Claypot dishes might not always be our first choice at the hawker centre because of the long waiting time, but there's no such thing as "too long" for us foodies.
If you have other claypot dishes to add to the list, comment down below!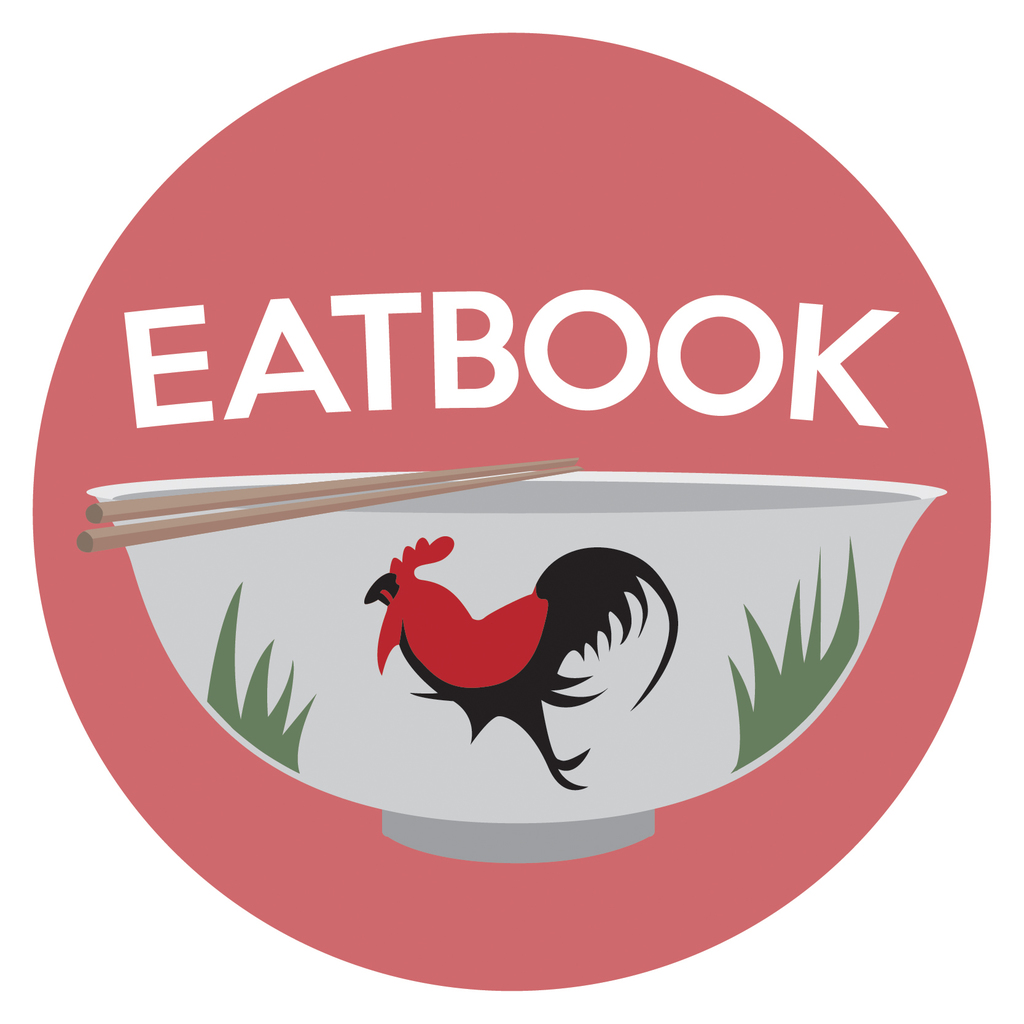 Drop us your email so you won't miss the latest news.