---
Easy one pot recipes that make you feel like you're overseas
---
While Phase 3 seems to be around the corner, it seems unlikely that we will be hopping on a plane anytime soon. Instead of always dining out, sometimes I just feel like whipping up a quick and easy meal that makes me feel like I'm not in Singapore.
With just chicken stock and in under 60 minutes, here are five easy one pot recipes with no added MSG you can try that will send your taste buds to Taiwan, Japan, and as far away as Spain!
---
1. Soondubu Jjigae
---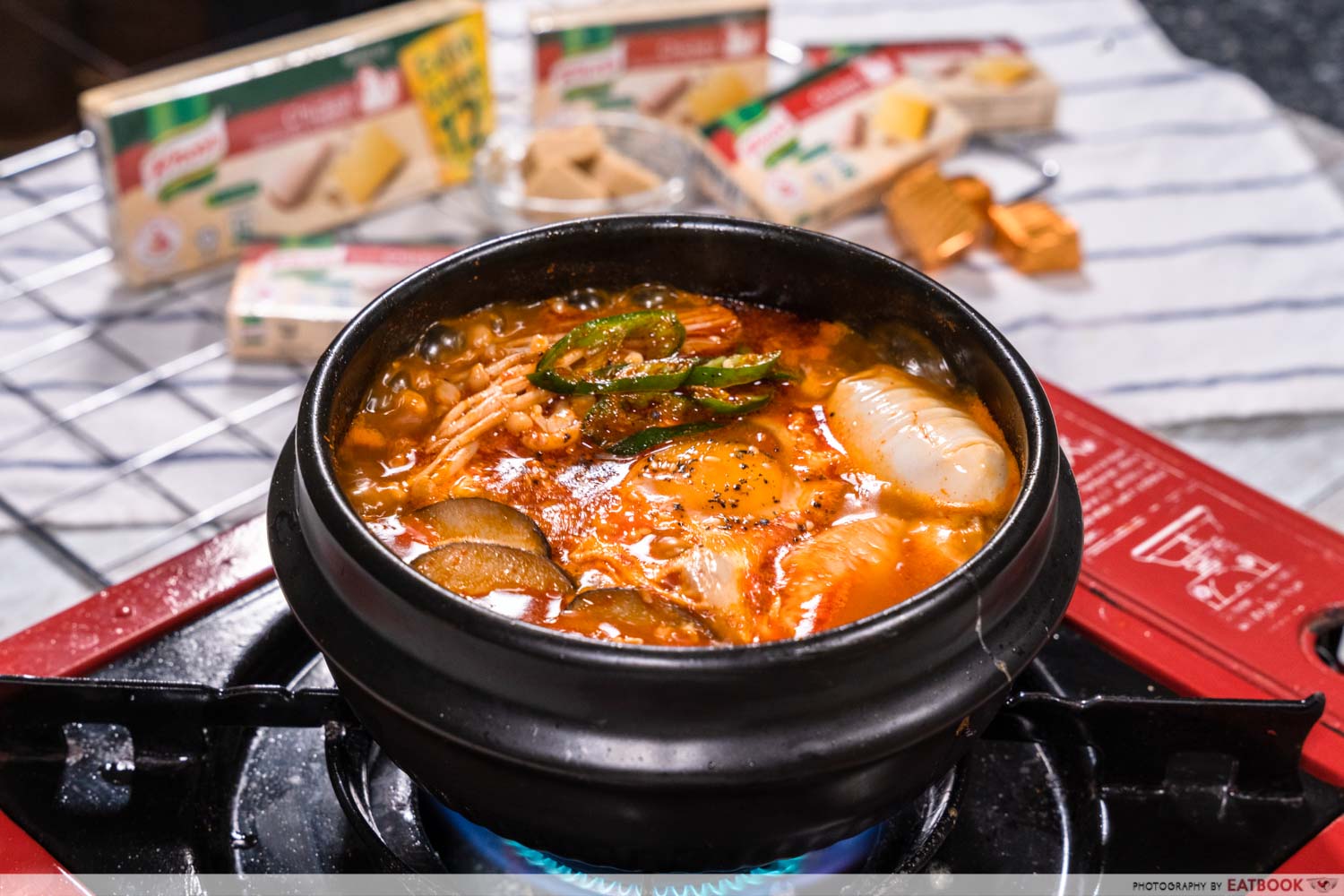 If you caught Itaewon Class this year, you'll know how central the comforting soondubu jjigae was to its storyline. It's my favourite Korean stew, best enjoyed in winter, or the sweater weather that Singapore has been enjoying of late. While soondubu jjigae is usually made with an anchovy and kelp broth, the umami taste of Knorr Chicken Stock Cube makes it a convenient substitute. Best part, this is an easy one pot recipe!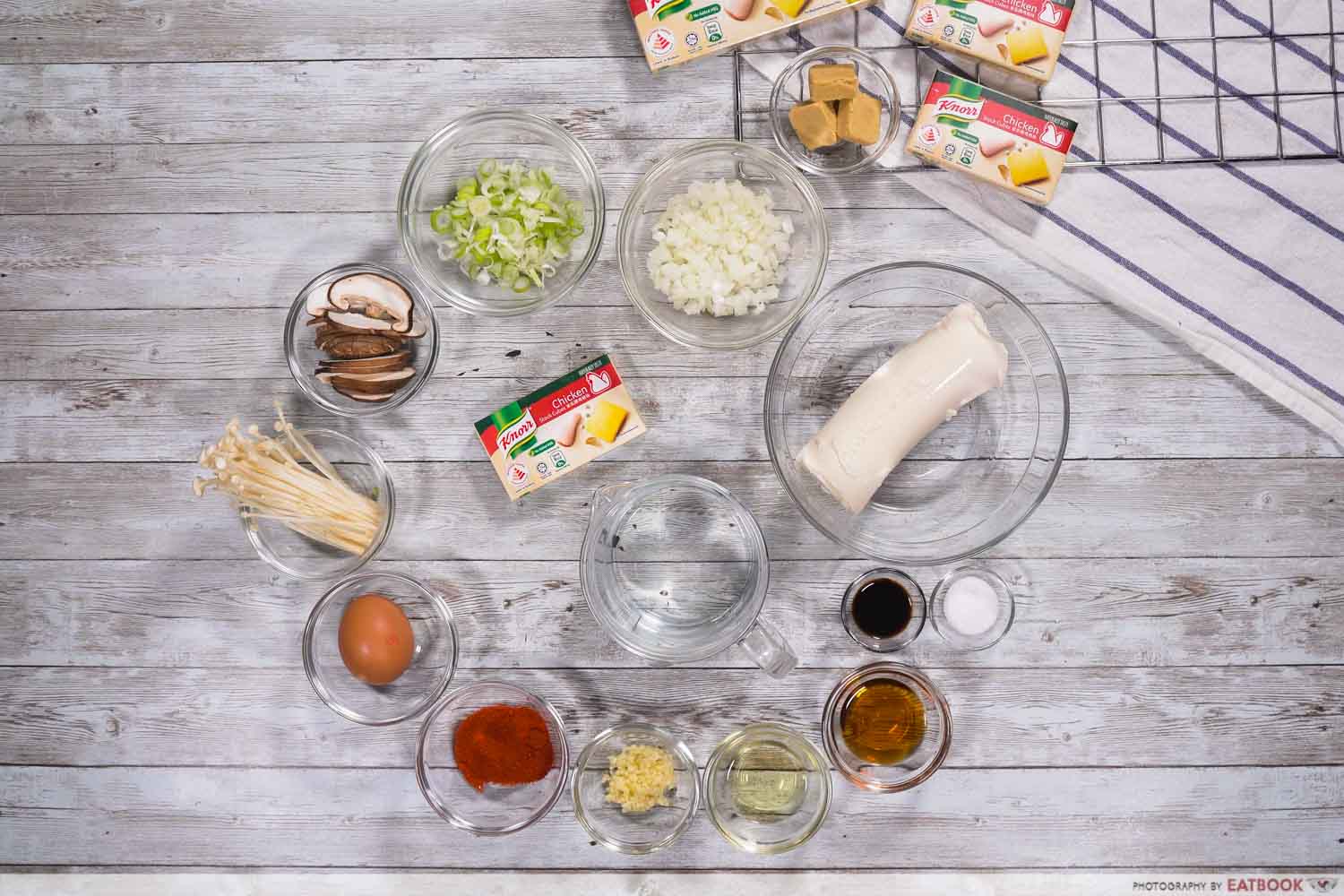 Prepare your ingredients by mincing the garlic, and chopping the scallions and yellow onions. Fry the scallions in a combination of vegetable and sesame oil till they start to brown. Don't skip the sesame oil, an integral part of Korean cuisine that adds an intense nutty flavour to the dish, but it can be overwhelming so don't add too much!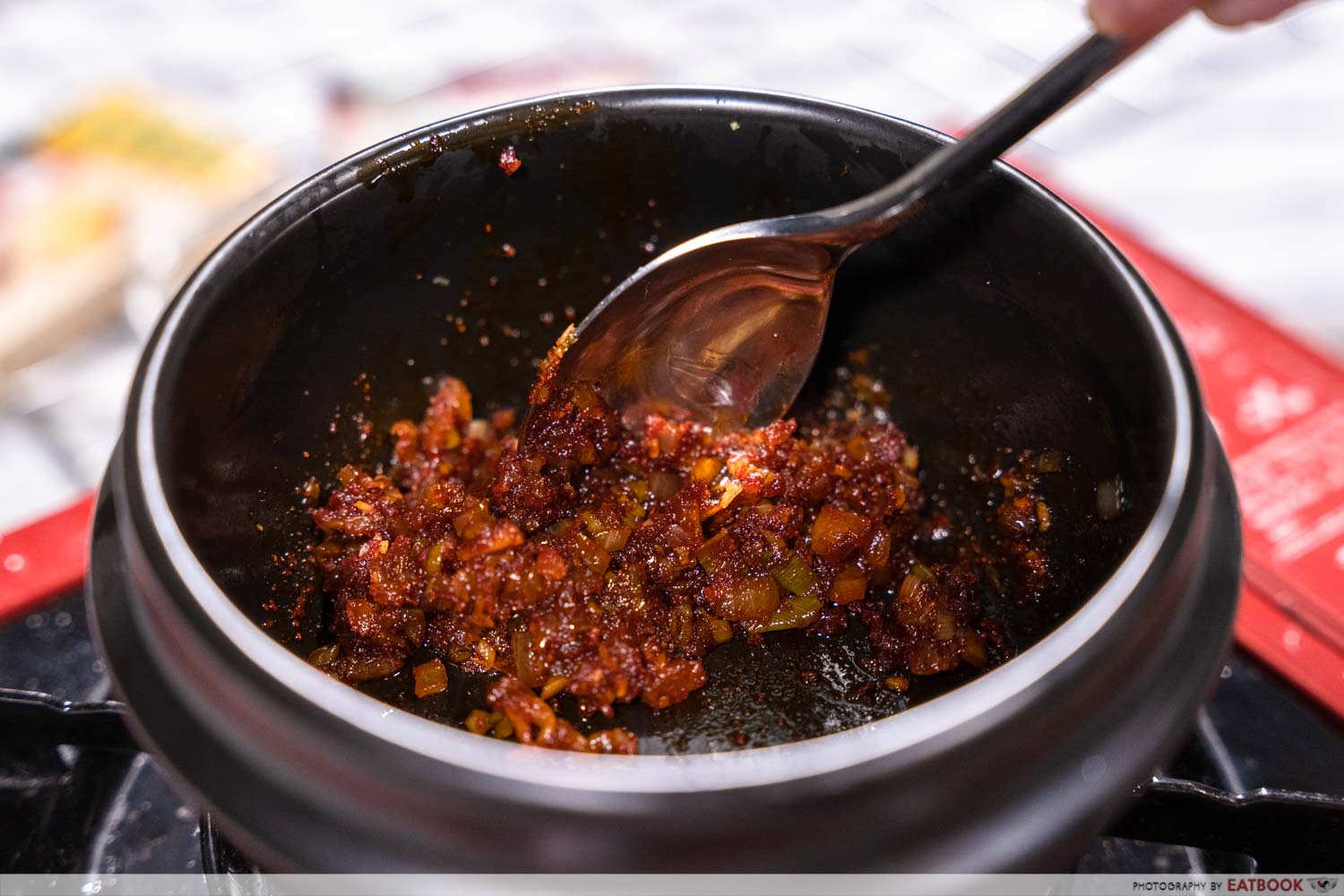 Stir in the onion and garlic until they soften, and add the Korean chilli pepper, sugar, and light soya sauce. Stir-fry this for a minute so that it browns a little, adding more flavour to the stew.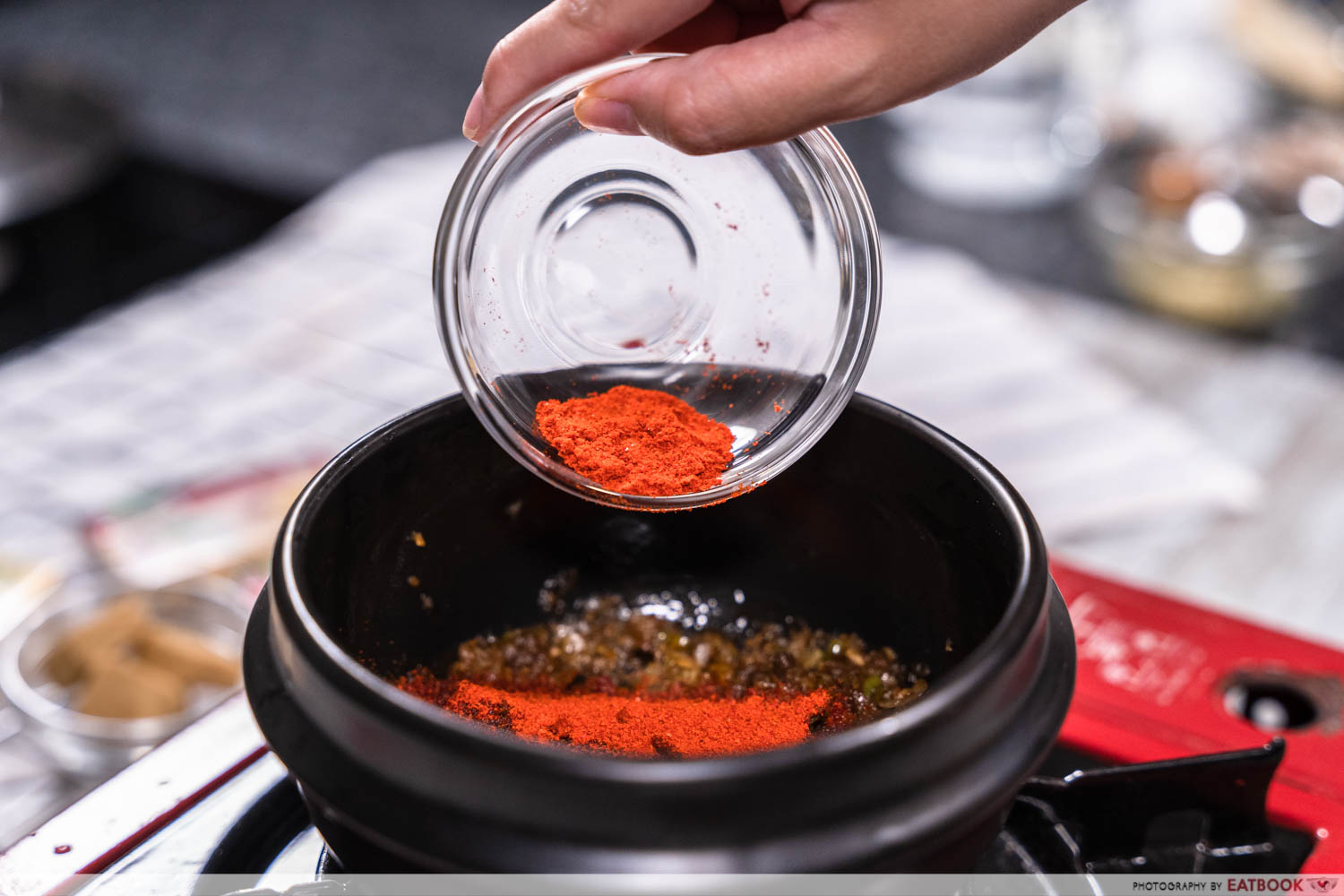 Also known as gochugaru, this chilli powder is made with dried Korean chilli that are ground either to a fine or coarse grain. It's another essential ingredient in Korean cooking, used to make kimchi, stews and side dishes, that adds a smoky flavour and mild heat.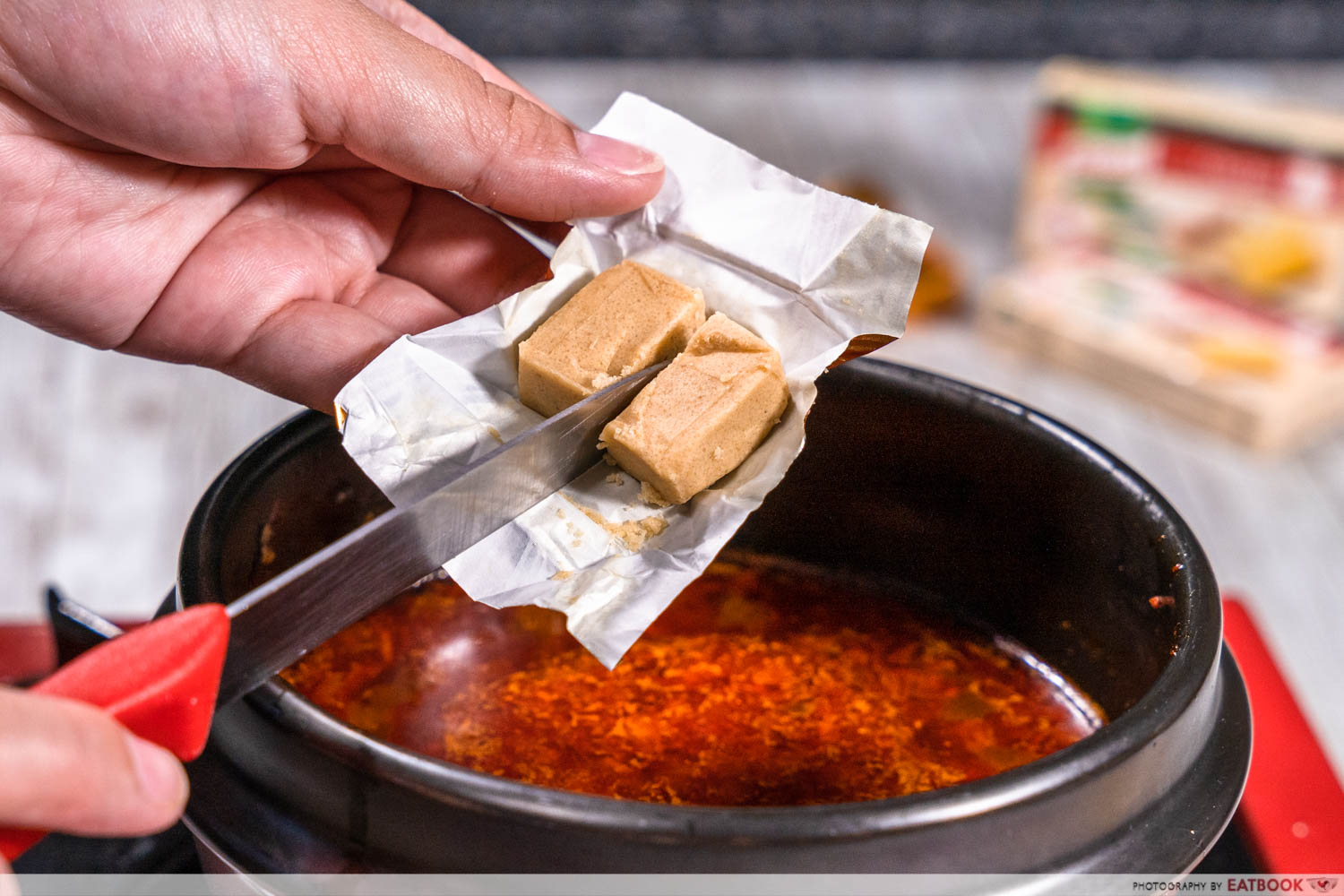 Now, add in the water and half a Knorr Chicken Stock Cube, or do this beforehand and simply pour the prepared stock into the pot. Give it a good stir so that everything is well incorporated and comes to a boil, before adding in the mushrooms and tofu. You can add in any vegetable you like, or even luxe this jjigae up with sliced pork belly. Pro tip: sear the pork belly in the pot at the start for extra flavour.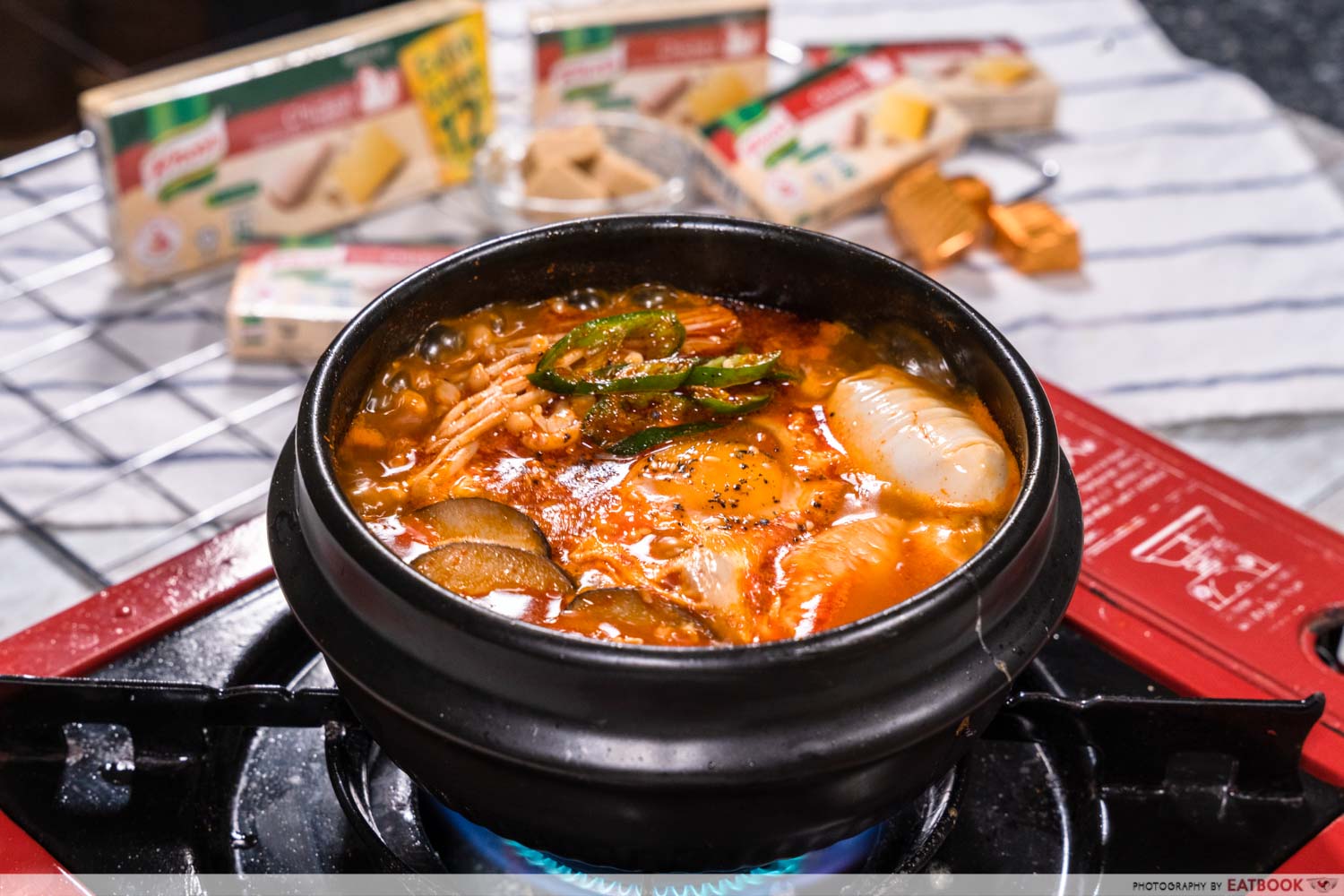 Finally, crack an egg into the pot, turn off the heat, and crack black pepper on top. This is best enjoyed with a bowl of white rice, although sometimes I have it with udon too. For a more authentic Korean feel, serve the rice in a metal rice bowl!
Yield: Serves 1
Cooking time: 20 minutes
Ingredients: 
1 tbsp vegetable oil
1 tbsp sesame oil
¼ cup scallions, finely sliced
¼ cup yellow onions, finely chopped
½ tbsp garlic, minced
1 tbsp Korean chilli pepper
1 tsp sugar
2 tsp light soya sauce
250ml water
½ Knorr Chicken Stock Cube (No Added MSG)
2 pieces of shiitake mushrooms, sliced
1 tofu
1 egg
Enoki mushroom to garnish
Black pepper to taste
Directions:
In a pot on low heat, combine vegetable oil, sesame oil, and scallions. 

As the scallions turn light brown on the edges, add onions and garlic into the pot. Stir continuously. 

When the onion softens, add Korean chilli pepper, sugar, and light soya sauce. Stir-fry for 1 minute.

Pour water, followed by the Knorr Chicken Stock Cube into the pot, and bring to a boil on medium heat. Continue to stir until everything is well incorporated.

When it starts to boil, add mushrooms and tofu. Allow them to cook for another 2 minutes.

Crack an egg into the pot and season with black pepper to taste. Serve immediately.
---
2. Chawanmushi
---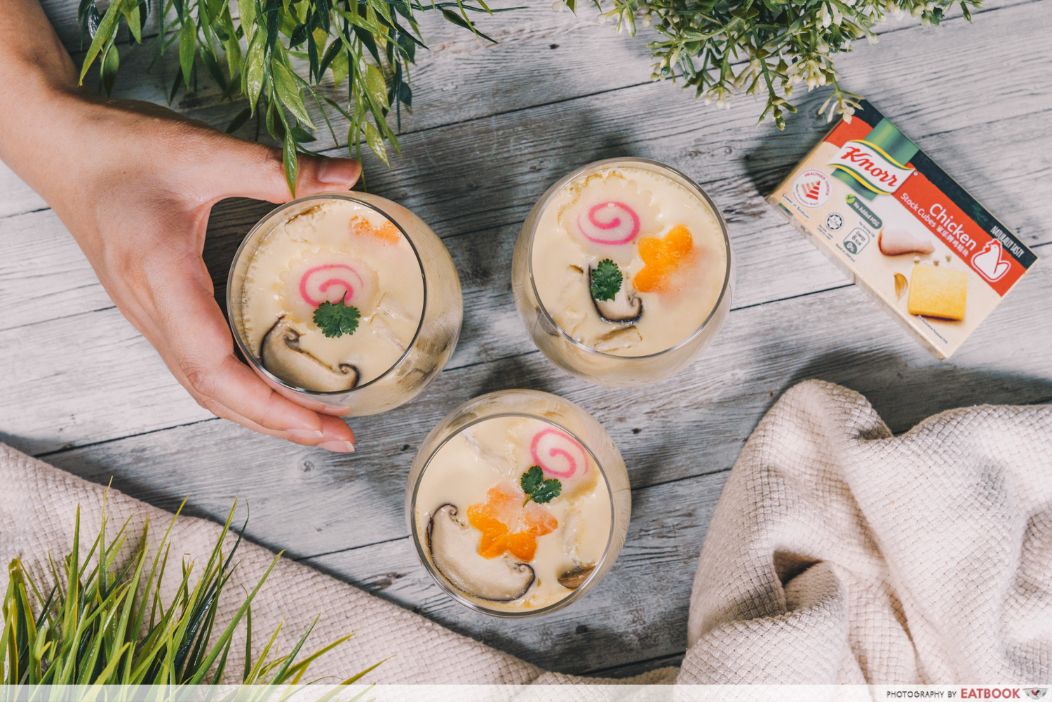 This simple and well-loved Japanese steamed egg-in-a-cup can be zhnged with whatever ingredients you like, or none at all.Chawanmushi is usually made with dashi, which we might not always have in our kitchen. That's perfectly fine, because the Knorr Chicken Stock Cube is a great alternative that comes in handy for times like these, with its convenient packaging and no added MSG.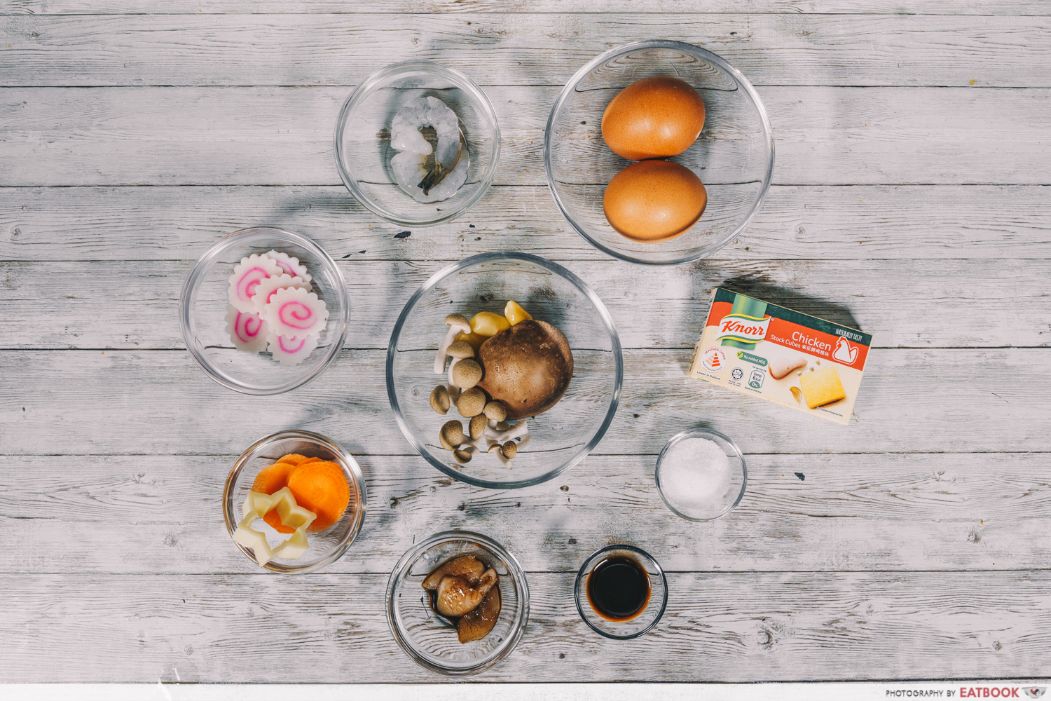 Start by dissolving a Knorr Chicken Stock Cube in hot water. Allow this to cool to room temperature while you prepare your ingredients for the chawanmushi. You'll end up with egg drop soup if you pour hot stock into your eggs!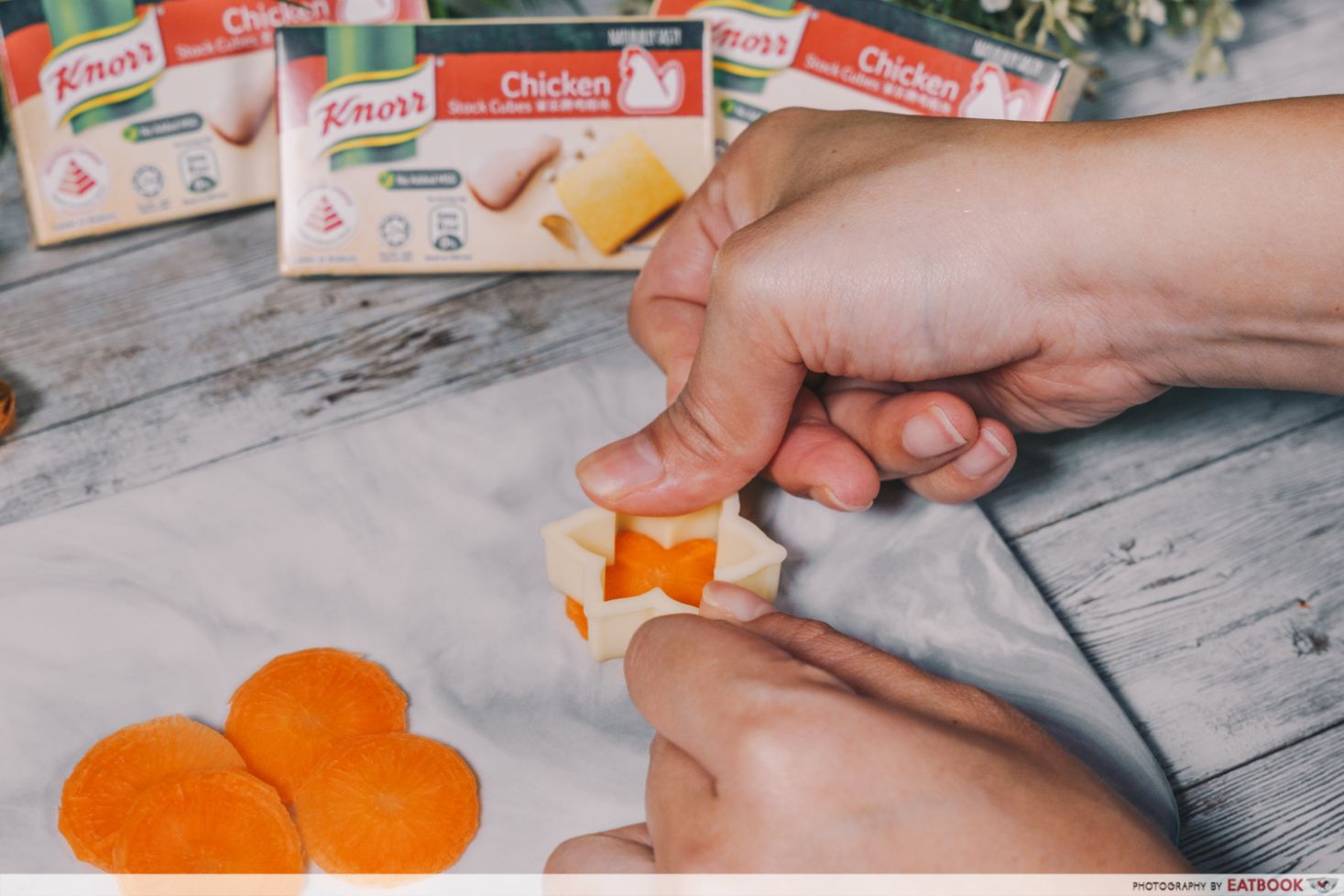 Be as creative as you like when slicing up your shiitake and carrots. Use a cookie cutter like I did, or go the easy way and slice them super thin. If they're thick, they won't float.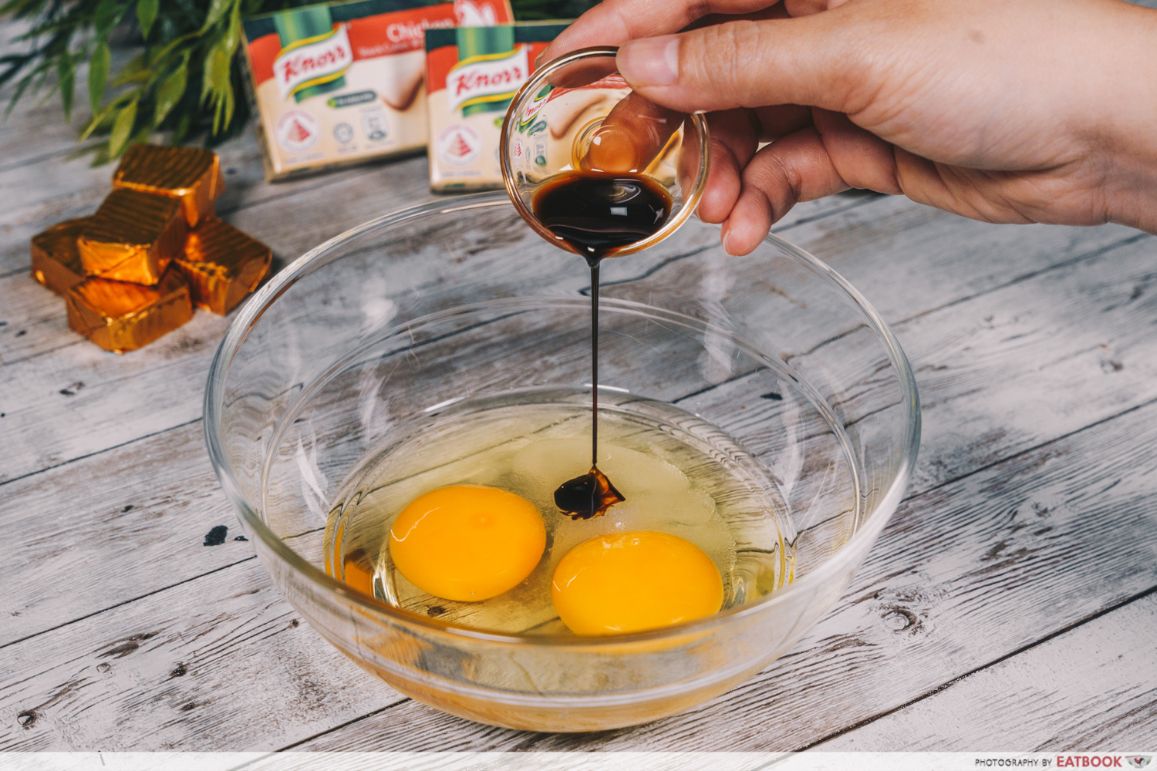 Crack your eggs and toss in the sugar, soya sauce and chicken stock. I find that the golden ratio for a perfectly silken chawanmushi is one part egg to three parts liquid. You may add less water if you prefer your chawanmushi to be less wobbly.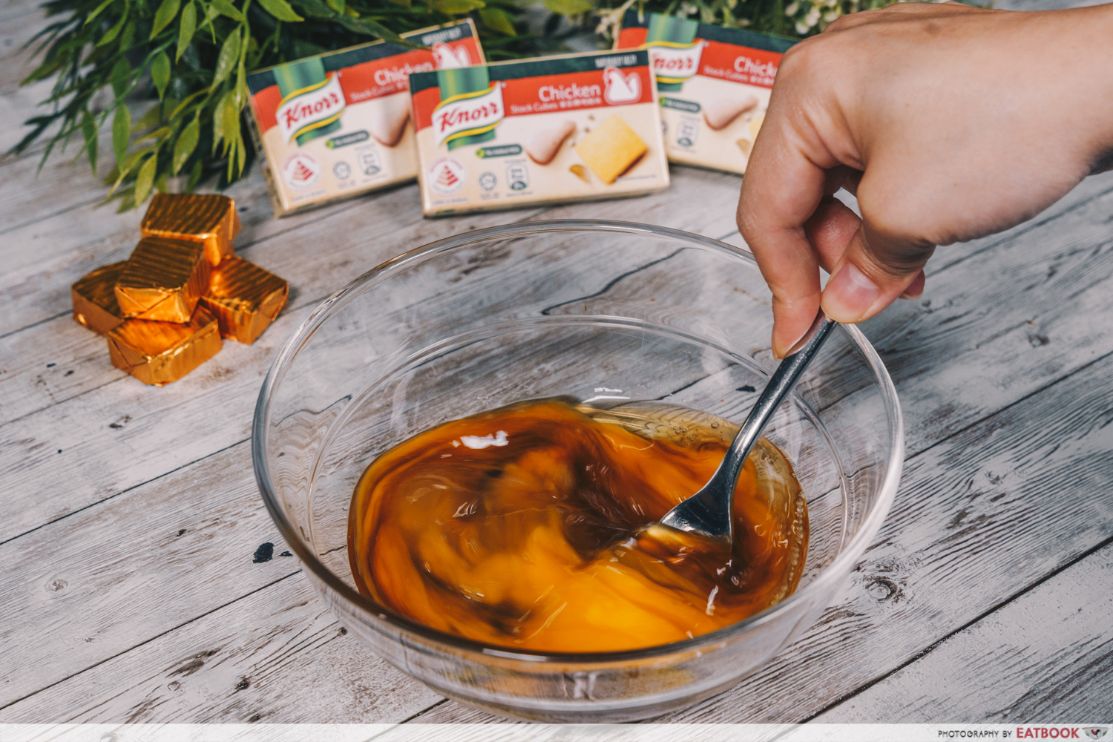 Gently beat this mixture. Air bubbles are the enemy of smooth chawanmushi, so don't beat the eggs hard!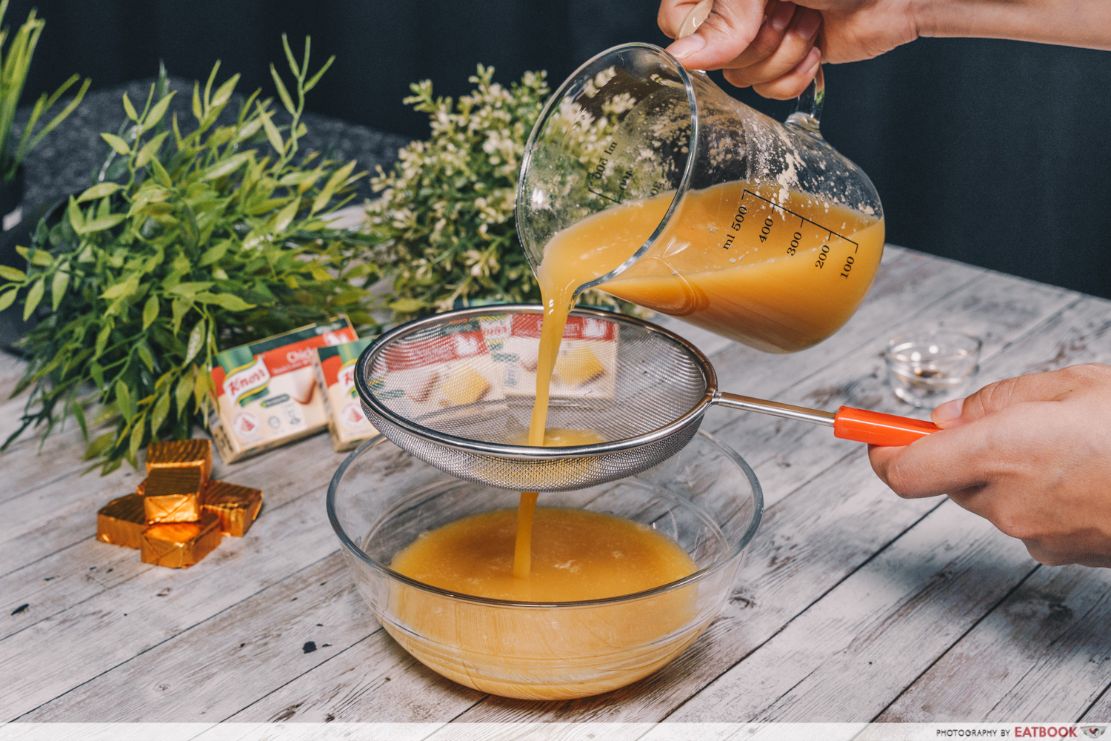 Just to make sure the chawanmushi turns out velvety smooth, sieve away any eggy lumps and air bubbles. Do it twice if you're extra kiasu like me.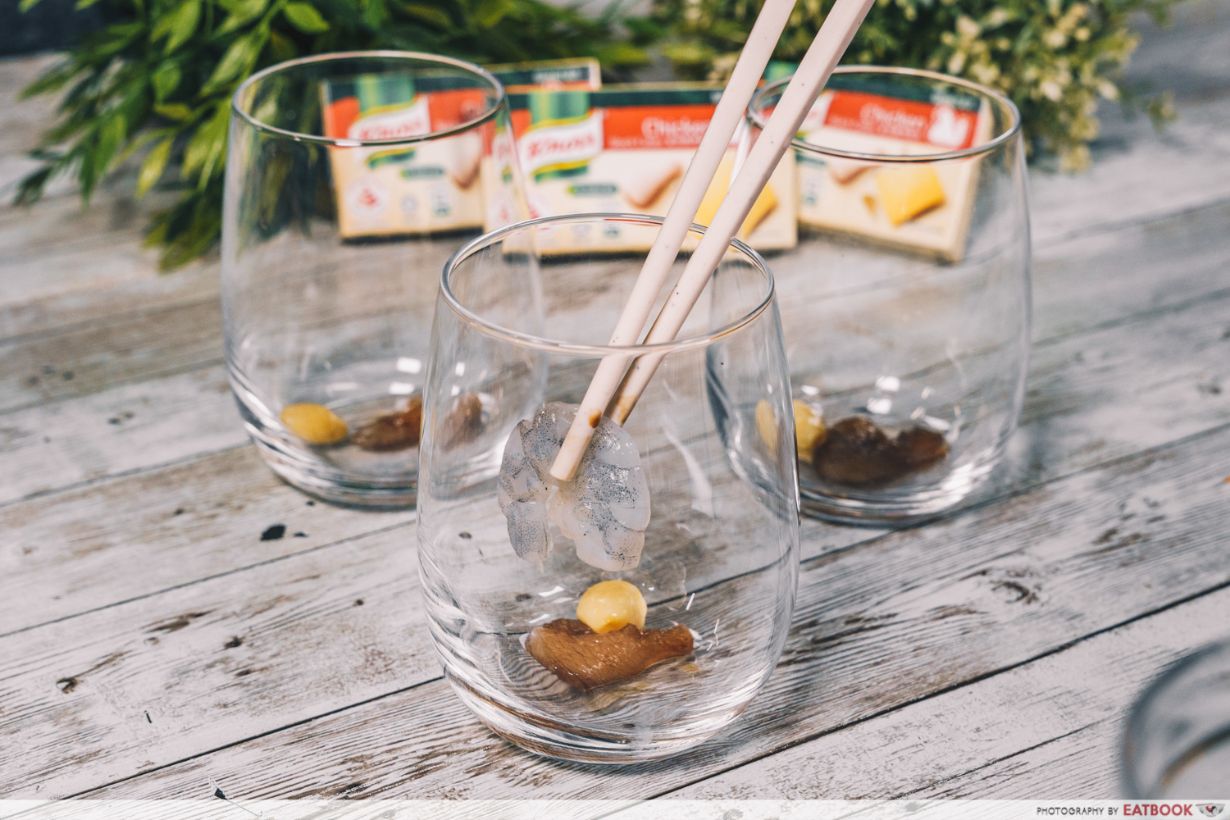 Line the bottom of your chosen heat-proof cup or bowl with the heavier and less colourful ingredients like chicken, gingko nuts and prawn.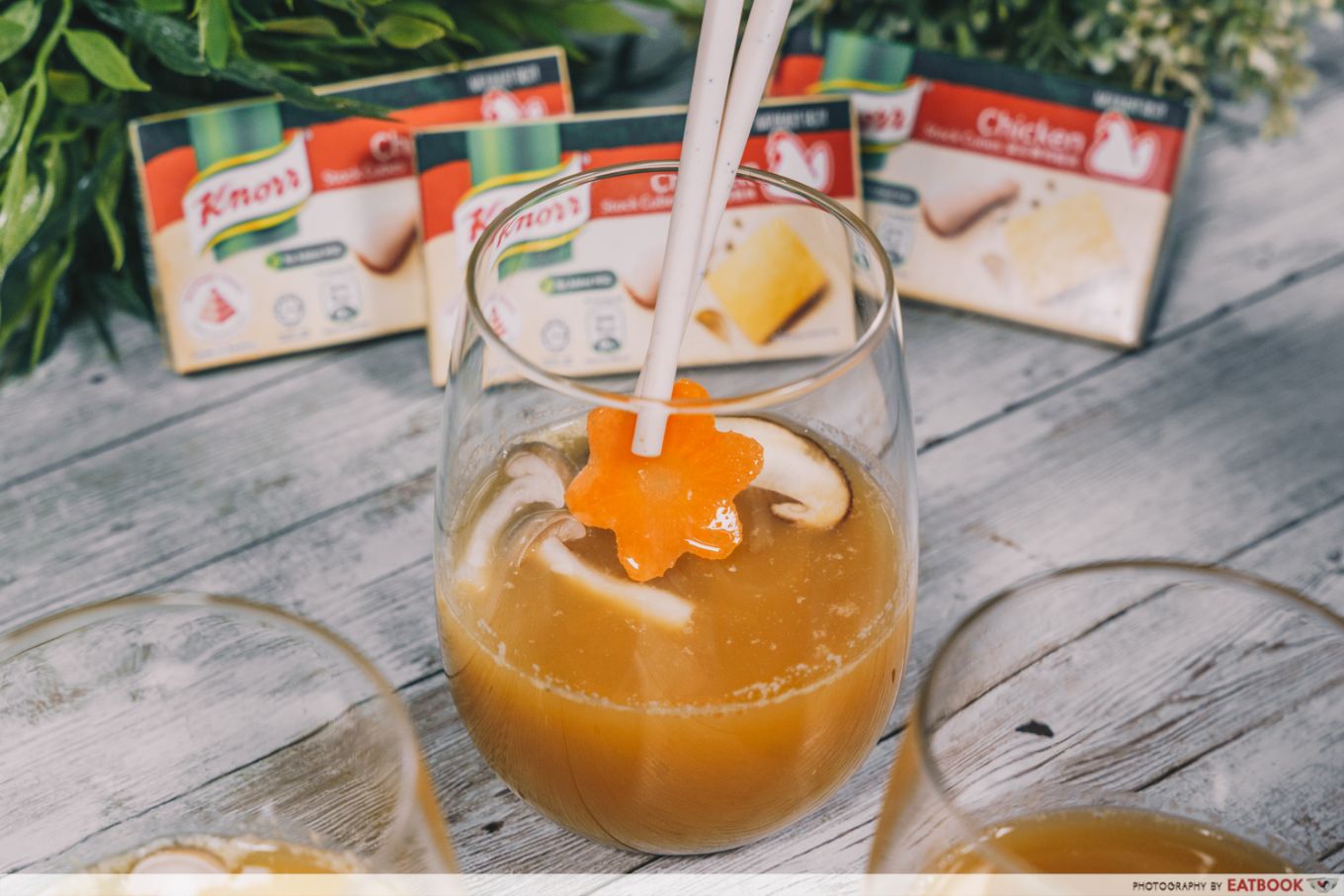 Pour the egg mixture in slowly to prevent frothing. Now, carefully lightly place your shimeji and brightly-coloured ingredients, like fishcake, shiitake and carrot on the surface. It's alright if they don't float!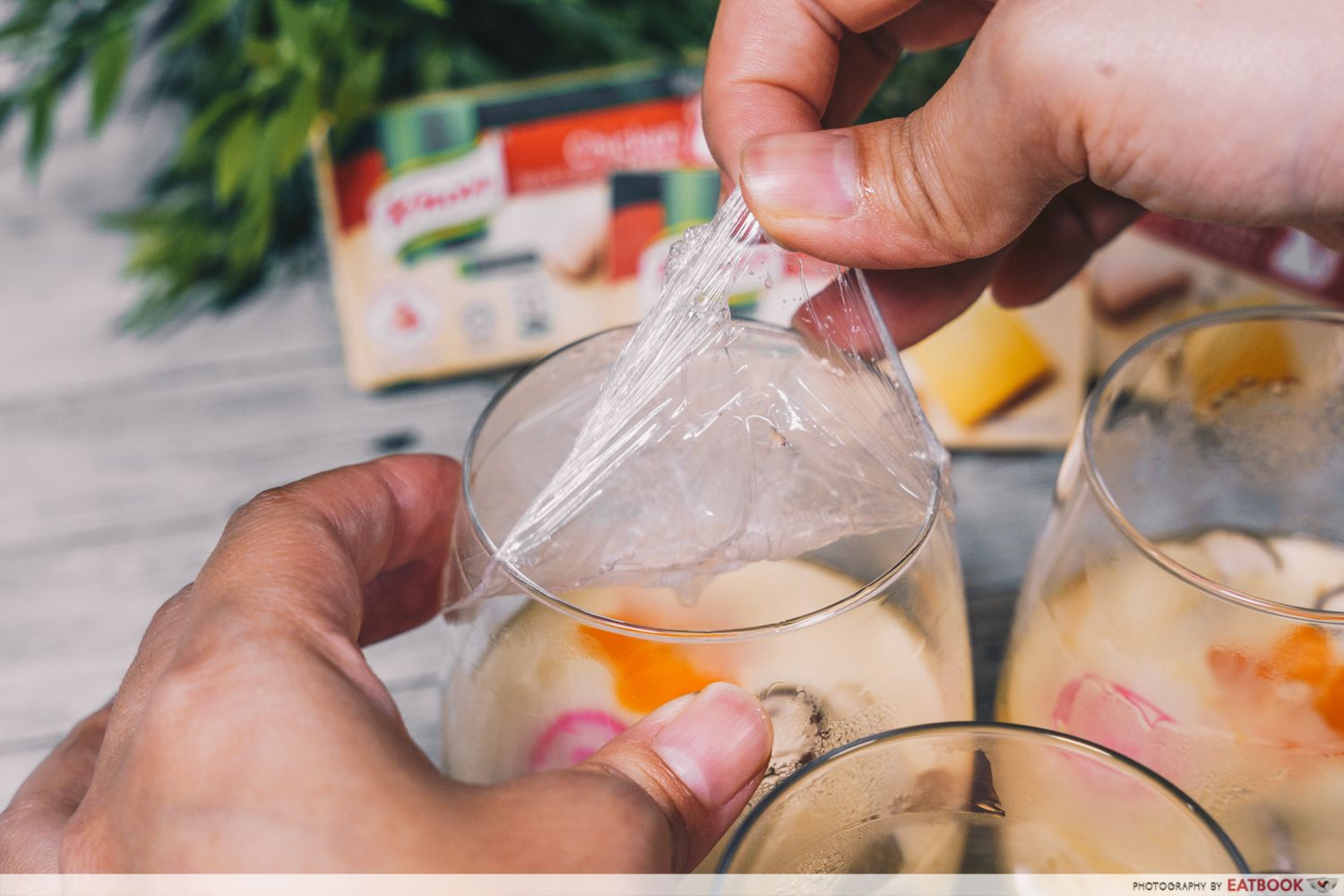 Cover the chawanmushi bowl with heat-safe cling wrap or aluminium foil. This protects your chawanmushi from unwanted liquid and a pockmarked surface caused by condensing steam dripping on it.
Steam your chawanmushi on low heat for 15-20 minutes, depending on how full you filled your bowl. You can tell it's ready when it jiggles like jelly, or you can do a toothpick test to be sure.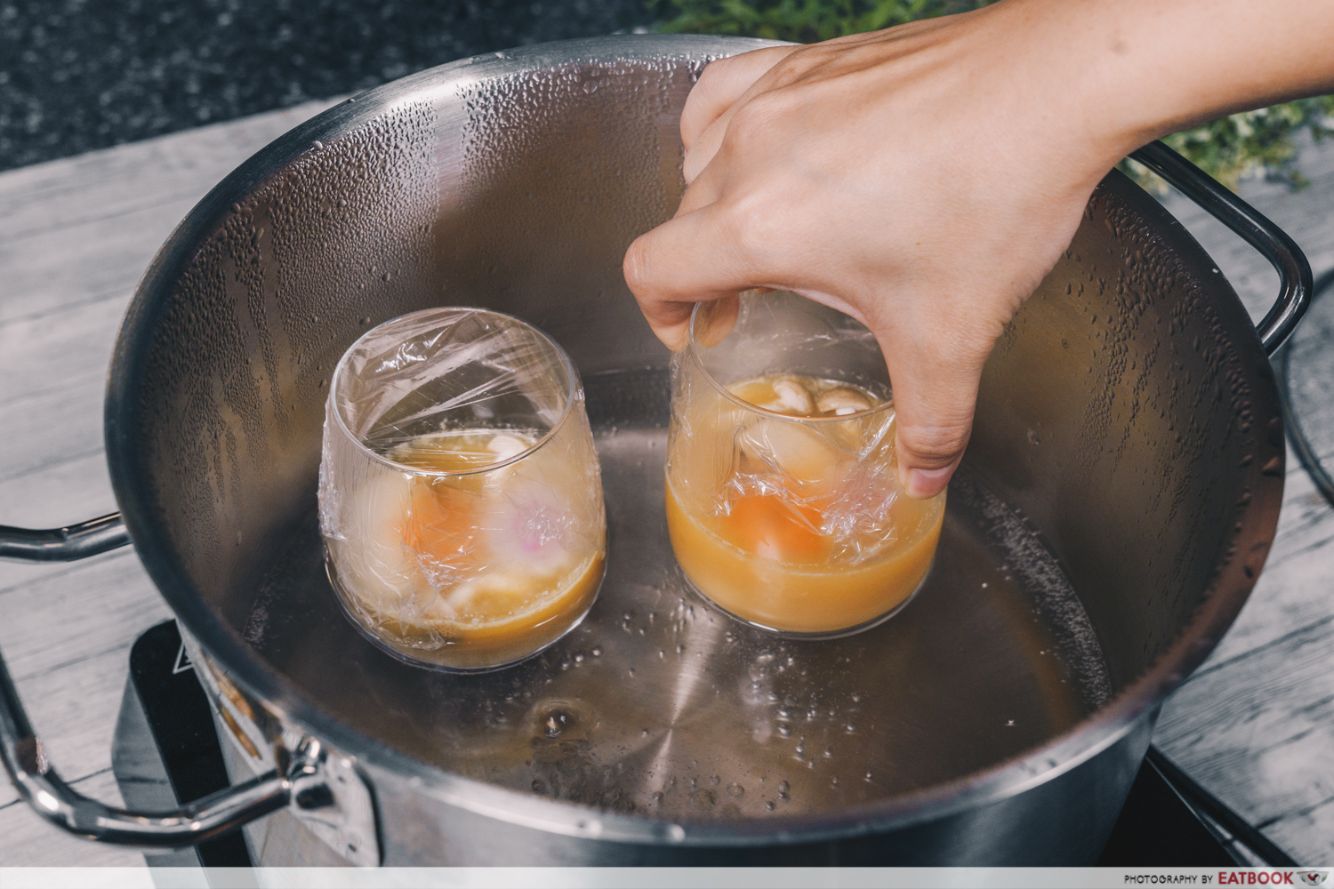 Here's a quick hack if you don't have a steamer or steaming rack! Do what I did and put your chawanmushi bowl in a pot of boiling water, ensuring the water level doesn't go beyond ⅔ of the bowl. Cover the pot and let this simmer very gently. If the water bath is too hot, or at a rolling boil, you'll get air bubbles in your chawanmushi.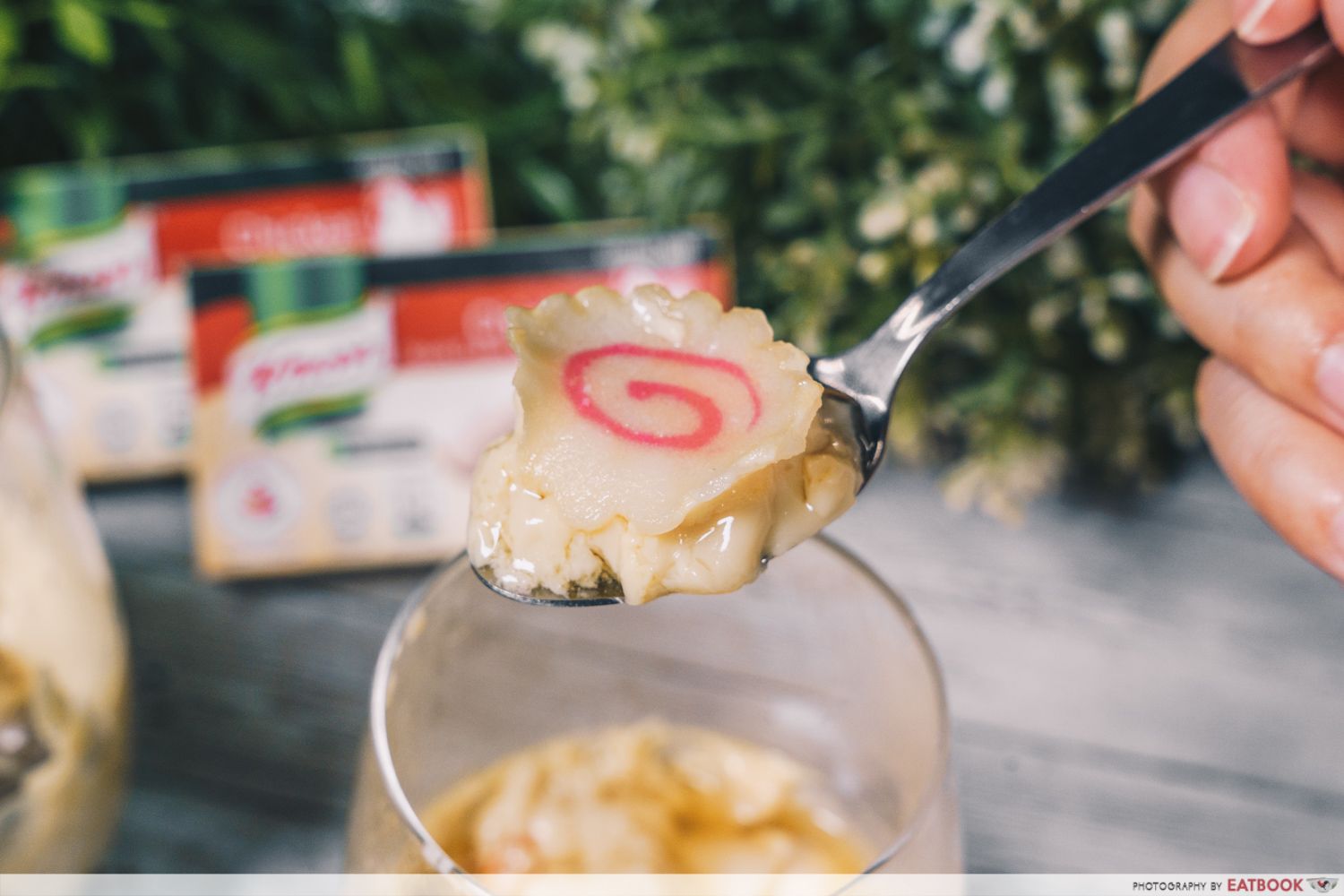 Carefully remove your chawanmushi from the steamer or hot water and garnish it with a delicate coriander leaf. Have it on its own, or with a bowl of steaming hot rice!
Yield: Serves 2 to 4
Cooking time: 40 minutes
Ingredients:
1 Knorr Chicken Stock Cube (No Added MSG)
500ml boiling water
2 large eggs, 60g each
1 tsp light soya sauce
1 tsp sugar or mirin
Toppings:
1 small chicken fillet, cut into 2cm cubes and tossed with 1 tsp light soya sauce
1 piece of shiitake mushroom, sliced
2 deshelled prawns, halved lengthwise
4 thin slices of carrot
4 gingko nuts, pre-cooked
4 slices of Japanese fishcake
4 edamame beans or peas
8 stalks shimeji mushrooms
Coriander
Directions:
Prepare your steamer.

Dissolve the Knorr Chicken Stock Cube in 500ml of hot water, and allow it to cool to room temperature.

Crack the eggs into a bowl, add in 360ml of the cooled chicken stock, light soya sauce and sugar or mirin. Gently beat this mixture so that no bubbles form.

Gently strain the egg mixture into a separate bowl with a fine mesh strainer or sieve to remove air bubbles and eggy lumps. Discard the eggy lumps.

Arrange your chosen ingredients into a small, heat-proof bowl, ramekin or cup. Start with ingredients like chicken, prawns and gingko nuts.

Gently pour in the egg mixture, and arrange the rest of the ingredients on top.

Cover the cups with heat-safe cling wrap or aluminium foil, and place them in the steamer. Steam on low heat for 15-20 minutes.

Carefully remove from the steamer, garnish with a coriander leaf, and serve.
Recipe adapted from Just One Cookbook and Foodie Baker's posts.
---
3. Chicken Pho
---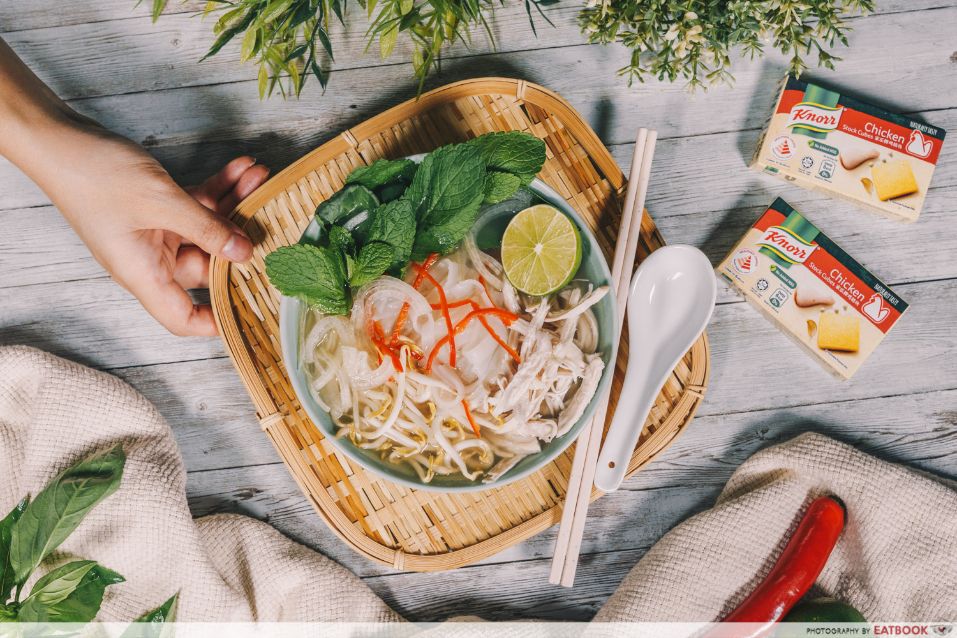 The best pho I've ever had was the one I had squatting on a curb in Hanoi, served in a questionably clean bowl by a hunched Vietnamese lady. I've always wanted to recreate that pho, but the idea of boiling stock from scratch is simply a turn-off. Enter the Knorr Chicken Stock Cube. It's made with chicken that's been simmered for four hours so I can get my fill of MSG-free pho, still packed with the goodness of homemade stock, in under an hour!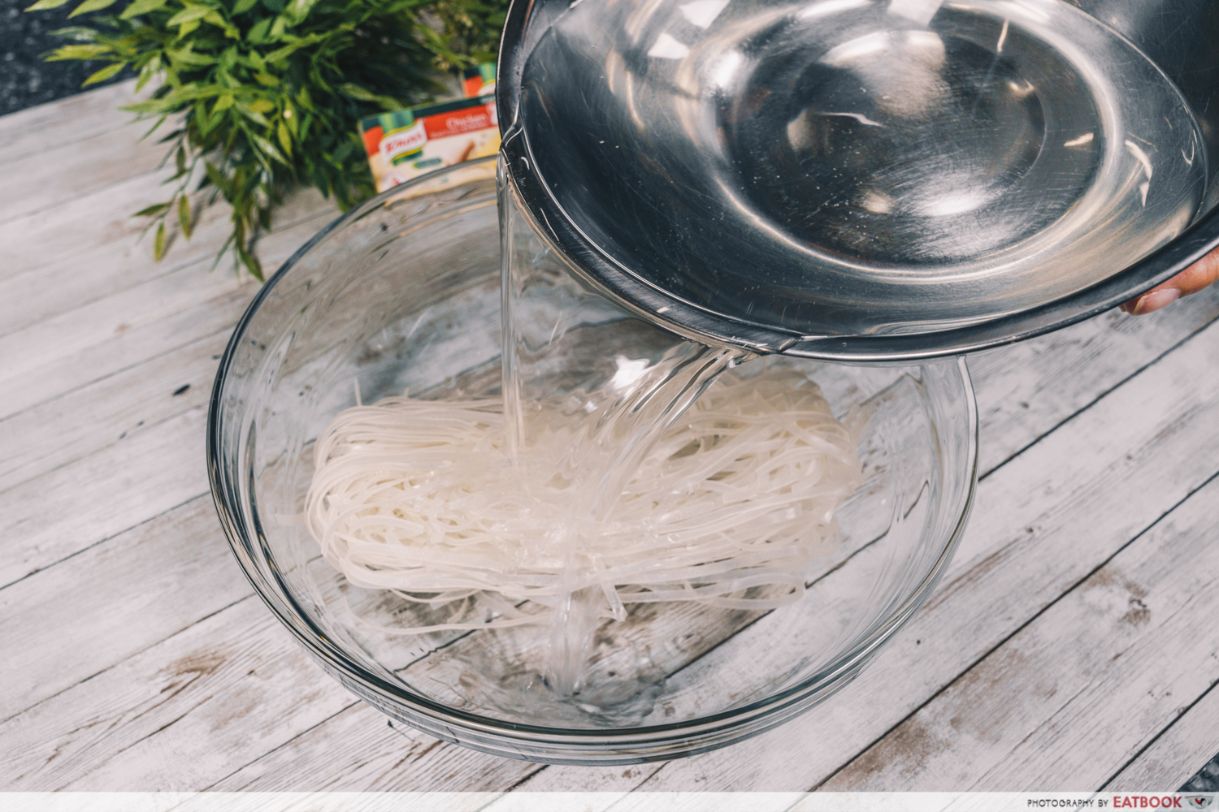 To begin, pour boiling hot water on the stick rice noodles in a big bowl. Let them sit for at least five minutes to soften. Drain the hot water away and rinse the noodles under the tap. Doing this removes some of the starch content in the noodles so your pho soup doesn't get murky. You'll also avoid ending up with a soup that tastes of rice flour.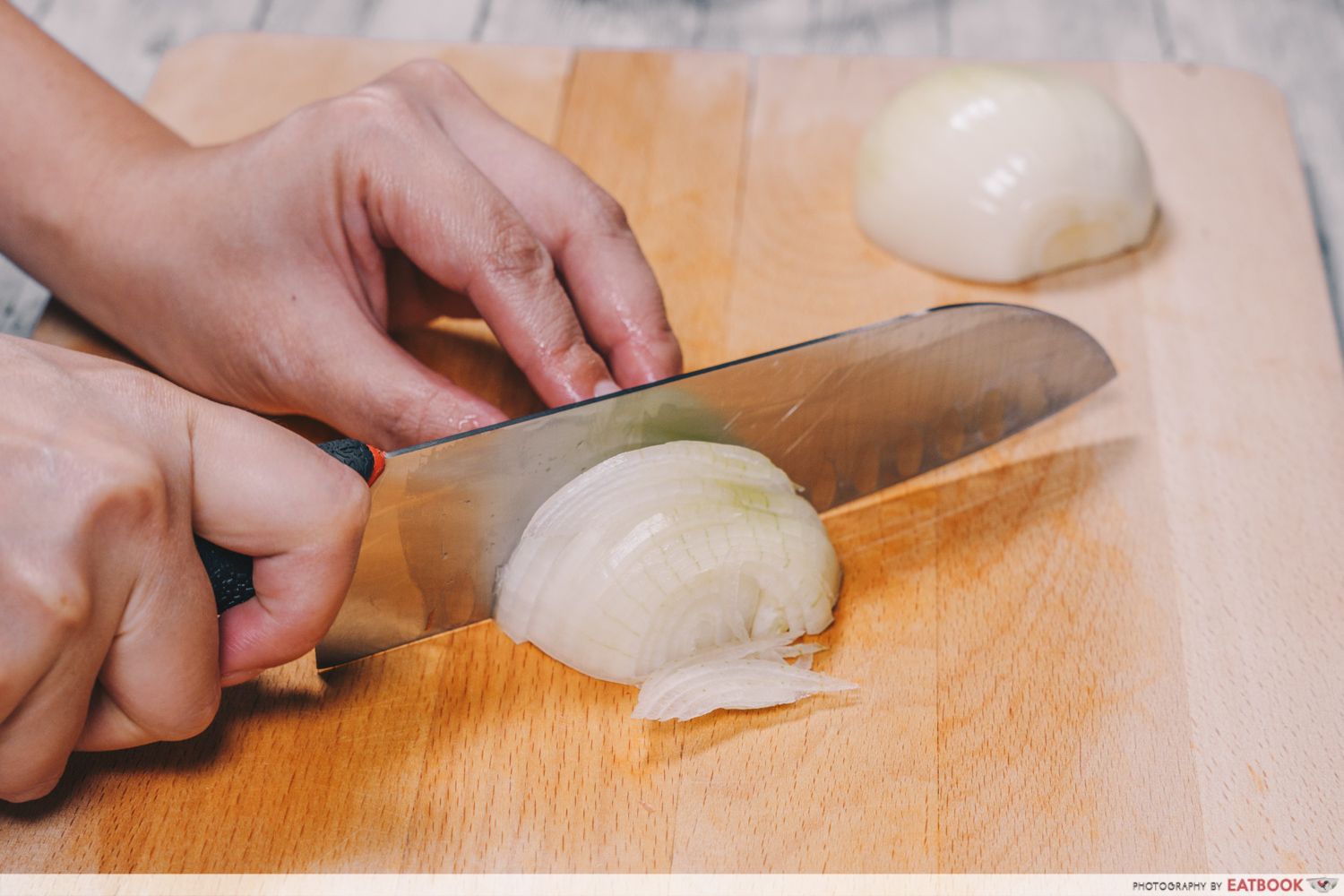 Cut an onion in two. Set one half aside to make the soup. Finely slice the other half and reserve these slices to garnish your bowl of pho with. Don't use yellow onions because they'll be too strong-tasting when eaten raw as the garnish.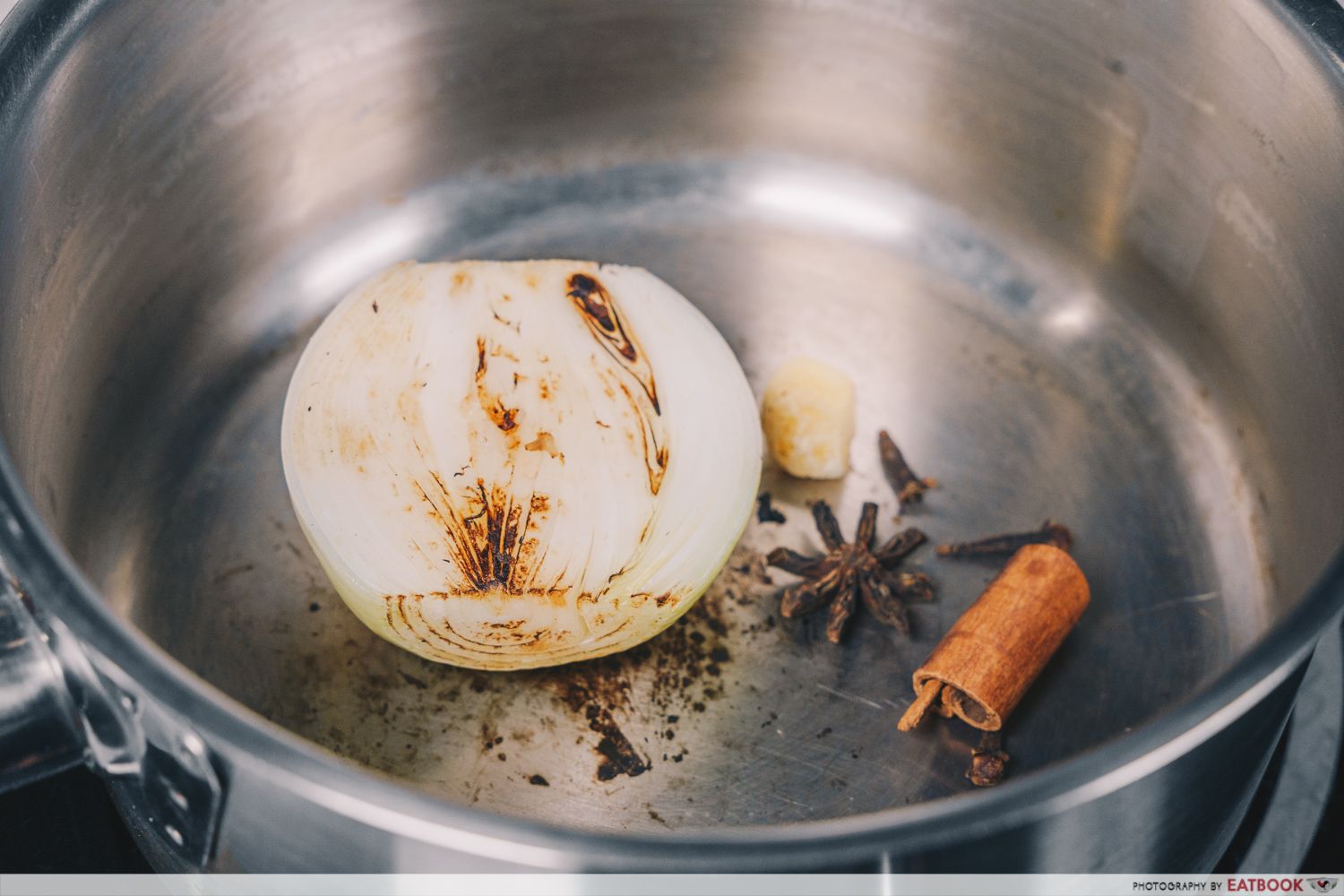 Heat a medium-sized stock pot on medium-high heat, and put the knob of ginger and half of the onion into the pot. Turn them occasionally, until the onion browns, and starts to blacken in spots, and the ginger darkens in colour. This should take about three to four minutes.
With the heat still on medium-high, throw the cloves, star anise and cinnamon into the pot and allow them to roast for another minute so that their natural oils can be released. The kitchen will start to smell delightfully aromatic and spicy.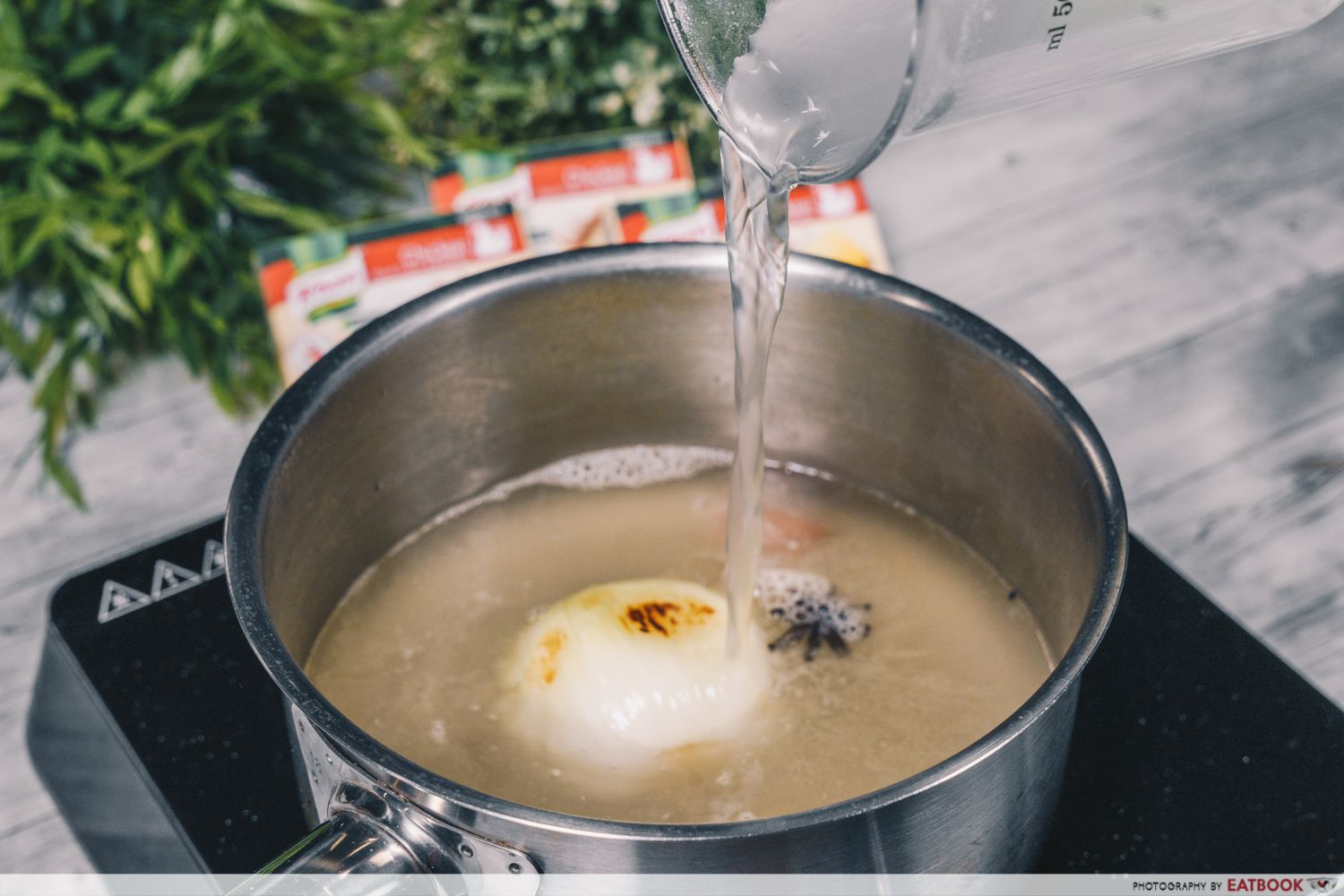 Now, turn the heat down and slowly pour in the stock, made with Knorr Chicken Stock Cube dissolved in hot water. You can dissolve the Chicken Cube directly in the pan with water too.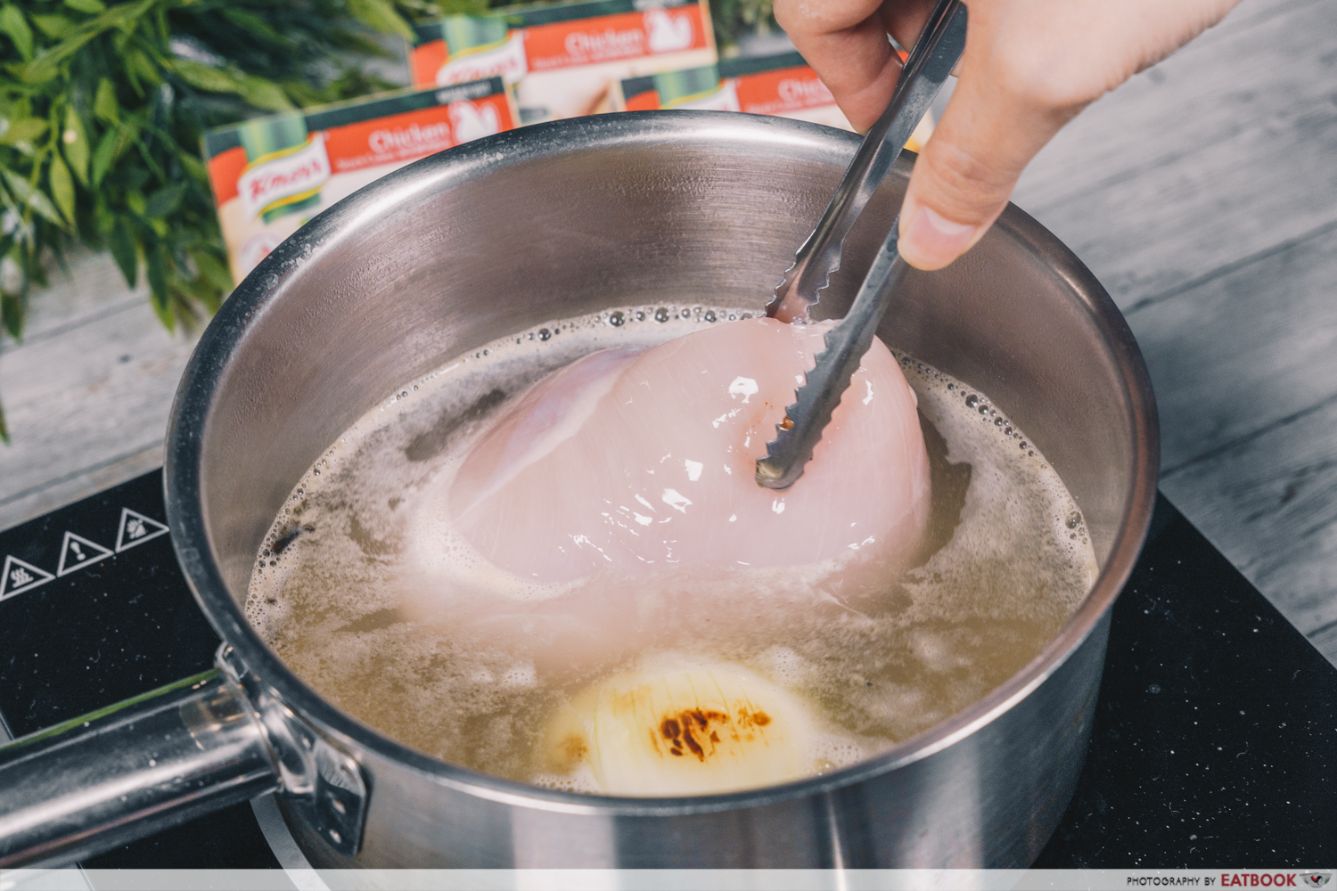 With the stock at a gentle simmer on low heat, carefully lower the chicken into the broth and cover the pot for 15 minutes. I use a whole chicken breast here, but feel free to substitute this with chicken legs, or even peel a store-bought rotisserie chicken, and skip this step! Do adjust the time accordingly if you use a different cut or amount of chicken.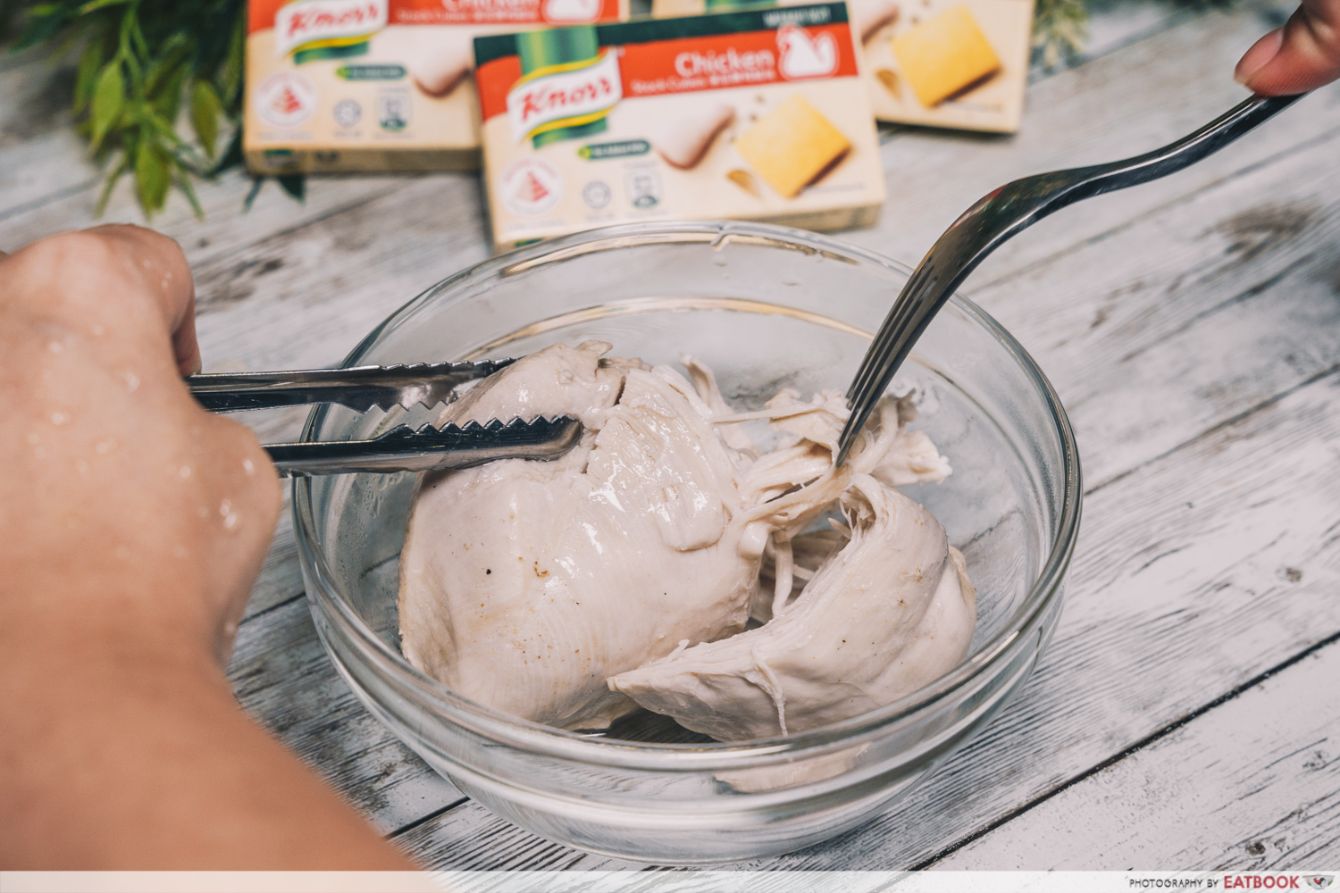 Remove the chicken from the soup and shred it with a fork, or with your hands, when it's cool.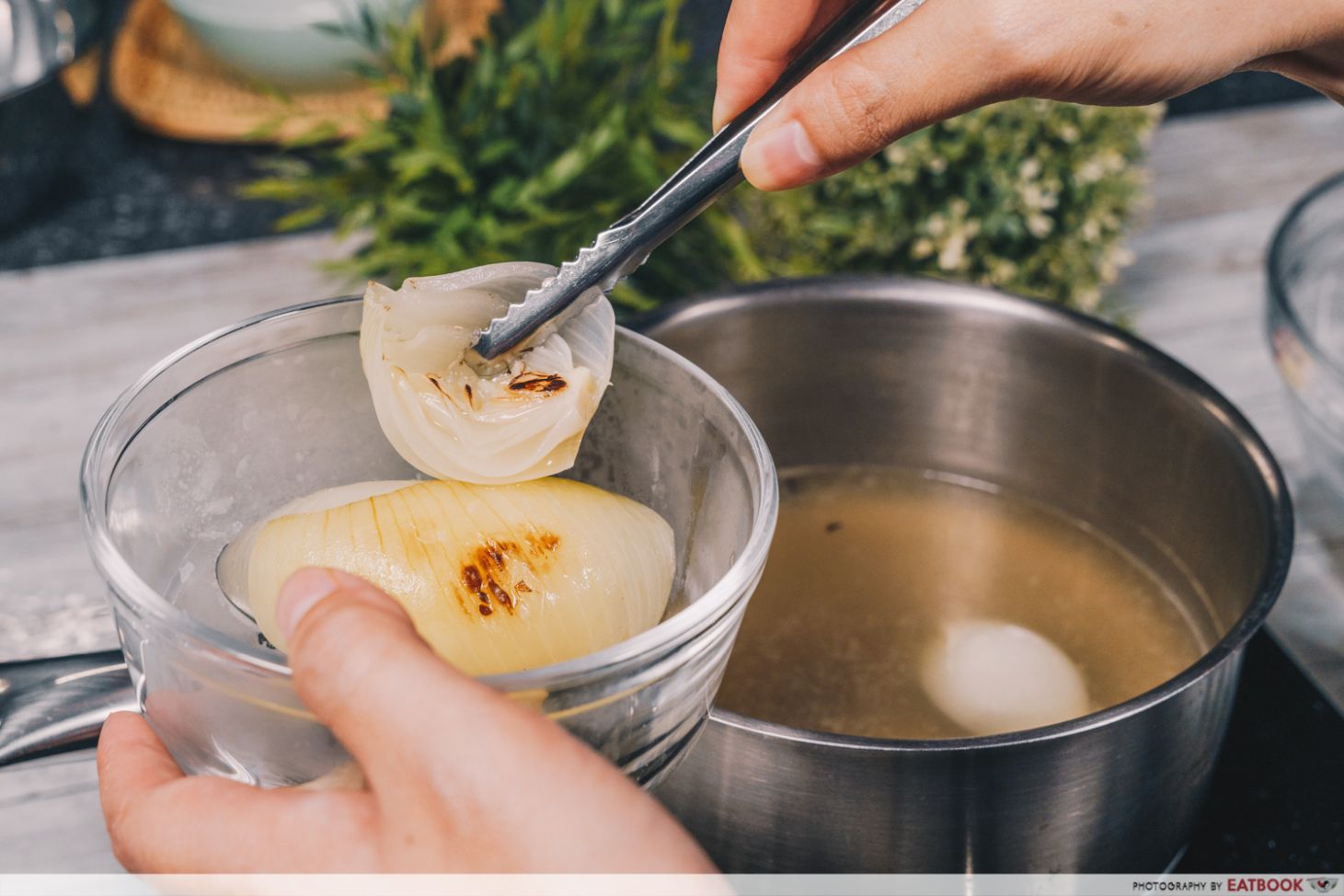 At this point, fish out the aromatics from the soup, and add the fish sauce and sugar.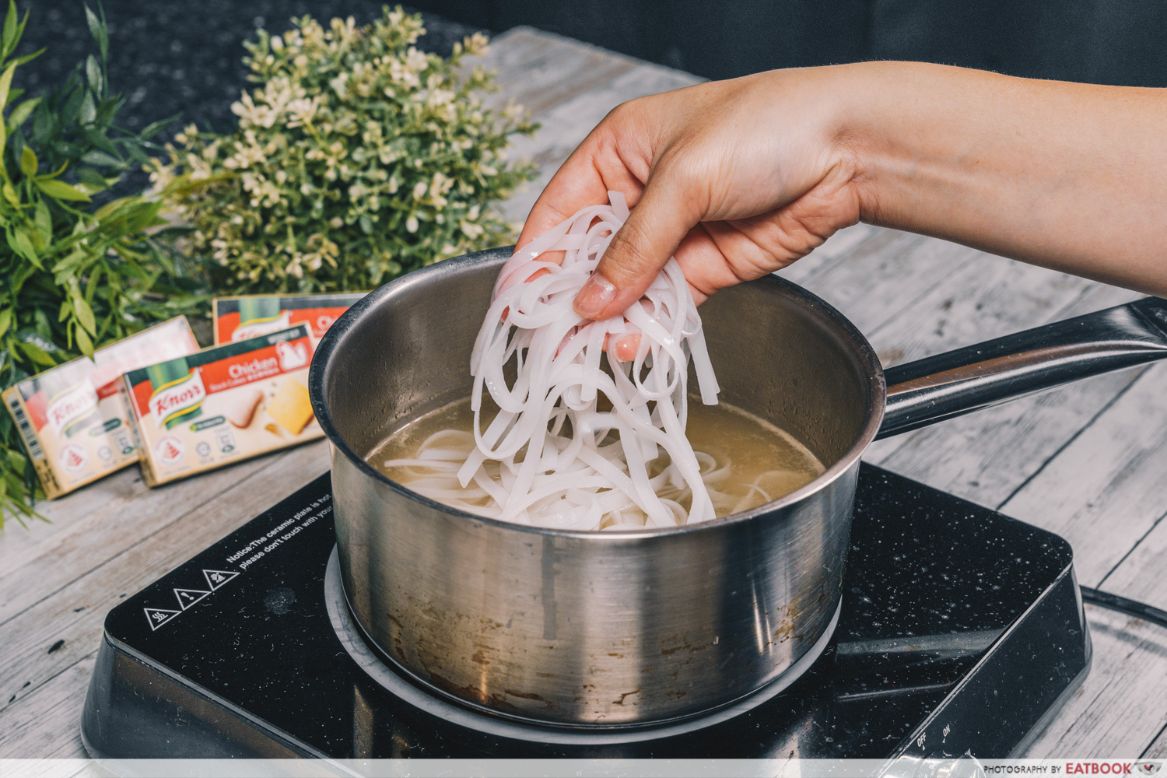 Now, turn the heat up till the soup boils. Add the noodles into the boiling soup. Cook them for two minutes, or till they reach your desired softness.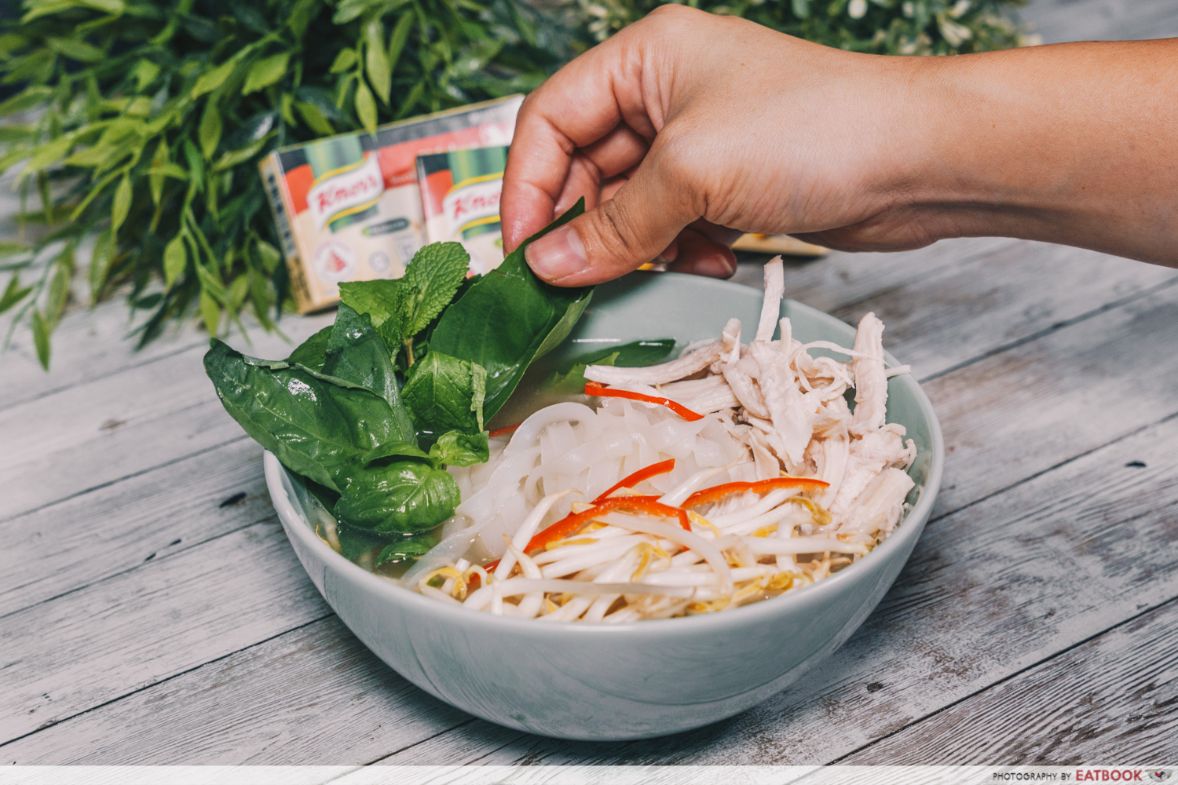 Dish up the pho to serve with assorted fresh greens and zesty lime.
Yield: Serves 1
Cooking time: 40 minutes
Ingredients:
100g dried rice stick noodles
½ white onion
1cm knob ginger
3 whole cloves
1 whole star anise
¼ stick cinnamon
500ml water
1 Knorr Chicken Stock Cube (No Added MSG)
1 chicken breast fillet
1 tsp fish sauce
¼ tbsp sugar
Toppings:
Bean sprouts
½ white onion, finely sliced
Red chilli, finely sliced
Thai or sweet basil
Fresh mint
Lime, halved
Directions:
Soak dried rice stick noodles in a bowl of boiling hot water for 5 minutes. Drain and rinse under the tap.

Place the ½ onion and knob of ginger in a medium-sized stock pot. Roast on medium-high heat until fragrant and they start to darken, for about 3 minutes. Add the cloves, star anise and cinnamon and roast another minute until fragrant.

Turn the heat down and add water into the pot. Dissolve the Knorr Chicken Stock Cube in, and bring to a boil.

Lower the heat to a gentle simmer, and poach the chicken breast for 15 minutes. Take the chicken out and shred it with a fork or by hand.

Remove the aromatics. Stir in fish sauce and sugar.

Add rice noodles into the soup. Boil for 2 minutes.

Plate and garnish with toppings as desired.
Recipe adapted from Marion's Kitchen and Spices In My DNA's posts.
---
4. Oyster Mee Sua (Orh Ah Mee Sua)
---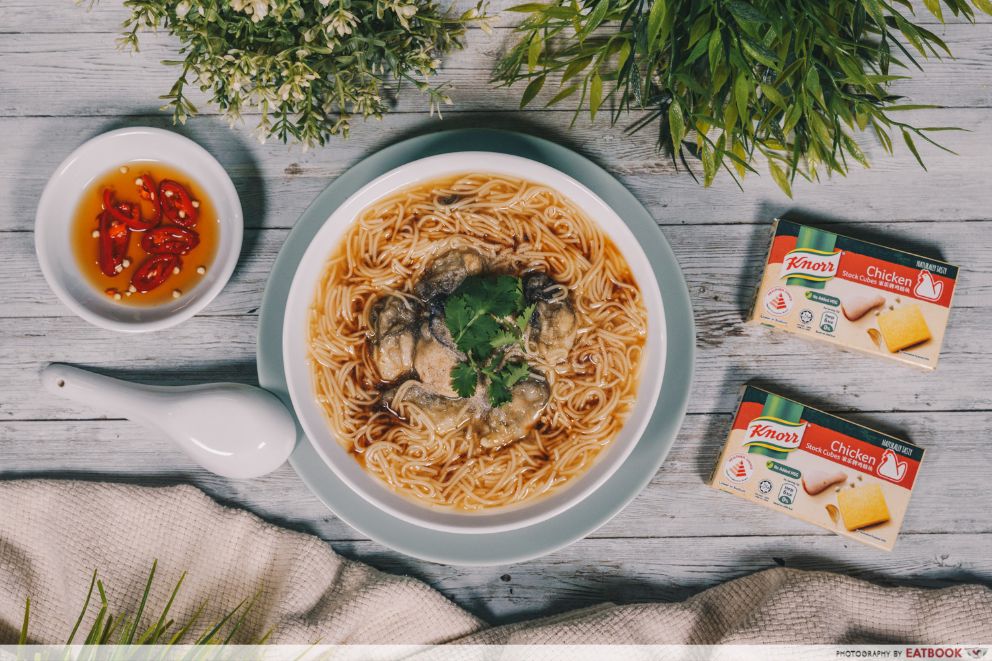 The days of queuing for Ah Zhong Mian Xian in Taipei are gone, for now. I could go out for a bowl of orh ah mee sua, but I feel unhealthy to be eating out all the time. With Knorr Chicken Stock Cubes that have no added MSG, it's so easy to make a healthier Oyster Mee Sua at home!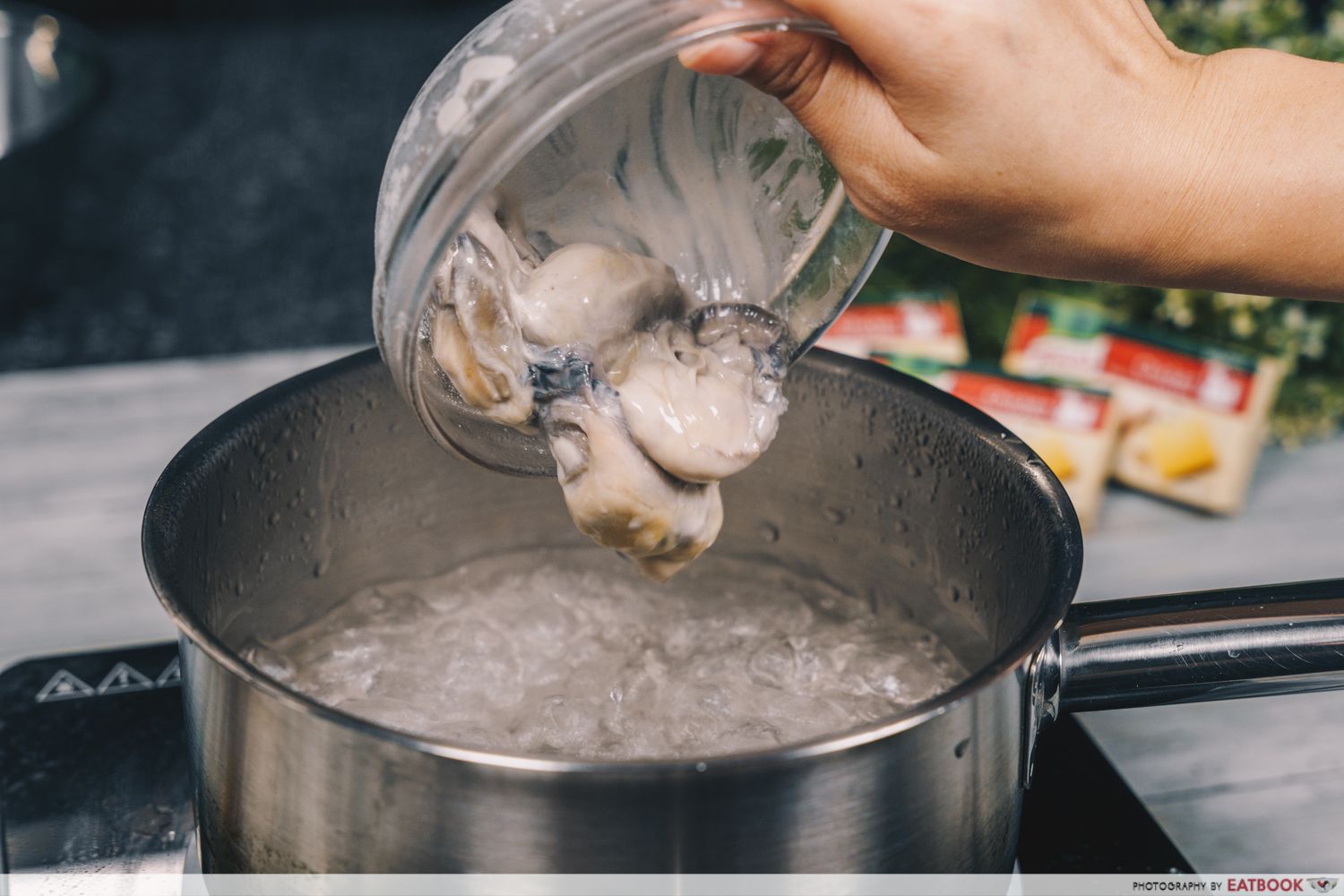 Start with the thawed oysters. Give them a quick rinse and dust them in sweet potato flour, then blanch them in a pot of boiling water for 15 seconds before setting them aside. This keeps the oysters smooth and plump, and from disintegrating into the soup, so don't skip this step.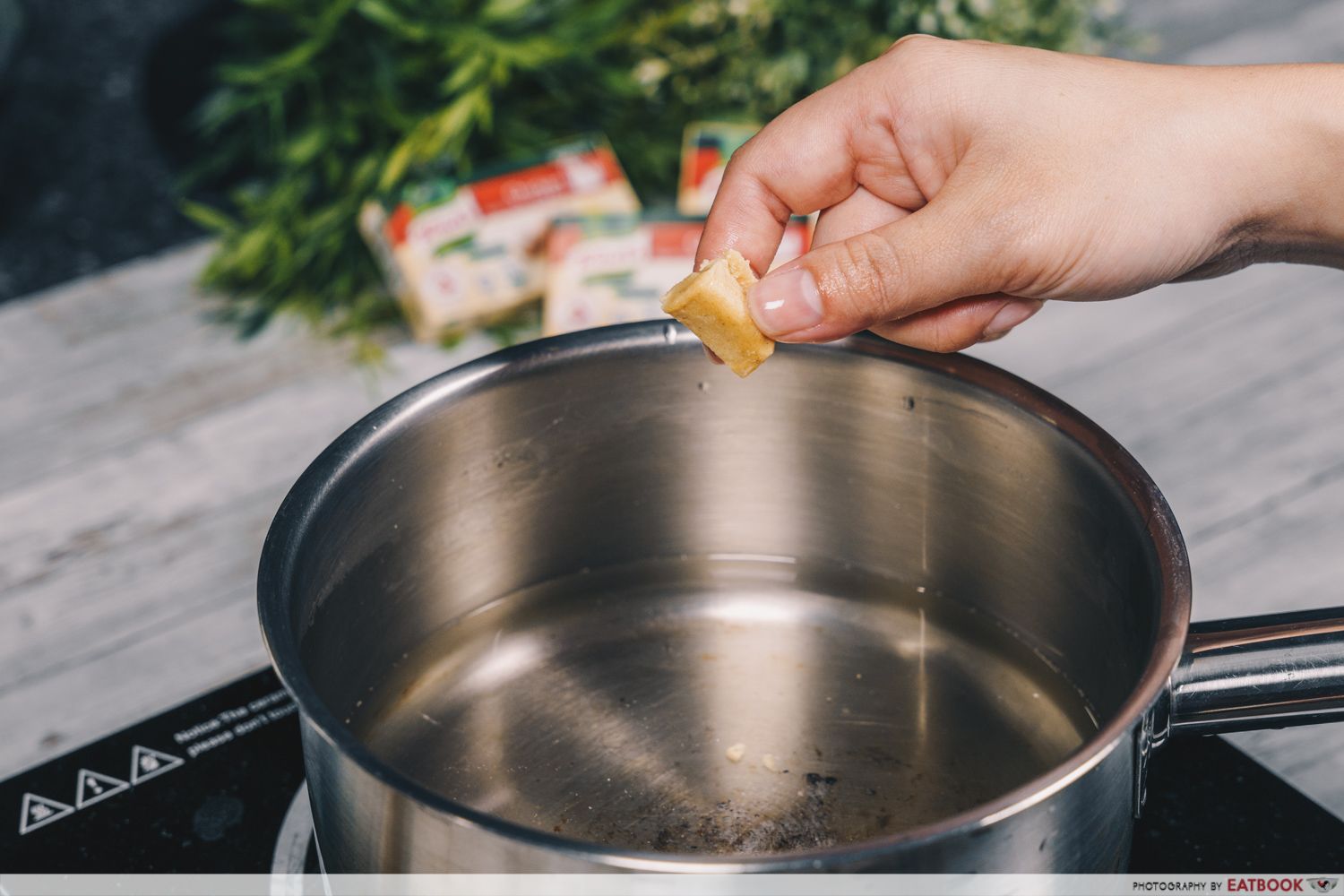 Rinse the stock pot and fill it up with 500ml of water. Dissolve half a Knorr Chicken Stock Cube in the water and bring it to a boil.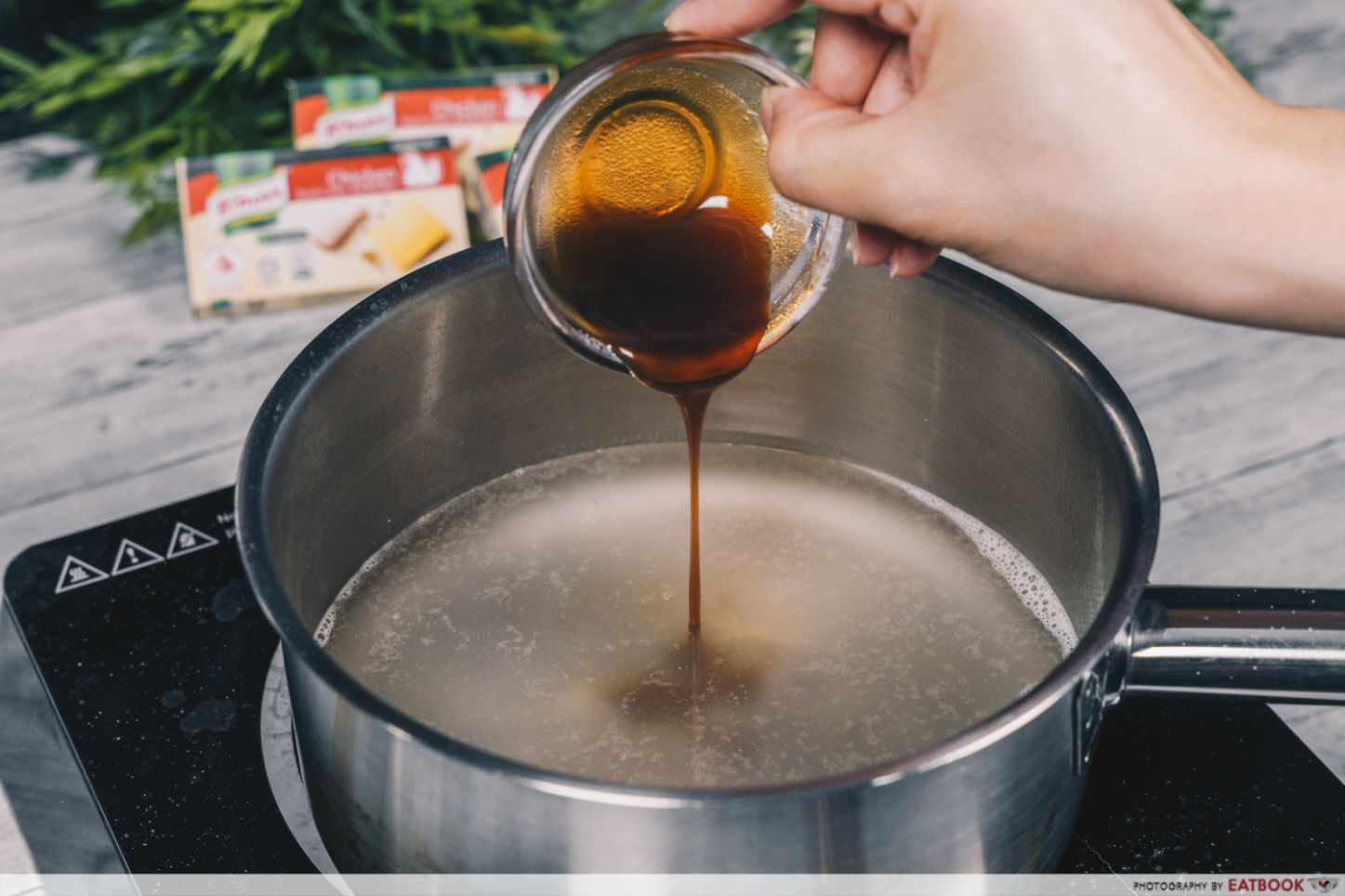 Next, season the stock with Hua Tiao Jiu cooking wine, oyster sauce, sugar and dark soya sauce. Shao Xing and Hua Tiao Jiu cooking wines are interchangeable, so you can use either, or none at all. It's important to use dark soya sauce because it gives the soup the right colour.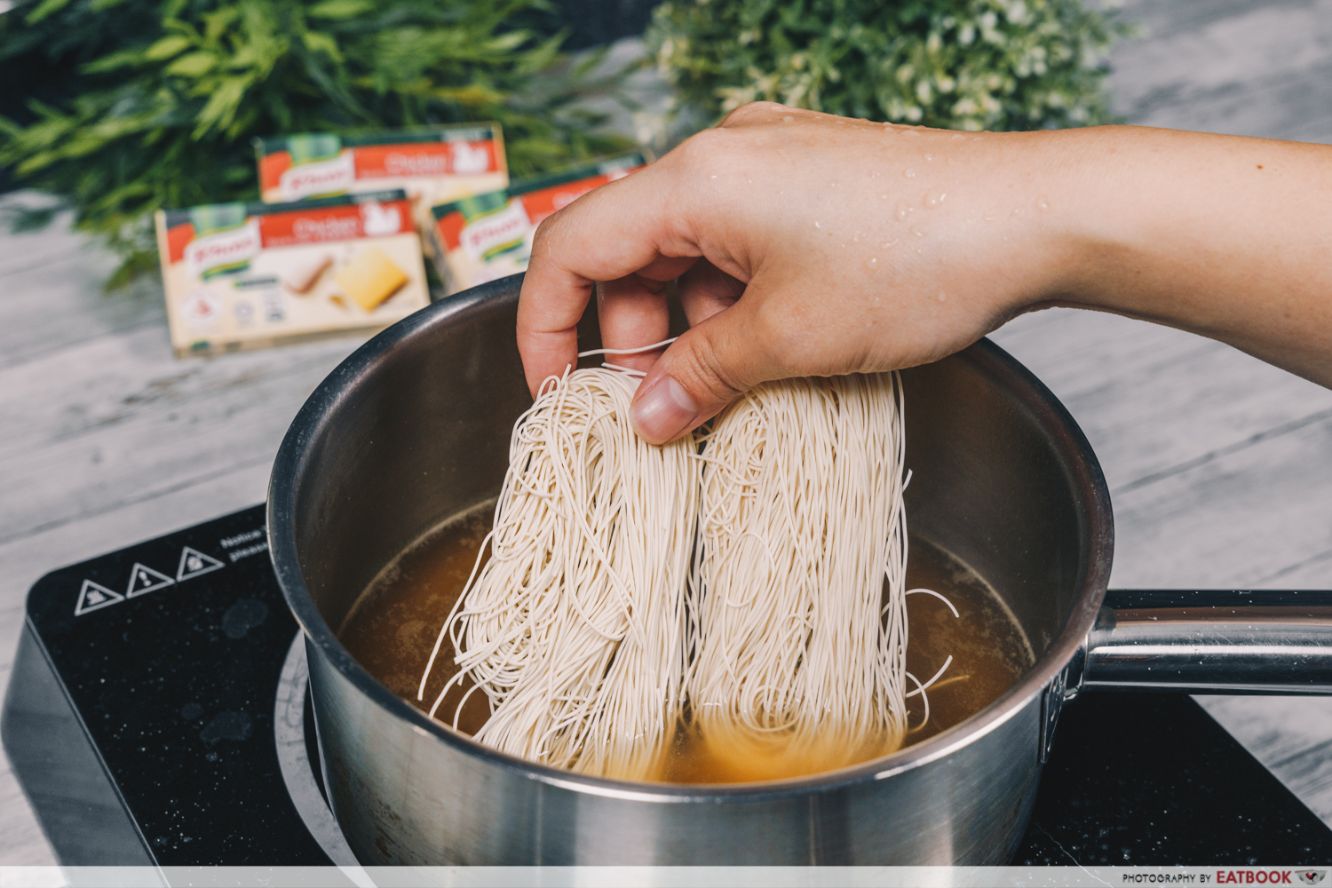 Now, add the dry mee sua to the soup. I'm using white mee sua, but you can use wholemeal for a healthier option. You don't have to boil the mee sua separately because you want the soup to get starchy and thick.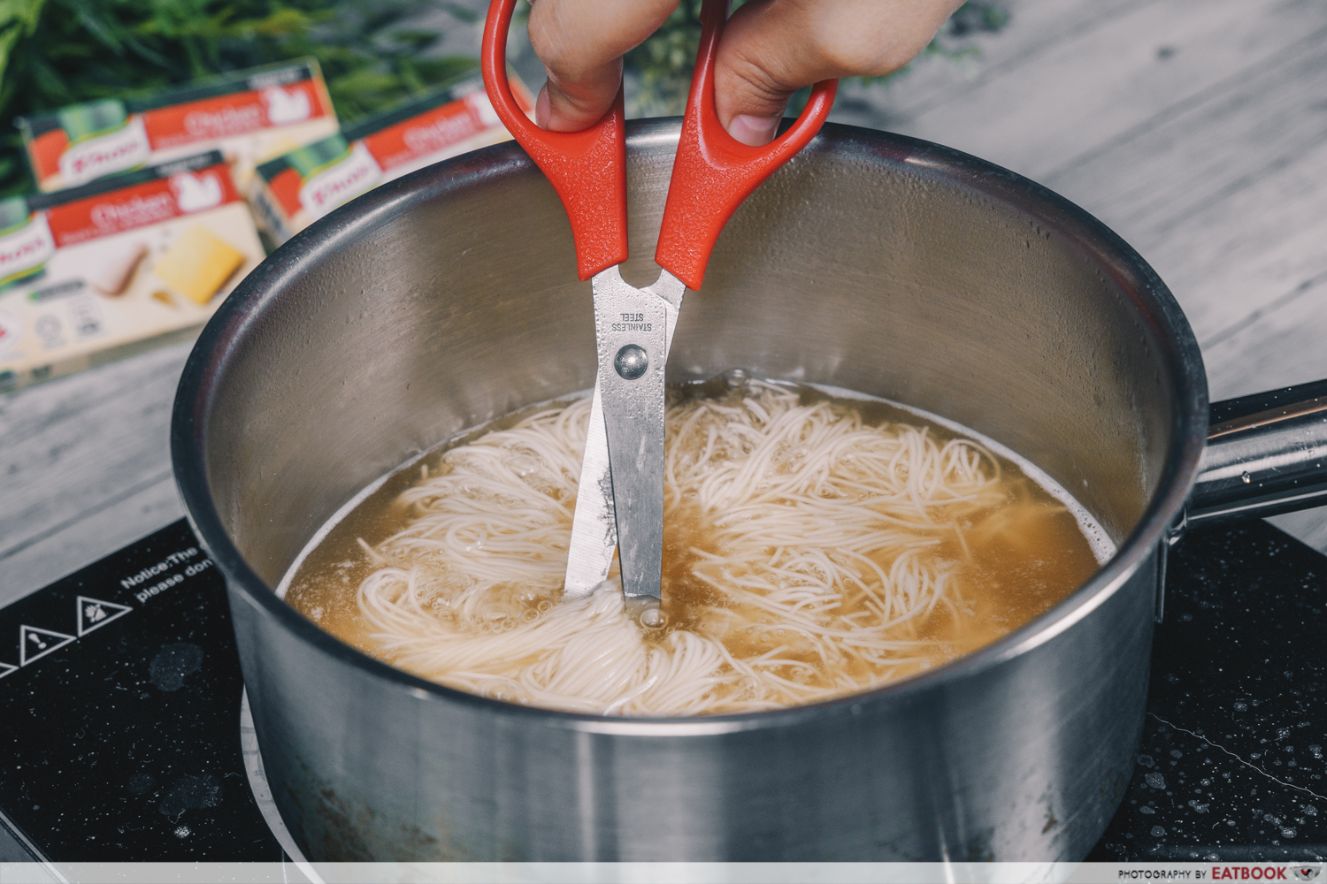 When the mee sua has softened, cut it up into short strands with scissors to make your oyster mee sua look more legit.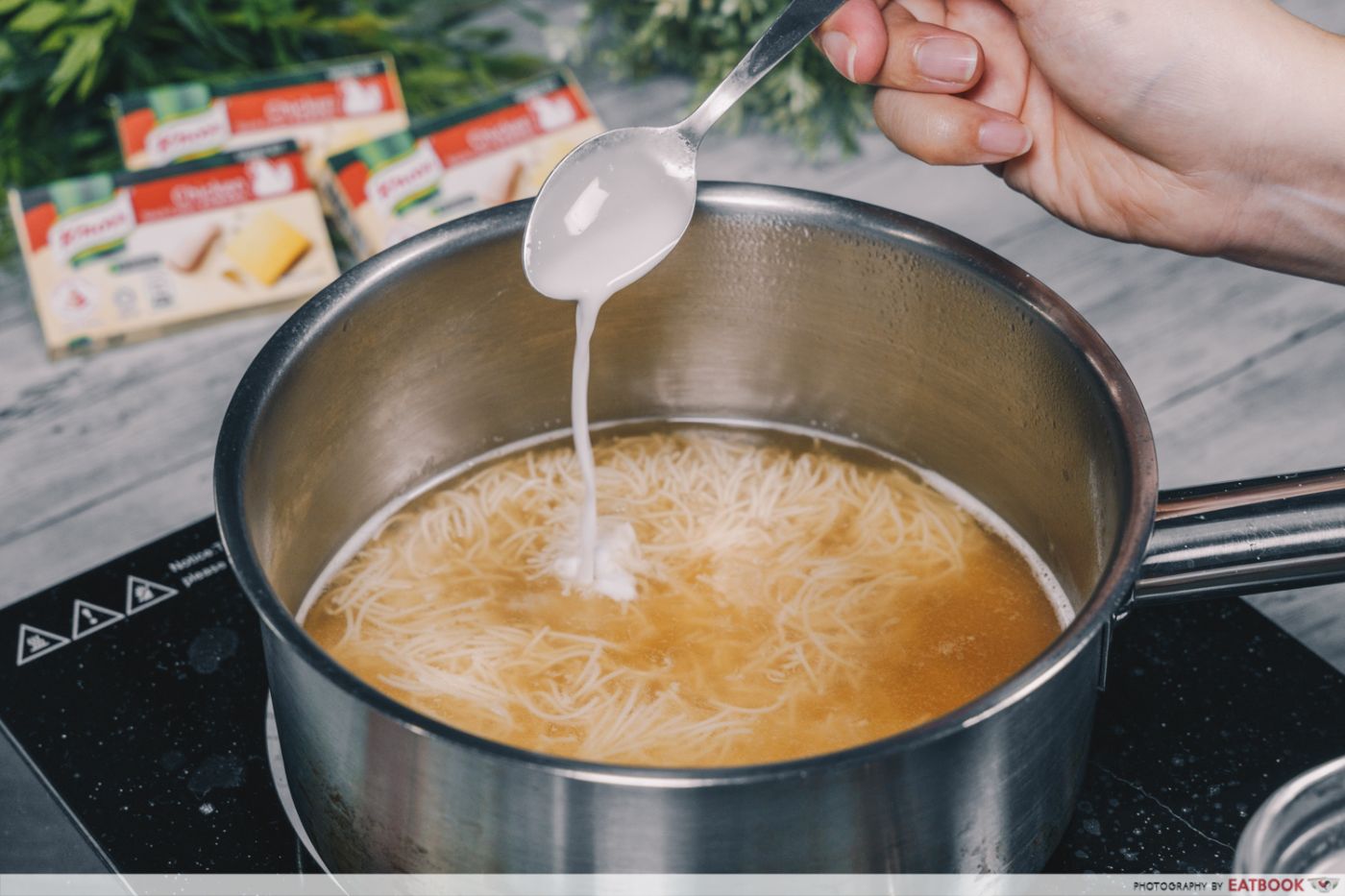 Make your starch slurry, ensuring that it's well mixed before you pour it into the pot a little at a time, stirring all the while. This way, you avoid ending up with a pot of overly-thick mee sua soup, or lumps of starch jelly. You can use corn flour for this whole recipe if you don't have sweet potato flour, but I find sweet potato flour gives a glossier, silkier finish in general.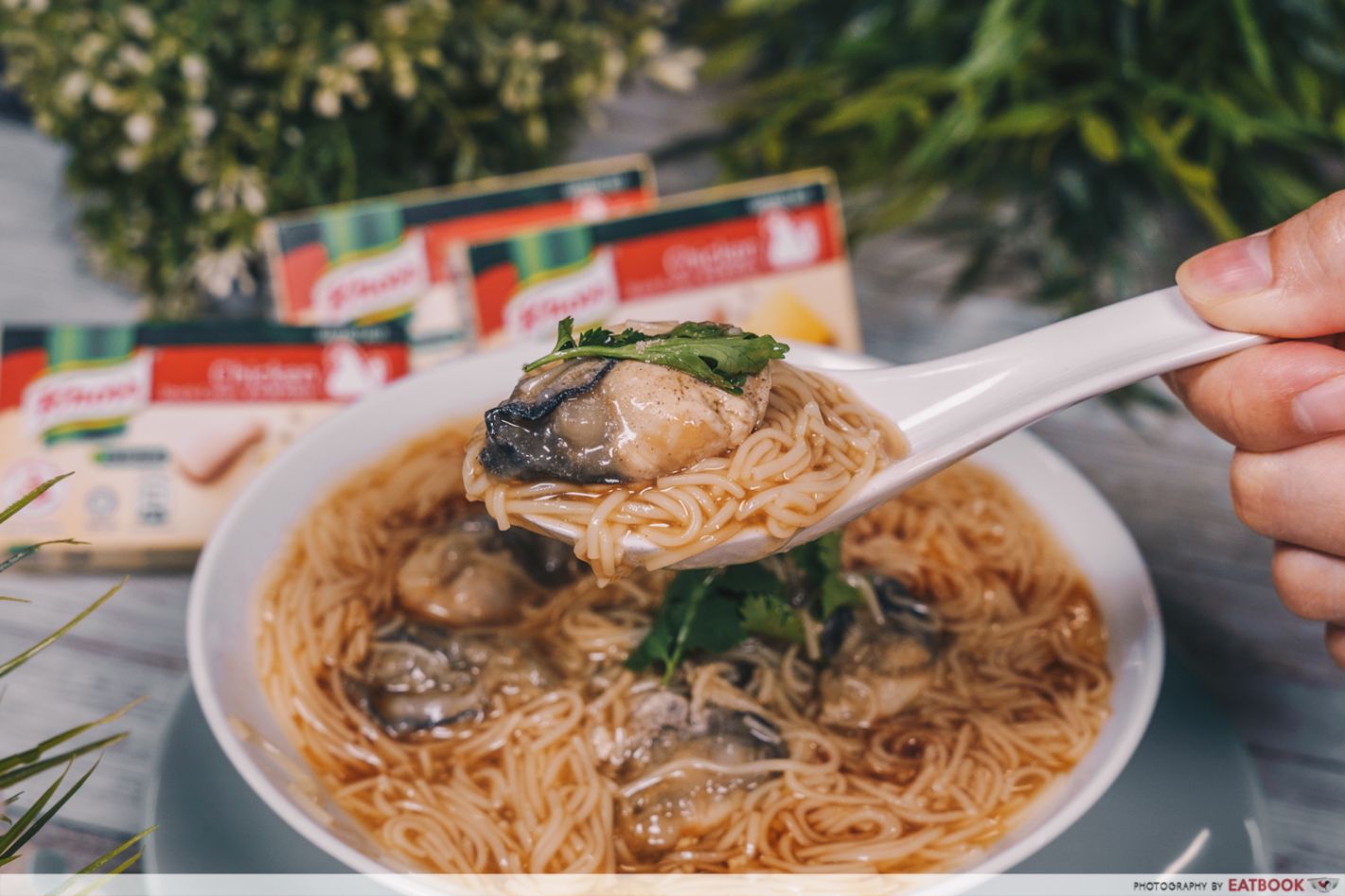 Just before you dish your mee sua to serve, throw the oysters back into the pot, turn the fire off, and give them a quick stir to heat them through. Dash some white pepper on each bowl, don't miss out the black vinegar, and garnish with sprigs of coriander for freshness. 
Yield: Serves 1
Cooking time: 20 minutes
Ingredients:
50g frozen oysters, defrosted
1 tbsp sweet potato or corn flour
500ml water
½ Knorr Chicken Stock Cube (No Added MSG)
¼ tbsp Hua Tiao Jiu cooking wine (optional)
1 tbsp oyster sauce
½ tsp dark soya sauce
1 tsp sugar
45g dry mee sua
Starch slurry made from 2 tbsp sweet potato or corn flour mixed with 2 tbsp water
Toppings:
White pepper
Black vinegar
Coriander
Directions:
Rinse the oysters and coat them in the sweet potato flour.

Bring a medium-sized pot of water to the boil, blanch the oysters for 15 seconds and quickly remove them. Set them aside.

Rinse the pot and fill with 500ml water. Bring to a boil. Dissolve the Knorr Chicken Stock Cube and stir in the Hua Tiao Jiu cooking wine, oyster sauce, dark soya sauce and sugar. 

Lower the heat to a gentle boil. Add the mee sua in and allow it to cook for 3 minutes. When the mee sua is soft, cut them up into short strands.

Mix the starch slurry well. Gradually add it to the pot while stirring the soup. Do not pour it in all at once. Stop when the soup has reached your desired consistency.

Add the oysters back into the pot, turn the heat off and stir through.

Serve and garnish with white pepper, black vinegar and coriander.
Recipe adapted from Ann Coo Journal and EC Kitchen SG's posts.
---
5. Seafood Paella
---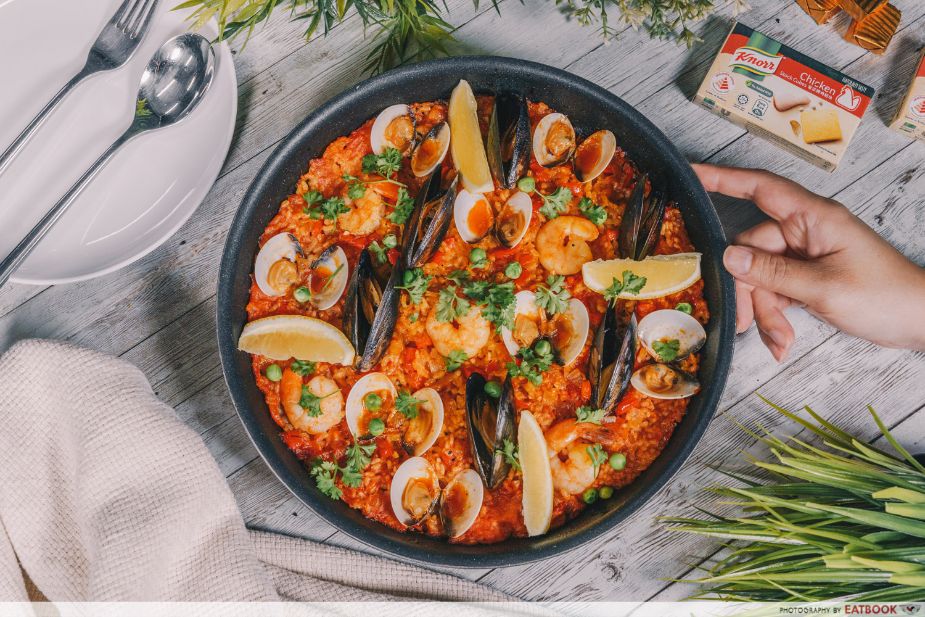 Sometime around now, I was supposed to be enjoying the last of summer in the port city of Valencia, Spain, splitting my time between siesta and tapas, and hunting down the best paella. With Knorr Chicken Stock Cube making cooking a breeze, this simple seafood paella tricks my stomach into thinking I'm actually there.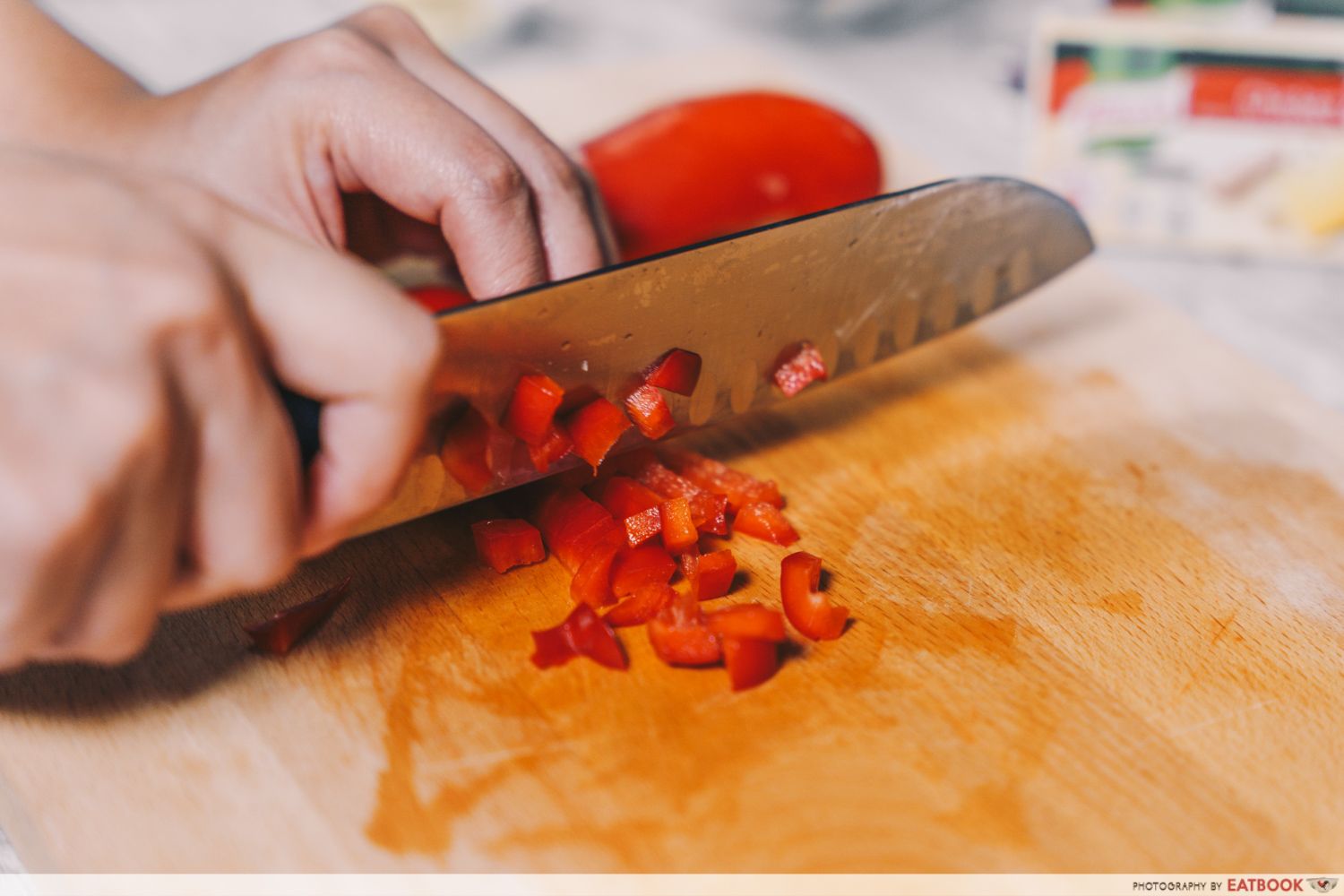 Start by finely mincing garlic and onions, and dicing the red capsicum. I like using red capsicums for their colour, but you may use yellow capsicums if you prefer their sweeter taste.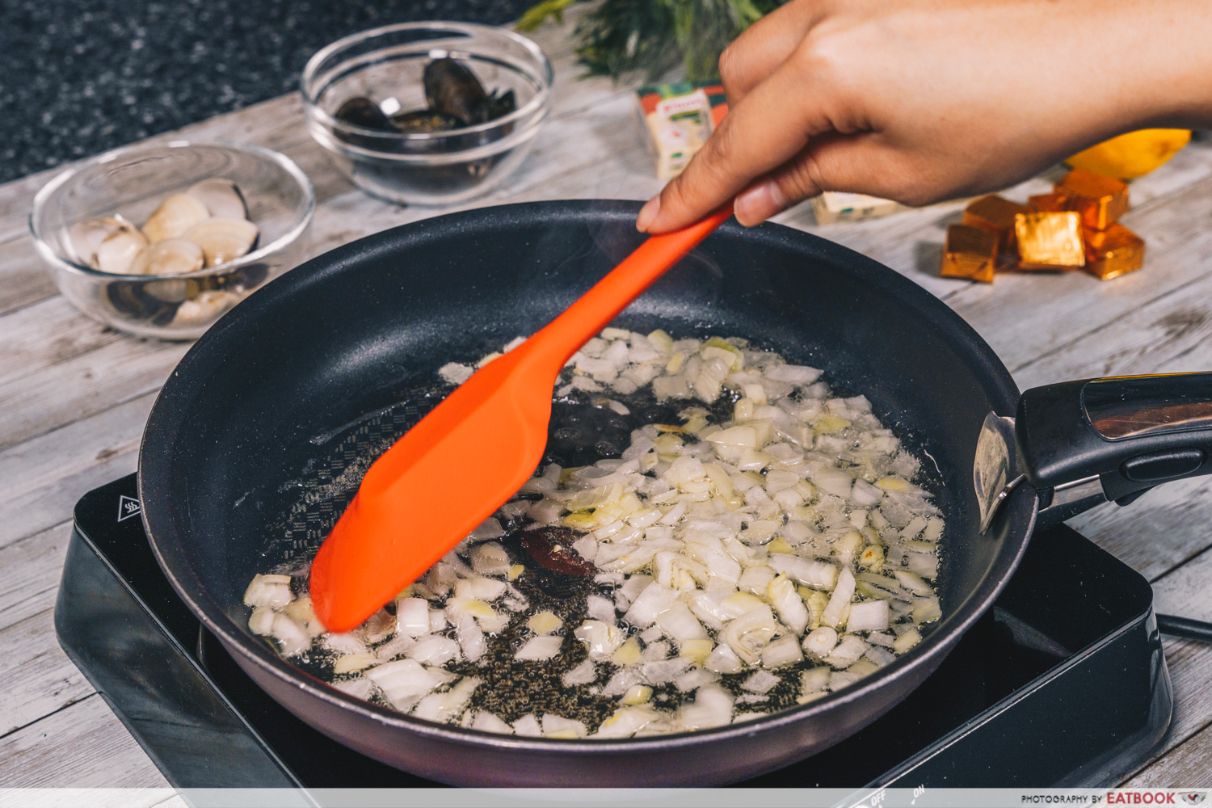 Heat the pan and olive oil, then sweat the onions for a minute on medium heat before adding in the garlic. Fry for another minute.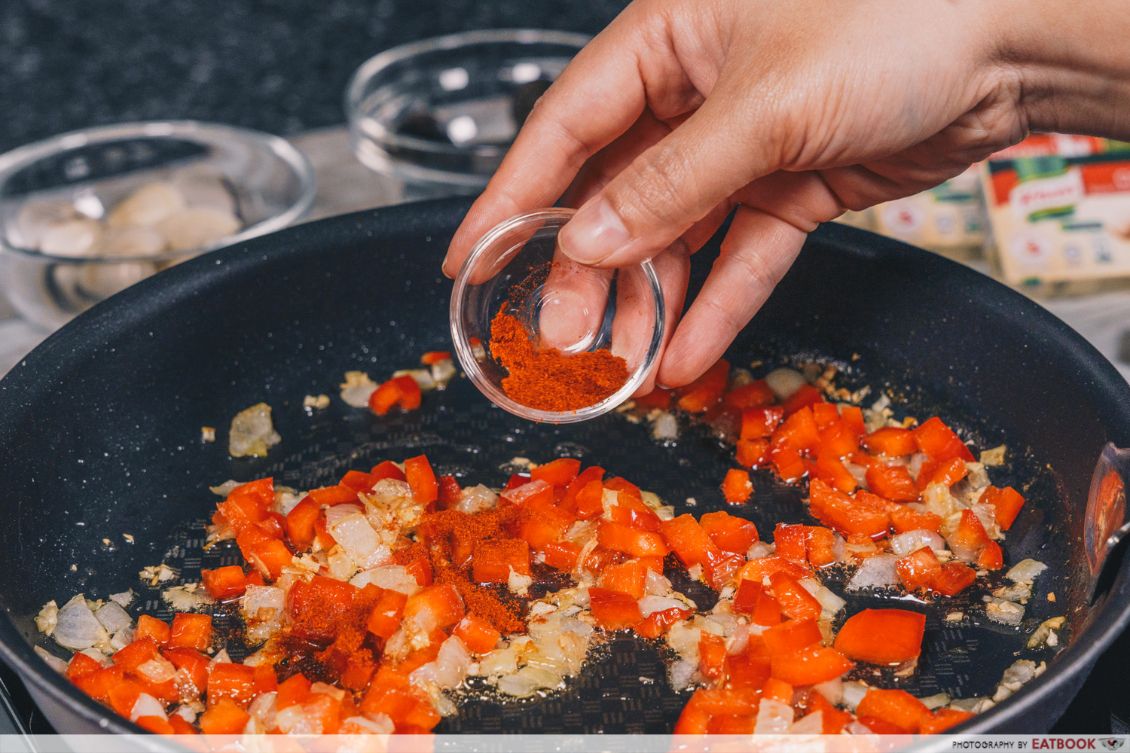 Throw in the capsicum and paprika. Smoked paprika is typically used, but for convenience, either will work. Stir and fry for three minutes. I like allowing the vegetables to caramelise a little, to lend an extra depth of flavour to the dish.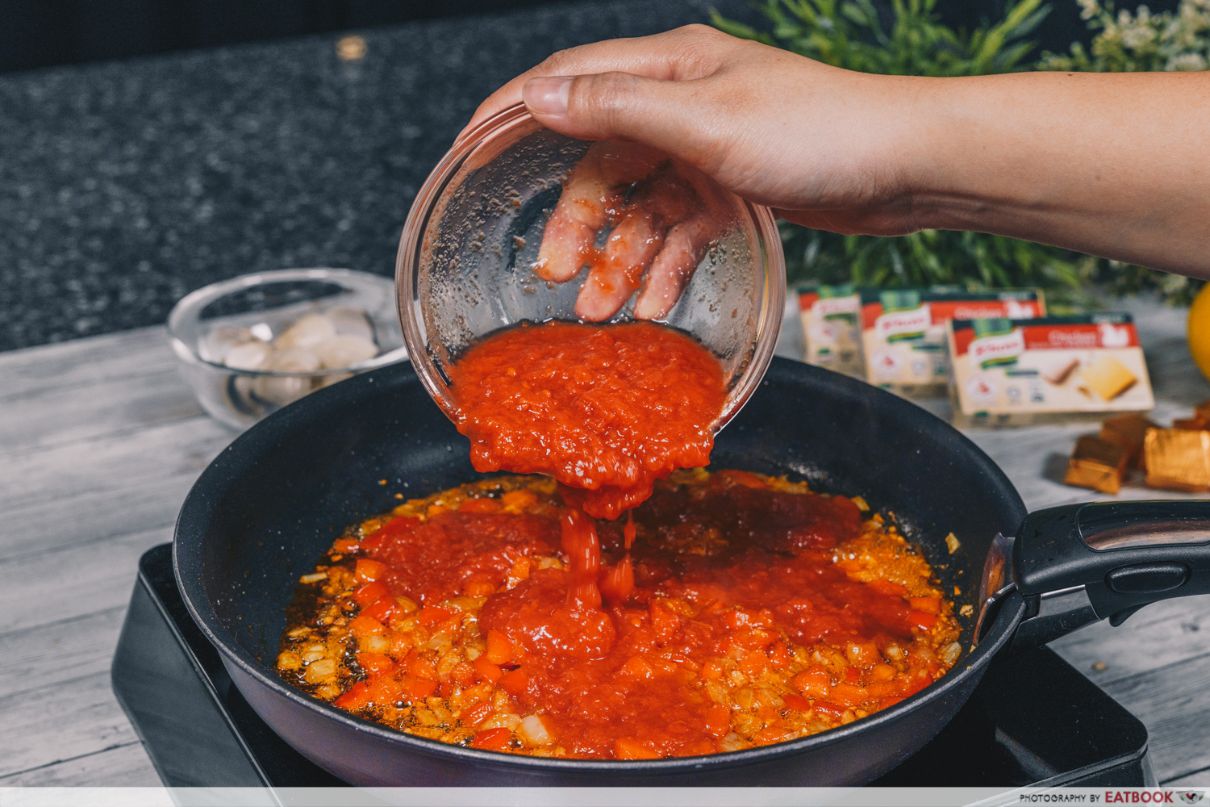 Now, toss the chopped tomatoes and white wine, which you can omit, into the pan. I personally prefer the richness that canned tomatoes lend to the paella, and I always have some in my kitchen. But if you only have fresh tomatoes, they work too! Simmer for 10 minutes to cook off the alcohol and the liquid. Be careful, because the tomatoes will start splattering a little. You'll want the pan to get semi-dry before you add the rice in.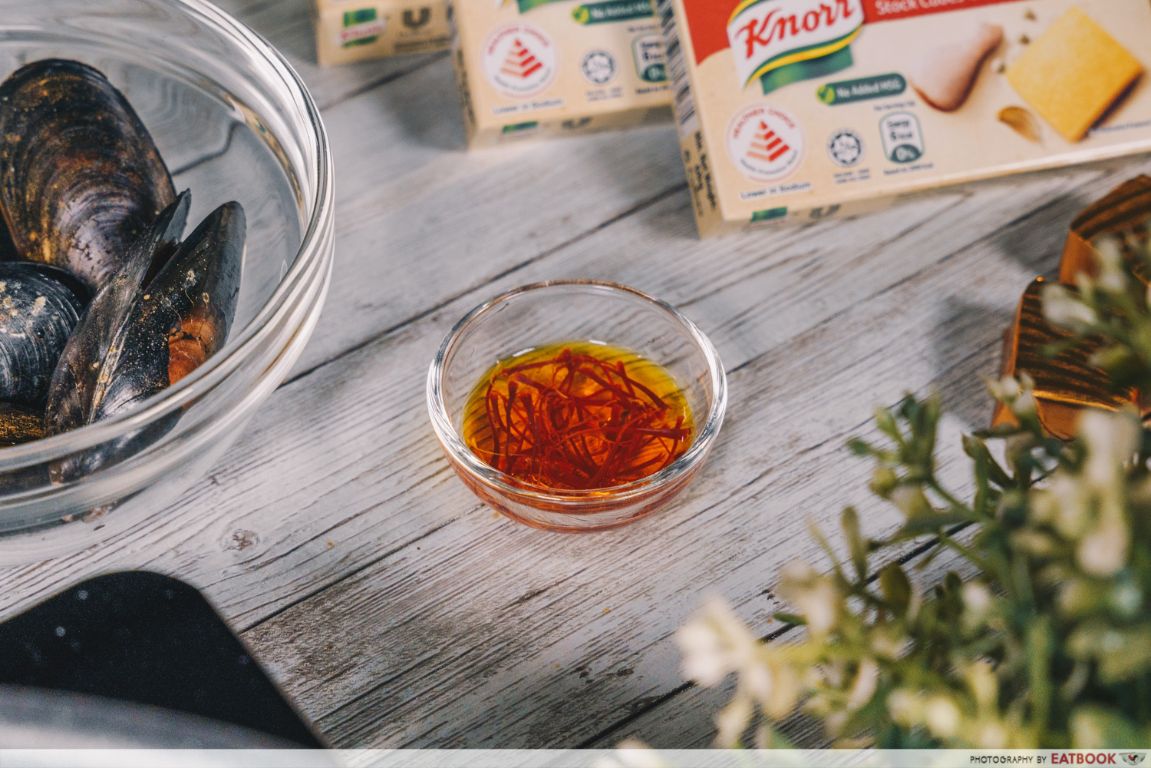 If you can get your hands on some saffron to use, it's important to soak them for at least five minutes in hot, but not boiling, water. The earthy, slightly floral taste of saffron is an essential part of paella. It also gives paella its distinctive dark gold colour. Soaking it in hot water helps to release its flavour. If you can't get saffron, you can omit it from this recipe, or add a pinch of turmeric powder to achieve that rich yellow colour.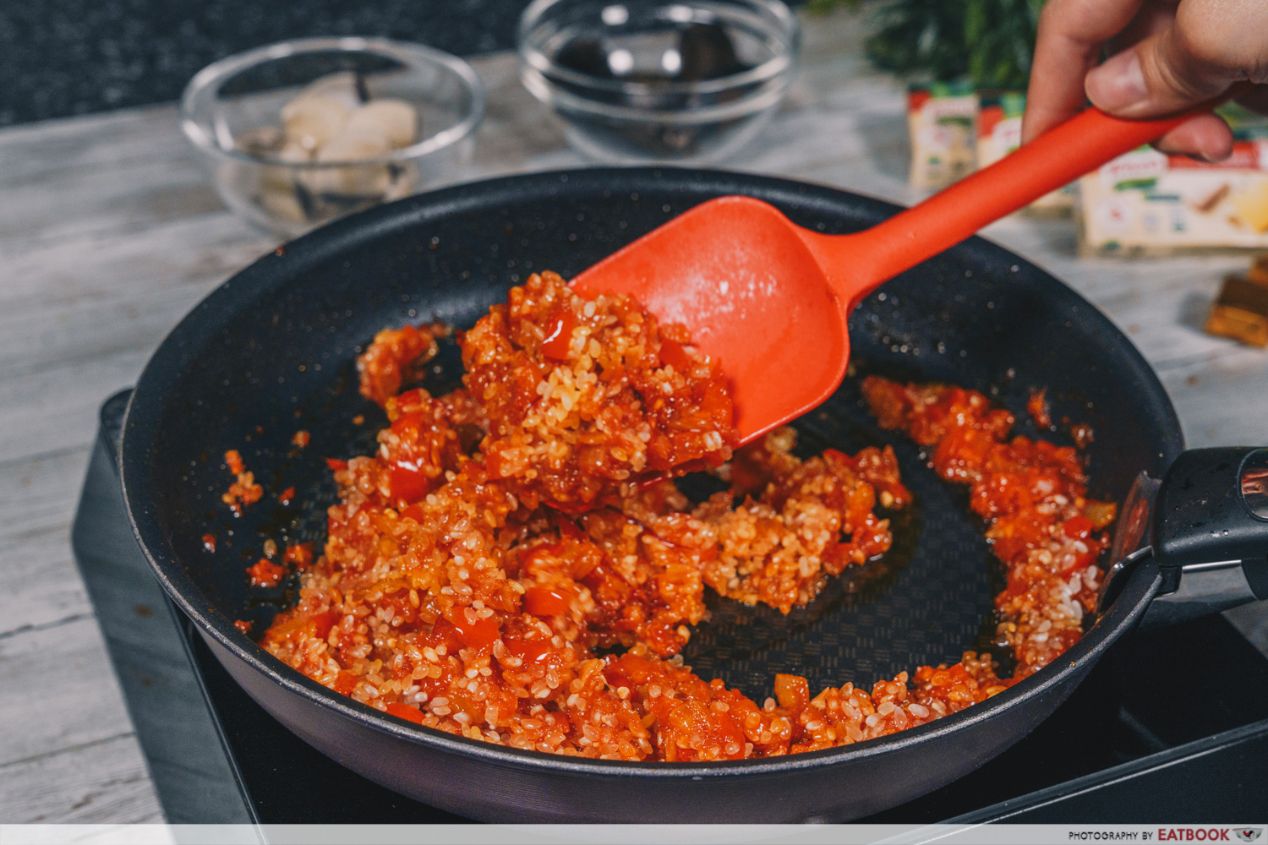 Stir the saffron, its soaking water and unwashed rice into the mixture in the pan. Season lightly with salt and pepper. Stir it and ensure that the rice is coated evenly. Traditionally, paella is made with Bomba rice, but this is not easily found. If not Calrose rice, which is commonly found in supermarkets, you could also use Japanese short-grained rice, as I have, to make this paella.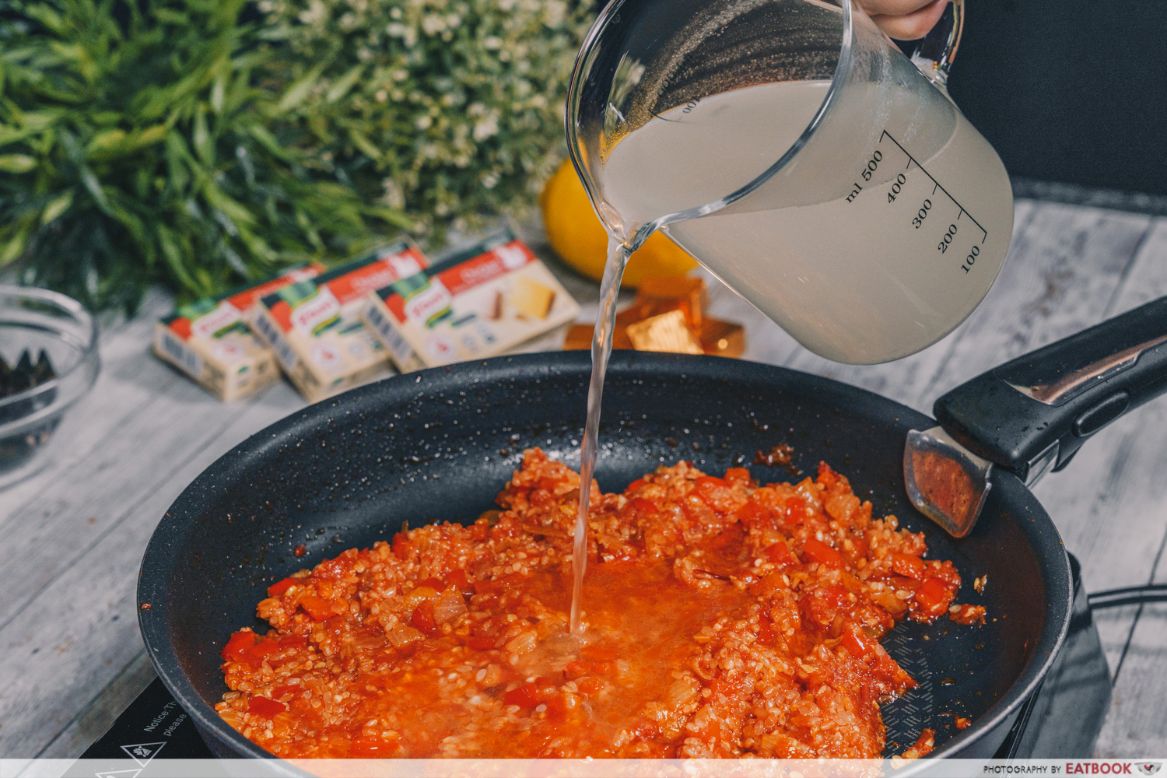 Dissolve one Knorr Chicken Stock Cube in hot water and pour this stock into the pan. Turn the heat up until it boils, then turn it back down to simmer for 10 minutes. From now on, do not stir the contents of the pan.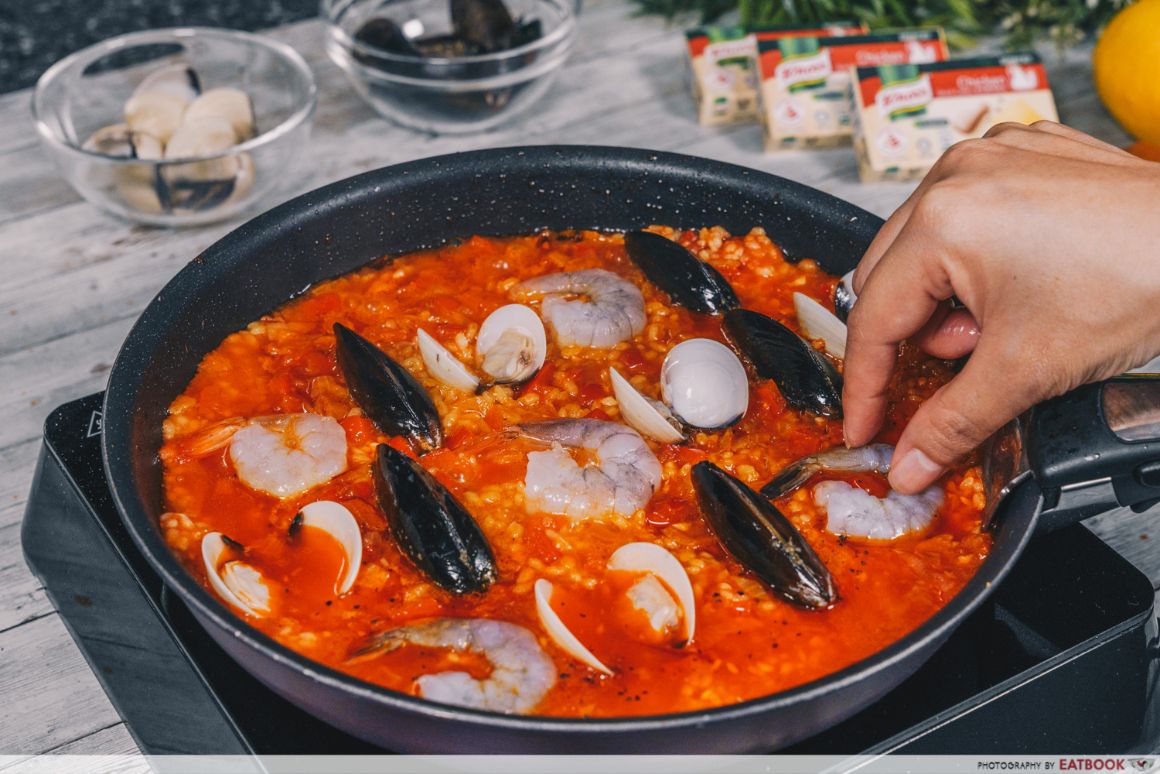 After 10 minutes, the amount of liquid in the pan should have reduced significantly. It's now time to add your seafood. Arrange it around the pan, pressing each piece halfway into the layer of rice. Continue simmering for 10 minutes, adding water a bit at a time if it gets too dry. The rice is done when most of the grains turn translucent, rather than looking white and opaque in the centre of the grains.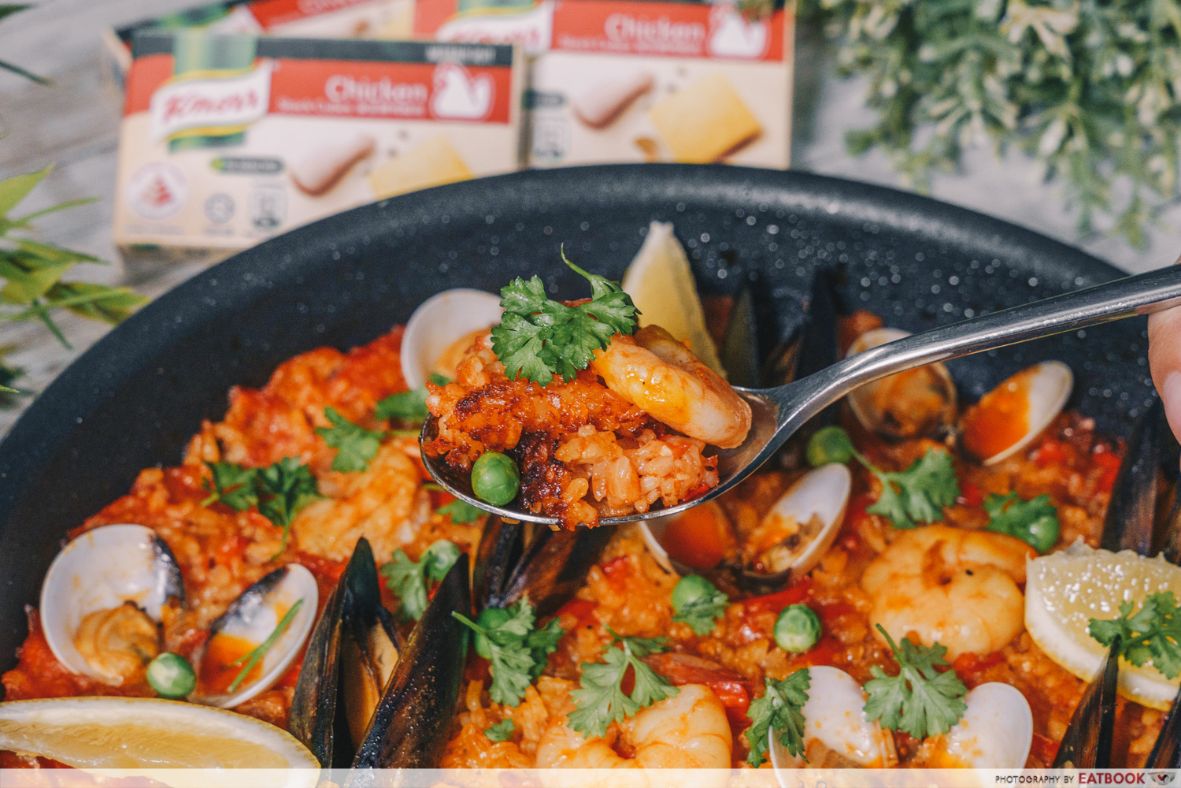 If you like the charred bits at the bottom of claypot rice, you're in for a treat, because it's a highlight of paella too! To get this layer of crispy rice, blast the heat at medium-high for a final minute, and turn it off. You should hear it sizzling, but keep your nose alert to any hint of a burning smell. Turn the heat down immediately if it starts to smell burnt!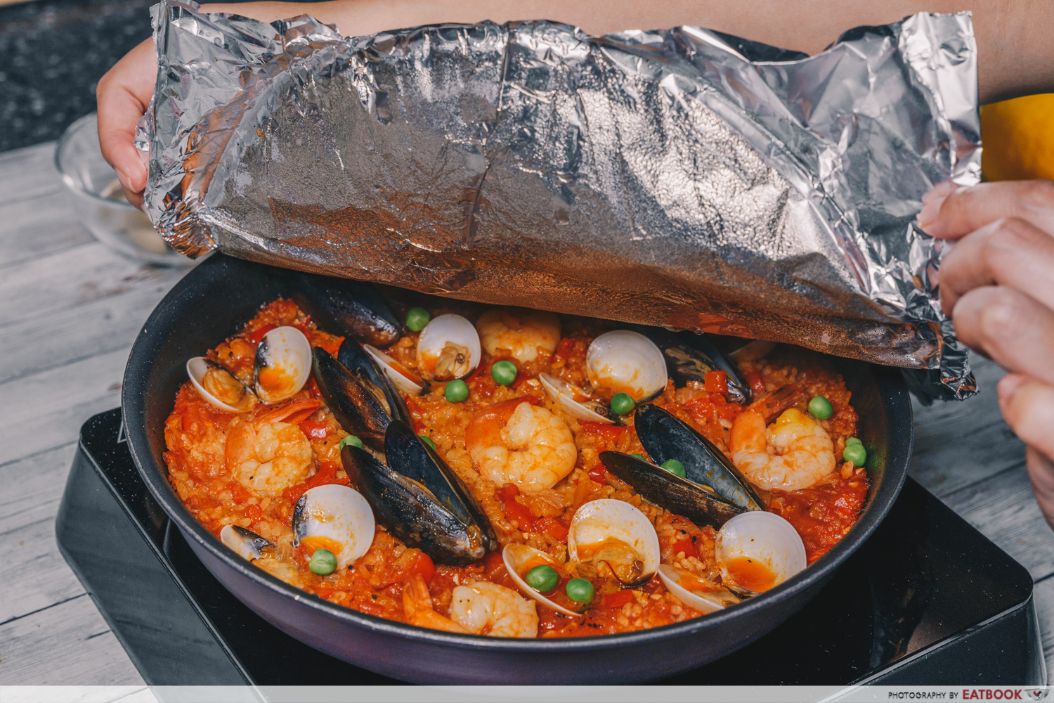 Before you can eat the paella, however, you will still need to cover it with aluminium foil for a final 10 minutes to allow the flavours to come together. Add the peas or edamame now, before you put the foil on. Trust me, the paella is worth the wait.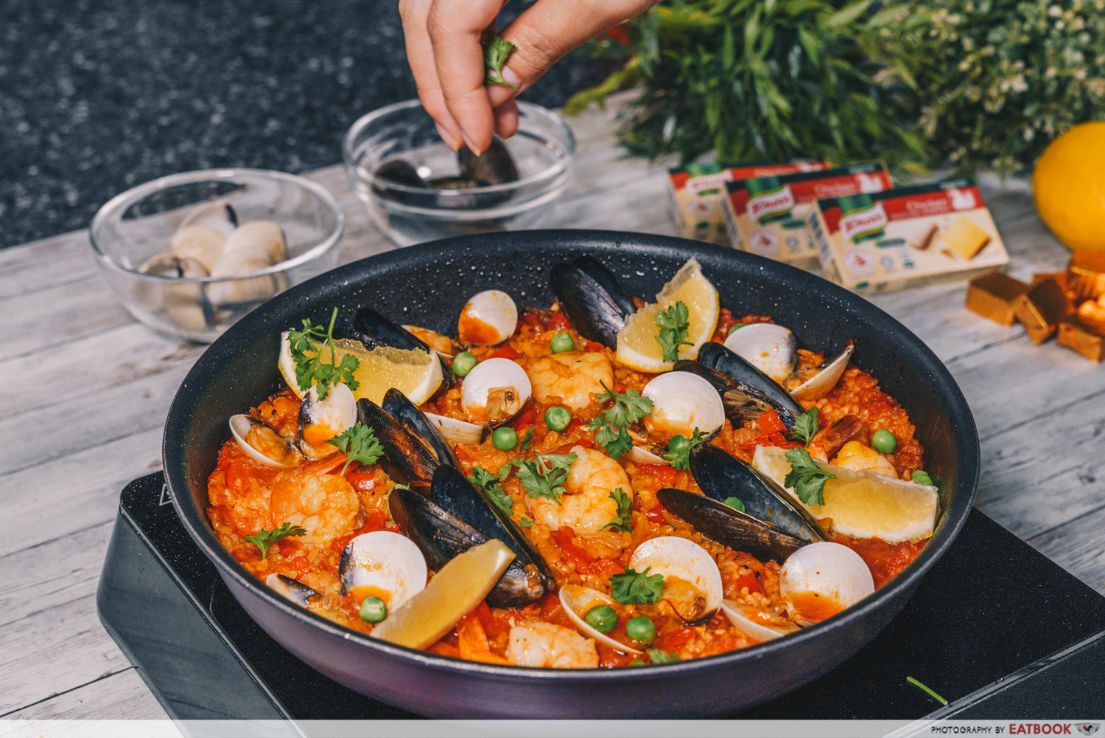 To garnish, top it with chopped parsley and wedges of lemon for a bright finish.
Yield: Serves 2 to 4
Cooking time: 60 minutes
Ingredients:
3 cloves garlic, finely minced
½ onion, finely minced
80 ml olive oil
½ red capsicum, diced
½ tsp smoked or sweet paprika
200g chopped tomatoes, canned or fresh
50ml white wine (Optional)
1 cup Calrose rice, uncooked
Pinch of saffron, soaked in 1 tbsp hot water
Pinch of black pepper
Pinch of salt
600 ml water
½ Knorr Chicken Stock Cube (No Added MSG)
300g assorted frozen seafood, defrosted
¼ cup frozen edamame or peas, defrosted
Toppings:
Fresh parsley
Lemon
Directions:
Heat the olive oil in a medium-sized pan, on medium heat.

Fry the onion for one minute, add the garlic and fry another minute. Stir in the paprika and capsicum and continue frying for 3 minutes.

Soak the saffron in hot water.

Pour the chopped tomatoes and wine into the pan. Simmer for 10 minutes.

Add in the rice, saffron and soaking water. Add the pinch of salt and pepper. Stir to coat the rice evenly with the mixture in the pan.

Dissolve the Knorr Chicken Stock Cube in hot water and add this stock into the pan. Bring it to a boil and let it simmer on medium-low heat for 10 minutes.

Do not stir.

Arrange the seafood on top, pushing it halfway into the layer of rice. Increase the heat to medium, and continue simmering for another 10 minutes, adding water if it gets too dry. 

Turn the heat back up to medium-high for one minute, remove from heat and add the edamame or peas. Cover with foil for 10 minutes.

Uncover, garnish with lemon wedges and chopped parsley to serve.
Recipe adapted from Spain on a Fork and The Guardian's posts.
---
One pot recipes from around the world with Knorr
---
Recreating your favourite dishes from your holidays becomes instantly easier with Knorr Chicken Stock Cubes. These cubes spare you the hassle of spending hours in the kitchen to make your own stock.
With no MSG added, these Knorr cubes pack a whole lot of family-friendly flavour into tiny little cubes that are a great pantry essential to have. Whether you and your family are craving Asian or Western dishes, chicken stock is a versatile base that can be adapted for countless recipes that will bring you on a journey around the world.
Knorr Chicken Cubes With No Added MSG are available in packs of six ($1.90) or 12 ($3.15) at major supermarkets such as NTUC FairPrice, Cold Storage and Giant, and on Redmart, Lazada and Amazon.
From now to 31 October 2020, tell us what dish you have tasted overseas that you want to make at home with Knorr Chicken Stock Cubes and stand a chance to win a Knorr Hamper worth more than $150! This hamper includes a CorningWare 24cm Fry Pan worth $109, Knife Set worth $39.90 and selected Knorr products.
If you only have a rice cooker, try out our rice cooker pad thai recipe! Otherwise, make yourself some noodle soup with store-bought rotisserie chicken for a comforting meal.
Photos taken by John Lery Villaneuva.
This post is brought to you by Knorr.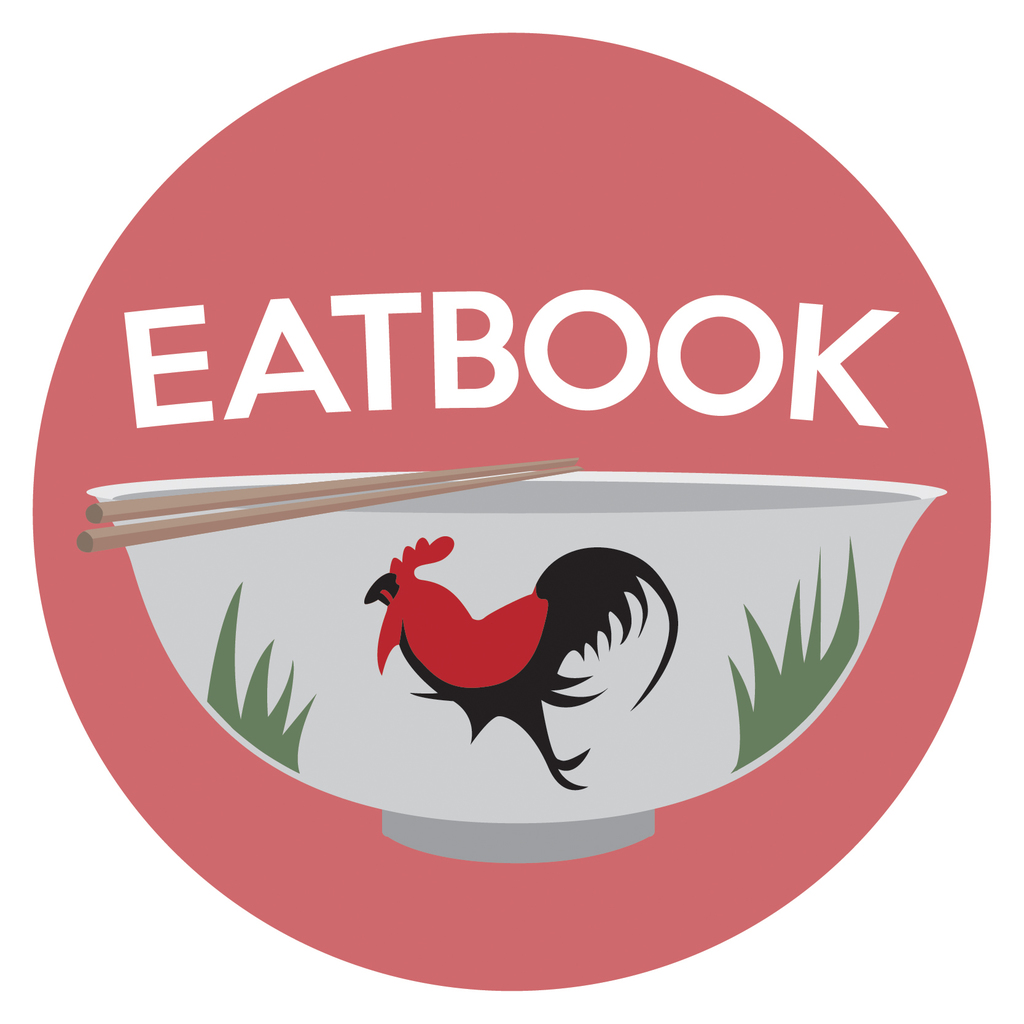 Drop us your email so you won't miss the latest news.