Flaming Don serves charcoal grilled meat on rice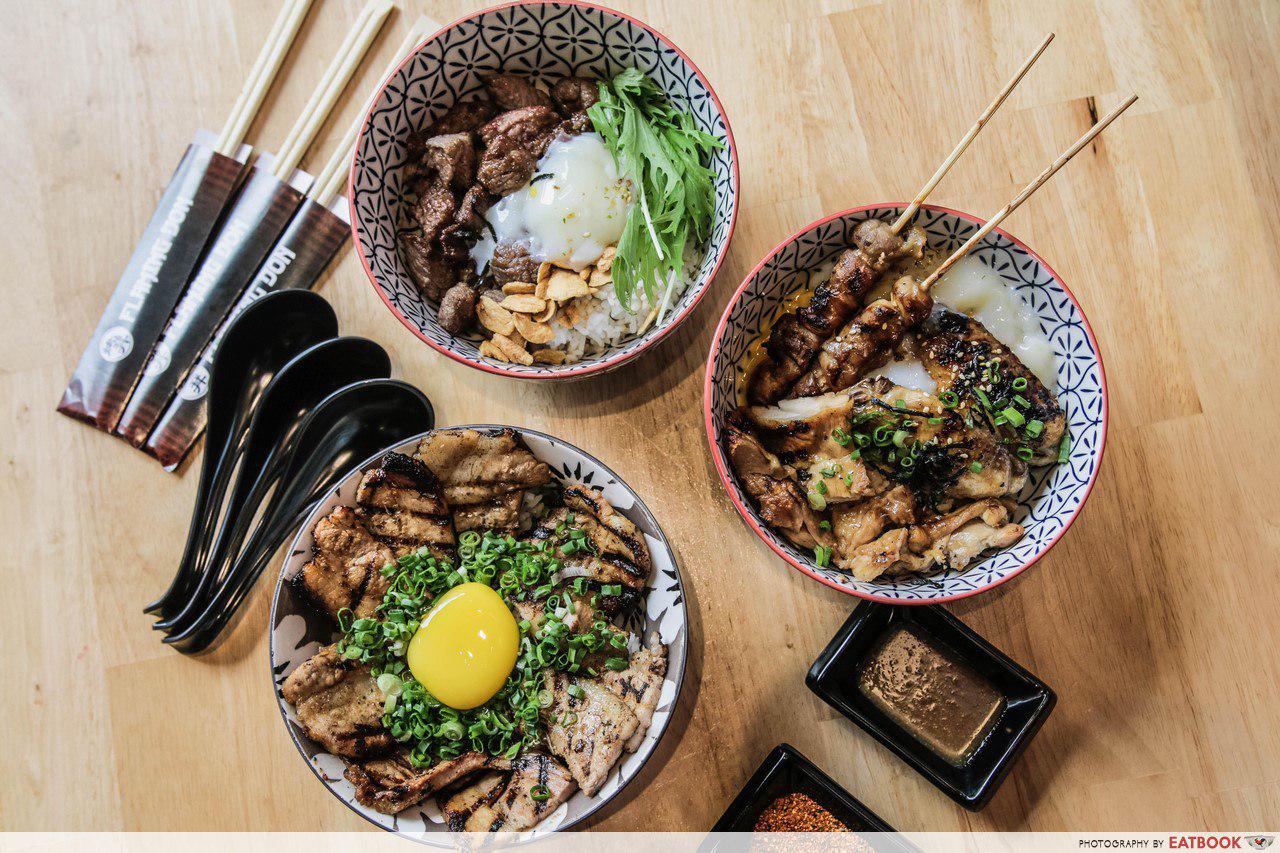 Believe it or not, the first donburi apparently only appeared in the 19th century, and was considered a snack during that time. Here today, donburi for us Singaporeans is a quick and modern comfort meal. And Flaming Don is just the place for it. Opened on 1 August 2017, they serve up a selection of charcoal grilled meats placed on top of a bed of starchy white Japanese rice. It is not often that your nose gets to feast as well. Here, the whiffs of charred meat truly wakes your sense of smell and makes your mouth water.
Food at Flaming Don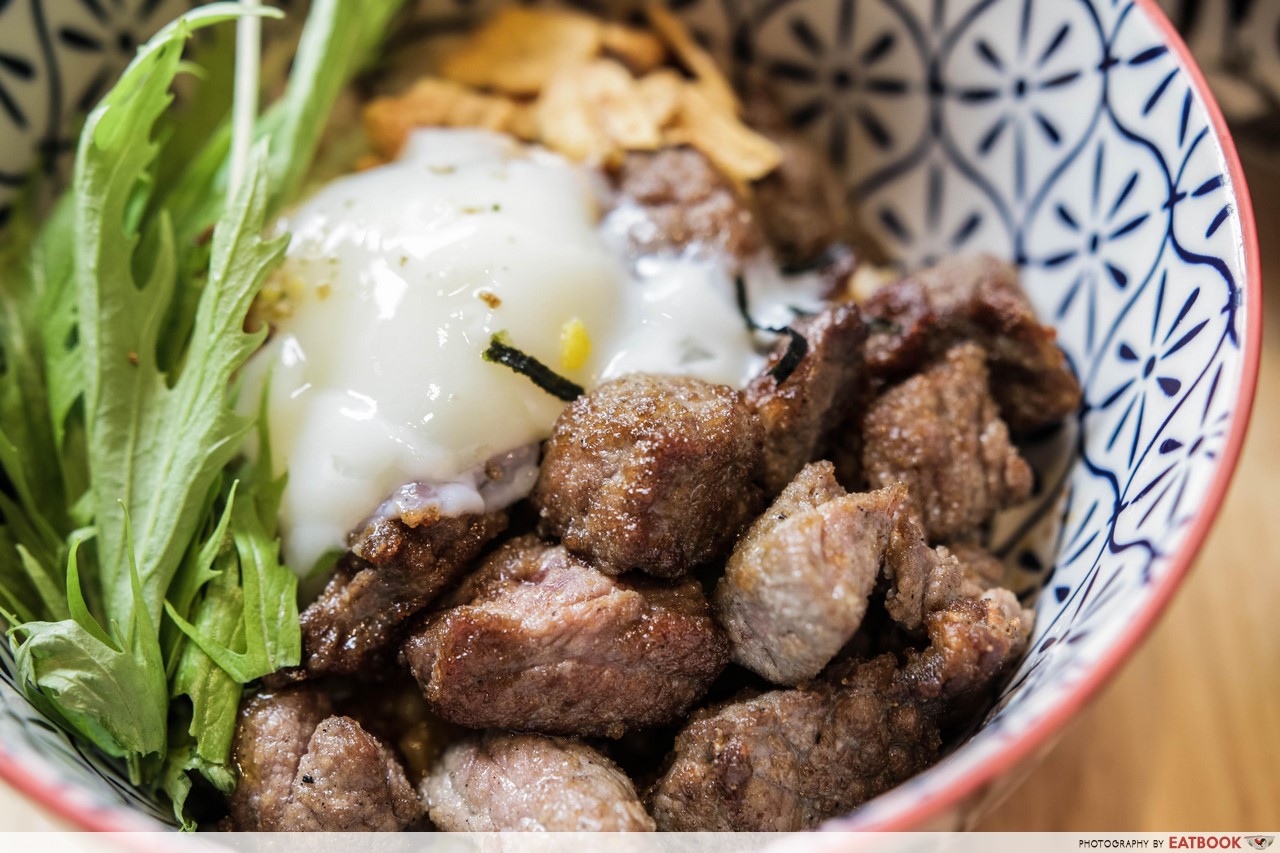 The first item that we tried was the Signature Flaming Beef Don ($17.90+). This meal-in-a-bowl comes with cubes of Australian tenderloin, garlic chips, mizuna leaves, and a wobbly pile of slippery goodness – onsen egg.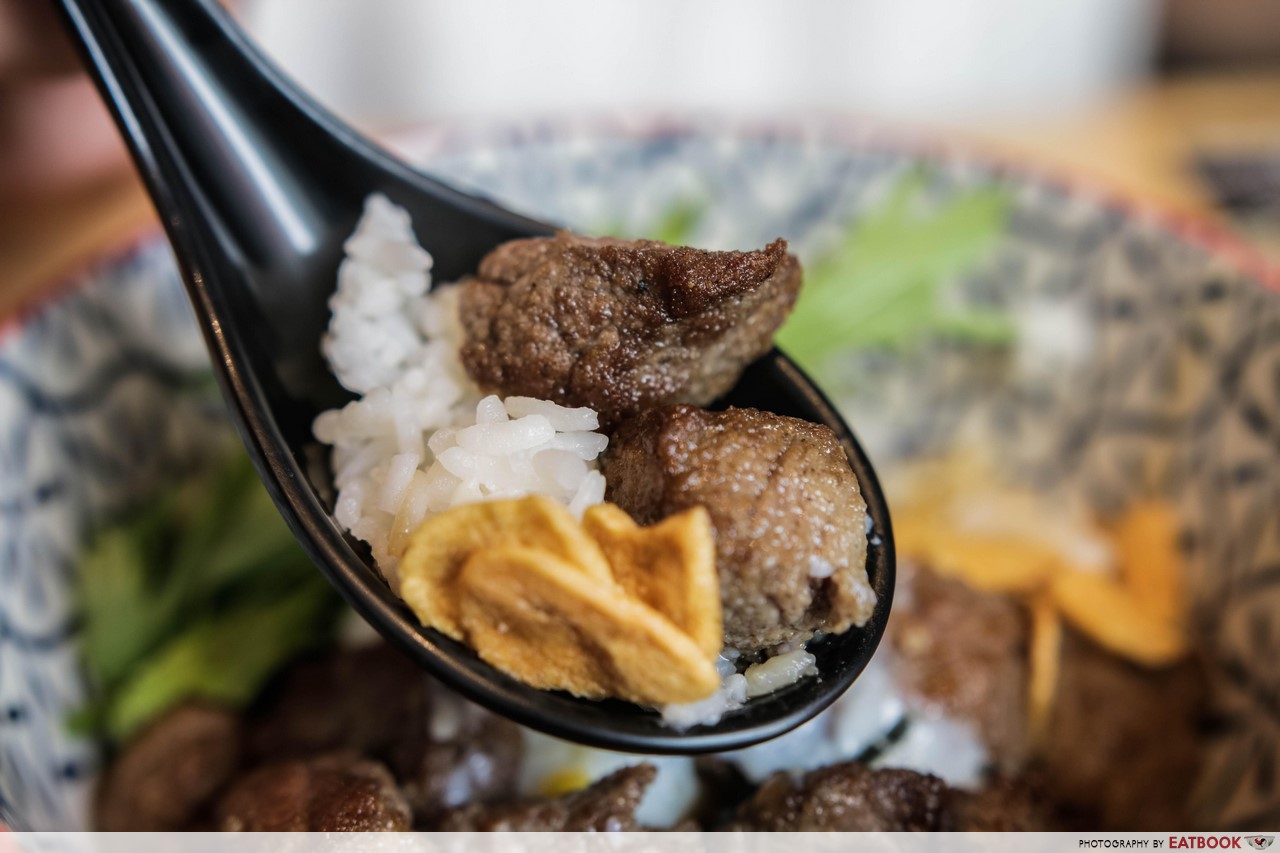 Every dice of beef had a good Maillard brown sear to it, creating a delicious caramelised crust with the inside still slightly pink. Their house-made honey black pepper sauce drizzled on top further lends sweet and savoury notes to the flavour of the beef. A genius touch would be the little garlic chips which add crunch and fragrance to every spoonful of rice. Sadly, the chunks of beef needed a tad too much chewing, especially when the cut was thicker.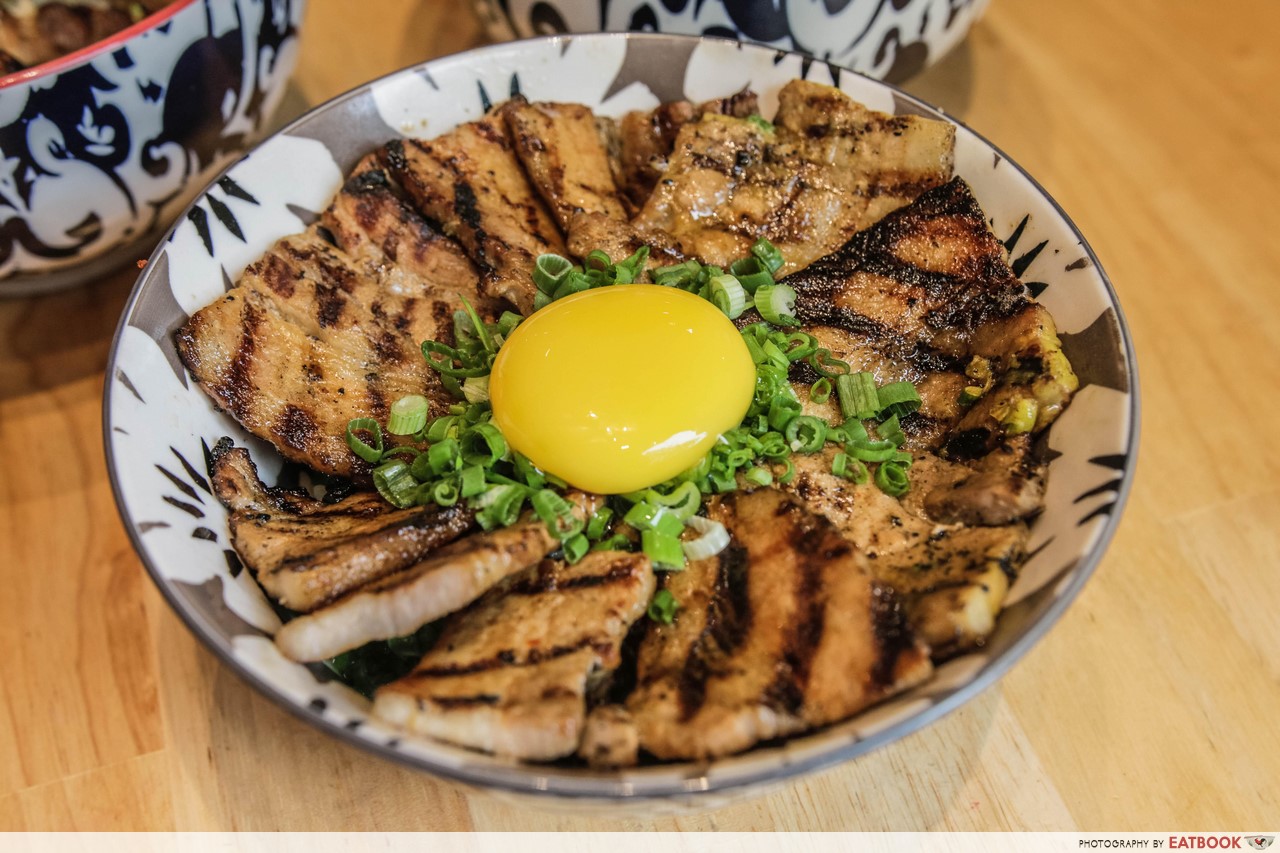 The Miso Buta Yaki Don ($9.90+) was my favourite. The chargrill game was strong with this one. Unmistakable scents of charred pork and garlic wafted my way and I could not wait to tuck in.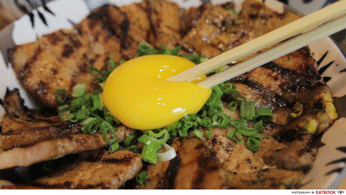 This was #eggporn at its finest. The juxtaposition of the bright yellow yolk and beautifully browned pork slices made the bowl look like an art piece.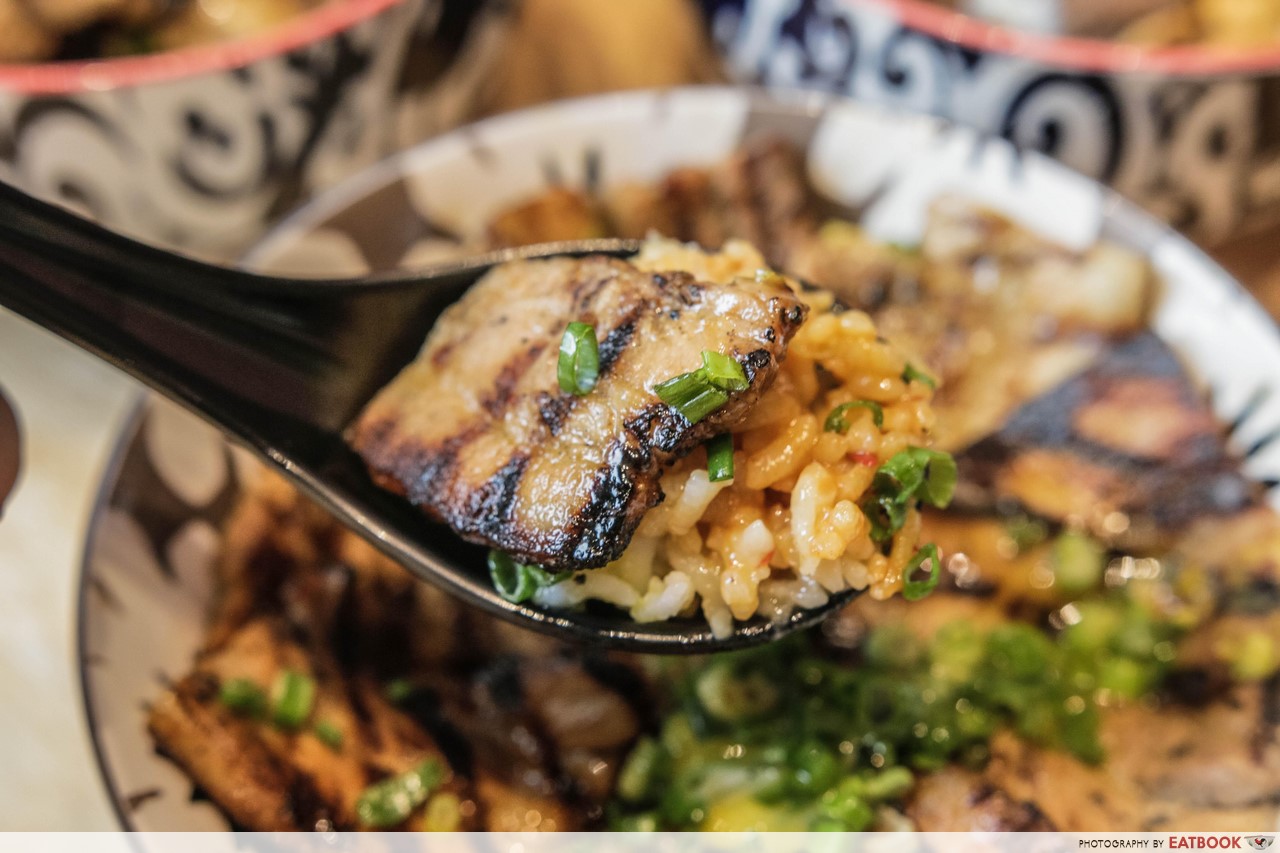 Mixing the bowl up revealed another surprise! The rice below was coated with a sweet and mildly spicy sauce, which went well with the garlic miso marinate on the pork slices. It was all a gooey mess and each mouthful was an indulgence.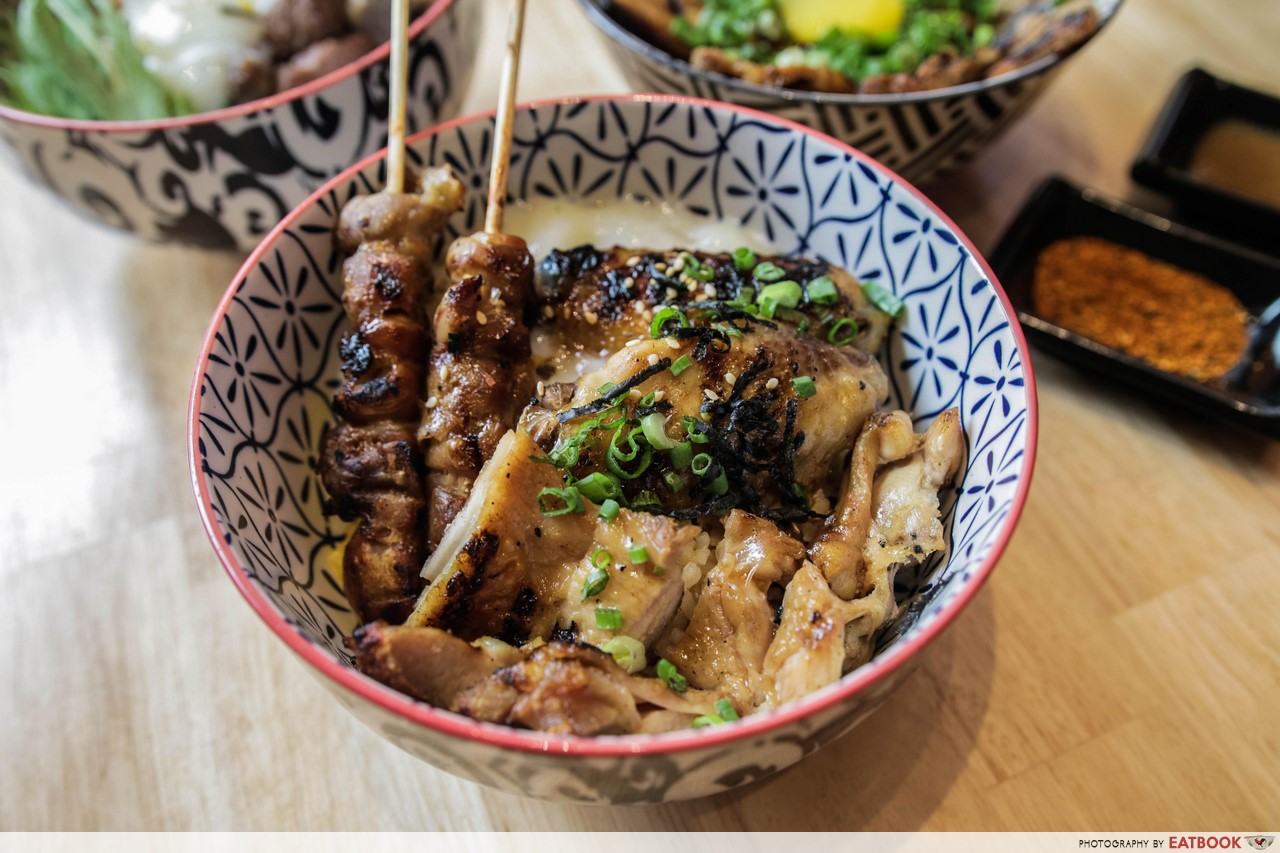 We tried the beef and we tried the pork; how could we forget the chicken? The Chicken Combo Don ($12.90+) consists of teriyaki mid-wings, tender chicken thigh slices, yakitori skewers, and an onsen egg.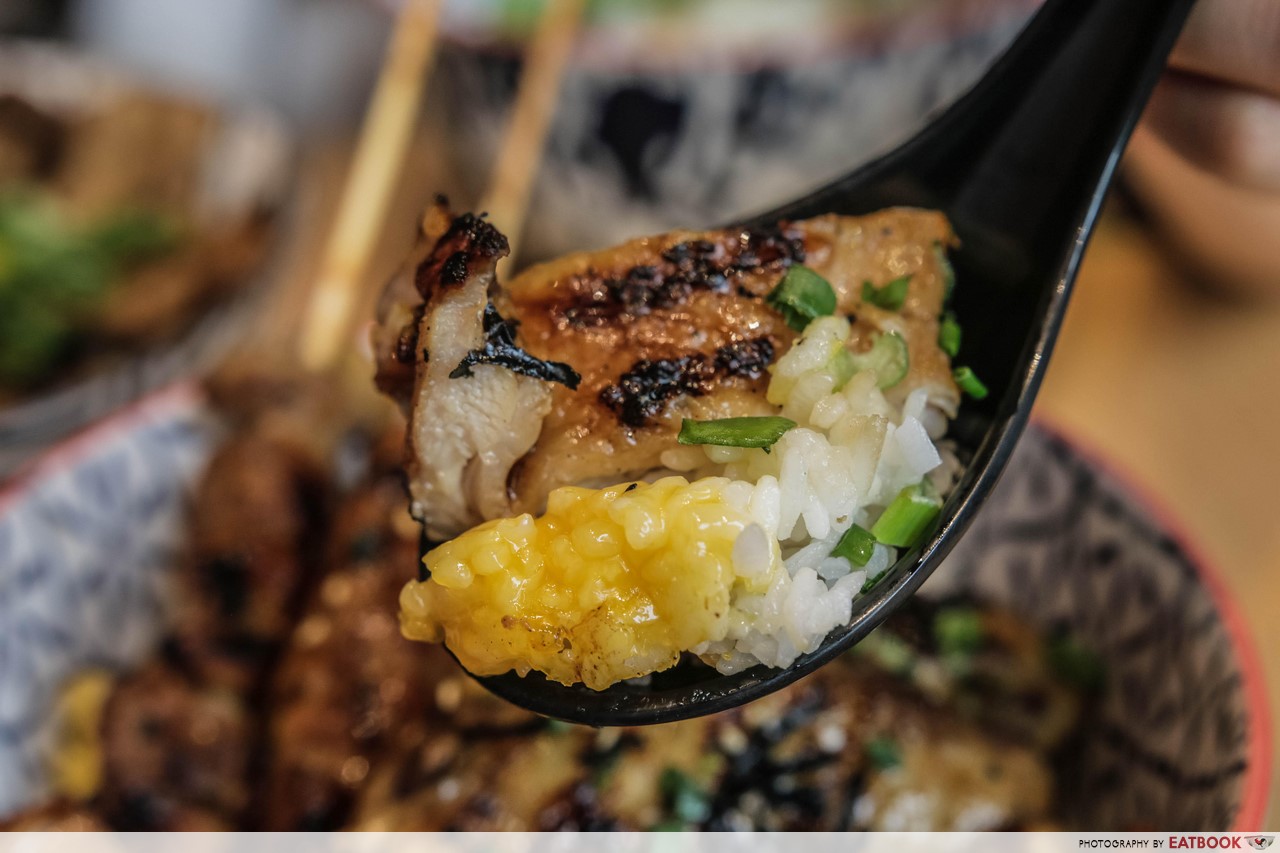 If it was not for the onsen egg, the chicken don might be a little too dry and tasteless for our liking. They could have been more generous with the honey black pepper sauce for this one. The cuts of chicken were both soft and moist, with the exception of the yakitori skewers. They were tough and required a hard chomp.
Ambience at Flaming Don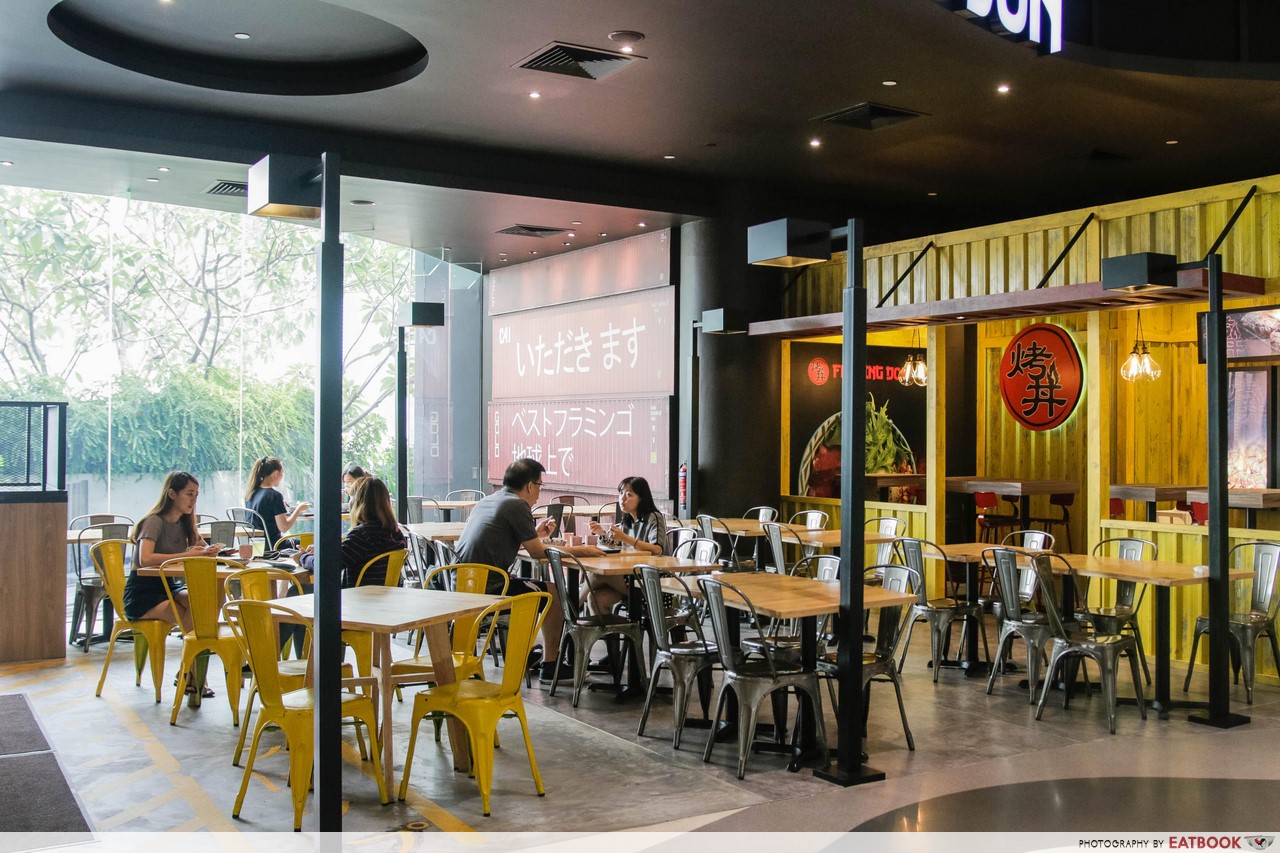 Located right beside the movie theatre on the fifth floor of Bugis+, expect a crowd on days when long awaited Marvel movies like "Thor: Ragnarok" are showing. Otherwise, if you are down on a regular weekday for a meal, there will be seats available. Flaming Don does not collect service charge as food is ordered using a self-service kiosk. Customers are also expected to return food trays before leaving. Thus seating is usually not a problem as customers come and go pretty quickly.
The verdict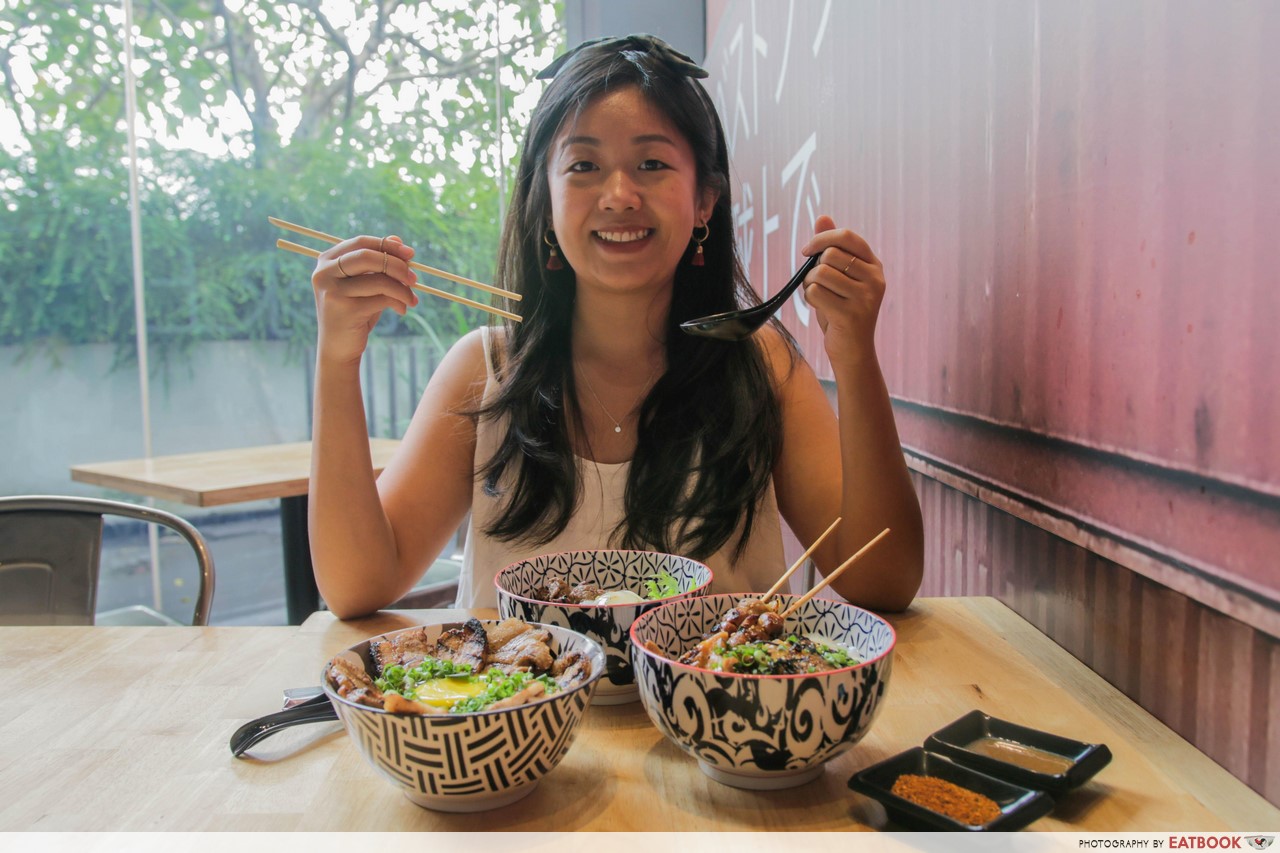 It never crossed my mind that a shop using charcoal grills could be found in such a hip location and at such low prices as well. Flaming Don is a great location for large group gatherings as the food is churned out pretty fast and going Dutch is an ease due to the self-service kiosk. Overall, I was in love with the flavour profiles and how well-seasoned the dons were. However, many cuts of meat were tough and took some time to chew. The servings might also be a little too small for some, so make use of the additional perk of free-flow miso soup and drinks at $2.99+.
If you are looking for another exotic yet affordable Asian eatery around Bugis, do check out Mrs Pho for some Vietnamese comfort food. Alternatively, Eleven Finger right beside Bugis+ can fill you up with good ol' curry png at less than $5. 
Address: 201 Victoria Street, #05-02/03, Bugis+, Singapore 1880677
Opening hours: Daily 12pm to 10pm
Website
Menu
Flaming Don is not a halal eatery.
This is an independent review by Eatbook.sg.
Summary
Pros
– Well-flavoured meats
– Fast service
– Food cooked using charcoal-fired grills
– No service charge
Cons
– Chicken was a little dry
– Beef was slightly tough
– Small portion for the beef don
Recommended Dishes: Signature Flaming Beef Don ($17.90+), Miso Buta Yaki Don ($9.90+)
Operating Hours:
Daily 12pm to 10pm
Address: 201 Victoria Street, #05-02/03, Bugis+, Singapore 188067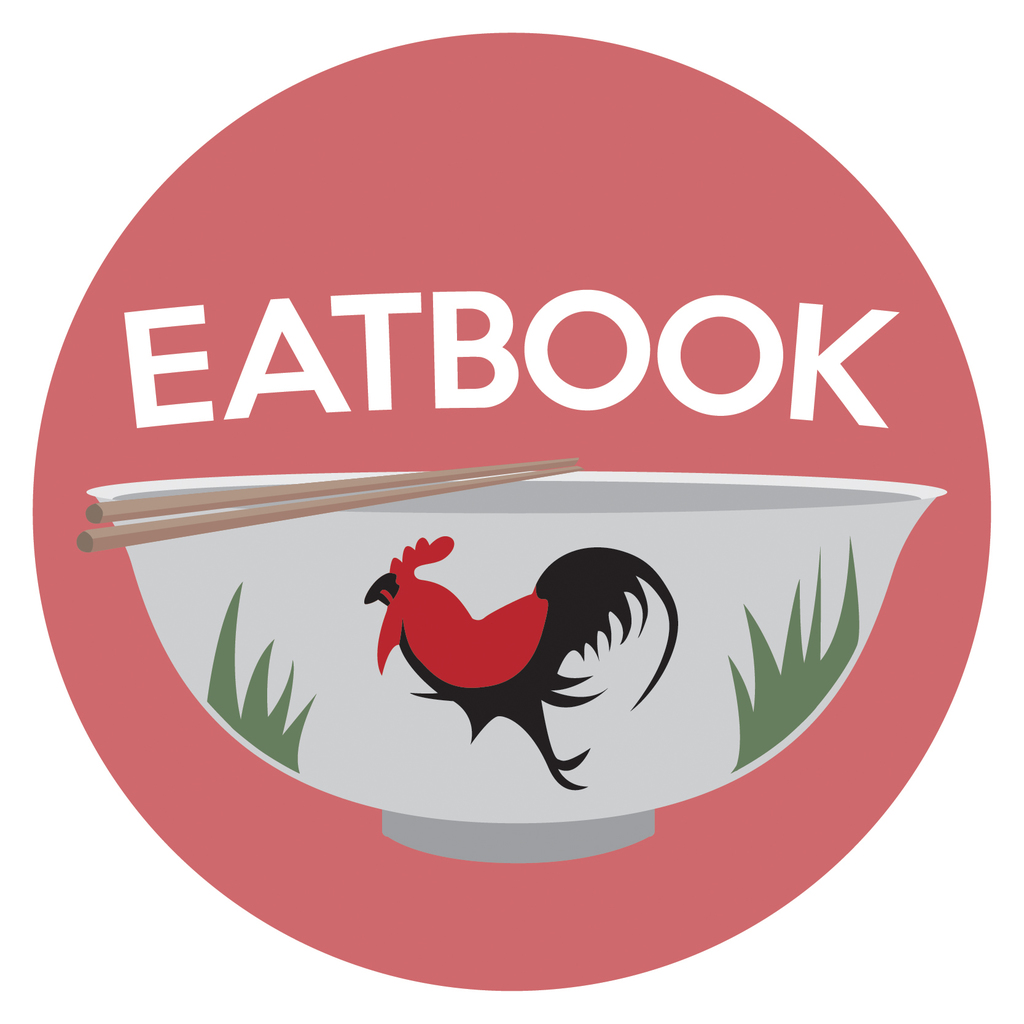 Drop us your email so you won't miss the latest news.