Greenview Cafe at Far East Plaza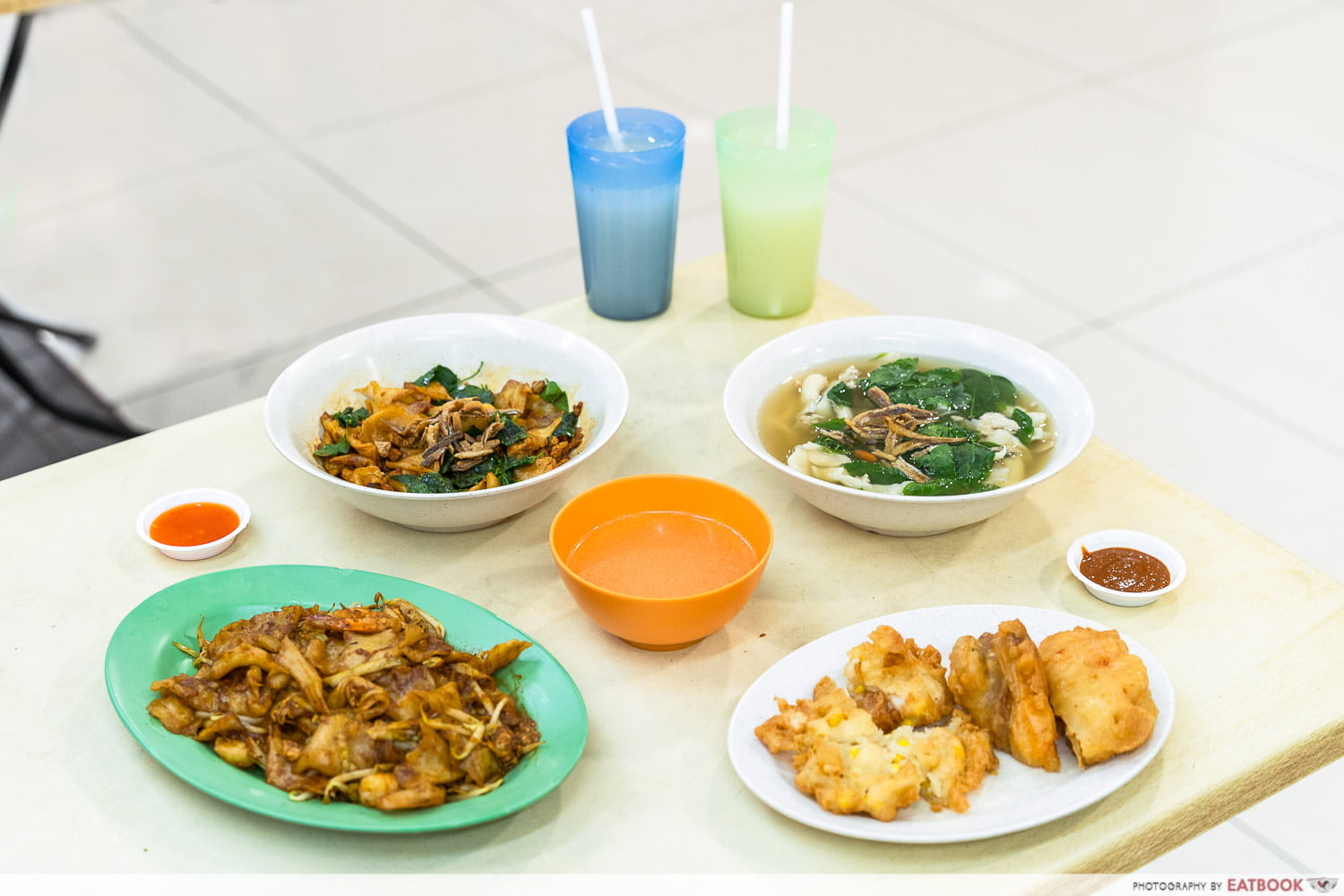 Every time I visit town, I always bemoan the fact that there's no cheap and good food to find in Orchard. If there really was such a place, surely I would have found it long ago, given that I am such a glutton. After a spirited debate over lunch one day, my colleague set out to prove me wrong and took me to Greenview Cafe. Apparently, the eatery has been selling mee hoon kueh in Far East Plaza for the past 30 years!
Mr Mee Hoon Kueh Review: Lor Bak And Bolognese Handmade Noodles At Serangoon Gardens
Food at Greenview Cafe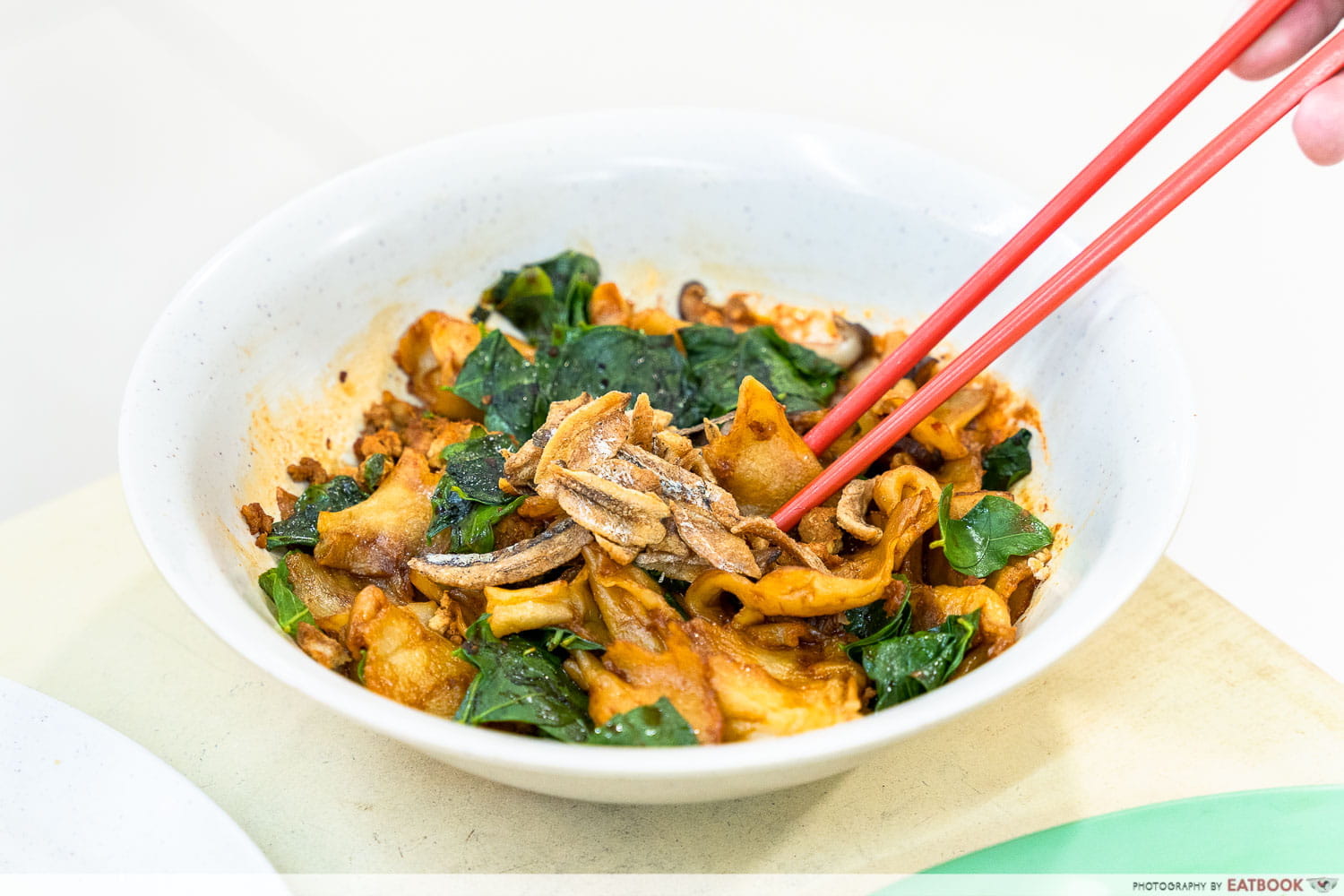 With so many dishes on the menu at Greenview Cafe, it was dealer's choice when it came to my turn to place an order. The staff recommended I start with their best selling item—Minced Pork Mee Hoon Kueh ($5.50), also known as M1. I decided to go with the dry and spicy rendition, as I believe that a good measure of any successful ban mian stall lies in their chilli. 
Perhaps the chef had misunderstood my request for spicy noodles as one for less chilli, but when I tasted the Minced Pork Mee Hoon Kueh, I felt that it barely had any spice to it, despite its red hue. Nonetheless, the mee hoon kueh was still savoury with a tinge of sweetness, and even had a remarkably chewy texture.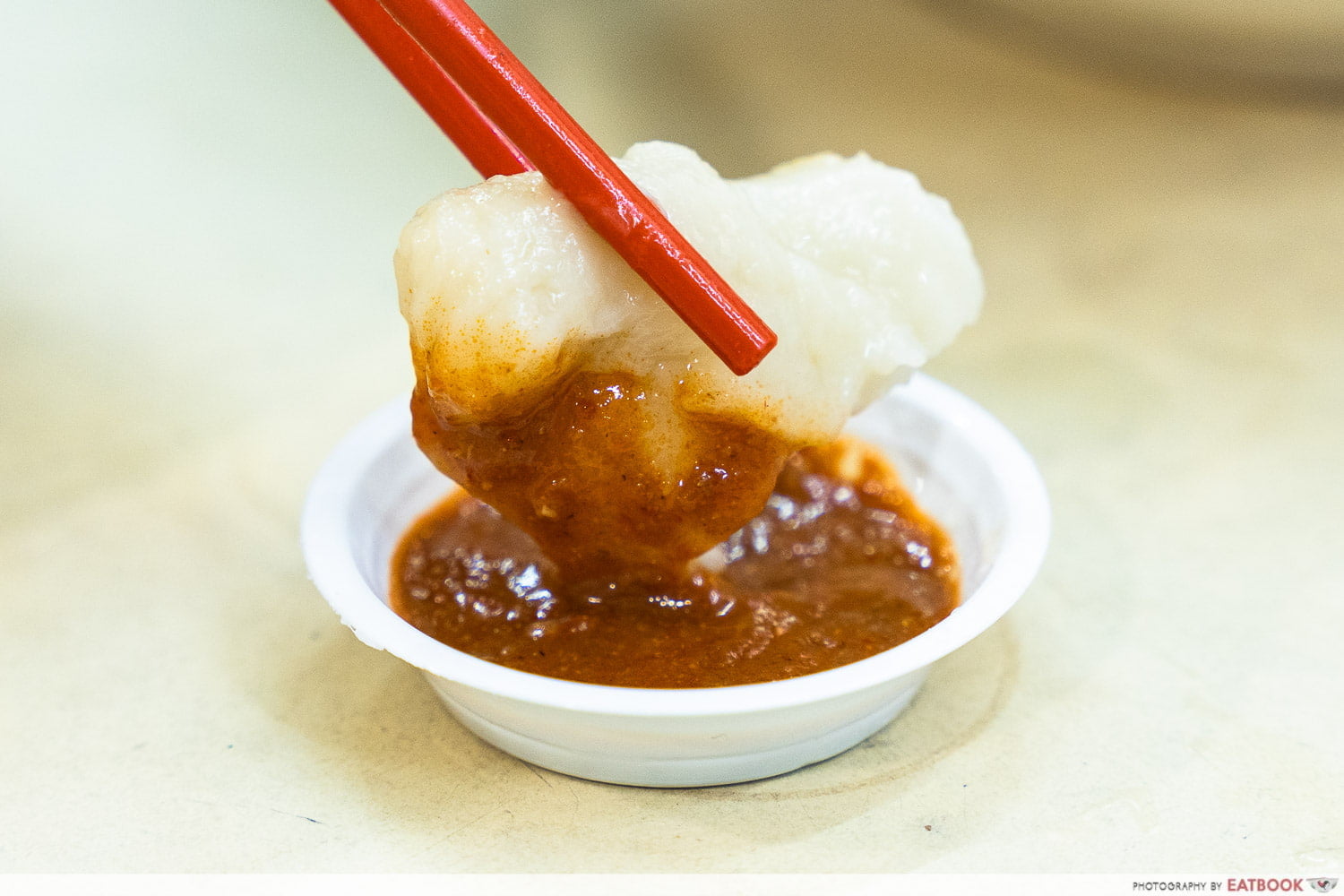 If, like me, you want your noodles to be spicier, have them with some of the house-made belacan chilli. While the chilli gave the mee hoon kueh some kick, I didn't add too much of it as it was a tad salty. I did enjoy the mild fermented taste of the belacan though.
Three other types of chilli are also available at the self-service station, should the belacan not tickle your fancy. There's another house-made zesty and fiery chilli sauce that resembles chicken rice chilli, as well as pickled green chilli, and chilli padi in soya sauce.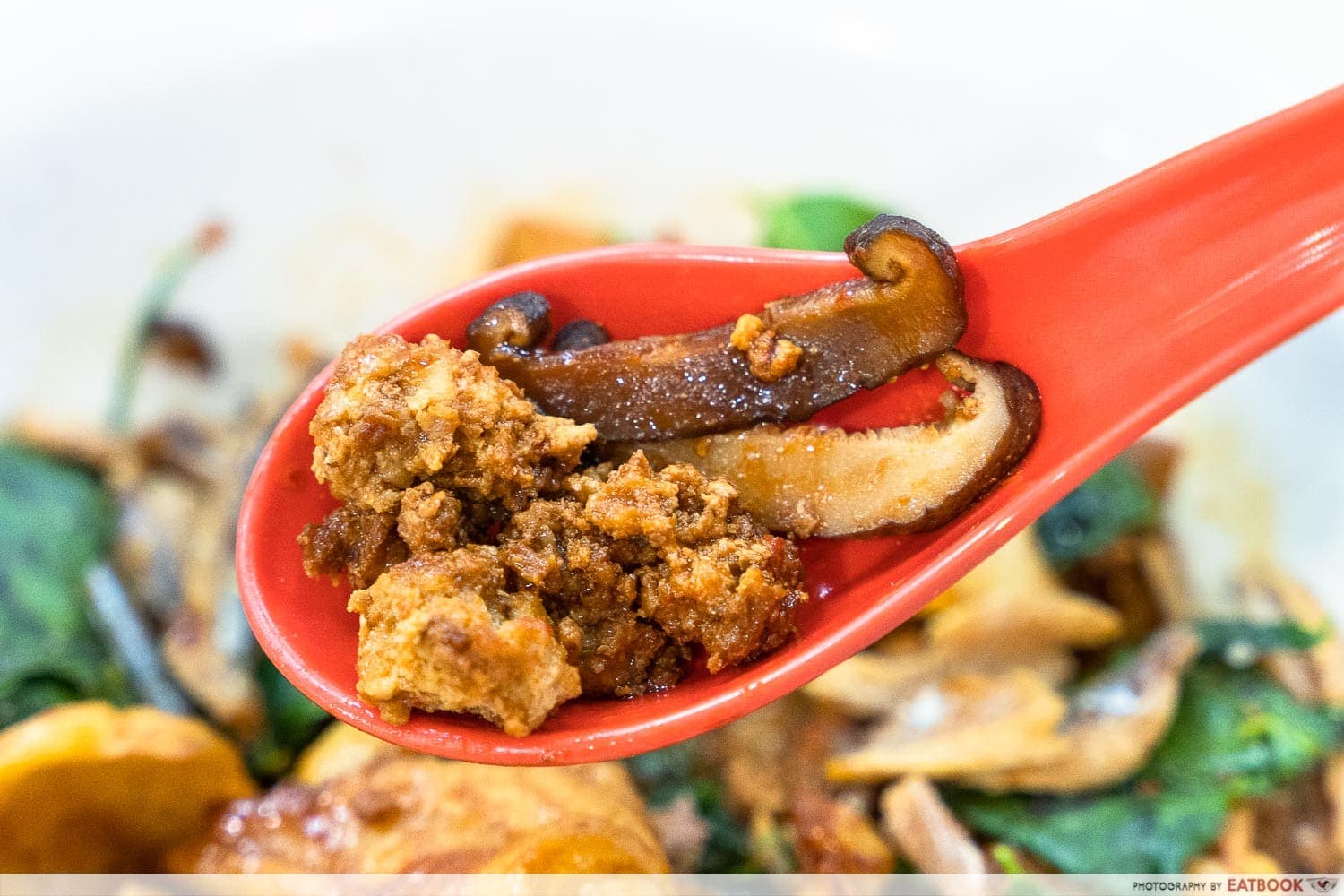 Although there were a few chunks of minced pork, we could only find two slices of shiitake mushrooms in the Minced Pork Mee Hoon Kueh. Both ingredients were quite flavourful, but I wish that my bowl had come with more of them.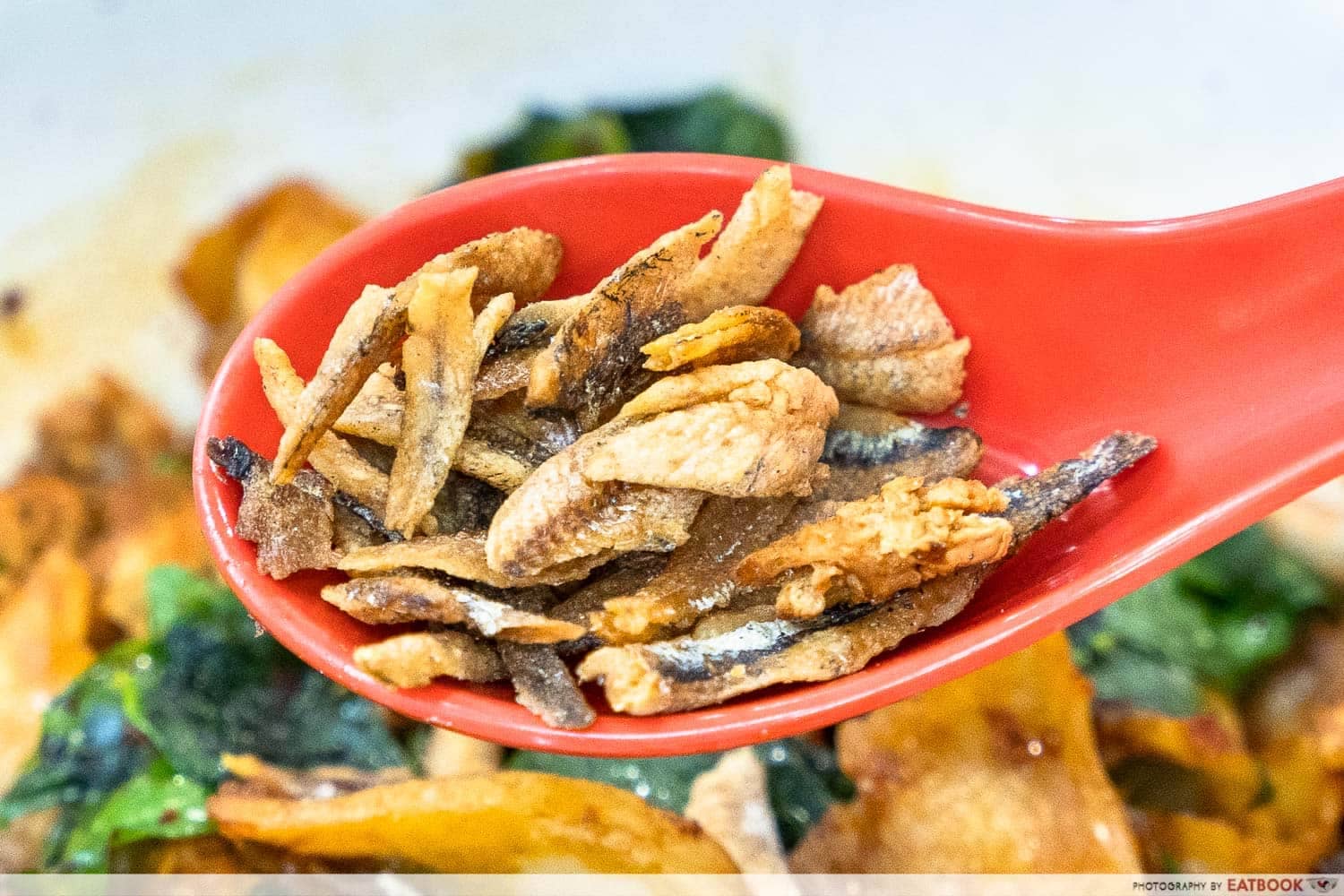 There was, however, a sufficient amount of deep-fried anchovies, which further gave the dry mee hoon kueh an intense savouriness.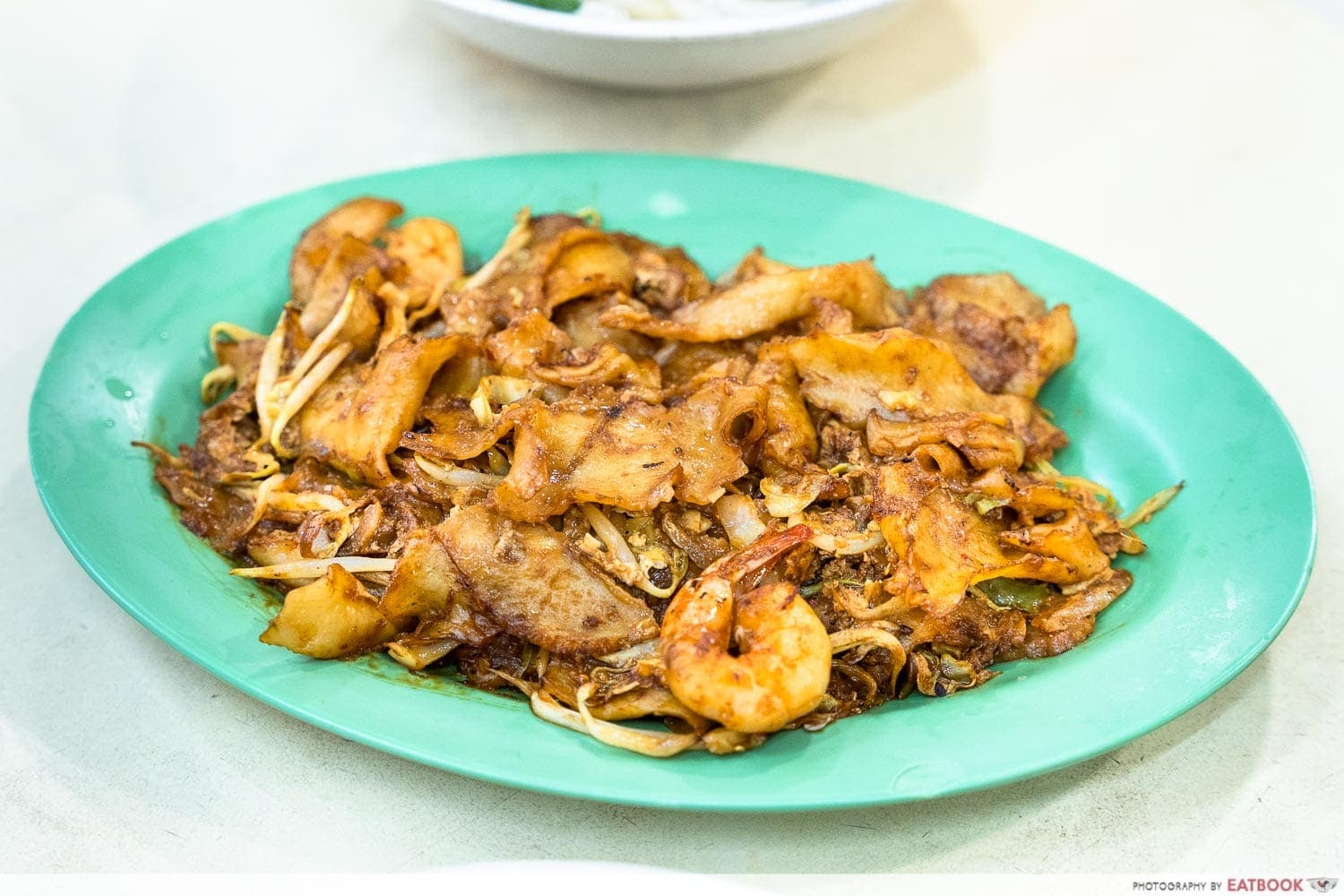 I've not seen Fried Mee Hoon Kueh ($6) anywhere else before, so I decided to try this Greenview Cafe original. Done in the style of char kway teow, the Fried Mee Hoon Kueh had a prominent wok hei flavour. Others might not like the charred scent that the noodles had, but I thought that this enhanced the sweetness of the sauce.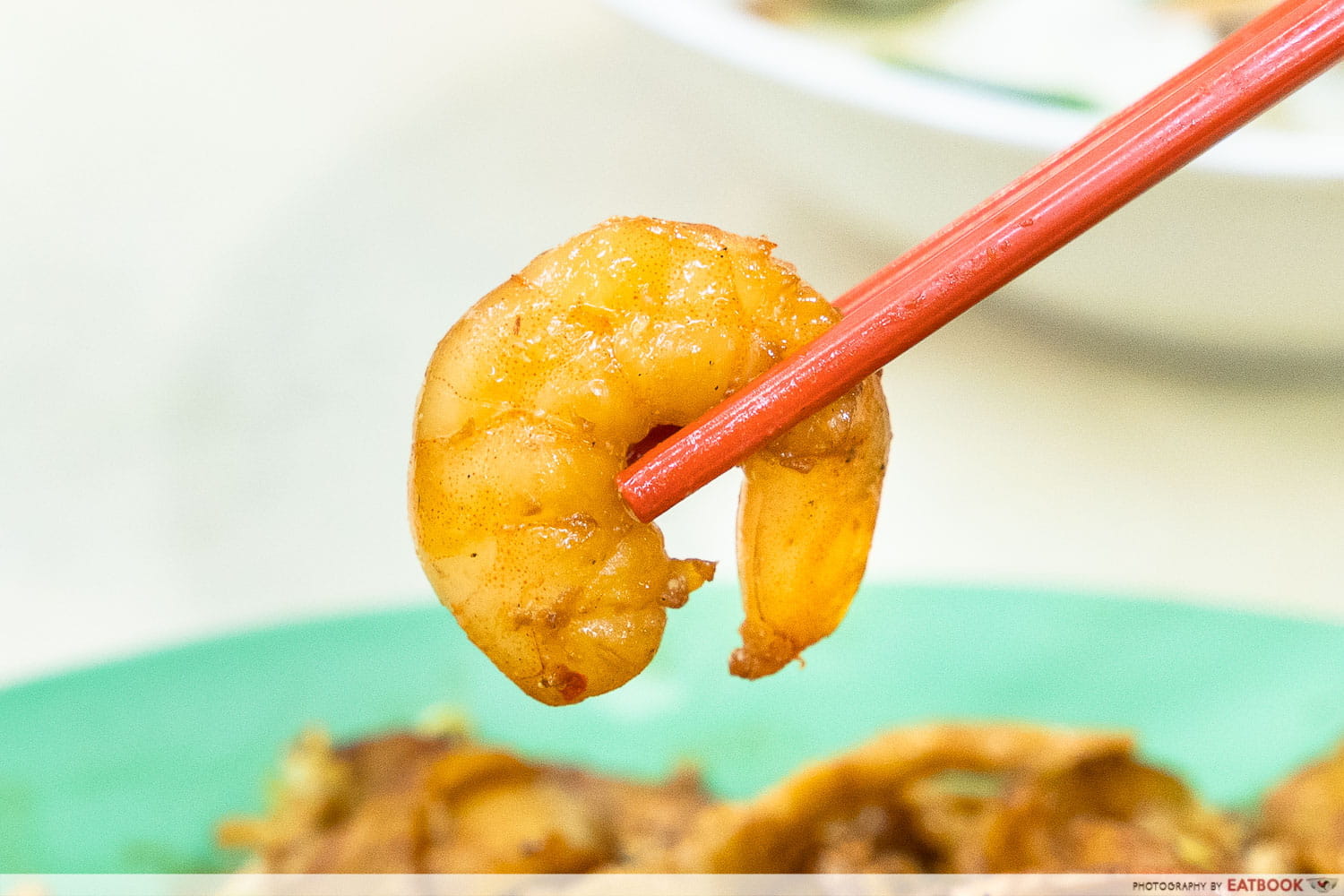 There were more ingredients compared to the Minced Pork Mee Hoon Kueh—two prawns, some slices of fishcake, bean sprouts, and cabbage. While I appreciated the novelty of fried mee hoon kueh, I would probably still stick to ordering char kway teow, as I felt that the frying left the noodles a tad too doughy and dry. 
Both the dry Minced Meat Mee Hoon Kueh and Fried Mee Hoon Kueh came with a small bowl of soup on the side. While umami, the soup was too salty for my liking.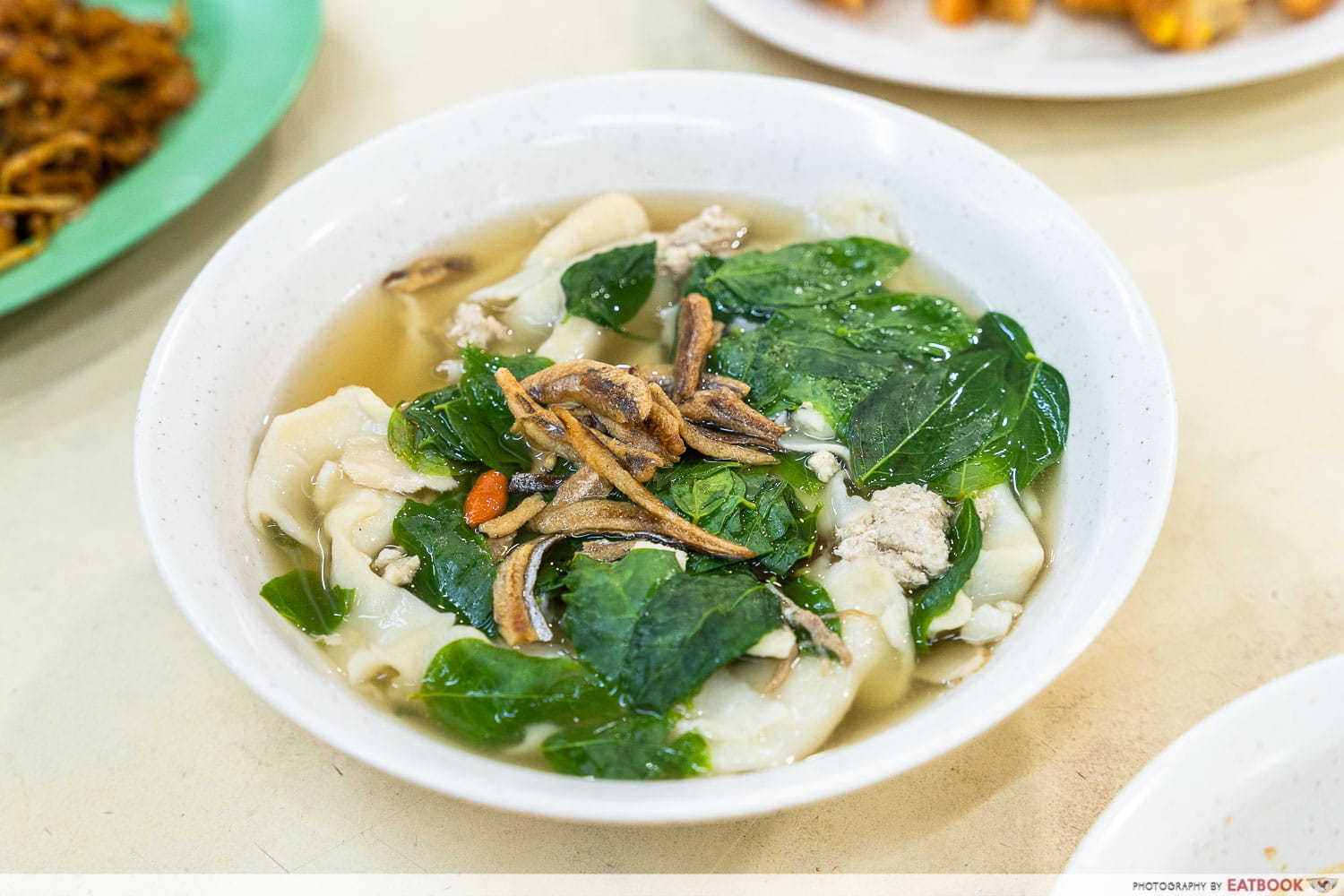 Having had two dry mee hoon kueh dishes thus far, I decided to switch things up and try the Herbal Mee Hoon Kueh ($6.80) at Greenview Cafe. As soon as the bowl of mee hoon kueh arrived on the table, I could smell its strong herbal scent.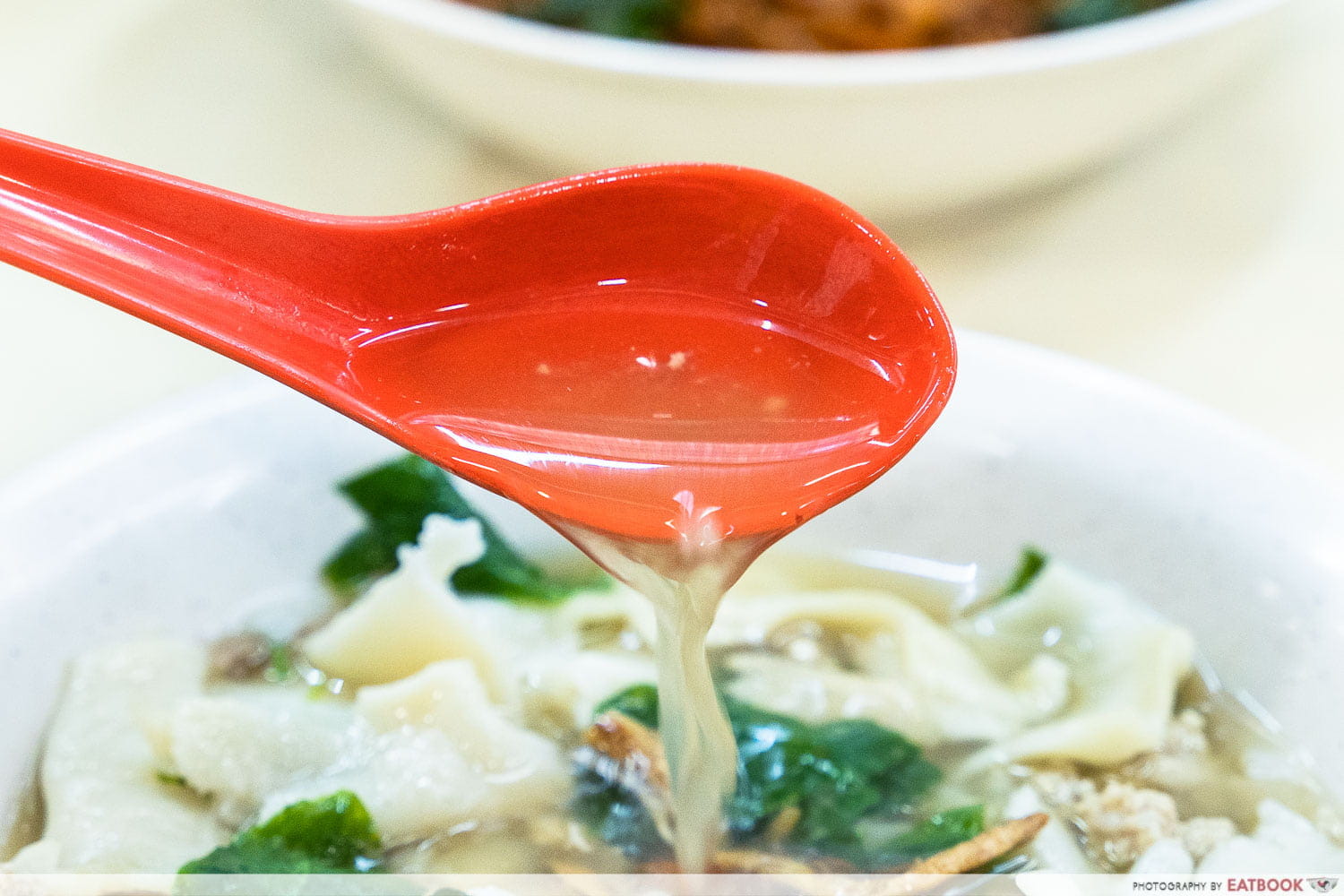 The soup was indeed gao but not bitter, despite the mixture of Chinese herbs such as dried Chinese yam, Solomon's seal, and dried wolfberries it was stewed with. 
Of the three mee hoon kueh dishes I tasted, this was my favourite. I felt that the soup just had the right balance of savouriness and bitterness.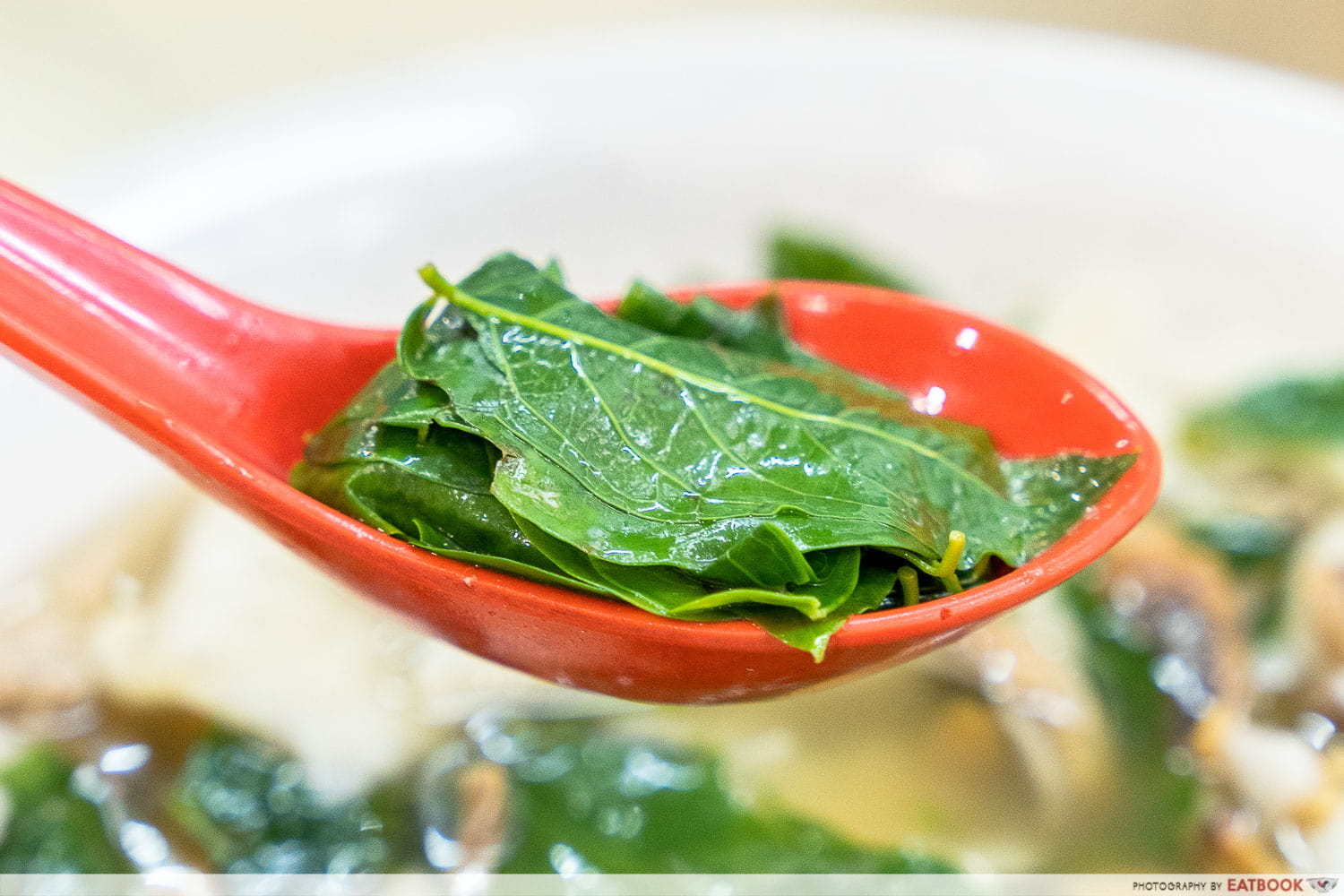 The sayur manis, or mani cai, was also not overly wilted, and further lent some bitterness to the dish. As with the Minced Pork Mee Hoon Kueh, I would have liked it more if the noodles came with more bak chor. 
After I had received my order, I overheard other diners adding Fish Slices ($1) to their dishes, so that's an alternative you could turn to if you want more liao.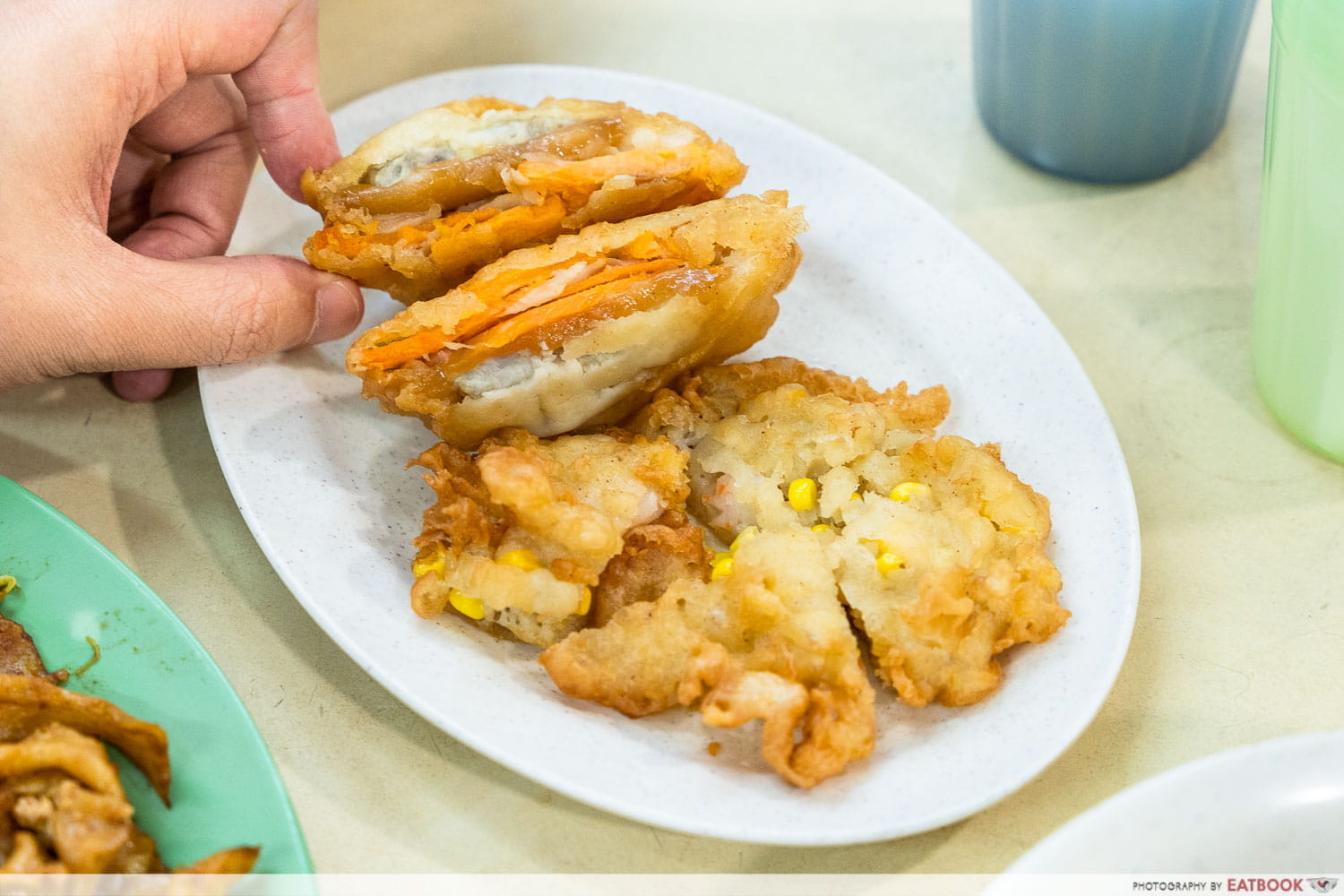 We heard that the Fried Sticky Cake ($2) and Super Crispy Prawn Fritter ($2) were popular side dishes here, so we also decided to give them a try. For more value, get the Set ($2.90), which gives you either of the side dishes and a cup of hot or cold barley, whenever you purchase a main.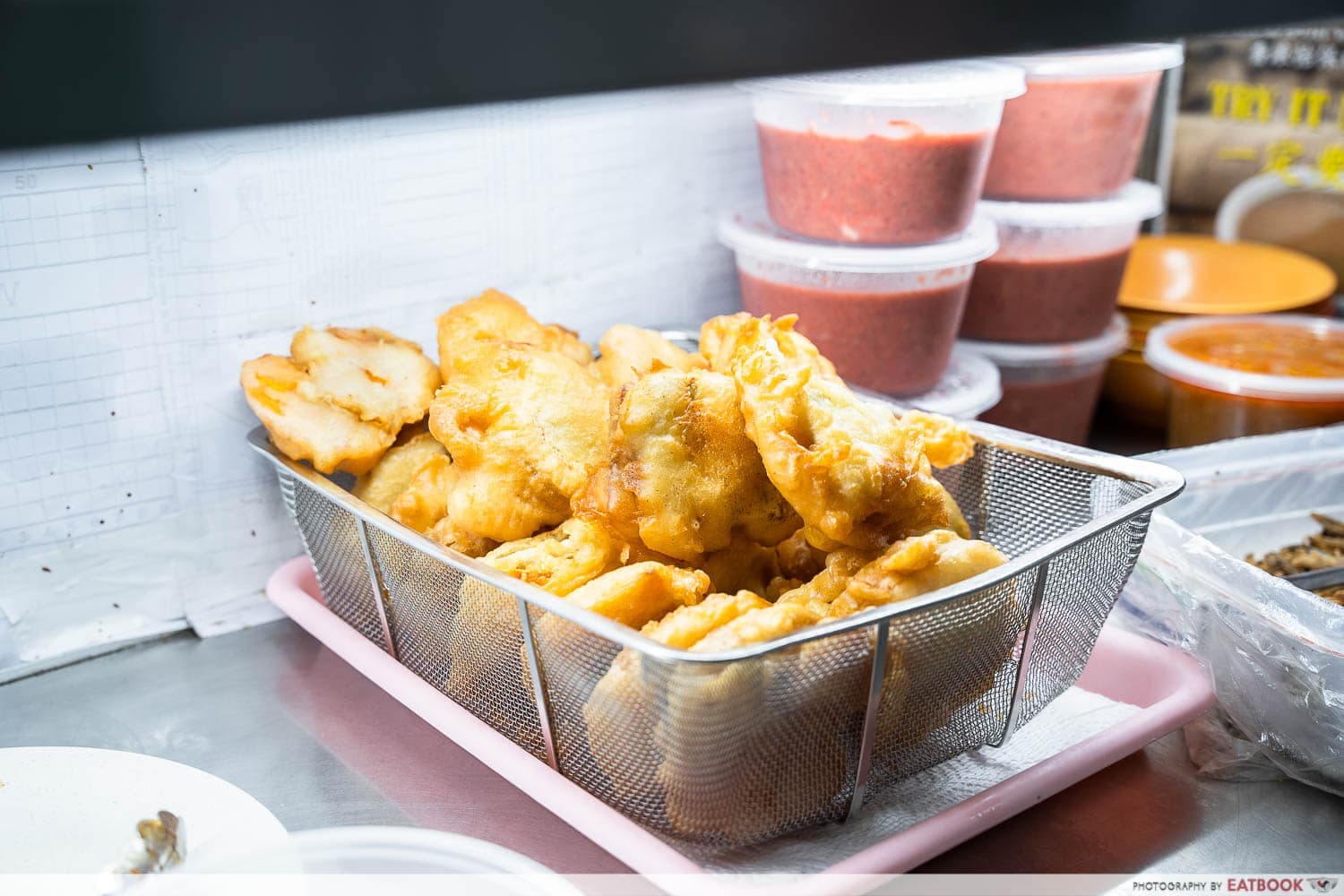 Although the Fried Sticky Cake was already fried in advance in preparation for the lunch crowd, the lightly-battered nian gao still retained much of a crisp. Also containing a thin slice of yam, and sweet potato, the item was a sweet treat that was not too greasy.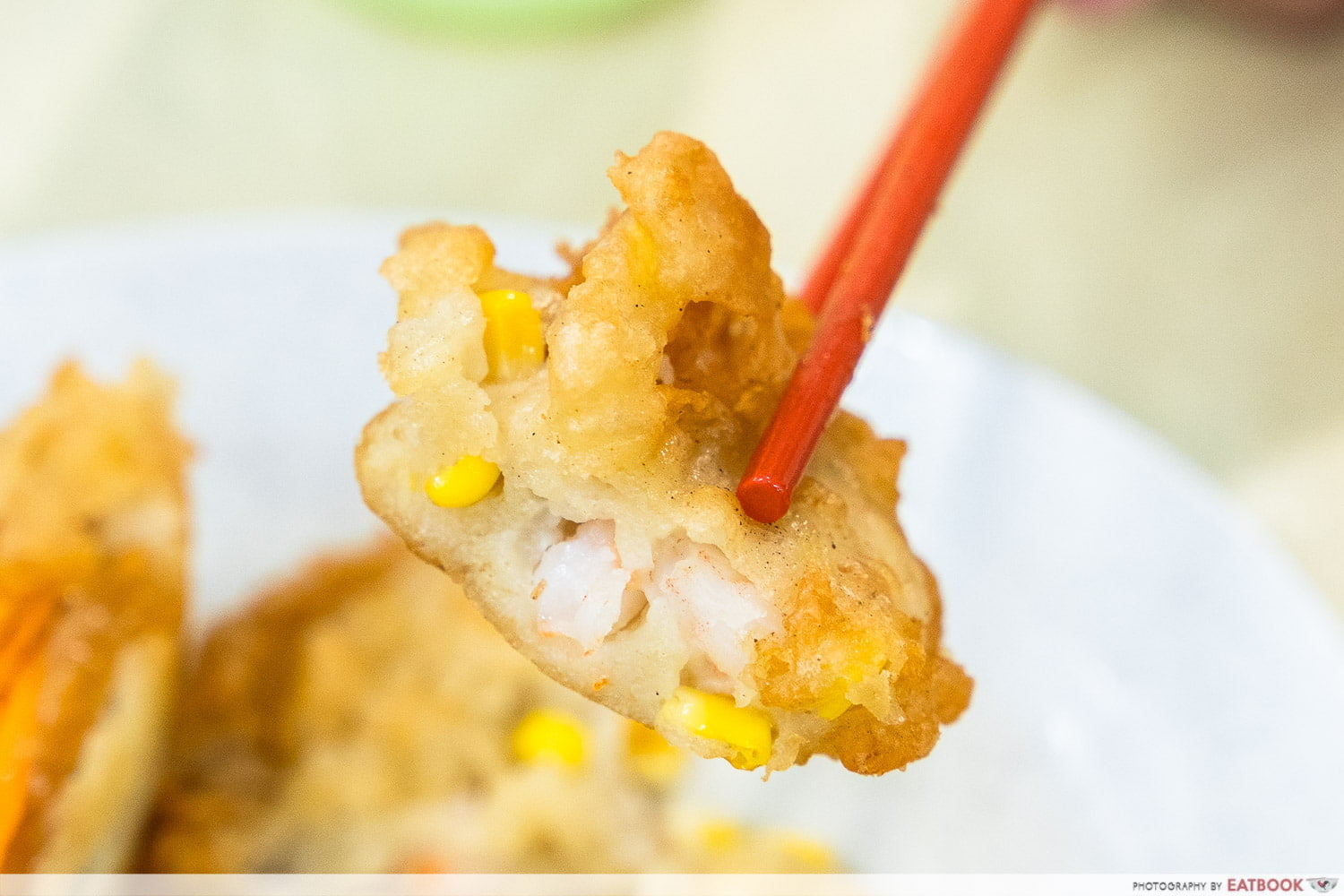 The Super Crispy Prawn Fritter was however a bit of a letdown, as it was not, in fact, crispy. The fresh prawn and sweet corn gave it some sweetness, but I felt that the Fried Sticky Cake was the better side dish of the two. 
Jiak Song Mee Hoon Kway Review: Delicious Handmade Mee Hoon Kueh By Ex-MasterChef Finalist
Ambience at Greenview Cafe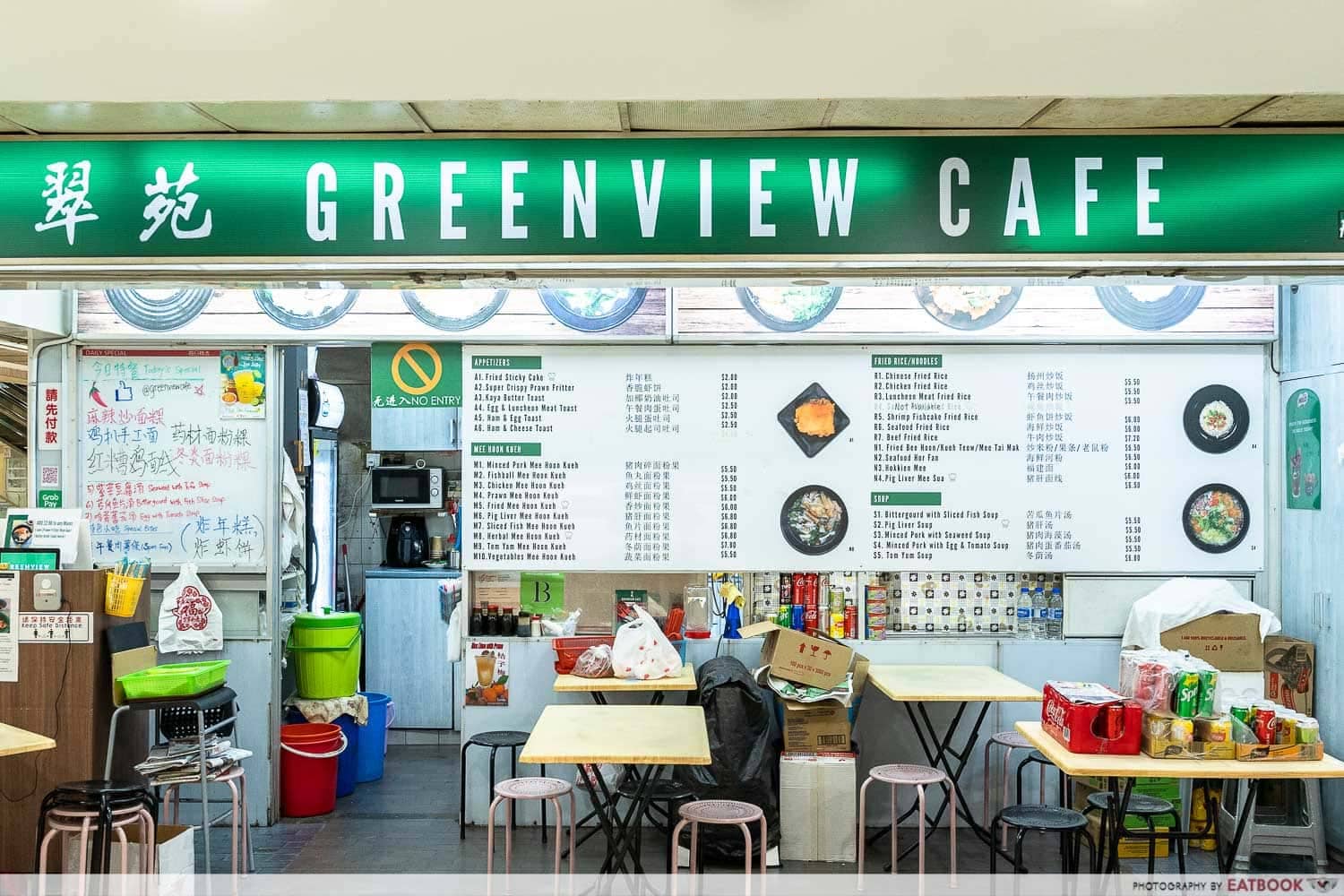 Greenview Cafe is tucked away in a corner of Far East Plaza and resembles an old-school Hong Kong dai pai dong. The decor is sparse, and whatever limited dining space is reduced even further with various boxes and inventory lying around. 
There are just about enough tables and stools to seat around 20 people. With such a cramped interior, Greenview Cafe is not a space for diners to have elaborate lunches—and they know this. The table turnover rate is quite short, at only about 30 minutes, so I felt a tad guilty that we occupied a table for a large part of the busy lunch crunch. 
The verdict
After visiting Greenview Cafe, I still stand my ground that I've yet to find cheap and good food in town.  Don't get me wrong, it's certainly a cheaper alternative to most of what Orchard has to offer. 
The food is also not too shabby, and will definitely leave you feeling satisfied as you continue the rest of your day. However, what I do mean is that I don't quite see myself returning here to eat unless I was in a pinch. 
If you don't mind shelling out for delicious food, check out RATIO Cafe + Gastrobar for delicious cocktails and laksa linguine! If you're just looking for a solid bowl of mee hoon kueh, Jiak Song Mee Kueh serves up handmade noodles made by an ex-Masterchef Singapore finalist!
Address: 14 Scotts Road, #04-96, Far East Plaza, Singapore 228213
Opening hours: Mon-Sat 10am to 7:30pm
Tel: 6734 2312
Website
Greenview Cafe is not a halal-certified eatery.
RATIO Cafe Plus GastroBar Review: Cafe In Orchard With Laksa Linguine, Coconut Husk Cocktail And More
Photos taken by Kong Zu Yi. 
This was an independent review by Eatbook.sg
Greenview Cafe Review: Cheap Mee Hoon Kueh In Town With 30-Year History
Greenview Cafe Review: Cheap Mee Hoon Kueh In Town For Only $5.50 -

7/10
Summary
Pros
– Cheaper than most places in Orchard
– Fast service
Cons
– Not a lot of ingredients
– Cafe is quite cramped
Recommended dishes: Herbal Mee Hoon Kueh ($6.80), Fried Sticky Cake ($2)
Opening hours: Mon-Sat 10am to 8pm
Address: 14 Scotts Road, #04-95 to 96, Far East Plaza, Singapore 228213