Haikee Brothers at Chinatown Point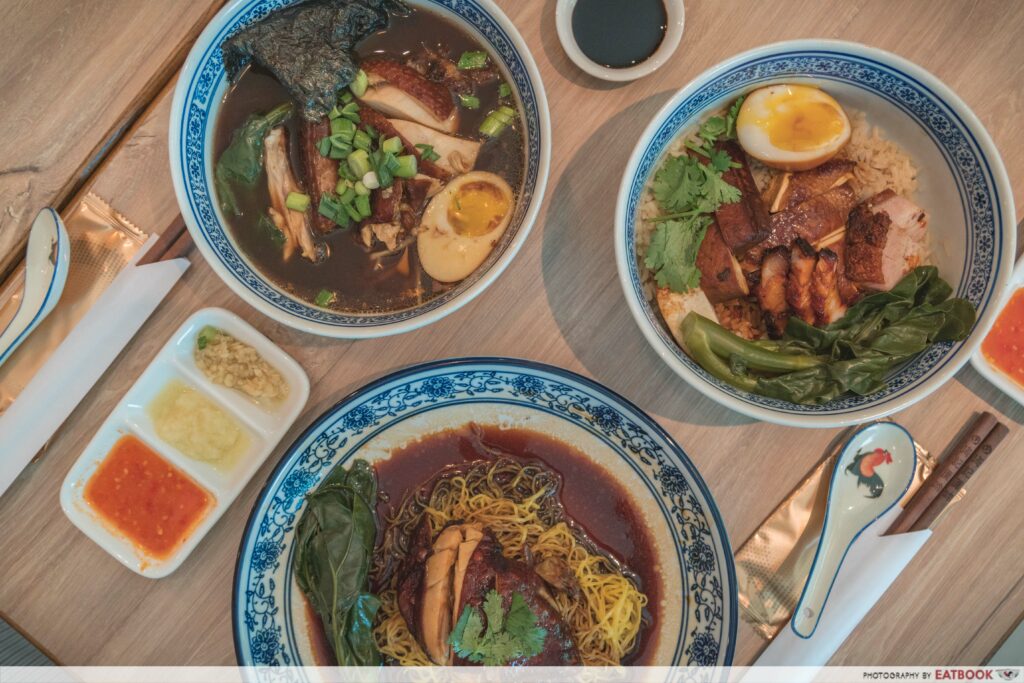 Mention Hawker Chan and you'll realise it is one of the many topics that divide Singaporeans. There are those who swear by their soy sauce chicken and those who are not so impressed. I belong to the latter, and my personal favourite soy sauce chicken stall has always been Chinatown Complex Market & Food Centre's Maria Virgin Chicken.
A few days back, a friend sent me a picture of herself at Haikee Brothers and said, "This one confirm better than the one you always eat." To satisfy my curiosity as well as that competitive streak in me, I headed down to the restaurant, which specialises in soy sauce chicken made with a recipe from the 1950s!
10 Chinatown Complex Food Stalls To Visit Including $2 Laksa And Mentaiko Pasta
Food at Haikee Brothers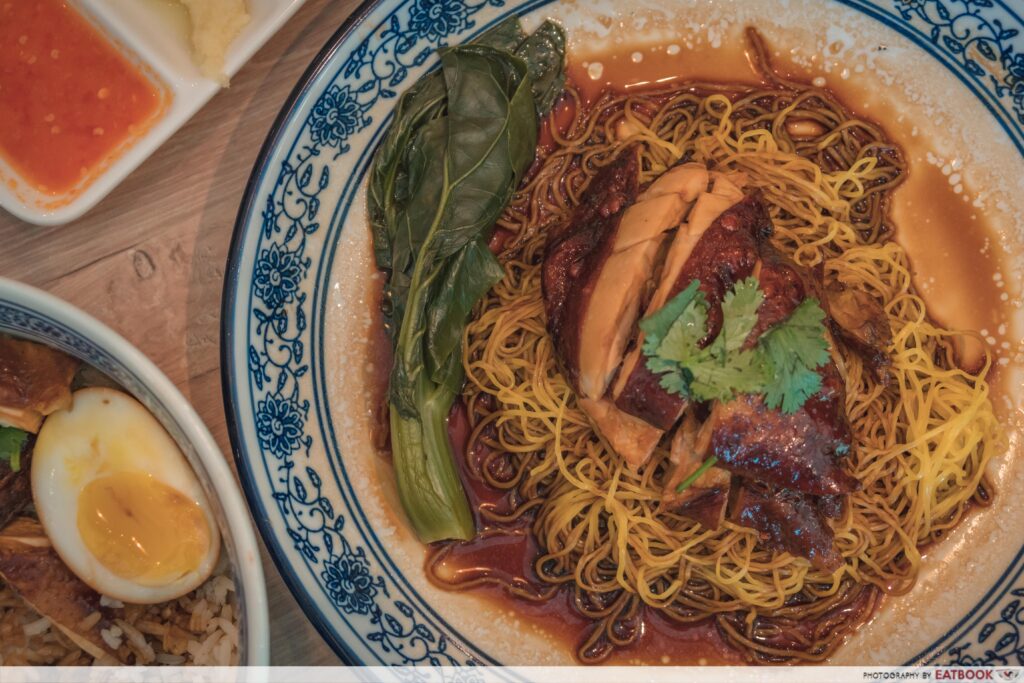 Deciding on what to get at Haikee Brothers will be no easy feat, especially if your group is small or if you can't eat much. Other than the few signature mains, their extensive menu also consists of dim sum, soup, and claypot dishes – most that looked too good to not order. Needless to say, one of the dishes we tried was their signature Soy Sauce Drumstick Mee Kia ($6.50++).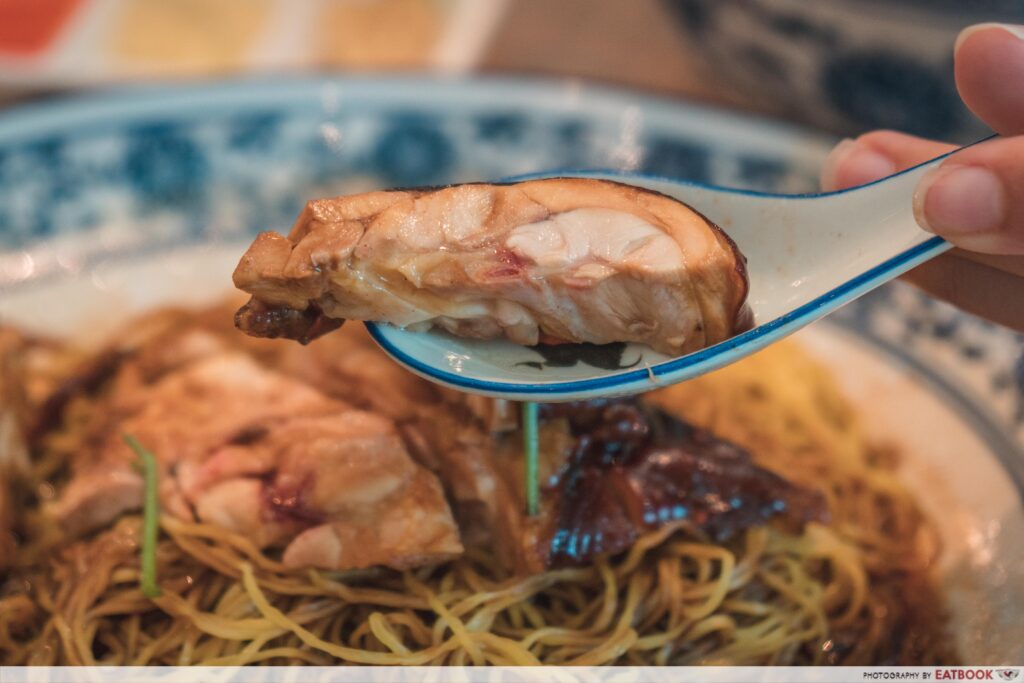 The most anticipated element of the dish had to be the soy sauce chicken. When it arrived, however, we were slightly disappointed by how small the chicken drumstick was, especially when compared to the photos we saw online. Taste-wise, the chicken meat was mildly salty and sweet. There was nothing impressive about it though, and because of how little flesh there was in each piece, it was hard to get much taste out of each bite. While it was not the best I've had, the chicken was still decently tender and delicious.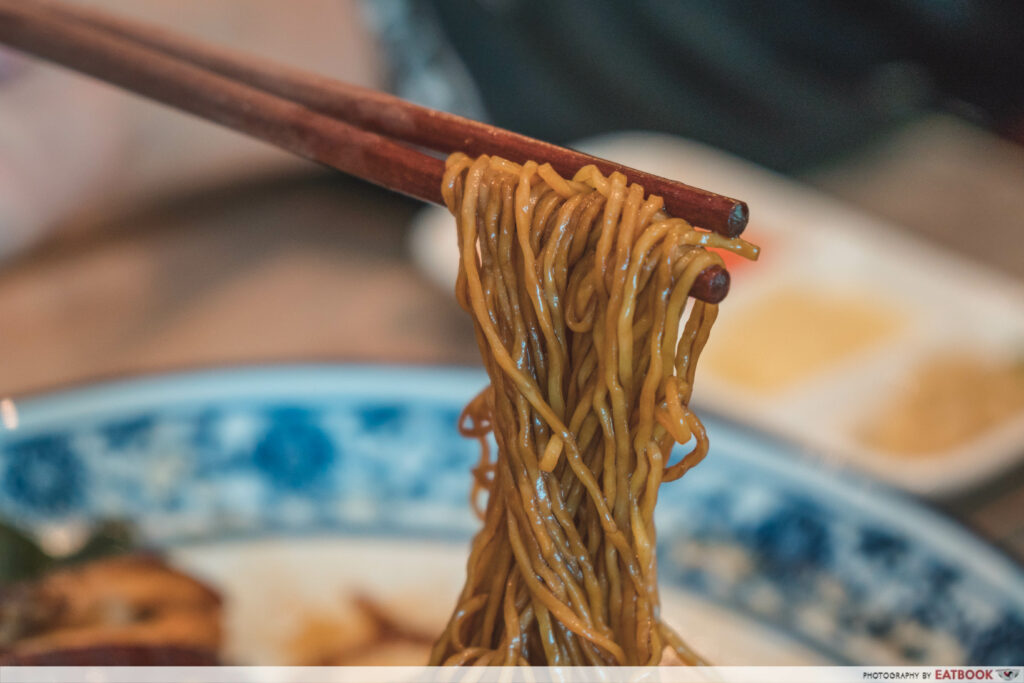 Compared to the meat, the portion of the noodles was large, and the best part was that they were entirely drenched in sauce. After giving the noodles a good toss, we dug in and were pleasantly surprised by the sweetness of the noodles. With a tinge of saltiness from soy sauce, the noodles were overall light-tasting and pleasant. Like any well-cooked mee kia, the noodles were also springy, giving each mouthful a nice bite.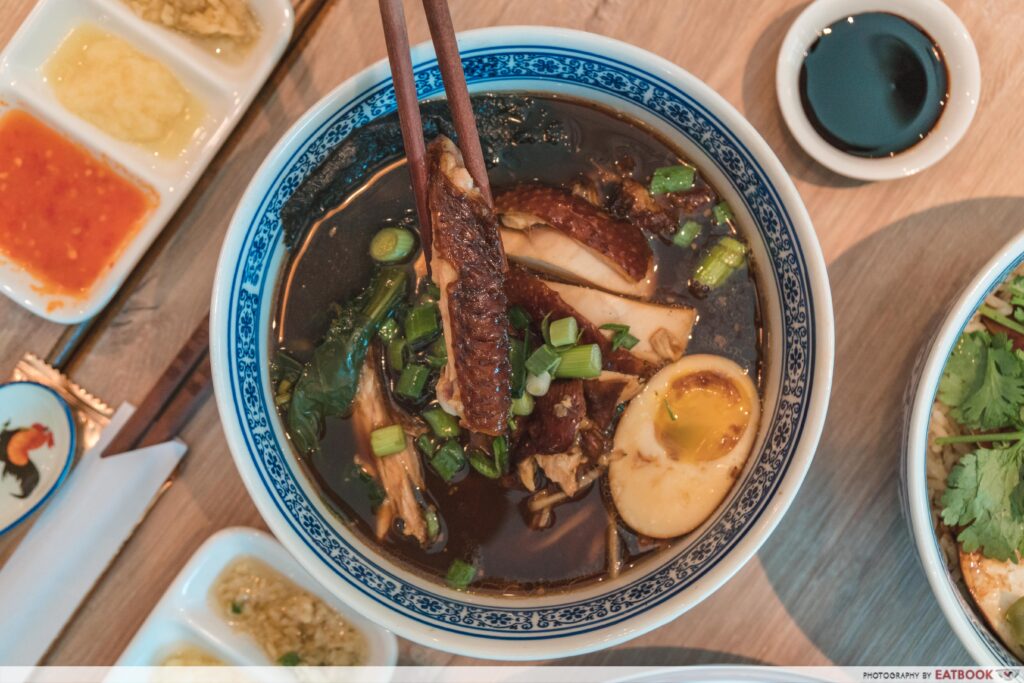 The other dish we tried was a more unique creation – HKB Soy Chicken Ramen ($6.50++). Served in a bowl of dark-coloured soup, the dish came with soy sauce chicken, half a runny egg, seaweed, and noodles.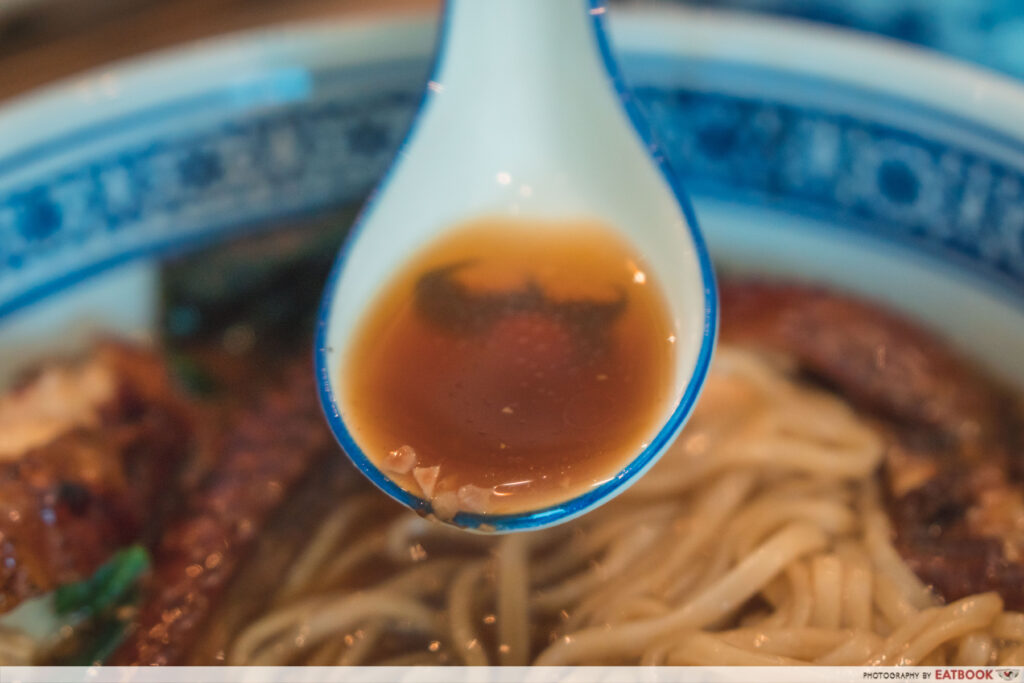 Not knowing what to expect, we first thing we went for was the soup. Unlike the thick and flavourful broth you'd expect from most ramen dishes, this was light and carried a strong fragrance of braised mushrooms.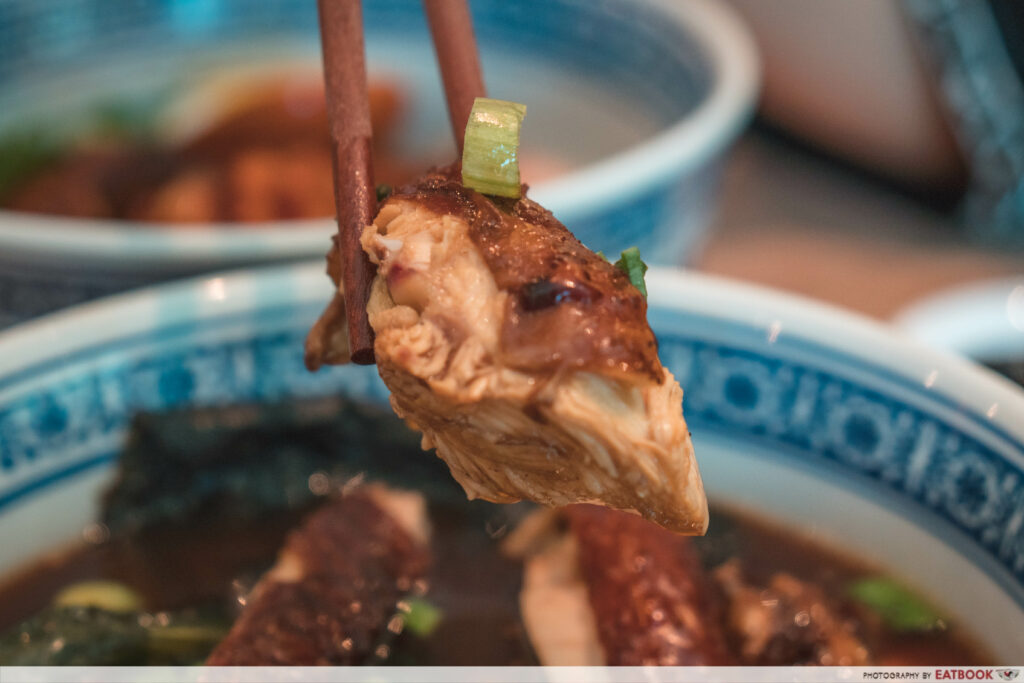 Compared to the drumlet that we had earlier, the chicken breast and mid-wings that came with the ramen were slightly more flavourful, having soaked up the broth. The downside was that the meat was tough and did not impress me any more than any other typical eateries that serve soy sauce chicken.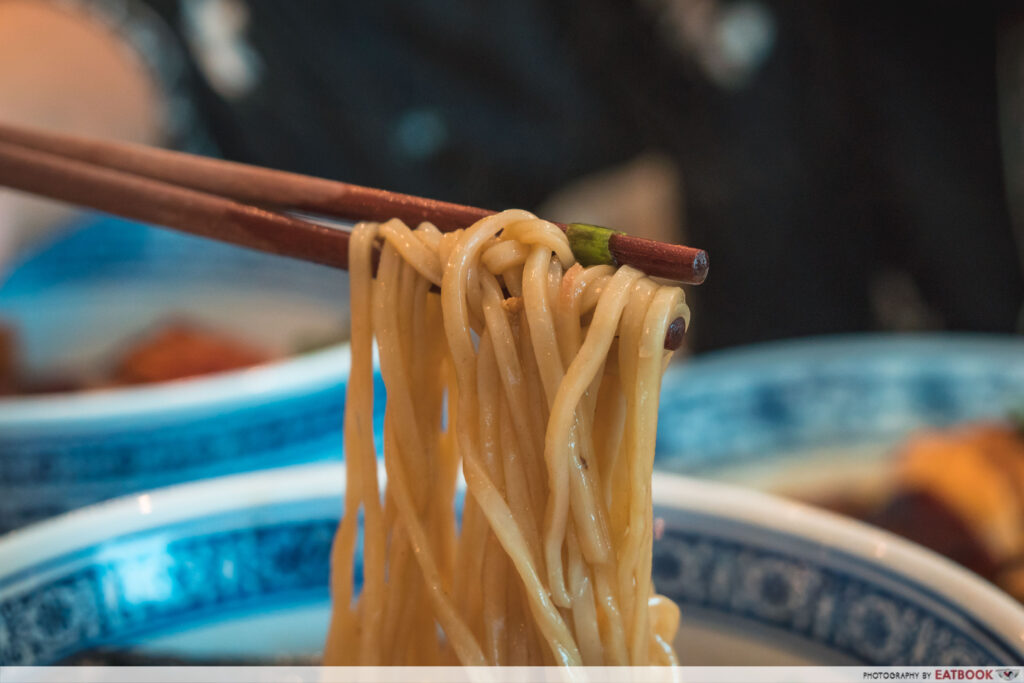 The noodles tasted more like you mian (thin handmade noodles) instead of ramen, but I wouldn't complain as the latter would have overpowered the broth. In fact, the smooth noodles and light broth complemented each other well and we found ourselves devouring the entire bowl within minutes.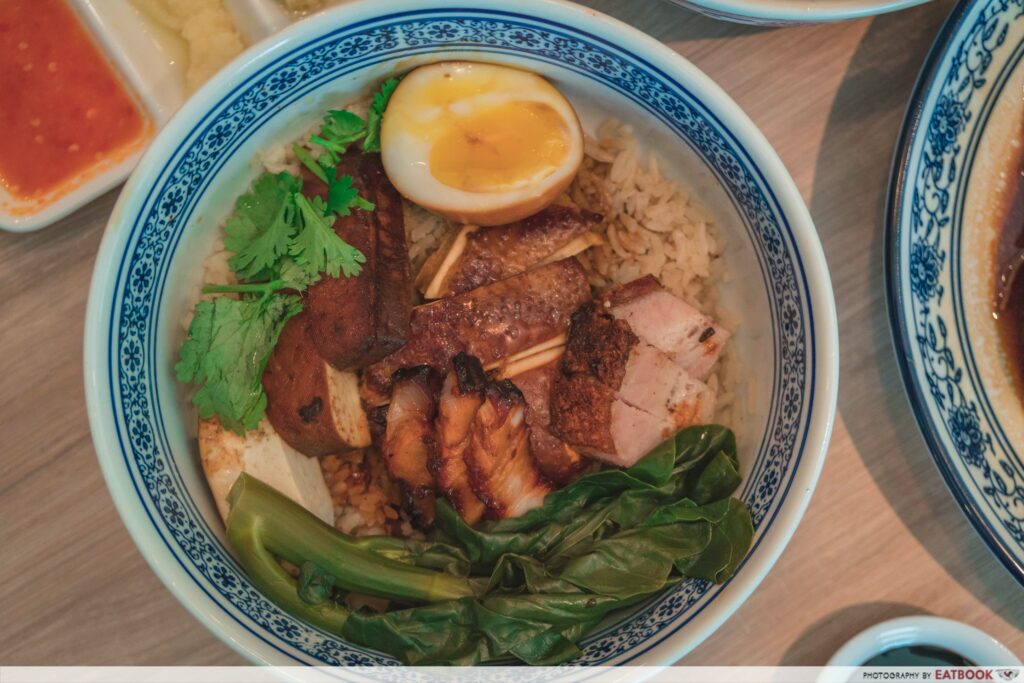 The last dish that we tried was their Soy Delicious Bowl ($7.80++). This is a rice bowl topped with braised beancurd, egg, soy sauce chicken, char siew, and sio bak.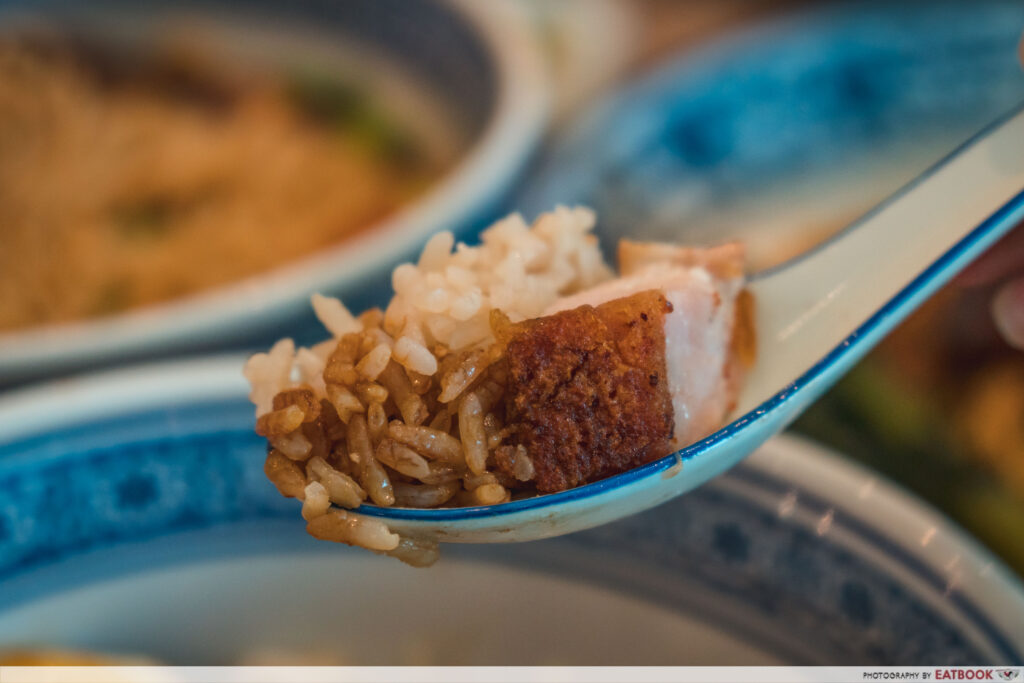 From its appearance, we thought the dish was made of white rice drizzled with sweet and dark sauces. Only after we tasted the first spoonful did we realise it was actually fragrant chicken stock-infused rice. It had the taste and fragrance of typical chicken rice, but without the grease. Flavoured with sauces, the rice was addictive even without the meat.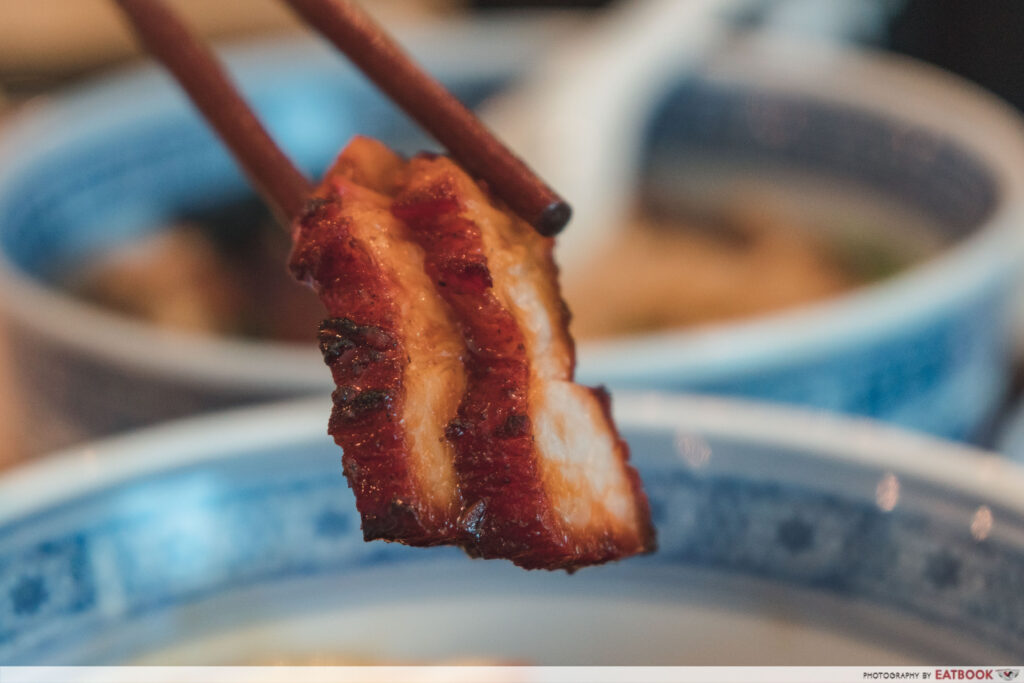 Although the chicken could have been tastier, we enjoyed the sio bak and char siew, which both had nice layers of fats. Although I would've liked for the char siew to be more charred and served in thicker slices, there was nothing to complain about for the sio bak. Slightly smoky and fatty, the roast pork also had a nice crackling that remained crispy even after being left out for a while!
Ambience at Haikee Brothers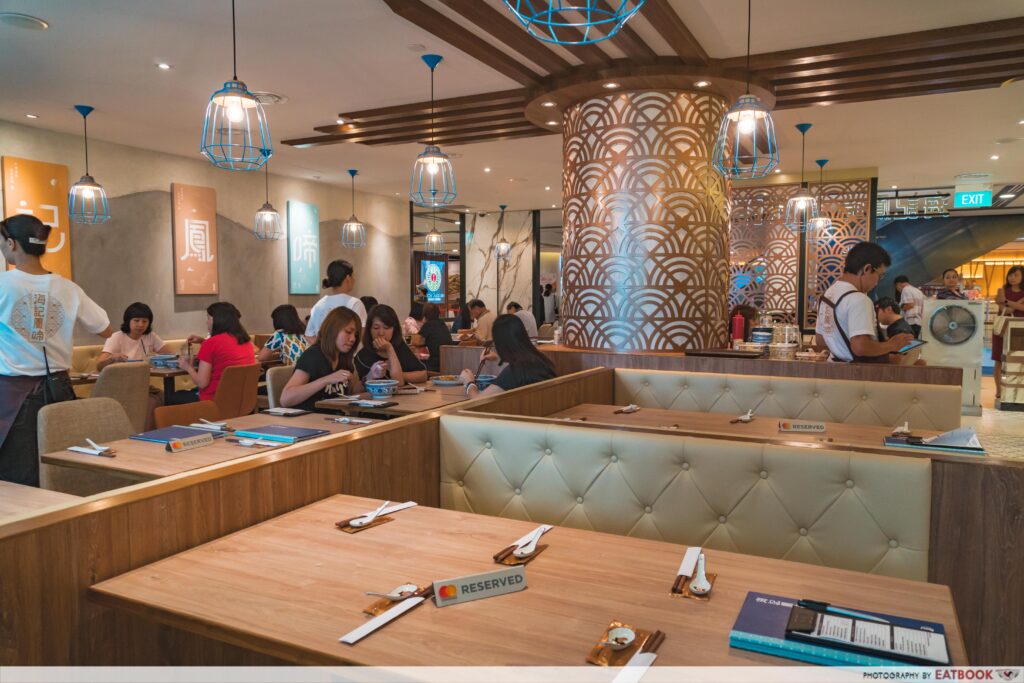 Haikee Brothers can be found on the second level of Chinatown Point and it is one brightly lit restaurant that is hard to miss. We went down on a Friday, at noon, and most of the seats were already filled. Even with the steady flow of customers, the servers were quick to attend to each table and the more impressive part was that we didn't have to wait for more than 10 minutes for our food to arrive. Overall, the restaurant was elegantly designed, clean, and great spot for a casual meal.
The verdict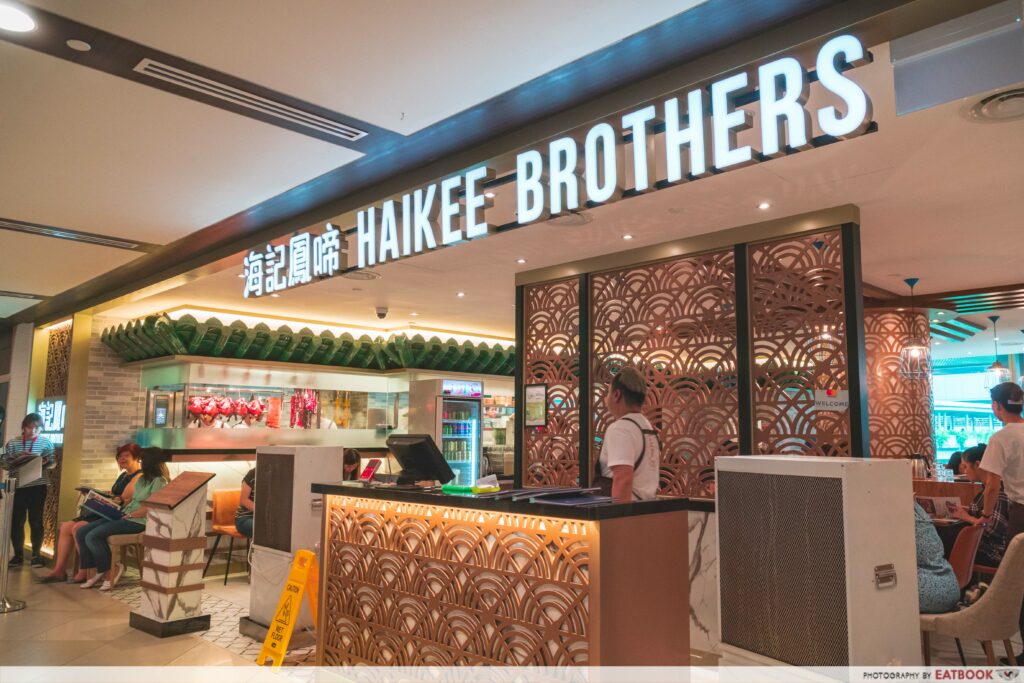 While our overall experience at Haikee Brothers was pleasant, their soy sauce chicken was a disappointment. In fact, we took a better liking to the other dishes and the ramen left the greatest impression. A plus point is that the prices here are kept low, especially for a restaurant with such a nice ambience. So if you are looking for a filling and good meal at less than $10, Haikee Brothers is a good option!
10 Chinatown Food Gems Including Noodles At $1 And A 100cm Food Platter
Address: 133 New Bridge Road, #02-39, Chinatown Point, Singapore 059413
Opening hours: Daily 11:30am to 10pm
Tel: 6244 4408
Website
Haikee Brothers is not a halal restaurant.
This is an independent review from Eatbook.sg.
Summary
Pros
– Quick and good service
– Affordable prices
– Extensive menu
Cons
– Soy sauce chicken could have been better
– May have to queue during peak hours
Recommended Dishes: HKB Soy Chicken Ramen ($6.50++), Soy Delicious Bowl ($7.80++)
Opening Hours:
Daily 11:30am to 10pm
Address: 133 New Bridge Road, #02-39, Chinatown Point, Singapore 059413