Hanare by Takayama has snow crab in Orchard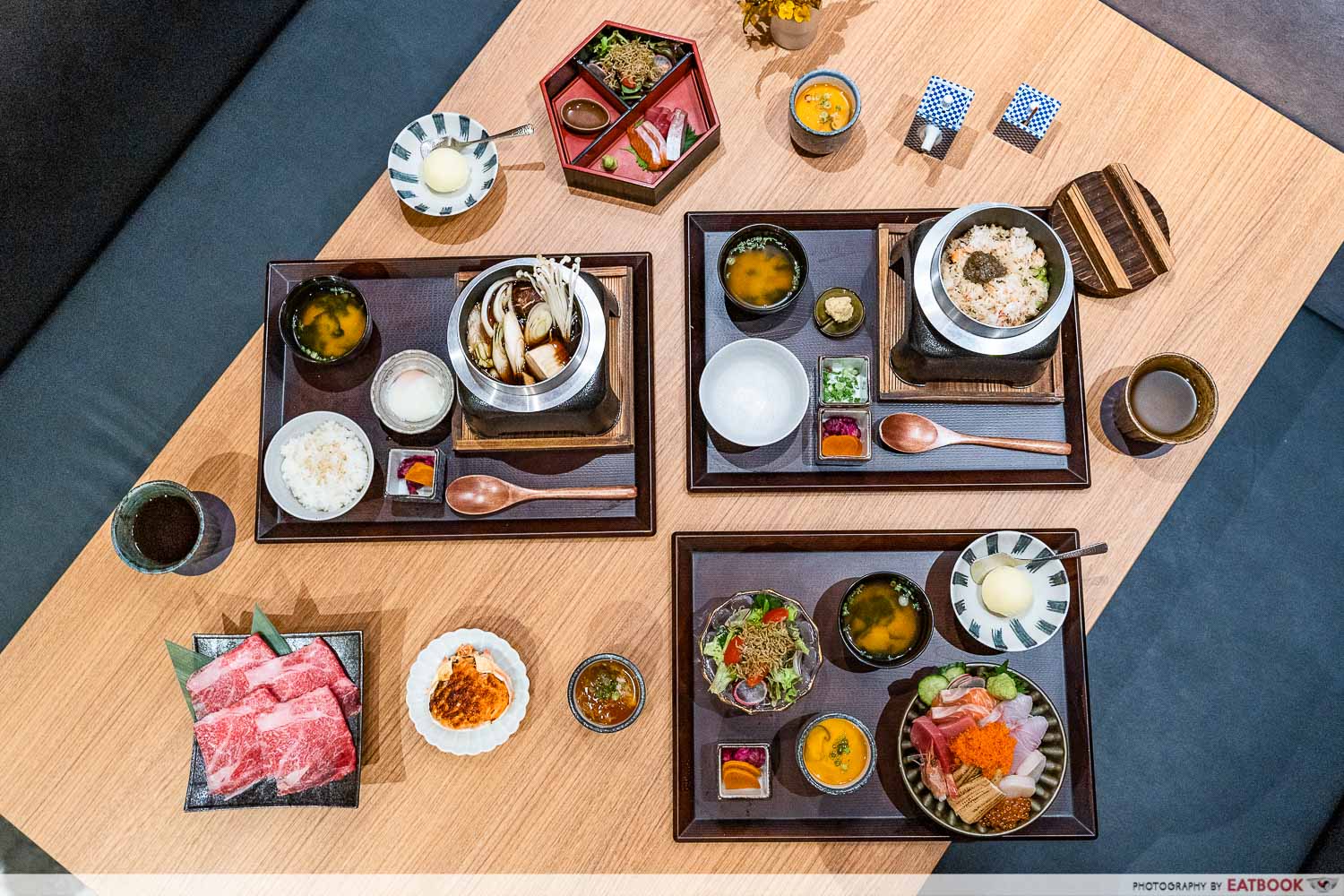 Now that it is crab season in Japan, there's no better time to enjoy the plump and oh-so-sweet snow crabs from the country. One of the best places to do so this season is Hanare by Takayama, a Japanese restaurant located on the third floor of Takashimaya Shopping Centre.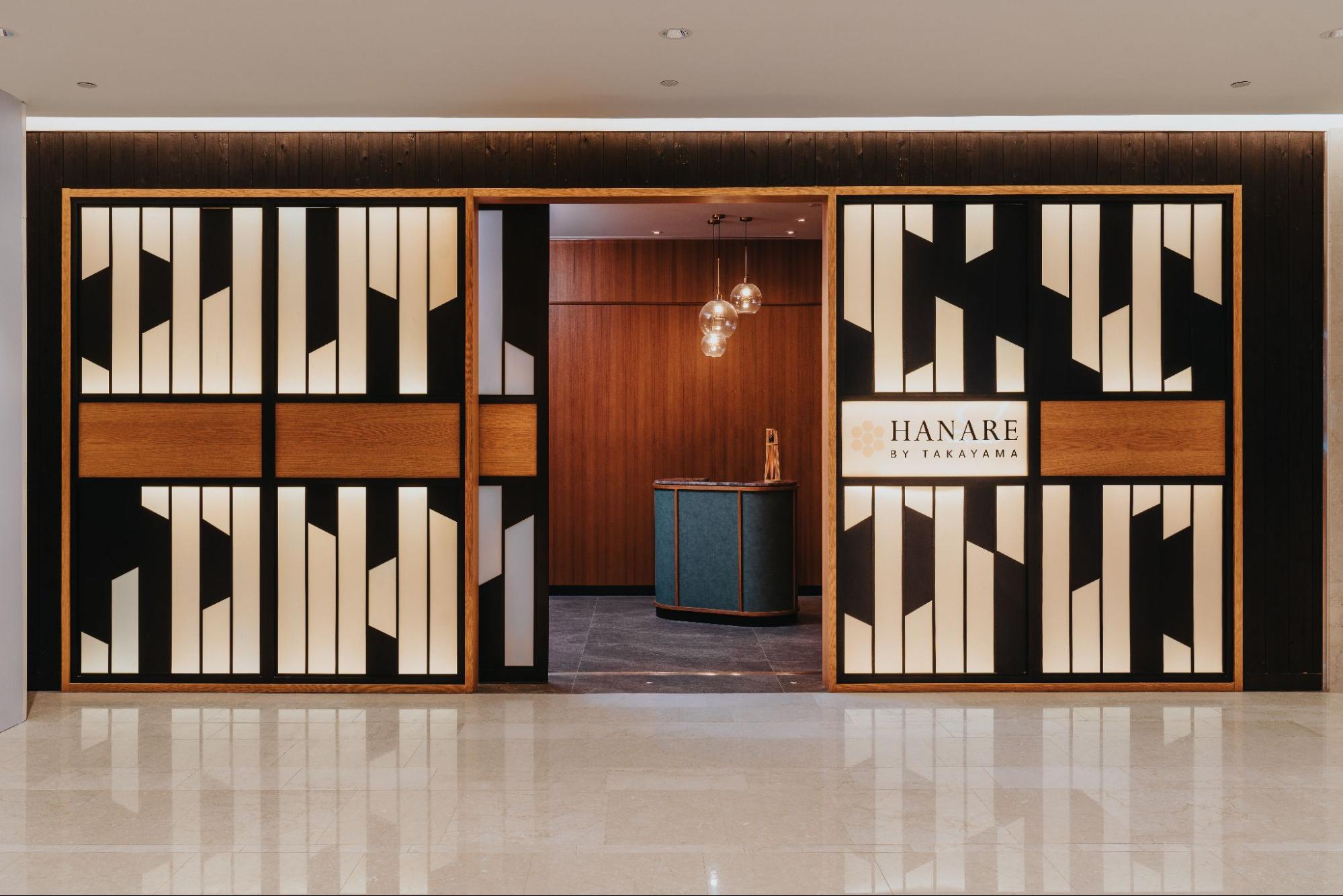 Image credit: Hanare by Takayama
Hanare is helmed by Chef Taro Takayama, a highly accomplished culinary figurehead who cut his teeth in acclaimed restaurants in Osaka. His latest restaurant focuses on crafting homely Japanese dishes with exquisite seasonal ingredients, which is why, from now till April 2023, Tottori snow crabs have become a central ingredient in Hanare's seasonal menu.
From now till 31 December 2023, Citibank Cardmembers can enjoy a year-long promotion of 10% off total bill with a minimum spend of $120 in a single receipt. The promotion is valid for dine-in only.
Food at Hanare
Hanare's speciality dish is kamameshi, a traditional Japanese rice dish prepared and served in an iron pot—thus the name, which translates to "kettle rice". Chef Taro uses koshihikari rice from Niigata, cooking it till the grains are plump in a specially brewed dashi stock that has been reduced for one to two hours.
The first dish we tried was the seasonal rendition of kettle rice, the Tottori Snow Crab Kamameshi ($55++). Lashings of shelled snow crab were steamed with rice, then topped with a heap of glistening crab roe. There was some shredded ginger served on the side as well, and this we gladly mixed into the dish.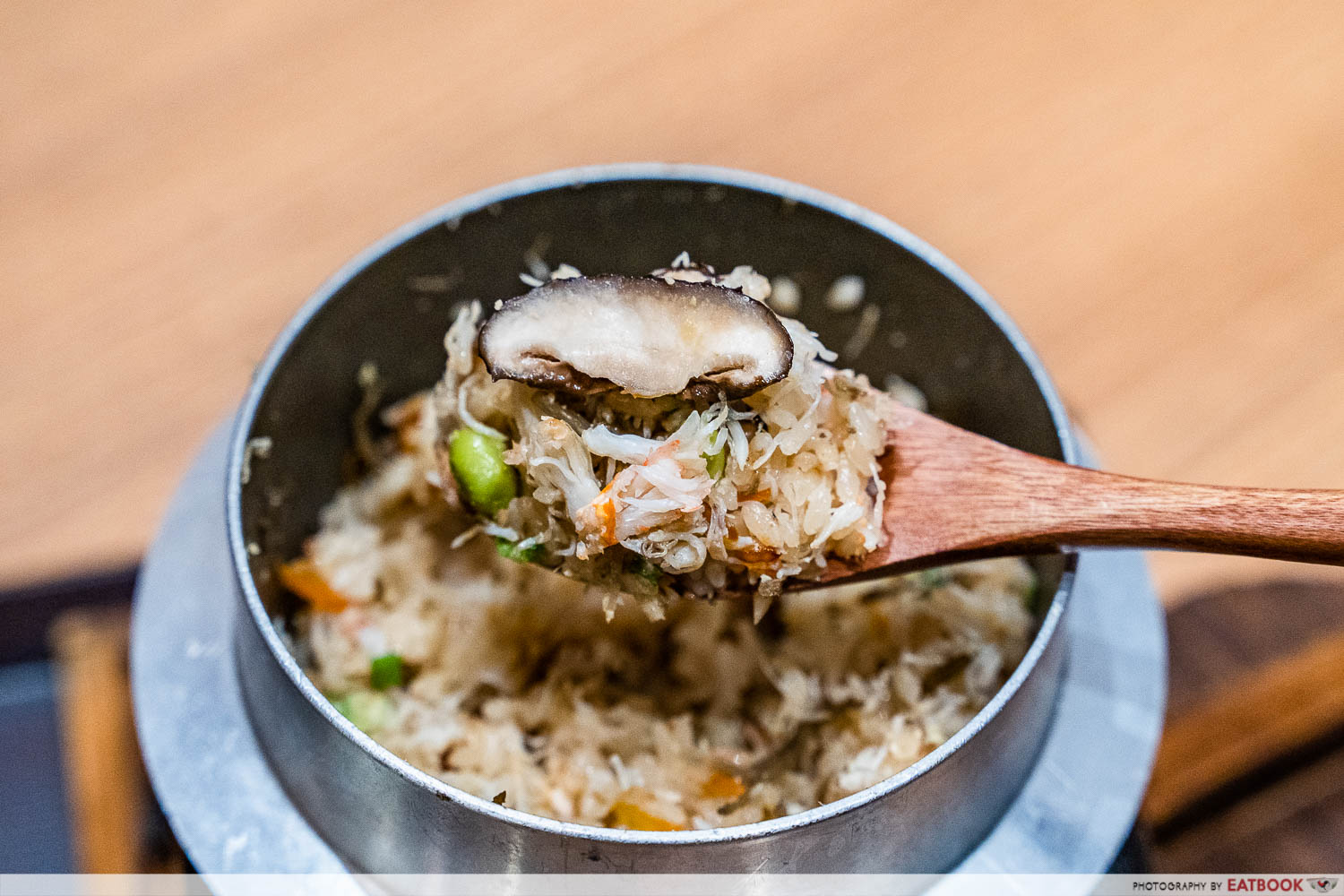 I was impressed by the dish's striking medley of flavours: there was the subtle umami of the dashi broth, the earthy tastes of mushroom and ginger, and of course, the natural sweetness of the snow crab. Each moist grain of rice was imbued with these flavours, making it an absolute joy to eat.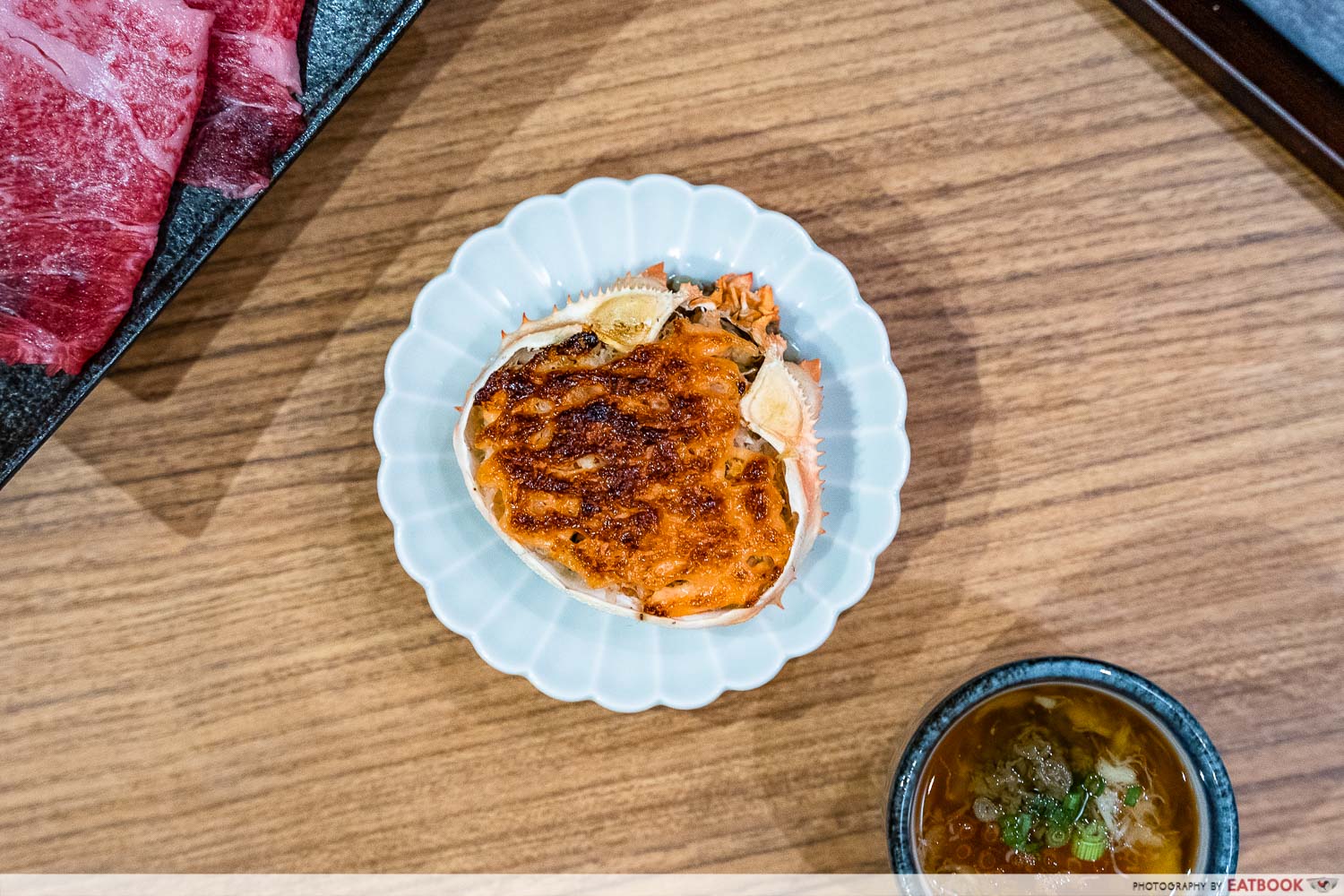 That got me in the mood for more crab, and thankfully, there was the Tottori Snow Crab Gratin ($28++). This dish saw the shell of a snow crab packed with meat, roe, and potato gratin.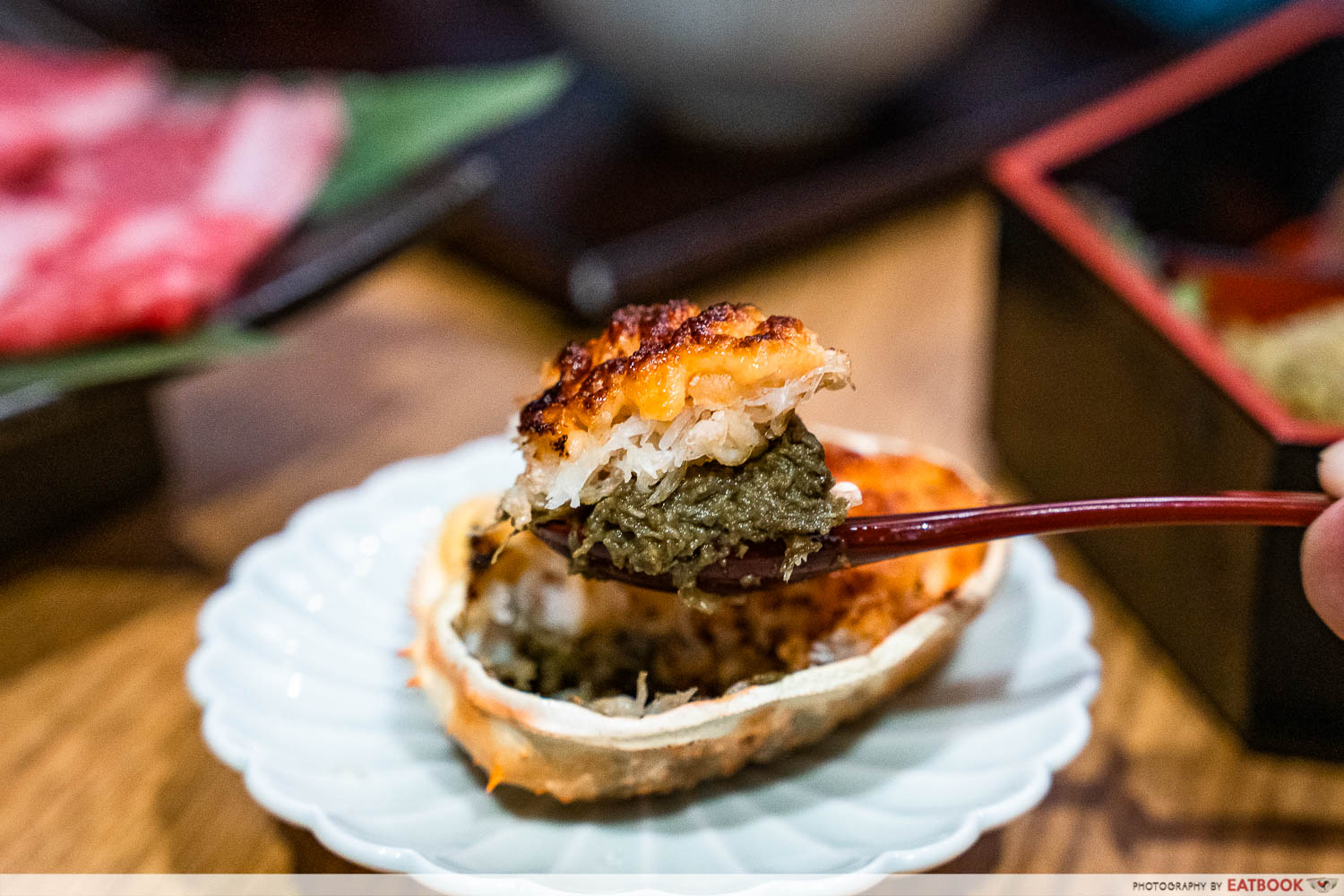 And what a treat this was! The butteriness of the potato gratin, creaminess of the roe, and umaminess of the crab meat made for explosively delicious spoonfuls.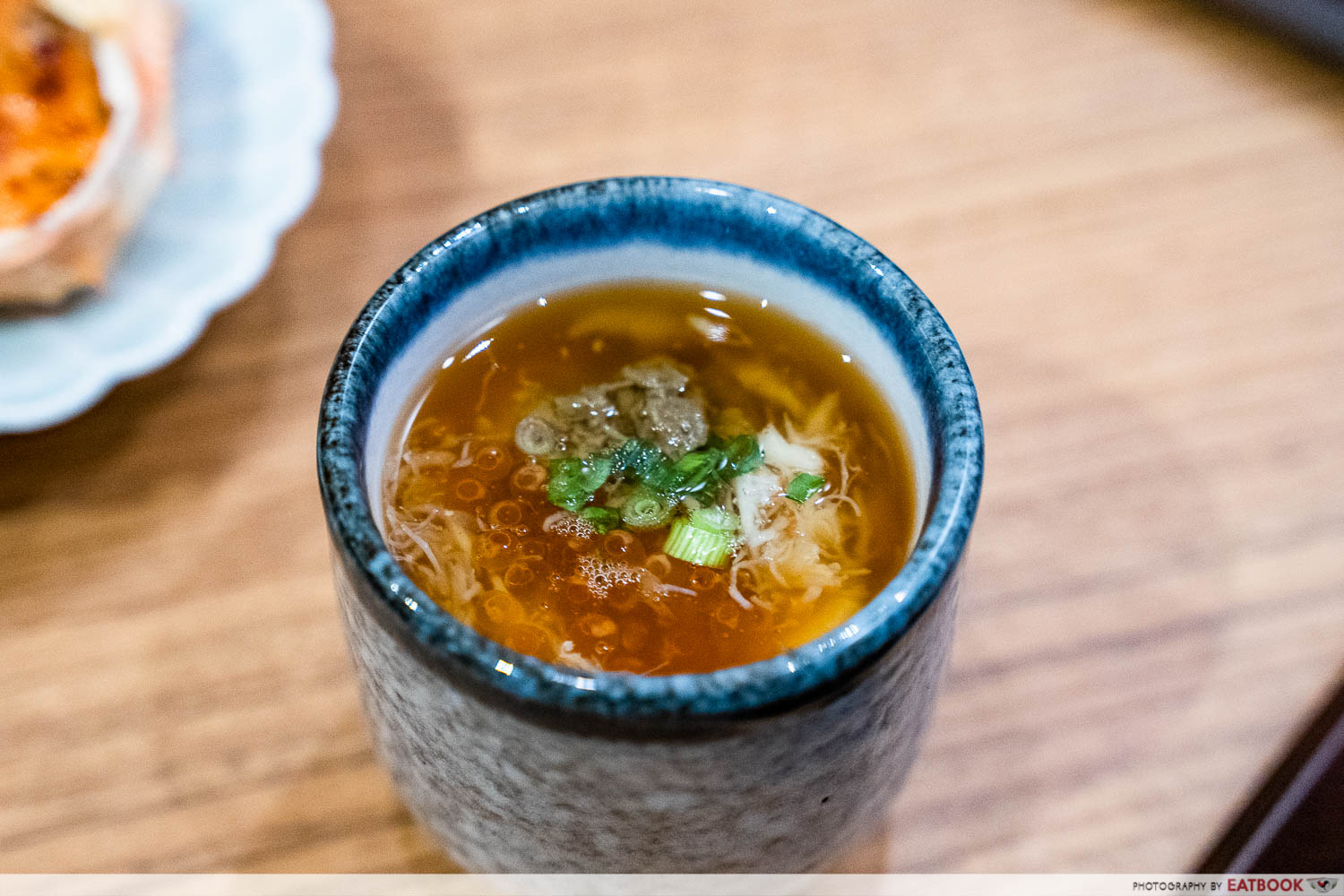 Our final seasonal dish was the Tottori Snow Crab Chawanmushi ($16++), where bits of snow crab and ikura are added to a cup of the popular egg custard dish.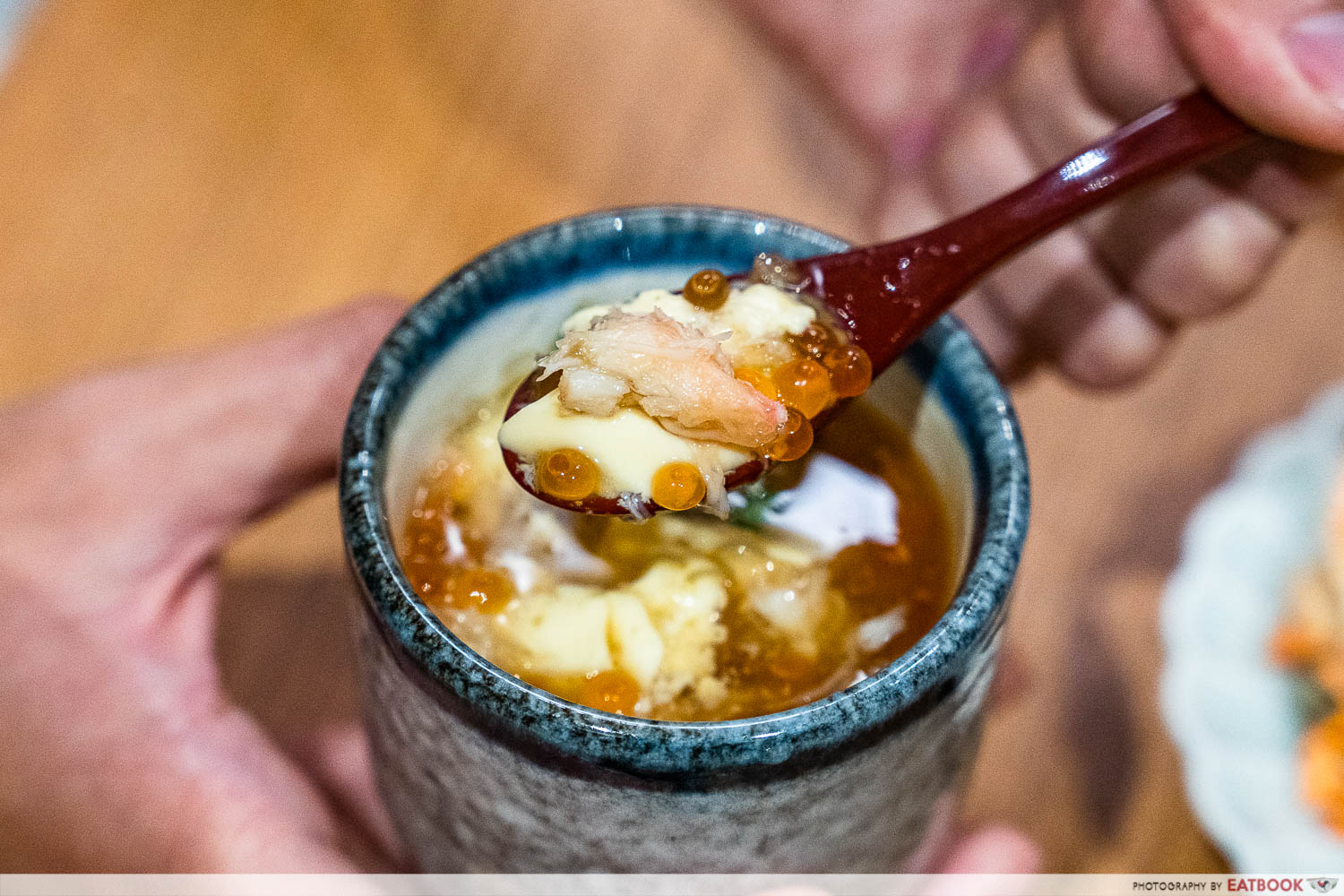 The presence of those two elements elevated this familiar dish to new heights. The briny taste of ikura and snow crab combined to add a depth to each mouthful, and their subtle sweetness made for a nice contrast to the chawanmushi's savouriness. Texture-wise, the silky egg paired well with the pop-in-your-mouth ikura.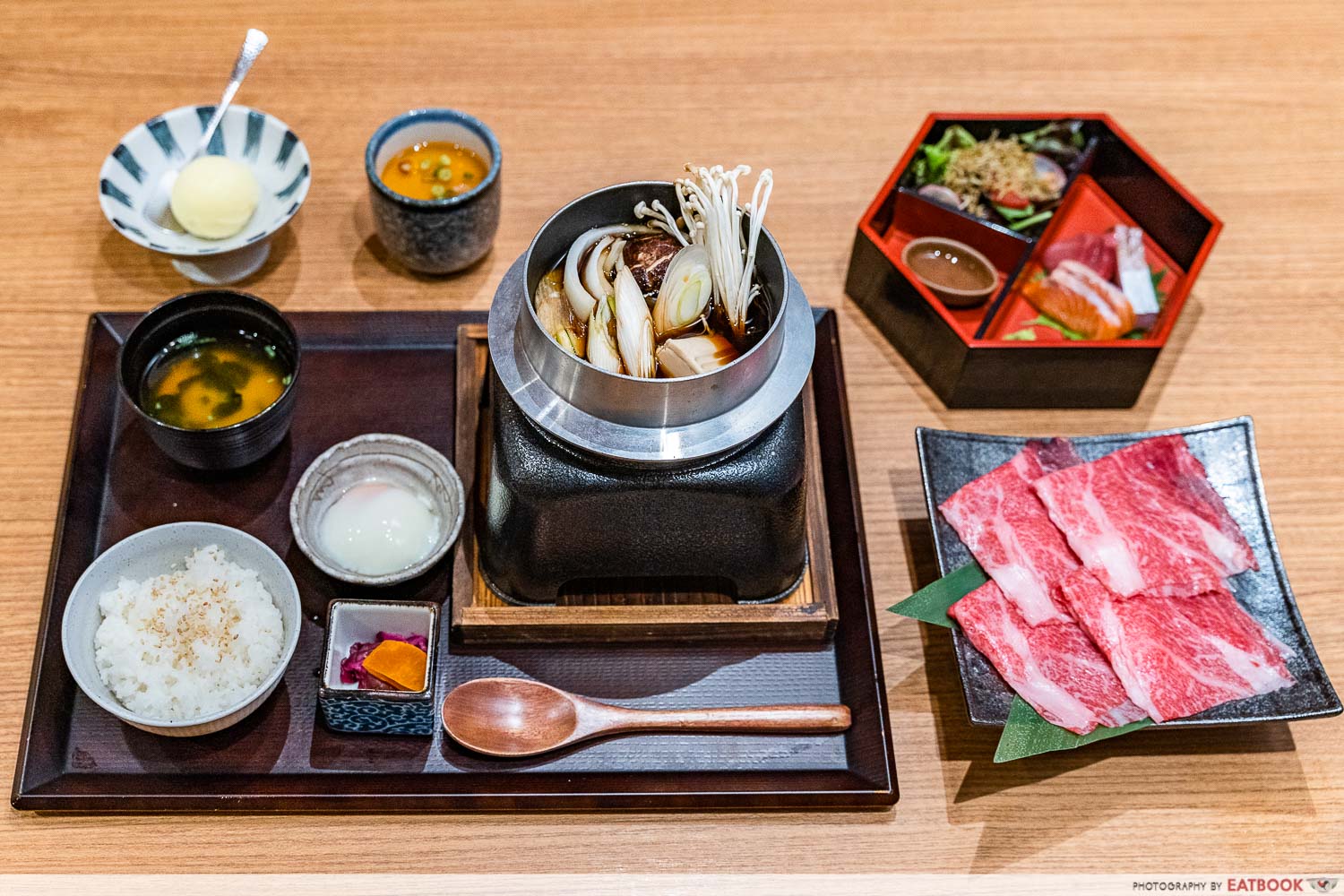 Moving on from the seasonal specials, Hanare's all-year-round items are as mouth-watering as the dishes that were previously mentioned. Take, for instance, the Sukiyaki Kagoshima Wagyu ($70++) set, which comes with a pot of sukiyaki broth, Kagoshima Wagyu beef slices, appetisers including sashimi and chawanmushi, miso soup, and a scoop of refreshing yuzu ice cream.
We simmered a beef slice in the deep brown broth for a short bit, and what emerged was an incredibly silky and tender cut of Kagoshima Wagyu. Flavour-wise, it was buttery, full-bodied, and infused with the sweetness of the sweet and savoury soy broth.
And after cooking a slice of beef or two, the sukiyaki broth was in turn permeated with the Wagyu's meaty flavour.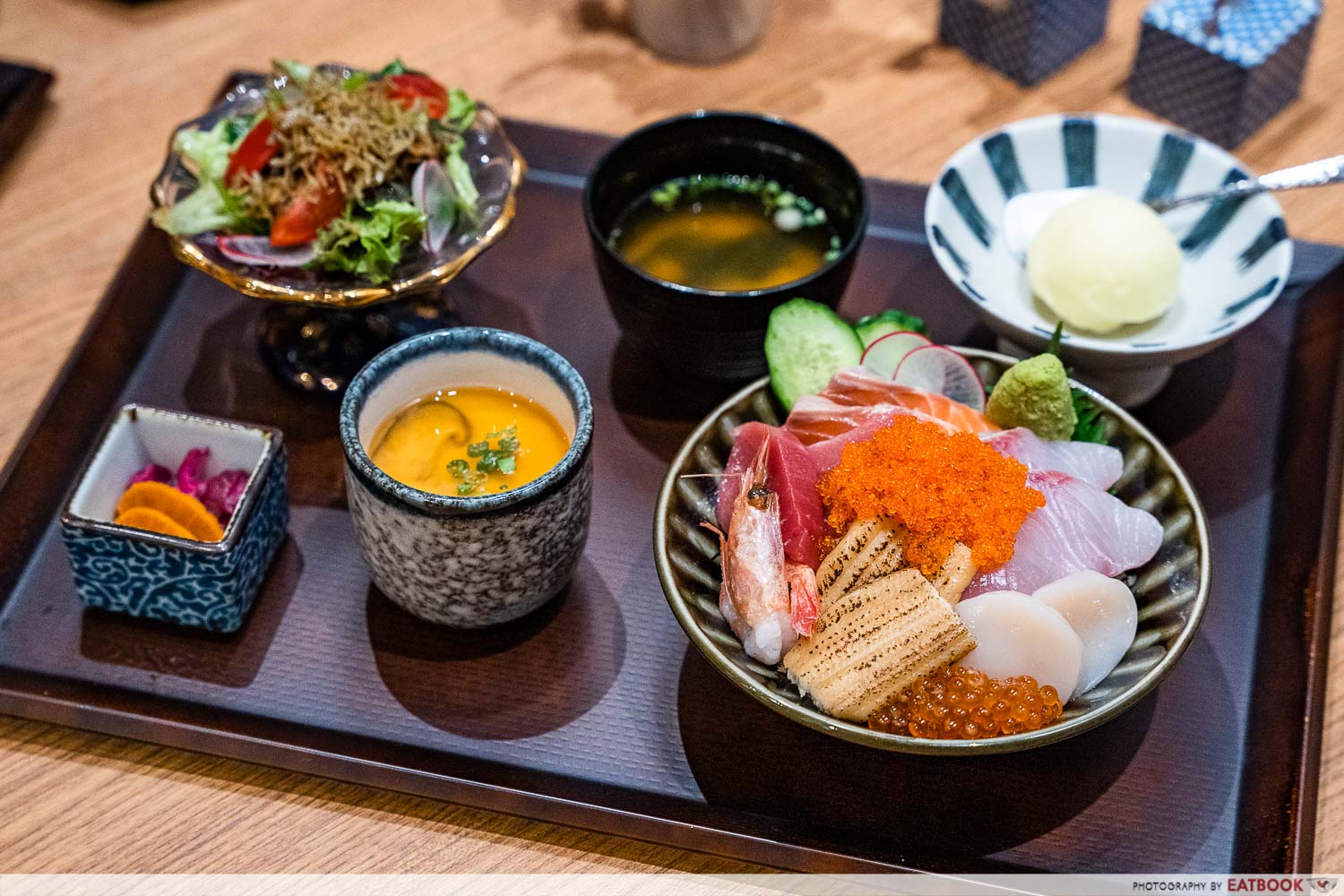 We rounded off our meal with the  Chirashidon ($72++). The fresh seafood laid atop a bed of fluffy sushi rice were as follows: salmon, maguro, kampachi, scallops, amaebi, tobiko, ikura, and anago. Most of the add-ons from the sukiyaki set come with this dish as well.
Ambience at Hanare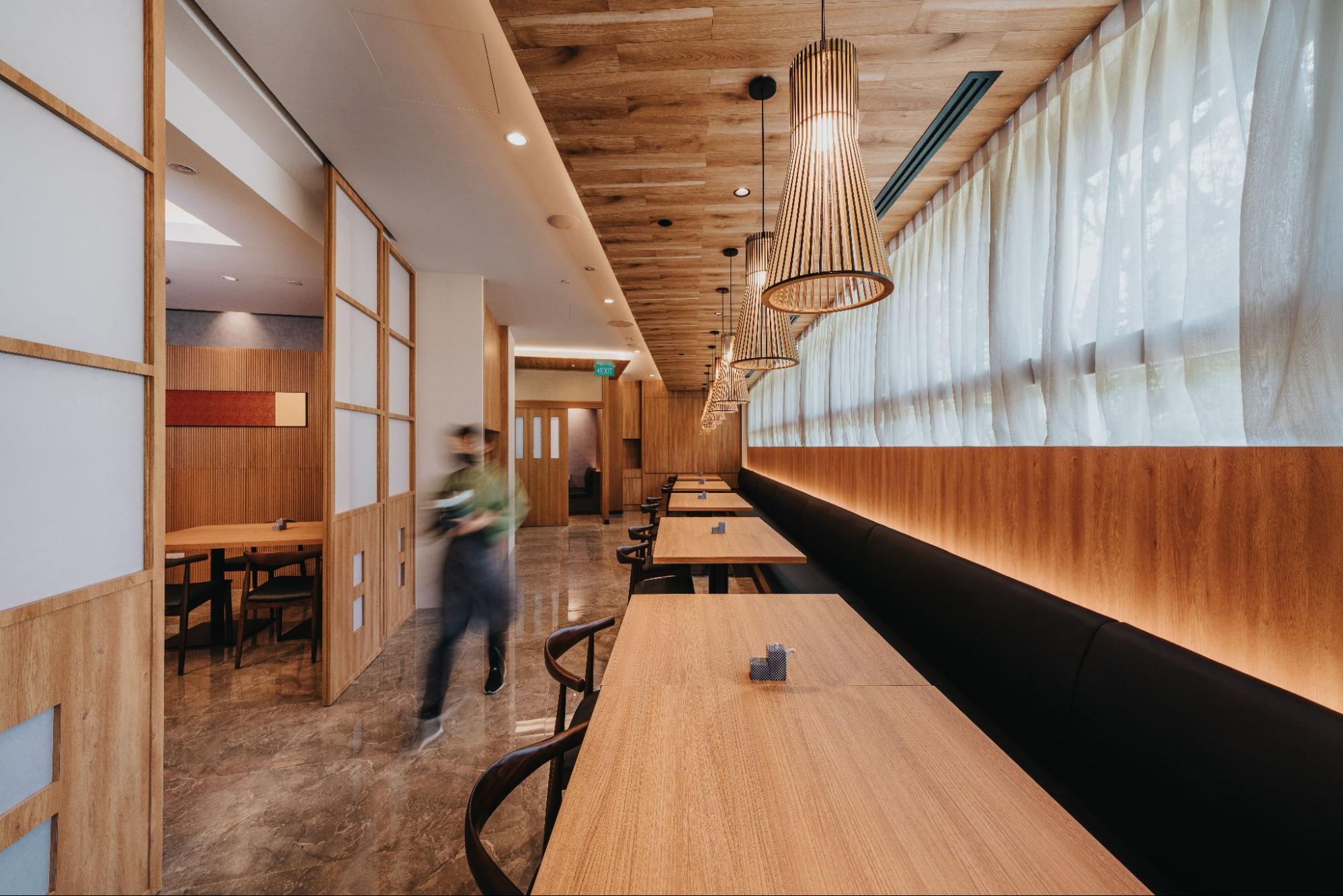 Image credit: Hanare by Takayama
Like its dishes, Hanare's interiors are a union of the traditional and the innovative. Wooden furnishing and traditional lantern lights give the restaurant a homely vibe, while the sleekness of its design adds a contemporary touch. Aside from the general dining area, there are private rooms for four to six people, which are perfect for more intimate gatherings.
Hanare is a six-minute walk from Orchard MRT Station, just one level above Takashimaya's taxi stand.
The verdict
If you are a fan of crab, do NOT miss out on Hanare's seasonal menu. Not only does it feature fresh and delicious snow crabs, it also utilises them extremely well—whether paired with potato gratin, or incorporated into kamameshi. Oh, and the non-seasonal dishes are excellent, too.
Address: 391 Orchard Road, #03-07, Takashimaya Shopping Centre, Singapore 238872
Opening hours: Daily 12pm to 10pm
Tel: 8298 9369
Website
Hanare is not a halal-certified eatery.
Photos taken by John Lery Villanueva.
This post was brought to you by Hanare.
Hanare by Takayama Review: Japanese Restaurant With Snow Crab And Wagyu Sukiyaki In Orchard
Hanare by Takayama Review: Japanese Restaurant With Snow Crab And Wagyu Sukiyaki In Orchard -

8.5/10
Summary
Pros
– Fresh and juicy snow crabs feature in the seasonal menu
– Snow crabs are used in interesting ways, such as with potato gratin and kamameshi
– Incredible beef slices in the Sukiyaki Kagoshima Wagyu set
Cons
– Sukiyaki broth leaned a little too sweet
Opening hours: Daily 12pm to 10pm
Address: 391 Orchard Road, #03-07, Takashimaya Shopping Centre, Singapore 238872