---
Johor Bahru Ramadan Bazaar at Plaza Angsana
---
Whether it's on Facebook or Instagram, this is the month where we see our social media platforms spammed with #foodporn from the Ramadan bazaars popping up around Singapore. We were no doubt wowed when we visited Geylang Serai Ramadan Bazaar, but delicious as the food was, something was still amiss when we went home without good ol' fried pisang.
If you are missing the cheap and good traditional bazaar food, one place you can head to is the Ramadan Bazaar at Plaza Angsana in Johor Bahru – one of the biggest and most popular bazaars in JB. Among the huge variety of food found there, we uncovered eight old-school snacks that can hardly be found in Singapore!
---
1. Kuih magelek
---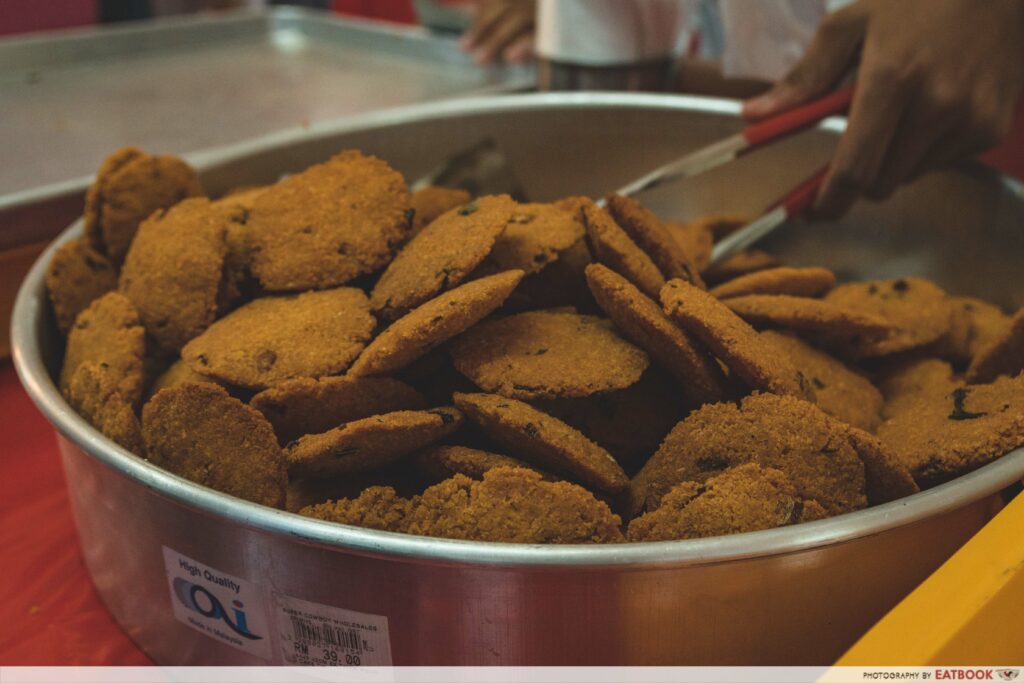 When I spotted this giant tray of golden brown snacks from afar, I thought I was seeing chocolate chip cookies. It was only after the light fragrance of fried lentils hit me did I realise that the stall was selling kuih magelek. Sold at RM2 (~S$0.67) for two pieces, kuih magelek is a fried snack made of yellow split peas, curry leaves, cumin, and chopped chilli. For those who have never had this, you can imagine it to be a crispier version of falafel with a light fiery touch from the chopped chilli. If the spiciness isn't up to your level, you can also ask the vendors for green chilli padi to chew on while munching on the snack!
---
2. Lemang
---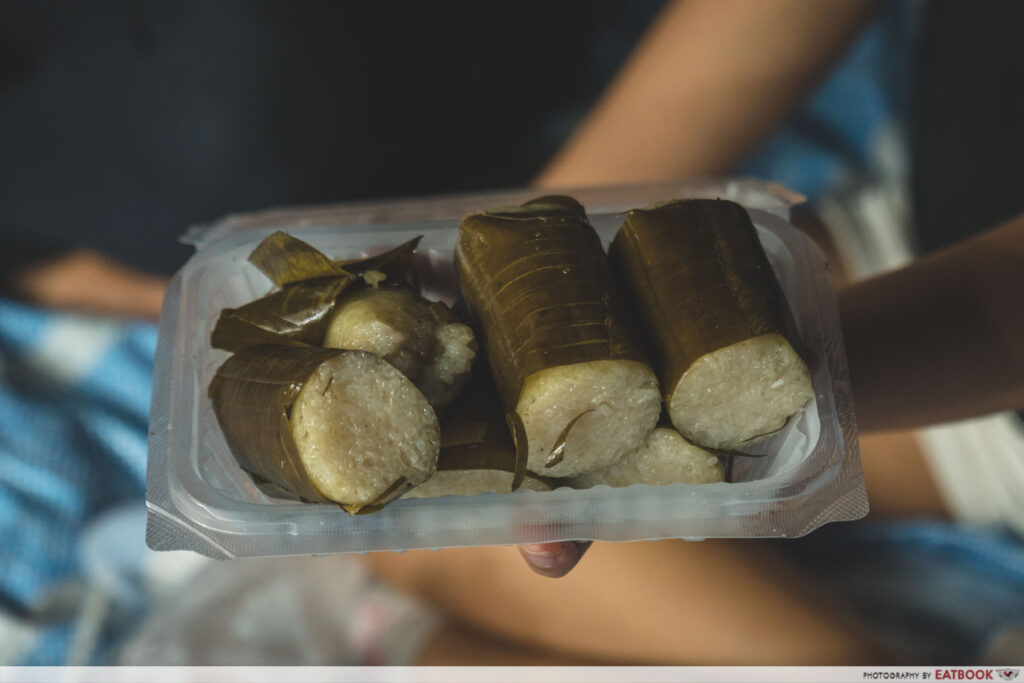 A dish made of glutinous rice, coconut milk, and salt, lemang is a must-have if you are looking for a traditional Malay meal. While the ingredients that make up lemang are simple, the old-school method of preparing it is tedious. Cooked over fire, the dish is made up of glutinous rice stuffed into hollowed bamboo sticks that are lined with banana leaves. At RM18/~S$6.05, you can get an entire stick of lemang that will be chopped into six to eight smaller pieces. Don't be deceived by the plain appearance of the rice, as the flavours from the salt and coconut milk come across very strongly, making the dish delicious even on its own.
---
3. Sata
---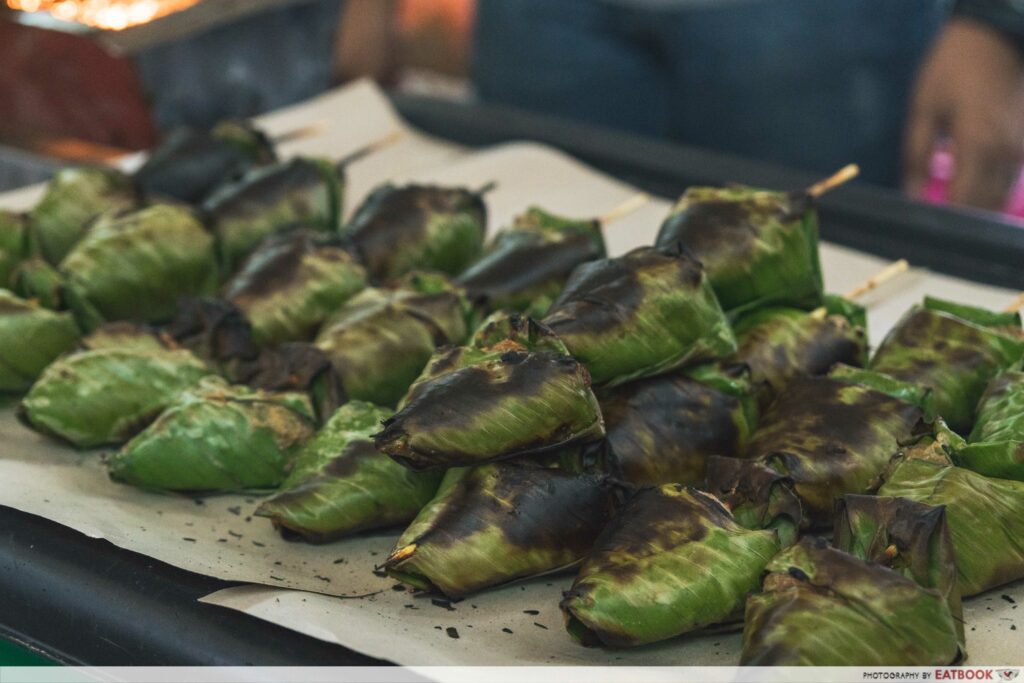 Also known as "otah on sticks", Sata (RM5/~S$1.68 for two sticks) is a spiced fish meat that is wrapped in banana leaves and cooked over a grill. While the spicy and sour tastes will remind you of typical otah, you can expect a more unique texture for this, as it comes in a pyramid shape, giving each mouthful a more substantial bite. Another thing that makes sata special is that it is available only occasionally during other times of the year and it is one of the most sought-after snacks during the Ramadan period!
---
4. Ayam pepes
---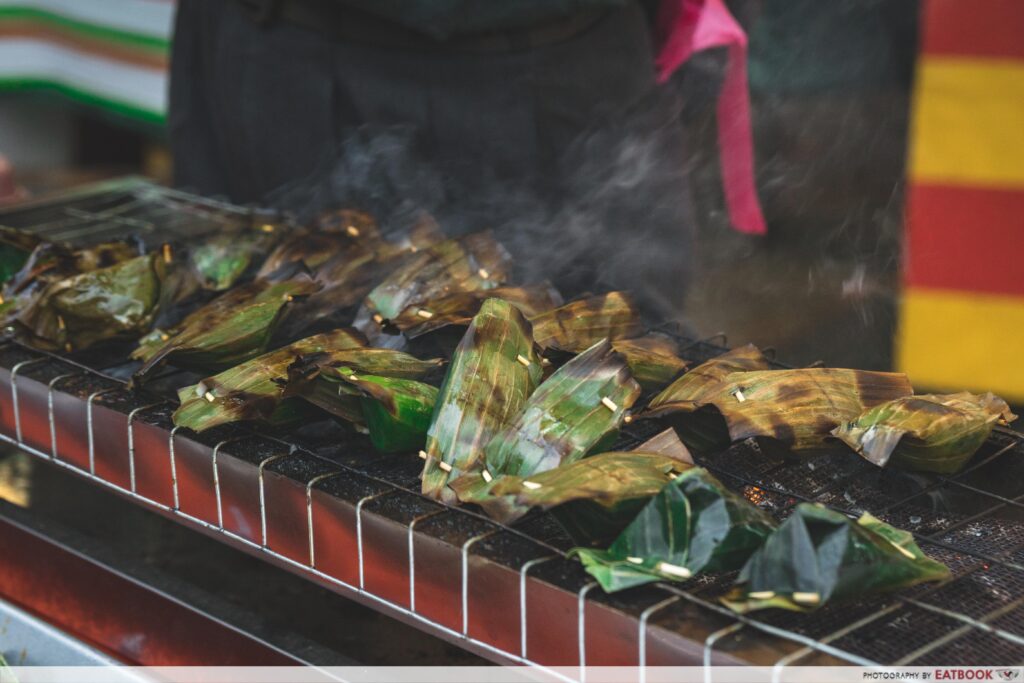 Ayam pepes (RM1/~S$0.34) is the chicken version of sata. Sold in individual bite-sized pieces, the fragrance of the spices wrapped inside the banana leaves is hard to miss when you are around any of the stalls grilling the snack. Compared to sata, ayam pepes leans towards the saltier side with a wider variety of flavours that come from the many spices used to marinate the meat. You can also expect the meat to be slightly chewier compared to the fish version, making it a great snack to munch on between meals or to go with your lemang!
---
5. Nasi ambeng
---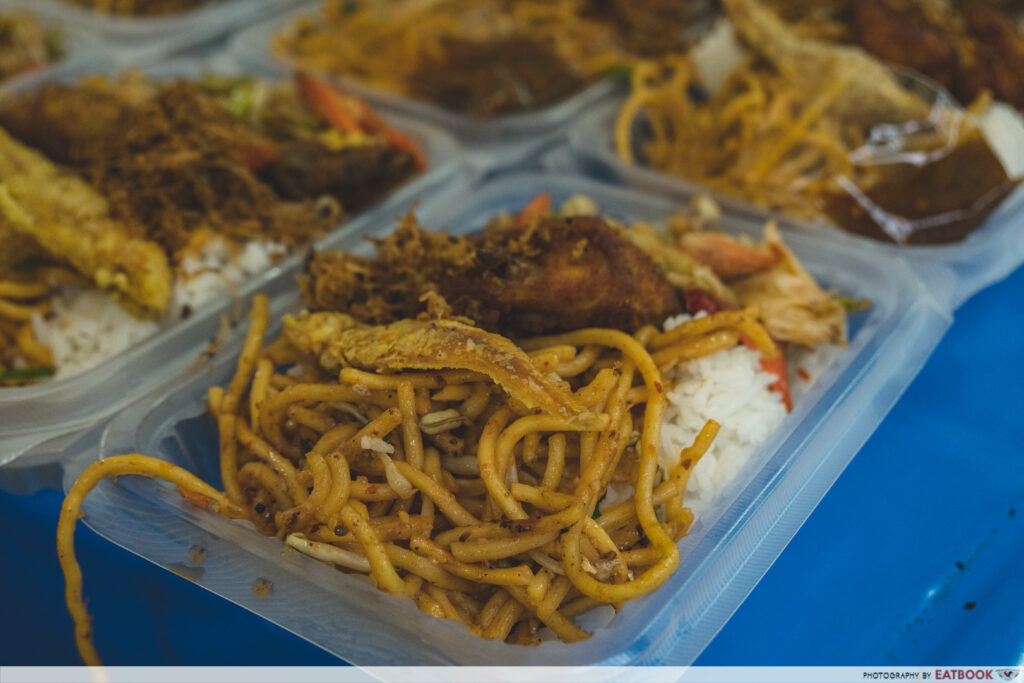 Most of us would have seen nasi ambeng at hawker stalls that sell Malay food. In a pasar malam, however, that may be a less common find. If you are craving for a proper meal, you will be glad that the bazaar here has a stall that sells Nasi Ambeng (RM6/~S$2.02). While the portion looks small, they make sure that they are not missing out on any ingredients, as you can find rice, mee goreng, a fried drumlet, sambal vegetables, and rendang chicken all packed into the takeaway box!
---
6. Buns
---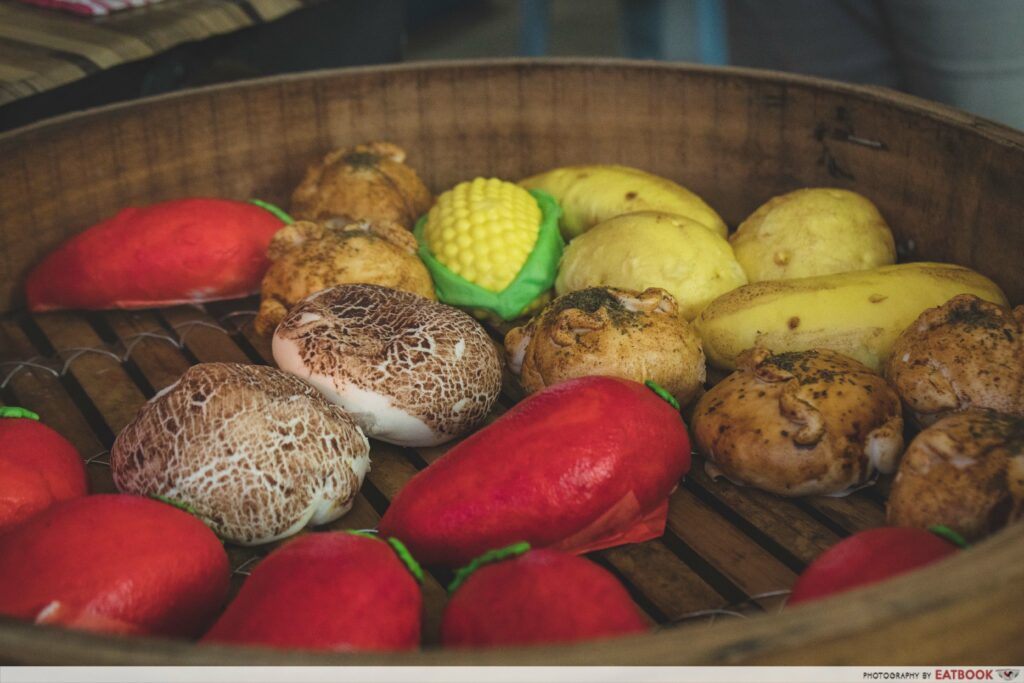 Just a few years back, stalls started rolling out buns with unique designs that reflect the flavours of the bun, such as shrimp-shaped Pau Udang (RM4/~S$1.34) and bright red chilli-shaped Pau Chili (RM3.50/~S$1.18). A skeptic of food that looks artificial, I was actually pleasantly surprised when I tried the Pau Chili. Stuffed with sambal ikan bilis, the slightly spicy filling was fragrant and savoury, complementing the fluffy dough well. Some other flavours that you can also find at the bazaar include Pau Durian  (RM4/~S$1.34), Pau Ayam (RM3.50/~S$1.18), and Pau Pisang (RM3.50/~S$1.18)!
---
7. Putu Bambu
---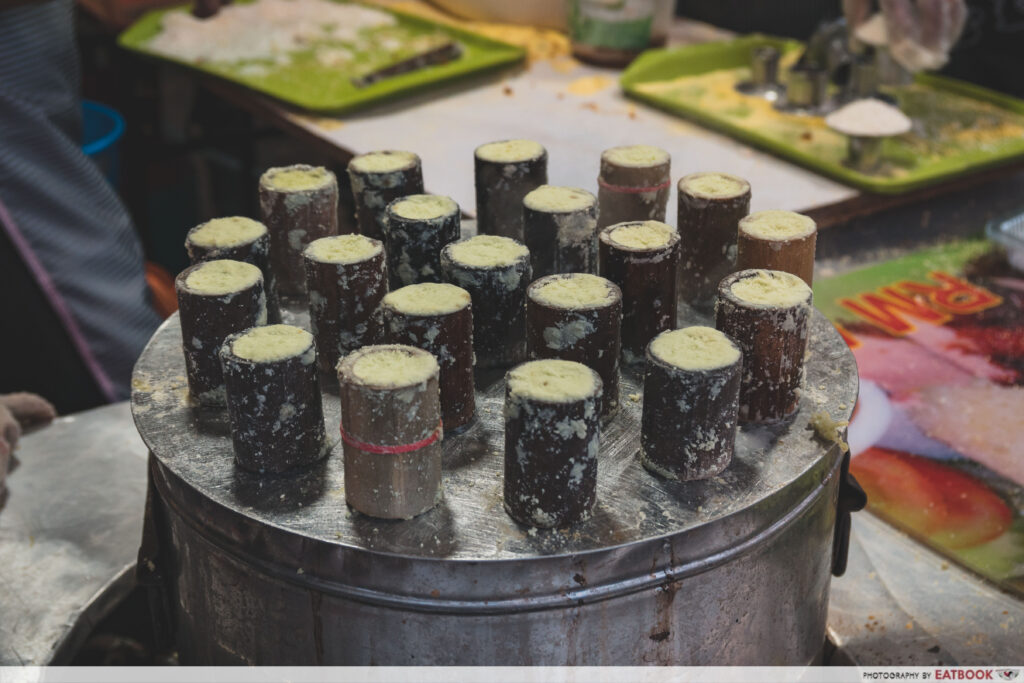 Originated from Indonesia, Putu Bambu is a sweet snack that consists of rice flour stuffed with palm sugar and topped with grated coconut and sugar. Sold in packets of eight small rolls, the putu bambu will only set you back RM5 (~S$1.68). If you are familiar with tutu kueh, you can imagine the patu bambu to taste somewhat similar, except that the latter is usually chewier and more moist. If you are planning to get your hands on this dessert while you are there, be prepared to give it about a five- to 10-minute wait, as they are usually steamed upon order!
---
8. Denderam
---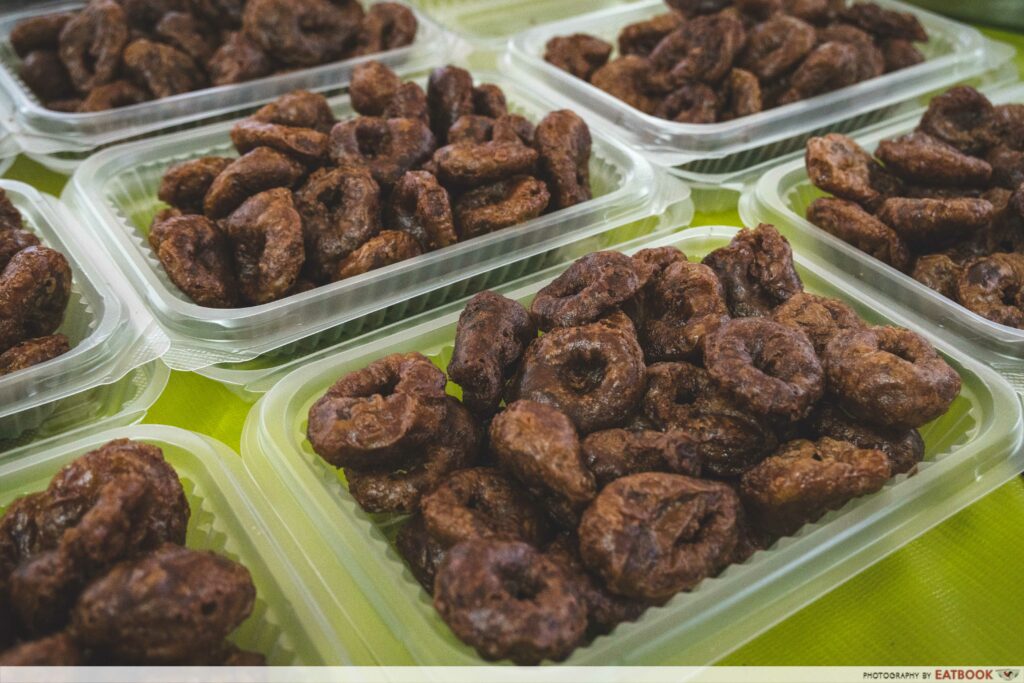 For those with a sweet tooth, this is one snack you cannot miss. Hardly found in Singapore, denderam is a ring-shaped fried snack made of rice flour and brown sugar. Coating the chewy and sugary inside is a thin and crispy exterior, and the two come together to make every bite addictive. At just RM1 (~S$0.32), you can get five pieces of denderam. If you have a friend with you, I'll recommend going for the packet of 30 pieces at RM5 (~S$1.68)!
---
Johor Bahru Ramadan Bazaar 2018
---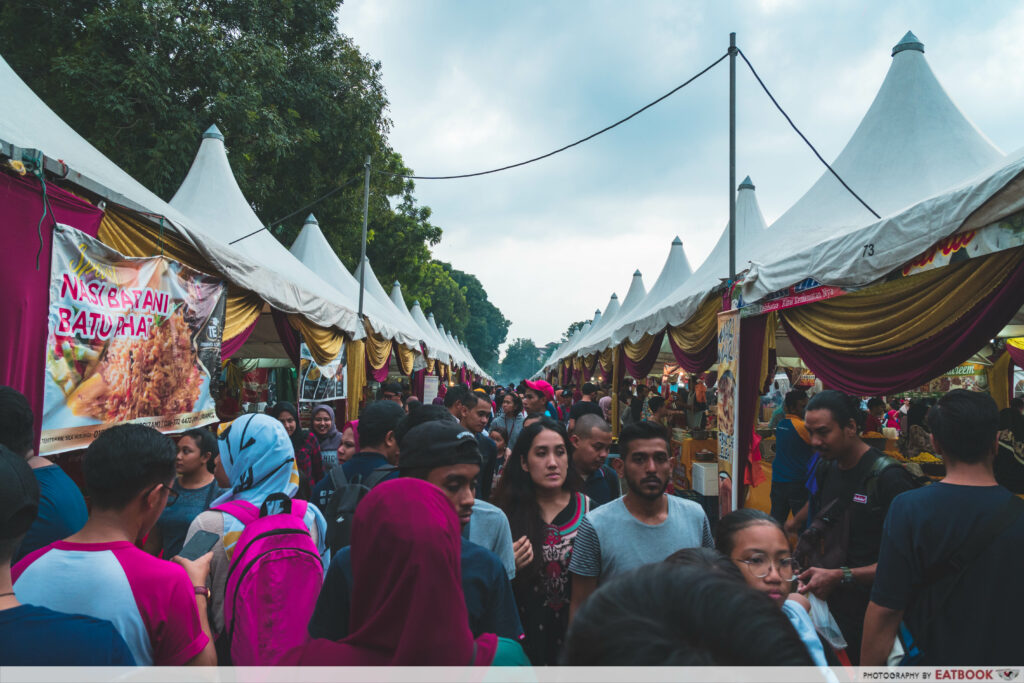 The bazaar is about a 20-minute car ride away from JB City Square Mall. Just book a Grab and get ready to eat your way through the night!
10 JB City Square Restaurants At Least 35% Cheaper Than Their Outlets In Singapore
While the huge variety of food made up a big part of the bazaar, what was most unforgettable was the air of festivity that peaked towards the end of the day, when both shoppers and vendors settle down on giant mats found around the bazaar to break fast together. Nothing quite beats feasting on cheap and good traditional food with your family and friends. If it is too much of a hassle to travel to JB, another way to celebrate this festival would be to treat your family to these Ramadan buffets!