Jtown Cafe in Somerset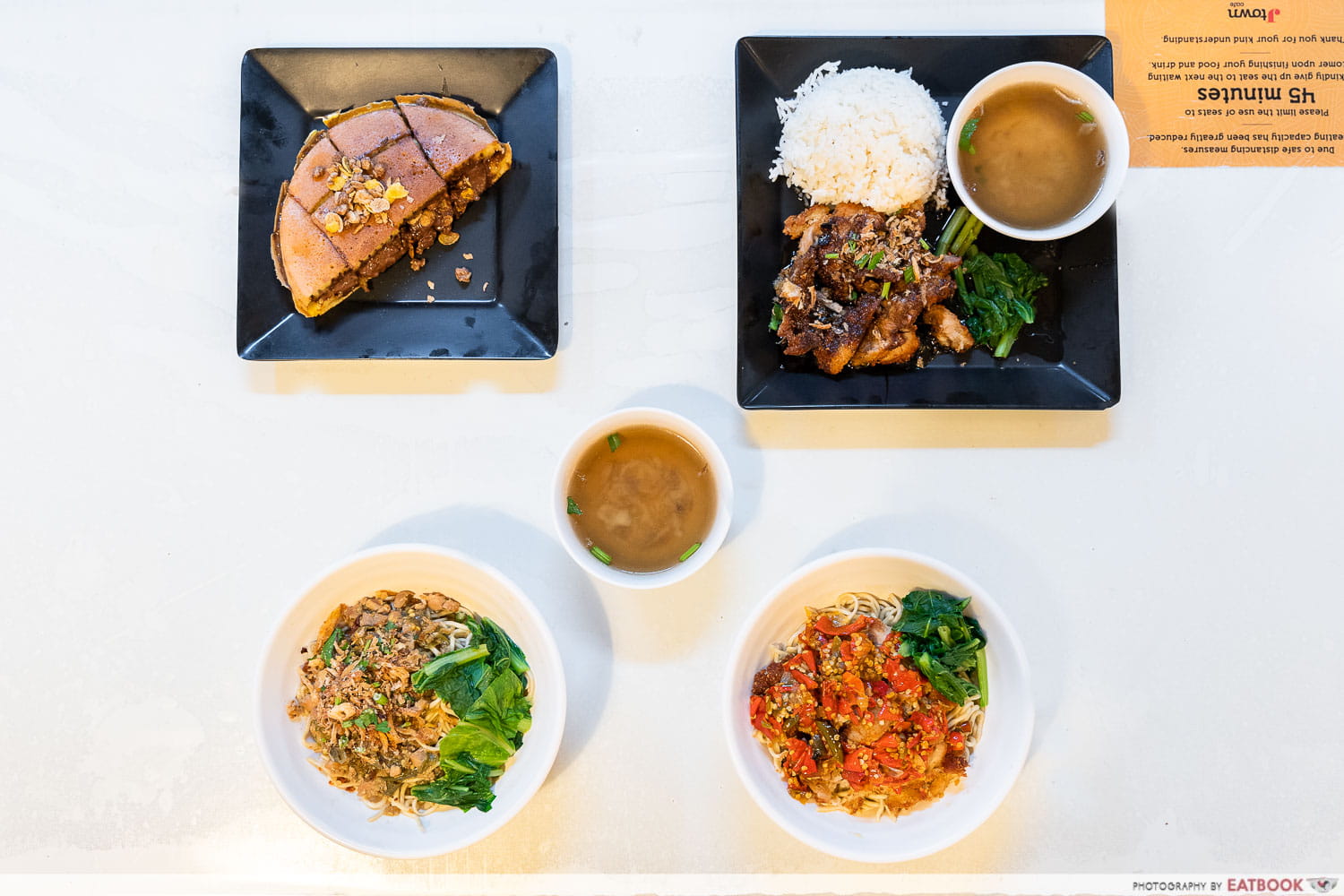 If I have to be honest, Indonesian food is not a cuisine that I'm particularly familiar with. My love for it is mostly limited to ayam bakar, gado gado, and satay. So when I was introduced to Jtown Cafe in Somerset, I decided that it was time to broaden my horizons.
The "J" in Jtown Cafe is short for Jakarta, and not Japan, as one might guess if you're looking at the name. Serving bakmie and other Indonesian street food, Jtown Cafe has been where it stands for the last 13 years. 
Greenview Cafe Review: Cheap Mee Hoon Kueh In Town With 30-Year History
Food at Jtown Cafe
There's a sizeable selection of noodles, rice, and side dishes here at Jtown Cafe. Each item on the menu is labelled with a chilli icon to denote its spiciness—ranging from zero to three chillis. Do not take the warnings lightly, but more on that later.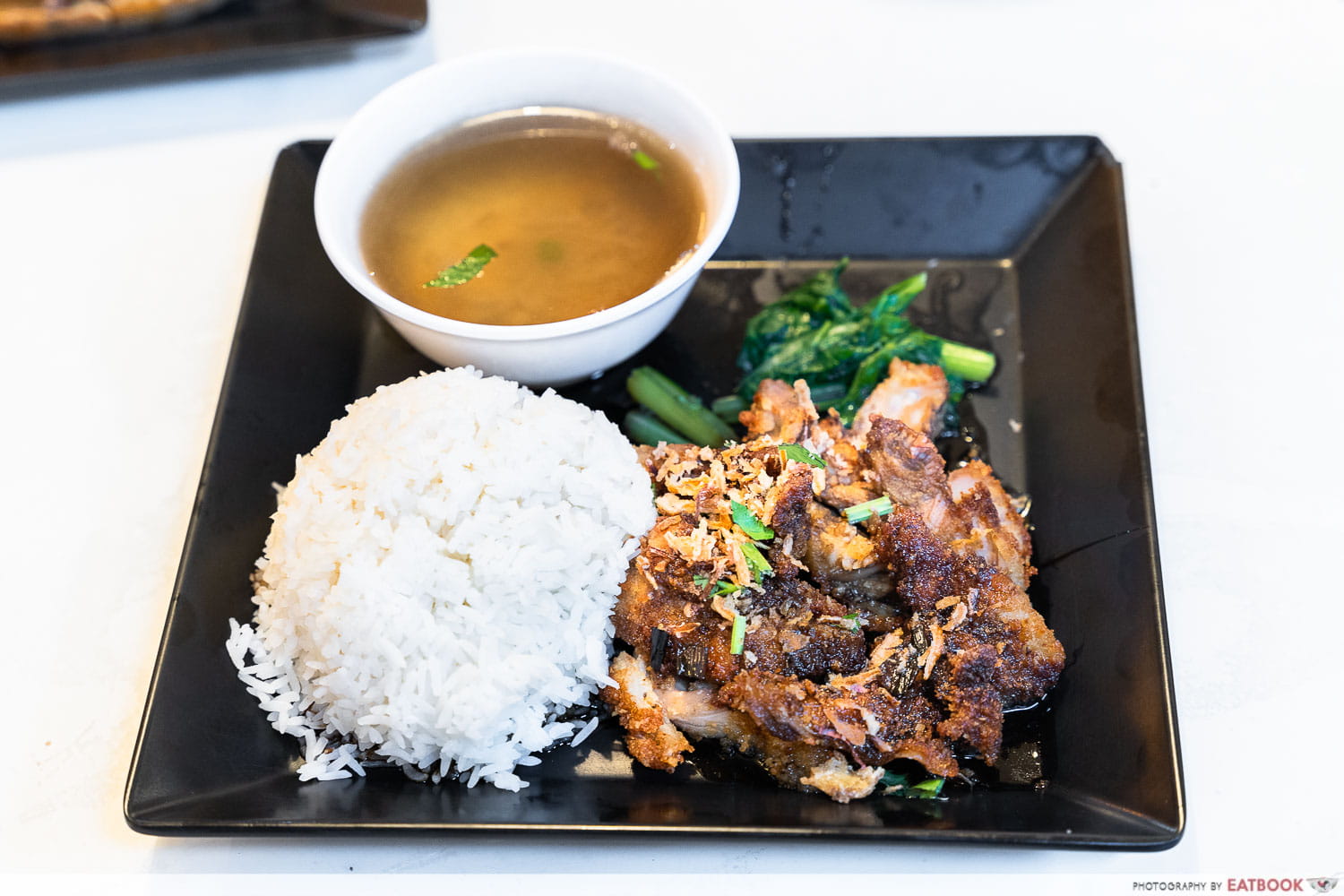 I usually order my meals with chilli, so I decided to try all three levels of spiciness for the sake of this review. I started my lunch at the lowest spice level, with the Nasi Ayam Crispy ($7.50), also known as Crispy Chicken Rice.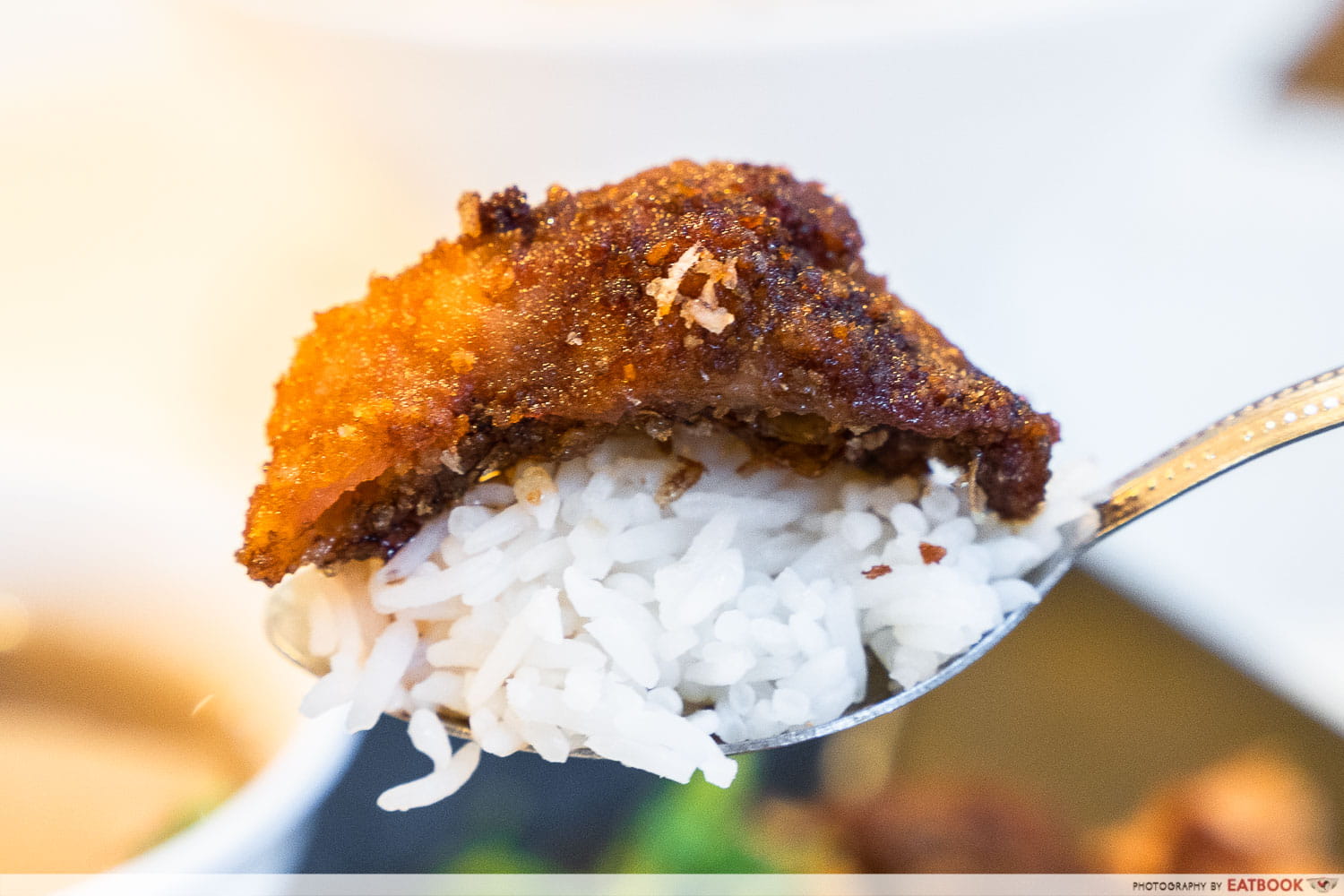 Each element of the dish neatly occupies a corner of the square black plate. The main component of the Nasi Ayam Crispy is, of course, the ayam. As promised by its name, the chicken cutlet was indeed crispy. I also enjoyed the sweet kecap manis that it was doused in, and found that it paired really well with the plain white rice. The spice level of this dish was no kick for me, and gave the cutlet an added dimension of flavour.
The blanched choy sum could have done with more seasoning in my opinion, but my colleague and I both enjoyed the bowl of soup that came with all three mains. We felt that it was not too salty, and that it was enhanced by the fragrance of bawang goreng.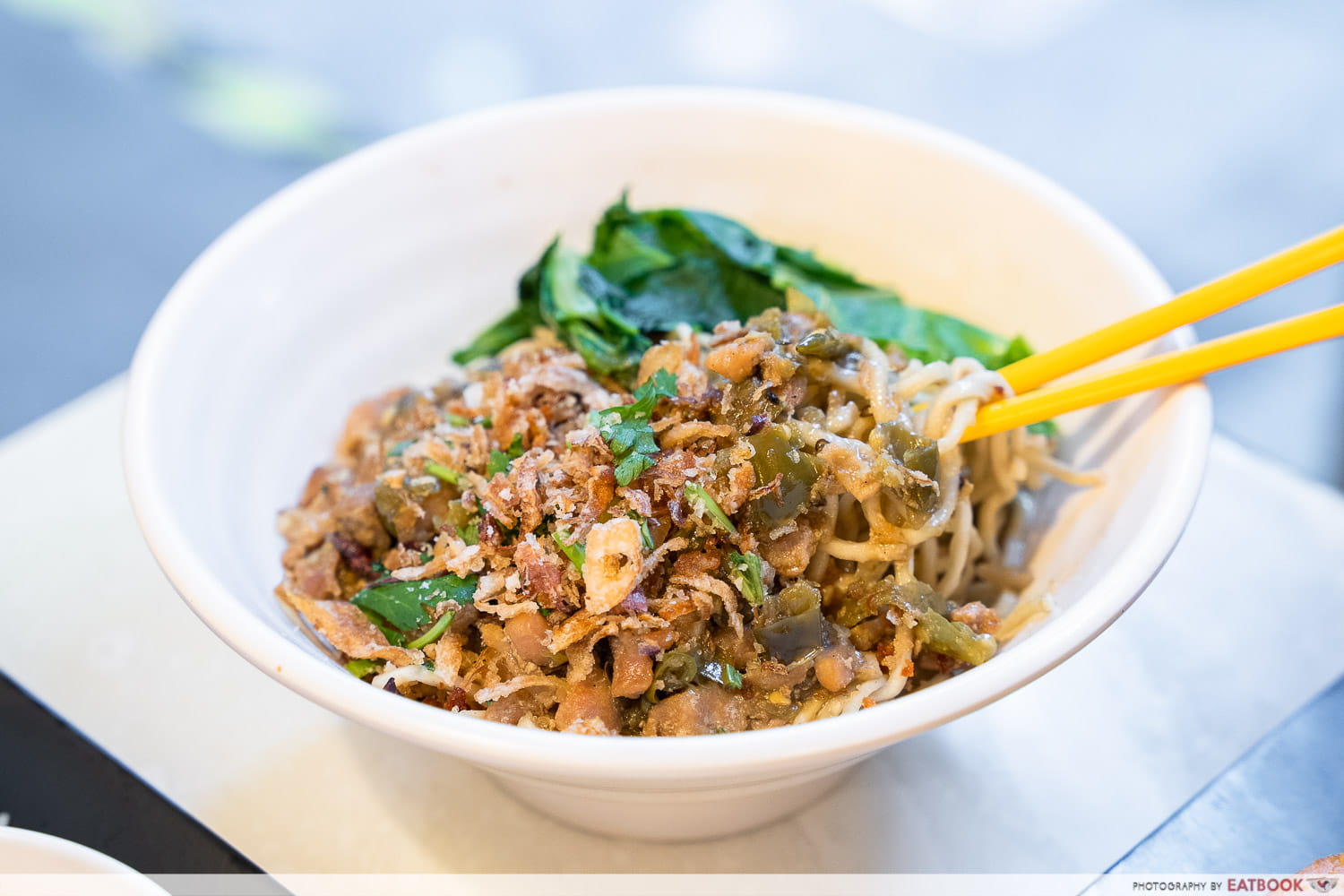 Moving up a level of spiciness, I had the Bakmie Ayam Cabe Ijo Jtown ($6.90) or Indonesian Chicken Noodle next. At first glance, I thought that the bowl of noodles closely resembled a familiar Singaporean dish—bak chor mee. As it turns out, bakmi was indeed inspired by the wheat-based meat noodles that were introduced to Indonesia by Southern Chinese immigrants.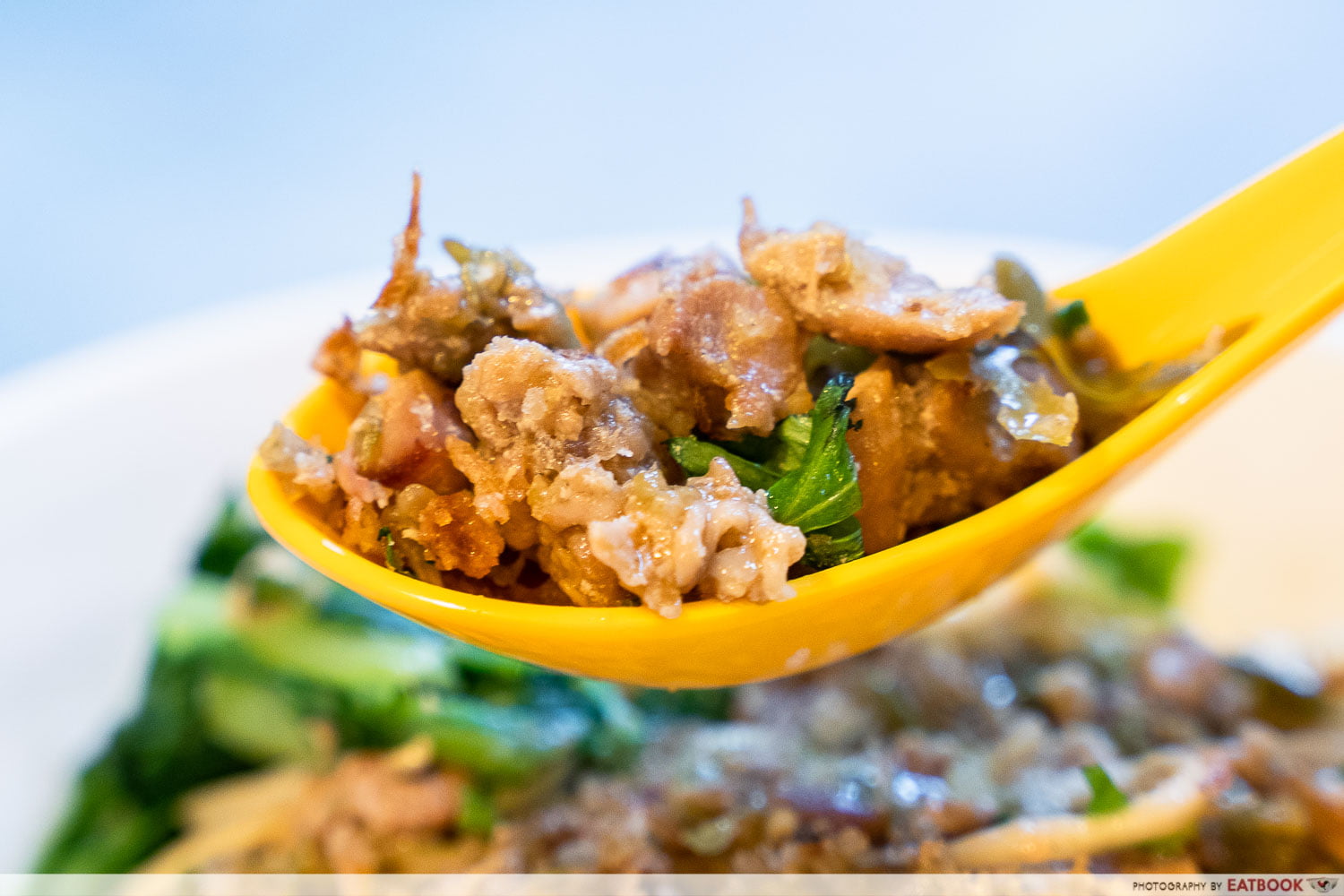 For $6.90, you get a heap of diced chicken cubes and a large portion of Jtown Cafe's handmade noodles. The chicken carried a strong fragrance of lemongrass and green chilli, but it was less savoury than I had expected it to be.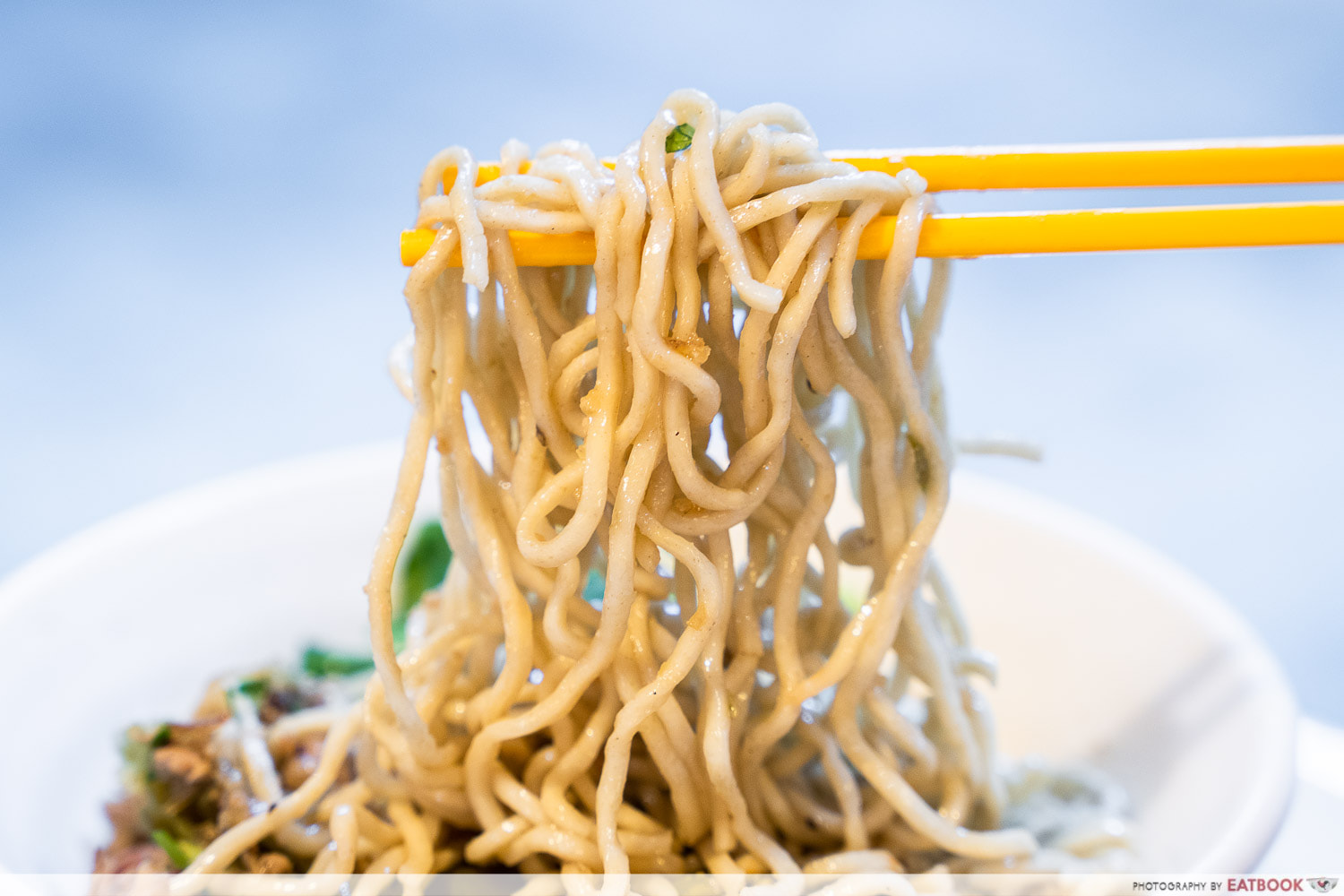 I felt that the handmade noodles were a little too soft, but I appreciated how fragrant the chicken had made it. Mixing everything together, this had just the right amount of spice for me, as it left a tingling sensation on my tongue without being overbearing.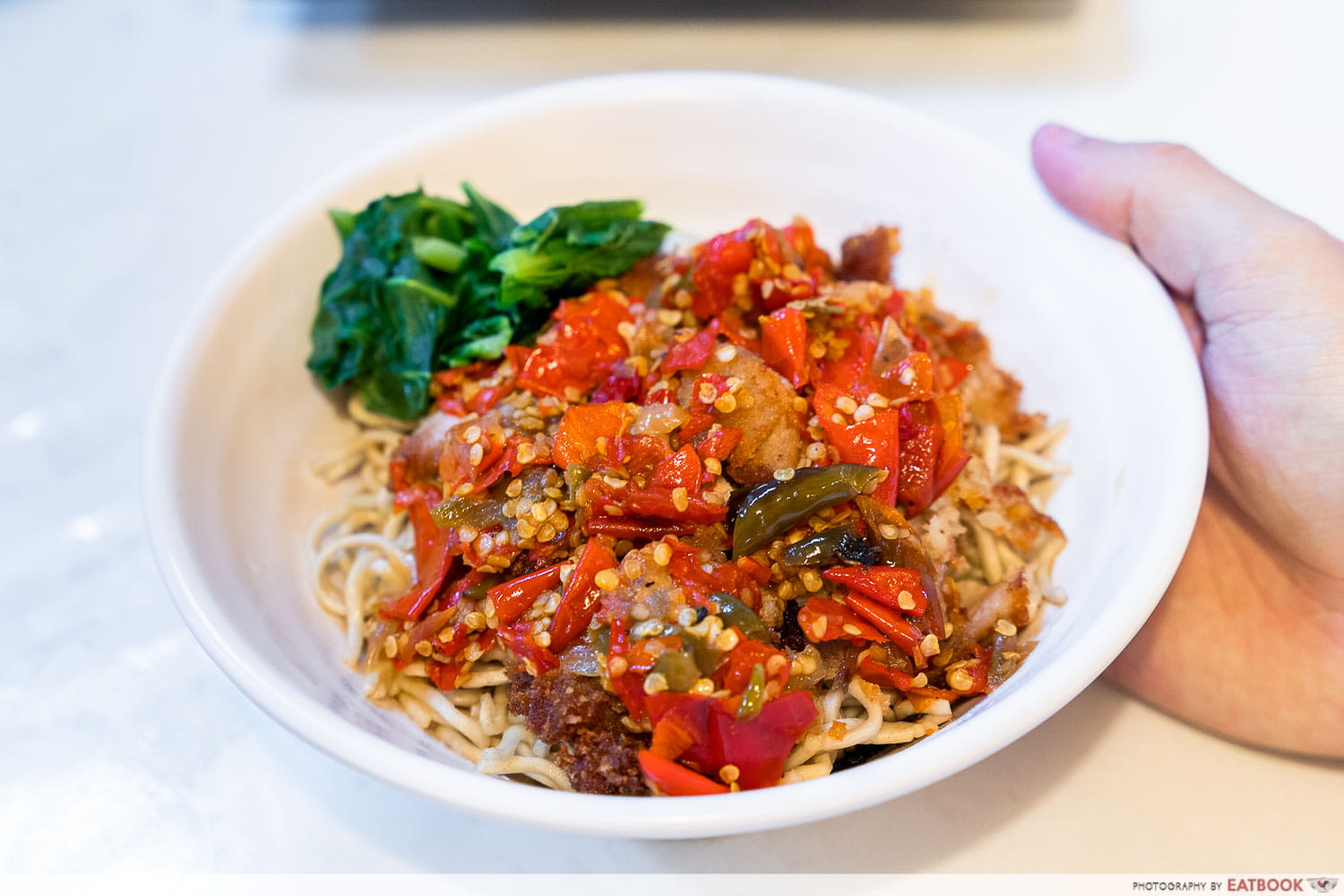 Both the Bakmie Ayam Cabe Ijo Jtown and the Nasi Ayam Crispy had been manageable thus far in terms of spice, but it was the Bakmie Ayam Balado Jtown ($6.90) that went disastrously for me. There's a reason why red is universally known as a sign for danger, and the alarm bells should have rang in my head when I saw the Padangnese Spicy Chicken noodle.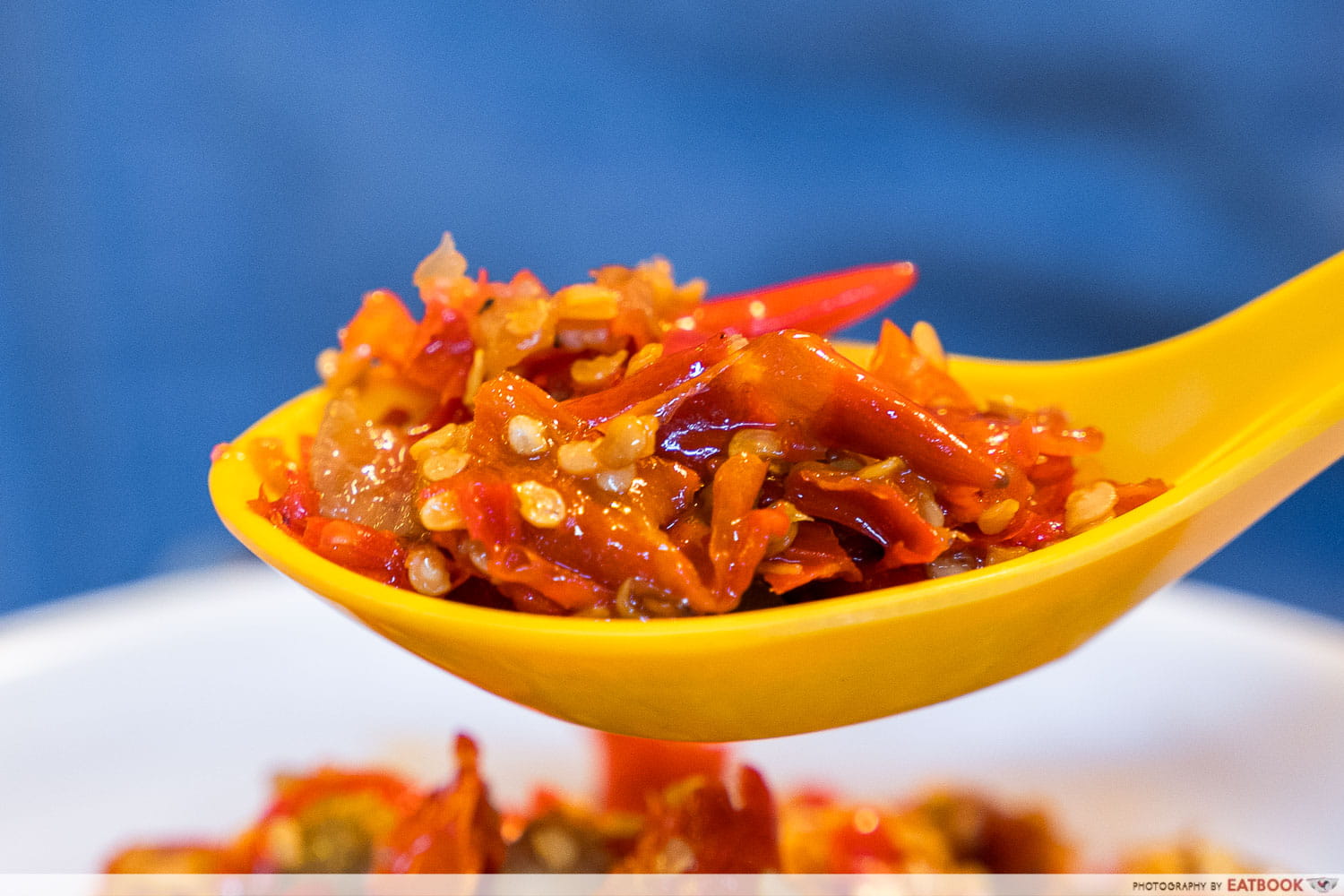 Topped with balado, a Minang chilli sauce fried with aromatics such as garlic, chilli, and kaffir lime, the Bakmie Ayam Balado Jtown sees the same crispy chicken cutlet and handmade noodles too. I took a bite of the chicken, noodles and shockingly red chilli and was instantly assailed by a burning sensation in my mouth and throat. 
This is not an exaggeration, as I could legitimately not handle more than three mouthfuls of the fiery dish. My colleague, on the other hand, was unfazed by this spice, and chuckled heartily as she watched me suffer in pain.
Aside from the spice, I felt that the Padangnese Spicy Chicken noodle didn't have much flavour. There was no sauce to coat the noodles, so the dish lacked an element of savouriness that could have potentially complemented the chilli.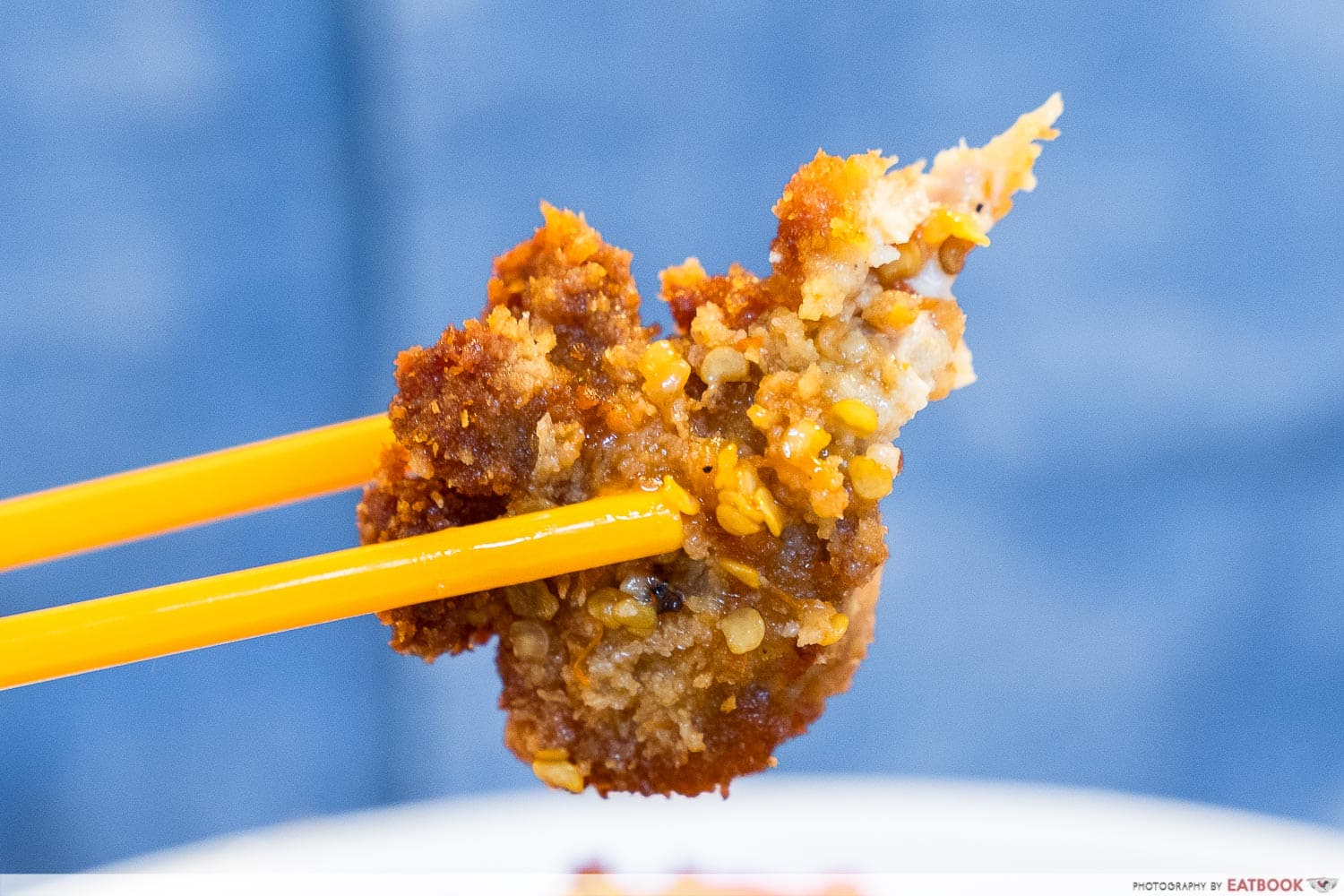 Jtown Cafe makes their chicken cutlets with chicken breast. Thus, while the breading on all the cutlets stayed crispy throughout our shoot, my colleague and I both thought that the meat was a tad too dry.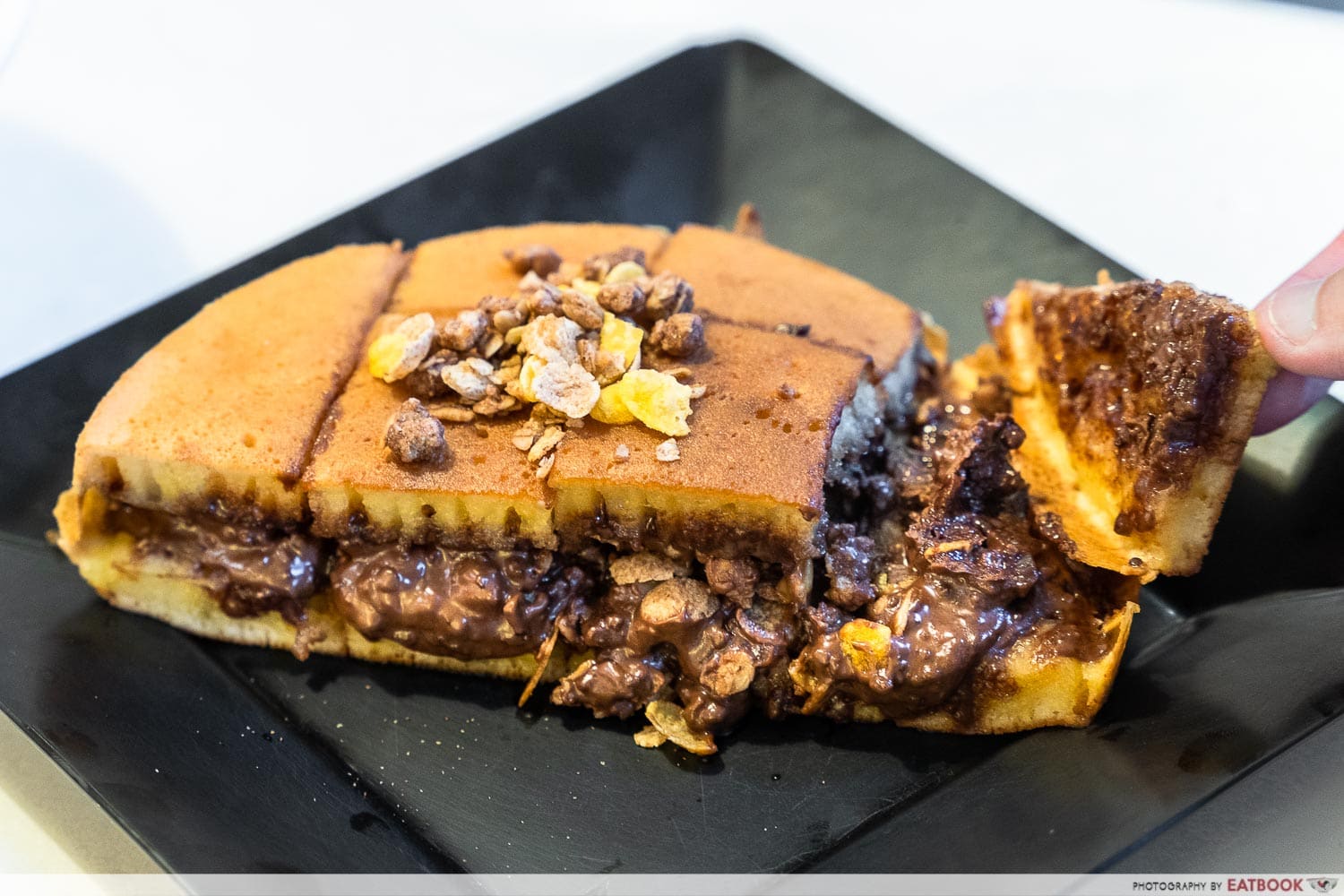 After the literal mouth-burning dish, it was time for something sweet. I went with the Martabak Special OvoPOP ($10.90), which was a large martabak manis made with Ovaltine spread and different cereals. Oozing with chocolate, I was salivating as I saw the pancake being made.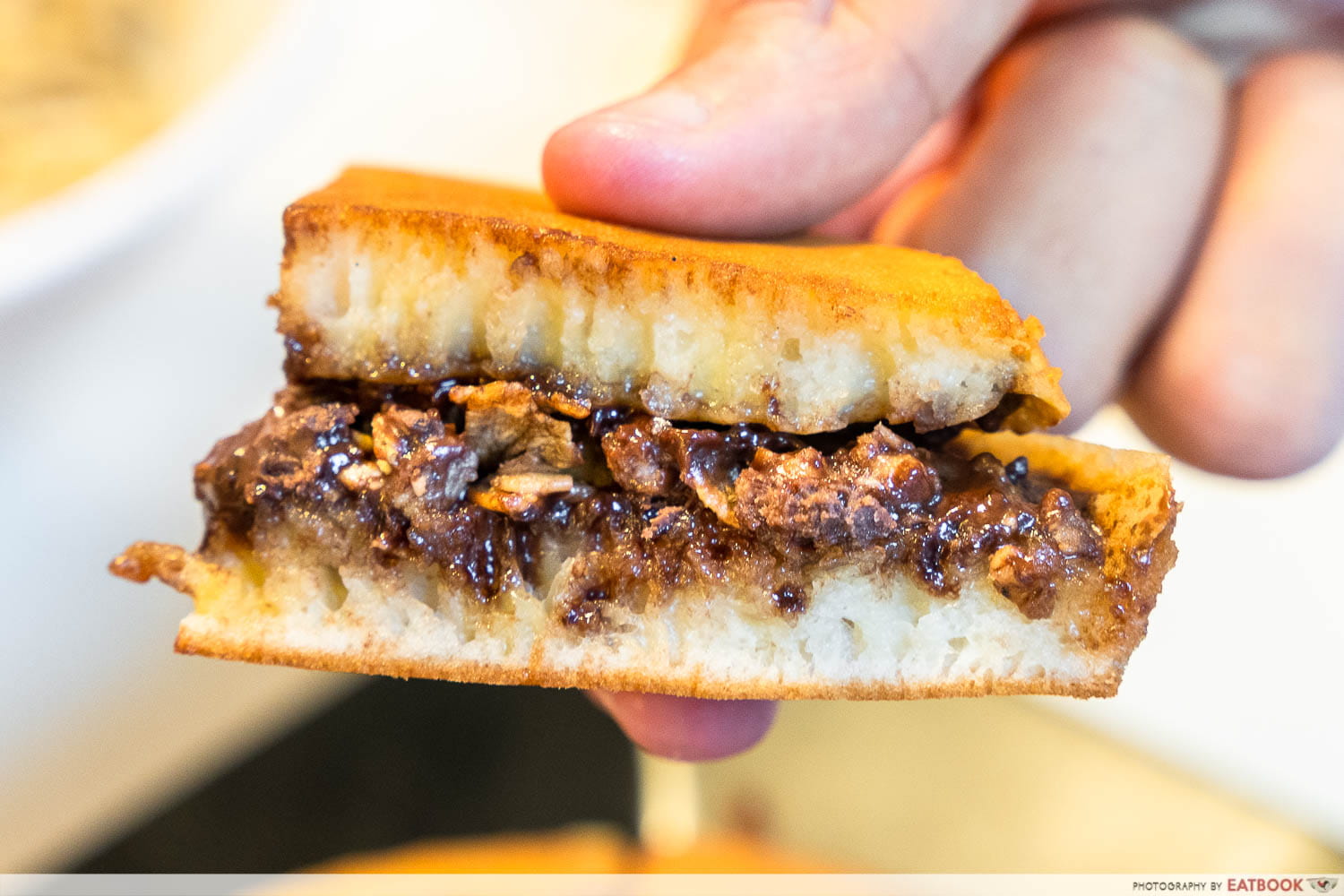 The pan was greased with margarine before the batter was ladled in, giving the pancake a savouriness which complemented the sweet chocolate spread. An assortment of rice puffs and cereals was added to the pancake to provide a contrast to its chewy interior. 
Get the Martabak Special OvoPOP to share, as it can get a tad too sweet and jelak if you're having it on your own. 
Apam Balik Wak Power Review: Famous Bazaar Stall With 10-Year History In Yishun
Ambience at Jtown Cafe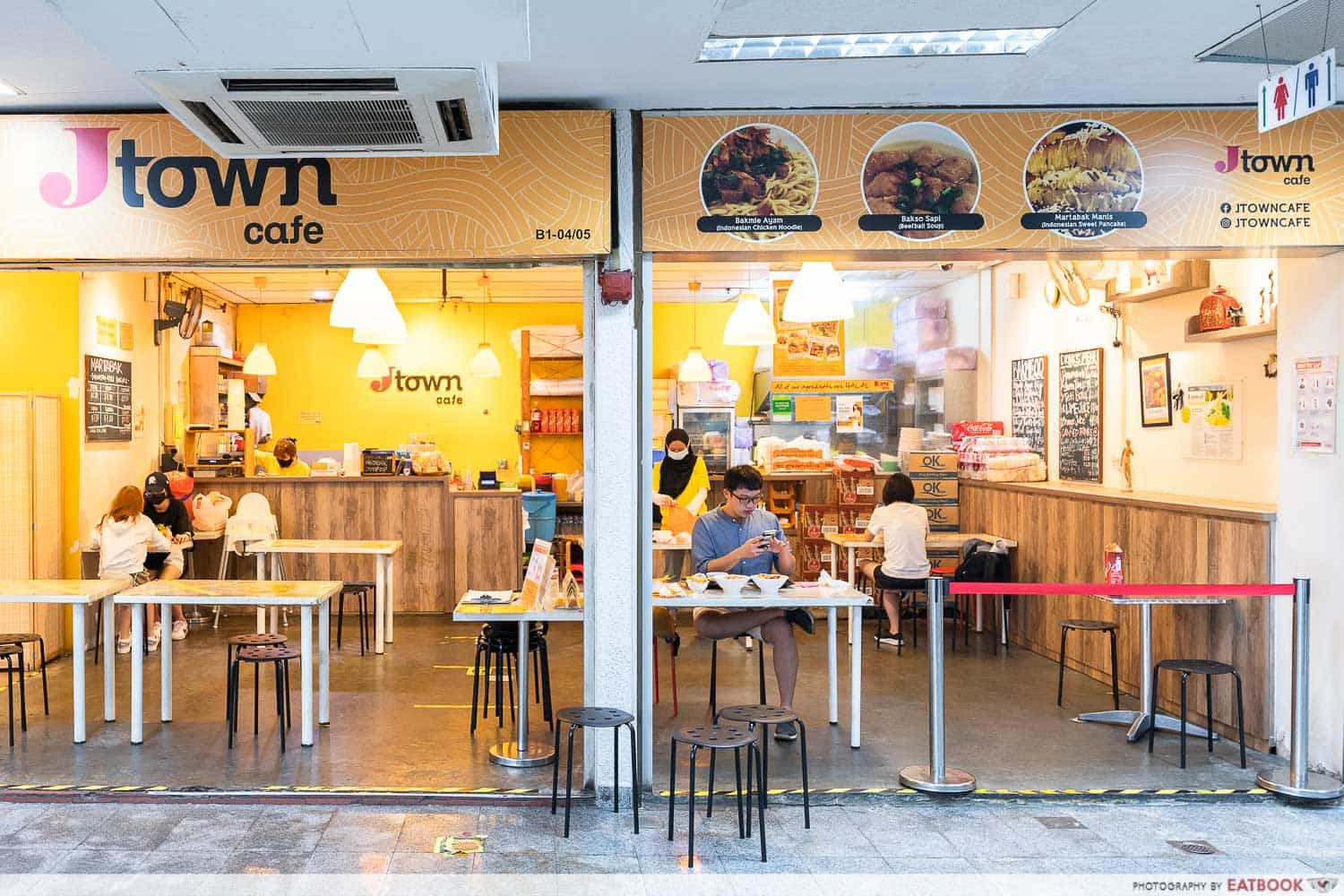 Jtown Cafe occupies a stretch of three units in the basement of Midpoint Orchard, which is smaller than it sounds. If you're arriving by public transport, Midpoint Orchard is just across the road from Somerset MRT Station. 
When we visited the eatery, there was space for about 18 diners, but this number might have increased recently with the relaxation of COVID-19 regulations. Customers were also encouraged to limit their dining time to 45 minutes during peak hours. 
Hanging lamps cast a warm glow throughout the eatery, while various Indonesian souvenirs adorn the walls. The soft drone of Bahasa music in the background also helps to make Jtown Cafe feel more homely. Unfortunately, ventilation is not the best here, so I would encourage you to finish their meal quickly—even during off-peak hours. 
The verdict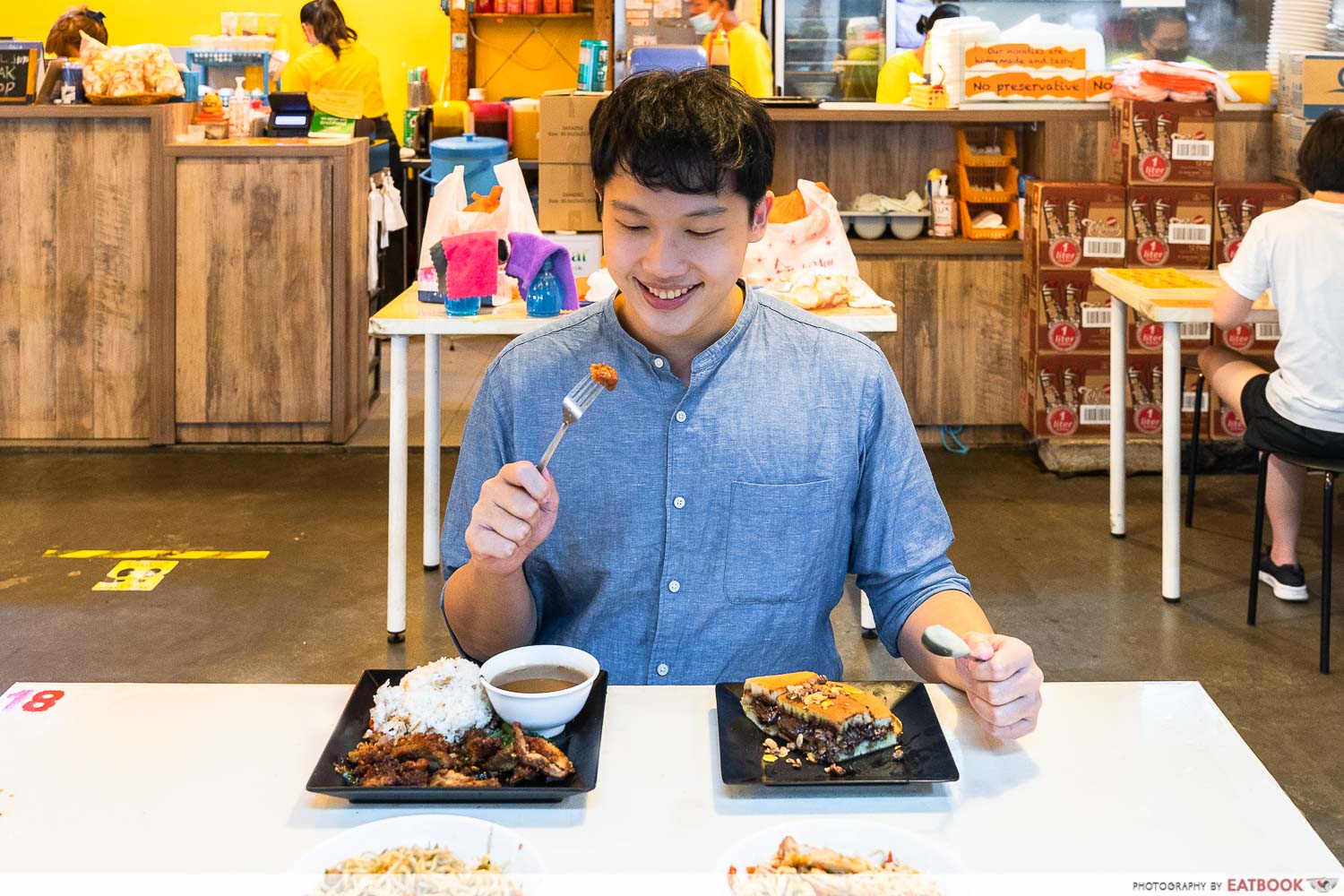 Even though I like to believe that I can handle my spice reasonably well, the Padangnese Spicy Chicken Noodle ultimately got the better of me. If you're trying to train your spice tolerance, then you should definitely visit Jtown Cafe. Otherwise, the eatery does a pretty good Martabak Special OvoPOP, if you can't get a table at other cafes in Orchard.
For more Indonesian food, Happy Geprek, located just a short walk away at Far East Plaza, sells Ayam Geprek with eight different sambal options for you to choose from! Burgerprek in Woodlands also sells Indonesian-inspired burgers until 3:30am six days a week!
Address: 220 Orchard Road, #B1-03-05, Midpoint Orchard, Singapore 238852
Opening hours: Tue-Sat 12pm to 8pm, Sun 11:30am to 8pm
Tel: 9230 5040
Website
Jtown Cafe is not a halal-certified eatery but it is Muslim-owned.
Happy Geprek Review: Ayam Geprek And Indomie With Customisable Sambal In Orchard
Photos taken by Kong Zu Yi. 
This was an independent review by Eatbook.sg
Jtown Cafe Review: Spicy Indonesian Street Food In Somerset—Legit Bakmie, Nasi Ayam And More
Jtown Cafe Review: Spicy Indonesian Street Food In Somerset—Legit Bakmie, Nasi Ayam And More -

7/10
Summary
Pros
– Martabak Special OvoPOP was very satisfying
Cons
– Noodles did not have much seasoning
– Chicken cutlet was a bit dry
Recommended dishes: Martabak Special OvoPOP ($10.90), Nasi Ayam Crispy ($7.50)
Opening hours: Tue-Sat 12pm to 8pm, Sun 11:30am to 8pm
Address: 220 Orchard Road, #B1-03-05, Midpoint Orchard, Singapore 238852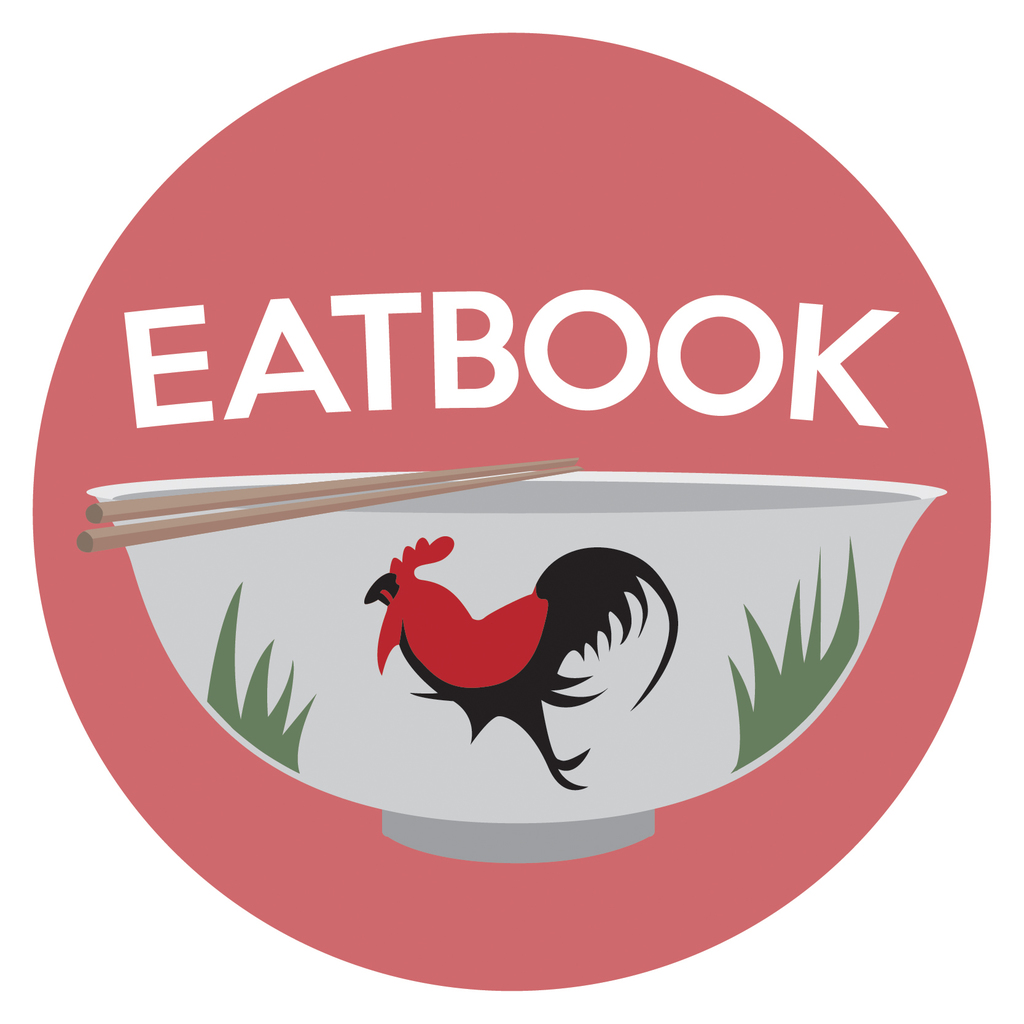 Drop us your email so you won't miss the latest news.