Legend Wanton Mee
has pork belly char siew
at Bukit Merah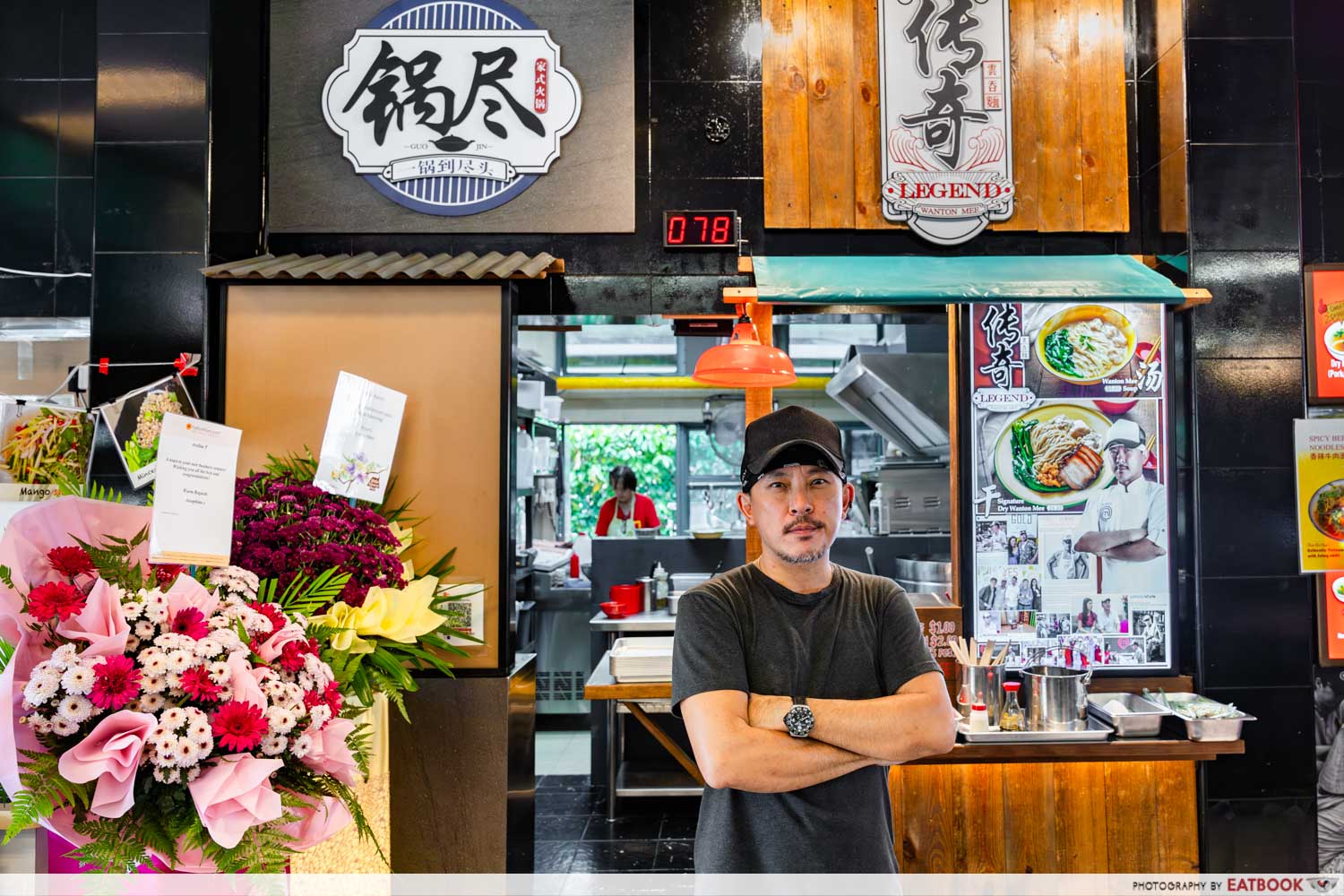 In 2020, a humble hawker stall by the name of Jiak Song Mee Hoon Kway gained traction after netizens found out that ex–MasterChef Singapore finalist Aaron Wong was the one behind it. The famous chef recently dipped his toes into selling wonton mee, and expectations of his new stall are inevitably sky-high. Perhaps it's the reputable image of an ex-MasterChef finalist that accounts for the long, snaking queue seen at Legend Wanton Mee every day. To see if it's actually legendary—and worth the hour-long wait—we dropped by on a weekday for lunch.
Food at Legend Wanton Mee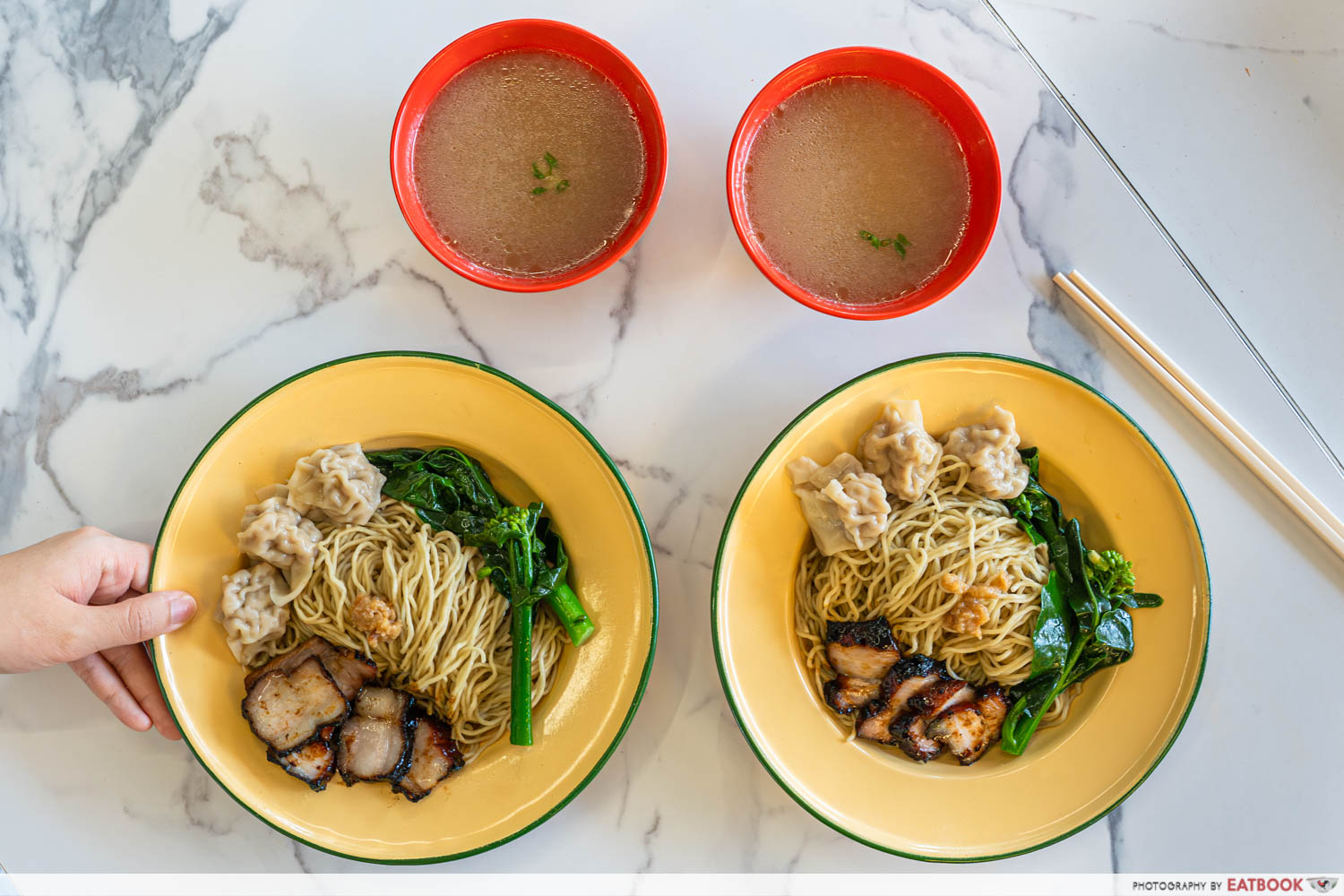 Specialising in a single dish at any given hawker stall is deemed a bold move because it gives patrons only one reason to visit or return. But nailing that single dish—wonton mee in this case—can be a litmus test for just how good a chef is.
Priced at $5.50 each, Legend Wanton Mee offers two dishes: Wanton Mee Soup and Signature Dry Wanton Mee. As the former was sold out by 12pm, I settled on two plates of their dry version, which was said to be the popular choice among customers. And boy, it didn't let me down.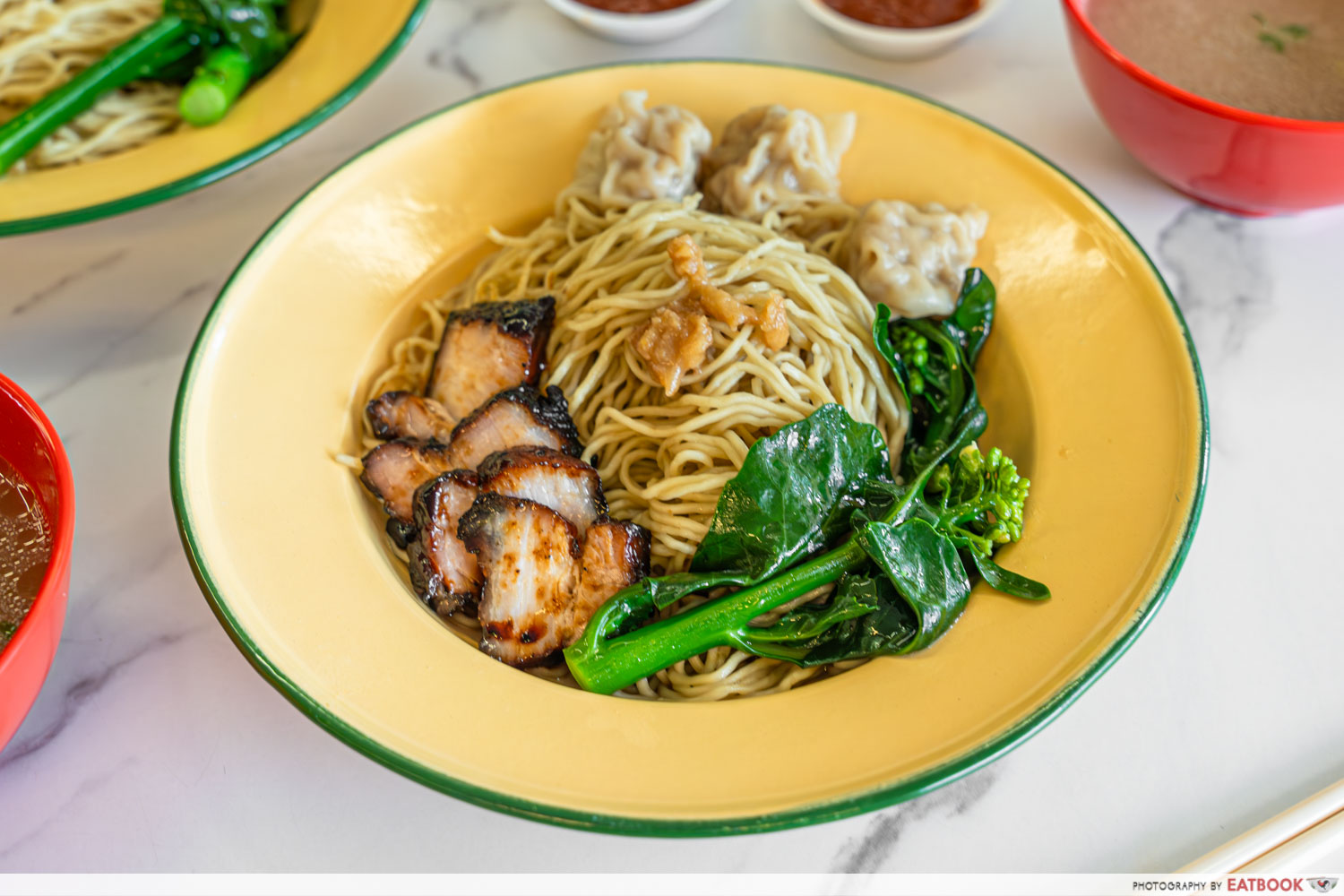 This seemingly unpretentious plate of wonton mee is topped with staple ingredients including wonton, char siew, and gai lan.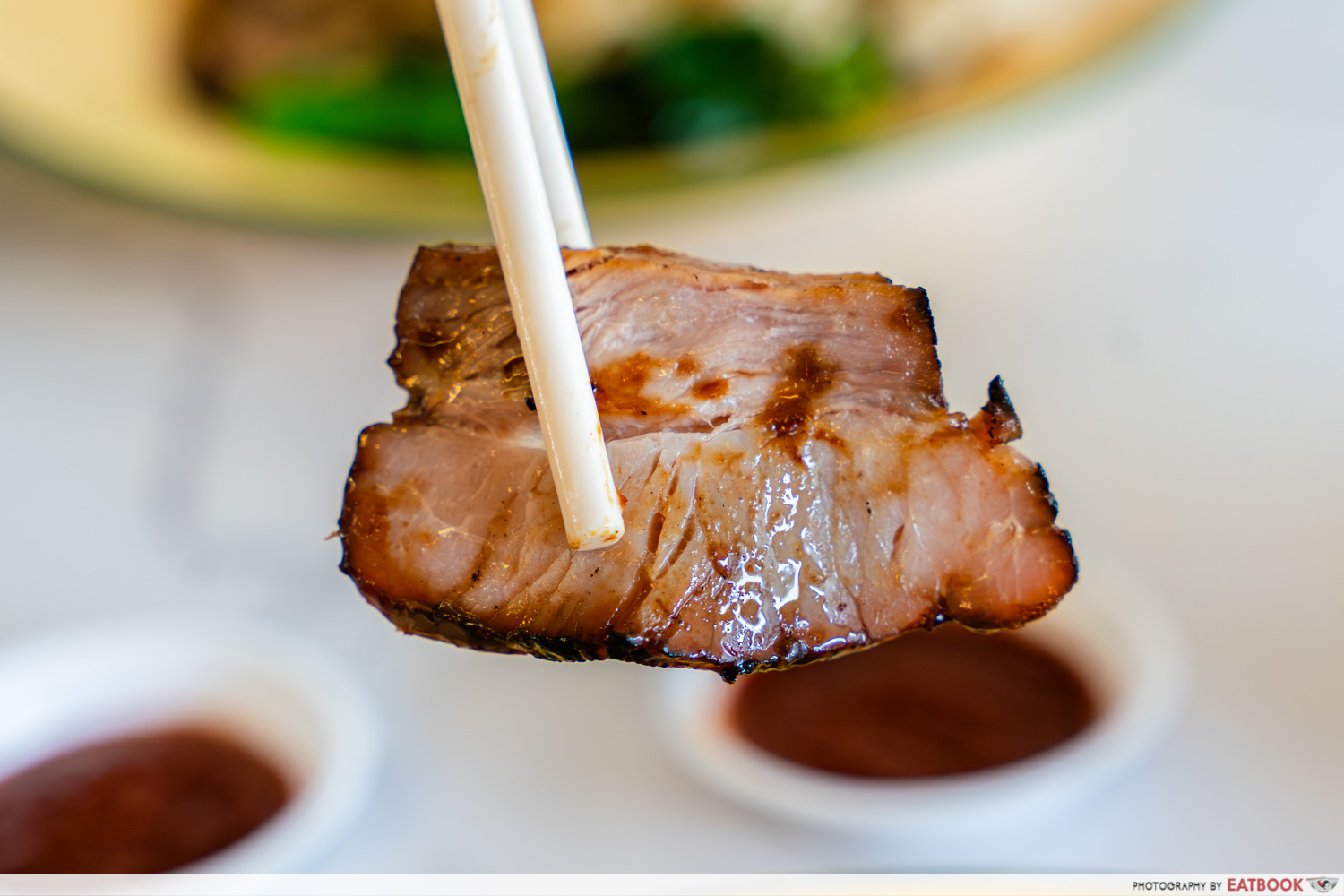 Personally, I felt that the pork belly char siew was the jewel in the crown as it checked off all the boxes of what I was looking for: the meat was juicy, tender, and fatty. And not to sound dramatic, but the glazed char siew was glistening under the sun.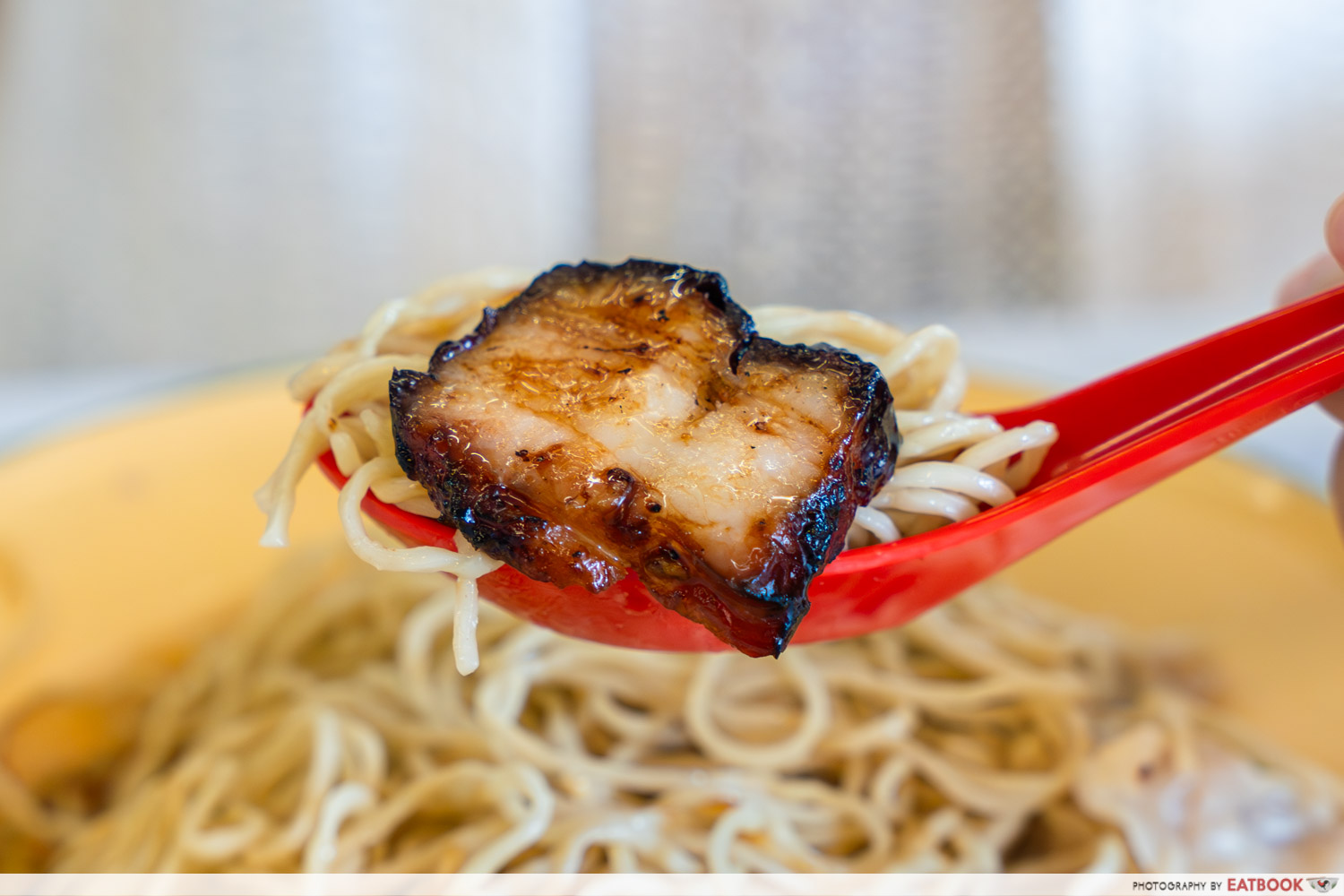 I expected the fatty-cut char siew to get rather jelak after a few mouthfuls, but thankfully, it had an addictive, charred flavour that mellowed the richness of the meat in an instant. It also helped that the glaze wasn't too sweet or sticky!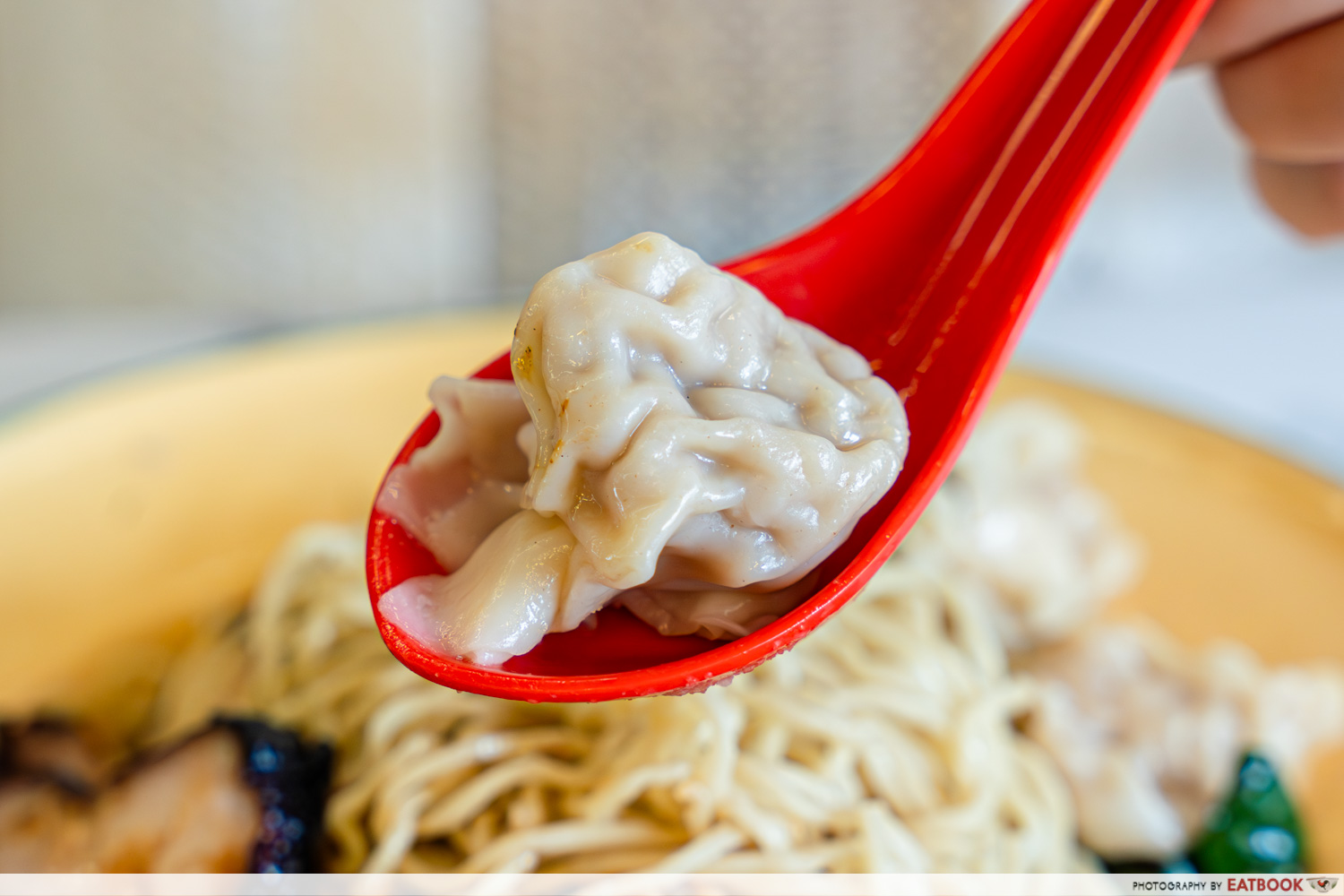 Aaron shared that their wonton and char siew are handmade, which came as no surprise given how fresh and unprocessed they tasted. At first blush, I thought the wonton paled in comparison to the char siew in terms of its appearance. But don't be fooled by its tiny size as each dumpling is filled with a generous amount of pork.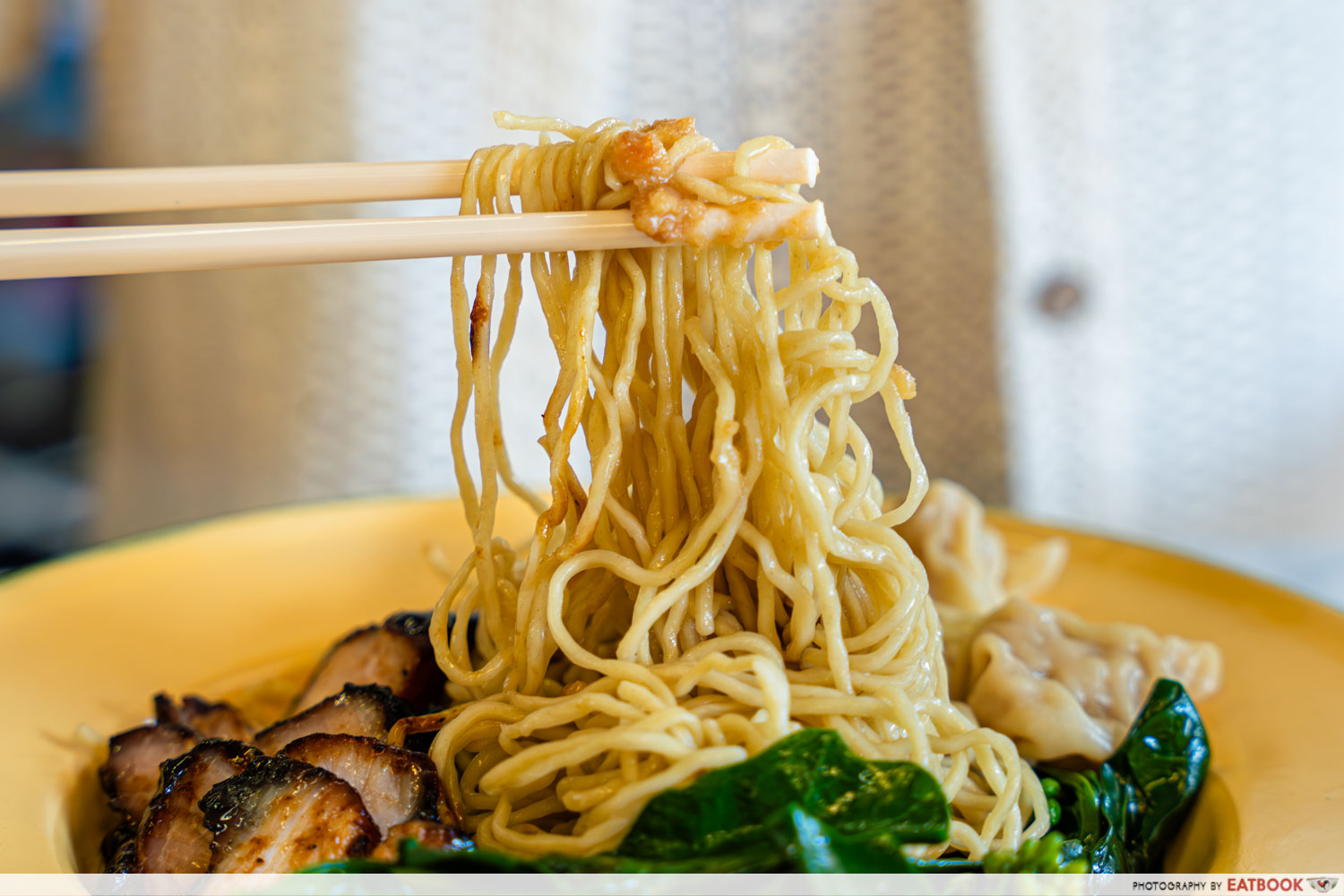 The noodles were to my liking as they were springy and slightly chewy. I appreciated that they weren't mushy even after our shoot—they retained some resistance and were delightfully QQ.
The finishing touch to the dry wonton mee is a dab of pork lard, which plays an indispensable role in keeping the noodles moist and flavourful. Truly the cherry on the cake. 
My only quibble about the wonton mee was the gai lan as it was a tad bitter, and the thick stems made it slightly tough to chew. Besides the nitpicking, I finally understood why 300 bowls of wonton mee are sold on the daily. Their signature dry wonton mee will be on my mind for a while. 
Ambience at Legend Wanton Mee
Legend Wanton Mee is located within an industrial canteen at Bukit Merah, a 14-minute walk from Redhill MRT Station. I was told to arrive before 11am on my next visit as the queue gets overwhelming even before the lunch crowd thickens—the early bird catches the worm. 
Before I parted ways with Aaron, he gave me the scoop on his upcoming steamboat stall, Guo Jin, which will be located right next to Legend Wanton Mee. You can anticipate the stall to open sometime from mid to end July!
The verdict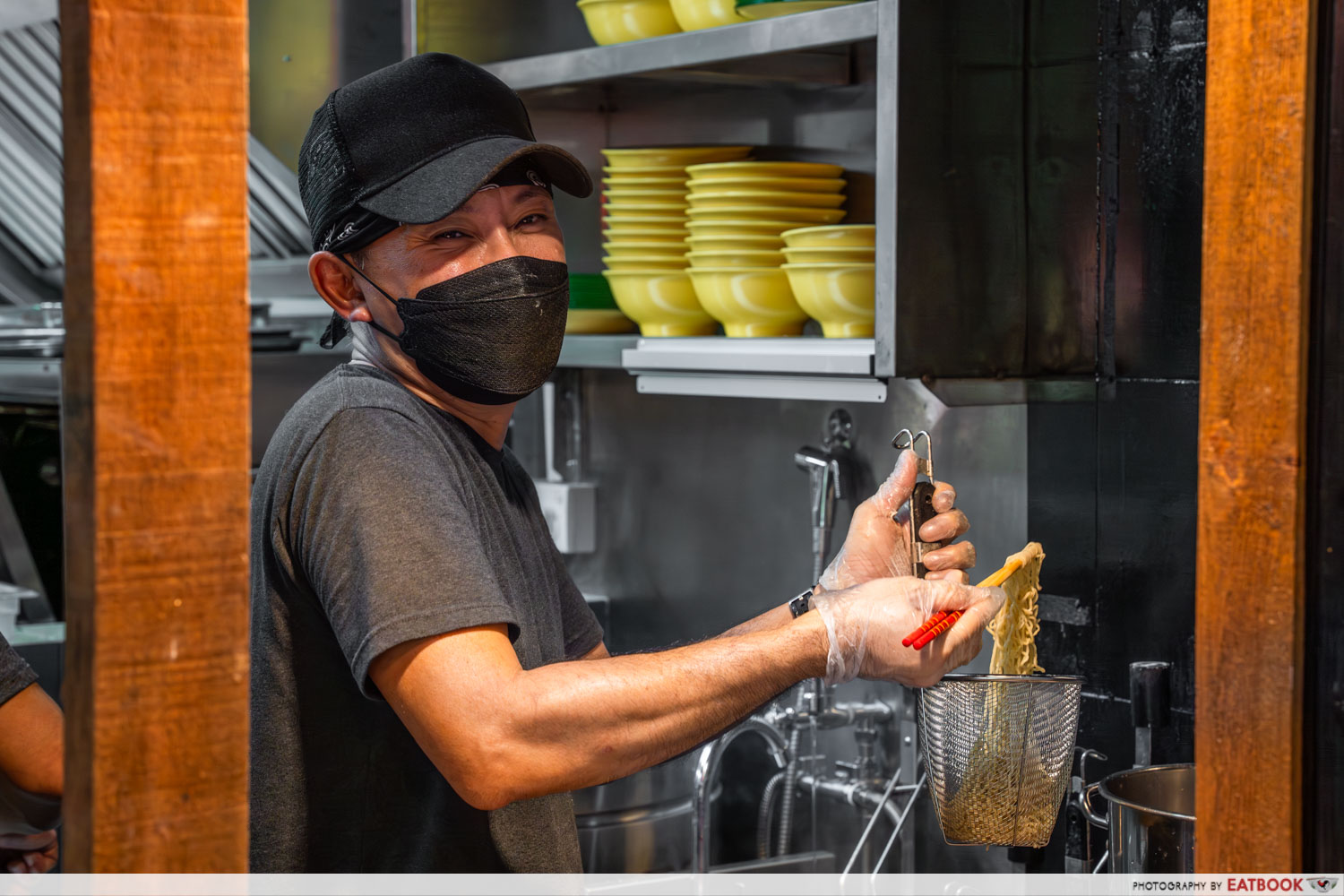 It looks like a strong contender has entered the wonton mee scene, folks. Just when I thought, "How different can a plate of wonton mee be?", Legend Wanton Mee made its grand appearance out of the blue. Yet, taking the long travel time into consideration, standing in line for an hour seems a little over the top to me. Perhaps I'll wait for the clout to die down a little for the queues to ease up, before I return for my fix. 
If you'd like to find out more about Singapore's oldest hawker and her famous wonton mee, check out Nam Seng Wanton Noodles. Alternatively, you can head down to Pang's Hakka Noodles, also located at Bukit Merah.
Address: 3752 Bukit Merah Central, Maddox Canteen Bar, Singapore 159848
Opening hours: Mon-Sat 9.30am to 2pm
Legend Wanton Mee is not a halal-certified eatery. 
Nam Seng Wanton Noodles: The Story Of Singapore's Oldest Hawker And Her Famous Wonton Mee
This was an independent visit by Eatbook.sg.
Legend Wanton Mee Review: Ex-MasterChef Finalist Sells Fatty Char Siew Noodles At Bukit Merah
Legend Wanton Mee Review: Ex-MasterChef Finalist Sells Fatty Char Siew Noodles At Bukit Merah -

8/10
Summary
Pros:
– Springy noodles and juicy char siew
– Affordably priced
Cons:
– Tends to sell out way before closing time due to overwhelming crowd 
Recommended dishes: Signature Dry Wanton Mee ($5.50) 
Address: 3752 Bukit Merah Central, Maddox Canteen Bar, Singapore 159848
Opening hours: Mon-Sat 9.30am to 2pm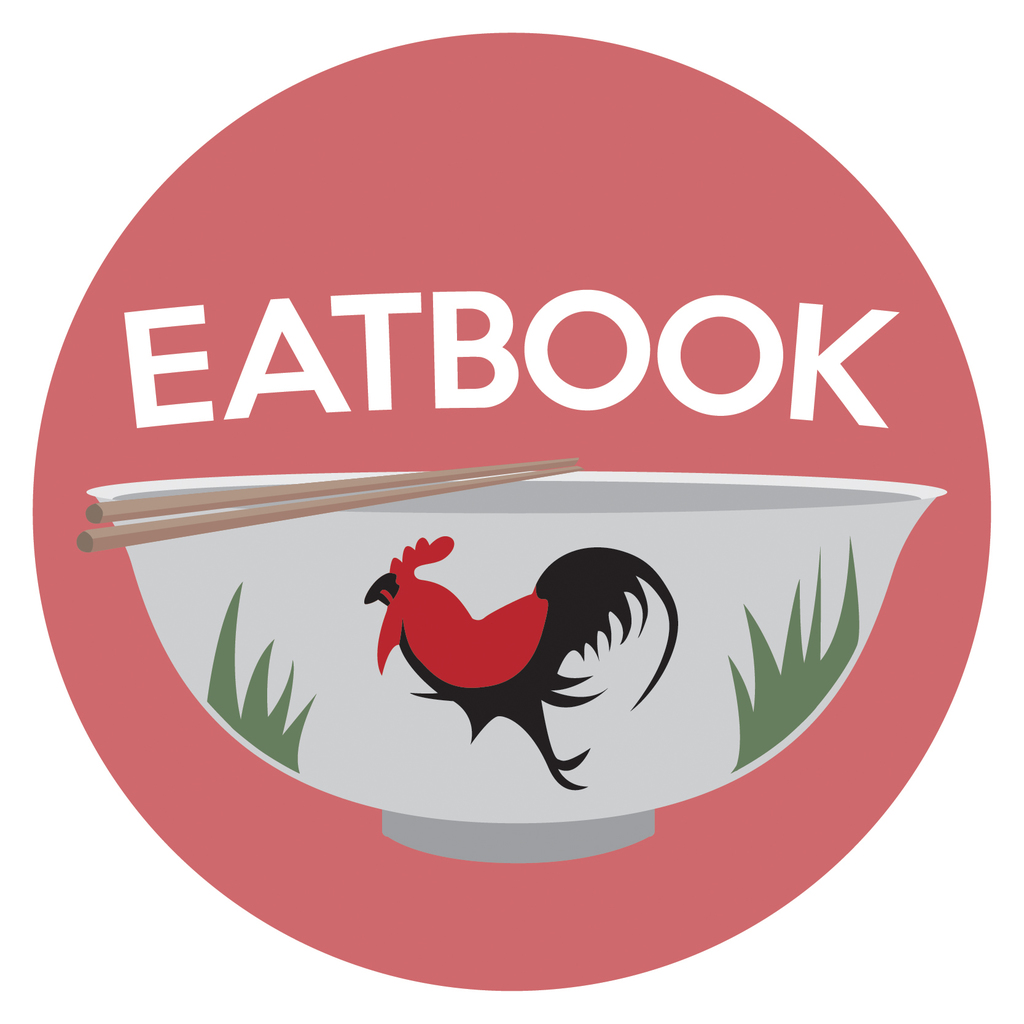 Drop us your email so you won't miss the latest news.