Pang's Hakka Noodles has old-school Hakka food in Bukit Merah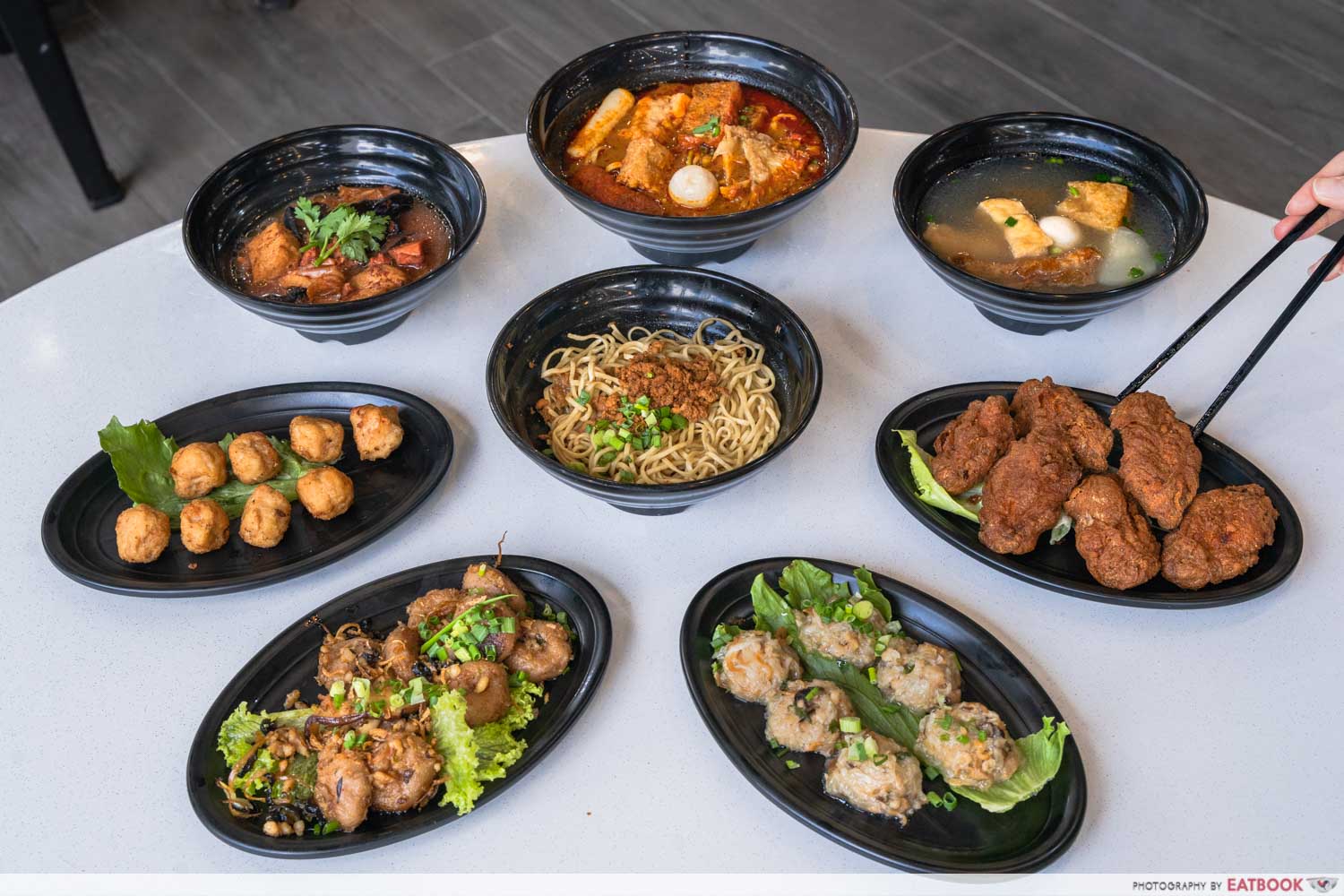 My colleague had nothing but praise for Pang's Hakka Noodles, insisting that I had to stop by and try their signature dry noodles when I mentioned that I rarely ventured beyond the hawker centres and malls in the area. So on my last trip to Bukit Merah, I crossed over to the kopitiam opposite ABC Brickworks Food Centre to lay my curiosity to rest.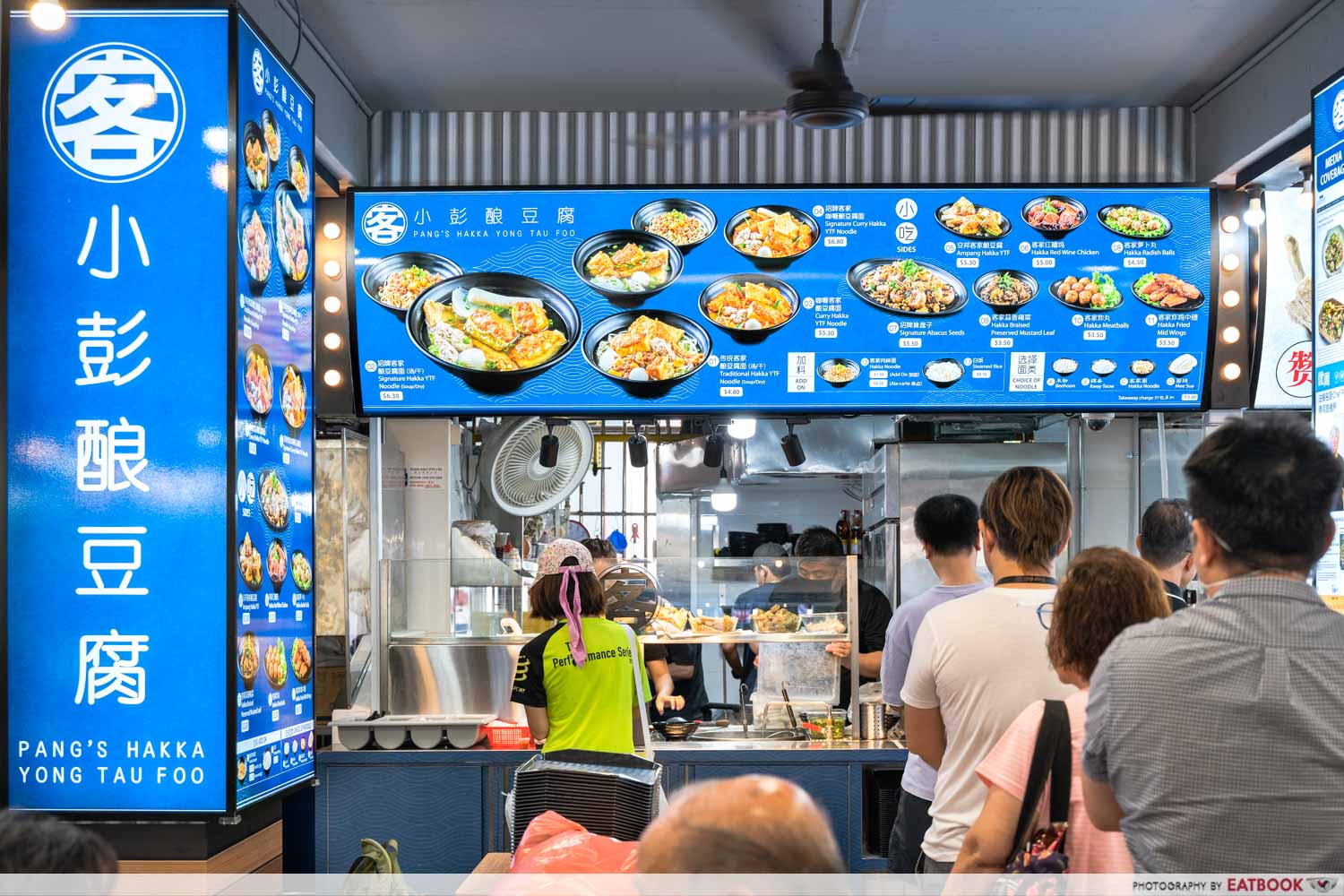 If you didn't know, Pang's Hakka Noodles is the personal pet project of Chef Pang, who is the brains behind Hypebeast-style curry rice stall Supercurry and the now-defunct Antoinette. Mainly specialising in Hakka-style noodles and yong tau foo (YTF), their new menu also includes traditional Hakka delicacies that aren't commonly seen in Singapore. 
Supercurry Review: Supreme-Inspired Curry Rice Stall By Ex-Antoinette Cafe Founder
Food at Pang's Hakka Noodles
Hakka food isn't exactly common in Singapore, so colour me intrigued and impressed by Chef Pang's intent of helping preserve old-school Hakka cuisine through his upgraded menu, even after his noodles have already gotten him quite the loyal following. 
Still, I did originally come here for their Signature Hakka YTF Noodle ($6.30), which we got dry as per my colleague's recommendation. 
My first impression was that it seemed rather unassuming, particularly for the price tag and compared to the other dishes we had on the table. This was a bowl of thin, flat yellow noodles in garlic oil garnished with some minced pork and scallions, with a second bowl of yong tau foo soup and two small saucers of chilli.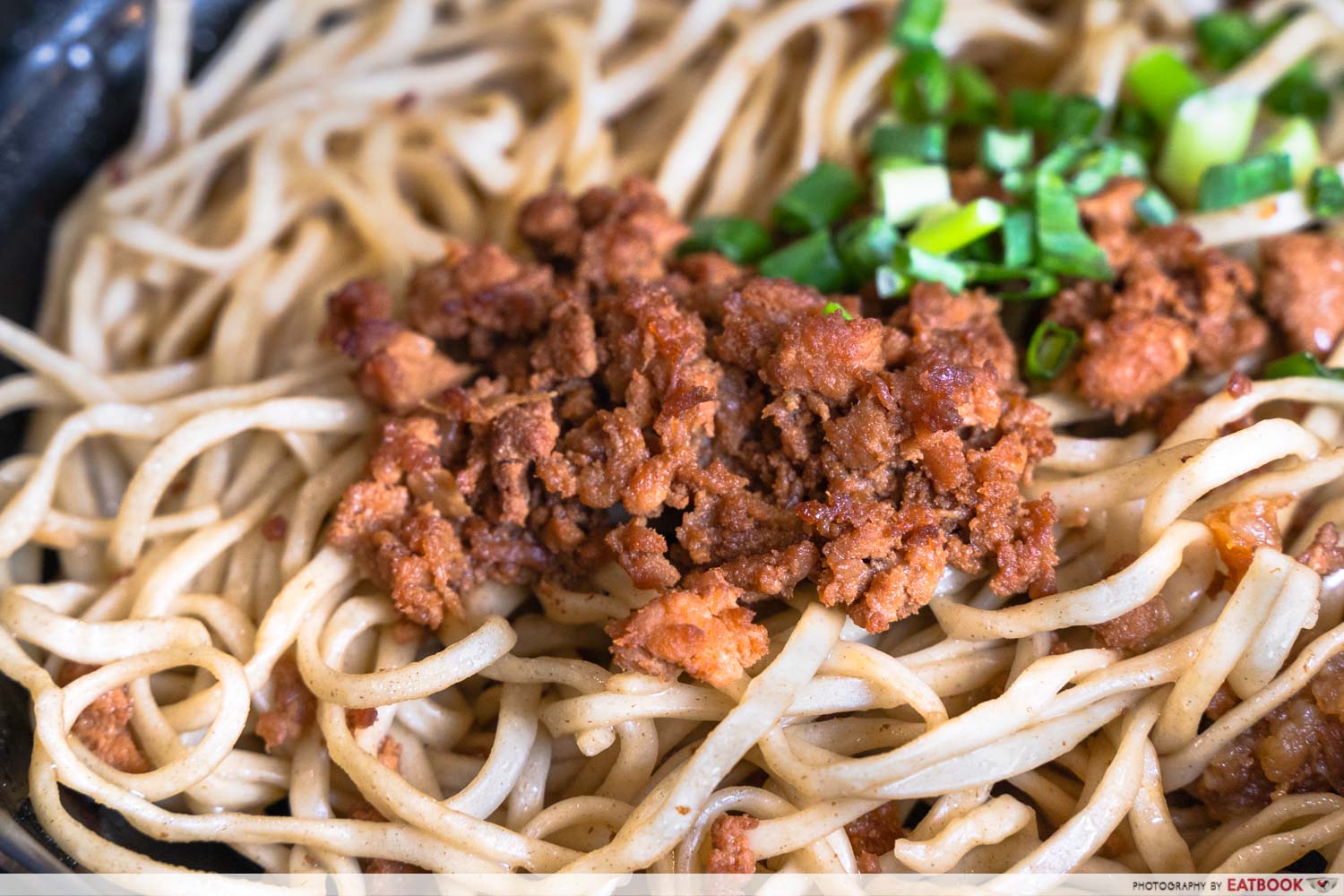 I took my time mixing up the noodles until each strand had a gleaming coat of fried garlic oil and was peppered with the minced pork. The result was a dish that instantly made itself at home in my personal list of favourite noodle bowls, especially when I found bits of crispy lard hidden under the pile of noodles that provided a buttery burst of flavour with every bite. 
Chef Pang told us that their noodles were an original recipe, perfected over the course of six months to be the springy, light version that fans know and love. 
Having tried the noodles as a takeaway portion on a later date, I was pleasantly surprised to find that other than being slightly less QQ than they were when eaten on-site, the noodles did not turn overly tough or soggy, as dabao-ed noodles tend to be.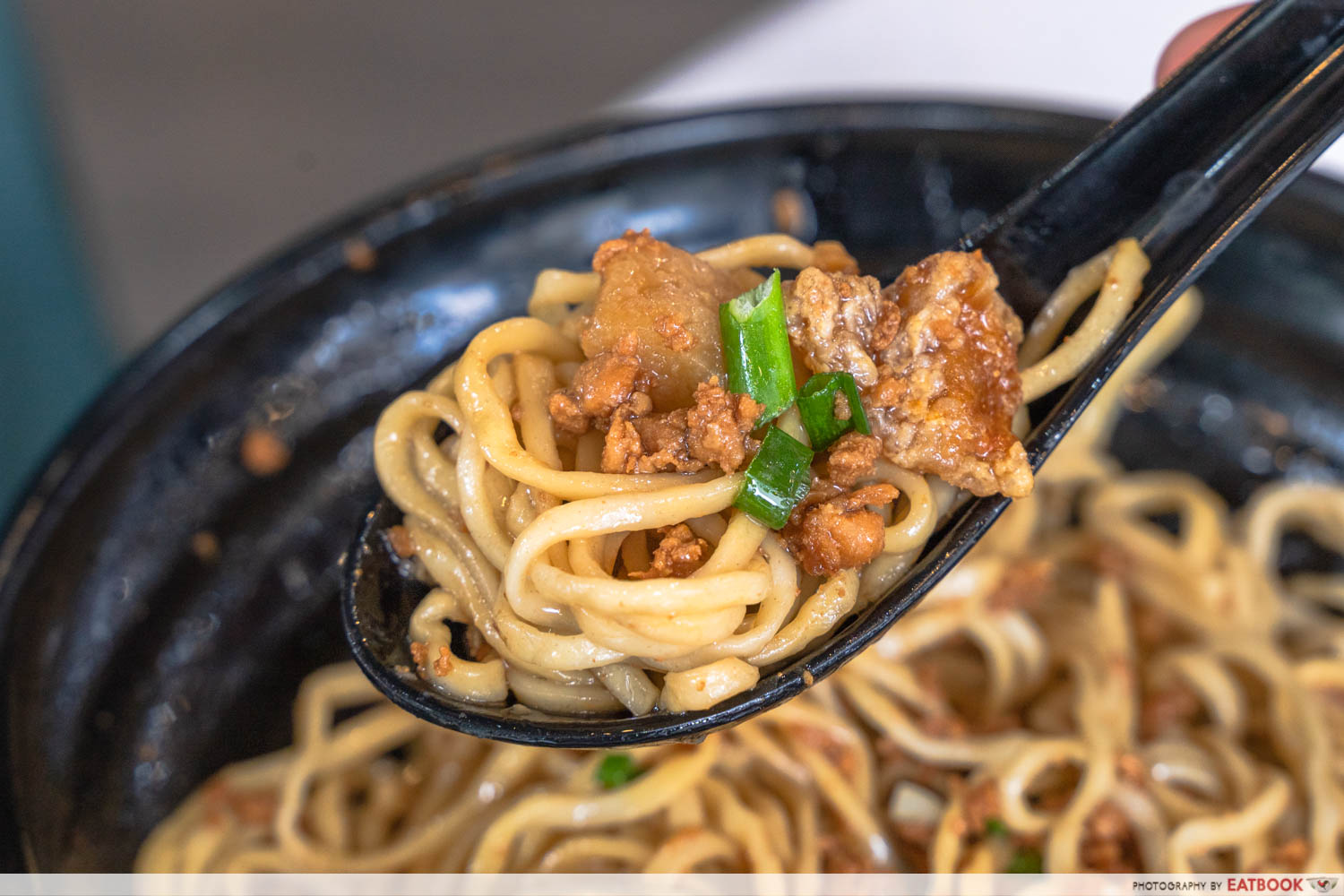 The noodles also came with a special concoction of sambal belacan that the chef called his Extra Spicy Shrimp Sambal. I stumbled over repeating the name, to which he joked that he should consider giving free chilli to those who could say it perfectly three times over. 
Having finally hammered the phrase into my brain, I'm holding him to his word the next time I'm there, because his gritty, house-made chilli was exceptional. Strong, fragrant, and aromatic, the complexity of flavours added by the spice took the noodles to another level. I would say that the only reason you shouldn't try the chilli is if you can't take spice at all, because it would definitely make you weep tears of pain and pleasure at the same time.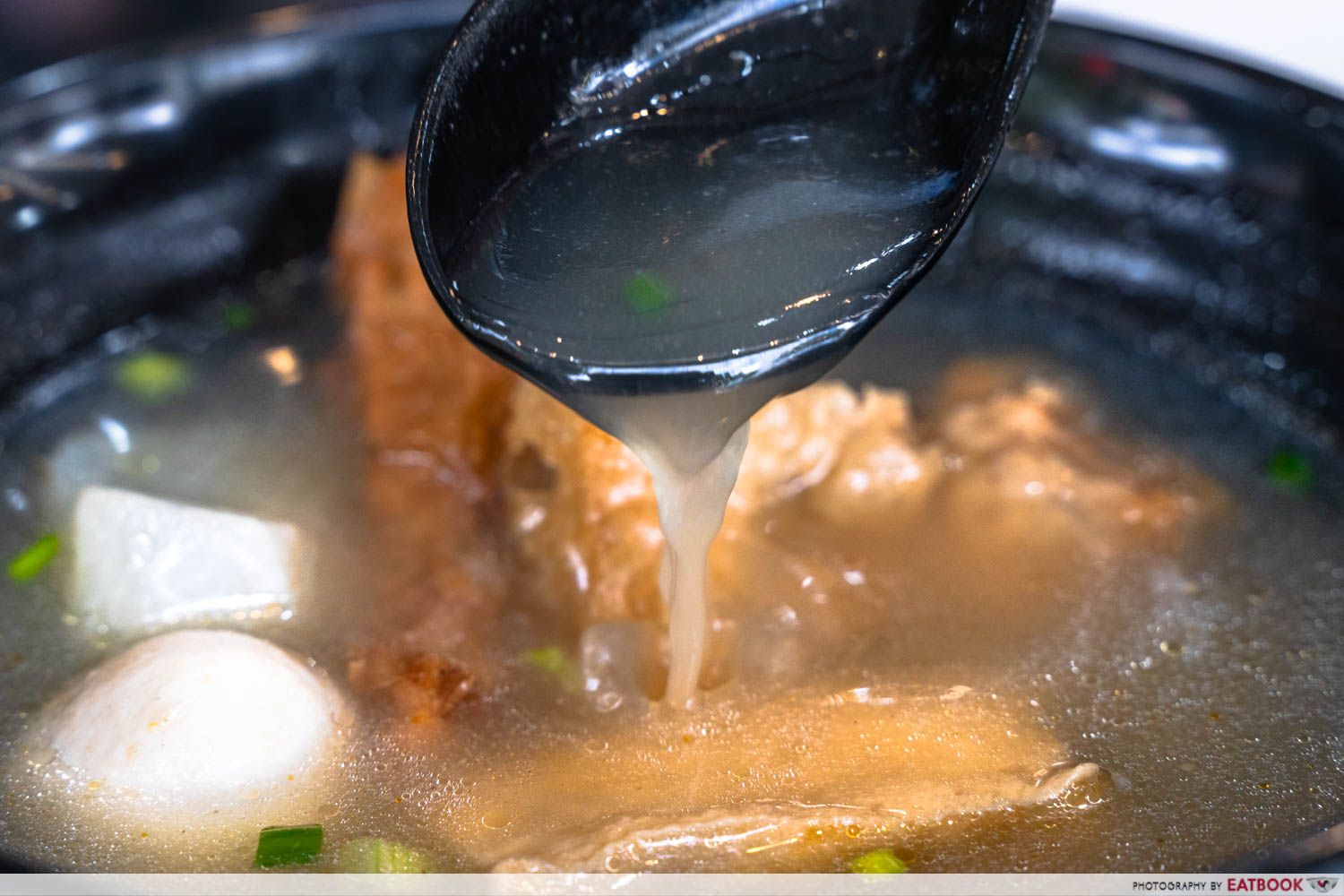 I did have one gripe though, and it was that after a while the greasiness of the noodles, lard, and pork does get to you. This is easily remedied by clearing your palate with the clean and simple yong tau foo soup. 
Frankly, I didn't think the yong tau foo itself was something to write home about, especially after having my standards raised so high by the noodles.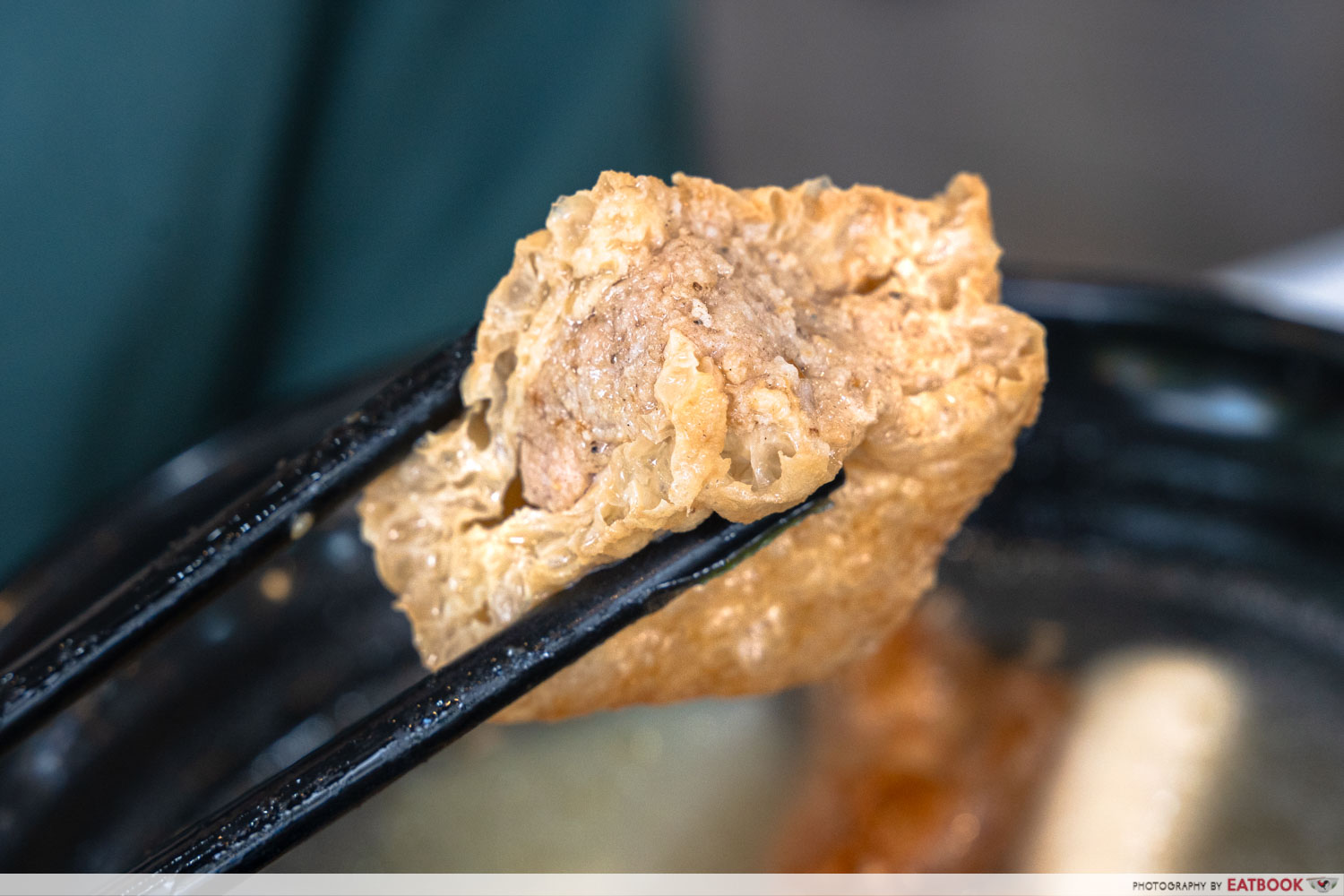 Considering the simple soup it came in, I had hoped that the taste of the yong tau foo would stand out, especially with the supposed golden ratio of pork, lard, fish paste and fermented salted fish it had. But instead, I found it to be rather bland.
There's also a newly added chilli sauce for the yong tau foo at the stall, after Chef Pang noticed Singaporean's preference for dipping yong tau foo in chilli. I actually winced at the amount of vinegar in the chilli when I tried it. You're better off trying it with the spicy sambal if you want some heat.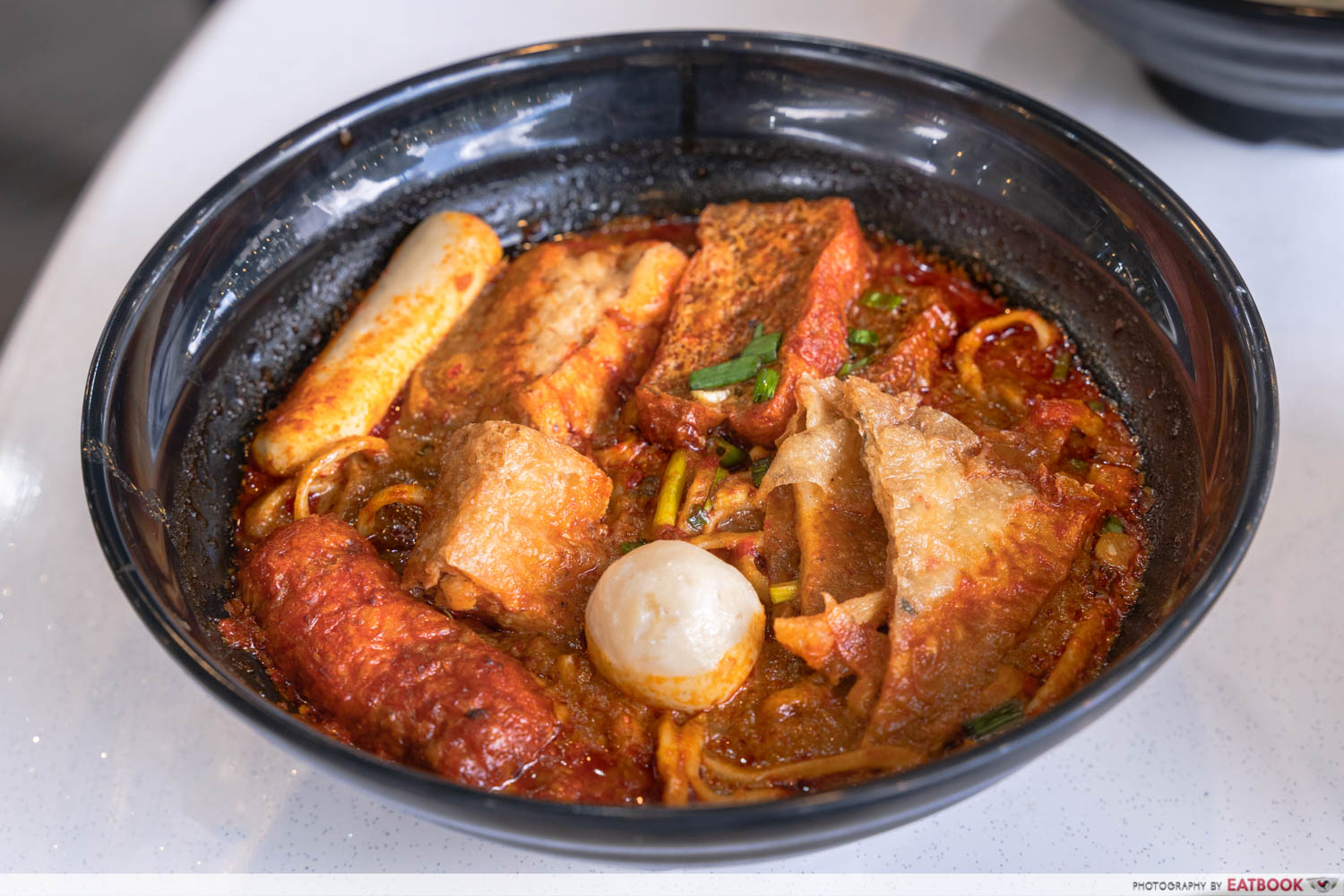 Otherwise, I found that I preferred the yong tau foo in their Signature Curry Hakka YTF Noodle ($6.80), which had soaked up the flavours of the spicy curry and was positively oozing with each bite I took. The noodles also didn't turn soggy despite being in the curry for a period of time, and I felt that the flavours in this bowl were balanced extremely well.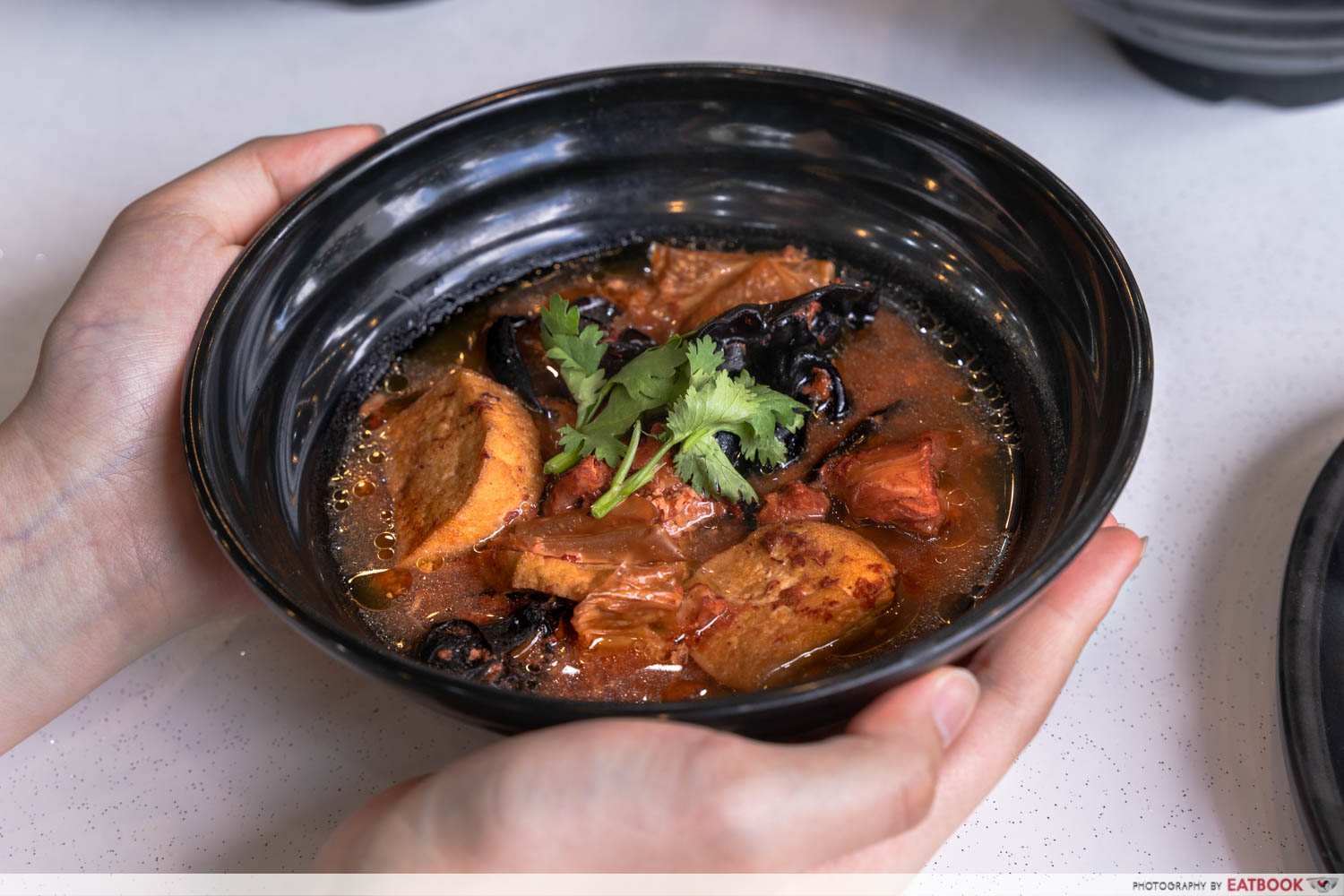 Rounding up my top three from the stall is a new side on their permanent menu, the Hakka Red Wine Chicken ($5). It's made with three different types of wine, and when it arrived on our table the aroma of the rice wine was particularly prominent.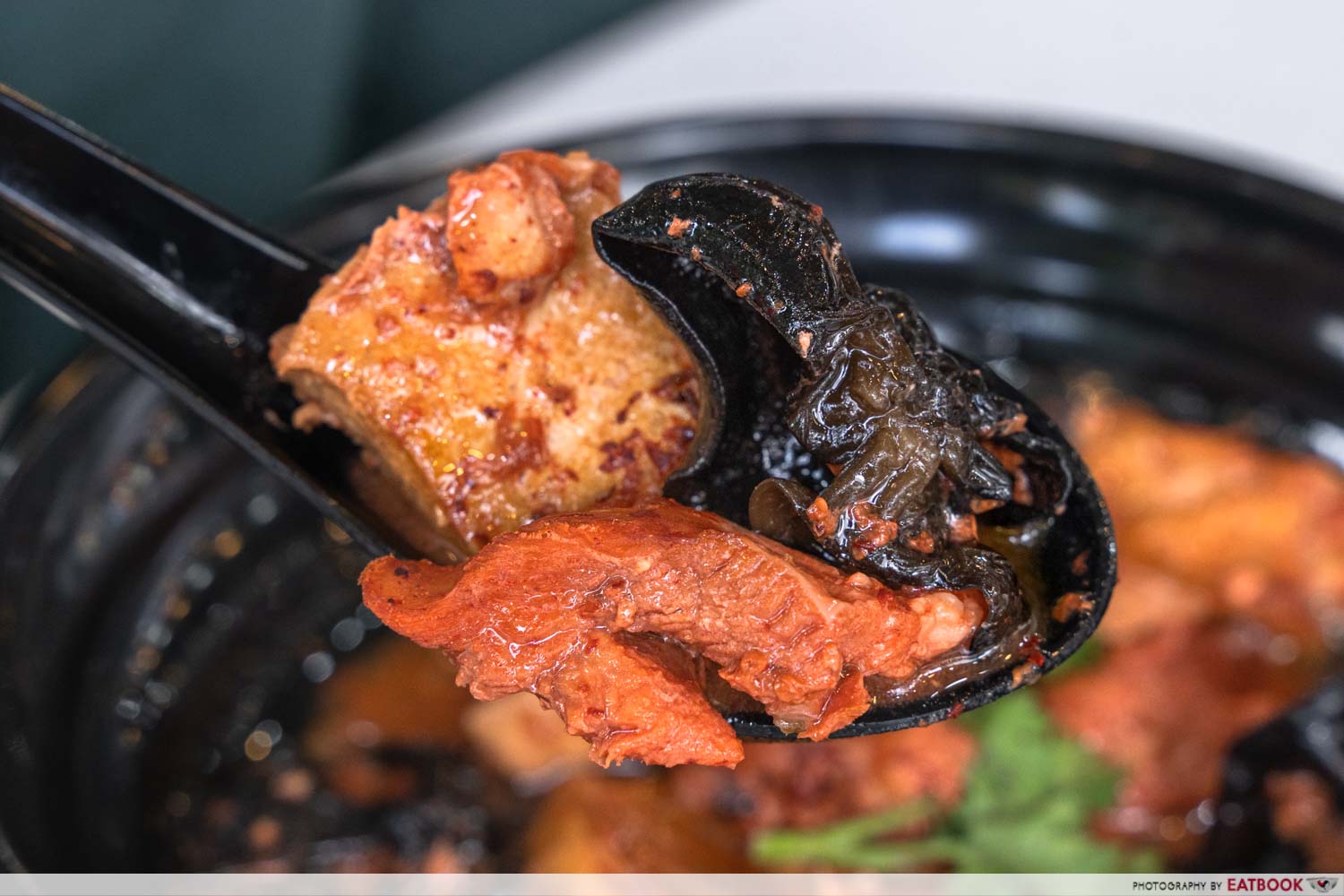 This brilliant red soup is actually a traditional Chinese confinement dish, and gets its colour from a paste formed via the fermentation process used in making red glutinous wine. The herbal, sweet-sour taste of the broth also soaked into the red-tinged chicken, enriching the meat though still on the drier side.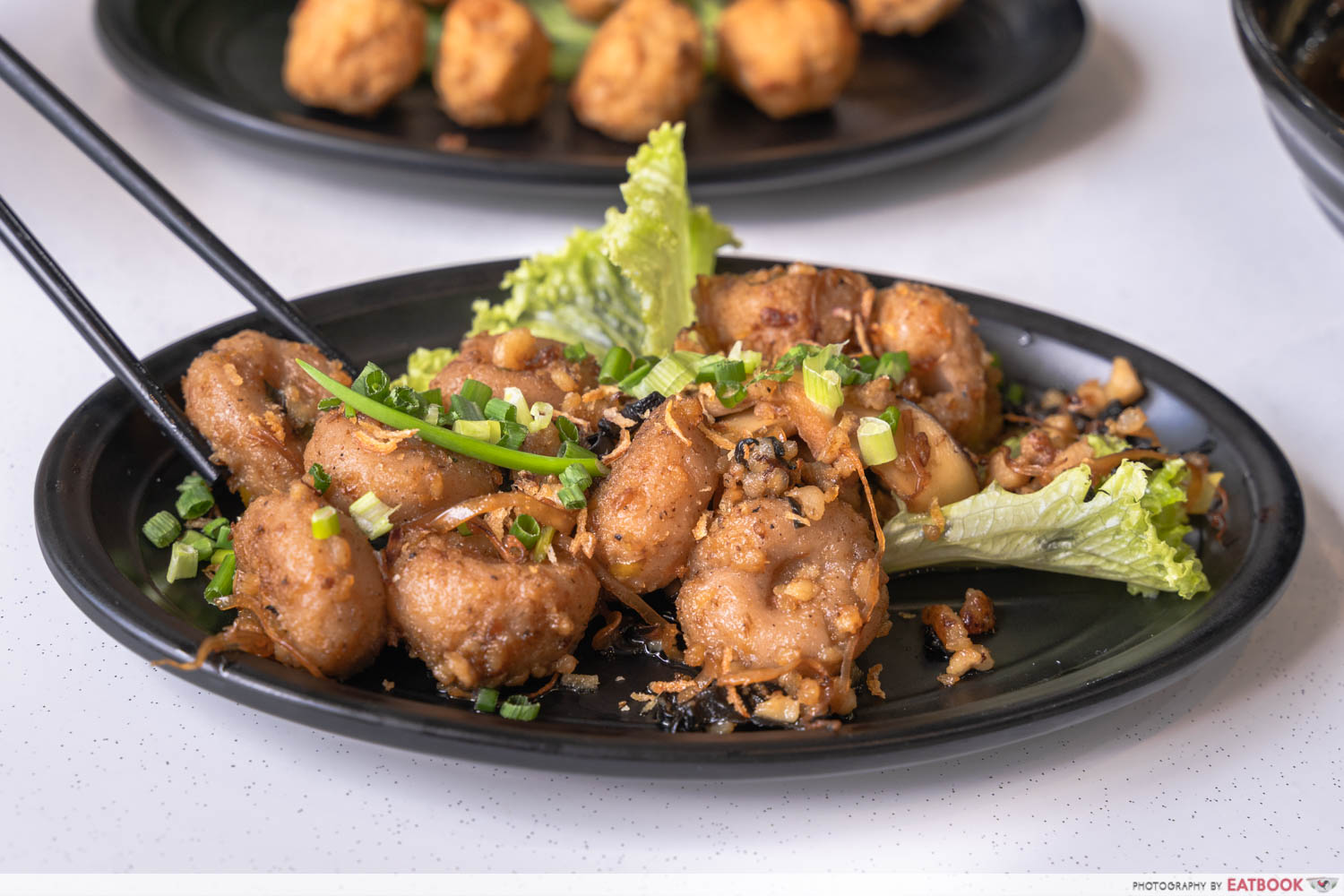 While I knew that Chef Pang was introducing traditional Hakka food to the table and that suan pan zi AKA abacus seeds was one of the more famous Hakka delicacies out there, I was surprised to find Signature Abacus Seeds ($5.50) on the menu.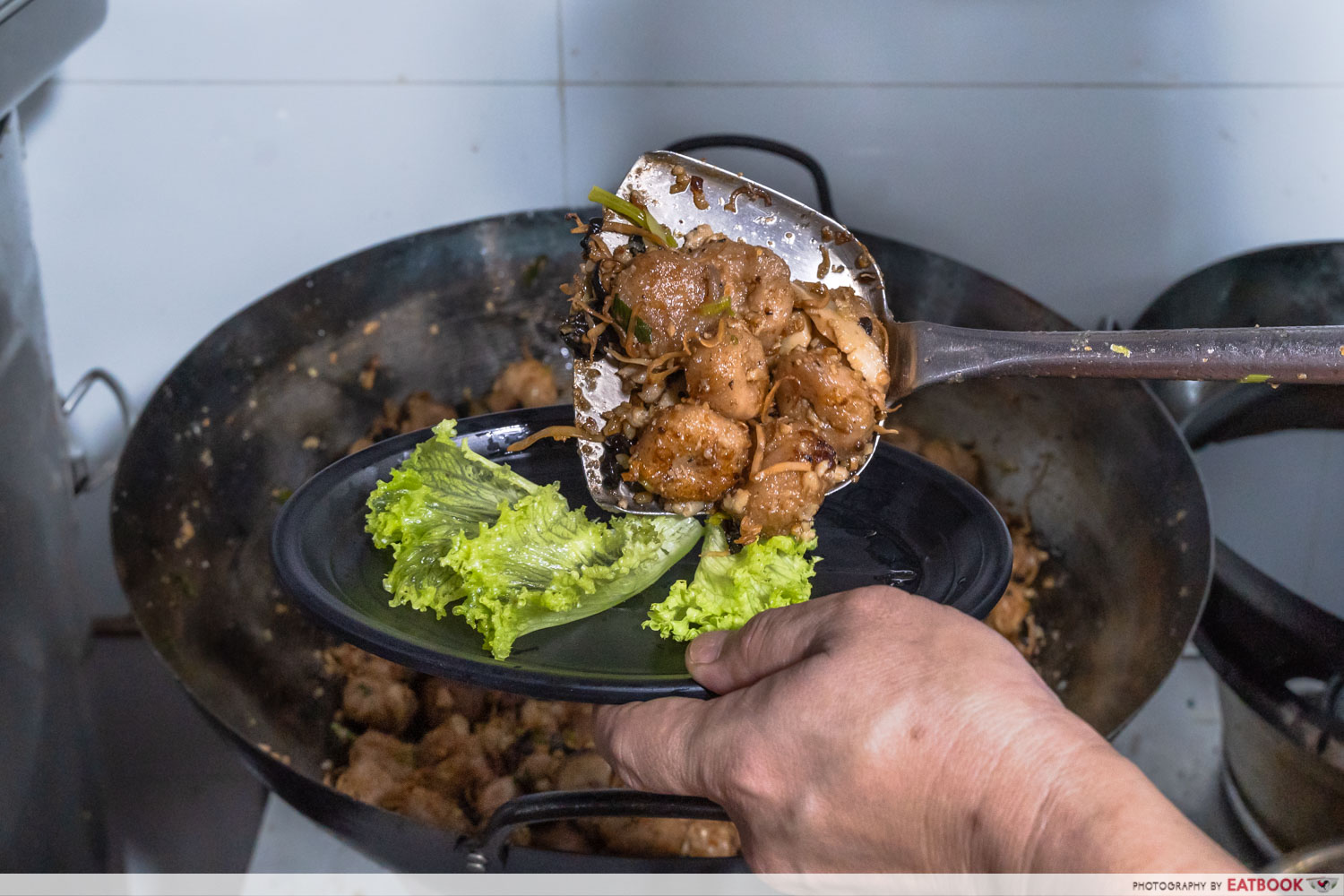 To call the process behind making abacus seeds arduous is a massive understatement, and I was stunned to learn that Chef Pang's abacus seeds are all handmade. They were extremely chewy and mildly savoury, though compared to homemade versions I'm familiar with, could stand to be a little softer.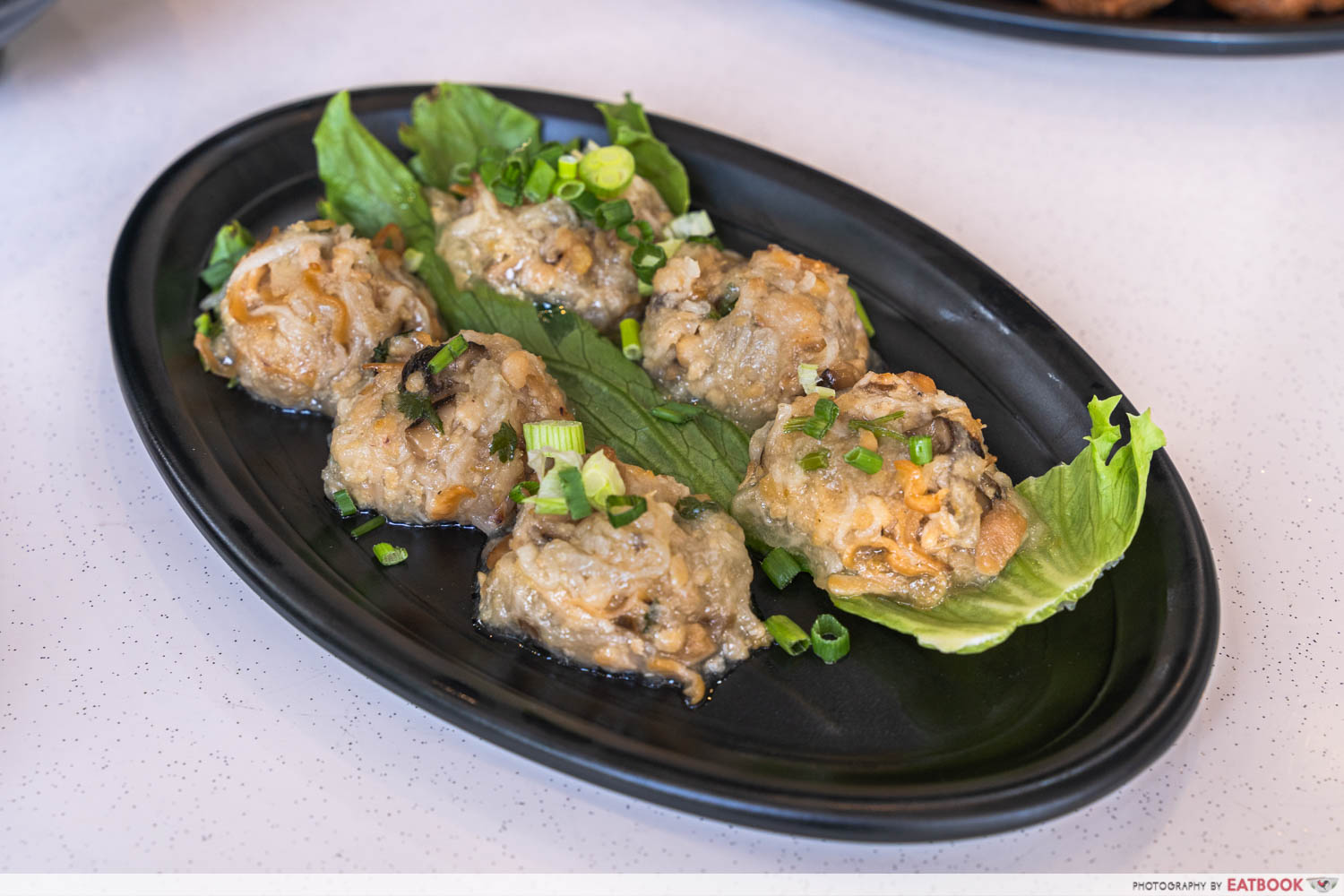 The stall also had Hakka Radish Balls ($4.50), a dish I wasn't familiar with. The closest comparison I could make was that it tasted like Teochew png kueh filling. Soft, sticky and a little sweet, the occasional bits of minced meat, shrimp, and crunchy radish in each bite-sized tapioca ball gave it an interesting texture and made for a snack that is easy on the stomach.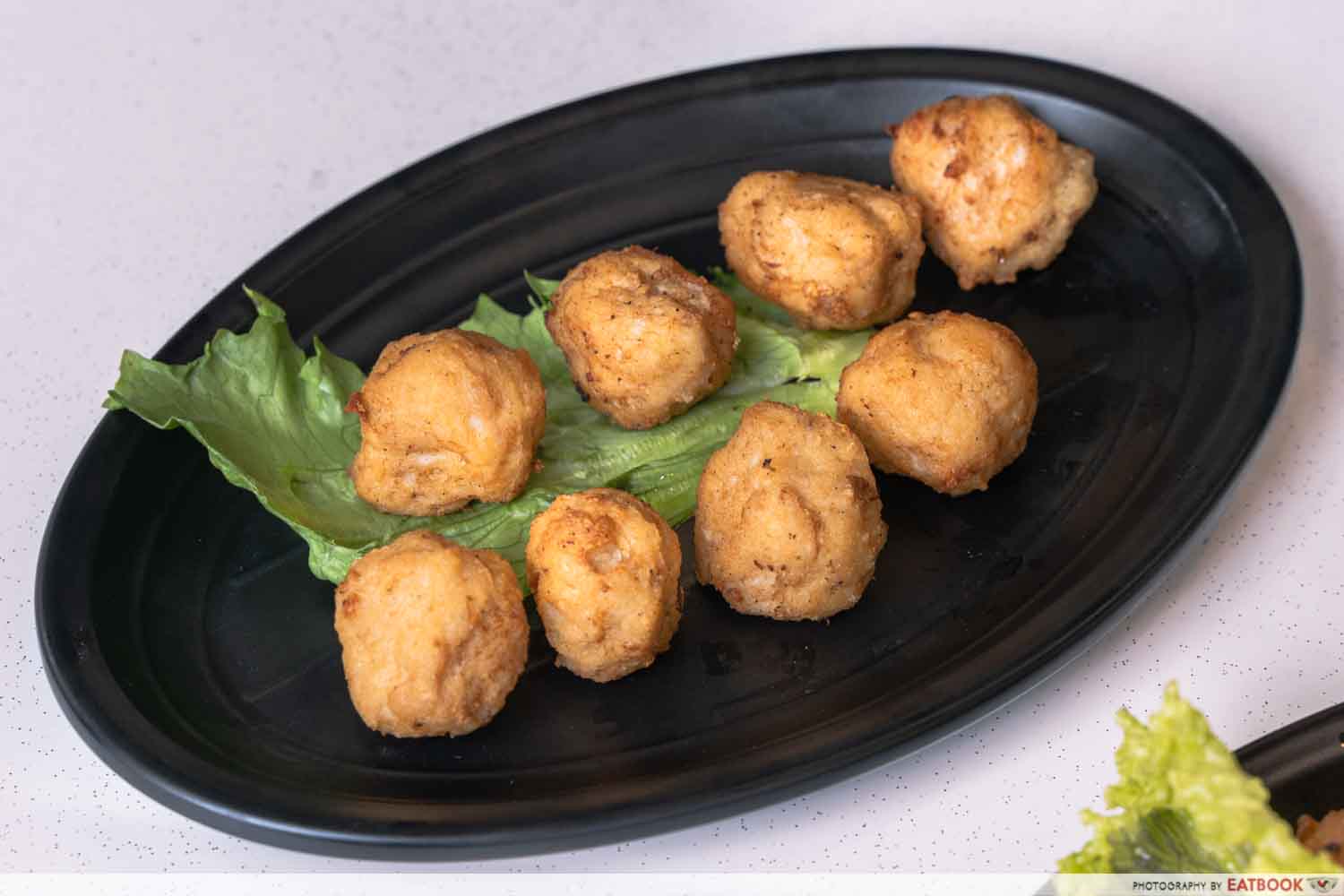 Pang's Hakka Meatballs ($3.50) were meaty and juicy, with a crisp exterior and good texture. The traditional meatballs are made with premium salted fish, but to make it more affordable this version had substituted it with dried cuttlefish and shrimp, though this made it no less of a delicious snack for all ages.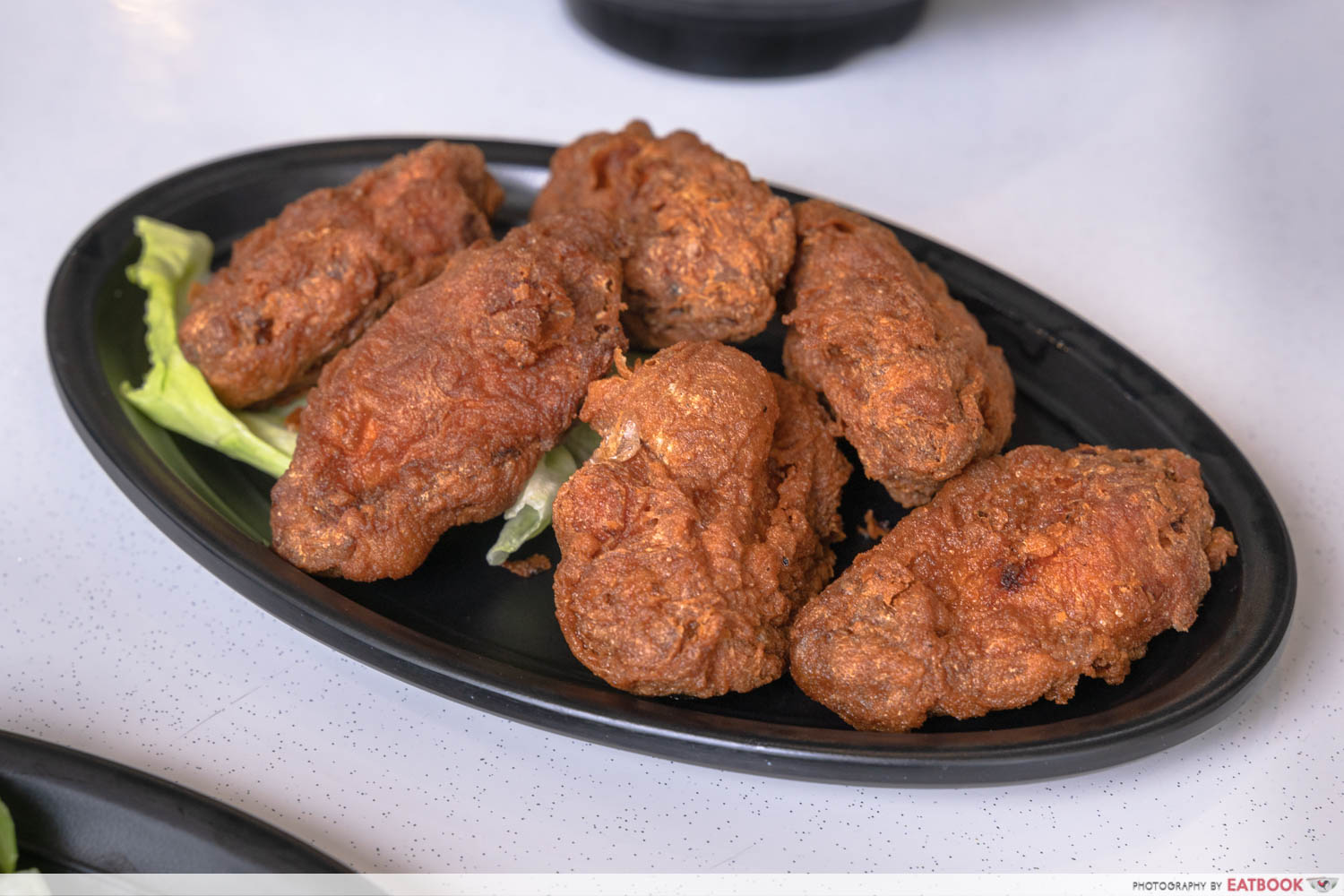 We finished off with their Hakka Fried Mid Wings ($5.50), which according to Chef Pang had been added after they realised how pork-heavy their whole menu was. I saw a little girl at the table next to me absolutely demolishing each wing with relish, so it's a great option if you have picky children to feed.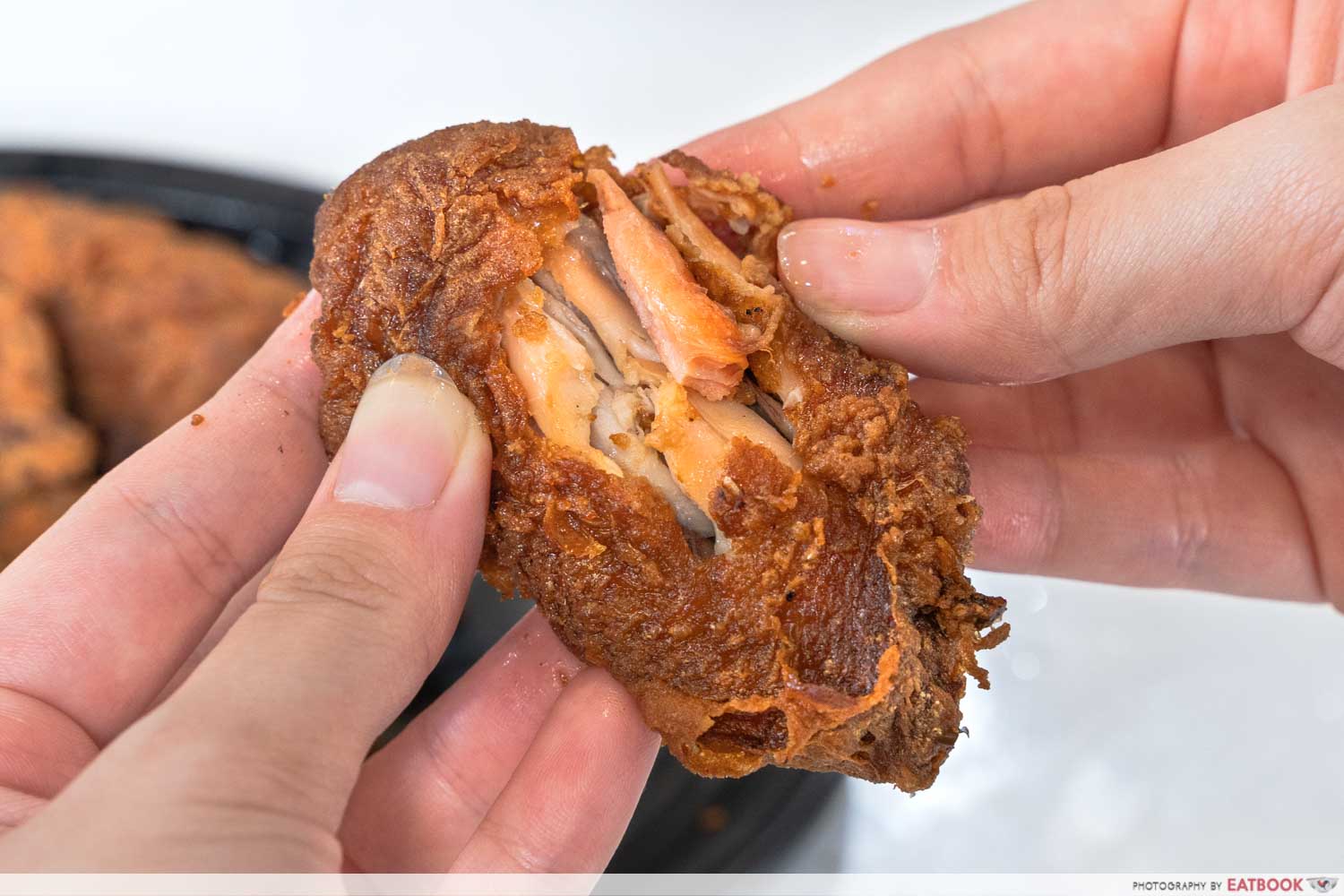 The wings were a little too greasy for me, and I felt they were a little bitter, possibly due to the secret marinade made from preserved bean curd, though the crispy skin and tender meat more than made up for it. 
On the other hand, my colleague was a fan of the funky taste from the marinade, so I'd recommend giving it a try anyway to decide if this is a side you'd like. 
12 Alexandra Central Mall Food Places For Korean BBQ, Deep-Fried Crab Bao And More
Ambience at Pang's Hakka Noodles
Previously housed in Block 131, Pang's stall seems to be perpetually on the move, though I'm personally hoping that they'll stay in their new location in Get Together Coffee Shop for the foreseeable future, as it is conveniently near my favoured Bukit Merah haunts of IKEA Alexandra, Alexandra Central Mall, and the ABC Brickworks Food Centre. 
Unfortunately, those hoping to get there by MRT will find that they're now even further from any station, being a roughly 20-minute walk or bus ride from Queenstown MRT Station.
The stall is located next to branches of Rong Cheng Rou Gu Cha and Tai Wah Pork Noodle, but consistently maintained the longest queue the whole time I was there. Thankfully, the birds here are far less aggressive than those at their previous location. 
The verdict
My colleague wasn't wrong when she said that Pang's Hakka Noodles had some of the best noodles around, and I'm thankful she convinced me to venture out of my usual lunch spots in the area to come here. As to their traditional fare, I think it's a solid place to go if you have never tried Hakka food before, especially for dishes such as abacus seeds, which is becoming an increasingly rare sight in Singapore.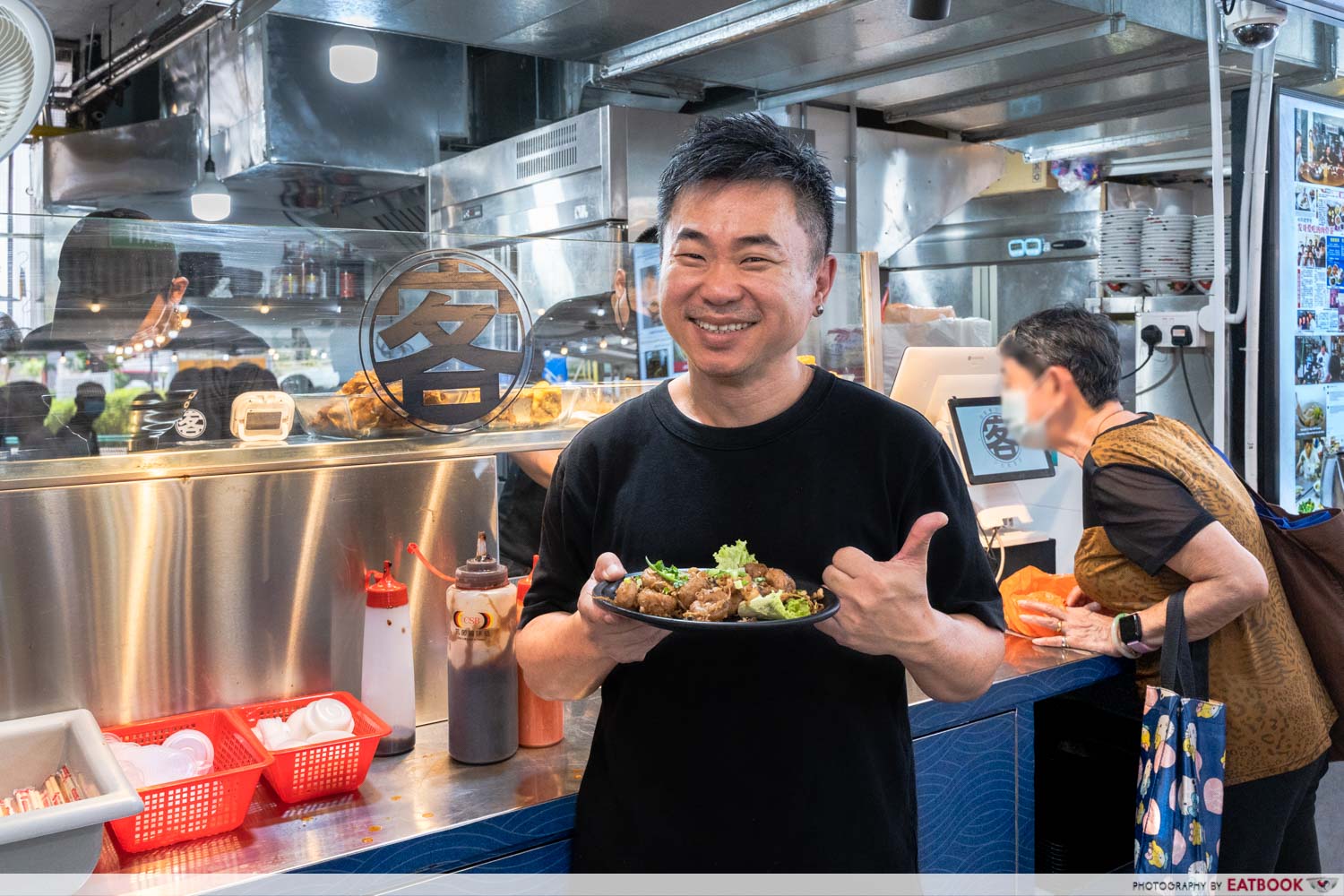 I probably would come back, if only because the leftover food I brought back sold my family on the magic of Pang's Hakka Noodles. The only reason I was awake before noon the next day was that they woke me up with a phone call asking for directions to 'the noodle stall' for lunch, so I imagine that I'll be asked to dabao food from this stall the next time I'm in the area.
Check out our Alexandra Central Mall guide for my favourite places to have lunch in the area without having to deal with the crowded IKEA cafeteria. Otherwise, another must-try hawker stall around is Bukit Merah View Carrot Cake that's been in business for over 70 years!
Address: 2 Jalan Bukit Merah, Singapore 1550002
Opening hours: Daily 8am to 8pm
Website
Pang's Hakka Noodles is not a halal-certified eatery.
Bukit Merah View Carrot Cake: The Legendary Chai Tow Kway Stall Around Since The 1950s
Photos taken by Tan Jia Hui.
This was a media tasting at Pang's Hakka Noodles.
Pang's Hakka Noodles Review: Springy Noodles With Crispy Lard, Abacus Seeds And More In Bukit Merah
Pang's Hakka Noodles Review: Springy Noodles With Crispy Lard, Abacus Seeds And More In Bukit Merah -

8/10
Summary
Pros
– Noodles were as good as they're said to be
– I would buy the extra spicy shrimp sambal a la carte
– Decent traditional Hakka fare
Cons
– Expect to wait during the lunch hour
– Some dishes were a little too greasy
– Not remotely close to MRT
Recommended dishes: Signature Curry Hakka YTF Noodle ($6.80), Signature Hakka YTF Noodle ($6.30)
Opening hours: Daily 8am to 8pm
Address: 2 Jalan Bukit Merah, Singapore 1550002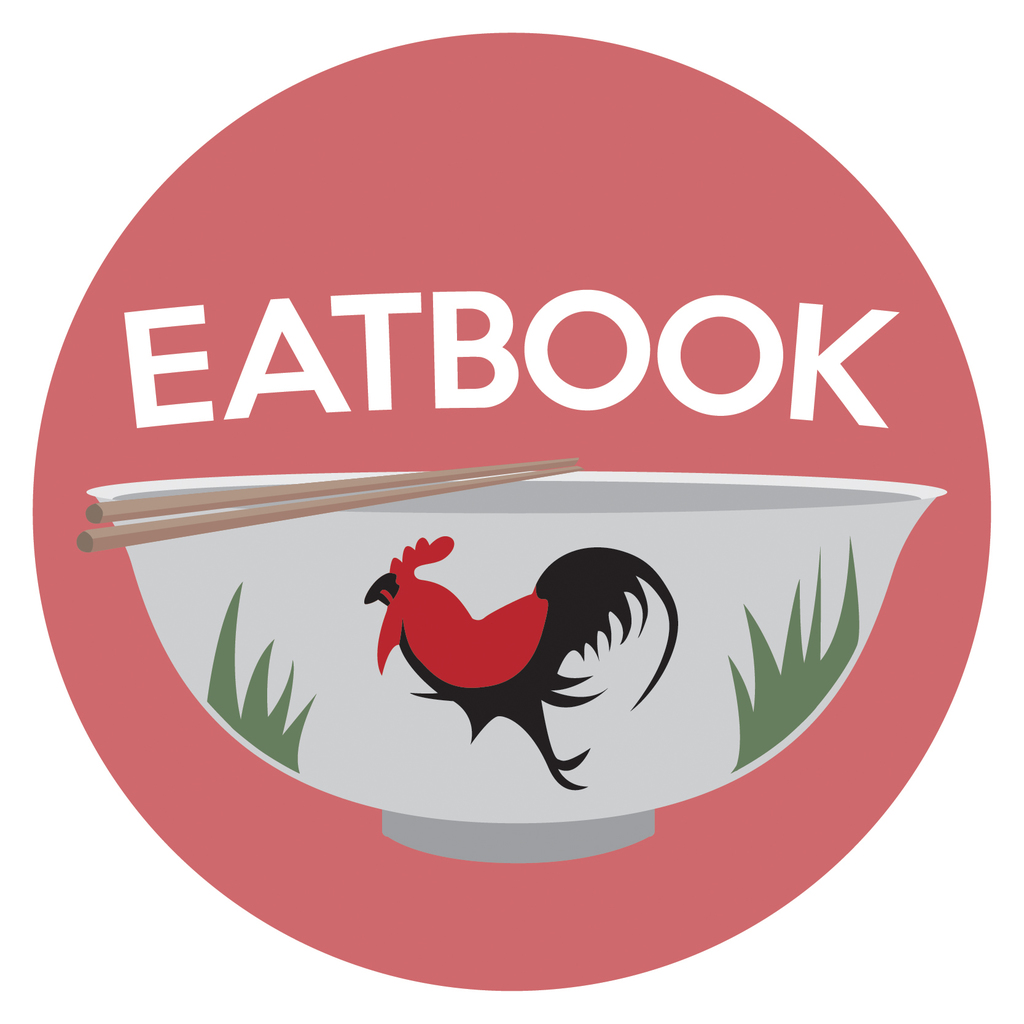 Drop us your email so you won't miss the latest news.