Pang's Hakka Noodles for yong tau foo and more in Bukit Merah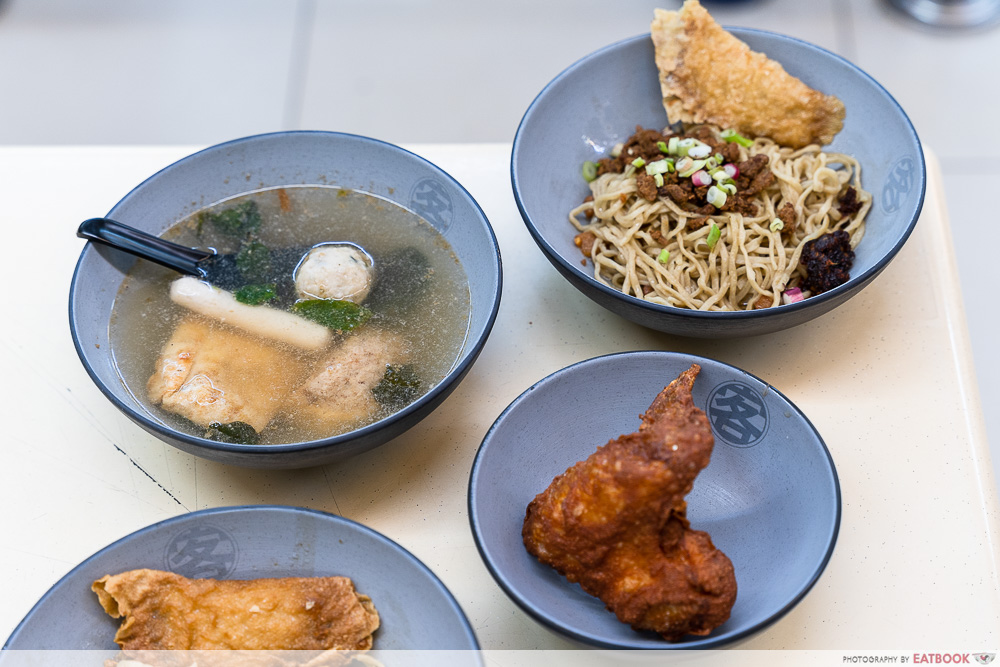 If I can only live off one type of carb for the rest of my life, it'll have to be noodles. I'm super picky about the texture of my noodles, though—they need to be firm yet springy, and most importantly, not overcooked. When I heard of Pang's Hakka Noodles, I knew I had to check them out.
Pang's Hakka Noodles is a humble hawker stall started by Chef Pang, the ex-chef of the now-defunct Antoinette and also the owner of curry rice stall Supercurry. They've garnered a decent following since opening in 2021, despite moving a couple of times. Their current Bukit Merah stall is the most updated location.
Supercurry Review: Supreme-Inspired Curry Rice Stall By Ex-Antoinette Cafe Founder
Food at Pang's Hakka Noodles
Chef Pang's famous Hakka noodles are what everyone is here for. Prices start at $5.50 for the Dry Hakka Noodles with Scholar Soup, and go up to $7.80 for a set that comes with a fried chicken wing and a bowl of yong tau foo soup.
While prices are slightly above-average for hawker fare, you do get fresh, quality ingredients that appear to be a notch above the others.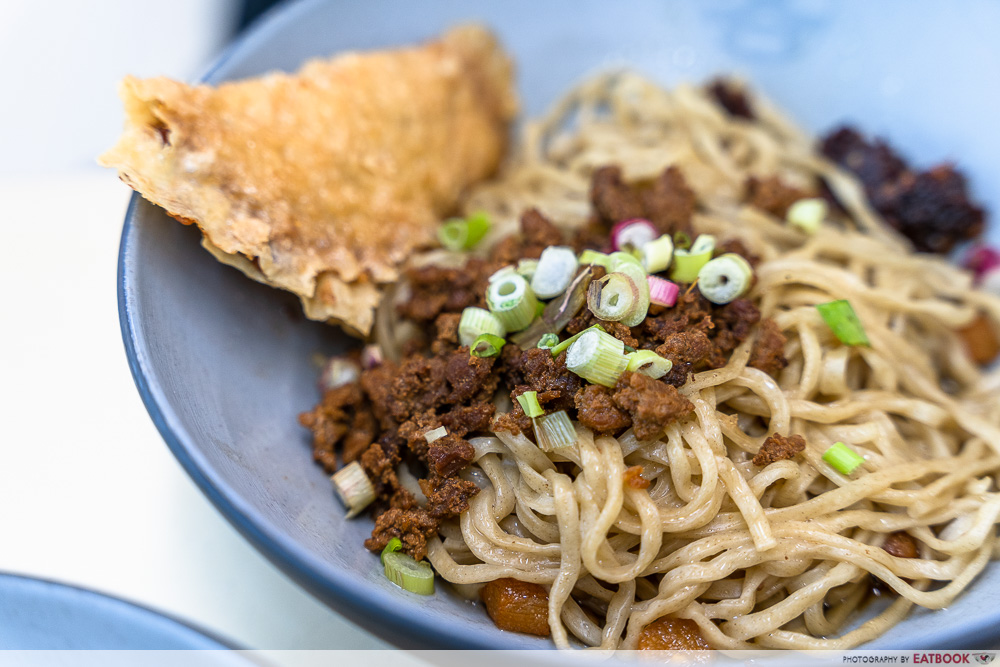 We went straight for the most expensive set, the Signature Hakka Noodles with Wings Set ($7.80). Featuring perfectly cooked mee tossed in an aromatic mixture of lard and minced pork, served with house-made sambal on the side, it's clear that a lot of thought has gone into the execution of this dry noodle dish.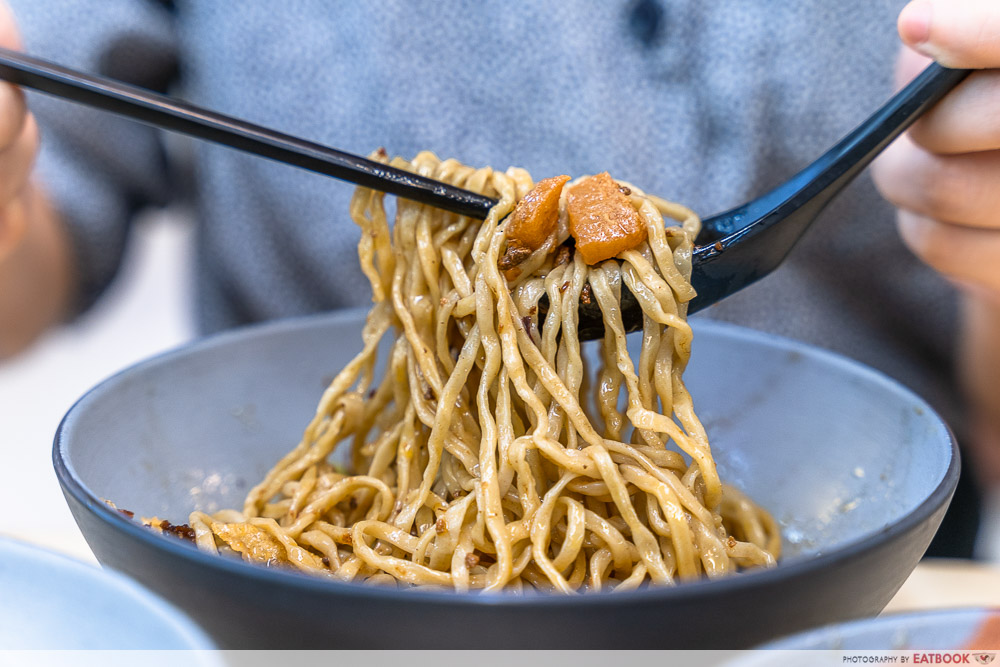 The noodles are specially formulated in their central kitchen, as with the Extra Spicy Shrimp Sambal that's also sold by the bottle ($9.80). Sitting at the bottom of the pile is a generous portion of crispy lard that's fried on-site, adding a burst of greasy goodness to each bite. Make sure you mix well before enjoying to ensure the al dente noods are coated well with the meat, the lard, and the fried garlic oil.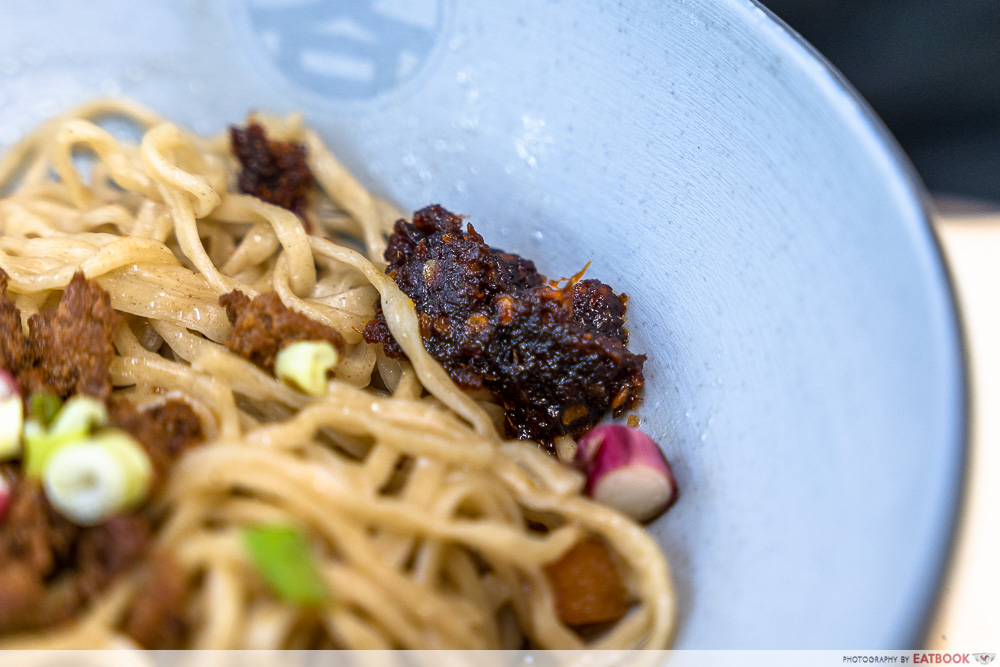 I was surprised by how much I enjoyed the spoonful of hae bee hiam-spiked sambal, unassumingly plopped on the side of the bowl. It was aromatic and packed with umami, elevating the rich and meaty flavours of the other components.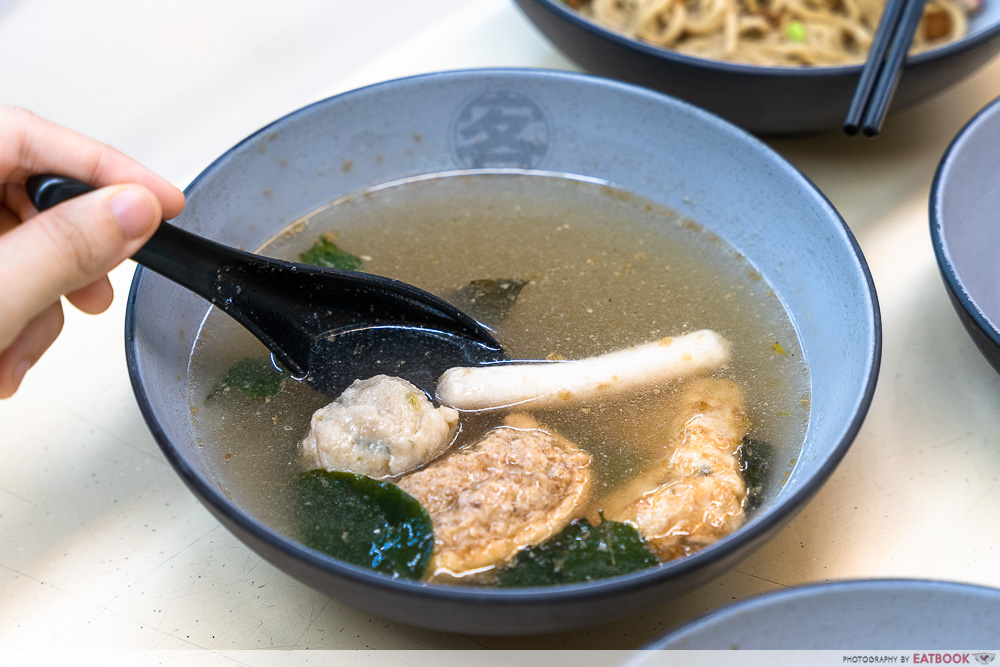 I paired each spoonful of noodles with a healthy serving of yong tau foo soup, which came with the set.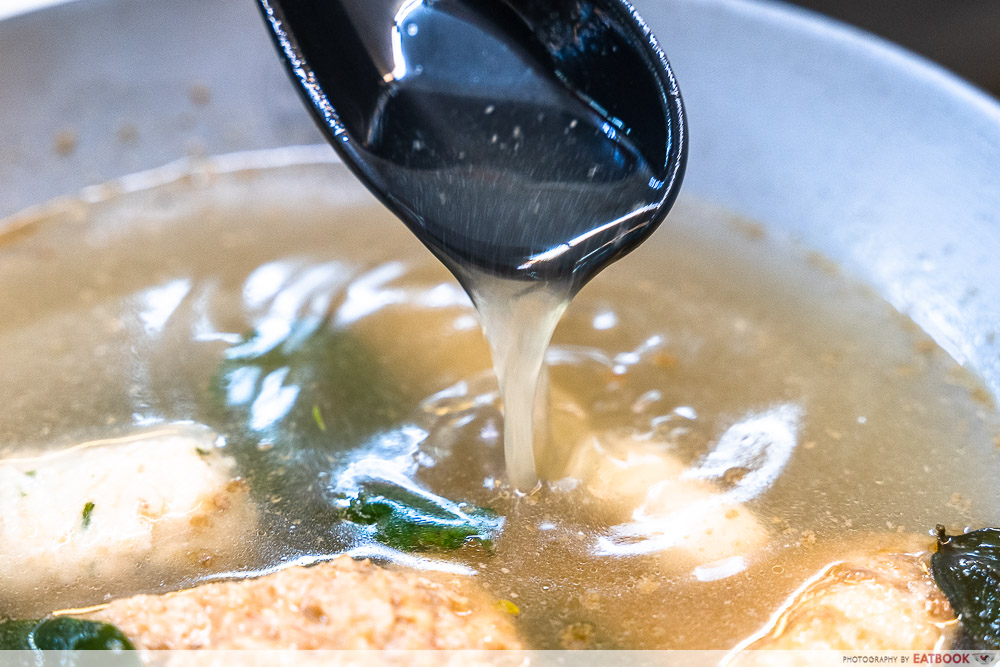 The clean and simple flavours of the clear broth helped to offset the richness and cut through the heaviness of the noodles. I did find the soup a tad bland, though that's easily remedied by sampling it first, followed by the noodles, as suggested by a reviewer on Google.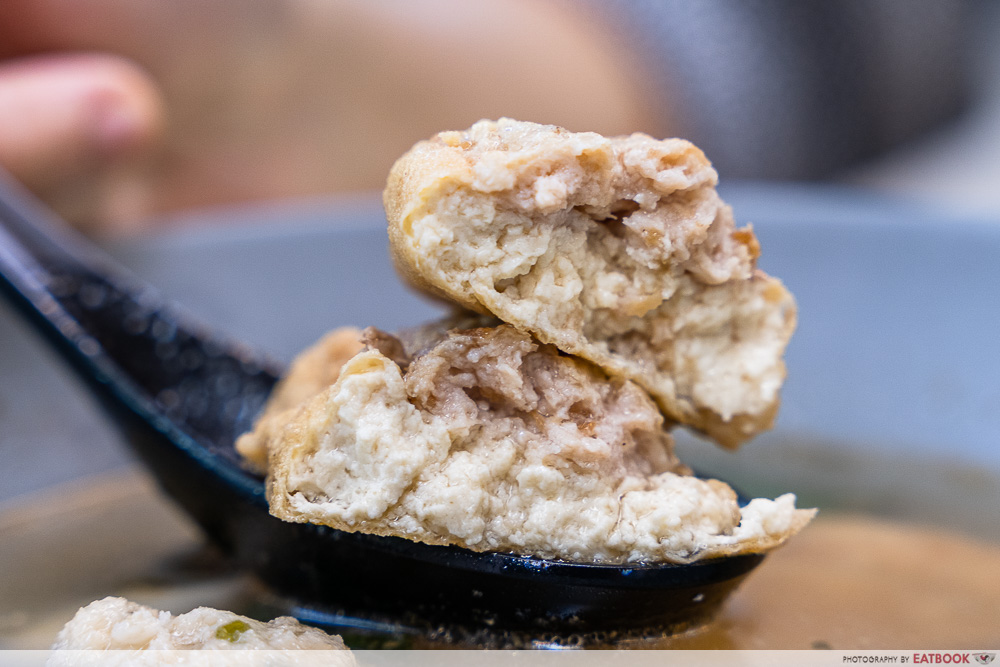 In the soup is a mix of house-made Hakka yong tau foo, which tasted fresh. To be honest, these were rather unmemorable when placed against the noodles. I'd preferred the yong tau foo to be more seasoned, but that could also be a personal preference.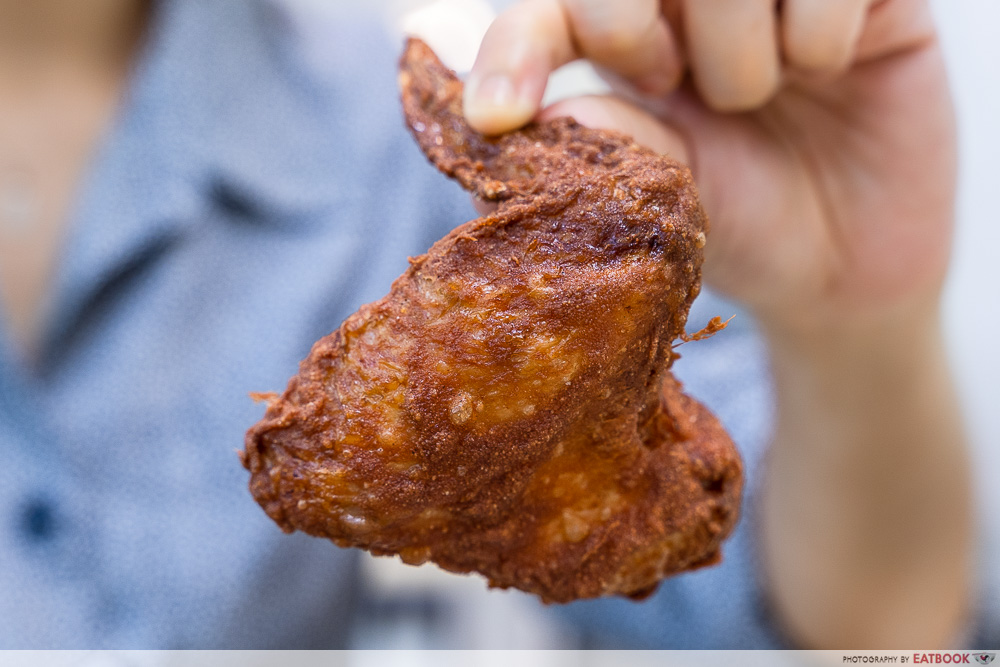 You also get one Hakka Fried Wing that's usually priced at $4.20 for two. Marinated in a secret blend of preserved bean curd and spices, each chicken wing is deep-fried upon order, so you're getting it piping hot.
I liked how the batter was not too thick, and how the meat was still juicy inside. It reminded me of prawn-paste chicken, with a slightly funky, umami flavour that I found incredibly moreish.
Ambience at Pang's Hakka Noodles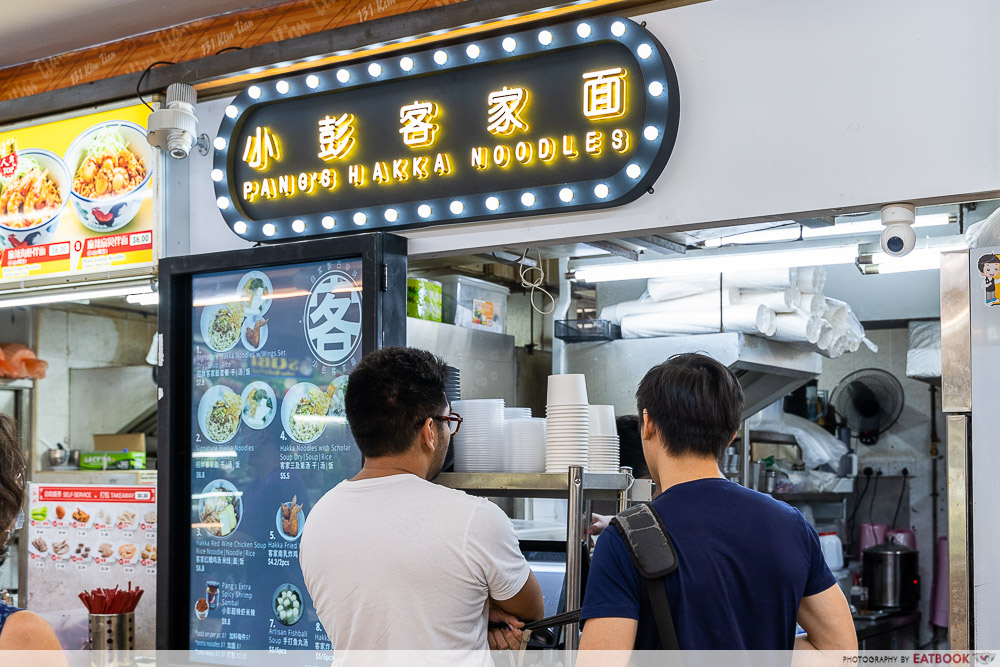 The hawker stall sits in a random coffeeshop in the quiet Bukit Merah estate, about 10 minutes by foot from Tiong Bahru MRT Station. It's not the most convenient to get to, but is the ideal location for those working or residing nearby.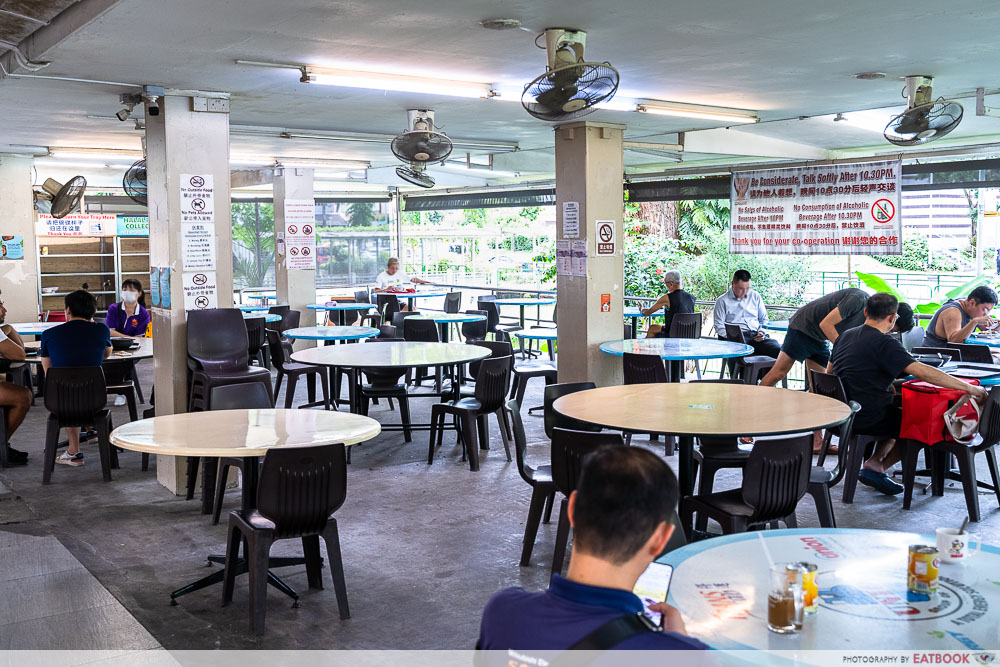 If you choose to sit near the open-air field, make sure you keep your eye out for birds that are eyeing their next meal.
The verdict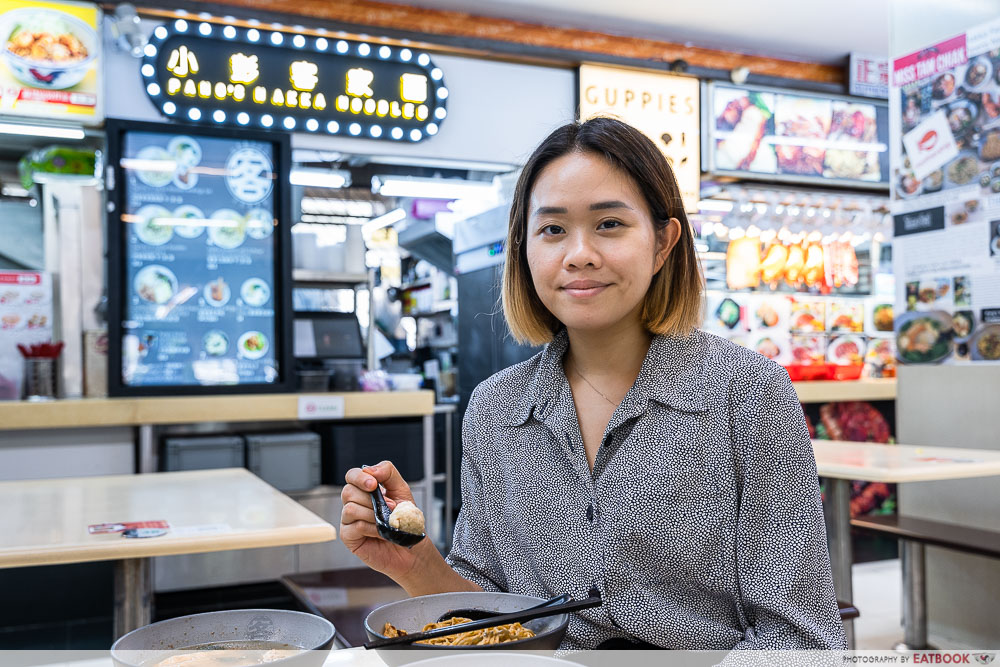 Pang's Hakka Noodles might be a tad out of the way for me, but I'll definitely bookmark the stall if I'm in the area. Their firm yet springy noodles, paired with the fragrant sambal, flavourful minced pork, and sinful lard, are perfect for days when the noodle cravings hit.
Another must-eat in the area is Bukit Merah View Carrot Cake that's been around for more than 70 years! There's also the new-ish JOFA Grill in Bukit Merah, a Western food stall started by the same folks behind JOFA Meepok.
Address: 131 Jalan Bukit Merah, #01-1599, Singapore 160131
Opening hours: Mon-Tues, Thurs-Fri 9am to 3pm, Sat-Sun 9am to 4pm
Website
Pang's Hakka Noodles is not a halal-certified eatery.
Bukit Merah View Carrot Cake: The Legendary Chai Tow Kway Stall Around Since The 1950s
Photos taken by Chew Yi En.
This was a media tasting at Pang's Hakka Noodles.
Pang's Hakka Noodles Review: Springy Noodles With Lard, Hakka Yong Tau Foo And More In Bukit Merah
Pang's Hakka Noodles Review: Springy Noodles With Crispy Lard, Yong Tau Foo And More In Bukit Merah -

8/10
Summary
Pros
– Springy and flavourful noodles
– Delicious, fried-to-order chicken wings
Cons
– Expect to wait during the lunch hour
– On the greasy side
Recommended dishes: Signature Hakka Noodles with Wing Set ($7.80)
Opening hours: Mon-Tues, Thurs-Fri 9am to 3pm, Sat-Sun 9am to 4pm
Address: 131 Jalan Bukit Merah, #01-1599, Singapore 160131