---
What to eat at Margaret Market
---
Just down the road from Queenstown MRT Station is Margaret Drive Food Centre, which opened last year in the wake of Tanglin Halt Food Centre's closure. If you've already fully explored everything in the food centre, here's some new blood in the 'hood to check out at the all-new Margaret Market, housing—at the point of writing—seven stalls, with more to come, as well as free-for-all seats in the atrium and on the second floor. So you know what to expect, here's our guide to Margaret Market food places for you to check out.
---
1. Urban Folks
---
Urban Folks is an Aussie-style cafe that's got acai bowls, sandwiches, and jaffles on the menu! Jaffles, for the unacquainted, is an Australian-coined term for toasties, with the sides of the toasted sandwich sealed in the toaster. Try the Eggsquisite ($9.80) for a toastie stuffed with Asian chilli eggs, chicken Spam, and a house blend of cheeses; otherwise have the Curry-San ($9.80) if you're feeling like Japanese beef curry with caramelised onions and cheese.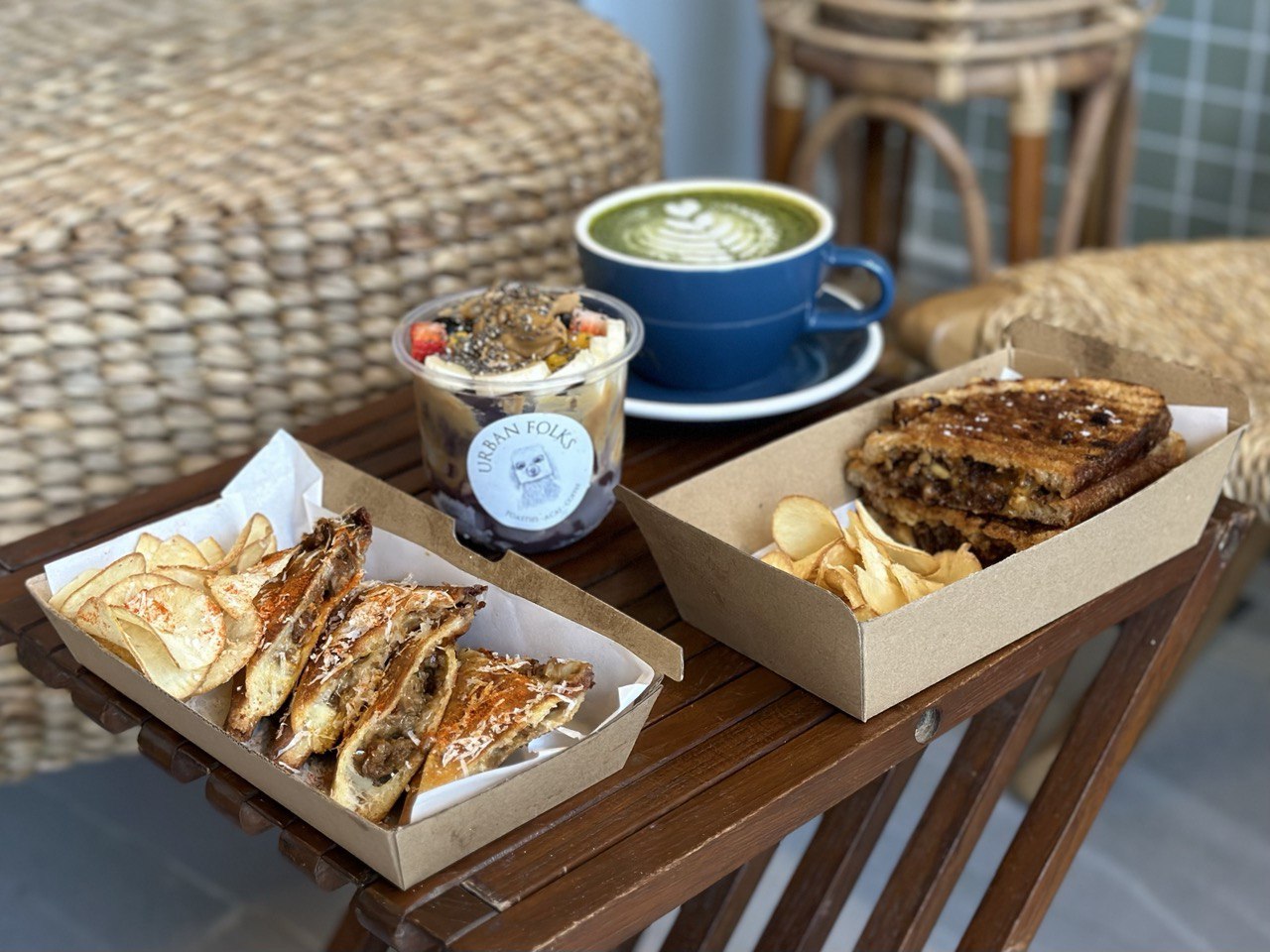 Image credit: Michelle P
We tried the Beef Bomb ($15) sammie, which we loved for its mix of bulgogi beef and kimchi slaw with cheese, though you could order a Hammin' Cheese ($12.50) for a croissant-wich with chicken ham and a relish. Acai lovers should definitely order The Urban Bowl ($9.50/$13.50), starring an organic acai base with cut fruit toppings and your choice of sauce: almond butter, cookie butter, peanut butter, Nutella,  or honey!
Unit number: #01-07
Opening hours: Daily 9am to 6pm
Website
Urban Folks is not a halal-certified eatery, but does not serve pork or lard
---
2. Emart24
---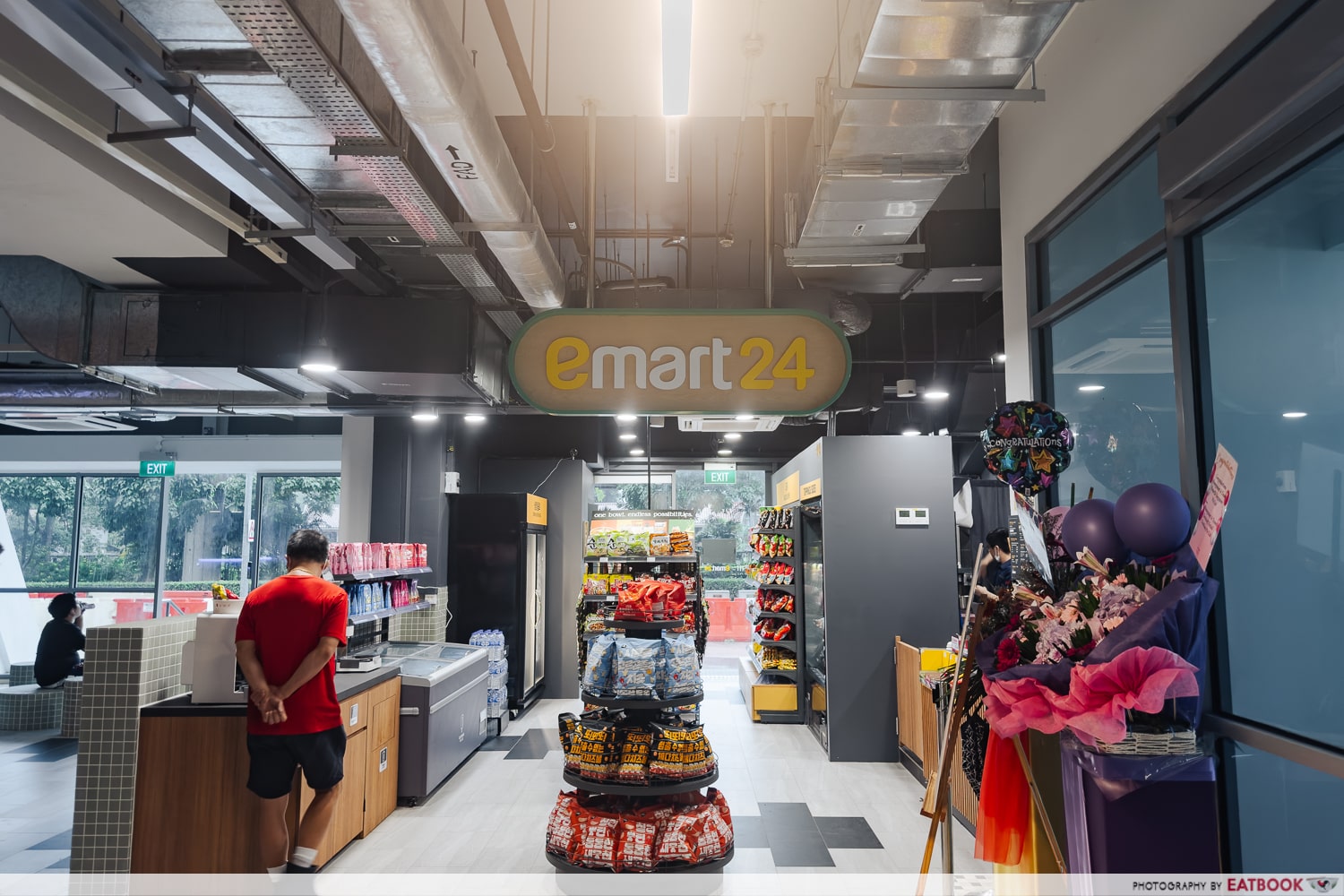 After two hit locations in NEX and Jurong Point, Korean convenience store Emart24 is back with their third at Margaret Market! This Queenstown store is smaller than the rest, but is no less interesting: you'll find ramyeon cookers here so you can cook your instant noodles right away!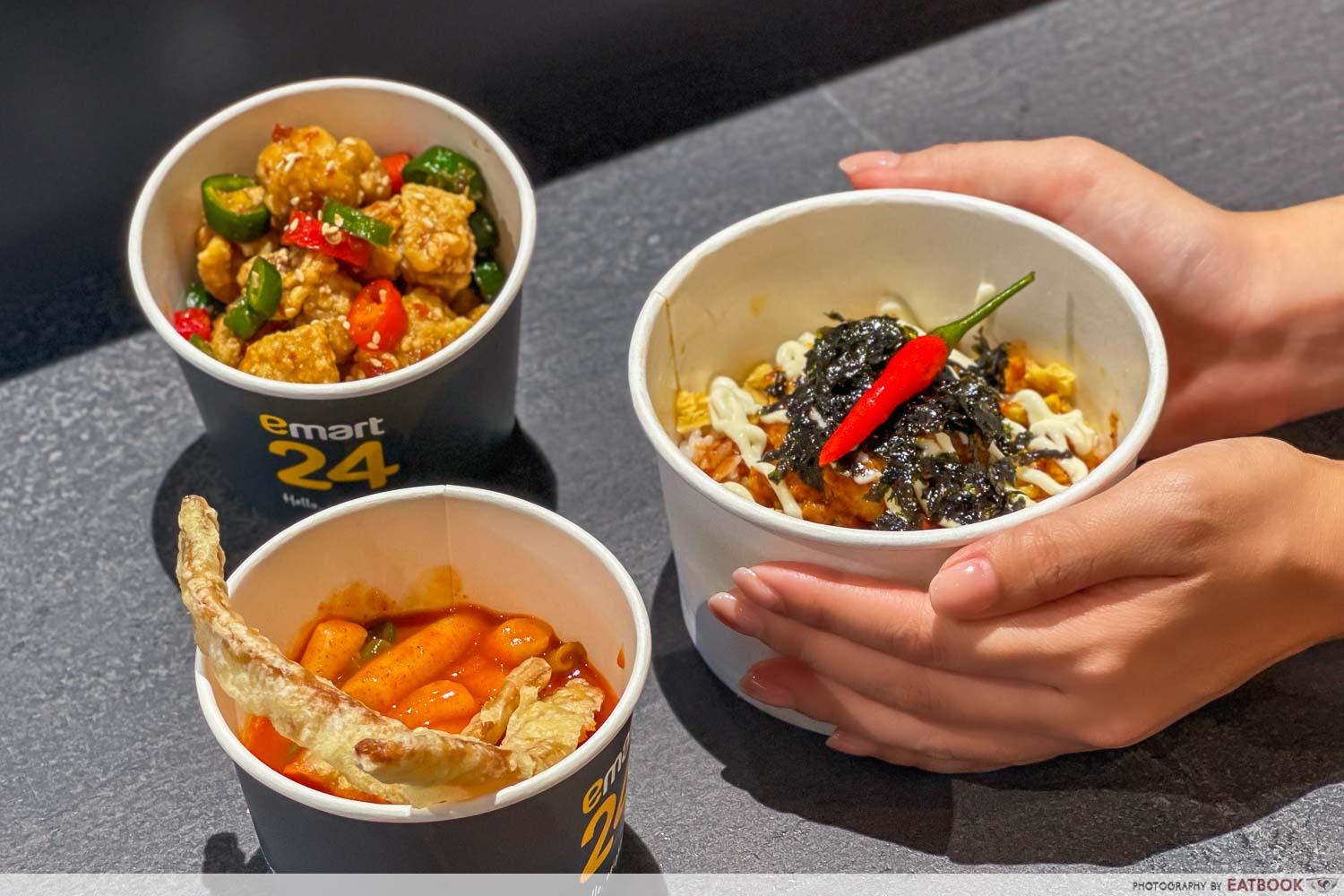 Ramyeon packets here start from $2.50 a piece, which you can zhng up with eggs, sausages, and even individual portions of Spam or cheese! That's not all—there are new items on the hot food menu at Emart24! Think Korean Spam Kimchi Fried Rice ($5.90) and Ginseng Chicken Soup ($16.90), or a cook-it-yourself Army Stew ($5.90).
Unit number: #01-10
Opening hours: Daily 10am to 10pm
Website
Emart24 is not a halal-certified eatery
Emart24 Opens In Queenstown With Popular Korean Street Food And Snacks 
---
3. The Homme Baker
---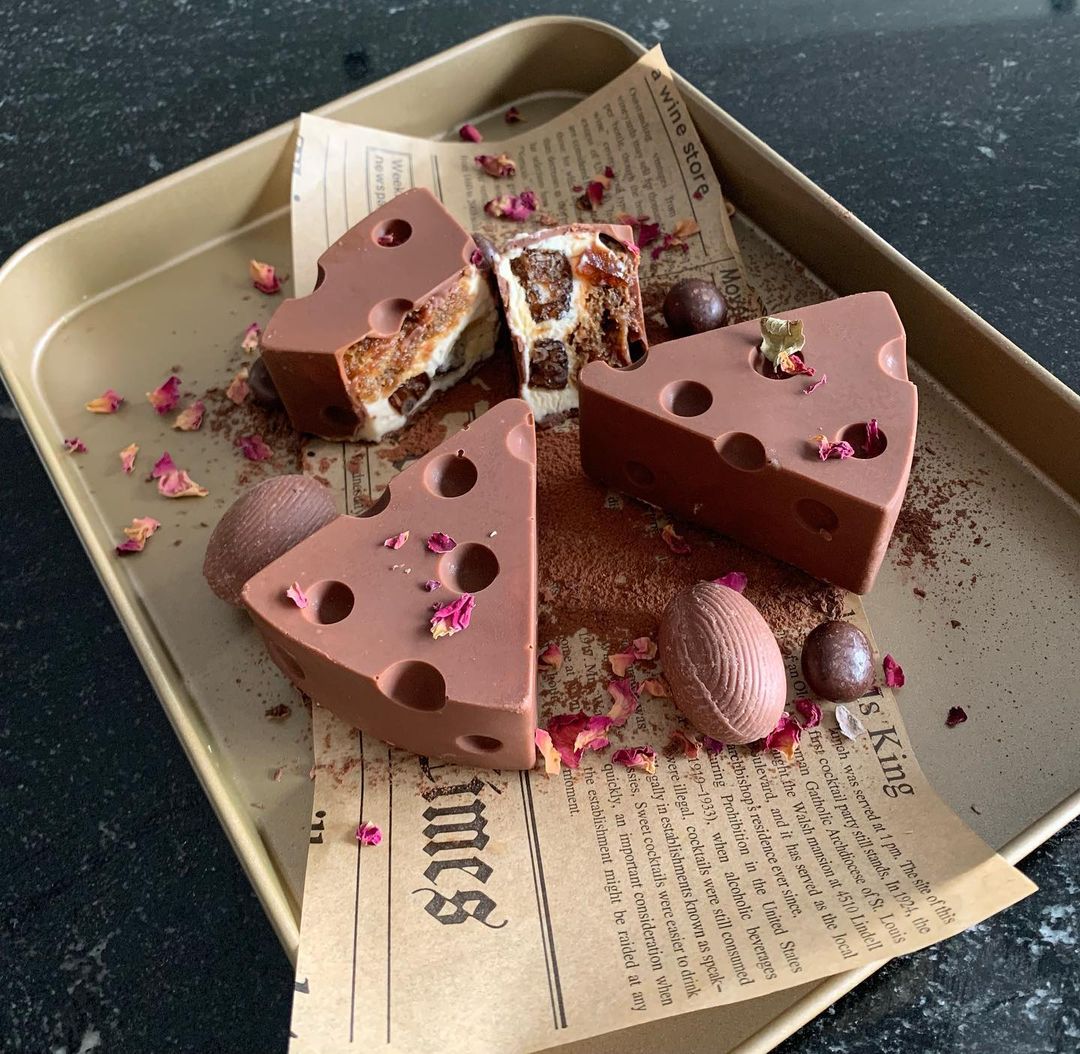 Image credit: @pondlim
The Homme Baker first started as an online bakery during the Covid-19 pandemic; this Margaret Market cafe is their first physical location. It's helmed by Bangkok-born pastry chef Pond Lim, whose signature T&J cakes, which look like cuts of Swiss cheese, have gained quite the following. There are six flavours in the T&J Collection, including Ondeh, Dark Chocolate Banoffee, Strawberry Shortcake and Yuzu. It's best to put in a preorder while they are still figuring out production at the new store: opt for boxes of three ($24.90) or six ($48.30) T&J cakes.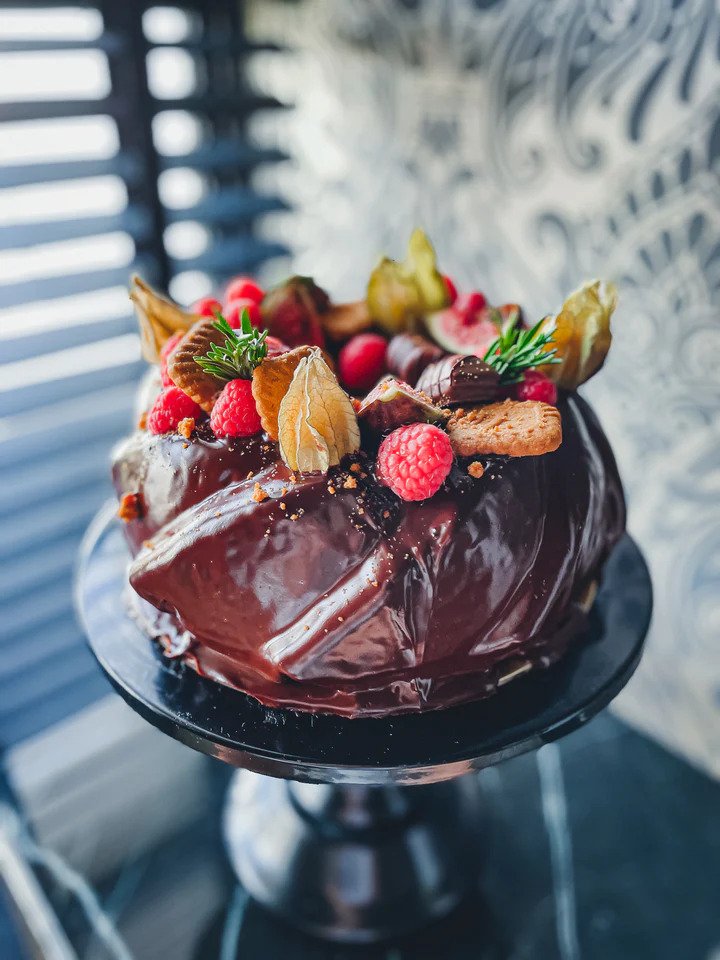 Image credit: The Homme Baker
Besides the T&J cakes, expect to find sliced and whole cakes here too. The Classic Pineapple Upside Down Cake ($60) is an old-school favourite, otherwise "Be Proud & Gorgeous" Chocolate Cake ($75) is a show-stopper of a chocolate cake, layered with a buttery chocolate sauce.
Unit number: #01-08
Opening hours: Tue-Sun 10:30am to 10pm
Tel: 9363 3800
Website
The Homme Baker is not a halal-certified eatery
9 Food Stalls To Try At The New Margaret Drive Hawker Centre, Including Famous Lontong And Congee
---
4. Ya Kun Kaya Toast
---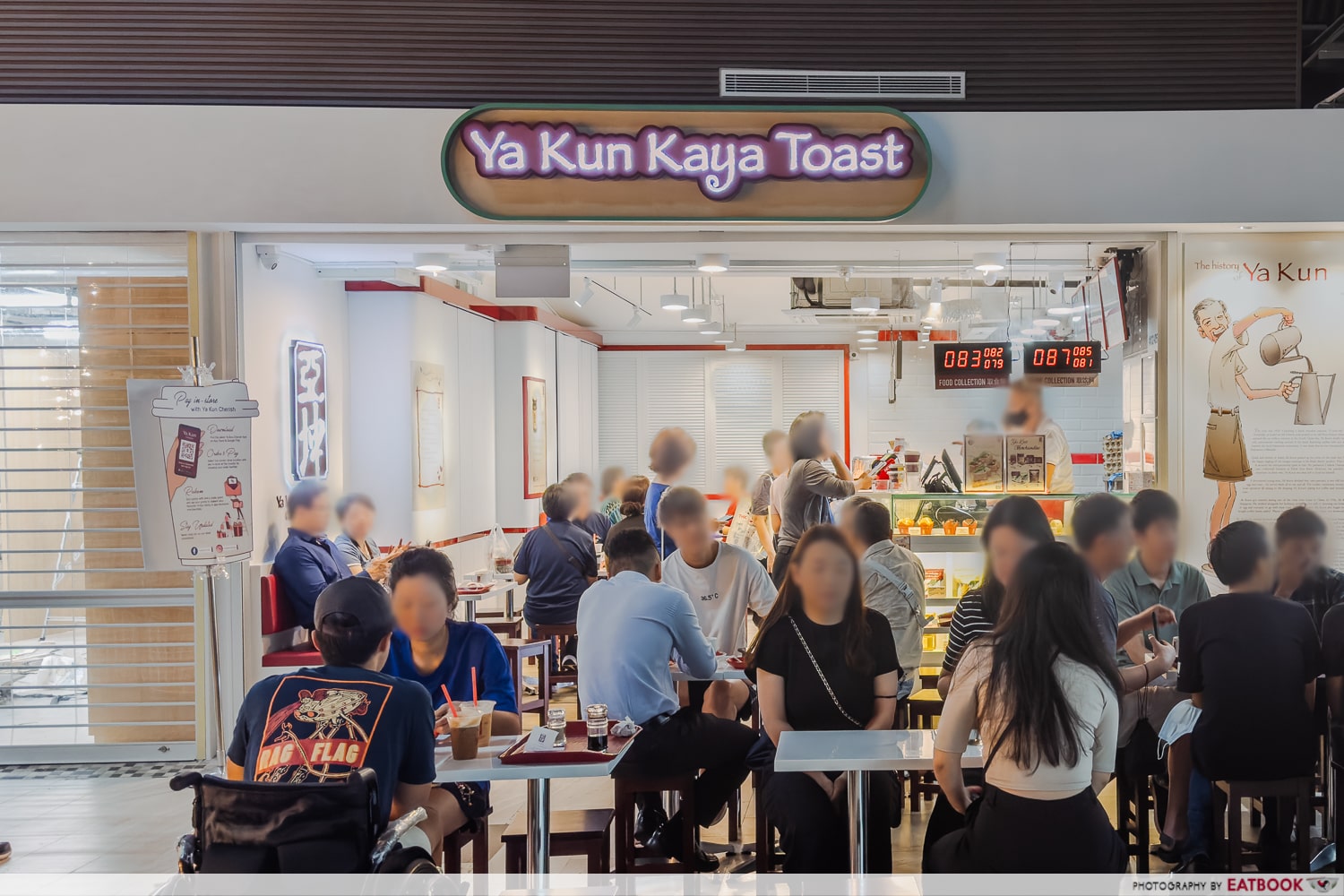 Ya Kun Kaya Toast needs no further introduction: the local brand dates back to 1926 when their founder Loi Ah Koon landed in Singapore, fresh off the junk from Hainan Island in China. Their legendary kaya, which you'll find in Kaya Toast with Butter ($2.60), is made to the same recipe that Ah Koon's wife created all those years ago.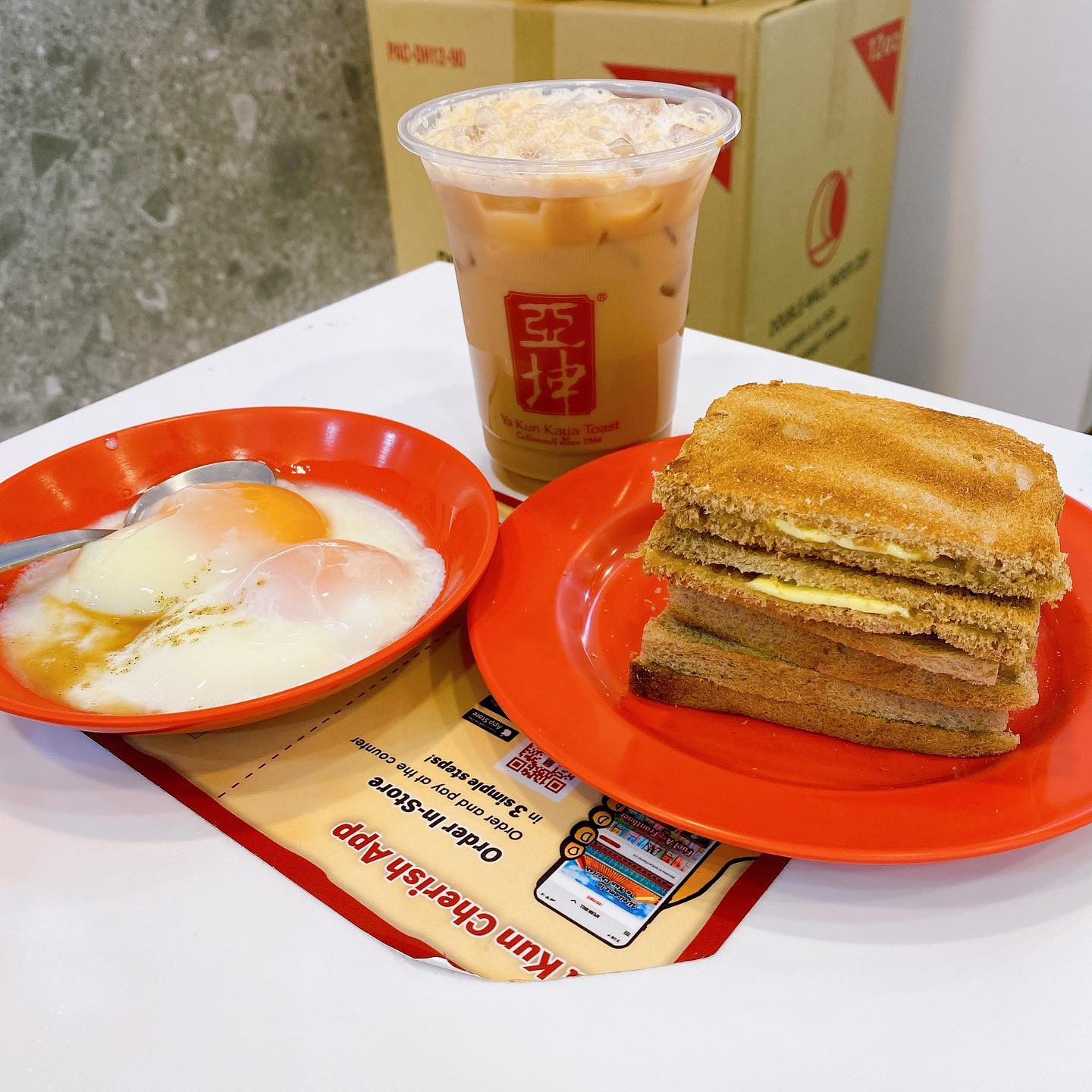 Image credit: @moment_of_white
Of course, they're keeping up with the times too, so you'll find French Toast with Kaya ($2.60) and Smoked Cheese French Toast with Kaya ($3) on the menu too. Have these alongside the classic Soft Boiled Eggs ($2) and a cup of Kopi O ($1.80). For something more filling, check out Rendang Chicken Toastwich ($4.20) or Fish Otah Toastwich ($4.20), or have a Kaya Pandan Chiffon ($2.70)!
Unit number: #02-05
Opening hours: Daily 7:30am to 7pm
Website
Ya Kun Kaya Toast is not a halal-certified eatery, but does not serve pork or lard
---
5. Wawa Lala Bee Hoon
---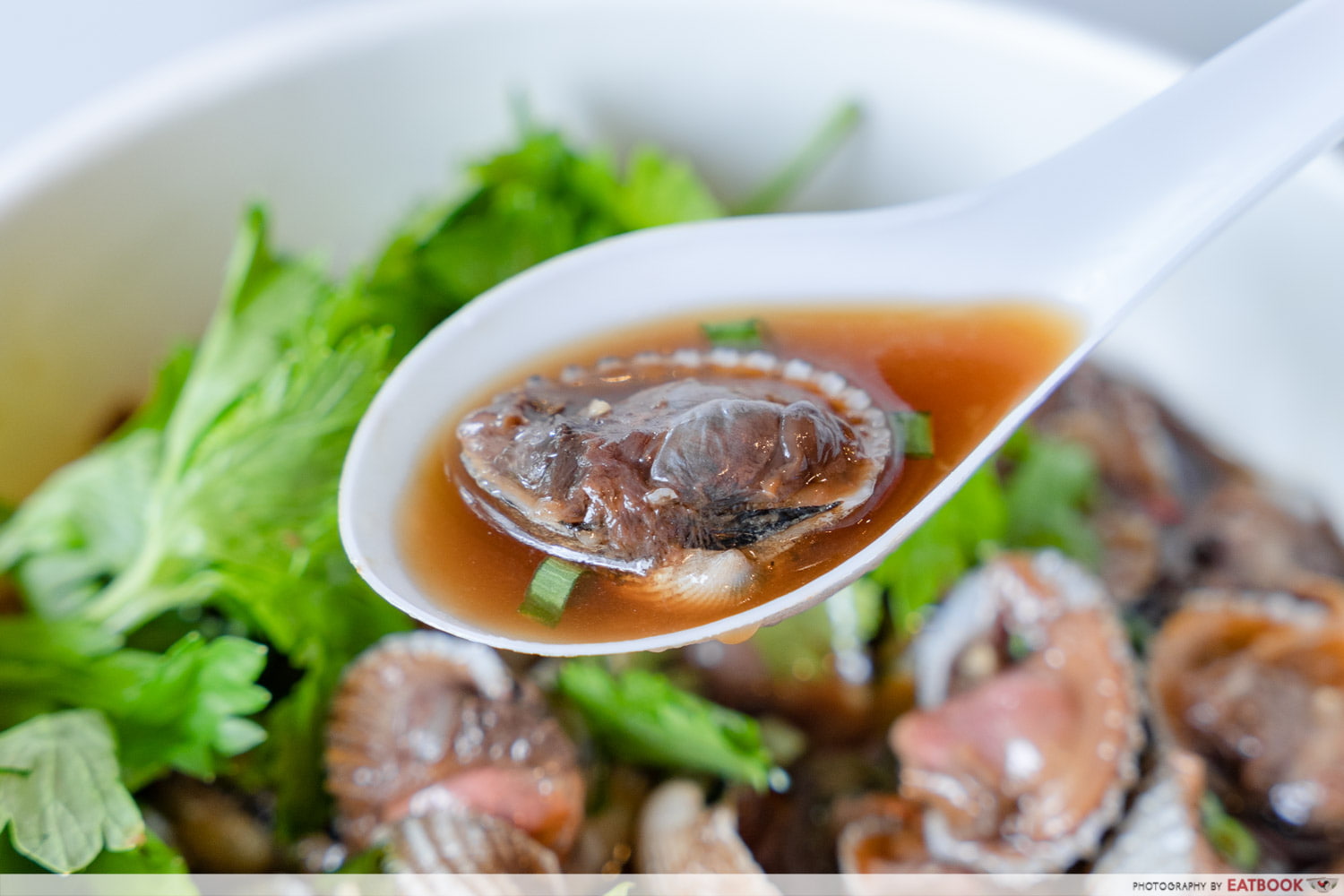 We last reviewed Wawa Lala Bee Hoon when they first opened their second outlet near Bugis and loved their drunken lala soup. Here at Margaret Market, you'll find Authentic Clam Noodles with Chinese Wine ($8.90), which you can choose to have with rice noodles or glass noodles. Alternatively, do as our writer did, and opt for it to come without noodles. Don't miss their Fresh Cockles Marinated in Wawa Special Sauce ($12.90): one of their bestselling items. Keep an eye on their socials, as they're set to launch new menu items in the coming weeks!
Unit number: #01-02/03
Opening hours: Tue-Sun 11:30am to 9:30pm
Tel: 8875 5122
Website
Wawa Lala Bee Hoon is not a halal-certified eatery
Wawa Lala Bee Hoon Review: Fresh Hum, Drunken Clams And More Under $12 In Bugis
---
6. Bowen's Cafe
---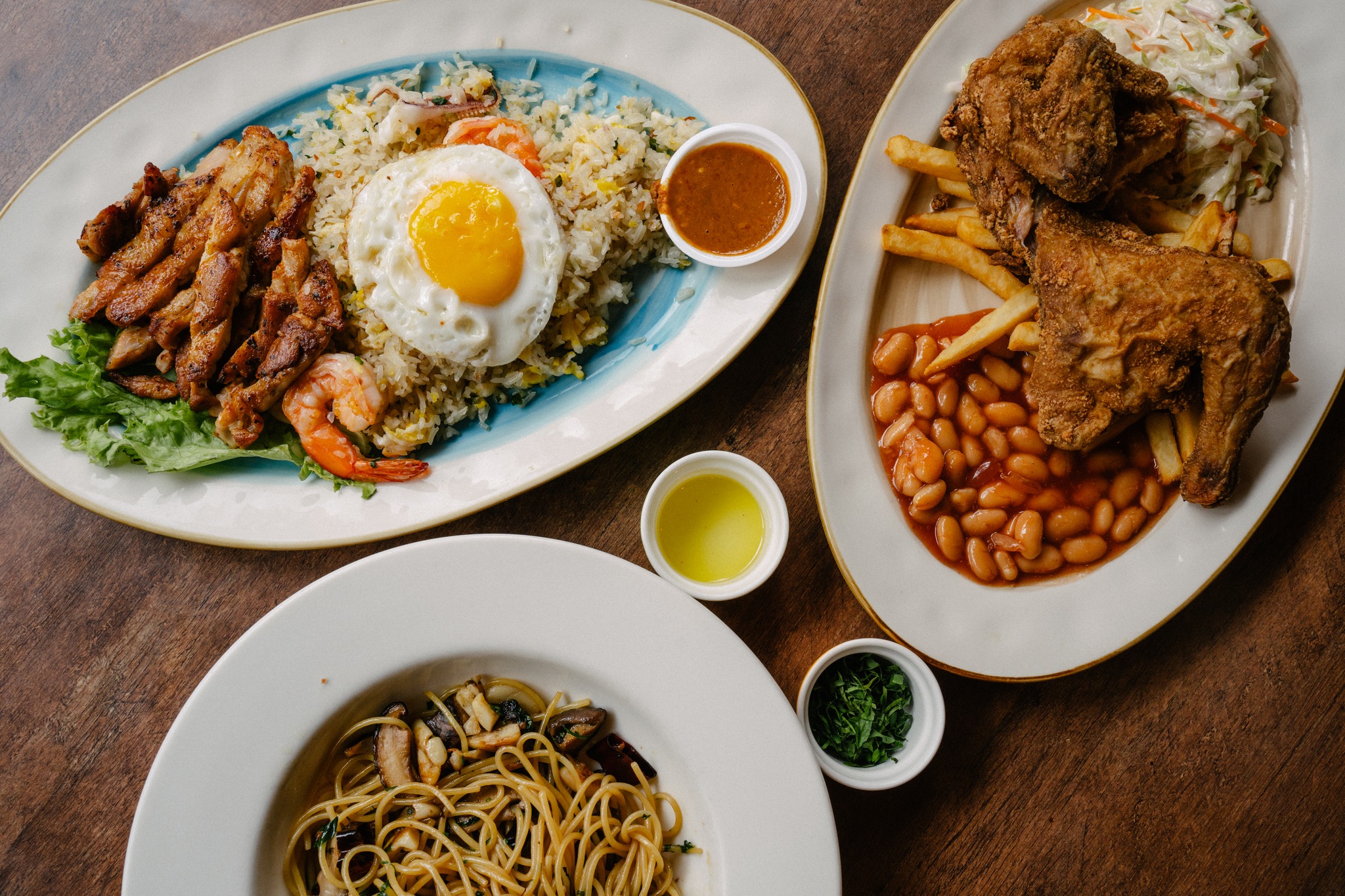 Image credit: Bowen's Western
Head to Bowen's Cafe for affordable Western fare, where Bowen's Classic Signature Tagliatelle Bolognese is priced at just $14.80. With the exception of Bowen's Signature Tagliatelle Crab Ragu ($24), Seafood Tomato Risotto ($25), Bowen's Signature Angus Prime Ribeye Steak ($26), and Bowen's Signature BBQ Pork Ribs ($30.50), the mains here will cost you less than $20 each. On the side, consider Truffle Fries ($9), Curly Fries ($4.80), or even Mexican Cheese Fries ($5.50)!
Unit number: #01-04
Opening hours: TBD
Tel: 9739 9992
Website
Bowen's Cafe is not a halal-certified eatery
---
7. Cu.Ra.Te
---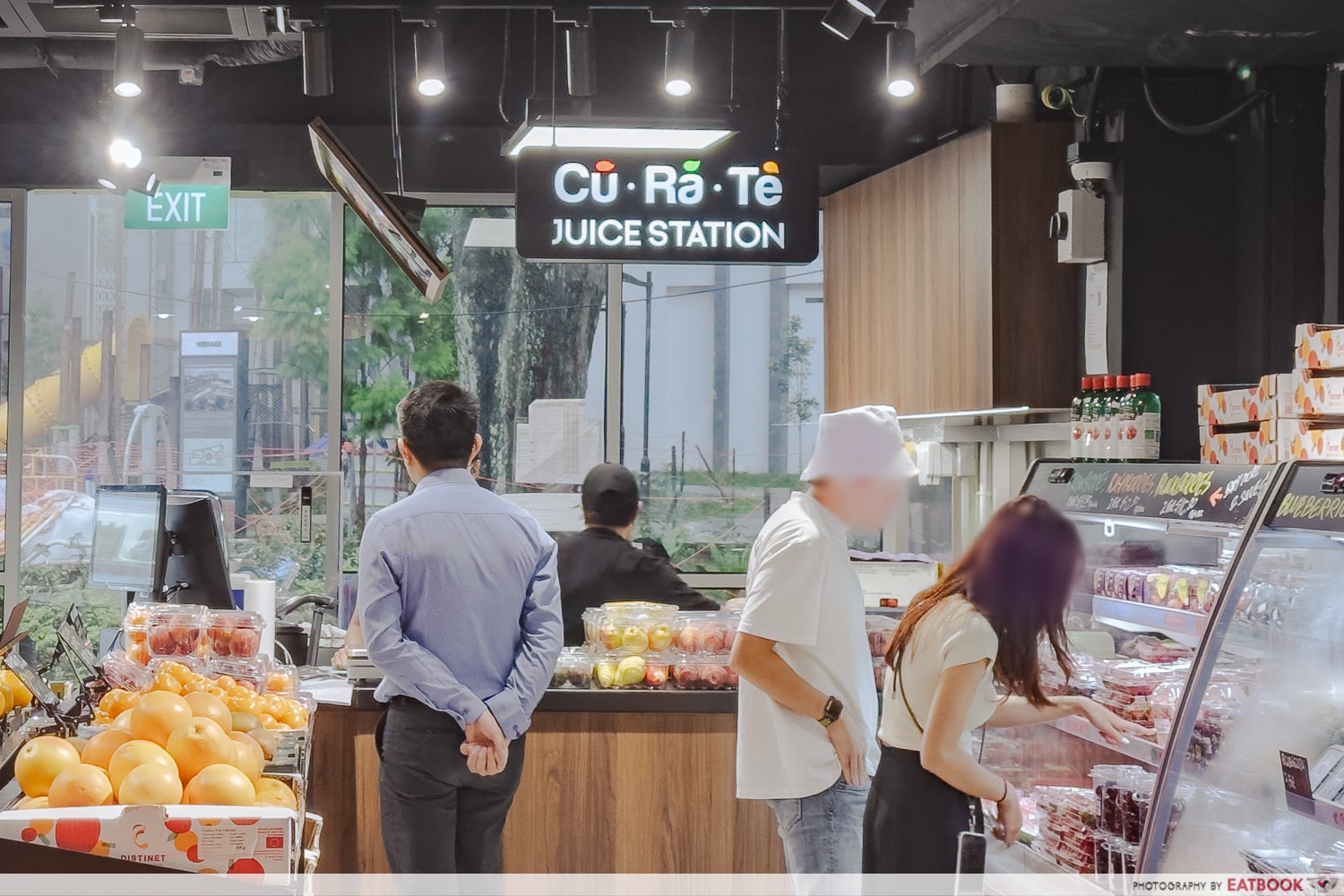 With communal seats aplenty, it's fine even if you're just looking to have some fruits or juice as you seek respite from the elements outside. Check out Cu.Ra.Te, a fruit stand right at the entrance of Margaret Market, where you'll be able to buy cut, portioned, and whole fruit. There's a juice stand too, where you'll be able to order juice made fresh to order. They've got fruit cups too, prepared fresh daily, with prices starting from $2.50 a cup of assorted fruit.
Unit number: #01-01
Opening hours: TBD
Cu.Ra.Te is not a halal-certified eatery
---
Food at Margaret Market
---
Whether you live in Queenstown or further away, Margaret Market has got a cosy selection of food spots for you to check out. If you stay in the East, we've got you covered too, with our East Village food guide, or even our guide to food in Bedok 85 Fengshan Food Centre.
Address: 38 Margaret Drive, Singapore 141038
10 Best East Village Food Places For Popular Chicken Rice, Spicy Ayam Geprek And More
Photos taken by Lynette Goh and edited by Ke-ian Leong.
This was an independent visit by Eatbook.sg.
Cover image adapted from @pondlim, Bowen's Western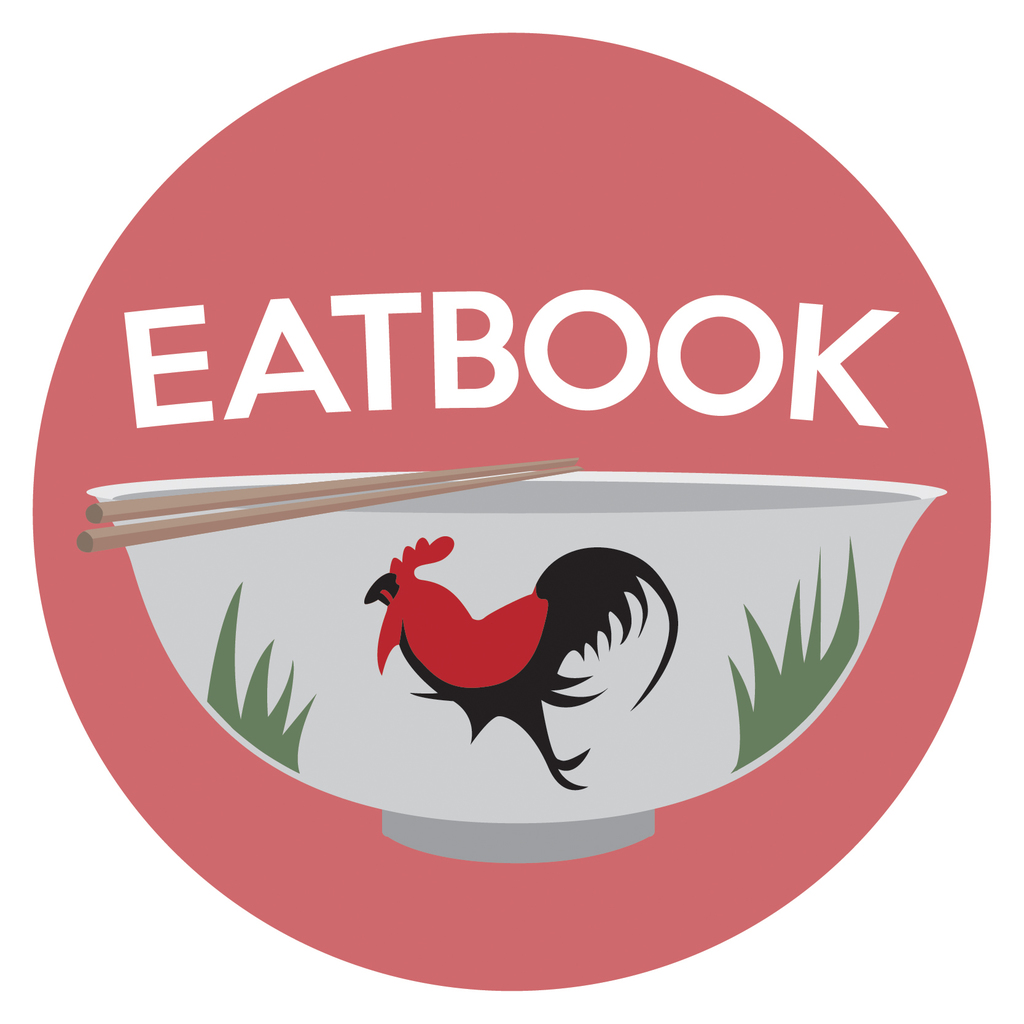 Drop us your email so you won't miss the latest news.