---
Cheap Nasi Ambeng in Singapore

---
For the uninitiated, Nasi Ambeng is a traditional Javanese dish that's usually eaten as a celebratory ceremonial meal. A selection of various dishes is served on a large dulang (tray), accompanying a mound of fragrant coconut rice.
As impressive as it sounds, locating a stall that serves nasi ambeng is a rarity in itself. Finding one that's affordable is even more difficult. This listicle highlights six affordable nasi ambeng in Singapore to bring your friends and family to this weekend.
---
1. Pu3

---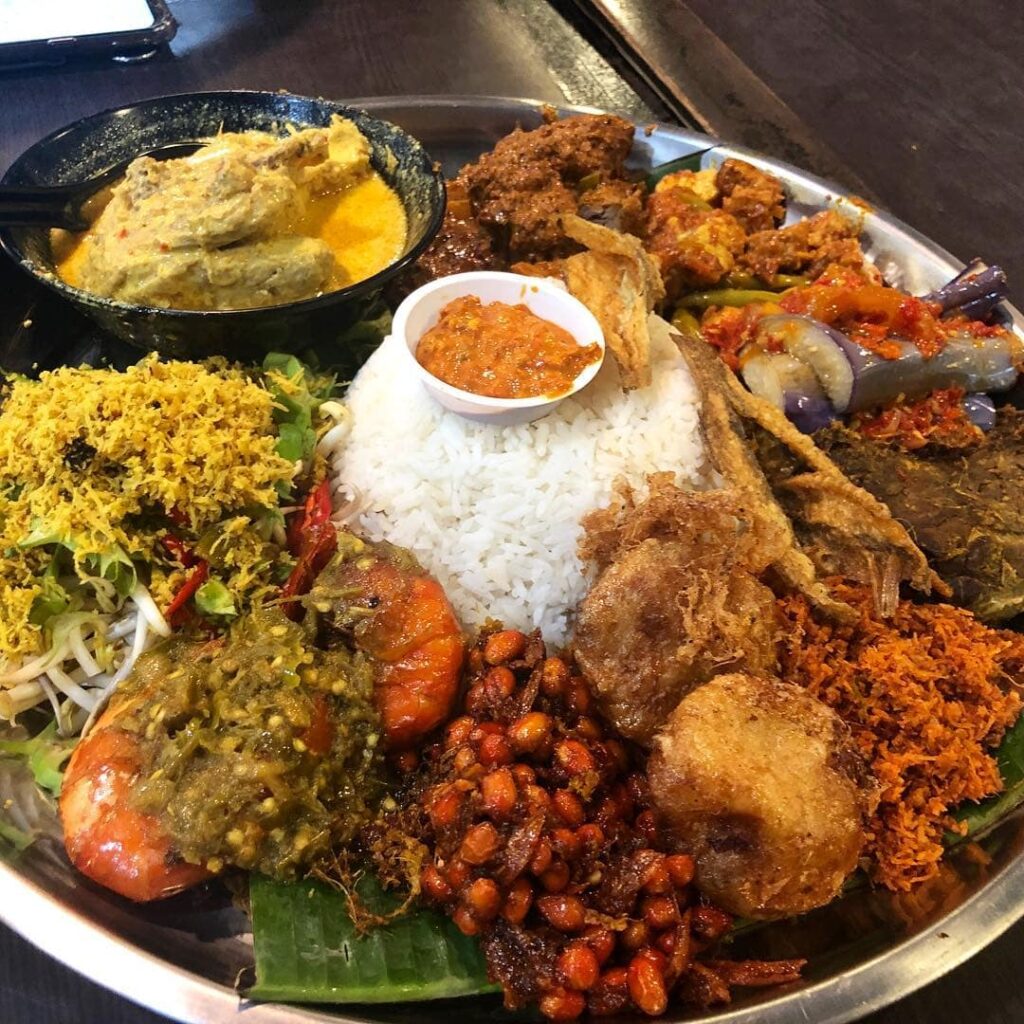 Image credit: Pu3's website
Pu3 is nestled in the heart of Bencoolen, just a stone's throw away from SMU. Despite being somewhat established, they're still committed to serving generous portions of nasi ambeng at affordable prices. Their Dulang Ambeng Basic ($50) is said to feed four, but can easily feed a group of six or seven diners. That, in my opinion, is such a steal.
For single pringle diners, they offer an Ambeng Solo ($9.80). This individual portion comes with a choice of either Ayam, Daging, or Sotong. All three offer a rich combination of spices and aromatics that bring out the natural flavours of the meats.
10 Cheap SMU Food Gems At $10 Or Less Including Chirashi Don And Korean Food
Address: 111 Somerset Road, #02-20, TripleOne Somerset, Singapore 238164
Opening hours: Daily 10am to 10pm
Tel: 6338 4419
Website
---
2. Coba Coba
---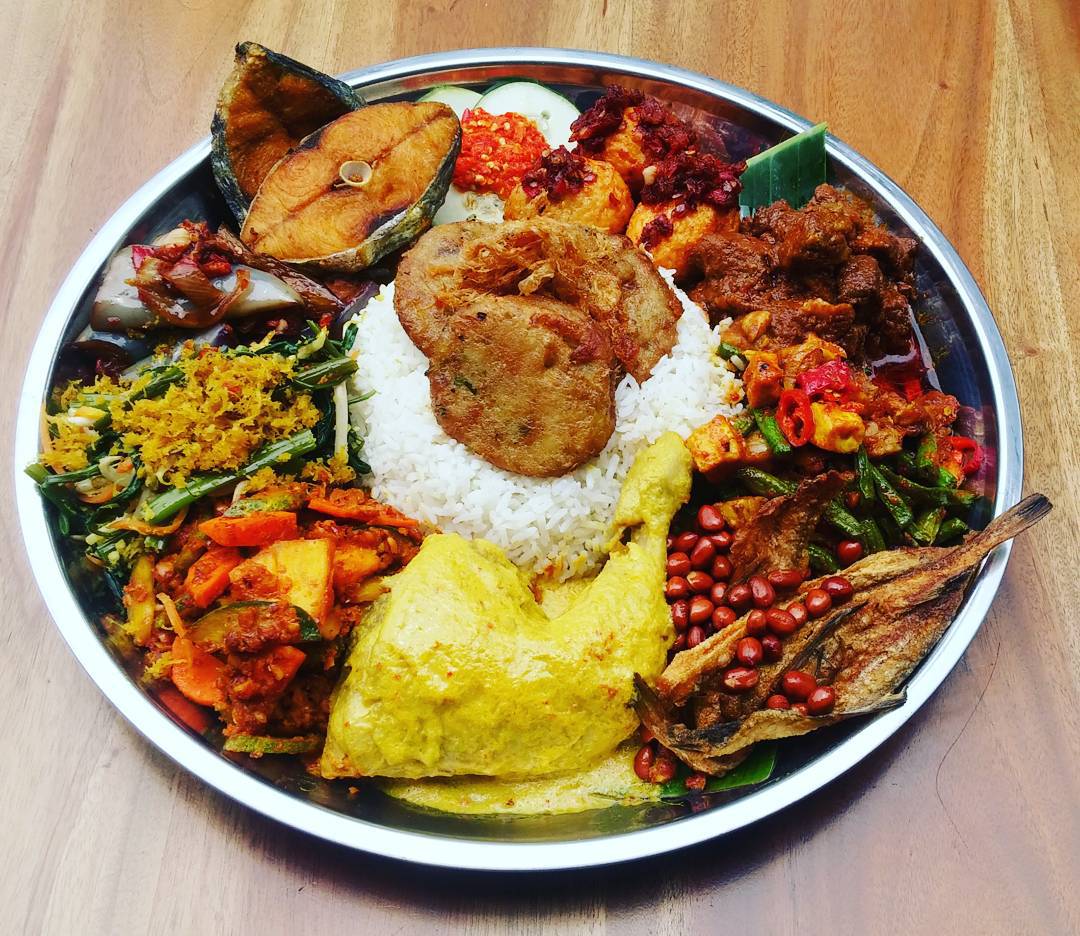 Image credit: @cobasg

Coba Coba instantly strikes you as a hipster eatery. Its bare brick walls and vintage contraptions displayed throughout the shop has a quirky and warm feel. I couldn't help but constantly snap photos for the 'gram.
Order their Classic Set ($23.90 for two, $44.90 for four diners) when you're here.They serve up a tray flooded with ten different ingredients such as beef rendang, fried fish, ayam kalio, eggplant, just to name a few. Also try their Mee Rebus ($3), where a thick gravy is lathered onto freshly cooked yellow noodles, and topped with a generous topping of shallots and bean sprouts.
Address: 156 Yishun Street 11, #01-106, Singapore 760156
Opening hours: Mon-Sun 8am to 9pm
Tel: 6382 2622
Website
---
3. Enak Nasi Ambeng
---
Enak Nasi Ambeng is housed in a small unit of Bedok South Food Centre. Opt for their Nasi Ambeng ($22) that feeds two. They serve their food on a bright red tray, evocative of old school plastic dishware.
A melange of various dishes come together beautifully, with each component complementing one another. Their spicy sambal cuttlefish cuts through the light and fluffy bergedil. There is also a Large Nasi Ambeng that goes for $44. It's a bigger rendition that can feed four or more – perfect for big groups.
Check out our full review of Enak Nasi Ambeng!
Address: Blk 16 Bedok South Road, Bedok South Market & Food Centre, Singapore 460016
Opening hours: Wed-Sun 7am to 2pm
Tel: 9666 6909
Website
---
4. Hajjah Mariam Cafe
---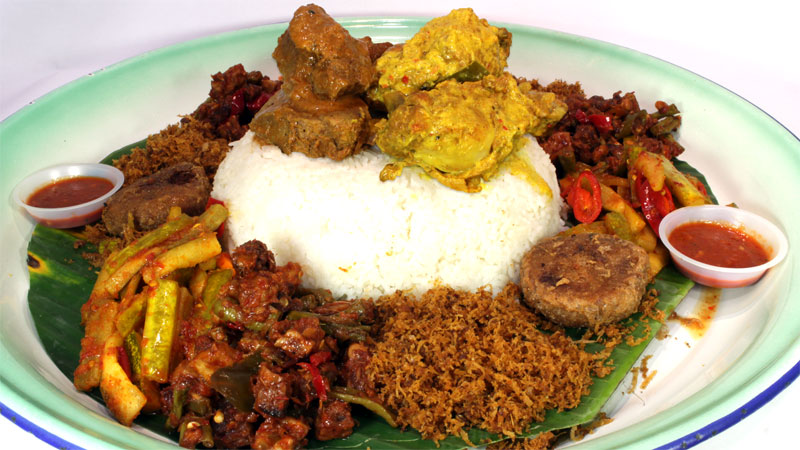 Image credit: Hajjah Mariam Cafe's website
Here at Hajjah Mariam Cafe, you'll be comfortably seated in an air-conditioned shop whilst you dine. They serve a Mega Ambeng Standard ($35) that can be shared amongst four. The highlight of their ambeng is the mutton rendang that drenches their fragrant rice in a glistening orange sheen.
For durian lovers, you'll probably want to order the Chendol Durian ($5). Durian puree is mixed with the classic chendol ingredients comprising red bean, sweet corn and green jelly. The result is a rich and viscous treat that mellows into a smooth finish. Yum!
Address: 3 Gateway Drive, #B2-08, Westgate Shopping Mall, Singapore 608532
Opening hours: Daily 10am to 9pm
Tel: 9062 0041
Website
---
5. The White Tiffin
---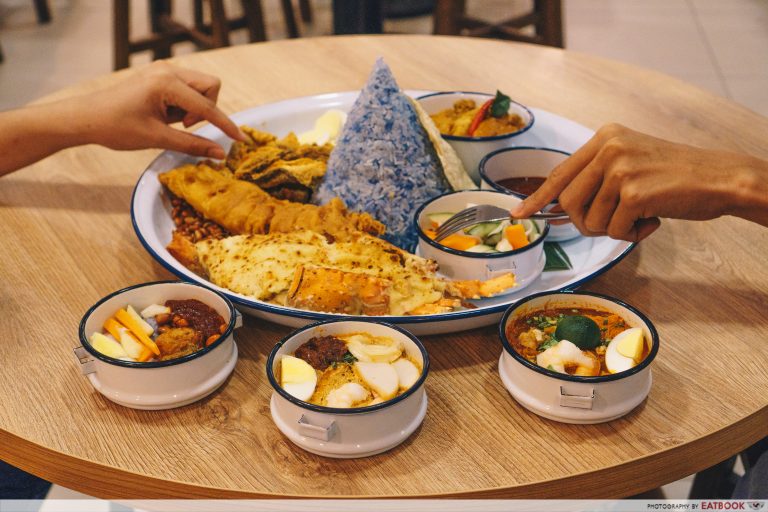 The White Tiffin serves an XXL Nasi Lemak/Nasi Ambeng ($38) that has a gorgeous blue cone of rice. The light azure hue is actually coloured with a blue pea flower, making it look like something out of an Avatar movie.
There are plenty of ingredients to look out for, but tuck into the curry chicken that's infused with red chillies and curry leaves. It's rich and flavourful, but not too overbearing. Mixed with the rice, a gentle sweetness of the coconut milk is brought out.
Fried fish skin is also added to give a distinct salted egg flavour. I recommend having them while they're hot before they start to lose their crunch.
Check out our full review of The White Tiffin!
The White Tiffin Review: XXL Lobster Nasi Lemak at Alexandra Road
Address: 456 Alexandra Road, #01-06, Fragrance Empire Building, Singapore 119962
Opening hours: Mon-Fri 11am to 3pm
Tel: 6853 1568
Website
The White Tiffin is not halal-certified.
---
6. Padi
---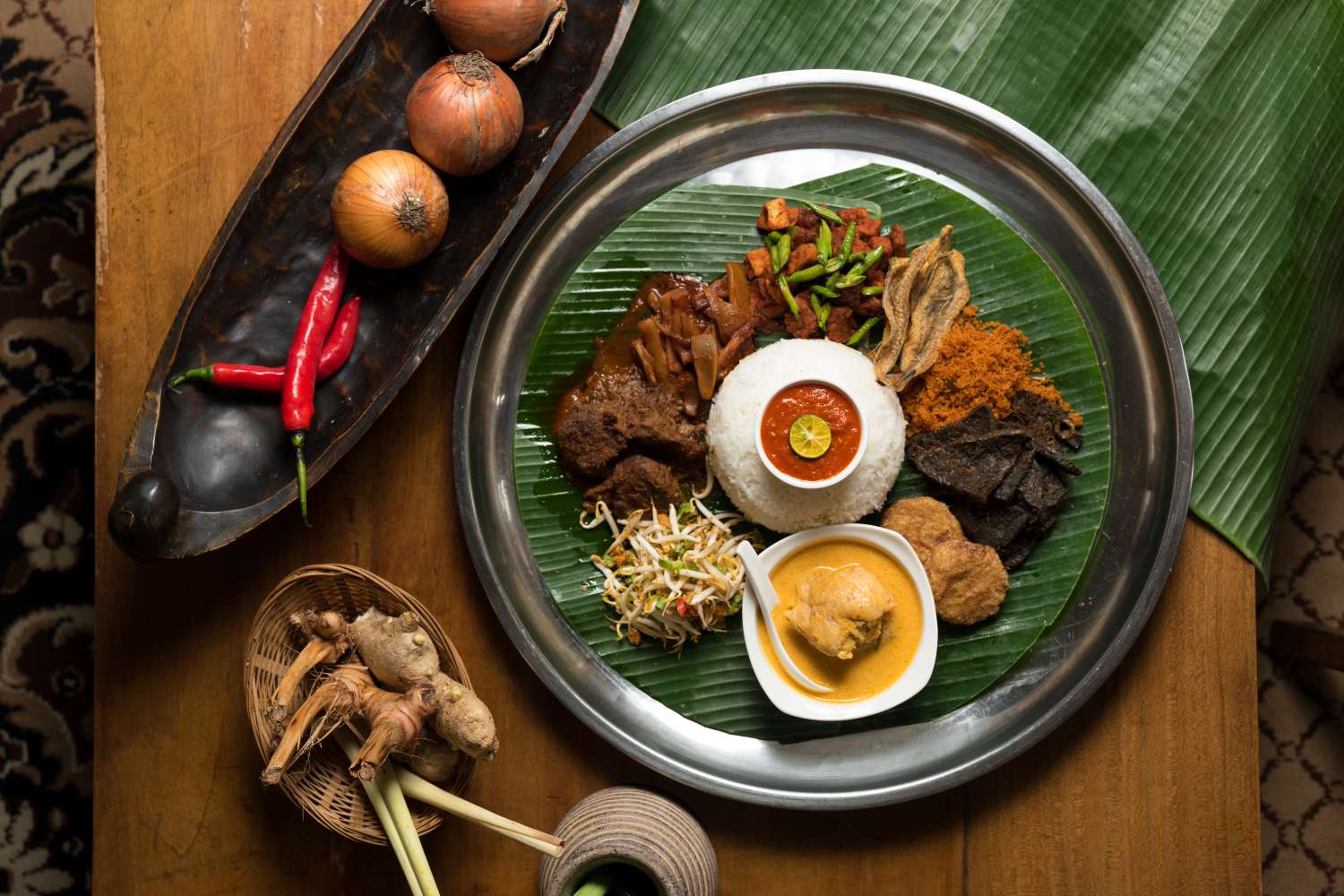 Image credit: Padi Bussorah's website
Padi, located at Bussorah Street, is nestled within a gorgeous row of colonial shophouses. There is a distinctive Javanese vibe when dining at this establishment. You are seated in a rattan chair, and the food is served atop a weather-worn table top, transporting me back to yesteryear.
Opt for their Nasi Ambeng ($32++ for two diners), which features nine sides encircling a heap of fluffy white rice. One of my favourites is the paru (cow's lungs). It has a strong chilli spice mix that augments the strong gamey taste brought about by the offal.
Address: 53 Bussorah Street, Singapore 199469
Opening hours: Mon-Sun 11am to 10pm
Tel: 6291 3921
Website
---
Bonus: Aroma Kampung
---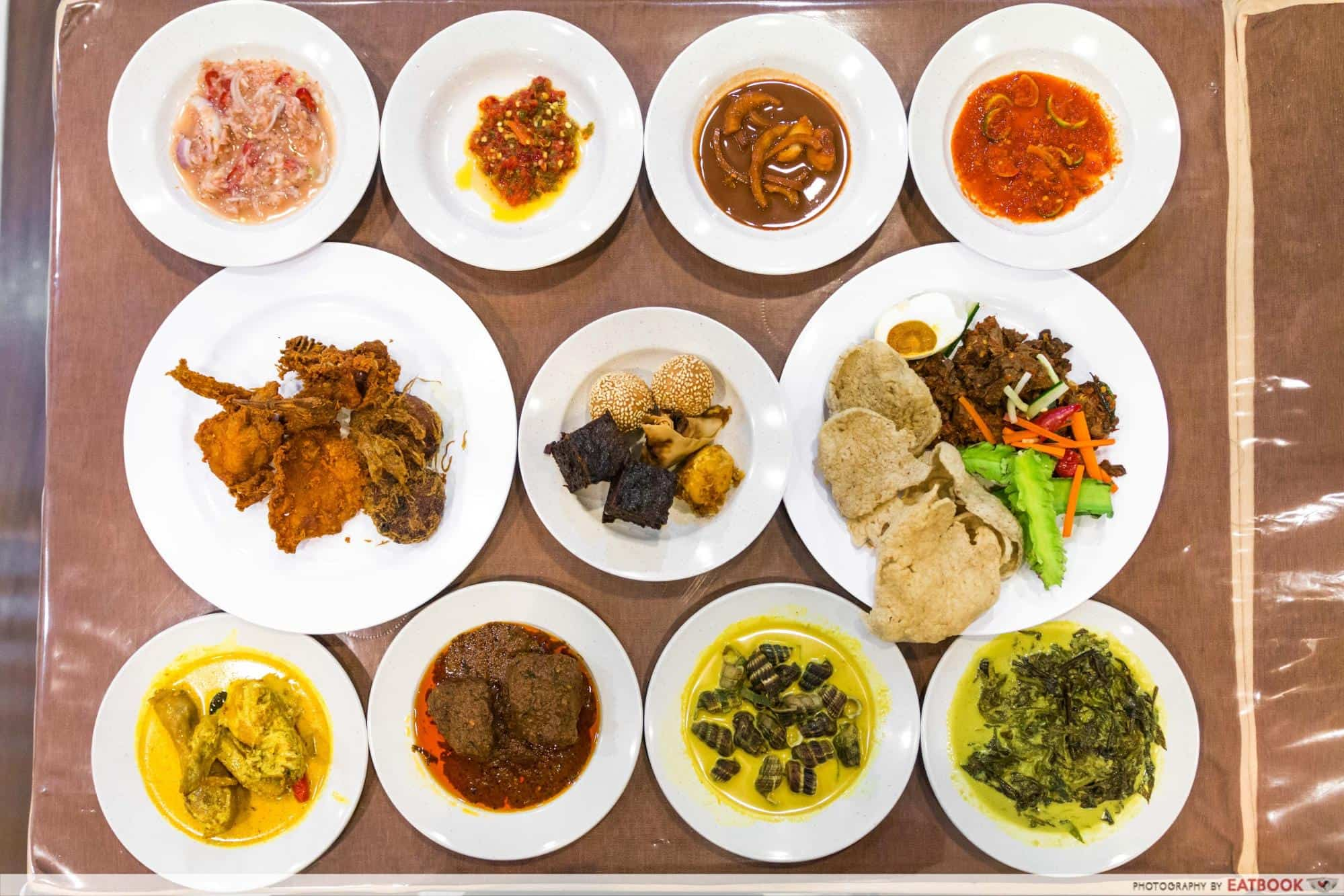 Aroma Kampung is a Muslim-owned restaurant offering nasi padang buffet at $25.90 (Mon-Thur) and $27.90 (Fri-Sun). With over 40 nasi padang dishes, it is a foodie's galore. We wouldn't give their Ayam Lemak Chilli Padi a miss. The chicken meat is tender with the sweet gravy permeating the flesh.
Apart from curries, they offer a fried food station, with dishes ranging from chicken to tempeh. Taste-wise, their well-seasoned batter crisps-up nicely, juxtaposing against the soft and tender centre. They're also known for their serving 12 different types of sambal, each boasting a distinct taste. I personally had no clue so many renditions of sambal existed.
Check out our full review of Aroma Kampung!
Aroma Kampung Review: Nasi Padang Buffet With Over 40 Dishes And 12 Types Of Sambal
Address: Blk 2 Joo Chiat Complex, #03-1111, Singapore 420002
Opening hours: Daily 9am to 7pm
Tel: 8750 0089
Website
---
Nasi Ambeng in Singapore
---
Writing this listicle has made me hungry for some nasi ambeng myself. There's something about the huge portions and the huge spread of food that enchants me.
If you're a fan of Mod-Sin Malay dishes, check out Adimann's salted egg yolk Nasi Lemak . It has an uber creamy salted egg yolk sauce that is blanketed over the lemak rice. You could also try out Lawa Bintang's Cheese Lobster Nasi Lemak if you're feeling fancy. For something more authentic, try our list of  old-school Nasi Pandang stores!
Have I left out your favourite Nasi Ambeng shop? Comment it down below.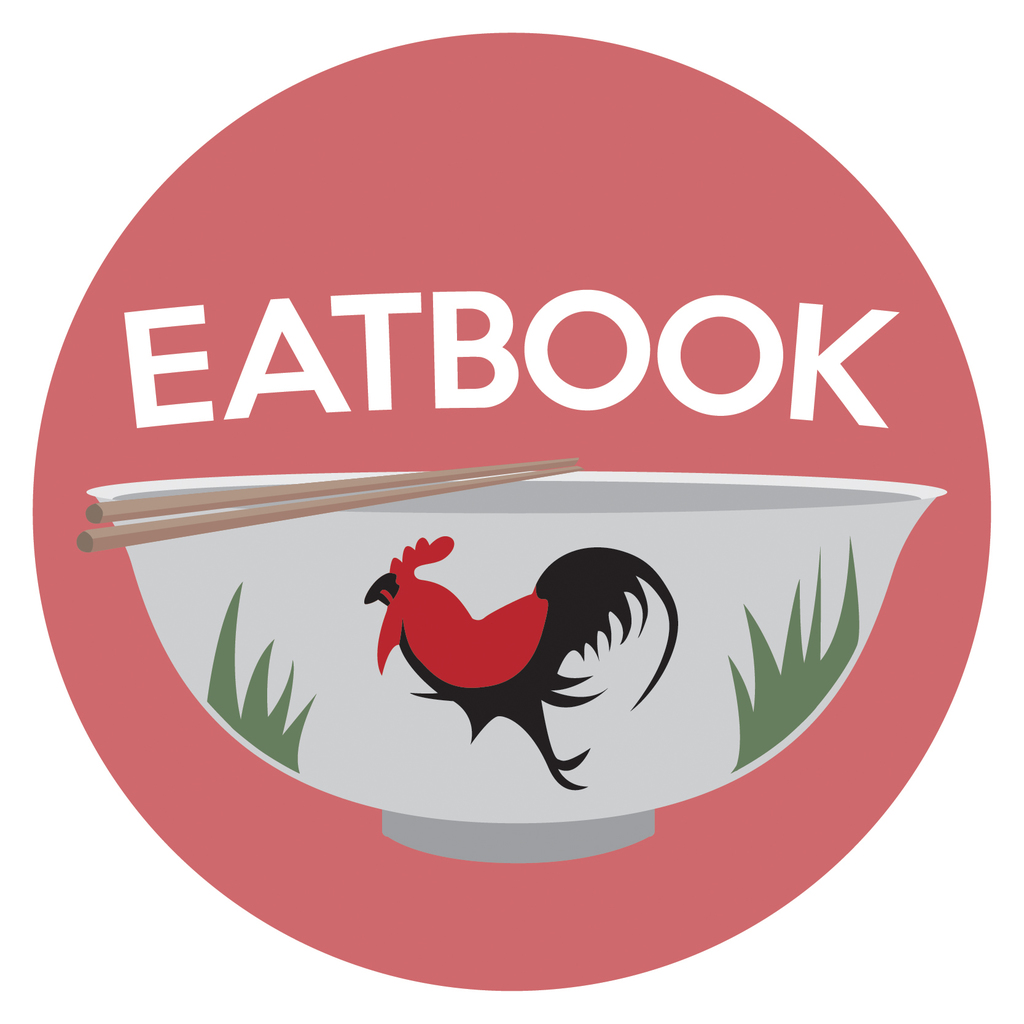 Drop us your email so you won't miss the latest news.