Nasty Cookie Factory launches new items
Known for their artisanal handcrafted cookies, Nasty Cookie Factory is launching new items on their menu, including tarts and drinks, exclusively available at their Kaki Bukit and Westgate outlets!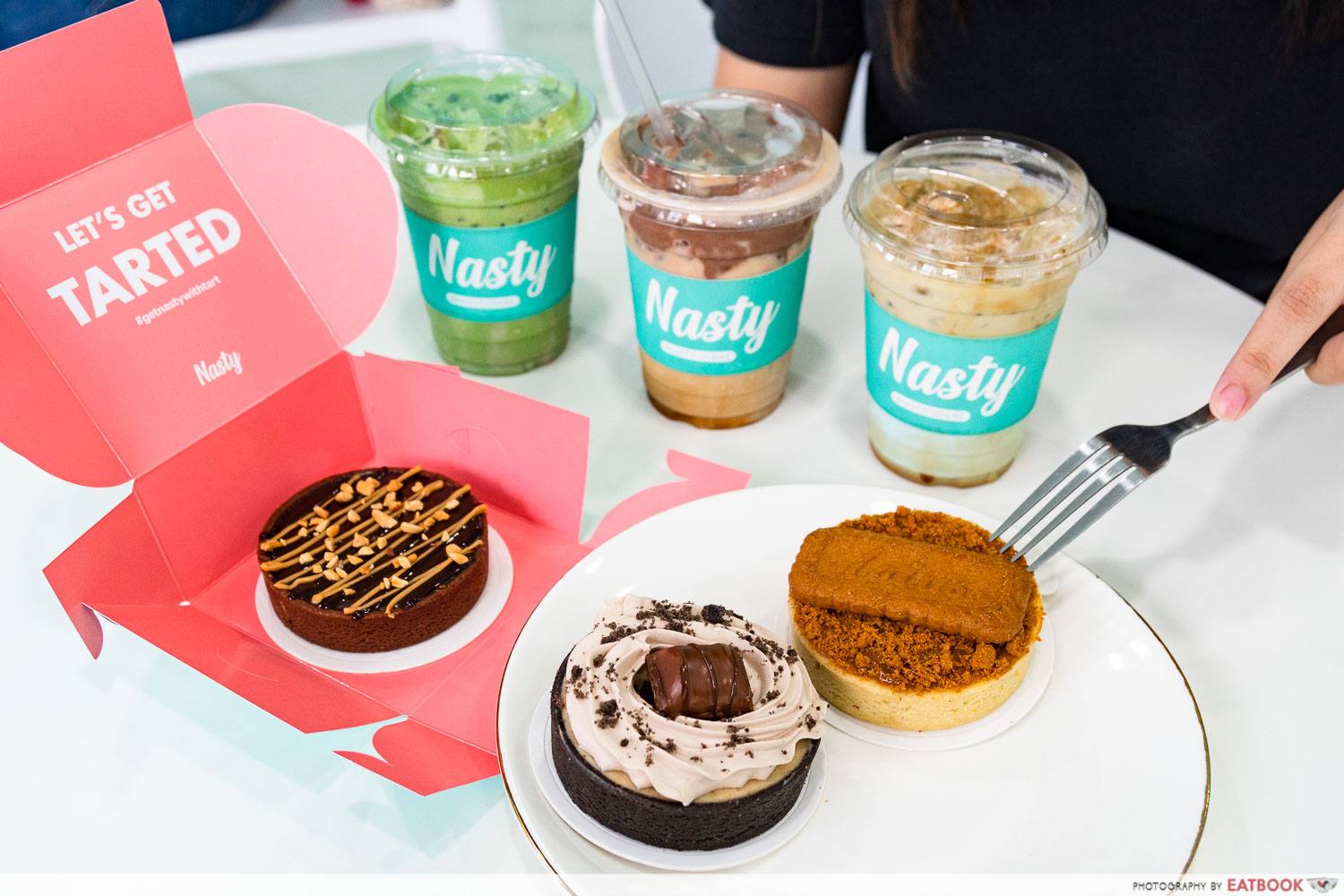 Their new tarts include flavours such as Biscoff, Choco Bueno, and Snickers, priced at $6.80 each.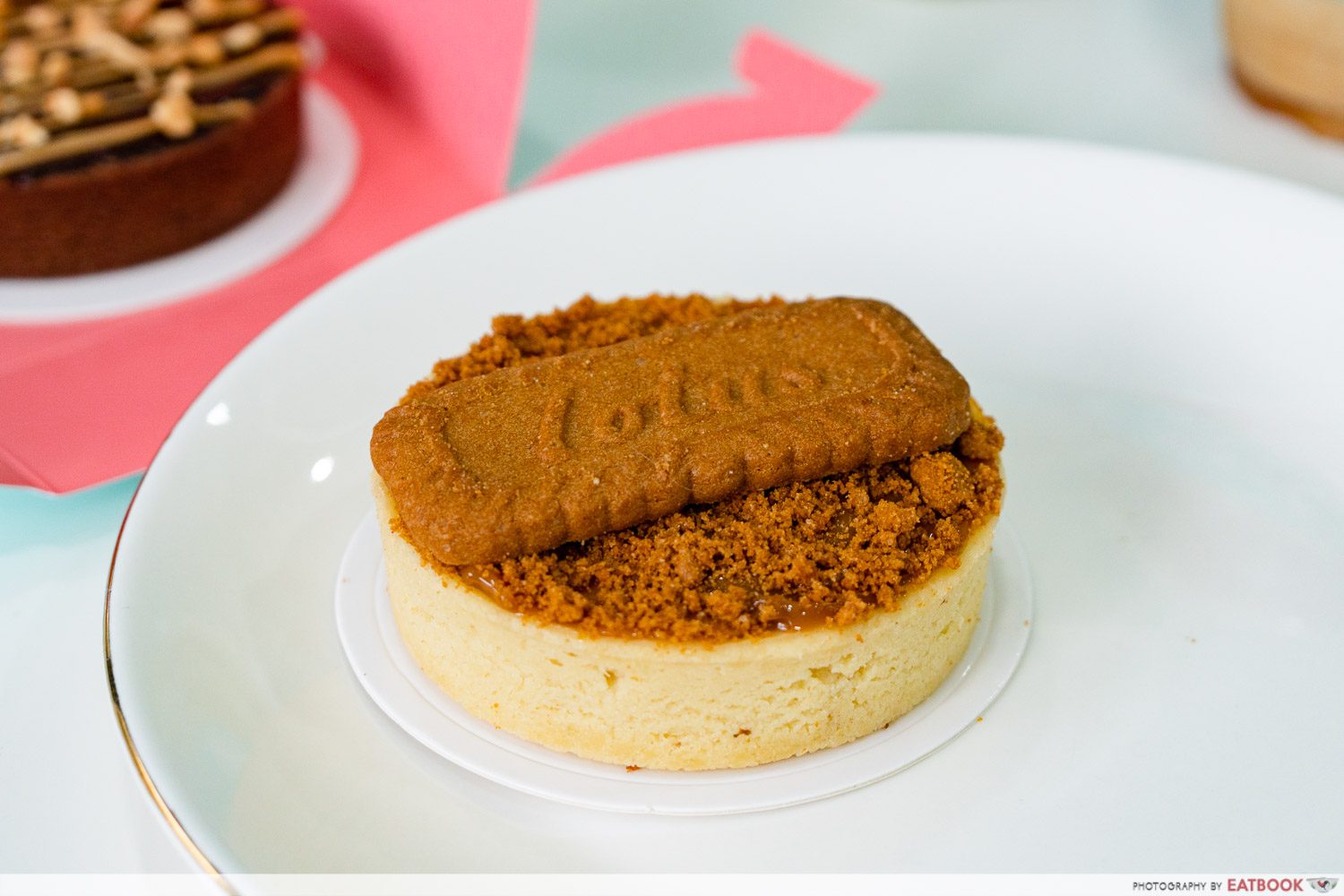 The Biscoff tart features dulce de leche, which is a caramelised milk jam, atop a biscoff cream cheese centre that's dusted with more biscoff crumbs. 
The tartness of the cream cheese comes initially, followed by the sweetness of the dulce de leche, leaving behind the nuttiness of the biscoff as an aftertaste. Fans of cream cheese will definitely enjoy this flavour.
Whiskdom Review: IG-Famous Bakery Opens At Clarke Quay With Lava Brownies And Chunky Cookies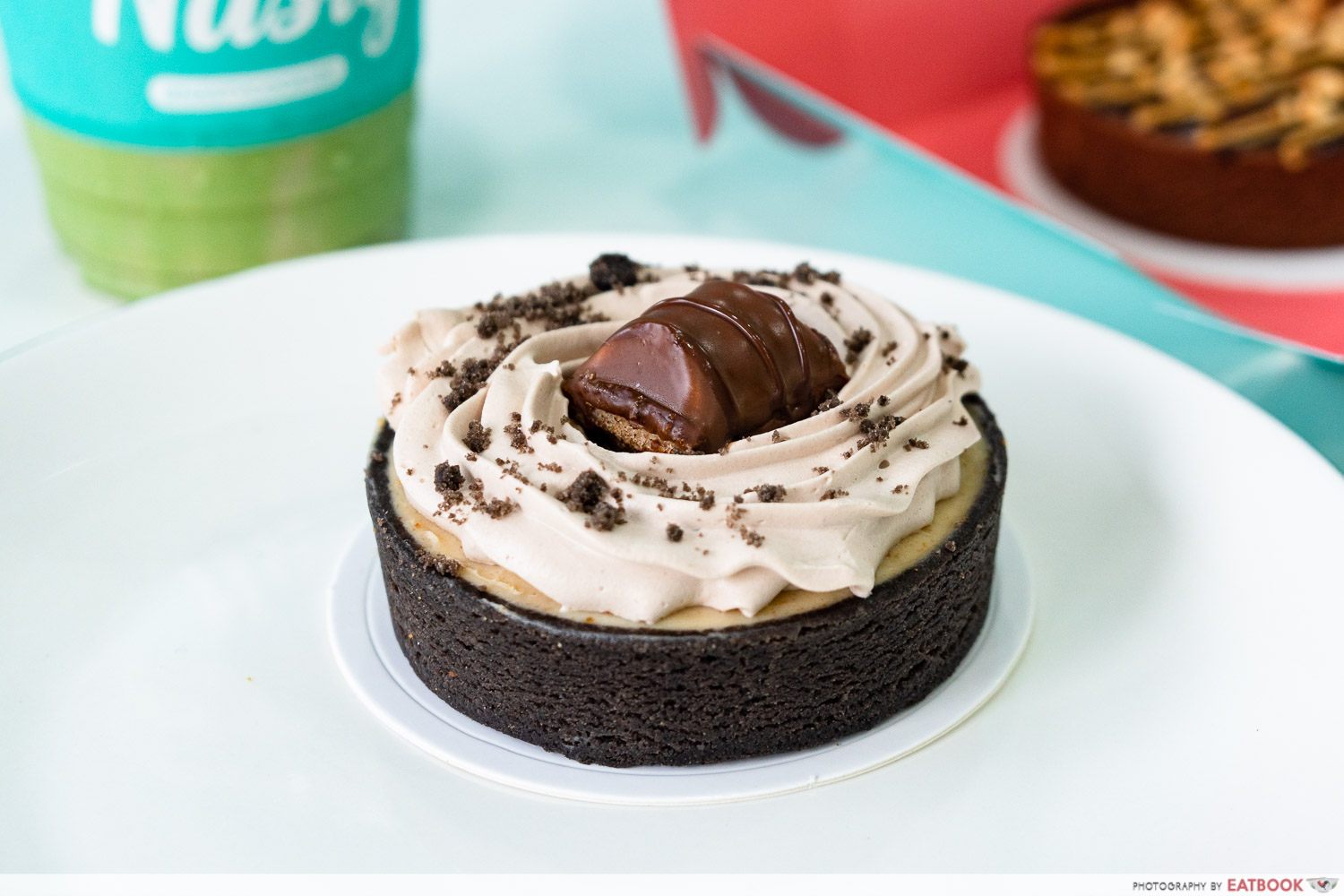 The Choco Bueno was created to replicate the taste of Kinder Bueno, except this has a much more chocolatey taste. The tart is made with a dark chocolate shell, white chocolate hazelnut creme centre, and topped with a light Hershey cream.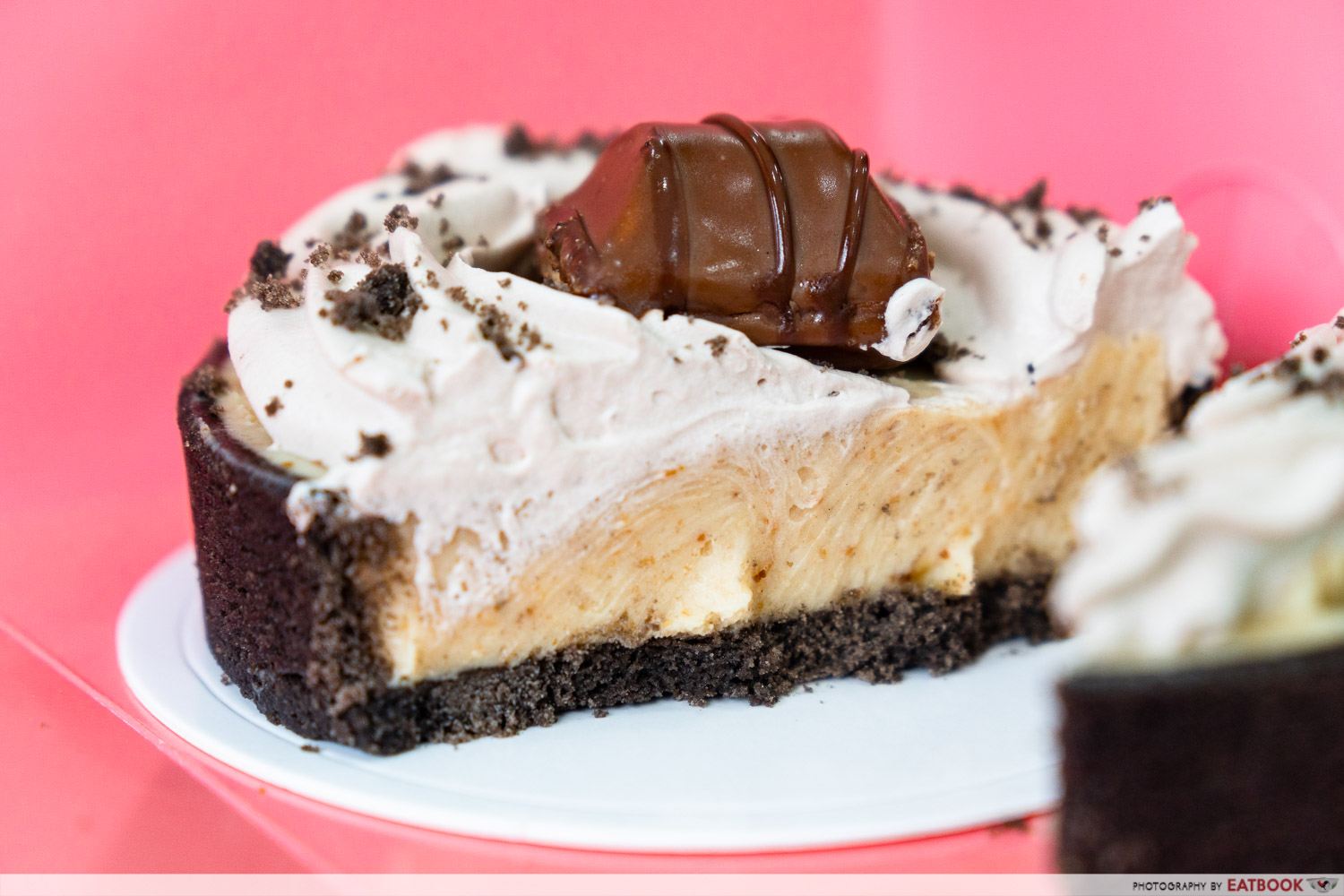 It took the owner many attempts to perfect the recipe, and I'd say the final result came pretty close to an actual Kinder Bueno bar.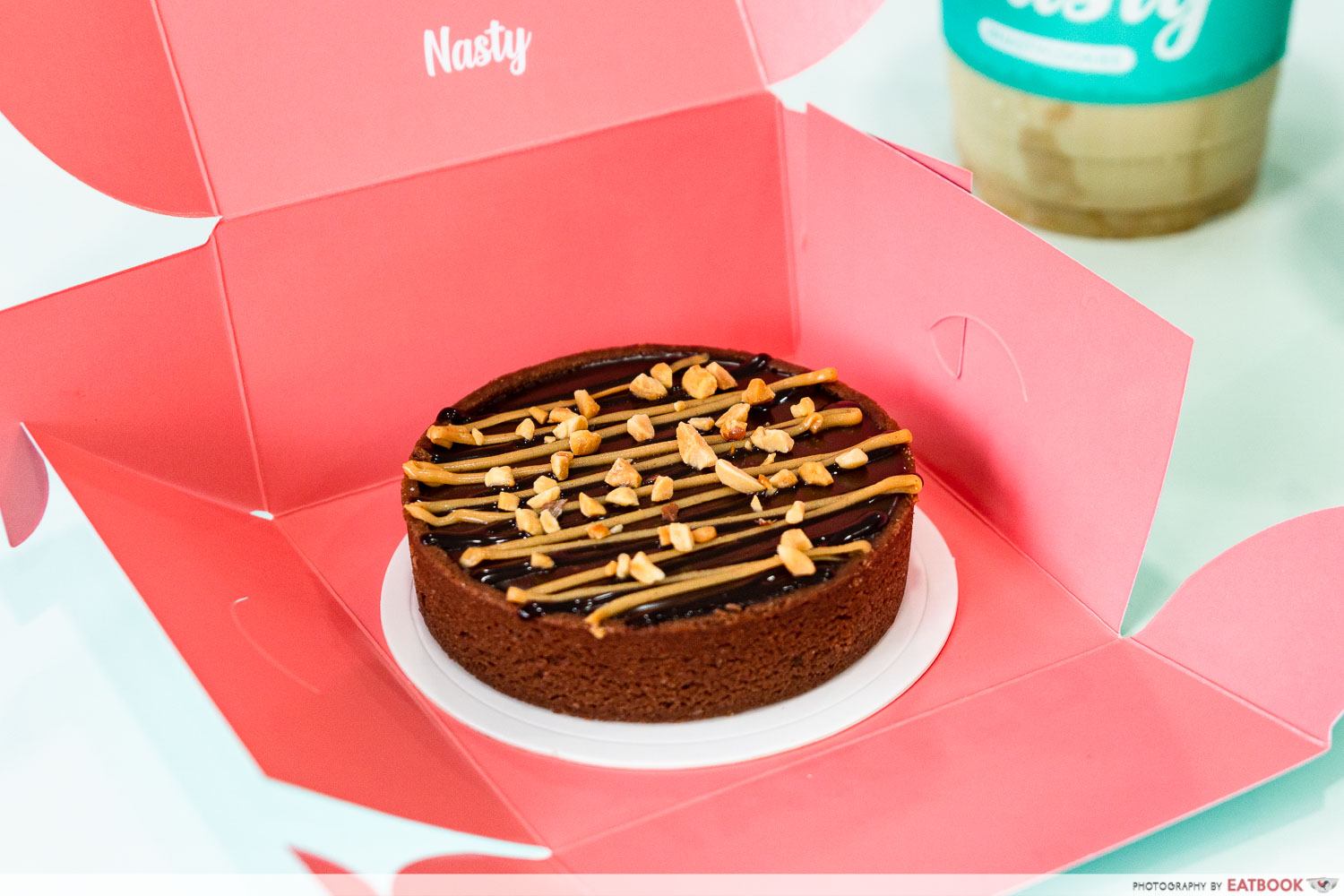 Nasty Cookie has also recreated the iconic Snickers bar in tart form. Their version features a chocolate tart shell filled with peanut butter cream, a caramel layer, and a chocolate ganache.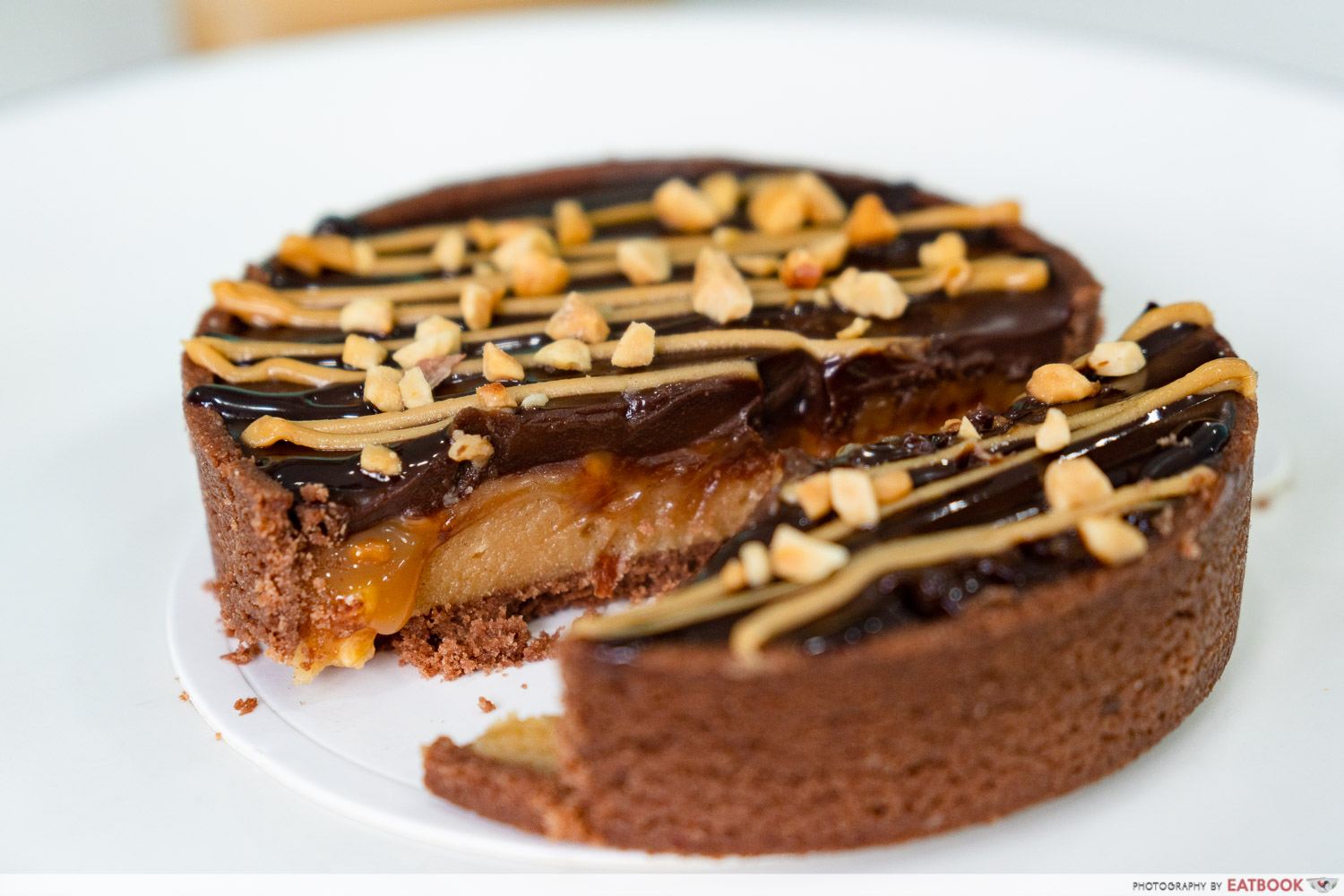 Peanut butter and caramel is a familiar combination for all Snickers fans, but in this case, the chocolate ganache, which has a slightly bitter note, enhances the flavour of the tart, making it taste richer. 
In addition to their current drinks menu, they are adding four new beverages alongside the tarts.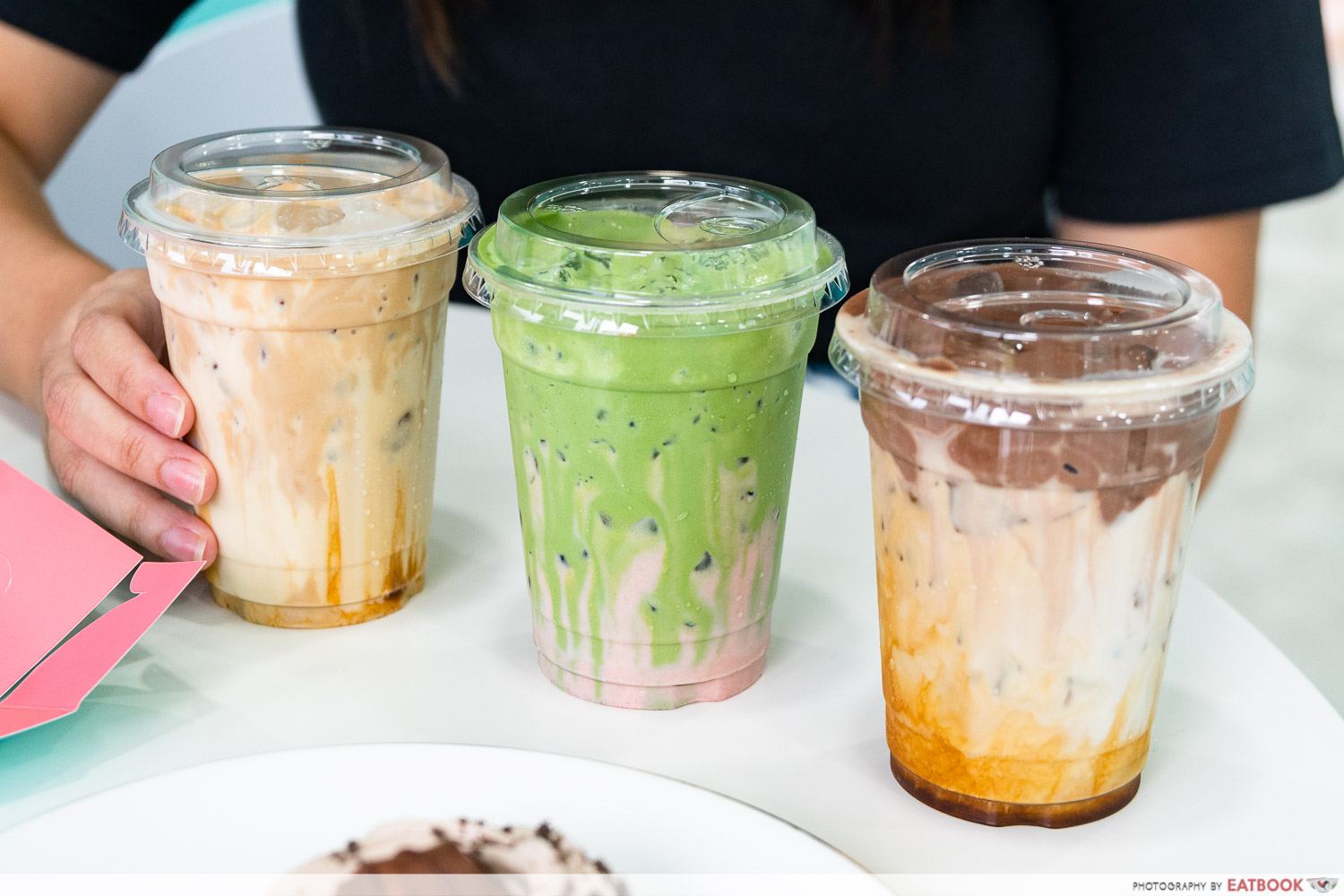 The Strawberry Matcha Latte ($6.50) is a creamy beverage of fresh strawberry milk topped with a layer of matcha cream. The sweetness and slight acidity of the strawberry go well with the bitter matcha.
Butterspace Bakery Review: Ice Cream Cookie Sandwich And More Till 2AM Daily In Bedok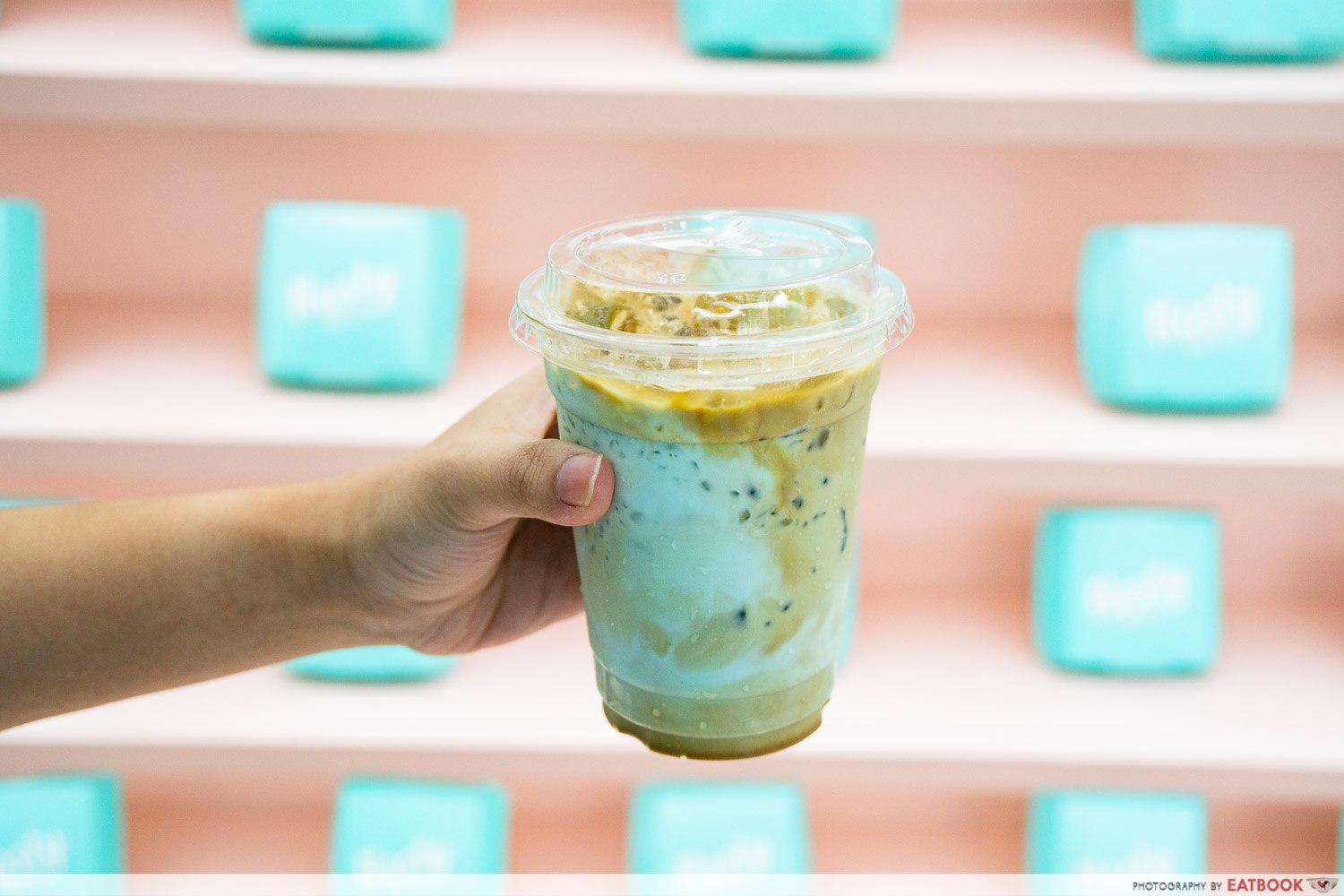 Nasty Blue Latte ($5.50) was created to represent the brand's signature baby blue colour. The latte is made with blue-tinged milk mixed with vegan cream for natural sweetness. Get this on the go if you need a caffeine break as it comes with two shots of espresso.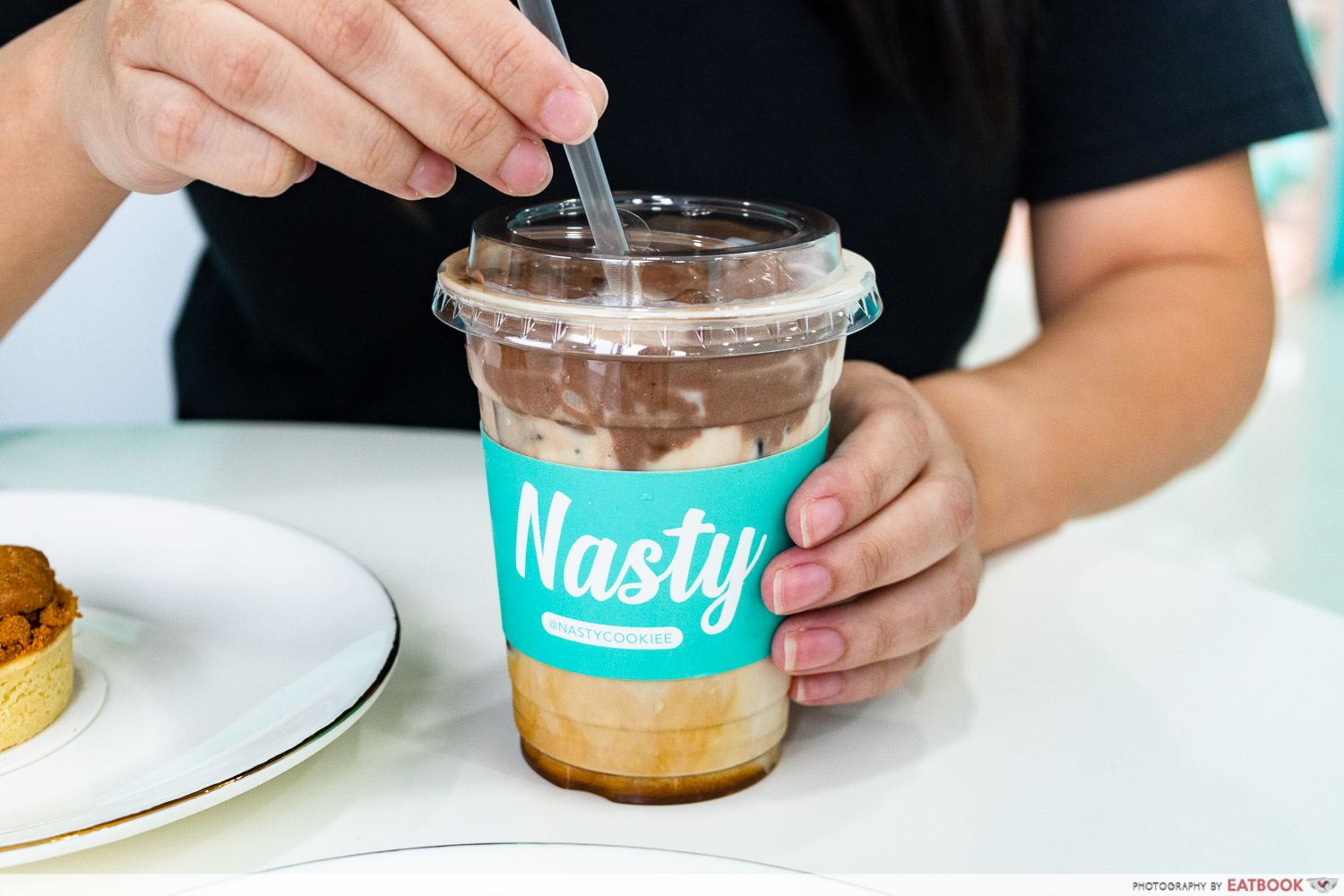 If you're looking for something sweet to drink, go for their Nutella Latte ($6). This latte comes with  Nutella sauce on top, which gives the drink a creamy and rich hazelnut taste when you mix it in. You can also add an extra espresso shot ($0.50) for that caffeine boost.
Alternatively, go for their Biscoff Latte ($6). It is layered with biscoff cream for a creamy and nutty finish. Have it as it is, or top-up $0.50 for an extra shot.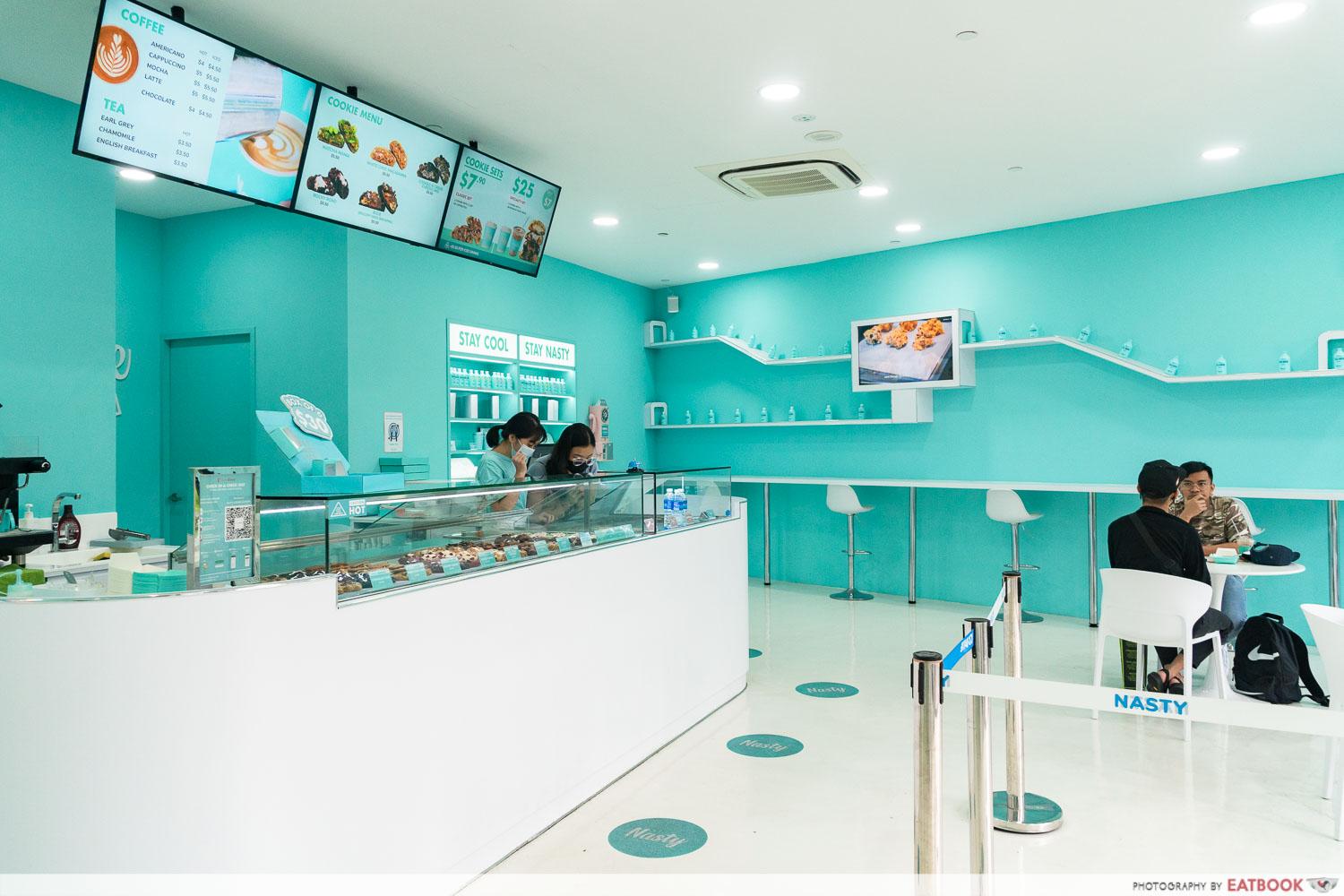 These new additions will only be made available in their cafe outlets—Kaki Bukit and Westgate. You can expect the new arrivals to be available from 13 November 2021.  Look out for more updates via their Instagram page! 
For more artisanal bakes, check out our Puffs and Peaks review for their taro brioche donuts. You can also read our list of home bakers in Singapore with bakes including matcha chiffon cake, choux pastries and more.
Kaki Bukit
Address: 1 Kaki Bukit View, #01-02, Singapore 415941
Opening hours: Mon-Fri 10am to 8:30pm, Sat-Sun 1pm to 8:30pm
Tel: 6802 8290
Westgate
Address: 3 Gateway Dr, #01-09 Westgate, Singapore 608532
Opening hours: Daily 12pm to 9:30pm
Tel: 6802 8290
Puffs And Peaks Review: Bakery With Taro Brioche Donuts, Brookies And Matcha Cookies In Tampines
Photos taken by Chiara Ang and edited by John Lery Villanueva.
This was a media tasting at Nasty Cookie.