---
New restaurants to visit in July 2019
---
We've officially entered the second half of the year and with it, comes a bevy of new restaurants. Whether you're someone who's pocketed that sweet mid-year bonus or a student enjoying summer break, treat yourself at these 11 new restaurants to visit in July serving the likes of truffle lobster rolls, steak tartare with caviar, and spicy gado gado.
---
1. The Affogato Lounge
---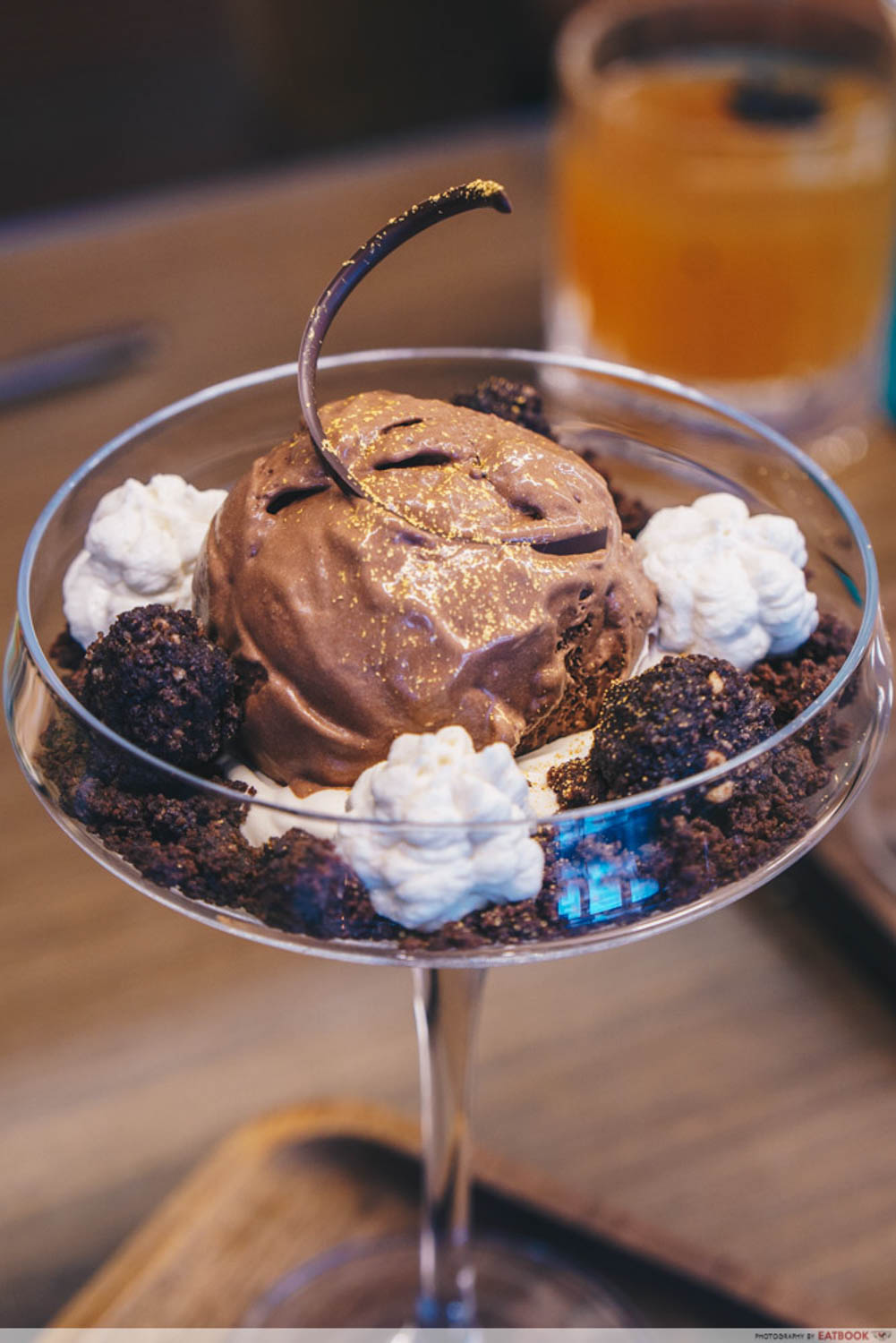 Opened by the folks behind the successful The Affogato Bar at Cluny Court, you can expect to find the same quality coffee-based desserts at The Affogato Lounge. The Trilogy ($16++) hits the spot with a rich 70% dark chocolate sorbet that's served with an aromatic brew boasting fruity notes. Everything pairs well together, and you won't feel jelak even as you polish it off on your own.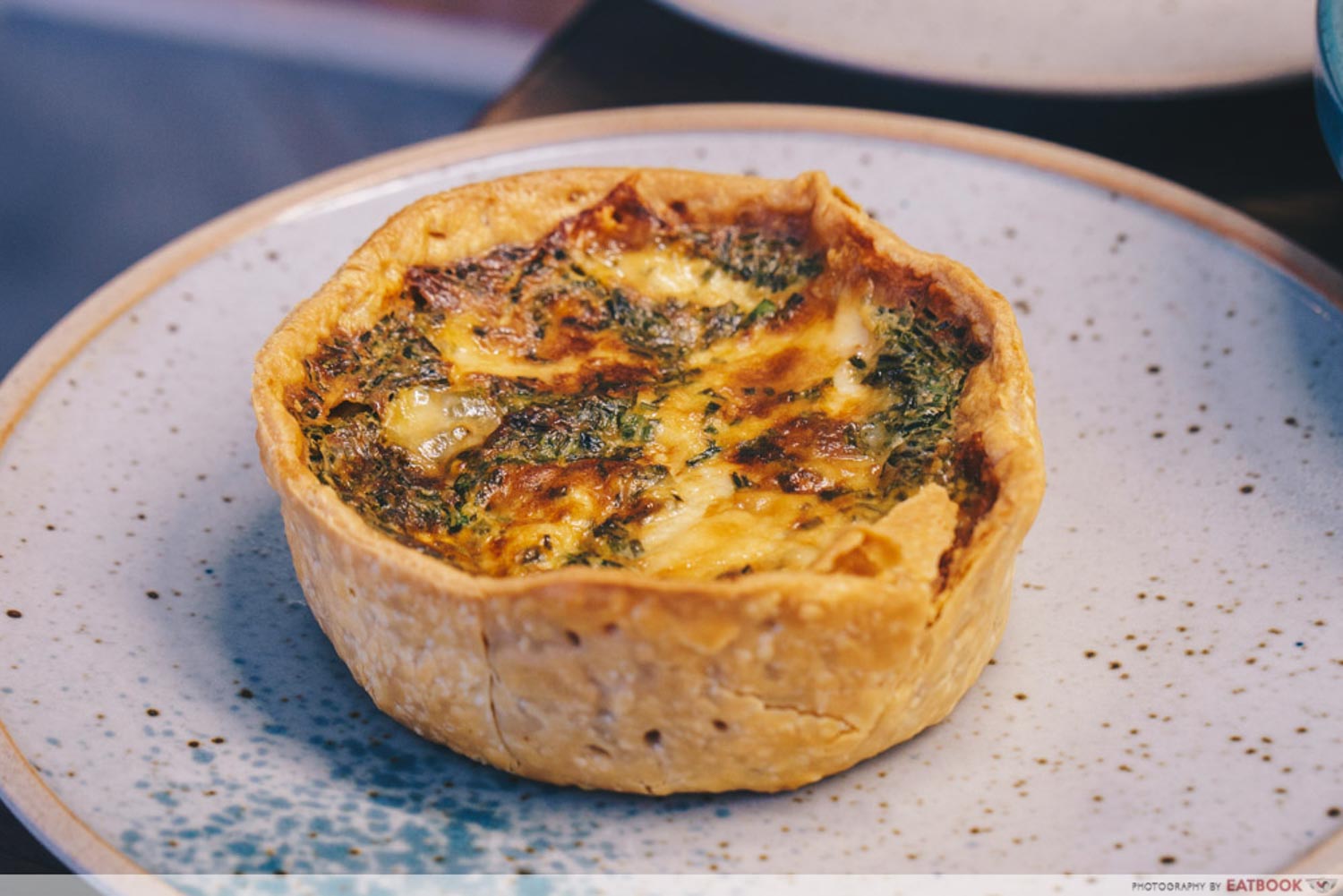 Stop by for their hot menu items too. It might not look like much but the Blue Swimmer Crab Quiche ($13++) is worth spending your bottom dollar on. The buttery crust is filled with gruyere cheese and loads of crab meat, making this comforting snack redolent of creamy and umami notes. If only it was bigger. 
Address: 55 Keong Saik Road, #01-02, Singapore 089158
Opening hours: Tue-Sun 8am to 11pm
Tel: 9889 7005
Website
---
2. Haven Bistro
---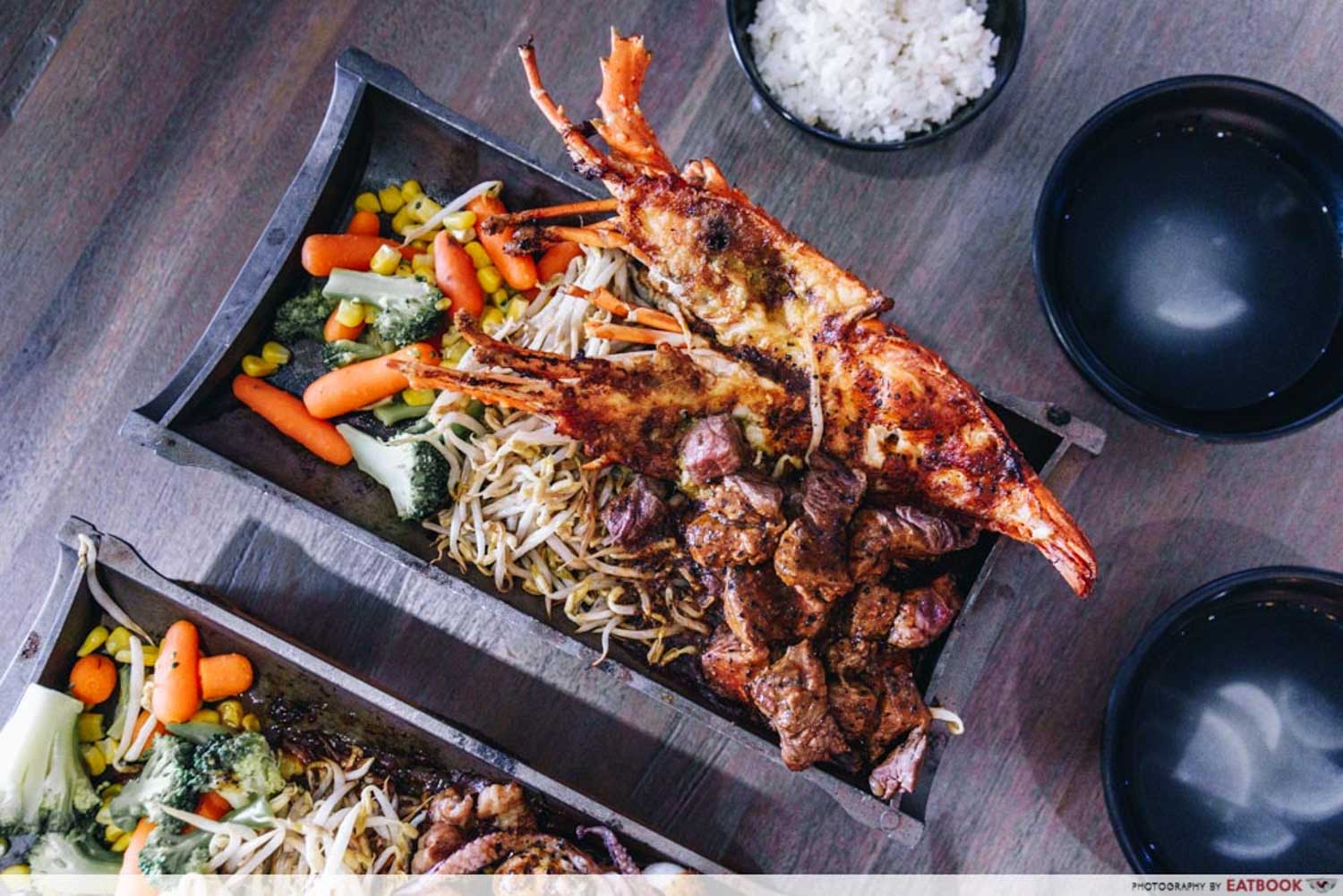 High-quality teppanyaki that doesn't break the bank isn't easy to find. Haven Bistro seeks to fill that need, serving up generous teppanyaki sets from $10.90 that don't compromise on quality. Fresh ingredients and preparing everything from scratch are of utmost importance here—they aren't afraid of taking extra steps such as peeling prawns and cutting their squid rings by hand to maximise quality.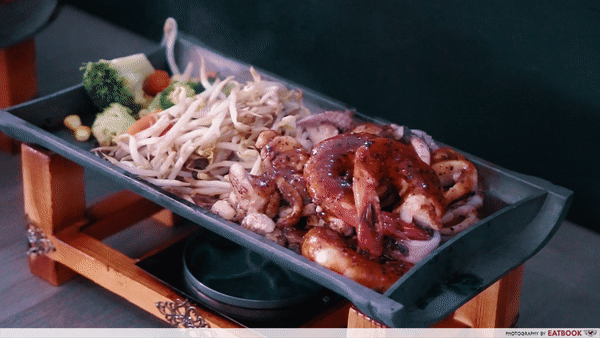 Their Teppanyaki Combo 1 ($10.90) is what's really been drawing in the crowds. A tall pile of prawns, squid, oysters and chicken chunks sizzle on a hot plate, drenched by punchy black pepper sauce. Expect fresh seafood, seared beautifully. If you feel like balling it out, fork out for the Mr. Lobster Combo ($29.90) instead, which comes with a massive crustacean and a choice of beef, chicken or fish. It's great for value for money, but with only a three-man team handling everything, expect a long wait for your food during peak hours.
Haven Bistro Review: Cheap Teppanyaki Set With Fresh Prawns, Oysters, Squid And Chicken At Only $10.90 Nett
Address: 407 Jalan Besar, The Noble Hotel, Singapore 209012
Opening hours: Mon-Sat 8am to 3pm, 6pm to 10pm, Sun 8am to 3pm
Tel: 6817 0639
Website
Haven Bistro is not a halal-certified eatery, but does not use pork or lard.
---
3. Olivia Restaurant & Lounge
---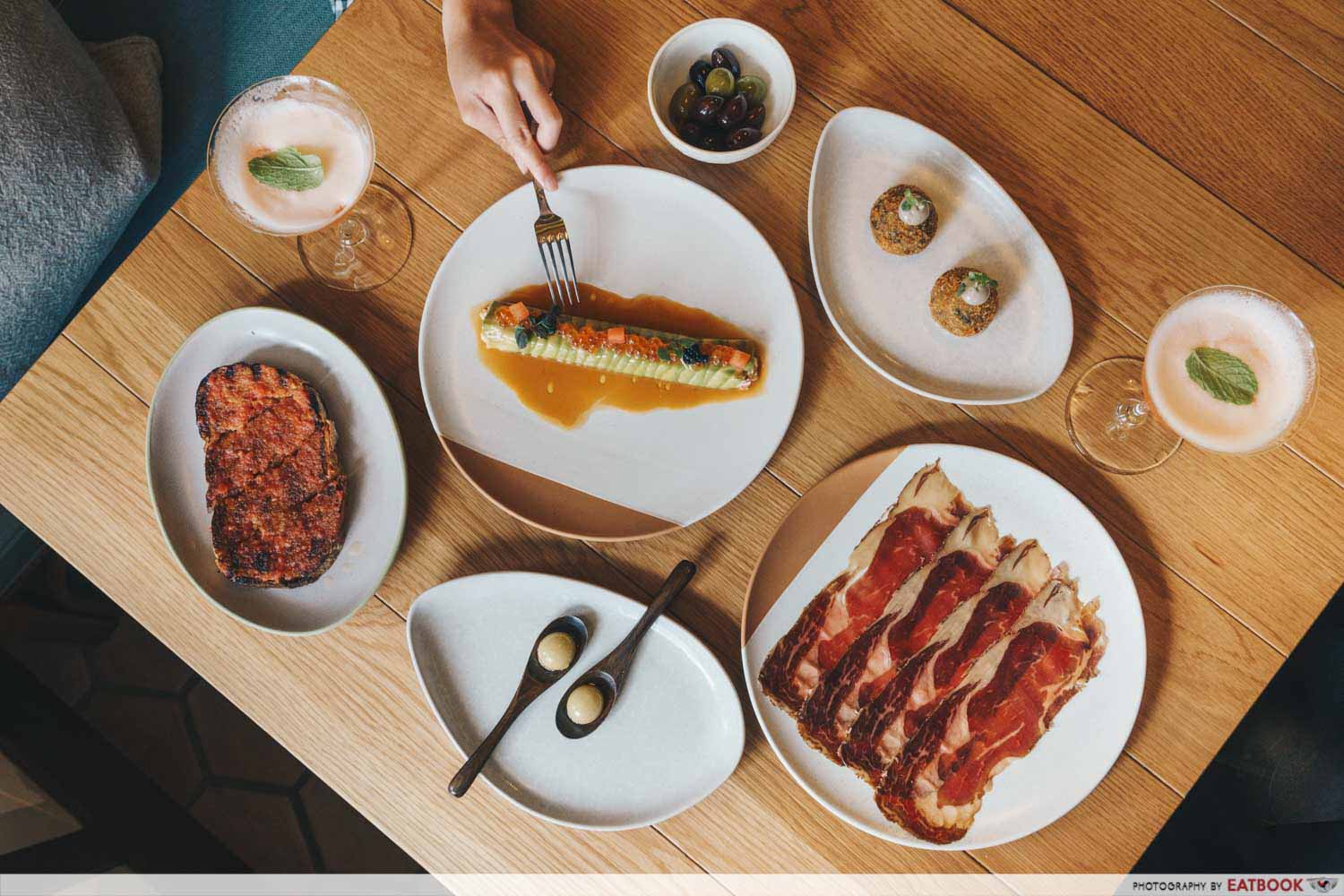 You won't regret making a trip down to Olivia Restaurant & Lounge. Run by chef Alain Devahive whose previous stints were at Catalunya and three Michelin-starred elBulli, the restaurant dishes out Barcelona-inspired plates that are as good as the real deal.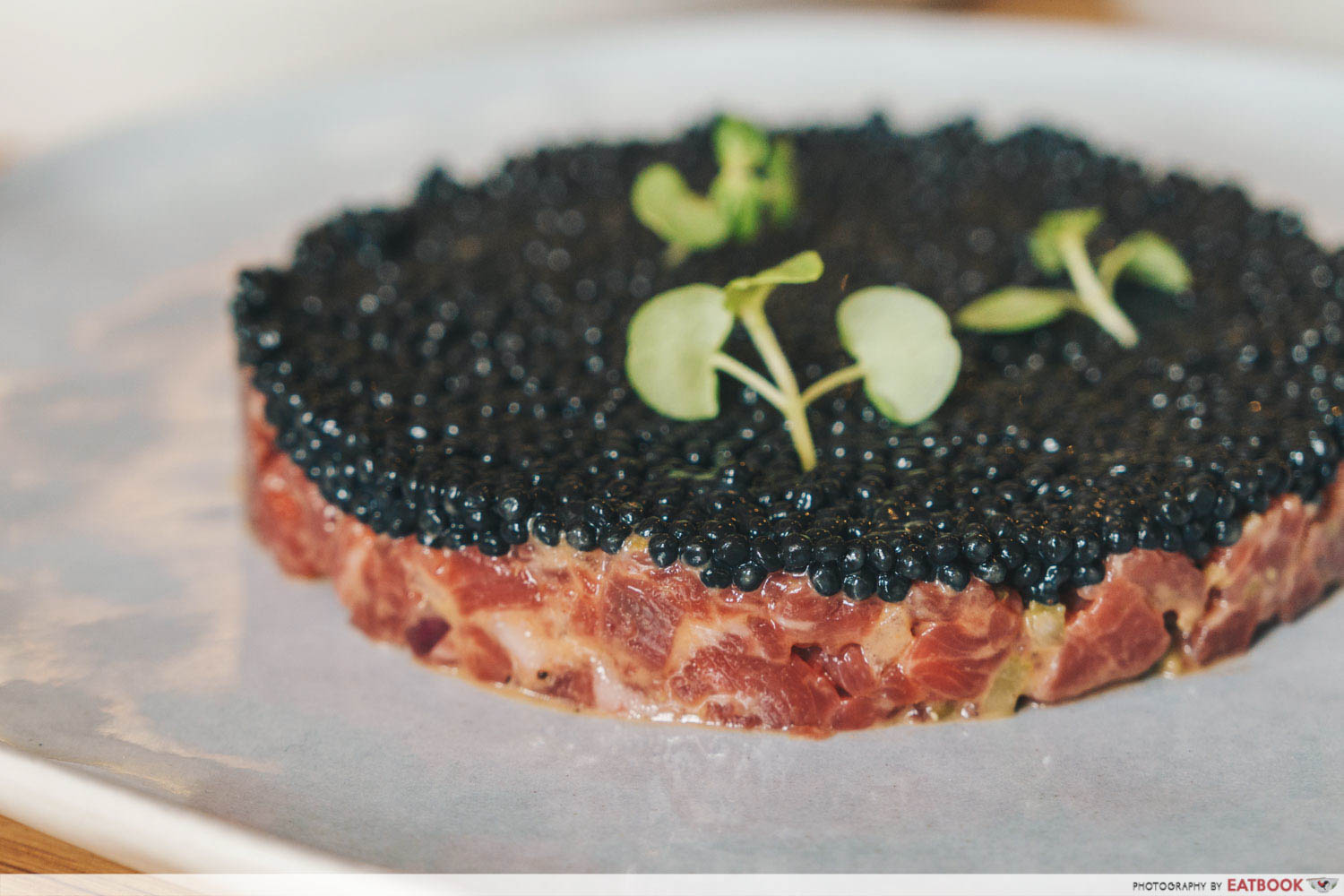 Their small plates, mains and desserts impressed. Start off with their Mushrooms and Truffle Croquettes ($10+), before indulging in their Classic Tenderloin Steak Tartare with Avruga Caviar & Fries ($46+). For dessert, you definitely must get Olivia's Creamy Homemade Cheesecake ($14+), which boasts a delicate pungency from the added blue cheese. 
Address: 55 Keong Saik Road, Singapore 089158
Opening hours: Tue-Thur 11:30am to 2pm, 6pm to 10pm, Fri-Sat 11:30am to 2pm, 6pm to 11:30pm
Website
---
4. Xiao Cao Xiang Steamboat Buffet
---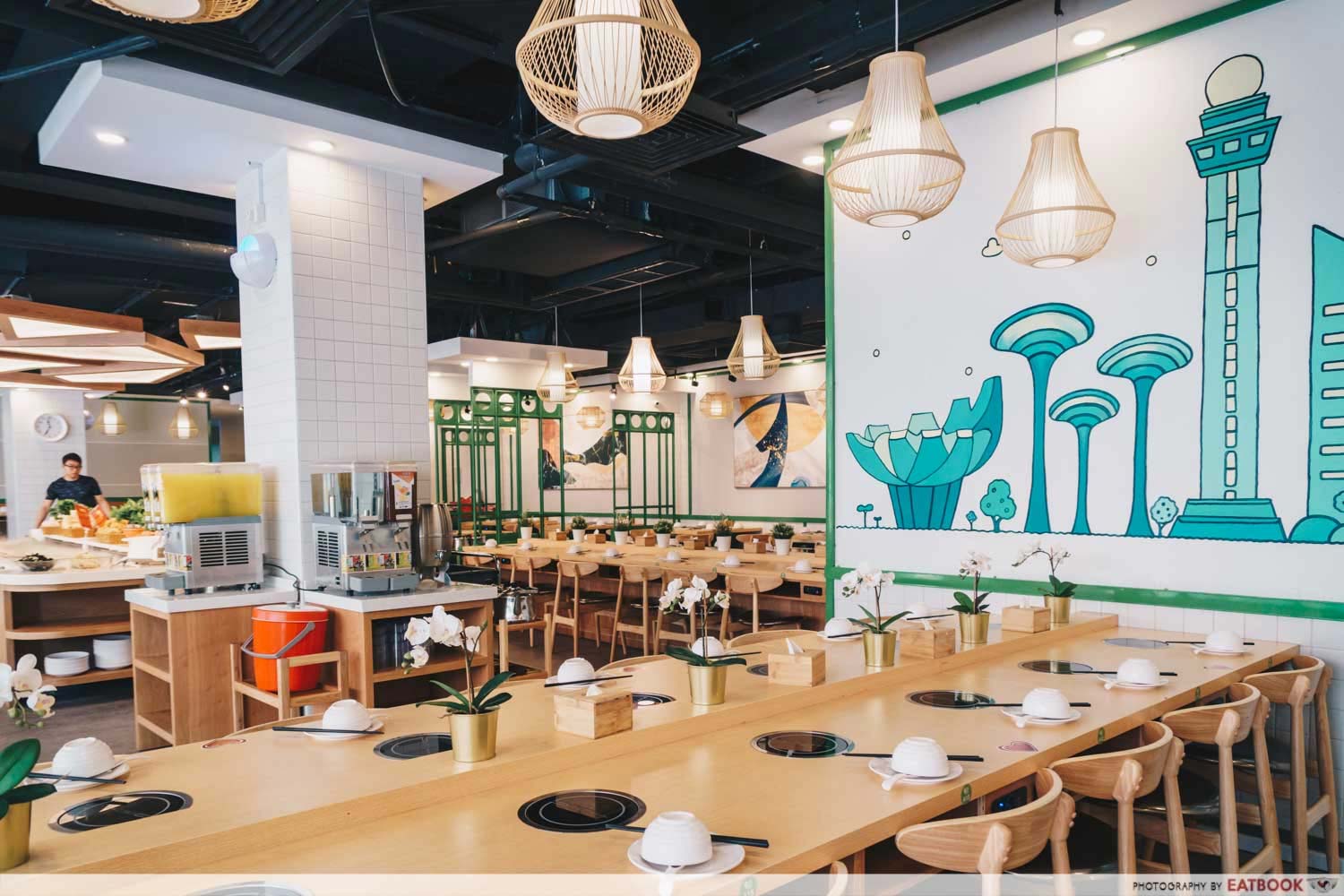 Given the popularity of Crystal Jade's hot pot and xiao long bao buffet, Xiao Cao Xiang Steamboat Buffet seems like an enticing alternative, ostensibly serving up the same fare at a fraction of the price. With free-flow xiao long bao and drinks, this all-you-can-eat personal pot steamboat buffet is an undeniable steal at $16.80+.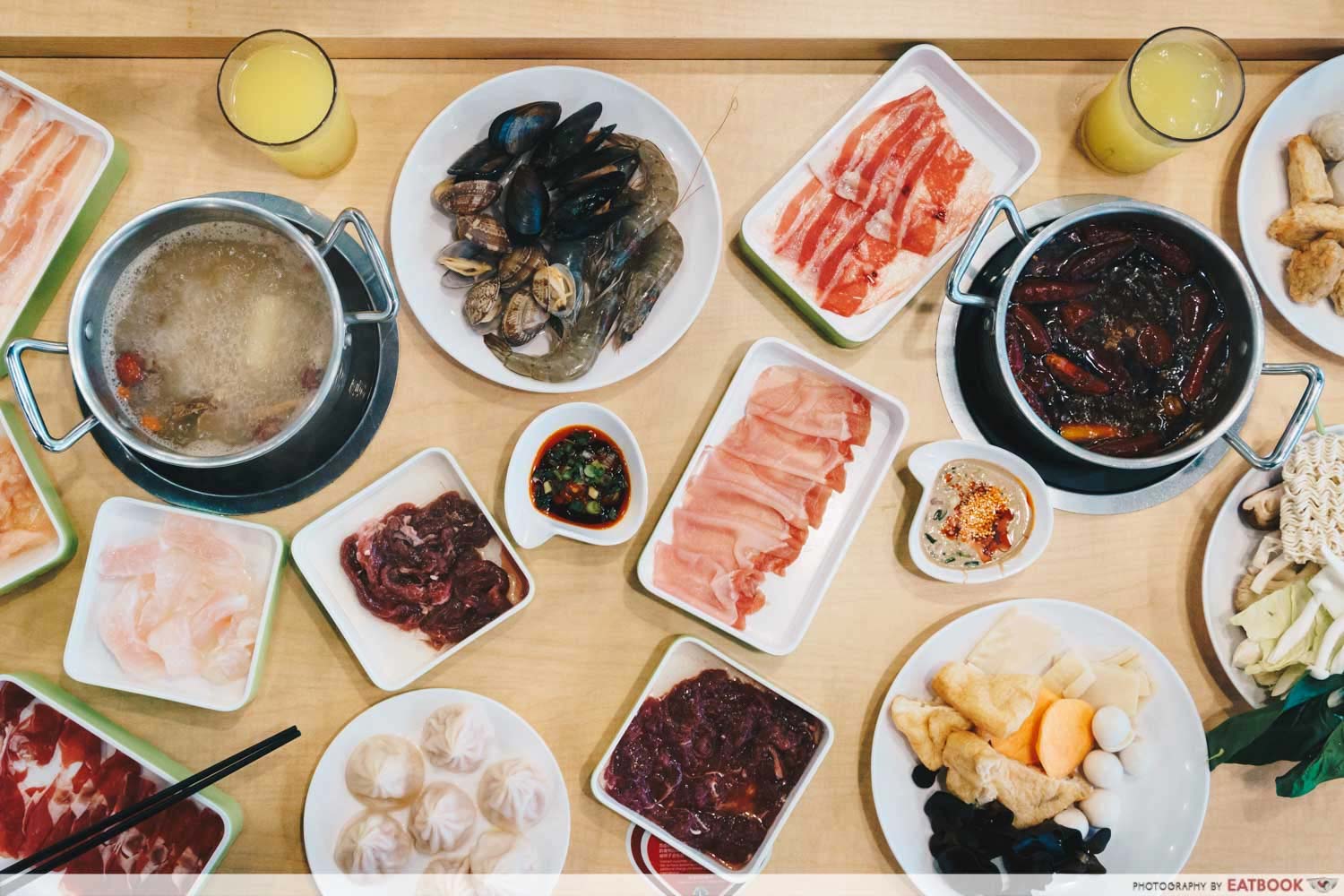 Six soup bases are available, with options like fiery ma la and gentle nourishing broths on hand. On the ingredient front, their selection of seafood is especially notable. Plump prawns, squid, clams and mussels grace the buffet lineup, and are great at adding extra hits of umami flavour to gentle soup bases. The XLB were decent, but only arrived an entire hour after the buffet began.
Address: 470 Lorong 6 Toa Payoh, Singapore 310470
Opening hours: Daily 11:30am to 9pm
Tel: 6273 7488
Website
---
5. Lobsters & Ice-Cream 2.0
---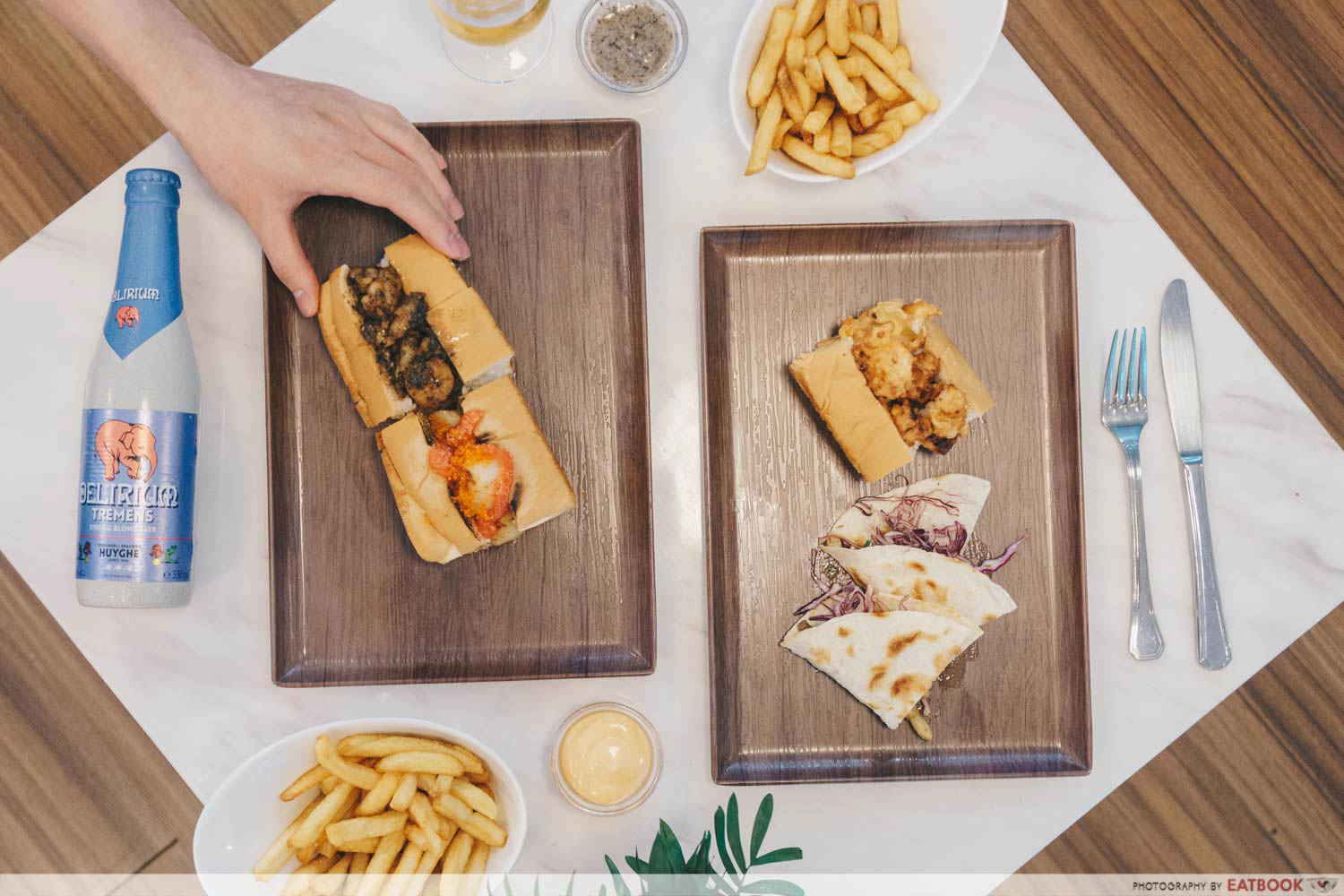 Lobsters & Ice Cream is back with a swankier name—Lobster & Ice Cream V2.0—and a decked-out menu. Items like Truffle Lobster Roll ($22+ for a full roll) and Razor Clam Tacos ($18+) are available in this chic, new minimalist cafe at Tanjong Pagar.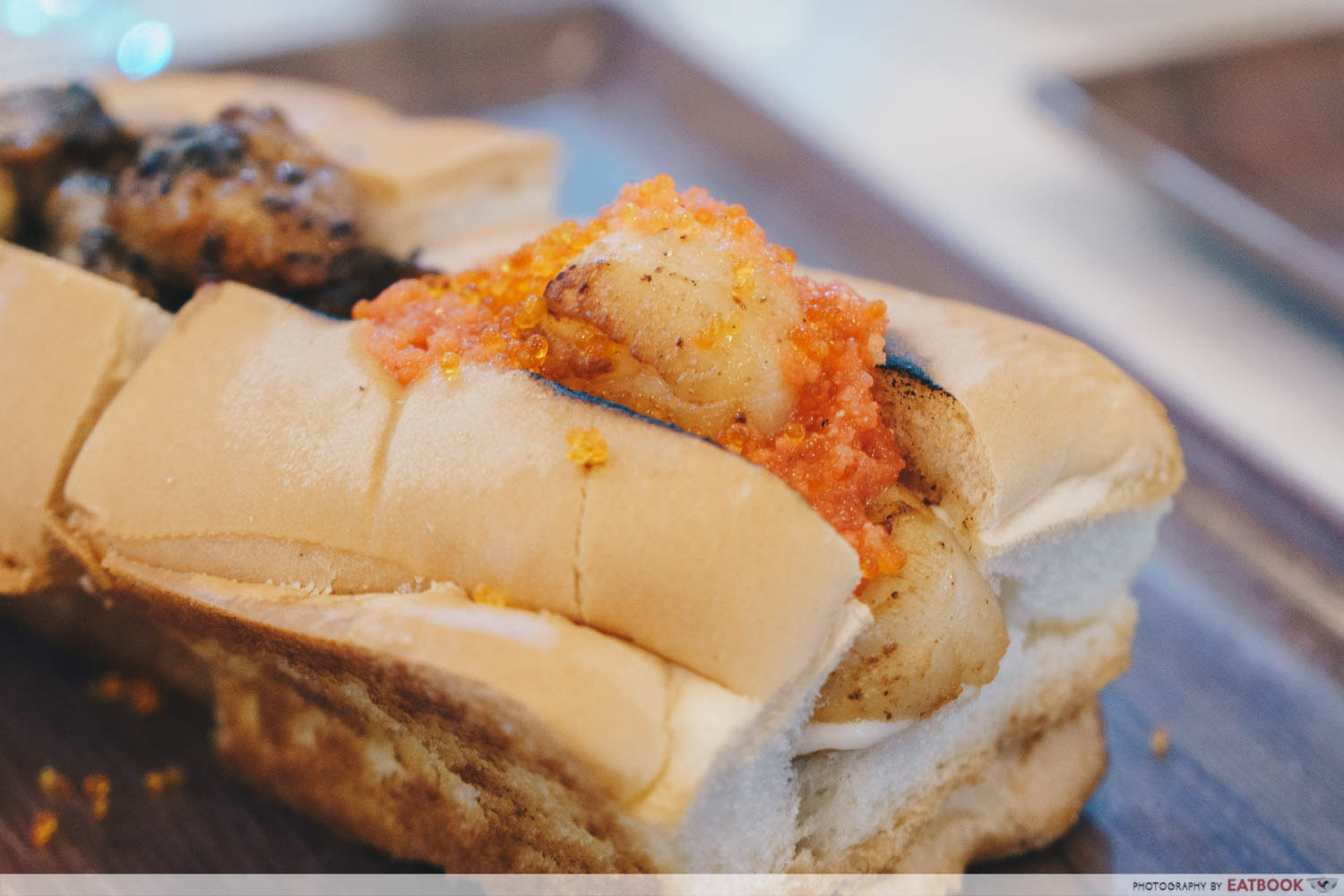 Be sure to also get the Mentaiko Scallop Roll ($20+ for a full roll). It's an absolute delight to eat, with every bite exploding with umami from the mentaiko. If you're more of a lobster person, you could also get a Mentaiko Lobster Roll ($20+ for a full roll).
Address: Block 7 Tanjong Pagar Plaza, #02-101, Singapore 081007
Opening hours: Sun-Thur 11am to 10:45pm, Fri-Sat 11am to 11:45pm
Website
Lobsters & Ice Cream V2.0 is not a halal-certified eatery.
---
6. Sama Sama
---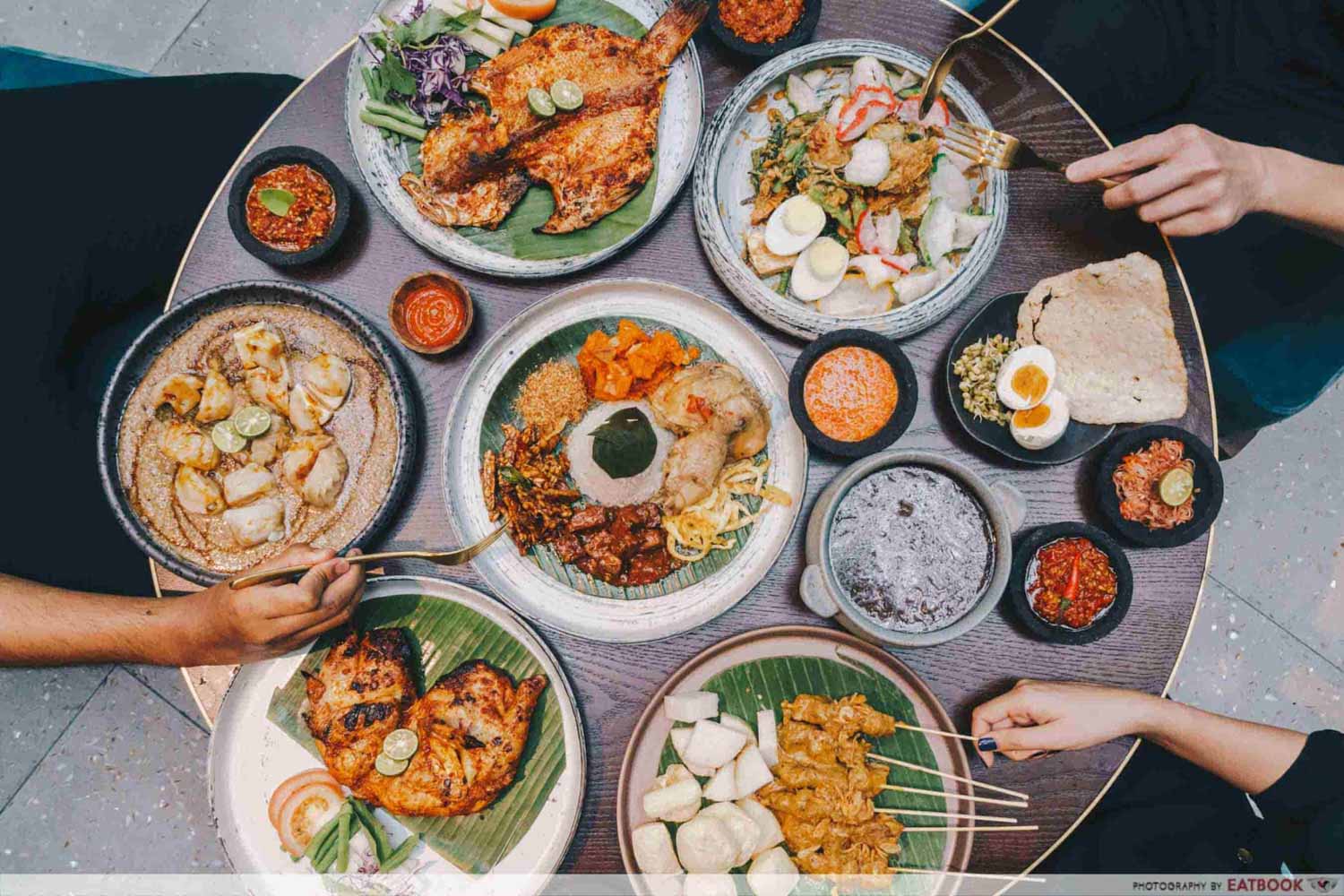 Located at Jewel Changi Airport, Sama Sama has been dubbed as "one of the best food experiences" there. The restaurant dishes out beautifully plated Indonesian fare, including Nasi Langgi ($17++), a coconut rice tower with loads of sides such as beef, chicken and tempeh.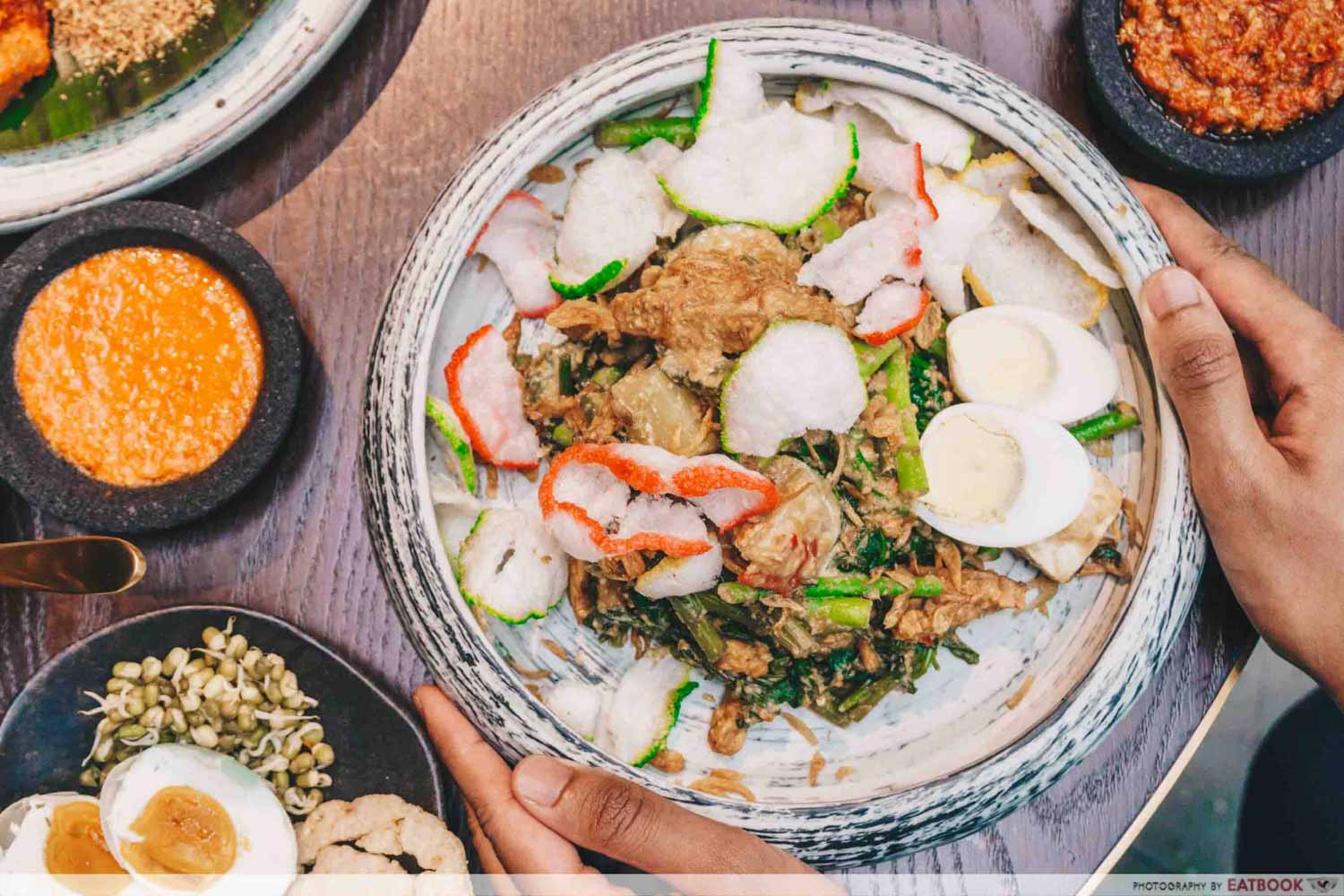 That being said, one item you should absolutely try is the Gado Gado ($15++). A staff member will push a trolley full of ingredients in front of you, and prepare the dish before your eyes. Comprising crunchy crackers, juicy greens and a sea of rich peanut sauce, the gado gado has the right amount of sweet and savoury flavours, and is filling to boot.
Address: 78 Airport Boulevard, #03-225/226, Jewel Changi Airport, Singapore 819666
Opening hours: Daily 10am to 10pm
Sama Sama has applied for their halal certification.
Sama Sama Review: New Indonesian Restaurant With Huge Coconut Rice Platter And Super Spicy Gado Gado
---
7. Sedap Mania
---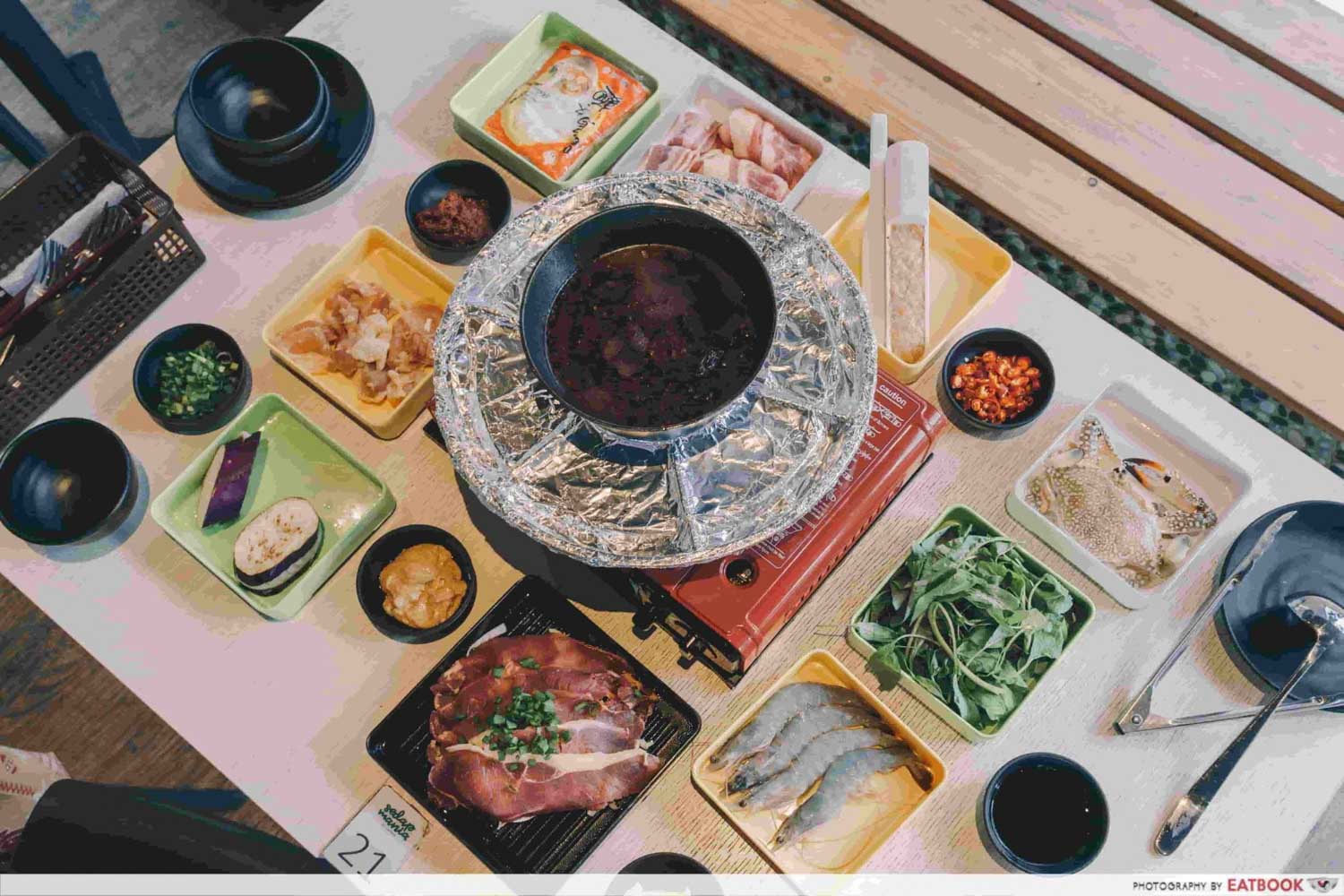 Sedap Mania is a halal, steamboat and barbecue restaurant opened by Astons. The ingredients here are really affordable, ranging from $1.50 to $3 a plate. We recommend getting the ma la soup pot as your soup base. It has a creeping heat that doesn't overpower the ingredients.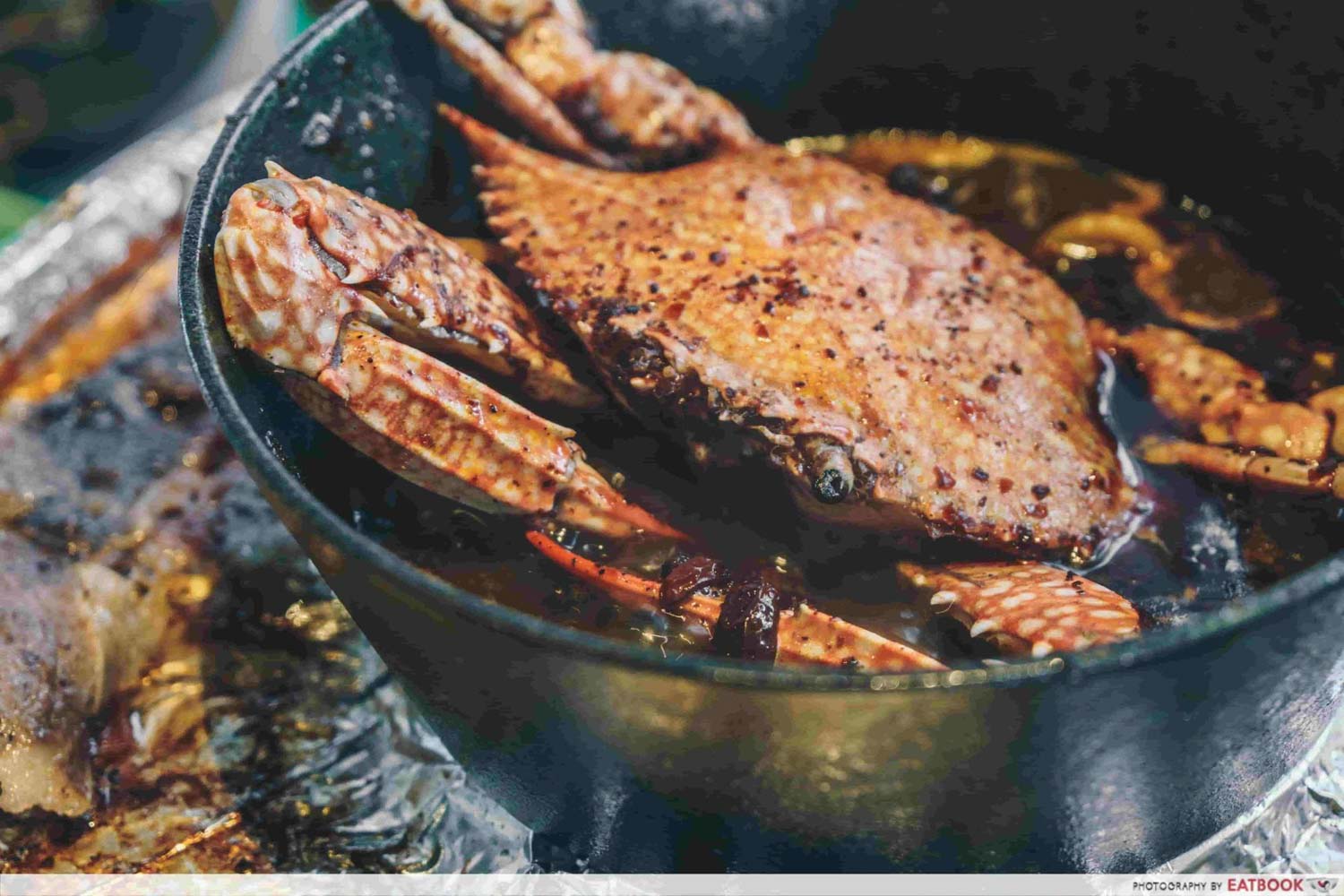 Def' get the flower crab. It's only $3 but adds so much flavour into the stock and has really sweet and succulent flesh. The sliced beef ($3) is another noteworthy item with its gorgeous marbling and luscious fattiness.
To soak up all the soup, order the udon ($1.50). It locks in all those tantalising flavours imparted by the ingredients, unleashing a frenzy of different flavours.
Sedap Mania Review: New Halal-Certified BBQ Steamboat With Dishes From $1.50+
Address: 5 Changi Village Road, #01-2001, Singapore 500005
Opening hours: Mon-Fri 11:30am to 2:30pm, 5pm to 9:30pm Sat-Sun 11:30am to 9:30pm
Tel: 6245 1620
Website
Sedap Mania is a halal-certified eatery.
---
8. Jalapeño South-West
---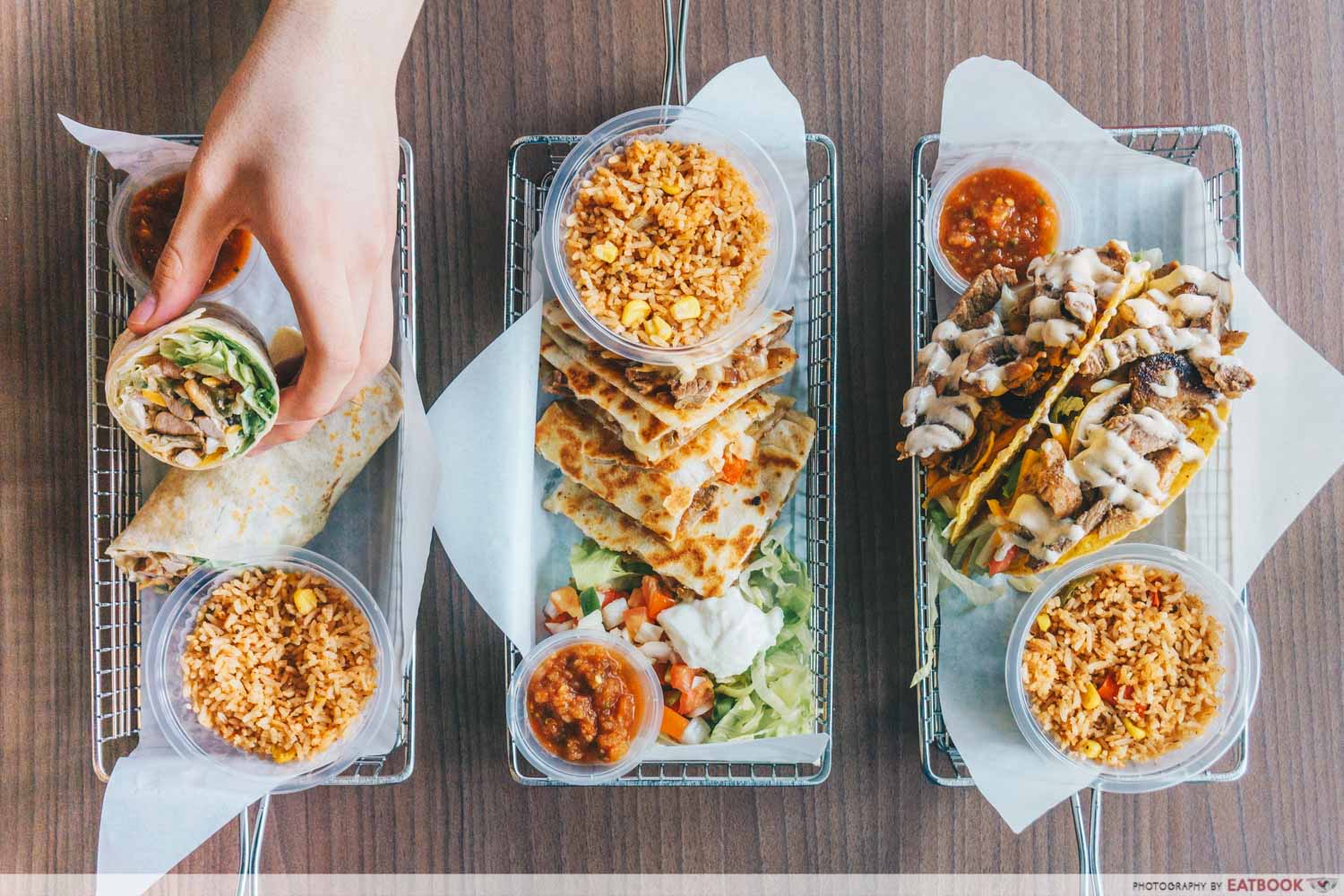 Authentic halal Mexican joints are few and far between on our shores. Jalapeño South-West fills that void, doling out a range of tacos and burritos packed with robust flavours that are true to Mexico. The Chicken Burrito ($9.90+) is the best way to introduce a friend to Mexican cuisine, packed with bright salsa and vegetables, along with a bundle of well-spiced chicken.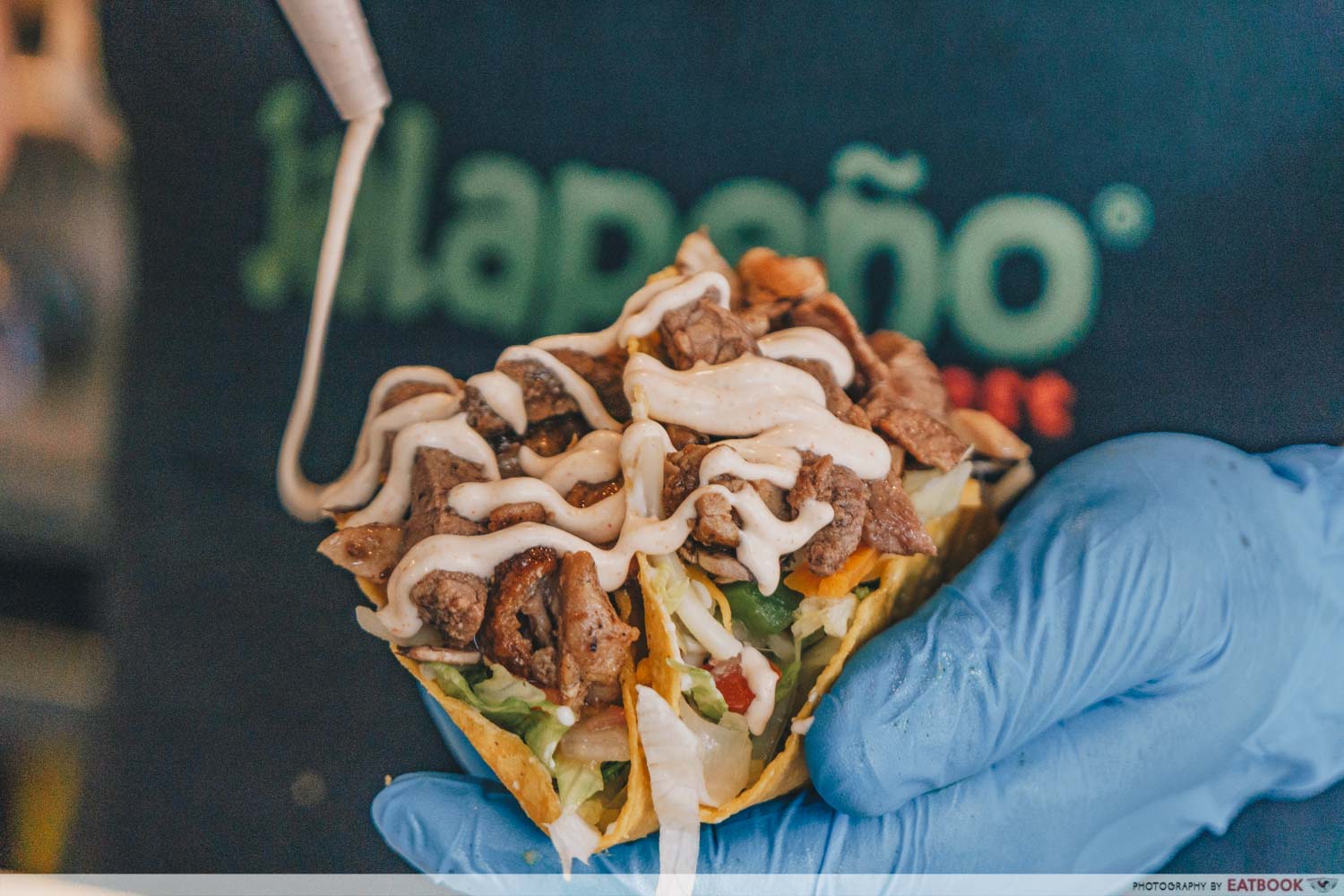 The Supremo Tacos ($10.90+) are an indulgent option—bursting with a medley of chicken and beef, and decorated with a liberal squirt of sauce. The mixture of meats ensures this taco never gets boring, but down it quick so that the hard shell retains its Dorito-esque crunch.
Jalapeño South-West Review: Muslim-Owned Mexican Restaurant With Cheap Tacos And Burritos At Clementi
Address: 321 Clementi Avenue 3, #01-09, 321 Clementi, Singapore 129905
Opening hours: Daily 11am to 11pm
Tel: 6272 7123
Website
Jalapeno South-West is a Muslim-owned eatery.
---
9. Gochi
---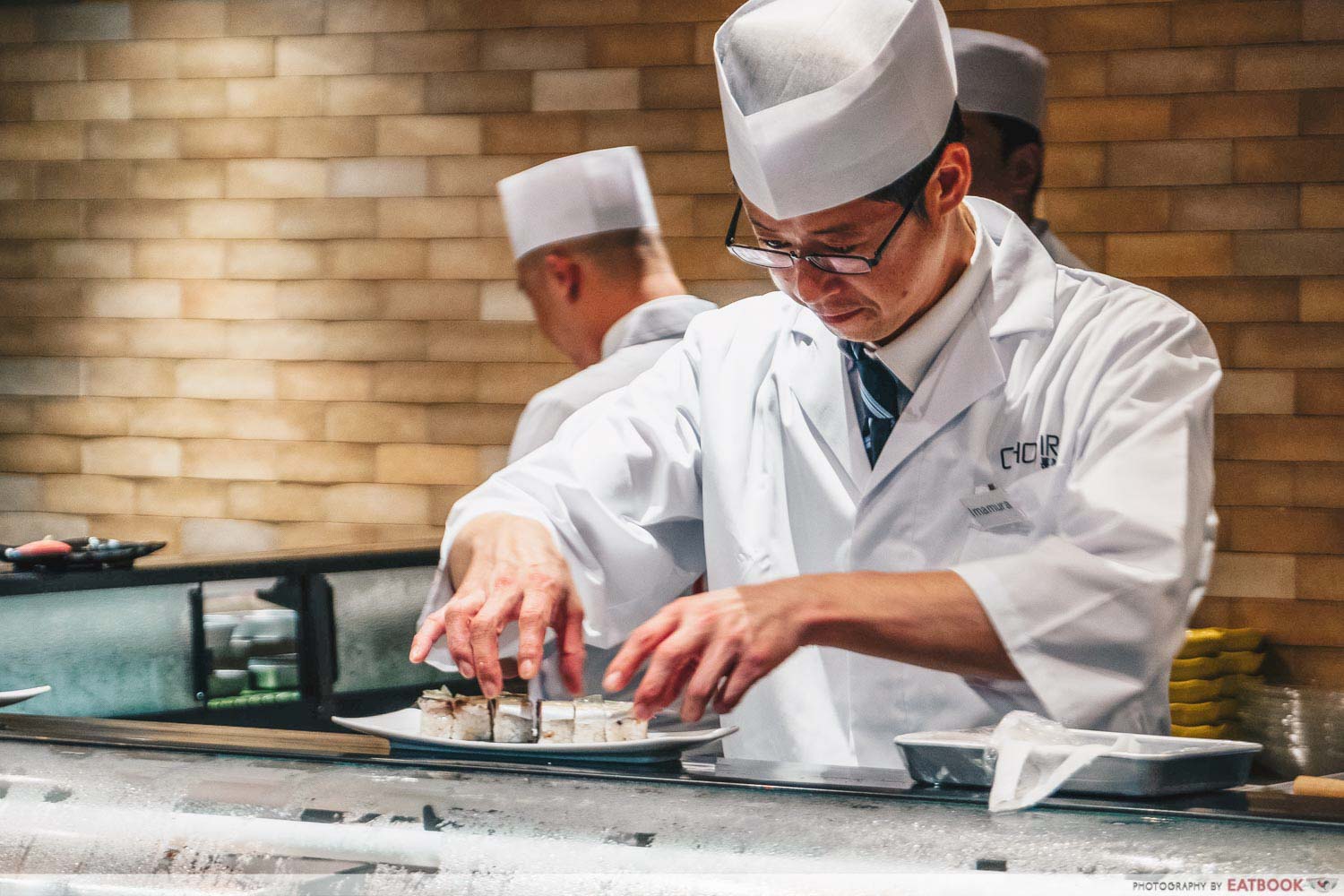 At Gochi, you can choose from six different Japanese dining concepts. Famous Japanese brands such as Suage and Pronto have opened here. Suage offers a curry soup take-out concept where customers can enjoy big, hearty bowls of Hokkaido soup curry. While Pronto serves up Japanese-inspired Italian dishes.
If you're a fan of sushi, consider Chojiro instead. Sushi chefs from japan skilfully prepare fresh nigiri in this casual and affordable restaurant.
Chojiro: Affordable Conveyor Belt Sushi Restaurant From Osaka Opens At Telok Ayer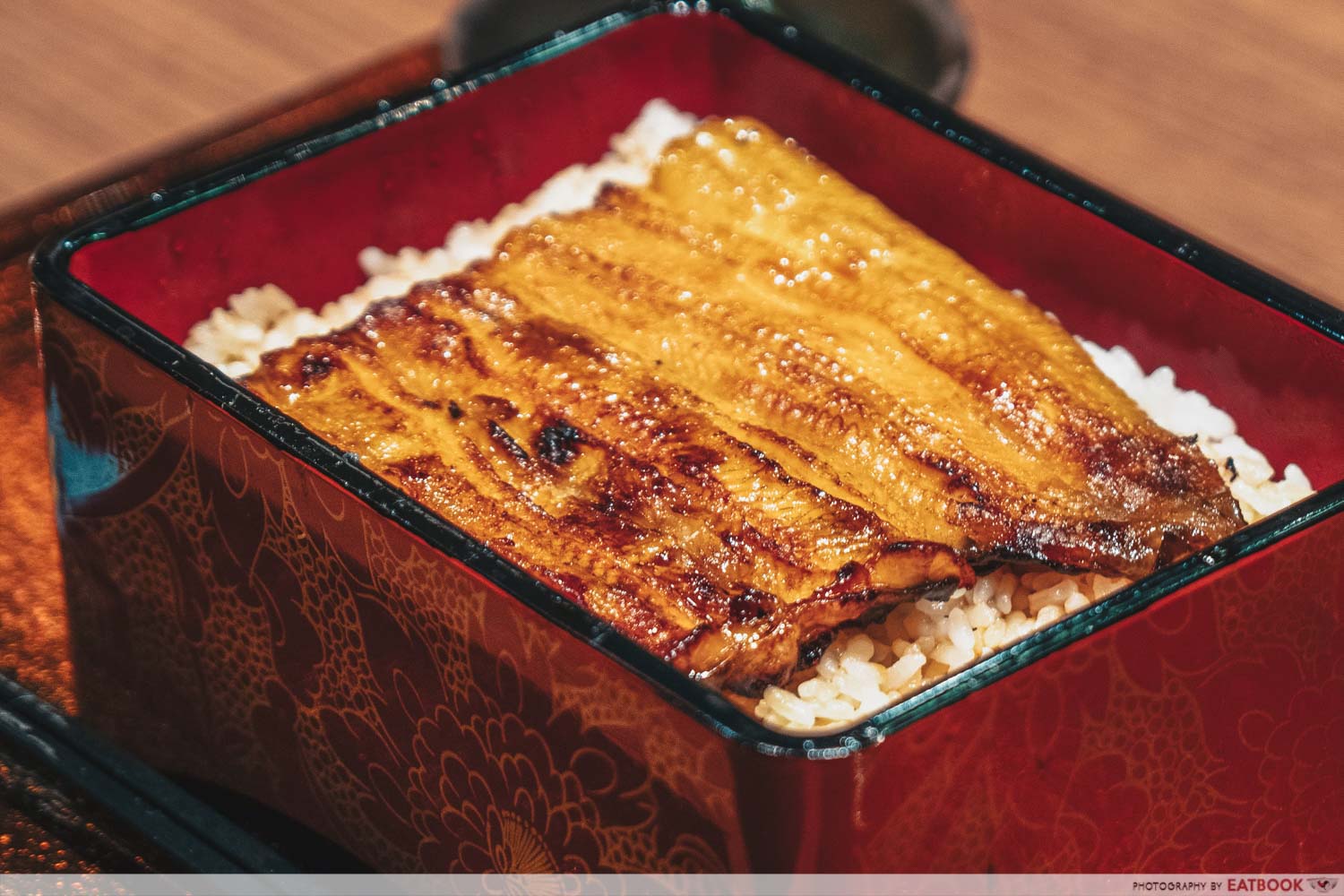 For those in love with unagi, Unaemon imports live eels from Japan, and then charcoal grill them a la minute. The eels in the Unaju ($32++ for small, $36++ for medium) are caramelised to a golden brown and dipped in an umami-laden sauce to complement the sweet tasting fish.
To end your meal, grab dessert at Paletas. Fanciful popsicles such as OKINAWA Mango Sorbet ($8), Apple Custard ($6) and Pistachio Raspberry ($7) are available. 
Address: 23 Church Street, Level 1 Capital Square , Singapore 049481
Opening hours: Daily 11:30am to 9pm
Website
---
10. TXA Pintxo Bar
---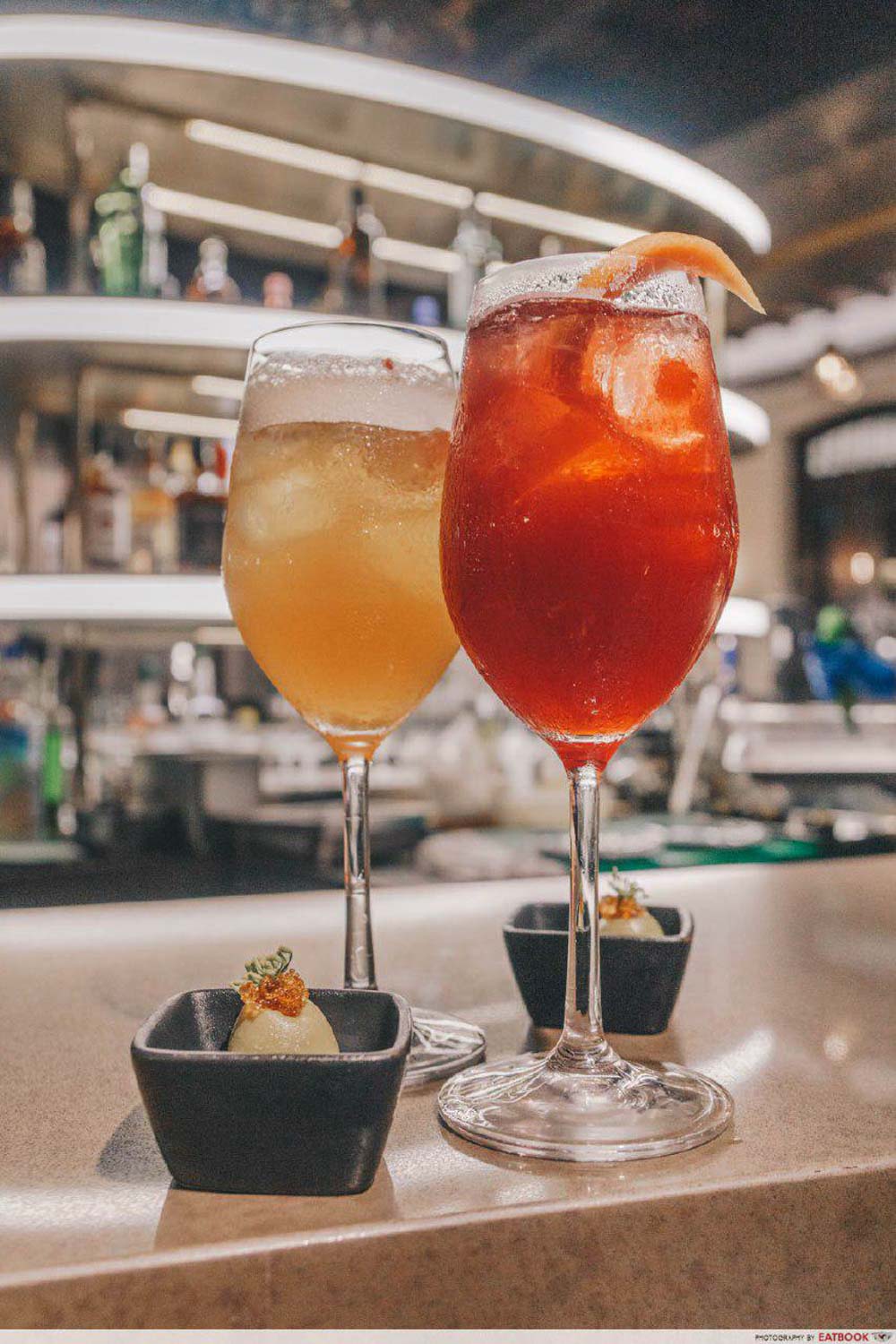 Housed in the newly restored Alkaff Mansion, TXA Pintxo Bar (pronounced cha pin-cho bar) offers quality Basque nosh in an elegant setting. Pintxos are light bites that are typically served at bars in northern Spain, and most of them come skewered and served on bread. In Basque, these snacks are displayed buffet-style, but the ones at TXA are freshly prepared, with a small selection available at the bar.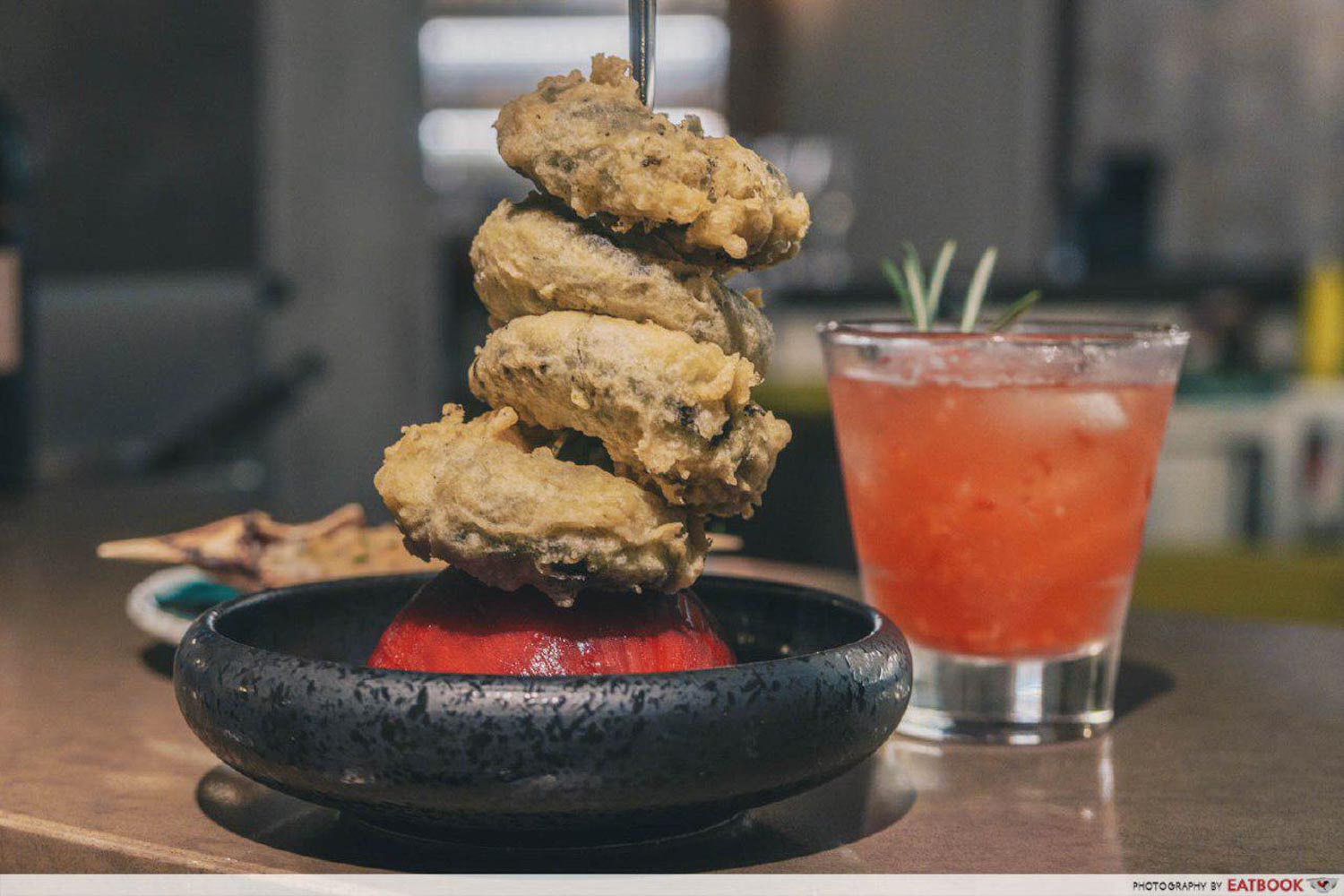 Start your meal with a drink and an Aceituna Rellena De Vermouth ($2.90++), a fat olive that's stuffed with delicious vermouth jelly and orange zest. A must-try is their Black Rabas "A Fuego Negro" ($22++ for five pieces). This tower of black doughnuts is made with diced squid and fresh squid ink, along with onions, carrots and bell peppers. Be sure to say hi to the friendly chefs Marta and Silvana behind the bar before you leave; these fresh graduates from the Basque Culinary Centre may be young, but their food reflects nothing but pure talent and expertise.
Address: 10 Telok Blangah Green, The Alkaff Mansion, Singapore 109178
Opening hours: Tue-Sun 5pm to 11pm (last order at 10:30pm)
Tel: 6773 0070
Website
Menu
---
Bonus 1: Jamie's Italian
---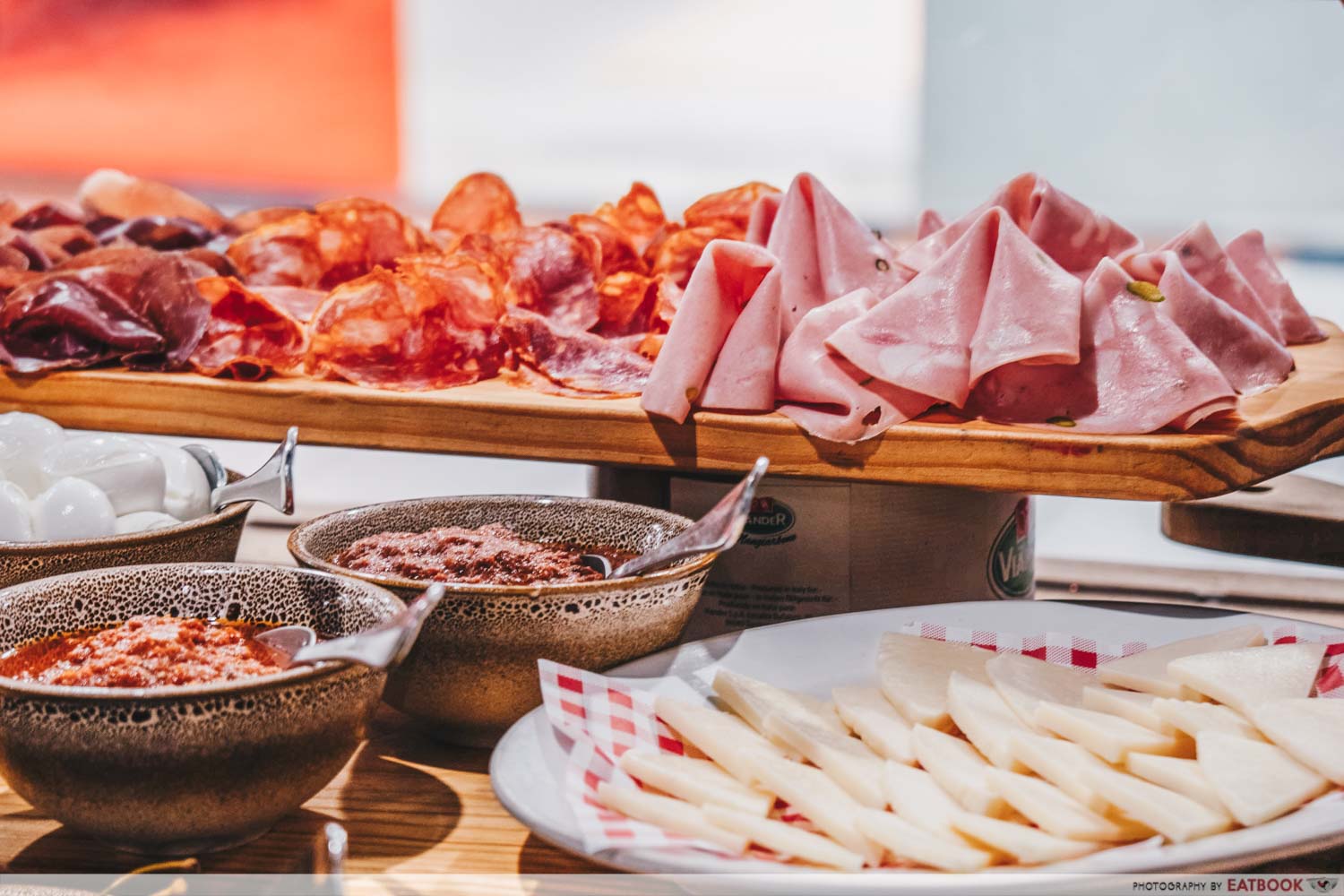 Jamie's Italian has released a new concept: Plank & Prosecco Party ($65++, $85++ for 1 hour free-flow prosecco). Essentially, you'll get to sip on some prosecco, before building your own plank of cured meats and Italian classics that you'll enjoy.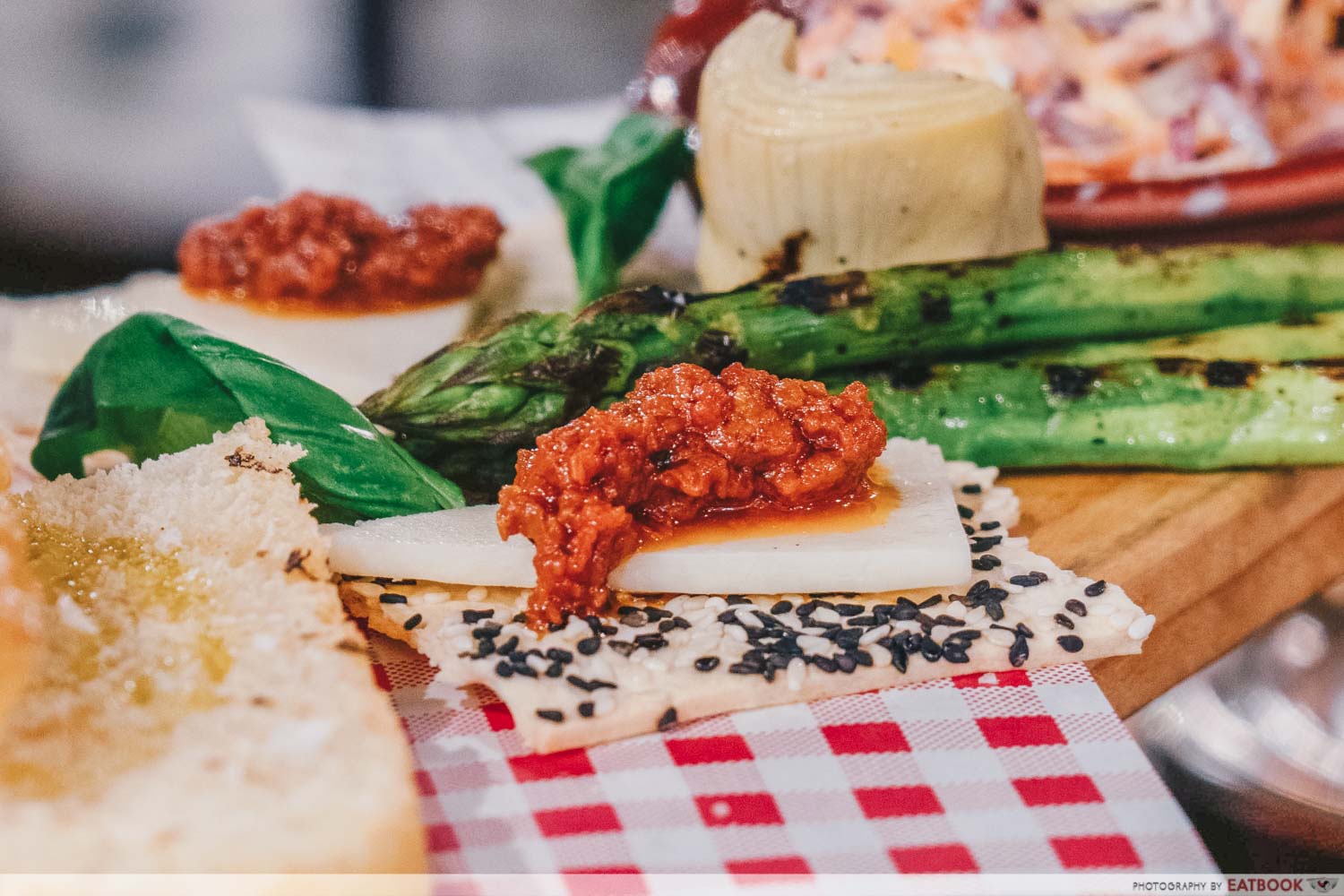 Items like prosciutto and cured wagyu beef are available for picking. You can also opt for some cheese and asparagus to round everything out. 
As part of the package, you'll also get to choose an entree such as the classic Chicken al Mattone and Prawn Linguine. End your day with a dessert. Choose between Homemade Tiramisu and Creamy Pana Cotta to sate your sweet tooth cravings.
Address: 583 Orchard Road, #01-04, Forum The Shopping Mall, Singapore 238884
Opening hours: Sun-Thu 11:30am to 10pm Fri-Sat 11:30am to 11pm
Tel: 6655 7676
Website
---
Bonus 2: Antoinette
---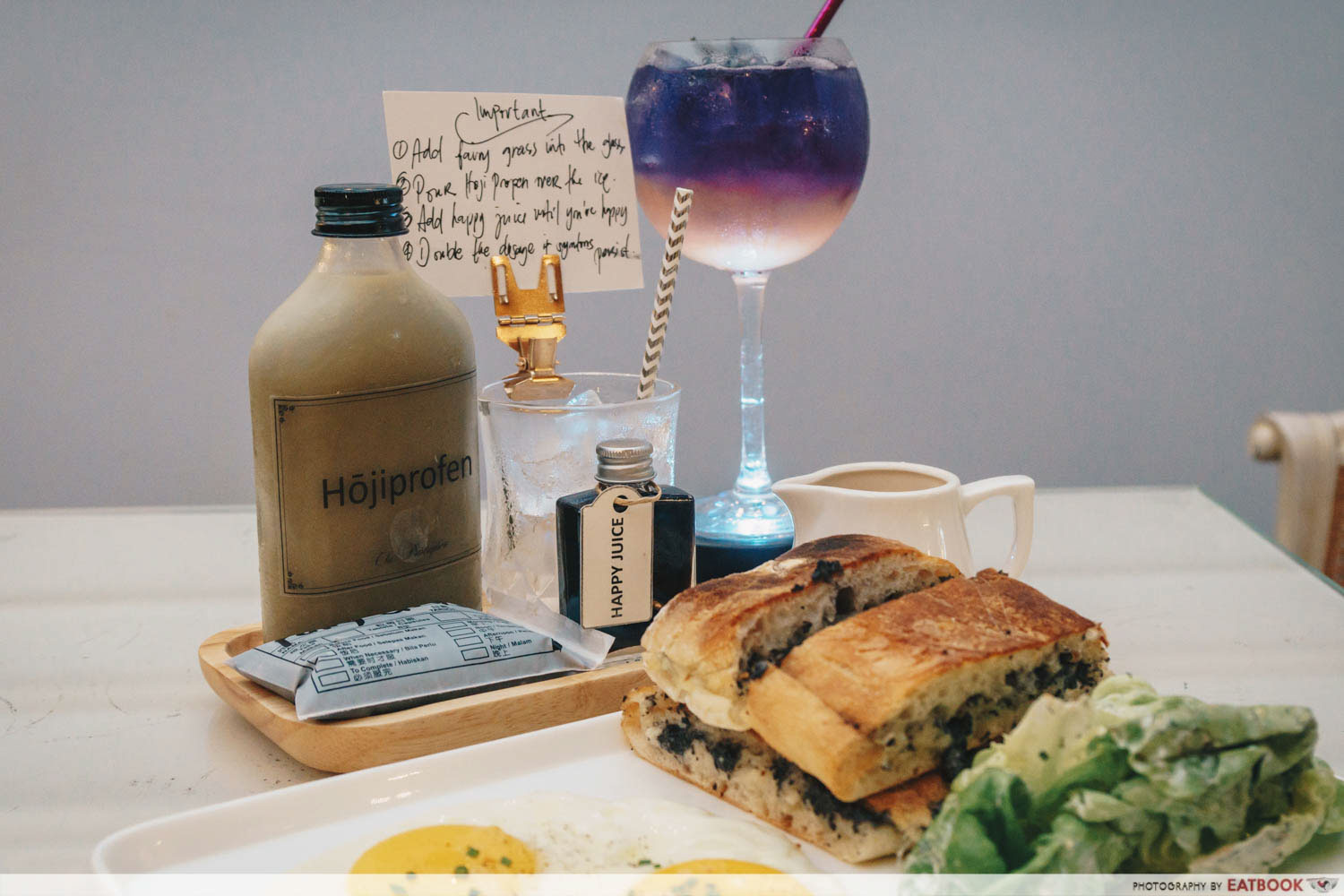 Renowned Chef Pang Kok Keong has done it again. The new menu at Antoinette impressed us with bold flavours and playful creations. Start off your day with their Schiacciata ($18++), a house-baked flatbread stuffed with a killer combo of salty camembert, earthy pecorino, fragrant truffle, and dripping honey.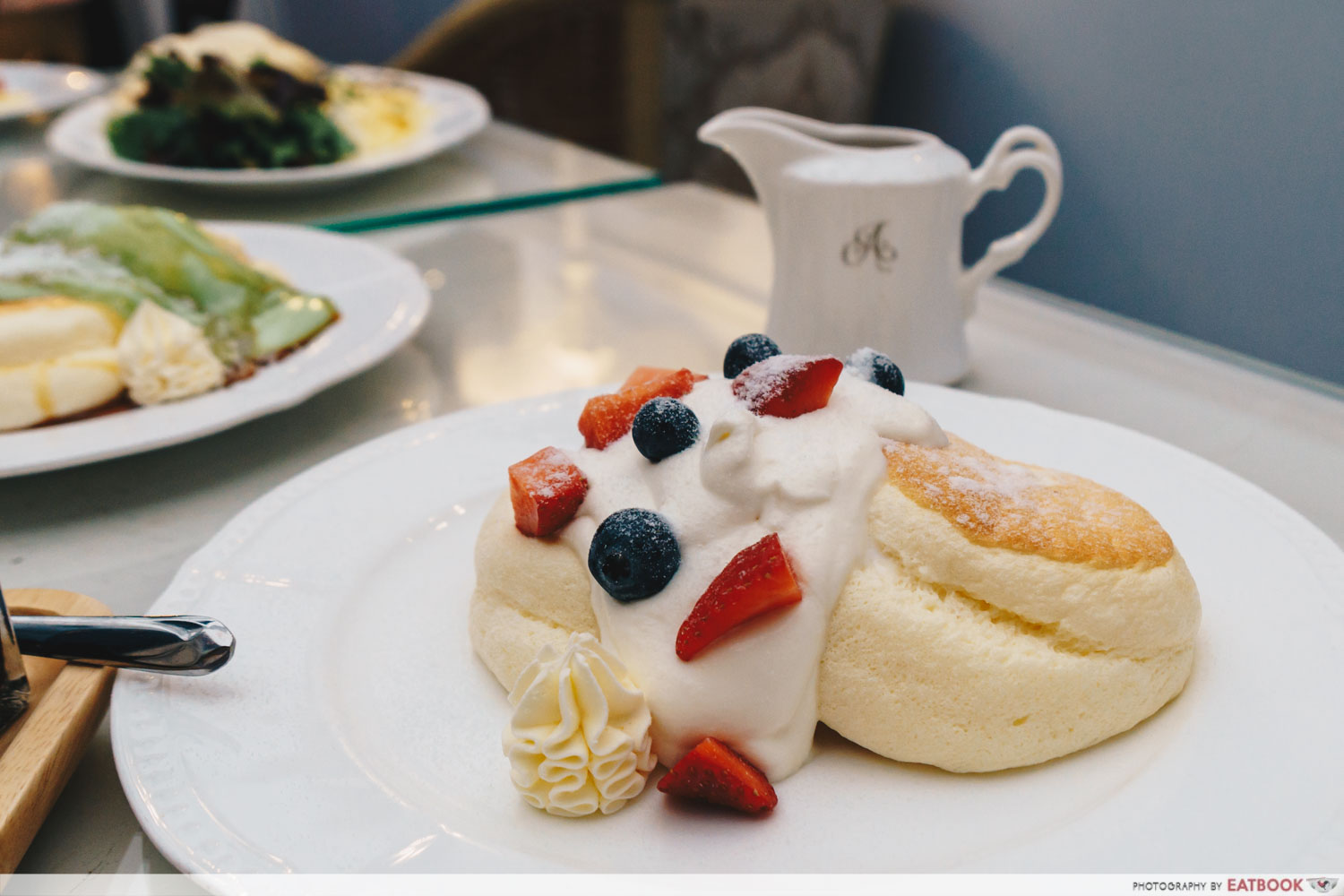 If you haven't had enough of soufflé pancakes, try their extensive menu of these fluffy clouds as well. Served with berries, sea salt butter, and a delicate Chantilly cream, Trés Berries ($16++) was a crowd favourite. Ondeh Ondeh ($16++) was also a notable mention, tasting heavenly when drenched in a glorious pandan custard and gula melaka syrup.
Address: 30 Penhas Road, Singapore 208188
Opening hours: Mon-Thur 11am to 10pm, Friday 11am to 11pm, Sat-Sun 10am to 10pm
Tel: 6293 3121
Website
---
Bonus 3: Baristart
---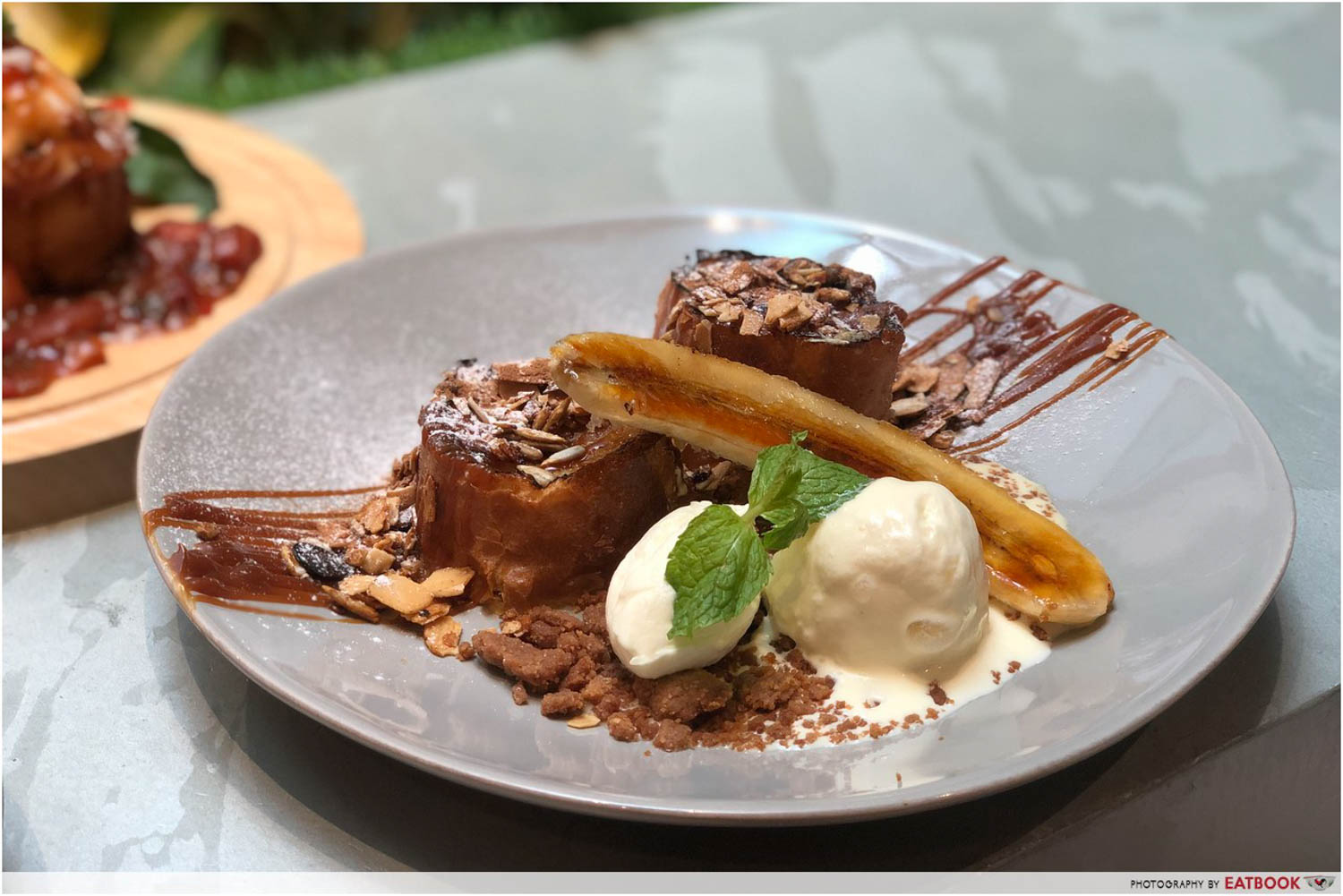 Baristart is no stranger to coffee addicts. The cafe at Tanjong Pagar uses Biei Jersey milk from Hokkaido in all their dairy items. New to their menu is a range of French toast that comes in both sweet and savoury varieties. Our favourite from the lot is the Banana Caramel French Toast ($14.80++), which comes with thick slices of baguette and caramelised bananas that pair wonderfully with the spongy toast.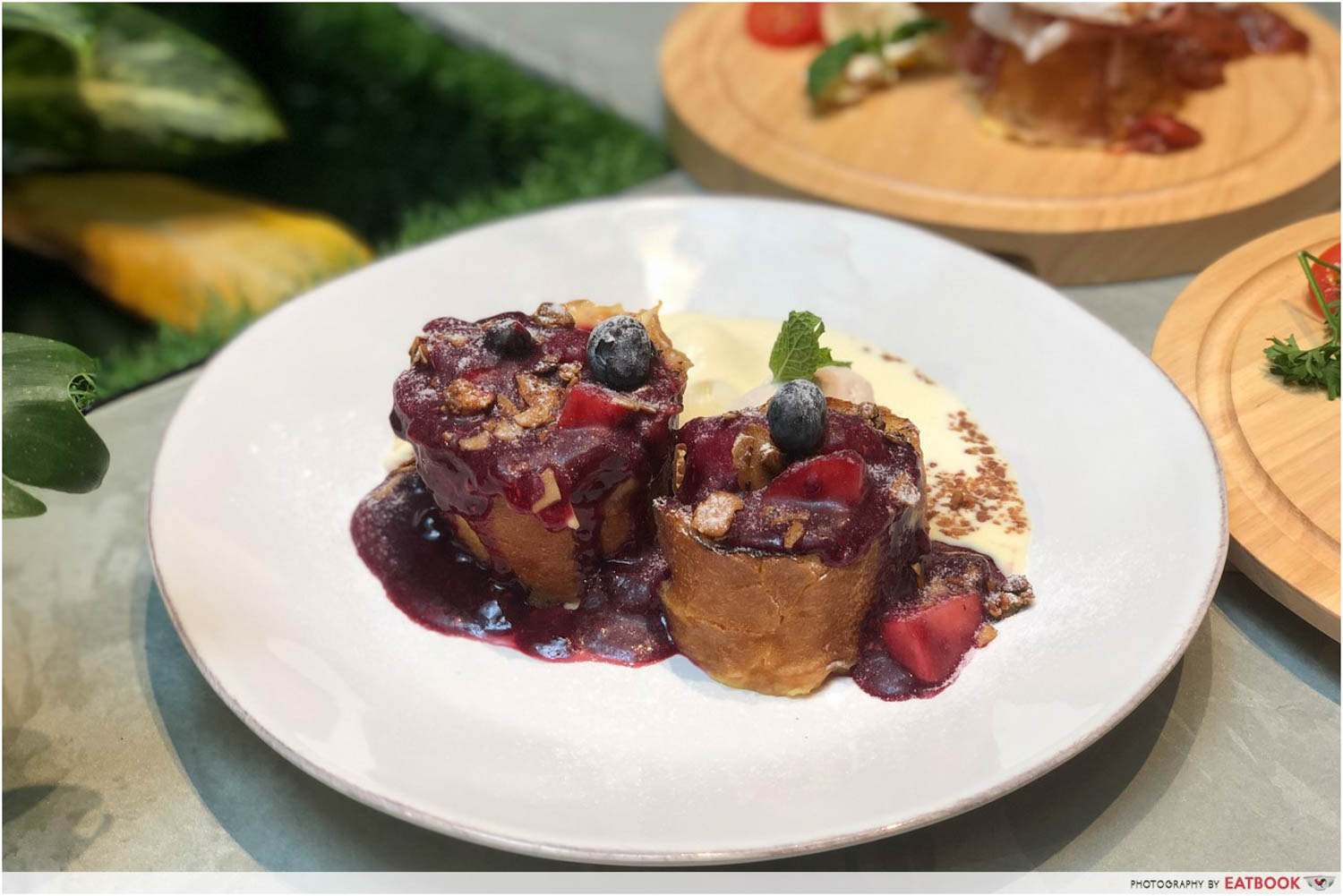 If you prefer something tart, their Mixed Berries French Toast ($14.80++) is also worth a try. Both dishes come with extra creamy vanilla ice-cream that's made in-house with their special Hokkaido milk. Don't forget to take a giant Cream Puff ($4.50 for one, $12.50 for three) home as well. This palm-sized treat holds plenty of addictive sweet cream in thin choux pastry.
Baristart Coffee Review: New Japanese Cafe With Kawaii Dessert And Pork Cutlet Sandwich
Address: 65 Tras Street, Singapore 079004
Opening hours: Daily 10am to 10pm
Tel: 6904 3169
Website
---
Bonus 4: LeVeL 33
---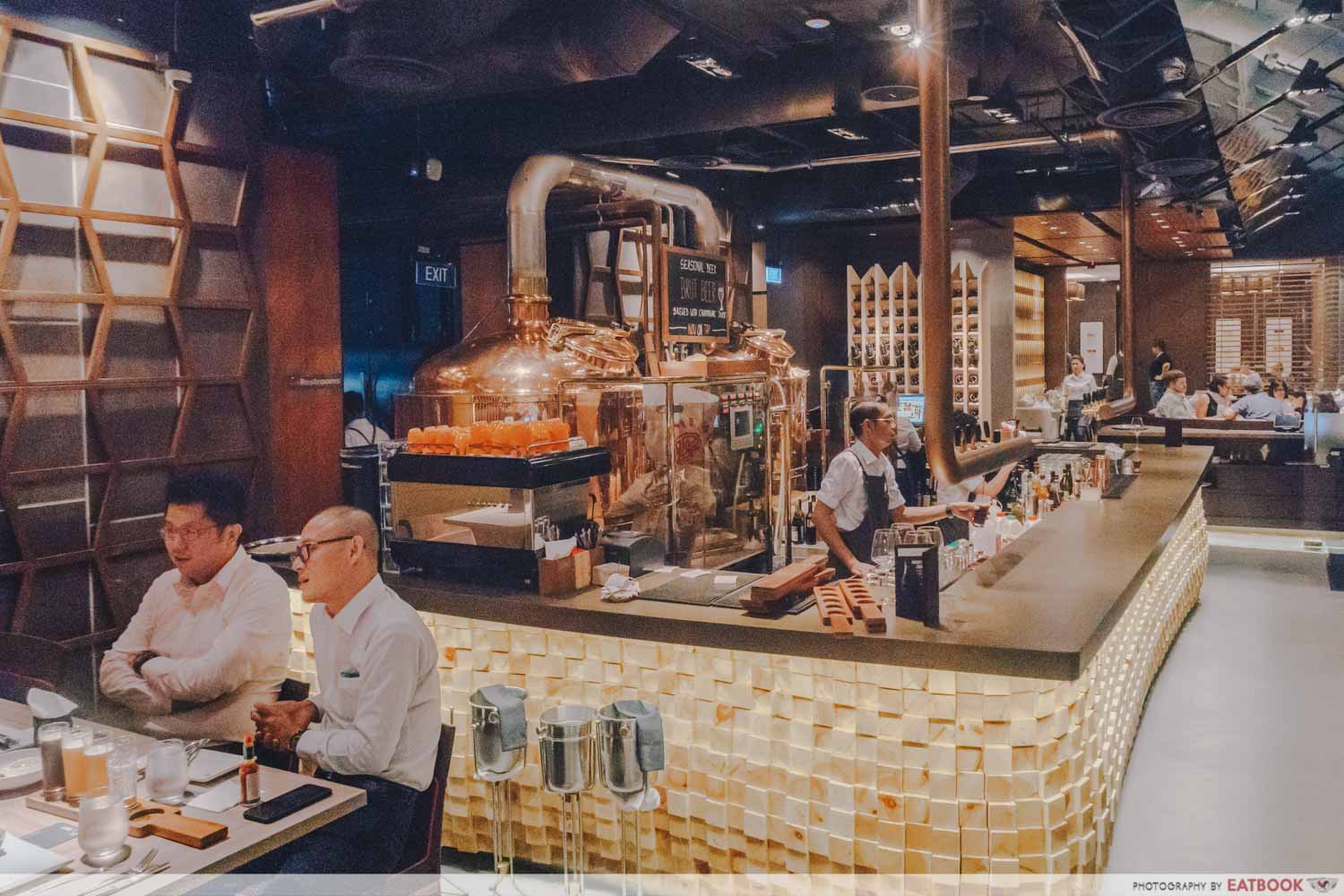 Billed as Asia's highest brewery, LeVeL 33 has a refreshed look and menu, combining innovative food with a stunning view of Singapore's skyline. The space has been split into three sections, so you can knock down a pint for any occasion. The Dining Room is the spot for formal dinners, while Social is suited for more intimate gatherings. Meanwhile, the outdoor Terrace is a laidback spot to chug some beers while shooting the breeze.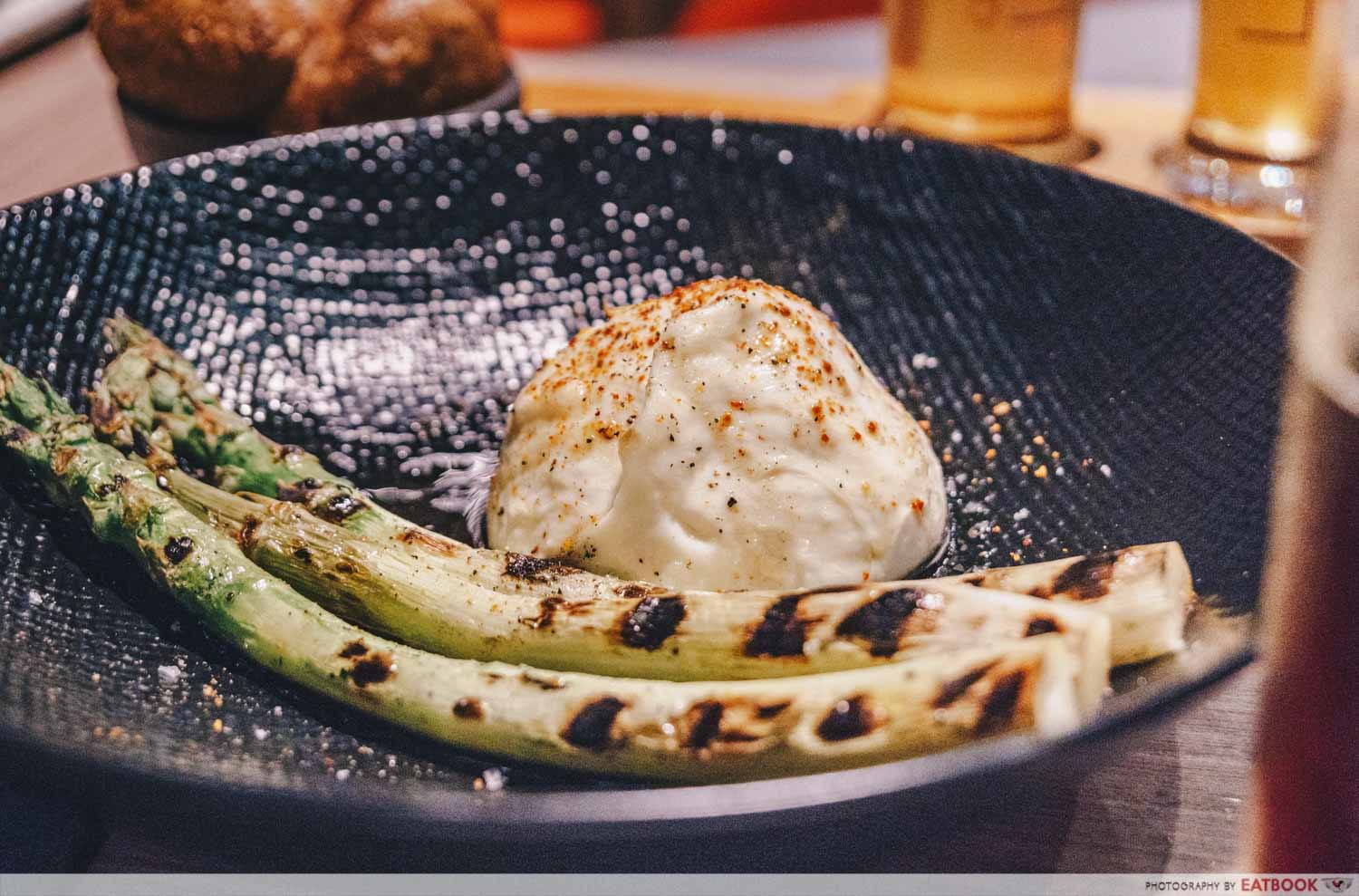 This is a brewery first and foremost, and that's reflected in the menu too. Elements of the brewing process are used in every aspect of your meal, with beer ingredients and fermentation techniques used in ways that will boggle your mind. The Spent Grain Pasta ($28++) incorporates beer by-products in its flour, resulting in al dente noodles that boast nutty notes. It's a great combination with the luscious kombu butter and black truffle. Malt oil takes the stage in Asparagus ($21++), imbuing grilled asparagus and creamy burrata with its distinctive fragrance.
Address: 8 Marina Boulevard, #33-01, Marina Bay Financial Centre Tower 1, Singapore 018981
Opening hours: Mon-Thur 11:30am to 12am, Fri-Sat 11:30am to 2am, Sun 12pm to 12am
Tel: 6376 3033
Website
---
New restaurants in July 2019
---
As the countdown begins to the end of the year, make the most out of the remaining six months by planning out dinner dates at these new restaurants. Whether it's munching on savoury tacos at Jalapeño South-West or indulging in a luxe meal at Olivia, the options listed here will suit every budget!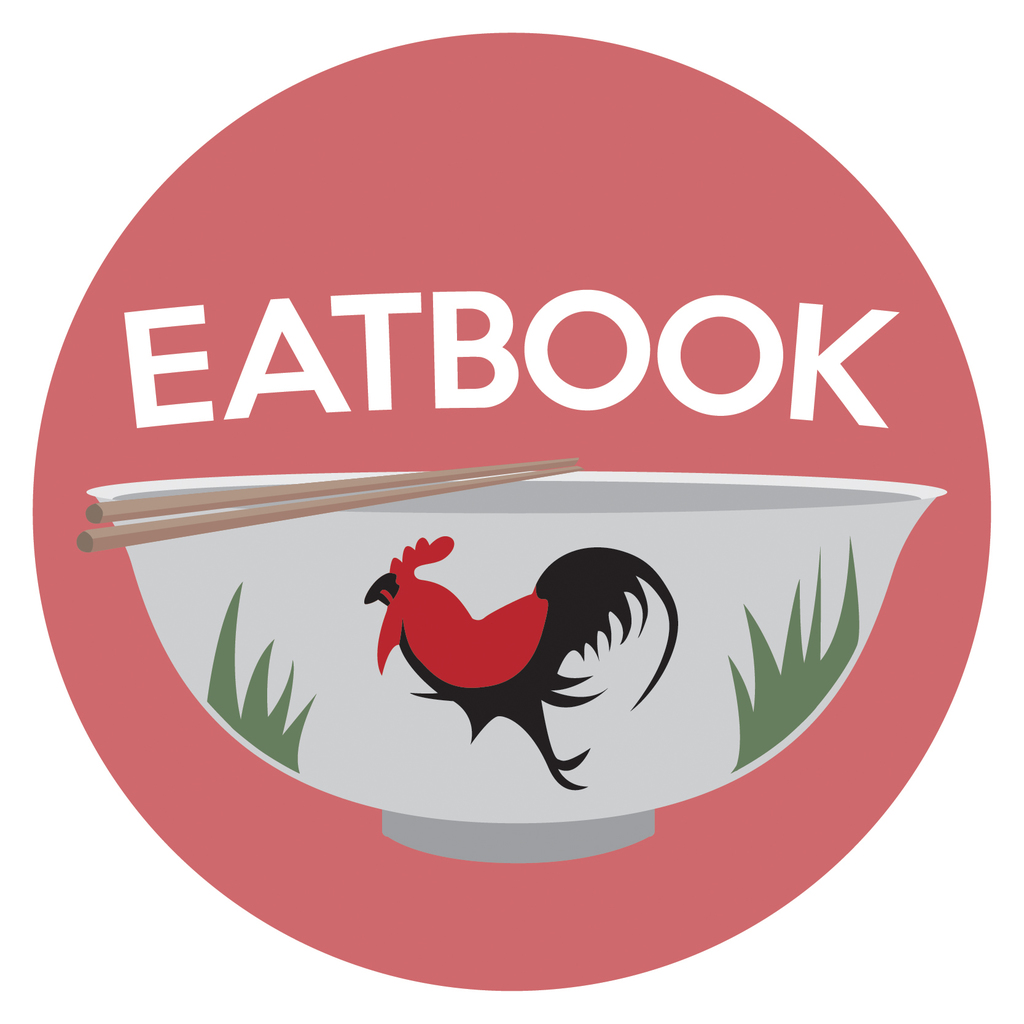 Drop us your email so you won't miss the latest news.