Generous quantities at Oinkers & Buns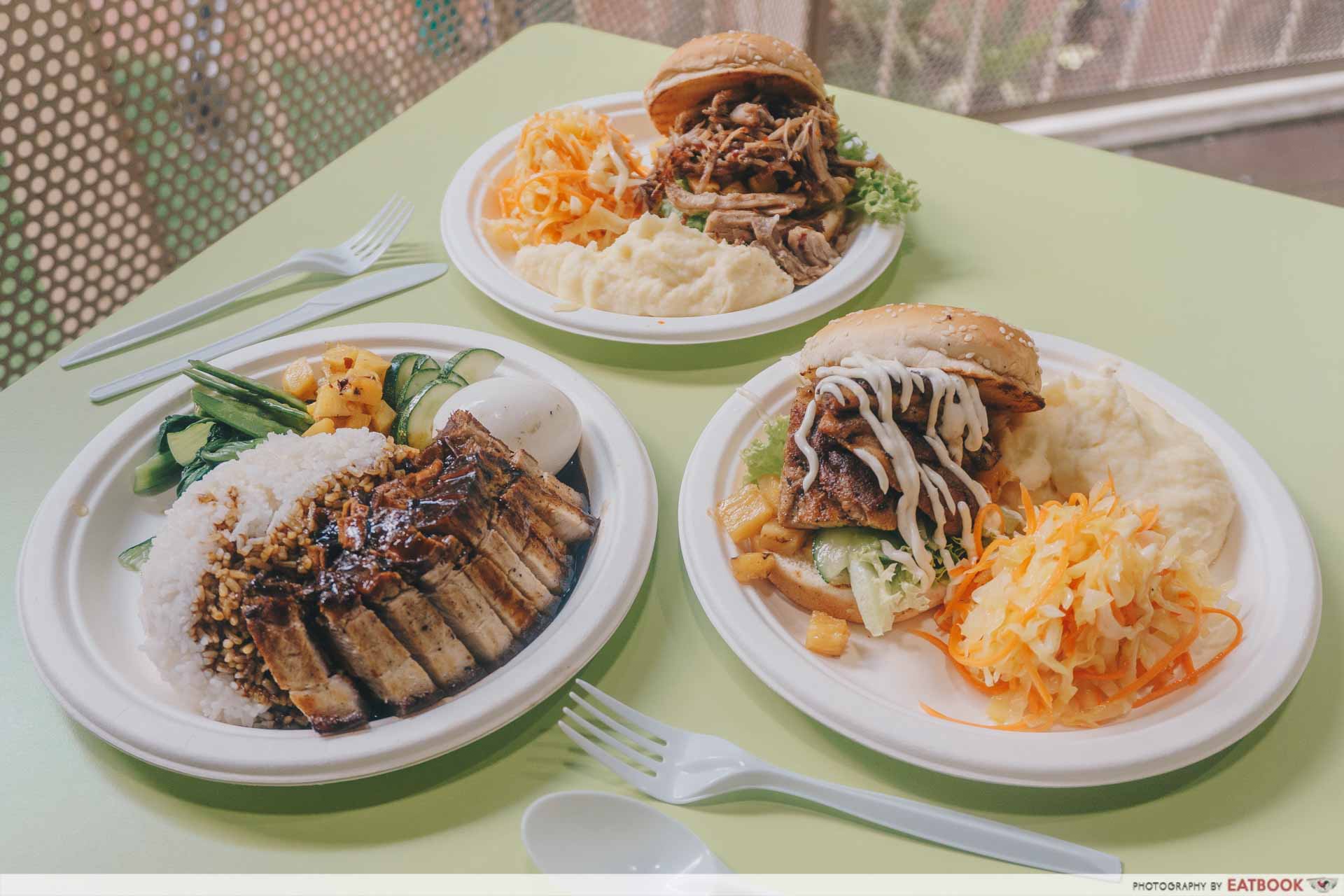 Amoy Street Food Centre never fails to amaze me with their delicious and novel food at affordable prices. After all, the CBD hawker centre is home to Basil & Mint, Quan Ji, and Big Bowls Project. Just a few months old, Oinkers & Buns has also appeared on our radar. Forget burger joints, some of the best burgers in Singapore are dished up in our hawker centres. If you're looking for some hearty braised pork belly or burgers on a budget, Oinkers & Buns is here to save the day.
Food at Oinkers & Buns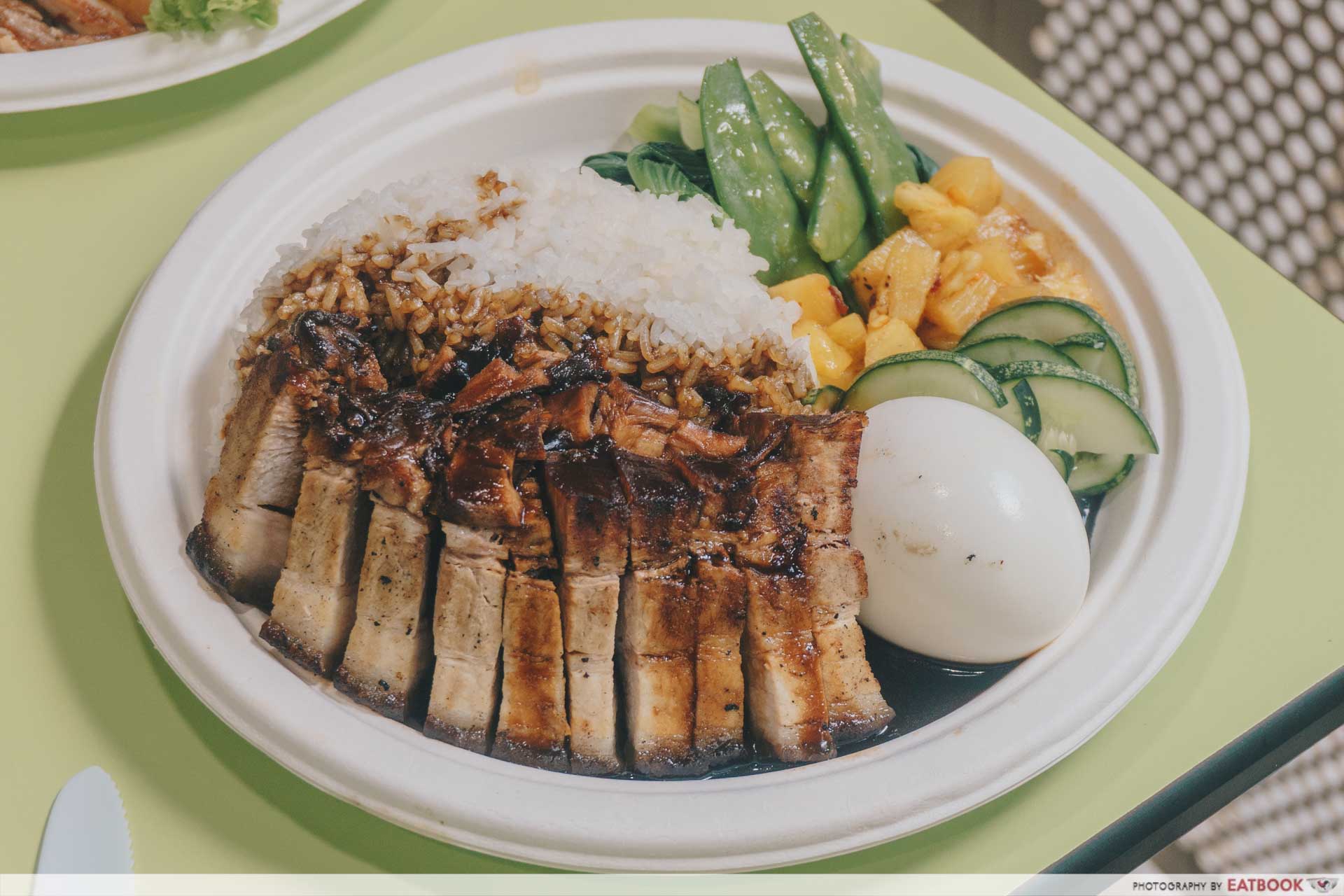 The simple but beautiful plating of the Braised Pork Belly Rice ($6) was the first thing that caught our attention. $6 gets you a full bowl of white rice, flat green beans, pineapples, pickled cucumbers, boiled egg, and a neat row of sliced pork belly. The dish lifted our spirits and delighted our senses in terms of colour, scent, and taste.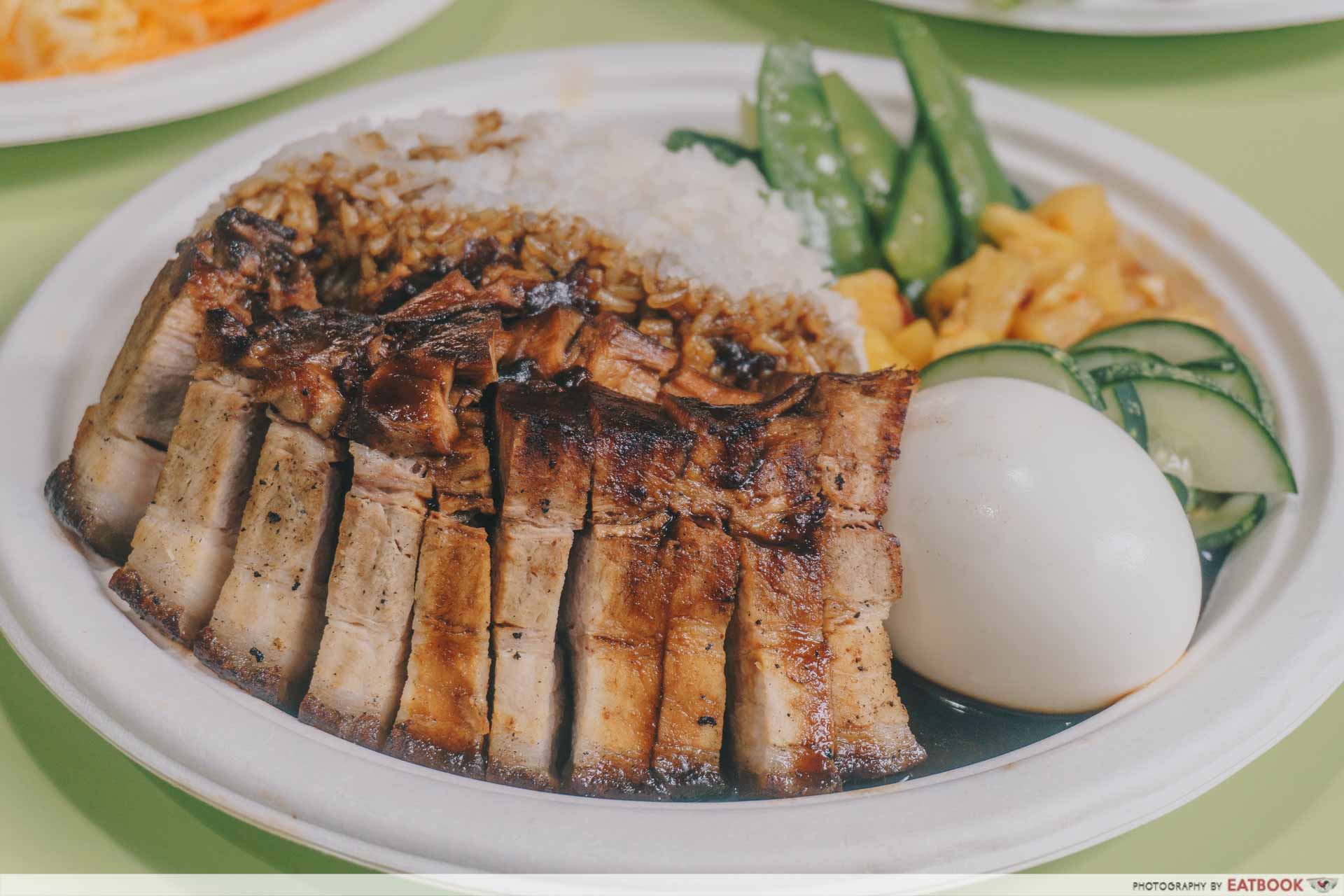 Everything tasted like a home-cooked meal made with care. Marinated with shoyu and grilled on a hot pan before serving, each fatty slice of belly had a hint of smoky taste to it. It was as if each piece had been touched by the breath of the grill. They were chewy rather than tender, with a good ratio of fat to meat.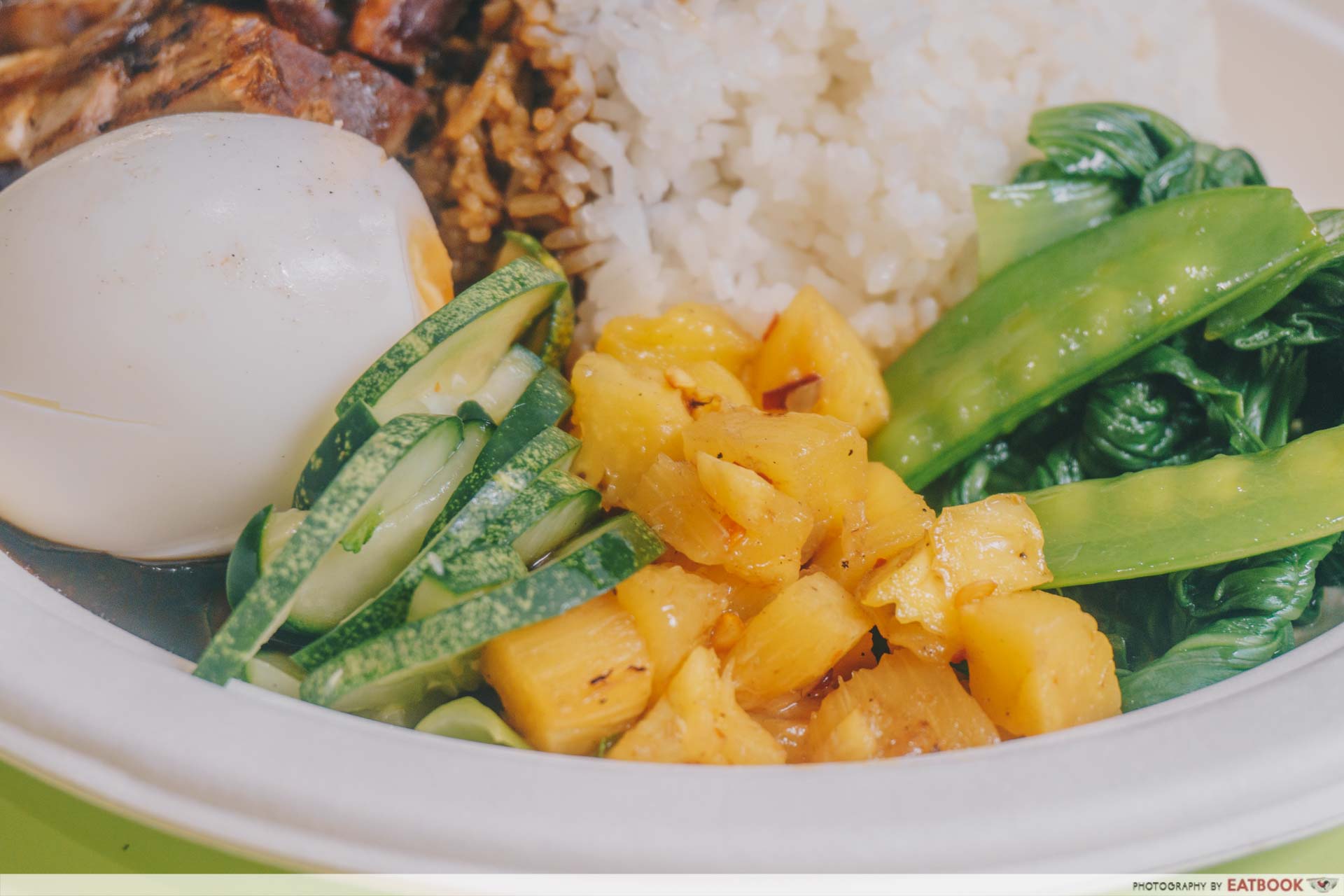 This is a meal my mom would approve. The medley of vegetables and egg makes a balanced plate for lunch. My favourite out of the trio was the pineapple. It was an exemplary side dish to the greasy pork belly. Chopped and grilled to a soft consistency, the pineapples were like salsa, but with an added caramelised char on the edges.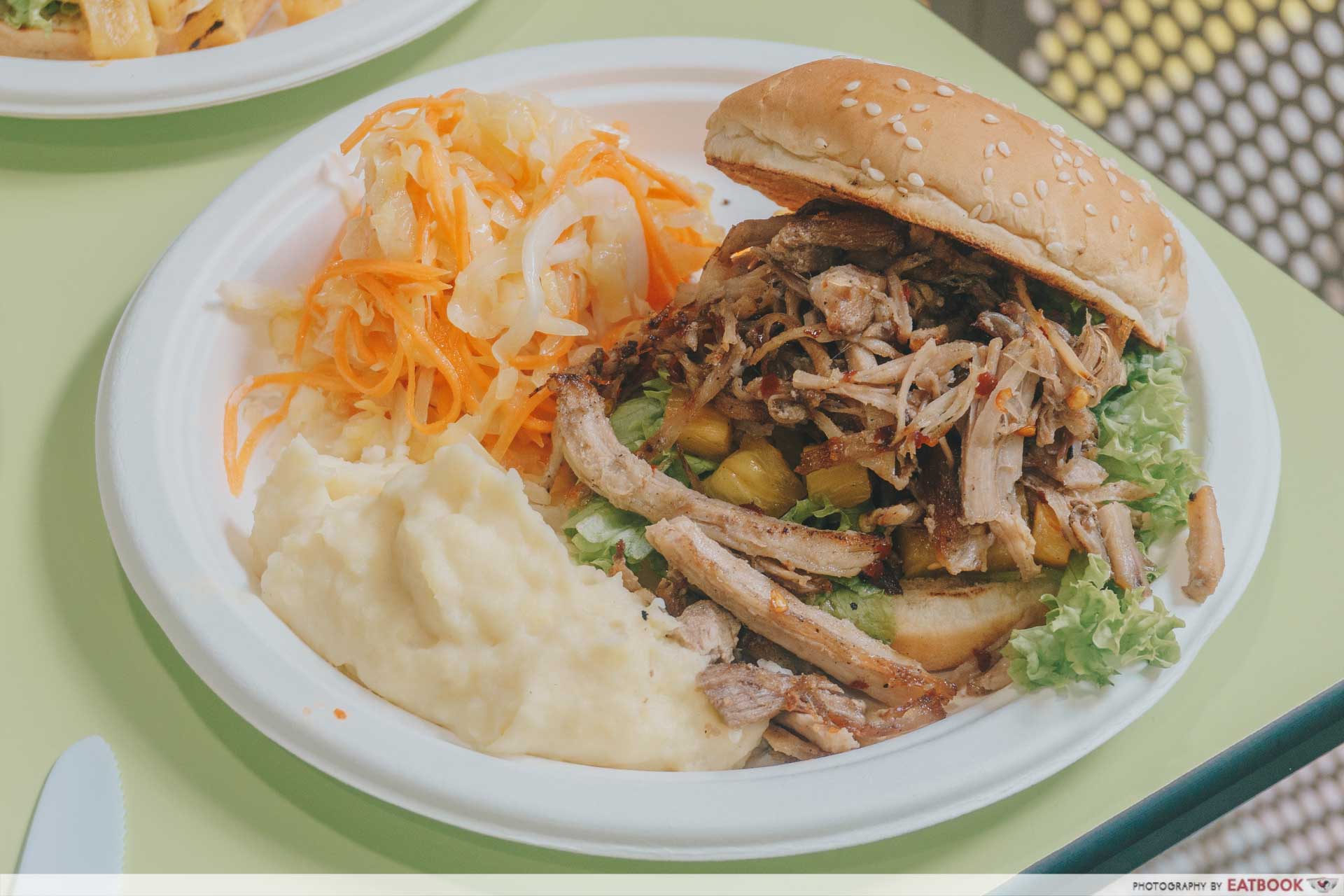 I used to be a fan of pulled pork burgers until I was hit by a wave of dry and tasteless ones. Oinkers & Bun's Pulled Pork Burger ($5.50) took me out of this literal "dry spell". The burger filled more than half of the plate and came with a side of mashed potato and coleslaw.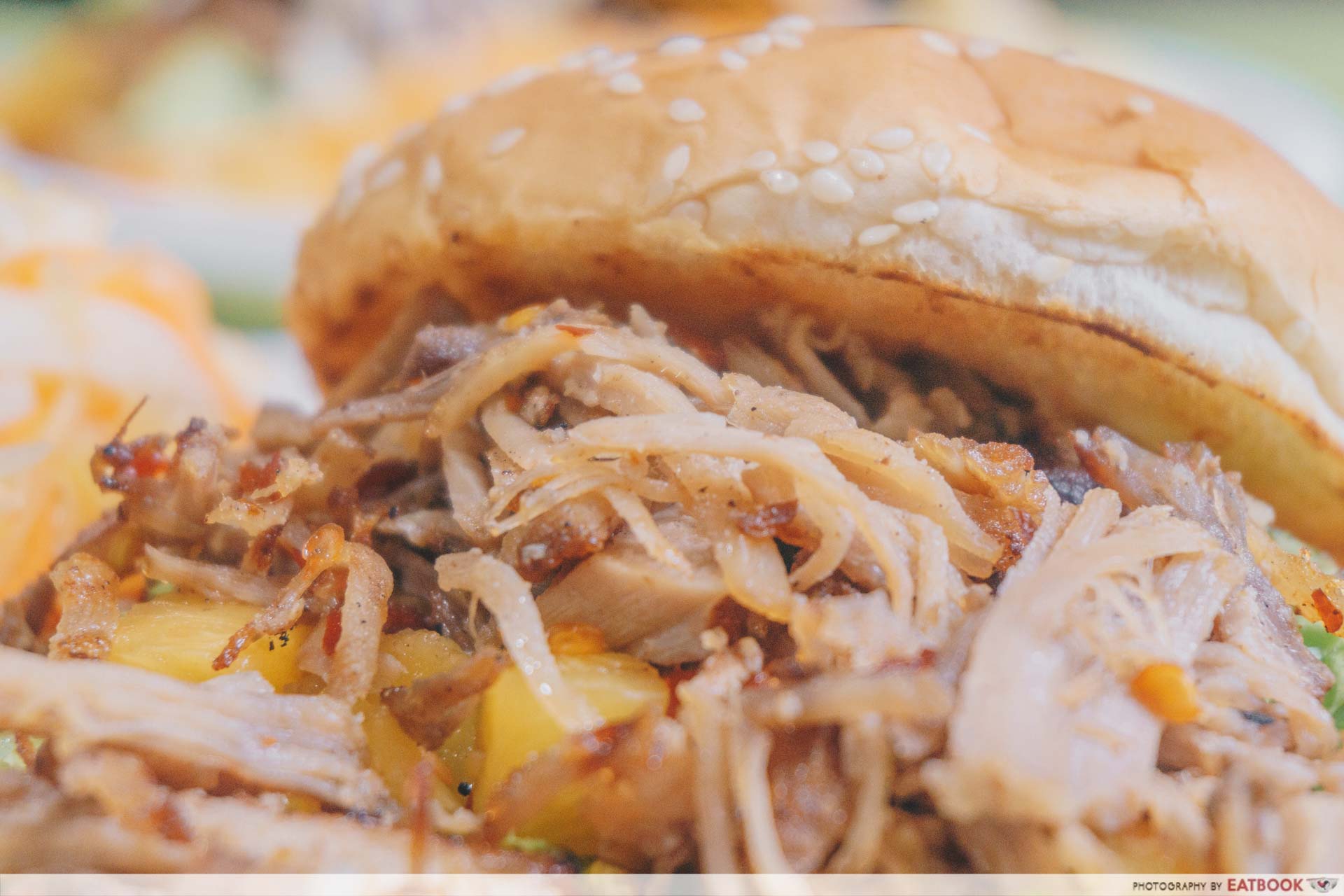 The burger is made up of a mountain of pulled pork piled atop a bed of pineapples. The pork is soaked in a house-made chilli sauce before being added into the burger. The meat was so juicy and chock-full of flavours that you wouldn't need any condiments to go with it. The pineapples also gave a sweet and sour kick to each bite, complementing and exaggerating the porky flavours.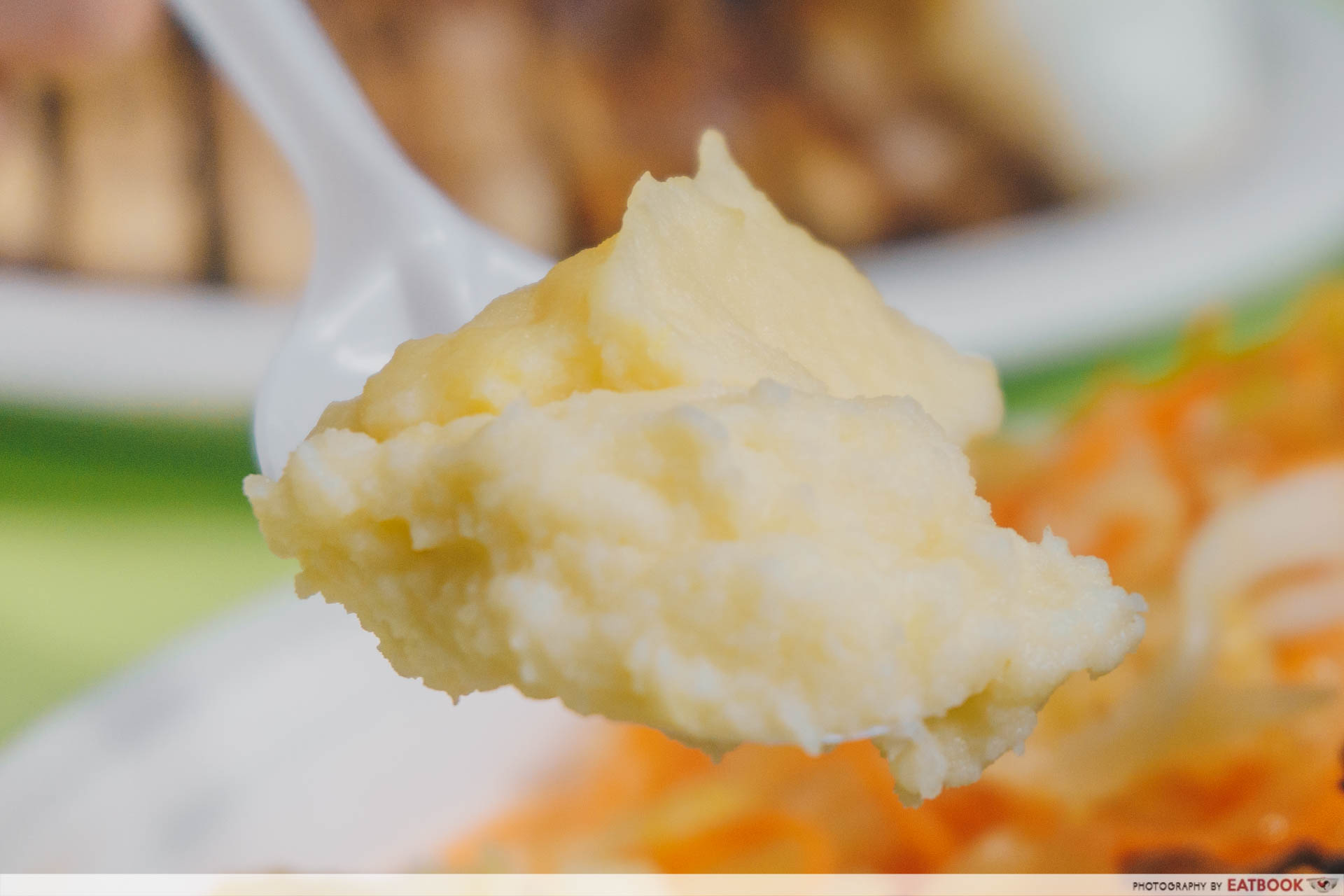 Other than the burger, I also loved the mashed potatoes. It ticked all the right boxes of my dream mash. It was buttery and nicely seasoned without being cloying. Served warm from the pot, we only wished for more than just a dollop on our plate.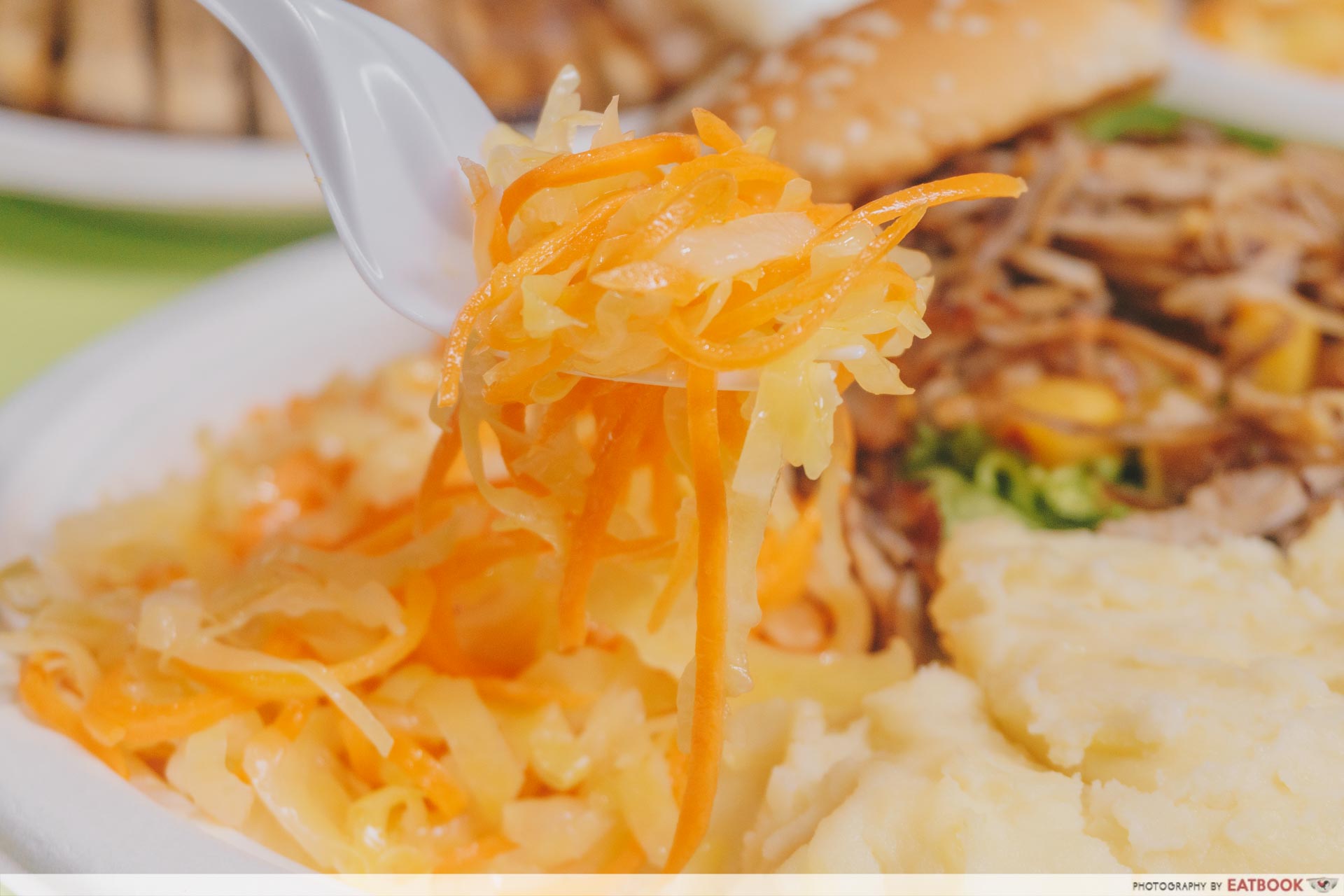 The coleslaw took me by surprise. Initially, I thought it would be lacking in flavour as it was missing mayonnaise, which I felt is an important component for every coleslaw. However, the natural sweetness from the julienned carrots and cabbage were tempered by tart citrus flavours, making it light-tasting and healthier in general.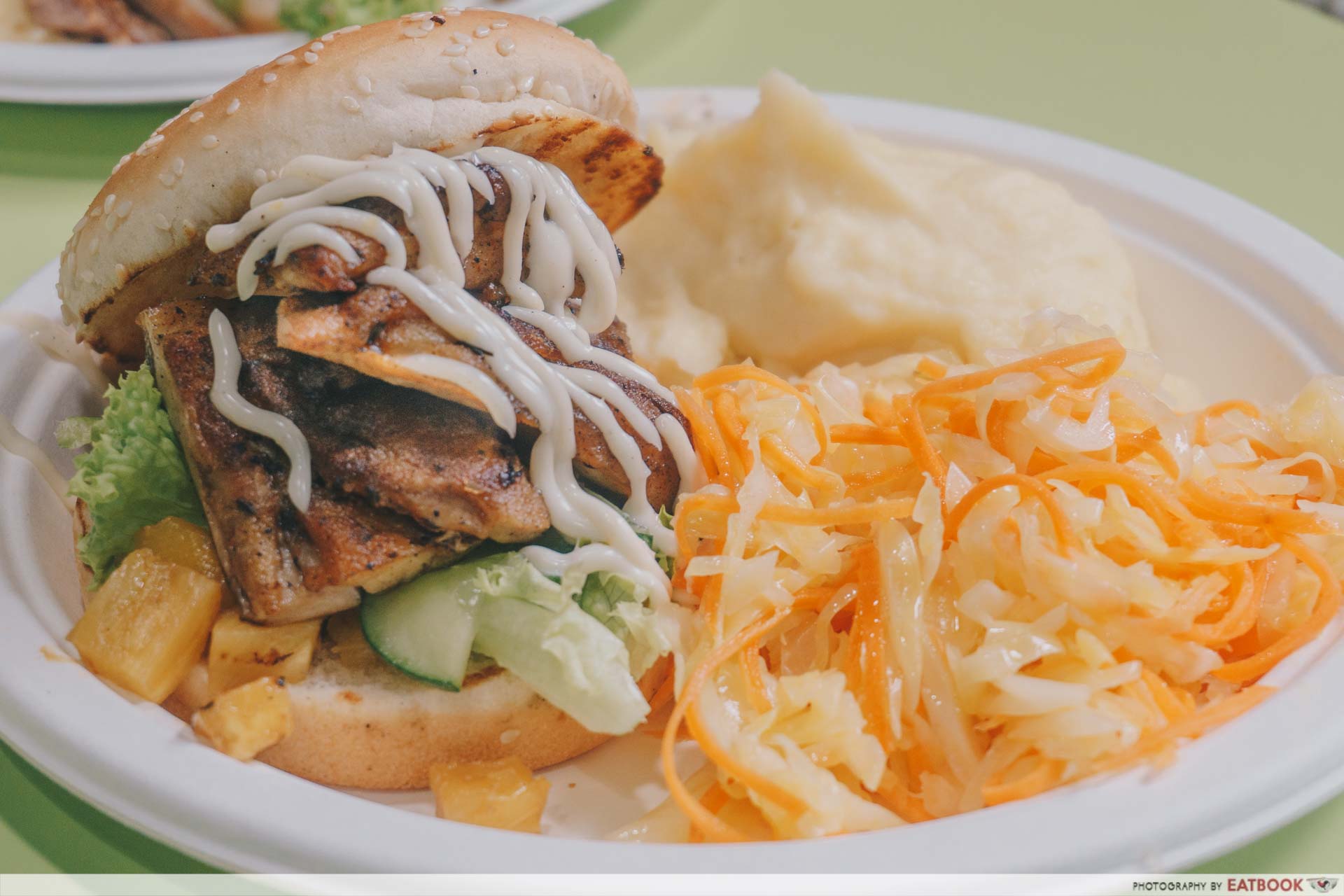 We also got their Grilled Chicken Burger ($5.50), which came with mashed potato and coleslaw too. It also features the same pineapples and pickled cucumber, along with chicken chunks.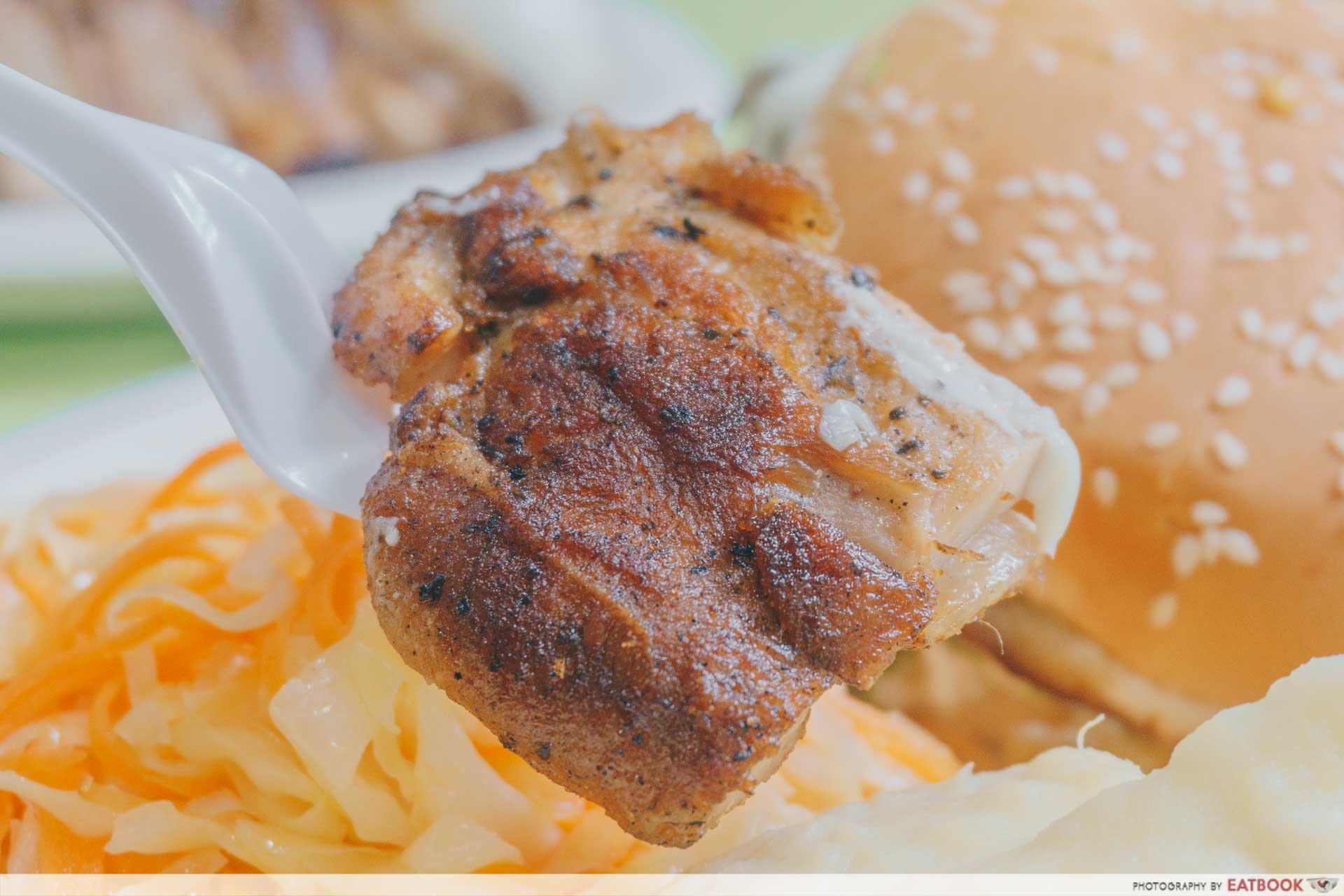 The chicken chunks were a little charred – just the way I like it. The dish was once named Spiced Chicken Boneless Leg Burger, but many were confused, thinking it was a spicy burger instead. True to its old name, each chicken chunk was well-flavoured. But other than being well-flavoured, there was nothing to shout about in regards to this burger.
Ambience at Oinkers & Buns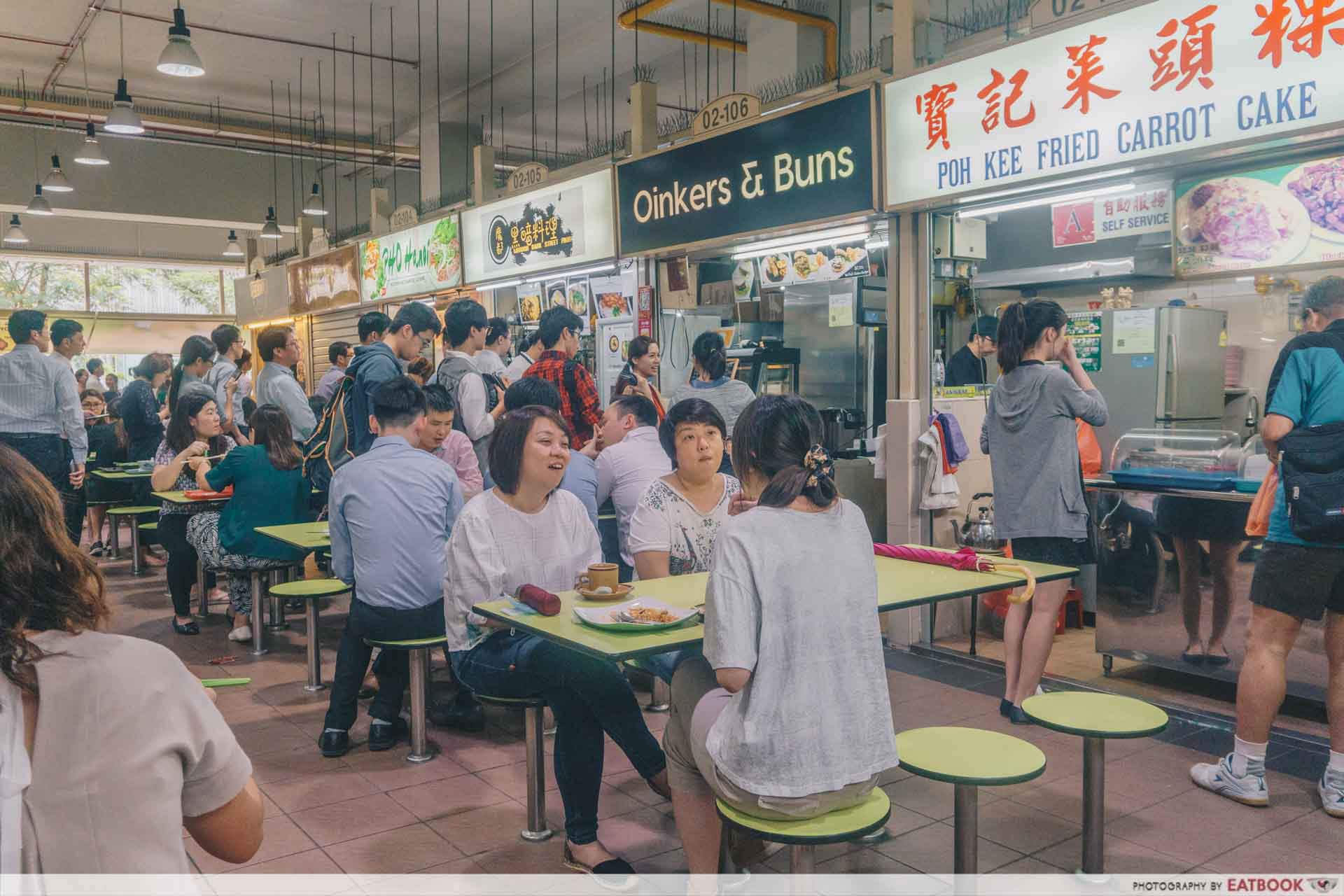 Oinkers & Buns only opens from 10am to 3pm on weekdays. Anyone who works in the CBD area knows how crowded Amoy Street Food Centre gets during lunchtime. I recommend heading down early to avoid the queue or ask for a takeaway instead.
Bring your own Tupperware if you can, as disposable plates and cutleries are used here. It might not be the most environmentally friendly, but seeing how only one person was there taking orders and whipping up the dishes, I could understand why.
The verdict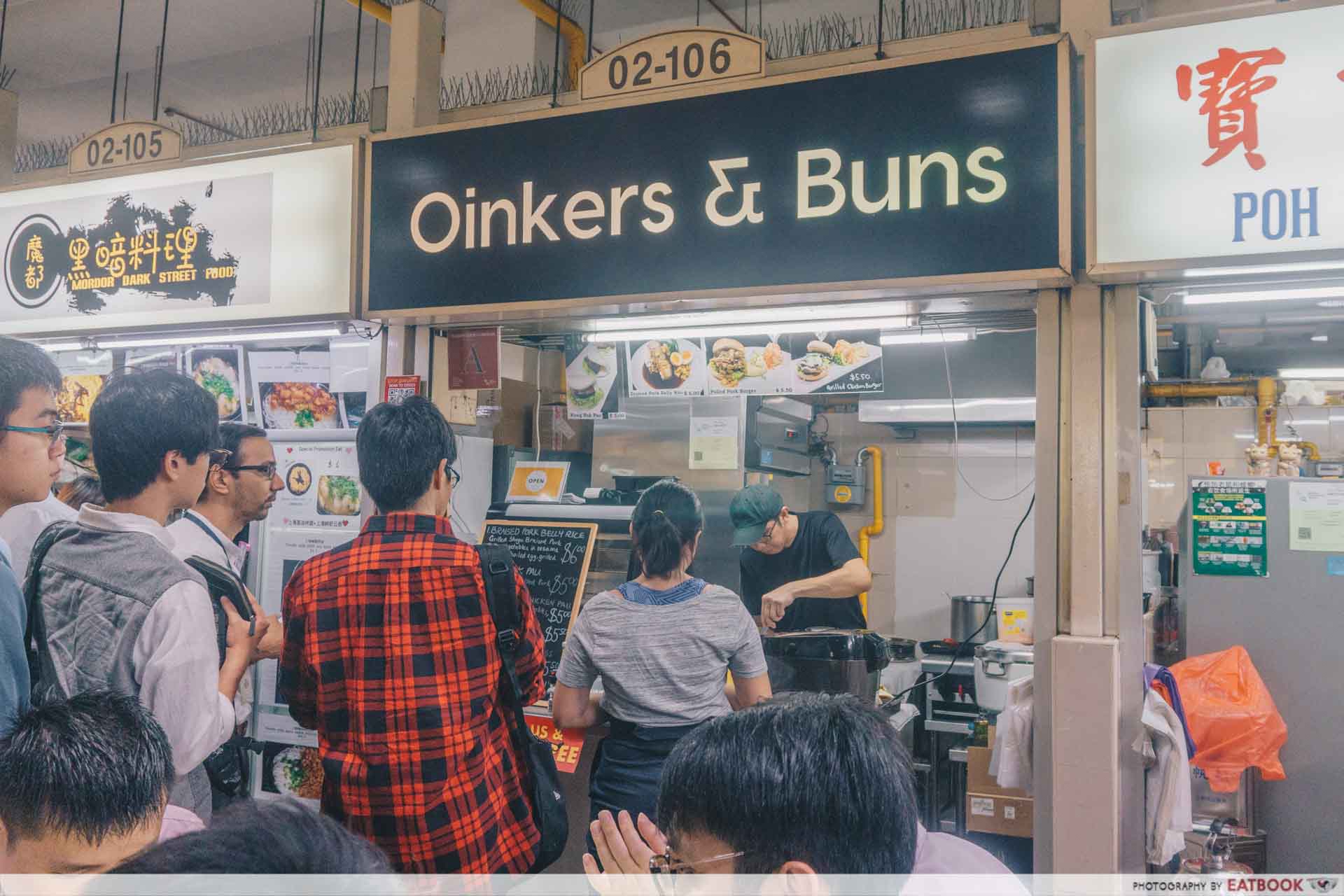 Right off the bat, my colleagues and I were impressed by the generous portions at Oinkers & Buns. Each plate was priced affordably and came packed with food made from scratch. We would definitely head down again for the braised pork rice and pulled pork burger. They might seem like ordinary dishes, but flavour-wise, they warrant a return visit.
If you're looking for more CBD eats, check out Burger Buddies for cheap and good beef burgers, or Dumpling Darlings for fried truffle and ma la dumplings.
Address: 7 Maxwell Street, #02-106, Amoy Street Food Centre, Singapore 069111
Opening hours: Mon-Fri 10am to 3pm
Website
Photos taken by Ho Jing Yi.
This is an independent review by Eatbook.
Oinkers & Buns
Summary
Pros:
– Generous portions
– Value for money
– Located in CBD
– Simple menu
Cons:
– Closes early
Recommended dishes: Braised Pork Belly Rice ($6), Pulled Pork Burger ($5.50)
Opening hours: Mon-Fri 10am to 3pm
Address: 7 Maxwell Street, #02-106, Amoy Street Food Centre, Singapore 069111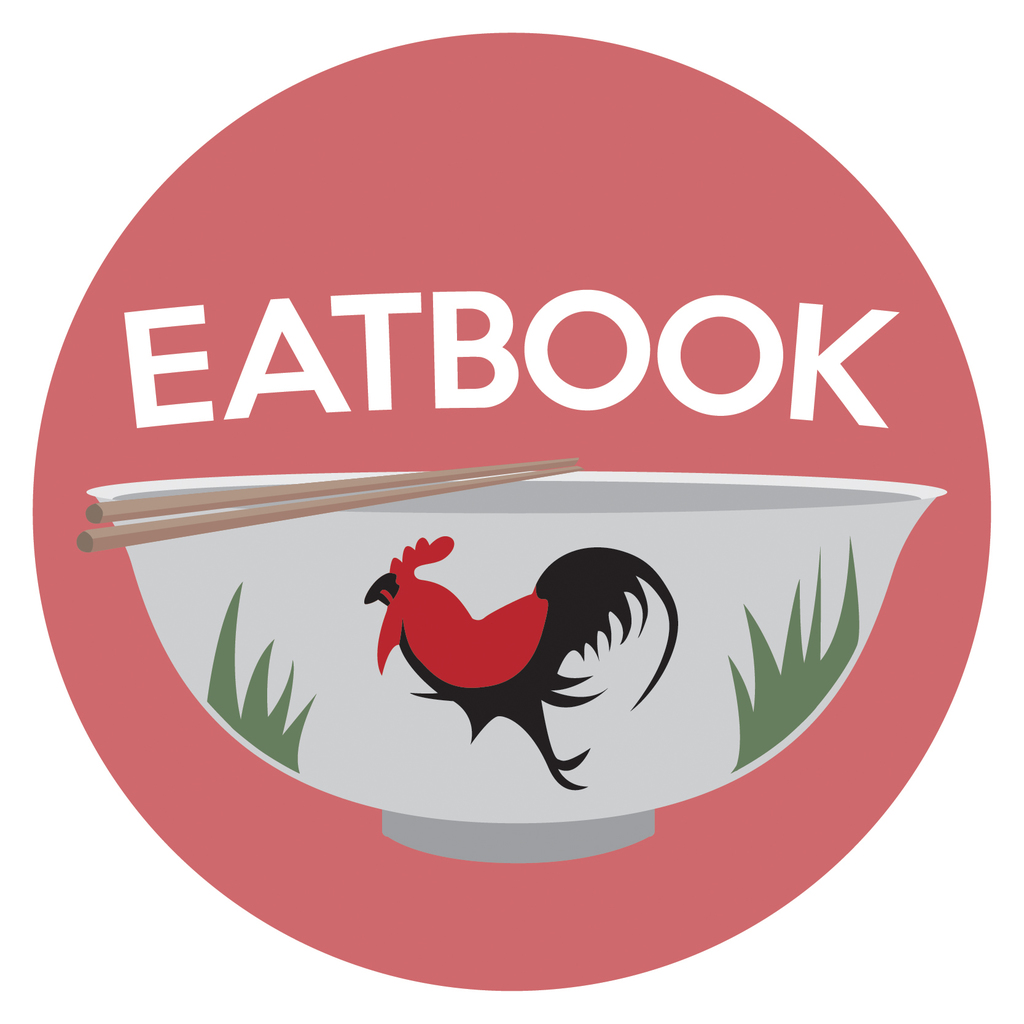 Drop us your email so you won't miss the latest news.