---
Old-school snack stalls in Singapore
---
This one goes out to all the Gen Zs and beyond: let the millennial show you where the good ol' stuff's at. Before there was Lay's and Hershey's, we had potato wheels, cheapo M&M's and more—snacks that made up the best parts of our childhood, and are relics in yours. They're few and far between these days, so check out these old-school snack stalls in Singapore before they're gone.
---
1. Teck Leong Lee Kee
---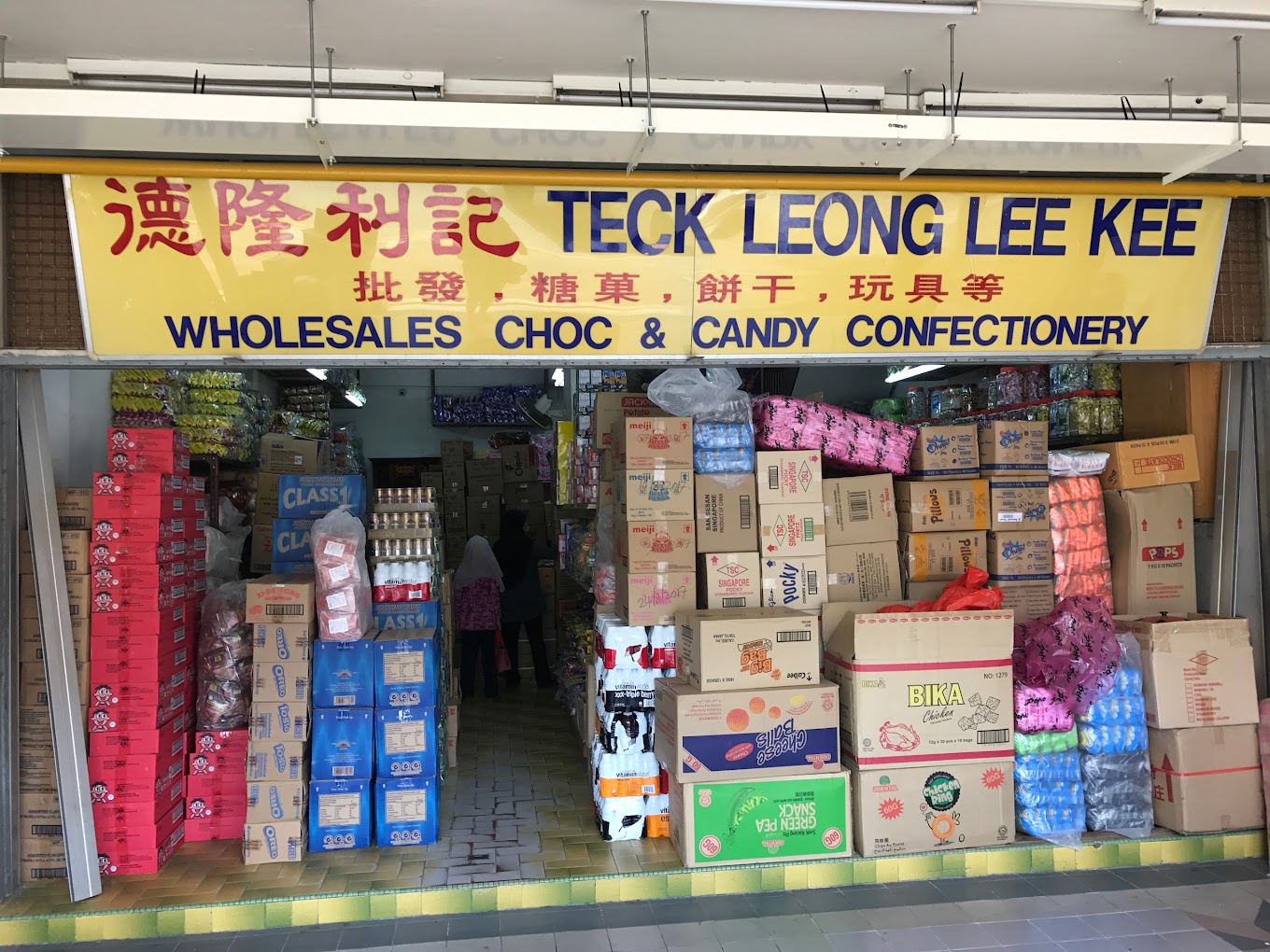 Image credit: Shawn
Founded in 1968. Teck Leong Lee Kee is a treasure trove of old-school snacks and candy, tucked away in Ang Mo Kio Industrial Park. They may be wholesalers, but you can also walk in anytime to choose whatever catches your fancy—though there are minimum purchase quantities required.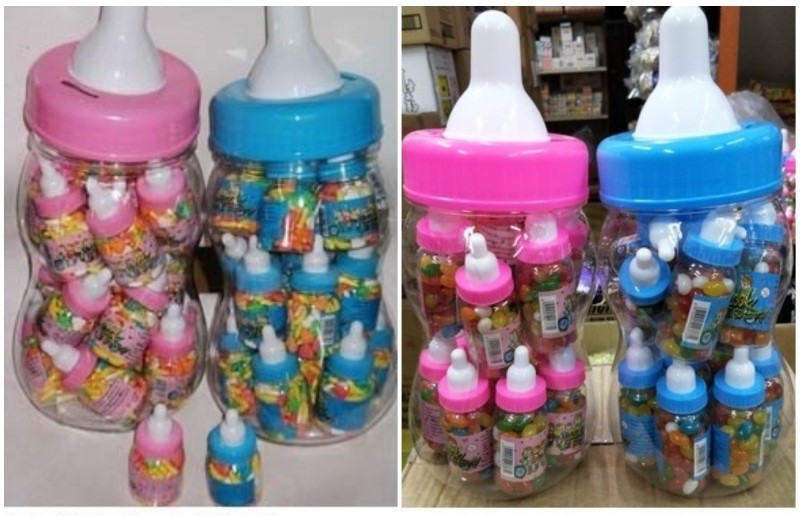 Image credit: Teck Leong Lee Kee
Apart from familiar favourites such as Apollo Wafer (price TBC), Teddy Bear Biscuits (price TBC), and Pola Snacks (price TBC), you'll find loose biscuits including Coconut Biscuits (price TBC), Pineapple Biscuits (price TBC), and all sorts of Khong Ghuan (price TBC) crackers in the iconic metal tins. For a real timewarp, check out their Baby Bottle Candy (price TBC) jelly beans, available in both blue and pink bottles.
Address: 5029 Ang Mo Kio Industrial Park 2, #01-141, Singapore 569532
Opening hours: Mon-Fri 10am to 4pm, Sat 10am to 1pm, Sun 1pm to 4pm
Tel: 6445 0879
Website
---
2. Kean Ann Co. Private Limited
---
Another old-school snacks wholesaler to check out is Kean Ann Co. Private Limited, located in Bedok North, that's been plying the trade for 61 years now. They started out peddling their goods from a van, before gradually growing into an empire of their own.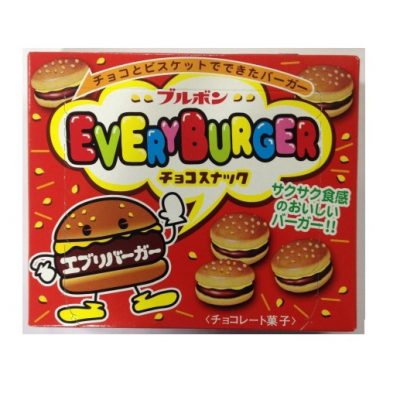 Image credit: Kean Ann Co. Pte Ltd
There are 53 pages of products on their website, spread over more than 30 different brands, so you're really in for a treat. Of Apollo (price TBC) cakes alone they have seven flavours: Banana, Blueberry, Chocolate, Cocoa, Original, Pandan, and Strawberry; they've also got Bangle (price TBC) chocolates, AKA fake M&M's. Also found here are Everyburger (price TBC): burger-shaped, chocolate-filled cookies!
Address: 179 Kaki Bukit Avenue 1, Shun Li Industrial Park, Singapore 416024
Opening hours: Mon-Fri 8am to 6pm
Tel: 6748 5869
Website
---
3. SnacKING Retro Biscuits
---
With four locations in Northpoint City, Jurong Point, City Square Mall, and Yishun Mall, getting your fill of old-school snacks at SnacKING Retro Biscuits couldn't be easier. The array of snacks here is not as extreme as you'd get at one of the wholesalers, but there's a good-enough selection for you to lose yourself in nonetheless.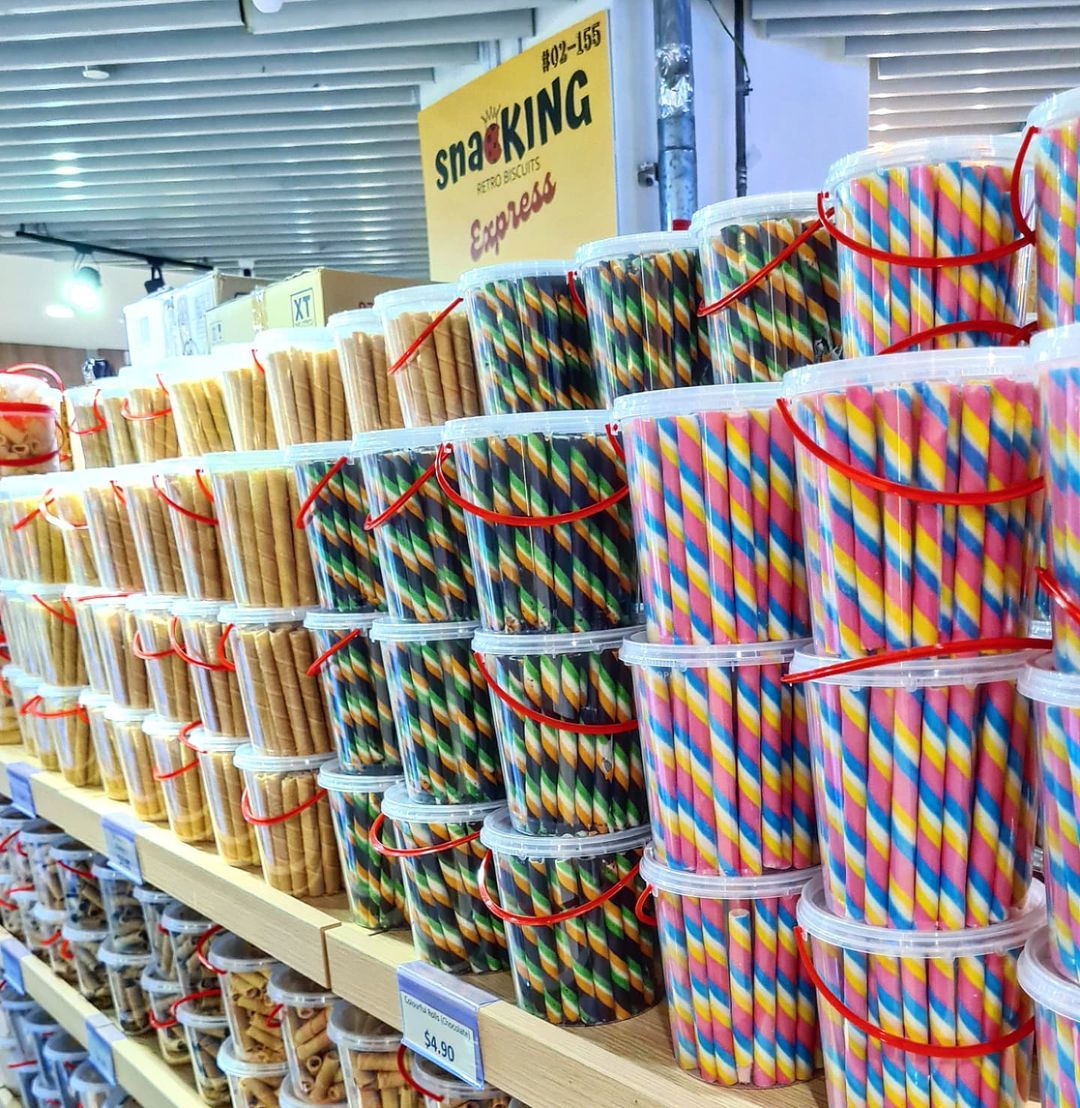 Image credit: @followmytumtum
From Satay Sticks (price TBC) to Haw Flakes (price TBC), Kuih Piring (price TBC), Magic Dust (price TBC), and even Colourful Rolls ($4.90), there's surely something for the child in every one of us.
Website | Full list of outlets
---
4. The Biscuit Shop
---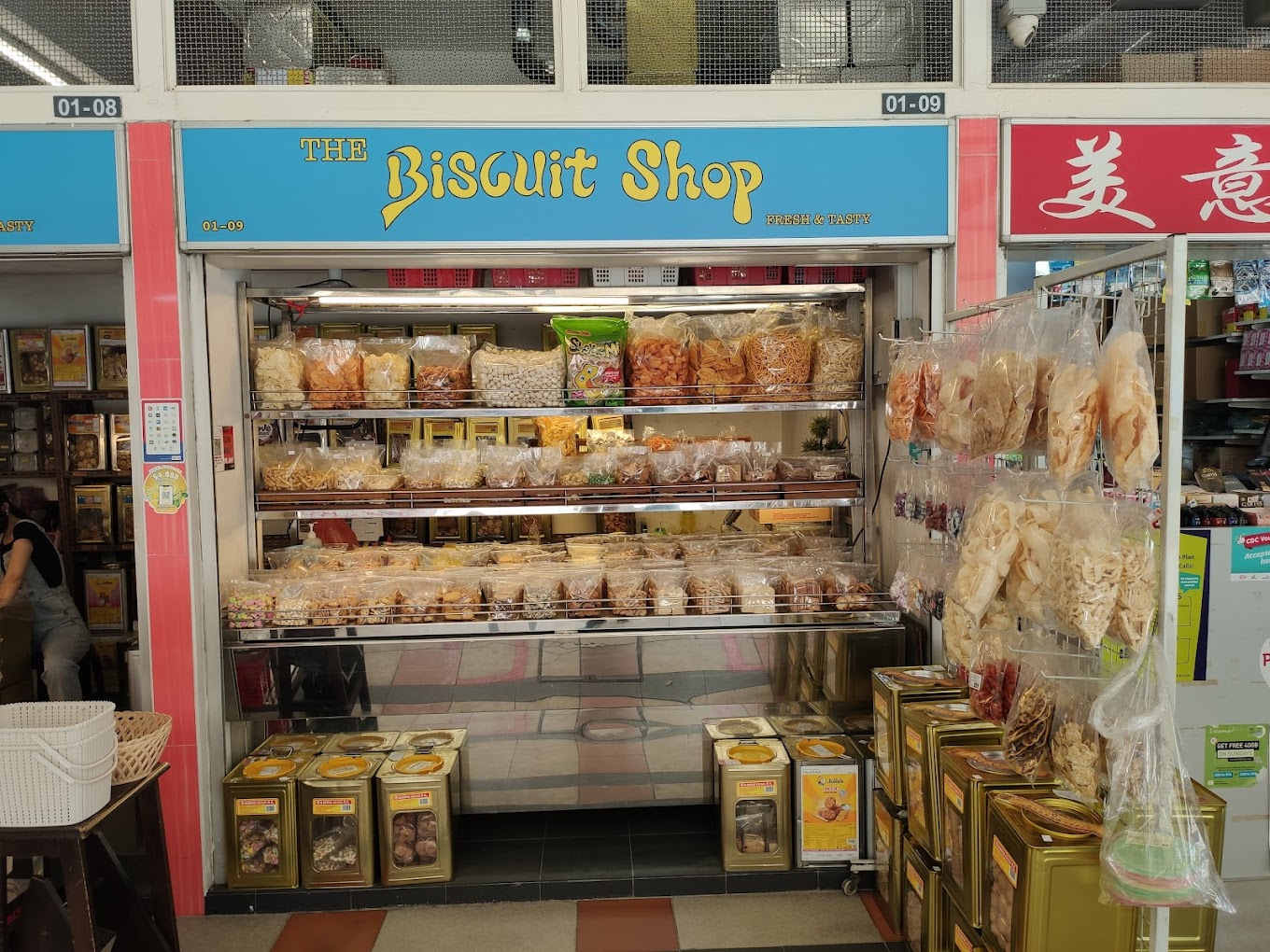 Image credit: refreshing water
Spread across two shop spaces on the first floor of Tanjong Pagar Plaza Market is The Biscuit Shop, which sells, unsurprisingly, biscuits. To be more specific, they sell old-school biscuits, including the tri-coloured Kuih Piring Wafer (price TBC).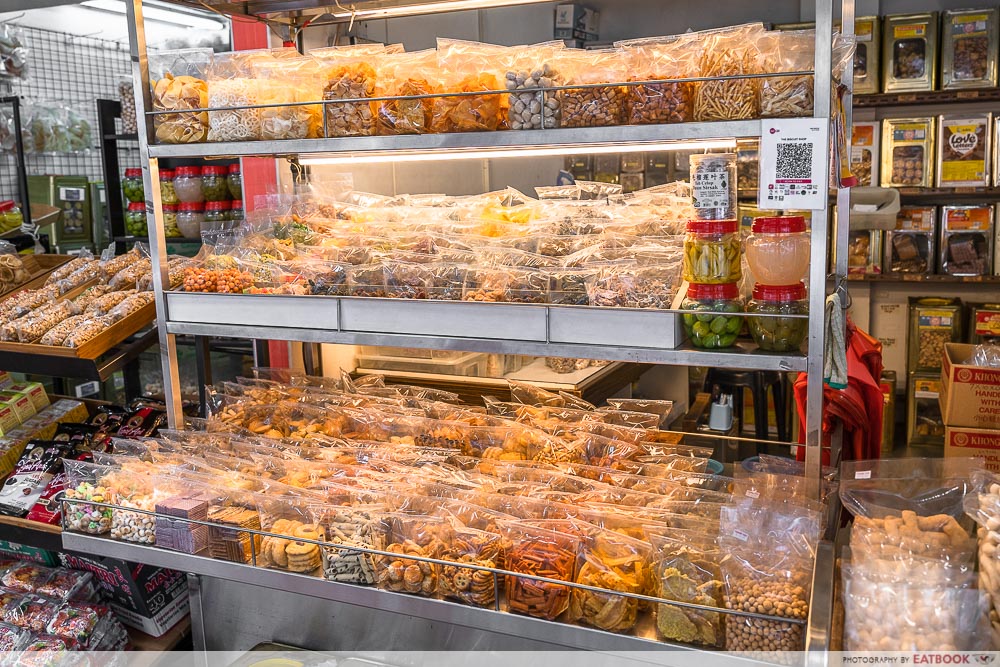 What's more, their biscuits are sold in handy little bags, pre-weighed and sealed for convenience—making them super popular with the office crowd in the area. Other biscuits you'll find here include Gem Cookies, Potato Wheels, keropok and more.
Address: Block 6, #01-08/09, Tanjong Pagar Plaza Market, Singapore 081006
Opening hours: Mon-Fri 10:30am to 7pm, Sat 10:30am to 4pm
---
5. Nelly's Retro Snacks
---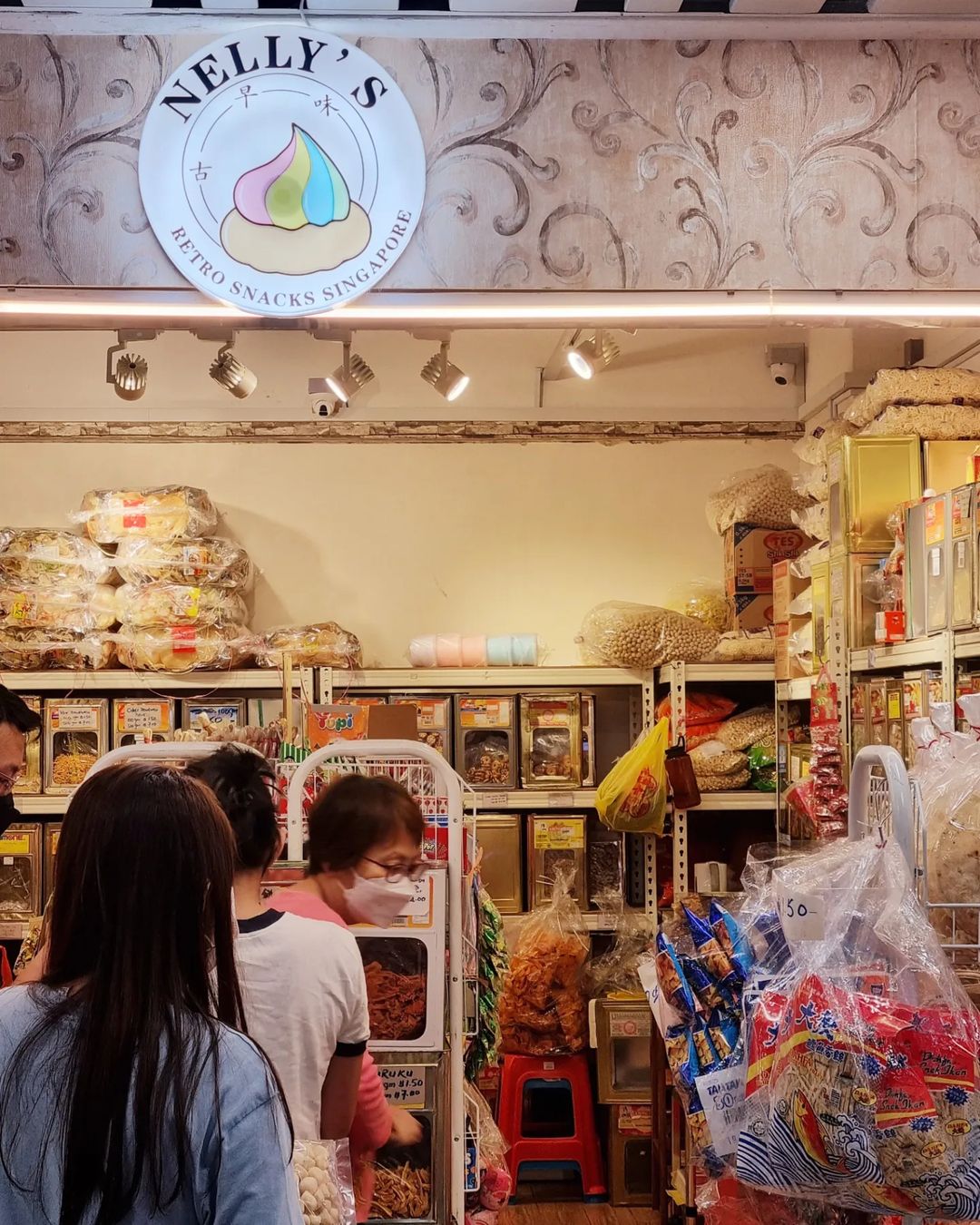 Image credit: @goh_gerard
Another old-school snack store to pop by is Nelly's Retro Snacks, which you'll find at Junction 9 in Yishun, and Loyang Point in Pasir Ris. On top of traditional biscuits, their shelves are also lined with large metal tins of Muruku (from $1.50), Cow's Ear ($1.30), Green Bean Cookie ($1.50) and more.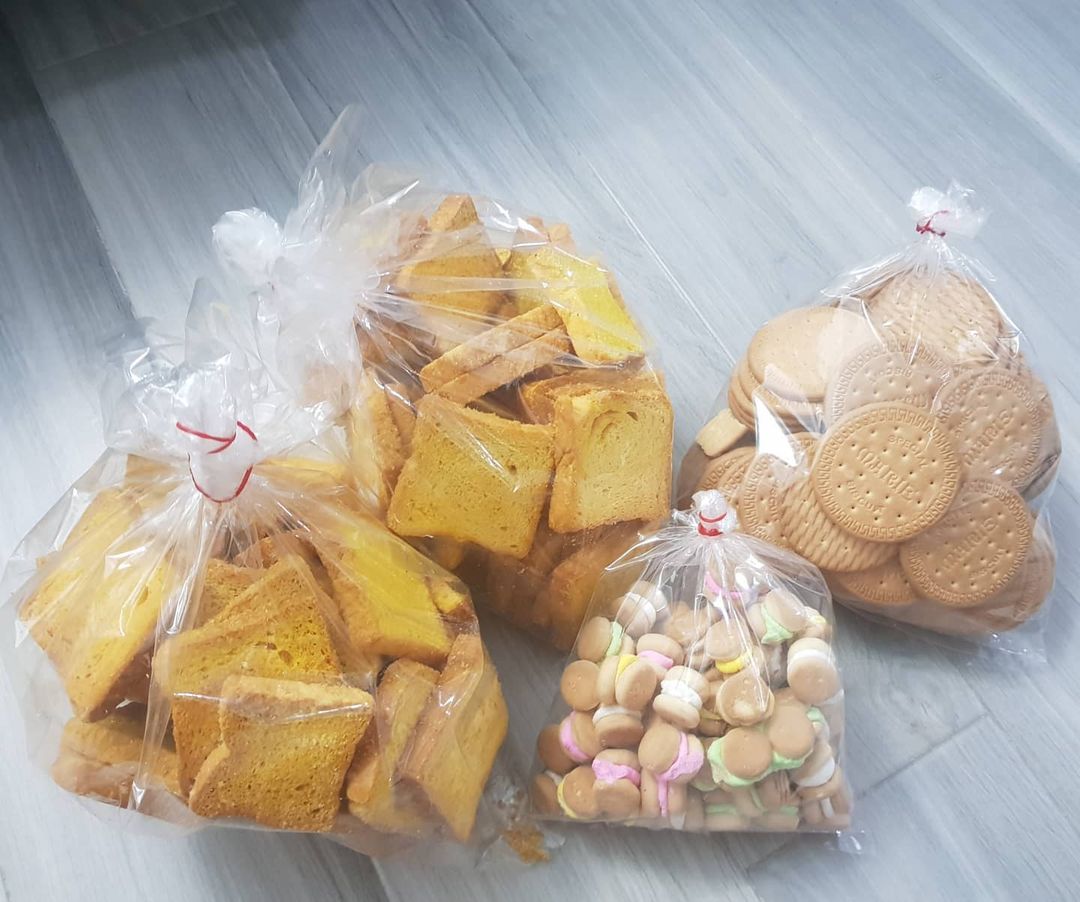 Image credit: @slackergan
If either of their locations is too far away for you, they've got delivery options too! You'll get free delivery with a minimum purchase of $60, otherwise it's chargeable at $6.
Yishun
Address: 18 Yishun Avenue 9, #01-49, Junction 9 Shopping Mall, Singapore 768897
Opening hours: Daily 9am to 11pm
Pasir Ris
Address: 258-259 Pasir Ris Street 21, #01-04, Loyang Point, Singapore 510259
Opening hours: TBC
Tel: 8776 8200
Website
This Heritage Restaurant Has Famous Paper-Wrapped Chicken And Claypot Dishes
---
6. Biscuit King
---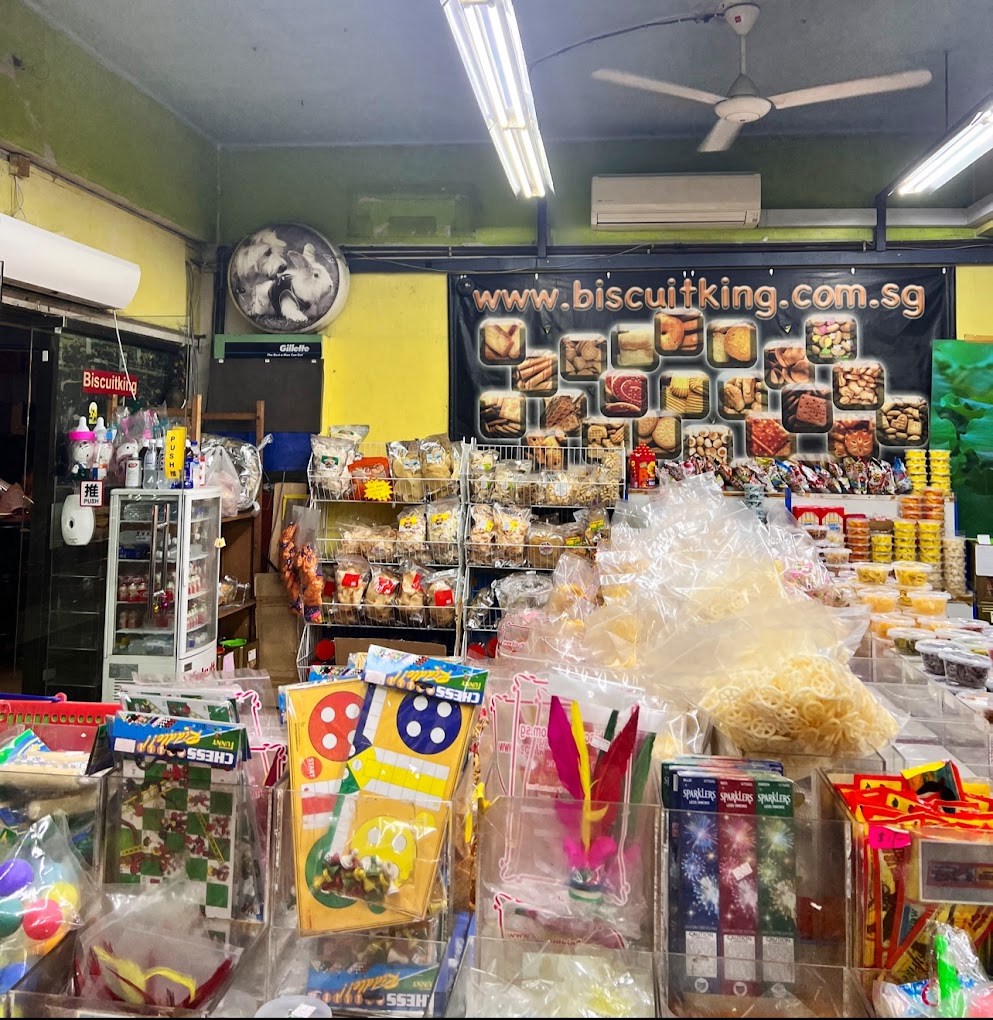 Image credit: 阿宝
Rounding up this list is Biscuit King, nestled along Casuarina Road in Upper Thomson, that's truly a blast from the past. It's a full package here, with nostalgic old-school games sold right alongside all sorts of snacks, biscuits and more.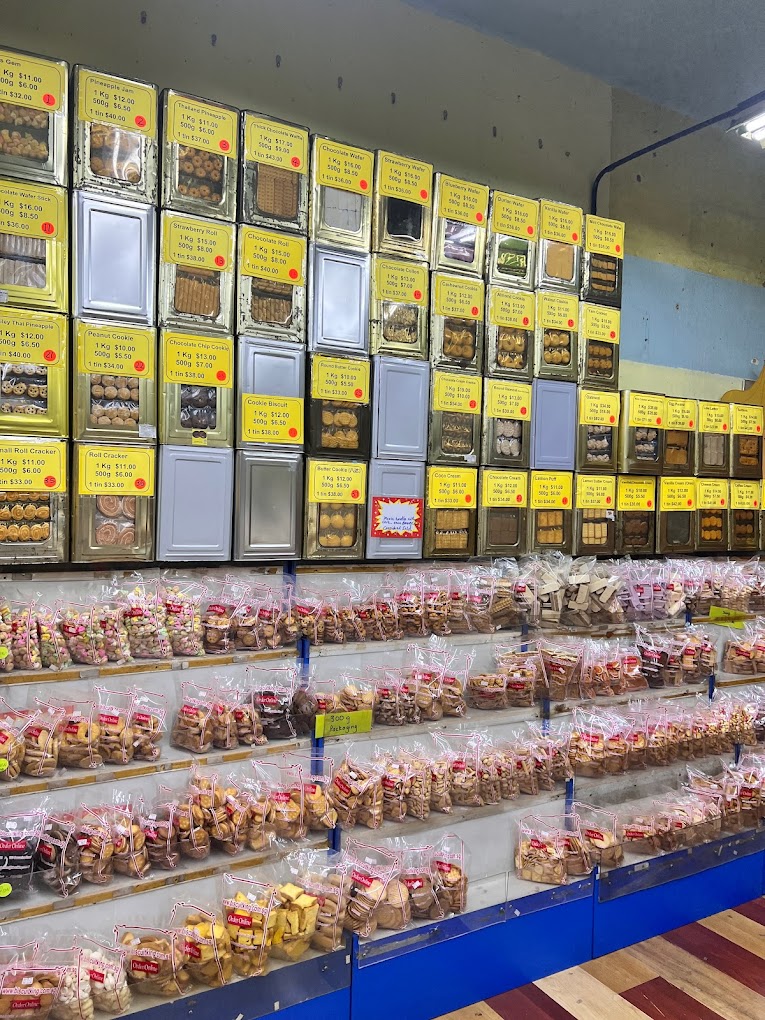 Image credit: 阿宝
The biscuits are sold in bags of smaller quantities, weighing in at couple hundred grams, or you could request that they package your choice of snack in larger packages of 500g or 1kg. The walls are lined with so many old-school biscuits, you'll have a hard time picking for sure. There's Lemon Puffs (price TBC), Cereal Raisin Cookies (price TBC), Potato Stick (price TBC), Hacks candy (price TBC), and even sng buey, AKA sour, preserved fruit.
Address: 130 Casuarina Road, Singapore 579518
Opening hours: Sun, Tue-Fri 11am to 10pm, Sat 12pm to 10pm
Tel: 6458 0925
13 Oldest Restaurants In Singapore Still Open Today, Including A Teochew Eatery From 1845
---
Where to buy old-school snacks in Singapore
---
As for the millennials, and boomers before us, save these old-school snack stalls on your list of to-go places, to hunt down our favourite old-school snacks! On this note, check out Hillman Restaurant, a heritage restaurant that specialises in paper-wrapped chicken and Cantonese claypot cuisine. Otherwise, we've got a list of the oldest restaurants in Singapore for you to try before they're gone.
Feature image adapted from @goh_gerard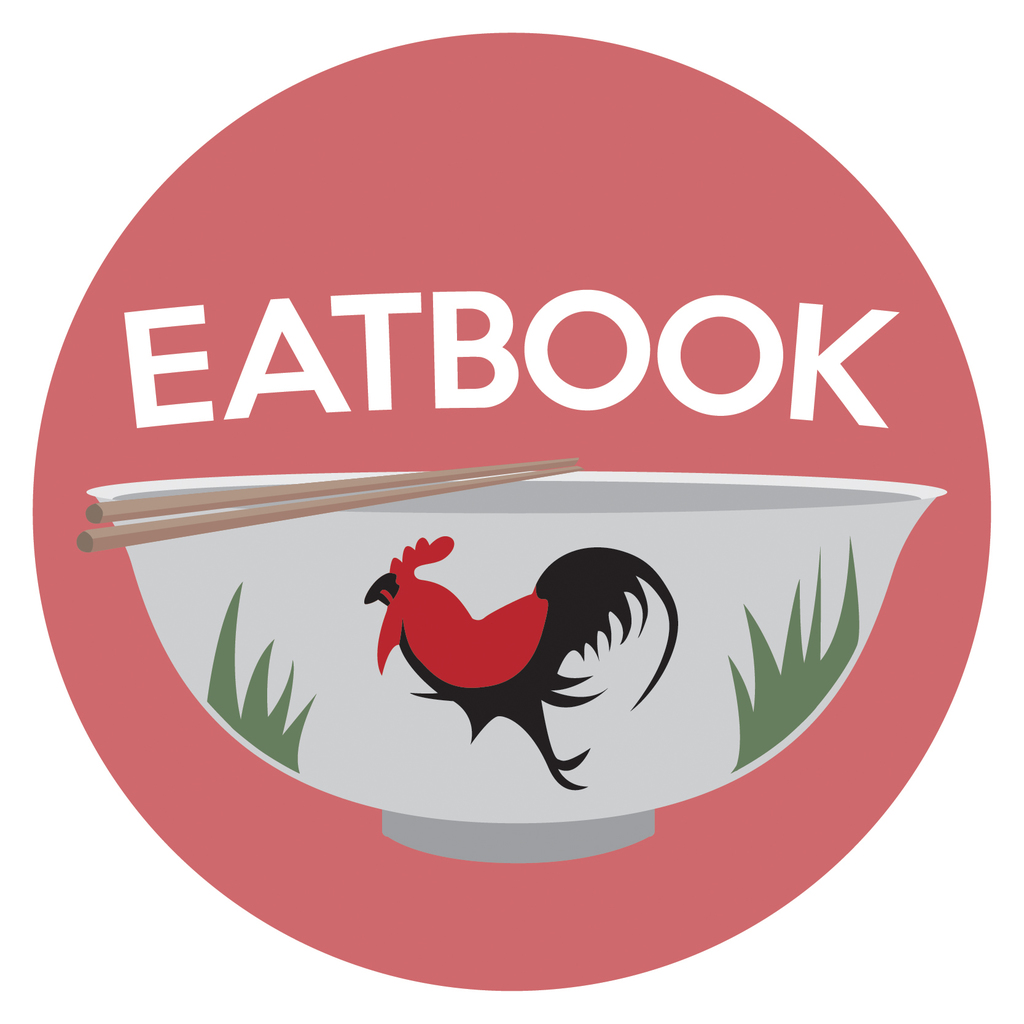 Drop us your email so you won't miss the latest news.