---
Jurong Point food spots
---
With several of my aunts living in the area and my old army camp a short bus ride away, Jurong Point def' holds many memories for me. I remember its earlier years as a humble shopping centre, back when Fish & Co. and Soup Restaurant were its fancier offerings, and long before a second wing, two food streets, and a spanking condo were added to it. 
While this mall has transformed in the past decade, I could always count on it to pamper me with a hearty meal. So if you're looking for food in the west, bookmark this page and check out these 19 restaurants, cafes, and hawker spots that we've hunted down for you. 
---
1. Legendary Hong Kong
---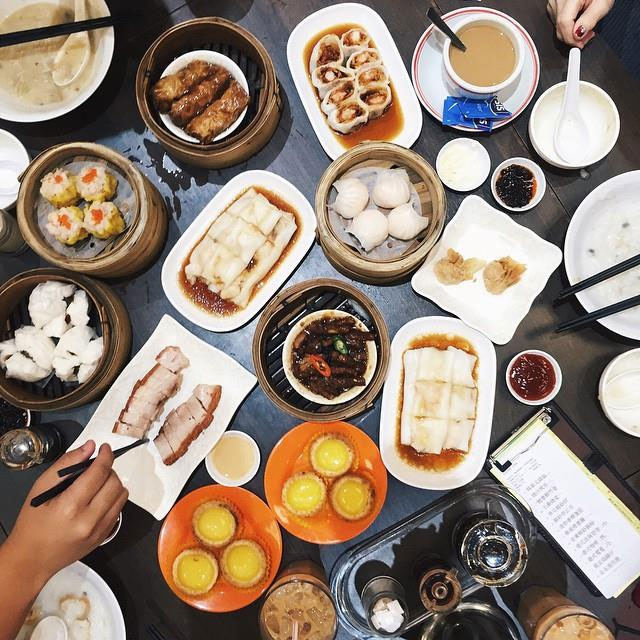 Image credit: Legendary Hong Kong's Facebook Page
Living up to their brashly confident title, Legendary Hong Kong cooks up a sumptuous selection that will do any dim sum lover proud. From drool-worthy dim sum to springy noodles, all of their dishes are churned up by pairs of seasoned hands, so expect this cosy eatery to offer a safe bet for reliably delicious food.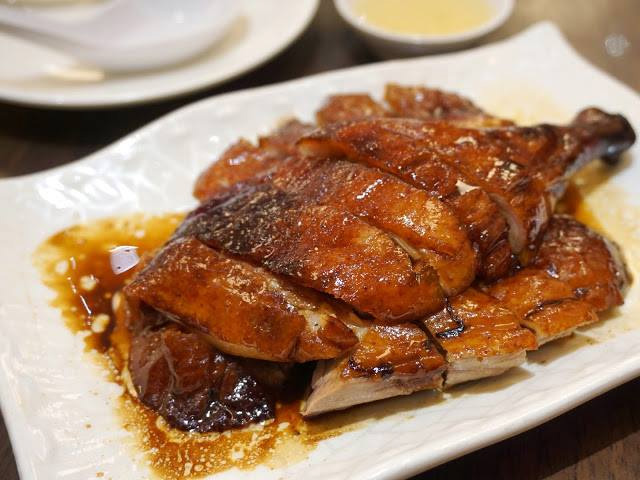 Image credit: Legendary Hong Kong's Facebook Page
While the various soups offer a convincing argument with their disarmingly rich taste, their Roasted London Duck ($30++/$58++) remains our undisputed pick of the lot. Its shatteringly crisp crust gives way to loud cracking noises to reveal thick slabs of meat, brimming with juices and duck drippings, unfurling in an intense dose of umami goodness. Def' not the cheapest dish around, but also worth every penny.
Unit number: JP2 #03-79/80
Opening hours: Mon-Fri 11am to 10pm, Sat-Sun 10am to 10pm
Tel: 6794 1335
Website
---
2. PUTIEN
---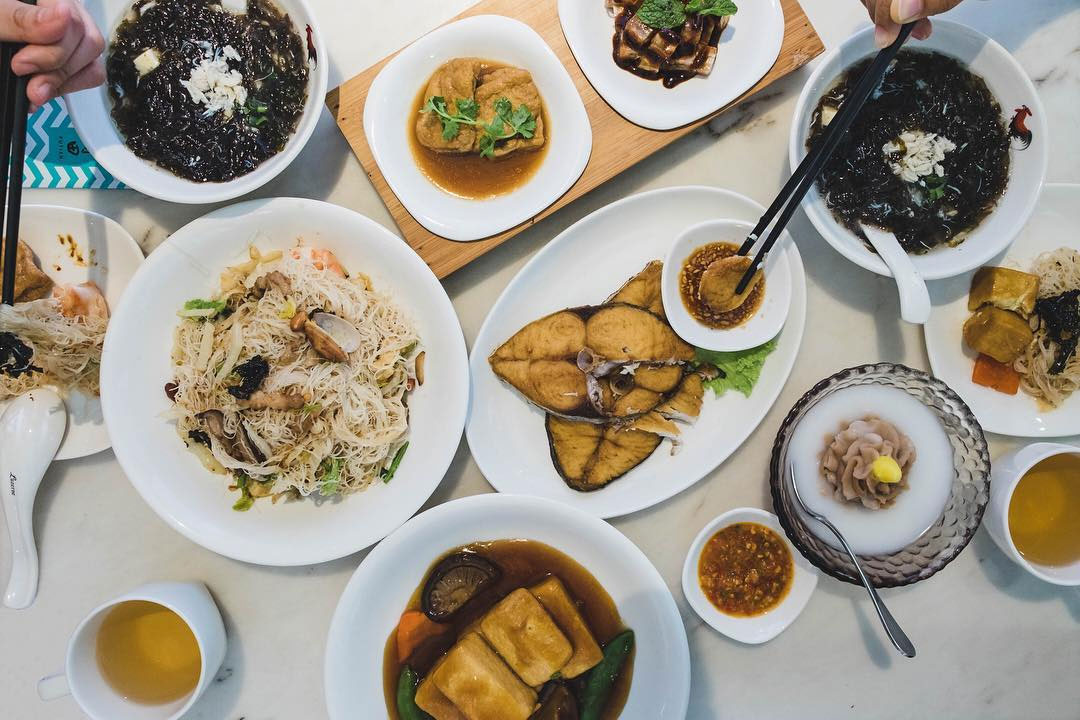 Image credit: @putien_sg
Born out of owner Fong Chi Chung's passion for his hometown's delicacies, PUTIEN has earned plaudits with their sumptuous selection of Fujian dishes. And while their menu has evolved in the past two decades, much of their cooking still exudes the warmth and quality of a seasoned Putian chef. Take for example, their signature Fried Heng Hwa Bee Hoon ($10.90++/$21.80++/$32.70++), a straightforward medley of sun-dried vermicelli, prawns, clams and pork belly—all tossed into a wok to be transformed into a salivating plate of springy and umami-laced noodles.
Unit number: JP1 #02-34
Opening hours: Mon-Fri 11:30am to 3pm, 5:30pm to 10pm, Sat-Sun 11:30am to 4:30pm, 5:30pm to 10pm
Tel: 6795 2338
Website
---
3. Sushi-Go
---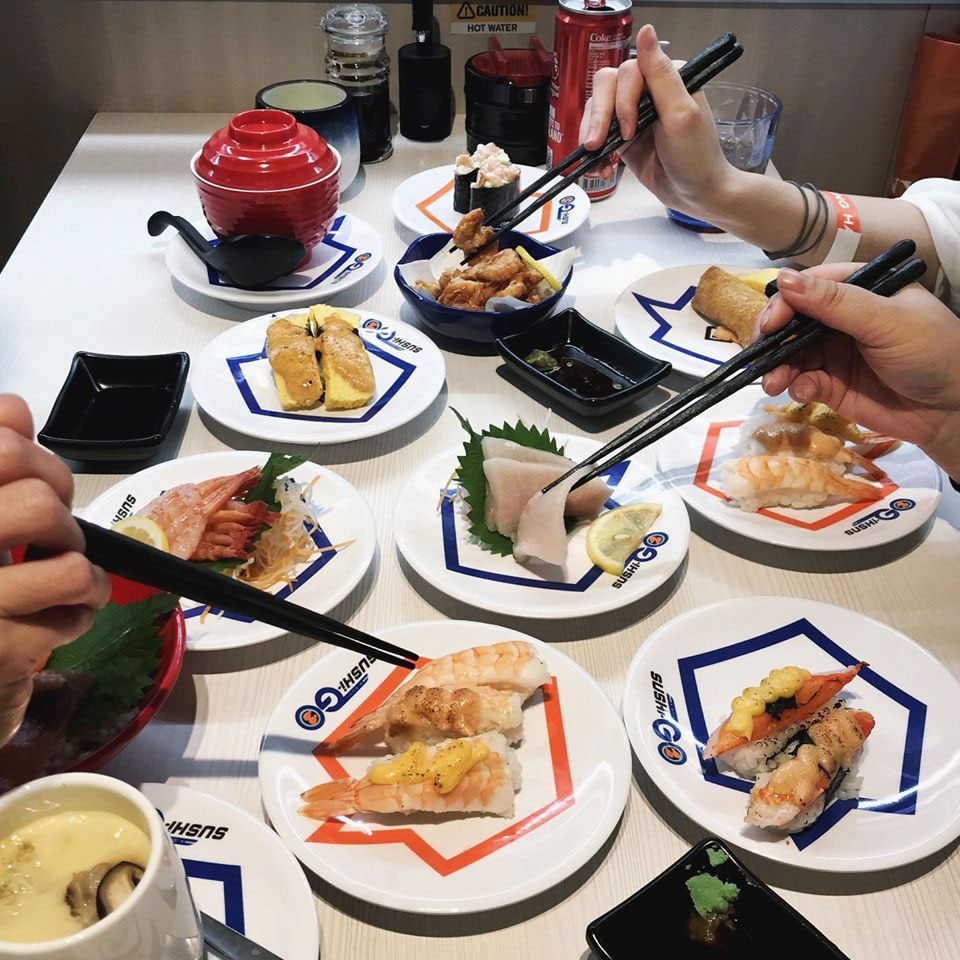 Image credit: &JOY Dining Hall's Facebook Page
Convenience is the name of the game at Sushi-Go, as sushi trains zip out of their kitchen, speeding along smooth conveyor belts, before making a neat stop at your table. Their various dishes are not only speedily served, but also tick most of the boxes for decent sushi. The Black Tobiko Gunkan ($2.30) surprises with its rich taste while their Ebi Fry Sushi ($1.80) offers a satisfying mix of crunchiness and chewiness. And with these stellar treats forming just the tip of their 130-dish menu, we're sure you can unearth more gems from this treasure trove of affordable sushi. 
Unit number: JP1 #B1-47/48
Opening hours: Daily 11am to 10pm
Website
---
4. Egg Stop
---
Having watched with salivating envy as characters munched happily on gilgeori toast (Korean street toast) in Korean dramas, I was the first in line when Egg Stop opened its doors in Jurong Point. It was a story of love at first bite with their Beef Teriyaki ($7.40), as this hearty treat bombarded me with a palate-pampering combo of marinated beef, caramelised onions, and buttered toast. A raw egg yolk provided the crowning touch, melding them into a delicious melange of sweet, savoury, and milky notes. 
Egg Stop Review: Korean Street Toast Shop With Scrambled Eggs In Singapore
Unit number: JP1 #B1-02
Opening hours: Daily 10am to 10pm
Website
---
5. Penang Road Famous Chendol
---

Image credit: @malaysiabolehsg
Don't be discouraged by the unimpressive size of the Chendol ($2) at Penang Road Famous Chendol, as these small bowls of shaved ice come with chock-full of flavours. Empowered by generous drizzles of gula melaka and coconut cream, this lemak dessert sings with its coconutty and sweet notes. What I love most about their Chendol is its distinctly oversized kidney beans, which complements the house-made pandan jelly. 
Unit number: JP2 #03-28
Opening hours: Daily 10am to 10pm
Website
---
6. Penang Yong Kee Char Kway Teow
---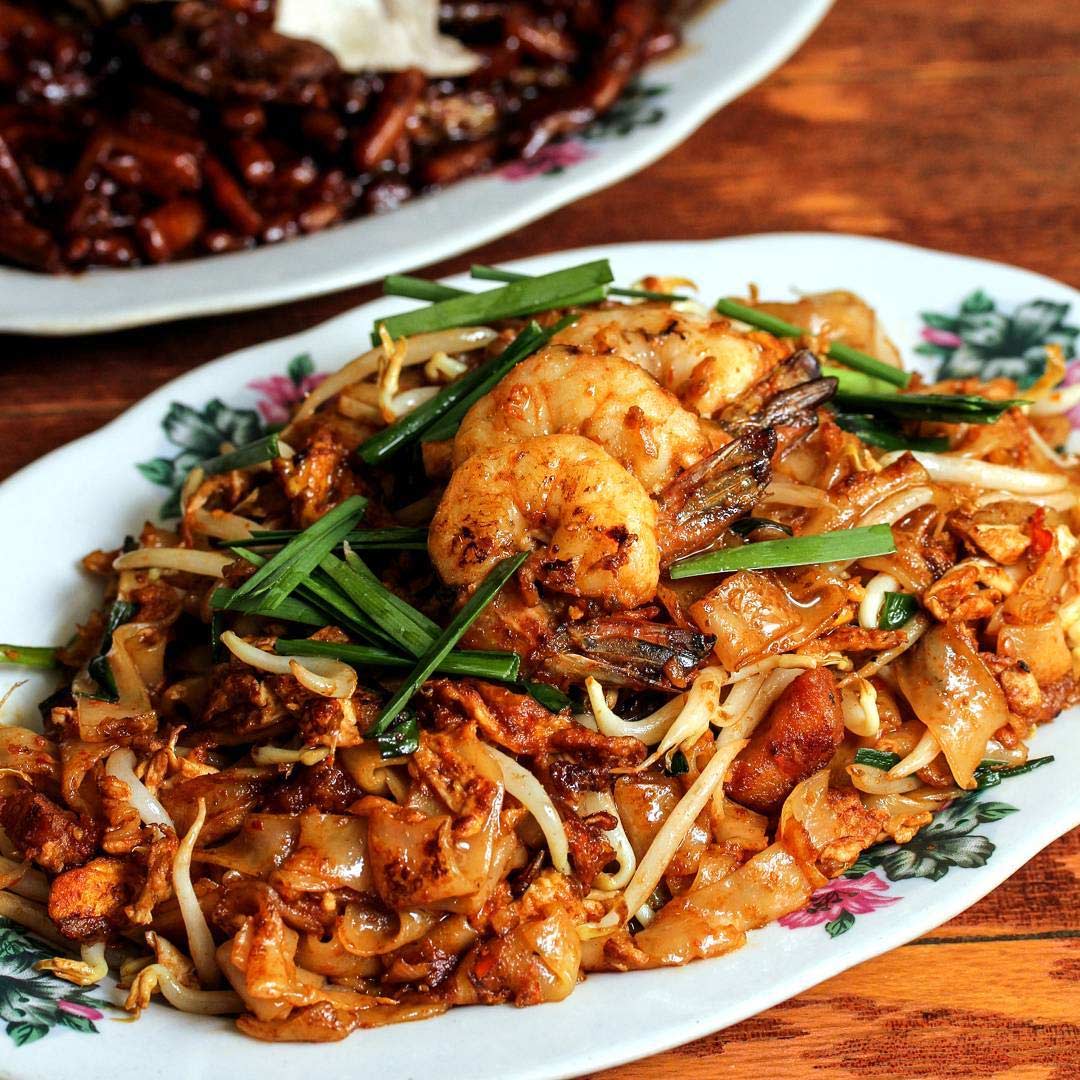 Image credit: @malaysiabolehsg
If you have trouble navigating about Malaysia Boleh, it's probably because of the lines stretching and circling around Penang Yong Kee Char Kway Teow. These 30-minute queues are a fixture at this no-frills hawker stall, as diners are enticed by the rich wok hei of their Fried Kway Teow ($4/$6). 
Yet, this smoky aroma is only the start of the performance; once these springy strands of noodles waltz into your mouth, the true serenade begins. You'll get a slight nudge of umami from the sambal chilli, then a touch of sweetness from the chives, before the juicy shrimp wrap things up with their luscious kick. Consider me enchanted.
Unit number: JP2 #03-28
Opening hours: Daily 10am to 10pm
Website
---
7. Petaling Street Famous Claypot Chicken Rice
---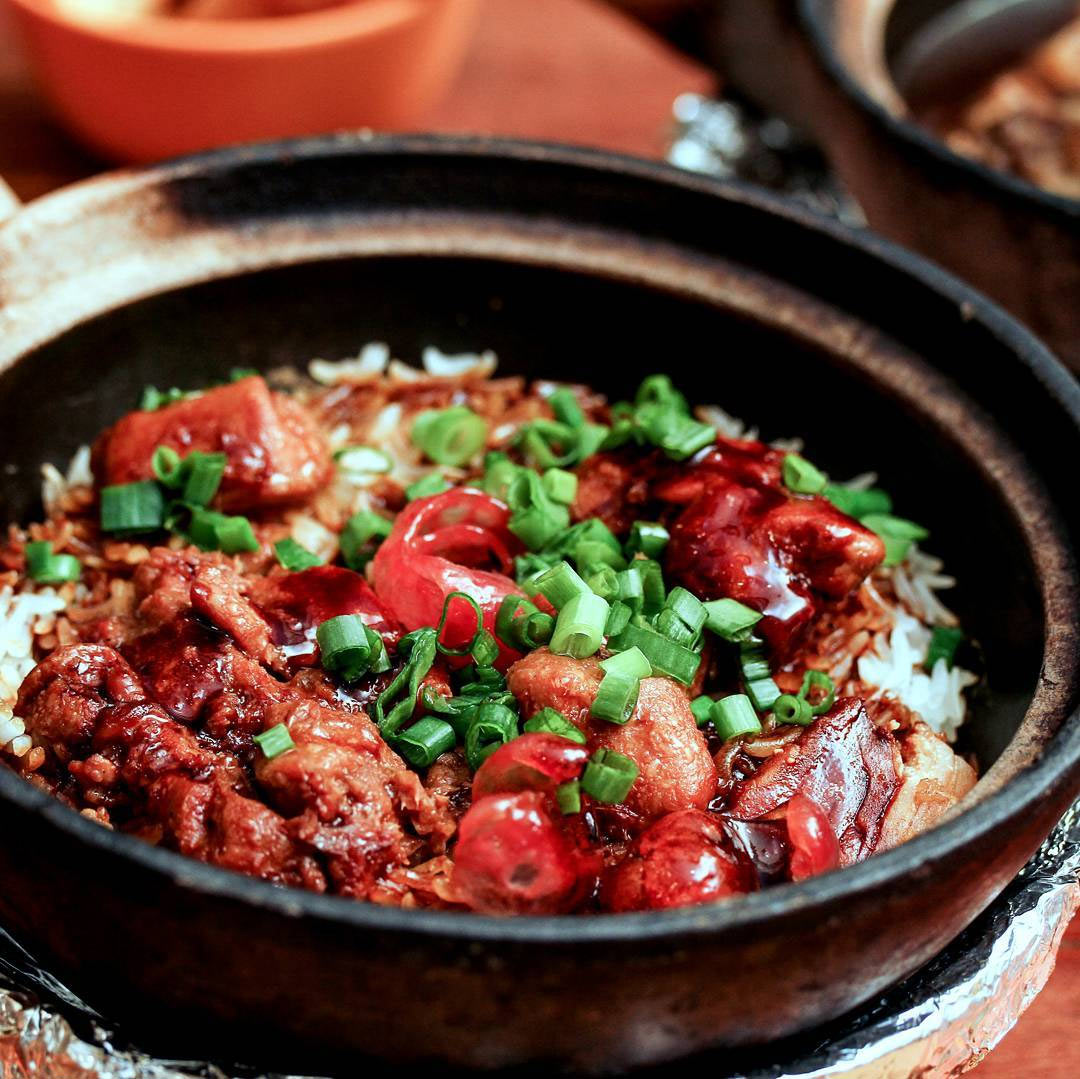 Image credit: @malaysiabolehsg
You'd almost watch in fear as the calloused hands behind Petaling Street Famous Claypot Chicken Rice get to work, lifting up rows of scalding hot lids, churning up a belt of Claypot Chicken Rice ($5/$8) with machine-like efficiency. With so much effort poured into them, these piping hot pots of rice are made to etch a memory into your taste buds. The rice, fluffy and firm, flavoured with a drizzle of soy sauce, shines with its bold yet well-balanced flavour. Sliced lap cheong and diced chicken uplift the rice with both crunch and sweetness. Yummy.
Unit number: JP2 #03-28
Opening hours: Daily 10am to 10pm
Website
---
8. Ji De Chi
---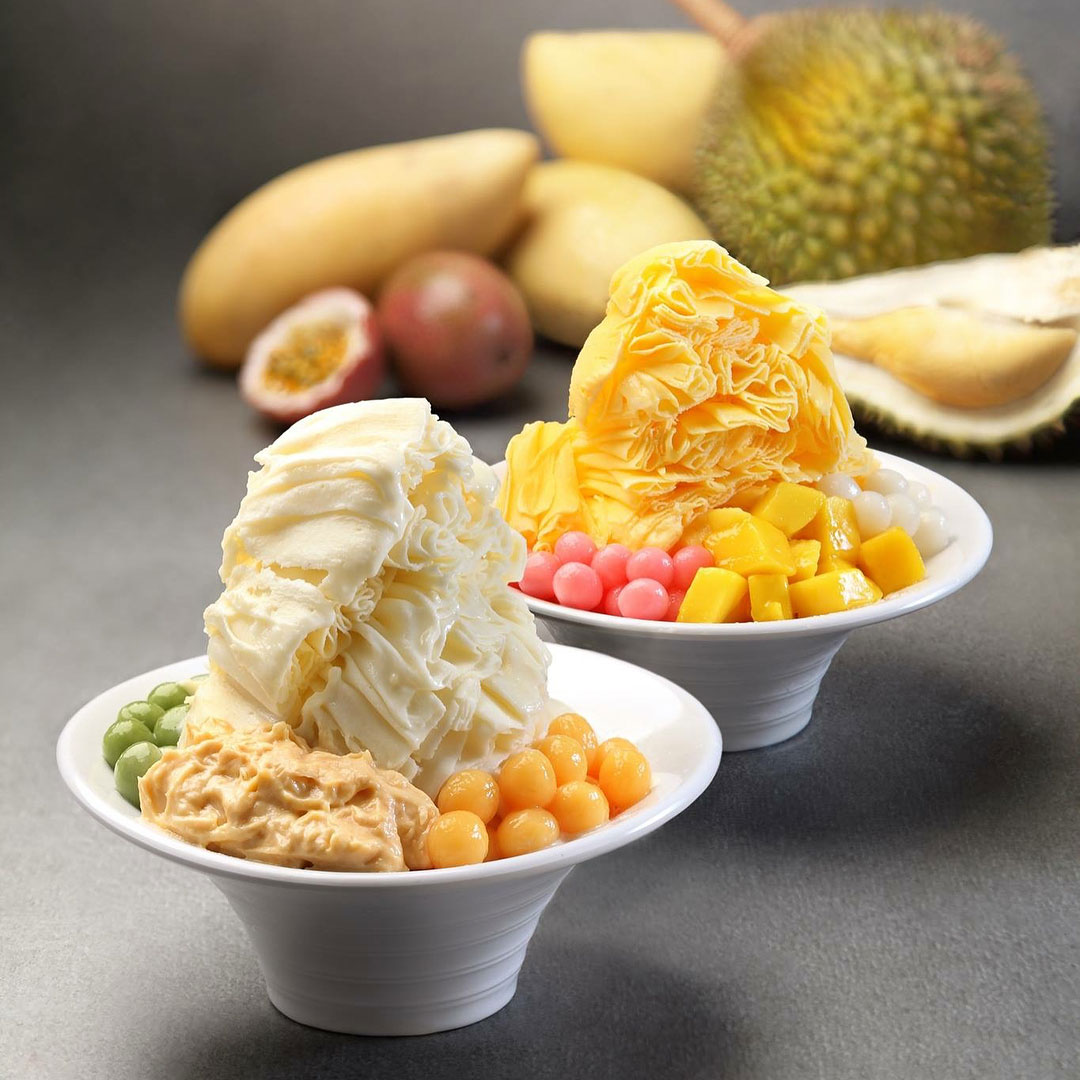 Image credit: @eastpointmall
Serving up an assortment of sweet treats, Ji De Chi offers not only a reminder to eat, as their Chinese name suggests, but also persuades you to help yourself with a sinful second serving. Their desserts range from the soothingly warm to the refreshingly cold, but regardless of where you stand on the hot/cold dessert spectrum, you simply must try their signature Mango Passionfruit Snowy Ice ($7.90). Featuring a wavy tapestry of shaved ice, cubes of diced mangoes, and chewy globules of mochi, this cooling treat rescues you from the sweltering heat with its much-needed fruity sweetness.
Unit number: JP1 #02-22A/K7/K8
Opening hours: Daily 10:30am to 10pm
Tel: 6794 8887
Website
---
9. Damansara Chilli Pan Mee
---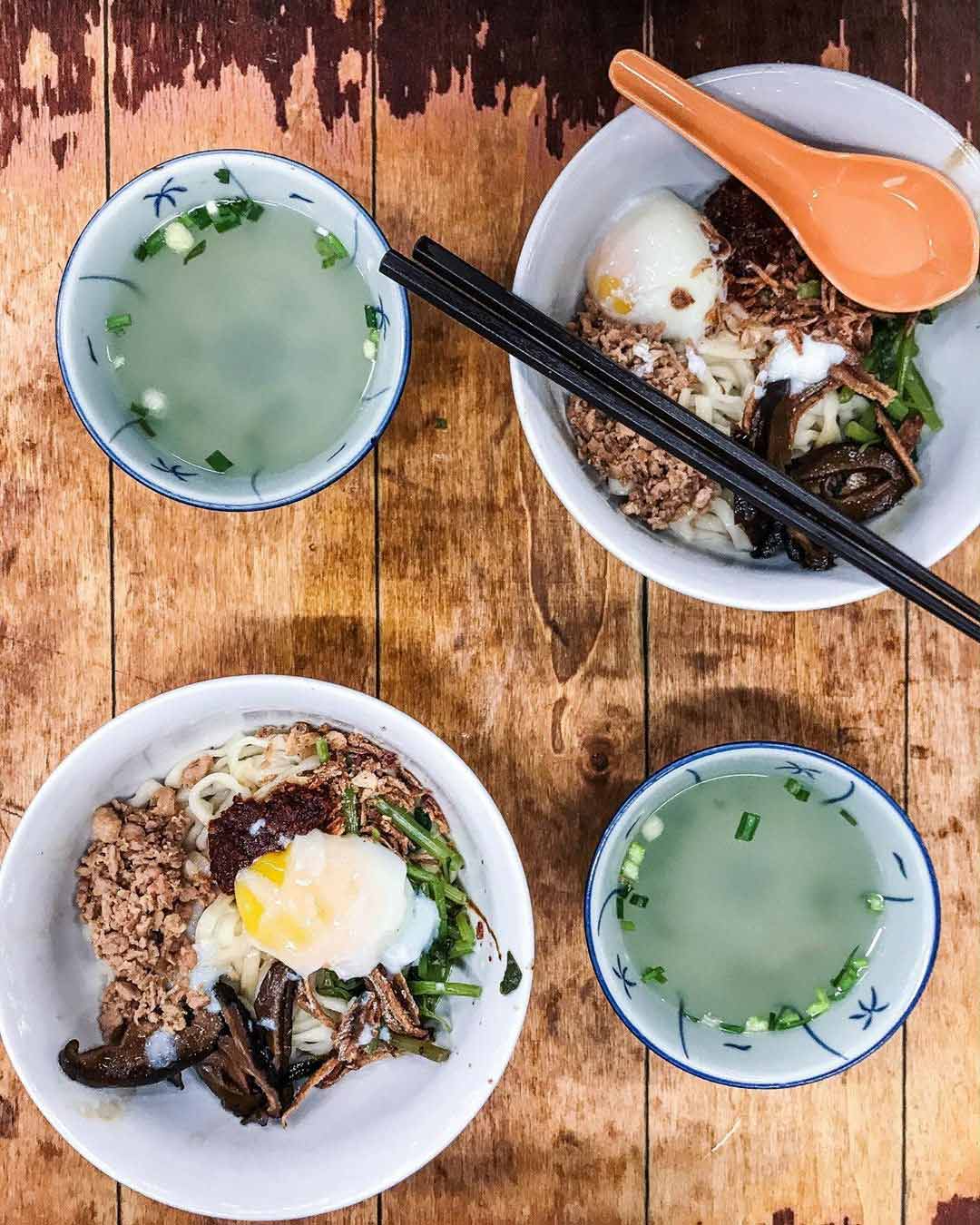 Image credit: @deeglitzfood
Agree to disagree, but a bowl of dry ban mian carries more pizzazz than the typical ban mian. Damansara Chilli Pan Mee proves that. They toss the usual ingredients of a ban mian⁠—bouncy wheat noodles, minced pork, and ikan bilis⁠—into dark soy sauce before their chilli paste takes everything up a notch. Spicy, carrying hints of hae bi (dried shrimp), and teeming with umami notes, this robust relish packs as much flavour as a slow-cooked broth. So if you haven't tried their signature Chilli Ban Mian ($4), you simply must join the queue. 
Unit number: JP2 #03-28
Opening hours: Daily 10am to 10pm
Website
---
10. My Gohan
---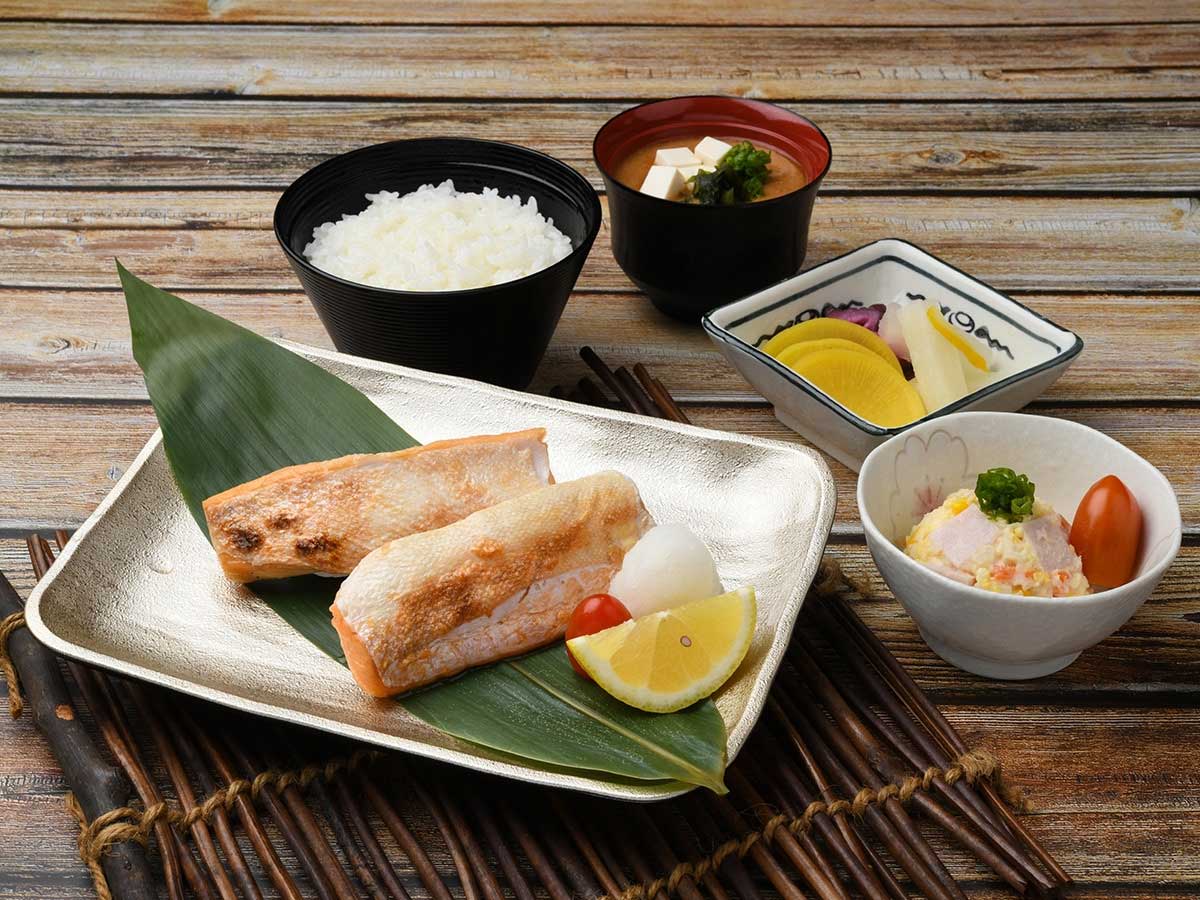 Image credit: &JOY Dining Hall's Facebook Page
My Gohan roughly translates to "my meal" and that's exactly what this Japanese eatery in Jurong Point delivers⁠—the belly-warming comfort of a home-cooked meal. Expect mackerel that is grilled to a charred crisp, slabs of salmon belly that are generously dressed in teriyaki sauce and more—all of their a la carte dishes look like what a loving okaasan cooks up for her family. 
Their mains also come flanked with two souzai (side dishes), so complete your entourage with potato salad and other appetisers. On the other hand, if you prefer to trust the choices of the chefs, make a beeline for their combos such as the Akauo Saikyo Yaki (grilled red perch) Set ($14.90), Buta Kaku-ni (braised pork) Set ($9.90), and Hamburg Steak Demi Glace Sauce Set ($12.90).
Unit number: JP1 #B1-49
Opening hours: Daily 11am to 9:30pm
Website
---
11. Tongue Tip Lanzhou Beef Noodle
---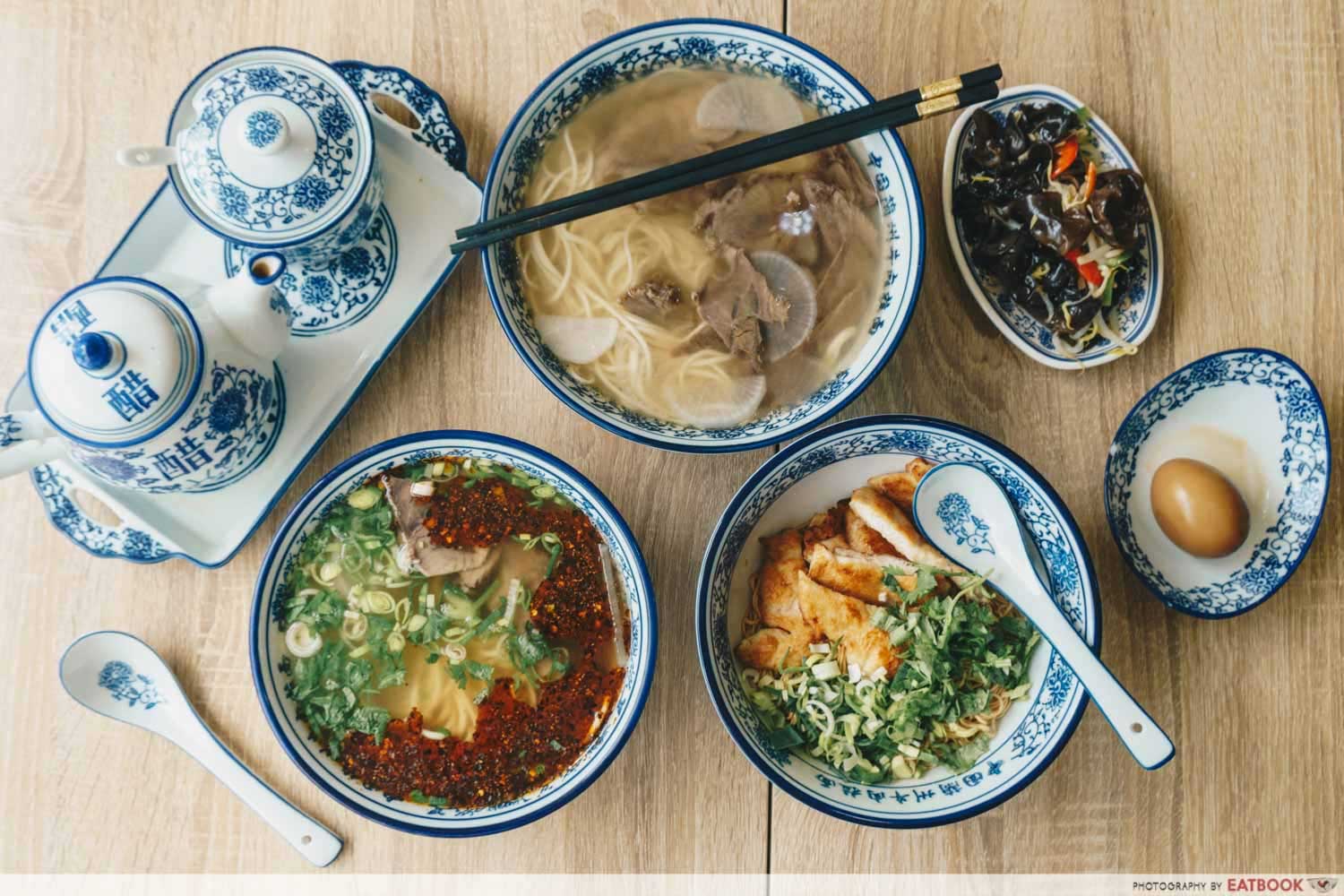 With a series of deft slams and a few casual pulls, the skillful hands behind Tongue Tip Lanzhou Beef Noodle transform an ordinary-looking block of dough into rows of chewy la mian. A bowl of these al dente noodles would have been satisfying enough but this cosy restaurant takes things up a notch with their Signature Beef Noodles ($10.90+). Swimming in a clear pool of sliced radish, their la mian soaks up the sweet and umami-laden broth, accenting the savouriness of the beef slices.
Unit number: JP2 #03-105/112
Opening hours: Daily 10am to 10pm
Website
---
12. Wee Nam Kee
---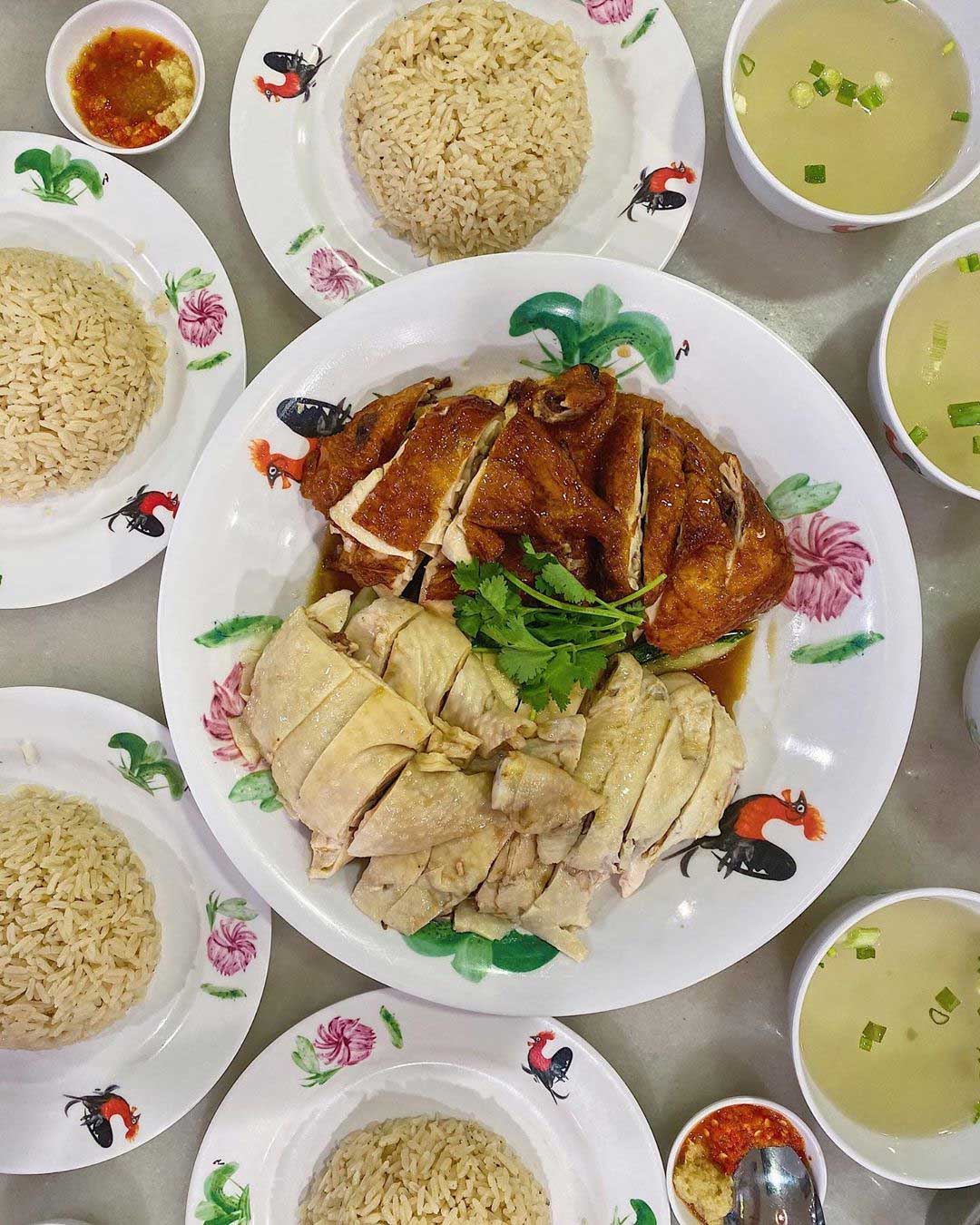 Image credit: @thatgluttonn
Ask anyone for their best chicken rice spots and Wee Nam Kee will surely break into the top five. This household favourite has waltzed their way into our bellies over the past thirty years, impressing us with their aromatic plates of Chicken Rice ($4.80+). With bits of garlic and ginger fragrantly permeating it, their rice is a moreish treat on its own. The plump slabs of poached chicken just makes the whole meal all the more delicious.
10 Best Chicken Rice In Singapore Ranked, Including Tian Tian And Boon Tong Kee
Unit number: JP2 #B1-60/61
Opening hours: Daily 10am to 10pm
Tel: 6255 6936
Website
---
13. Tong Heng
---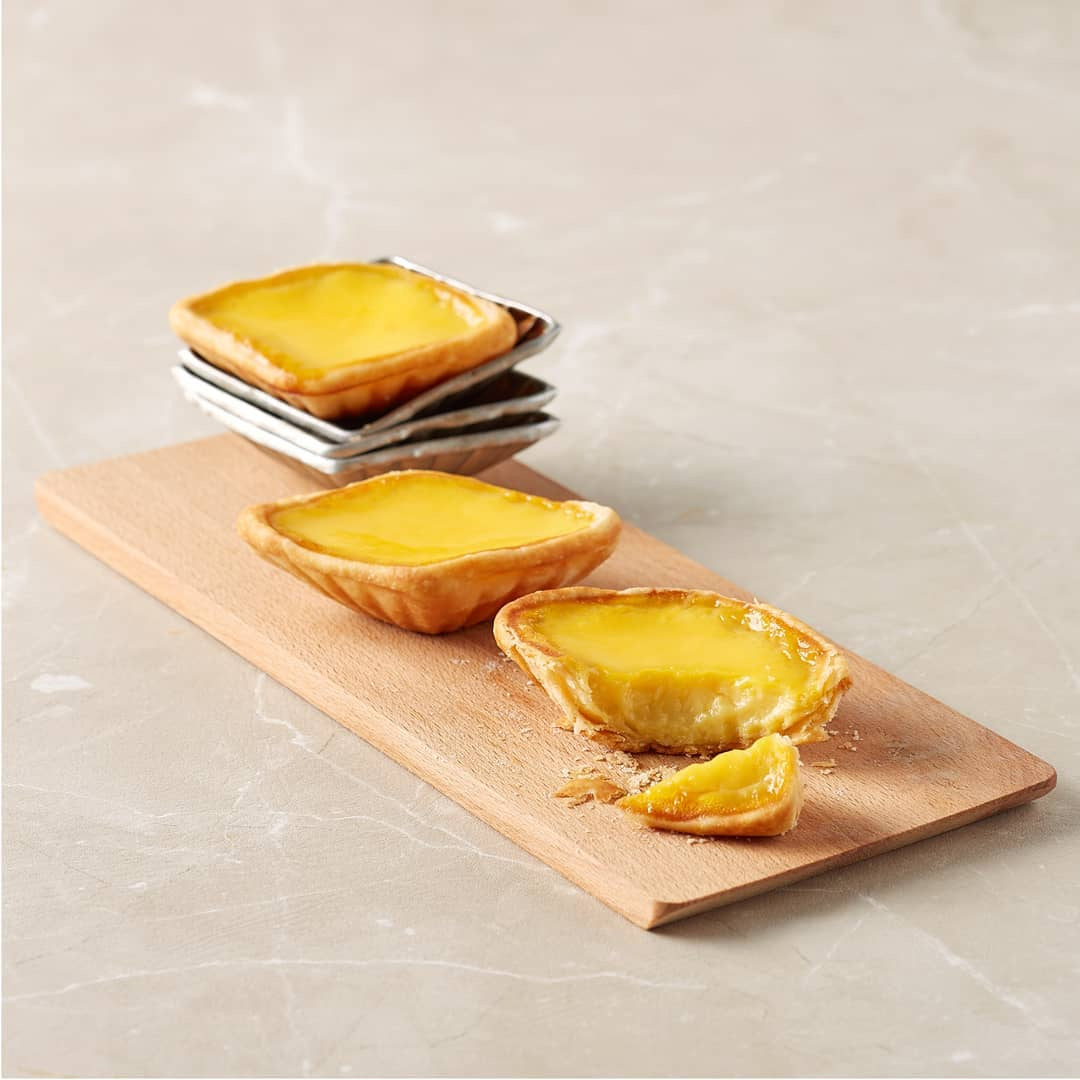 Image credit: @tonghengsg
From neighbourhood bakeries to five-star restaurants, egg tarts are a dime a dozen in Singapore, but those from Tong Heng are so yummy that you won't mind travelling from Bishan to Boon Lay for them. Having preserved and refined their recipe for the past 85 years, this proud pastry master ticks all the boxes with their textbook-perfect Egg Tart ($1.90). A bite into these bad boys and you'll be hooked. Its toasty crust crumbles to reveal a silky dance of sweet and creamy flavours—all accentuated by an intense eggy aroma. 
Unit number: JP1 #B1-10
Opening hours: Daily 9:30am to 10pm
Tel: 6794 6292
Website
---
14. Tim Ho Wan
---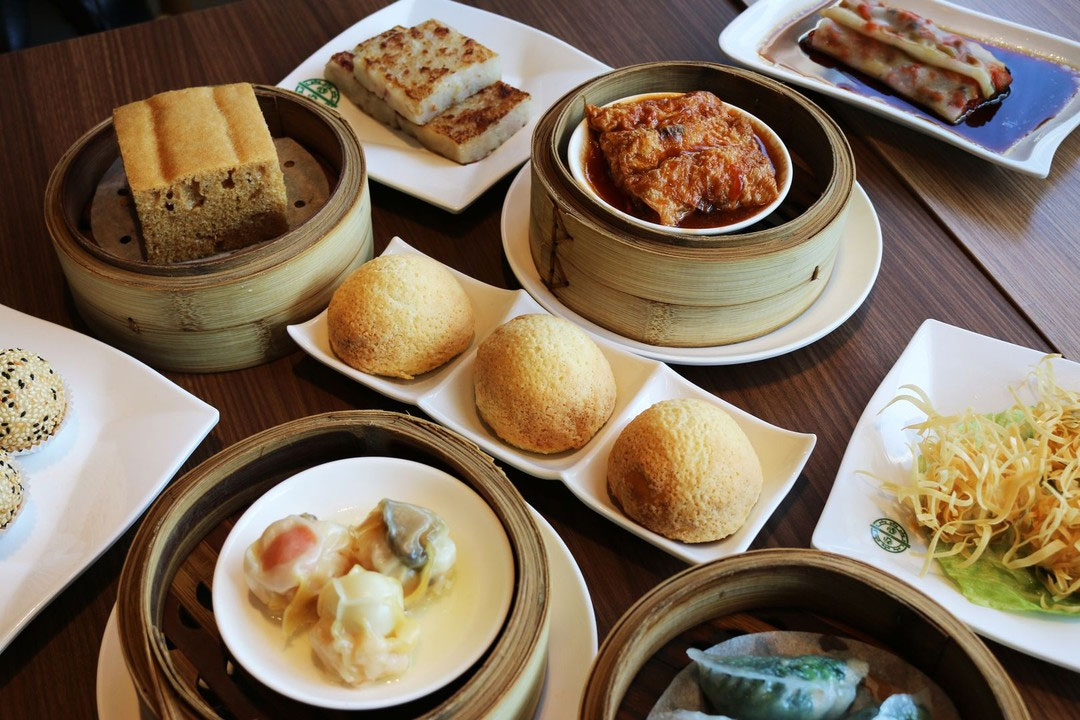 Image credit: Tim Ho Wan's Facebook Page
Before Hawker Chan earned their Michelin star, Tim Ho Wan prided themselves as the most affordable Michelin-starred restaurant in town, impressing with their time-tested Baked BBQ Pork Buns ($5.80++). While this title has since been lost, Tim Ho Wan's outlet at Jurong Point still stands as one of my go-to spots for a yum cha date with friends and fam.
This seasoned dim sum veteran doesn't rest on their laurels, dotting the I's and crossing the T's for even their smallest appetiser, such that every creation they cook up is worth a bite. But if there's a dish that you mustn't leave without trying, it's their beloved Pork Dumplings in Hot & Spicy Sauce ($4.80++). Featuring silky and juicy parcels of meat that are coated in an oh-so-satisfying sauce, this sinful treat is simply impossible to share.
Unit number: JP2 #03-42/43/44/45/46/47/K3/K4
Opening hours: Mon-Fri 11am to 10pm, Sat-Sun 9am to 10pm
Tel: 6259 2788
Website
---
15. Tiger Sugar
---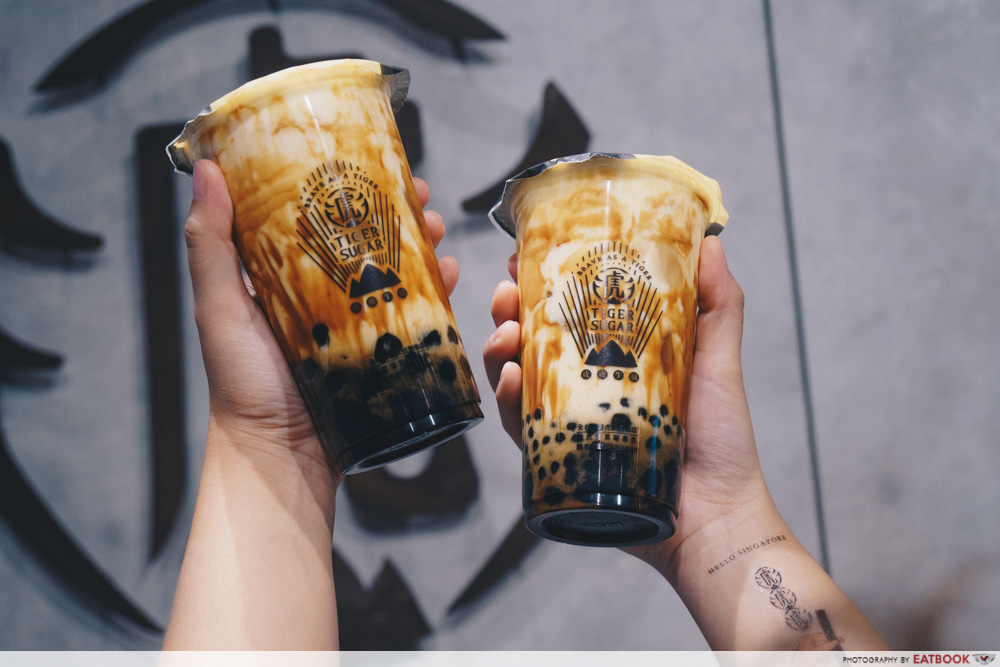 Xing Fu Tang, The Alley Luxe, BCC Tea Studio, Milksha, with a dizzying variety of local and international brands opening in 2019, it's hard to keep track of which bubble tea spot reigns supreme. Yet, even among this crowded sea of contenders, Tiger Sugar stands out, serving up one of the best brown sugar fresh milk in town. 
Adorned with intricate streaks of brown sugar syrup, their Brown Sugar Boba + Pearl with Cream Mousse ($5.30) is already too enchantingly beautiful to drink, but the real magic happens when you give the cup a good shake. Treacly swirls of brown sugar syrup fuse into a milky white canvas, giving you a gorgeous treat that gushes over your tongue with surges of velvety sweetness. 
Tiger Sugar Review: OG Brown Sugar Fresh Milk from Taiwan Opens At City Hall
Unit number: JP1 #03-40/41
Opening hours: Daily 10am to 10pm
Website
---
16. KIOU Ramen
---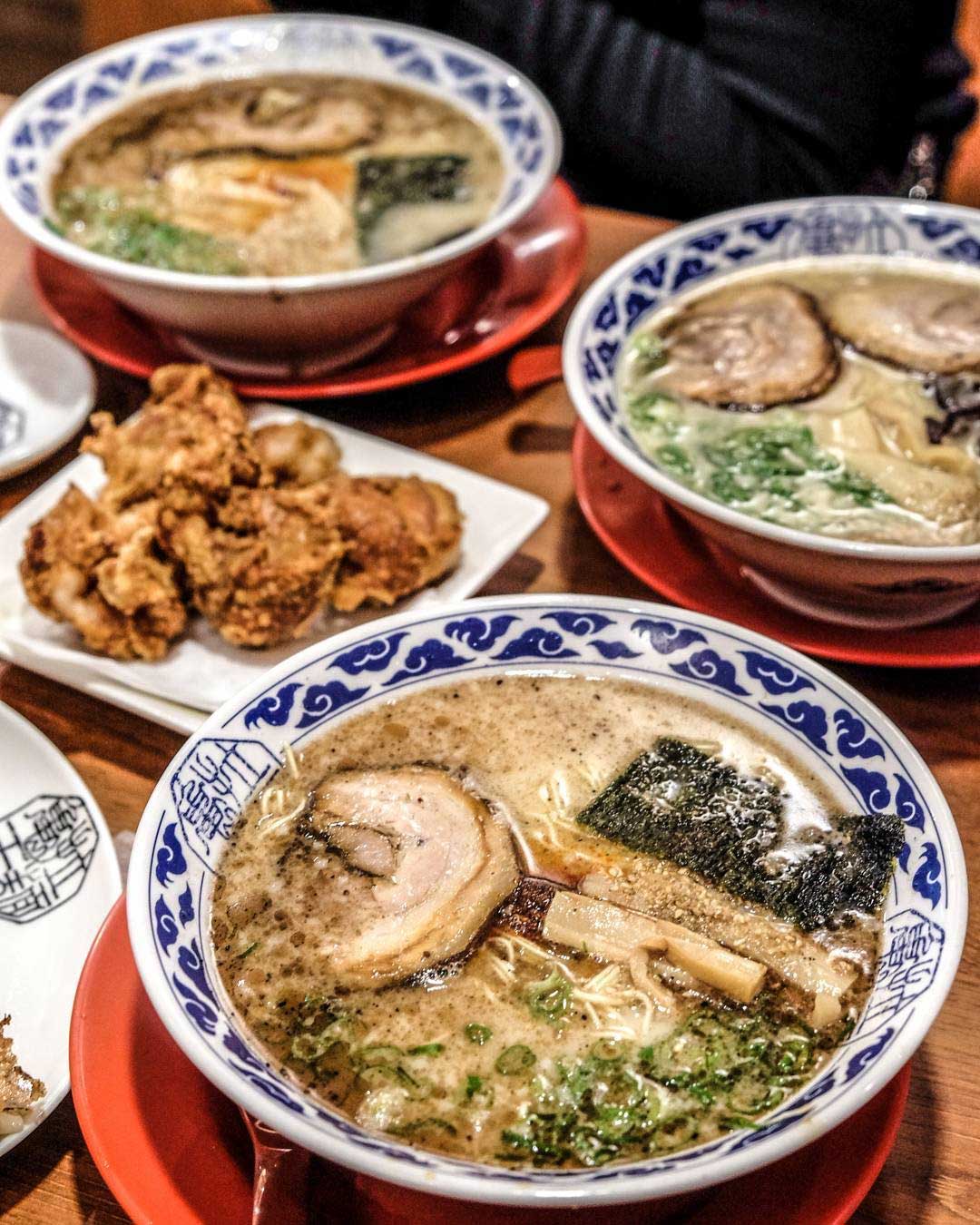 Image credit: @aloysiustommychandra
With Don Don Donki stealing the limelight at their new JCube outlet, the opening of &JOY Dining Hall at Jurong Point had largely gone unnoticed. But not anymore. This swanky food court has courted Westies with its impressive line-up, chief of which is the ever-so-popular Ramen KIOU. 
This Osaka-based chain has finally brought their empire of 22 outlets to Singapore, delighting ramen-holics with their robust bowls of broth. While their Tomato Cheese Ramen ($14.90) inexplicably marries the tanginess of tomatoes with the savouriness of cheese, their KIOU Ramen ($13.90) is the undisputed darling of the bunch, leaving a strong impression with its savoury punch.
Unit number: JP1 #B1-49
Opening hours: Daily 10am to 10pm
Website
---
17. Pittarino
---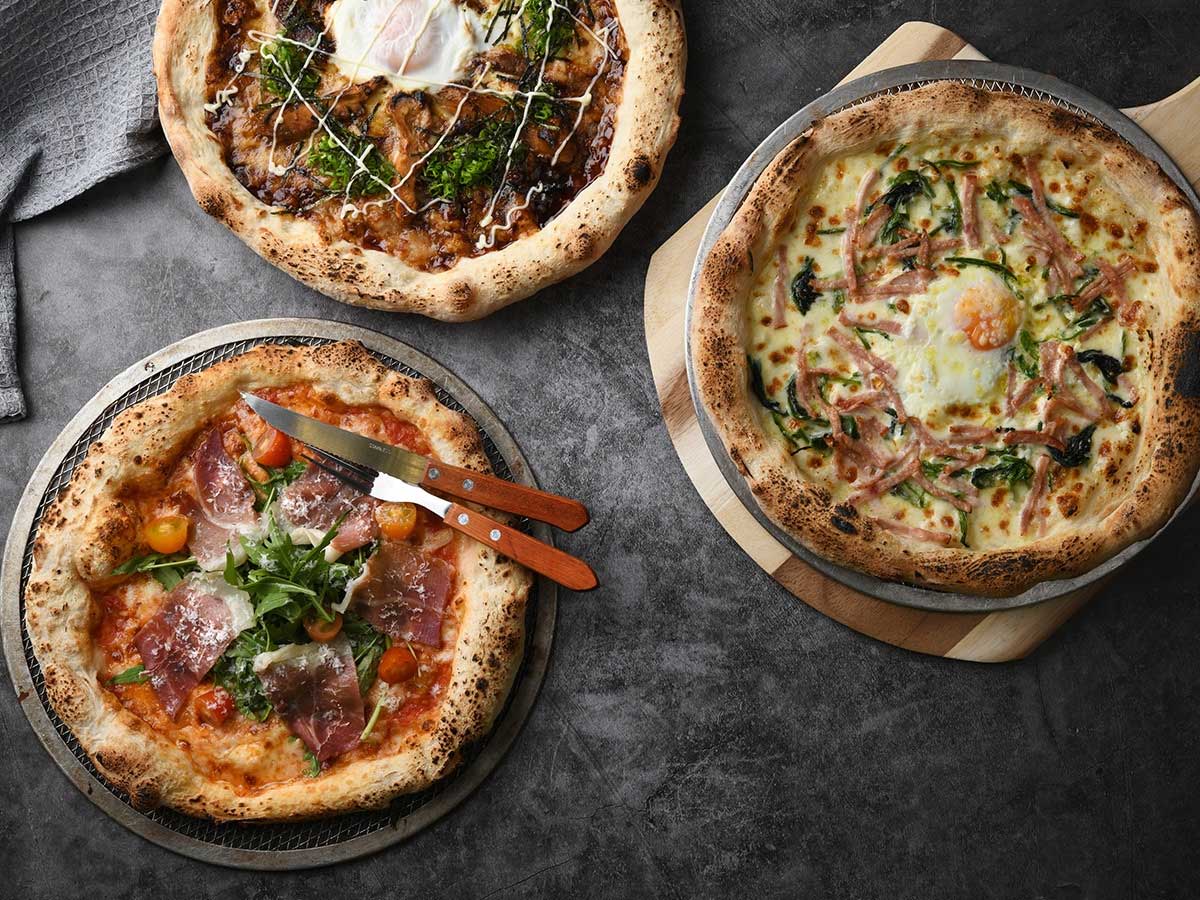 Image credit: &JOY Dining Hall's Facebook Page
Mention the phrase "handmade pizza" and your mind instantly conjures up scenes of pizza dough baking slowly in wood-fired ovens. Pittarino, however, tosses these images out of the window, churning out handmade pizzas from their oven every 90 seconds. Yet, the astonishing speed doesn't signify a dip in quality, with their Neapolitan pizzas giving famous names a run for their money. Whether it's the cheesy oomph of their Bismarck ($14.90) or the tangy kick of their Prosciutto & Rocket ($17.90), the fluffy crust pulls away smoothly and sets the stage for a burst of bold flavours. 
Unit number: JP1 #B1-49
Opening hours: Daily 11am to 10pm
Tel: 6303 9743
Website
---
18. Ayam Penyet Ria
---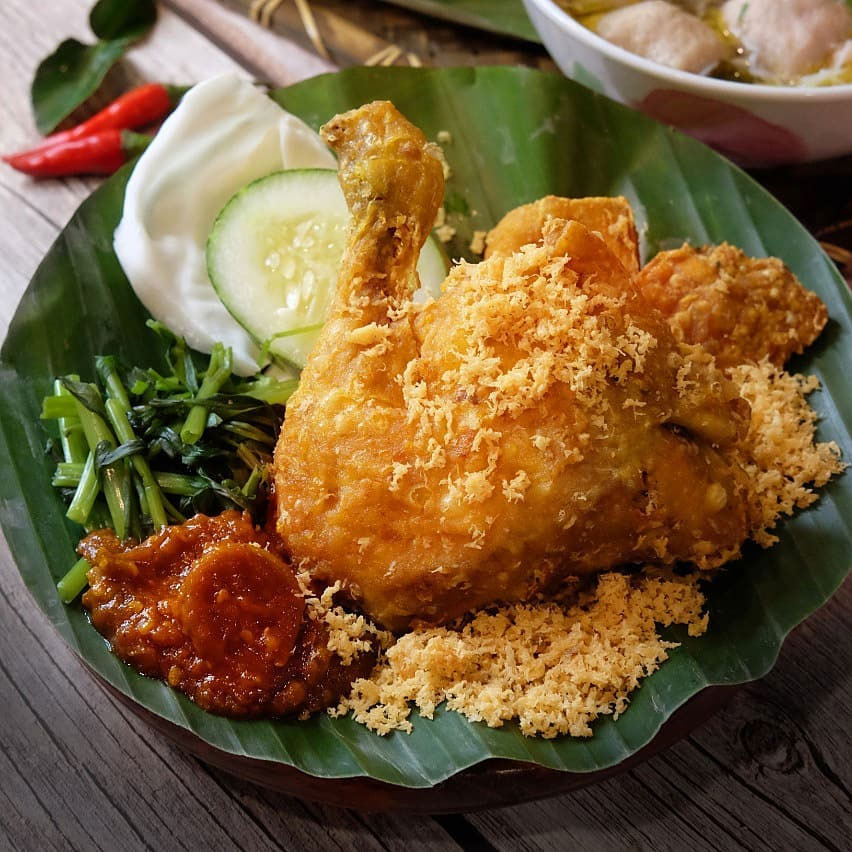 Image credit: @ayampenyetria.sg
Most of us can't help but throw ourselves into the embrace of good smashed fried chicken, and Ayam Penyet Ria honours this Indonesian snacc with their sumptuous Ayam Penyet + Nasi ($8.20). They immerse slabs of chicken into a sizzling bath of oil, giving them a shatteringly crispy crust before delivering the literal final blows. Repeated mashes from a wooden mallet enhances the texture of the already crisp meat, such that every bite greets you with a pleasing crackle. The only thing left to do now is to coat the chicken in their signature sambal paste and relish the fiery and savoury notes.
Unit number: JP1 #B1-06
Opening hours: Daily 10am to 10pm
Tel: 6794 3015
Website
---
19. Roman.Tei
---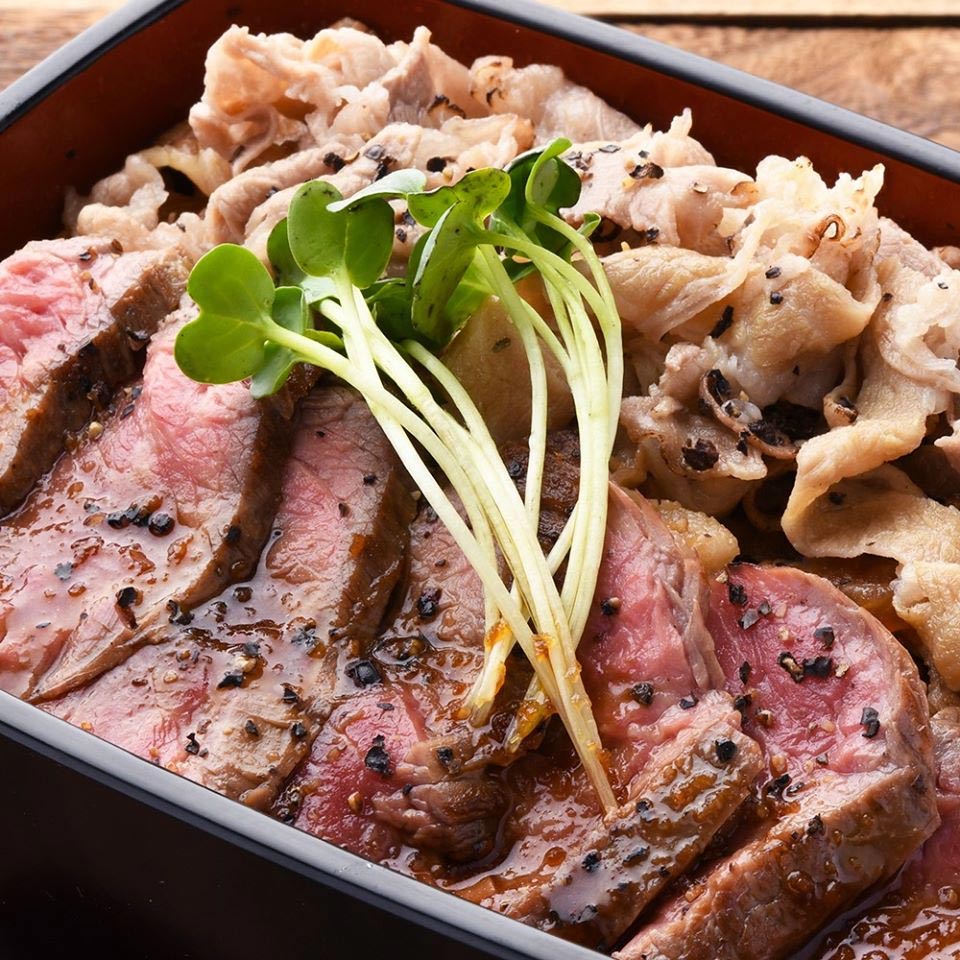 Image credit: &JOY Dining Hall's Facebook Page
Roman.Tei knows their beef. This crowd-pleasing restaurant in Jurong Point not only boasts quality cuts of beef, but also serves them up at dollar-stretching prices. Most of their dishes are priced below $20—an absolute steal considering the thick and juicy cuts of meat that they lavish each bowl with. 
Their beef also flaunts a mouth-watering combination of fat and meat, as well as a seductively smoky sear, such that every bite pleases with a moreish medley of rich and savoury flavours. As such, most of their dishes offer safe bets for reliably delicious food, with the Double Beef Jyu ($14.90) standing out. Besides thin and tender slices of grilled beef, this bowl also features slabs of steak grilled to a delicious doneness, allowing you to enjoy the best of both worlds.
Unit number: JP1 #B1-49
Opening hours: Daily 11am to 10pm
Website
---
Jurong Point food places for Westies
---
Jurong Point may be one of the oldest malls around in the West, but it still continues to attract foodies with their evolving selection of stores. Whether you see yourself ambling down a Japanese food street or lazing with plates of dim sum, these Jurong Point food places are the go-to spots for a satisfied belly.
If you're searching for more shiok food options, grab your fambam and make a beeline for these 10 Jurong zi char places. Most of these eateries can easily find their place on any foodie's must-try list, so look forward to having a belly-filling meal here!