---
Not your typical Oreo snacks
---
Gone are the days when the only dilemma you have to grapple with is whether to dunk or lick your Oreo cookies. Today, Oreo comes in many forms, from unique flavours such as red velvet to stick ice-cream. From the funky to the straight-up luxurious, these 10 unique Oreo creations pay a fitting homage to the OG Oreo cookie. 
---
1. Oreo O's
---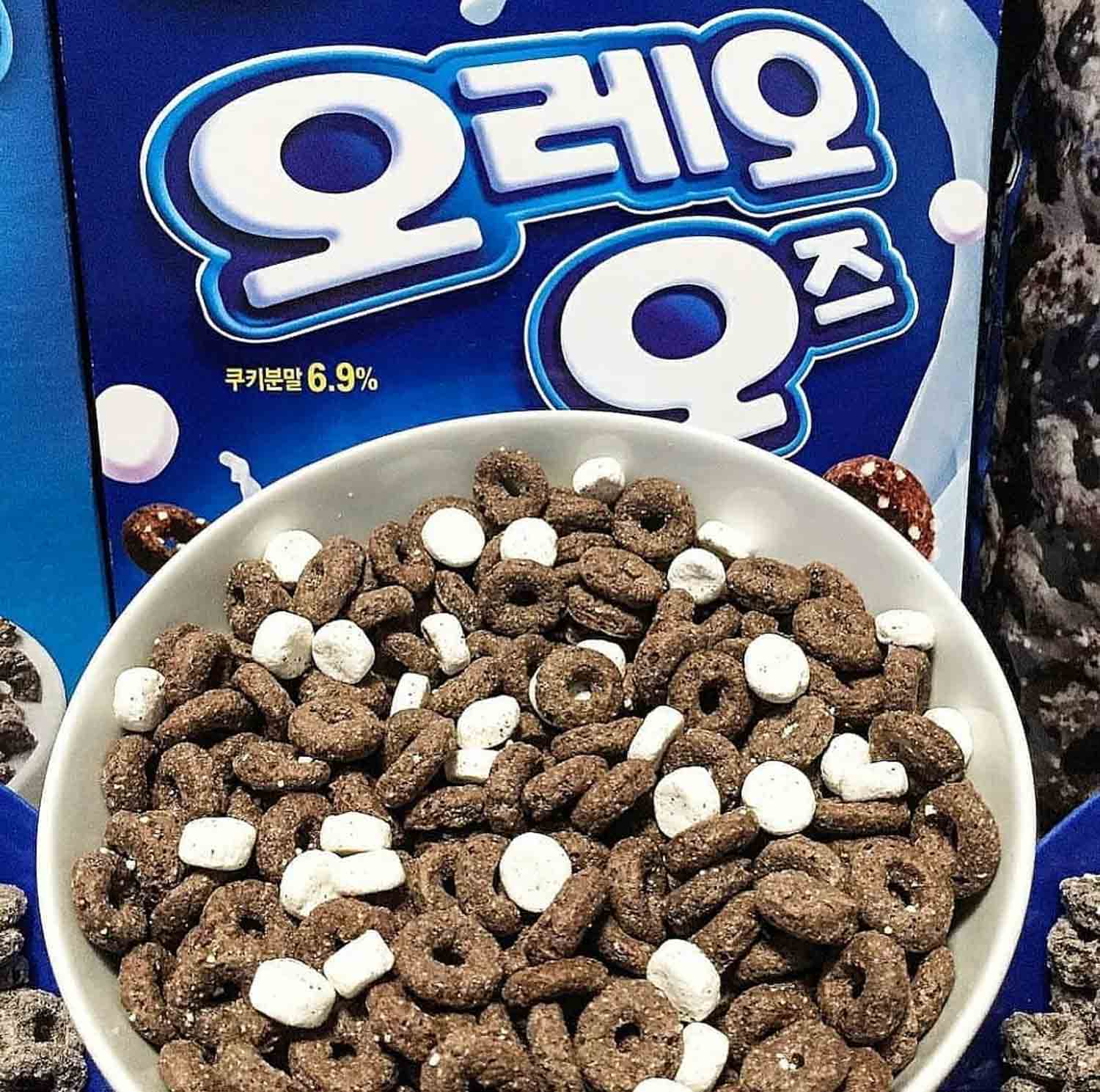 Image credit: @_sweetcandies
We all know how great Oreo tastes with a cuppa milk, so it's no surprise that Oreo O's was eventually conceived in the late '90s. Though this popular cereal disappeared off the shelves in 2007, it returned with great fanfare in the past few years, delighting fans with its sweet medley of vanilla and chocolate accents. You can buy these breakfast goodies from Redmart and Qoo10, where a 250-gram box will set you back $9.90.
---
2. Stick Ice Cream
---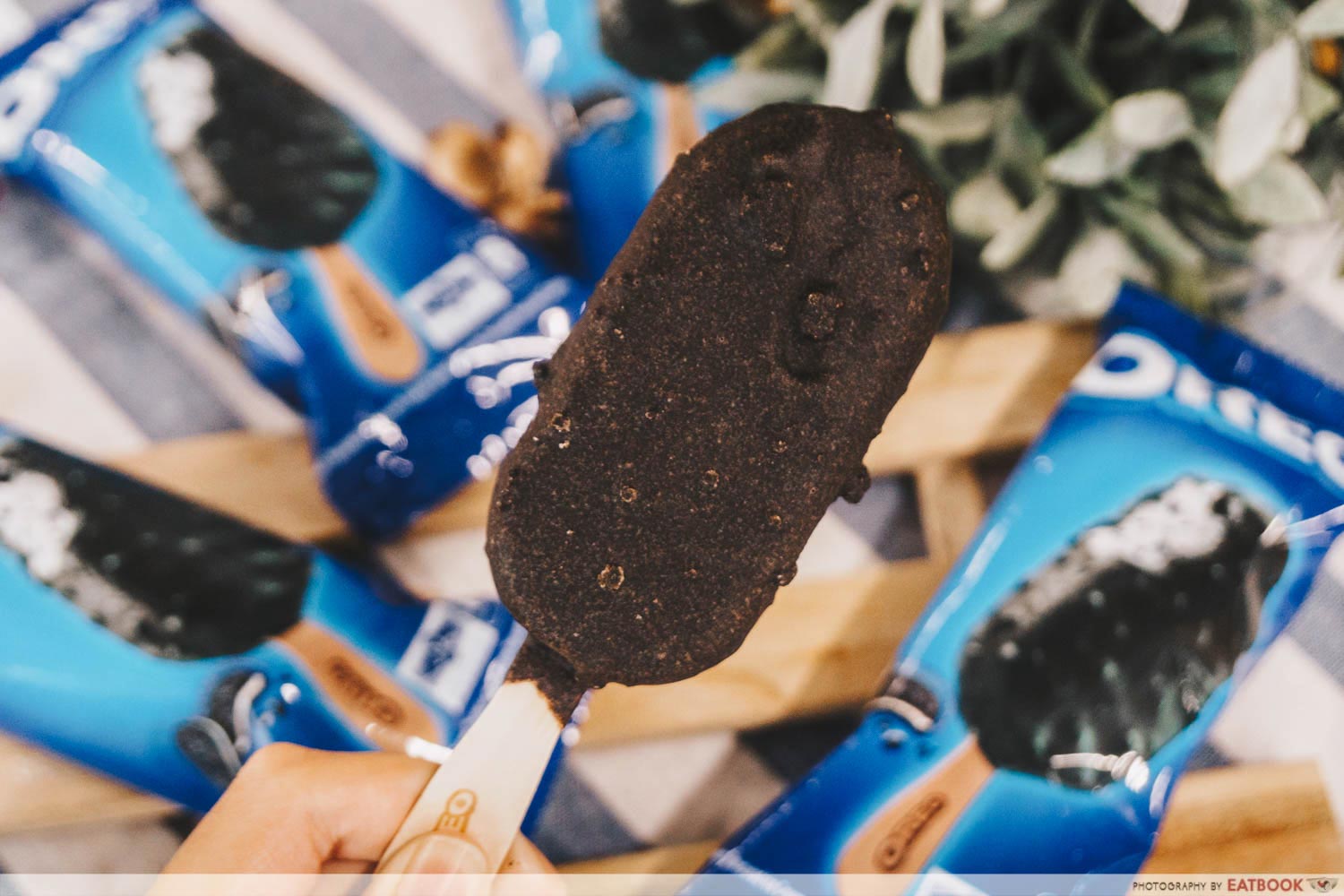 Given that this Oreo Stick Ice Cream used to be hidden in two inconspicuous shops in Yishun and Telok Blangah, it took a great deal of fortune for us to stumble onto them. Don't worry if you can't make the road-trip down though, as they are now available at most NTUC Fairprice in Singapore.
With a stick priced around $2.90, these frosty treats cost more than your usual ice cream. However, they are also anything but usual. A generous Oreo crust encases the vanilla ice cream within it, creating a treat that yields bite after bite of cookie-like sweetness. Now, that's a true snacc.
---
3. Oreo Yoghurt
---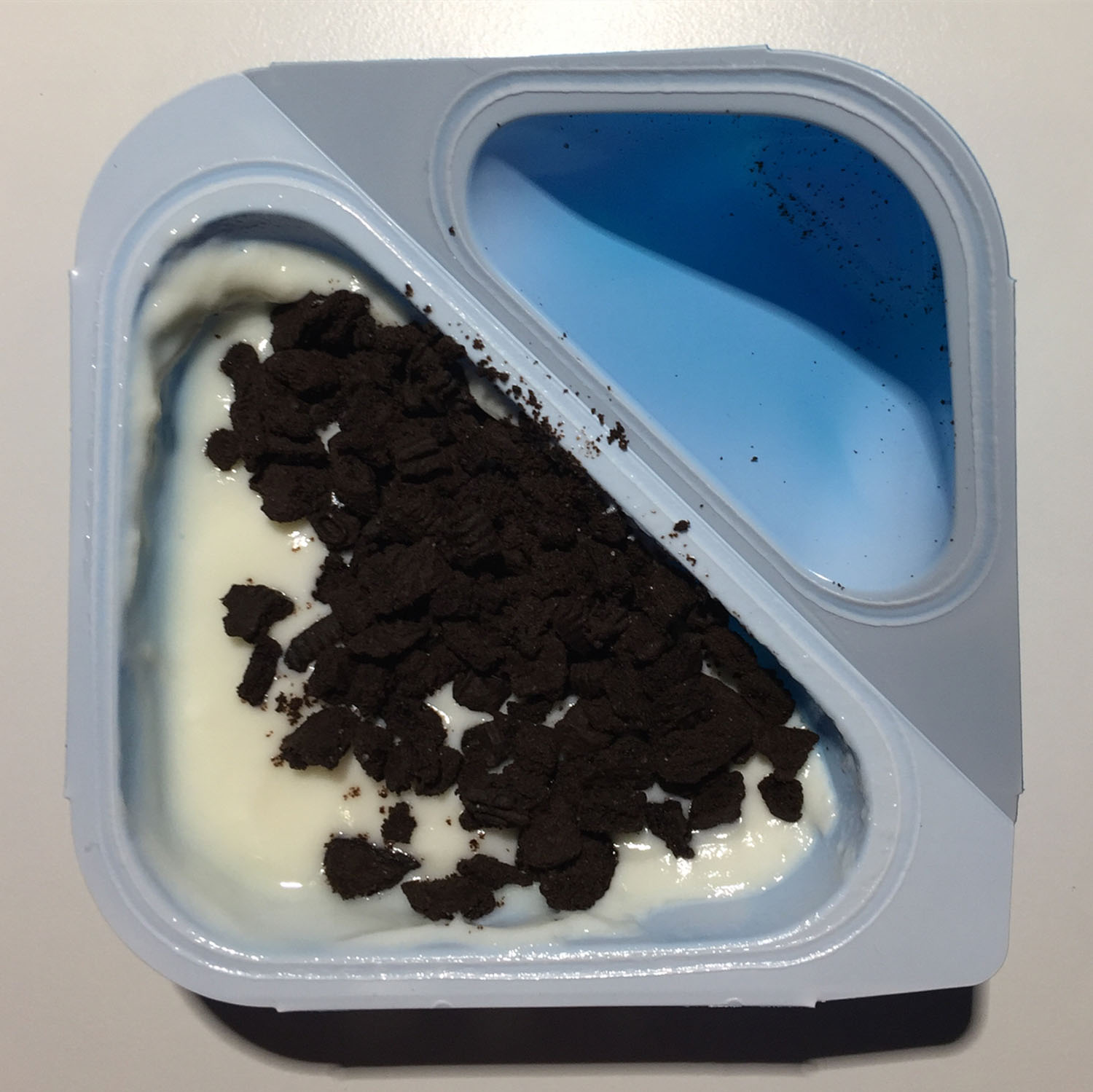 Image credit: @tfdolan
Most of us love Oreo for its distinct sweetness, but the Oreo Yoghurt adds a different dimension to this beloved snack with its sour kick. While this vanilla-scented yoghurt is sweeter than most, it still carries a subtle tartness that balances the sweet and milky undertones. The crowning glory are the crumbs of Oreo, which provide a much-needed change from the smooth yoghurt with its pleasant crunch. 
To get your hands on these candied treats, pop by to the nearest Cold Storage and get them at $3.40 each. Otherwise, order them online and pick them up for $3.30 from Redmart!
---
4. Oreo Cookies & Cream Ice-Cream Cake
---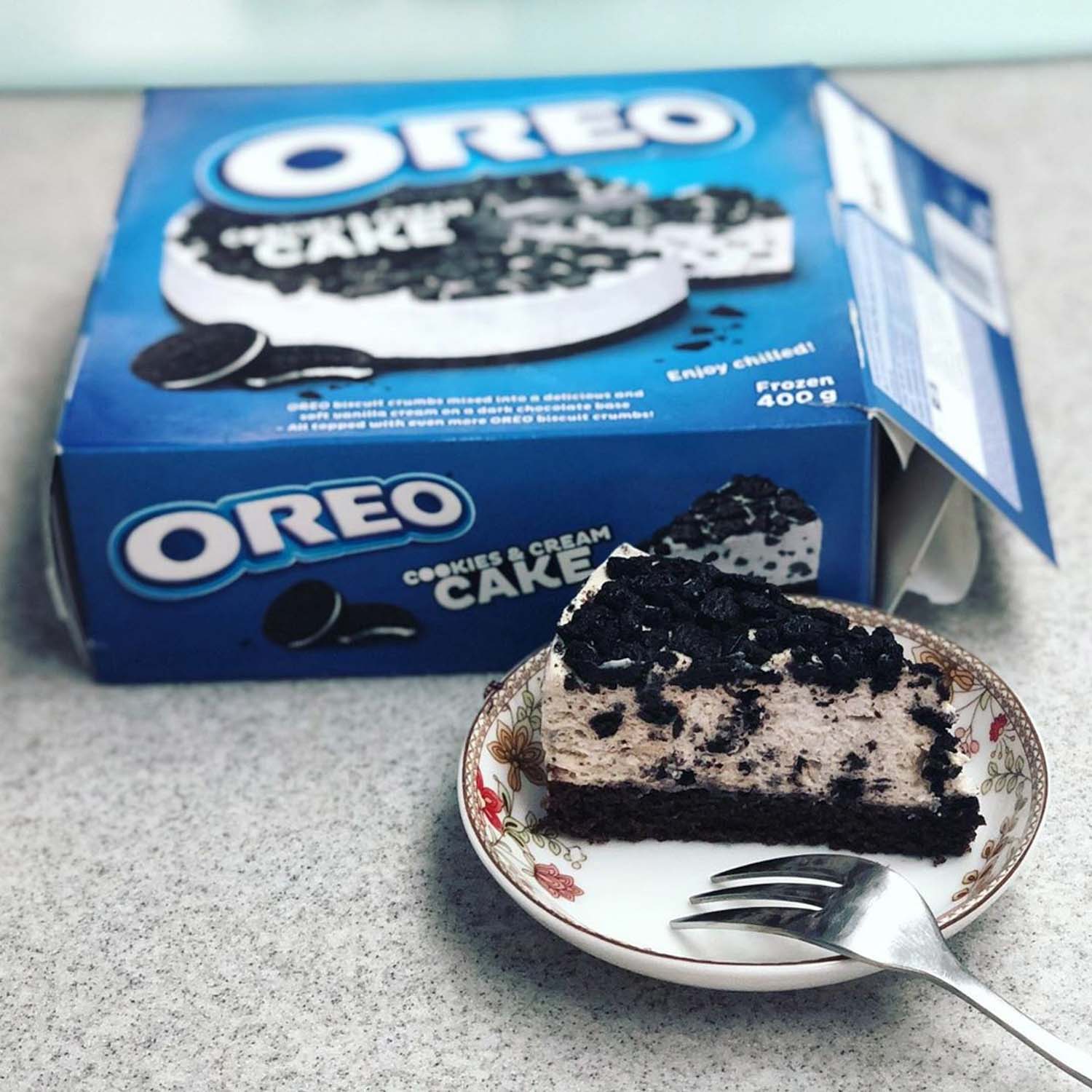 Image credit: @muncheekim
Drop by any bakery, big or small, and you'll probably spot Cookies N' Cream cakes dotting their shelves. And thanks to the Oreos Cookies & Cream Ice-Cream Cake, you can now enjoy this palate-pampering classic in the comfort of your home. 
Start from the crust, which comes studded with generous amounts of Oreo crumbs, before moving your way into the creamy vanilla cake. A brittle dark chocolate base awaits at the end of this sinful dessert, pampering you further with its rich taste.
Priced at $12.95, this 400-gram cake easily feeds four to five bellies, making it a convenient and affordable ace to pull out of the fridge for your next dinner party. Best of all, it's found in Cold Storage and Giant stores islandwide, so there's really no reason to miss out on it!   
---
5. Red Velvet Cookie
---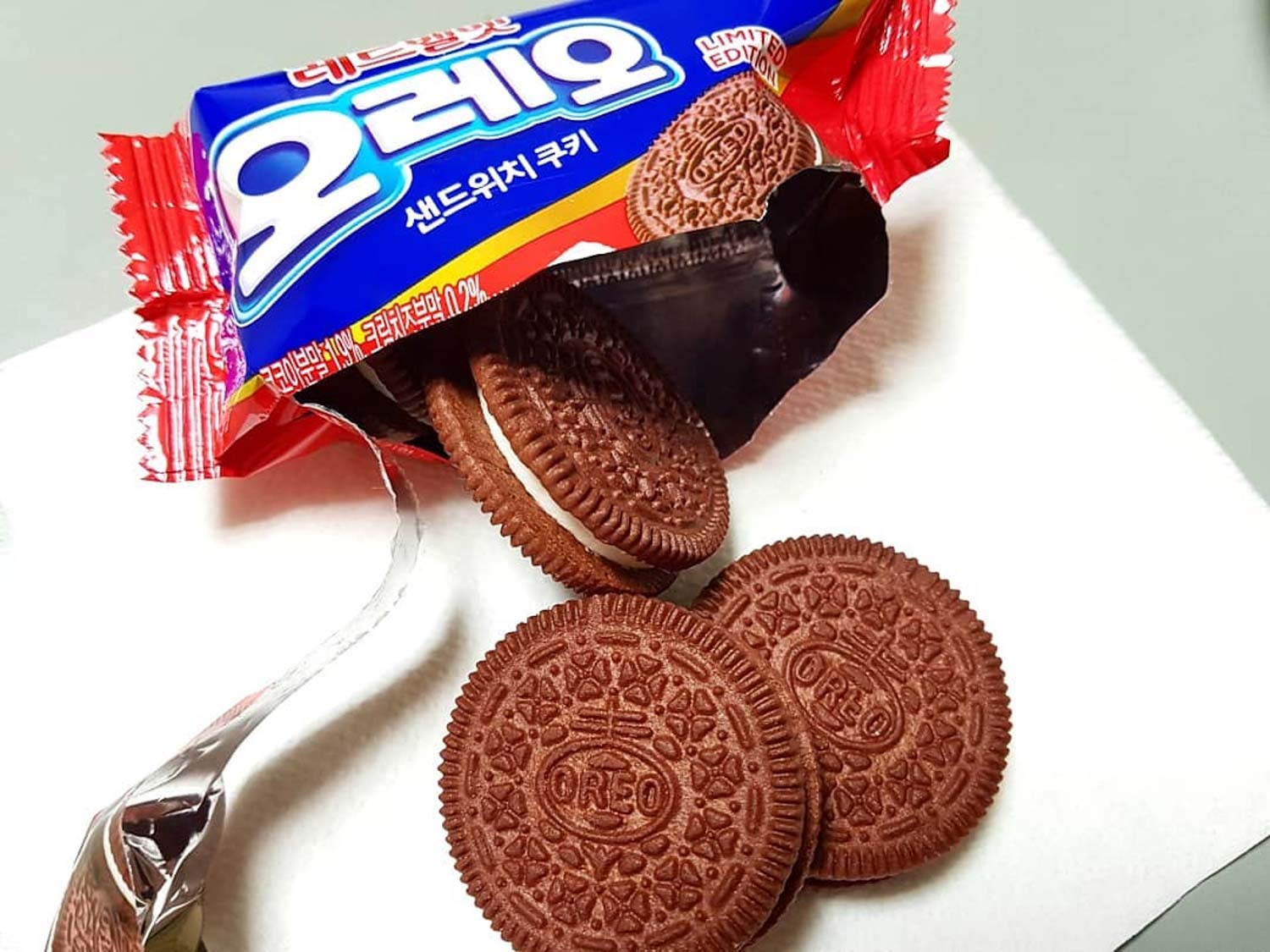 Image credit: @charminghyun
The Red Velvet Oreo Cookies may be a Yuletide-exclusive, but I could munch on these salivating snacks all year long. Paying a nod to the timeless Red Velvet cake, these biscuits carry an elegant shade of maroon and sandwich a smooth cream cheese filling. Similar to the Oreo Yoghurt, the creme packs a mellow sourness which balances the traditional sweetness of these cookies, creating a yummy bite that you can't tire of. 
If you're thinking of filling your stocking with this unique treat, head down to the nearest Sheng Siong or Cold Storage and cinch a pack of nine for $1.95.
---
6. Oreo Mooncake
---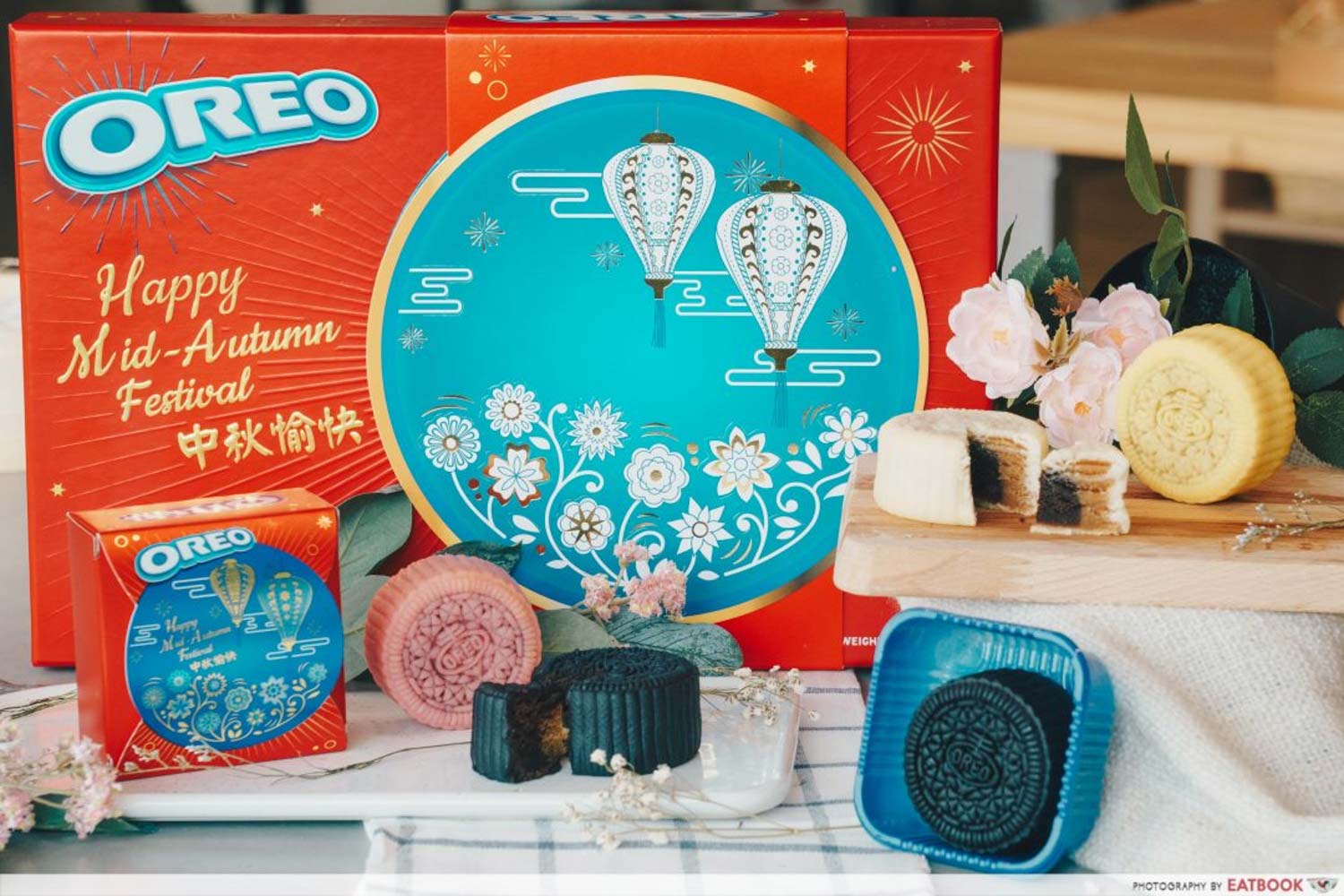 From Coke-flavoured to truffle snowskin, the mooncakes of 2019 have been nothing short of spectacular. Adding its name to this list of legendary creations is the Oreo Mooncake, which reproduces the intricate grooves of an Oreo on a delicate snowskin canvas. 
However, as much as these mooncakes are the spitting image of their biscuit cousins, they taste nothing like the OG cookie. Available in Brownie Chocolate, Double Chocolate with Milk, Strawberry Jam, and Cappuccino, these mooncakes are packed with lotus paste, leaving your tongue reeling from its candied tang. 
Although these seasonal snacks are presently sold out, you'll def' find me in line when they return on Fairprice's shelves.
---
7. Oreo Banadas
---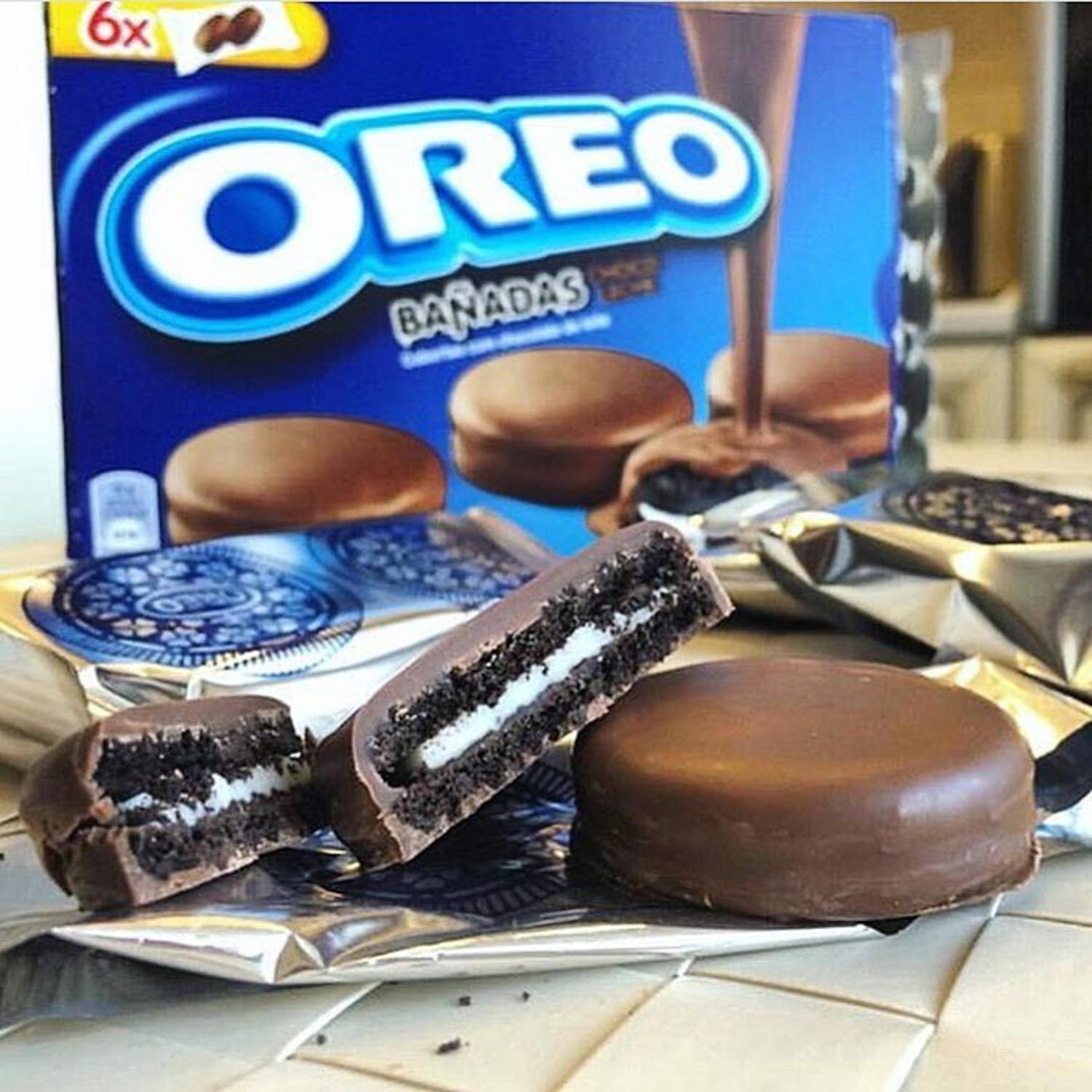 Image credit: @isweetbar
You can't go wrong with a chocolate-coated snack; think Tim Tam, Ferrero Rocher, and now—the Oreo Banadas. Featuring an Oreo cookie that's encased in a thick crust of dark chocolate, this tempting bite lavishes you with a true overdose of cocoa. And if you thought dunking Oreo cookies in milk was shiok, think again. The chocolate glaze in this sweet creation shines after being drenched in milk, washing over one's tongue with creamy and luscious accents. Now, that's shiok.
To get your hands on the these decadent cookie, check out Shopee, which offers them at $12.  Redmart is slightly pricier at $12.90.
---
8. Peppermint Bark Cookies
---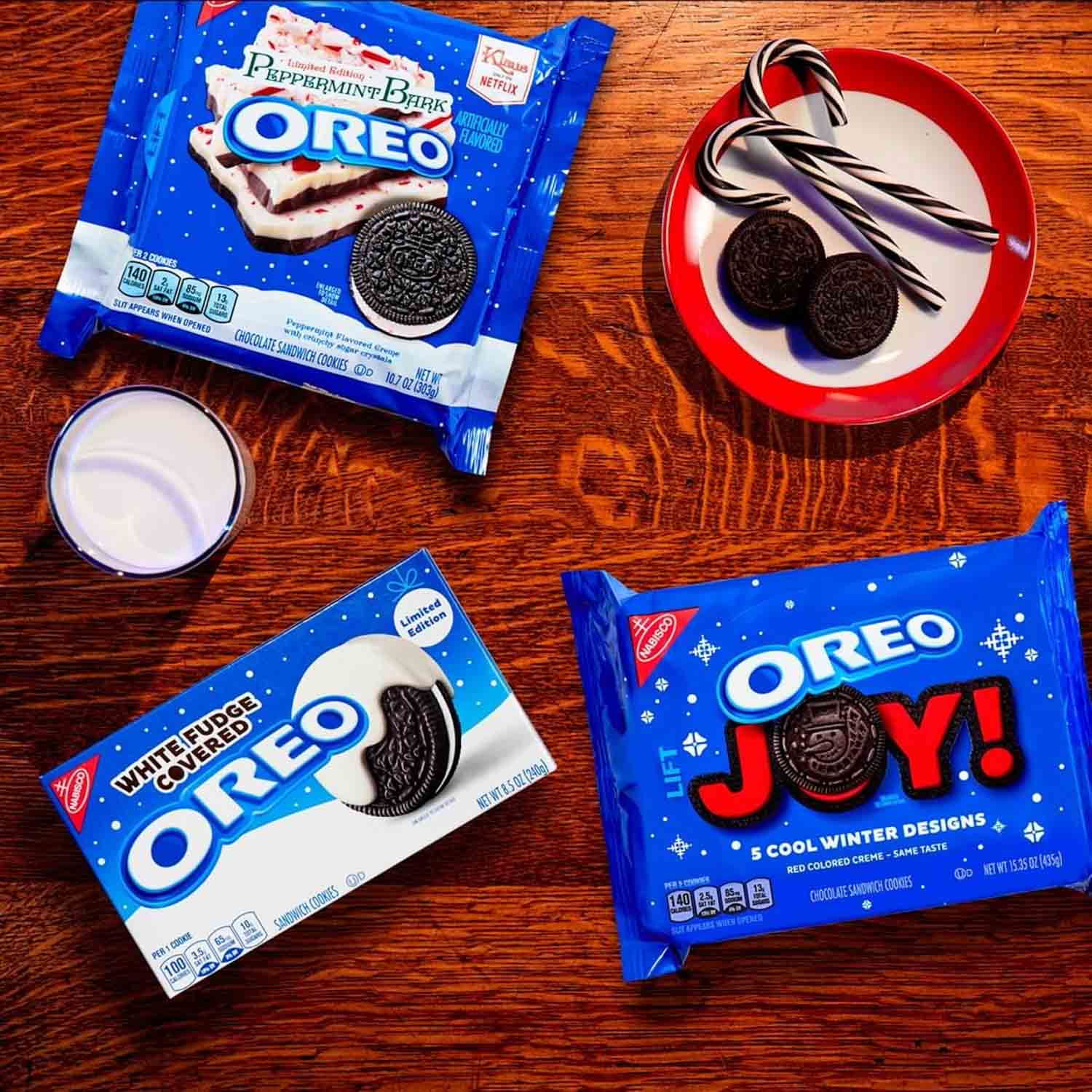 Image credit: @oreo
Keep your eyes out for this limited-time Christmas creation: the Peppermint Bark Oreo Cookies. A peppermint-flavoured creme replaces the usual vanilla-scented filling, cutting across the chocolate cookie with its crisp bite. Thanks to a smattering of sugar crystals, you can detect a slight crunch to the filling, supplying these refreshing biscuits with a unique textural contrast. However, as these holiday snacks recently sold out on Shopee, you may have to wait a while before you can lay your hands on them. 
---
9. Oreo Cookie Sticks' N Creme Dip
---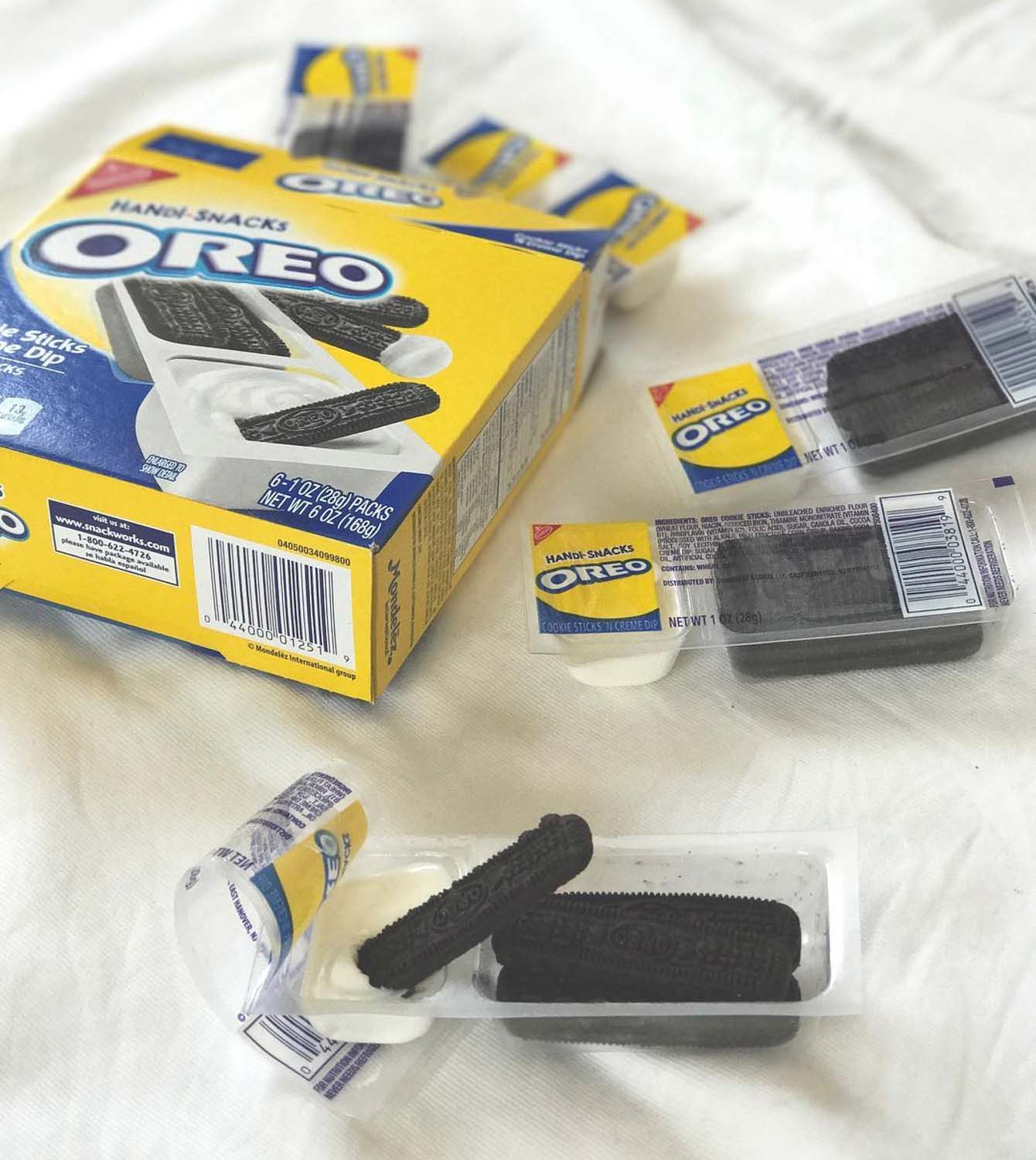 Image credit: @are_you_me.jxxp
For someone who longed to savour the black and white cookies like Yan Yan sticks, the Oreo Cookie Sticks' N Creme Dip is a childhood dream come true. Rectangular wafers replace your regular cookies, screaming for you to dip them into the sweet icing with its delicious scent of cocoa. The resulting taste—a time-tested blend of cookies and cream—may be expected, but that doesn't make the dunking experience any less satisfying. 
However, as only Shopee offers these tidbits in Singapore, it's best to snatch them up at  $12.50 before they run out of stock.
---
10. Carrot Cake Cookie
---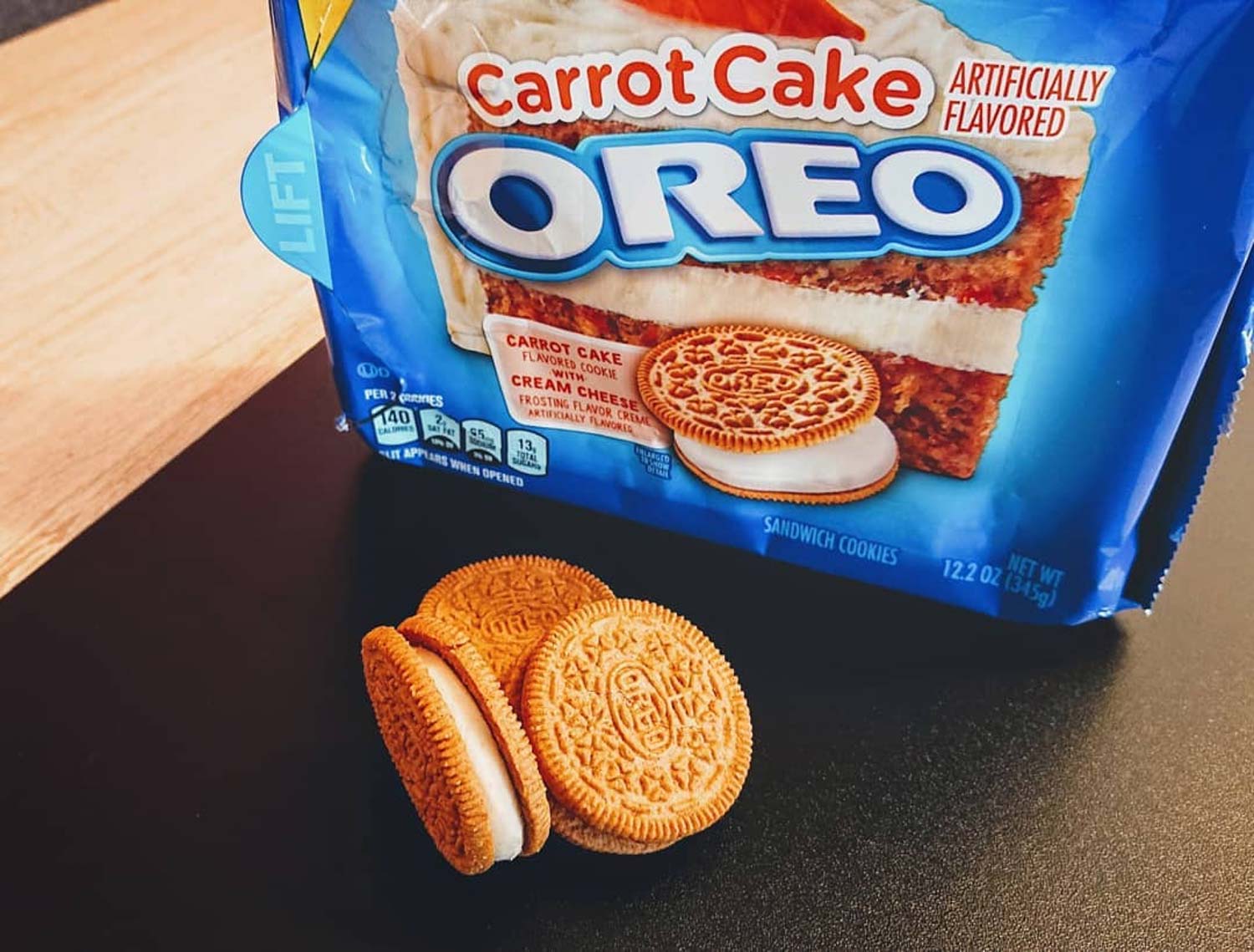 Image credit: @fiiine.b.to_be.k
Perfumed with a delicious aroma of cinnamon and nutmeg, the Carrot Cake Cookie gives a refreshing spin to the traditional chocolate and vanilla biscuits. While Oreo cookies are usually enjoyed with a glass of milk, we recommend enjoying these golden creations as is to give its cream cheese filling room to shine. They may not taste like an actual carrot cake, but they also offer a satisfying answer to your supper cravings. And with these biscuits setting you back $4.68 on Shopee, you won't have to break the bank to enjoy them.
---
Treats for your sweet tooth
---
Whether it's the Oreo Banadas or the Oreo Cookie & Cream Ice Cream Cake, you don't have to be an Oreo-holic to enjoy these mouthwatering creations. Jot them down on your list the next time you go shopping for groceries and let us know if we have missed out on any of your favourite snacks. 
For more Oreo-y goodness, check out these 10 Oreo desserts. My favourite is The Godfather Pizza's Choconana Pizza ($12.90) – a lip-smacking creation that is peppered with bananas, milk, and Oreos.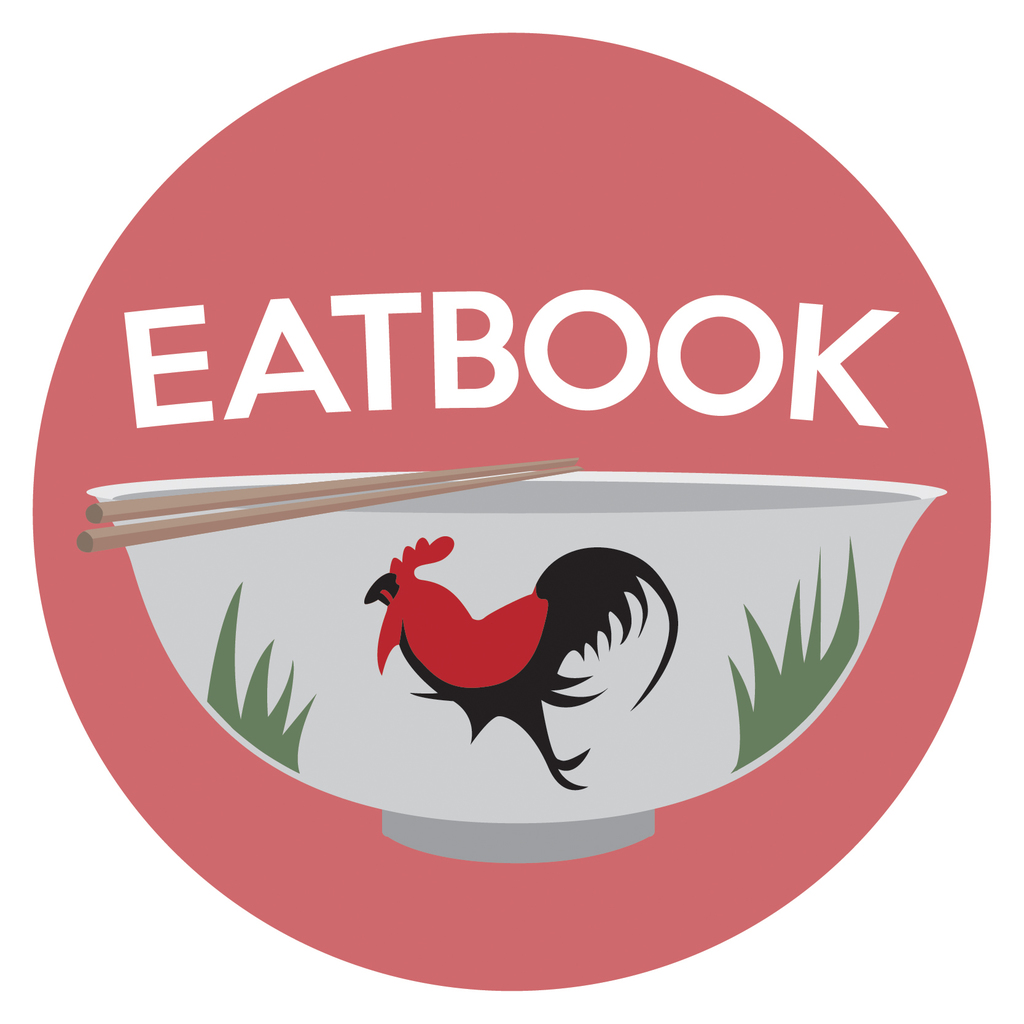 Drop us your email so you won't miss the latest news.