---
Pork belly dishes to treat yoself
---
As a meat-lover, pork belly is one of those cuts of meat that has an irresistible allure. However much my waistline balloons, the instant gratification from a good pork belly dish is always worth the added pounds to me.
In Singapore, roasted pork – better known as sio bak – and lu rou are the most popular forms of pork belly. Yet, do a little digging and you'll find an assortment of belly-based delicacies that you didn't even know existed. Here are 10 delicious pork belly dishes that will fulfil your carnivorous cravings.
---
1. Lu Rou
---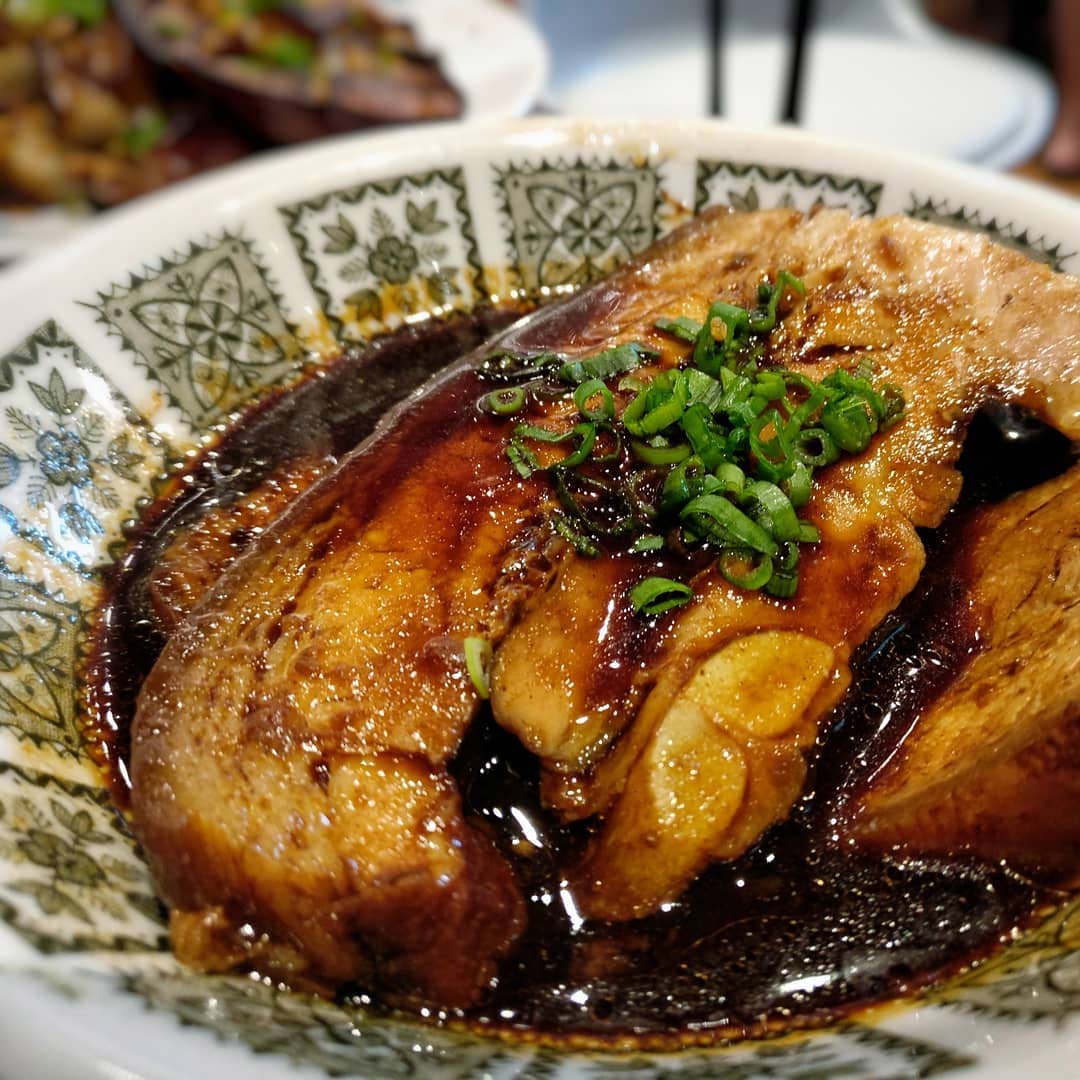 Image credit: @aaahua
The Salted Plum offers Taiwanese-style food in a tapas format at Clarke Quay. Lu Rou ($10+ for small/$15+ for large) is a Taiwanese classic and a favourite here, featuring thick strips of pork belly stewed in a soy-based gravy. Glistening with gelatinous layers of fat and fork-tender meat, this comforting dish brings back memories of wolfing down my grandmother's stewed pork at the dinner table.
On weekdays, Lu Rou Fan ($10+) is available for lunch, great for office workers in need of some indulgence during a rough day of work.
Check out our full review of The Salted Plum!
The Salted Plum Review: Delicious Rice Bowls At $10+ By Five Ten
Address: 10 Circular Road, Singapore 049366
Opening hours: Mon-Sat 11:30pm to 2:30pm, 6pm to 9:30pm
Tel: 6260 0155
Website
Menu
---
2. Porchetta
---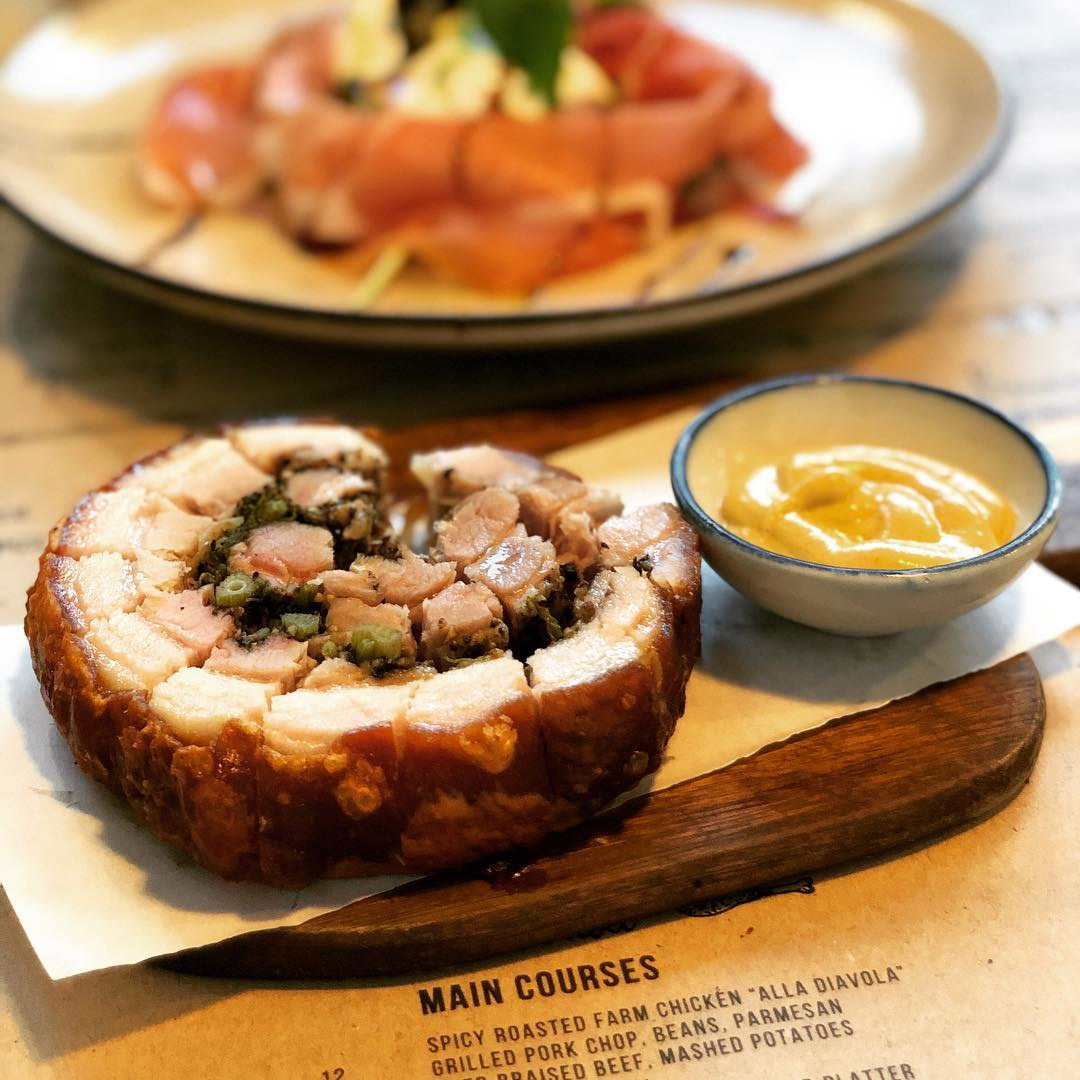 Image credit: @e.t.t.e.v.y
A luxurious Italian classic, porchetta is a roasted roll of pork consisting pork belly, liver and fennel. While the dish is less common on our shores, iO Italian Osteria, a homely Italian restaurant located in Hillview, serves up a mouthwatering Porchetta ($9++ for small, $18++ for large).
Each roll is crispy on the outside and juicy within, with the earthy fennel acting as a point of contrast. Enjoy it with a dose of sharp mustard to cut the deluge of heavy flavours.
Address: 4 Hillview Rise, #02-01, HillV2, Singapore 667979
Opening hours: Mon-Fri 11:30am to 10pm, Sat-Sun 10am to 10pm
Tel: 6710 7150
Website
---
3. Pork Belly Don
---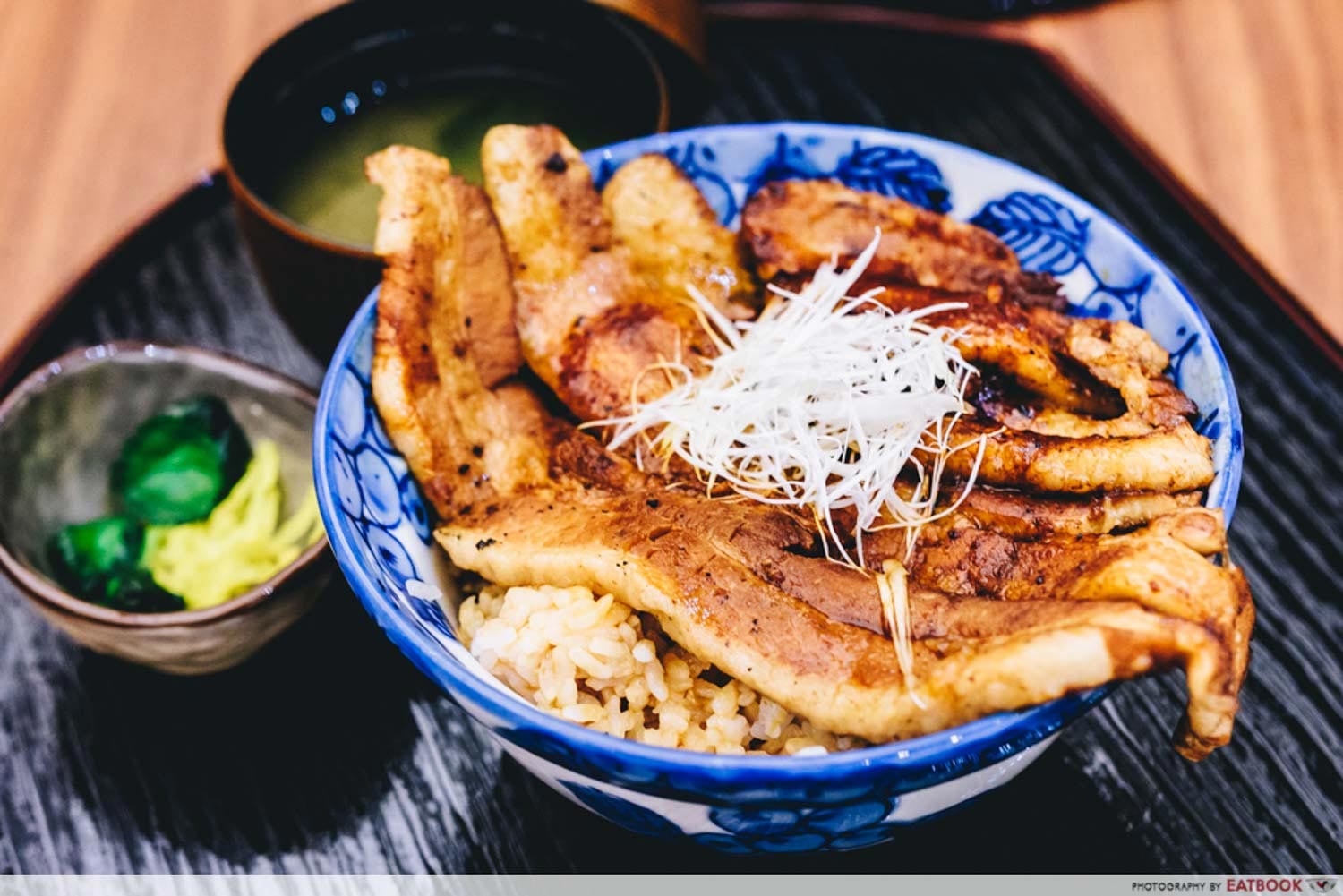 Recently opened in the heart of the CBD, Aburi-EN specialises in Japanese-style charcoal grilled meats. Their signature Buta Bara Don ($16++) showcases lengthy strips of grilled chestnut pork belly lying on a bed of Yamagata rice. Charcoal grilling lends smokiness to the generous portion of meat, while making it superbly tender.
The rendered fat from the pork belly seeps into the grains and acts like a de facto seasoning for the rice, providing moisture and imbuing it with a buttery flavour.
Check out our full review of Aburi-EN!
Aburi-EN Review: Blow-torched and Chargrilled Japanese Rice Bowls In The CBD
Address: 7 Wallich Street, #B2-09, Tanjong Pagar Centre, Singapore 078889
Opening hours: Daily 11am to 10pm
Tel: 6214 3570
Website | Full list of outlets
---
4. Pork Belly Banh Mi
---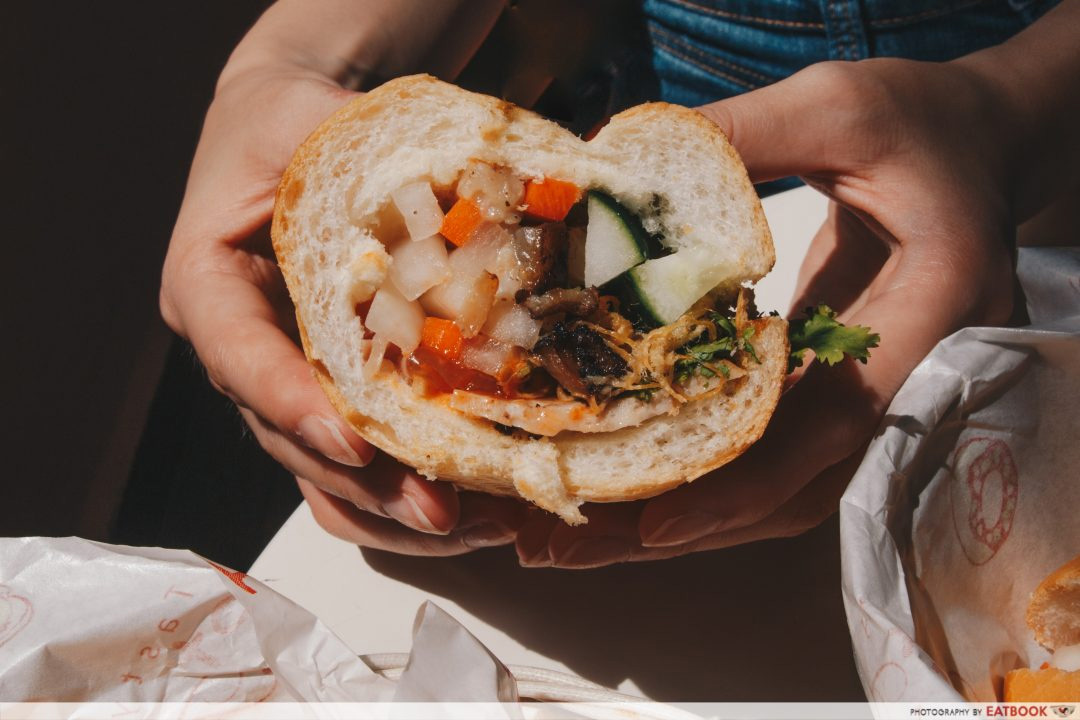 Banh mi is a Vietnamese sandwich roll traditionally served with a mixture of pork pȃtés and ham, together with a medley of fresh and pickled vegetables. Bami Express ups the ante by sticking crispy pork belly in their Bami Saigon ($5).
One of the common gripes people have with pork belly is that it's too fatty and jelak to consume in large portions. While the carnivore in me begs to differ, putting it in a banh mi circumvents the issue altogether, with vegetables providing a fresh and sour punch that offsets the fatty pork belly.
Check out our full review of Bami Saigon!
Bami Express Review: Cosy Hidden Gem Selling Vietnamese Banh Mi At $5 And Below
Address: 1 Tanjong Pagar Plaza, #02-53, Singapore 082001
Opening hours: Mon-Fri 11:30am to 4:30pm
Tel: 6443 3079
---
5. Roasted Pork
---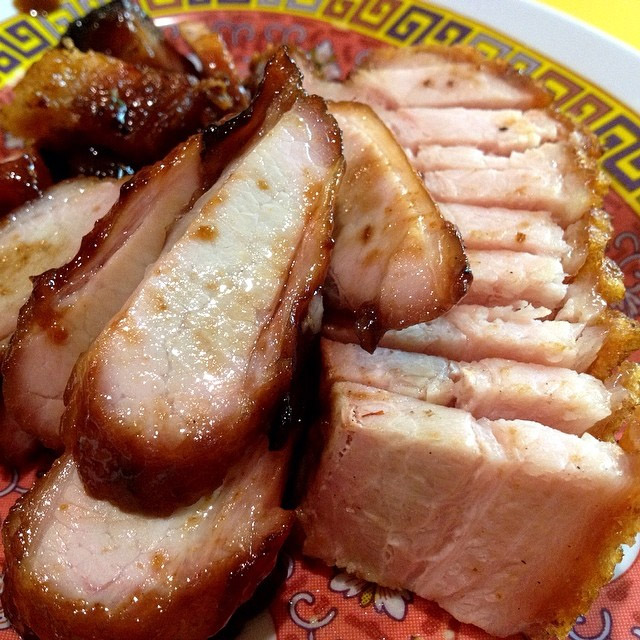 Image credit: @karenngml
Roasted pork, or sio bak, is the quintessential Asian contribution to the realm of crackly pork belly dishes. Fatty Cheong is an institution of roasted meat, famed for their addictive char siu and sio bak ($3.50 for a portion with rice). Armed with ultra-crunchy skin and meat that isn't too salty, this pork belly dish is even better lathered with a layer of their sweet and savoury gravy.
Address: 6 Jalan Bukit Merah, #01-144, ABC Brickworks Market and Food Centre, Singapore 150006
Opening hours: Mon-Wed 11am to 8:30pm, Fri-Sun 11am to 8:30pm
Tel: 9882 4849
---
6. Pork Belly Tacos
---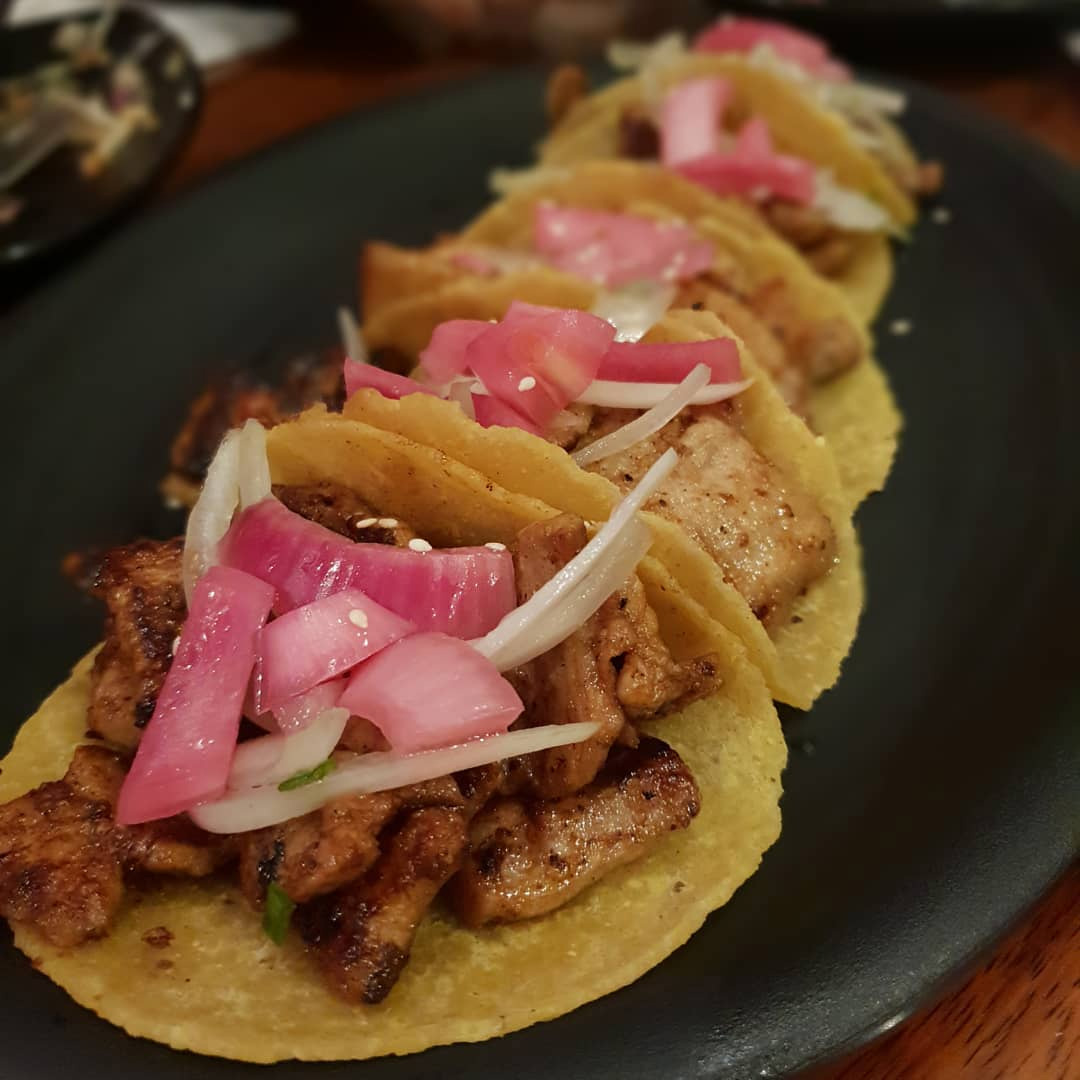 Image credit: @anixienix
In Mexico, pork is a common taco filling, either in the form of spit-roasted carne asada or slowly braised pulled pork shoulder known as carnitas. Vatos Urban Tacos flips the script by whipping up a fusion Korean Pork Belly Taco ($11++ for two, $15++ for three) that's headlined by gochujang-marinated pork belly in a soft house-made tortilla. Sweet, spicy and unctuous, the slices of pork are well-balanced by sharp and slightly sour strips of onion slaw.
Check out our full review of Vatos Urban Tacos!
Vatos Urban Tacos Review: Hipster Korean-Mexican Food Worth Your Money
Address: 36 Beach Road, South Beach Quarter, Singapore 189766
Opening hours: Sun-Thur 12pm to 11pm, Fri-Sat 12pm to 12am
Tel: 6385 6010
Website
---
7. Rafute
---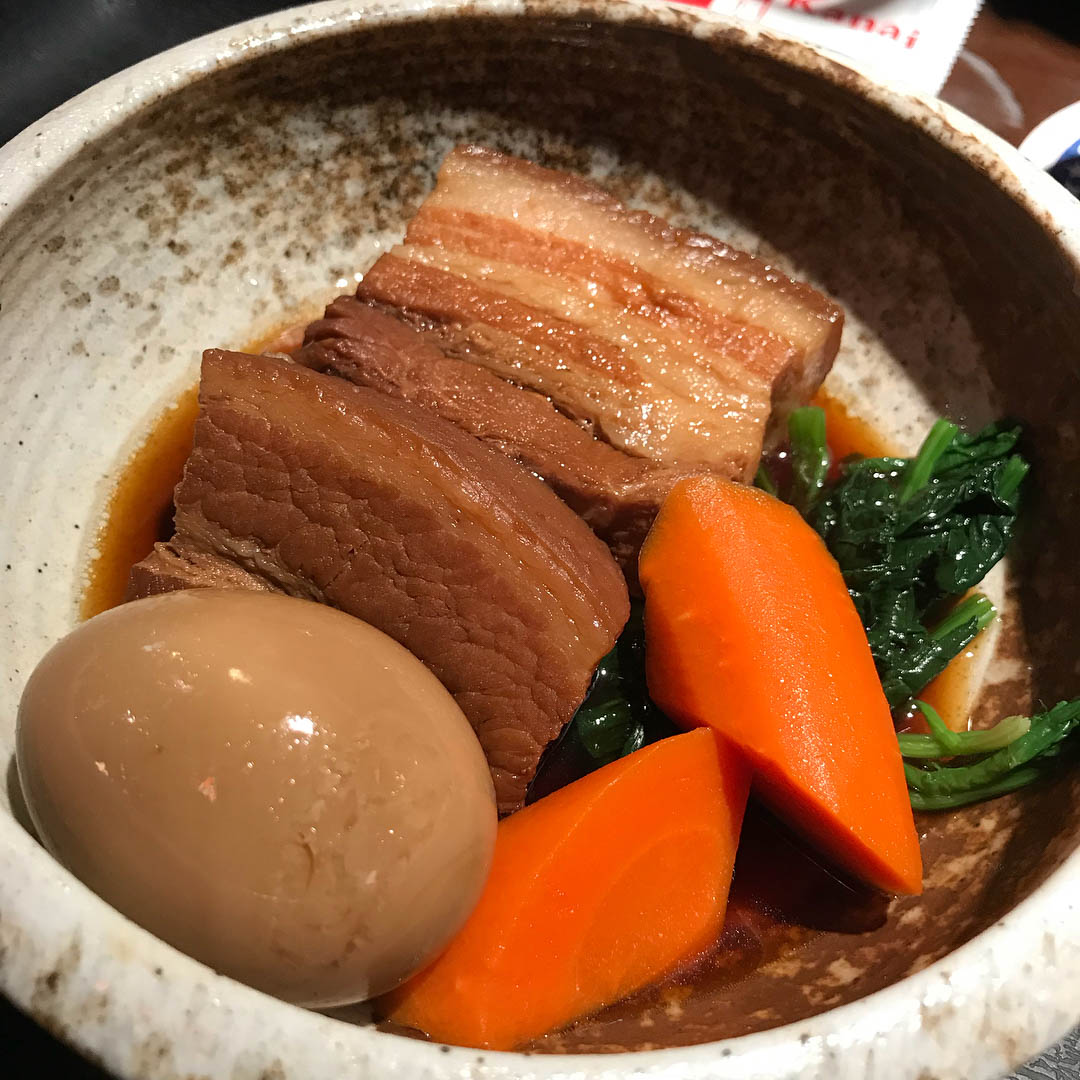 Image credit: @whoismindy
A close relative of lu rou, rafute is an Okinawan-style Simmered Pork Belly ($9.80++ for two pieces, $14.80++ for four pieces). It is a signature item at Okinawan Diner Nirai-Kanai. The stewed slabs of pork belly fall apart at the prod of a chopstick, which is an impressive feat considering how thick each piece is. The gravy is soy-based as well, but lighter and sweeter. Together with the accompanying vegetables, this dish is a less sinful alternative to their Taiwanese counterpart.
Address: 177 River Valley Road, #B1-01, Liang Court, Singapore 179030
Opening hours: Mon-Fri 11:30am to 3pm, 6pm to 11pm, Sat-Sun 11:30am to 3:30pm, 5:30pm to 11pm
Tel: 6339 4811
Website
---
8. Korean Barbecue
---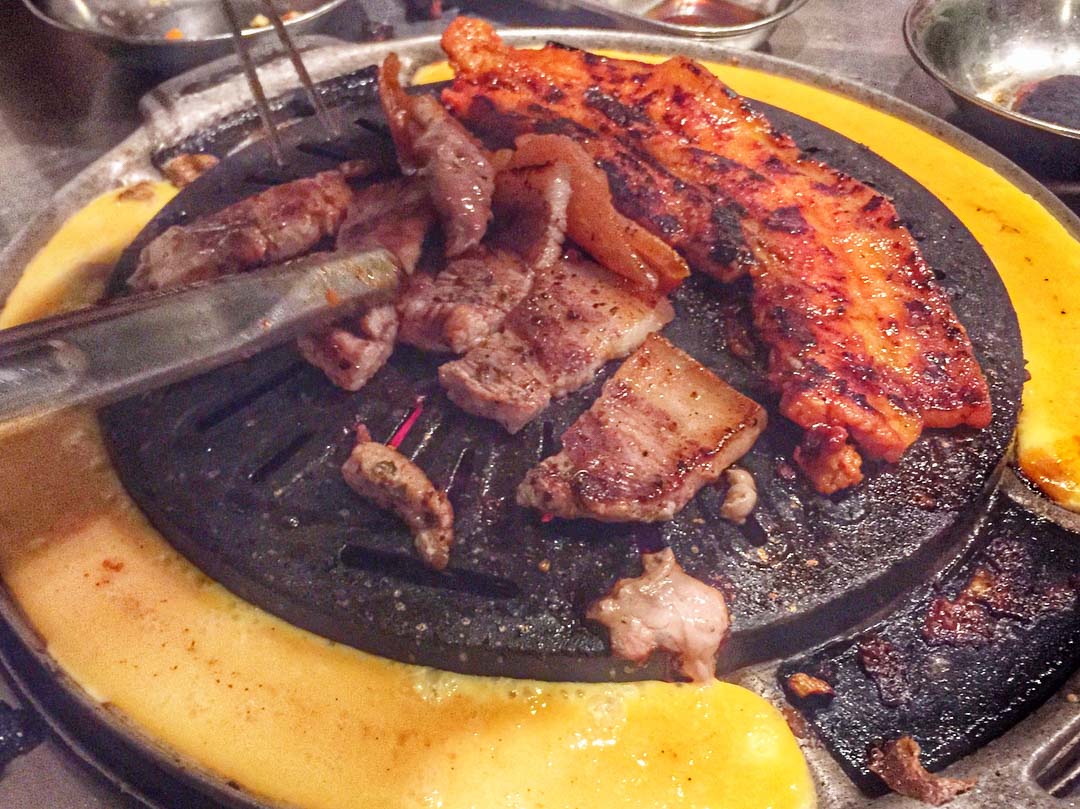 Image credit: @kenixho

Pork belly is one of the most popular Korean barbecue orders. A scorching grill sears the pork's surface, locking in its juices. Meanwhile, its fat gets rendered, flavouring the whole grill.
Don Dae Bak's charcoal grills take it up a notch, diffusing an added layer of smoky flavour into the meat. The pork belly is $20+ for a la carte, so it's much better value for money to order it as part of their buffet. This all-you-can-eat feast costs $25.90+ on weekday and $27.90+ on weekends.
Address: 35 Kreta Ayer Road, Singapore 089000
Opening hours: Daily 11:30am to 3pm, 5:30pm to 12am
Tel: 6226 1727
Website
---
9. Pork Belly Ramen
---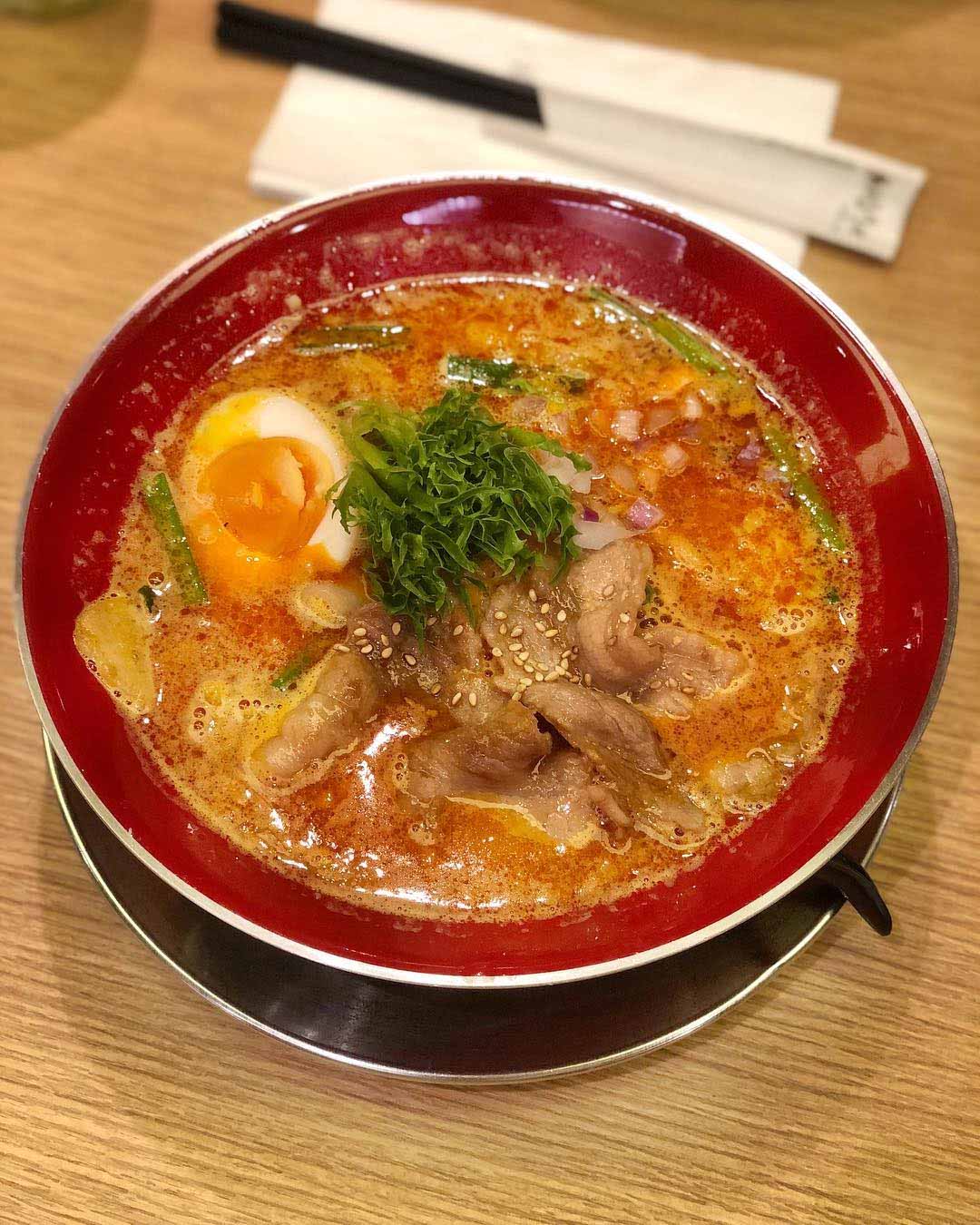 Image credit: @toastytamagotarts
Pork belly slices are not a familiar ingredient in ramen, but Sanpoutei Ramen offers it in their Rich Tori x Nikumori Miso Ramen ($16++) and Nikumori Spicy Rich Miso Ramen ($17++). Both have a rich chicken-based stock that is simmered for 8 hours before being blended with a secret miso mixture.
The bowl is garnished with buttery pork belly strips, which are best enjoyed coated with the flavoursome soup. When you really want to reward yourself, fork out an additional $2++ for three more pork belly slices!
Address: 350 Orchard Road, #B1-04/05, Shaw House, Singapore 238868
Opening hours: Daily 11:30am to 11pm
Tel: 6836 4644
Website | Full list of outlets
---
Experience pork belly in a new way
---
When done right, with juicy meat and melt-in-the-mouth layers of glossy fat, there's no other meat I'd rather have than pork belly. While it's always nice to treat yourself to an opulent meal, hit the gym in the aftermath or be prepared to spend on a new pair of pants!
If you're still craving for a meat fix, check out our list of 10 Famous Sio Bak Stalls or 10 Dry Beef Noodles Stalls.
If you've come across other creative pork belly preparations, drop a comment down below.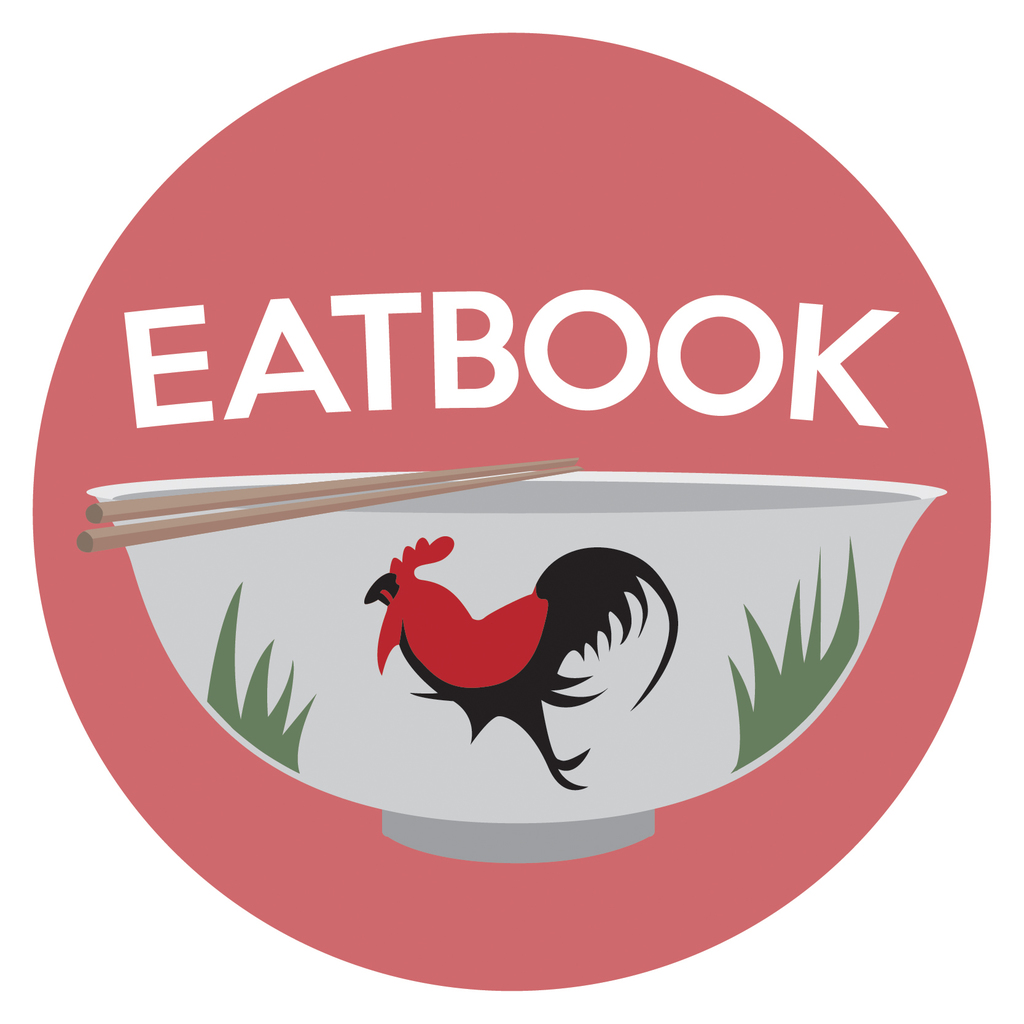 Drop us your email so you won't miss the latest news.