Shubby Sweets is here at Bedok
We're all aware that the price for indulgence doesn't come cheap. And so, my colleague and I arrived at Muslim-owned dessert corner, Shubby Sweets, with a determination to just get the most attractive sweets here. Upon seeing their display of cakes though, we couldn't help ordering more than we should have. The sugar rush that quickly followed was no joke.
Food at Shubby Sweets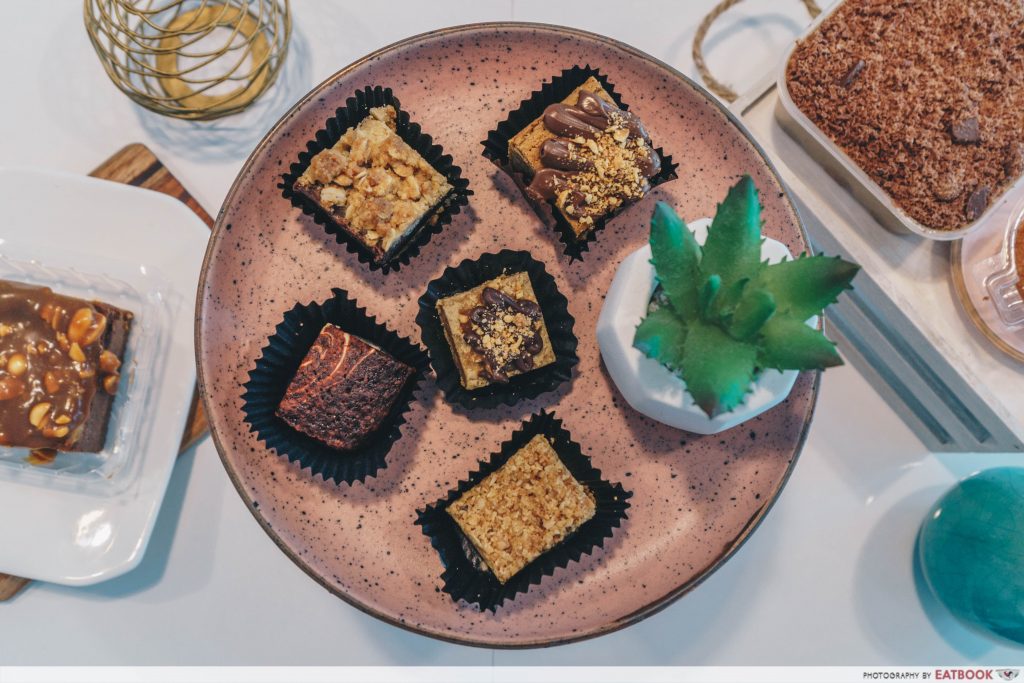 The bite-sized brownies and blondies here at Shubby Sweets aren't sold a la carte. We had to get them in a box of five at $7.50, and pick five flavours out of the six available.
Wanting to be a little adventurous, I went for the Speculoos Biscoff Blondies, Magic Fudgy Brownies, Red Velvet Brownies, Nutella Blondies and Salted Caramel PB Blondies, with the exception of the Sticky Chewy Brownies.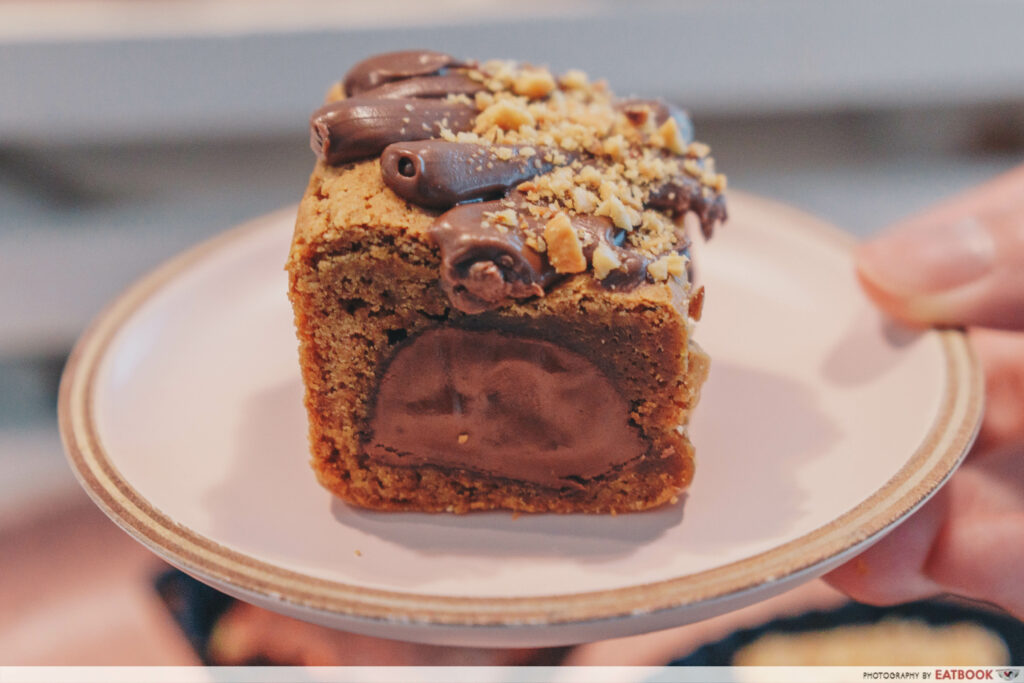 The minute I took in that oozing Nutella core, I knew I had to try the Nutella Blondie first. The top of the blondie was drizzled in Nutella, and sprinkled with crushed peanuts. As soon as my teeth sunk past the thin layer of vanilla pastry, my senses were flooded with a velvety richness.
You know how shabu-shabu restaurants provide raw eggs as a dip on the side? You consume the egg in minute amounts, so you can appreciate the buttery texture it gives your food. However, you don't down it all at once. Similarly, while the nutty hazelnut chocolate filling was pure decadence, I couldn't help but find it a little too much, a little too raw. I would've preferred if there was a more balanced cake-to-Nutella ratio.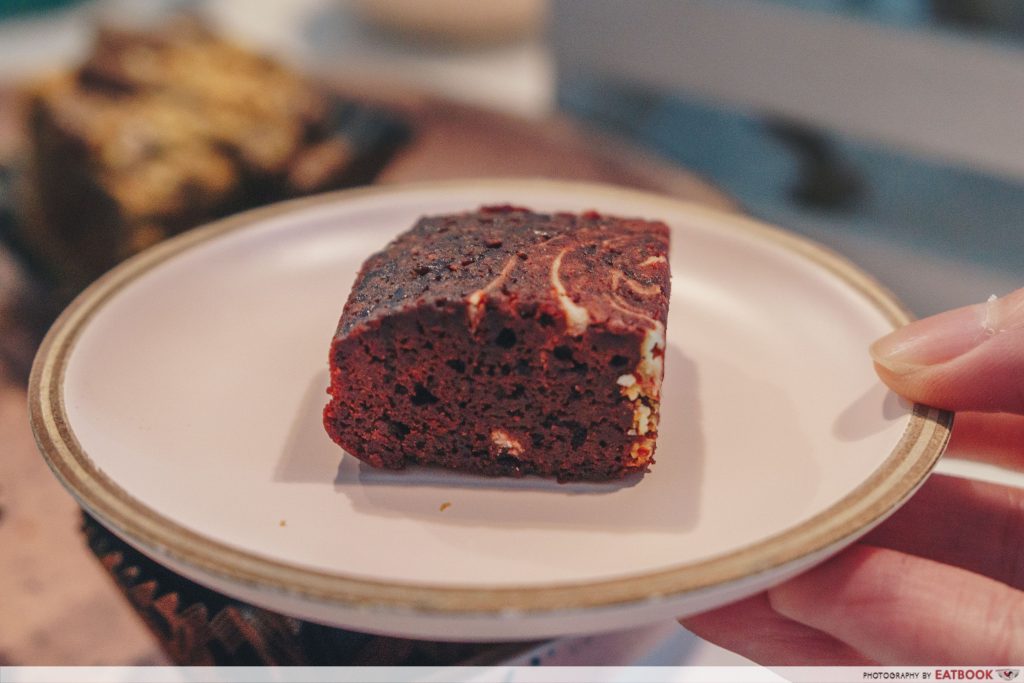 I settled on the Red Velvet Brownie next. This one was a lot more evenly flavoured, and more dense than fudgy.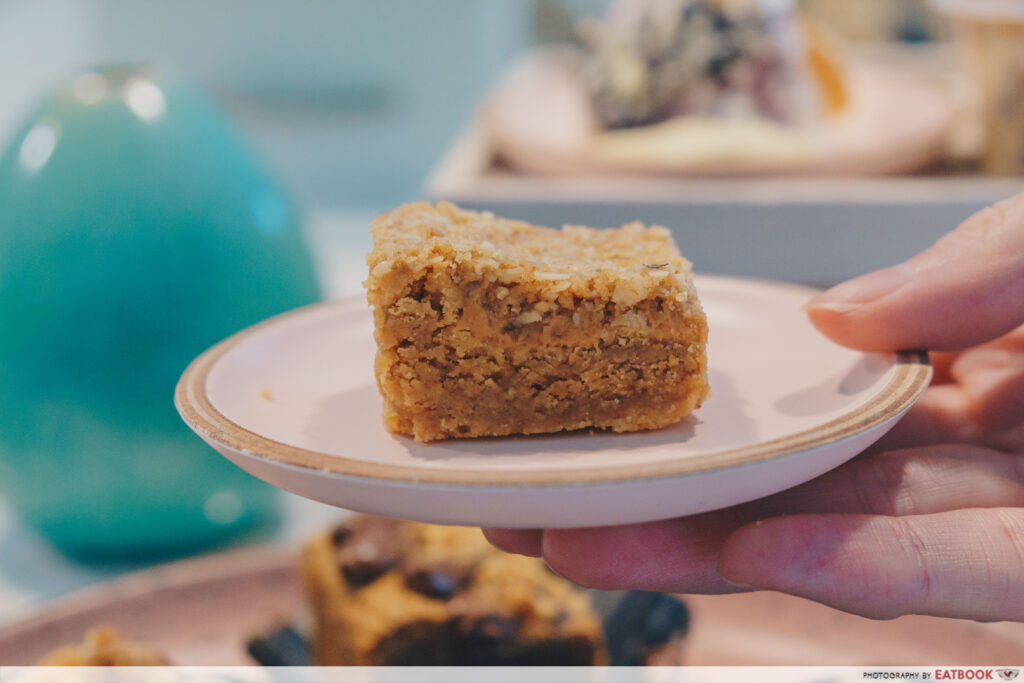 I found the Speculoos Biscoff Blondie more cookie than cake. Hard and biscuity, this crumbly little slab of saccharine sin sweetened with every bite.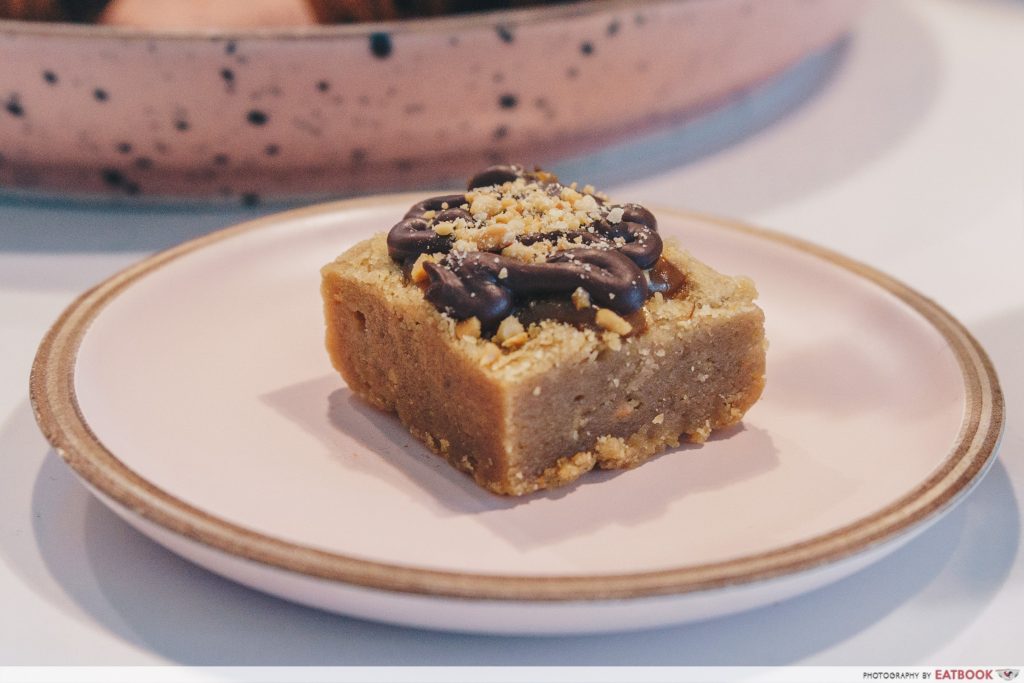 The Salted Caramel PB Blondie tasted a lot like the compressed version of the peanut filling in min jiang kueh, save for the chocolatey Nutella and salty caramelised syrup drizzled over the top.
9 Min Jiang Kueh Stalls To Check Out For Traditional And Modern Min Jiang Kueh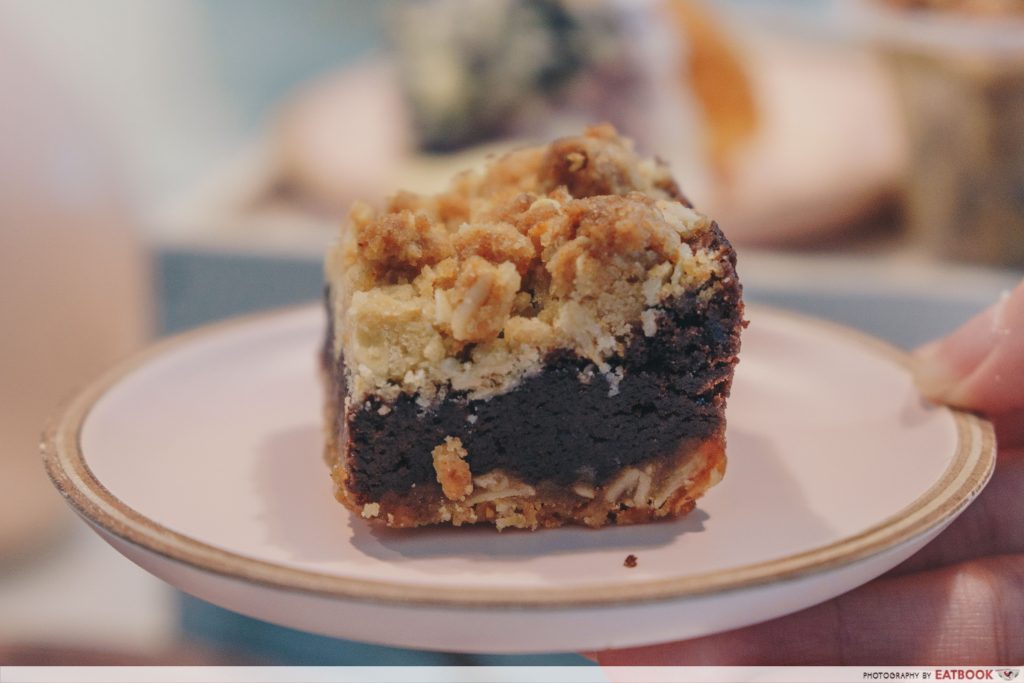 Finally, I came to the Magic Fudgy Brownie. My personal favourite, it was a classic brownie, with an added oomph. Cookie crumbles made for the top layer, contrasting nicely with the soft, moist cake within.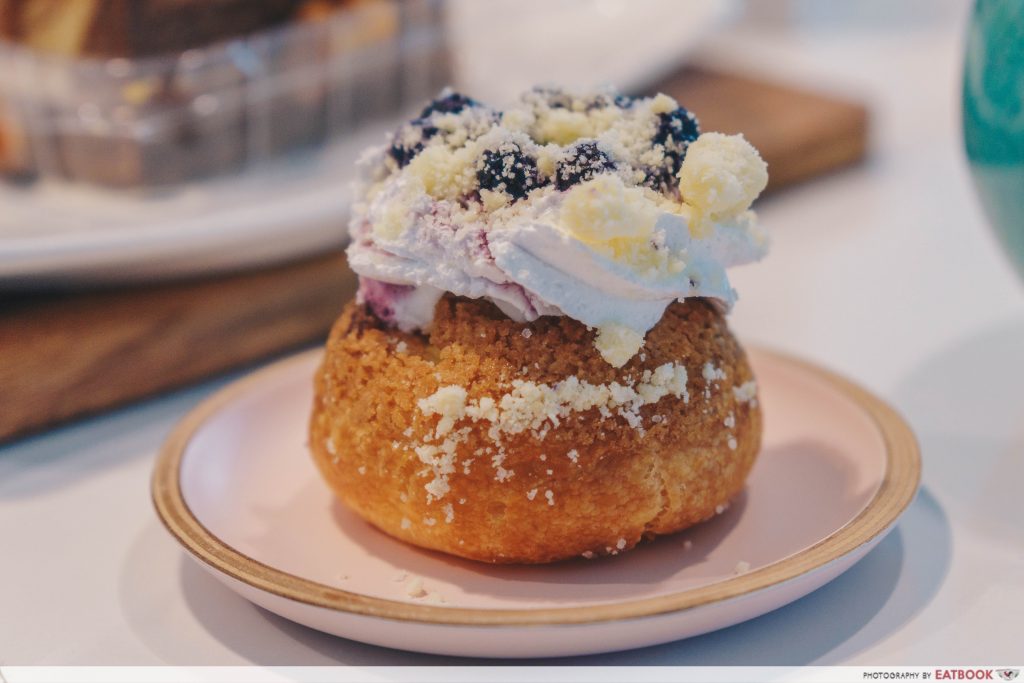 We couldn't leave without getting one of their famous choux (pronounced shoo) puffs. We got a Blueberry Cheesecake Choux ($3.50 for one, $10 for three), which we heard is popular. You're advised to consume the choux within a day, as it tends to go bad quickly.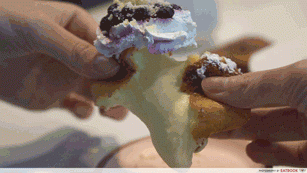 The choux was topped with a swirl of fluffy whipped cream, a dollop of blueberry compote and a sprinkle of milk crumbs. We tore the pastry open slowly to capture that #foodporn. True enough, a delightful burst of cream cheese came flowing out.
This cream puff was one of the best I'd had in ages. The creamy filling was light and milky, while the dough enveloping it was both crisp and chewy. I was so tempted to try the other flavours available, but we already exceeded our sugar quota of the day.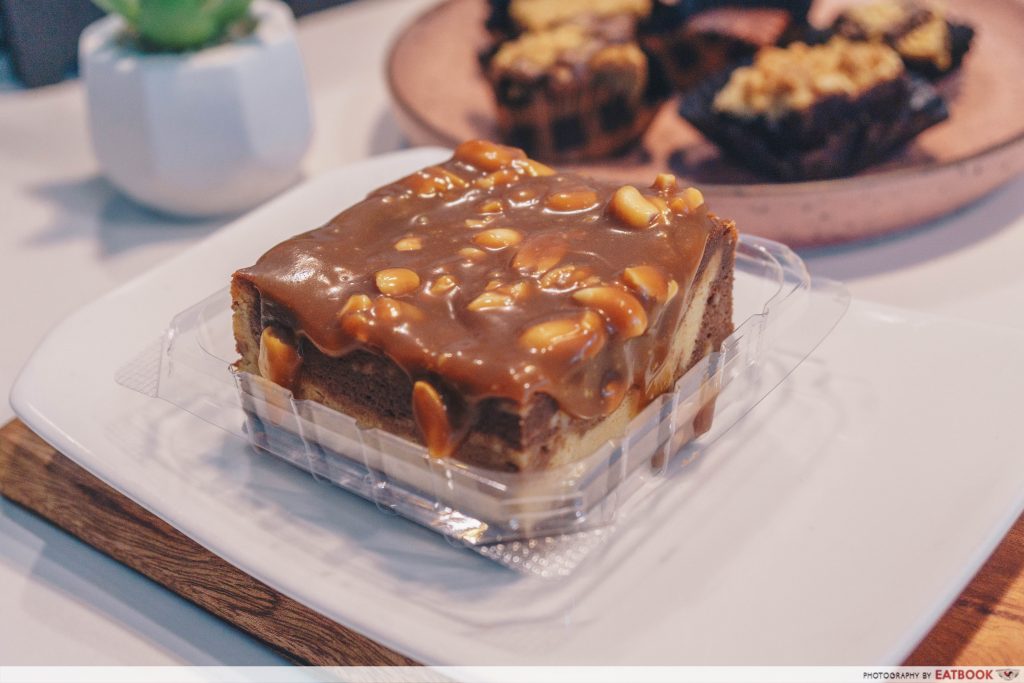 We moved on to one of the most interesting desserts Shubby Sweets had on display – Snickers Cheesecake ($7.90). The thick cheesecake was drenched in a gooey layer of salted caramel and halved peanuts, which dripped tantalisingly along the edges. We were told that this treat wasn't made with actual Snickers.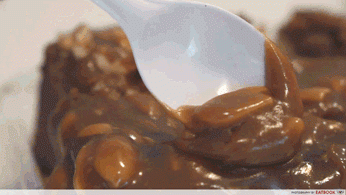 Here's a little close-up of the sticky syrup to send your stomach growling.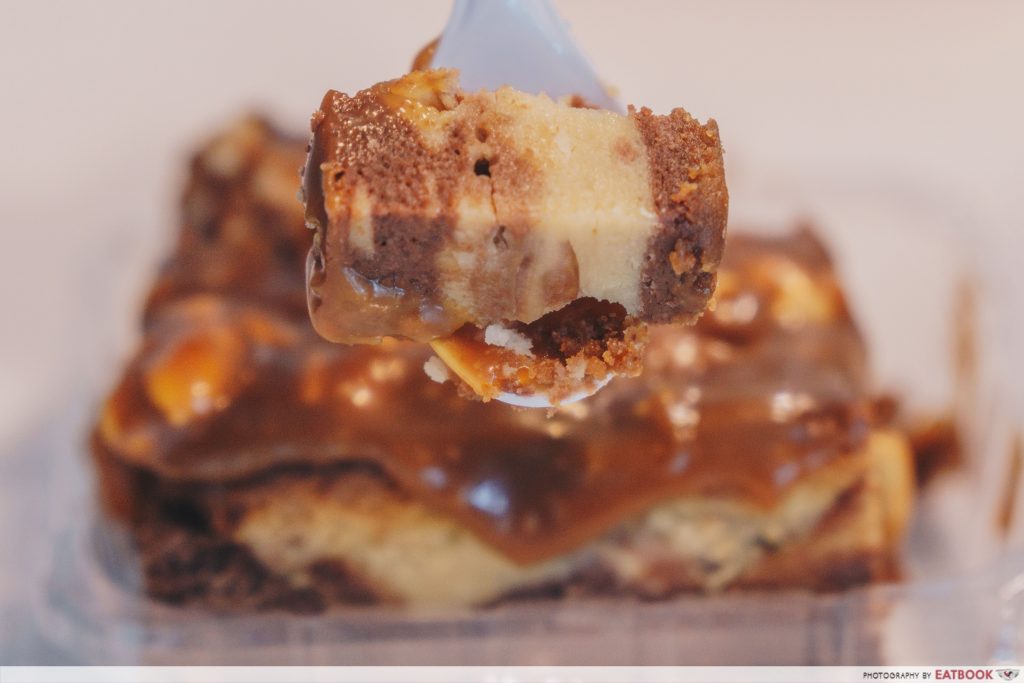 The cheesecake, which came with chocolate marbling, tasted a little too jelak for me. Just a few spoonfuls, and I was done. The caramel sauce, on the other hand, was really addictive. It was salty-sweet, with a slightly bitter aftertaste. It was the reason I kept coming back for seconds.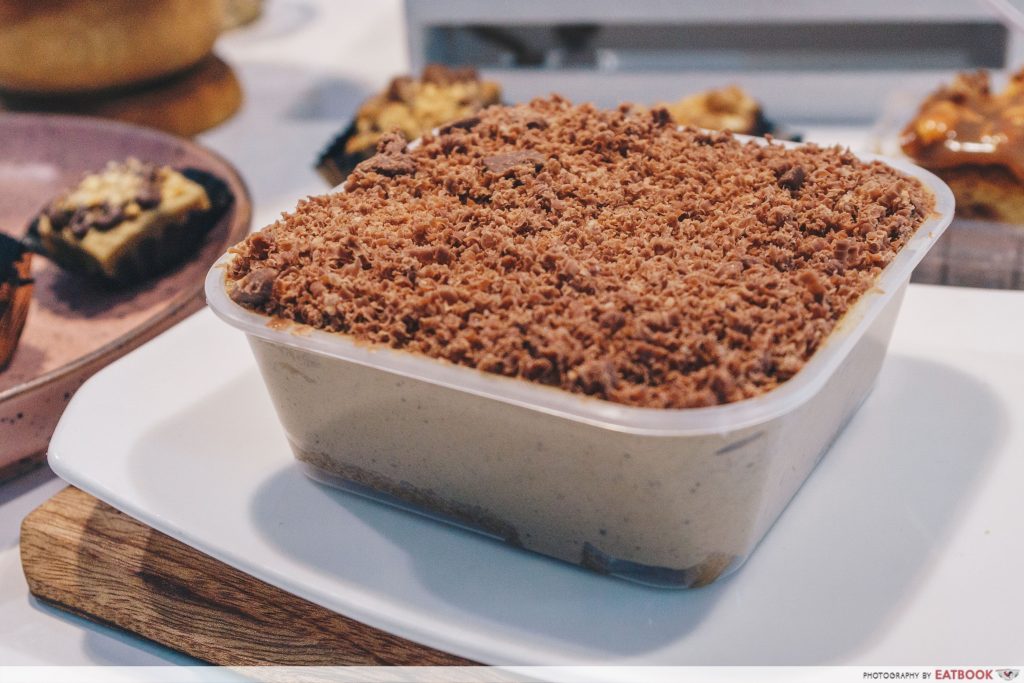 Finally, we finished off with the Earl Grey Tea-ramisu ($6.50). Now, this cake was the physical definition of moist.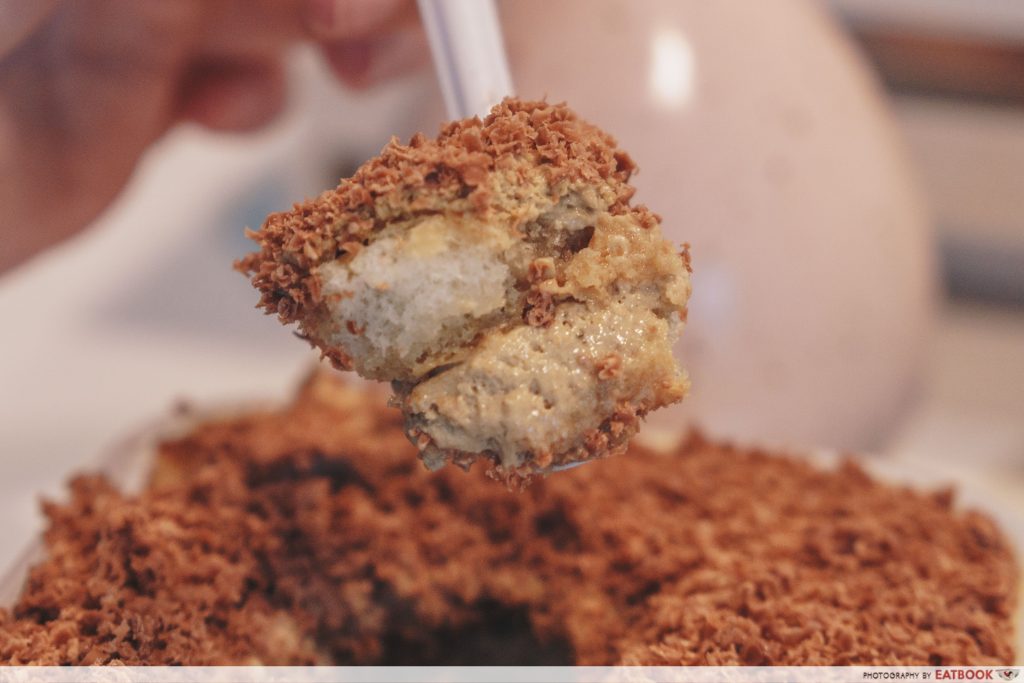 The tiramisu was covered in milk chocolate shavings, and the ladyfingers were coated in layers of Earl Grey mascarpone, giving it a creamy texture. I was pleased to find that the tiramisu wasn't sugary sweet like all the other desserts I'd had preceding it. Everything about it was pillowy and mild.
Ambience at Shubby Sweets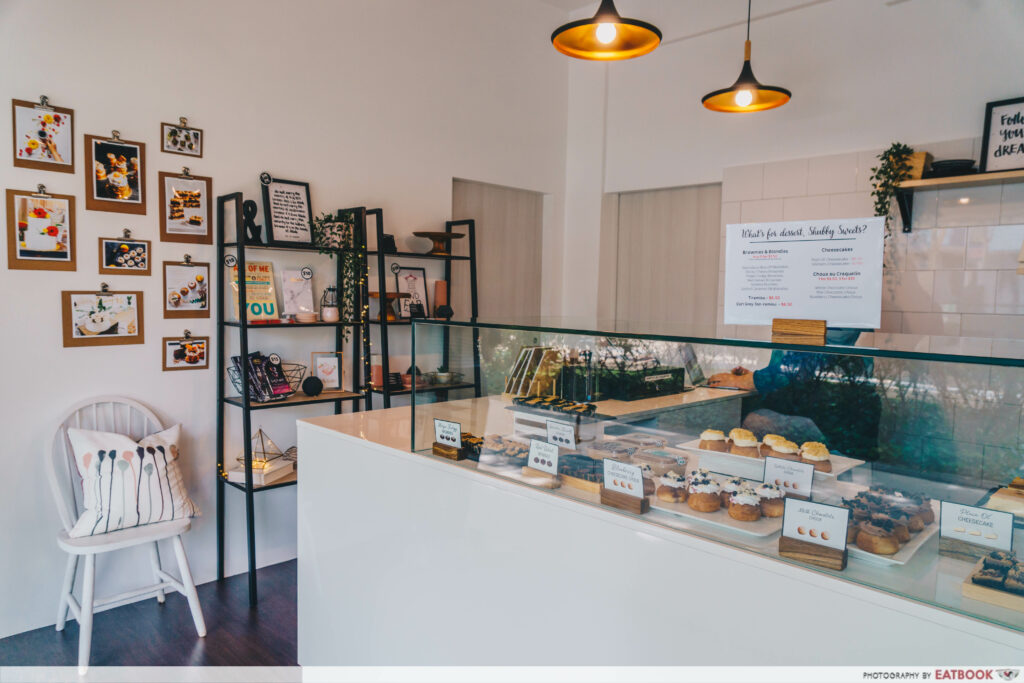 Do note that Shubby Sweets only does takeaways. No seats are available here, although your desserts will be neatly packed into boxes or plastic containers for you to enjoy elsewhere. Apart from baked goods, Shubby Sweets also sells pretty household items including picture frames and dishes.
My colleague and I were quite impressed by the minimalistic, contemporary set-up in the air-conditioned store. It stood out to us amidst all the other convenience stores dotting the sleepy neighbourhood.
The verdict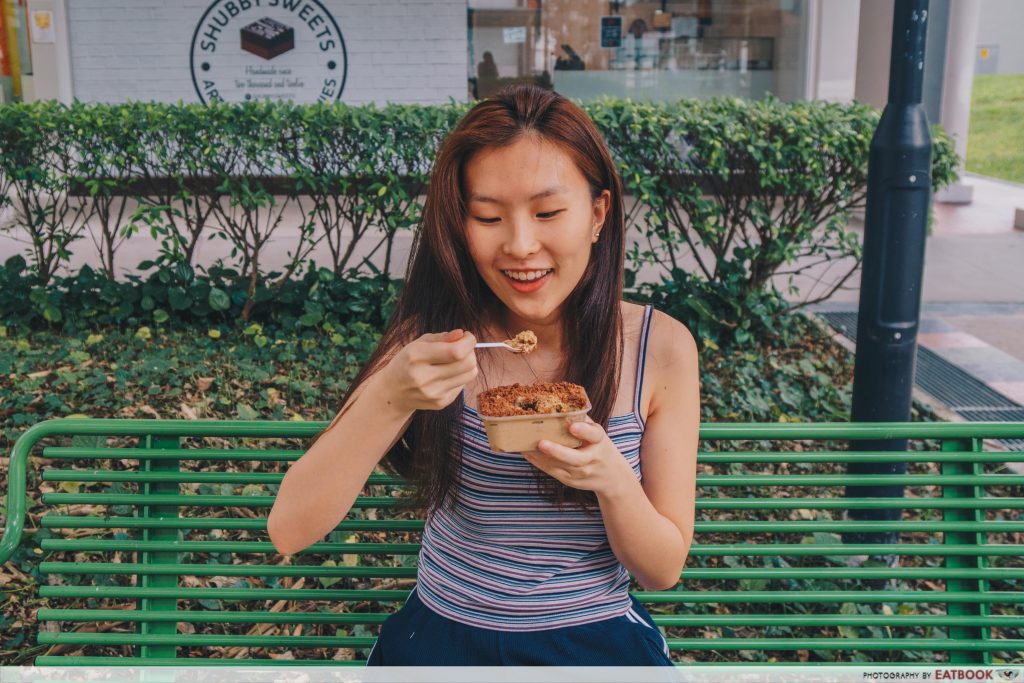 Shubby Sweets takes the cake – no pun intended. While I'll never order so many things at one go again, I'll definitely return for more. They switch things up on their menu every week, so stay tuned to their Facebook page for any announcements. If you're lucky, you might get to try other interesting treats such as their Smores Choux and Gula Melaka Cheesecake!
If Shubby Sweets is too far for you, check out our review of Oh My Mango, a Thai dessert cafe in the West, or our review of Pluseighttwo, a Korean dessert cafe opened by a K-pop star!
Pluseighttwo Review: BTOB's Eunkwang's Korean Dessert Cafe At Dhoby Ghaut
Address: 42 Chai Chee Street, #01-68, Singapore 461042
Opening hours: Wed-Fri 1:30pm to 6:30pm, Sat-Sun 12:30pm to 6:30pm
Tel: 8419 9614
Website
Shubby Sweets is a Muslim-owned dessert shop.
This is an independent review by Eatbook.sg. 
Summary
Pros
– Affordable
– Pretty and tasty
– Unique flavours
Cons
– Can be jelak
– No seats available
Recommended dishes: Earl Grey Tea-ramisu ($6.50), Magic Fudgy Brownies (five for $7.50), Blueberry Cheesecake Choux (1 for $3.50, 3 for $10)
Opening hours: Wed-Fri 1:30pm to 6:30pm, Sat-Sun 12:30pm to 6:30pm
Address: 42 Chai Chee Street, #01-68, Singapore 461042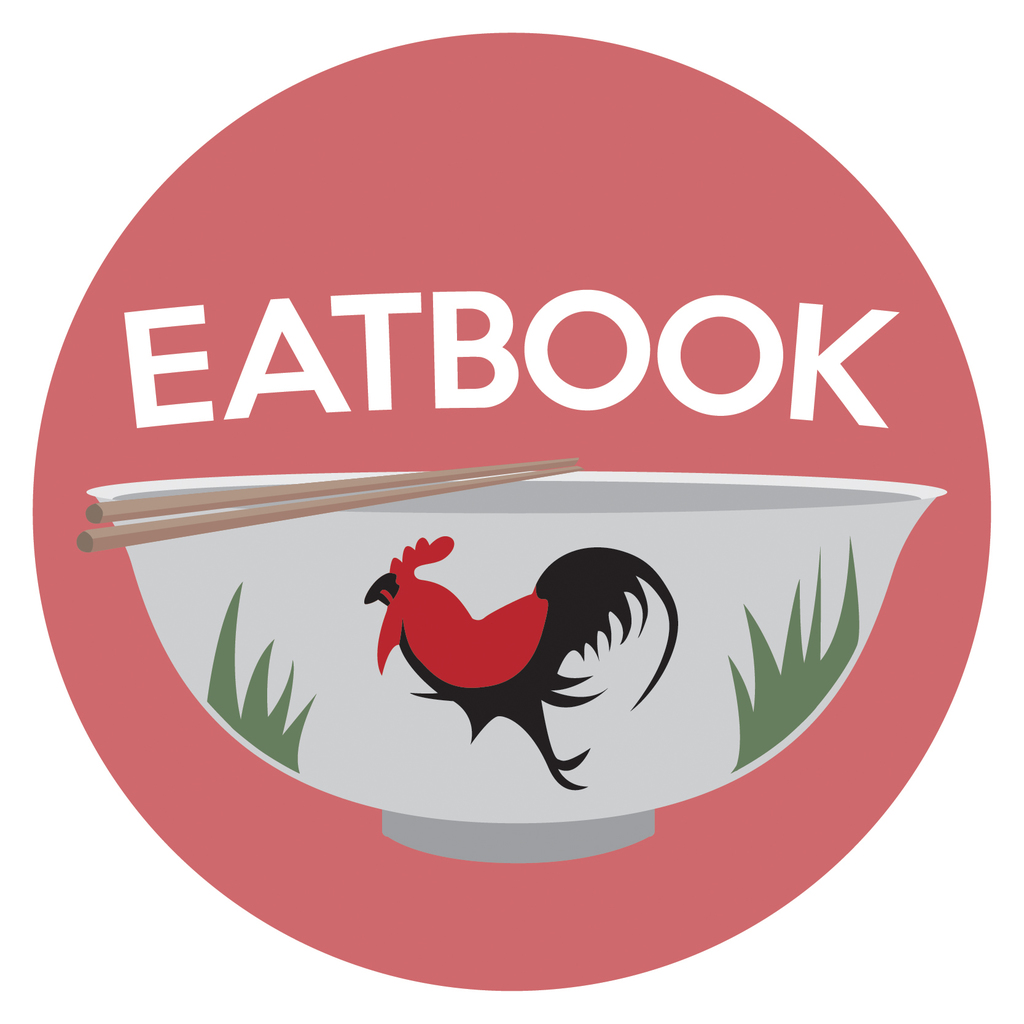 Drop us your email so you won't miss the latest news.