Tasty Soup Yong Tau Fu makes their own fish paste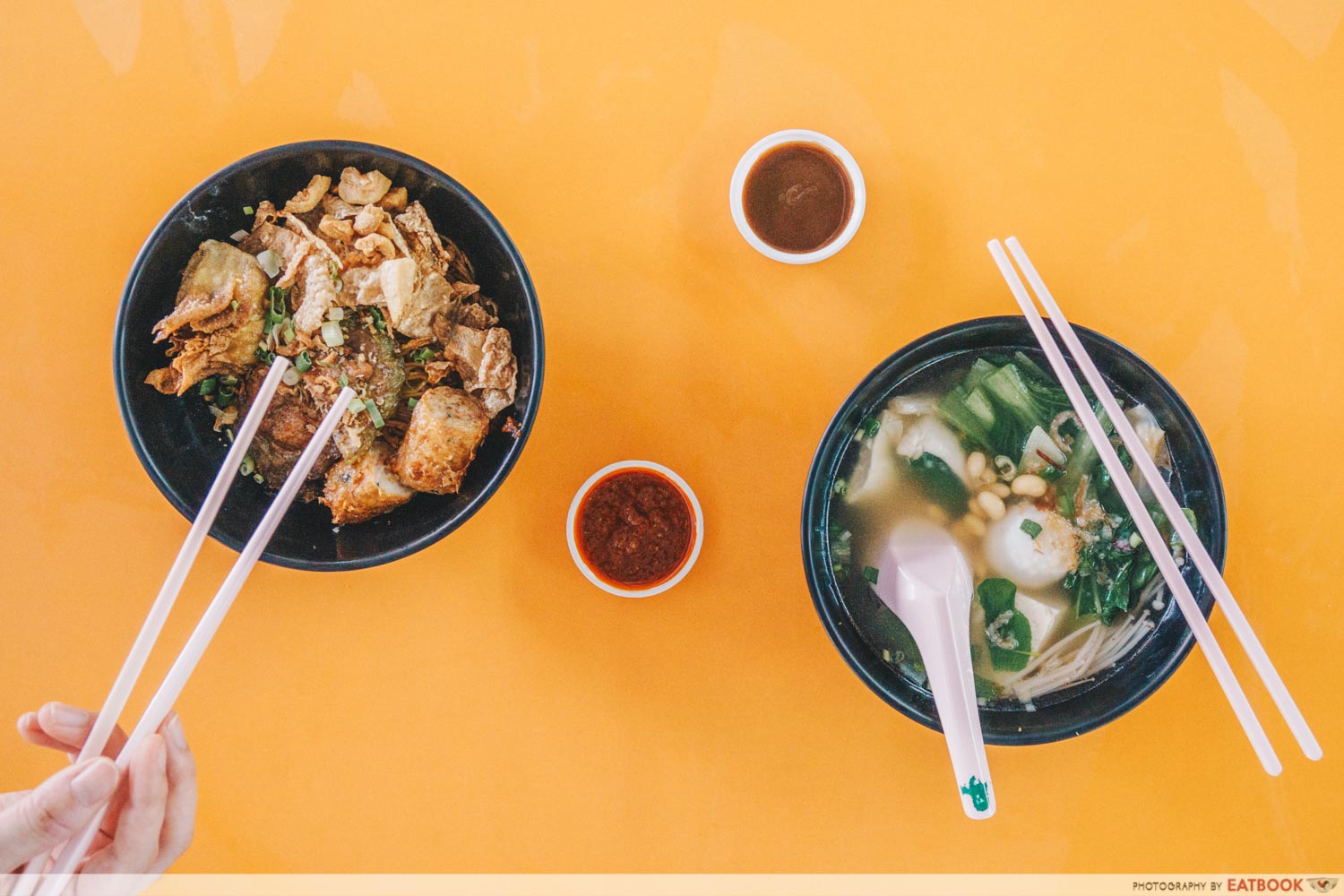 Situated in the heartlands, Bukit Merah View Market remains a hotspot especially among the older generation, perhaps due to its longstanding presence. Tasty Soup Yong Tau Fu joins the fray, a second-generation hawker whose dedication to serving tasty yong tau foo is evident in his handmade fish paste and sambal chilli. 
10 Bukit Merah View Market Food Stalls For Famous Curry, Lor Mee And Carrot Cake
Yong tau foo is simple, comforting food. With its clear broth and fish paste-stuffed components, this heartwarming dish never fails to make me feel better. 
7 Yong Tau Foo In Singapore Including Ampang, Soup And A Bak Chor Mee Version
Second-generation hawker Mr Peh has been running Tasty Soup Yong Tau Fu for six years. His lifelong interest in the culinary field spurred him to learn how to make homemade yong tau foo and sambal chilli from his mother-in-law before opening his stall in 2015, armed with her very own recipe. Tasty Soup Yong Tau Fu is Mr Peh's dedication to the art of home-style yong tau foo, from making his own fish paste, and offering quality ingredients.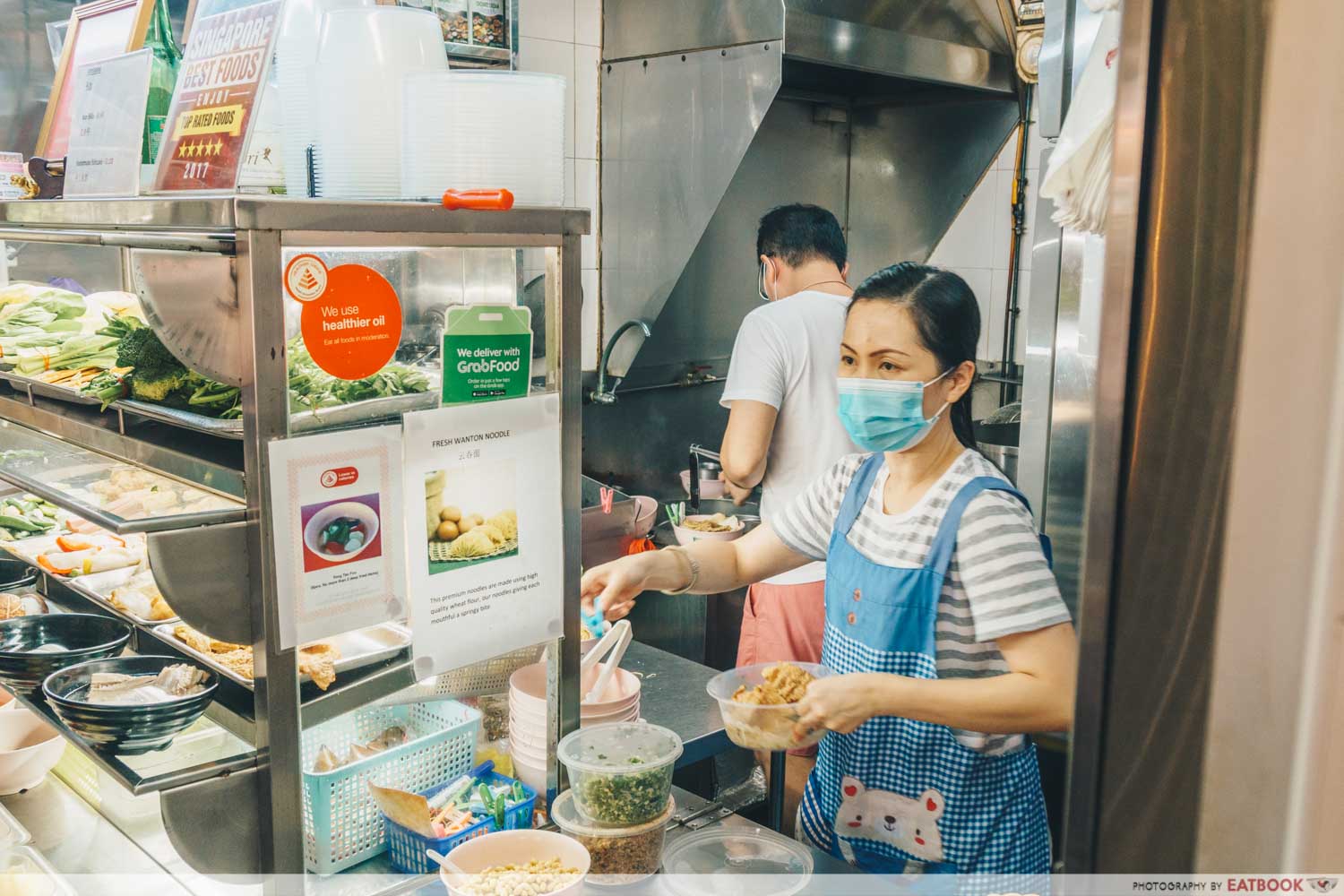 A typical day for him commences at 4:30am, where Mr Peh and his wife dive straight into their daily grind. This includes getting the soup boiling for the day, blending the fish paste and preparing more than 30 different yong tau foo ingredients. 
Food at Tasty Soup Yong Tau Fu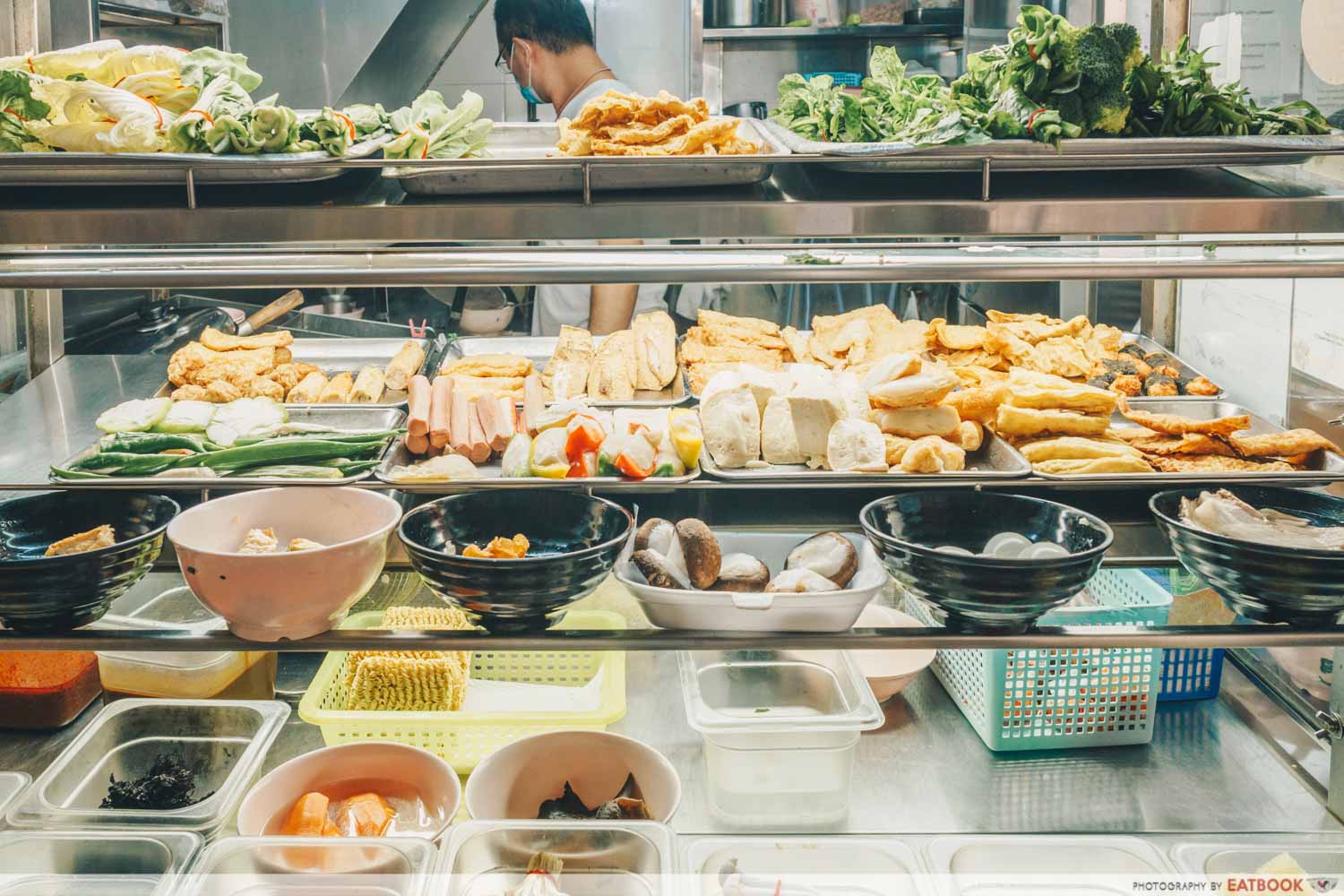 When I approached the store, I was first greeted with the display shelves that teemed with an assortment of ingredients. As with all yong tau foo, you can take your pick of whatever's on the display. With the spread available, I was tempted to add everything to my bowl but I finally settled on 10 pieces and a bowl of noodles ($6.60). When it was served, my first impression was the fragrance of the steaming broth, which I inhaled deeply.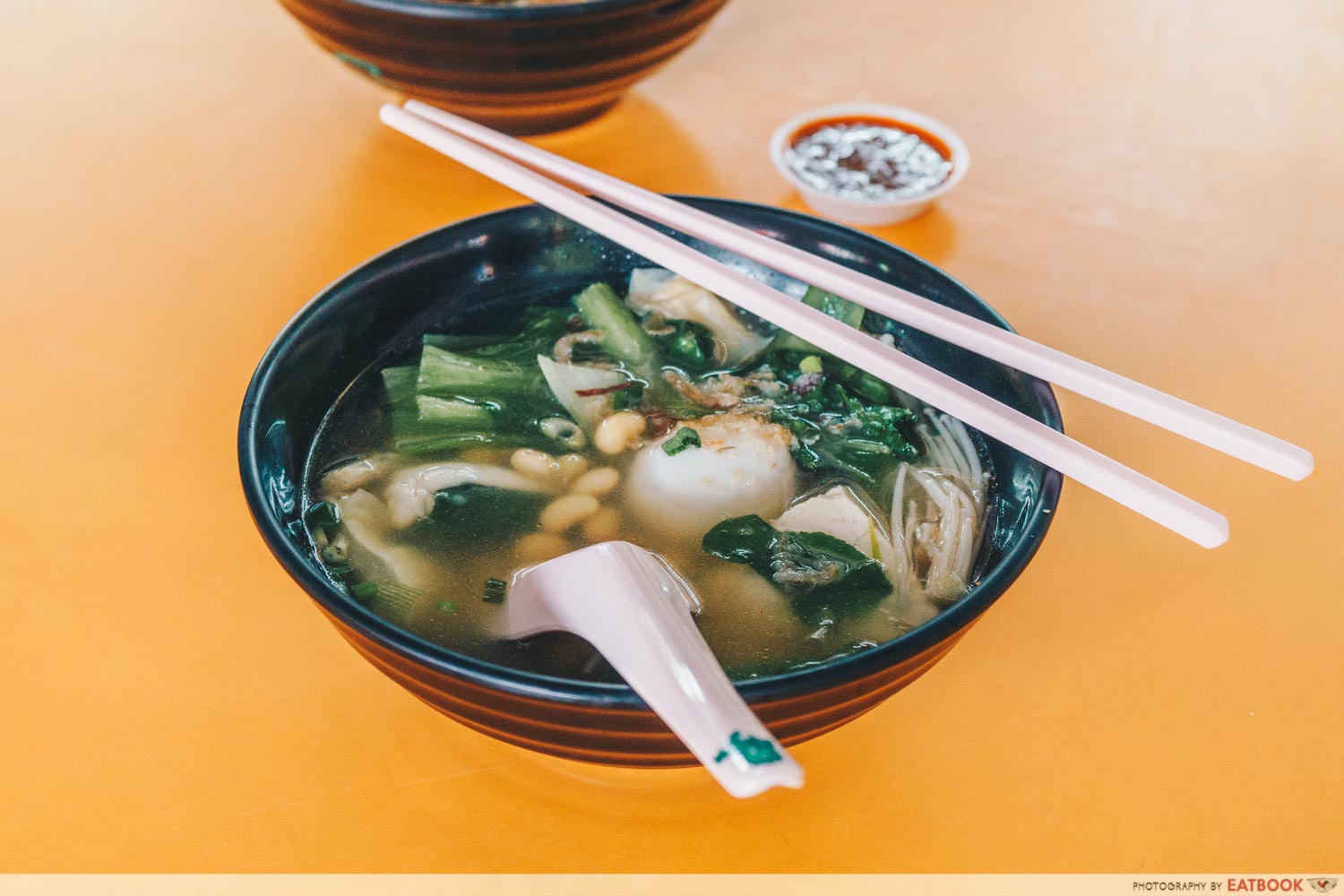 Garnished with spring onions and fried shallots, the clear broth had a light, savoury taste with a tinge of sweetness. They managed to attain a subtle depth of flavour in the soup, yet maintained a clean aftertaste. I couldn't help but think about how satisfying this would be on a cold, drizzly day.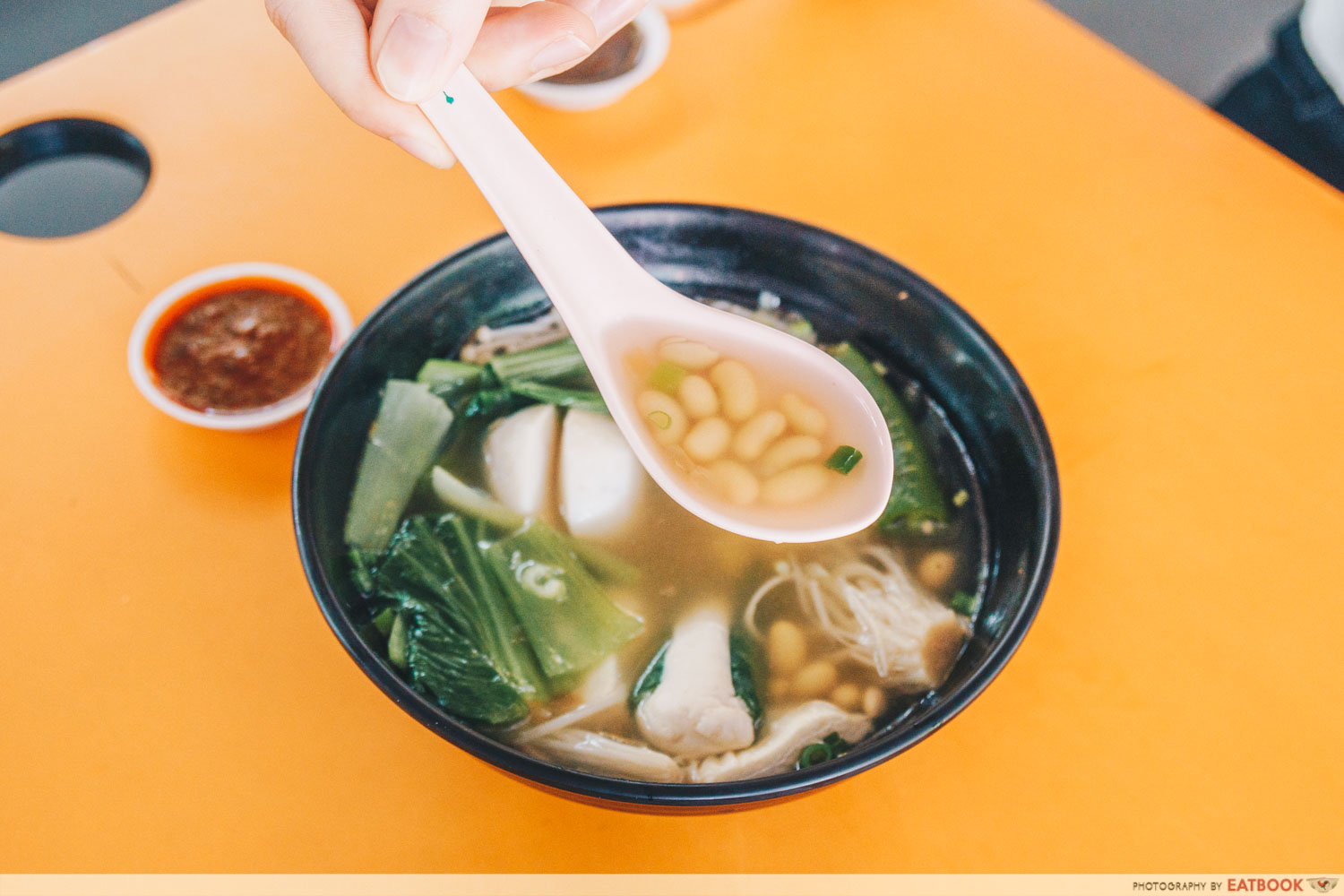 Mr Peh explained that the base was made predominantly with soy beans and pork bones that are simmered for two and a half hours. It's not the tastiest yong tau foo broth I've had, but it was still satisfying.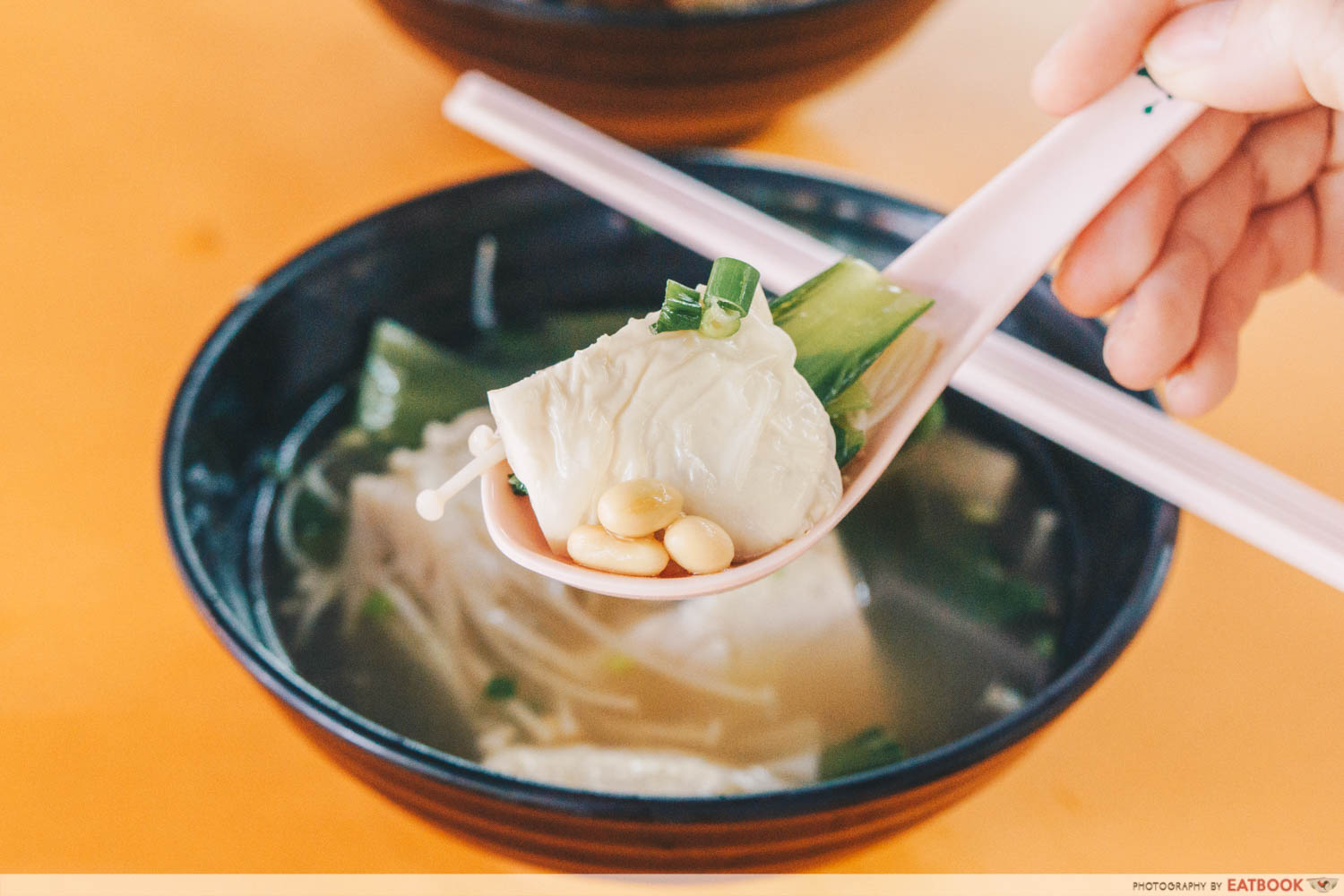 I had chosen a couple of typical blanched ingredients such as fishcake, fishball, stuffed tofu, stuffed tau kee, vegetables and enoki mushroom in my soup.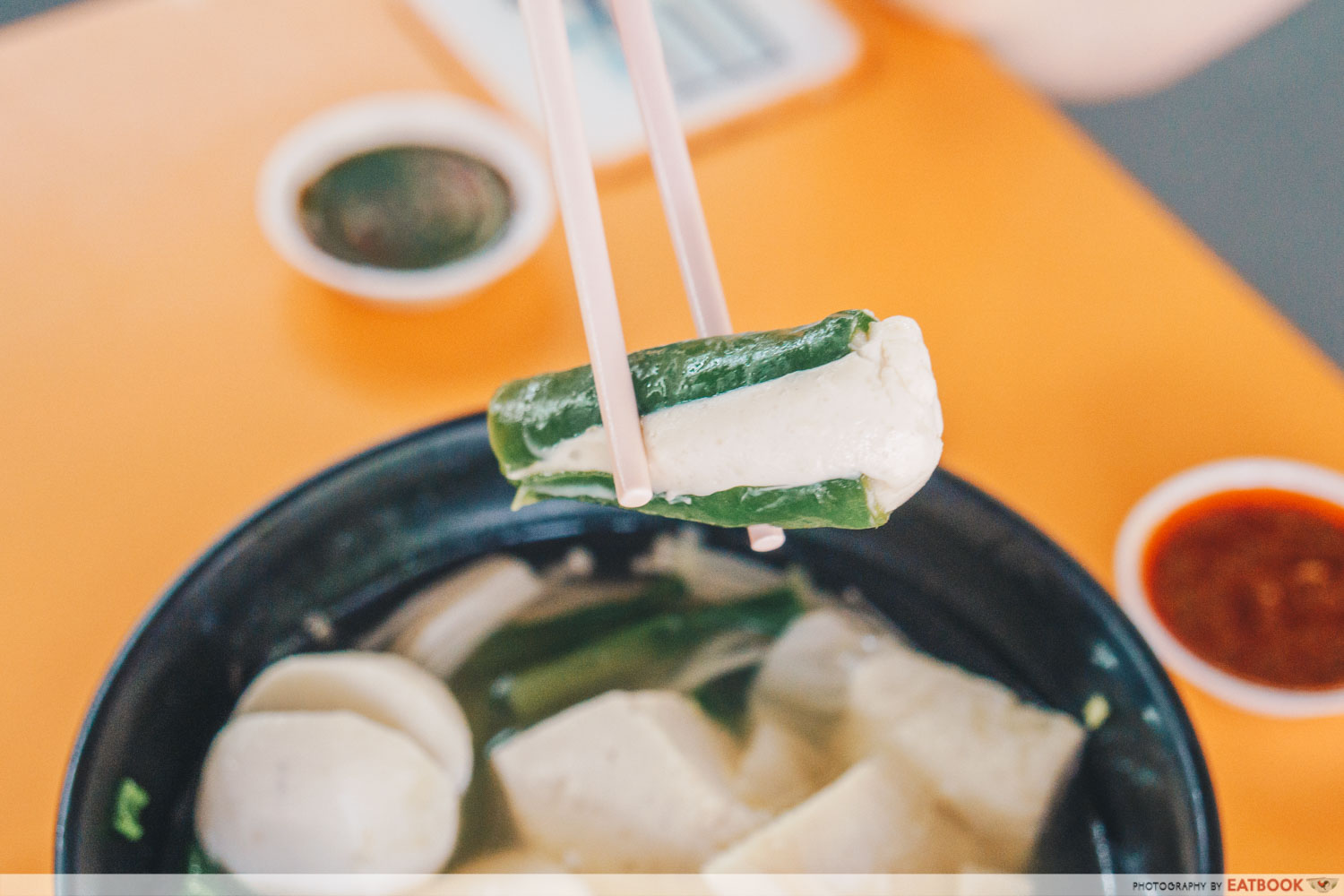 The green chilli, tofu and tau kee were generously stuffed with the pièce de résistance of the dish ─ Tasty Soup Yong Tau Fu's handmade fish paste. Apart from being well-seasoned, I thoroughly enjoyed its soft, silky texture. Mr Peh shared that even though the fish paste is made fresh daily, it has to be left to rest overnight for it to take on the bouncy consistency that I enjoyed. 
I appreciated the fact that the green chilli and bok choy were not overcooked and wilted, as it added an element of crunchiness among other softer ingredients.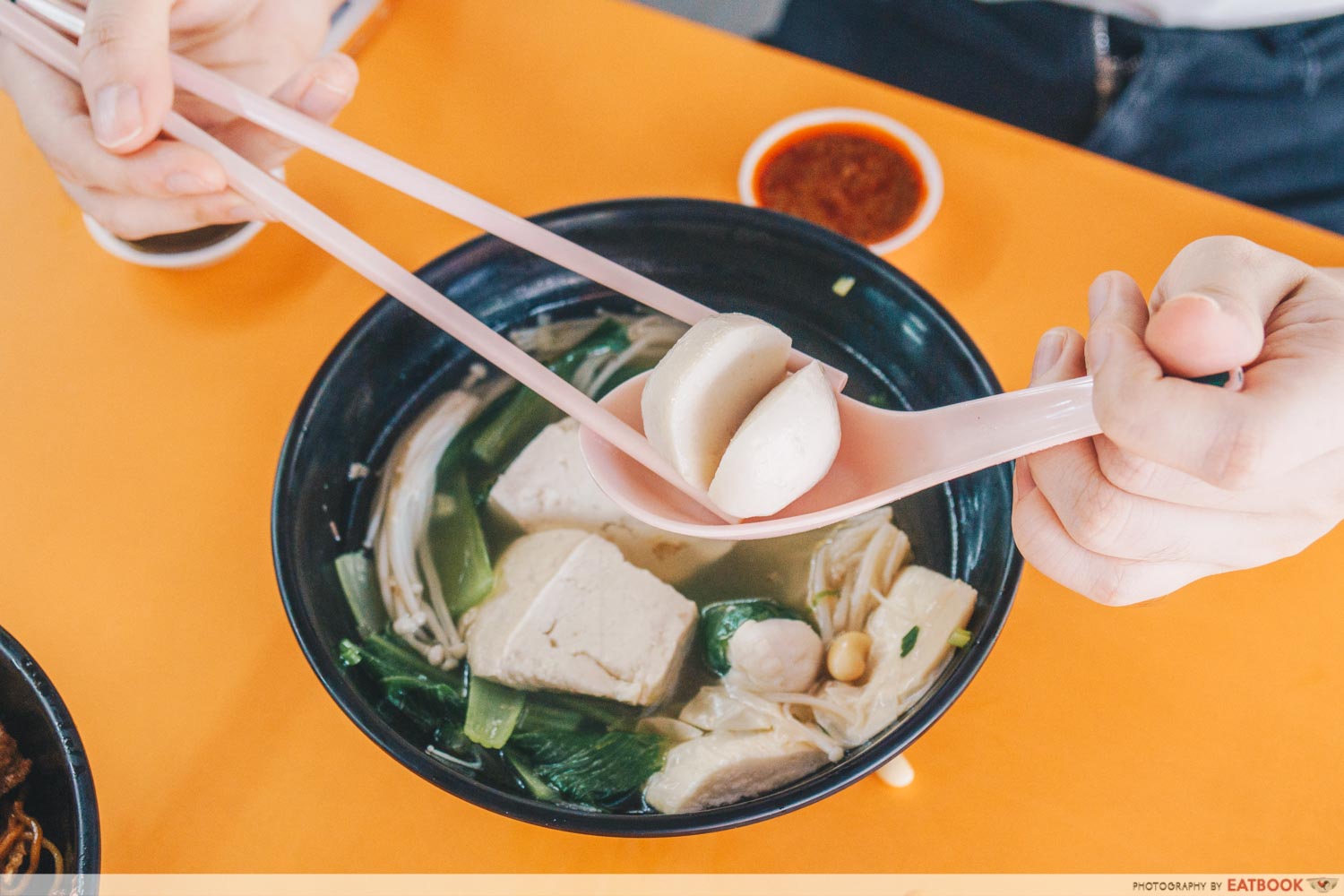 Even though the fishball wasn't made with their own fish paste, the texture was still pretty consistent with the rest of the fish paste-stuffed ingredients. Besides it's mild, savoury taste, it had a pleasant springiness and was slightly firm to the bite.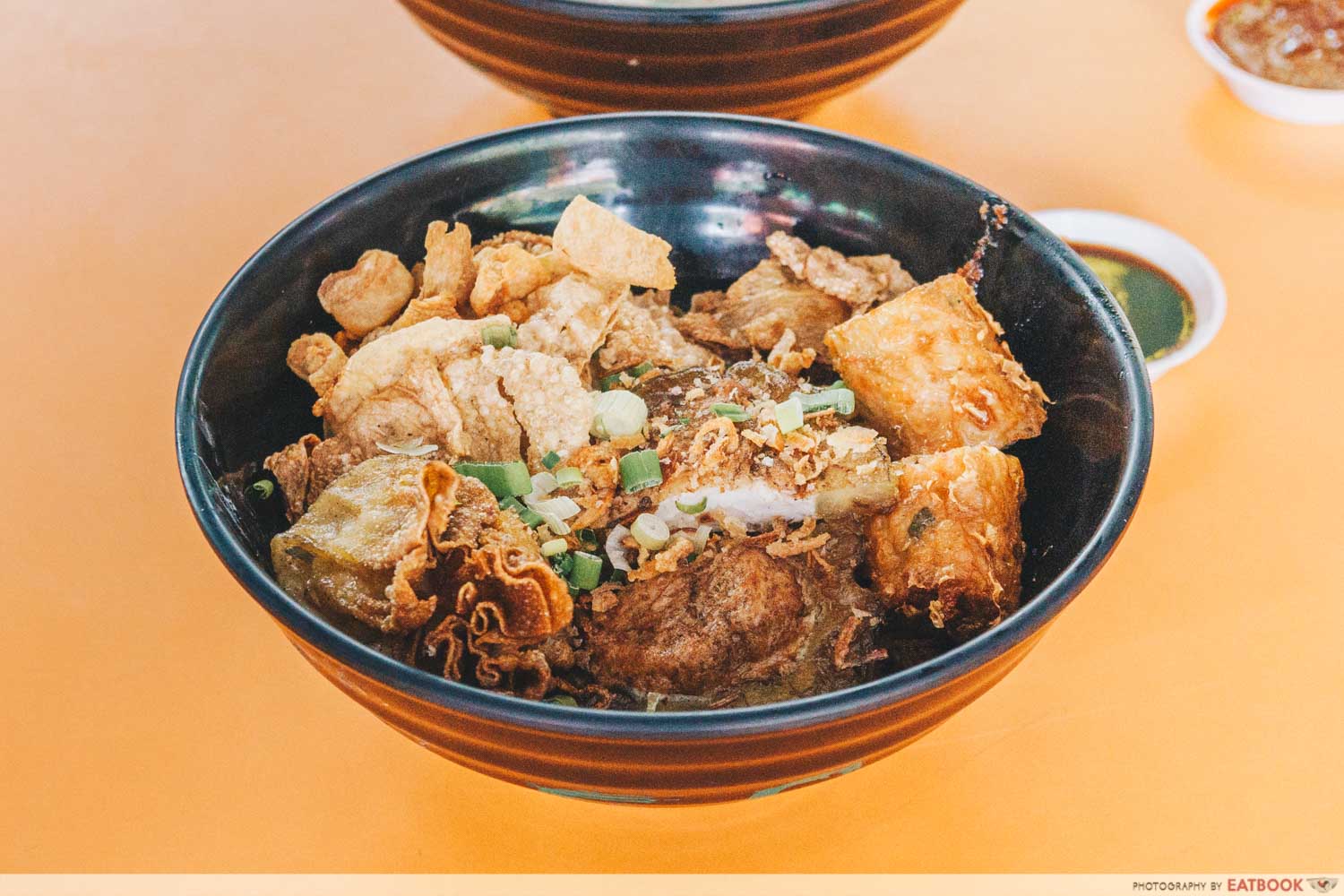 The deep-fried ingredients were re-fried till crisp and golden brown before they were served on top of my bowl of noodles.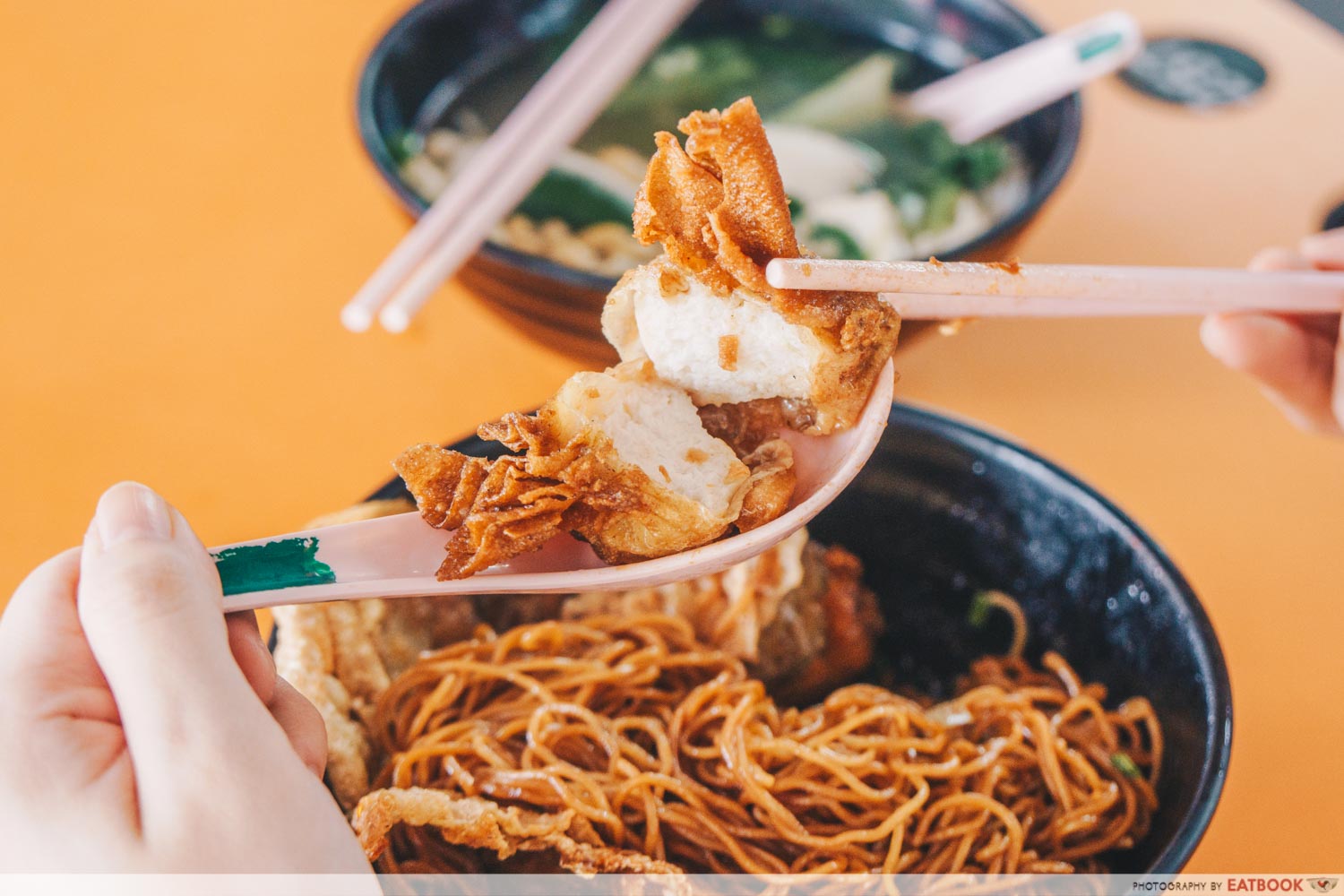 I'd recommend having the fried beancurd skin, fishcakes, bitter gourd and the freshly-made wantons at Tasty Soup Yong Tau Fu. Likewise, the fish paste in the wanton and tau kee tasted great, although they were a little drier than those in the soup,  probably due to the deep-frying.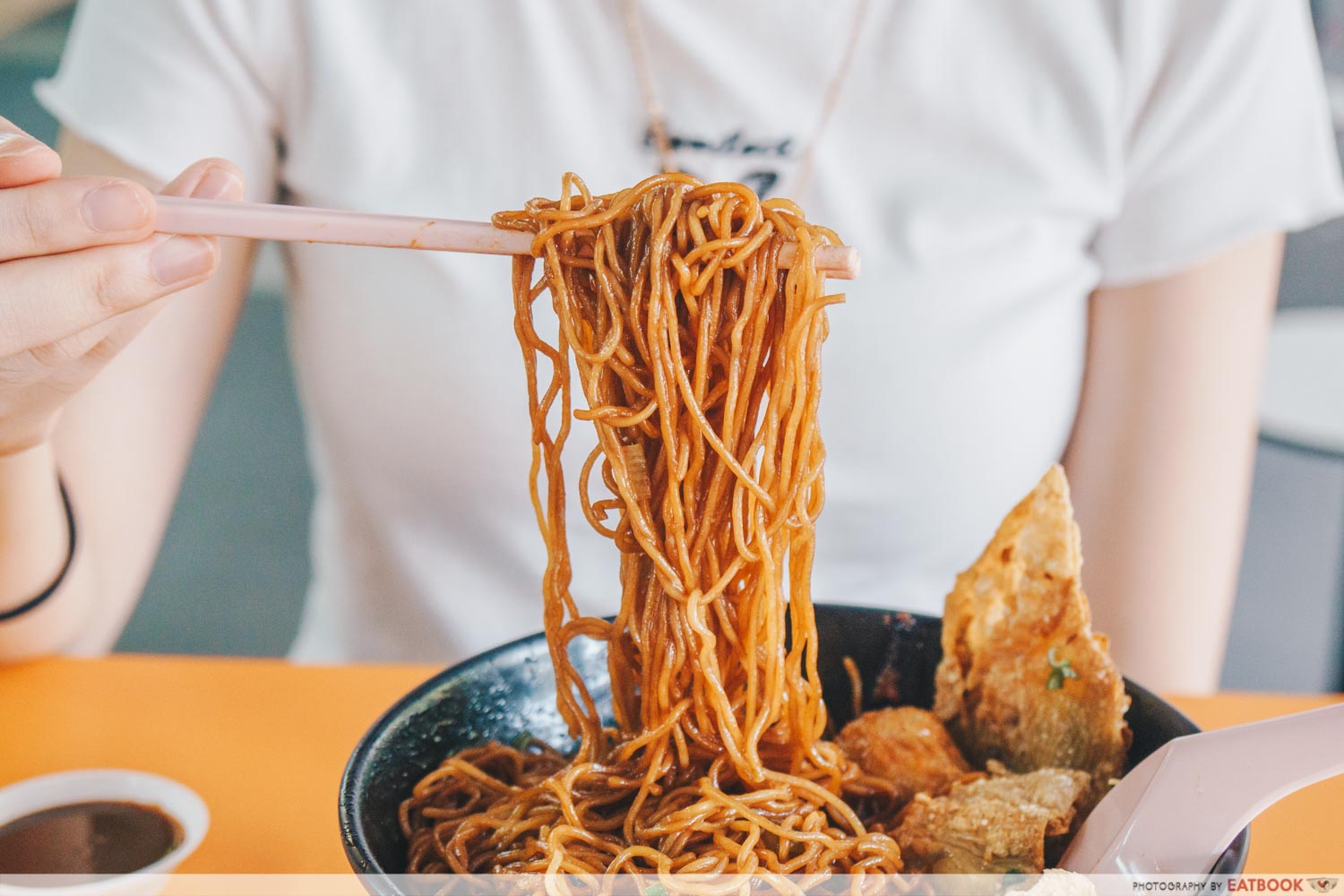 Their premium wheat flour egg noodles, similar to mee kia, were dressed with a special fermented dark sauce and topped with a generous spoonful of crispy lard. The sauce was a little too sweet for my liking, but the al dente texture of the noodles compensated for it.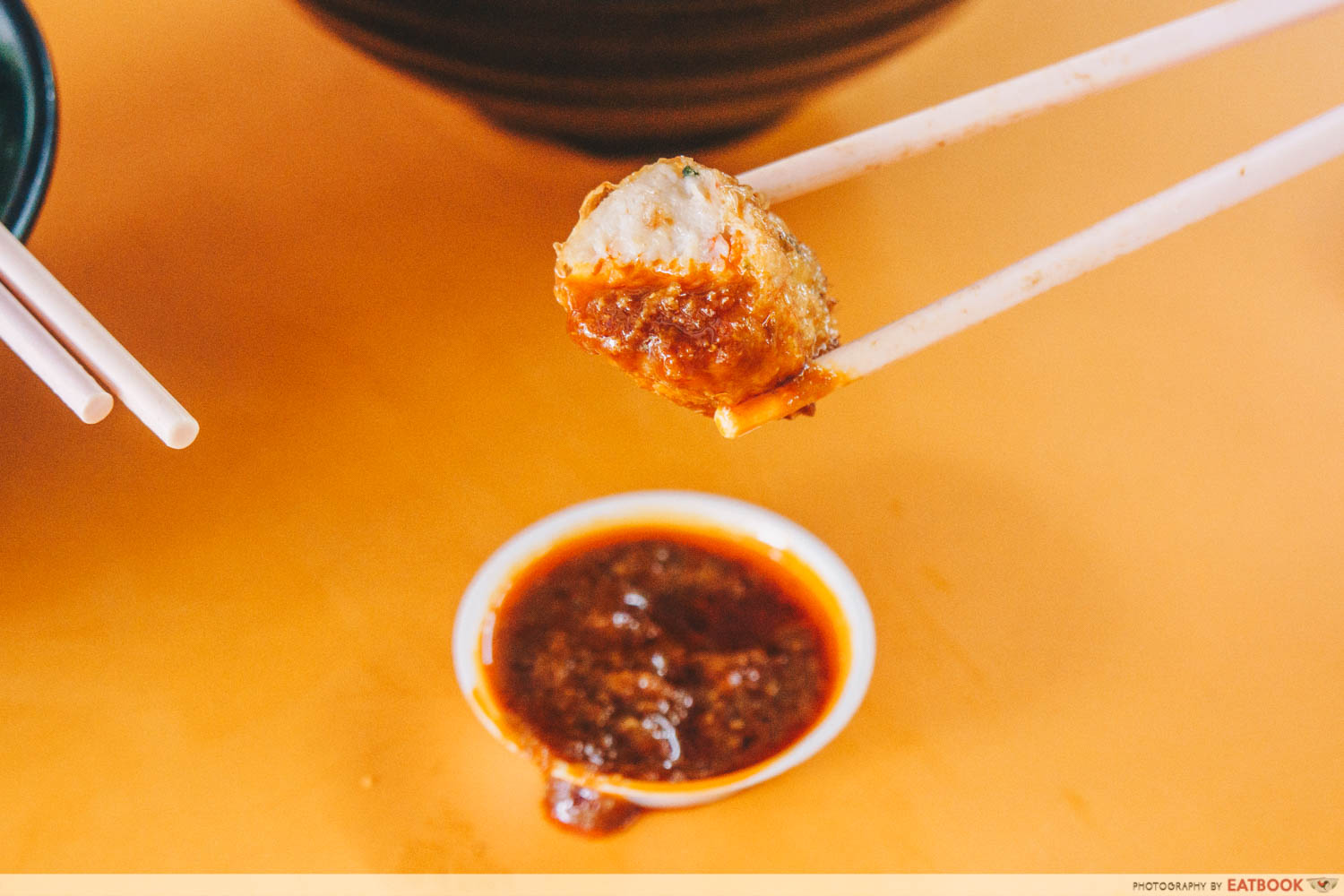 Mr Peh takes pride in the sambal chilli that he serves at Tasty Soup Yong Tau Fu that he makes from scratch with ingredients such as bird's eye chillies, shallots and dried shrimp. The fiery sauce packed a punch and it's definitely spicier than your average sambal. However, I would've preferred it to have more aromatics so its fragrance would intensify.  
Ambience at Tasty Soup Yong Tau Fu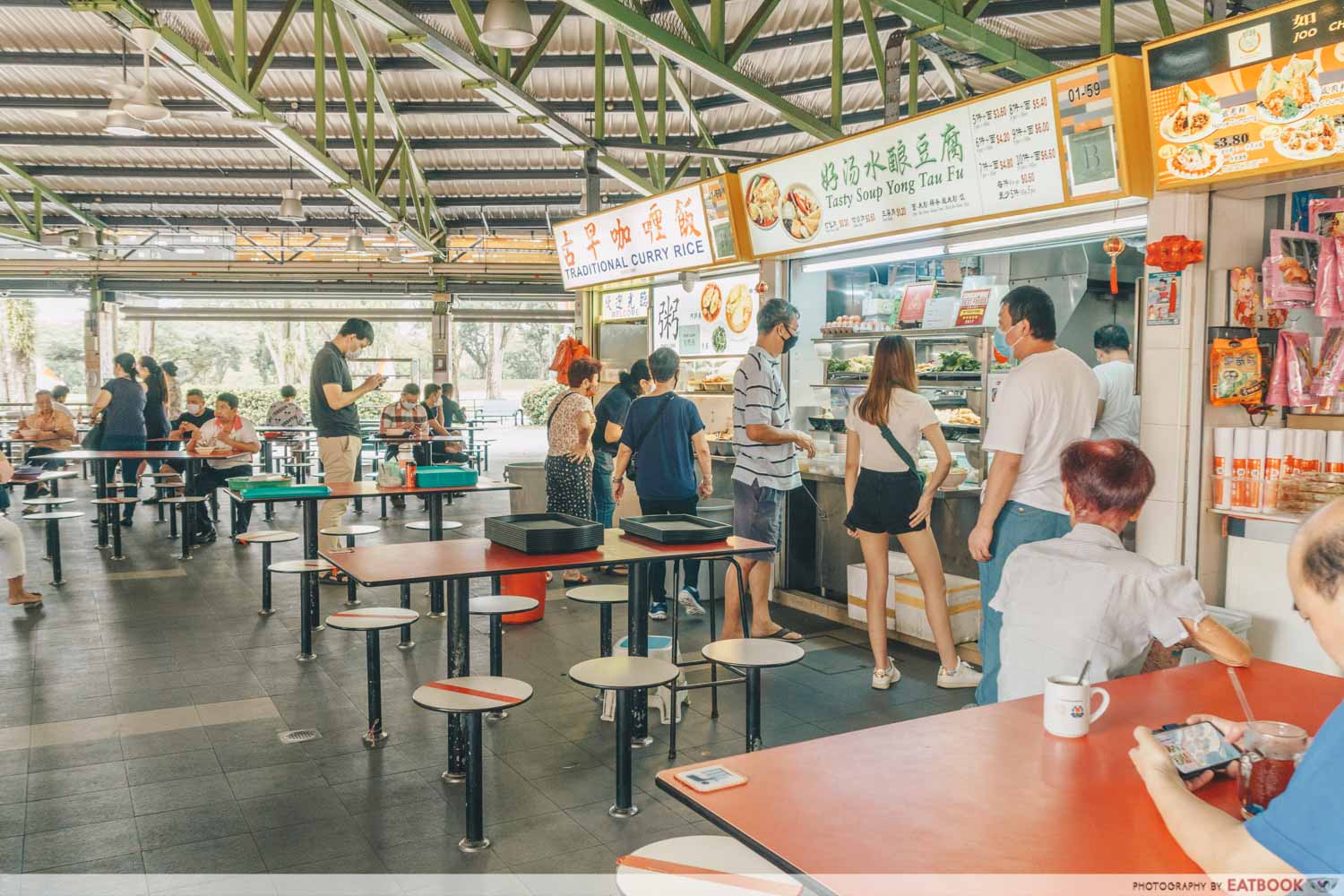 The hawker centre is spacious and breezy, with plenty of vacant tables around. Hence, finding seats should be easy unless you're planning to drop by during the lunch peak-hours when the hawker centre is packed with office crowds.  
The verdict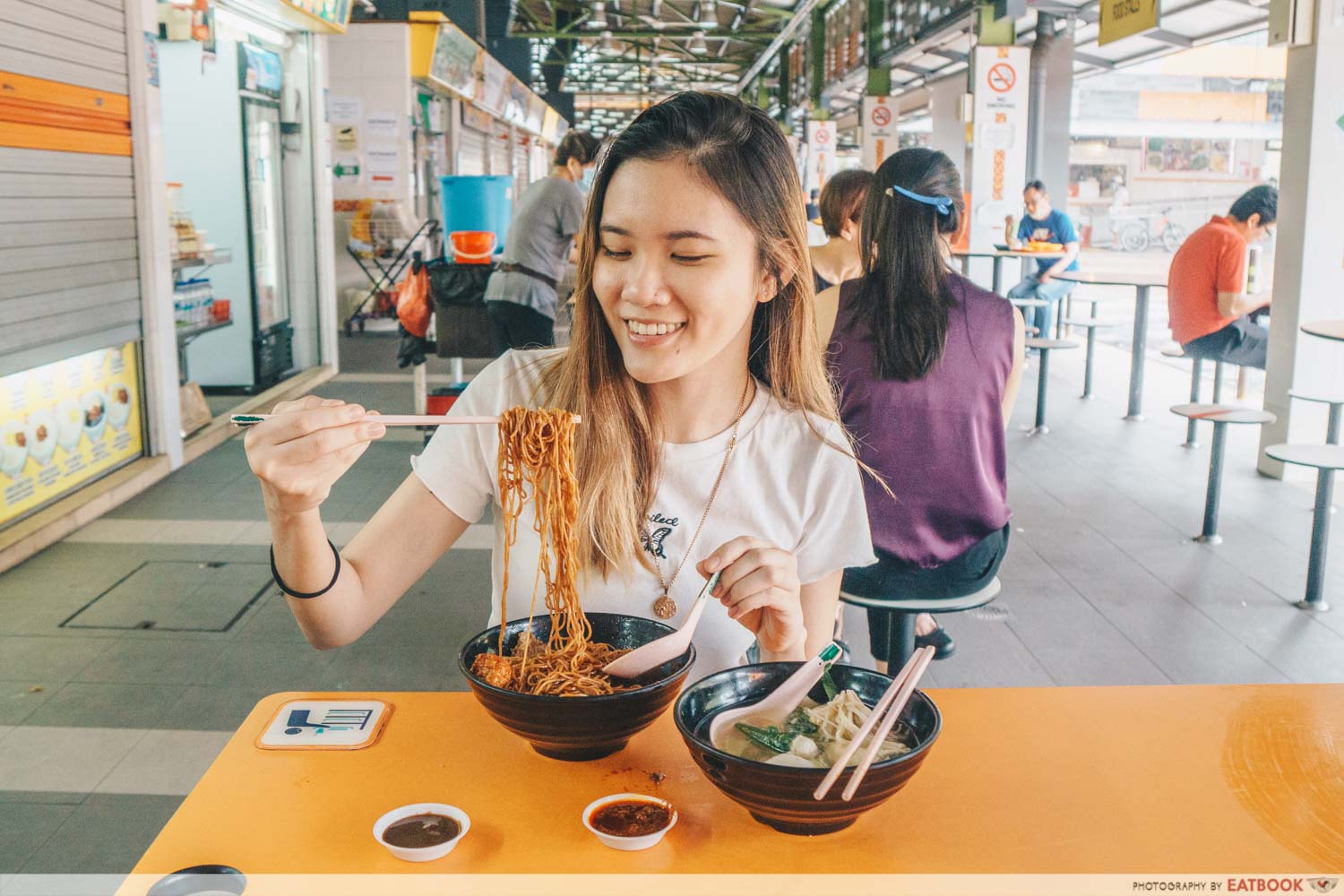 Even though each element of the dish, especially the fish paste and the soup, was decently executed, the flavours weren't exceptionally mindblowing. But I would patronise this humble hawker stall again if I'm in the neighbourhood and craving a comforting bowl of soup.
My Favourite Cafe Review: Affordable And Tasty Yong Tau Foo At Orchard Road
If you have a soft spot for light and soupy dishes as I do, head over to My Favourite Cafe as well as Soon Heng Pork Noodles and try their soups too!
Soon Heng Pork Noodles Review: Tasty Soup-Based Bak Chor Mee At Tanjong Pagar
Address: 115 Bukit Merah View, #01-59, Bukit Merah View Market, Singapore 151115
Opening hours: Mon-Sat 7am to 2pm
Tel: 9653 6421
Website
Tasty Soup Yong Tau Fu is not a halal-certified eatery.
Photos taken by Muhammad Hafiq.
This is an independent review by Eatbook.sg.
Summary
Pros
– Fish paste has great texture
– Flavourful soup
– Well-cooked noodles
Cons
– Sambal chilli was a bit of a letdown
Recommended Dishes: Fish-paste stuffed ingredients, Wheat flour egg noodles
Opening hours: Mon-Sat 7am to 2pm
Address: 115 Bukit Merah View, #01-59, Bukit Merah View Market, Singapore 151115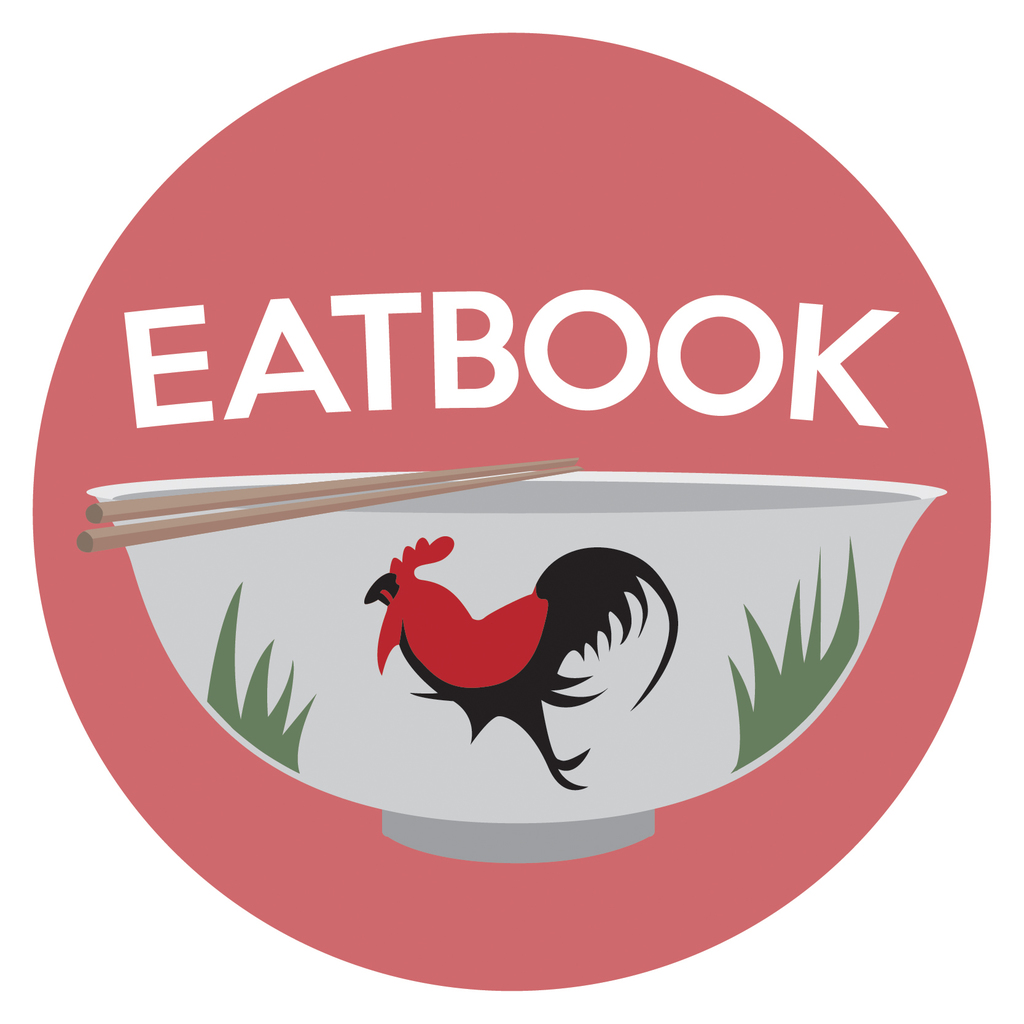 Drop us your email so you won't miss the latest news.