Teahouse 1973 afternoon tea at Sims Place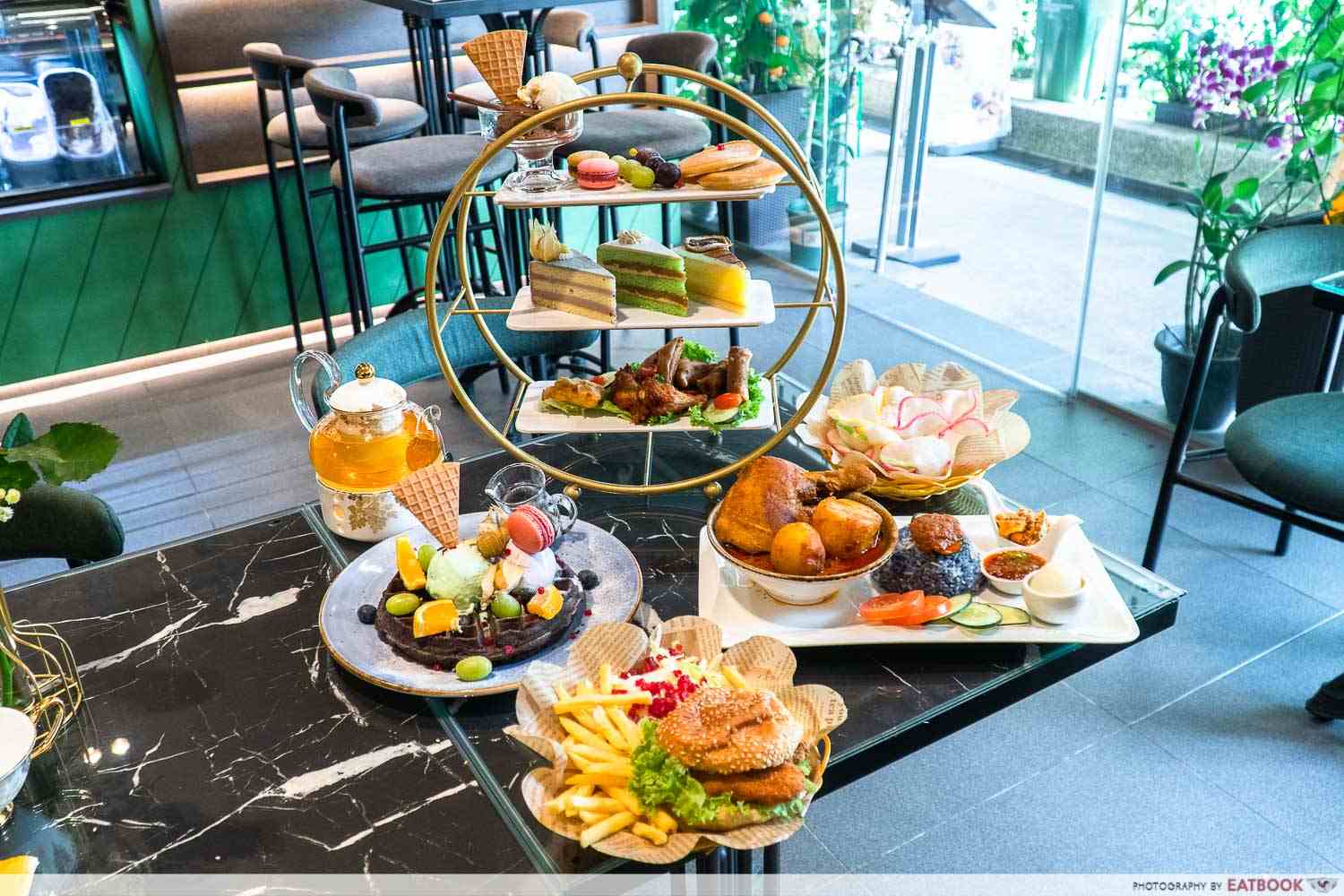 While many cafes tend to go with what's trendy, Teahouse 1973 at Sims Place has instead opted to focus on a more timeless concept: tradition.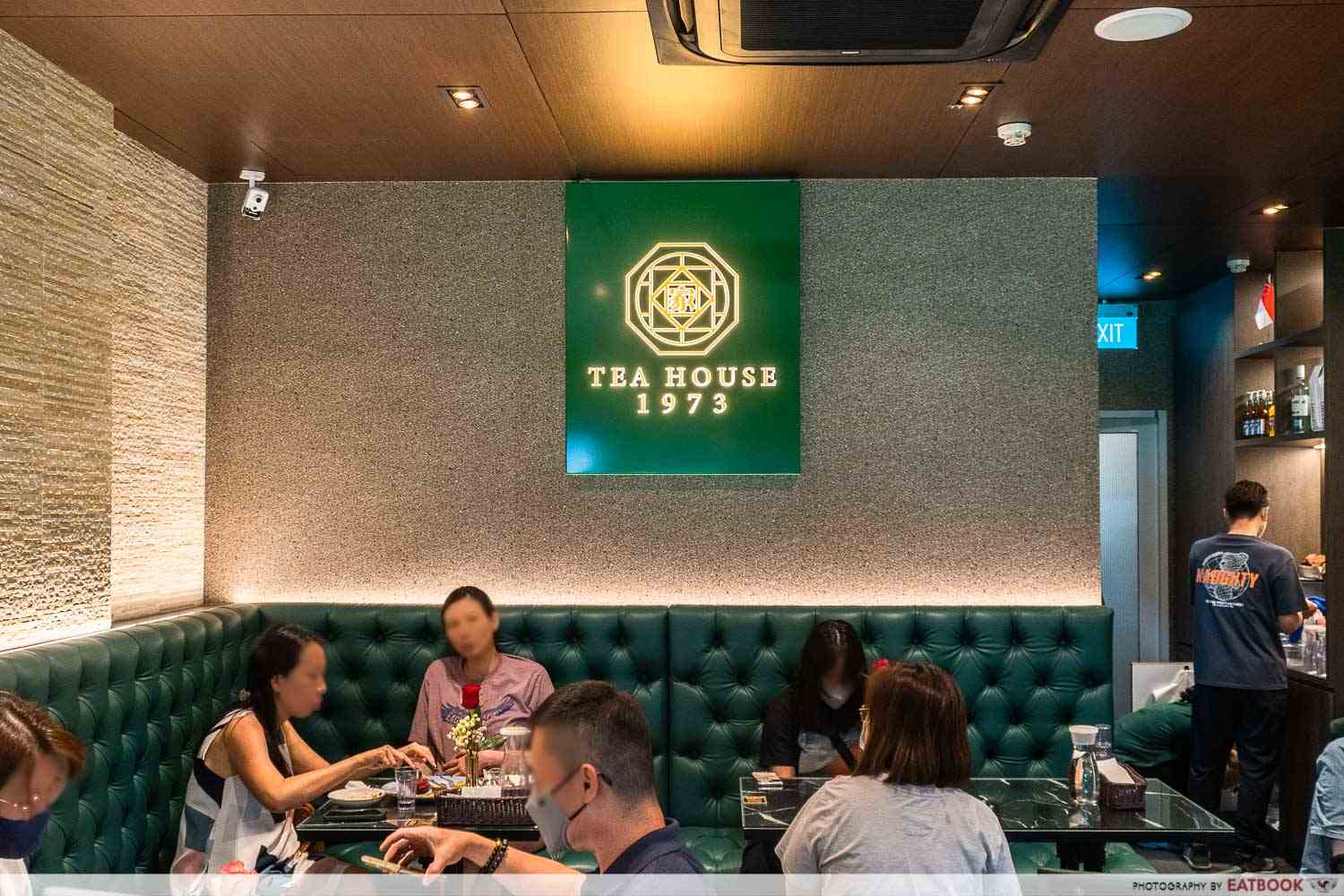 That isn't to say the cafe isn't good for the 'gram—quite the opposite. Teahouse 1973 blends the traditional tastes of Penang, Malaysia with the sensibilities of modern cafes to create a unique dining experience, one that we had to check out for ourselves.
ONDA By Park Bench Deli Review: Loaded Sandwiches, Grilled Cheese And More In Clarke Quay
Food at Teahouse 1973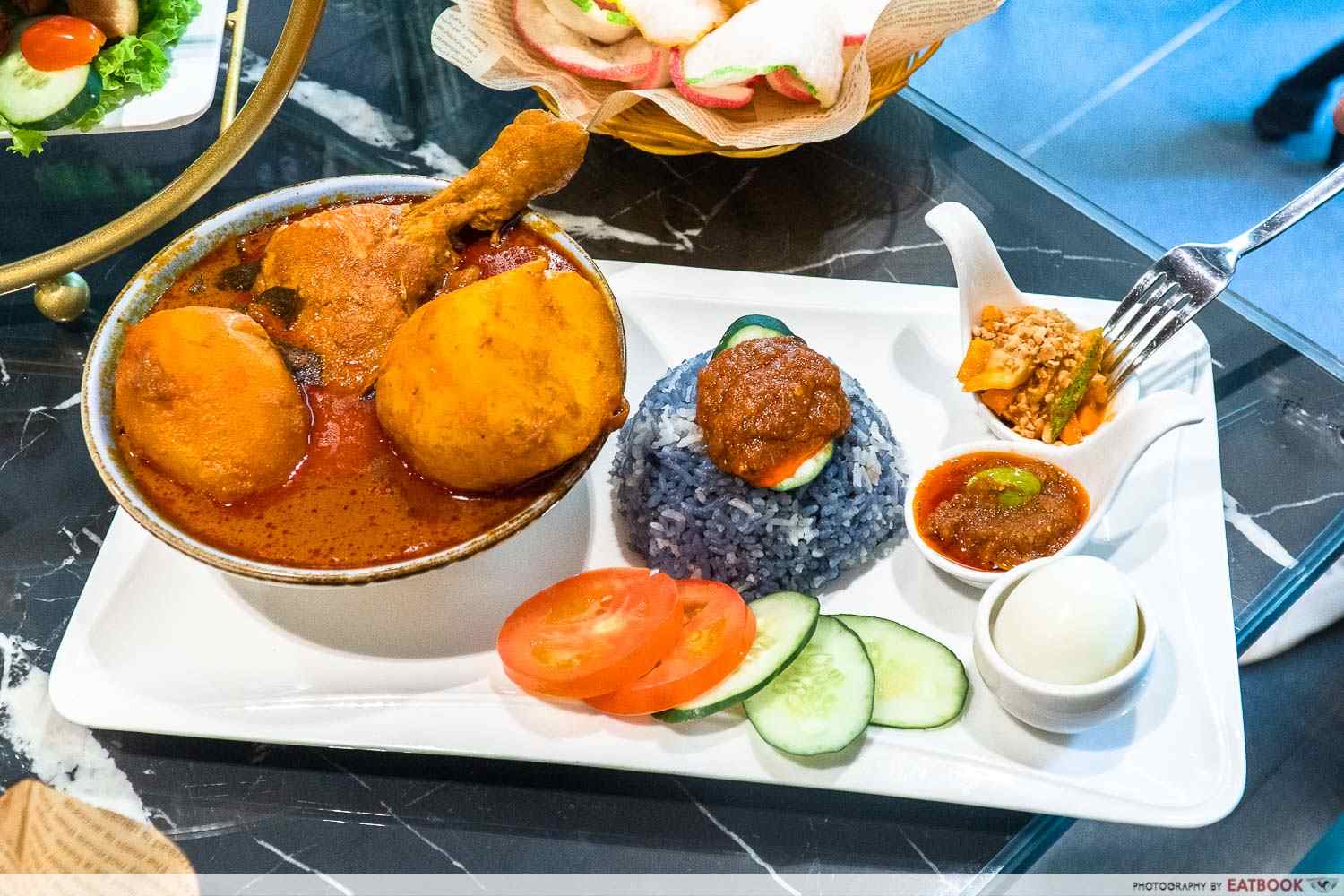 I wanted to go for something heartier to start and the Penang Curry Chicken Nasi Lemak ($13.80++) did the trick. This dish arrived looking mighty impressive with its gorgeous blue butterfly pea rice and a massive bowl of curry chicken and potatoes. Some piquant sambal, crunchy achar, and a boiled egg featured on the side as well.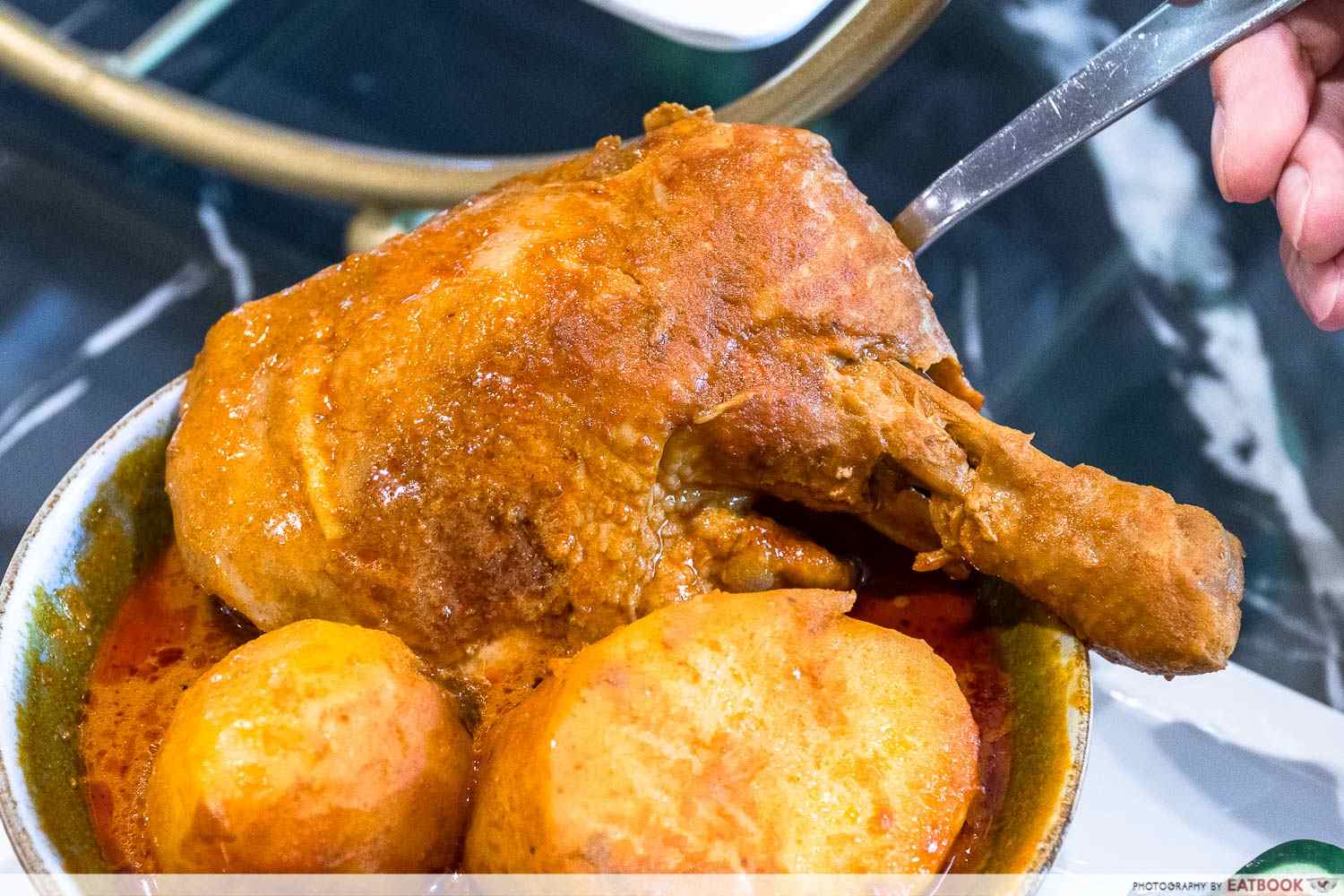 It's no exaggeration to say that the curry chicken dish was an absolute unit. The whole chicken leg was already ridiculously big, but the fist-sized potato chunks were on a whole nother level.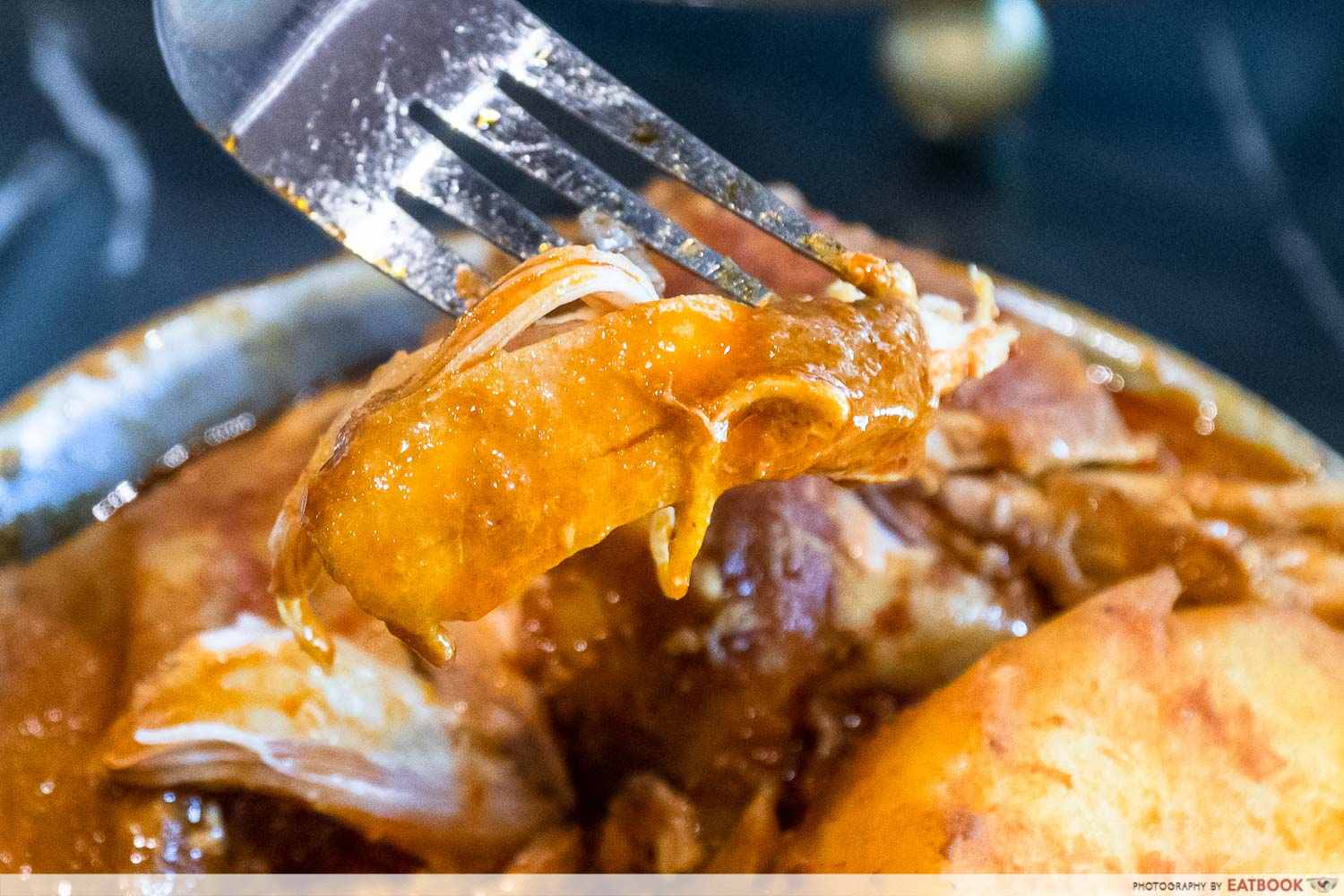 The juicy and succulent chicken was greatly enhanced by the curry, which was rich and had a decent kick of spiciness. The potatoes, meanwhile, carried the flavours of the curry well and were boiled to the optimal tenderness.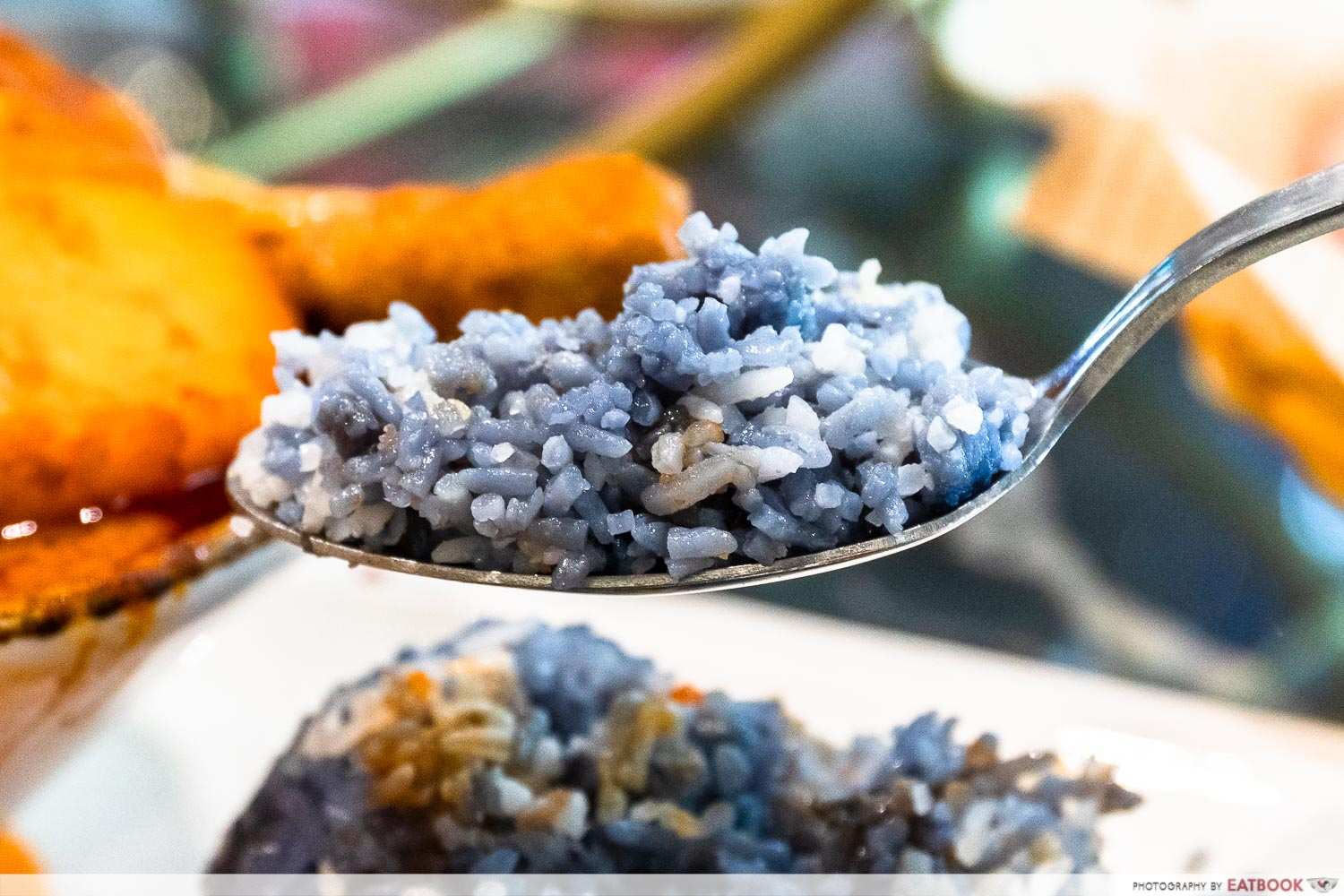 Following those curry-infused elements with a spoonful of blue rice made for an exciting burst of aromatic flavours, as the nasi had a strong fragrance, courtesy of its coconut milk and blue butterfly pea combo. Though the rice could have been more savoury, its refined yet homely flavour was nonetheless very pleasing.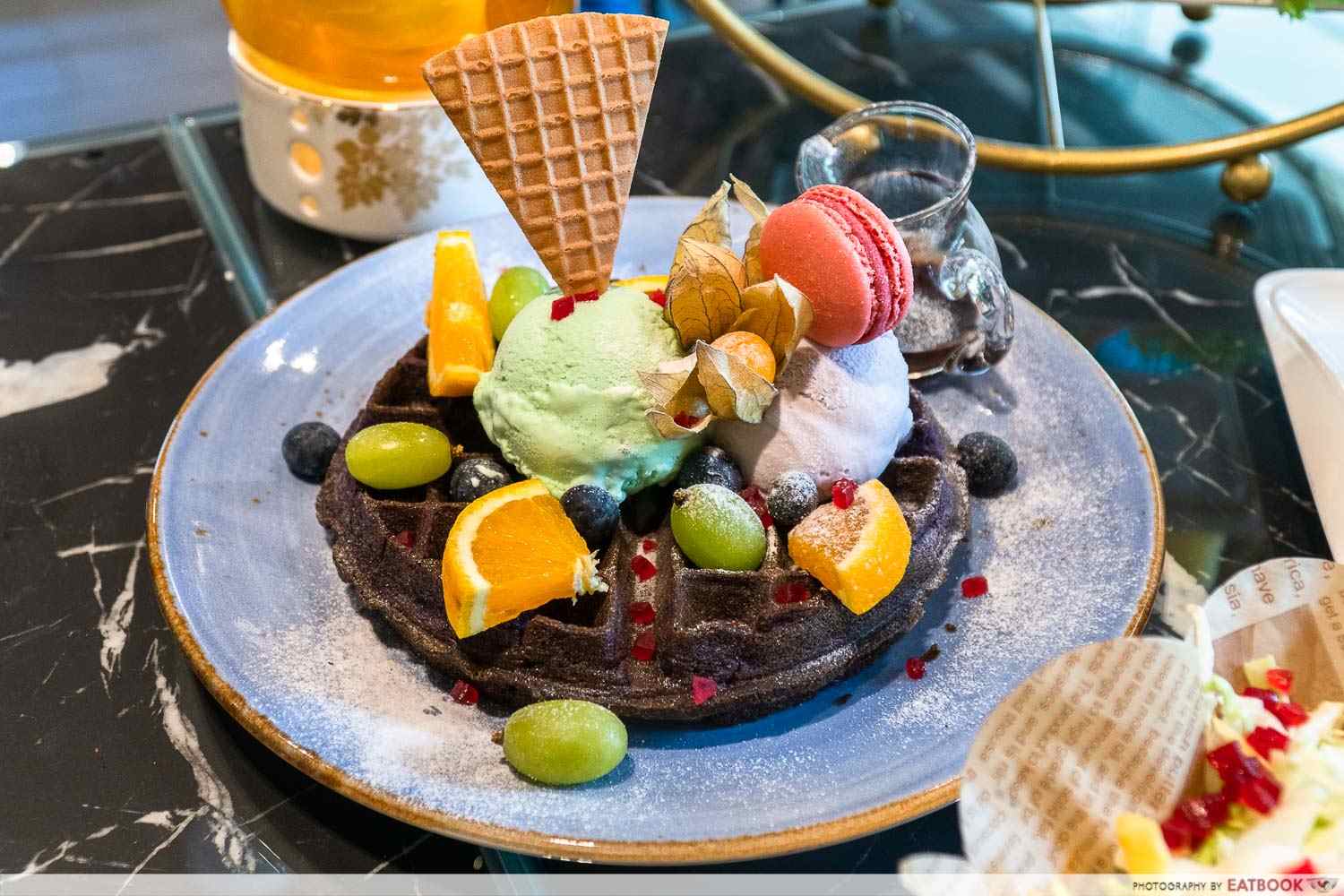 The nasi lemak left me feeling stuffed, but our next dish, the Purple Crispy Waffle and Ice Cream ($12.80++), revved up my dessert stomach right away.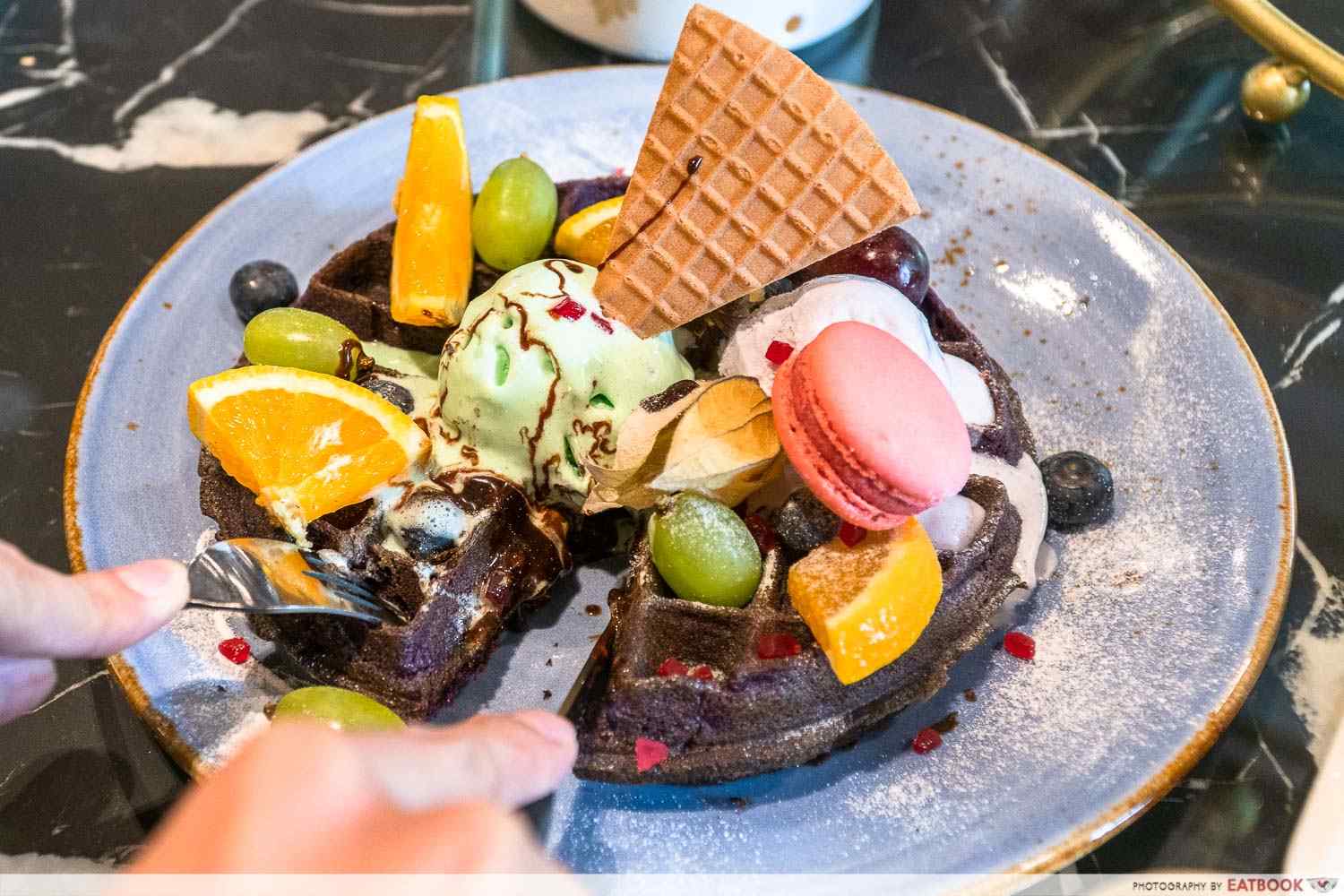 With a gorgeous hue that resulted from the use of purple sweet potato, the waffle was crispy on the outside, soft on the inside. There was a subtle sweetness that allowed for  two ice cream scoops on top—which are of your choosing—to work their magic. Orange slices, golden berries, green grapes and a pink macaron adorn this colourful dessert as well.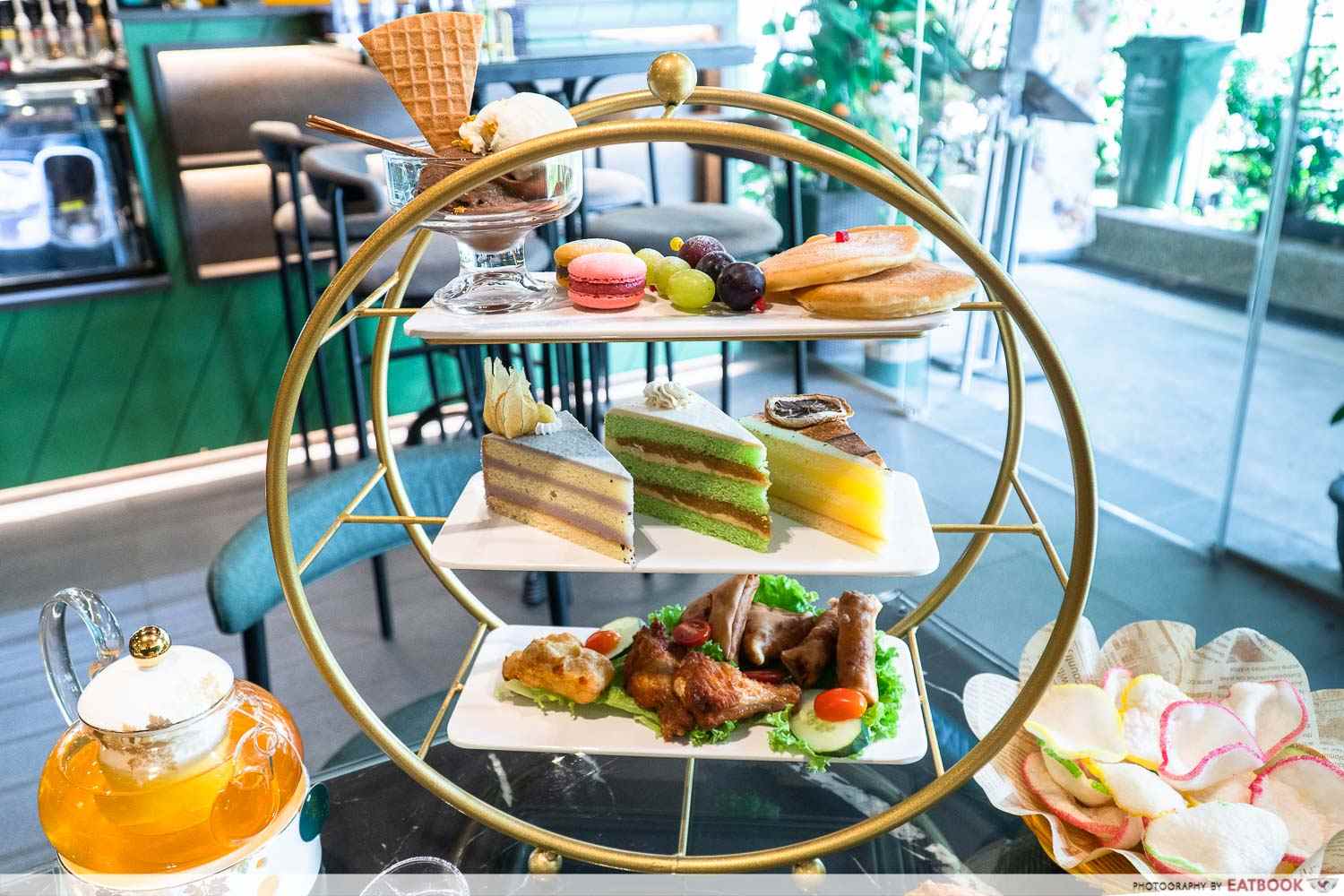 If you thought the dishes before looked indulgent, wait till you see the next item. The value-for-money Afternoon Tea Set ($45++ for two people) came with a 'ferris wheel' of sweet and savoury delights: there were cakes, macarons, waffles, and chicken drumlets, to name a few. There's also a chicken burger with fries included in the set if you need something substantial to go along with these treats.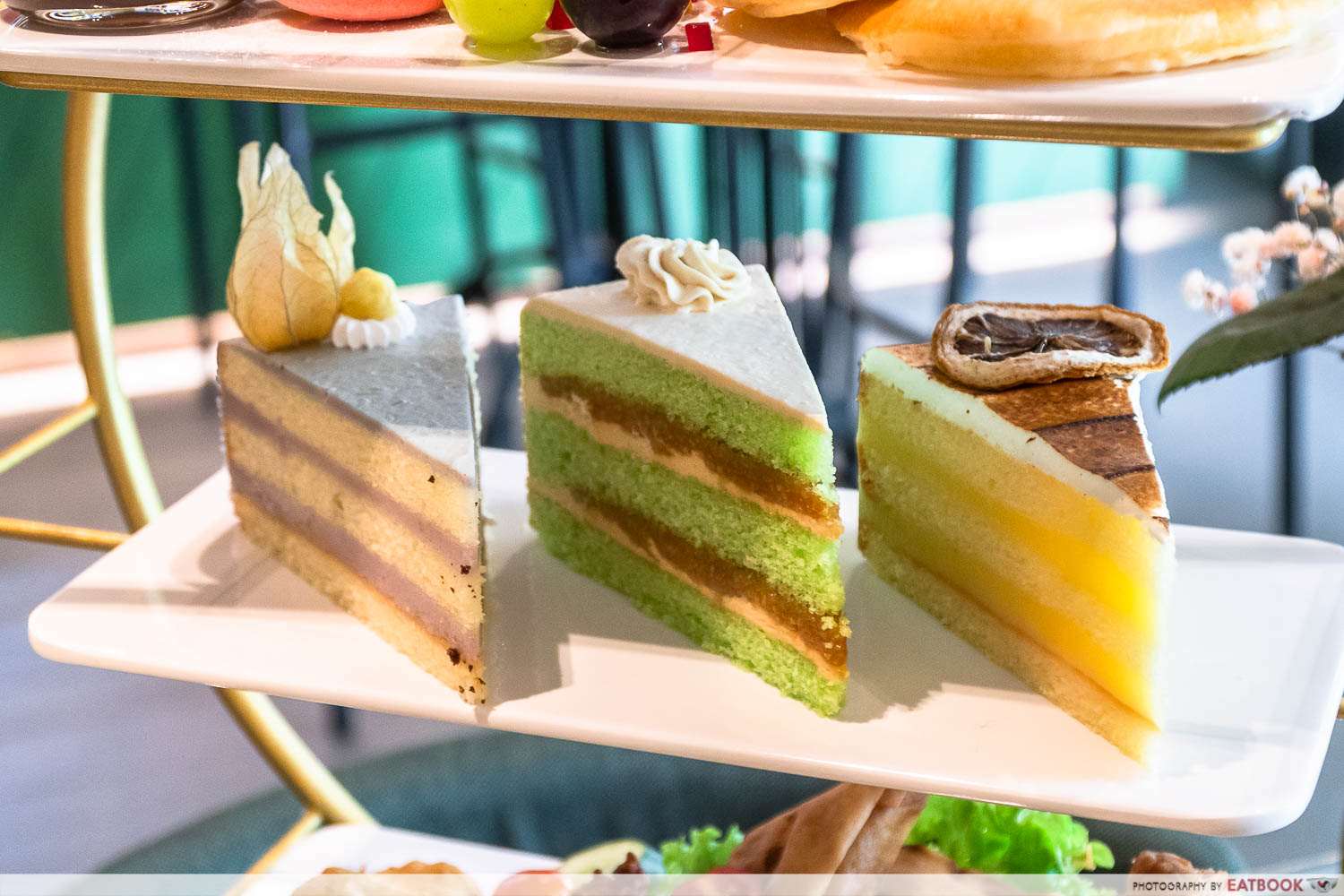 Special attention has to be paid to the three cake slices of different flavours, namely Yam, Ondeh Ondeh and Lemon. Though I have an almost blasphemous indifference towards cakes, the ones here won me over with their gentle sweetness and light, fluffy texture. The cake flavours differ each day, but with the quality on display here, we're sure that whatever you get is going to be just as good.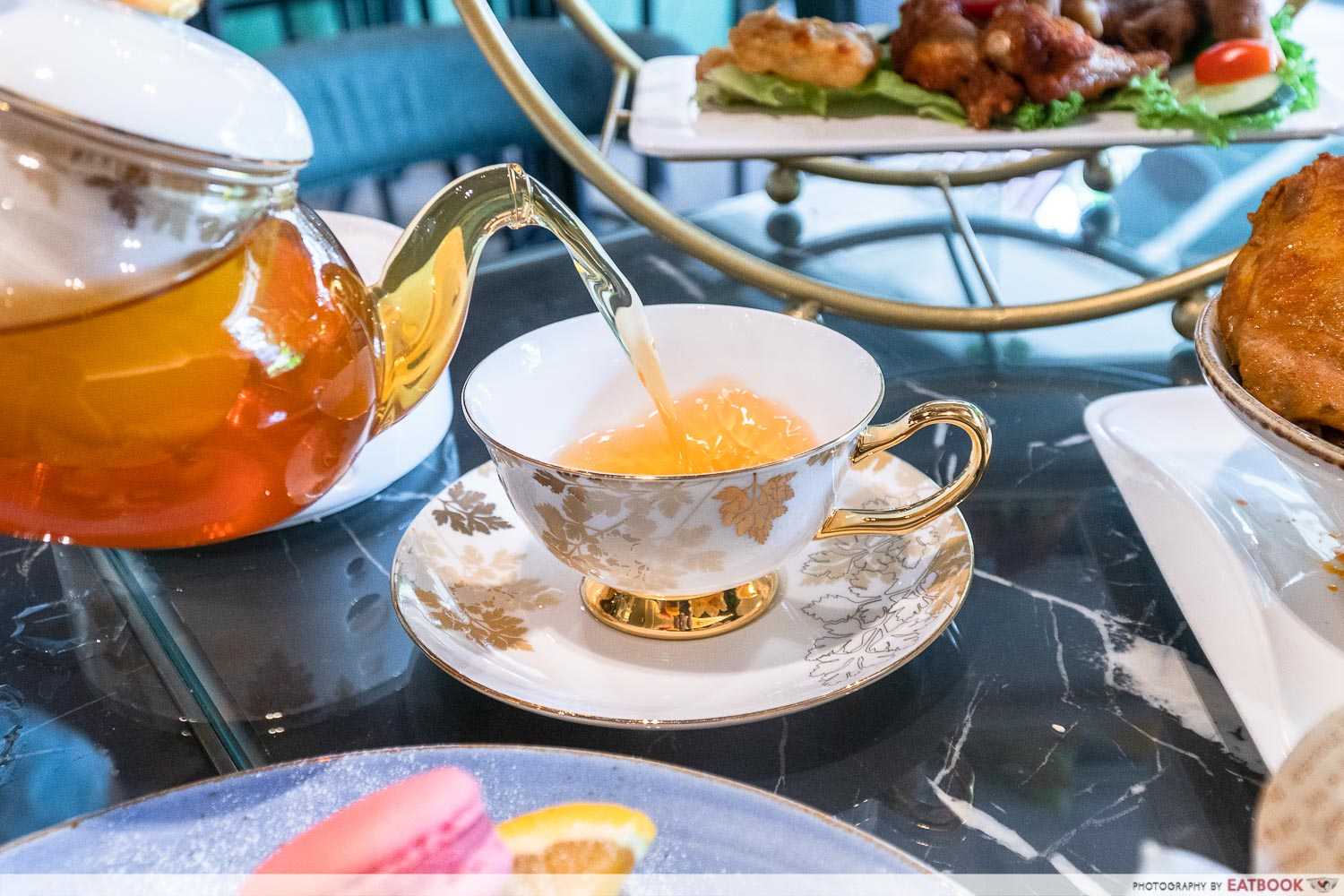 A pot of Peach Tea completed the set, and it soothed our souls with its bright, fruity aroma. Perhaps a slightly more full-bodied tea would've balanced out the sweet dishes better—but since all that costs a mere $45++, I'm certainly not complaining.
Do note that the Afternoon Tea Set is available only on Wednesdays and Thursdays, 3m to 5pm. These are limited to 12 sets each day, so contact the cafe if you would like to reserve one.
Ambience at Teahouse 1973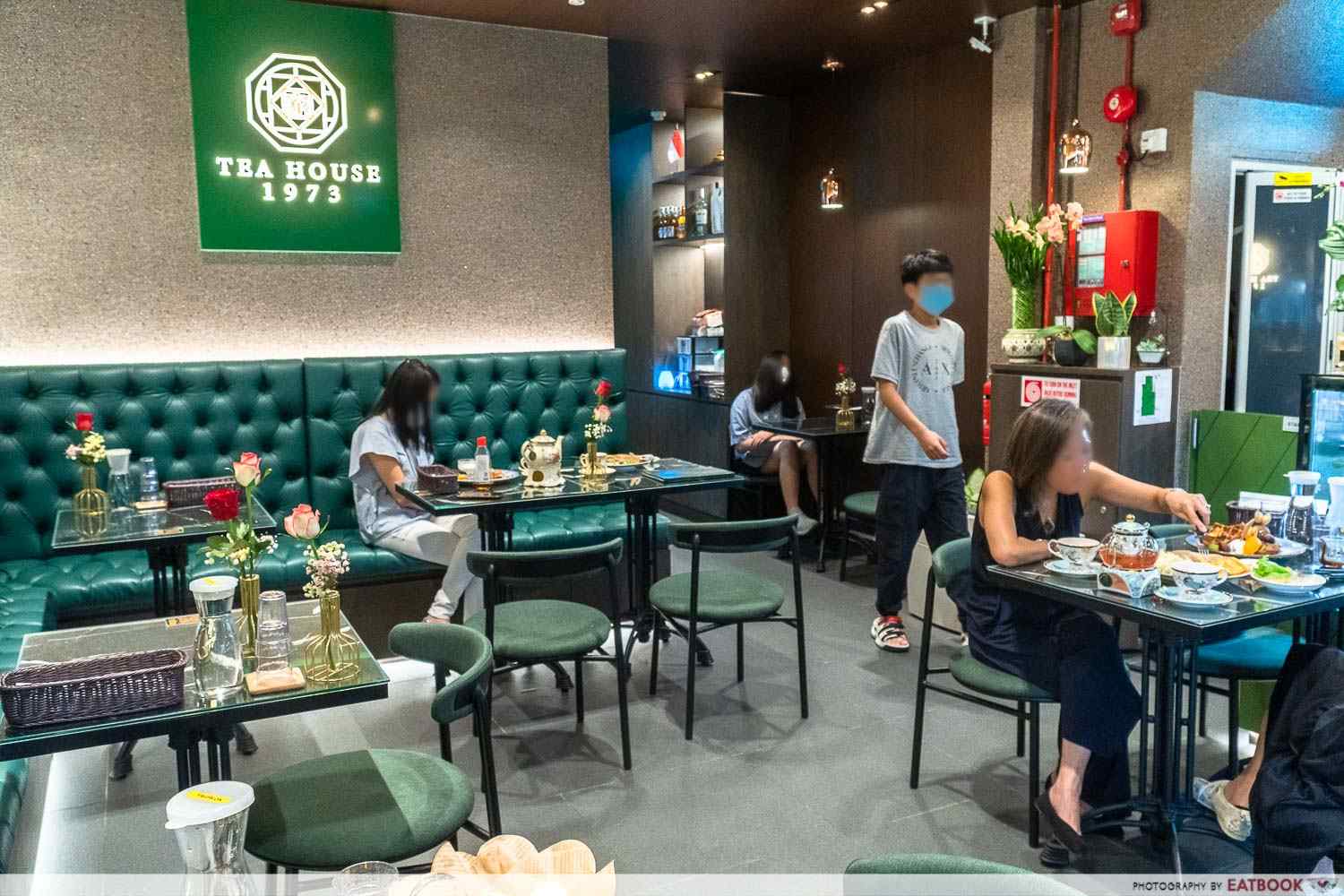 Teahouse 1973 is a seven-minute walk from Aljunied MRT Station. With emerald tufted sofas, textured rock walls, and vocal jazz being played in the background, the cafe's classy ambience transported me to days of yore. Not that I was alive during the 70s, of course, but I've seen enough classic films to know that the atmosphere here is legit.
The verdict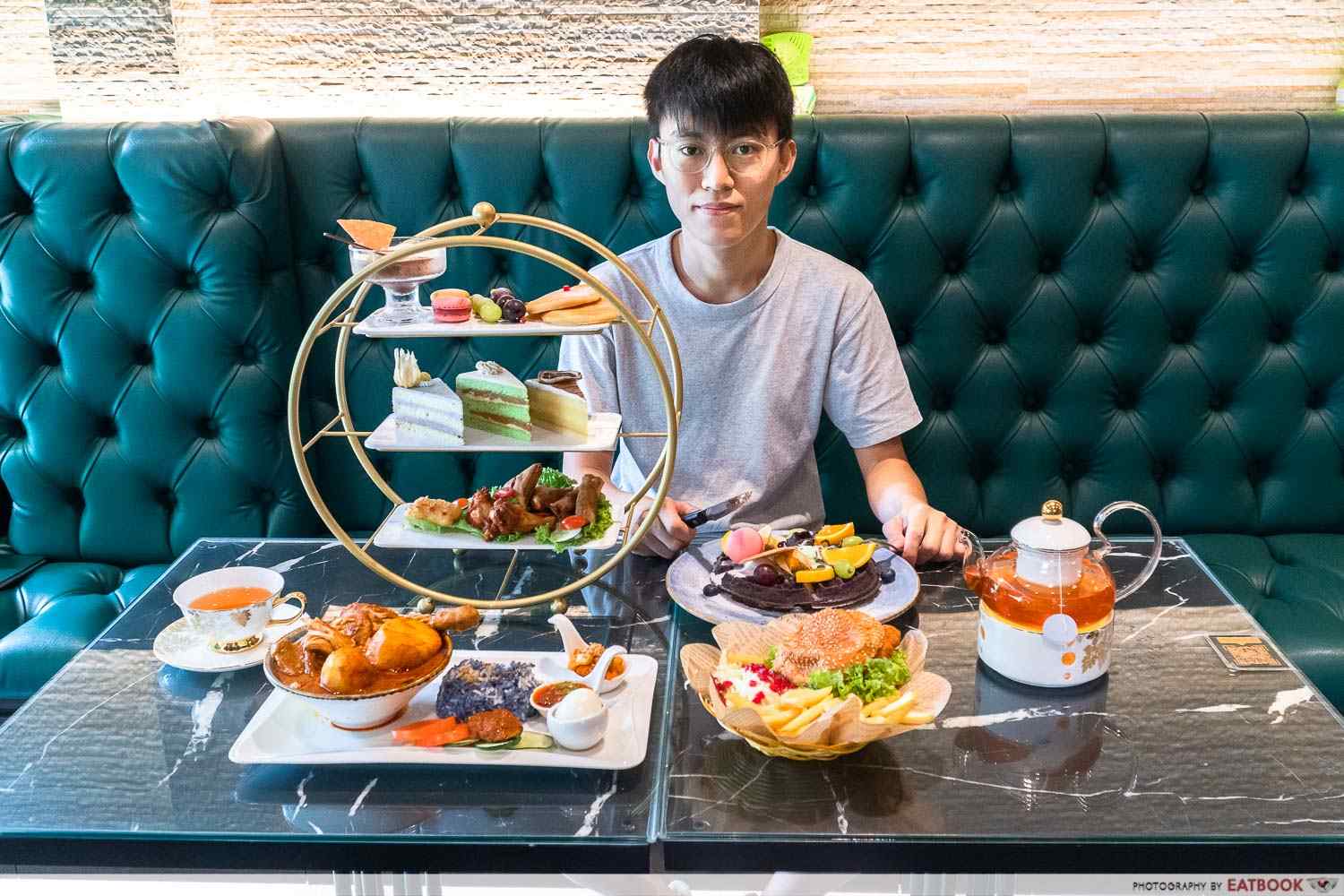 The cafe's emphasis on tradition and generous servings of pretty much everything give it a distinctive edge, but what I was truly surprised by was the great-tasting food. Even a cafe sceptic like me can't deny that Teahouse 1973 is worth the visit.
If you're looking for more affordable high tea, read our The Wonderment Collective review. As for other cafes with unique influences, check out our Two Bake Boys review.
Address: Block 53 Sims Place, Singapore 380053
Opening hours: Tue-Sun 11am to 8pm
Website
Teahouse 1973 is not a halal-certified eatery.
The Wonderment Collective Review: Affordable Nett Price Halal High Tea With Tiramisu And Salted Caramel Macarons
Photos taken by Zu Yi Kong.
This was an independent review by Eatbook.sg.
Teahouse 1973 Review: $45++ Afternoon Tea For Two At This Penang-Inspired Cafe
Teahouse 1973 Review: Penang-Inspired Cafe With Afternoon Tea Set For Two At $35++ -

8/10
Summary
Pros
– Penang Curry Chicken Nasi Lemak was delicious and had a generous portion
– Purple Crispy Waffle and Ice Cream looked and tasted delicious
– Afternoon Tea Set was super value-for-money
Cons
– Nasi lemak rice could've been tastier
Recommended dishes: Penang Curry Chicken Nasi Lemak ($13.80), Purple Crispy Waffle and Ice Cream ($12.80), Afternoon Tea Set ($45 for two pax)
Opening hours: Tue-Sun 11am to 8pm
Address: Block 53 Sims Place, Singapore 380053