Teck Kee Cooked Food has popular and unique sheng mian in Ang Mo Kio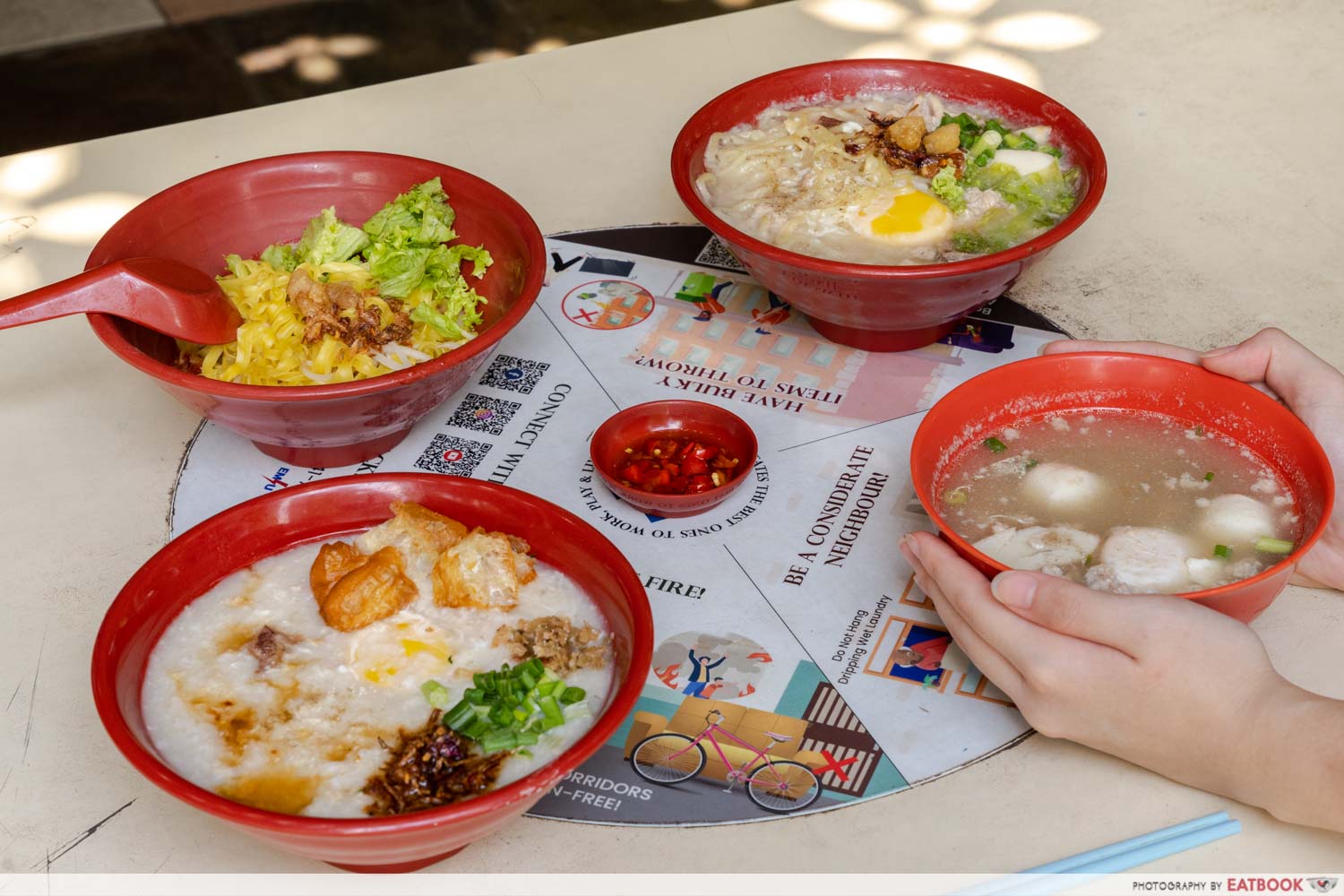 When figuring out what to eat in an unfamiliar hawker centre, sometimes your best bet for a good meal is to just follow the crowd and partake in the classic Singaporean pastime of queuing. At Kebun Baru Market and Food Centre, this will lead you to Teck Kee Cooked Food, whose neverending queue of customers are hungry for a unique sheng mian offered by the stall that's been nicknamed 'Singaporean ramen'.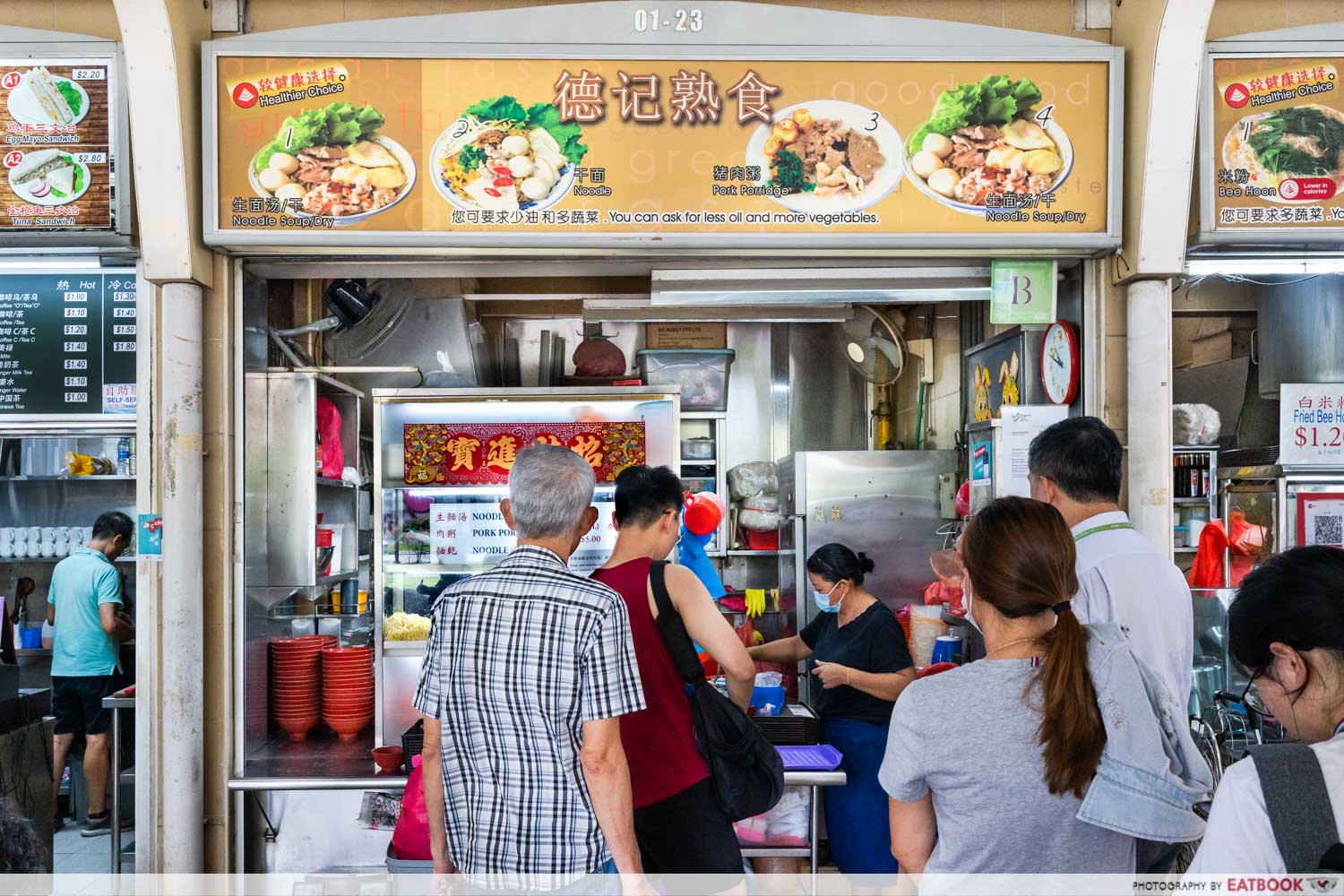 This is a busy stall that's been around for over 40 years, and only offers sheng mian, dry noodle, and pork porridge in $4, $5, and $6 portions. Service here once you order is rather fast, though you can expect to spend over 20 minutes queuing—in fact, the only time where the queue dissipated was when they finally ran out of food after lunch. 
Rasa Sayang Western Food Review: Famous Old-School Western Stall In Ang Mo Kio
Food at Teck Kee Cooked Food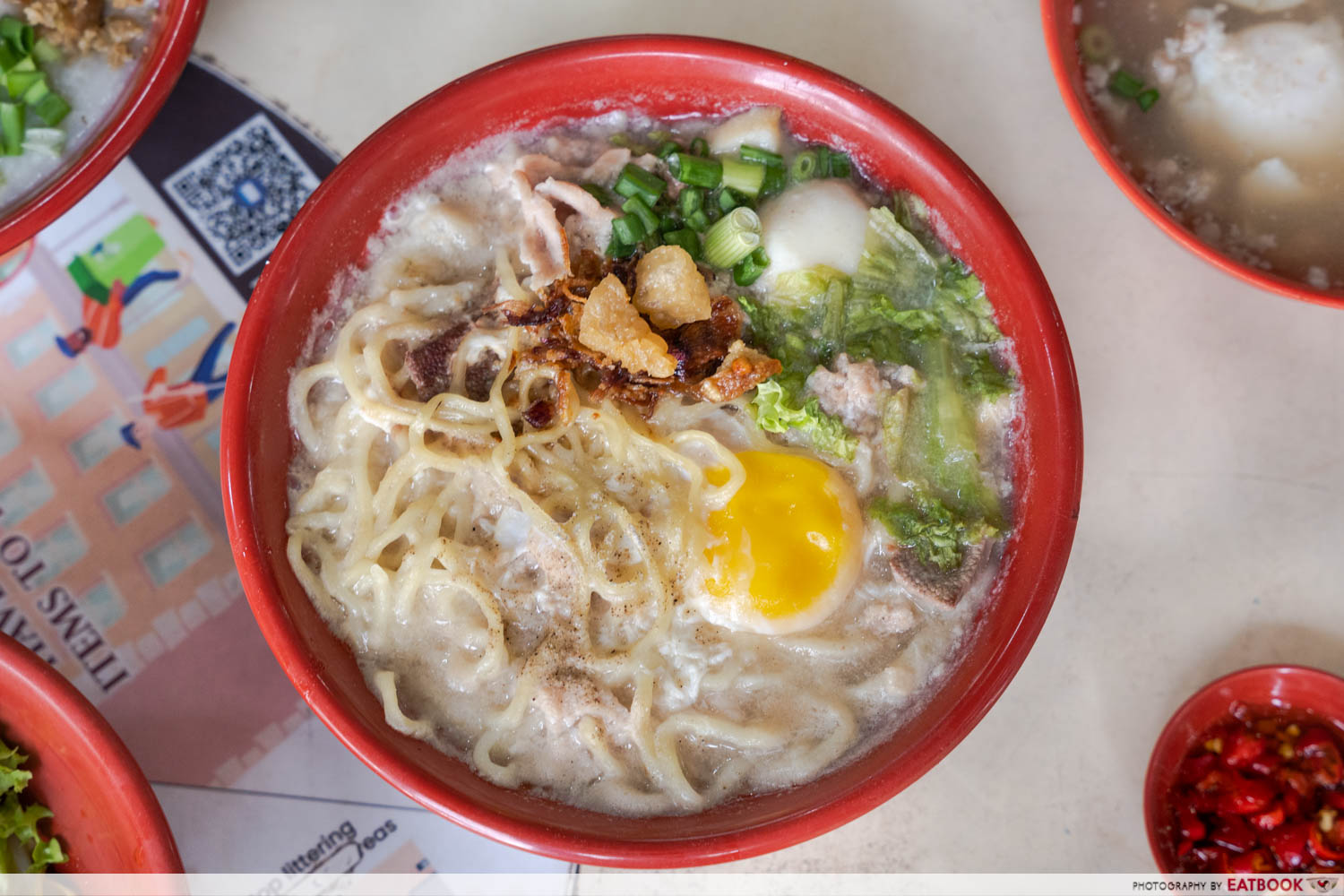 First off, the stall's raved about Sheng Mian ($4). It smelled mouth-wateringly good as I carried it off to our table, piping hot and loaded with a generous amount of toppings for what was the smallest portion size.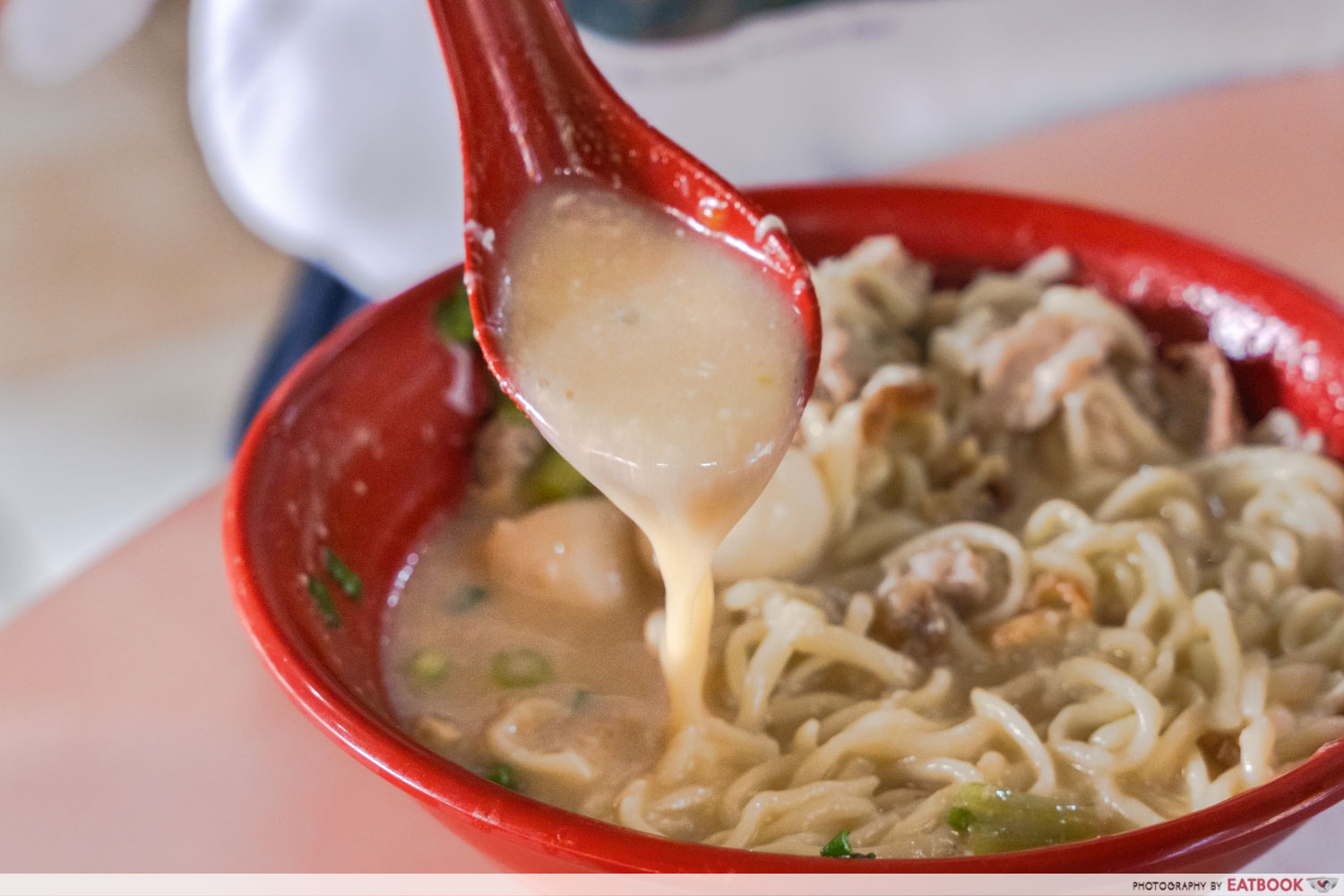 What makes Teck Kee's bowl of sheng mian so special is the rich, full-bodied broth the noodles are swimming in. Having arrived early in the morning and relatively sleep deprived, the first sip of this robust, savoury soup woke me right up.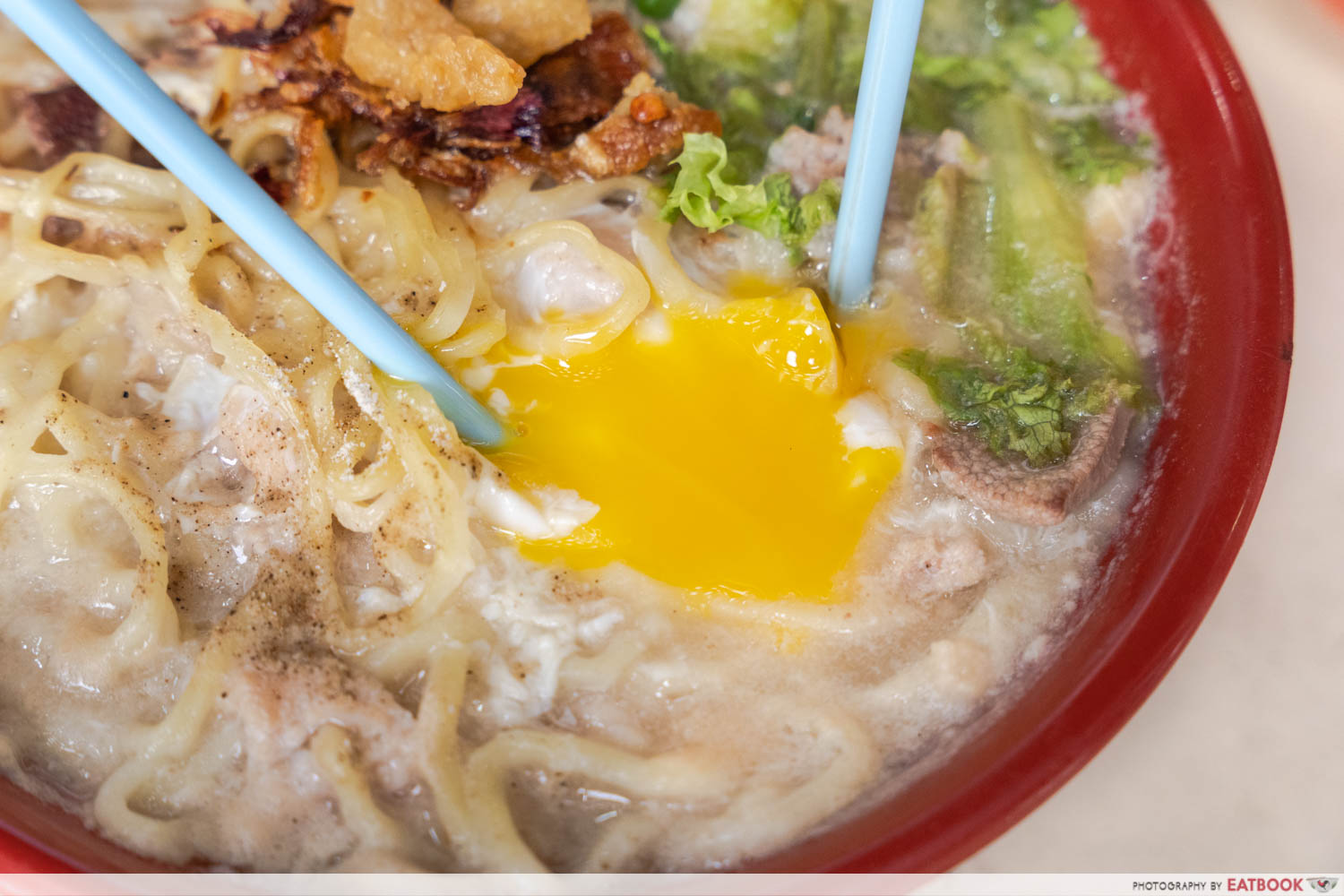 Mixing the egg into the clear broth turned it cloudy, but also much richer. While it is indeed comparable to a tonkotsu ramen broth in flavour, it's unique in its own right, and something I couldn't get enough of.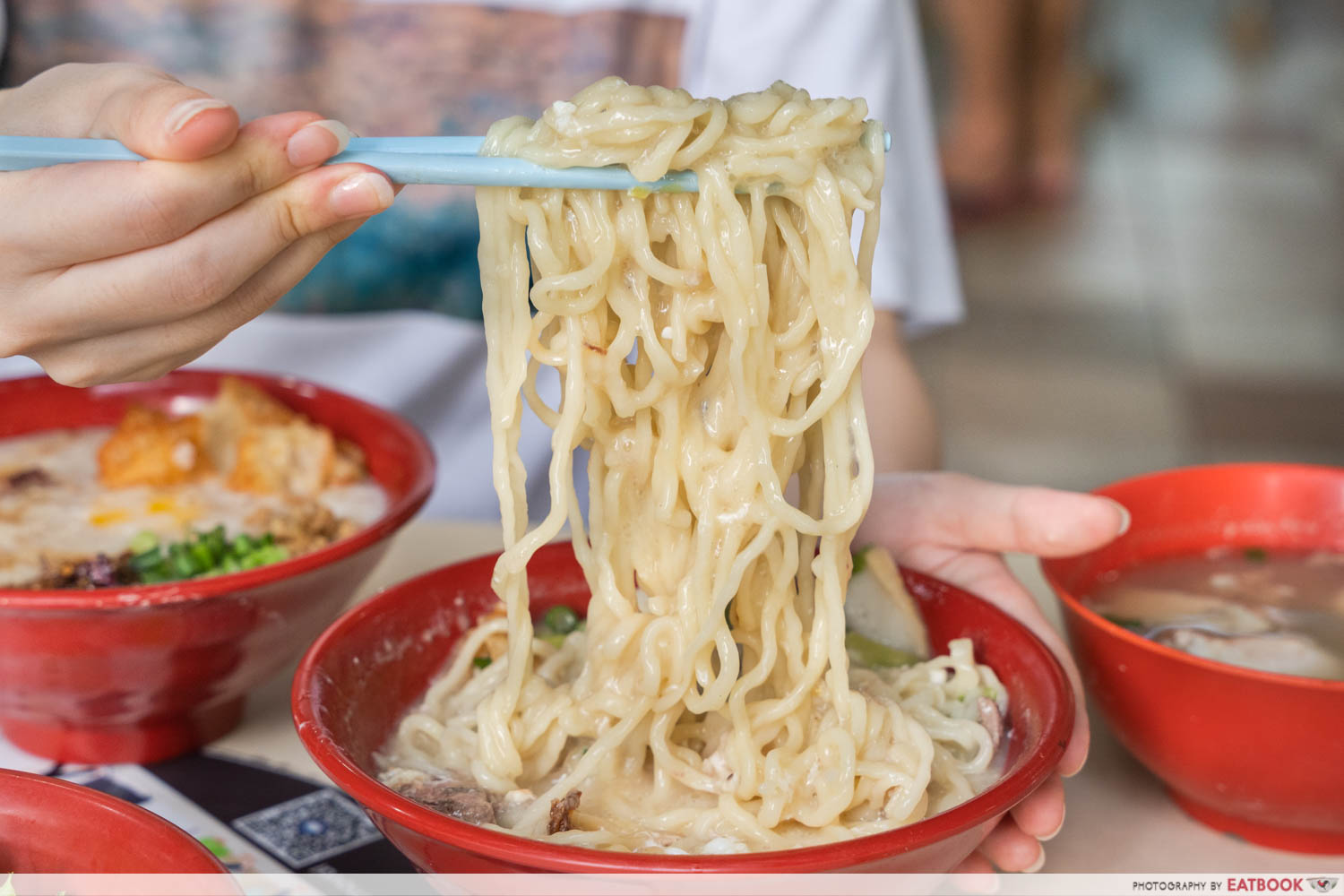 The creamy broth also went incredibly well with the mee kia we chose to have in our sheng mian, which soaked up the flavour of the soup to make a very slurpable bowl of noods.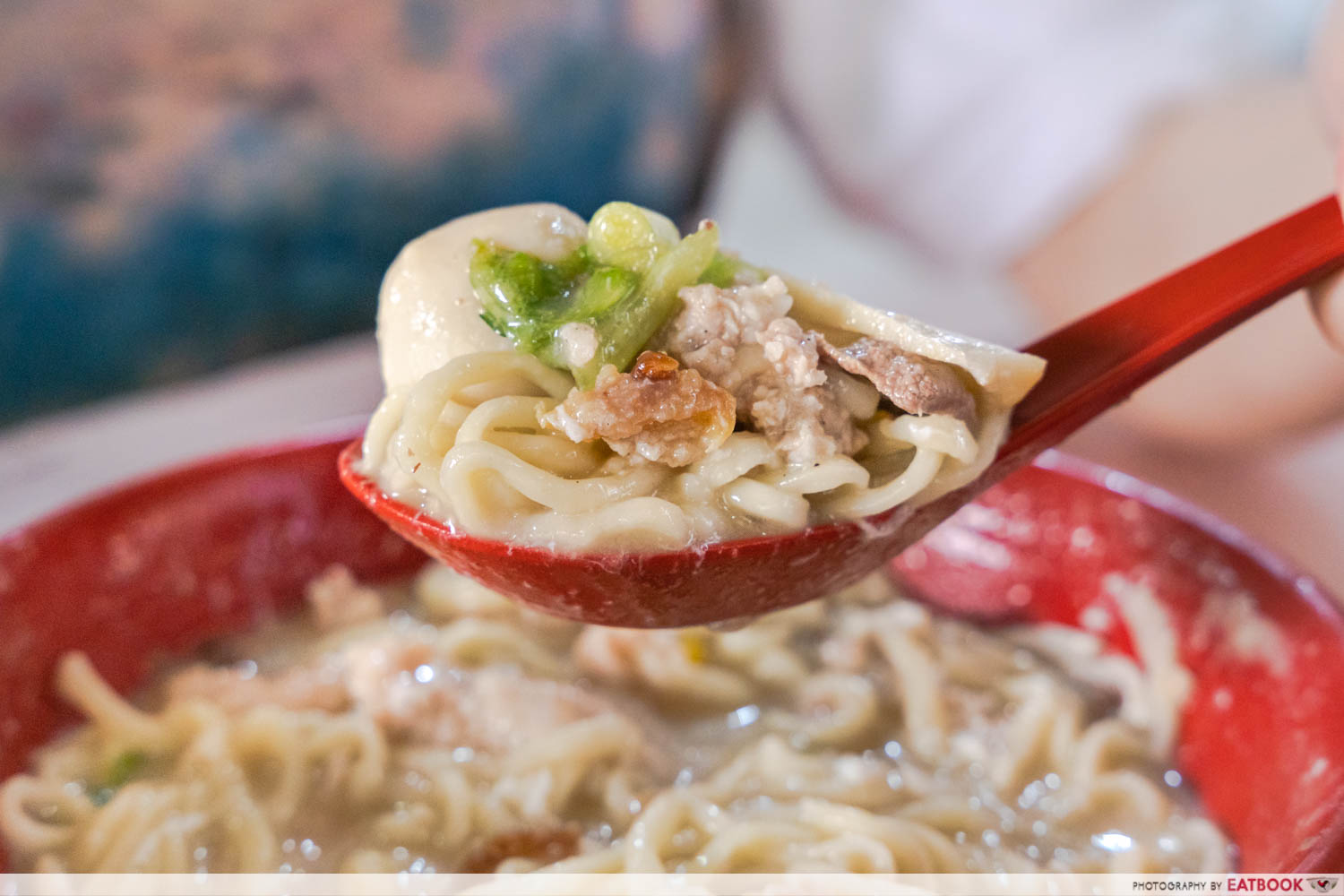 With your sheng mian, you get a good amount and variety of your standard sheng mian ingredients. No prawns here, but we had two bouncy fish balls, tender minced meat, and crispy, large chunks of pork lard along with fishcake slices and chopped lettuce. 
One gripe I did have though, was that the pork liver was bitter and gamey tasting. Otherwise, Teck Kee's sheng mian definitely deserving of the hype it has, and I could definitely see why this is a dish people wouldn't hesitate to join the long queue for.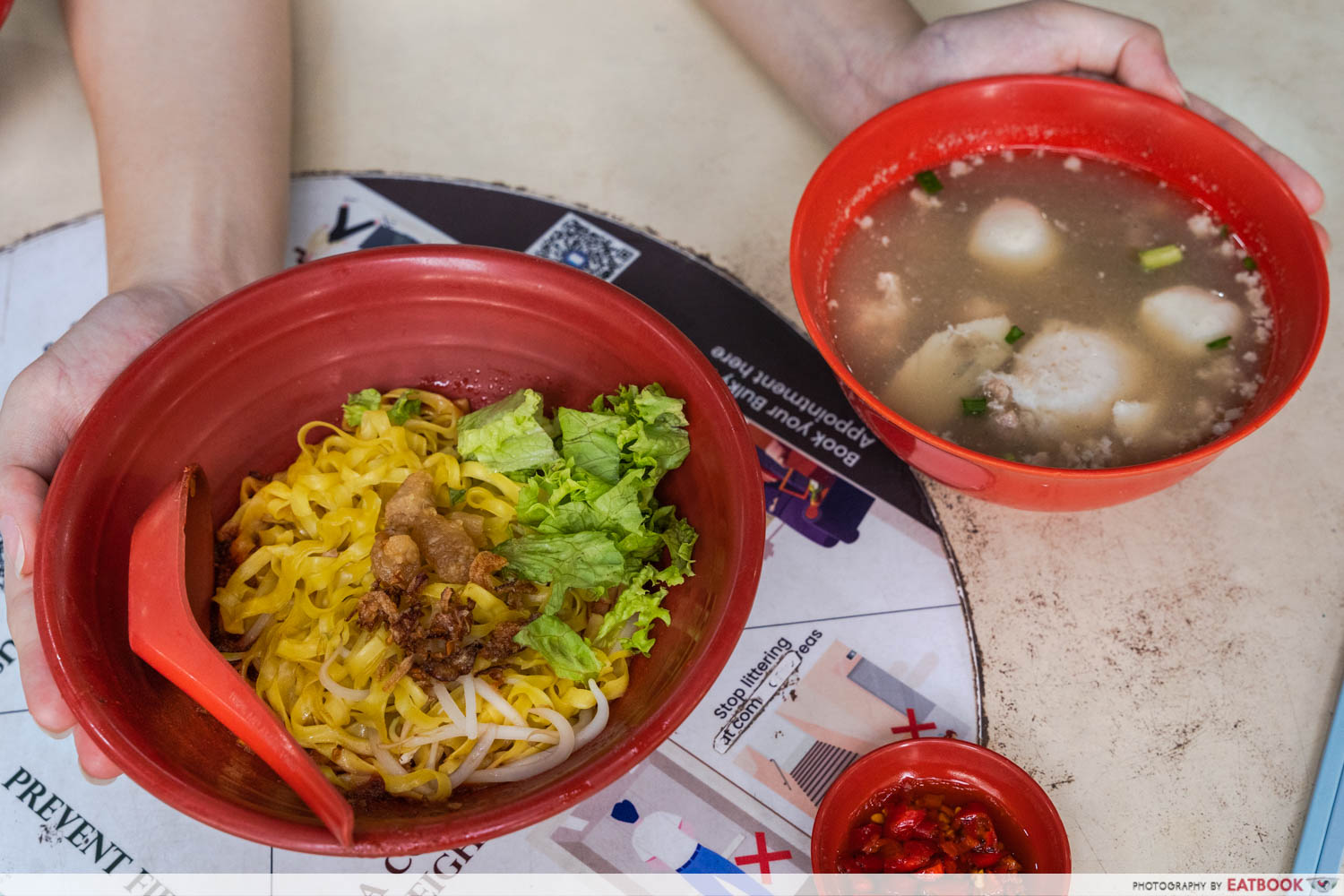 The second thing on the menu was the Dry Noodle ($4), a bak chor mee-esque dish which we chose to have with mee pok. This came with a decently sized bowl of clear soup on the side, which oddly enough, is also where the majority of the liao was located.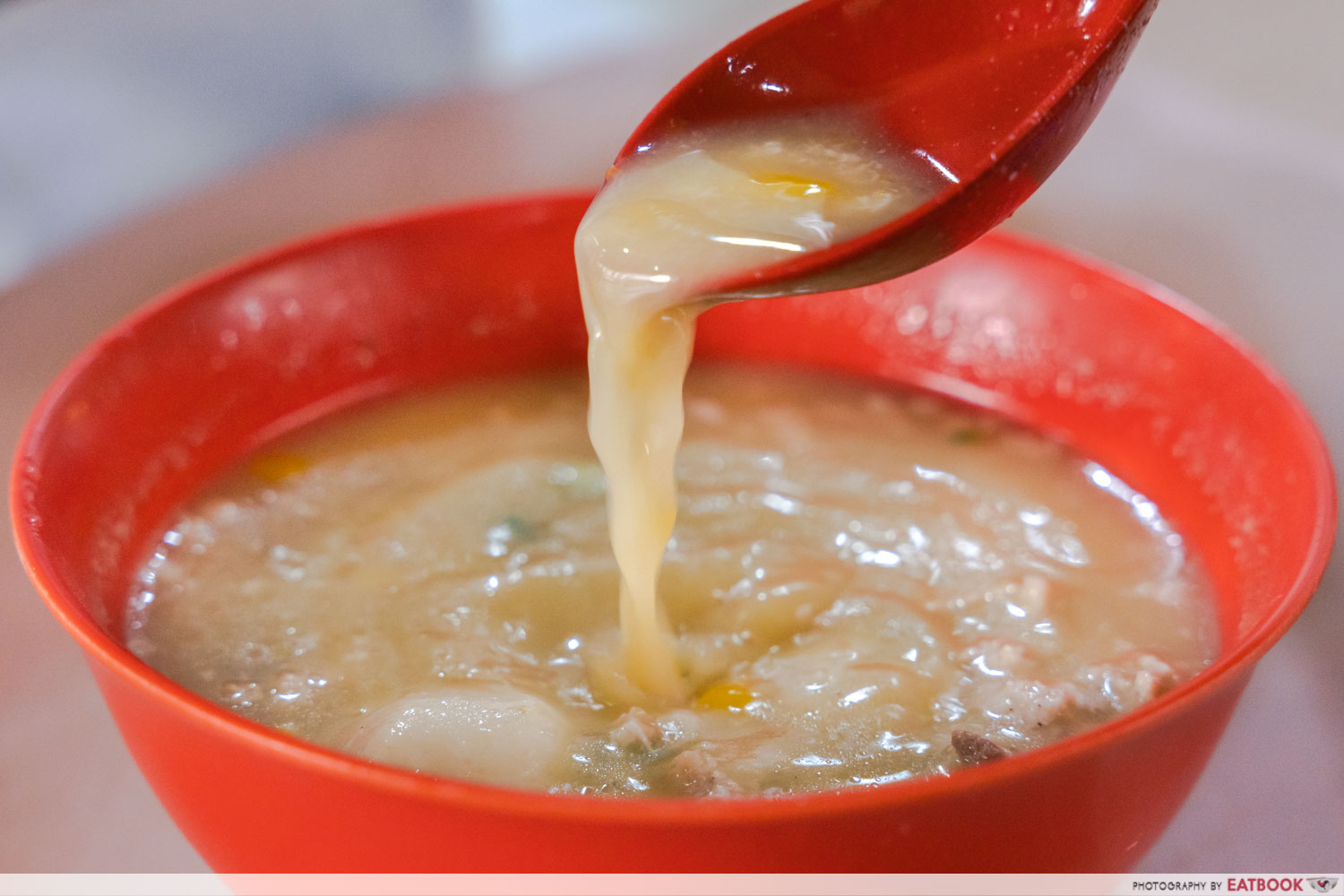 You'll find most of the liao such as pork liver, minced pork, and fishballs floating about in the soup, which otherwise looked and tasted like a normal bowl of soup you'd find at any other noodle stall.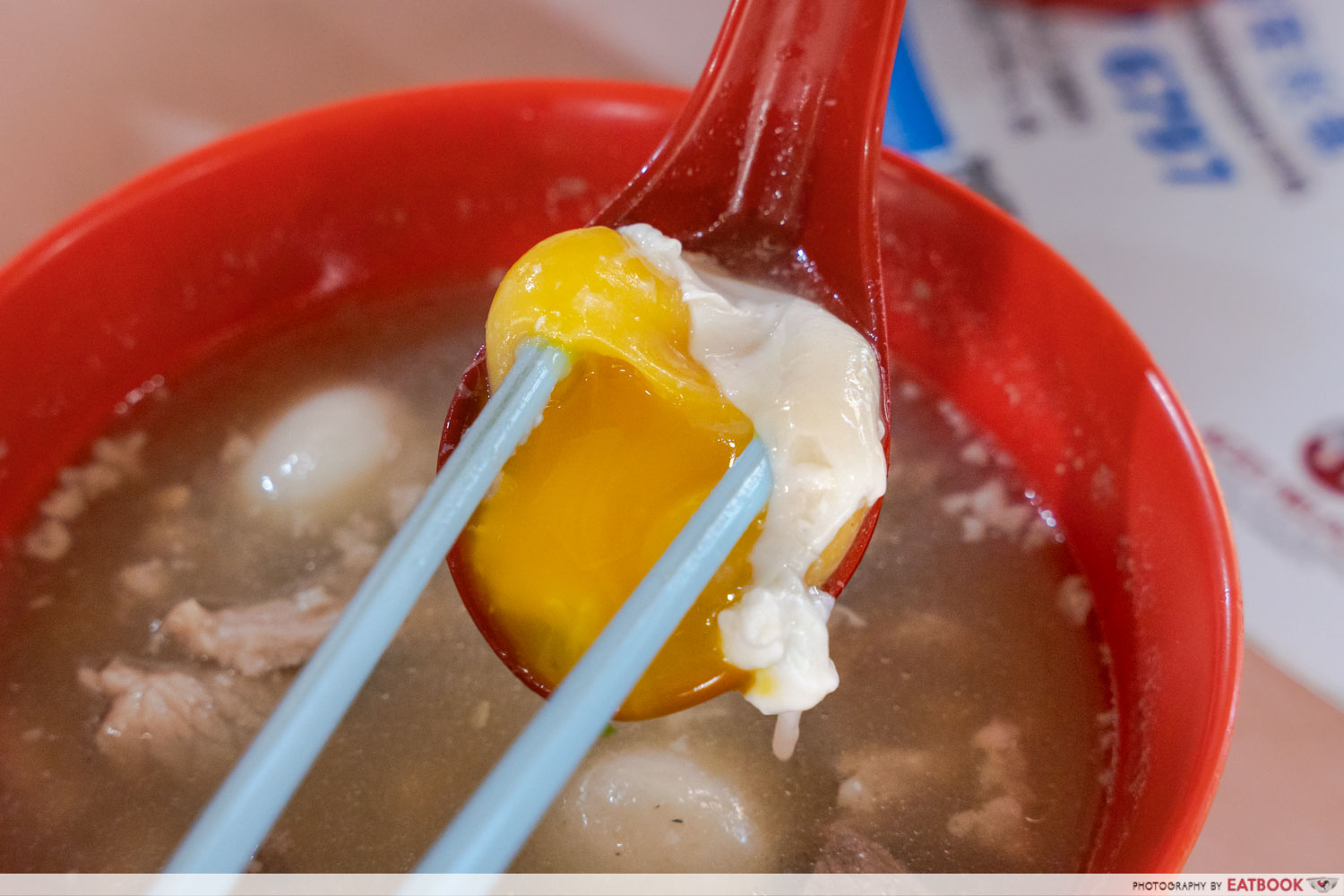 There also was an egg floating around in the broth. Breaking the yolk and mixing it into the soup made it creamier. Honestly, this was a good bowl of soup, but it could not live up to expectations set by the incredible broth of the sheng mian we tried before this.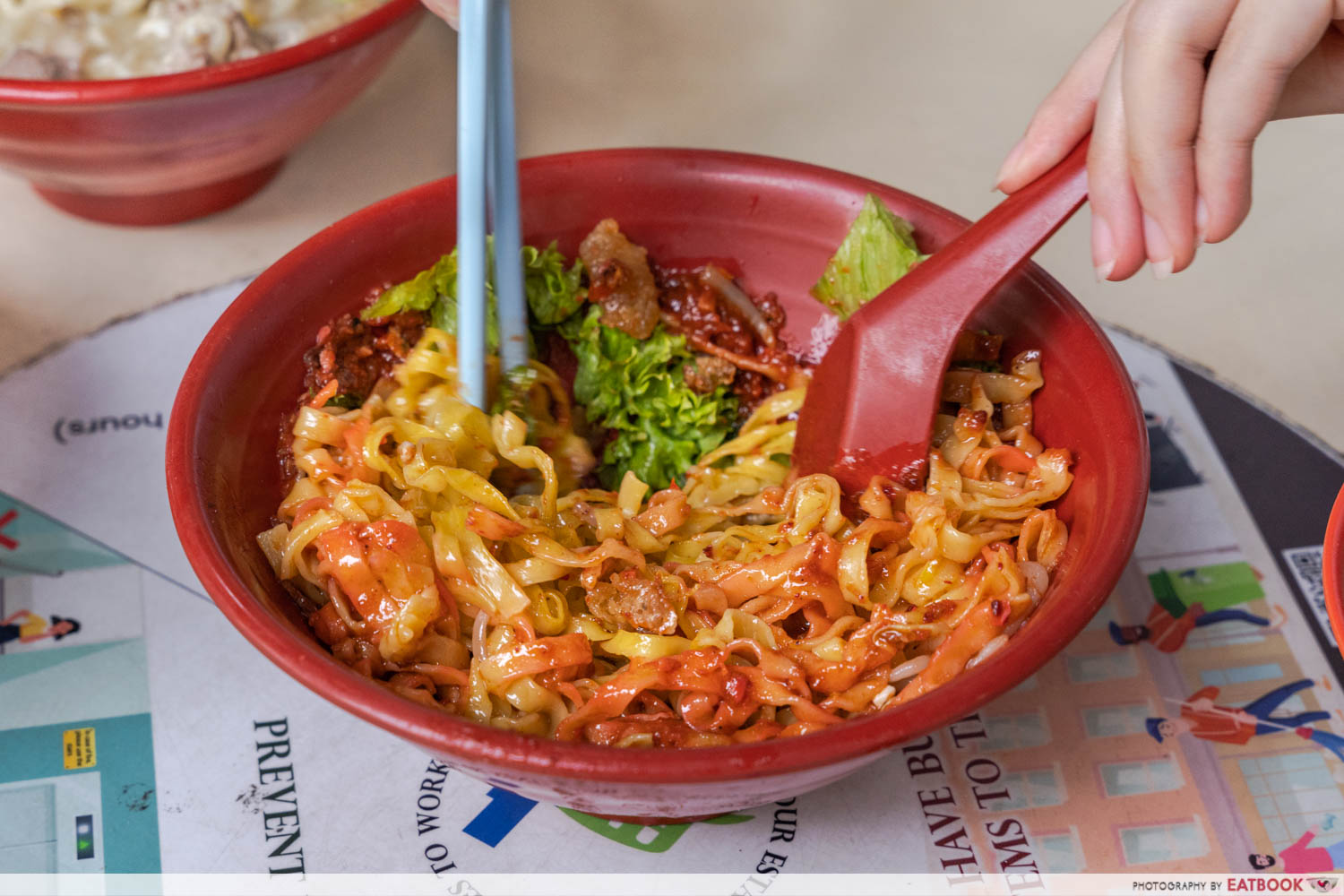 Moving on to the noodles, the aunty taking orders asked us whether we wanted spicy or non-spicy. We did not anticipate that spicy meant that our bowl would end up with a heaping amount of sambal that blended right in with the colour of the bowl, only to reveal its shocking red colour had bled into the noodles when we mixed it up.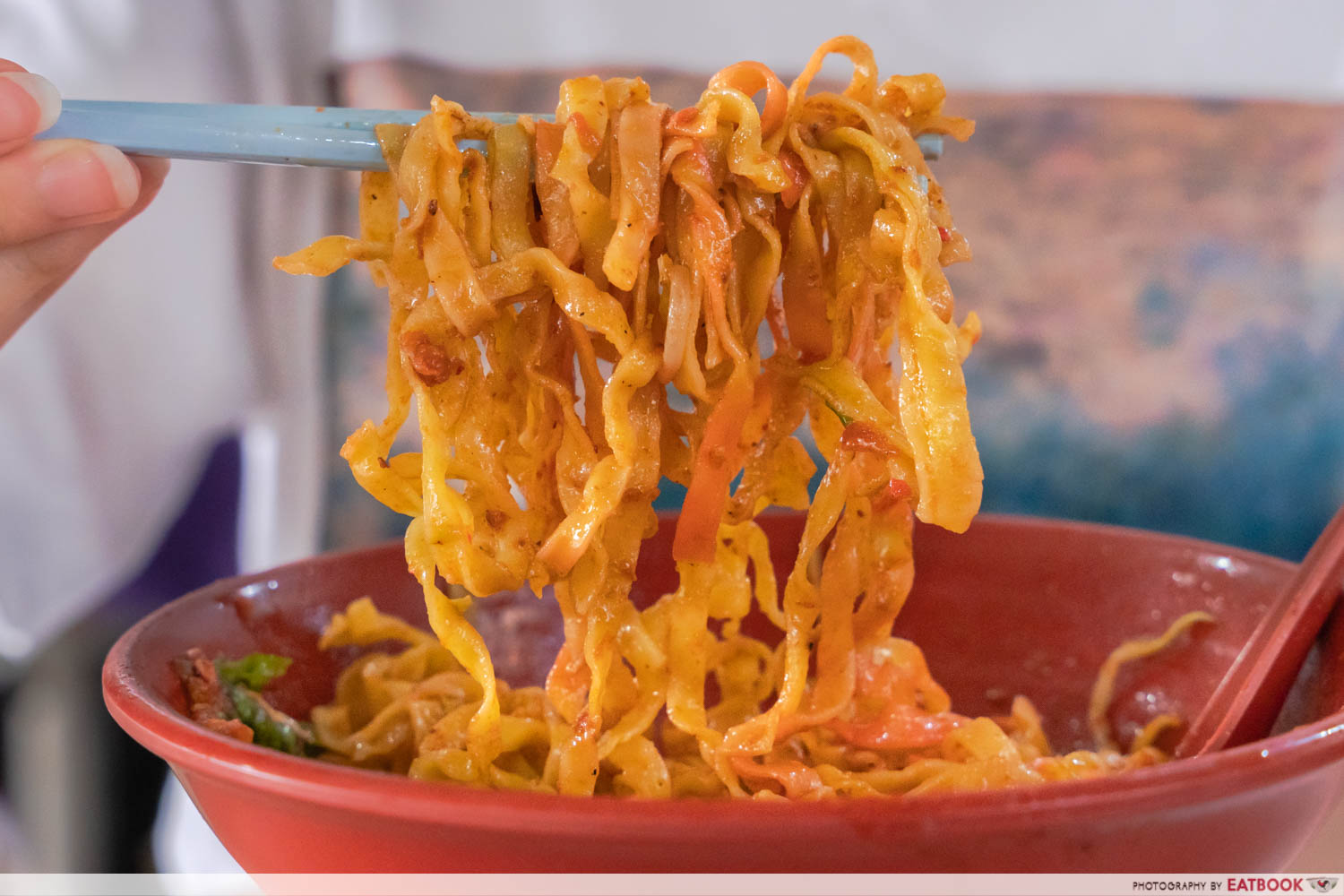 It wasn't as bad as it looked, but the noodles were definitely spicy, with the heat lingering in the back of our throat. At least the bowl of soup proved its use in mitigating some of the spiciness.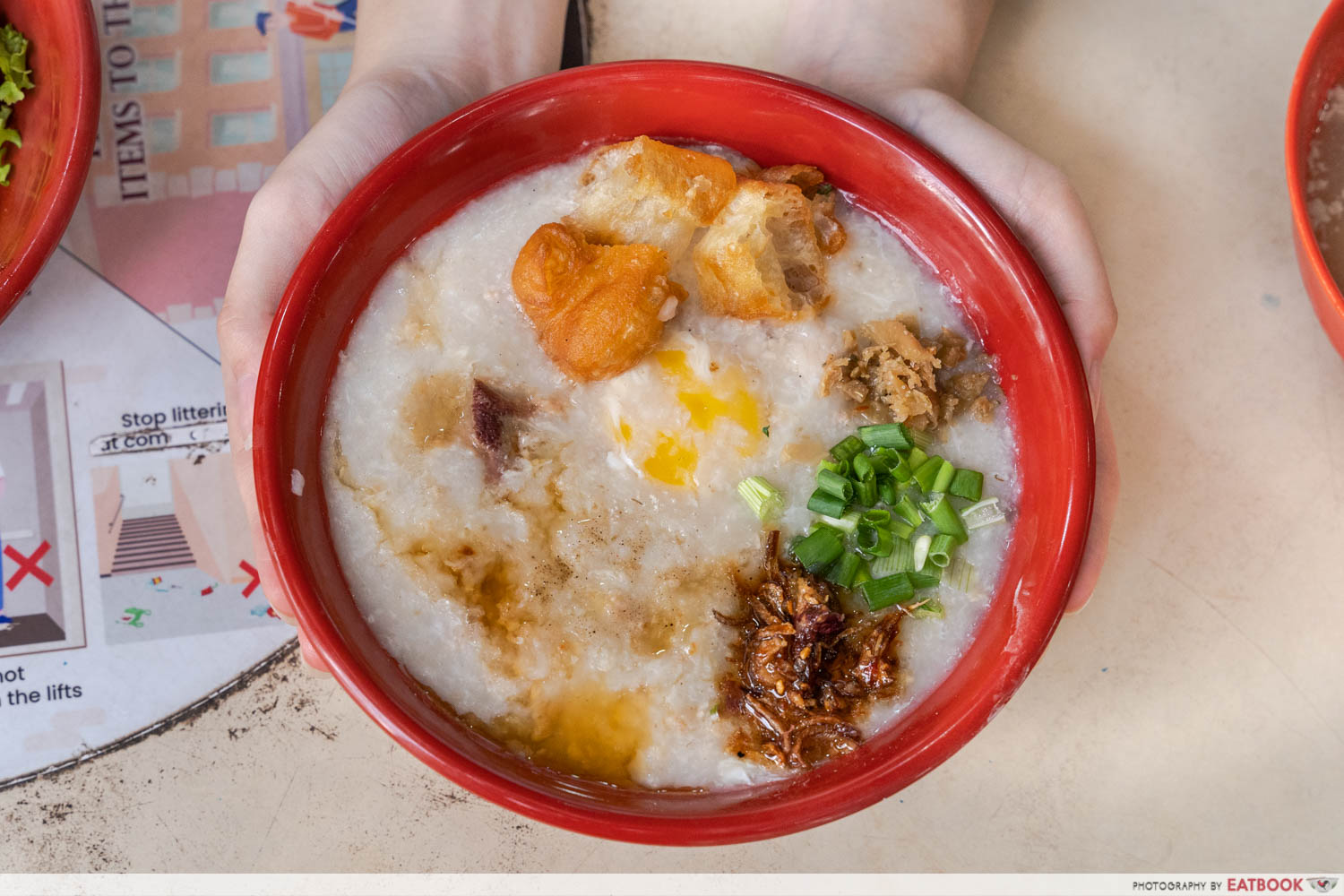 Finally, the Pork Porridge ($4), which was a classic breakfast food for me growing up.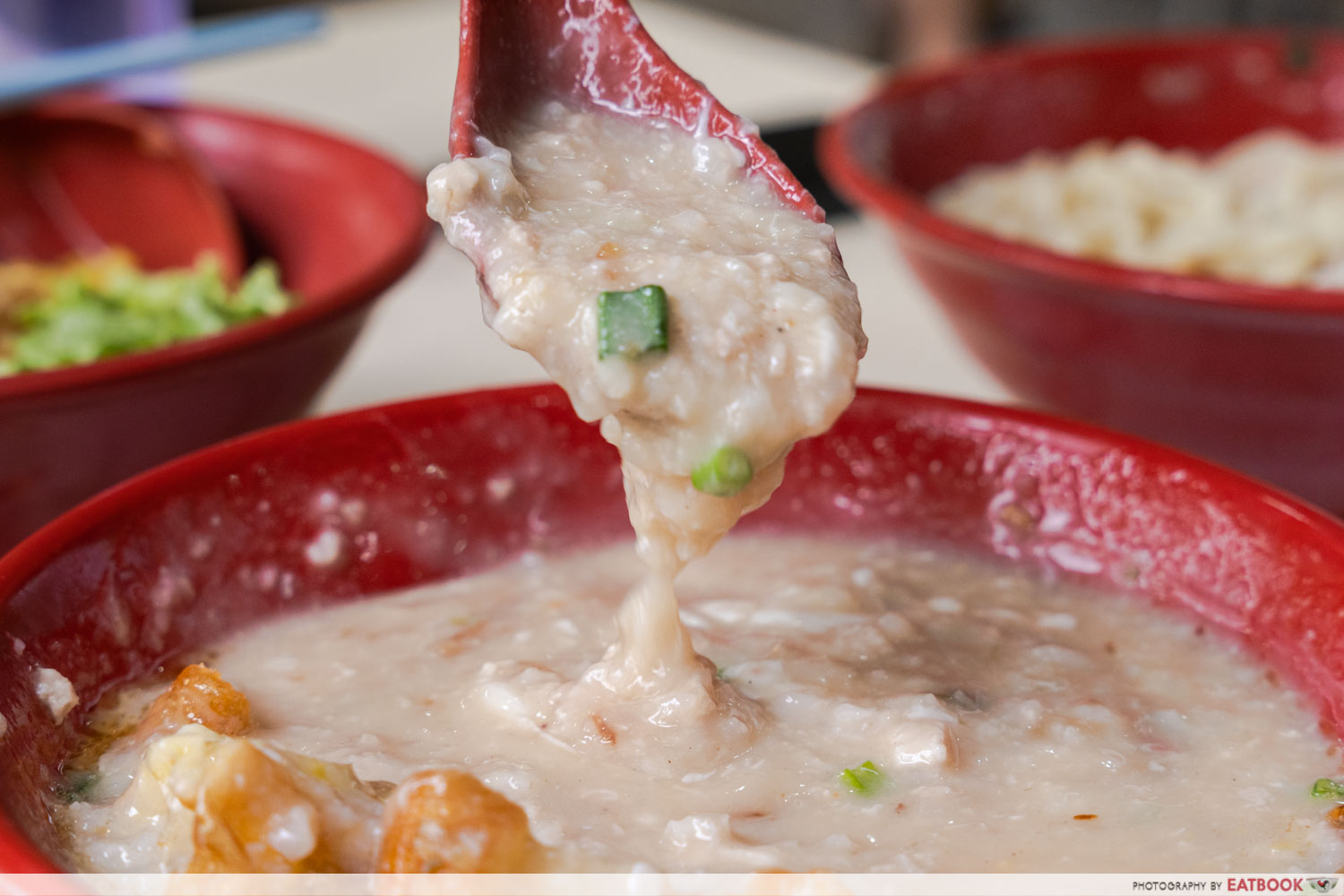 The hot congee was well-seasoned, and like the other dishes, had an egg that we could stir in for an extra-creamy texture, though I would have preferred it to be of a much thicker viscosity. On the other hand, my friend thought it was just the right consistency for her.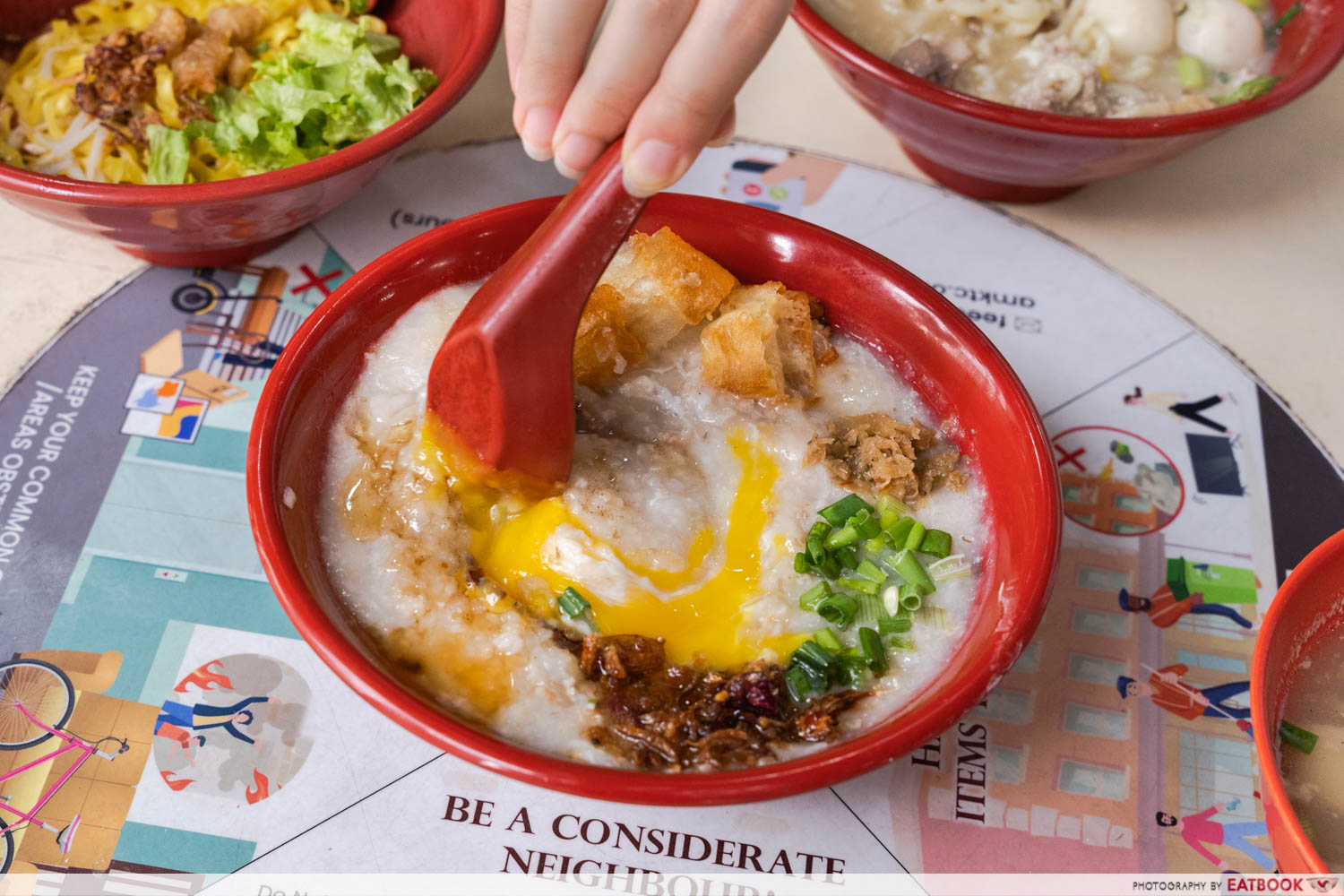 You also get minced pork, pork slices, and pork liver in the congee, as well as some small pieces of youtiao.
I kind of wish we had the option to purchase a whole youtiao instead of the chunks that were included in our bowl, but that's just because I like to save the youtiao for last to soak up the dregs of porridge in the bowl. If you eat it fast enough, the golden youtiao hot and still very crispy.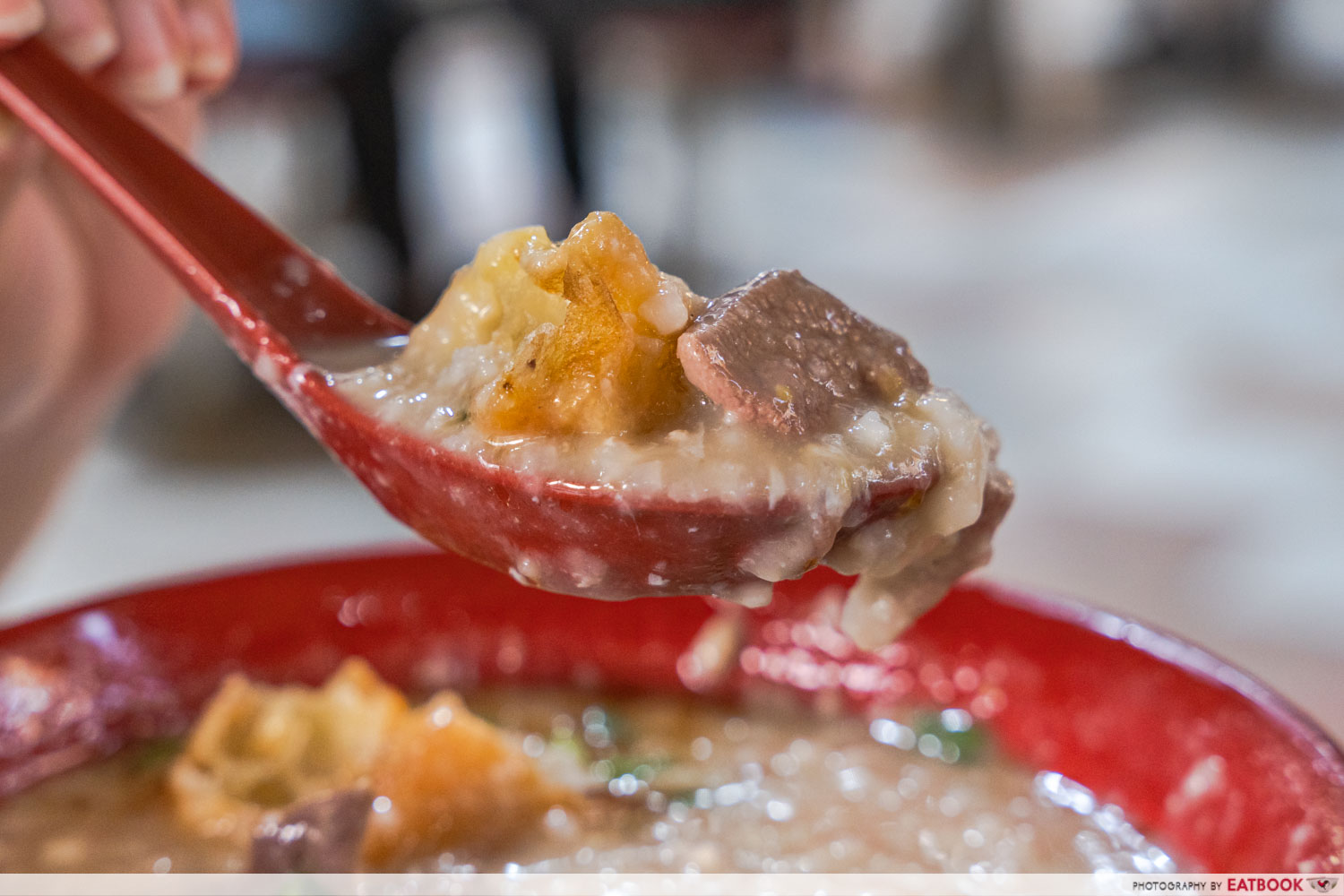 As for the pork, it was alright, though I had the same issue with the porky, bitter liver in this bowl as I did for the liver in the sheng mian. Overall, I felt that it was a normal, comforting bowl of pork porridge, though nothing super outstanding. 
Sin Heng Kee Porridge Review: Famous Congee With Generous Ingredients From $4.50
Ambience at Teck Kee Cooked Food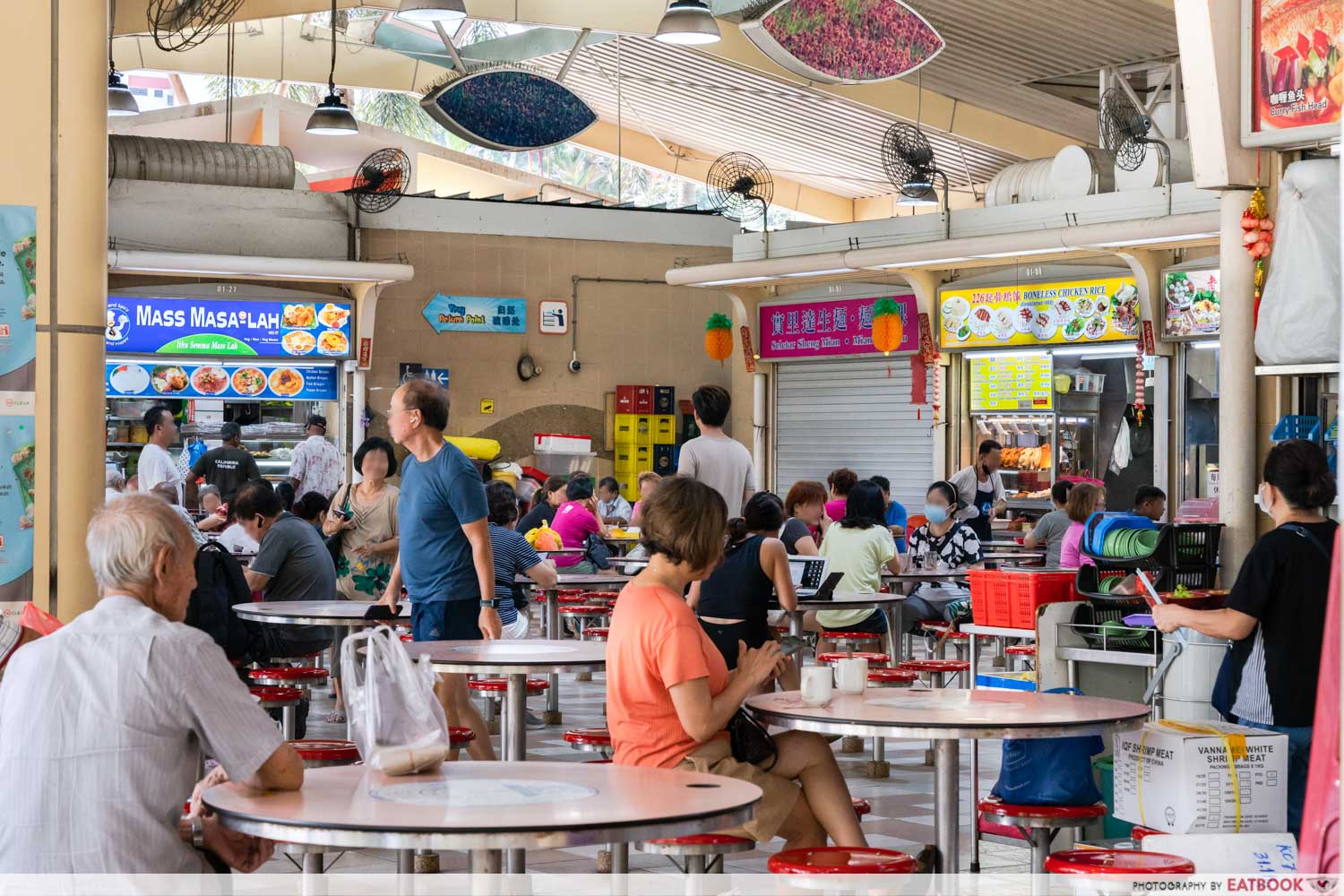 Located in Kebun Baru Market & Food Centre, this is a small, old fashioned hawker centre that gets a decent number of people but doesn't get overly crowded at lunchtime. Finding a seat here wasn't difficult, though finding the hawker centre itself was. It's not exactly the most convenient place to get to, being a five minute bus ride plus an 10 minute walk from Ang Mo Kio MRT Station, and I ended up lost trying to get here.
On the bright side, if you choose to forgo the bus ride and walk for 23 minutes from the station, your journey through the HDB estates here will be filled with many adorable community cats and a huge, massive tree that boasts an impressive 4.9 star rating on Google maps. 
The Verdict
Some hawkers in Singapore have the skill and renown to be able to sell just one dish and continue doing so for decades at their stall. If Teck Kee Cooked Food really wanted too, I'm almost certain they could get by with just hawking their incredible sheng mian and nothing else. It is certainly unique and a cut above their other two dishes and other sheng mian you'd find elsewhere.
You'd find most people talking about Teck Kee's signature dish and not the other two. That's not to say their other two dishes aren't good, and I did enjoy eating them for the most part, but where am willing to get lost again just for the sheng mian, I probably would only eat the other two if I was in the area and they ran out of said sheng mian. 
Anyway, check out our Ang Mo Kio food guide for more food gems in the Ang Mo Kio area. Otherwise, read our You Xiang Teochew Noodle review for some good noodles in the west.
Address: 226H Ang Mo Kio Street 22, #01-23, Kebun Baru Market & Food Centre, Singapore 568226
Opening hours: Fri-Wed 6am to 1:30pm
Website
Teck Kee Cooked Food is not a halal certified eatery. 
You Xiang Teochew Noodle Review: Long Queue Fishball Noodles For $2.70 In Bukit Panjang
Pictures taken by Tan Jia Hui
This was an independent visit by Eatbook.sg
Teck Kee Cooked Food Review: Ramen-Like Sheng Mian Stall In Ang Mo Kio
Teck Kee Cooked Food Review: Ramen-Like Sheng Mian Stall In Ang Mo Kio -

7.5/10
Summary
Pros:
– Affordable
– Good, very unique sheng mian
Cons
– Far from MRT
– Long queue
– Pork liver slices were slightly bitter and too porky
Recommended dishes: Sheng Mian ($4), Pork Porridge ($4)
Opening hours: Fri-Wed 6am to 1:30pm
Address: 226H Ang Mo Kio Street 22, #01-23, Kebun Baru Market & Food Centre, Singapore 568226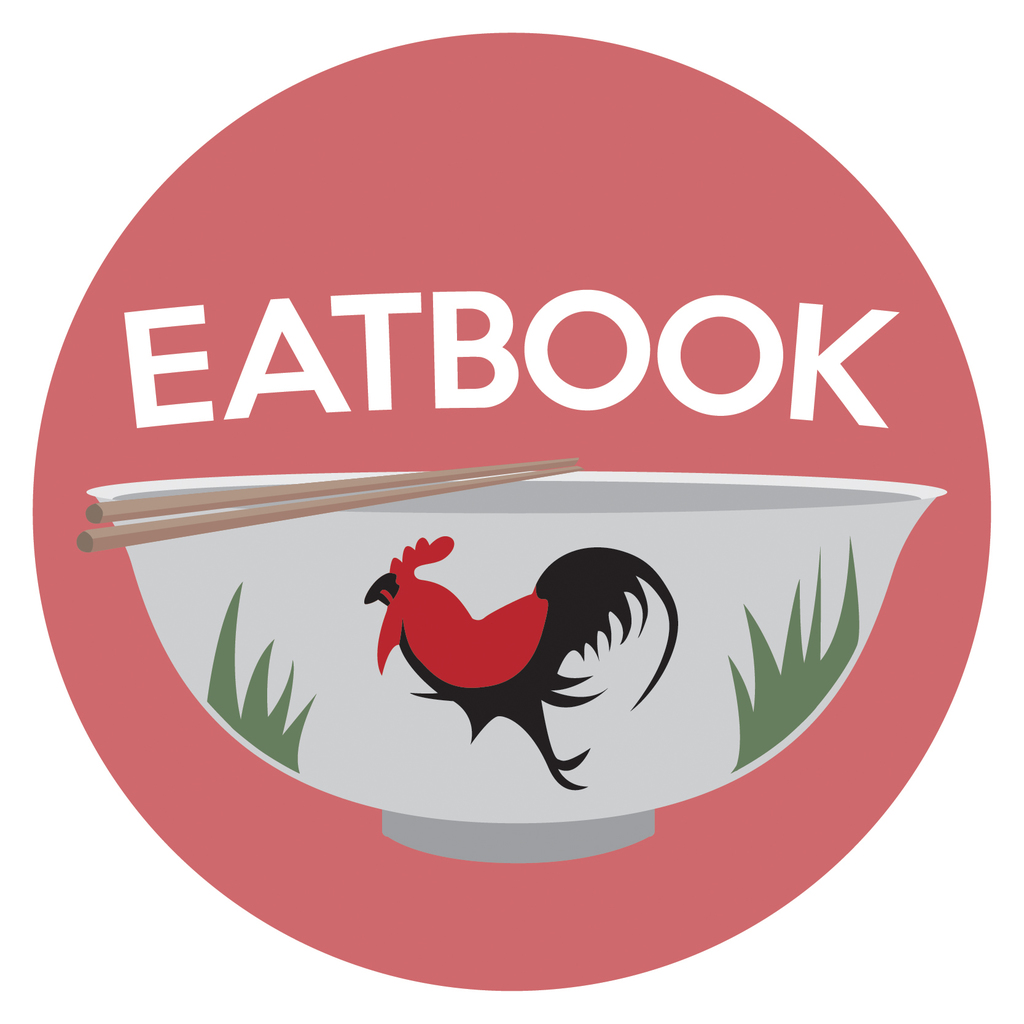 Drop us your email so you won't miss the latest news.