Ten Tenths for Cantonese roast meat rice bowls at Havelock 2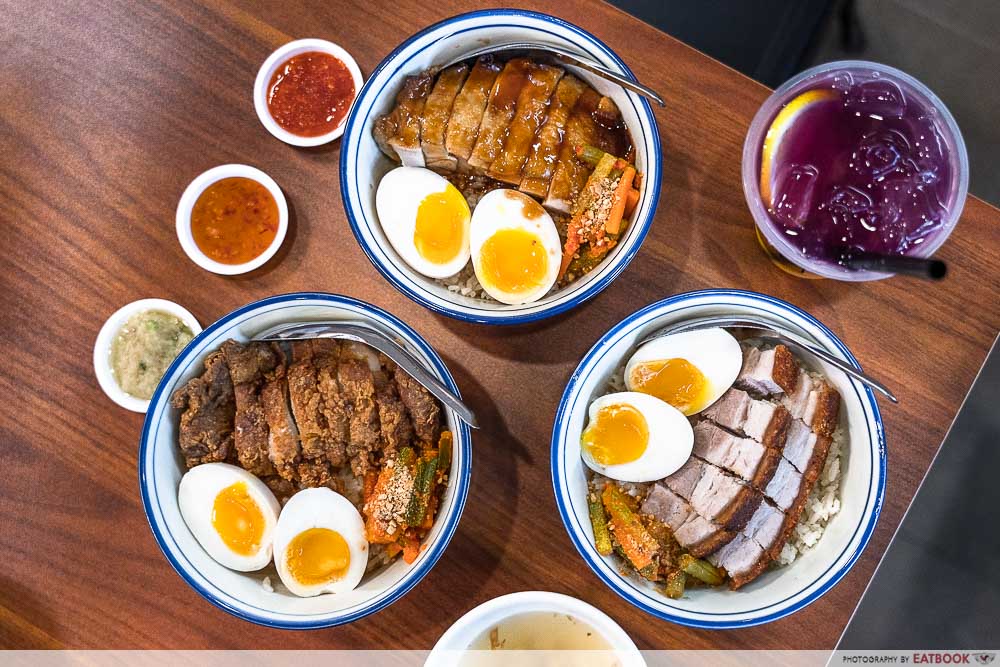 If you find yourself on the North East Line,  and you're craving hearty rice bowls piled with drool-worthy roast meats, head over to Ten Tenths, a Cantonese eatery that's less than a five-minute walk from Clarke Quay MRT Station or Chinatown MRT Station. Ten Tenths dishes out affordable rice bowls below $10 nett, without any GST or service charge!
Fei Fei Roasted Noodle Review: Michelin-Approved Charcoal-Roasted Char Siew Noodles In Jurong East
Food at Ten Tenths

As Ten Tenths is renowned for their sio bak, we ordered the Canton Crispy Roast Pork Belly With Fragrance Rice ($9.90). I was immediately impressed by the perfectly boiled egg and thick cuts of sio bak that were aesthetically lined up in two rows. The bowl also came with cabbage soup and house-made achar.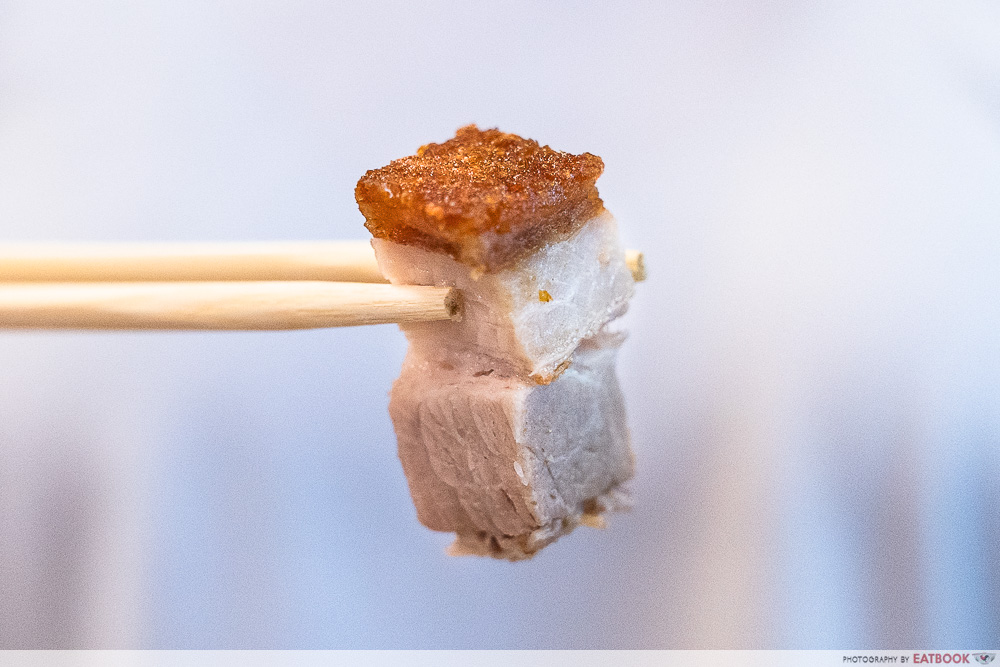 The sio bak had a satisfying crunch that gave way to the layers of tender fat. While the meat could have been more seasoned, I liked how it was chewy and went well with the salty ginger scallion sauce. The rice reminded me of chicken rice, but softer and more buttery.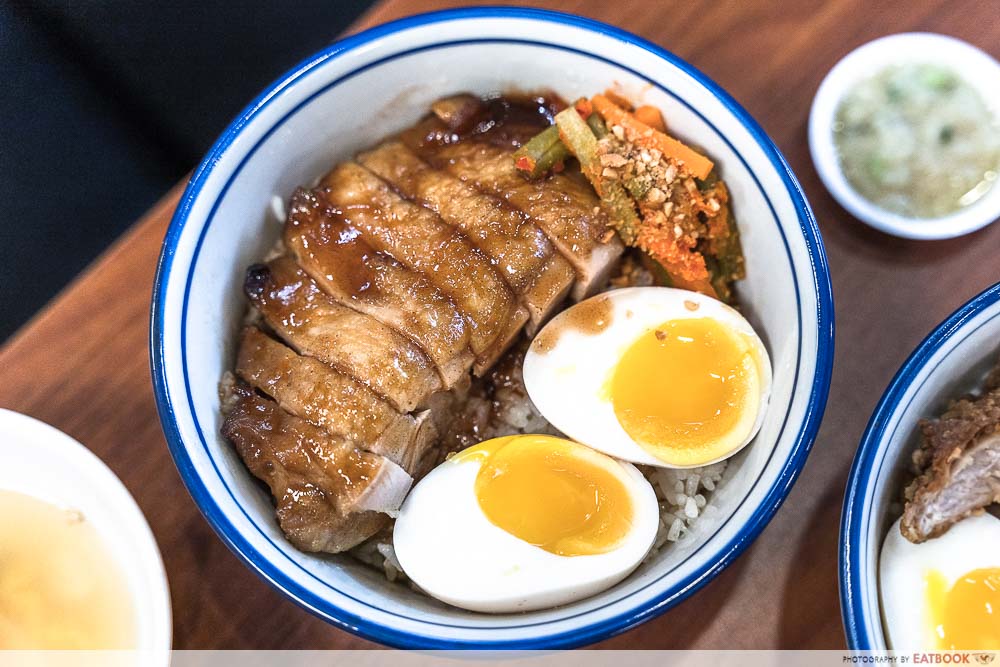 We also had the Peking Grilled Chicken Thigh With Fragrance Rice ($9.90), which was my personal favourite. Before digging in, the bowl was already a feast for the eyes with the chicken slices coated in a thick, moreish gravy.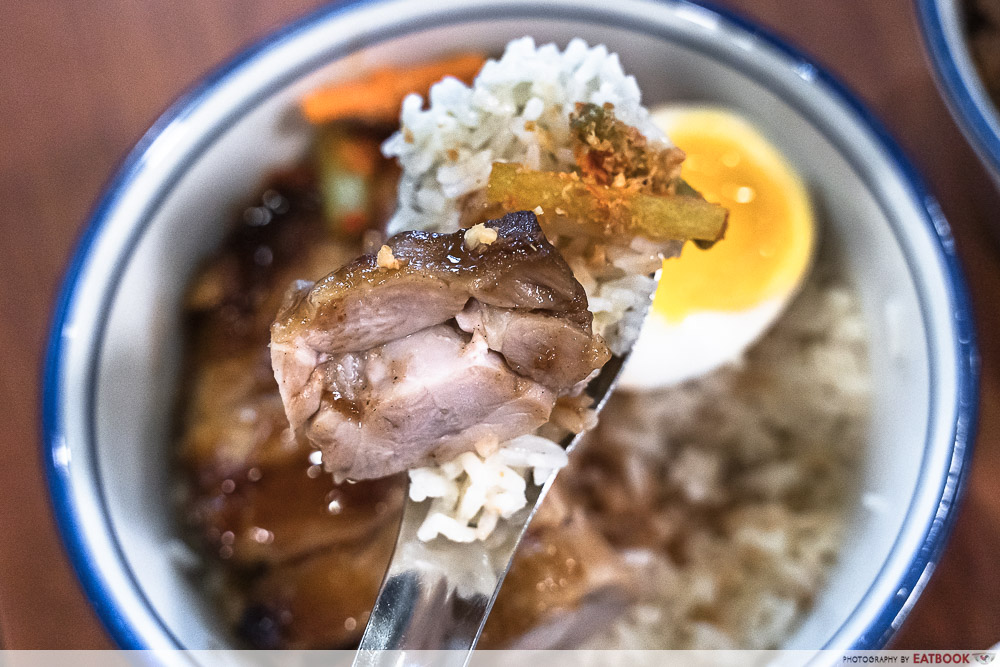 The grilled chicken thigh was tender with a smooth and slippery skin. Mix the meat with the house-made achar and boiled egg for a mouthful of creamy goodness. I also did not need to add any chilli in as the chicken was flavourful enough on its own.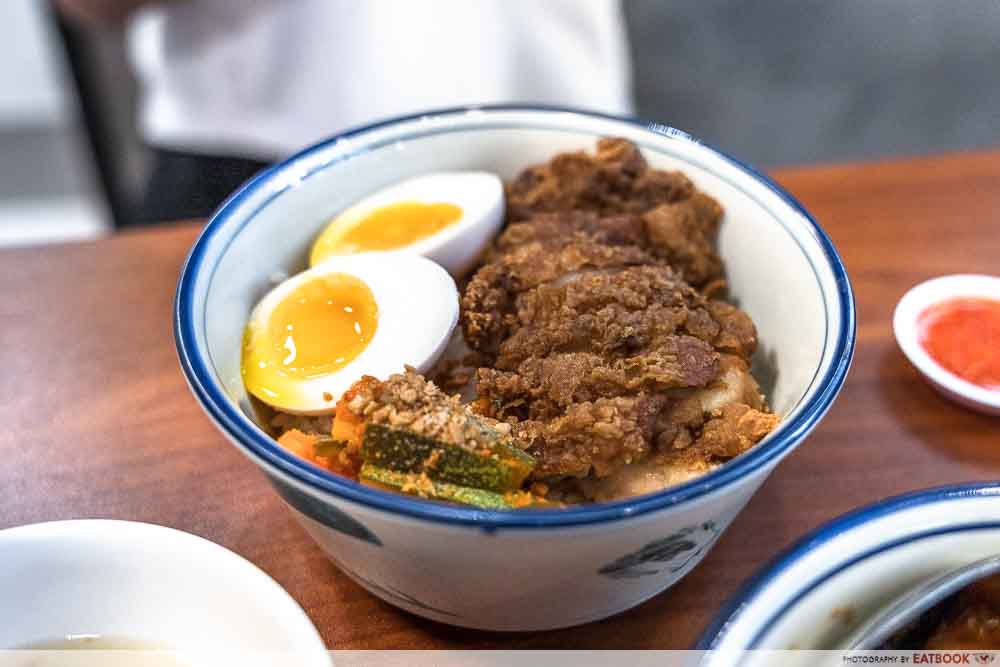 Another tasty dish we tried was the Deep Fried Har Cheong Chicken Cutlet With Fragrance Rice ($9.90). The amount of meat was so generous that we could hardly see the rice underneath.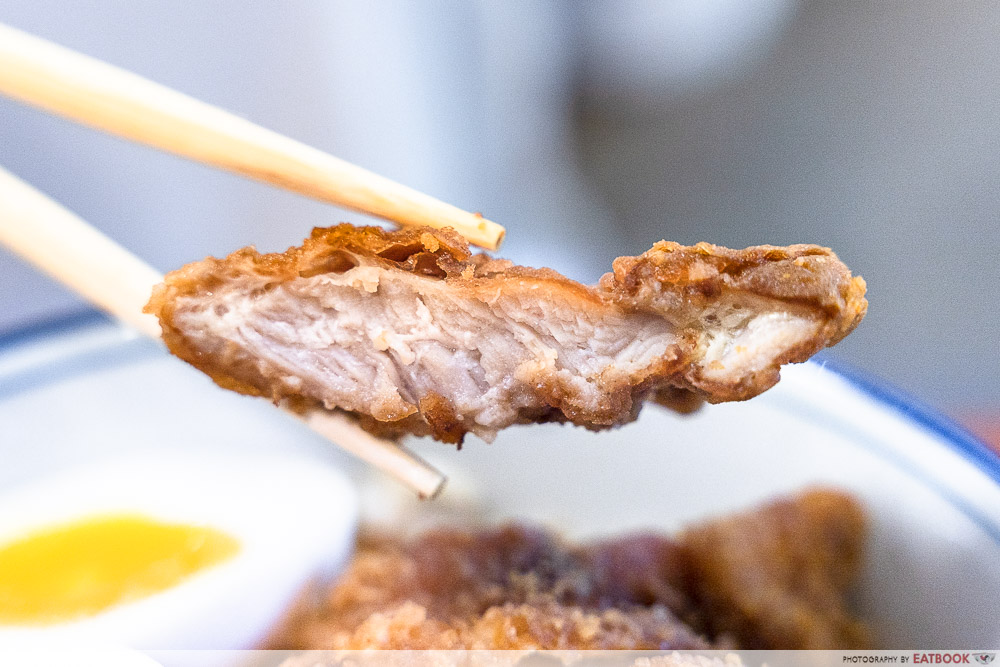 The chicken thigh fillet had a crispy outer layer with juicy meat beneath it. You can dip the cutlet in the sweet-sour chilli sauce for some added spiciness, or add a few spoons of the sweet cabbage soup to dampen the rice.
The drinks at Ten Tenths are typical of what you'll find at a kopitiam with the likes of Lemon Tea ($2.50) and Green Tea ($2). We went for the eye-catching Honey Lemon ($2.50), which came with a mix of blue pea syrup. While it was a refreshing drink, it tasted more like a lemon drink as the honey flavours were hard to discern.
17 Chinatown Food Gems Including Noodles At $1 And A 100cm Food Platter
Ambience at Ten Tenths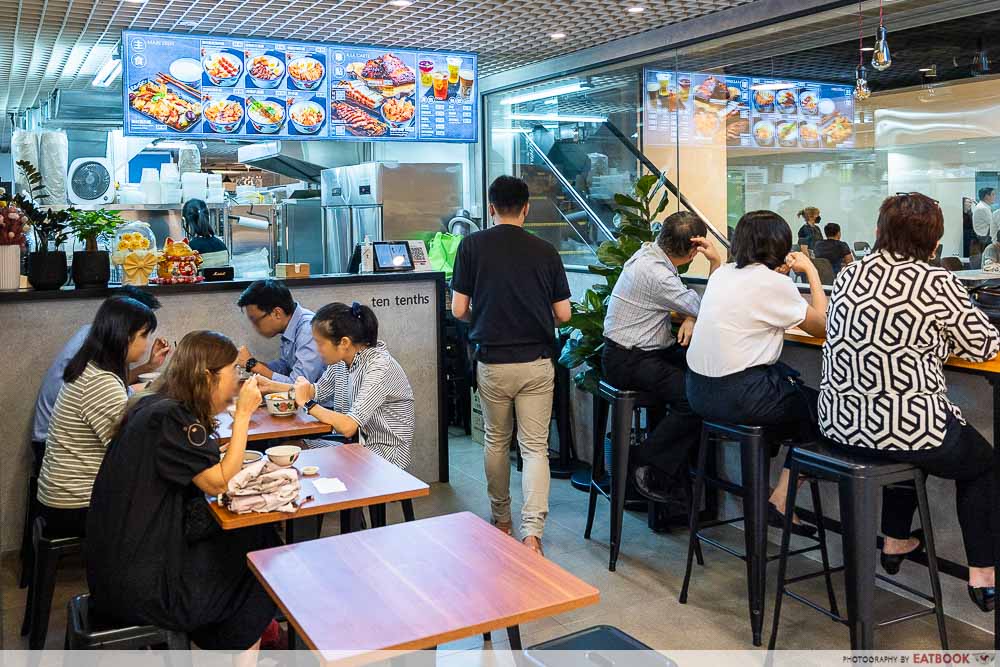 Ten Tenths is located on the basement of Havelock 2, a quiet mall frequented by office workers from the CBD area. As the stall is right next to the escalator, it welcomes curious stares from hungry diners in search of a lunch spot. 
There are only 10 seats, so they're usually packed during the peak lunch hour, but that doesn't deter customers from streaming in, though most opt for takeaway instead. If you're lucky to get a seat, you'll enjoy the lively atmosphere and Mando-pop tunes that will become earworm for the rest of your afternoon.
The verdict

After trying the food at Ten Tenths, I couldn't help but feel jealous of those who work near the area. It must be nice to have a place nearby offering such delicious rice bowls in good portions and at reasonable prices. After taking all these factors into consideration, I believe Ten Tenths is a place I would totally recommend.
If you're looking for more affordable pork bowls, read our Braise Lu Zhi Jia review.
Address: 2 Havelock Road, B1-25, Singapore 059763
Opening hours: Mon-Sat 11:30am to 3pm, 5pm to 8pm
Tel: 8363 2100
Website
Ten Tenths is not a halal-certified eatery.
Photos taken by Jasper Juay.
This was an independent review by Eatbook.sg
Ten Tenths Review: Cantonese-Style Roast Meats In Modern Rice Bowls Near Clarke Quay And Chinatown
Ten Tenths Review: Cantonese-Style Roast Meat Rice Bowls Near Clarke Quay -

8.5/10
Summary
Pros
– Delicious roasted meat bowls with good portions
– Affordable prices below $10
– No GST and service charge
Cons
– Hard to find seats during the lunch hour
Recommended dishes: Canton Crispy Roast Pork Belly With Fragrance Rice ($9.90), Peking Grilled Chicken Thigh with Fragrance Rice ($9.90), and Deep Fried Har Cheong Chicken Cutlet with Fragrance Rice ($9.90)
Opening hours: Mon-Sat 11:30am to 3pm, 5pm to 8pm
Address: 2 Havelock Road, B1-25, Singapore 059763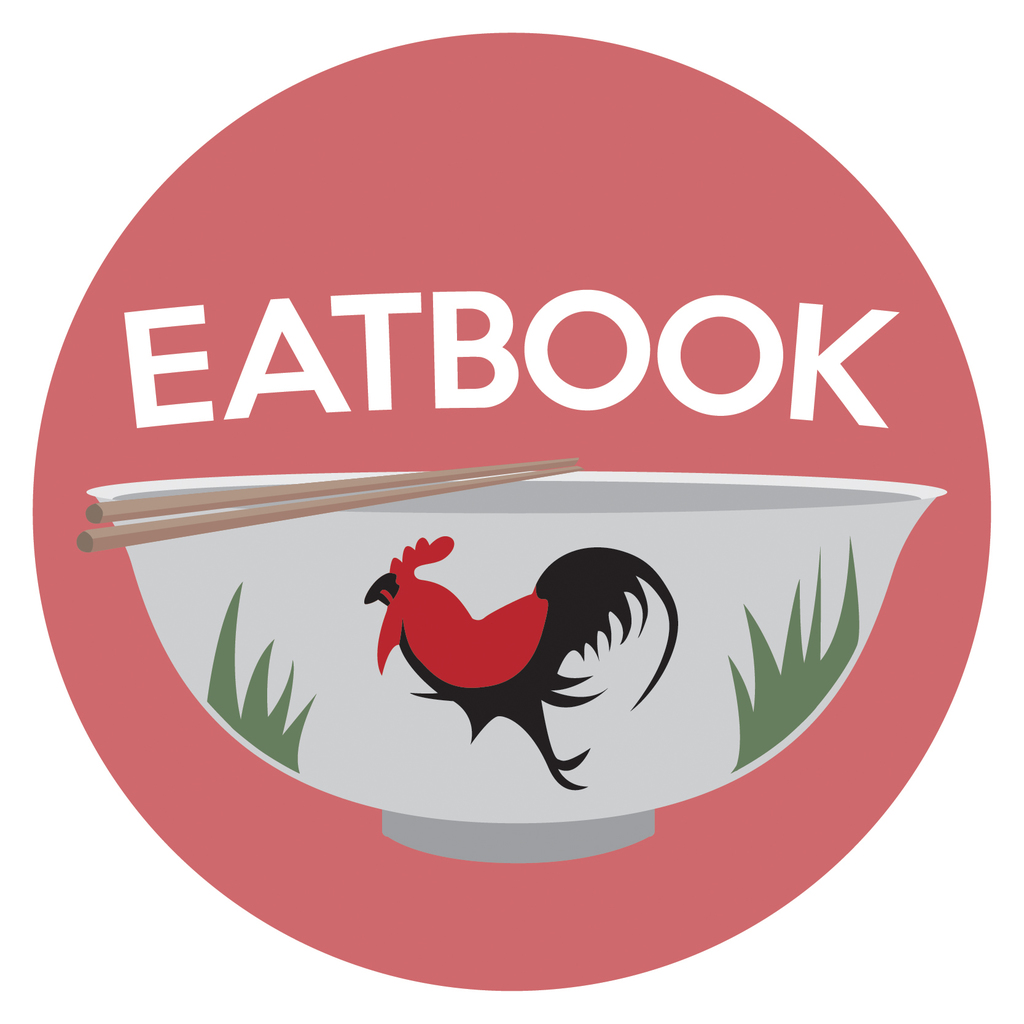 Drop us your email so you won't miss the latest news.