The Goodburger at Coronation Plaza
Though plant-based meat has made great strides in recent years, the very idea of it continues to divide people. While some have abandoned real meat in favour of plant-based alternatives, others have avoided it like the plague, claiming that 'it'll never taste as good as the actual thing!'
As for myself, I'm somewhere in the middle. While I'm all for the positive environmental impact of plant-based alternatives, I'm not ready to give up my delicious meats just yet. At least, not until I've tasted substitutes that absolutely knock my socks off. But if there's one time I've come close to doing that, it's while dining at The Goodburger.
The Goodburger is a food truck with a mission: to drive change for a kinder and more sustainable future by serving mouth-watering plant-based burgers that are just as good as the real thing, if not better.
Food at The Goodburger
To get a sense of just how convincing the plant-based burgers here are, we had to start with the familiar cheeseburger—aptly named The Classic ($16 for single patty, $22 for double). As someone who thinks the saying 'less is more' doesn't apply to burgers, I went for the heftier double.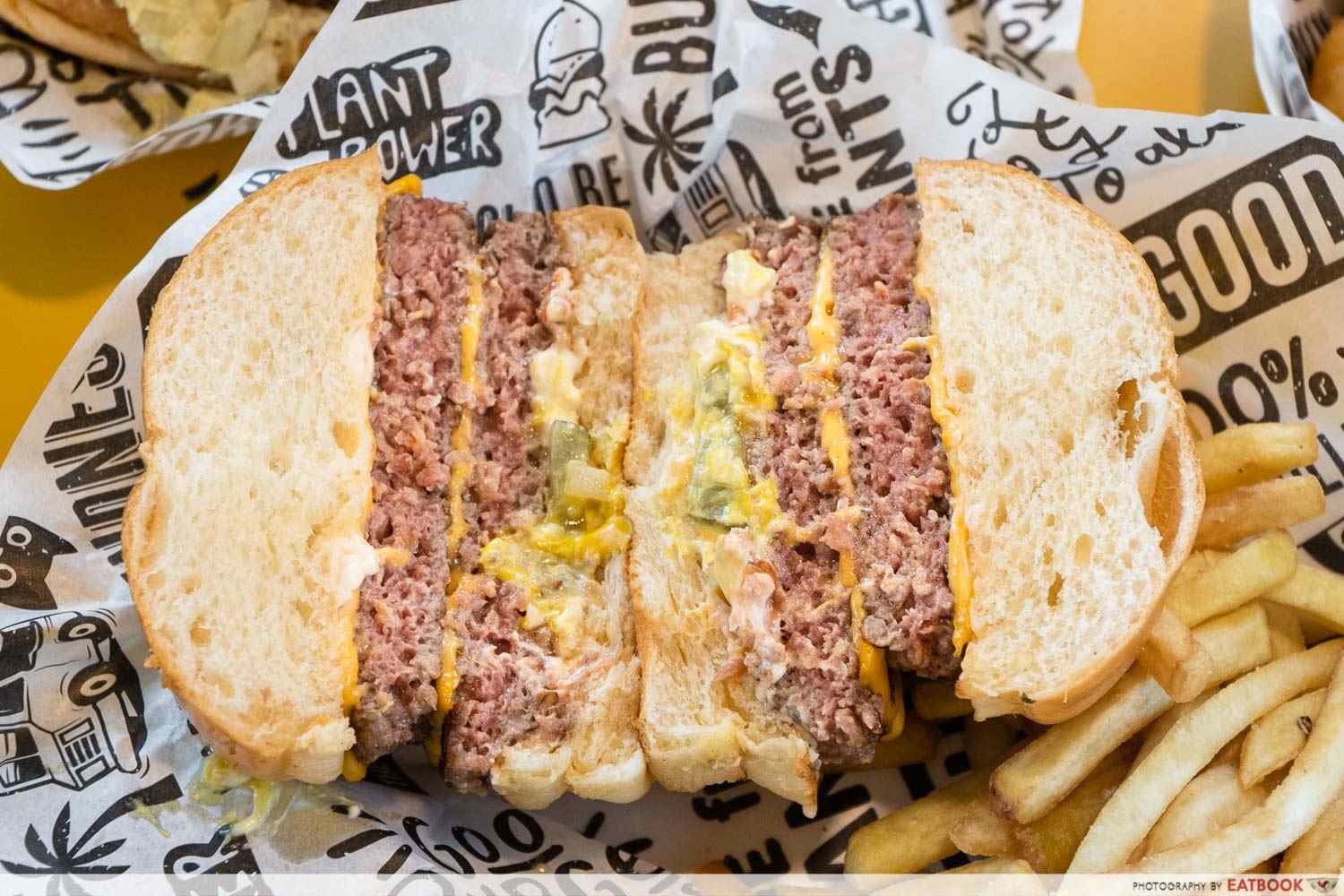 The Impossible patties were simply excellent. Juicier than many beef patties I've had, the 'meat' here was impeccably marinated, with a lovely char that added an addictive smoky flavour. If you're actively looking for differences, you might notice that the meat is a wee bit softer and less chewy than actual beef. But in terms of taste and texture, I hardly missed the real thing.
The other elements of this cheeseburger were not too shabby either. The cheese slices were rich and savoury, the fluffy buns brought a touch of sweetness, and the tangy secret sauce was a winner. Even my colleague, who normally dislikes pickles, found the ones here palatable.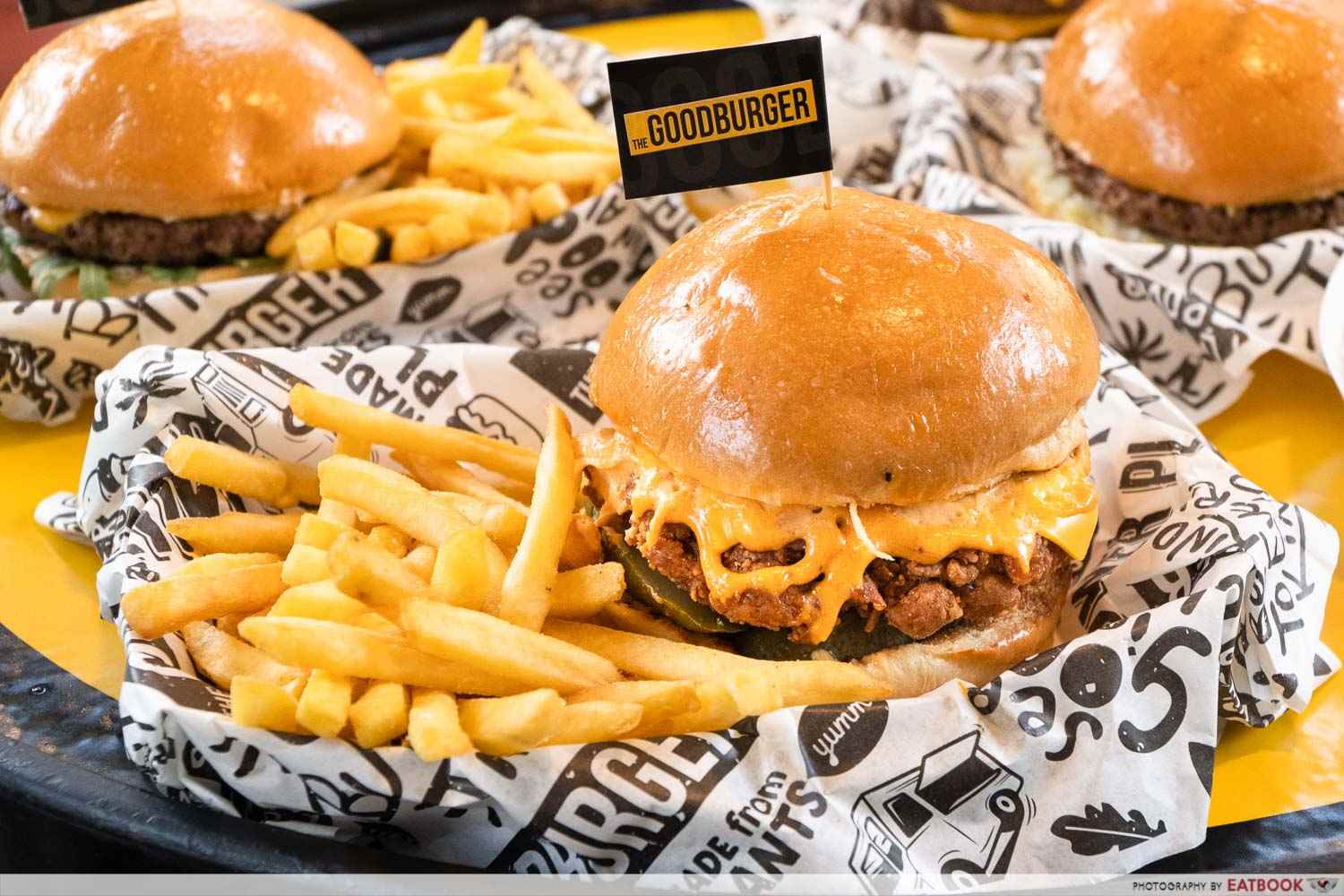 A few more Impossible burgers feature on the menu, including the truffle-based Black Tie ($18) and the Thai-inspired One Night In Bangkok ($20). For our next dish, however, we decided to go with the 'chicken' burger for a change—or as it's cheekily called, 'What The Cluck!' ($18).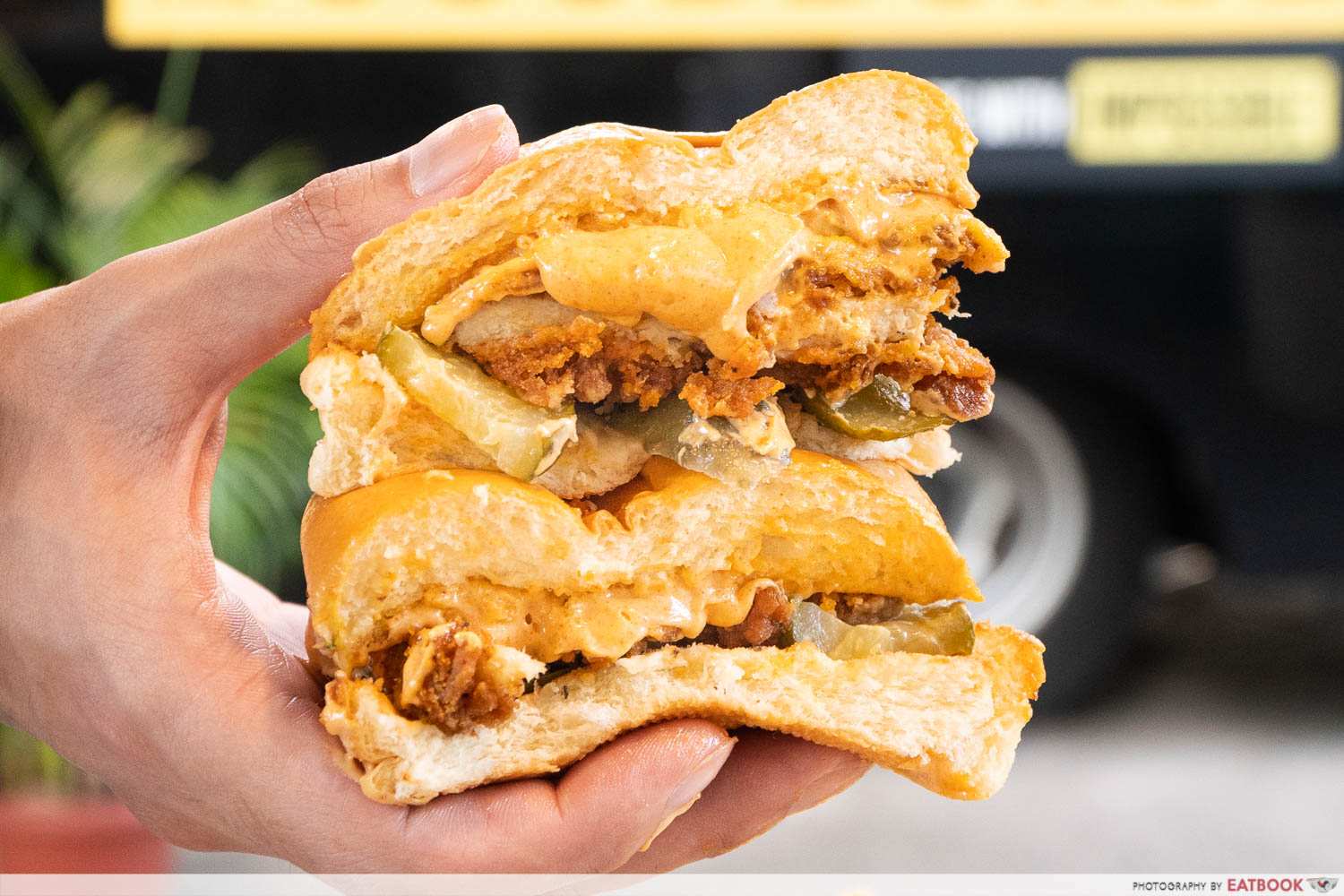 This is a take on the Southern fried chicken burger, but with a plant-based TiNDLE patty as the meat substitute. True to its influences, the batter here was seriously crunchy and well-seasoned. The chicken, while not as realistic as the Impossible burgers, still tricked my brain into thinking I was eating good ol' poultry. 
The main gripe I had with this burger was its special house-made sauce. While its zesty, garlicky flavour wasn't bad, it was layered on too thick. With that and the rich cheese, the burger got a little cloying after a few mouthfuls.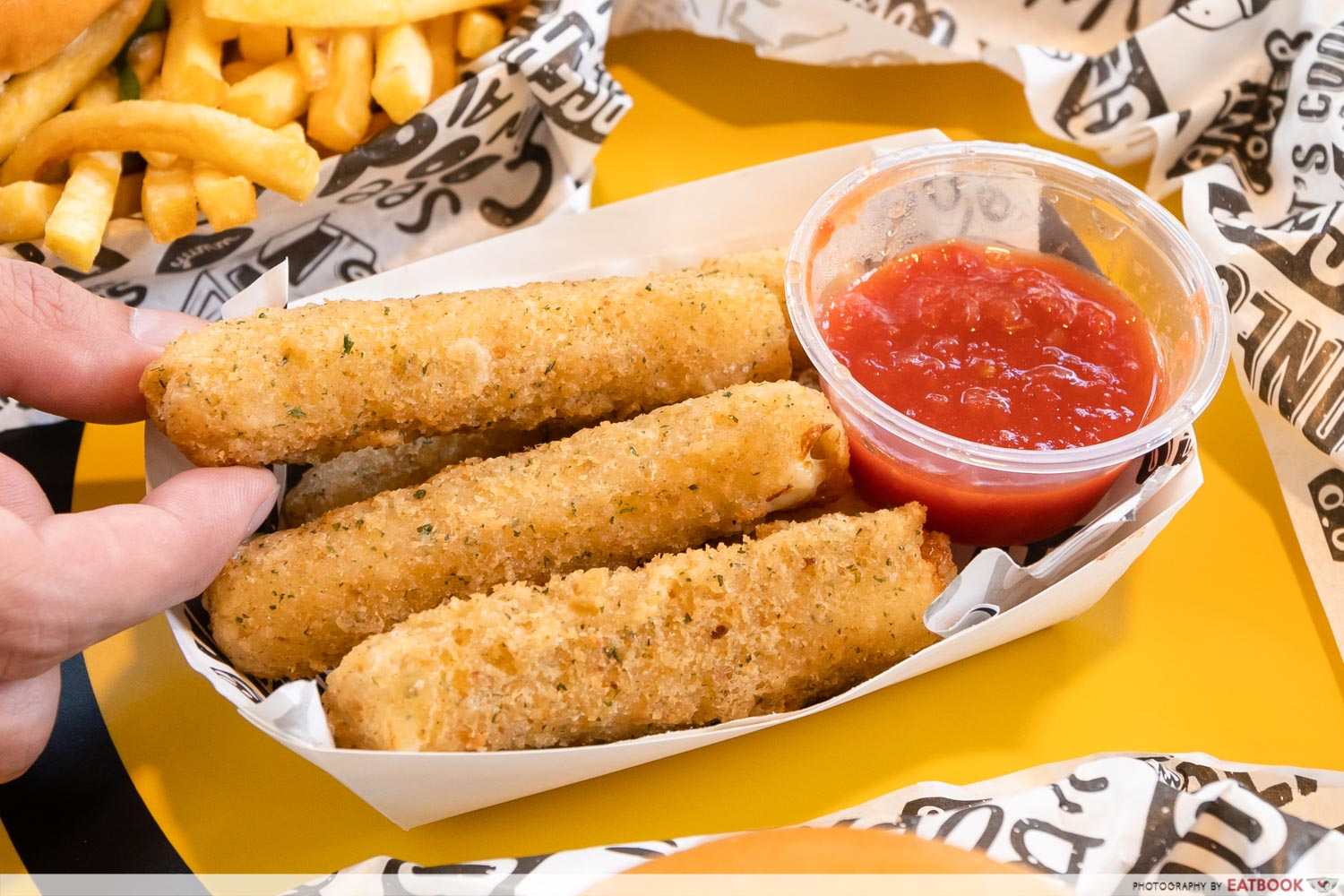 All burgers come with a side of fries that does the job just fine. But if you're looking for something more unique, not to mention good for the 'gram, the Mozzarella Sticks ($8) are worth a shot.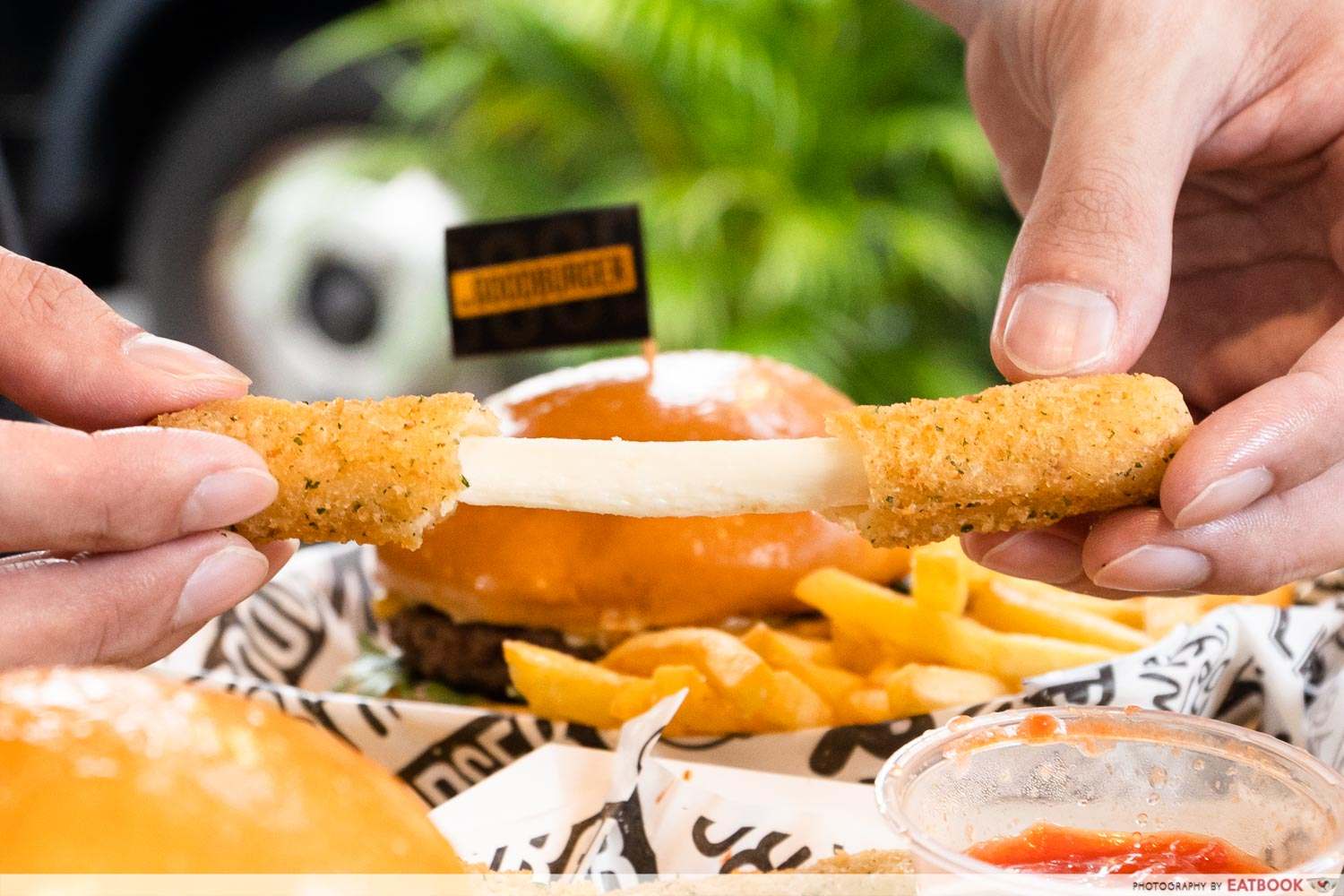 The thick outer crust was delightfully crispy, and the mozzarella on the inside was chewy, gooey and super savoury. Just look at that cheese pull! I'd recommend dipping them into the tangy marinara sauce for some extra sweetness.
Ambience at The Goodburger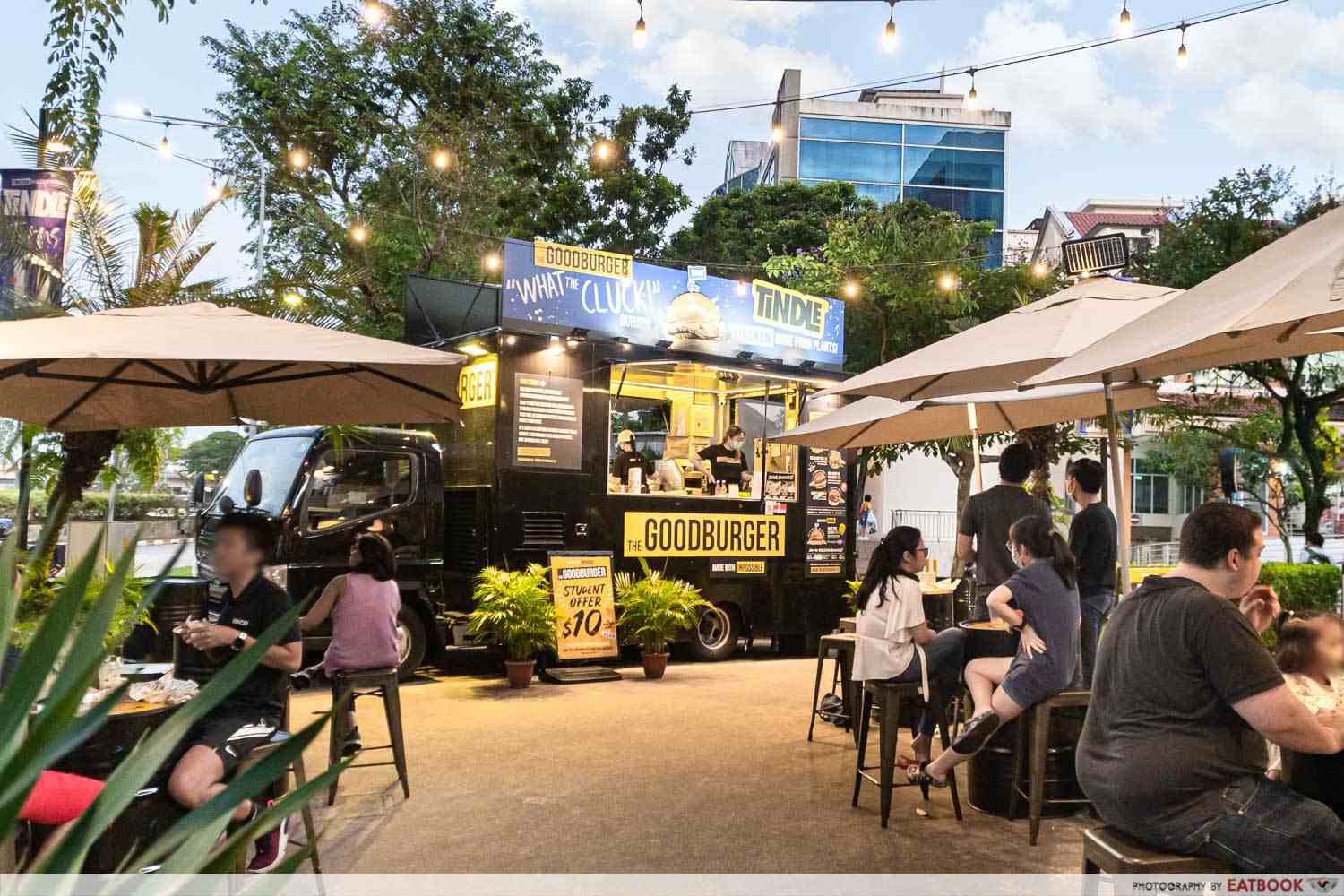 The Goodburger has two food trucks: one permanently stationed at Coronation Plaza, which is a five-minute walk from Tan Kah Kee MRT Station, and the other that visits condos, offices, events and more. We dropped by the Coronation Plaza truck, and boy, the atmosphere was great. It's in a cosy outdoor area with barrels as tables and classic tunes blaring out the speakers—not the most comfortable place, but the vibes more than make up for it.
21 New Restaurants In April 2022—$2 Oysters, Wood-fired Korean BBQ, Thai Milk Tea Crepes
The verdict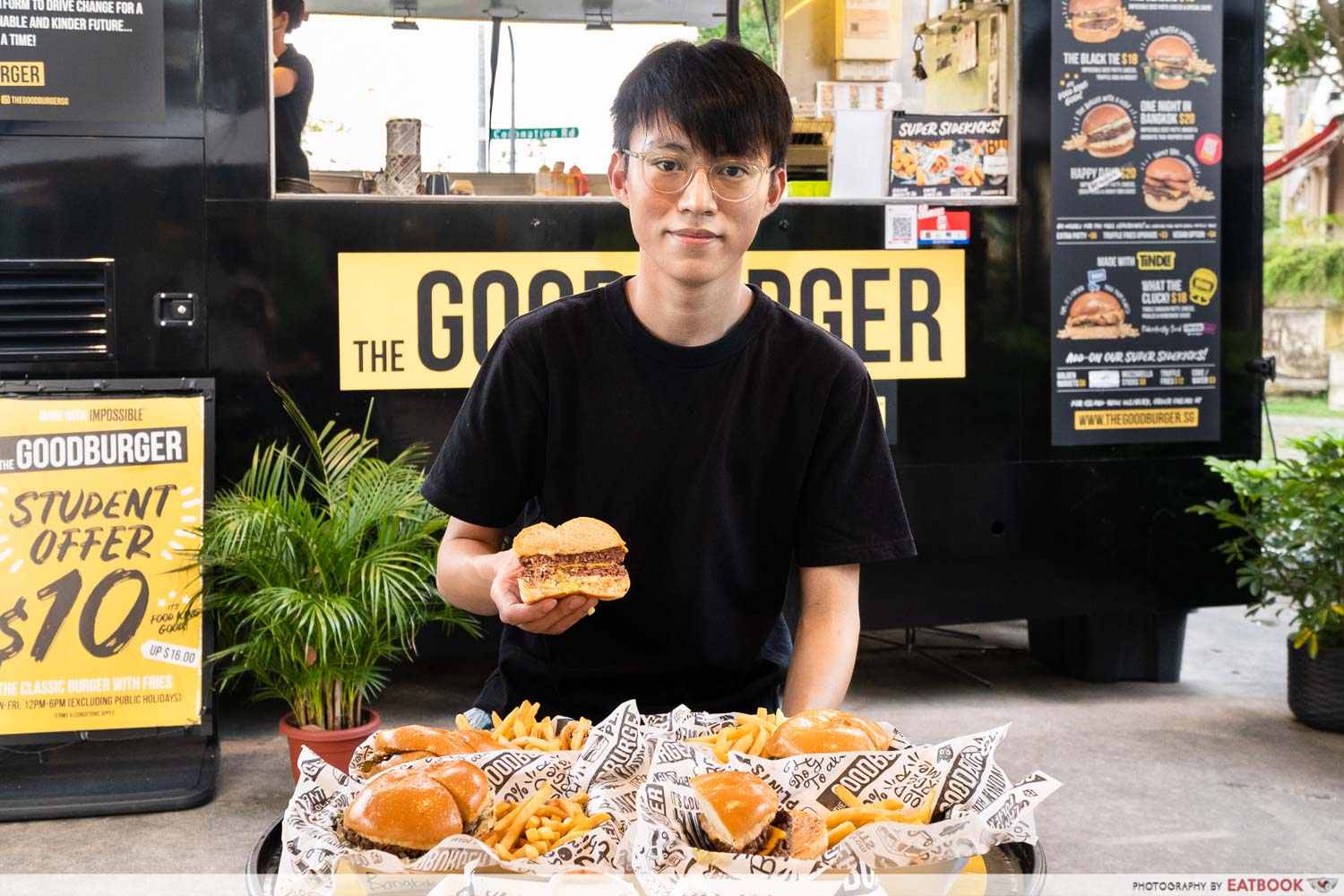 Unlike many places that offer plant-based burgers, you can tell that The Goodburger is wholly committed to doing them as much justice as possible. As such, almost every element of their burgers is carefully selected and prepared, leading to superb meals that rival run-of-the-mill burger joints out there.
And the best part is, no animals have to be killed to bring you The Goodburger experience.
If you're looking for other plant-based meals, read our Love Handle review. For some good regular burgers, check out our Burger House review.
Address: 587 Bukit Timah Road, Singapore 269707
Opening hours: Daily 11am to 9pm
Website
The Goodburger is not a halal-certified eatery.
Love Handle: New Plant-Based Butcher Opens In Ann Siang With Meatless Rendang Burger And More
Photos taken by Melvin Mak.
This post was brought to you by The Goodburger.
The Goodburger Review: Value-For-Money, Legit Gourmet Burgers From A US-Style Food Truck In Coronation Plaza
The Goodburger Review: Value-For-Money, Legit Gourmet Burgers From A US-Style Food Truck In Coronation Plaza -

8.5/10
Summary
Pros 
– Impossible patties are very convincing and delicious
– The Classic is, well, an absolute classic
– Mozzarella sticks are fun
– Value-for-money plant-based burgers
Cons
– 'What The Cluck!', while decent, can get cloying
Recommended dishes: The Classic ($16 for single patty, $22 for double), One Night In Bangkok ($20), Mozzarella Sticks ($8)
Opening hours: Daily 11am to 9pm
Address: 587 Bukit Timah Road, Singapore 269707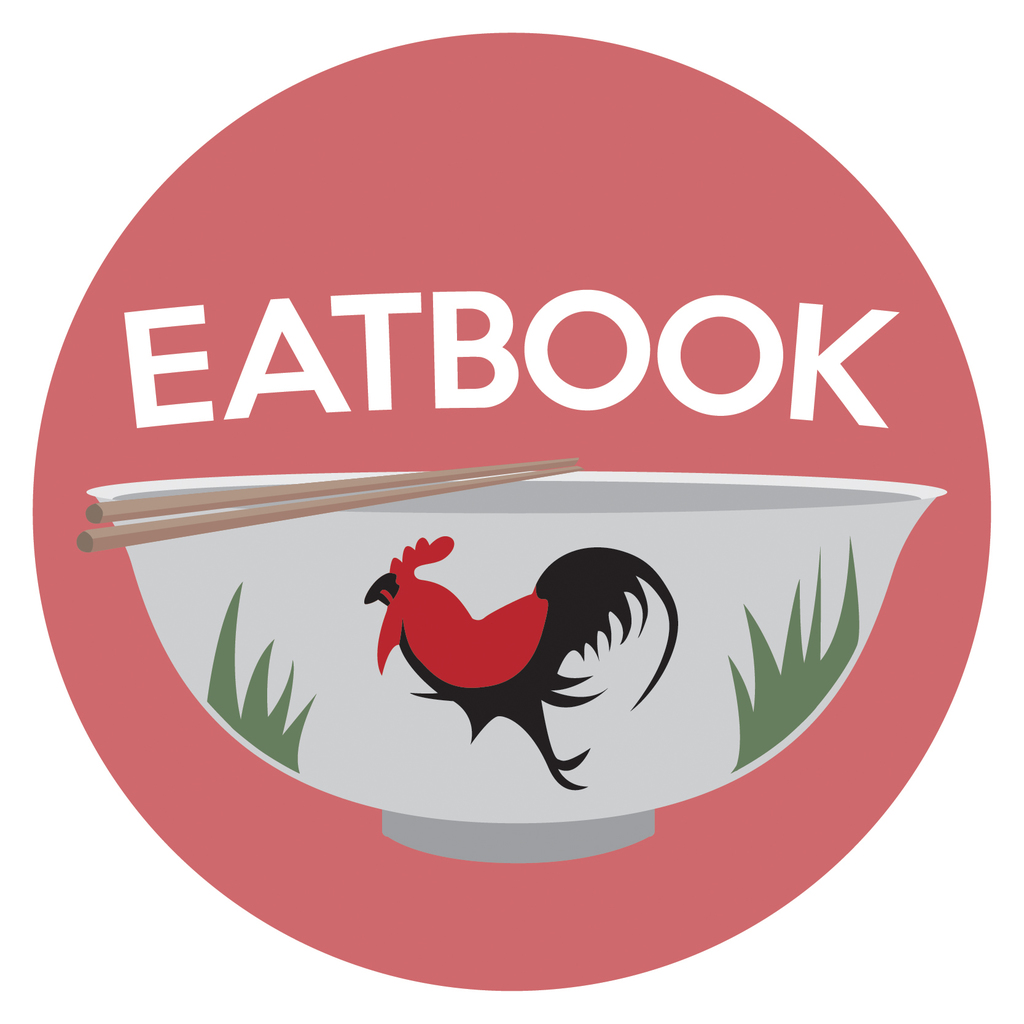 Drop us your email so you won't miss the latest news.