Ramen burgers by The Travelling C.O.W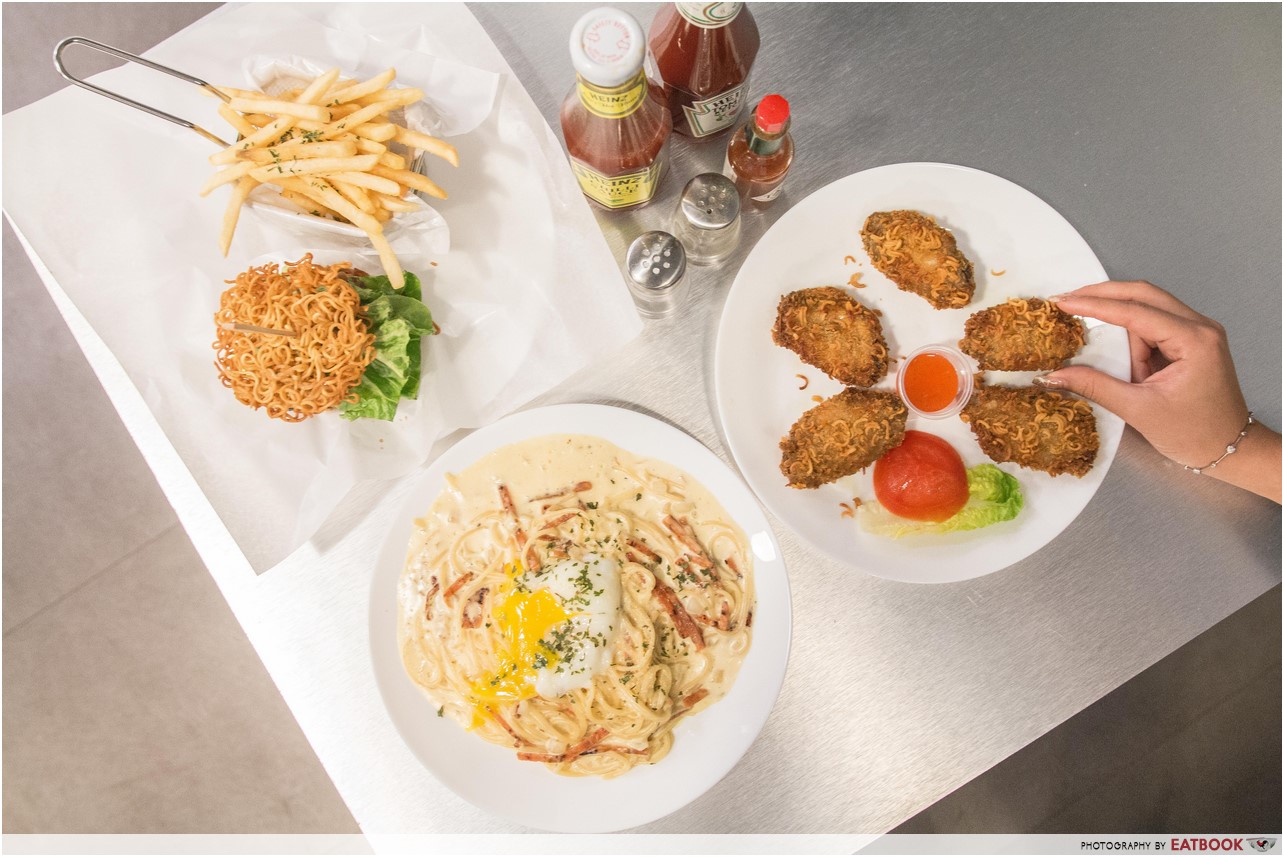 My first trip to the United States two years back landed me right smack in Los Angeles – home to Hollywood and a host of trendy restaurants. But when my American friends realised I haven't bought from a taco food truck since arriving a grand total of two days ago, they were horrified and nearly dragged me to the nearest one by the side of the street.
With only a handful of food trucks in Singapore, it's hard to cultivate a culture of grabbing a meal, quite literally, by the streets. And I guess that's why The Travelling C.O.W, one of the most known food trucks here, opened a brick and mortar outlet. Aptly named The Diner by The Travelling C.O.W., this fuss-free joint is located near Lavender MRT Station and lets you grab a bite of their famous ramen burger without chasing a truck around town.
Food at The Diner by The Travelling C.O.W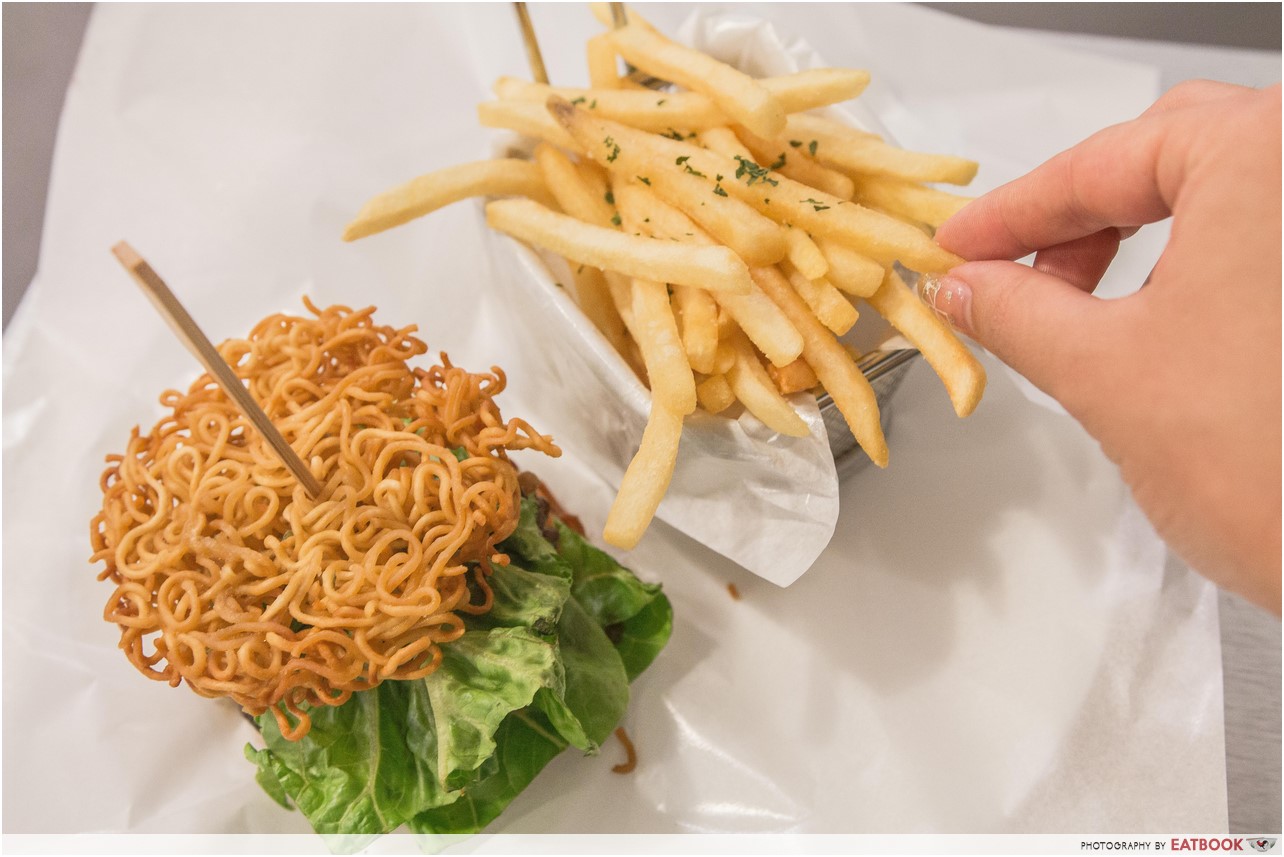 Ramen burger is no stranger to the food scene. First introduced by Keizo Shimamoto in NYC, this viral dish has sprouted lots of variations around the world. Instead of the original springy ramen buns, however, The Diner uses a deep-fried version to add a smack of crunch to Bulgogi Short Rib Ramen Burger ($15).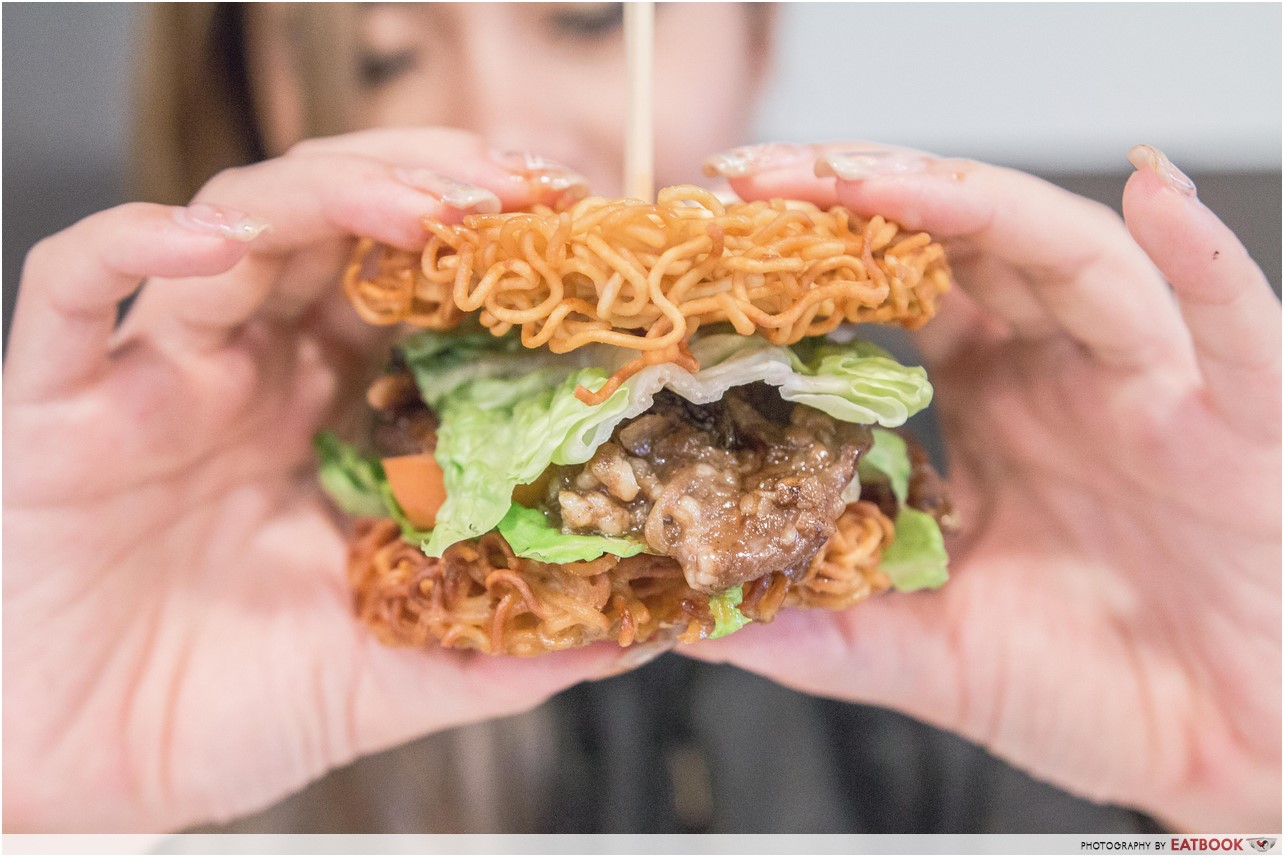 If you've ever had Mamee Monster Noodle Snack, you'll understand why biting straight into the ramen bun might sound like a dangerous idea. At first, the burger seemed dry when bits of noodles flew across the floor as I crunched down on the "buns". However, the juicy bulgogi (grilled marinated beef) with its springy texture, soon balanced things out. Although its garlicky marinade was slightly overwhelming, the meat was juicy to the point that I had to constantly wipe my hands while devouring the meal.
A true example of how no hero is complete without their sidekick, the side of fries served in a steel basket was thin cut and crispy, bearing a close resemblance to Macs'!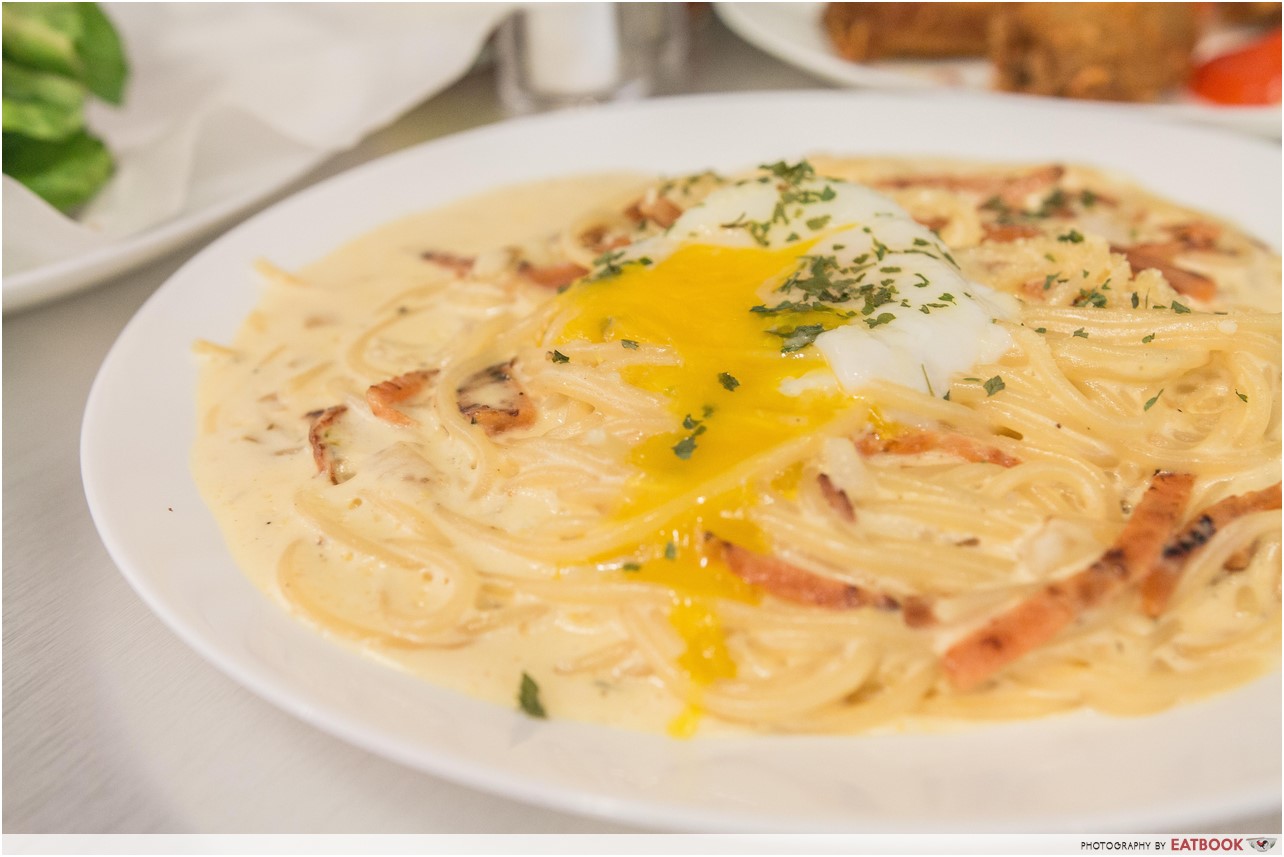 I'm biased when it comes to pasta. After all, it's only human to give in to perfectly cooked al dente noodles drenched in a lusciously rich sauce. So when I spotted Chicken Bak Kwa Carbonara ($12) on the menu, I knew I had to have a taste.
What arrived was a generous pile of spaghetti slathered in cream sauce, with strips of bacon scattered throughout and a poached egg begging to be burst as it wobbled in the middle of the plate.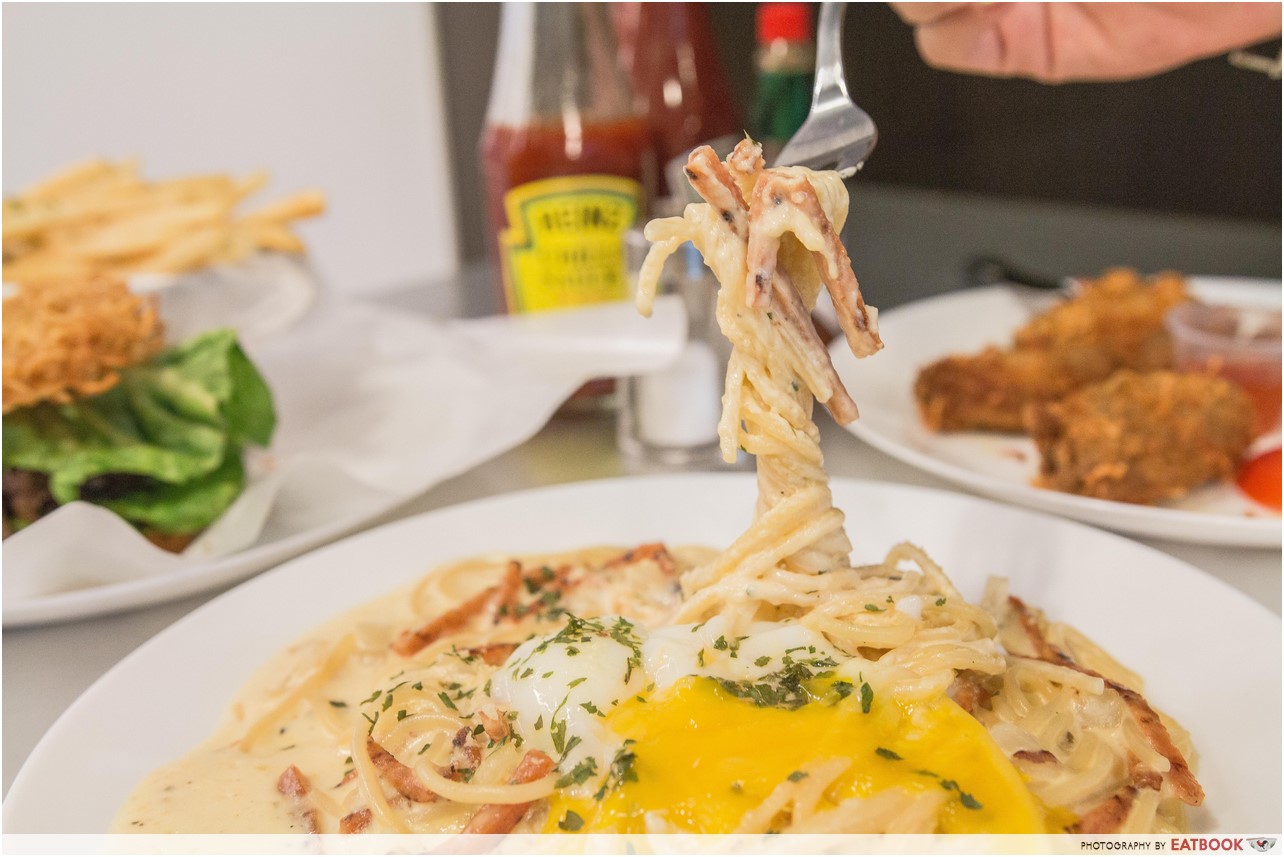 The bak kwa had a soft, chewy texture, unlike what you would get at Bee Cheng Hiang, and added a sweet touch that complemented the savoury noodles. As a bak kwa lover, I could dig into a whole bowl of it, but I wish there was more of other ingredients to balance out the generous portion of noodles.
As for the sauce, I was disappointed by how tasted more like the bottled alfredo sauce I once used to whip up a quick dinner in uni, rather than one that's made from fresh ingredients. 
This dish toes on the line of being jelak, but if you have it hot and well mixed, it can be comfortably polished off by one.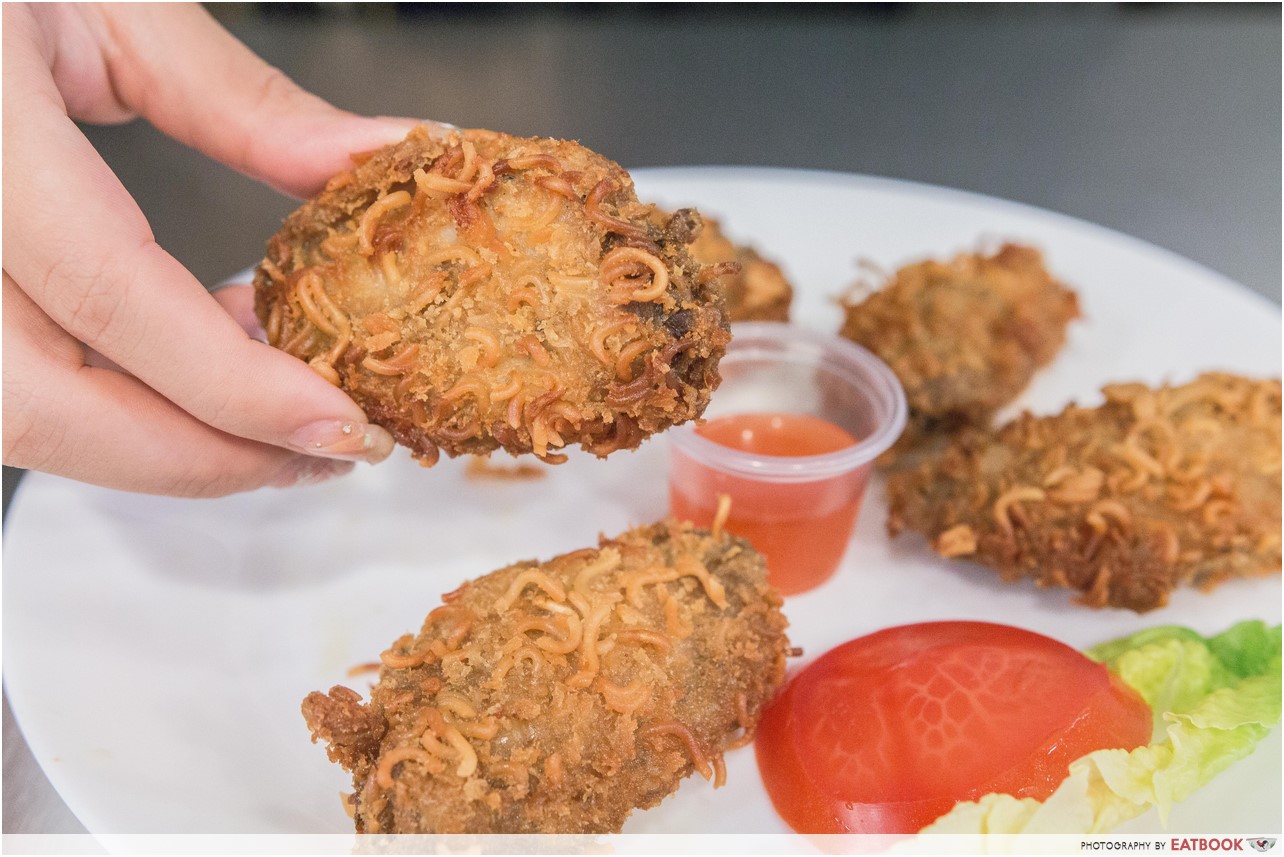 Ramen Wings ($8) was an interesting side of five deep-fried chicken wings coated in maggie mee-speckled batter.
While it brought waves of buttery fumes to my nose like popcorn at a cinema, the taste of this dish was disappointing to say the least. The bits of noodles added no value since the skin was already crispy on its own, and the chicken flesh was neither generous nor succulent, making it quite tough to bite through.
Even the skimpy side salad and meagre serving of chilli sauce were poorly presented. Not worth its price in quality or quantity, this is a dish I won't order again.
Ambience at The Diner by The Travelling C.O.W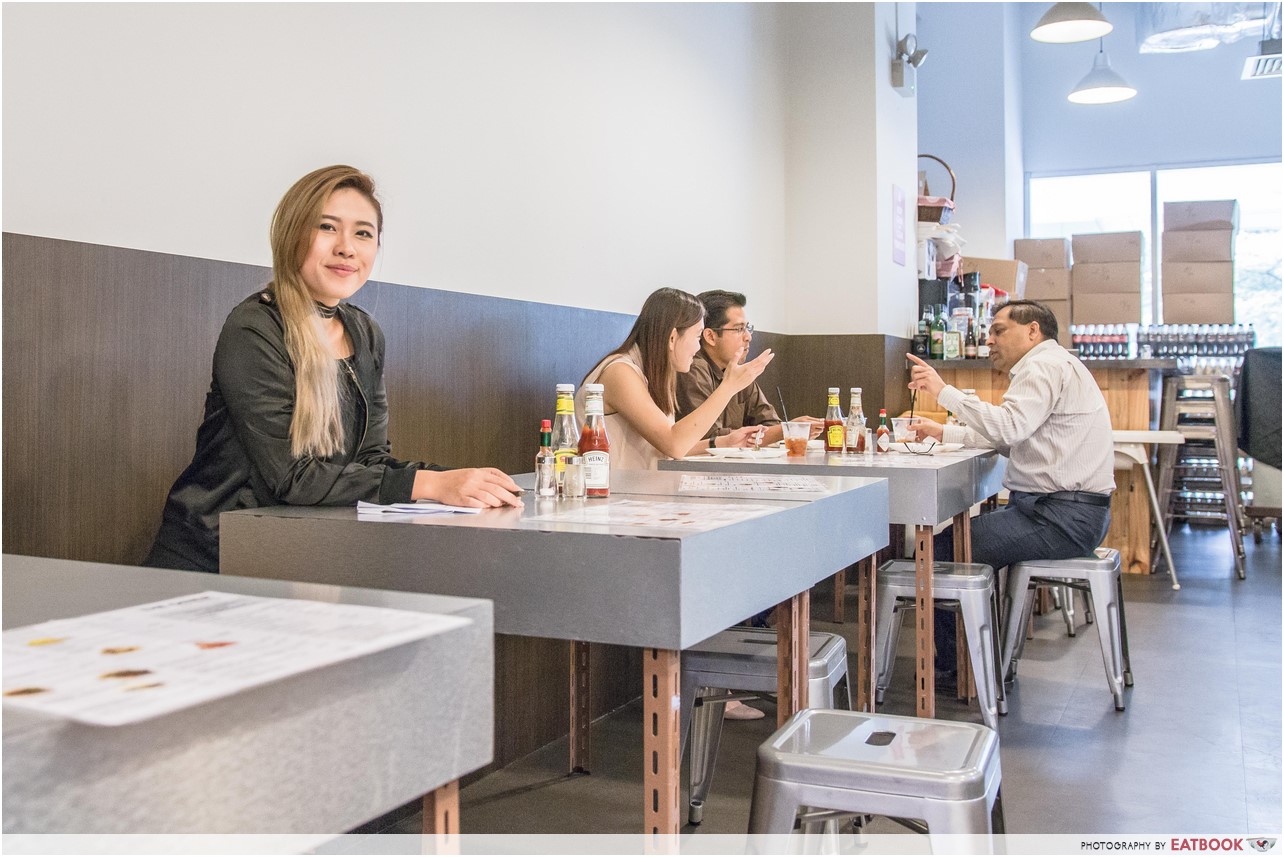 The Diner is a self-service restaurant, so we were never directly approached by waiters. However, when we went to the counter for a glass of warm water or to take-away our leftovers, I was glad that they did so promptly and politely.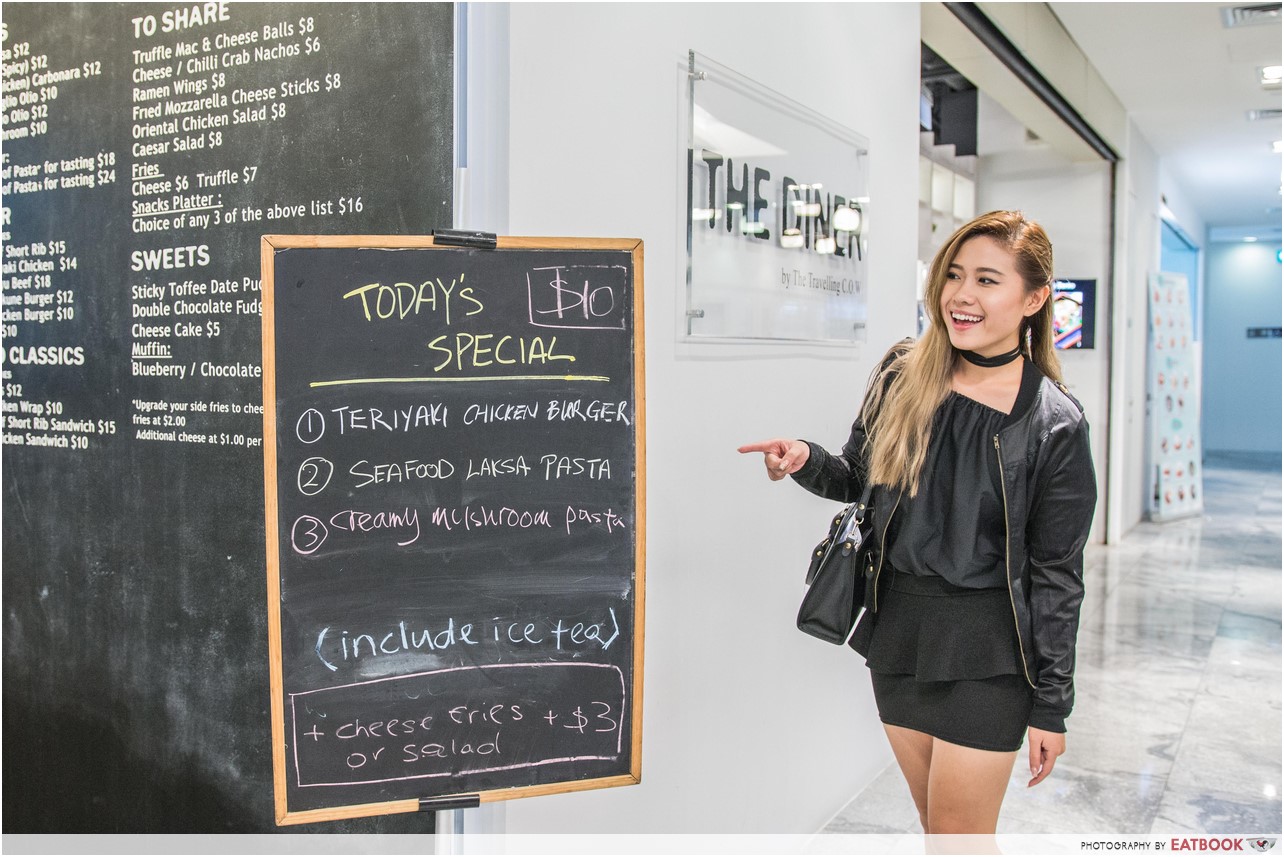 I loved the menu that's printed on a chalkboard wall, and how the counter is shaped like an order window of a food truck. However, other than the steel tables and chairs, more could have been done to spice up the interior of the diner. 
Prices here are nett, but there's a 50-cent surcharge for NETS payment below $50, so do bring cash if you're not planning to eat much.
The verdict
While I can't say for certain if that dollar taco I bought from a suspicious 80 square feet metal van parked in a back alley of Downtown LA was one of the best tacos I've ever had, it's true that the experience of getting food from a mobile truck made things more interesting. That being said, The Diner is still worth checking out if you're in the Lavender area and are up for wacky fusion creations such as Seafood Laksa Pasta ($12), Tsukune Burger ($12) and Truffle Mac & Cheese Balls ($8) at affordable prices.
This is an independent review by Eatbook.sg.
Summary
Pros
– Unique fusion food
– Convenient location
– No GST or service charge
Cons
– Hits and misses
Recommended Dishes: Bulgogi Short Rib Ramen Burger ($15)
Operating Hours:
Tuesday – Sunday 11:30am to 9pm (last order at 8:15pm)
Tel:
9818 6636
Address: 2 Kallang Avenue, #02-16, CT Hub 1, Singapore 339407