Wan Fen Chee Cheong Fun in East Coast
Update: this eatery is permanently closed.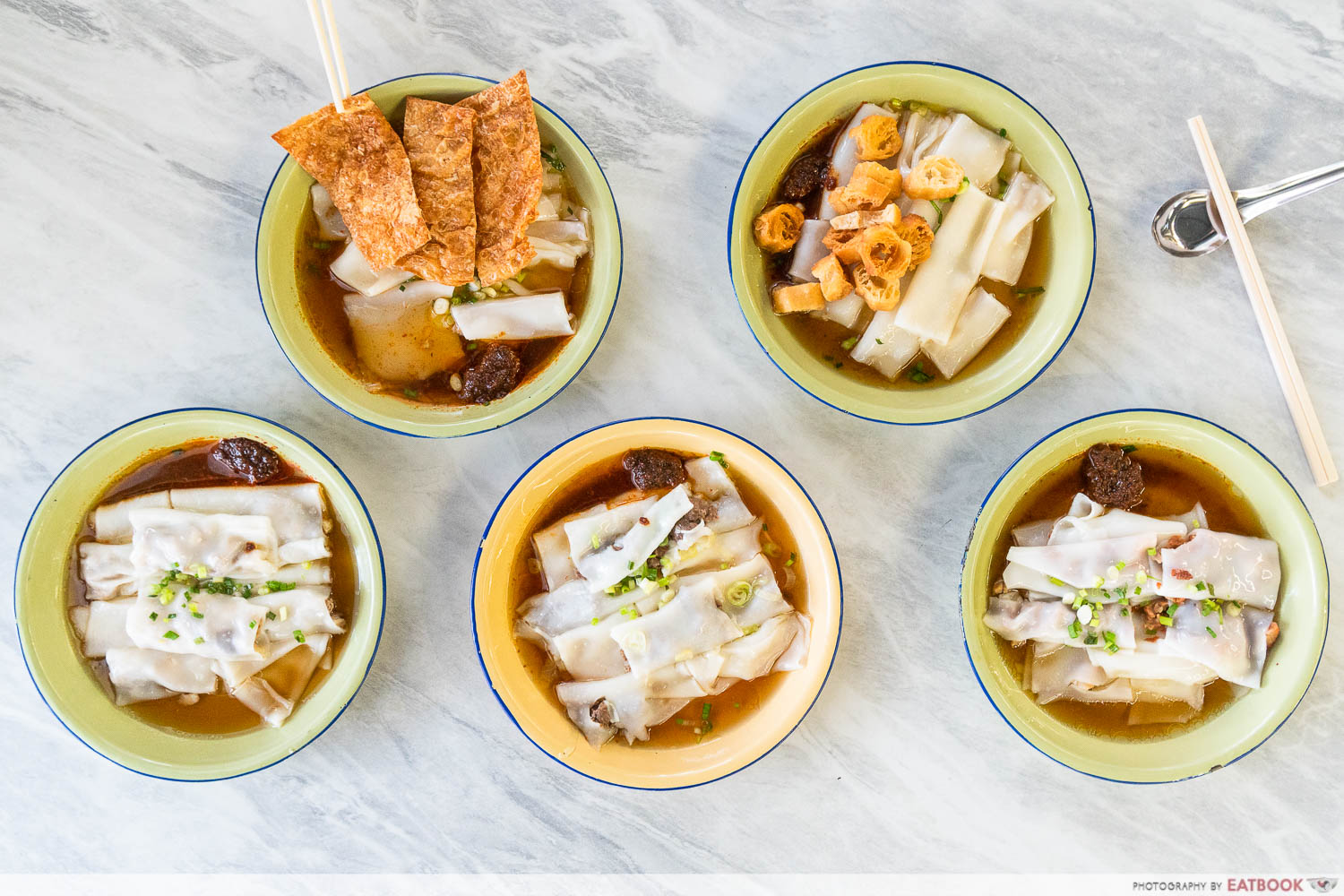 With more than 10 locations islandwide, Chef Wei HK Cheong Fun is just one of the many CCF stalls that have popped up in the last year or so. With most of these CCF chefs harking from Hong Kong, or esteemed Chinese restaurants, Wan Fen Chee Cheong Fun joins the fray with 23 year-old Heng Yi, who set up shop in The Buillion Hawker Bar just a couple months ago.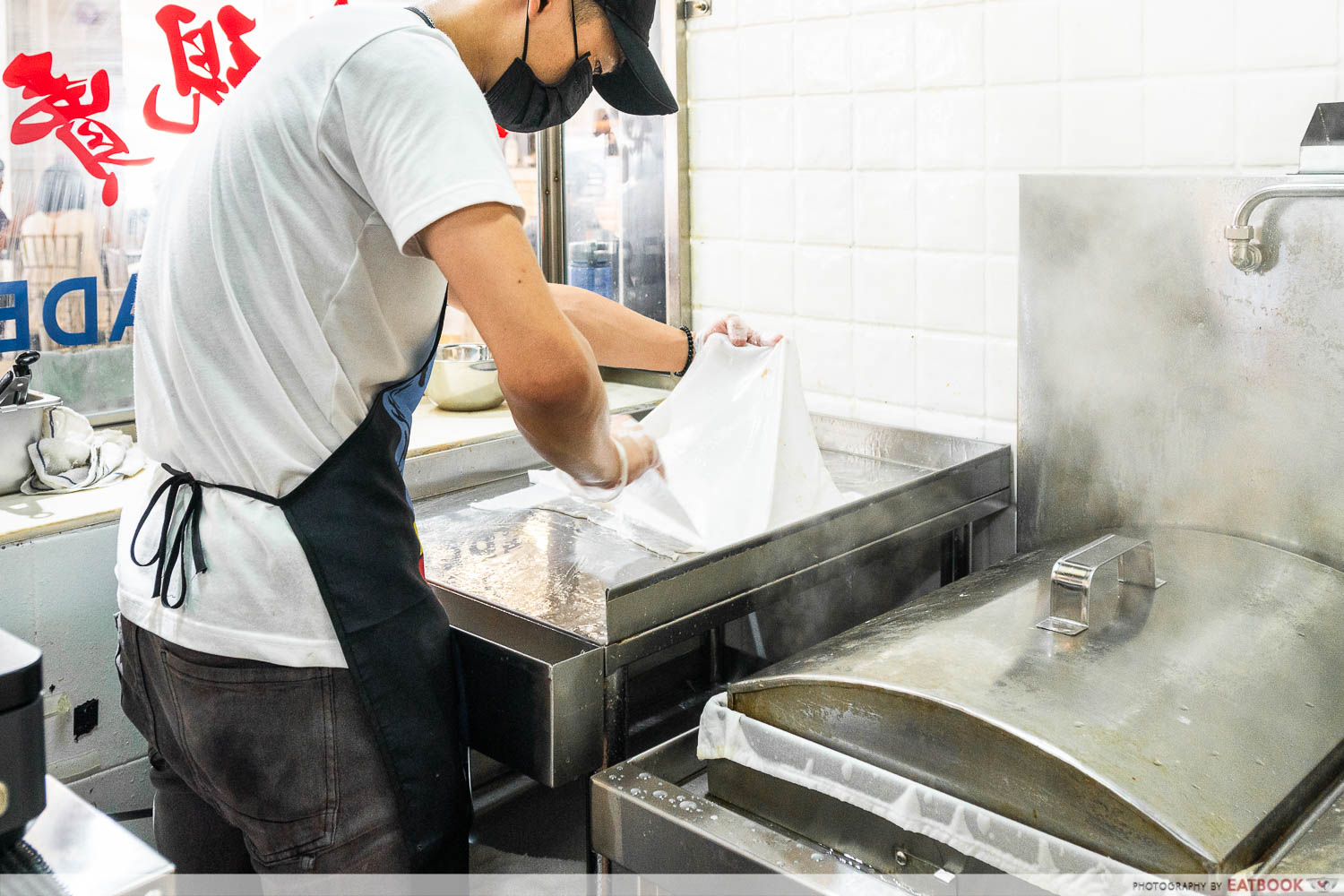 The young lad previously spent two years in the kitchens of the Les Amis Group restaurants, before he decided to strike out on his own to make chee cheong fun—his version of comfort food. 
Food at Wan Fen Chee Cheong Fun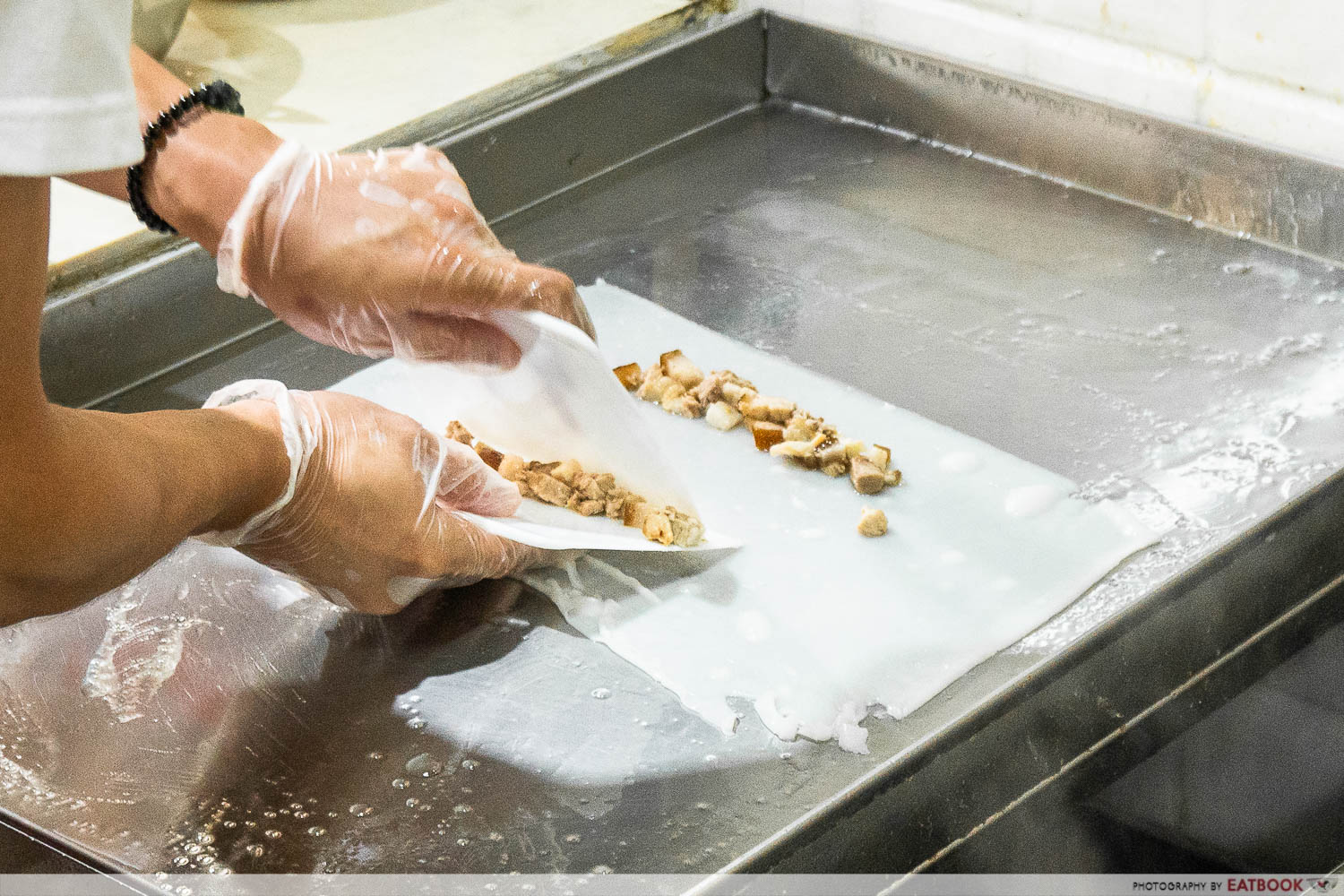 Freshly steamed to order, the cheong fun here comes with fillings you won't typically see at other CCF stalls. We got ourselves a portion of Wagyu Beef Chee Cheong Fun ($7.50), which came in a pretty generous serve.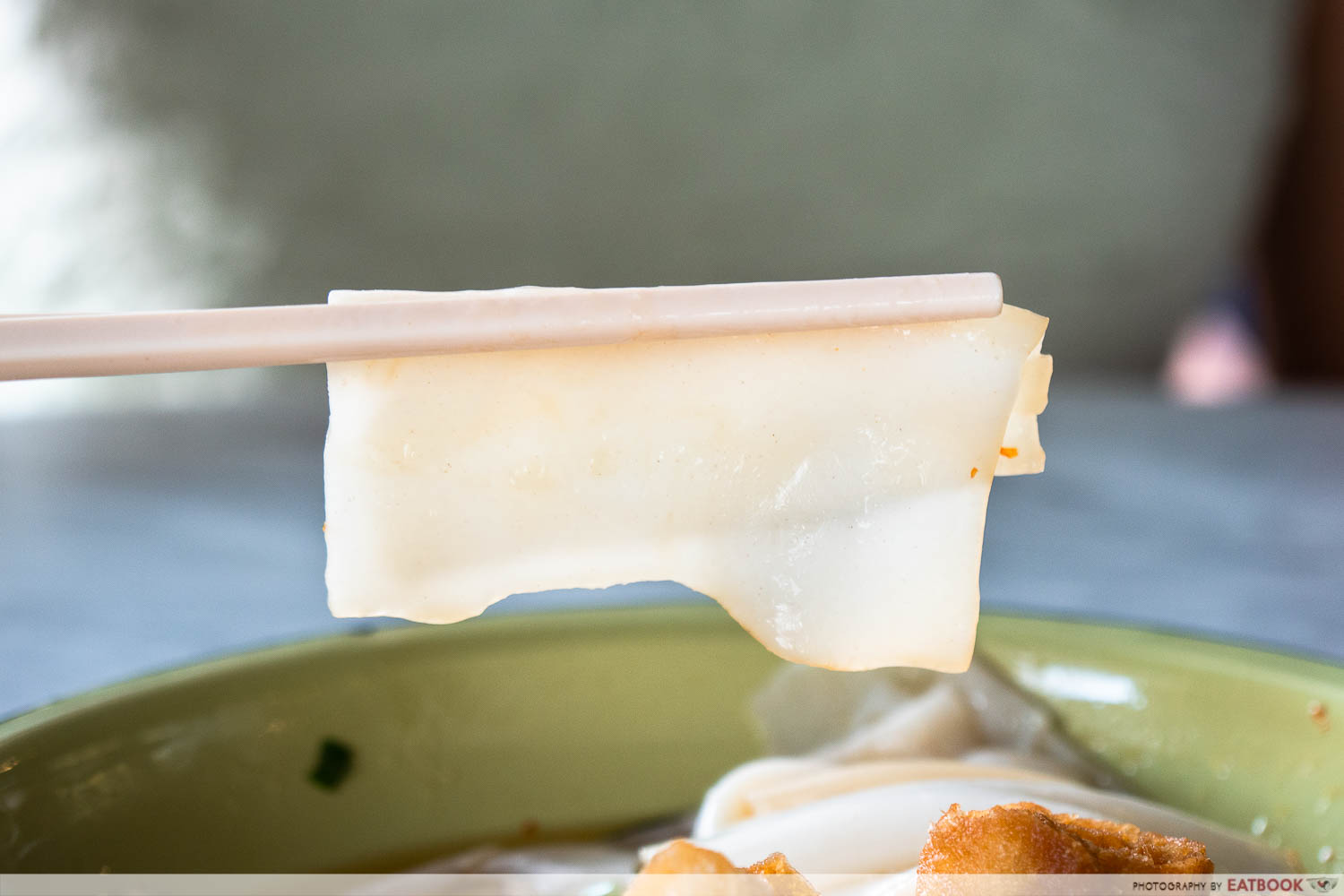 What captivated me was how shiny and smooth-looking the cheong fun at Wan Fen Chee Cheong Fun was.
The rice noodles here are made with three different types of rice flour, and were inspired by the CCF that Heng Yi's grandparents used to make for family dinners at home. The recipe for his cheong fun is theirs, albeit tweaked with tips from other chefs, and lots of experimentation.
According to Heng Yi, local-style cheong fun was never meant to be thin to the point of being almost transparent; rather, it was more pertinent that it was silky smooth. He's achieved that, for sure, but I do wish the noodles were just slightly thinner.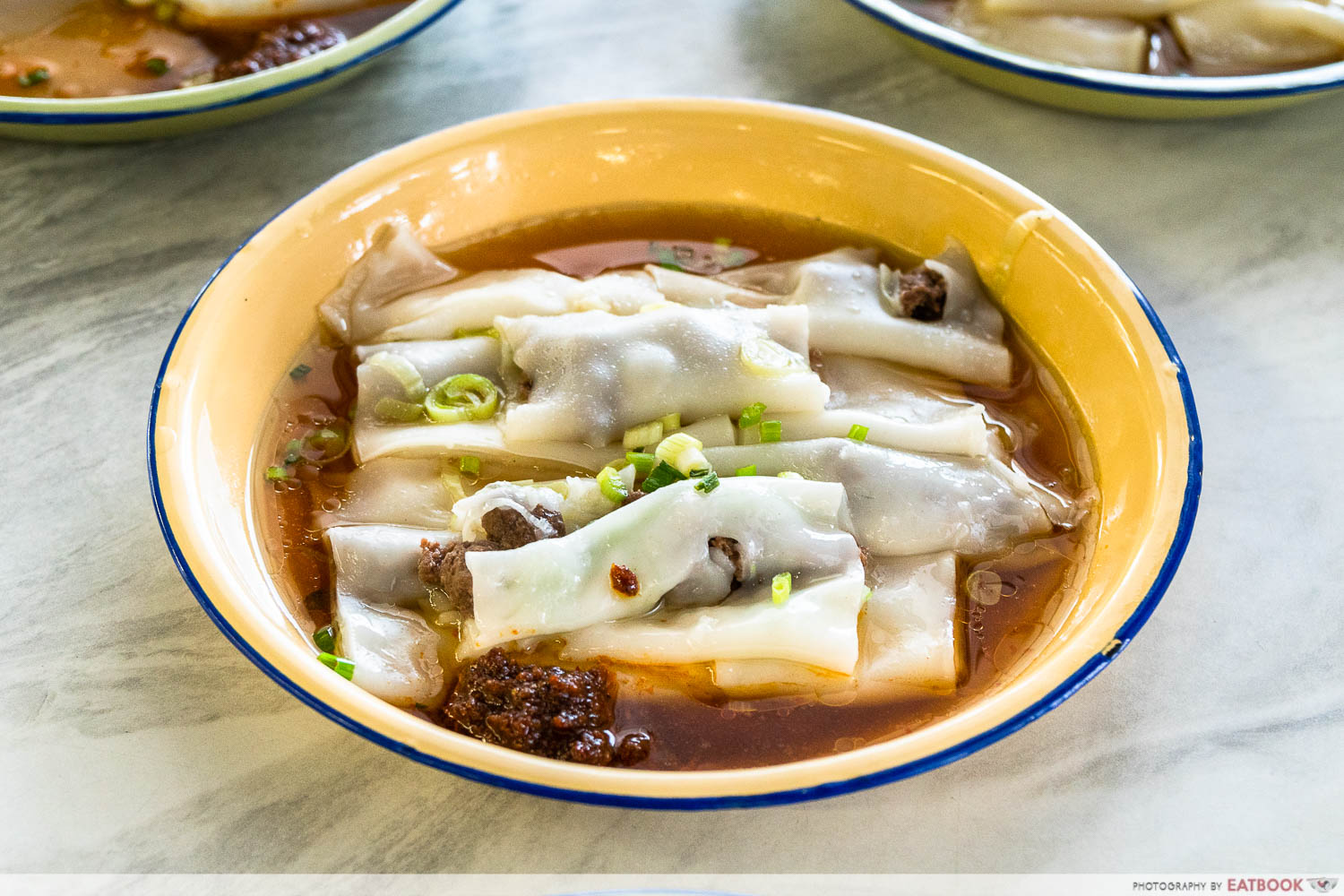 I was also pleased to see there was lots of sauce on the enamel plate as well, because I'm the sort who prefers a big spoonful of sauce with my rice noodle rolls. 

You'll notice that while there's a good deal of sauce, it's not too salty. The cheong fun recipe might not be the exact one his grandparents used, but the sauce definitely is.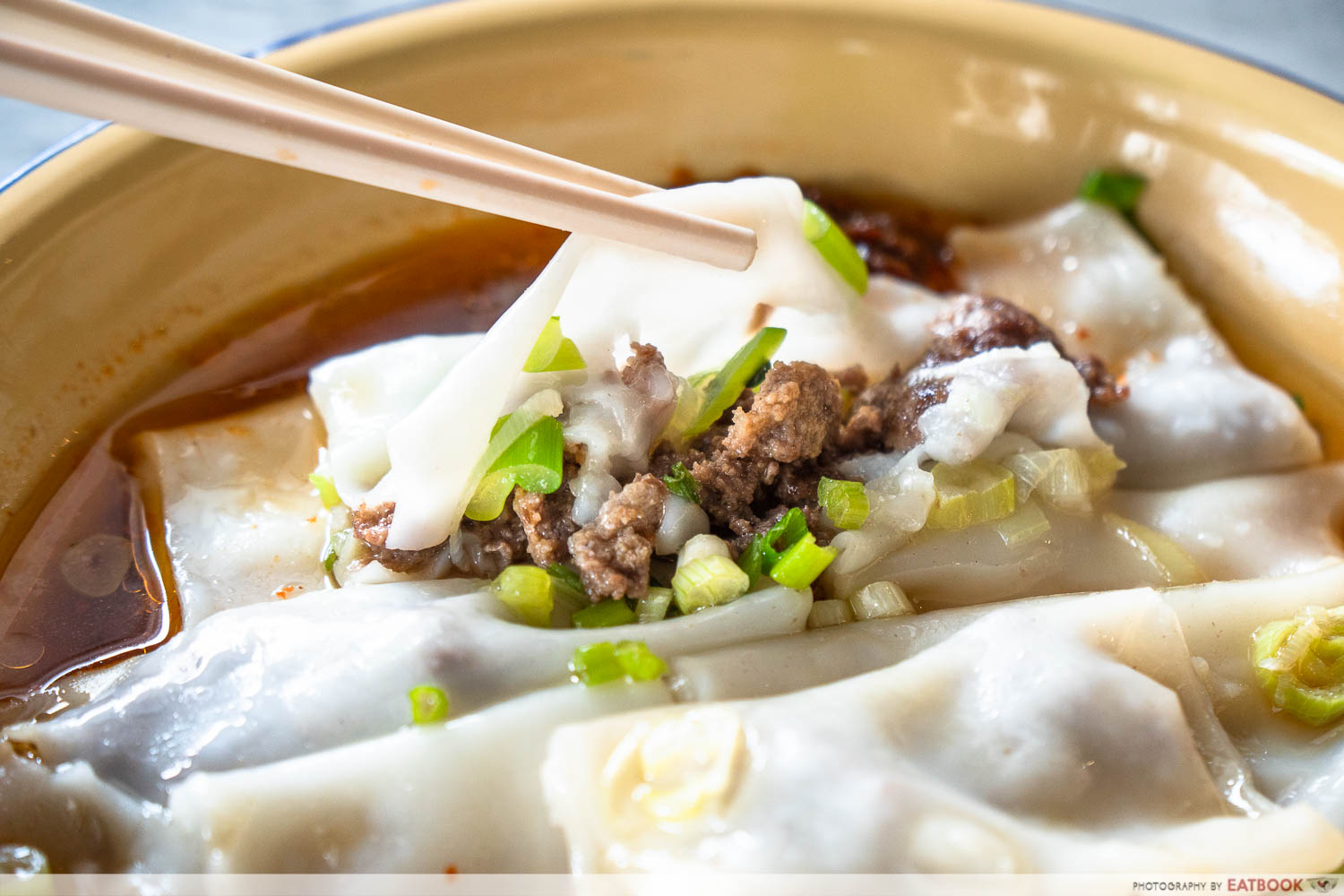 "Everyone loves beef hor fun," says Heng Yi when I ask him why Wagyu, "what more Wagyu."
Marinated and steamed—braised or sauteed—he gets his Wagyu mince in a specific ratio of meat to fat. It gets a second, quick steam in the CCF before it hits your table, though I would have preferred if it was a little more fatty, so I would get more of its buttery fat infused into the noodles and sauce.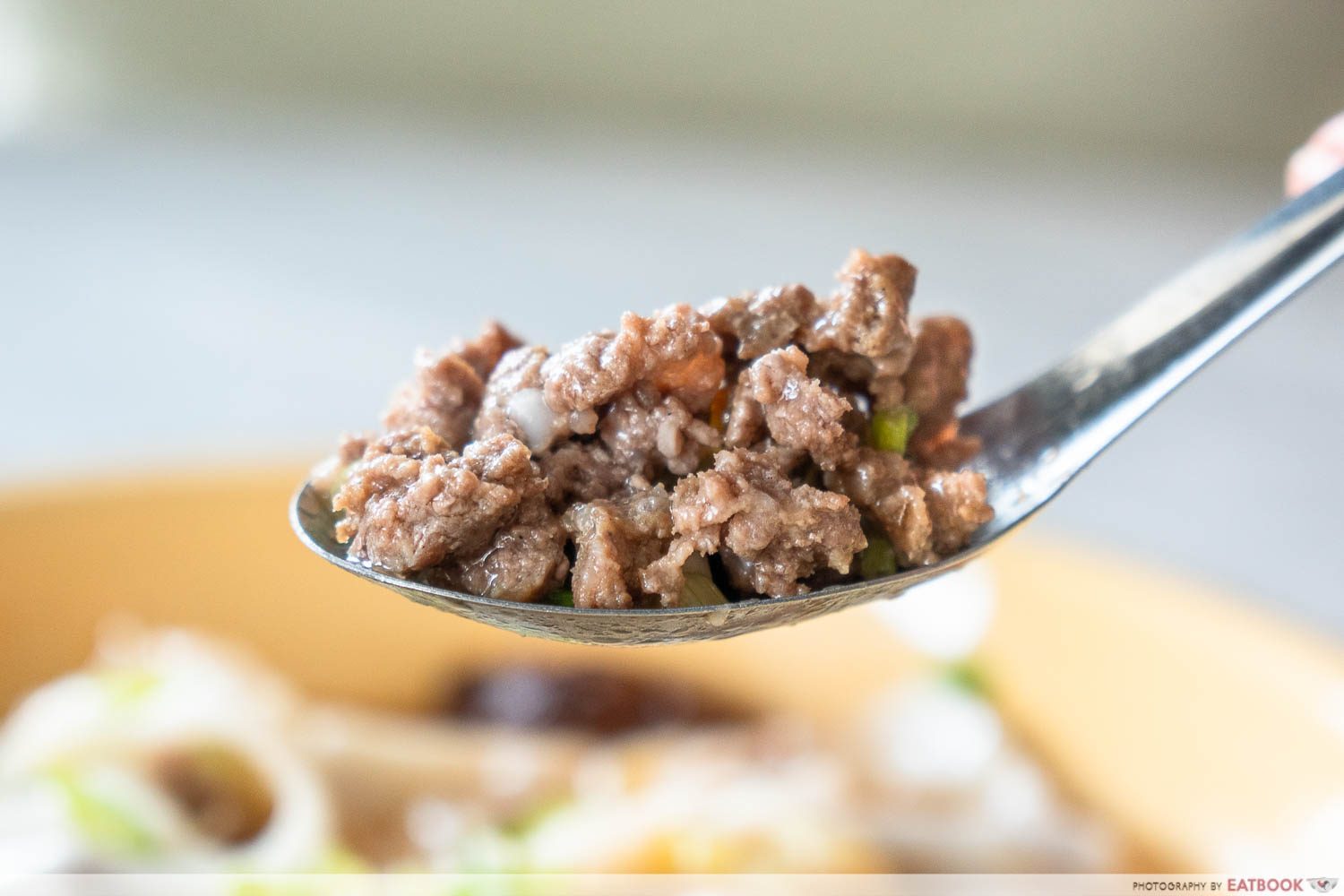 I have to say, though, that there's a good amount of beef in each bite, although I felt it was a touch dry. If you're making cheong fun with fillings, I say, it better come with lots of it.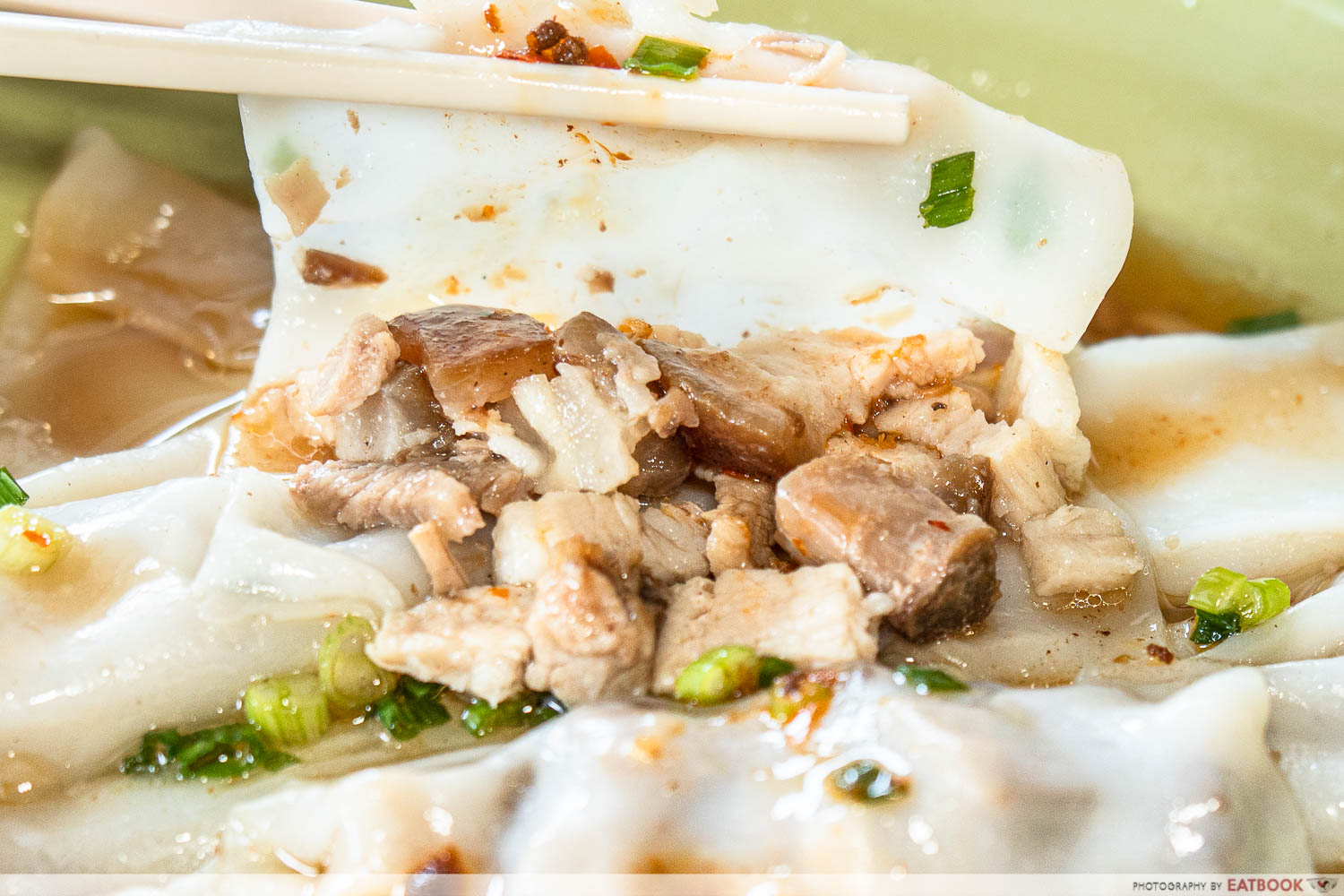 Another uncommon offering is Braised Pork Chee Cheong Fun ($5), stuffed with lor bak that he braises himself. The hours-long process is evident in the melt-in-your-mouth fat that peppers the chopped pork belly, and I enjoyed the extra savouriness it brought to the slippery noodles.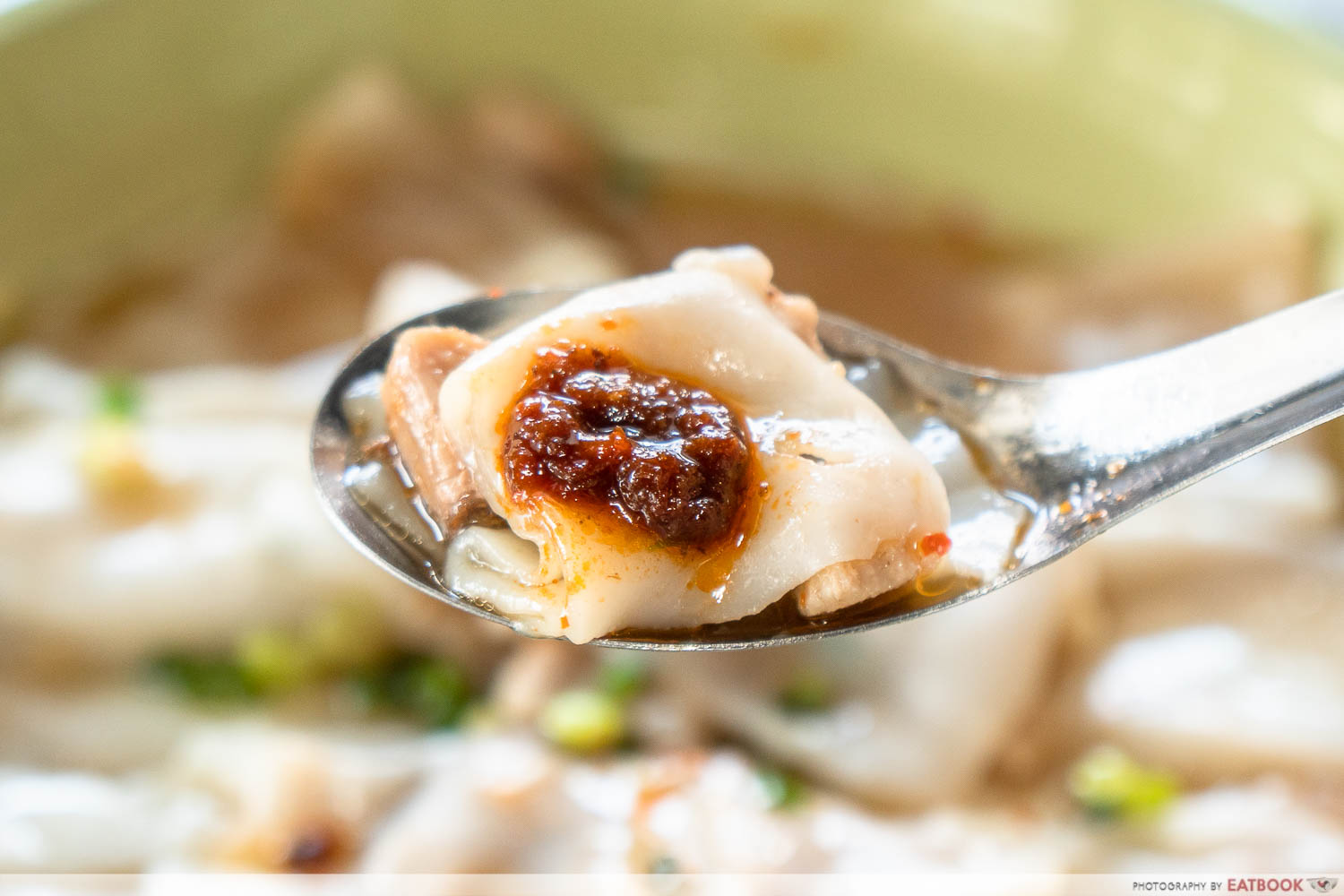 For an added kick, go for the spicy chilli that's unceremoniously plonked on each plate. It's not house-made, since he's mostly a one-man operation, but he gets it prepared by a vendor to his recipe, and it's delivered fresh weekly.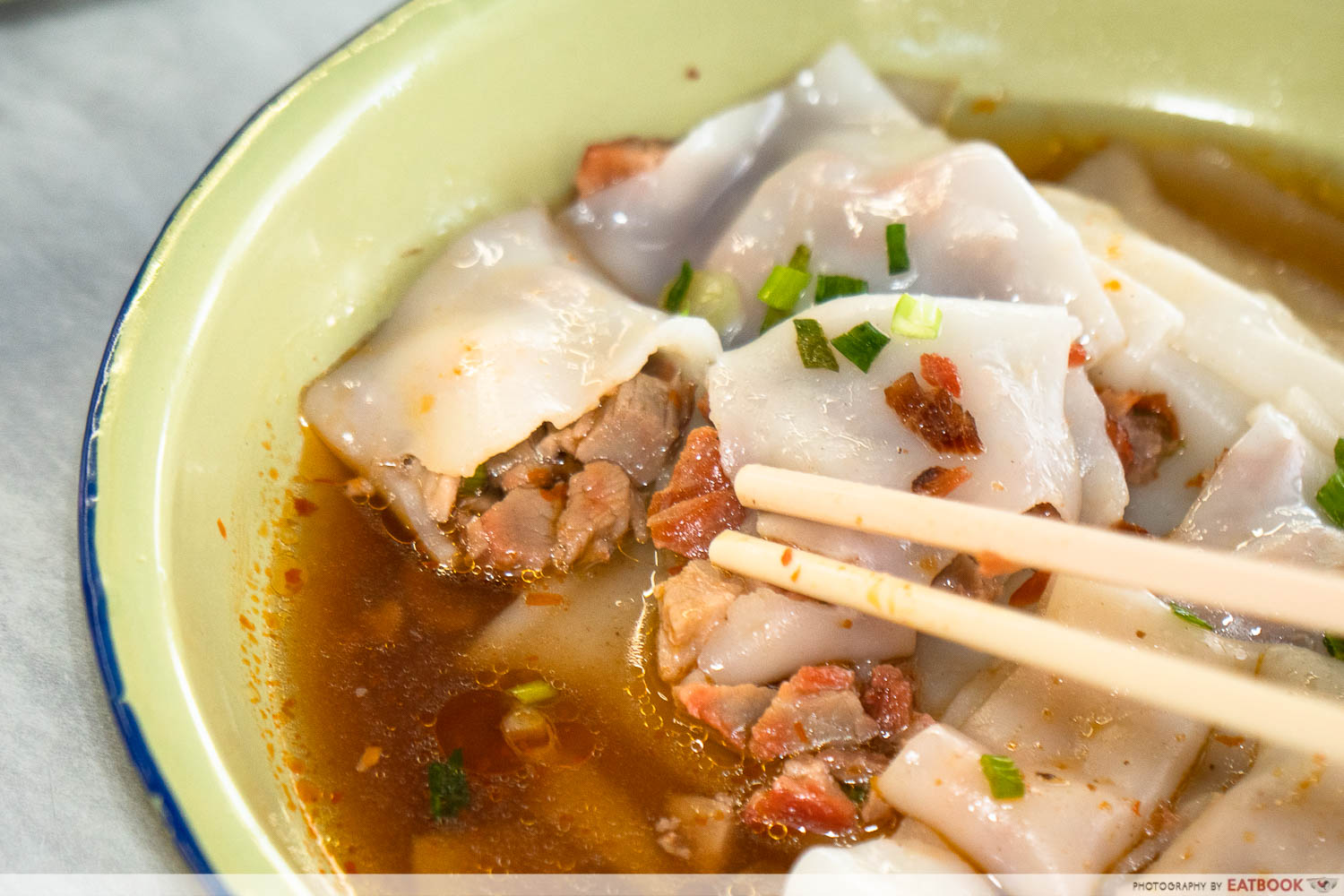 On a more conventional front, there's Char Siew Chee Cheong Fun ($4), or Prawn Chee Cheong Fun ($5) if you like. We had the Char Siew, which also featured heftily-filled rolls of cheong fun.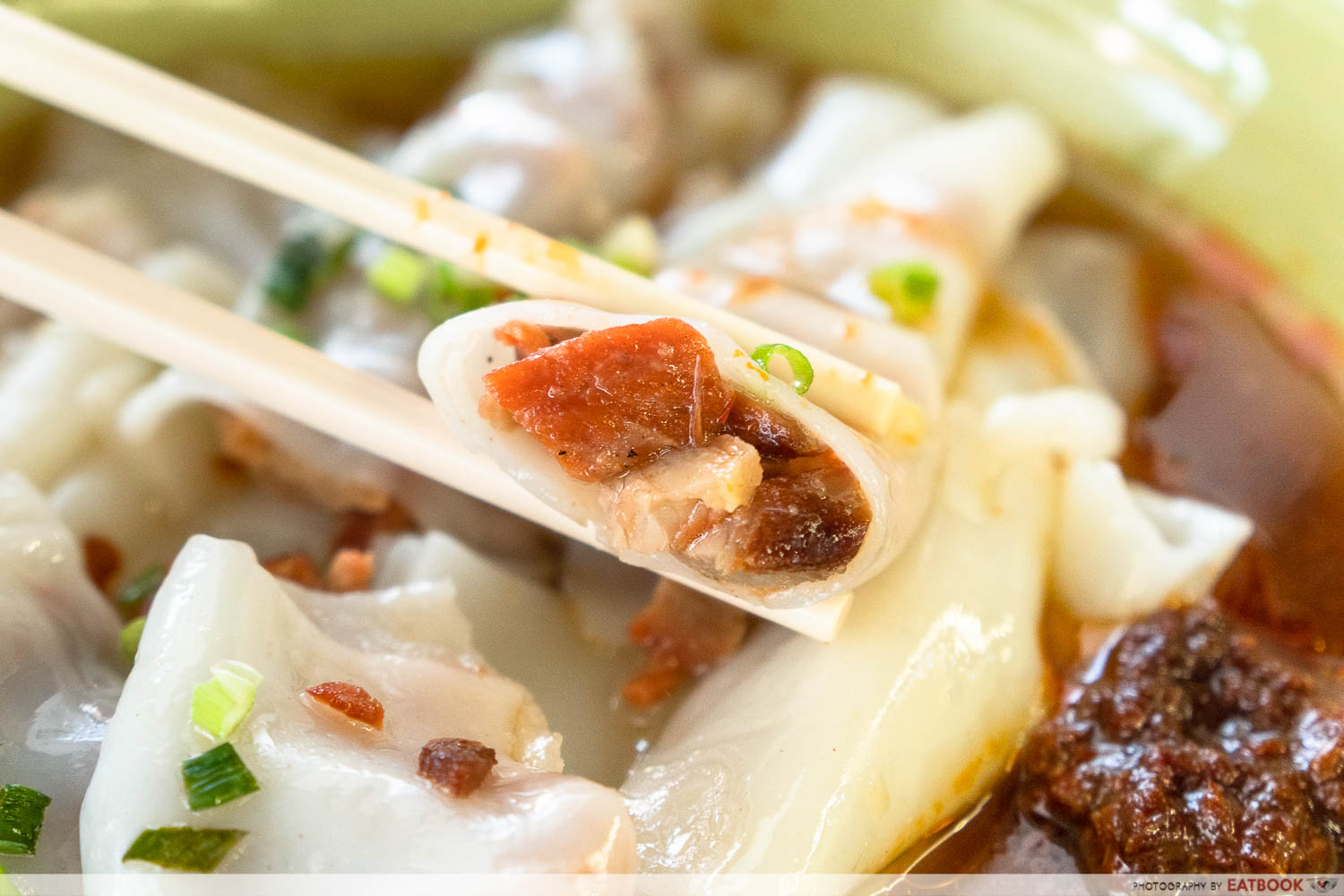 I liked that the char siew, as with the braised pork, was not chopped into miniscule, negligible pieces, but still held some body. It also wasn't overly sweet, which I enjoyed. Heng Yi shared that while the char siew is not house-made, he does enhance it before adding it into the CCF.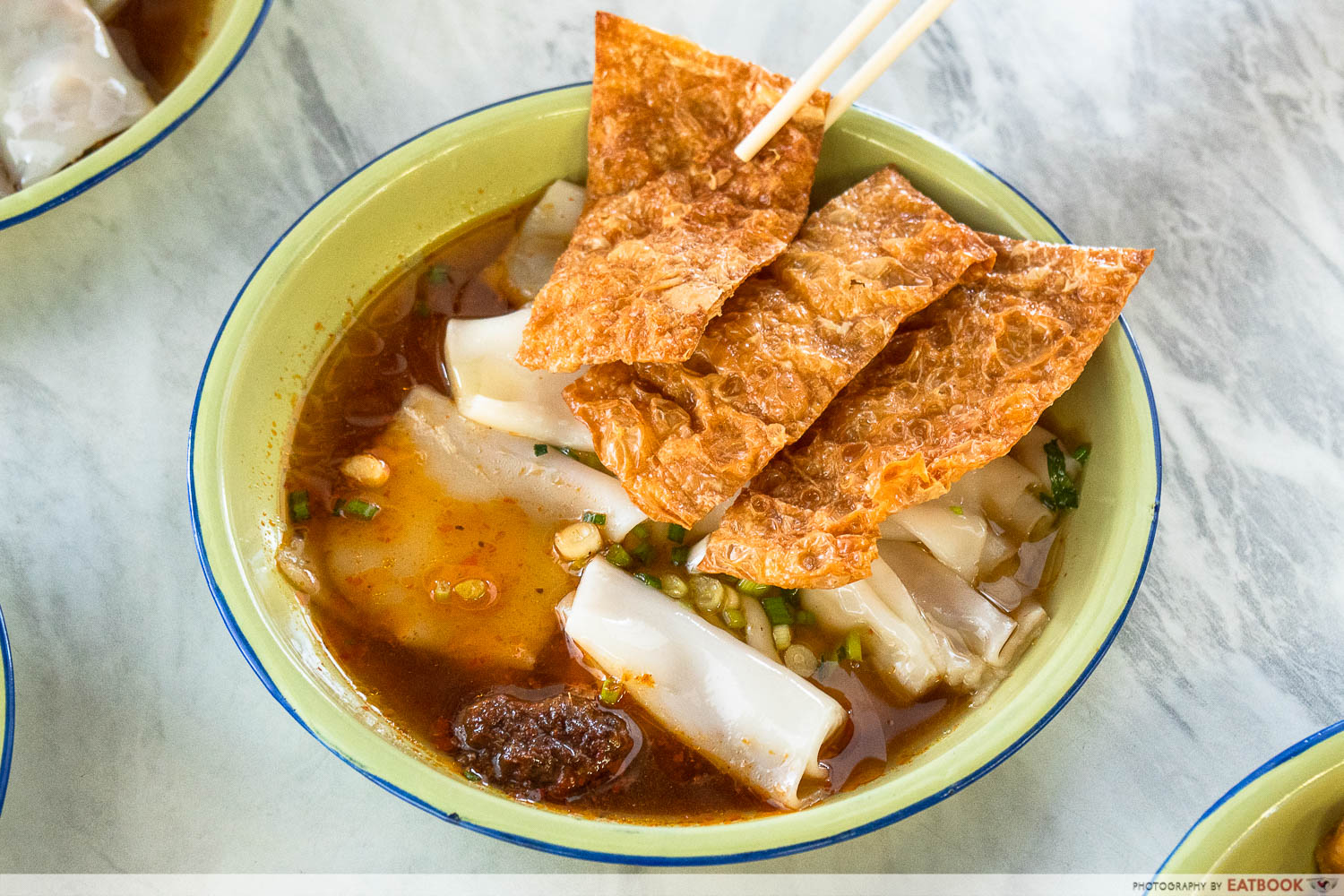 Truth be told, I was drawn to the Zhai Er Chee Cheong Fun ($3.50) for nothing more than the deep-fried beancurd skin.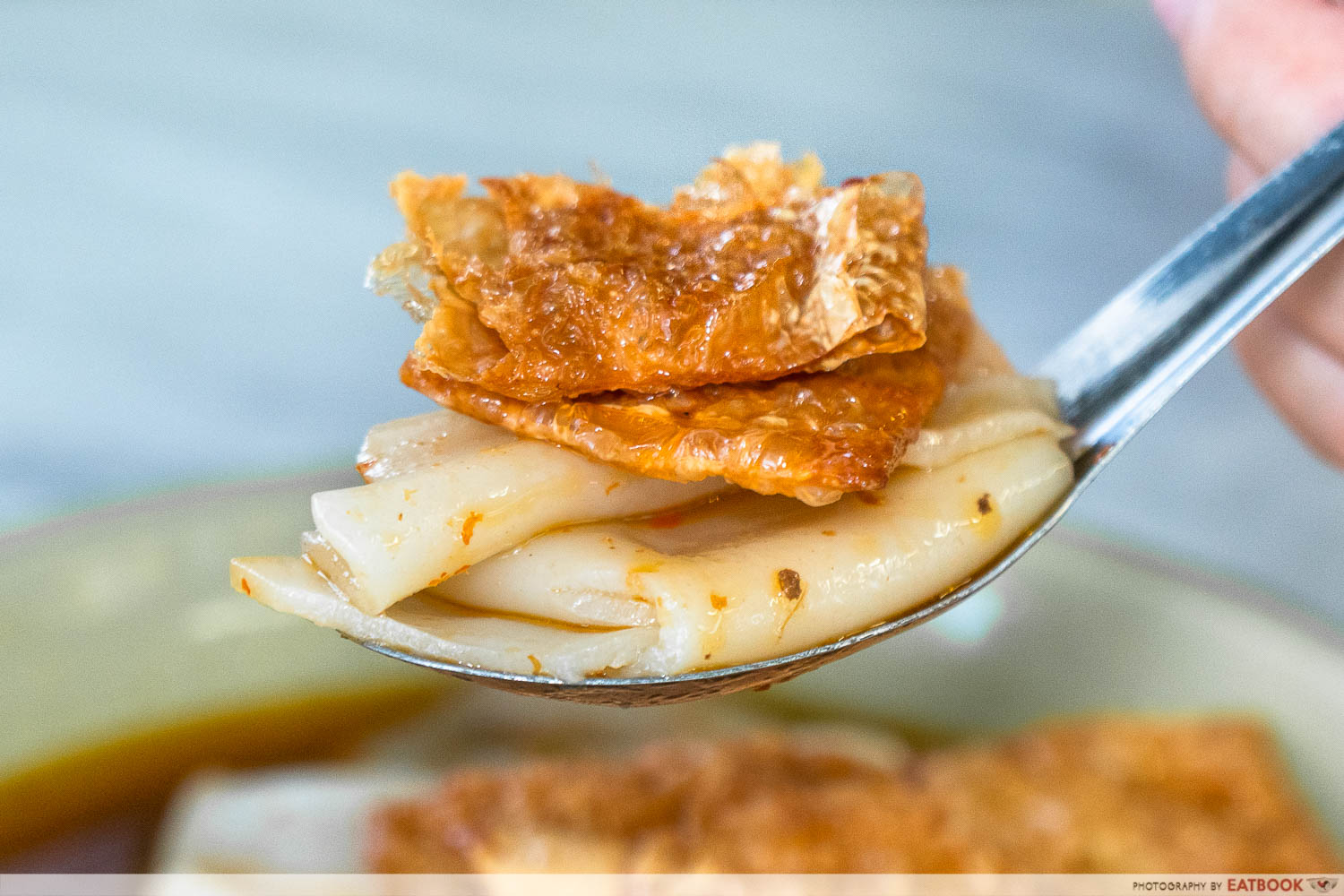 While the zhai er got soggy after a while, I can't deny that it brought a tasty edge to the cheong fun. I'd recommend eating this ASAP if you want it crispy.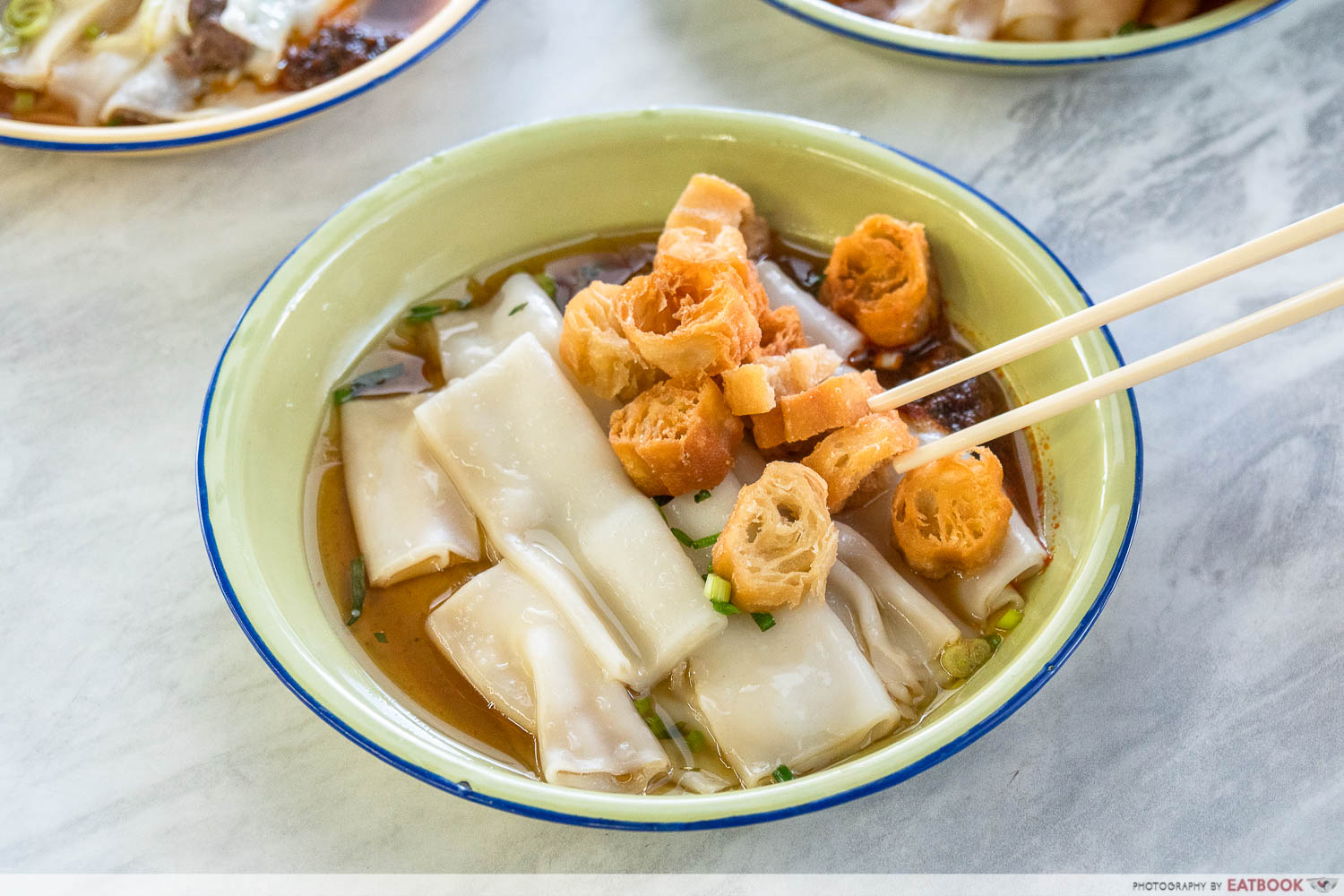 I'd thought that You Tiao Chee Cheong Fun ($3.50) would be zha leong, with the you tiao wrapped within the rice rolls, but I was wrong. Instead, thin slices of the dough fritters are scattered on plain cheong fun.
We found the slices of you tiao too hard, with a finish that was more like plain, cold rusk, and thus incongruous with the plain CCF. Perhaps the intention was for them to be soaked into the sauce, but we didn't attempt this.
Bei-ing Wanton Mee Review: Crispy Tori Katsu Wanton Mee With Truffle Mayo At $6 In Katong
Ambience at Wan Fen Chee Cheong Fun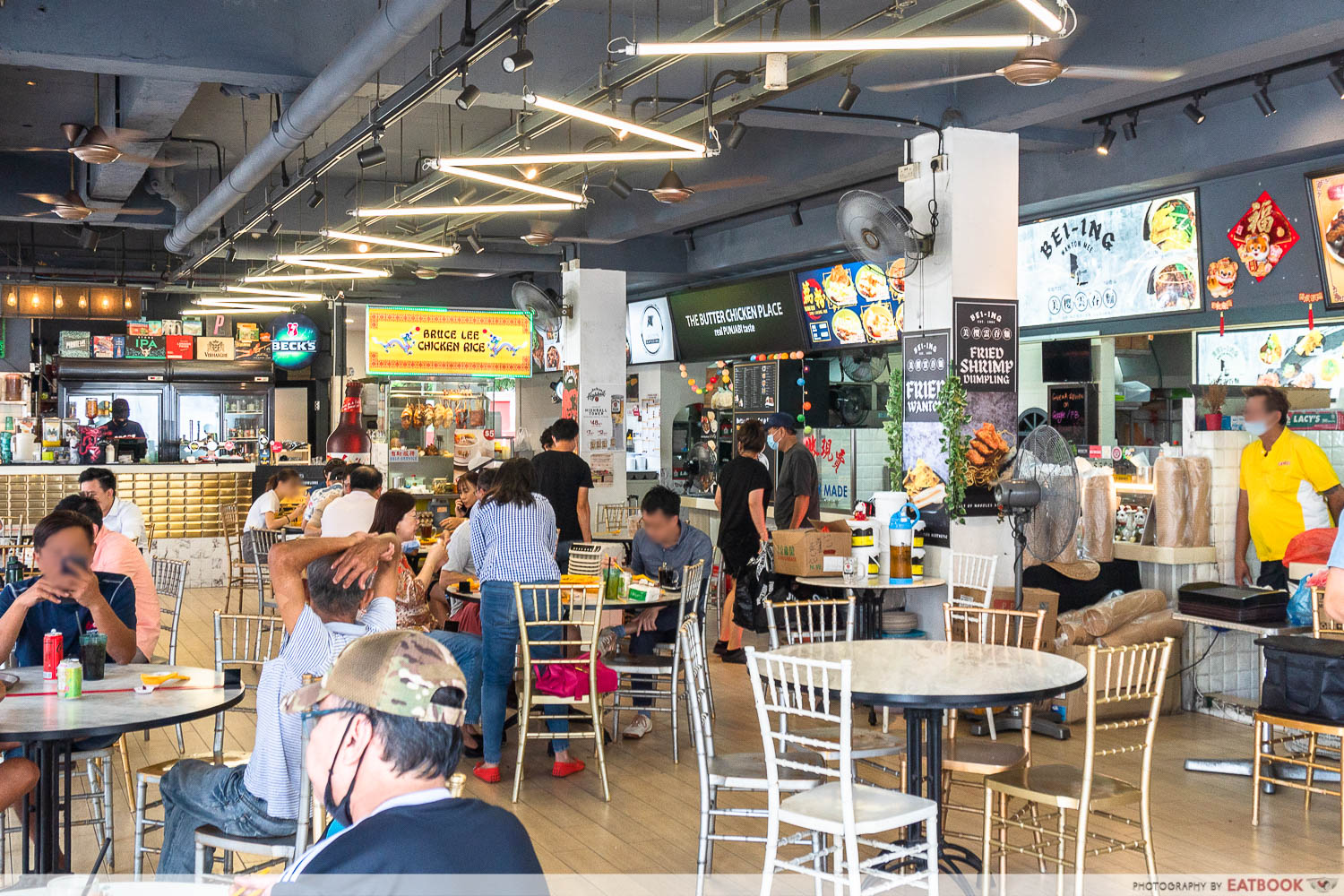 Located in The Buillion Hawker Bar, which is a small corner coffeeshop along East Coast Road, Wan Fen Chee Cheong Fun is just under 15 minutes by bus from Eunos MRT Station, or a 2km walk.
The space is quite new and modern-looking, and gets a decent crowd at lunchtime, so it's probably better to come at off-peak hours. There are also high tables along the corridor, which are directly by the road.
The verdict
Being a hawker is no easy feat, so I really applaud young people who step into this industry. At 23 years old, Heng Yi still has a long way to go, and things can only get better from here as he continues to refine and perfect his CCF recipes.
Fusion food doesn't always work, but I did enjoy his lor bak and Wagyu CCF pairings. While I would have preferred a thinner cheong fun, my colleague was sold on it. Additionally, the portions are big, and well-priced for what you get.
Just in the next stall is Bei-Ing Wanton Mee' new branch, which serves a slightly more extensive menu than at their original Roxy Square stall. If not, less than two minutes' walk away is Breakfast Grill, where you can get cheesy loaded sandwiches.
Address: 396 East Coast Road, The Bullion Hawker Bar, Singapore 428994
Opening hours: Fri-Wed 8am to 6pm
Tel: 8328 9380
Website
Wan Fen Chee Cheong Fun is not a halal-certified eatery.
Breakfast Grill Review: Affordable Loaded Sandwiches Including A Cheetos Chicken Sammie In East Coast
Photos taken by Zadelin Wong.
This was an independent review by Eatbook.SG
Wan Fen Chee Cheong Fun Review: Wagyu And Lor Bak Chee Cheong Fun In East Coast
Wan Fen Chee Cheong Fun Review: Wagyu And Lor Bak Chee Cheong Fun In East Coast -

7.5/10
Summary
Pros
– Very smooth chee cheong fun
– Tasty and unique fusion cheong fun
– Good portion sizes
Cons
– Cheong fun was on the thicker side
– You tiao was thin and hard
Recommended dishes: Char Siew Chee Cheong Fun ($4), Braised Pork Chee Cheong Fun ($5), Wagyu Beef Chee Cheong Fun ($7.50)
Opening hours: Fri-Wed 8am to 6pm
Address: 396 East Coast Road, The Bullion Hawker Bar, Singapore 428994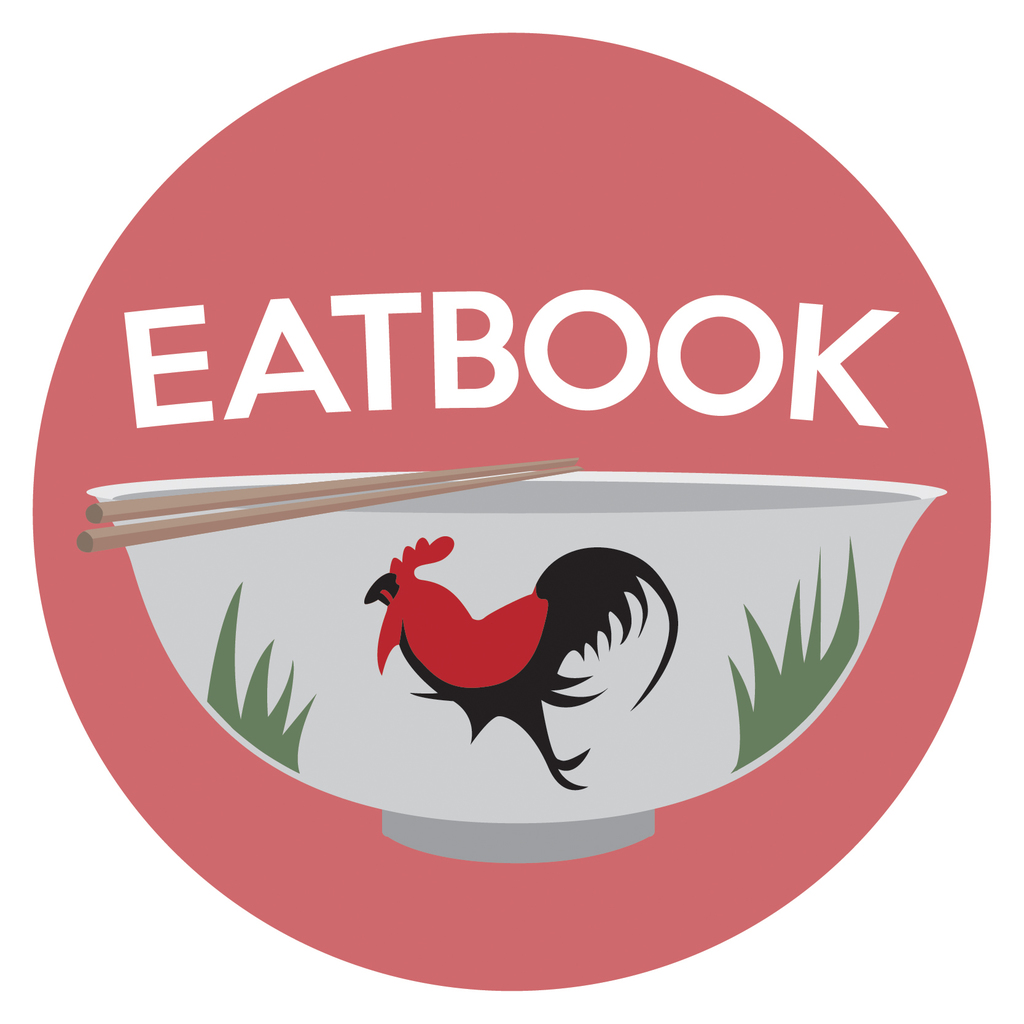 Drop us your email so you won't miss the latest news.