Grilled meats and salmon at Yakiniku Ohji
Update: Yakiniku Ohji at Jubilee Square has closed, but it remains open at Clementi.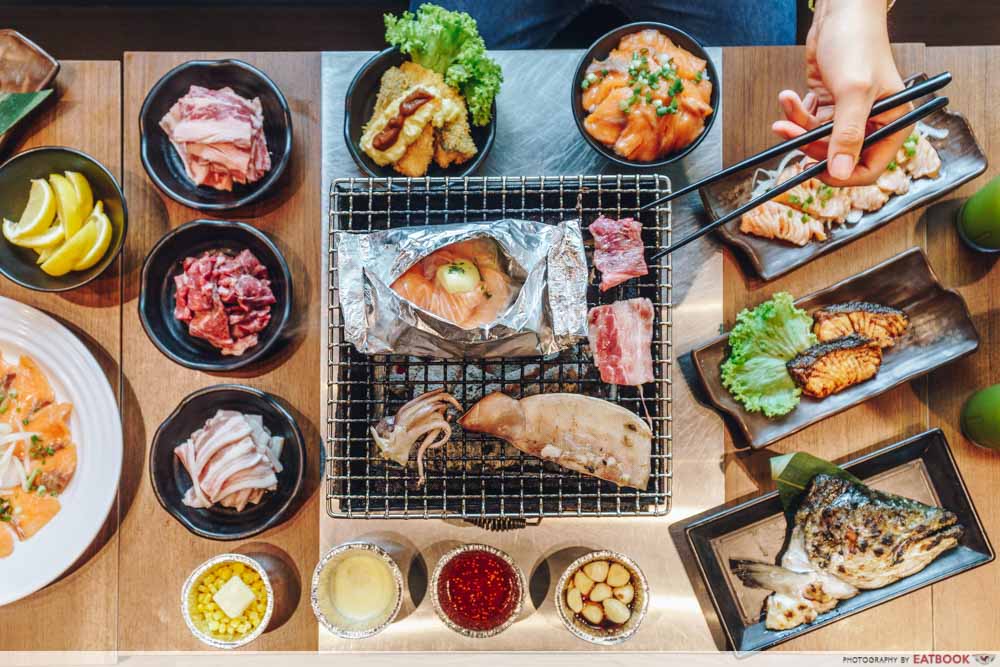 Residents of Ang Mo Kio, as well as buffet aficionados, might be familiar with Yakiniku Ohji. Previously drawing in crowds for their a la carte charcoal barbecue and sushi buffet, this Japanese-owned joint has since removed the sushi component and come up with a new salmon-inspired menu that features 12 items instead.
The first tier comes with 35 items, and costs $19.80+ for adults and $12.80+ for children. Alongside chicken and pork, you'll also be able to find plenty of vegetables such as eggplant, capsicum, and mushrooms to grill. 
For the complete yakiniku experience, go for their second tier. This package lets you choose from a variety of US beef cuts and Angus beef. Featuring 54 items, it also comes with a limited-time offer, where you get to enjoy the entire salmon menu for free. The set costs $29.80+ for adults and $16.80+ for children. Plus, for a limited time, Yakiniku Ohji at Ang Mo Kio will be giving a free platter of A4 Japanese wagyu chuck roll when you order their $29.80 BBQ Buffet everyday! Just remember to quote Eatbook when you're there.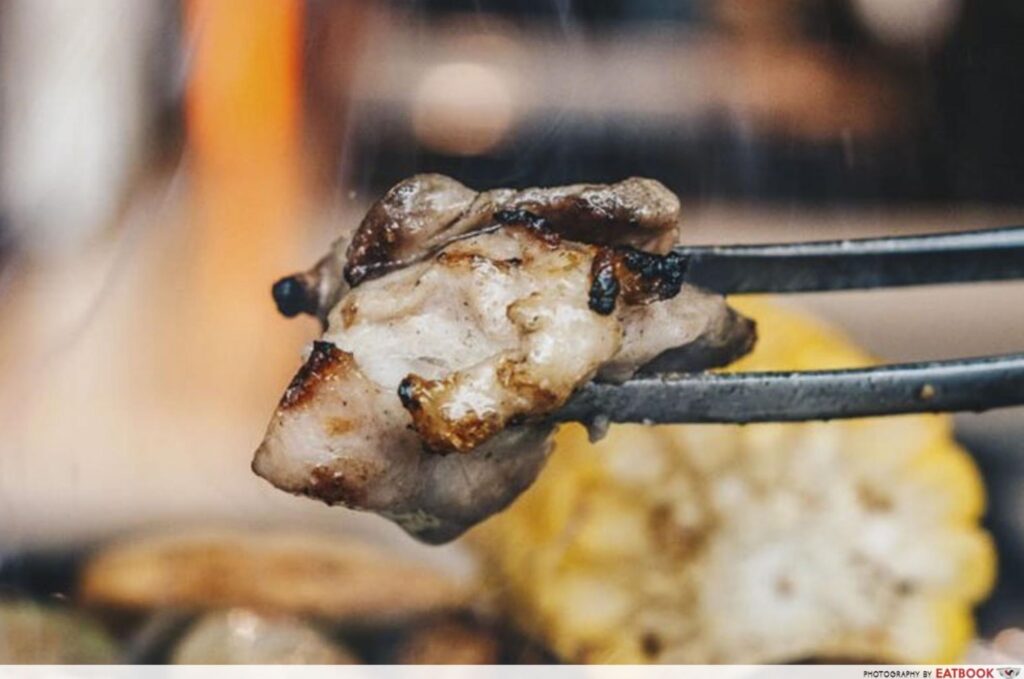 If you're feeling a little lavish, the premium tier costs $42.80+ for adults and $22.80 for children and gives access to the salmon menu, along with a variety of melt-in-the-mouth wagyu cuts. 
There are a few things to take note, namely the charcoal charge ($2.50 for one diner) and a maximum order of four items per person at any given time. The restaurant also stipulates that there can only be a maximum of 12 dishes on one table to prevent food wastage. Nevertheless, you can always order more dishes once you've finished them. 
Lastly, every table is allowed to dine for two hours per session. This is reduced to 100 minutes during dinners on Fridays to Sundays, as well as the eve of public holidays and public holidays. You'll also have to be wary of the last order timings, which is 30 minutes before each session ends.  
Food at Yakiniku Ohji
We went for the second tier, which is also the best-selling option here. Each table is given a charcoal grill that comes loaded with smouldering Japanese charcoal—binchotan—inside. 
The charcoal grills are more superior than regular electric variants, emitting greater heat and giving a mild smokiness that lightly kisses the meat.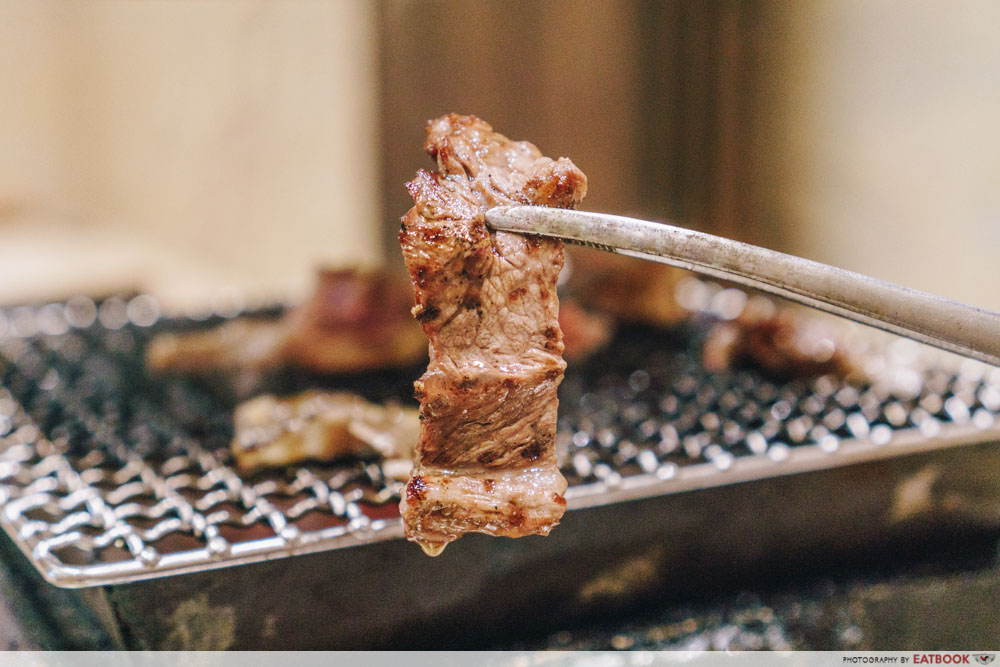 A good way to kick off this grill feast is with the meats. We loaded up with the US Angus Beef and US Kalbi, which were the definite standouts of this buffet. Packing in a generous amount of marbling and sliced to the right thickness, the meats got us hooked right from the first bite.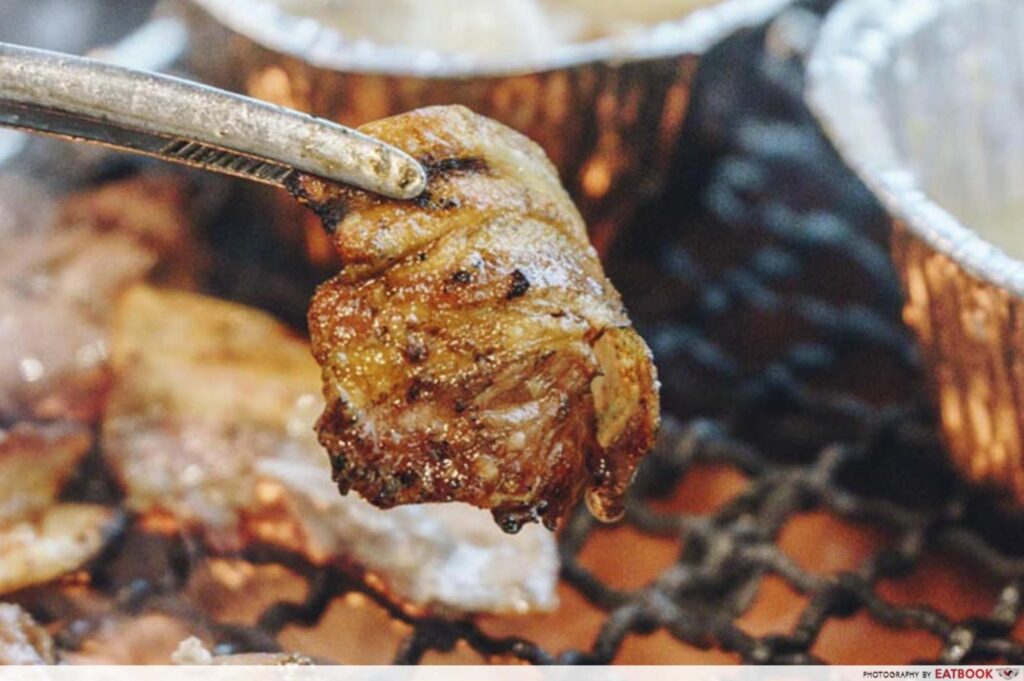 As with any barbecue buffet, the meats are only as good as you cook them. It's best to let them sit undisturbed for two minutes, then flip over and cook for another minute or so. It's easy to be impatient and constantly flip it over, but this would only prevent the meat from developing a delicious crust that locks in all of its juiciness.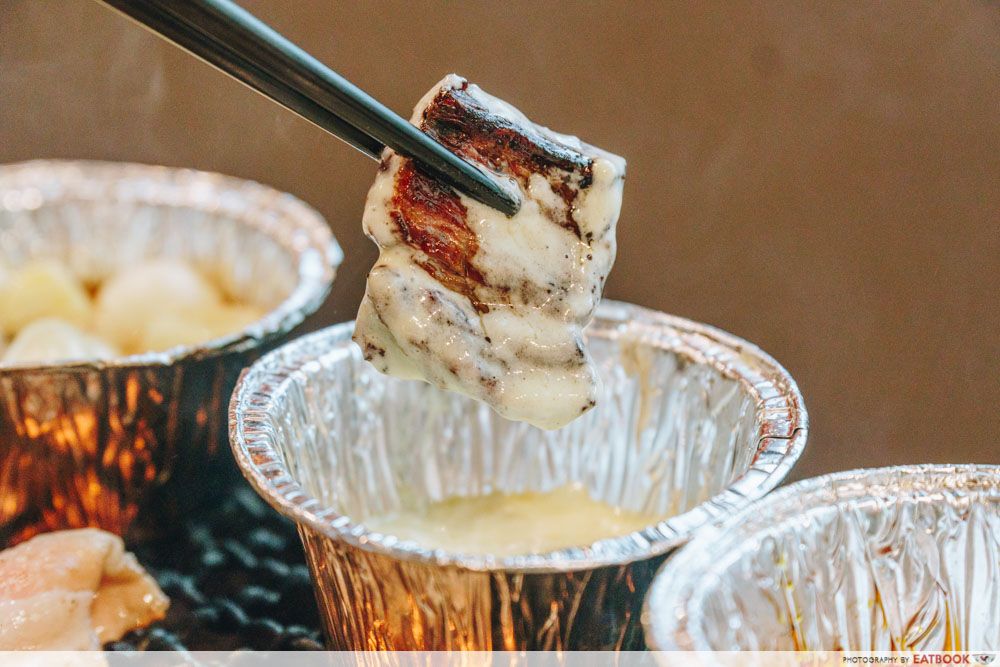 Each meat order also comes with a choice of garlic butter, cream cheese or spicy miso sauce. Our favourite was the cream cheese. It adds a tinge of richness to the meat that makes for quite a special experience.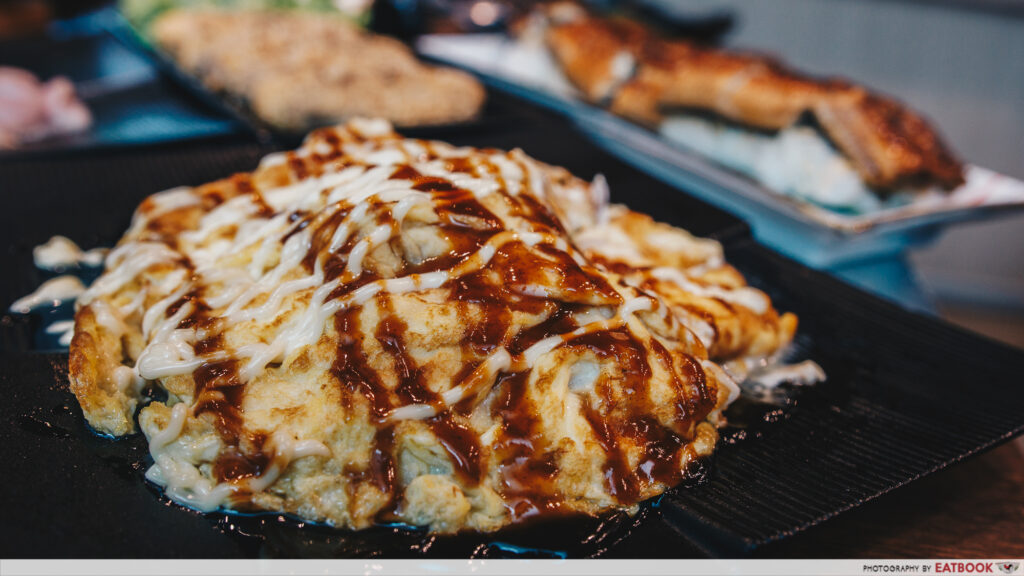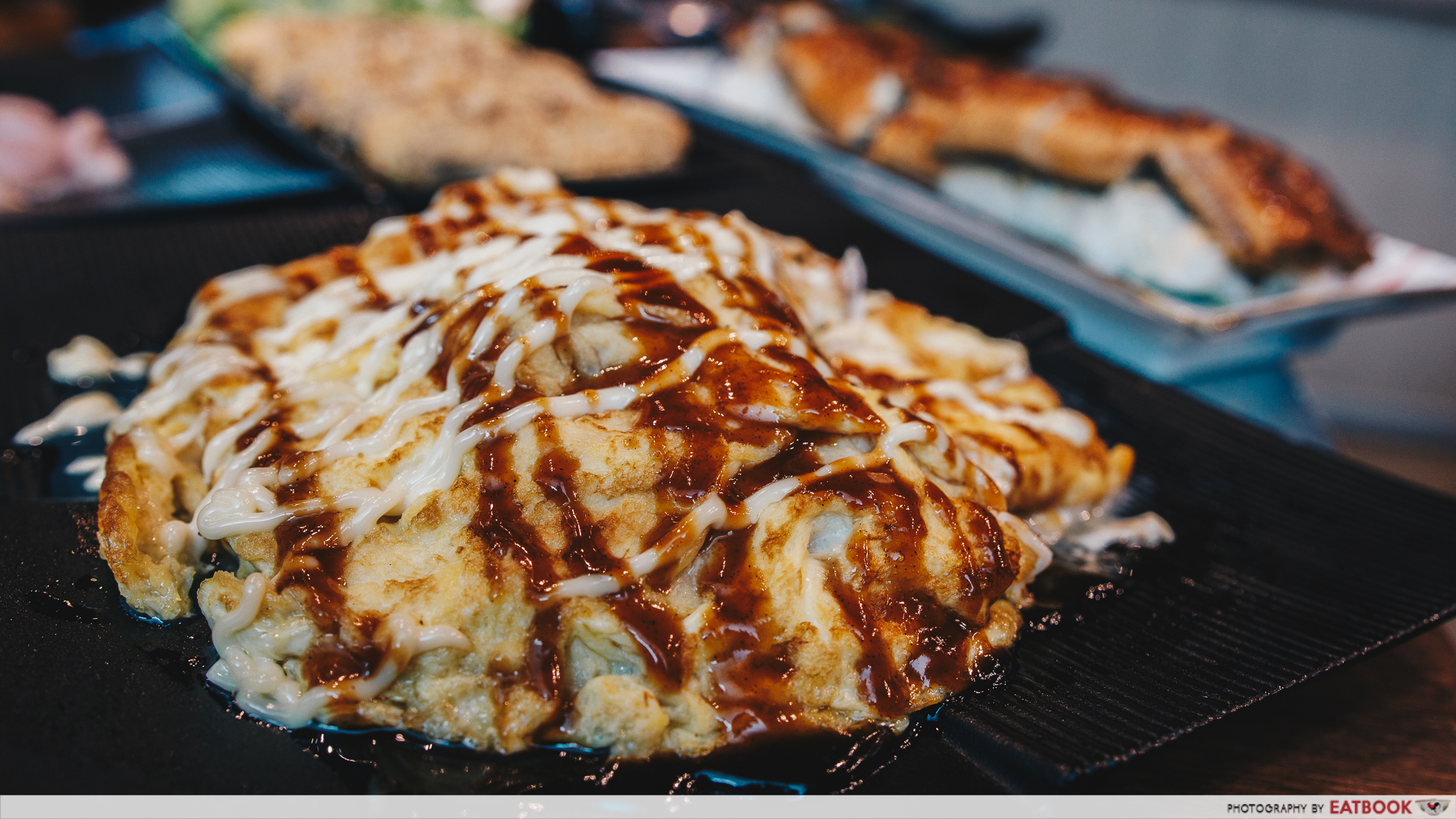 Besides grilled meats, you can also choose from a generous selection of cooked food here. This includes the Tonpei Yaki, which comprises stir-fried shredded cabbage and chicken packed inside a fluffy omelette. Slathered with sweet okonomiyaki sauce, this dish provides a nice accompaniment to the hearty meats.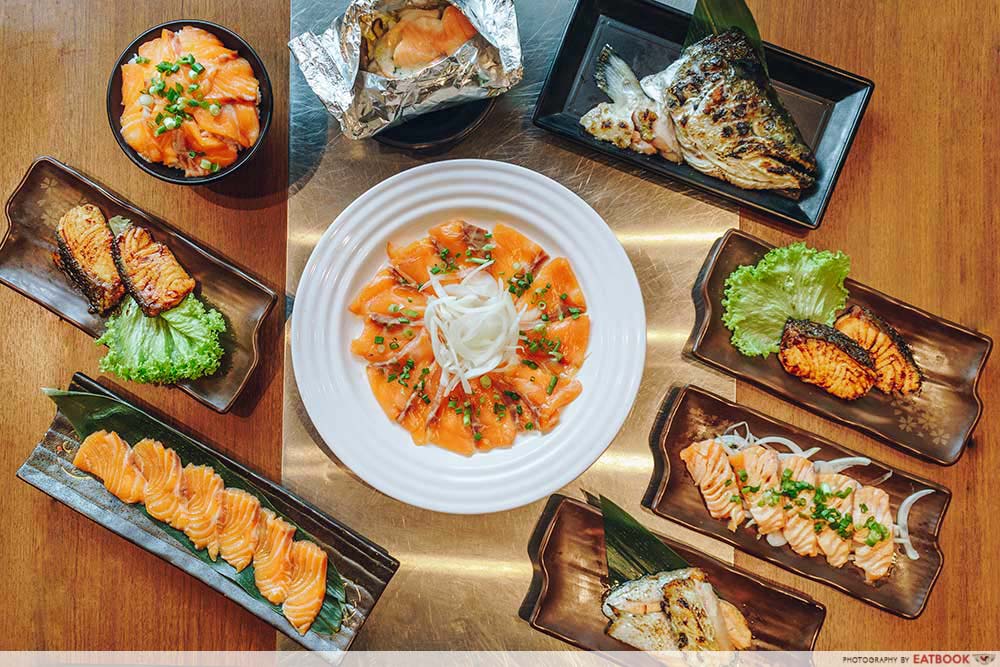 The new salmon menu, which comes free for those who get the second and third tier, ought to attract lovers of this richly-flavoured fish. Featuring classic favourites such as aburi salmon alongside original creations such as salmon carpaccio, there ought to be a something for everyone.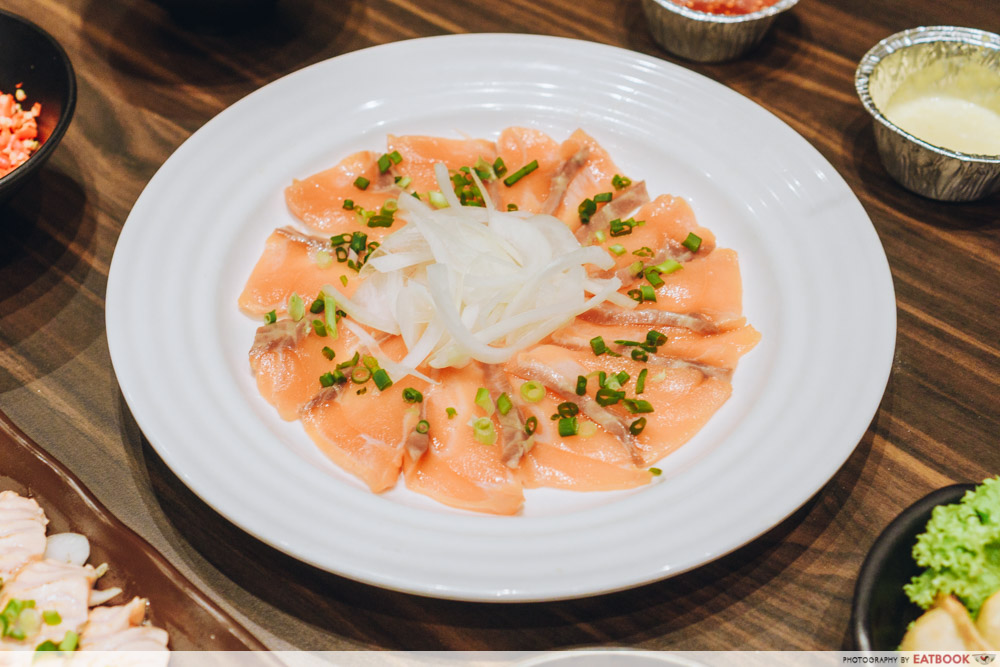 Those who frequent Yakiniku Ohji's izakaya counterpart, Yakiniku Oh, will be familiar with their best-selling salmon carpaccio. Featuring extra thin slices of salmon sashimi, this refreshing appetiser also comes with slivers of onion that give a satisfying crunch.

Limited quantities of the grilled salmon head are also available here. This part is often revered as the tastiest and most tender part of the fish. They're already expertly grilled in the kitchen, so there's no need to wait for it to be cooked.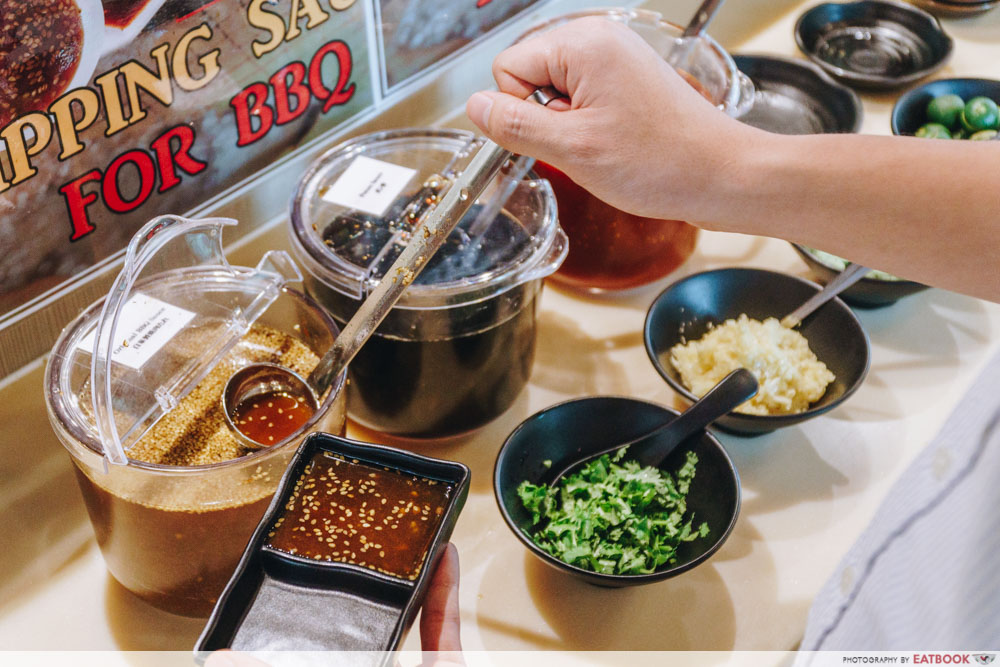 Like all yakiniku establishments, it's worth noting that the meats here are not marinated before grilling. Instead, it's the sauce that provides that extra oomph of flavour. 
I would recommend the house's special original BBQ sauce. It comes with a nice balance of saltiness and sweetness that brings out the beef's natural flavour well. 
Ambience at Yakiniku Ohji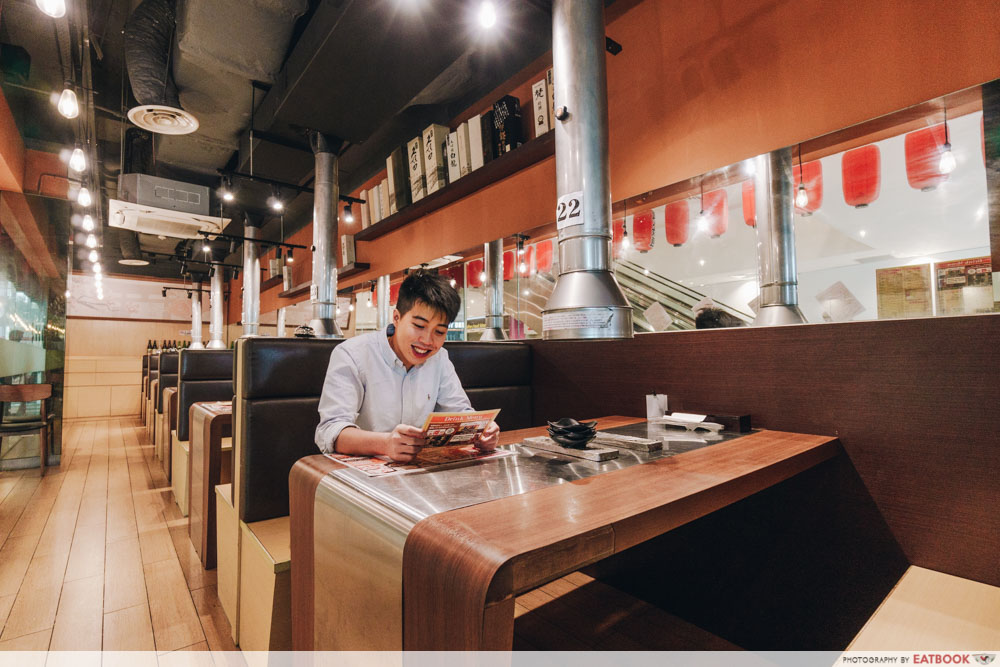 We visited the joint that's conveniently located at Jubilee Square, which is a short walk away from Ang Mo Kio MRT station. Seats are quite limited here, so it's a good idea to head down early to try to beat the dinner crowd.
If you're afraid of smelling like freshly grilled meat at the end of this meal, there are powerful cooking exhaust fans located at every table that'll help suck up most of the unwanted "barbecue odour" here. 
While service may be a little slow, there's no need to pay for service charge here. A rare occurrence at buffet restaurants. 
The verdict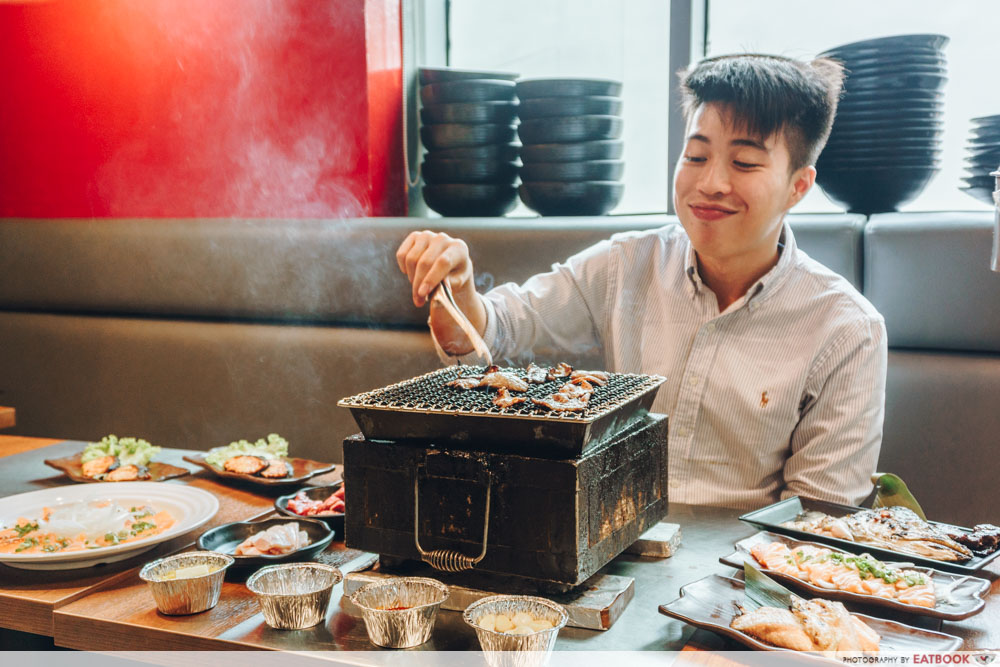 You'll usually find most find yakiniku specialists in glitzy restaurants and izakayas that charge an average price of around $80 per head for a la carte orders. The yakiniku experience at Yakiniku Ohji comes close to the real deal, and offers a wide spread of food at a reasonable price. 
For more value-for-money Japanese fare, be sure to check out Washoku Goen. Opened by the same people behind Yakiniku Ohji, this Japanese food court store serves up tasty dishes such as tonkotsu ramen and Japanese curry rice at affordable prices!
Address: 61 Ang Mo Kio Avenue 8, #02-03, Jubilee Square, Singapore 569814
Opening hours: Mon-Fri 12pm to 3pm, 5pm to 11pm (last order at 10pm), Sat & Sun 12pm to 11pm (last order at 10pm).
Tel: 6251 1736
Website
Yakiniku Ohji is not a halal-certified eatery.

Photos taken by Tan Wen Lin.
This post is brought to you by Yakiniku Ohji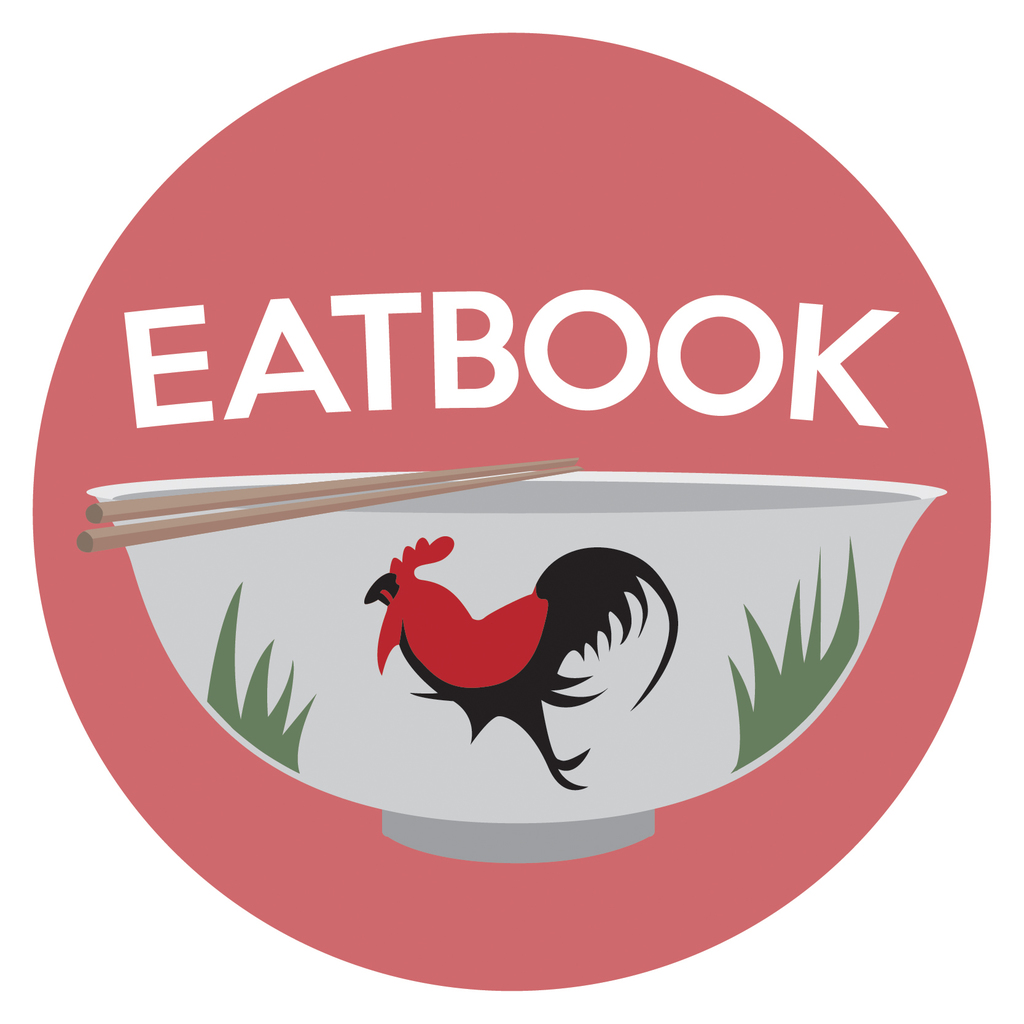 Drop us your email so you won't miss the latest news.