Yanxi Dim Sum & Hotpot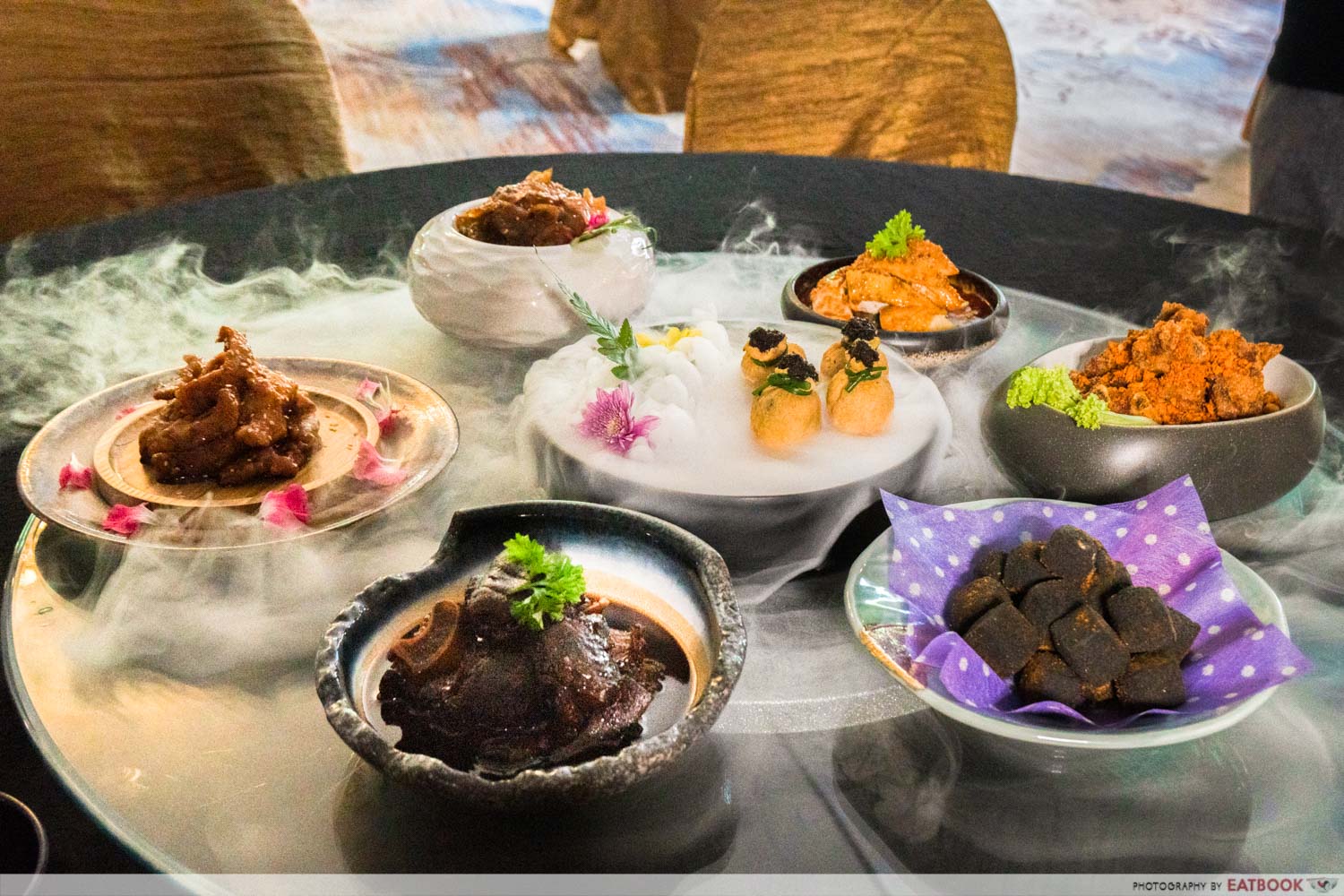 Yanxi Palace Steamboat has now rebranded itself, and updated its menu to serve dim sum and starters on top of their hotpot fare. Now called Yanxi Dim Sum & Hotpot, they've brought onboard Chef Chan Wai Keung, ex-Executive Chef of Mott 32 at Marina Bay Sands, and Chef Ben Yapp, former Dim Sum Chef at The Fullerton Hotels & Resorts Singapore—their joint expertise introduces exquisitely plated dim sum and small plates to the Yanxi menu.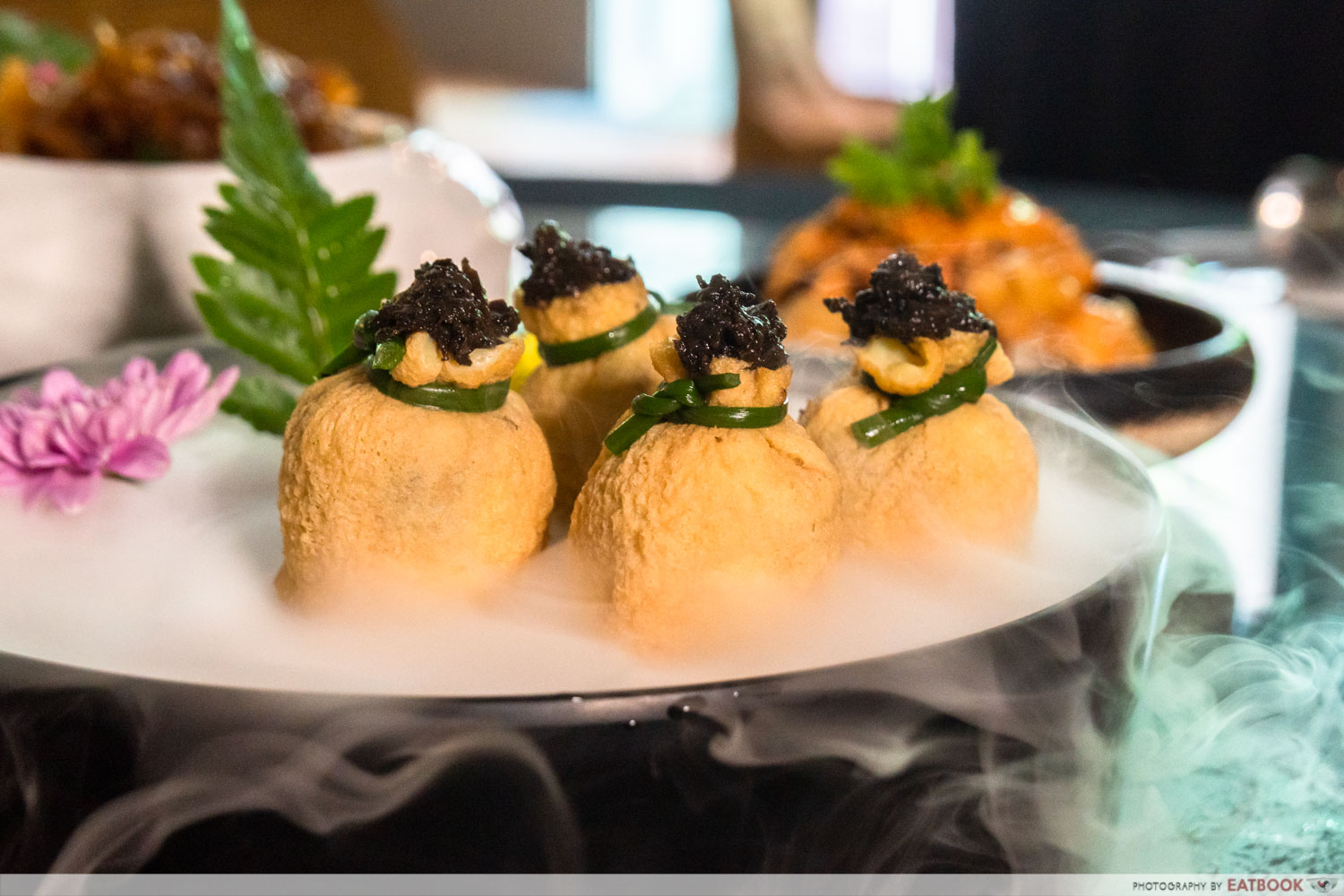 We were blown away previously by the theatrics of the meal service at Yanxi previously, and they continue to impress. One of our favourite dishes was the Artisanal Truffle Mushroom Fortune Bag ($18++ for four), where your usual beancurd skin bag is filled with earthy shrooms, crunchy turnip, and silken tofu, before it's tied up and topped with a dollop of black truffle paste.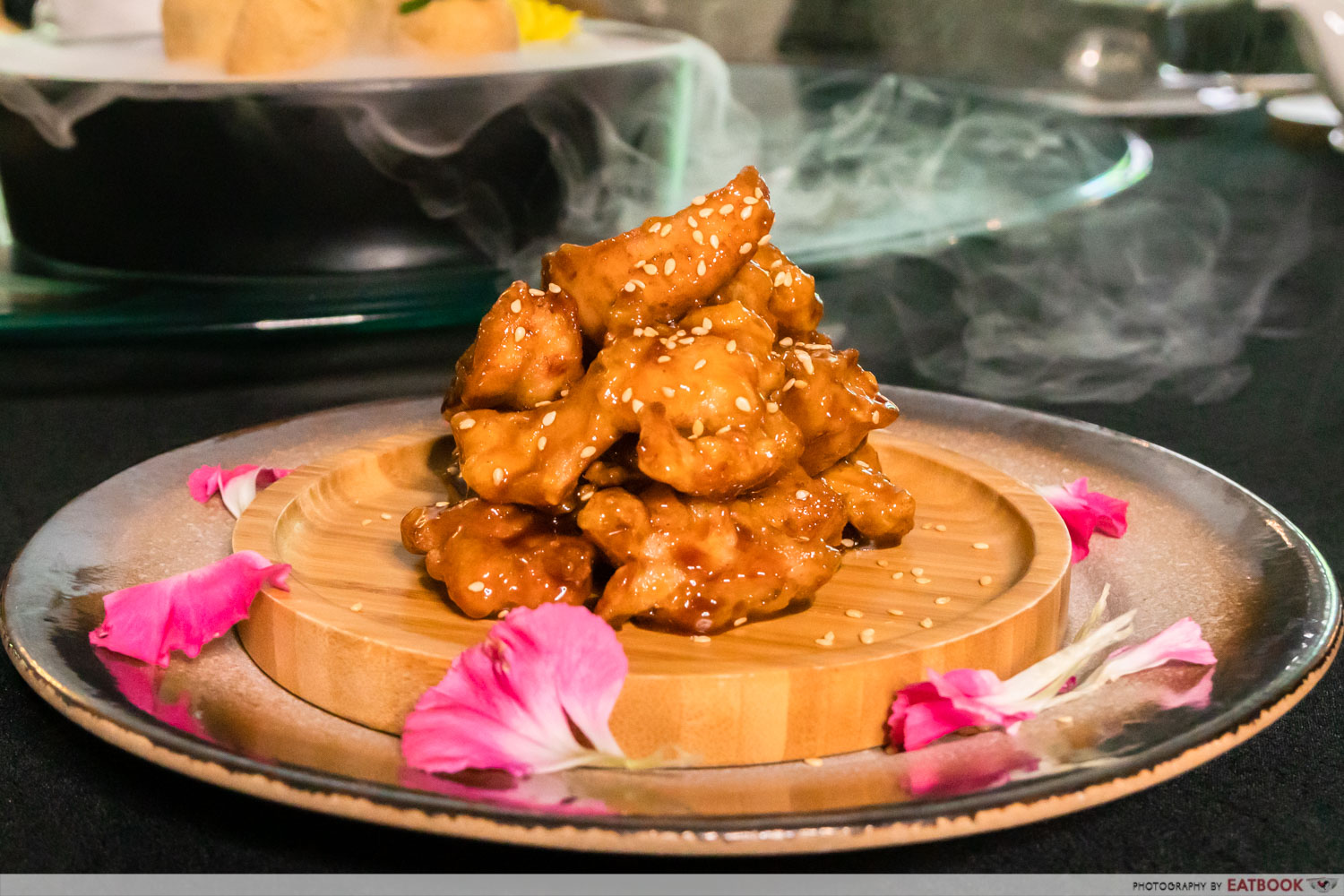 Then, there is General Tso's Chicken ($16++), which arrives at the table under a glass dome filled with smoke, imparting a light hint of smokiness to the classic Chinese dish.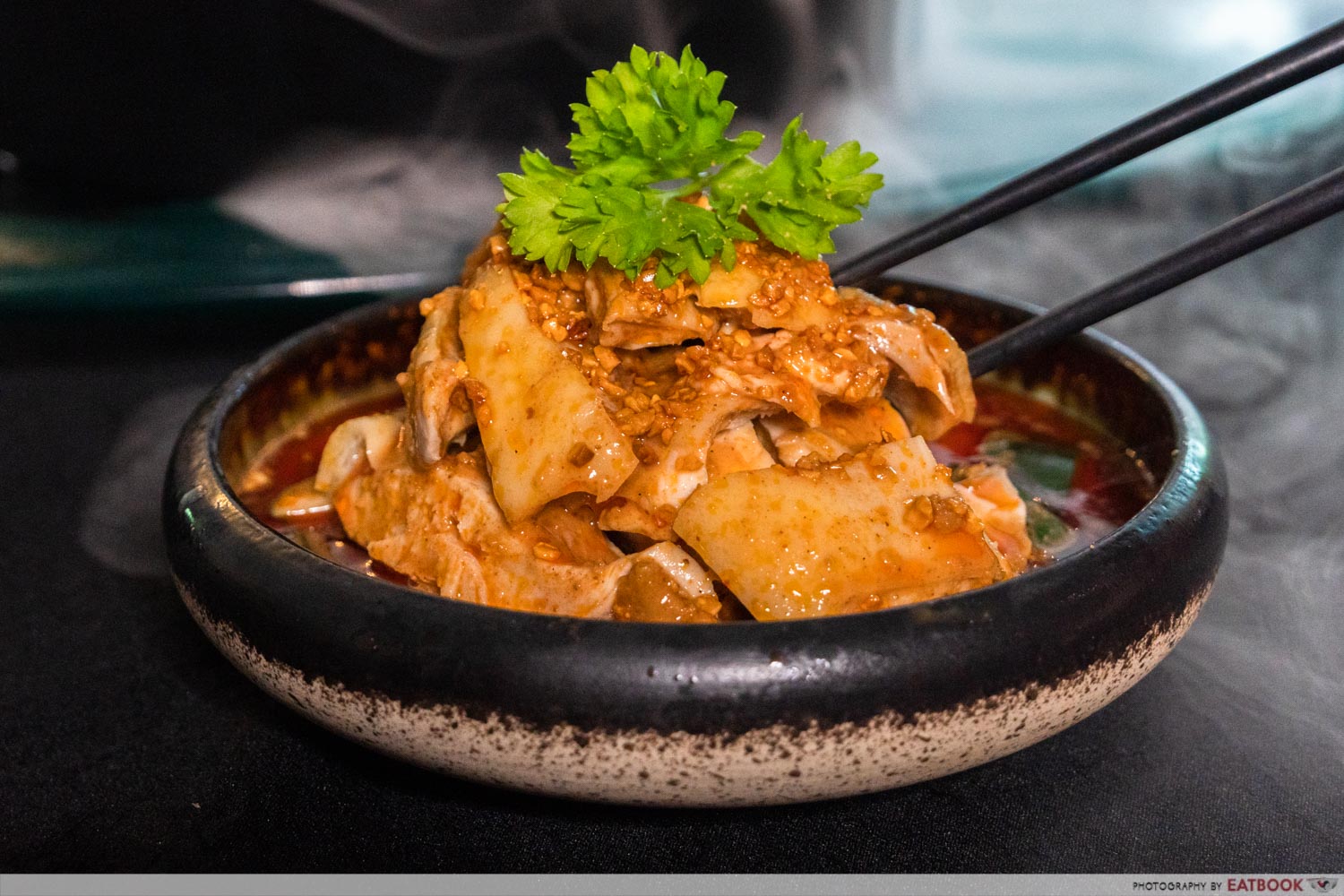 For fans of Sichuan pepper, the Cold Poached Chicken In Handcrafted Chuan Xiang Sauce ($12++) is the starter you should go for. The meat is succulent and smooth, with a nice bite from being poached to just the right doneness, while the mala-tinged dressing was addictive enough that my dining companion wished for a bowl of cold somen to toss it with.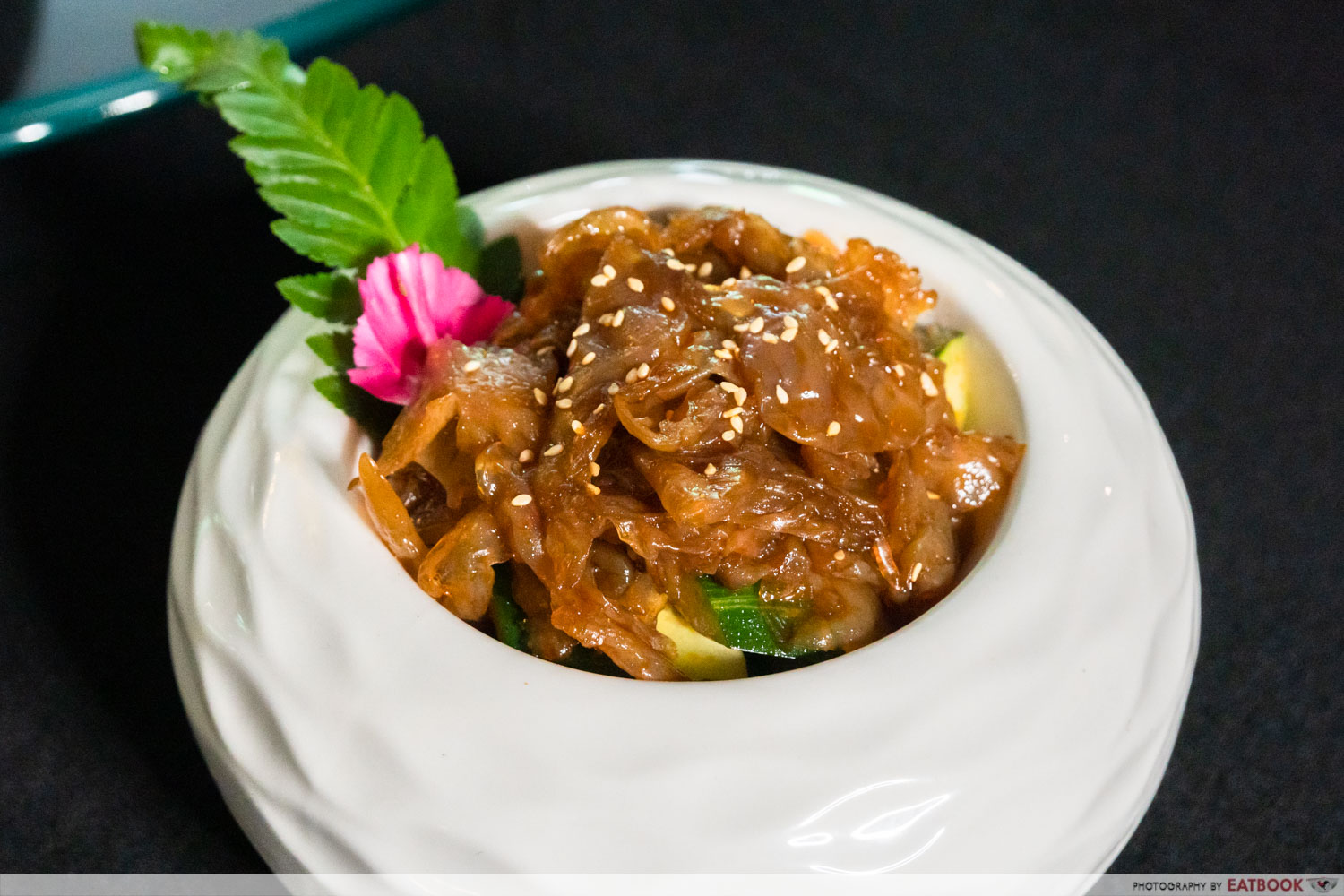 The light touch of Sichuan pepper in the Hokkaido Jellyfish Salad In Aged Balsamic Vinegar ($18++) made it a complementary starter, while the balsamic vinegar lent the crunchy slivers a tart sweetness.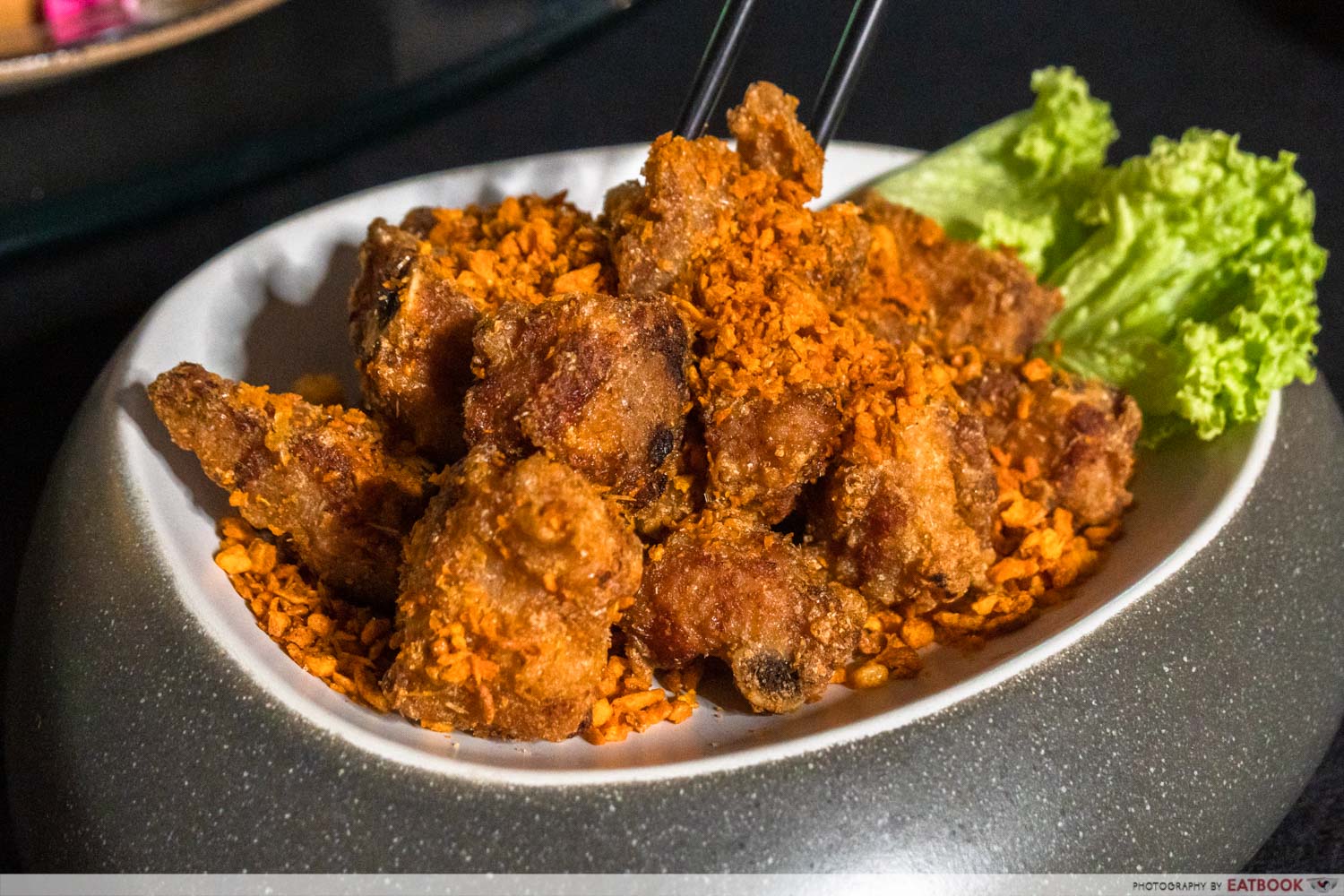 Typhoon Shelter, or 避风塘 (bì fēng táng) is a style of cooking that originated in Causeway Bay, Hong Kong, where garlic and chilli are fried together. The garlicky breadcrumb is now fried with all sorts of food, and here at Yanxi, it features in the Hong Kong Golden Garlic Pork Short Ribs ($12++), where chunks of meaty ribs are fried to golden perfection.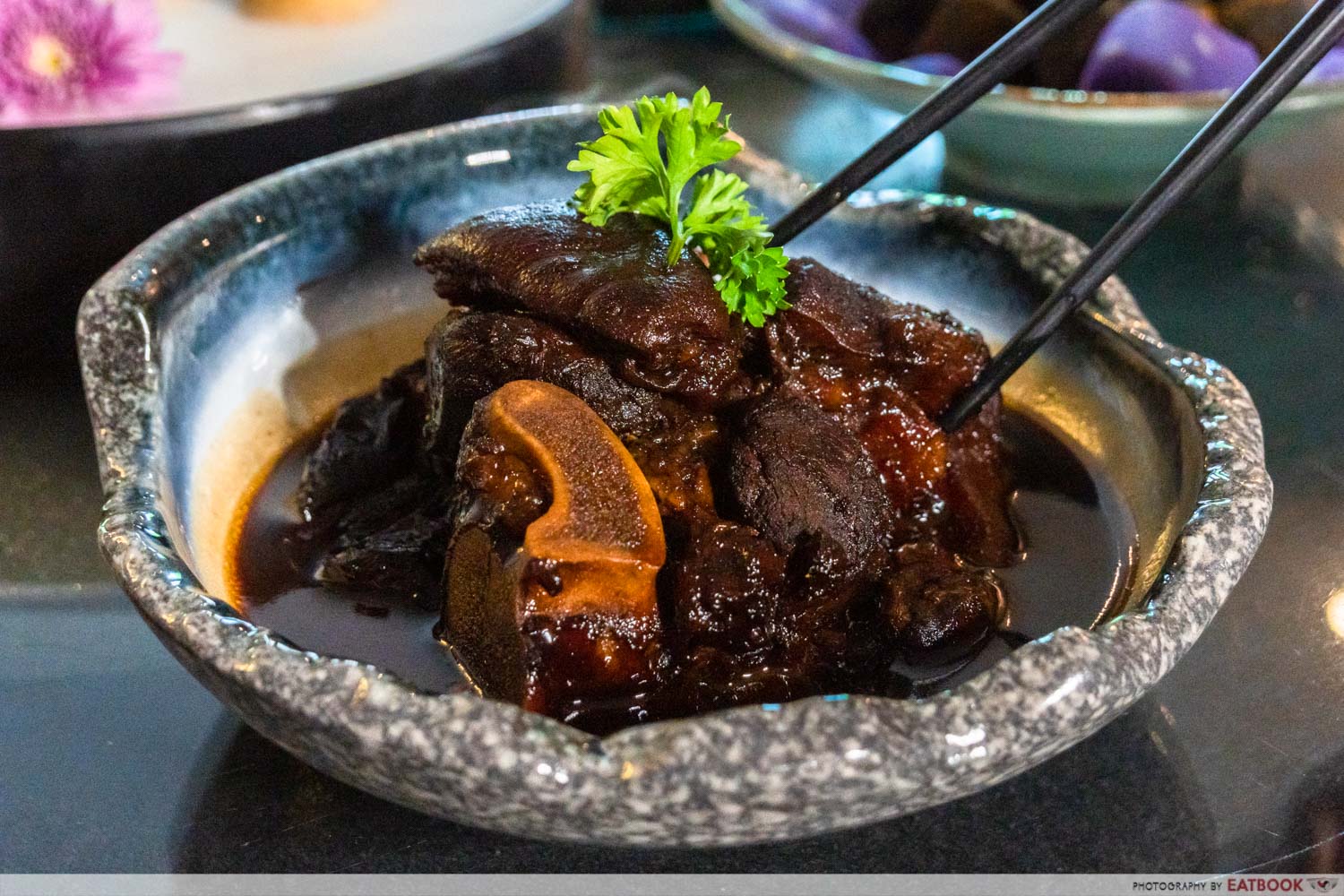 The Black Vinegar Pork Trotters ($8++) are another traditional dish that's seen a slight spin-off. This rendition sports a thicker, stickier vinegar braise that's almost syrupy, and is sweeter than the Singaporean version. It's also got a surprising touch of spice that's not unwelcome.
Chao Yue Xuan Dim Sum Review: Ex-St Regis Chef Opens Dim Sum Restaurant In Yishun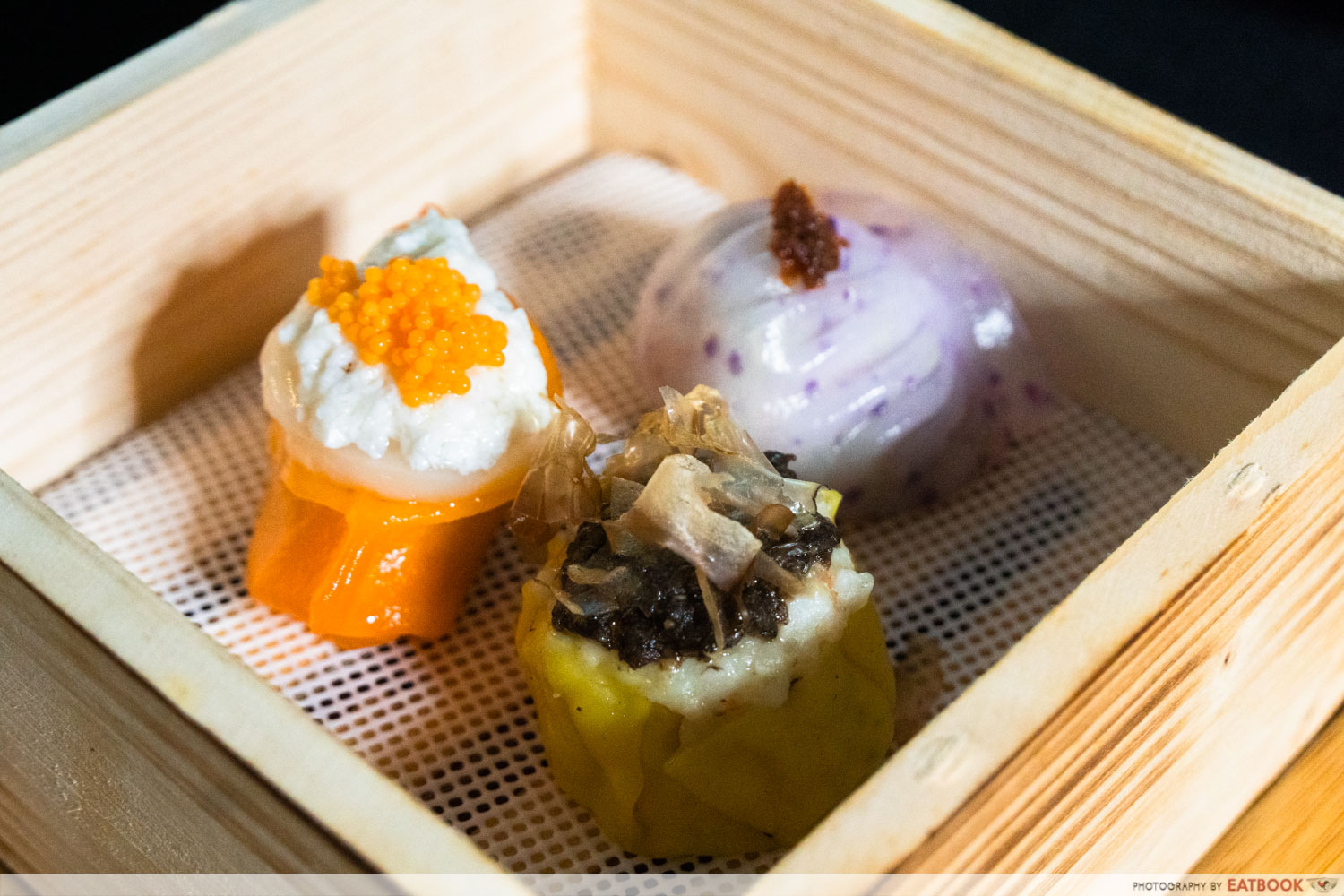 We got a Sampling Platter ($12++), which comes with your choice of three dim sum, with options such as the Yanxi Prawn And Petai With Sambal Chilli Dumpling ($11++ for three), Quail Egg & Bonito Flakes Siew Mai ($12++ for three), and Tobiko, Prawn & Scallop, Water Chestnut & Coriander Dumpling ($10++ for three).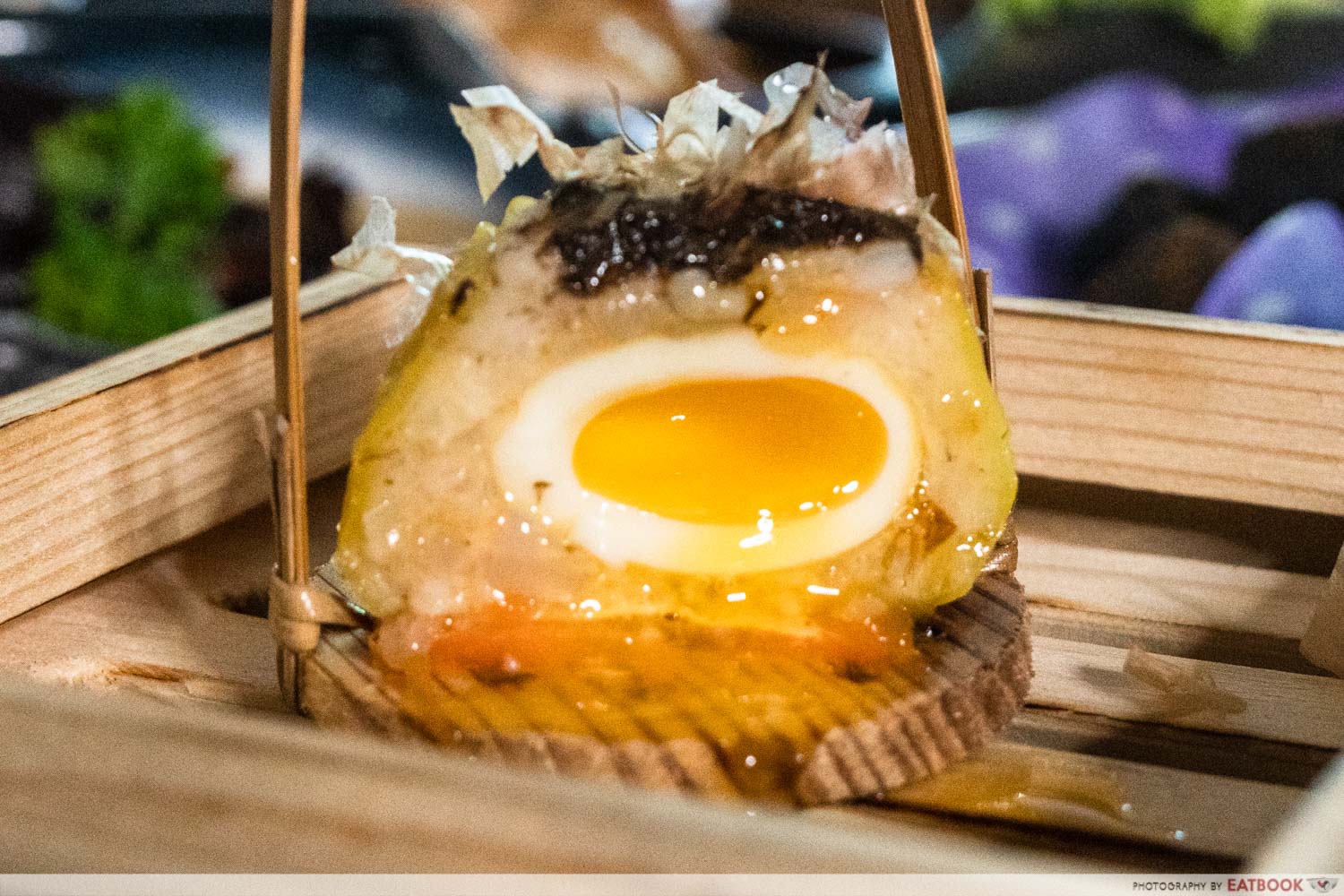 If their siew mai looks familiar, that's because you'll have seen a similar one at Mott 32, where the prawn and pork filling encases a molten-centred quail egg. It's also topped with a decadent lashing of black truffle paste, and bonito flakes that tie the flavours together.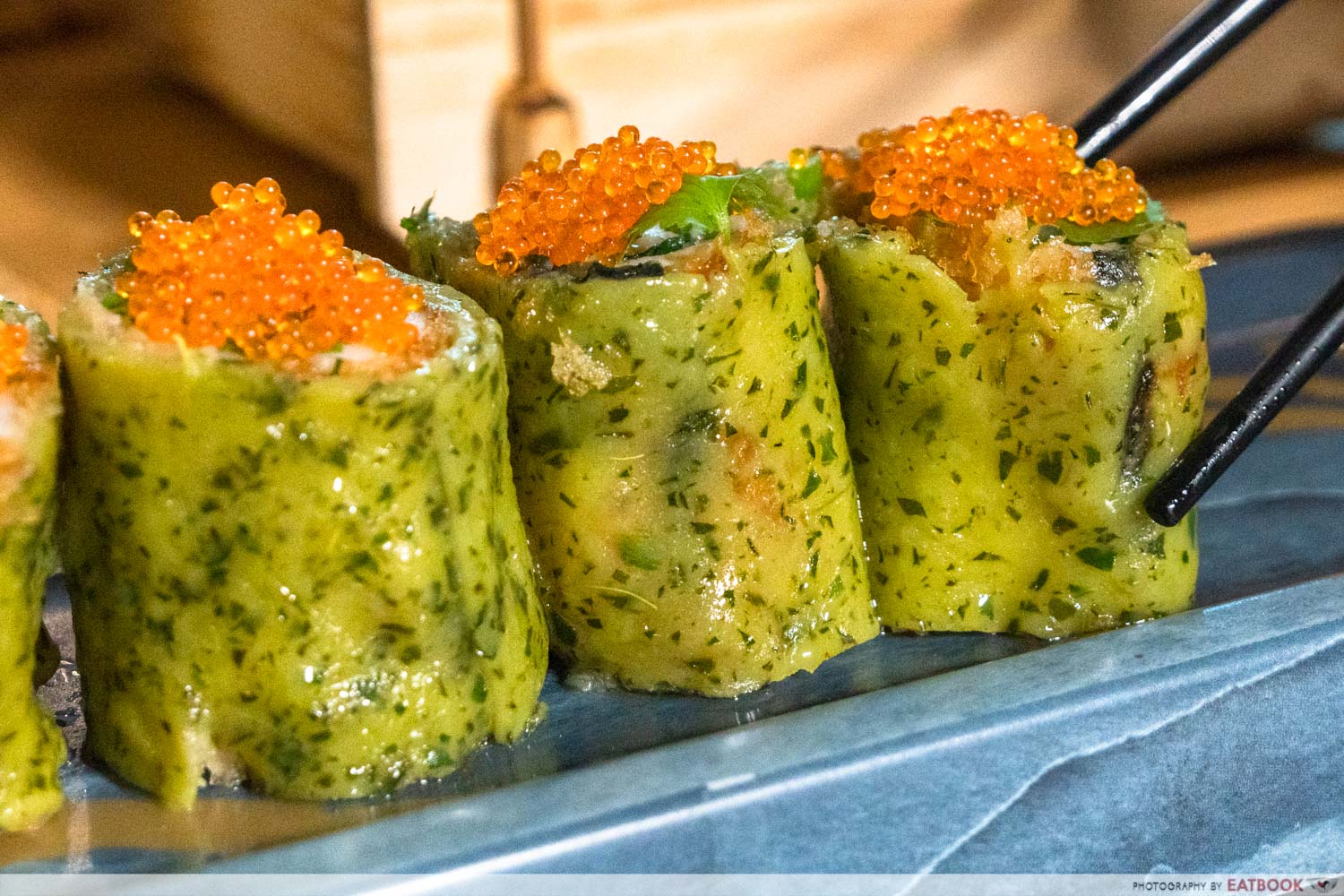 Another modern take on a classic dim sum dish is the Netted Prawn & Tobiko In Spinach Infused Rice Roll ($12++) that's their take on 炸两 (ja léung). The chee cheong fun is coloured with spinach puree, while the dough fritters have been replaced by a centre of deep-fried prawn.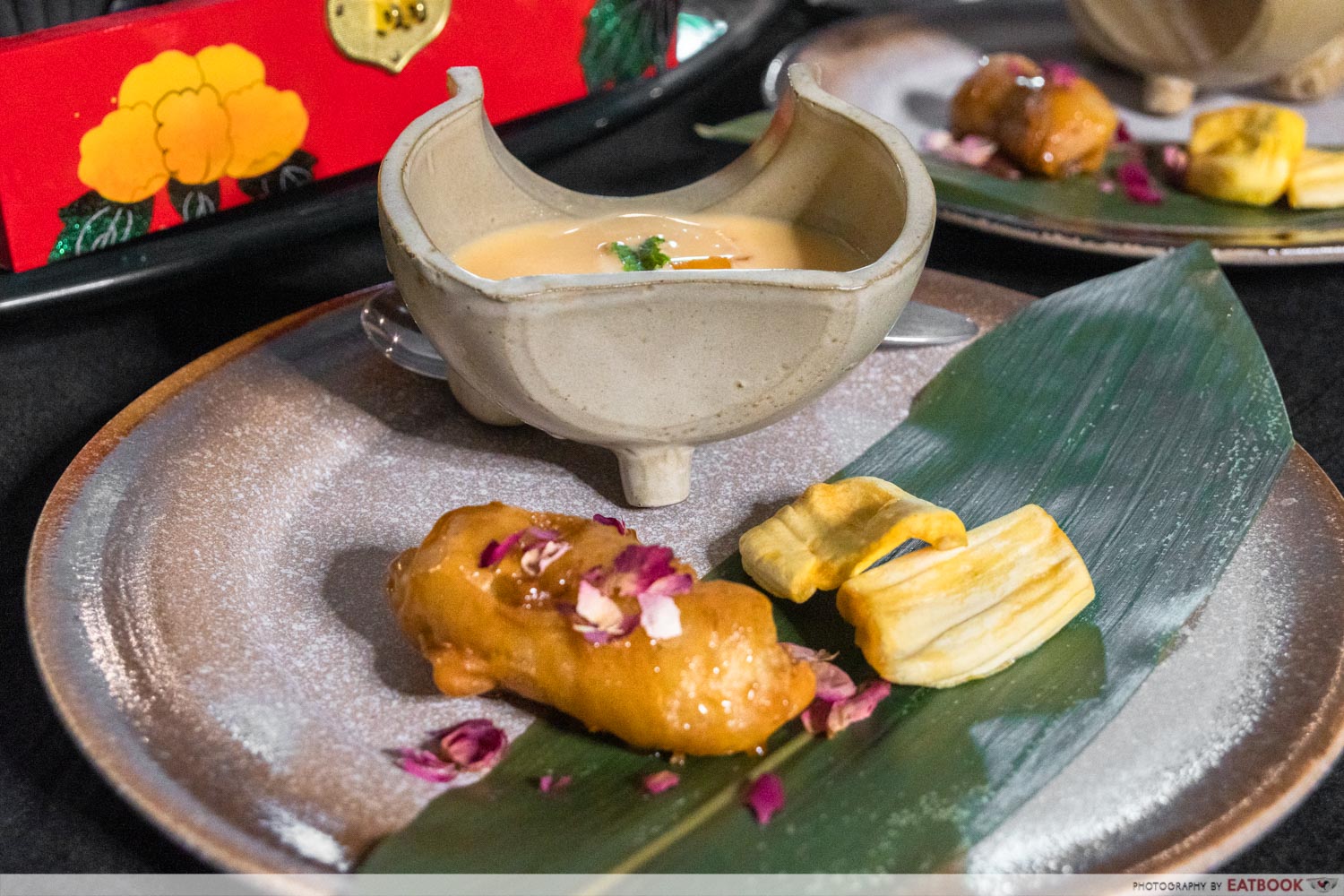 For desserts, the Jackfruit Sago With Caramelised Banana Fritters ($18++) is a unique treat, where air-dried jackfruit crisps and the creamy jackfruit sago take a backseat to the lightly rose-perfumed banana fritter ($10++ for six). This sported a sugared, tender interior, and a crackling exterior.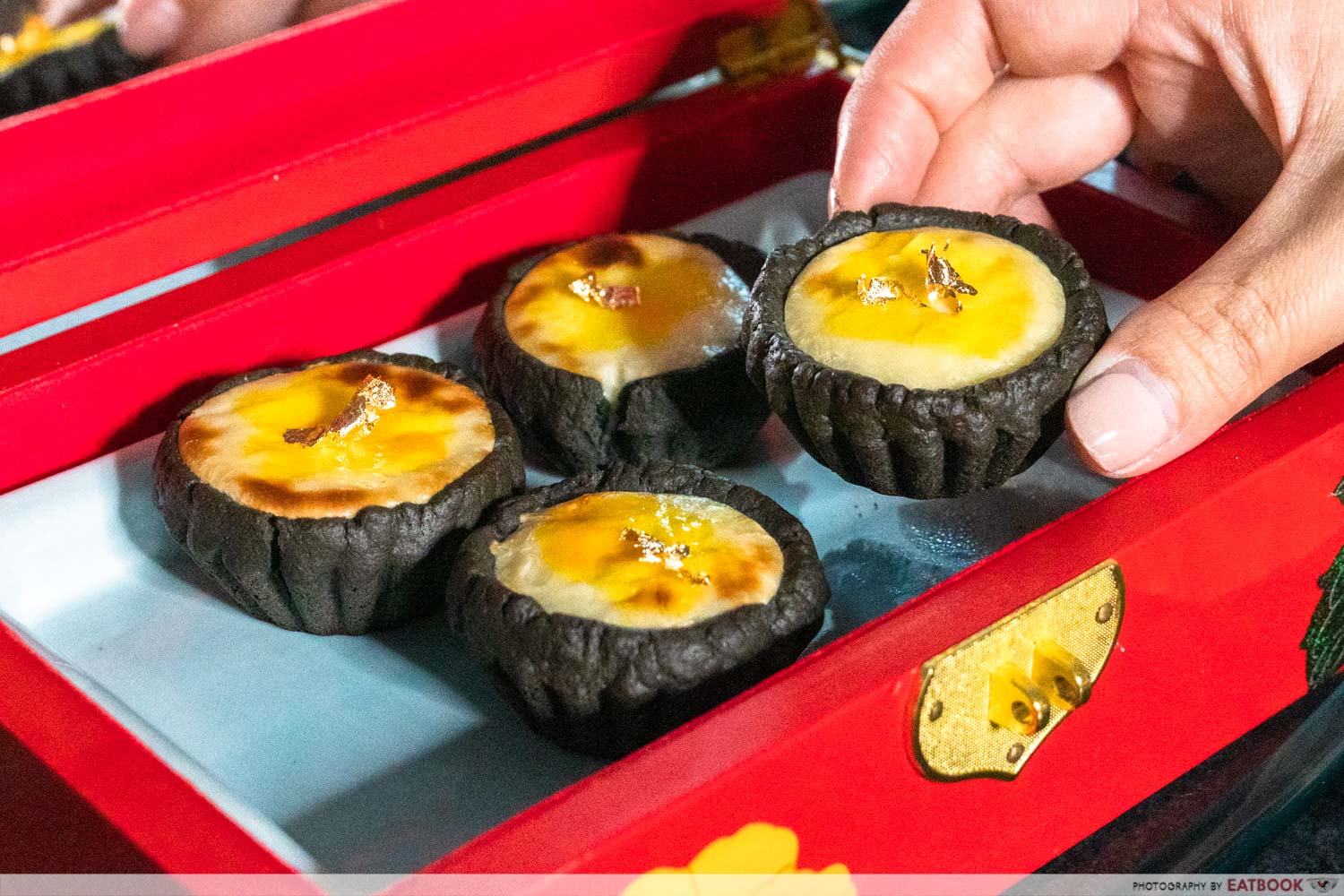 For a non-fruit dessert, go instead for the 3.6 Hokkaido Milk Charcoal Egg Tart ($16++ for six) that is served in a mirrored jewellery box. While the charcoal crusts were a tad too thick, they were utterly buttery and crumbly, holding an almost-liquid filling that's reminiscent of the trendy Basque burnt cheesecakes.
For wallet-friendly dim sum, consider heading to Chao Yue Xuan Dim Sum, which is headed by an ex-St Regis chef. Otherwise, here are 15 dim sum places in Singapore with prices starting from $1.30!
Address: 175A Chin Swee Road, Singapore 169879
Opening hours: Sun-Thurs 12pm to 12:30am, Fri-Sat, PH Eve and PH 12pm to 2am
Tel: 8858 9711
Website
15 Dim Sum Places In Singapore From $1.30, Including Halal Dim Sum And Buffets
Photos taken by Emily Teu.
This was a media tasting at Yanxi Dim Sum & Hotpot.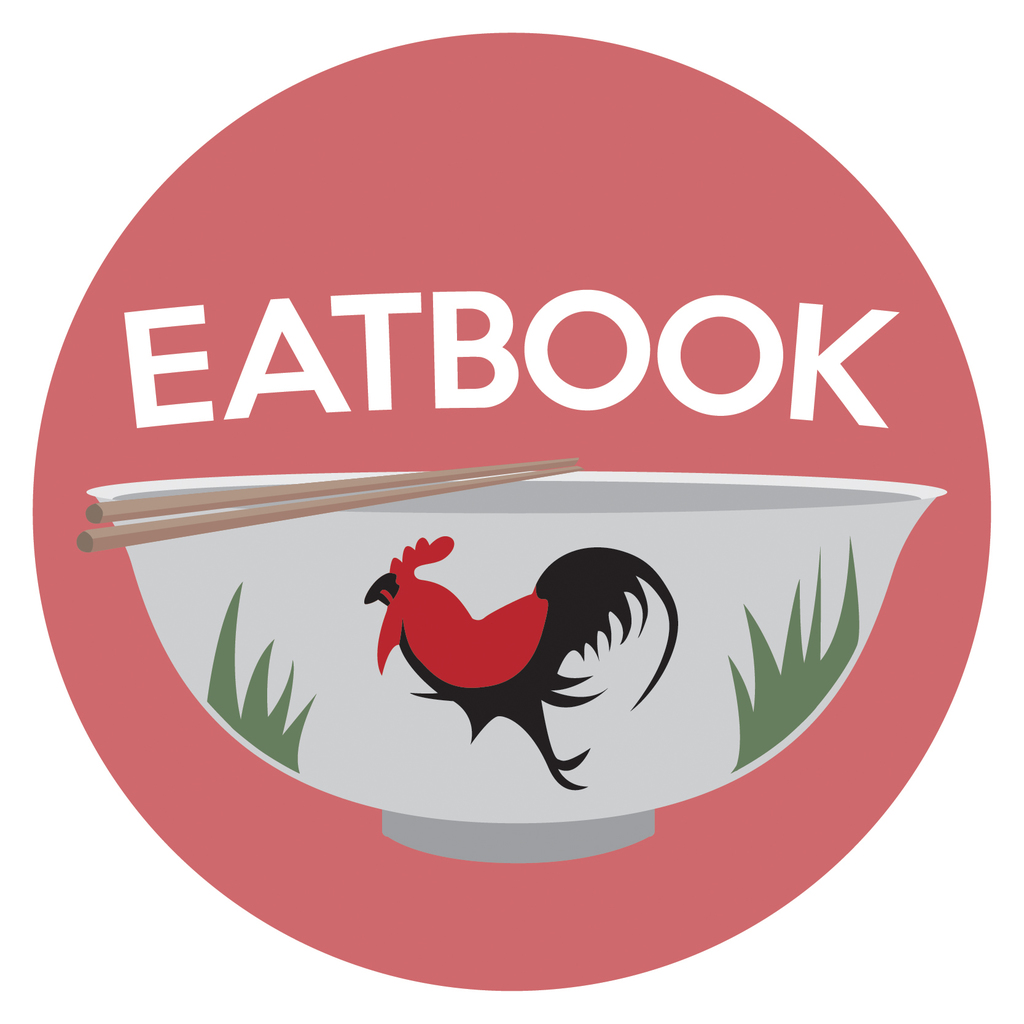 Drop us your email so you won't miss the latest news.