Ah Xin Malatang is cheap, convenient and satisfying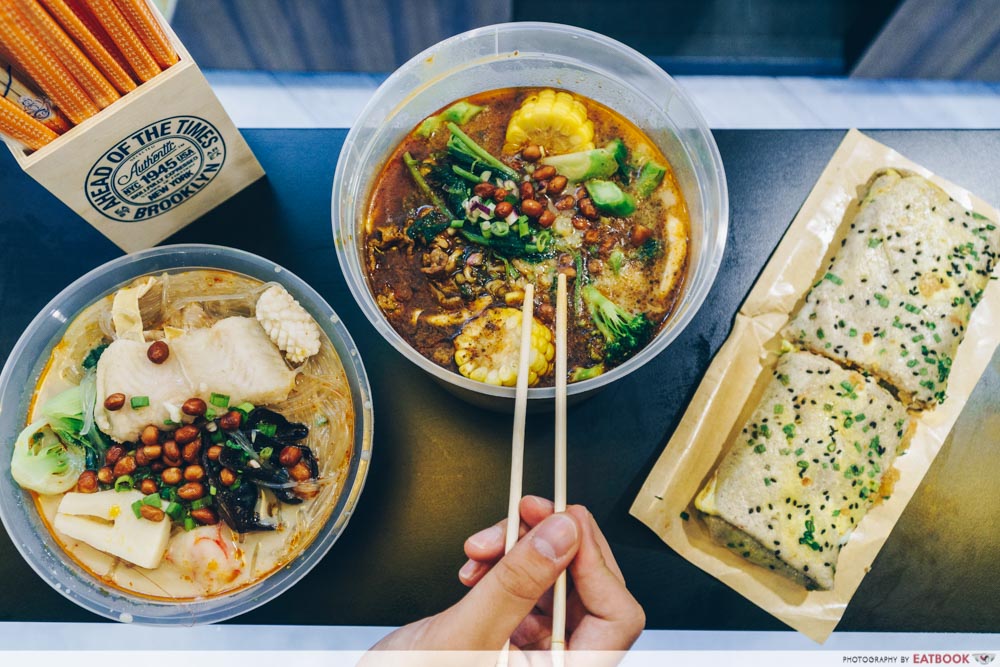 Ma la dishes have been filling Singapore's food scene these last couple of years—with ma la xiang guo leading the charge, becoming a lunchtime staple for everyone. Despite the ma la fever, ma la tang is a dish that's remained in the shadow of its xiang guo brethren, receiving significantly less fanfare.
The same few stalls always headline the conversation between ma la tang fans, notably Gong Yuan Ma La Tang. But in the basement of Chinatown Point, Ah Xin Malatang has been shaking the status quo, gradually drawing queues with their affordable prices—over $1 per 100g cheaper than its counterparts.
We headed down to investigate whether this humble kiosk is a bona fide steal or strictly a budget alternative.
Food at Ah Xin Malatang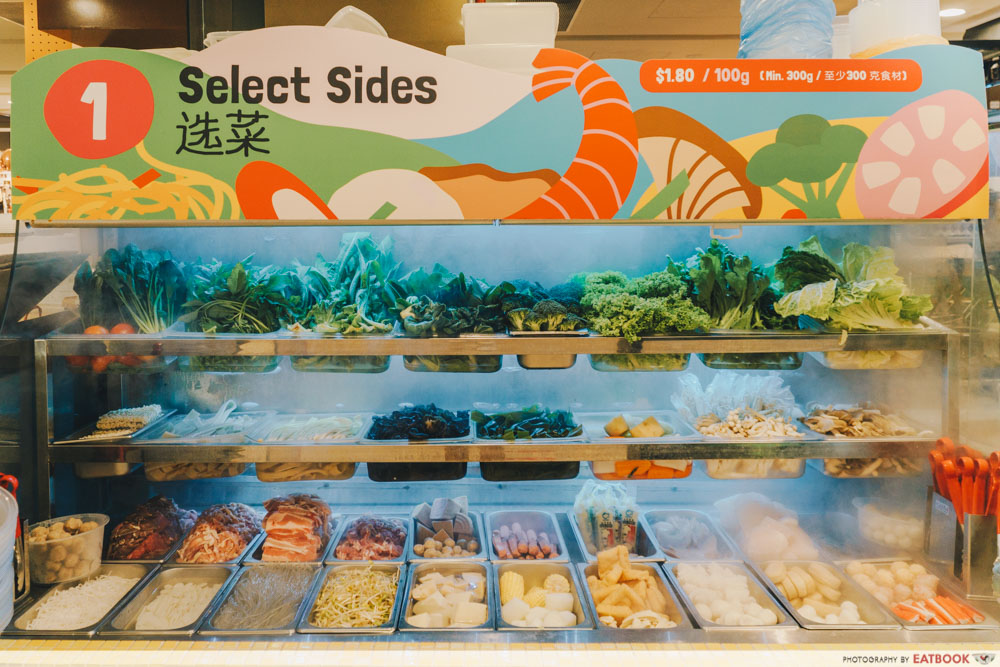 Ordering ma la tang is similar to getting ma la xiang guo, except with one extra step. Aside from picking your ingredients and heat level, you get to choose your soup base from a selection of six—from the classic, fiery Mala Bone Broth to gentler soups like Wild Mushroom.
Prices are charged based on weight, at a flat $1.80 per 100g for all ingredients. That's especially good news for meat lovers, because filling up your bowl with mountains of pork belly or stacks of prawns cost the same as picking a garden of veggies. That's unquestionably great value.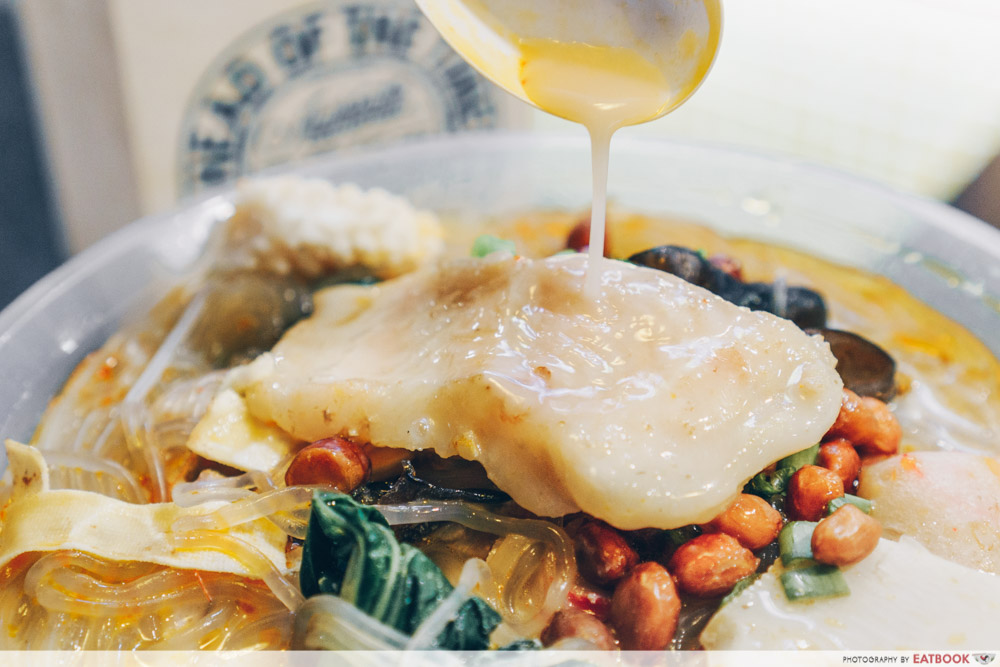 Wanting to try everything, we grossly over-ordered, resulting in two gigantic bowls of ma la tang, which could probably have fed five in total. If we'd gone for sensible, single-person bowls, it shouldn't have cost more than $6 each.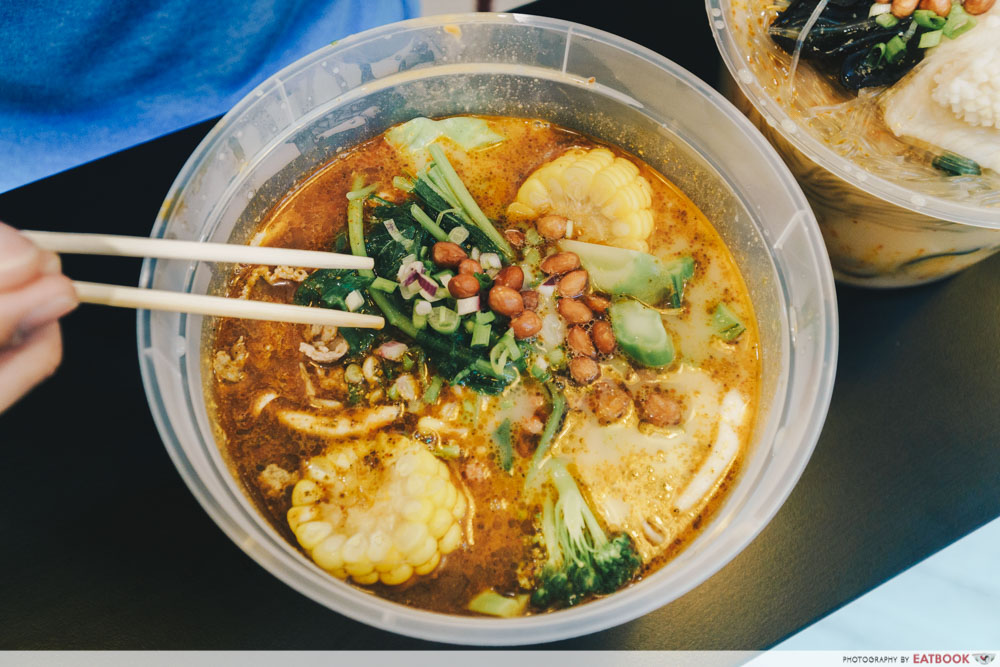 Considering we were reviewing ma la tang, we couldn't skip their Mala Bone Broth. Hot pot fans would be well-acquainted with an ominously deep red soup with a thick layer of oil. However, this broth had a creamy beige hue, with just a thin sheen of chilli oil on the surface.
As suggested by its appearance, this is a significantly mellower ma la soup. Rich pork bone flavour stands at the forefront, signalled by the creamy and cloudy appearance of the soup. It was reminiscent of tonkotsu ramen broth, possessing a depth of flavour that can only be the product of hours stewing in a pot.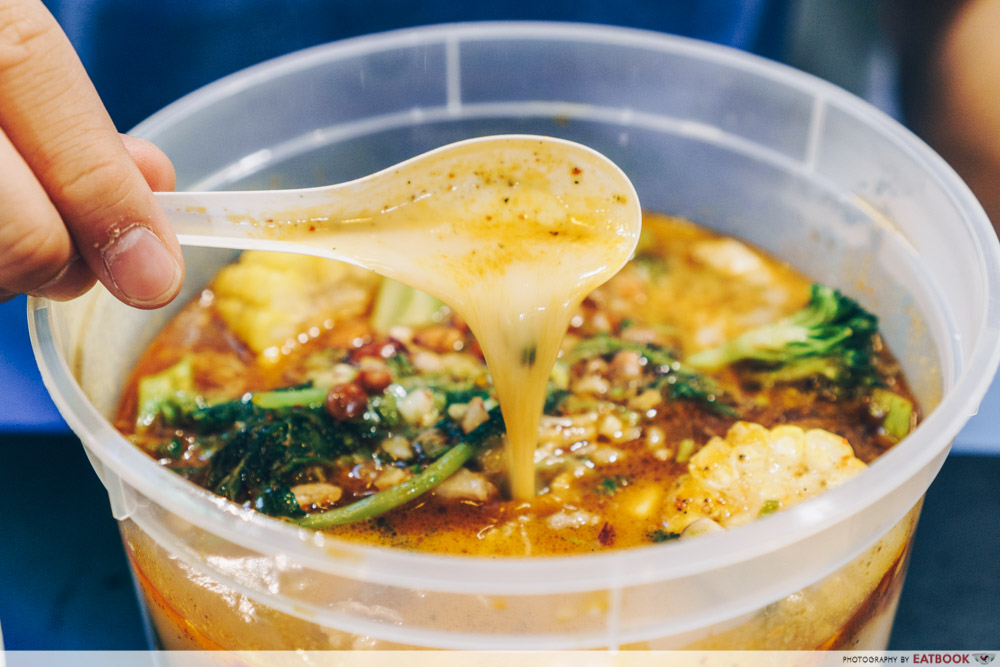 The ma la heat was more of a backup singer for that pork bone creaminess rather than the star of the show. We ordered zhong la, and while there was a consistent wave of heat to make our lips tingle, it never challenged the deep porky flavour of the broth.
On the heat front, the signature numbing tingle of Sichuan peppercorns was subdued.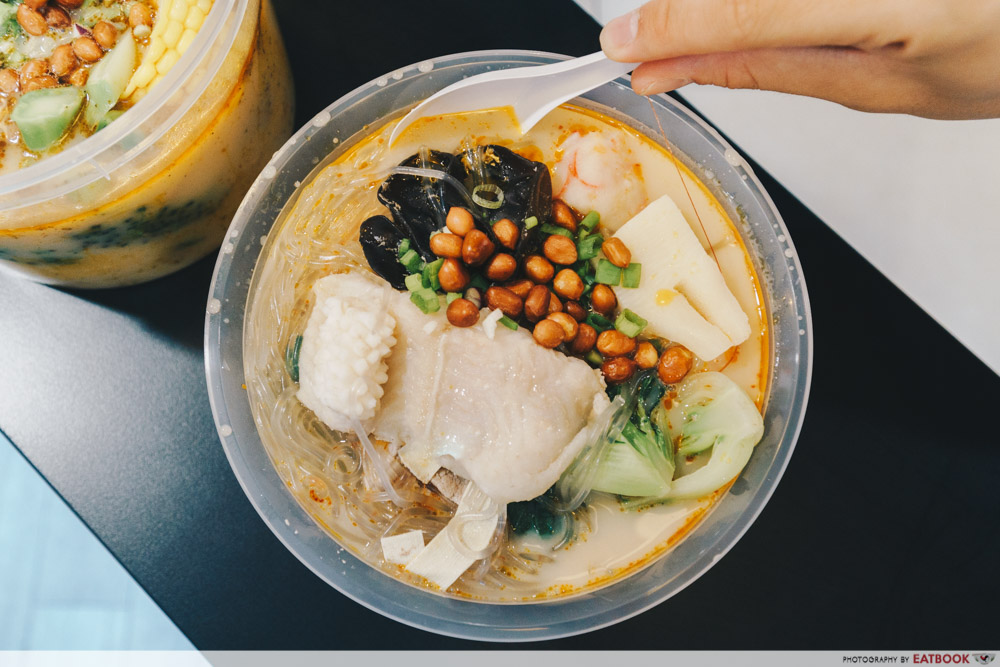 We also snagged a bowl of their Signature Bone Broth in xiao la. Here, the Sichuan peppercorn heat was completely absent, allowing the bone broth to shine through in full force.
Beneath that initial richness, a gentle sweetness and comforting double-boiled flavour gradually revealed themselves, almost as if injecting Chinese influences into Japanese tonkotsu soup. This was remarkably good quality soup and my dining companion was absolutely slurping it up.
The limited space of a kiosk translates to an unexceptional range of ingredients. Although you'll get everything you need, don't expect premium cuts of meat or fancy fresh meatballs here.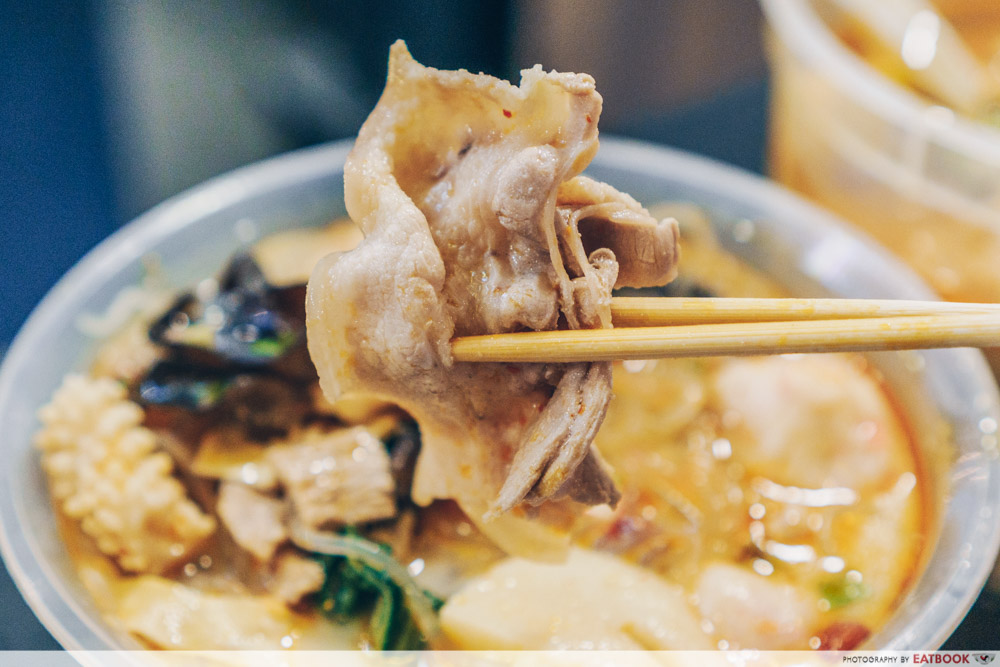 We tested all four of their meat options, and the fatty strips of pork belly stood head and shoulders above the lean cuts of chicken, pork and beef. All the ingredients you select are boiled together, which makes the meat particularly susceptible to overcooking. As a result, all three lean meats were dry and tough, while the fat in the pork belly was just enough to keep it tender. It may be predictable, but there's a reason pork belly is found in every ma la xiang guo order.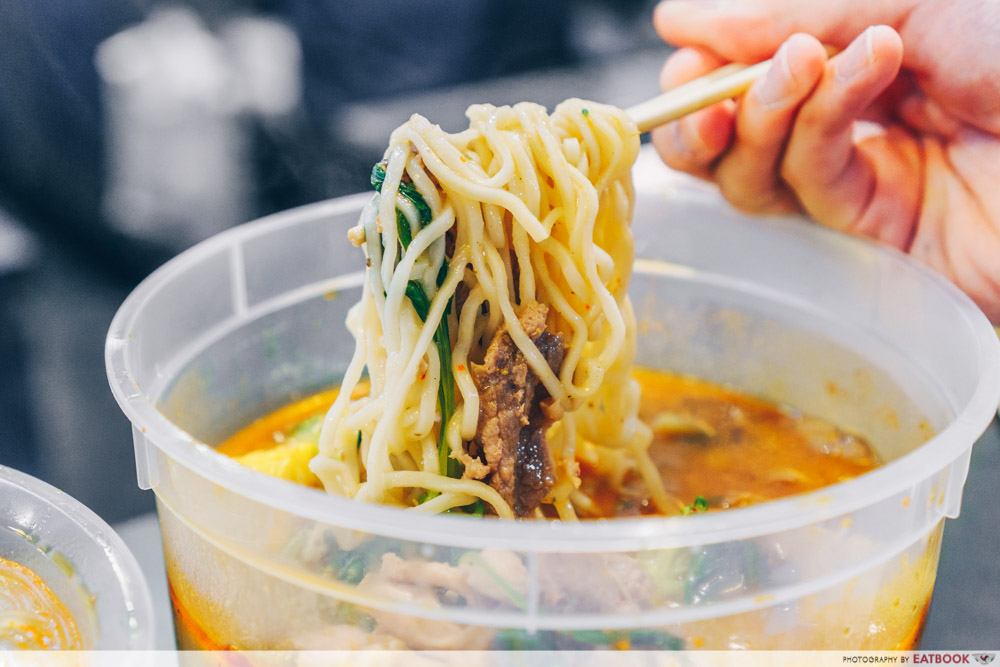 Everything else on offer was unspectacular. While we had high hopes for the crab stick ball, it had a distinctly artificial taste and unpleasant mushy texture. Glass noodles and Maggi are fail-safe noodle options, with their springy textures.
They are rather generous with their vegetable portions too. We'd recommend plumping for spinach and broccoli, both of which still retained some snap after being drenched in soup.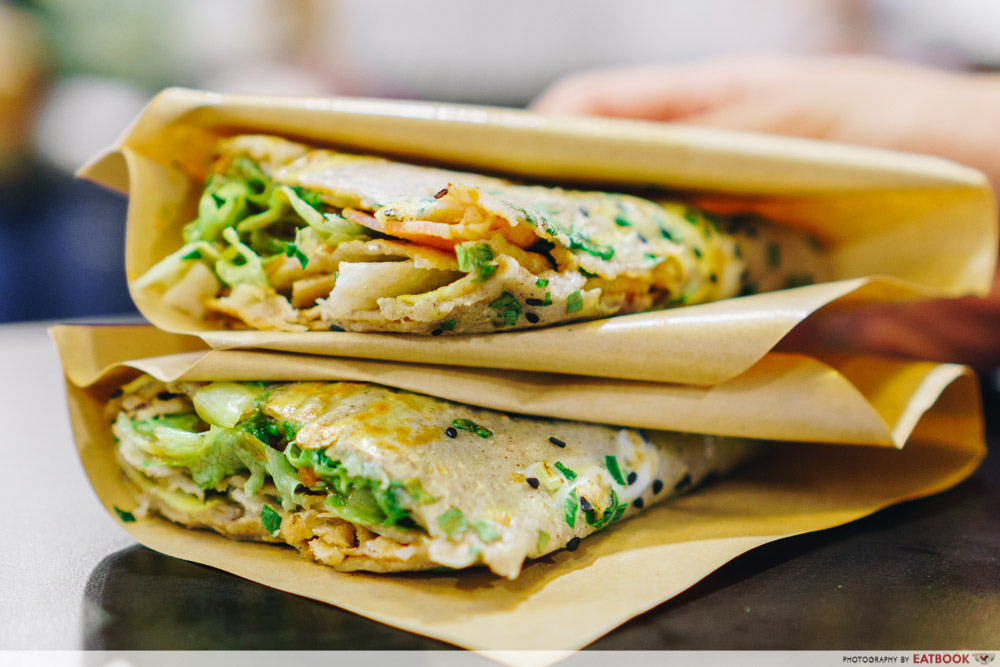 If you're full from your bowl of ma la tang, you can complete your meal with a Chinese Burrito ($4 for a set with ma la tang, $5.60 a la carte)—also known as jian bing guo zi. This traditional Chinese street food is like an amalgam between a burrito and popiah. It echoes the meatiness of the Mexican wrap—flaunting bacon, ham and pork floss that's then wrapped with a wheat and grain crepe, reminiscent of my grandmother's egg popiah skins.
Watching these thick wraps get made is satisfying in itself. The batter is spread out meticulously, before being sprayed with toppings and undergoing a multitude of flips. There's something about this dizzying sequence that was oddly therapeutic.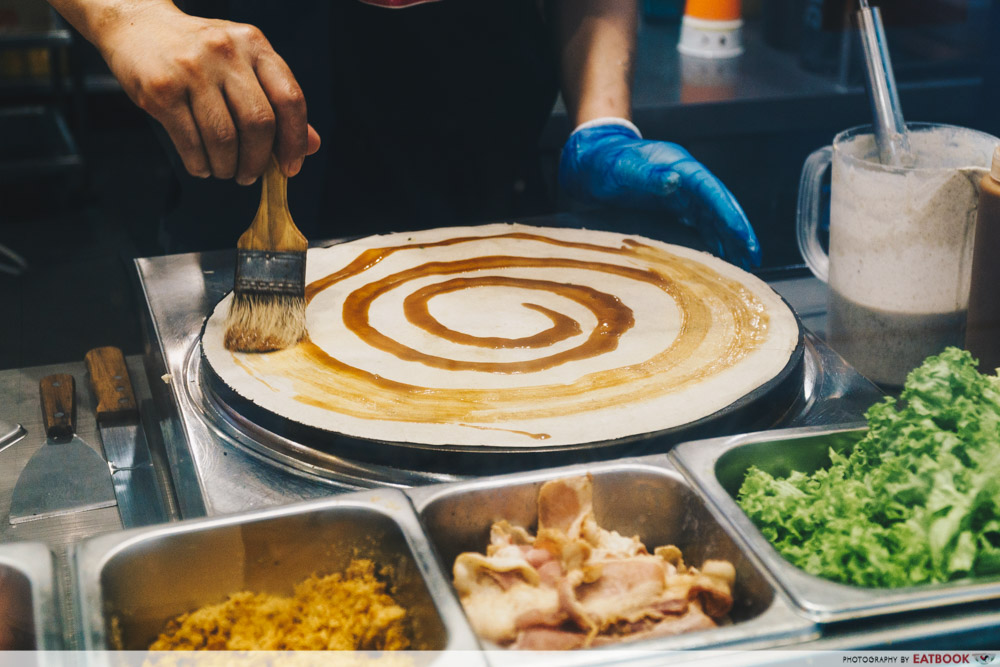 Considering I've stumped up $15 for a burrito before, grabbing this filling cylinder at $4 seemed like a steal. It shared more similarities with popiah in terms of flavour though, thanks to the blanket of sweet sauce that strangely evoked memories of the sauce found in Ramly burger.
Balancing that sweetness was the triple threat of pork-based goodness, which also provided an injection of savoury meatiness. The bacon stands out most clearly, permeating the burrito with whiffs of its distinctive scent and lending an edge of salty flavour.
Our favourite aspect of the roll was its wrapper. A plethora of grains and seeds are in its DNA, resulting in a gentle nuttiness. Yet, it retains moist and bouncy, with a crepe-esque texture that wouldn't be out of place at a dessert cafe. We recommend wolfing it down the moment it comes off the griddle, before the wrapper's slightly crisp edges turn soggy.
Ambience at Ah Xin Malatang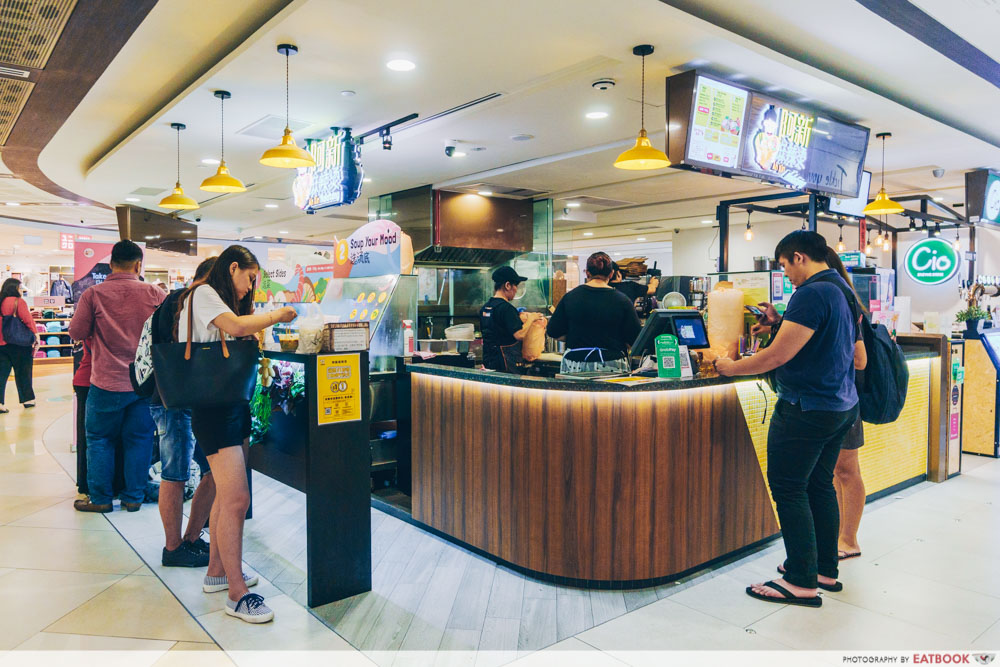 The eating area at this Chinatown kiosk is pretty spartan. There aren't any seats, with only a small counter top for you to devour your ma la tang on the spot. 
In spite of that, hordes of workers flock here all the way through lunch hour—mostly to dabao a bowl back to the office. If you want your ma la tang fix without jostling with a bunch of white-collar workers, we suggest coming before noon.
The verdict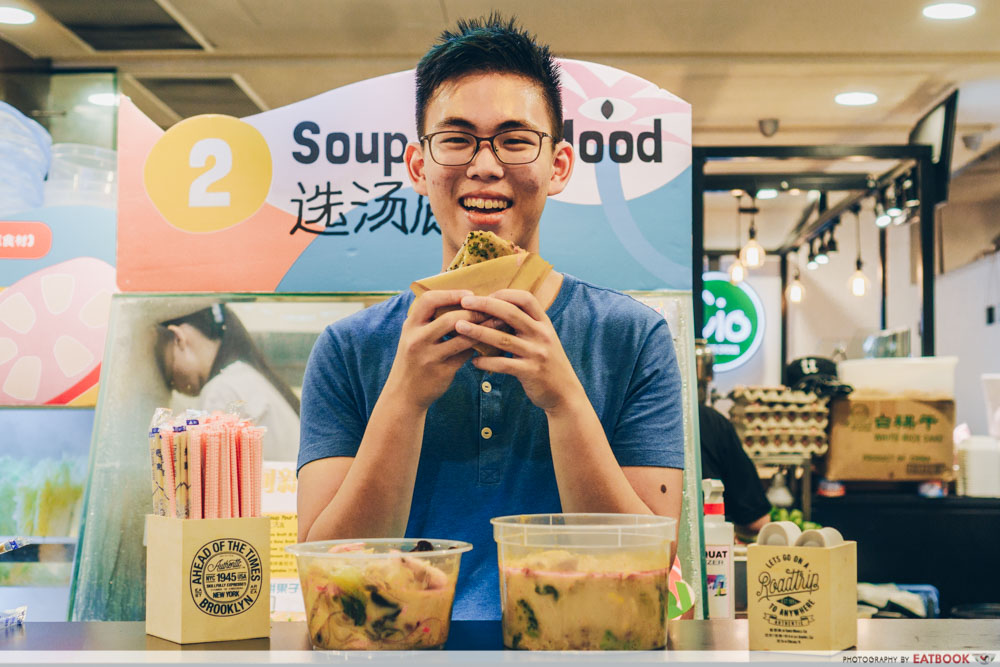 It's easy to understand why the queues have formed at Ah Xin Malatang. A cocktail of convenient location, affordable pricing and customisability is a recipe for success. On top of that, their surprisingly delicious broths are a welcome bonus. While their food didn't blow our minds, they fulfil all the criteria for a satisfying meal. If we worked in the area, we'd be contributing to the snaking queue.
Chinatown is home to a massive array of food options. Get just a taste with our list of 10 Chinatown food gems. Ma la addicts can also satisfy their fiery cravings by checking out our lists of ma la snacks and ma la restaurants in town.
Let us know your favourite ma la dishes in the comments below!
Address: 133 New Bridge Road, #B1-50B, Chinatown Point, Singapore 059413
Opening hours: Daily 11am to 10pm
Tel: 6244 2712
Website
Photos taken by Tan Wen Lin.
This is an independent review by Eatbook.
Ah Xin Malatang Review: Ma La Stall Featuring $1.80 Meat And Seafood Ingredients At Chinatown
Summary
Pros
– Great value for money
– Quick service
– Tasty soups
Cons
– Crowded at lunchtime
– Overcooked meat
Recommended dishes:Signature Bone Broth, Mala Bone Broth
Opening hours: Daily 11am to 10pm
Address: 133 New Bridge Road, #B1-50B, Chinatown Point, Singapore 059413