---
Best chee cheong fun in Singapore
---
We're calling it: chee cheong fun is the new pao fan. Pao fan was a breakout trend in the hawker scene last year, with hawker stalls selling the rice-and-broth dish popping up everywhere. Come 2021, and it is chee cheong fun in the spotlight, with ex-restaurant chefs and celebrities opening hawker stalls to sell new interpretations of this humble rice roll snack.
From HK-style rice rolls to the rare Malaysian curry chee cheong fun, here are some places where you can get your hands on some of the best chee cheong fun in Singapore.
---
1. Cheong Fan Paradise 
---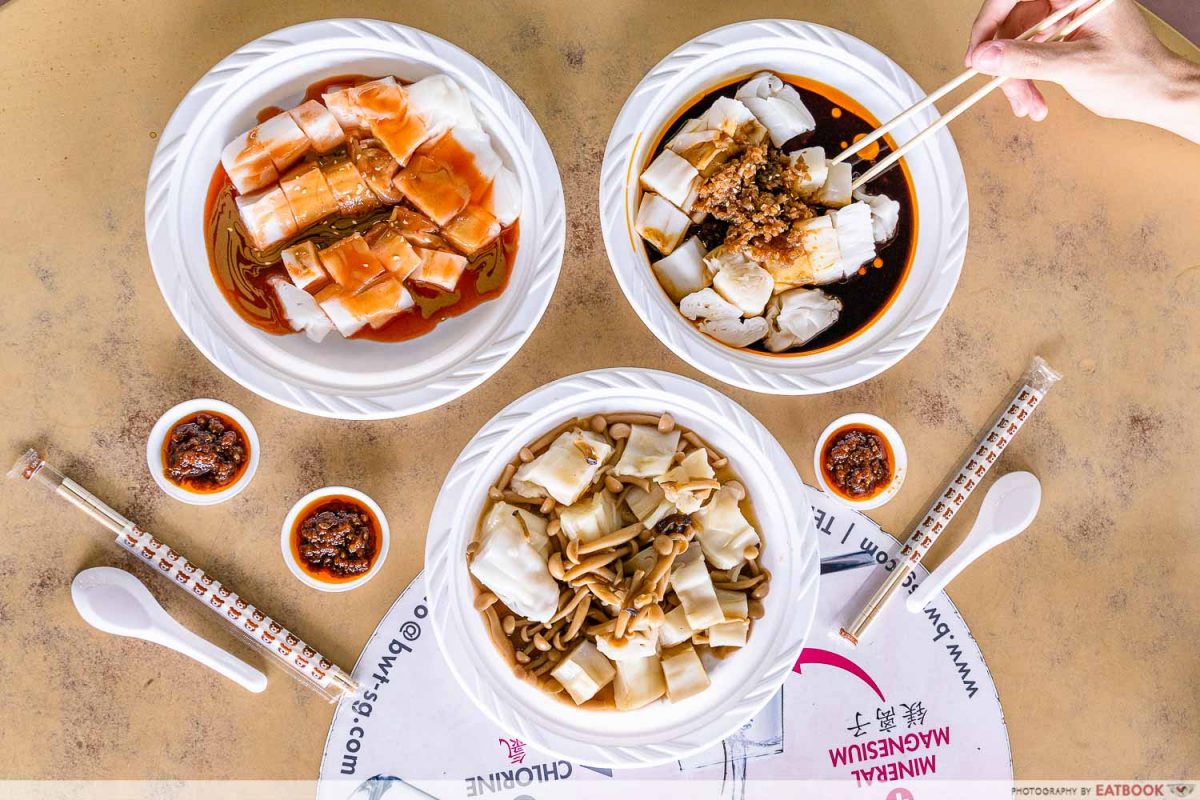 Helmed by the former head dim sum chef from Shangri-La is Cheong Fan Paradise, an Ang Mo Kio-based stall selling different cheong fun flavours, including a much raved-about Cai Pu Cheong Fun ($3). This hybrid between chwee kueh and cheong fun is served with chilli oil, dark sauce, and most importantly, a massive scoopful of preserved vegetables.
For something more traditional, try the Sesame Sauce Cheong Fan ($2.40), where plain rice rolls are dressed up with a seafood sauce, and a peanut sesame sauce. Finally, their Vegetarian Cheong Fan ($3.50) is one for mushroom lovers, as rice rolls are dressed with a whole troop of shimeji stalks, cooked in a soy-based sauce.
Read our Cheong Fan Paradise review. 
Address: Block 5023 Ang Mo Kio Industrial Park 2, #01-87, Singapore 569526
Opening hours: Tue-Sun 7am to 4pm
Tel: 9278 7792
Website
Cheong Fan Paradise Review: Ex-Shangri-La Chef Sells Chee Cheong Fun At Ang Mo Kio
---
2. Xiang Gang Kou Wei 
---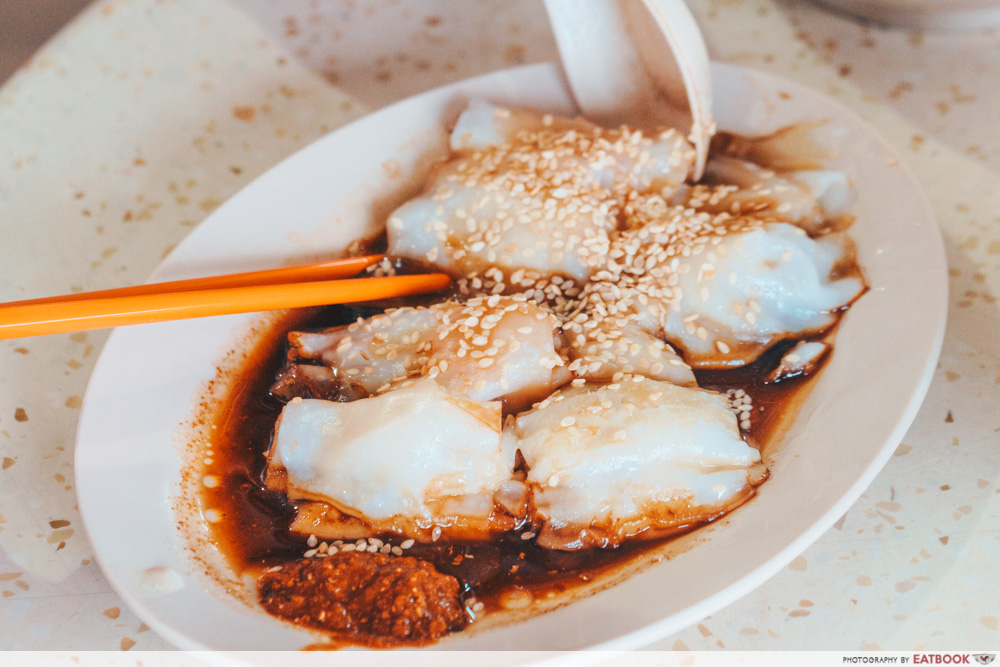 Xiang Gang Kou Wei is run by a chef that hails from Hong Kong, with a variety of silky, thin, and freshly made chee cheong fan for you to order. A popular option is the Fresh Prawn Chee Cheong Fan ($2.50), where each rice roll is packed with fresh rounds of prawns, and doused in a soya and sesame oil sauce. 
The stall also sells Hong Kong-style congee for a more rounded breakfast, with the Mixed Signboard Porridge ($4) being a highlight for fans of innards. This bowlful is loaded with intestines, liver, sliced fish, century egg, lean pork slices, and peanuts. 
Read our Xiang Gang Kou Wei review.
Address: Block 117 Aljunied Avenue 2, Aljunied Market and Food Centre, Singapore 380117
Opening hours: Mon-Tue 8am to 3pm, Wed-Sun 8am to 8pm
Xiang Gang Xin Kou Wei Review: Handmade Chee Cheong Fun By Hong Kong Chef Near Paya Lebar
---
3. Ipoh Curry Chee Cheong Fun 
---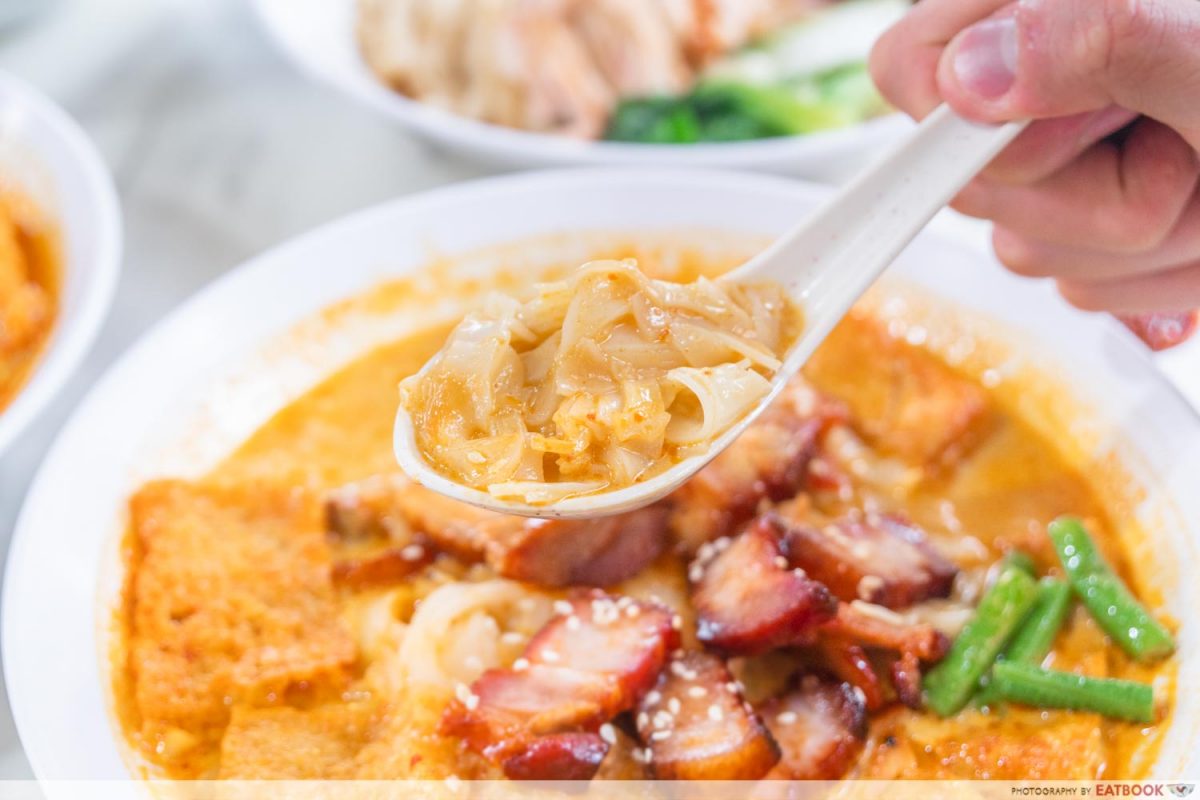 While we are more familiar with chee cheong fun that is done HK-style, with a soya sauce and sesame oil dressing, or Singapore-style, with sweet dark sauce and sesame oil, Malaysian-style cheong fan is rarely seen around the city. Enter Ipoh Curry Chee Cheong Fun in Marsiling, with curry-doused bowls reminiscent of those you can get in Ipoh. Priced from $4.50, the spicy, aromatic chee cheong fun is topped with char siew and greens, as well as tau pok, to make it a full meal.
Queues are long, and the stall is a bit far off, but if you're craving this rare hawker dish, it is well worth the wait.
Read our Ipoh Curry Chee Cheong Fun review.
Address: 1 Yishun Industrial Street 1, Staff Canteen Stall 10, Singapore 768160
Opening hours: Daily 8am to 8.30pm
Ipoh Curry Chee Cheong Fun Review: Curry Mee And Chee Cheong Fun With Roast Meats In Yishun
---
4. Happy Congee 
---
Mala makes its way into dim sum at Happy Congee, where they sell freshly rolled Mala Chicken Shredded Rice Noodle Roll ($5). These are drenched in a mouth-watering mala sauce, with the chicken cooked in the same dressing too. 
If you're an indecisive eater who can't pick just one sauce for your order, go for Happy Congee's Triple Sauce Rice Noodle Roll ($3.50), which is served with peanut, sweet, and light soya sauces drizzled atop the rice rolls.
Read our Happy Congee review.
Address: 380 Jalan Besar, ARC 380, Singapore 209000
Opening hours: Daily 8:30am to 2:30pm, 5:30pm to 8:30pm
Happy Congee Review: Handmade Mala Chee Cheong Fun And Abalone Congee At Bendemeer
---
5. Pin Wei 
---
Pin Wei at Pek Kio Market was making HK-style chee cheong fun in a hawker centre before it was cool. This family-run operation began as a pushcart chwee kueh stall in the '50s, but the family then chose to evolve the roving business with rice rolls a generation later. 
Pin Wei draws long queues daily for its made-to-order rice rolls, featuring translucent skin that sops up just enough of the soya sauce, while retaining some chew. Flavours include the classic Prawn ($4.50), and Char Siew ($3.50), but we highly recommend the Scallop ($5.50), which comes with sweet coins of scallop meat throughout the roll. 
Read our Pin Wei review.
Address: 41A Cambridge Road, #01-25, Pek Kio Market & Food Centre, Singapore 211041
Opening hours: Thurs-Tues 6:30am to 2pm
Tel: 8180 2013
Pin Wei Chee Cheong Fun Review: Third-Generation Hawker Selling Handmade Rice Rolls Near Farrer Park
---
6. Chef Leung's Authentic Hand-milled Rice Noodle Rolls 
---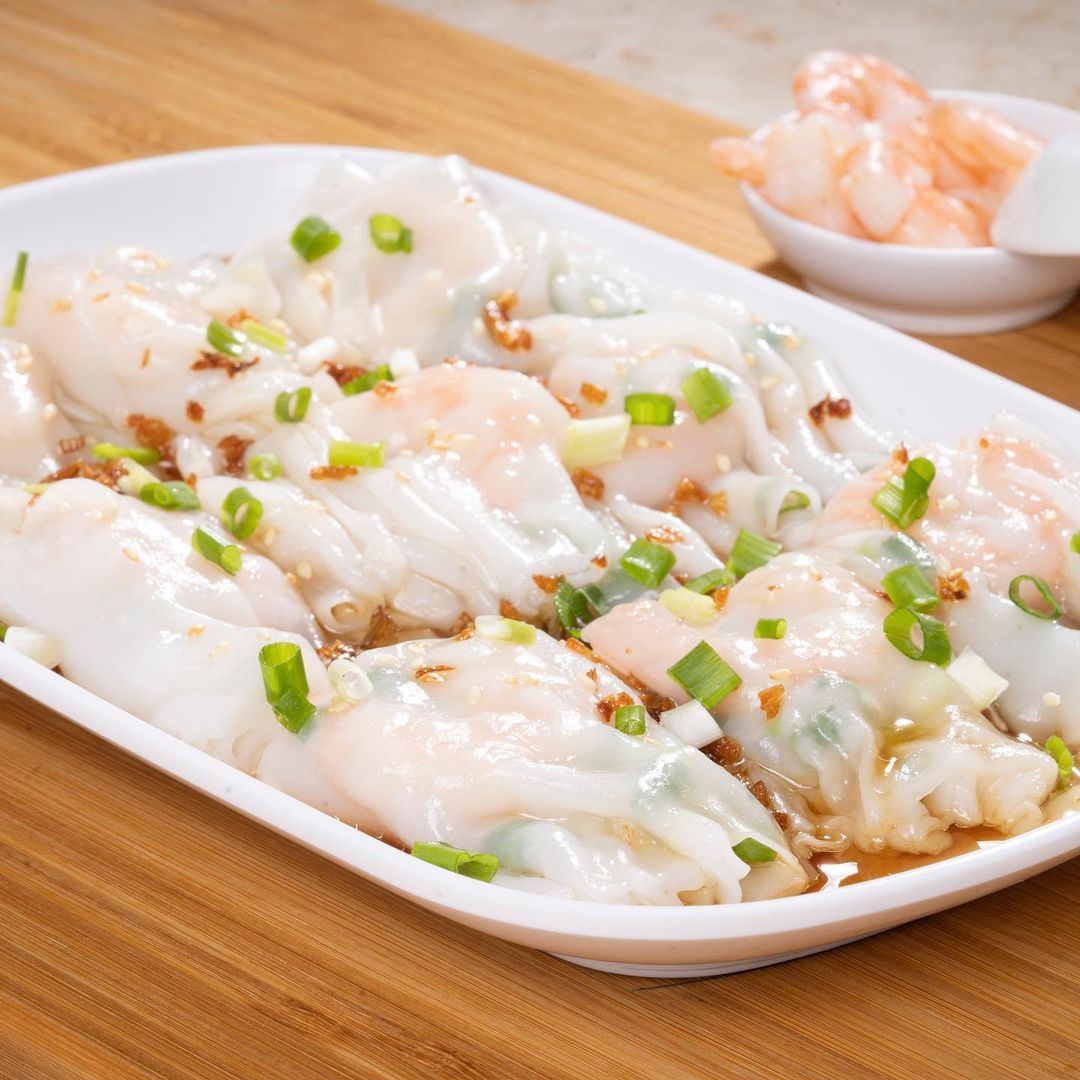 Image credit: @chefleungcf
Chef Leung's Authentic Hand-milled Rice Rolls in Chinatown draws queues from 7am, as fans line up to get their hands on freshly made cheong fan rolls by this ex-Raffles Hotel chef. All the rolls are hand-milled in the stall itself, so each roll is extra-fresh and silky smooth.
Choose from flavours such as Original ($2.80), Char Siew ($4), Pork ($3.50), and the very unique Tuna ($4.50) option, where you can include chopped onion pieces into the tuna mix, if you wish.
The rolls sell out by mid-morning, so head down early to get a box!
Address: 335 Smith Street, #02-096, Chinatown Complex Food Centre, Singapore 050335
Opening hours: Daily 7am to 2pm
---
7. Freshly Made Chee Cheong Fun 
---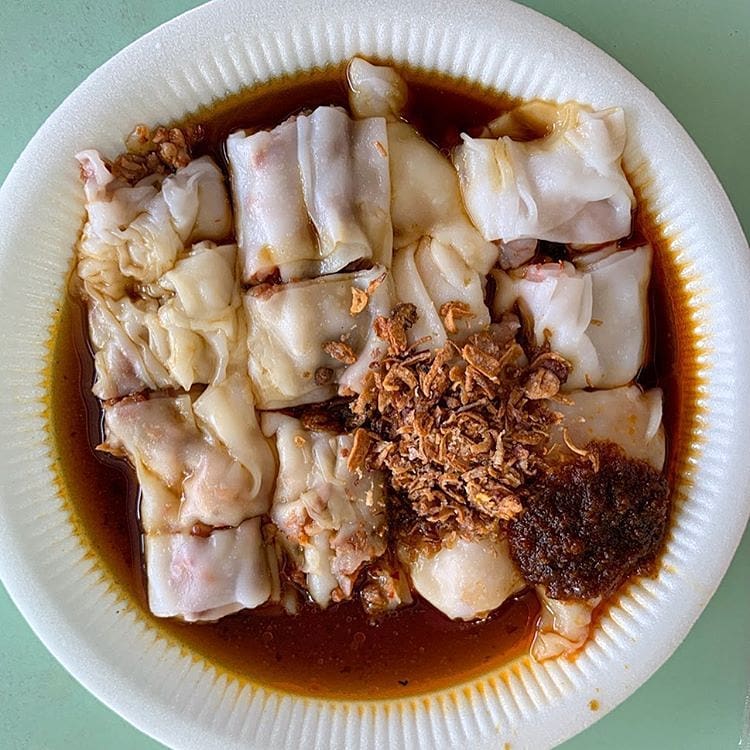 Image credit: @things2doinsingapore
Dine at Old Airport Road Food Centre and you're bound to spot tables topped with white plates of chee cheong fun from Freshly Made Chee Cheong Fun. As their name suggests, all the rice rolls are made to order. Choose from four flavours: Chicken, Mushroom, BBQ Pork, or Prawn, for just $2.50, and your plate comes loaded with silken, piping hot rolls. Ask for extra fried shallots as a topping too!
Address: ​​51 Old Airport Road, #01-155, Singapore 390051
Opening hours: Tue-Sun 8am to 7pm
---
8. Rice & Roll 
---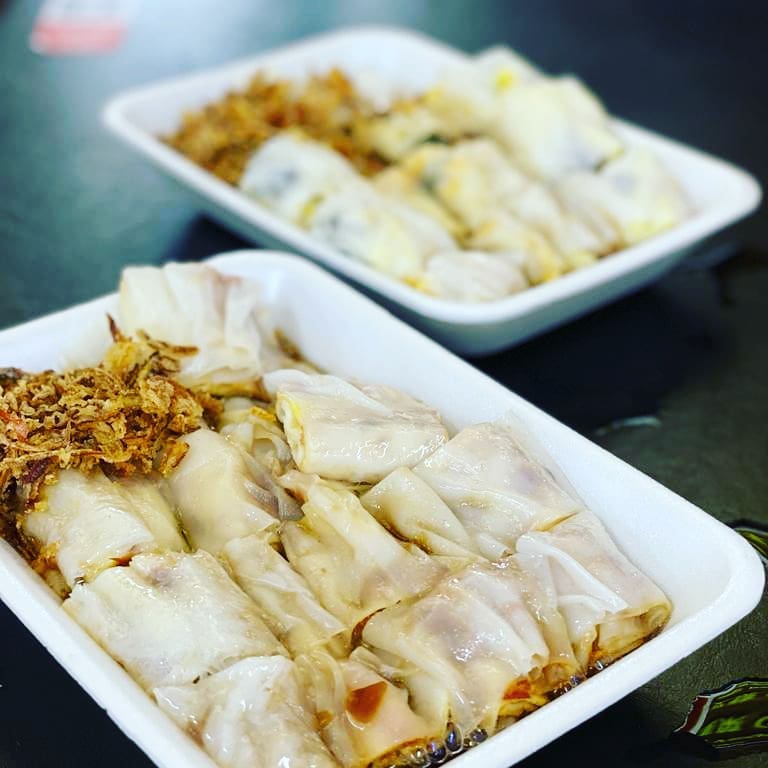 Image credit: @ricenrollsg
Rice & Roll is another stall that mills all their chee cheong fun from scratch. They have a stone mill in-store, where rice grains are ground daily to create the smoothest batter possible. 
On the menu are also 15 different chee cheong fun flavours you can try to your heart's content. These include Taiwan Sausage ($4), Century Egg ($3.50), and Spicy Mala ($3), sharing menu space with your usual suspects such as Original ($2.80), and Prawn ($4.50).
Address: 107 Ang Mo Kio Ave 4, Singapore 560107
Opening hours: Mon-Sat 8am to 2pm
Website
---
9. YinJi Singapore 
---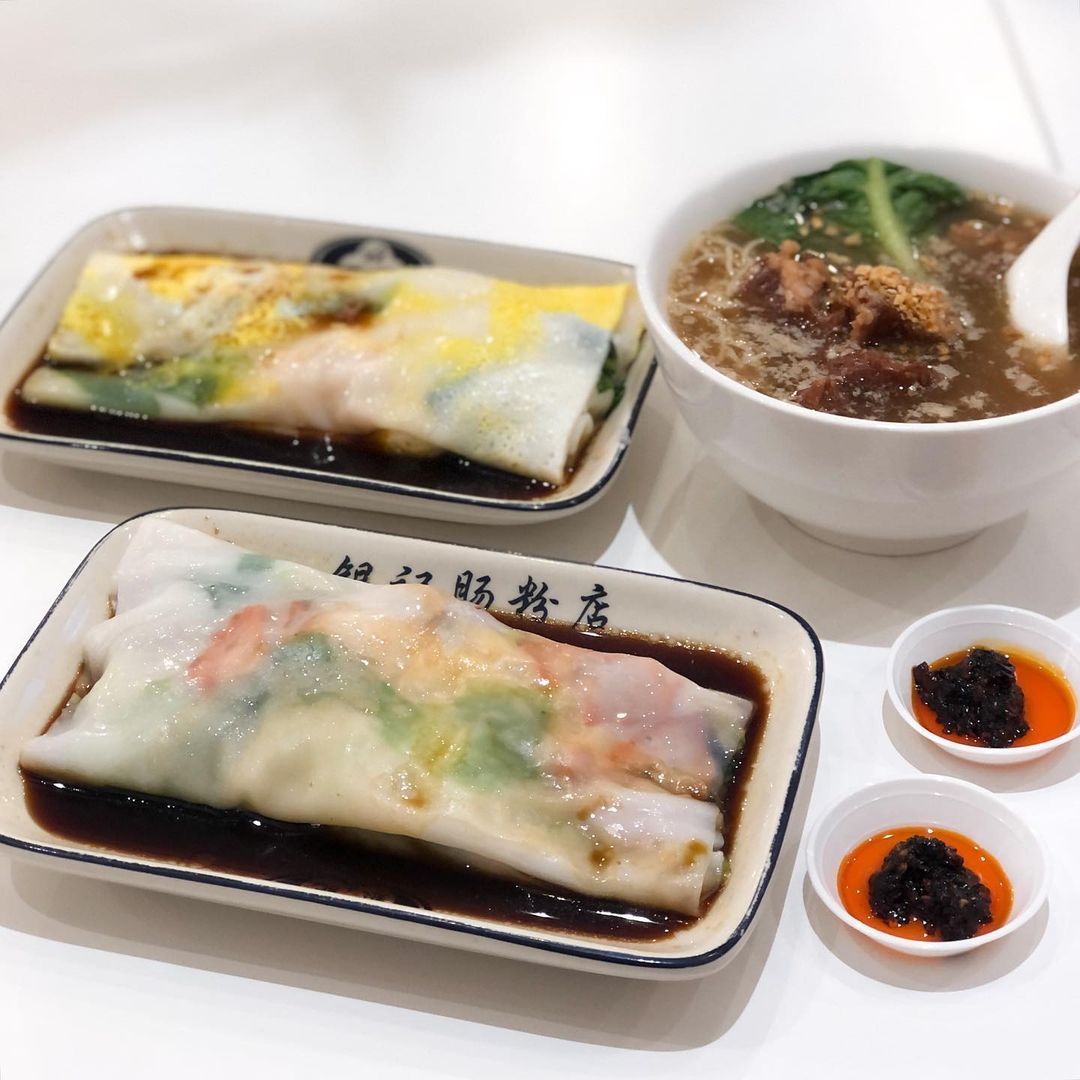 Image credit: @low_winnie
YinJi is home to award-winning rice rolls, with over 60 years of heritage. Located at Far East Square, YinJi draws queues from white-collar workers looking for a snack break.
Their rolls come in a variety of flavours, from the classic Char Siew Roll ($6), to the unique Pork & Liver Roll ($7). One thing to note, though, is that their prices are significantly higher than similar stalls, for same sized portions.
Address: 133 Amoy Street, #01-01, Singapore 049962
Opening hours: Mon 9:30am to 4pm, Tues-Sat 9:30am to 7pm
---
Best chee cheong fun in Singapore
---
With chee cheong fun stalls opening up across Singapore, you now have plenty more options to get your hands on freshly made platefuls of this snack.
For more dim sum options, check out our guides to dim sum buffets and cheap dim sum in Singapore.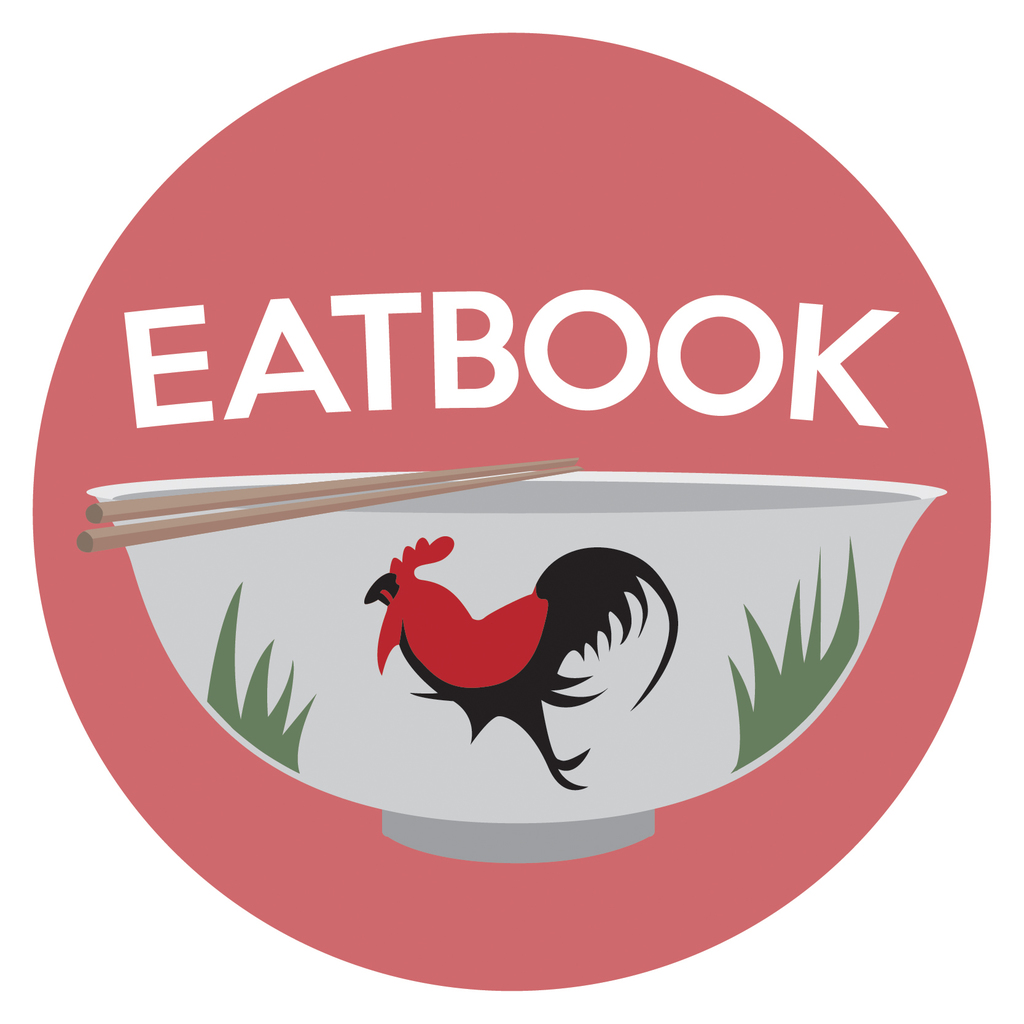 Drop us your email so you won't miss the latest news.