Peranakan buffet at Chilli Padi Nonya Cafe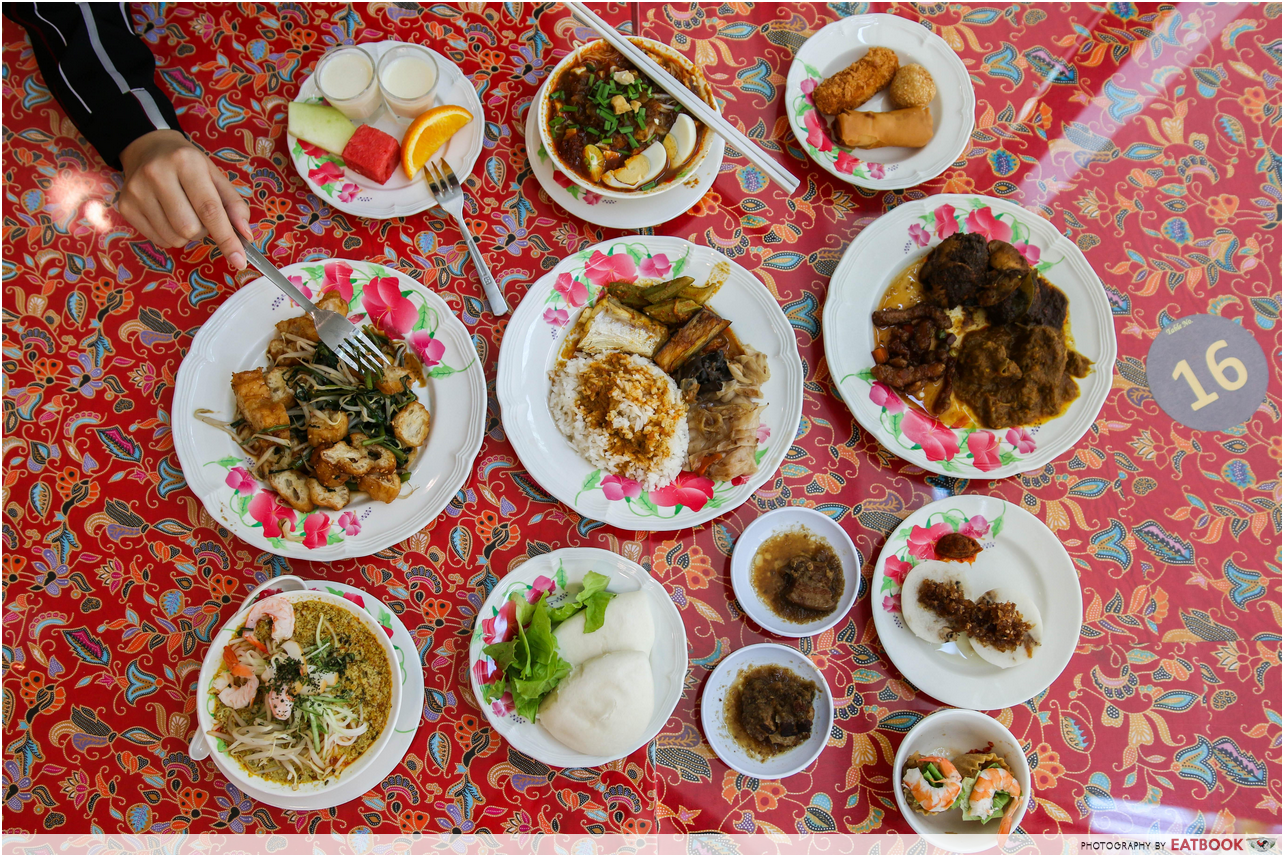 Before moving on to test my CSI skills in Hong Kong criminal dramas and squealing at oppas in Korean romcoms, I was first hooked onto Channel 8 dramas, with my ultimate favourite being The Little Nyonya.
This drama got me falling in love with Peranakan culture and cuisine, and I remember asking my mum to prepare the same dishes that Jeanette Aw and Joanne Peh whipped up in the show. She replied with a laugh and said we could have a short family getaway to Malacca if I really wanted to eat Peranakan food.
The family trip to Malacca did not happen, and I found myself constantly on the lookout for the best Peranakan restaurants in Singapore. Yet, most of these restaurants are quite pricey, except Chilli Padi Nonya Cafe.
Located in NUS, they serve a Peranakan buffet at affordable prices, and we headed down for their weekday buffet lunch ($19.80++), which is available from 11:15am to 3pm. They also offer buffet dinners on Fridays ($19.80++) and weekends ($23.80++) from 6pm to 9:30pm. If a high tea session is your thing, check out their Buffet Hi-Tea ($14.80++) on weekends from 3pm to 5:15pm.
Food at Chilli Padi Nonya Cafe
I can be quite the fussy eater, so I like customisable dishes and was elated to find out that they offer four DIY stations for savoury dishes. There were laksa, rojak, mee siam and kueh pie tee stations, with the last two being my favourite.

I started off my feast with DIY Nonya Mee Siam, and layered stir-fried bee hoon, mee siam broth, bean sprouts, boiled egg slices and deep-fried tofu cubes in a bowl.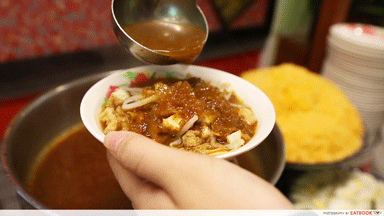 The soup was the star of this dish; it was a robust tamarind broth with notes of mellow sweetness from sliced onions. Being relatively thin, the soup effectively seeped into each strand of bee hoon so each mouthful of noodles was a slurp of delight.
Pro-tip: mix some belacan into the soup if you want to amp up the flavour and heat.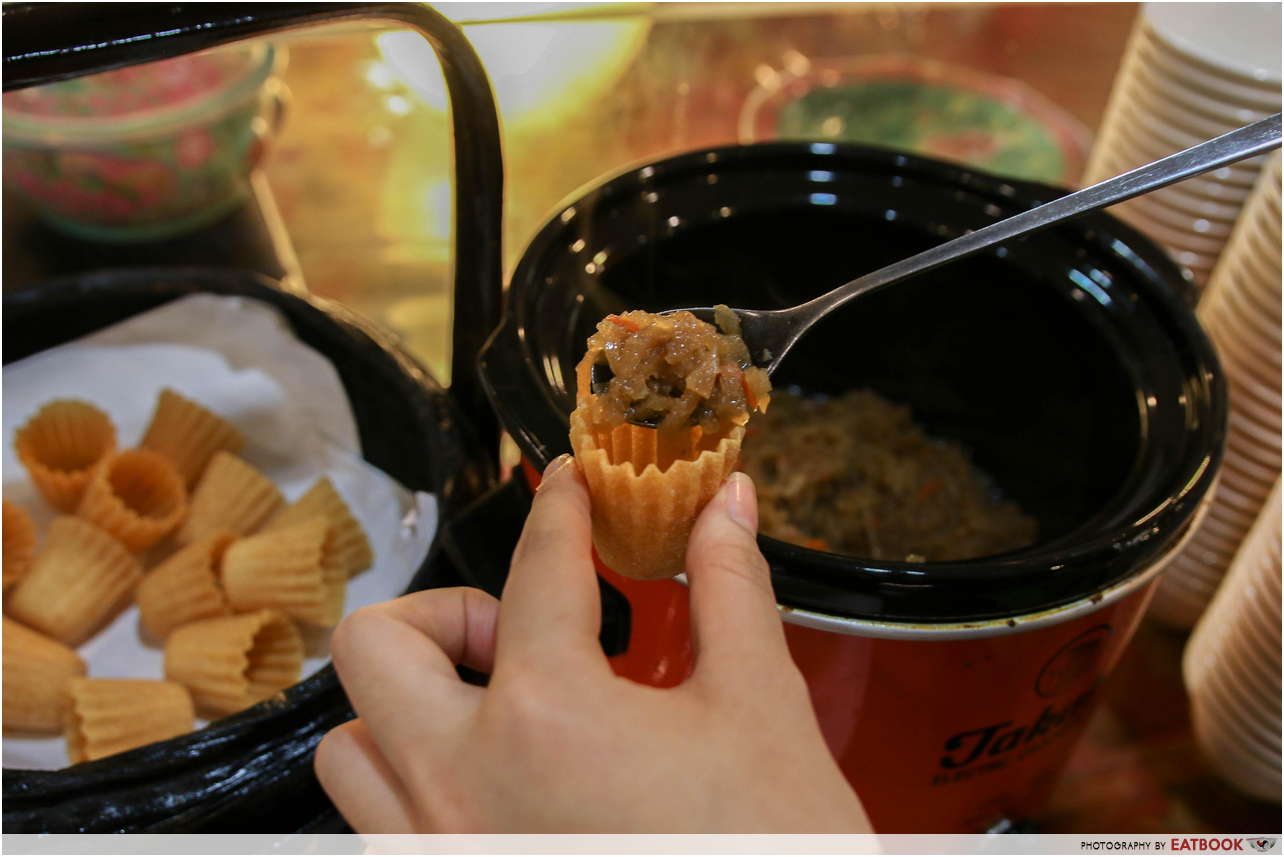 Next, I had a go at DIY Kueh Pie Tee. I fumbled at the beginning, unsure about the sequence of the ingredients that I had to add to the kueh pie tee shell. After a few rounds of trial and error and soggy kueh pie tee cups, I figured lettuce goes into the cups first, to fully line the base to prevent soggy bottoms, followed by braised jicama and finally, sweet sauce and a touch of chilli.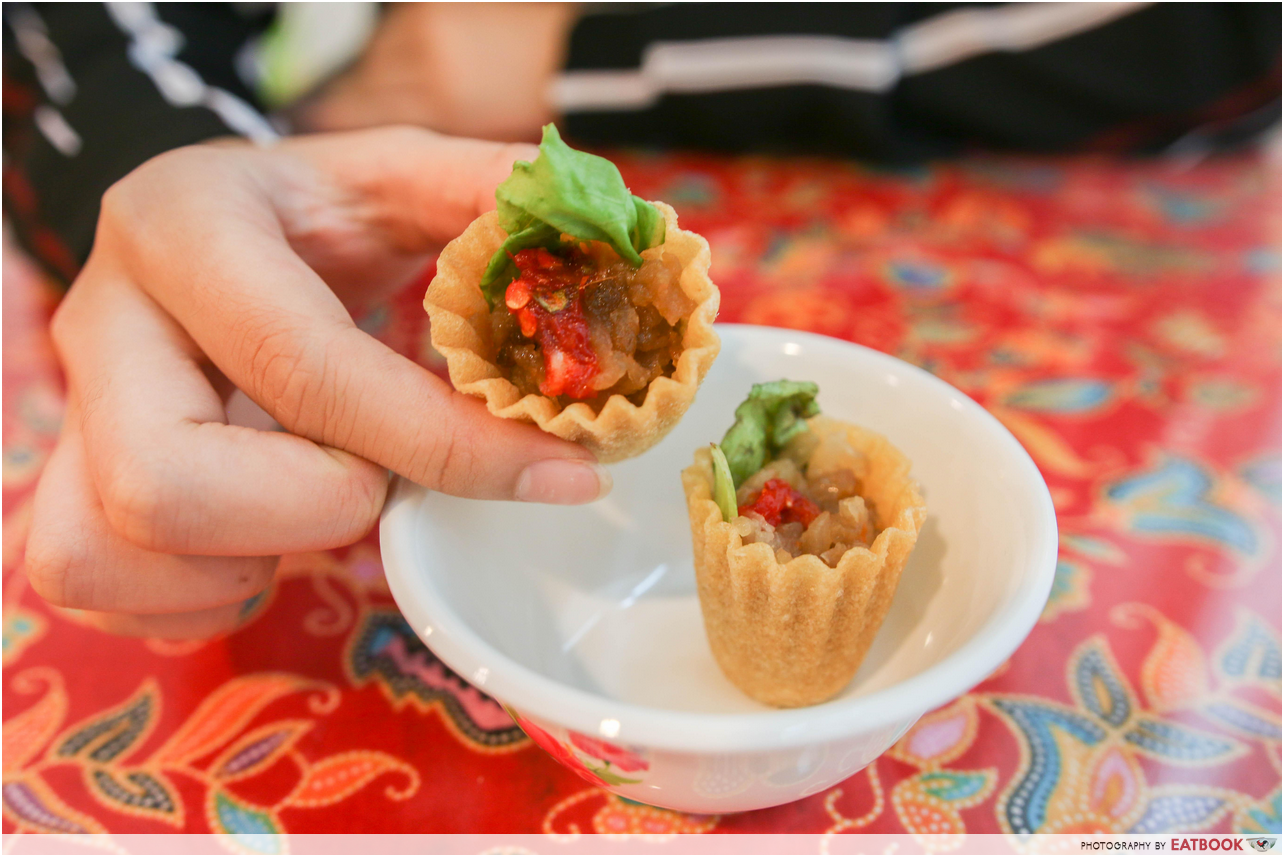 The kueh pie tee shells were the usual store-bought ones, yet it remained extra crispy thanks to the staff member who constantly refilled the basket. The stewed jicama was kept piping hot in an electric cooker, and was exceptionally soft and savoury – I could even taste the flavour of the prawn stock!

Spice wimps, do not fret, as the chilli was not the least bit spicy. Instead, it had a slight sourish tang, and a mild kick that balanced out the salty jicama.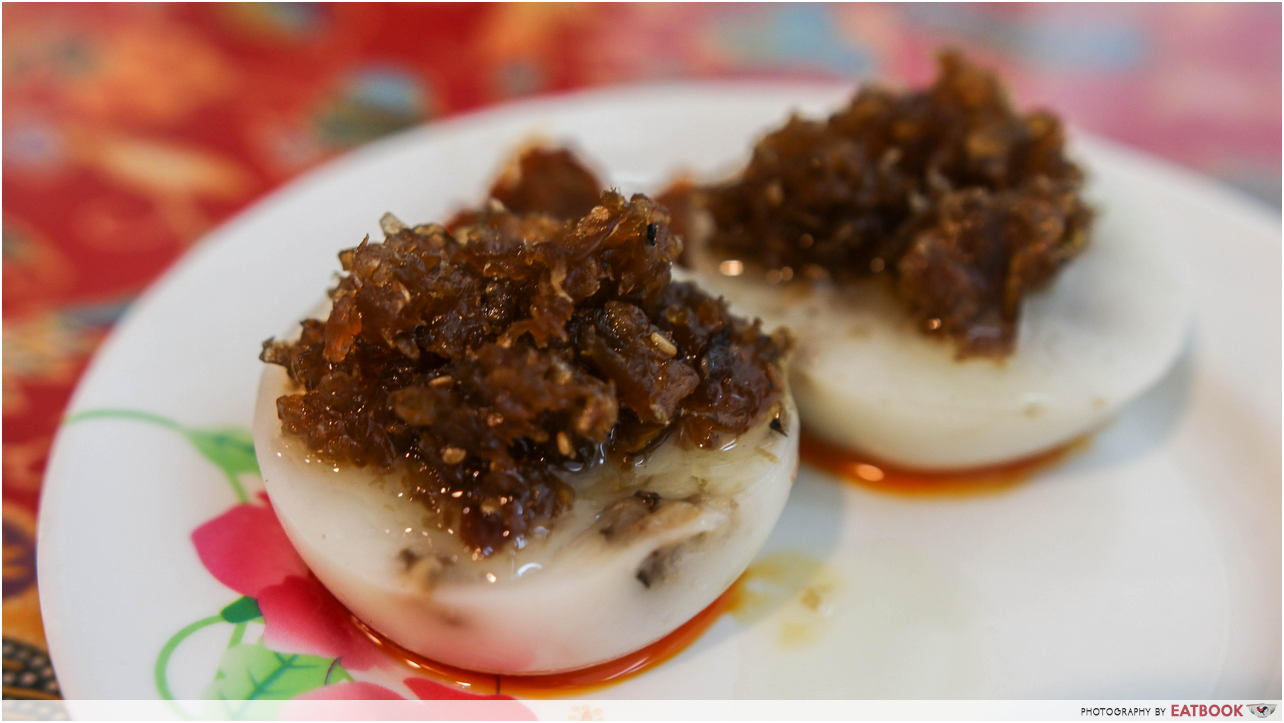 If you're like me and always feel that hawker aunties and uncles selling chwee kueh are damn kiam with the chai poh (preserved radish), you'll be glad to know that at this buffet, chai poh and chilli paste are placed at the side for you to help yourself to.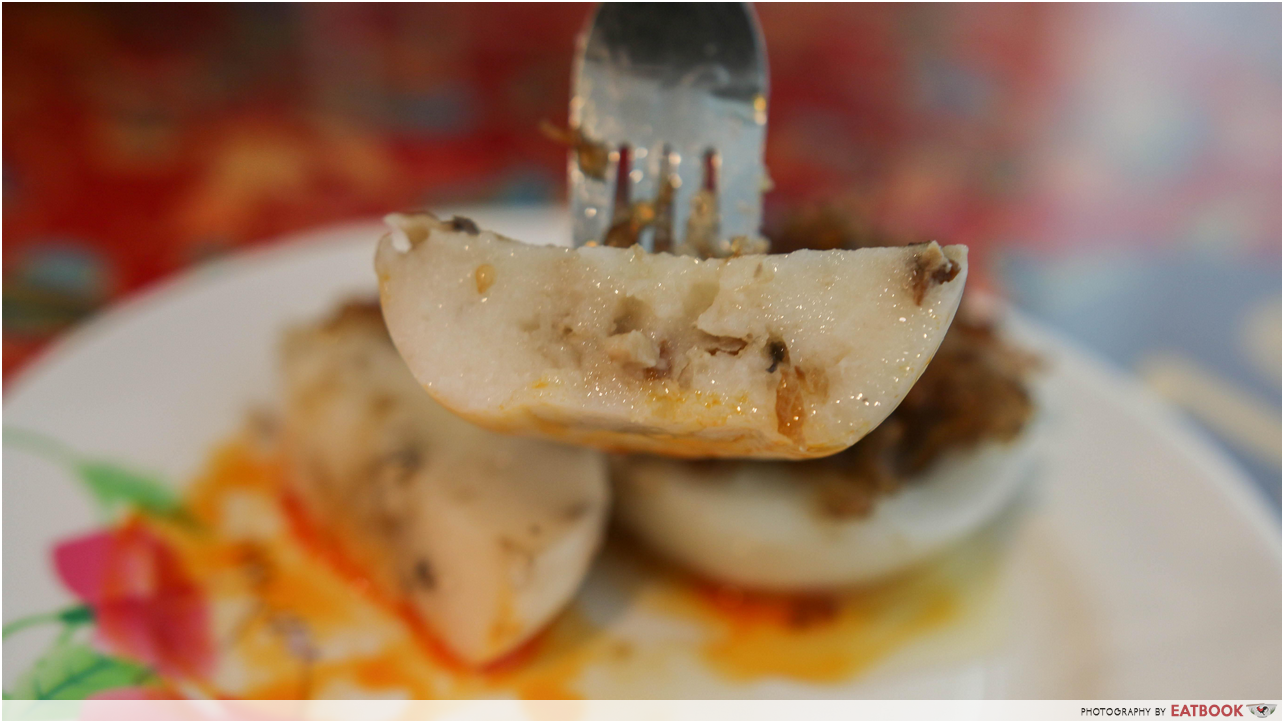 These steamed rice cakes were different from the usual plain ones, and contained an array of diced ingredients such as yam, black fungus and meat. These made the chwee kueh big on texture. I enjoyed biting into unsuspecting chunks of yam, as it provided a creamy textural contrast to the doughy rice cakes.
The chai poh was studded with a generous amount of white sesame seeds, and was not overly salty. However, it was too oily for my liking, and I had to constantly blot my lips after each mouthful.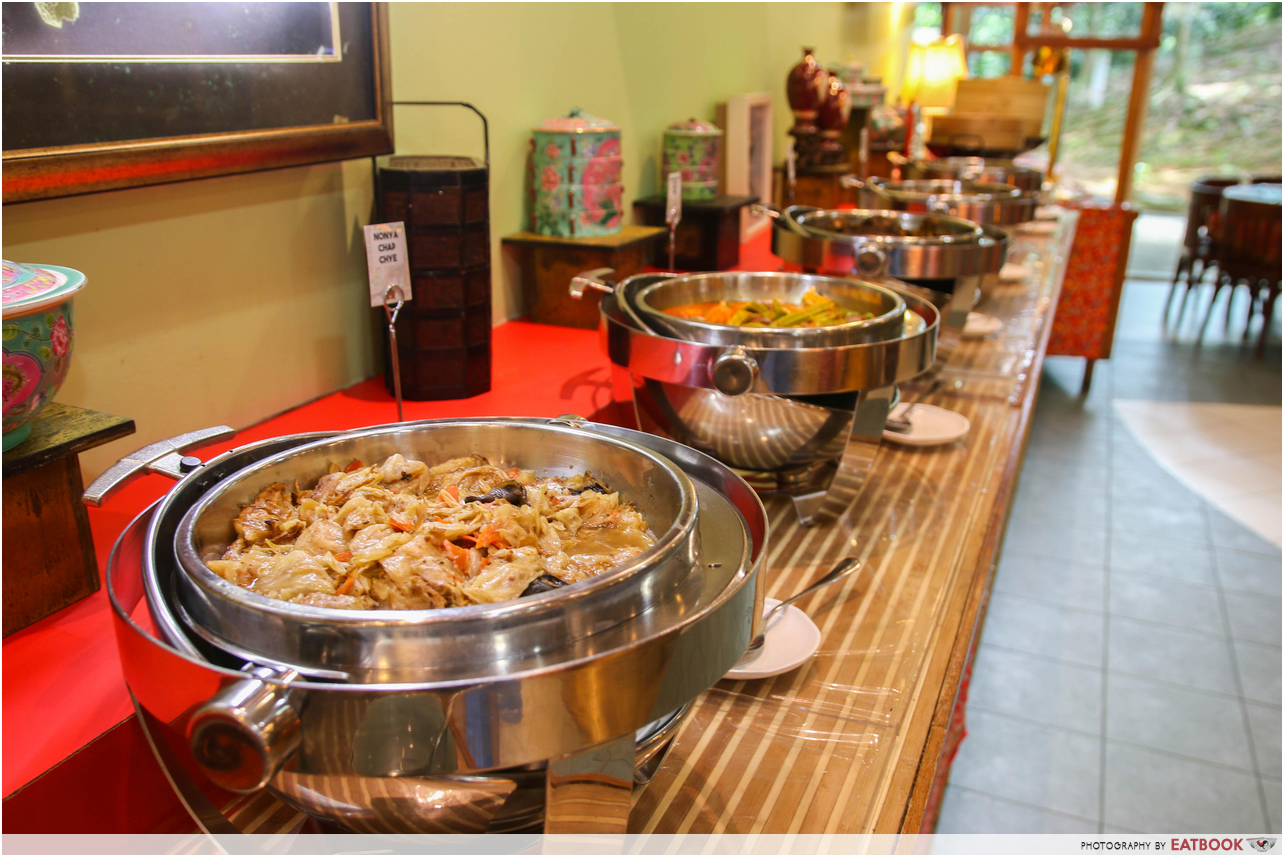 Besides DIY stations and fried snacks such as spring rolls, a variety of Peranakan dishes including Nonya Chap Chye, Ayam Bua Keluak and Beef Rendang was also available.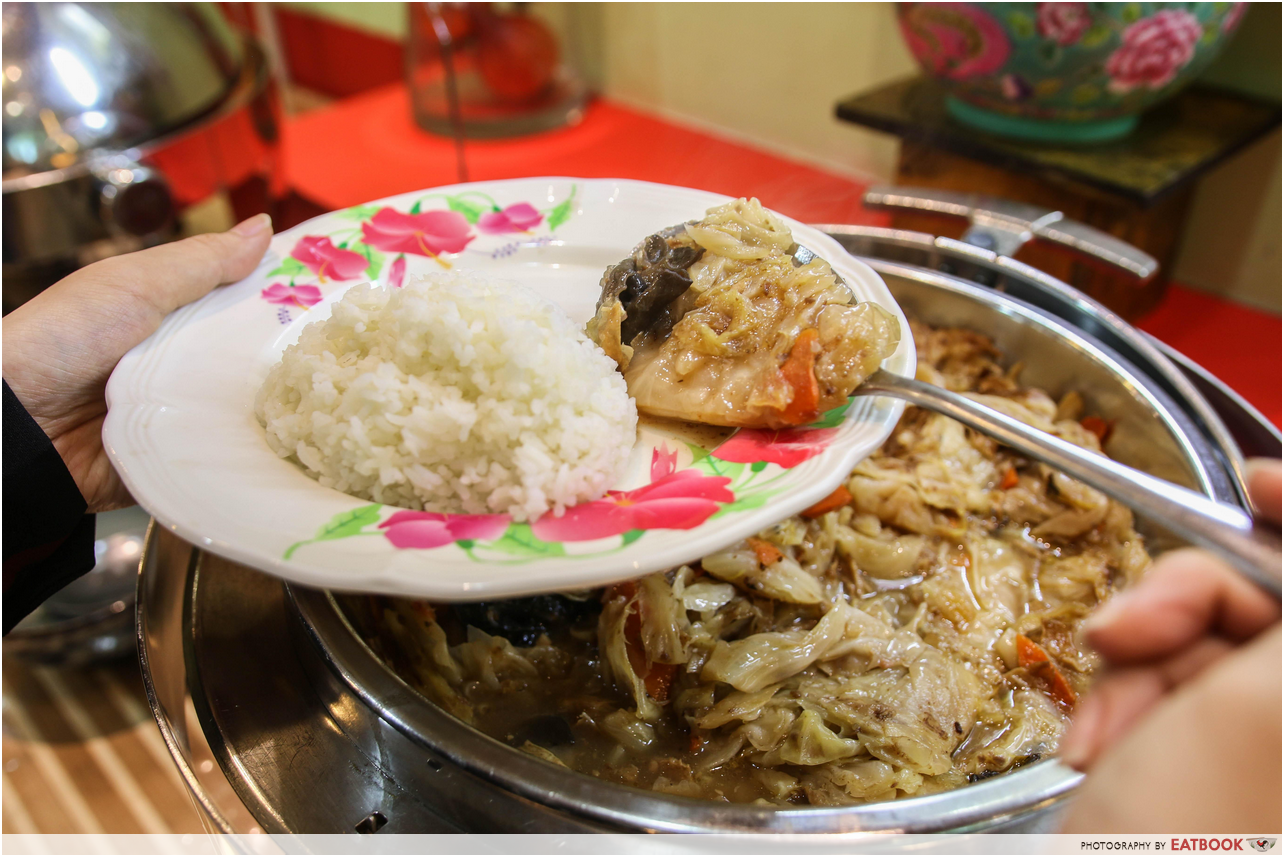 I especially enjoyed their Nonya Chap Chye, which had black fungus, cabbage, carrots and tau kee (beancurd skin) soaking up the rich braising sauce. Each mouthful comprised of soft, tender cabbage bursting with the savouriness of prawn stock, while the black fungus added an element of crunch.
Desserts at Chilli Padi Nonya Cafe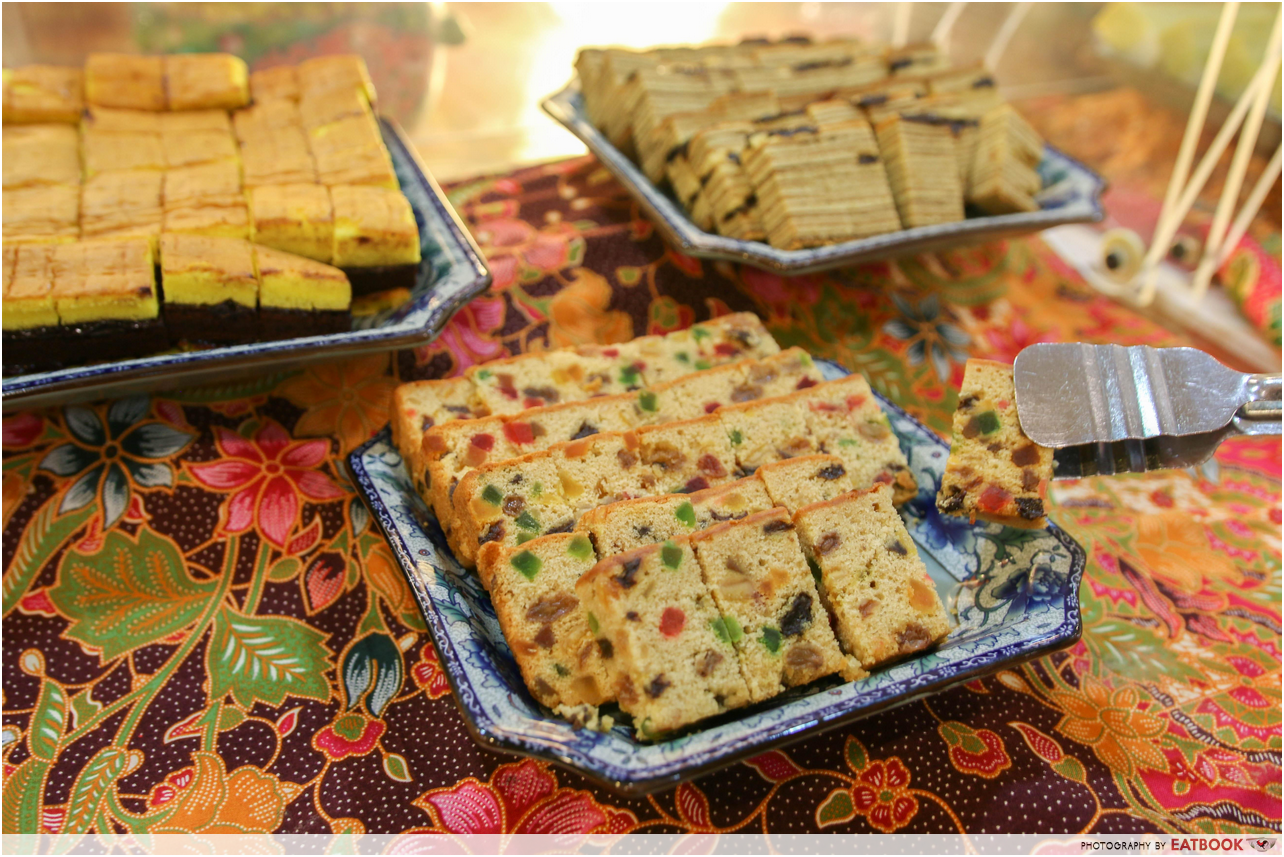 There was an array of snacks and desserts as well. This was the cake bar, which had Surabaya Cake, Kek Lapis and Fruit Cake. These cakes were nothing to shout about, and tasted like something I could get at the market.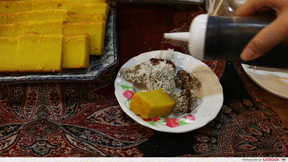 I say go straight for the kueh, with my favourite being Kueh Koswee and Kueh Lopez. The former is steamed palm sugar cake while the latter is glutinous rice cake, both coated in grated coconut. On its own, the kueh might feel a tad dry due to the coconut, but drizzle some gula melaka over it and it'll be a sweet, sticky mess.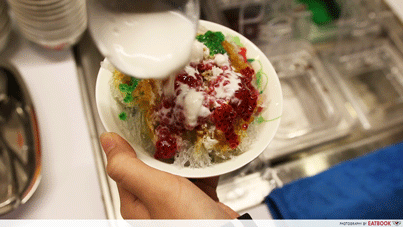 Finally, we ended off our meal with DIY chendol. There were instructions at the side of this station on how to operate the ice shaver and as well as the sequence of layering the chendol.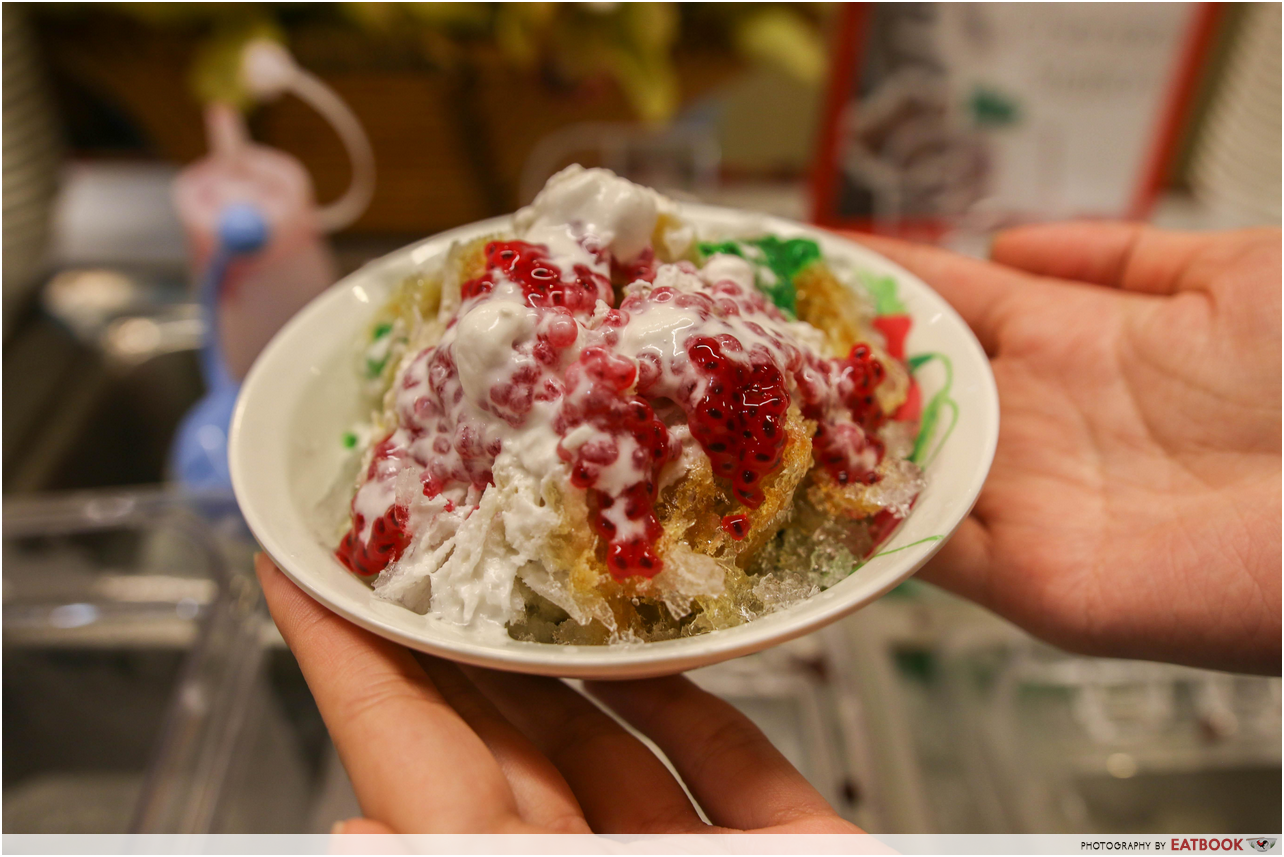 Instead of just regular coloured syrup, the syrups here had basil seeds that imparted an interesting jelly-like texture and was a little chewy as well.
Ambience at Chilli Padi Nonya Cafe 
The interior of the cafe was extensively covered in Peranakan decorations, and could likely pass off as a filming set for The Little Nyonya. All tables were covered in batik tablecloths, and there were also traditional Peranakan outfits kept in display cases hung on walls. There were various table sizes to accommodate both large and small groups.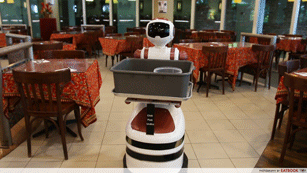 I couldn't hold back childish giggles when this battery-operated robot came towards our table and asked if we had anything to clear. I heard from a staff that the entire cafe can be filled up during peak hours, and this little man helps ease their workload. Also, the restaurant is child-friendly, and has a play corner with short chairs and alphabet mats for the little ones.
The verdict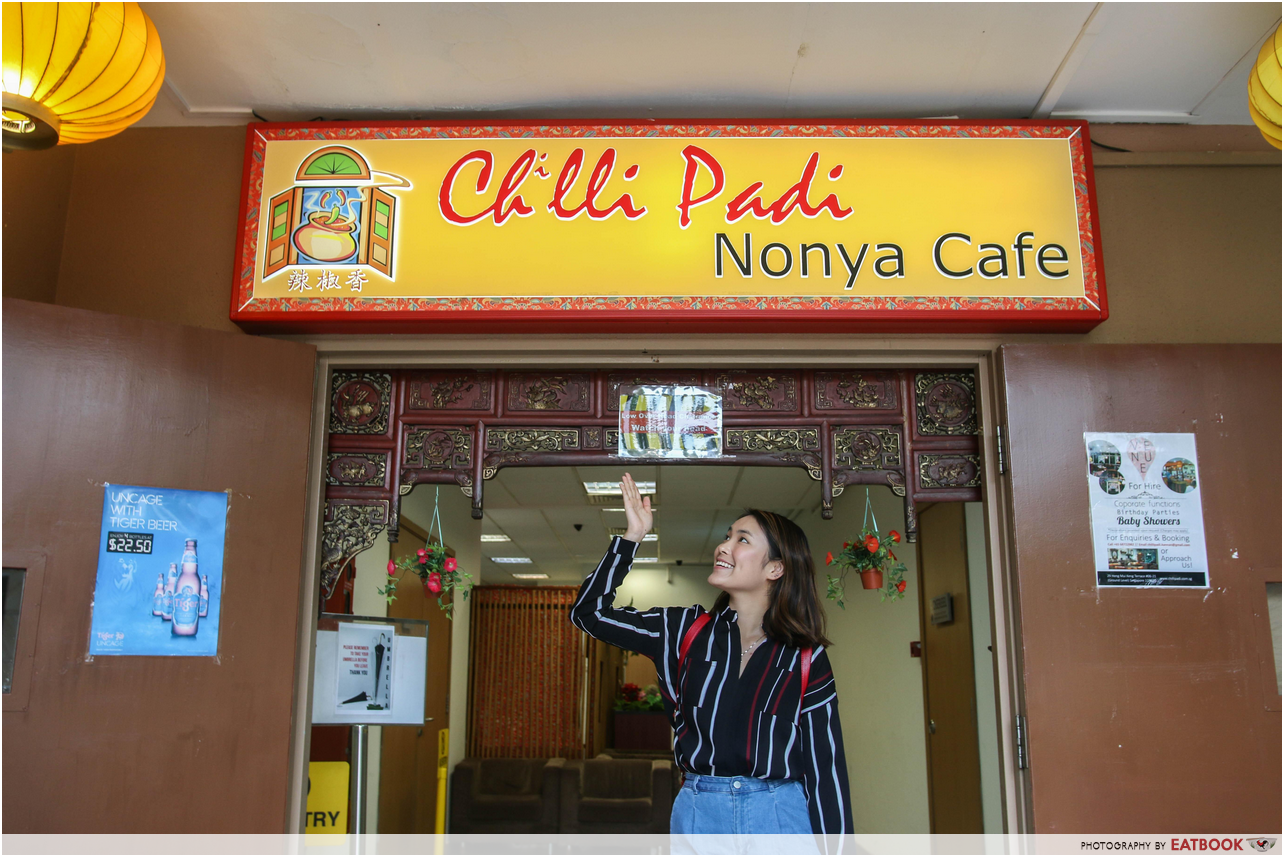 Although they are not situated in the most convenient of places, I highly recommend this cafe for their wide variety of delicious Peranakan dishes at a reasonable price. I will definitely go back in the future with my family, on a day my dad is willing to drive. If you're an NUS student, or you live or work around the area, check out these food places in NUS and cafes and restaurants near NUS.
Address: 29 Heng Mui Keng Terrace, #06-21 (Ground Level), Singapore 119620
Opening hours: Daily 11:15am to 9:30pm
Tel: 6872 2982
Website
This is an independent review by Eatbook.sg.
Summary
Pros
– Affordable
– Great customer service
– Child-friendly
– Good for large groups
– Multiple DIY stations
– Wide variety of Peranakan food
Cons
– Inconvenient location
Recommended Dishes: DIY Kueh Pie Tee, DIY Mee Siam, Beef Rendang, Ayam Bua Keluah, Assorted Nonya Kueh
Operating Hours:
Daily 11:15am to 9:30pm
Tel: 6872 2982
Address: 29 Heng Mui Keng Terrace, #06-21 (Ground Level), Singapore 119620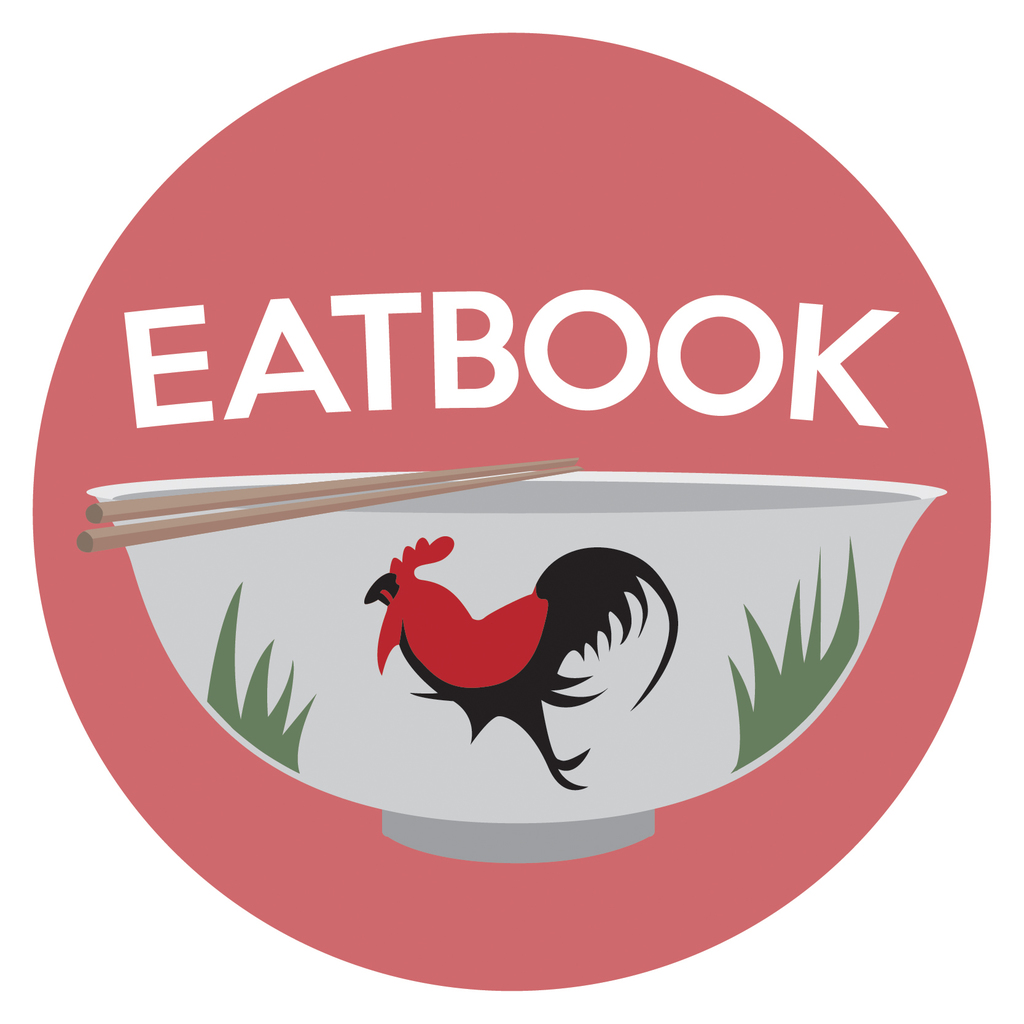 Drop us your email so you won't miss the latest news.