Afternoon tea at Dian Xiao Er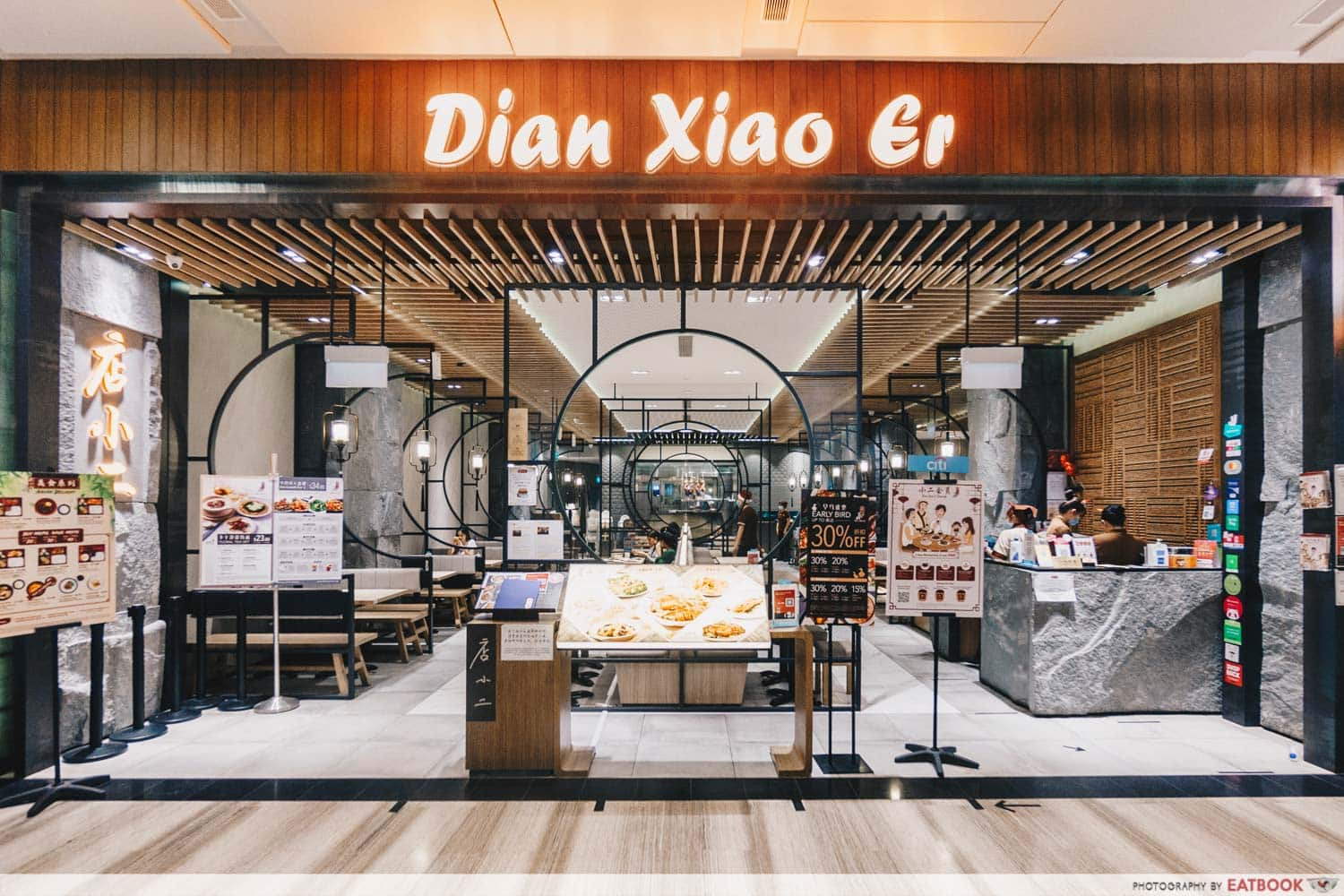 Think of Dian Xiao Er and their iconic herbal roast duck comes to mind. It's no surprise that their menu has roots in traditional Chinese cooking─the fact that their interior resembles traditional Chinese taverns should already give that away. 
8 Affordable High Tea Sessions At $30++ Or Less So You Can Lead The Tai Tai Life
Dian Xiao Er has recently jumped onto the afternoon tea bandwagon, but instead of the usual sweet and savoury treats we see at most afternoon teas, they have cut back on fanciful creations to go back-to-basics with Cantonese-style treats. Dian Xiao Er is currently offering a new Floral Tea Set that's exclusively available at their Jewel Changi Airport branch, every Monday to Thursday, from 2:30pm to 4:30pm. 
Food at Dian Xiao Er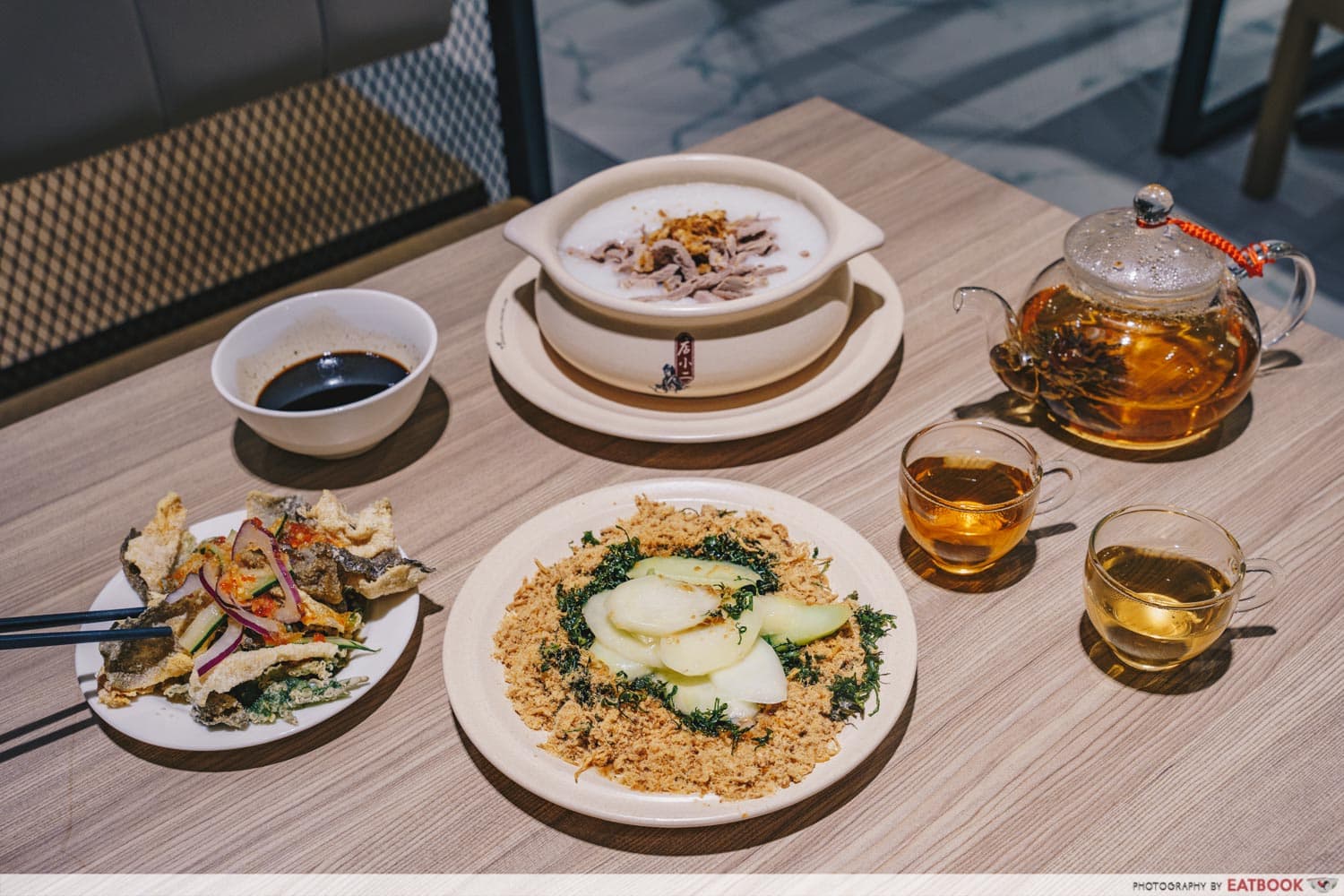 Each Floral Tea Set is priced at $23.80++, which feeds approximately two to three people. Apart from choosing your preferred tea blend, it also comes with your choice of porridge as well as two additional dishes.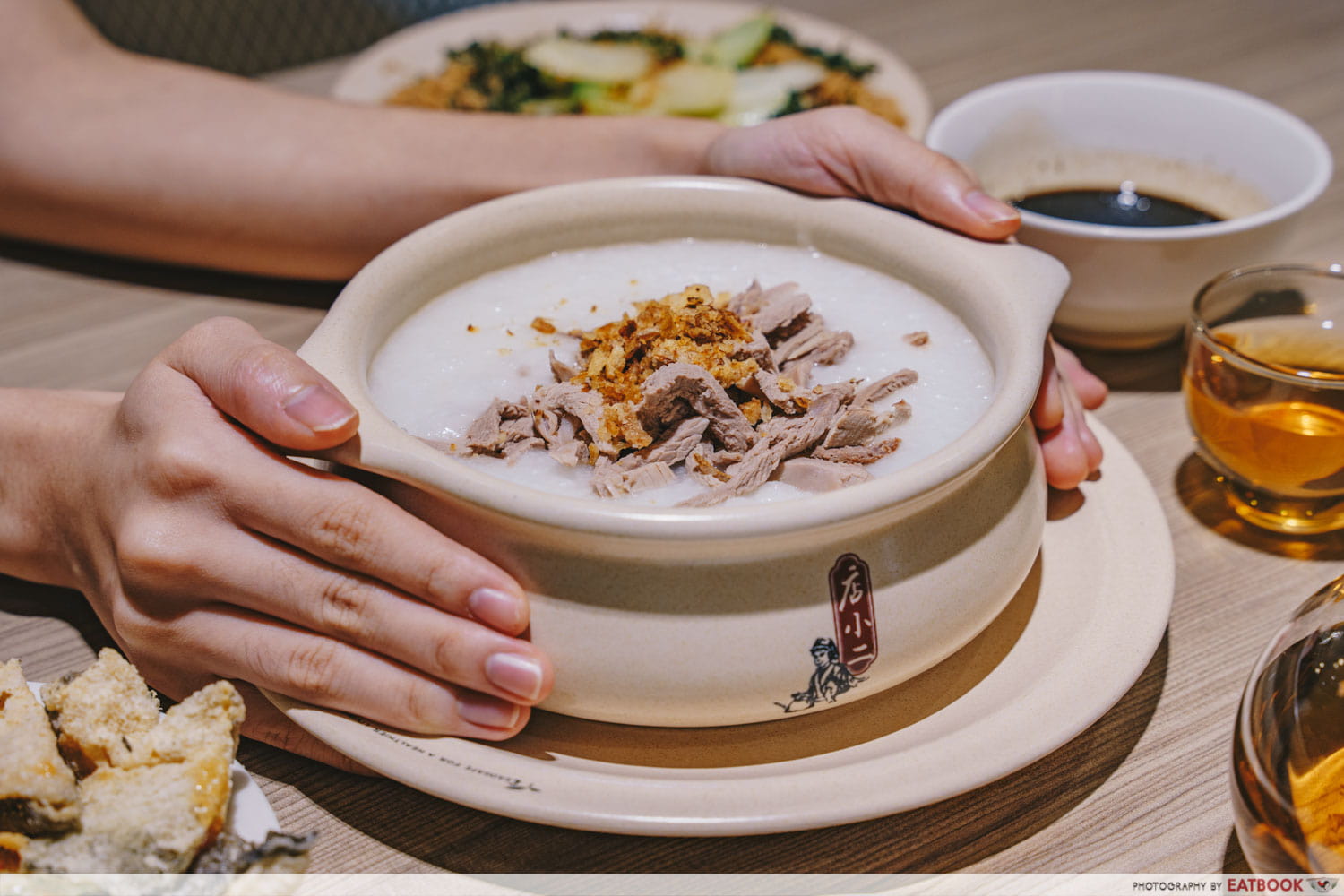 As a fan of their Ten Wonder Herbs Roast Duck, I had to pick the Ten Wonder Shredded Duck Porridge over the Minced Meat, Century Egg & Salted Egg Porridge. Served in a large porcelain pot, the porridge was topped with shredded bits of duck and accompanied with a bowl of herbal gravy on the side.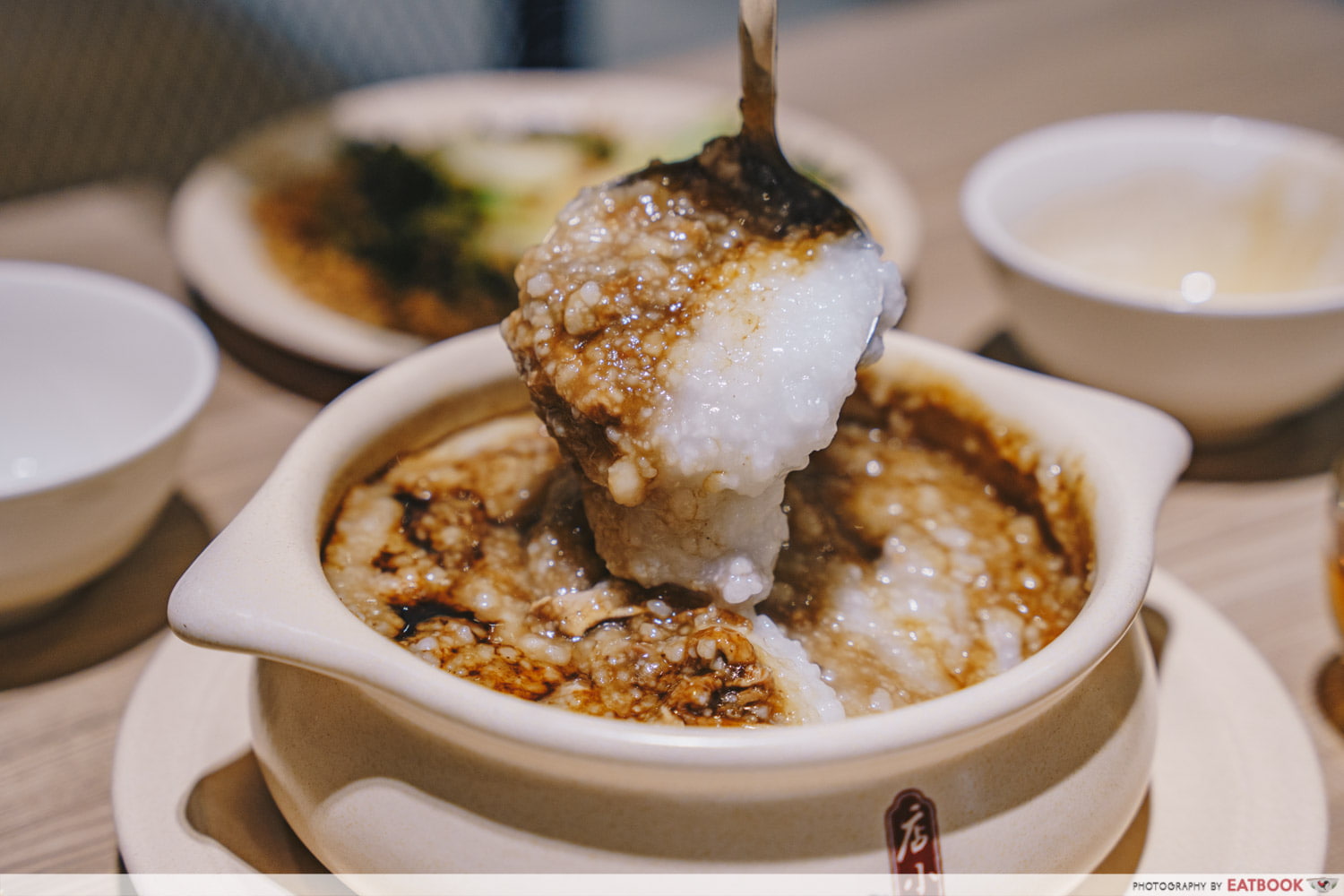 I couldn't wait to douse the porridge with the gravy. Besides its curative properties, this dark sauce has a herbaceous undertone. The sweetness and the saltiness of the sauce were well-balanced, and the herbs lent it a depth of flavour. The porridge took on the character of the sauce, and in fact, I found that mixing the gravy with the porridge helped to dilute the richness a little.
The consistency of the porridge was superb. It wasn't too watery, nor was it too sticky. Maybe because the pieces of duck meat were shredded, they lost the juiciness typical of Dian Xiao Er's signature Ten Wonder Herbs Roast Duck. However, they still managed to retain the fragrance and meatiness of the duck.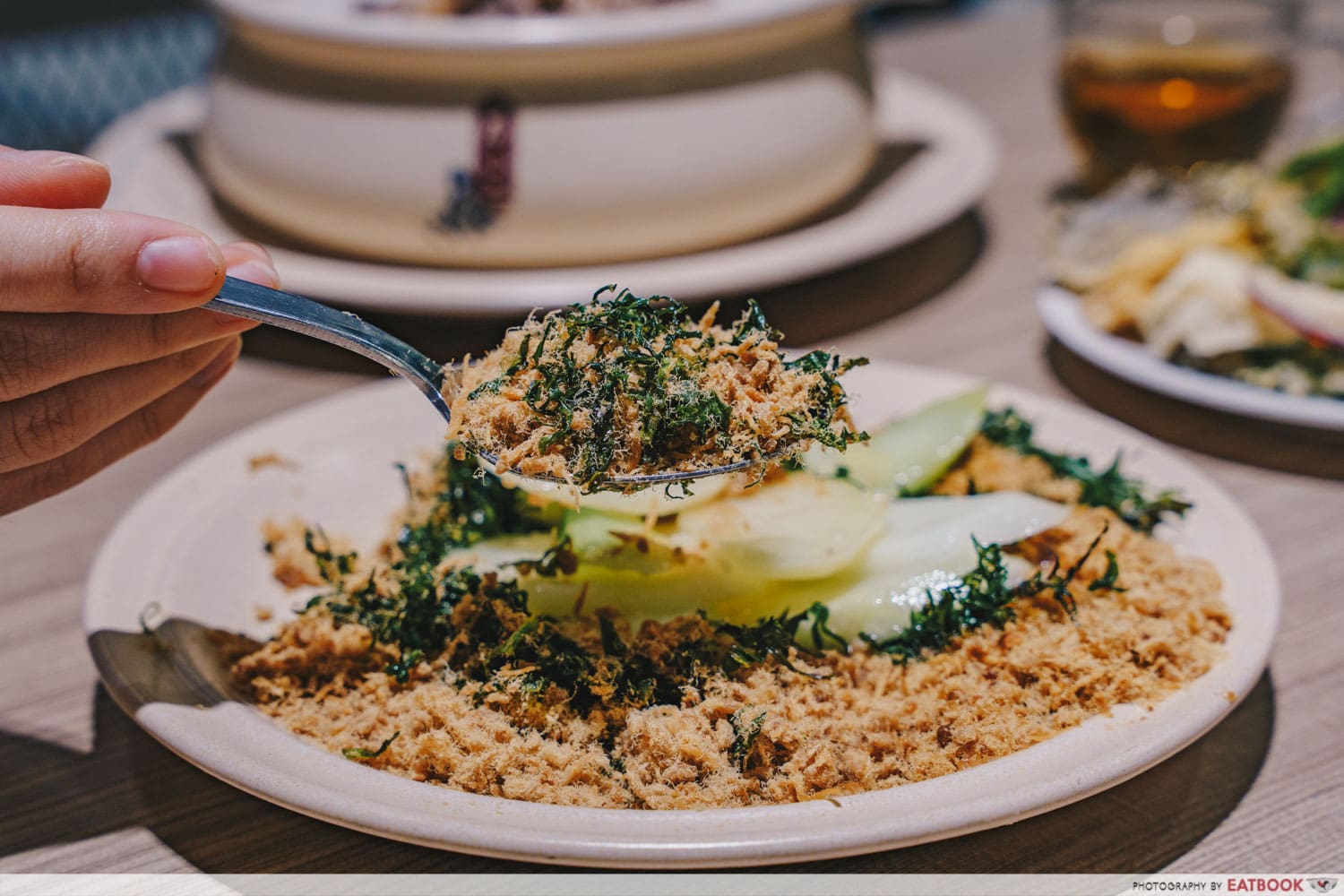 Adding floss to porridge is something I've done all my life, which explains why I opted for the Deep-fried Kailan with Floss over the French Beans & Minced Meat with XO Sauce. As expected, the light, crisp and savoury floss went harmoniously with the gravy-drenched porridge.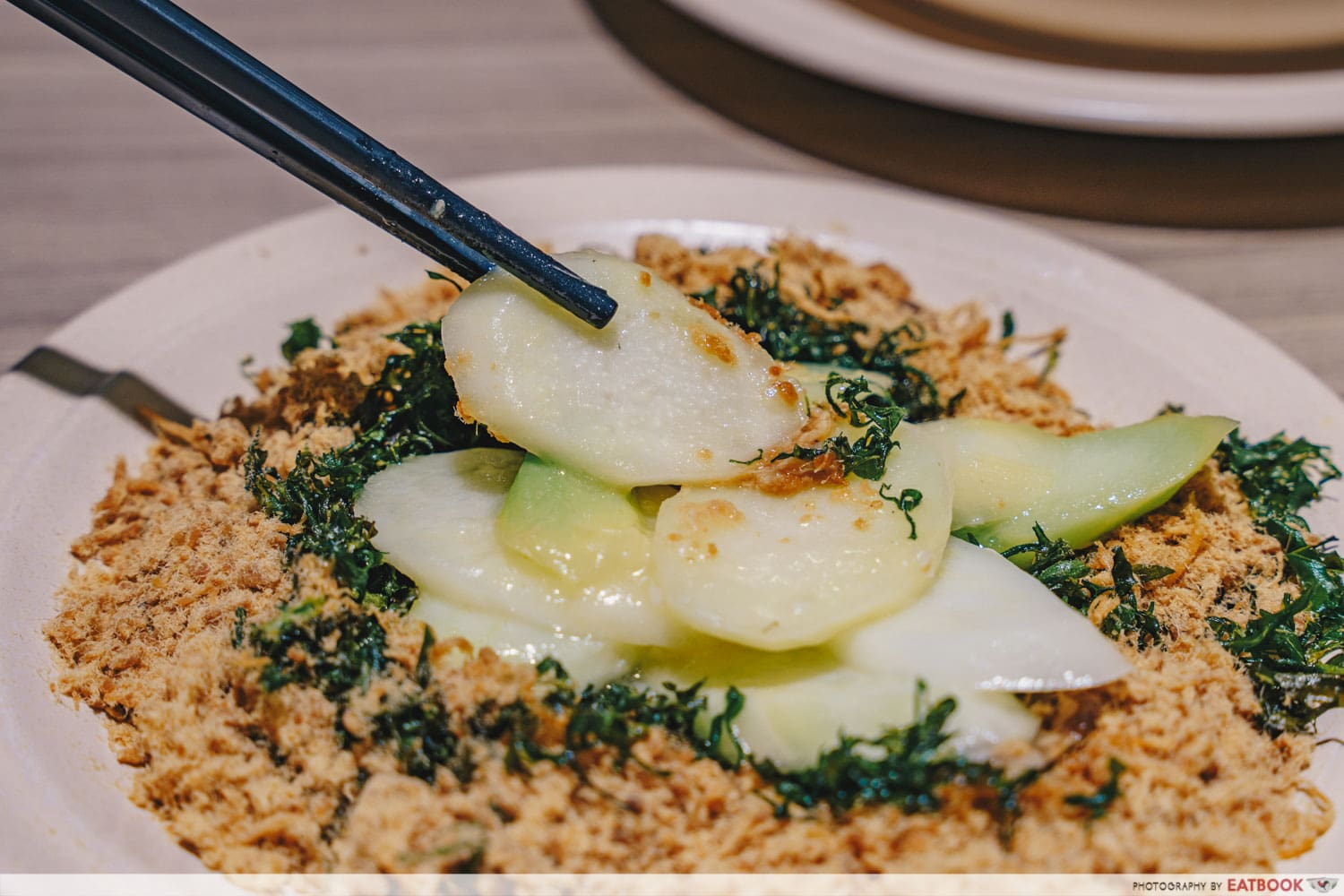 On top of that, the crunchy kailan stems, which can sometimes taste too green, were seasoned just right.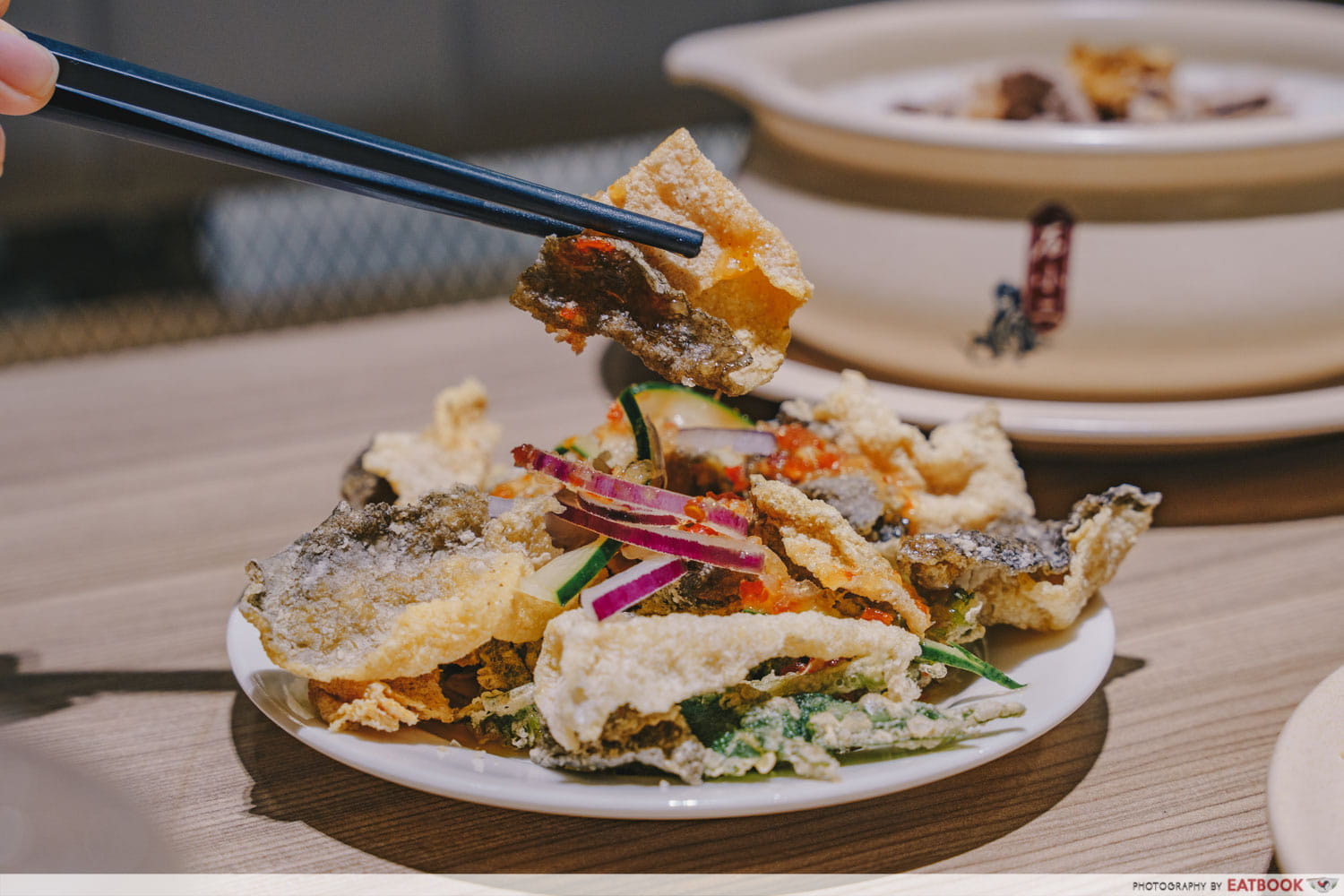 Brands like IRVINS and Shi Le Po are the reason why fish skin has a rep of being dangerously addictive, which was why we chose the Crispy Fish Skin with Fried Kang Kong Salad as the final dish to be included in the tea set. 
IRVINS' New Fish Head Curry Fish Skin Is Its First Non-Salted-Egg Snack
The fish skin was thicker compared to the average fish skin snack, and it was decently crispy and fragrant. It wasn't as addictive as I like, and I would've preferred the fish skin to be seasoned, rather than plain. Perhaps they could zhng it up by tossing it in mala or salted egg seasoning.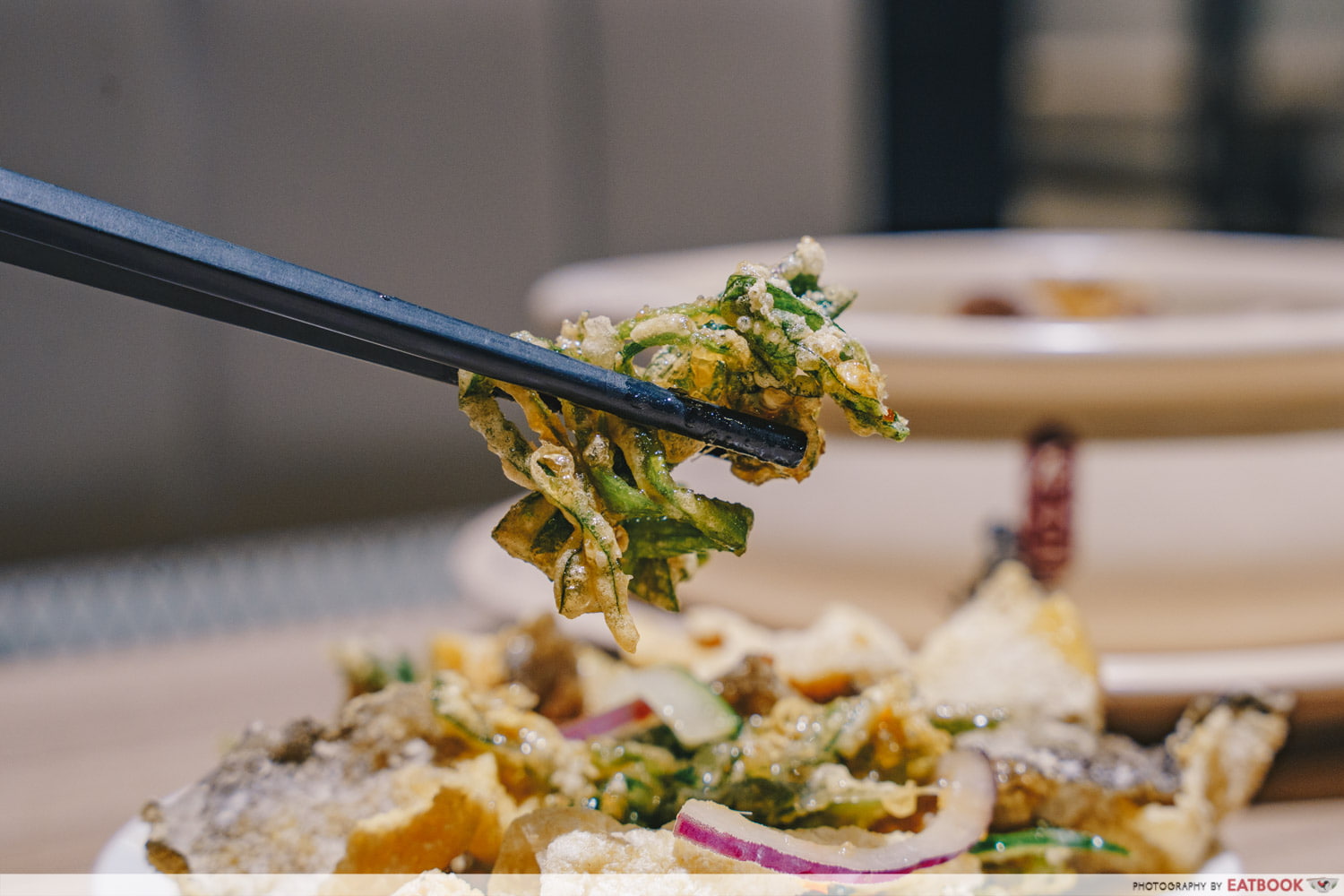 The deep-fried battered kang kong was an interesting touch. It added another layer of crunch on top of the fish skin. There was also a sweet and sour chilli dressing paired with it, which made it appetising. If this fish skin dish isn't really up your alley, you can opt for their Crispy Duck Wings in Salt & Pepper instead.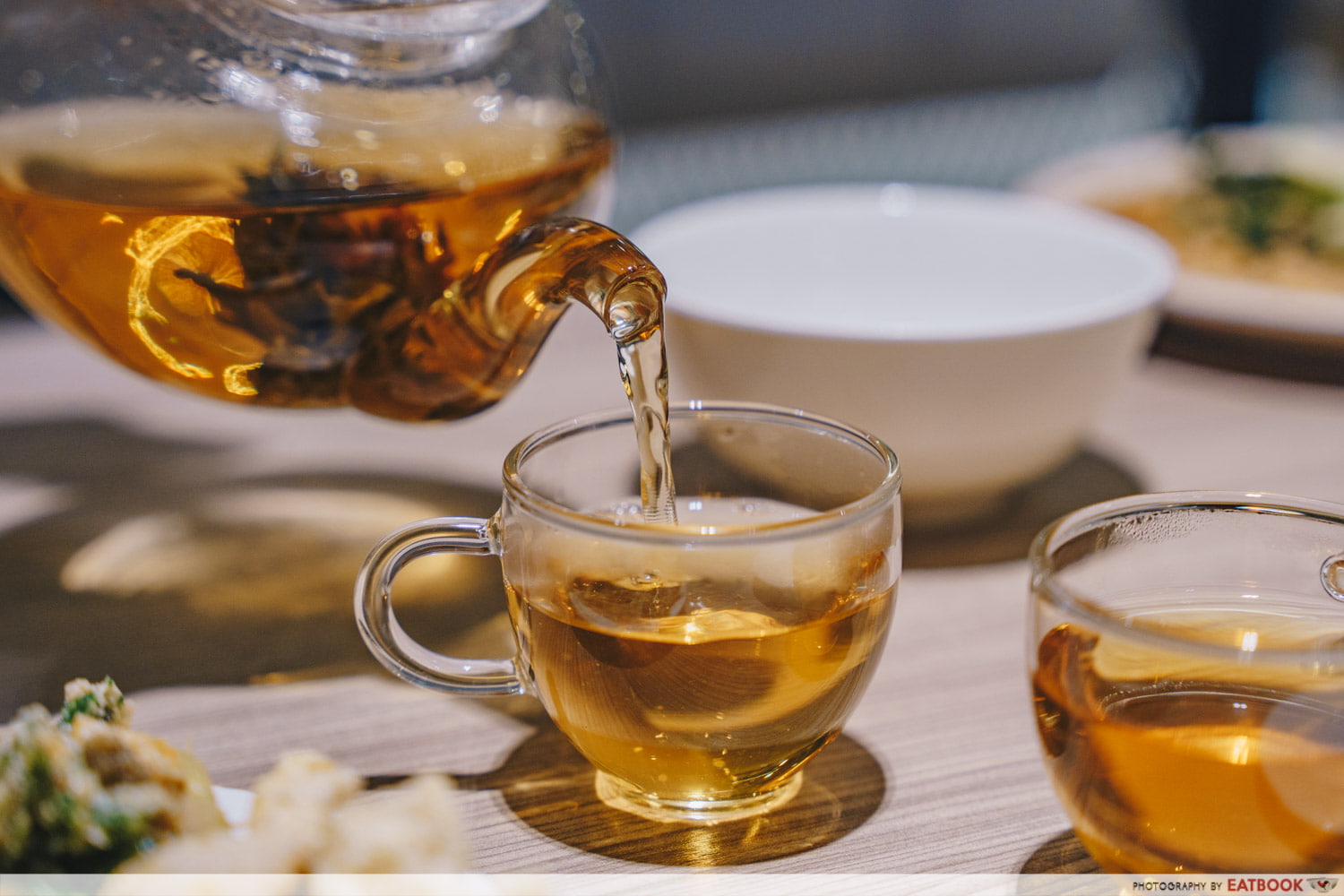 Dian Xiao Er lets you choose between four main types of tea─Mango Green Tea, Lychee Green Tea, Calendula Green Tea as well as Osmanthus Green Tea, which was what we went with.
I liked that the fruity-floral fragrance of the tea was rather delicate, instead of leaving a pungent, bitter aftertaste. Since the porridge and the two other side dishes were not exactly greasy, a subtle tea blend, like this one, was perfect. 
Ambience at Dian Xiao Er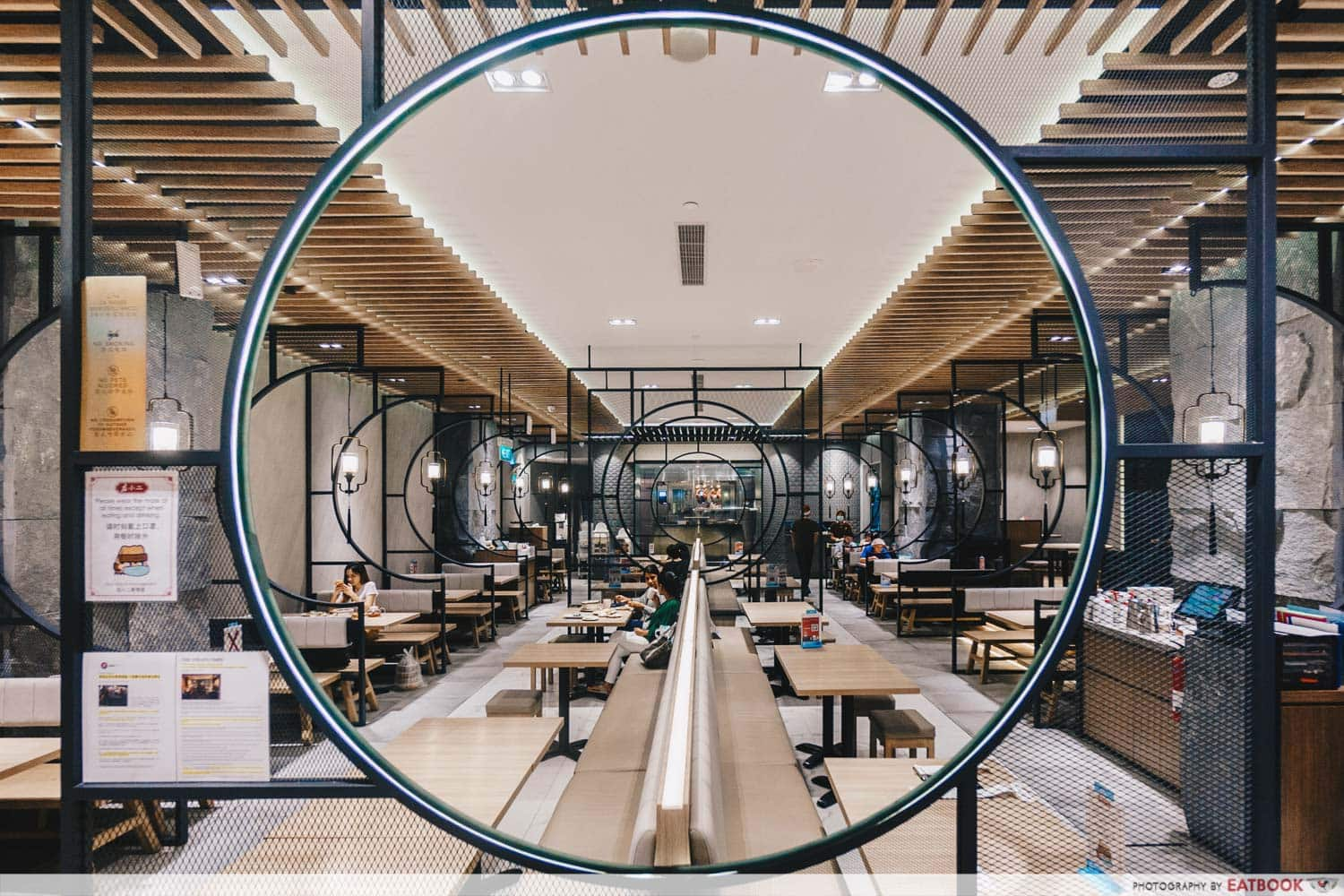 Located at Jewel Changi Airport, this outlet takes up the corner space of Basement 2. Most Dian Xiao Er outlets I know are bedecked with dark coloured tones, especially brown, to replicate the style of old Chinese inns. However, the branch at Jewel stands a little different from the rest, with a more modern design. It also uses lighter tones, which help contribute to a brighter space. 
The comfortable setting made the afternoon experience more satisfying, considering I'd usually sit back and relax whenever I indulge in something like this. Though I have to admit, it might take a while for the set to be served, so be prepared to wait.
The verdict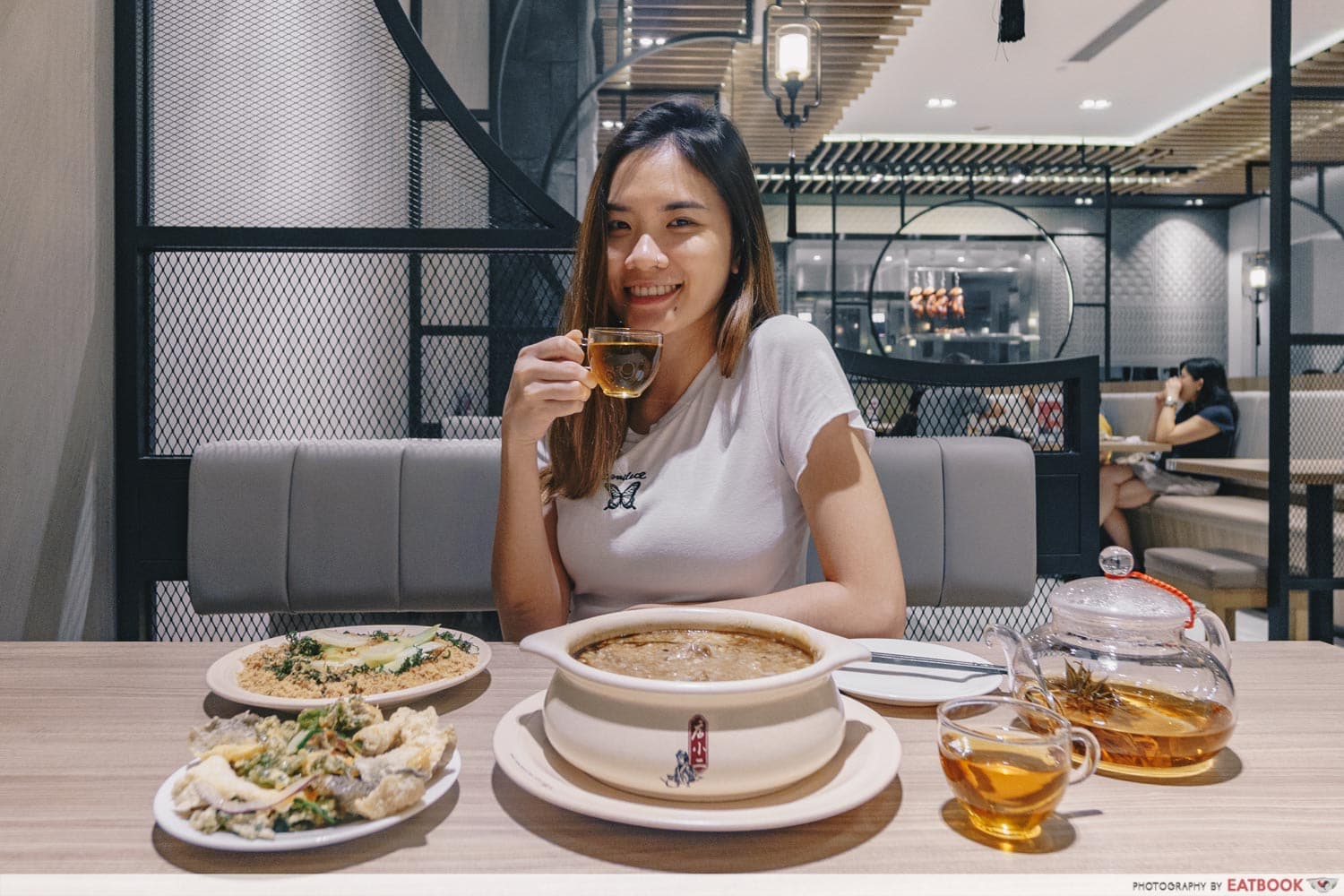 The dishes were simple, yet they didn't lack finesse. The afternoon tea set is definitely something different compared to the usual, more Western-inspired ones. It's a great option for those who prefer Chinese home-cooked dishes instead of tiered sets with delicate desserts and sandwiches.
Note that Dian Xiao Er at Jewel doesn't accept reservations for their Floral Tea Set, and that they only allow walk-ins during the stipulated time.
JUMBO Seafood Afternoon Tea Review: $24++ Per Person With Chilli Crab Bun And Salted Egg Lava Mochi
For more afternoon teas experiences, check out the JUMBO Seafood afternoon tea, which has chilli crab bun and salted egg mochi. Alternatively, read about what we think of the Atrium Lounge high tea at PARKROYAL COLLECTION Marina Bay.
Atrium Lounge High Tea Review: Wagyu Sliders, Japanese Desserts And More Enjoyed In A Birdcage Pavilion
Address: 78 Airport Boulevard, #B2-229, Jewel Changi Airport, Singapore 819666
Opening hours: Mon-Thu 11:30am to 9:30pm, Fri-Sun 11am to 10pm
Website
Dian Xiao Er is not a halal-certified eatery.
Photos taken by John Lery Villanueva.
This is an independent review by Eatbook.sg.
Dian Xiao Er Afternoon Tea Review: $23.80++ For Two, Including Herbal Duck Porridge And Pork Floss Fried Kailan
Summary
Pros
– Flavourful herbal duck porridge
– Simple dishes that complements the porridge
– Value-for-money
Cons
– Fish skin could have carried more flavours
– Service is slightly slow
Recommended Dishes: Floral Tea Set ($23.80++)
Opening hours: Mon-Thu 11:30am to 9:30pm, Fri-Sun 11am to 10pm
Address: 78 Airport Boulevard, #B2-229, Jewel Changi Airport, Singapore 819666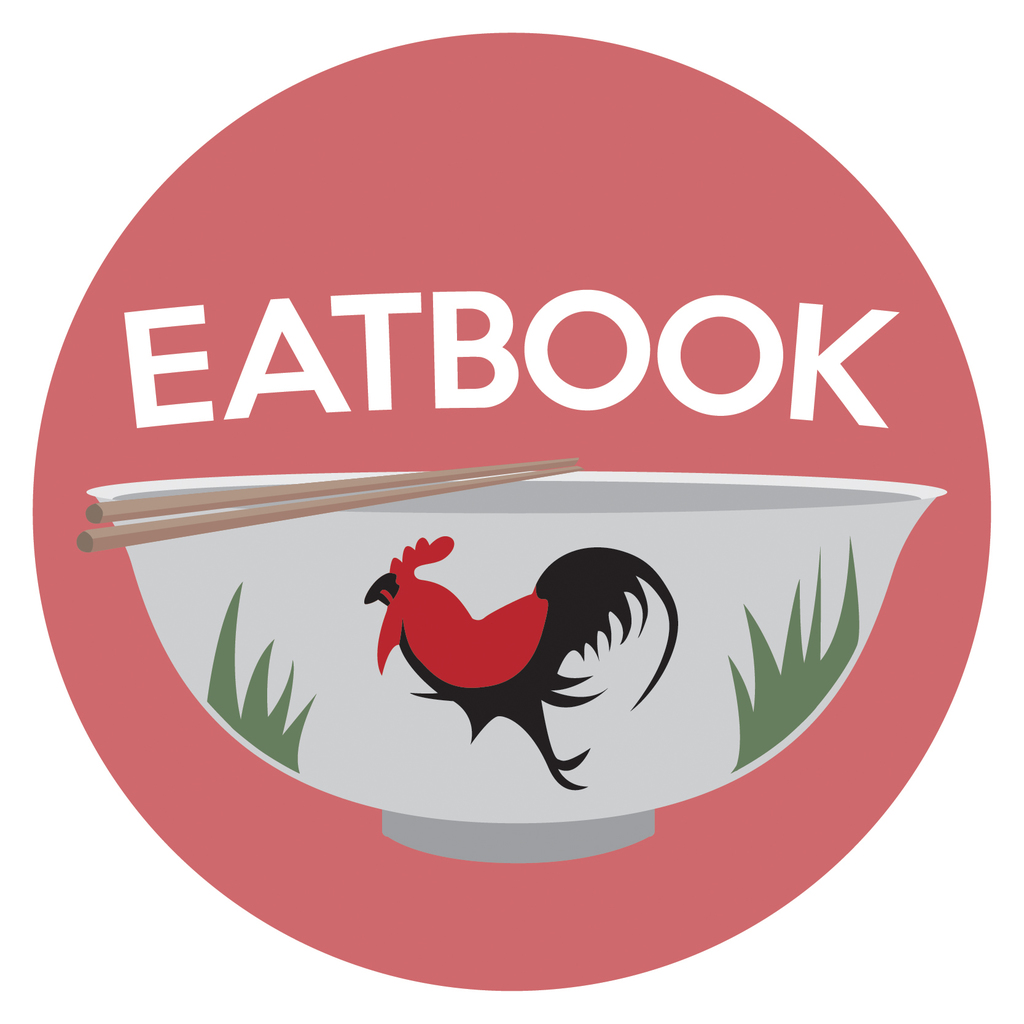 Drop us your email so you won't miss the latest news.