---
Food at Eatbox Singapore 2020
---
With my tendency to get lost in crowds, I always find myself wandering in confusion at festivals. Fortunately for those like me, we've come up with a trusty guide of must-try food at Eatbox Singapore 2020, so you know exactly what to look out for at the food fest. 
You won't have to travel for Asian street food anymore. The food fest has close to 50 food stalls selling treats and new creations infused with Singaporean, Hong Kong and Indonesian flavours. Like the Bangkok-inspired Artbox festival, this event will only make an appearance at Downtown East Open Plaza 1 & 2 for two weekends. So be sure to make space in your bellies between 21 to 23 February and 28 February to 1 March from 3pm to 11pm, for an evening full of street snacks!
---
1. The Naughty Corner Gelato
---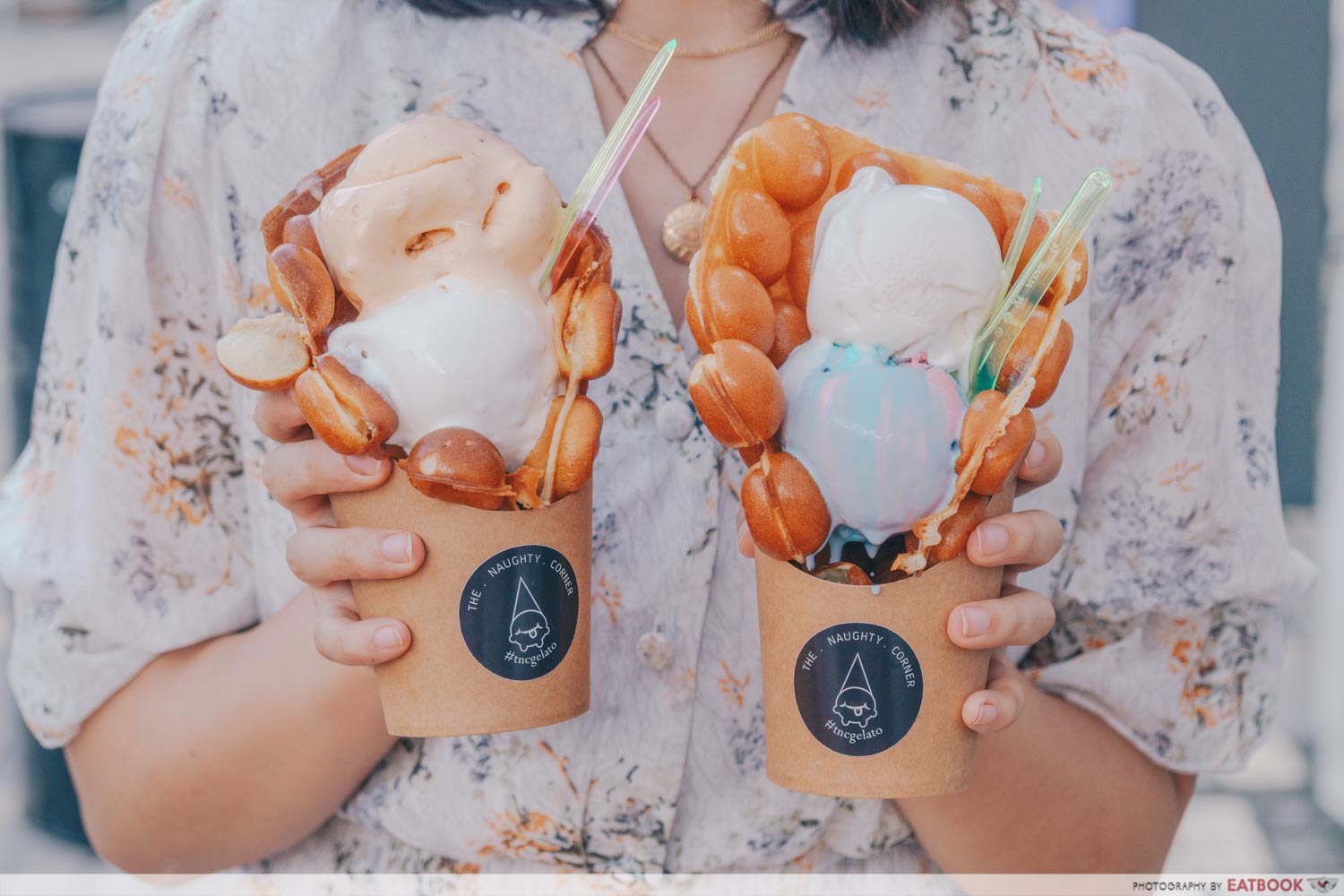 Get your cameras ready, The Naughty Corner has some over-the-top flavour combinations to satisfy both your taste buds and your Instagram feed. From flavours like the sweet White Rabbit, to the candy-flavoured Bubblegum, this gelato kiosk won't fall short in quirky flavour combinations. 
Speaking of one-of-a-kind fusion flavours, the ice cream stall is bringing their exclusive Chilli Crab Gelato to Eatbox this year. Wacky as it sounds, the sweet, savoury, and spicy combo is strangely addictive. As if their ice cream flavours weren't naughty enough, you can even zhng up your gelato with waffle-like Hong Kong egglets instead of the basic waffle cone. You can get the egglets with two scoops of gelato at $11, and add $1 for premium flavours.
Check out our full review of The Naughty Corner!
The Naughty Corner Review: Sea Salt Caramel- And Chocolate-Stuffed Egglets With Ice-Cream
---
2. Kazo
---
If buns stuffed with sweet fillings are up your alley, swing by Kazo for their oozy and pillowy polo buns. Last year, the Taiwanese bakery brought a full menu of freshly baked pastries to the festival. Their custard-filled Golden Lava Danish Polo ($3) and bite-sized Cream Puffs ($2) were crowd favourites. 
This year, they are upping their game with the Hong Kong-Style Pineapple Bun ($3.50). Also known as bor lor bao in Cantonese, this dreamy bun has a crumbly, buttery cookie crust encasing a fluffy bread center.
Kazo Review: Taiwanese Bakery At Chinatown With Salted Egg Lava Polo Bun
---
3. Egg Stop
---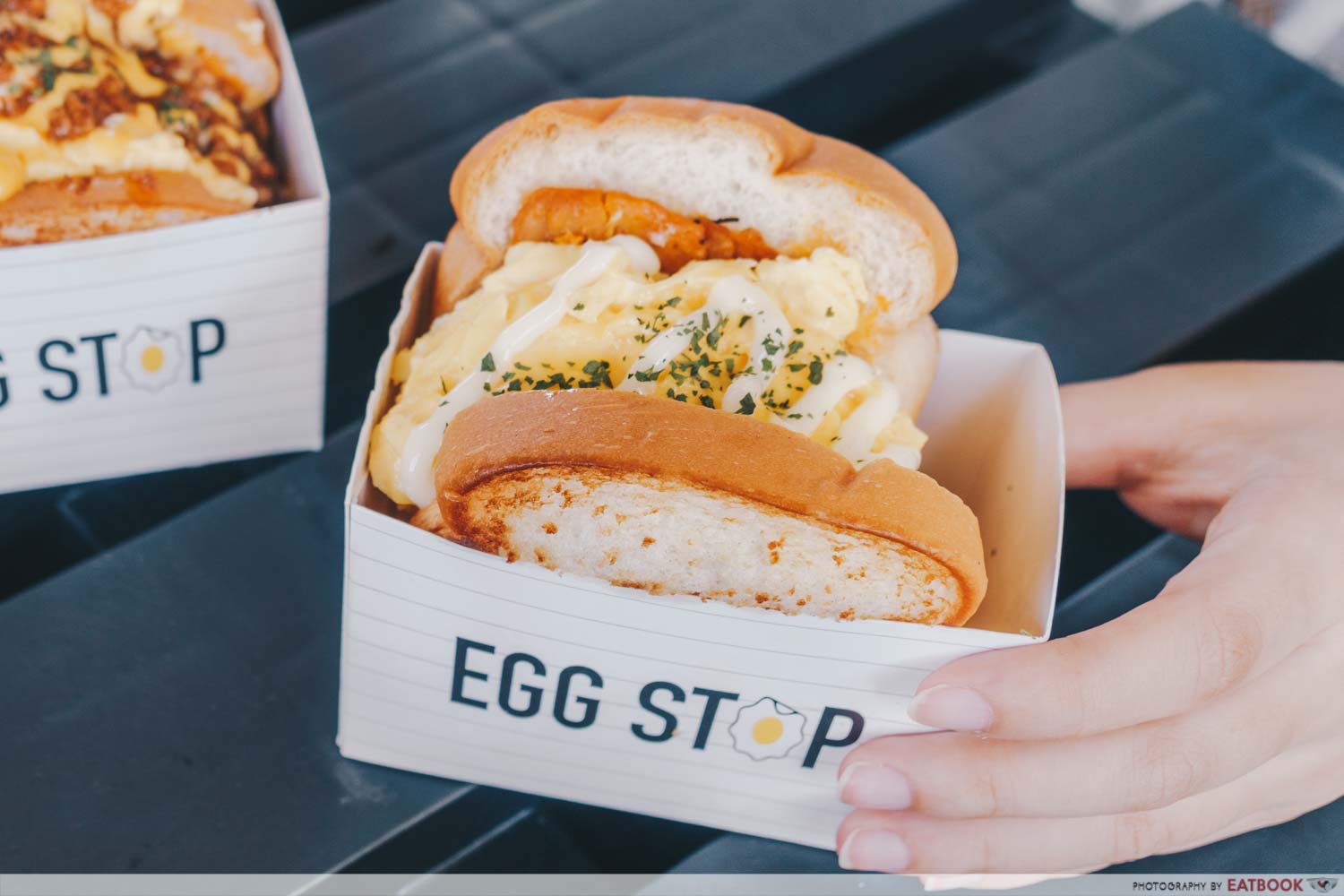 Nestled in cute rectangular sandwich holders are Egg Stop's Gilgeori toasts, better known as Korean street toasts. The most eye-catching of their selection would be the Beef Chilli Cheese ($6.50) which comes with a whole oozy yolk balanced atop stir-fried marinated beef and fragrant caramelised onions. 
The toast shop will also be adding a touch of local flavour with its Eatbox exclusive, Mackerel Otah toast ($6.50). If you're a fan of the piquant flavours of good otah, pick this toast up for an on-the-go fix.
Check out our full review of Egg Stop!
Egg Stop Review: Korean Street Toast Shop With Scrambled Eggs In Singapore
---
4. D'bun
---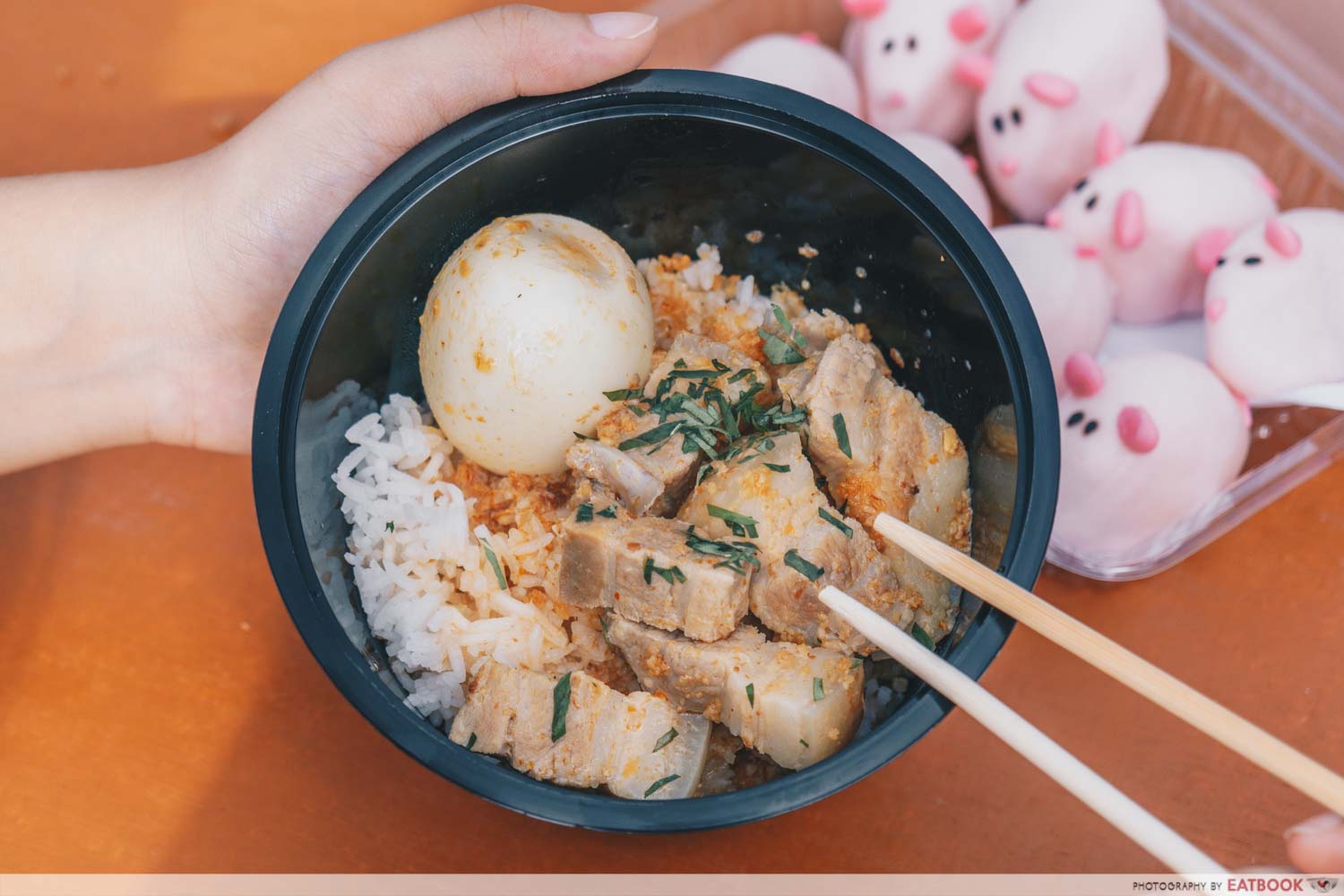 Those who visited the Shilin Night Market Singapore last year will probably recognise the aromatic Truffle Lu Rou Fan ($9.50) by D'Bun. This time, they're back with more adventurous fusions of local fare. Check out their Laksa Lu Rou Fan ($7), a bowl of braised fatty pork belly laid on a bed of white rice and topped with spicy, coconutty laksa sauce. 
If you want to grab a small snack, their adorable little Piggy Lotus Paste Bao ($9 for eight pieces) would reel you in with bursts of smooth lotus paste.
---
5. Krumbz N Kraves
---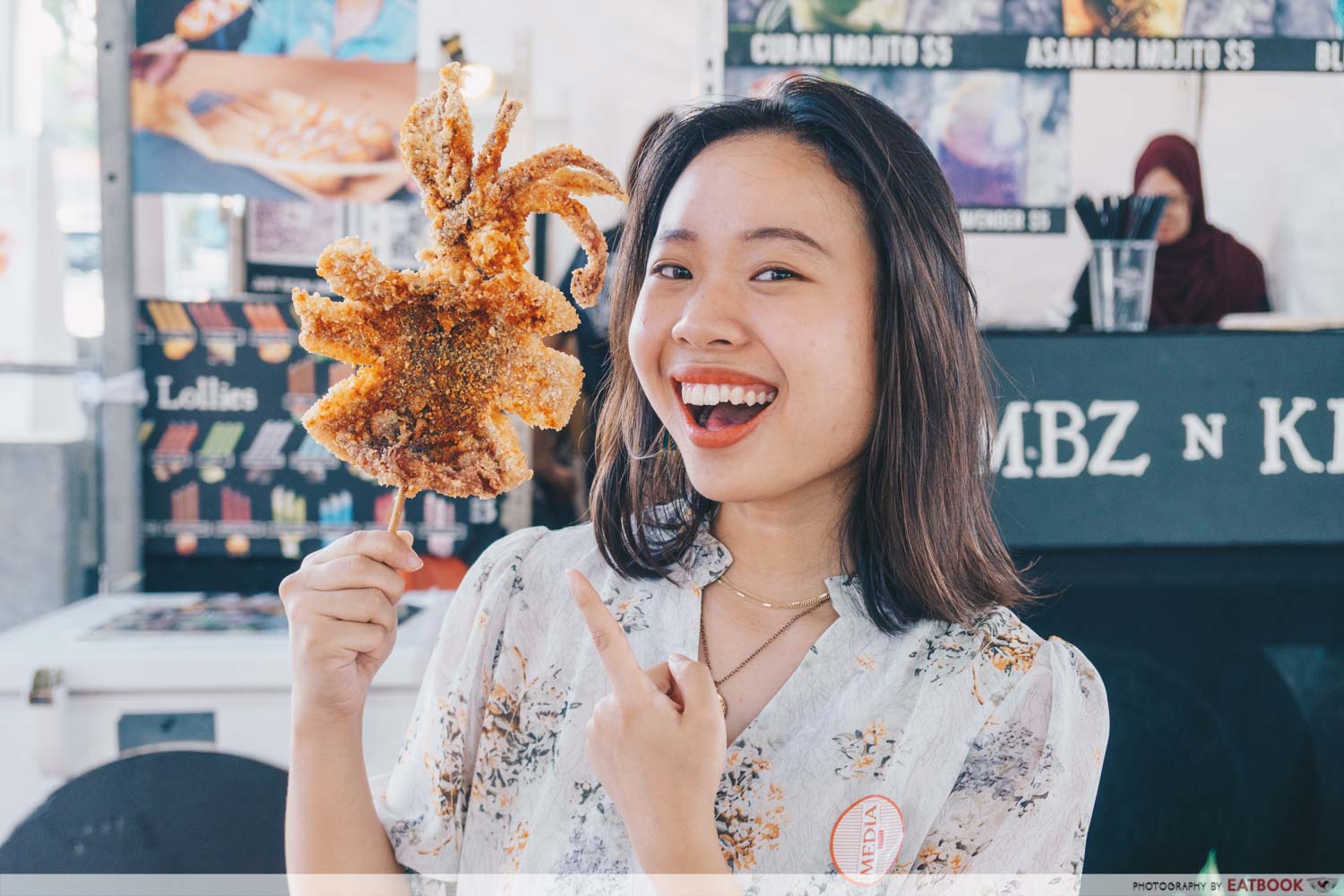 Krumbz N Kraves is back at Eatbox Singapore for a second year, bringing back their signature fried goodies with new Eatbox exclusive flavours to boot. Last year the only thing we could vary was spice levels between 'so-so' and 'extreme'. This time, you can choose to top your XXL Fried Argentina Squid ($10) with a salted egg sauce, or balance out the savoury with a sweet and sour sauce. 
Besides fried sotong, they also sell the classic Shihlin Fried Chicken ($6). The golden-brown pieces of chicken thigh pairs well with their shiok and spicy Sichuan sauce.
---
6. Tiger Dot
---
Walking past Tiger Dot, their striking Flaming Crème Brûlée ($4.90) poster immediately caught my eye. The drink is a creamy concoction topped with a layer of sugar that is blowtorched to achieve a crunchy, bittersweet topping. The White Rabbit Drink with pearls ($4.50) was not overly sweet and tasted like the distinctive white candy.
---
7. Beef Bro
---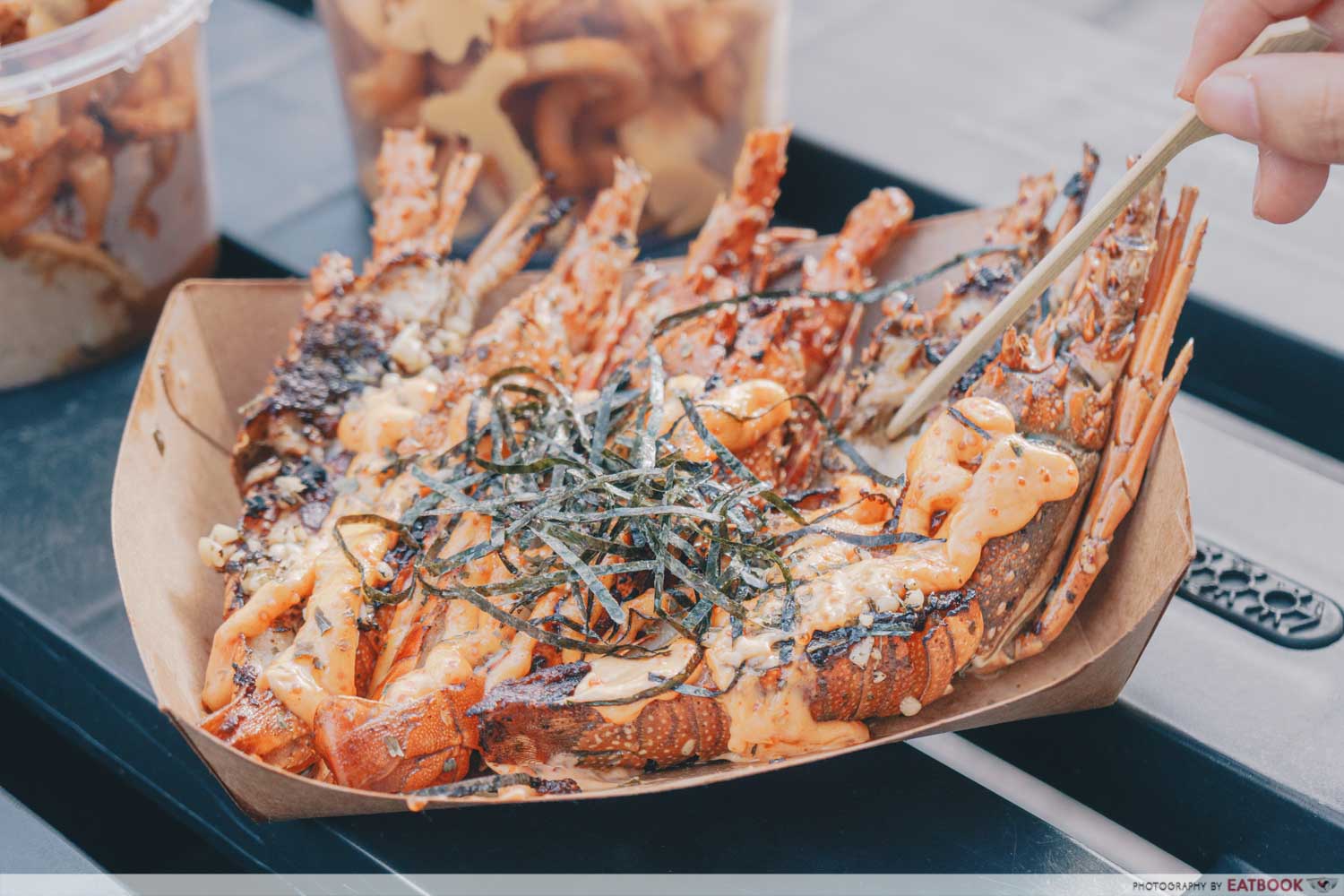 When you order a bowl of Beef Bro's succulent beef cubes, you'll be treated to an impressive show of the meat being grilled under the open flame of a blowtorch. For bursts of flavour with each bite, try their Mentaiko Beef Cubes ($14.90) which brings richness to the torched beef. You can even go all the way and top it with some melted cheese for that mouth-watering cheese pull. 
Beef isn't the only thing they're bringing to the table. Check out their Eatbox Singapore 2020 exclusive Singapore-Style Baked Garlic Lobster ($20), a whole juicy lobster drenched in a piquant garlic sauce for you to chow down on the go.
Check out our full review of Beef Bro!
Beef Bro Review: Halal Flame-Grilled Beef Cubes With Mentaiko And Cheese At Tampines
---
8. Satay Ummi
---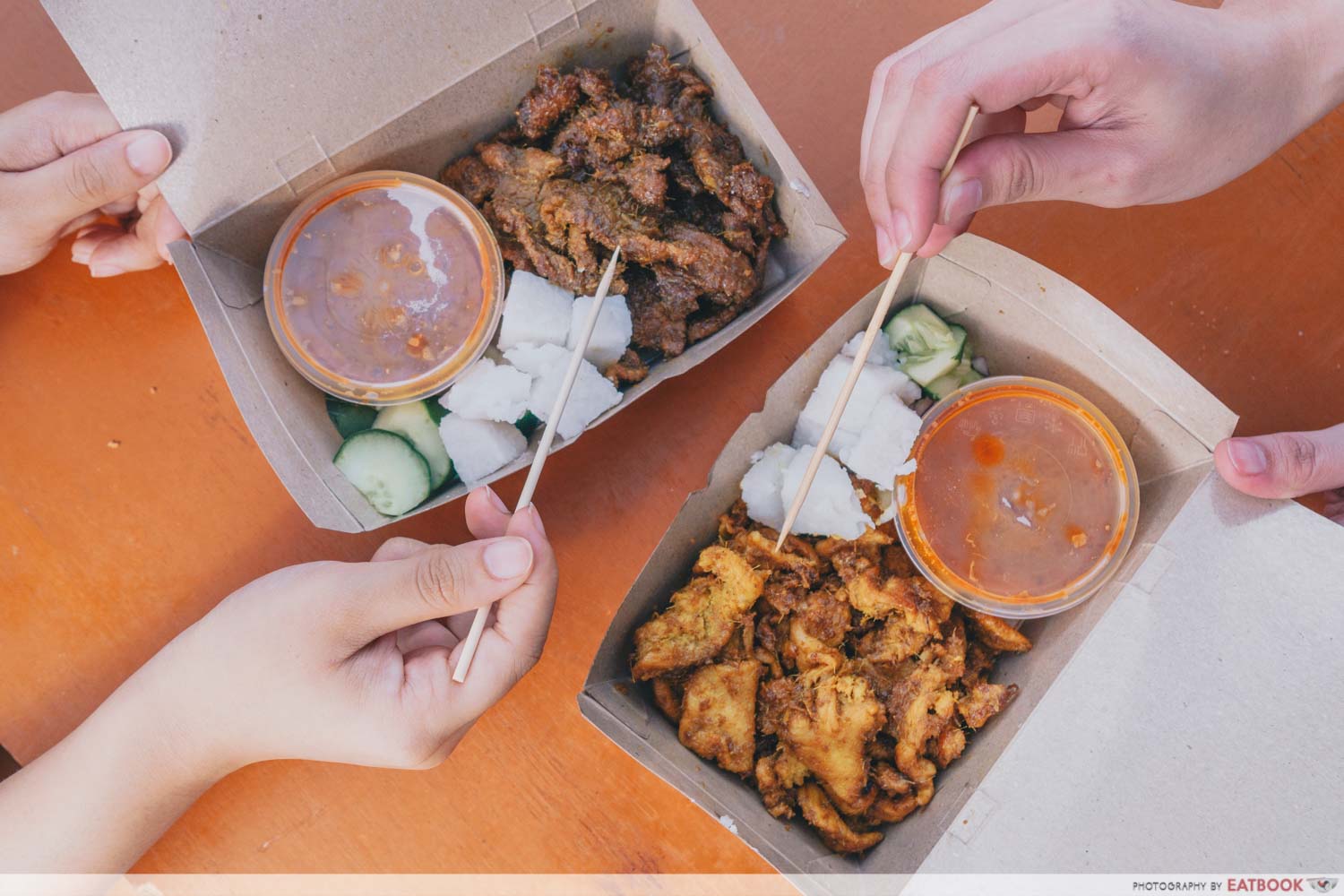 Satay Ummi is not your typical satay stall. They sell a version of the Indonesian street snack, where the marinated meat is stir-fried instead of grilled. This method of cooking infuses the juicy meat with an aromatic wok hei instead of the usual charred flavour from a grill. 
We recommend trying their bestseller, the Chicken Satay Goreng ($7) which comes with a generous portion of chicken chunks spiked with lemongrass and ginger, and a side of flavourful peanut sauce for dipping. If you prefer more robust-flavoured meats, go for their Mutton ($9) alternative which is packed with the meat's distinct taste.
---
9. Sofnade
---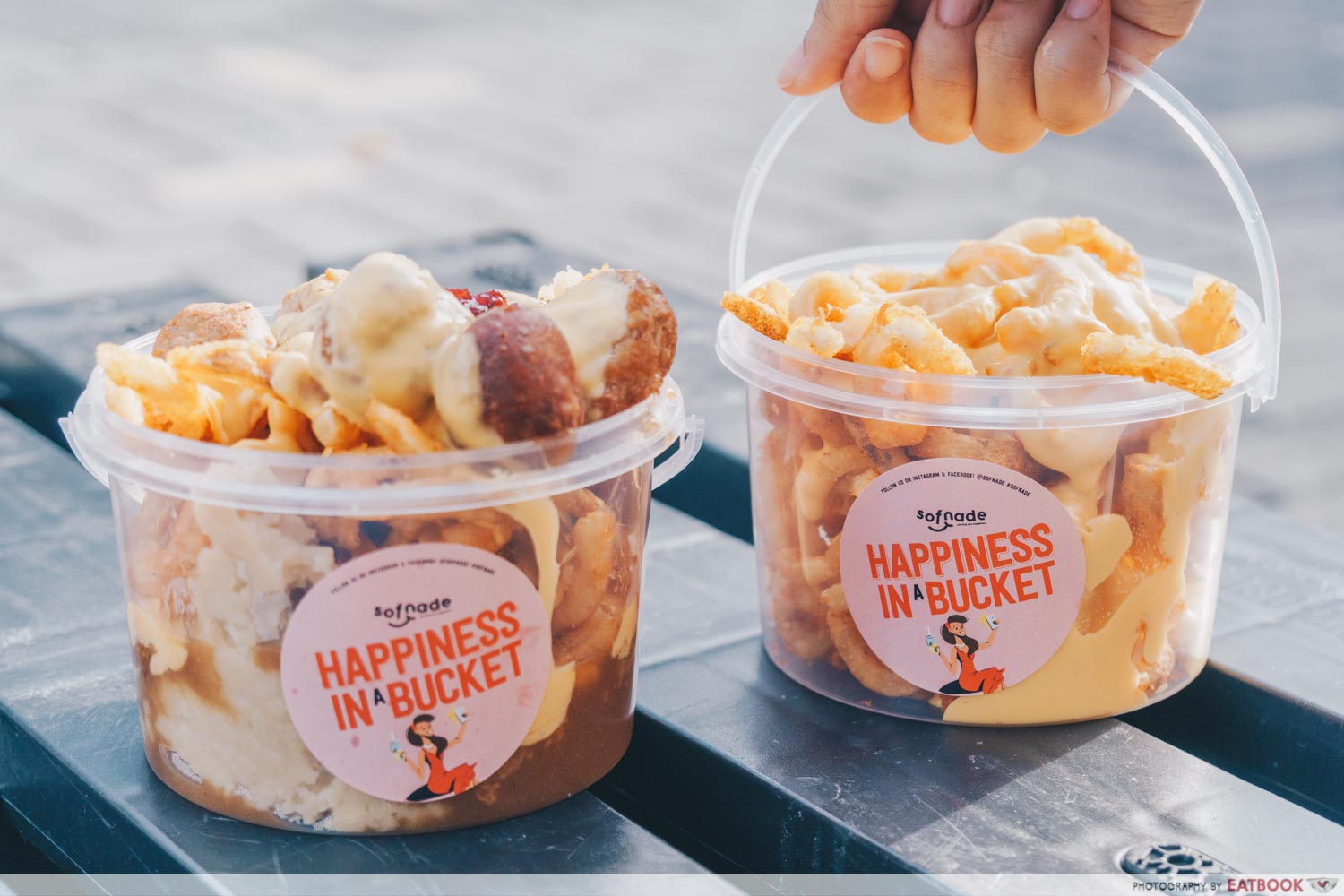 Selling their food in iconic reusable buckets, Sofnade is one stall that can be considered a food festival veteran. Get a hefty serving of their Meatballs In A Bucket ($10) and choose between their signature chicken and beef balls served on creamy mashed potatoes, or their satay meatballs which are permeated with a fragrant mix of herbs and spices.
If you're not looking for a full meal, try the sides on their list, such as the Twister Fries In A Bucket ($7) which comes drizzled with warm, indulgent nacho cheese.
---
10. Thirsty Panda
---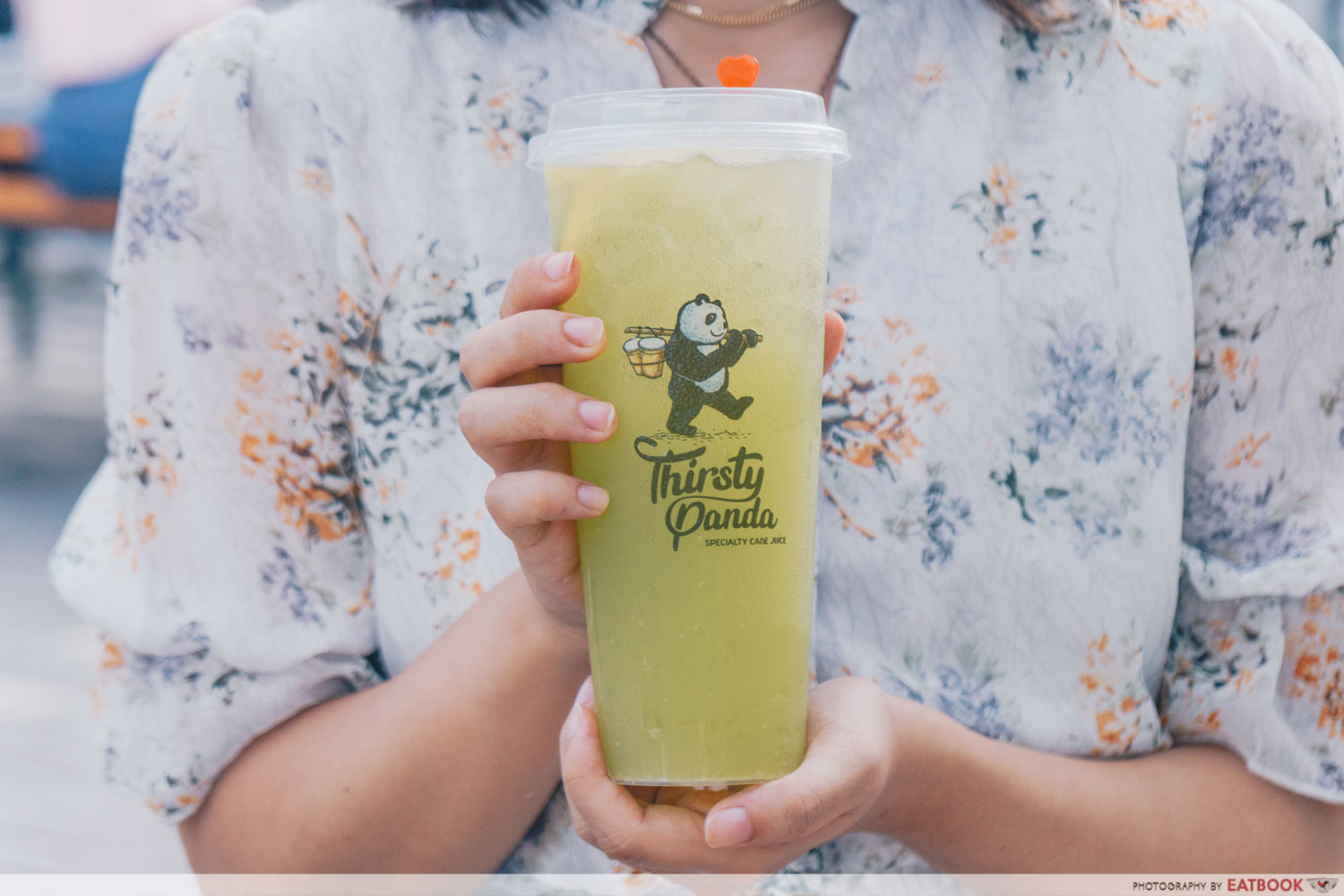 No food festival is complete without a sweet beverage to carry around. Thirsty Panda sells a whole range of uniquely-flavoured sugarcane juice that Singaporeans love. At Eatbox 2020, they are presenting a citrusy take on the local drink with their Mandarin Peel ($5) sugarcane juice. 
If you like the traditional beverage as it is, each cup of their Classic Cane Juice ($4) is freshly extracted from sugarcane in front of your eyes. 
---
More fun at Eatbox Singapore 2020
---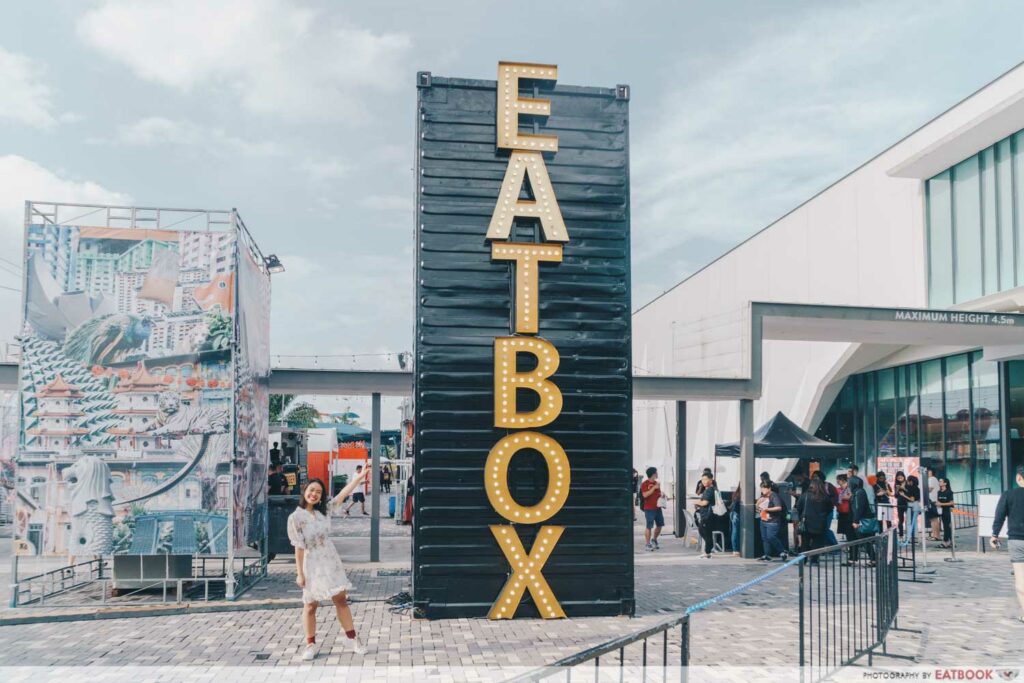 Since it's a mini food version of the highly raved Artbox festival, Eatbox can't leave us without tossing some local music acts and art fixtures into the mix. This year's Eatbox Singapore will feature live performances, including sets by singer-songwriter Nat Wu, alongside musical shows by the neon-lit percussion experts, MSUKUMO.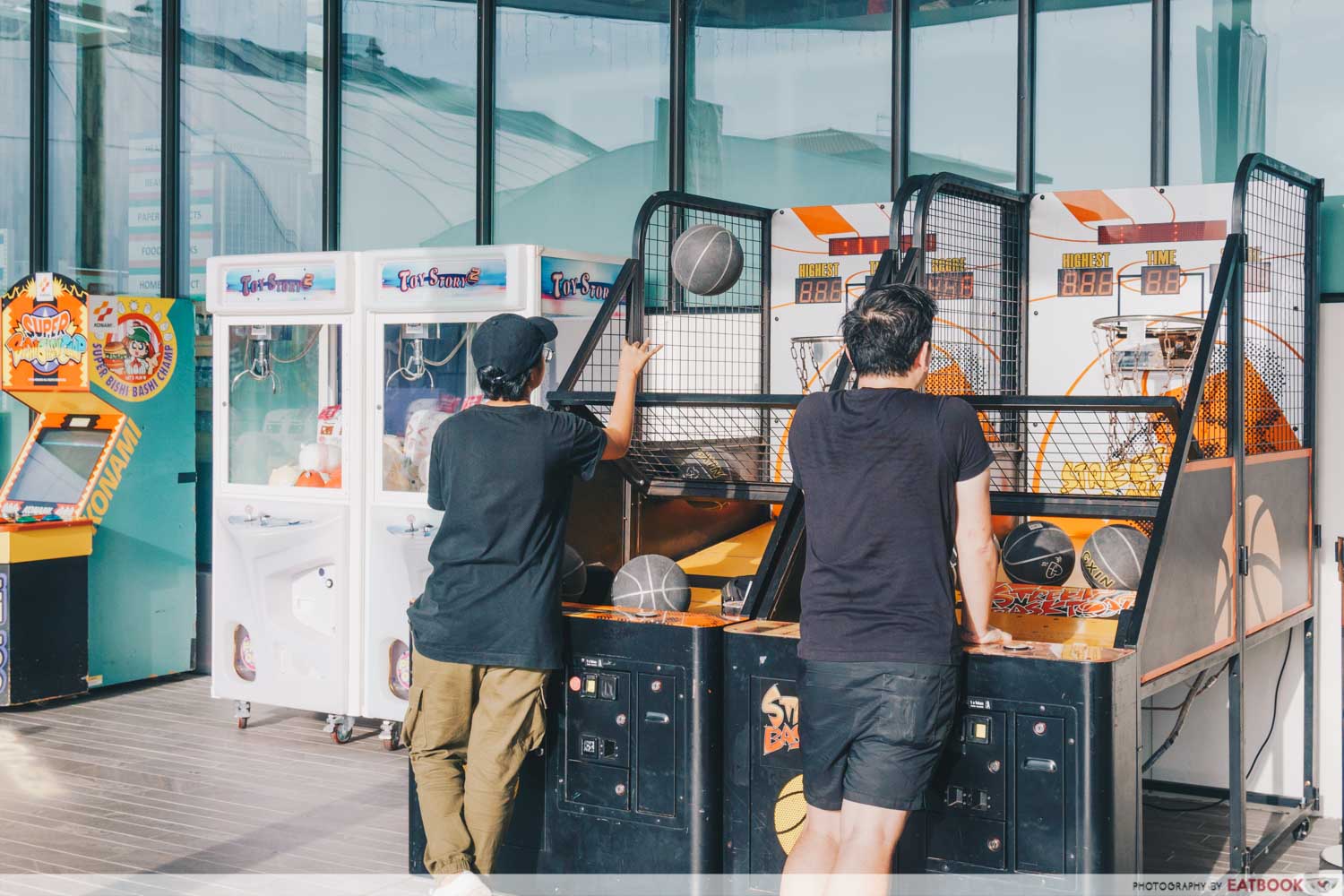 Those who love watching heart-racing competitions will be happy to hear that there will be a Competitive Eating Championship hosted by Food League Singapore, where contestants will flex their fast-eating skills. The competitive-at-heart can also show off their own abilities at the arcade games area of the carnival.
Address: 1 Pasir Ris Close, Open Plaza 1 & 2, Downtown East, Singapore 519599
Event date and time: 21-23 Feb and 28 Feb-1 Mar 2020, 3pm to 11pm 
Photos taken by Goh Kerrianne.
This post is brought to you by Eatbox Singapore.