---
Gula melaka desserts for those with a sweet tooth
---
When I was young, my ah ma always came home with a bag of sweets whenever she went out on Sundays, and coconut candies quickly became one of my childhood favourites. Even my strong dislike of grated coconut was something I overcame, so I could enjoy bursting ondeh ondeh into yummy molten sweetness. If you're a gula melaka fan, try a gula melaka dessert from this list the next time you crave a sweet pick-me-up!
---
1. Wildseed Café

---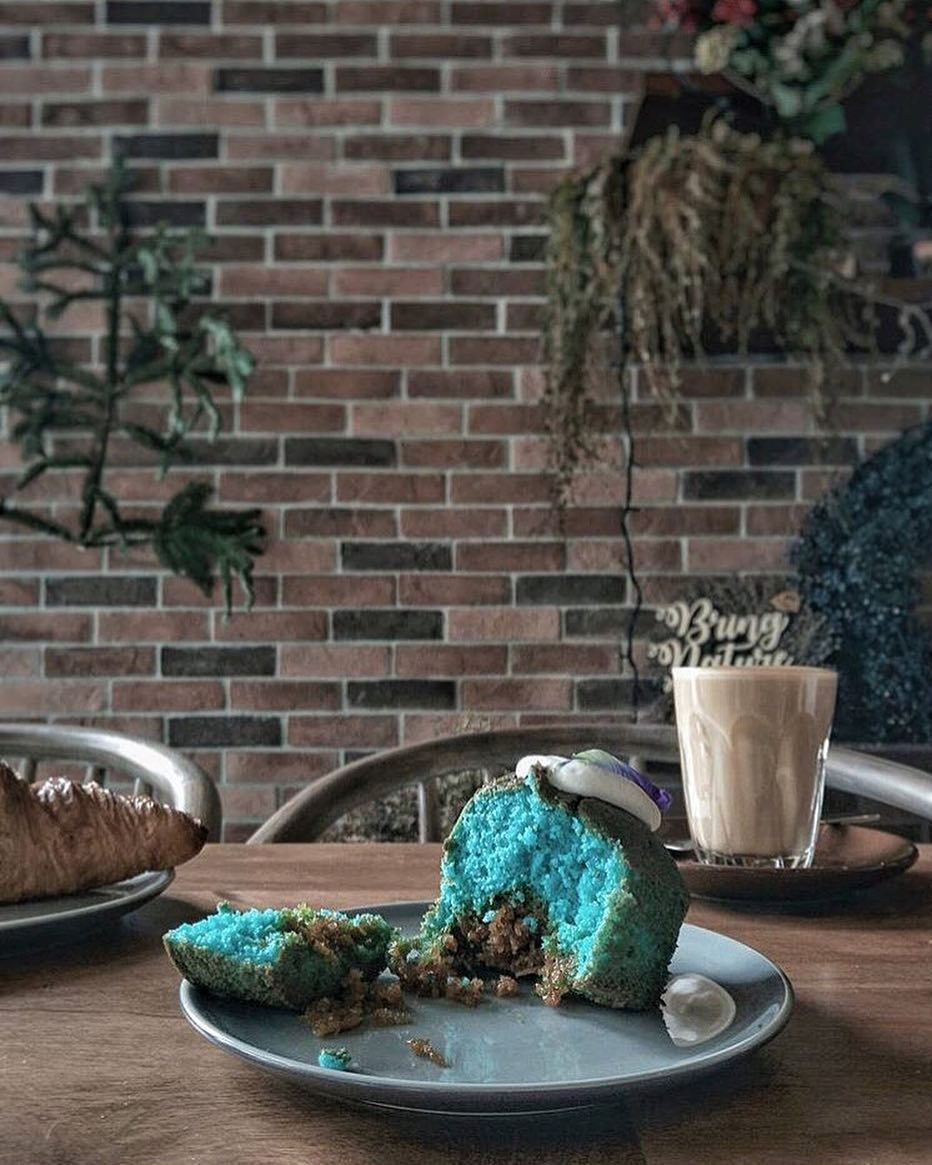 Image credit: @thesummerhousesg
Stopover at Wildseed Café for their Pea Flower Coconut Muffin ($7.50++), which is a bright blue snack that hides a core of coconut shreds and gula melaka. Its fragrance reminds you of ondeh ondeh but with a cakey texture. If you have more budget though, try their Atas Kaya Toast ($8++) for a kopitiam breakfast with a twist. It's zhnged with a sous vide egg that's drizzled with gula melaka, and comes with a slice of chewy sourdough bread that's slathered with butter and kaya. The dish is further dressed up with dessicated coconut.
Address: 3 Park Lane, Singapore 798387
Opening hours: Mon-Fri 10am to 5pm, Sat-Sun 9am to 5pm
Tel: 6262 1063
Website
Menu
---
2. Casuarina Curry
---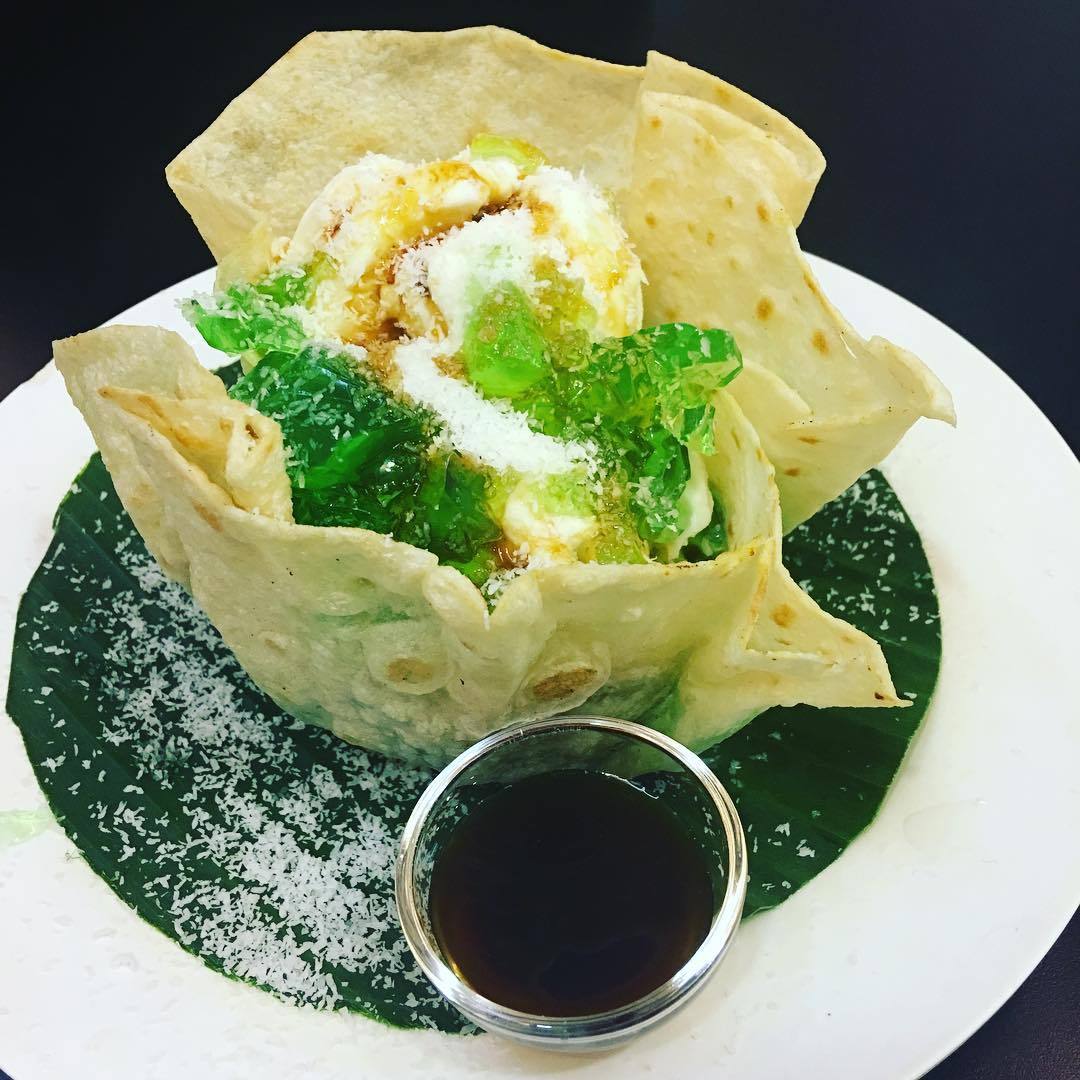 Image credit: @sharonperera1989
Ondeh Ondeh Prata ($4.90) from Casuarina Curry is a tissue prata that holds a generous scoop of coconut ice-cream and pandan jelly cubes. The former is strongly flavoured and creamy, making it delightful to combine with the crispy prata. Sprinkled around the prata is shredded coconut that looks like snow. Unless you have a mad sweet tooth, drizzle your side of gula melaka a little at a time!
Address: 187 Macpherson Road, Singapore 348545
Opening hours: Daily 7am to 12am
Tel: 6455 9093
Website
---
3. ButterScotch
---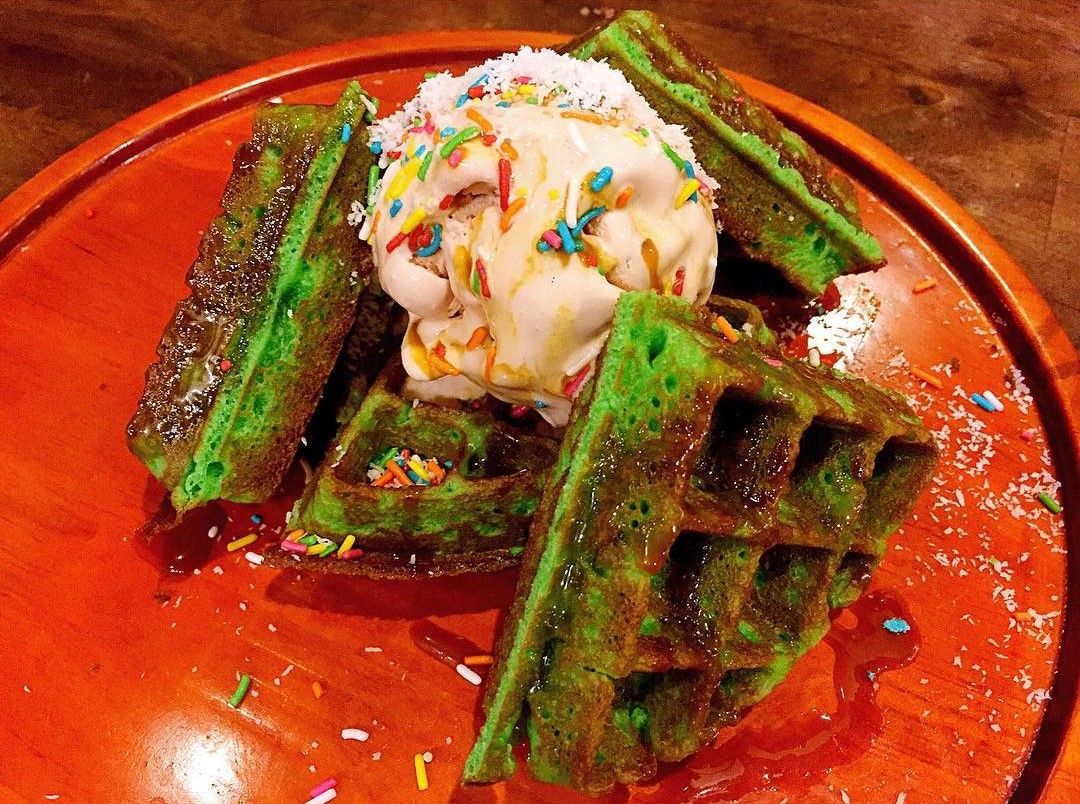 Image credit: @_lvin_
Waffle desserts are aplenty but for a unique flavour, try ButterScotch's Ondeh Ondeh Waffles ($12+). Fragrant pandan waffles, topped with a scoop of luscious vanilla ice-cream, are decorated with gula melaka syrup and coconut flakes. This dessert by the Muslim-owned café is a compelling combination of the flavours of an ondeh ondeh.
Address: 164 Bukit Merah Central, #01-3625, Singapore 150164
Opening hours: Mon-Fri 11pm to 10pm, Sat 10am to 10pm
Tel: 6271 1164
Website
---
4. Overrun
---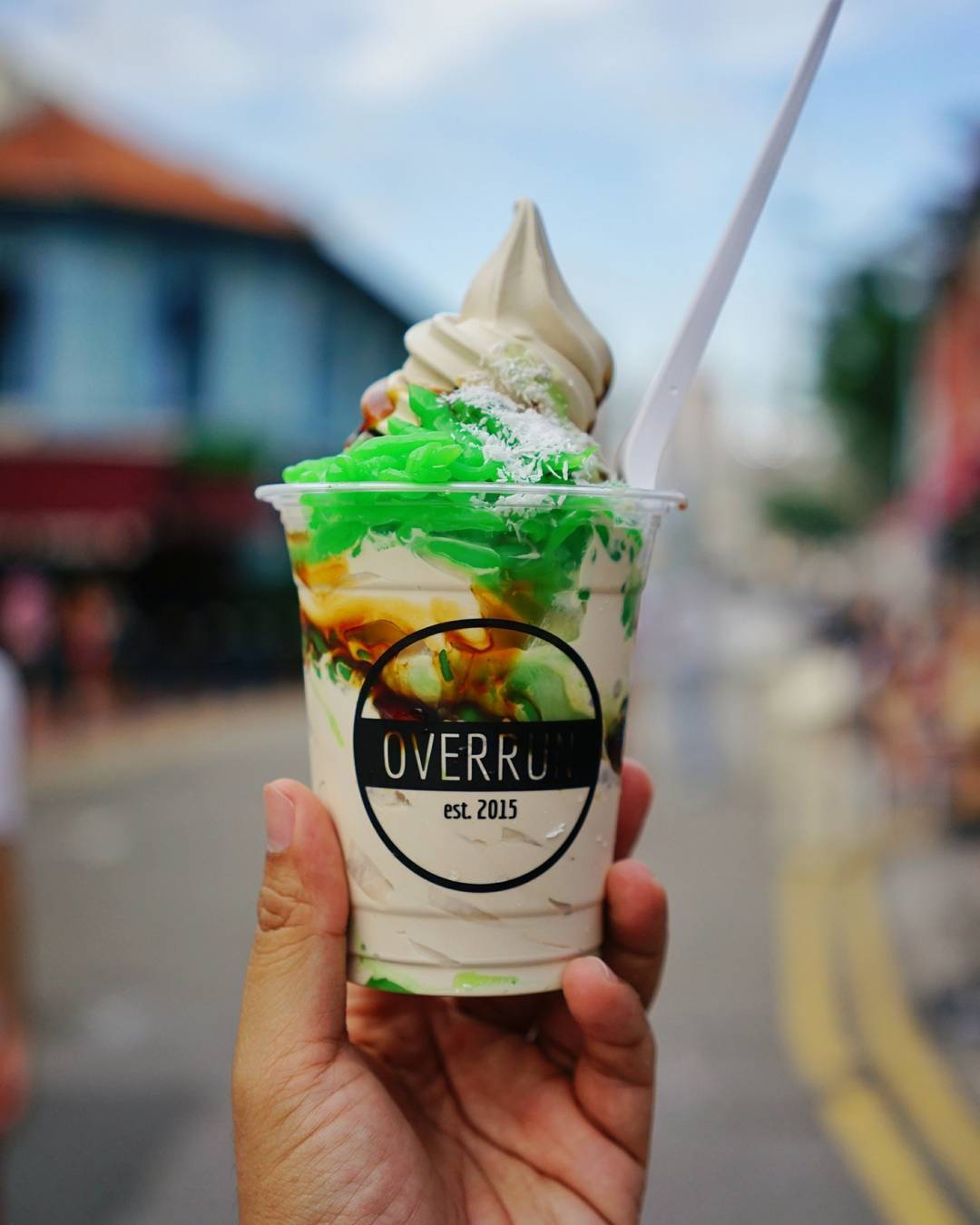 Image credit: @lkkben
Overrun is a Muslim-owned takeaway that is known for their soft serve. Their bestseller, Standard Chendol ($6), is a generous swirl of gula melaka soft serve with grated coconut, pandan jelly, and a drizzle of gula melaka syrup. You can decorate it with ingredients like chocolate cookies or marshmallows at $0.50 each. Durian lovers, however, may prefer Durian Chendol ($7), which is the Standard Chendol with a scoop of durian pulp. If you drop by, try out Chendol Cheesecake ($6), one of Overrun's five new creations added to their menu in August!
Address: 18 Baghdad Street, Singapore 199657
Opening hours: Tue-Thur 12pm to 8:30pm, Fri 2pm to 9:30pm, Sat-Sun 12pm to 9:30pm
Tel: 9271 2616
Website
---
5. AEIOU

---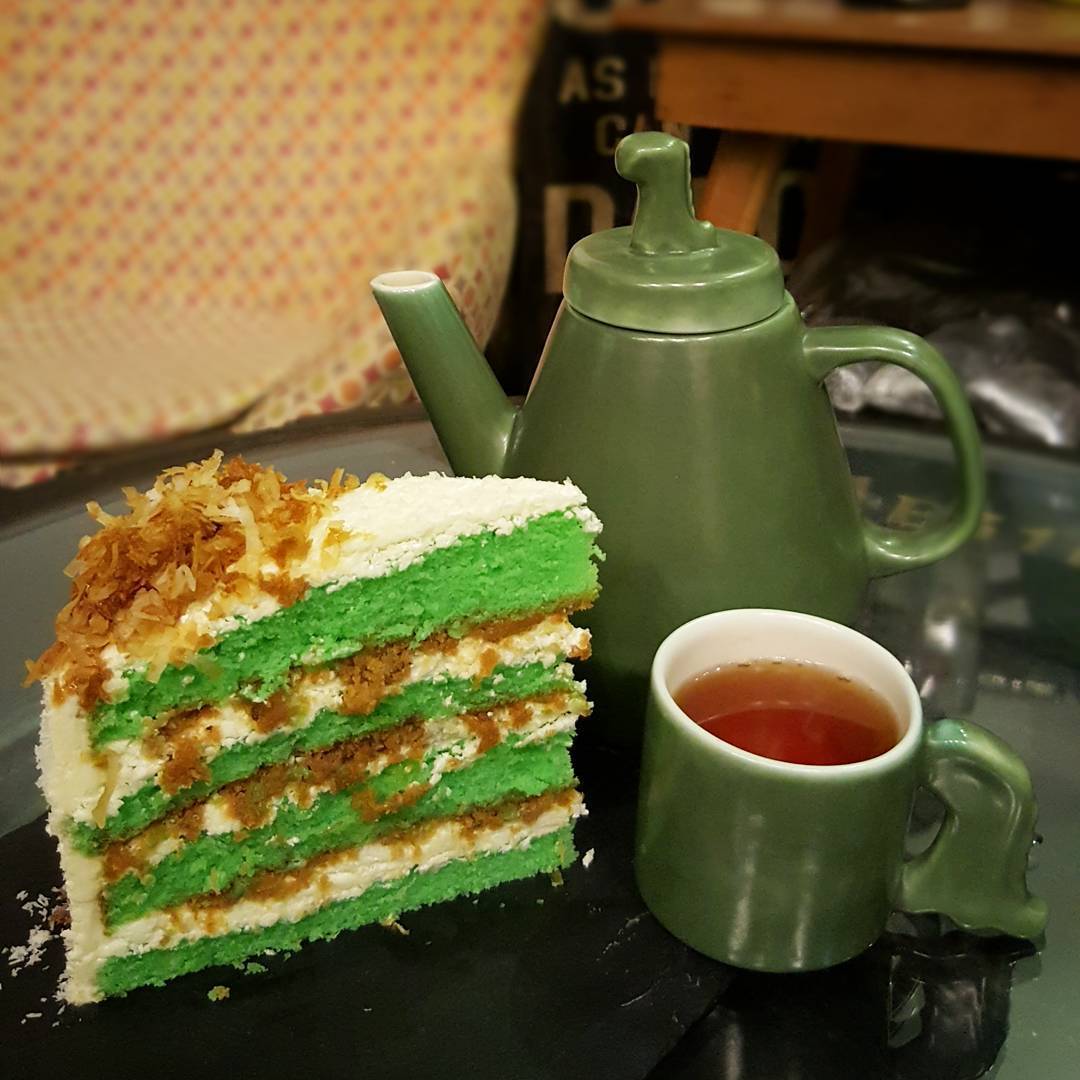 Image credits: @aeioulife
A must-try at AEIOU is their Ondeh Ondeh Cake ($9 for a slice, $90 for a cake). It's moist, fragrant, and captures the flavours of an ondeh ondeh spot-on. It tastes just like the actual kueh, with its texture being the only thing that gives it away. It's quite dense though, making it more suitable after a light meal or for afternoon tea.
Address: 111 King George's Avenue, Singapore 208559
Opening hours: Daily 11am to 10pm
Tel: 6291 2698
Website
---
6. Traditional Haig Road Putu Piring
---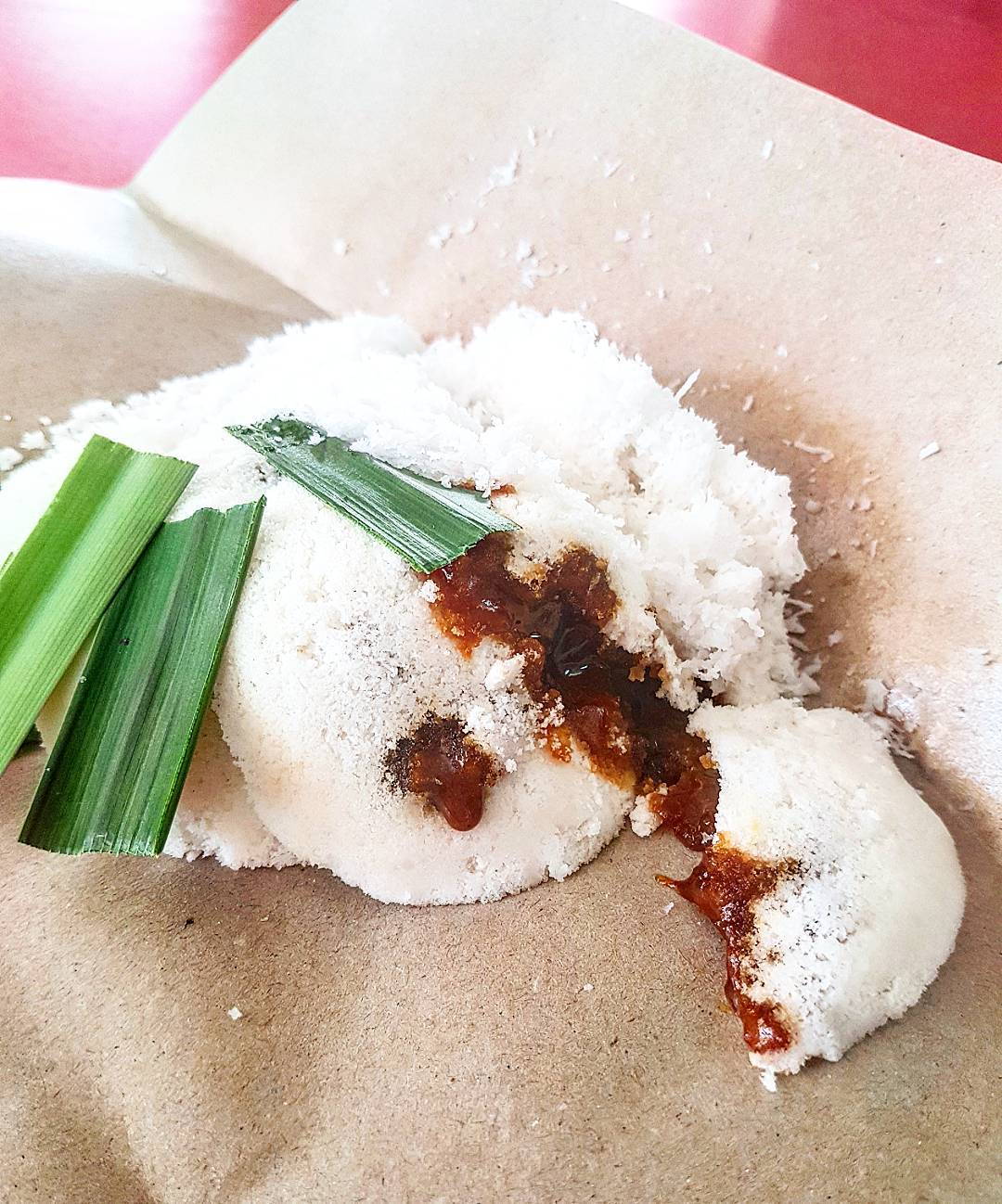 Image credit: @ohsocassie
Made with rice flour, putu piring is like a kueh tutu, but filled with palm sugar instead of peanuts or coconut. At $2.50 for five pieces, Haig Road Putu Piring makes this old-school snack using a traditional method, with the same recipe as when they were founded 32 years ago. Each piece of rice cake is soft, moist, and fluffy with a generous filling of aromatic gula melaka. The grated coconut lends a lovely crunch, and the steamed cakes are topped with a pinch of salt.
Check out more old-school snacks from these traditional bakeries around Singapore!
Address: 14 Haig Road, #01-07, Haig Road Market & Food Centre, Singapore 430014
Opening hours: Daily 11am to 10pm
Tel: 6225 5632
Website
Info on their Ang Moh Kio outlet
---
7. Kori King

---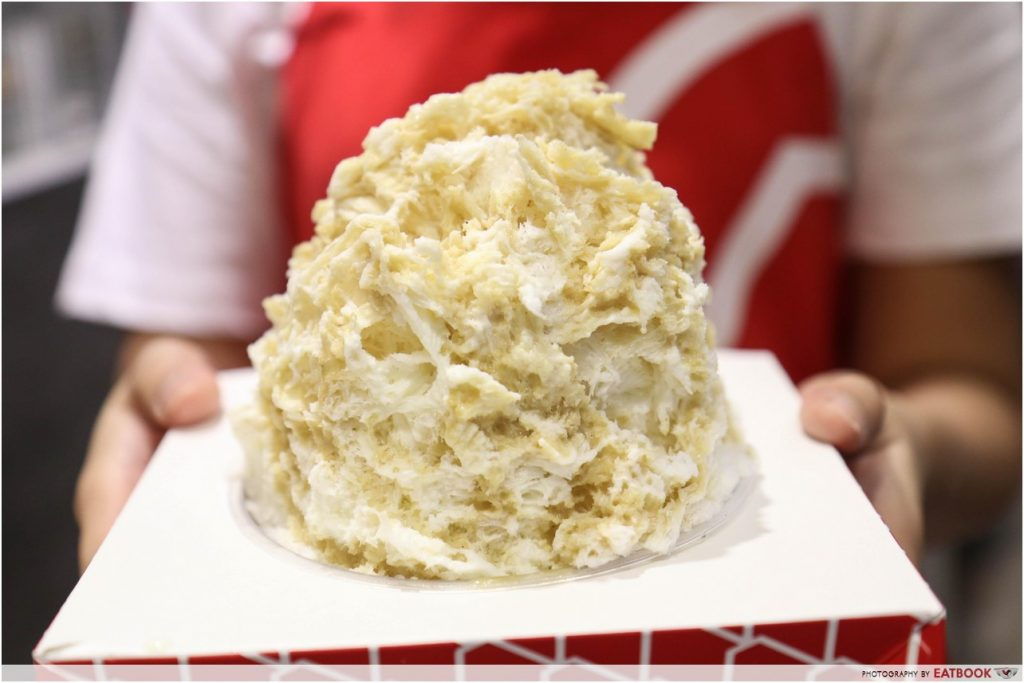 Instead of ice kachang or bingsu, try a Japanese shaved ice dessert – kakigori – the next time you're up for a cold treat.  Kori King recently opened in Singapore and Gula Melaka ($5.90) is one of their eight kakigori flavours. The base of milky shaved ice that is subtly sweetened by gula melaka sauce is like a creamier version of chendol. Each serving comes with four small mochi balls, but you can jazz it up with more toppings such as azuki beans, coconut flesh, and tapioca pearls, at an additional $1 each.
Check out our full review of Kori King!
Address: 2 Handy Road, #01-01, The Cathay, Singapore 229233
Opening hours: Daily 12pm to 10pm
Tel: 6734 7697
Website
Menu
---
8. Labyrinth

---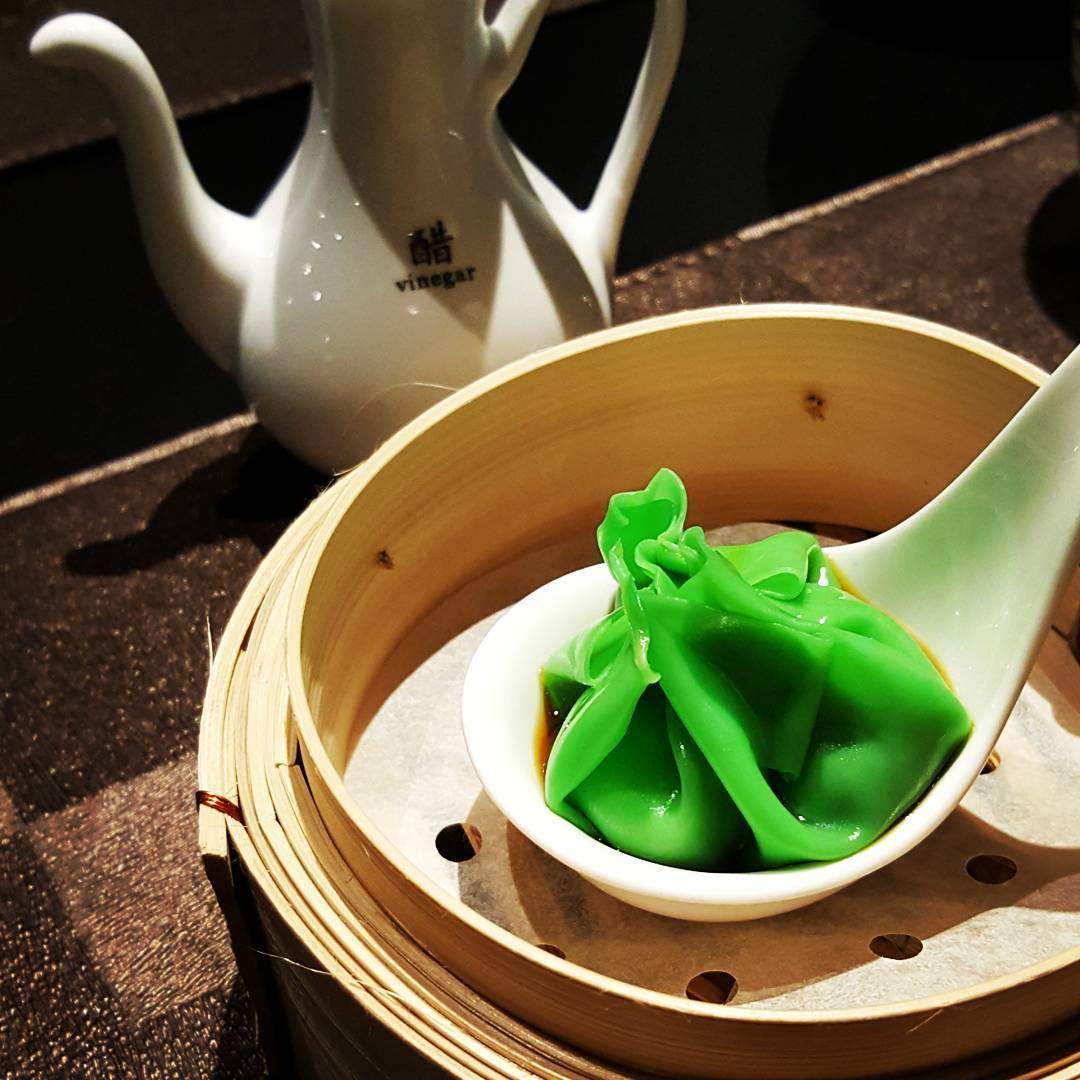 Image credit: @piggyteng
For the adventurous, put Chendol "Xiao Long Bao" ($8++) on your to-eat-list because the one-star Michelin restaurant Labyrinth gives the savoury steamed dumpling a sweet makeover. Red bean, grass jelly, and coconut milk engulfs your tongue as you bite through its smooth skin. Drench each piece in gula melaka sauce poured from a vinegar pot to sweeten your mouthful. The crazy food combination sounds unfathomable but it works!
Check out other crazy food combinations or Michelin-starred restaurants!
Address: 8 Raffles Avenue, #02-23, Esplanade Mall, Singapore 039802
Opening hours: Tue-Wed 12pm to 3pm and 6:30pm to 11:30pm, Thur-Fri 12pm to 3pm and 6pm to 11:30pm, Sat-Sun 6pm to 11:30pm
Tel: 6223 4098
Website
Menu
---
9. All Things Delicious
---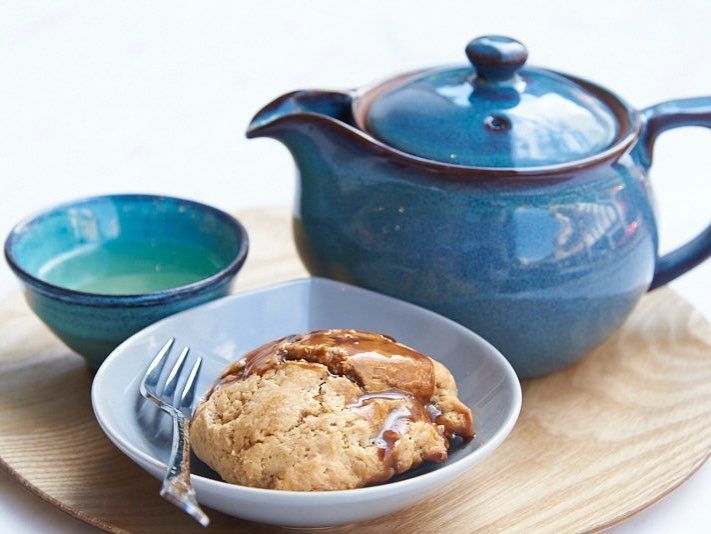 Image credit: @allthingsdelicioussg
All Things Delicious has gained a reputation for delicious cakes and bakes. The crumbly scones from the Muslim-owned restaurant are freshly baked, tasting buttery without being dense or heavy. Try their Gula Melaka Scone ($3.50++), which sweetens the quintessential English tea time snack with an Asian touch.
Address: 34 Arab Street, #01-01, Singapore 199733
Opening hours: Tue-Sun 8am to 7pm
Tel: 6291 4252
Website
---
10. Bread Yard
---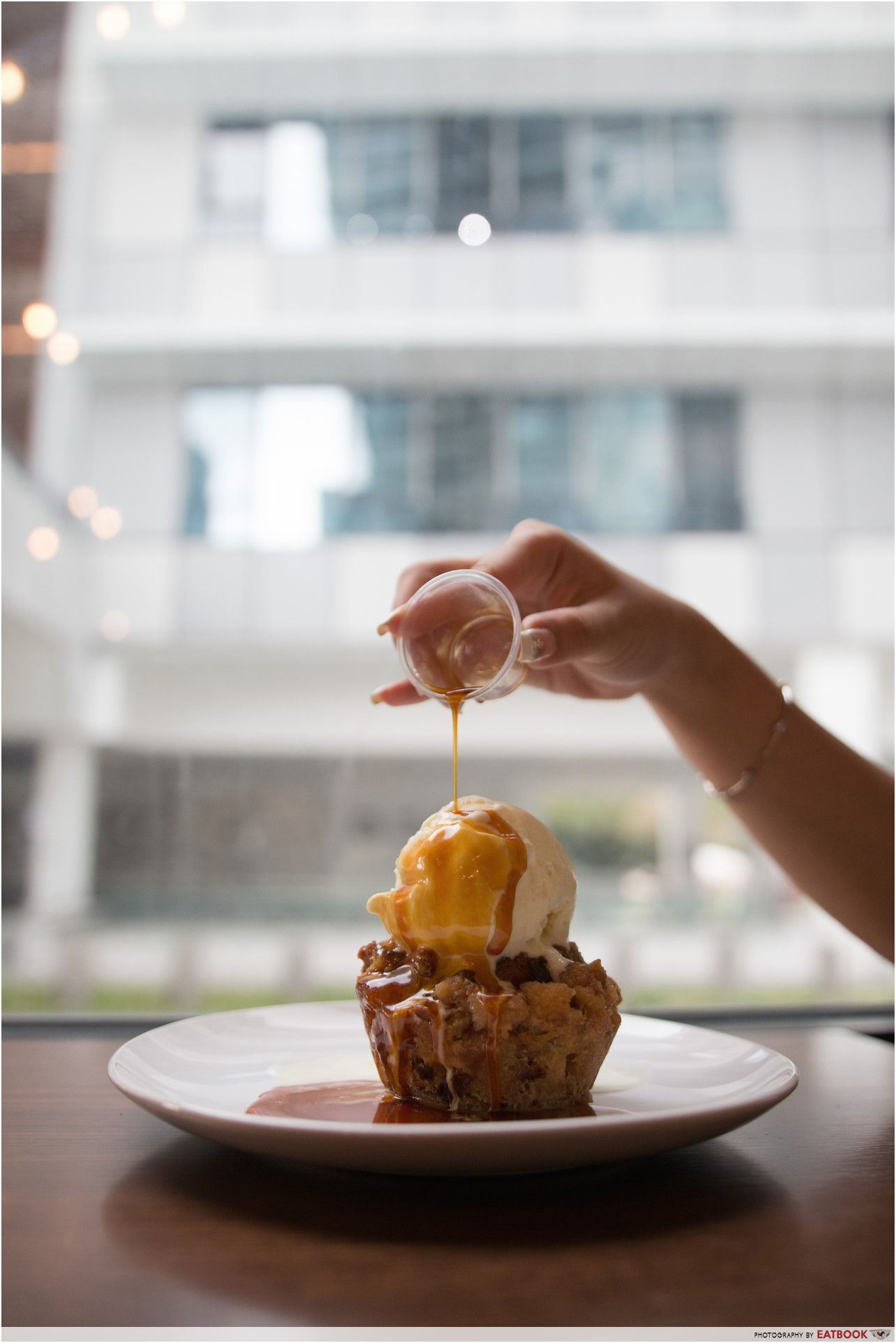 Do yourself a favour when you're at Bread Yard by indulging in their Banana Coconut Bread Pudding ($6). The bread pudding is served warm, and has a strong taste of both banana and coconut. A scoop of vanilla ice-cream comes with this dish so you can pair every mouthful of pudding with cold and creamy goodness. Drizzle on the side a generous amount of gula melaka caramel, which is thick and rich with flavour. It's a comforting dessert to share with two to three friends because eating it by yourself could get jelak.
Check out our full review of Bread Yard!
Address: 1 Fusionopolis Place, #01-23/24, Galaxis, Singapore 138522
Opening hours: Mon-Sat 8am to 7pm, Sat 9am to 2:30pm
Tel: 9773 5318
Website
Menu
---
Get gula melaka for your next dessert
---
The next time you're craving gula melaka, check out one of the desserts on this list. For a quick fix, you can also check out Macs' Chendol McFlurry, which is back in stores!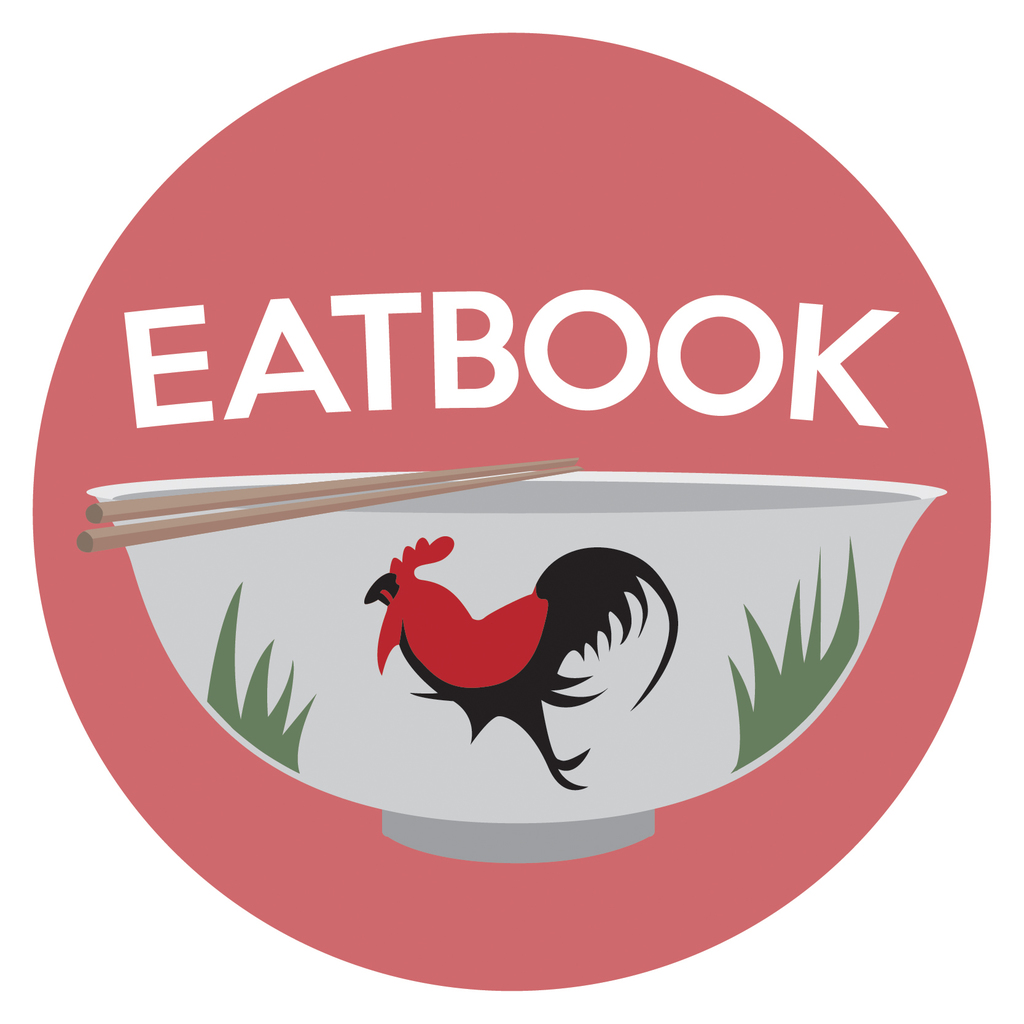 Drop us your email so you won't miss the latest news.