Lao Dong Bei Shao Kao mala buffet in Chinatown
I often visit Chinatown to dine at some of the best ma la xiang guo stalls found there. Recently, while en route to burn over a bowl of da la xiang guo, I cut through the reopened Chinatown Food Street, and was greeted by a new buffet ma la barbecue and hotpot stall called Lao Dong Bei Shao Kao 老東北燒烤. Piqued by the combination of ma la, hotplate barbecue, and the friendly $19.90 price tag for dinner per adult, I canned my xiang guo plans and snagged a table.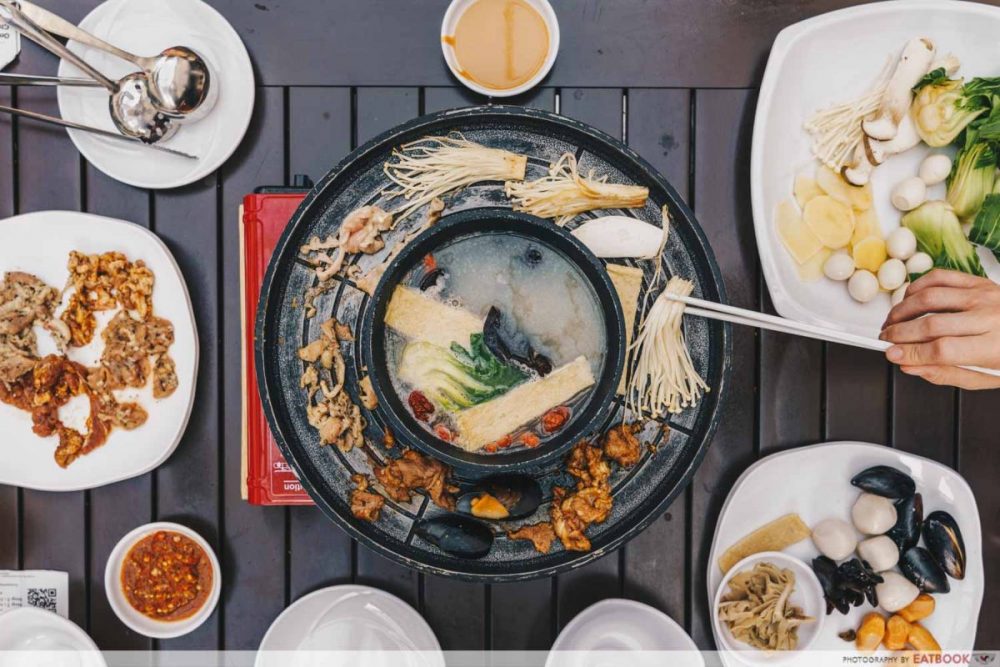 Food at Lao Dong Bei Shao Kao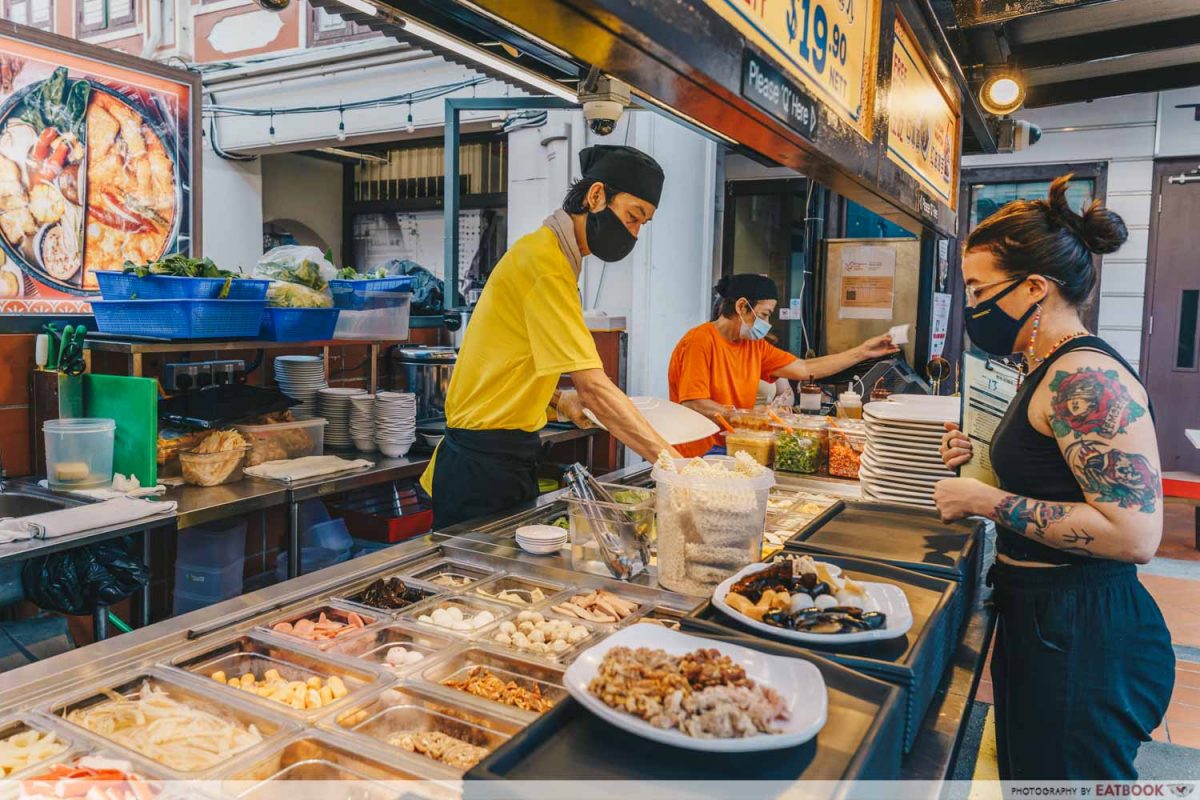 This humble hawker store displays over 40 ingredients to pick from, including nine types of marinated meats and eight types of seafood. Other categories are vegetables, mushrooms, carbs, offal, and processed bites like cheese tofu and hotdogs.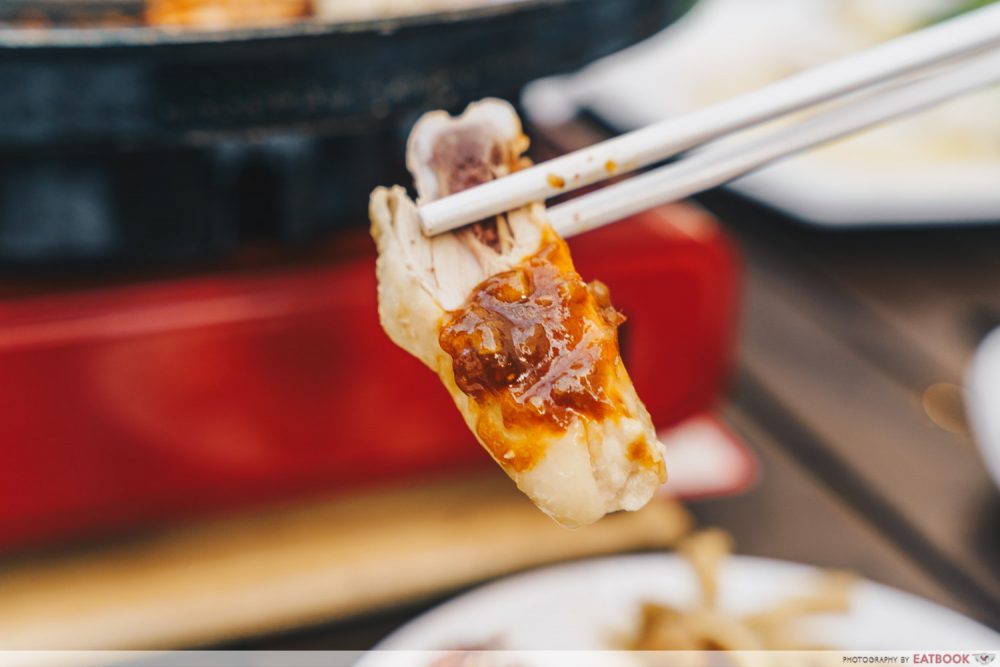 You also get two unlimited cooked sides: Sichuan Chicken and Wontons In Chilli Oil Sauce.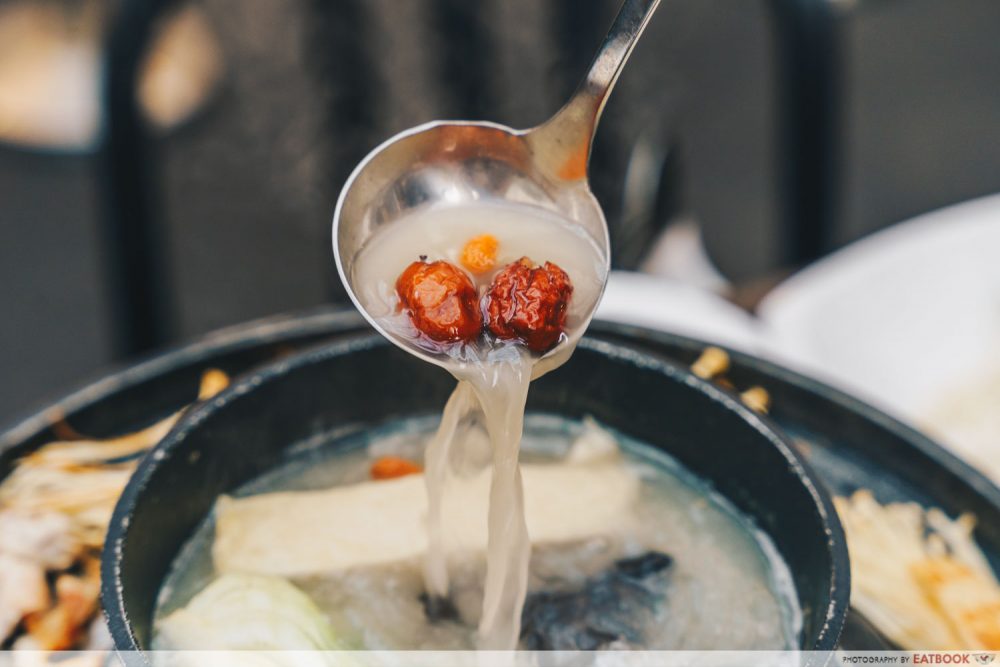 Once you pay, a two-in-one soup pot and hotplate grill get promptly served to your table. You don't get to choose your soup base: it is fixed as double-boiled chicken broth, but the soup was surprisingly full-flavoured and comforting for the price, so I didn't feel too hung up for the lack of choice.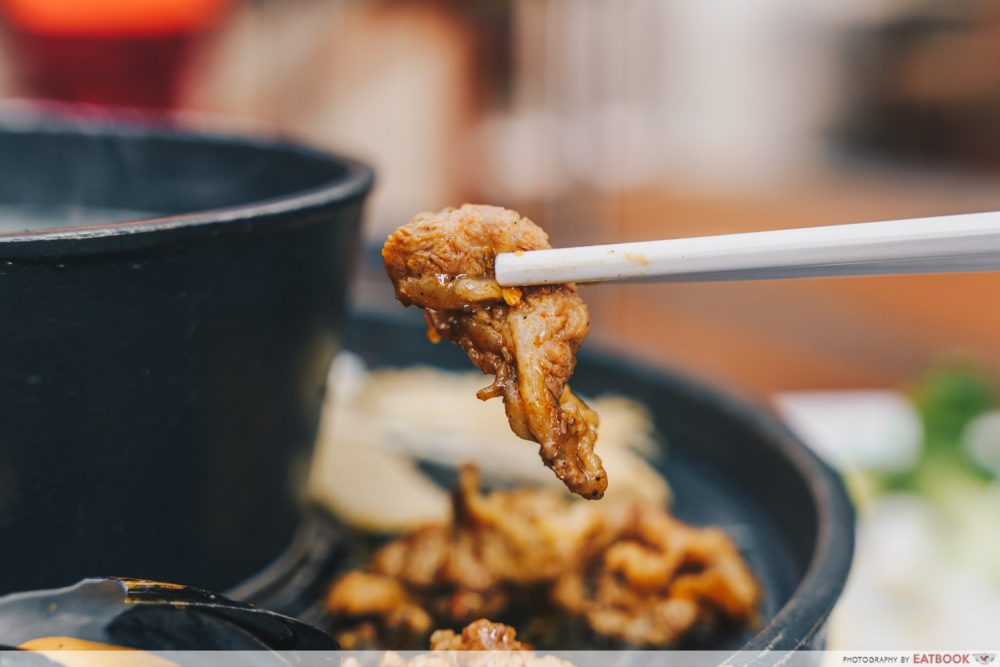 The Chinese-style barbecue is really the star, so I ordered servings of every meat on the menu, doubling down on the ma la Spicy Pork Loin, Beef, and Lamb. 
I liked that the meats were portioned generously so my dining companion and I didn't have to grapple over who would go get more ingredients from the stall every five minutes. The ma la meats were very well-marinated, with the unmistakable kiss of Sichuan peppercorns.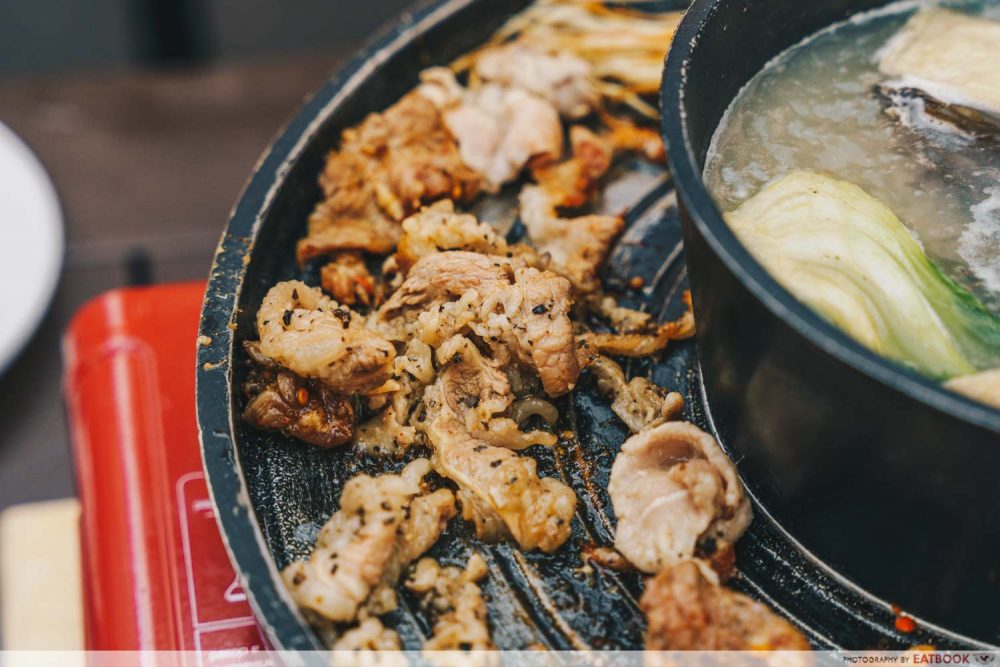 The spice level was definitely a wei la (less spicy), probably to cater to a broader range of customers. If you want to turn up the spice, DIY your own chilli sauce at the stall, which has an array of condiments to choose from.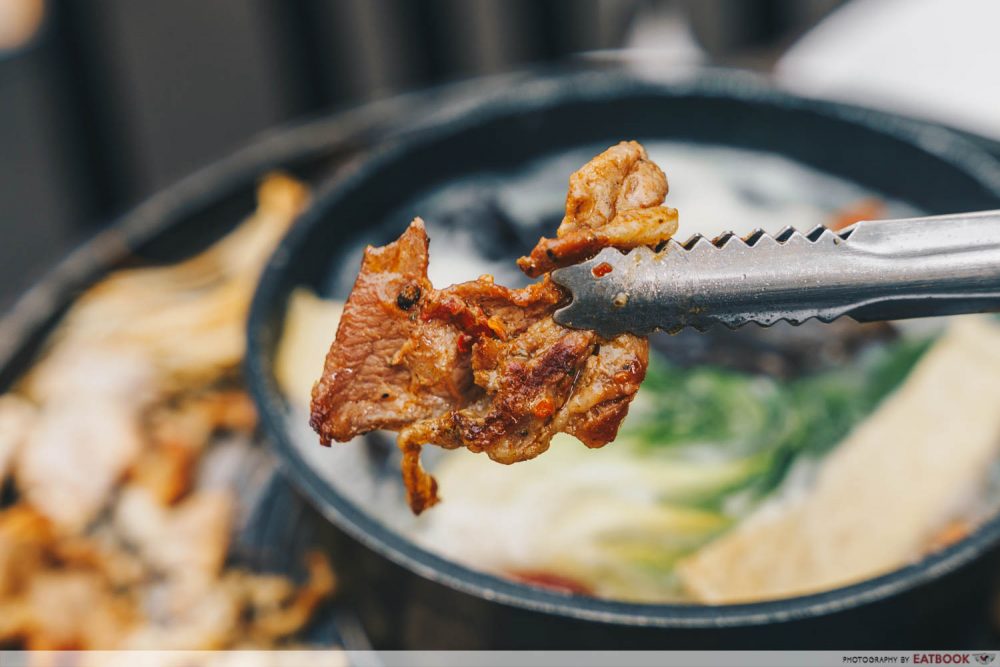 Other meat options included Black Pepper Pork Belly, Beef, and Chicken, or plain Pork Belly, Pork Loin, and Chicken.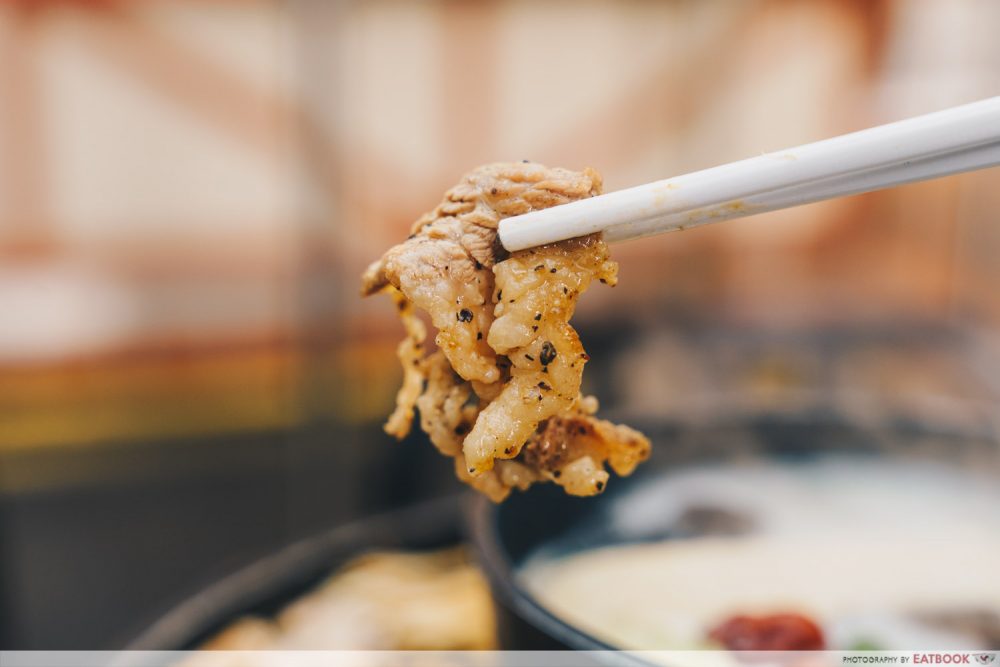 The black pepper was definitely subtle, with the barest hint of black pepper dressing each slice.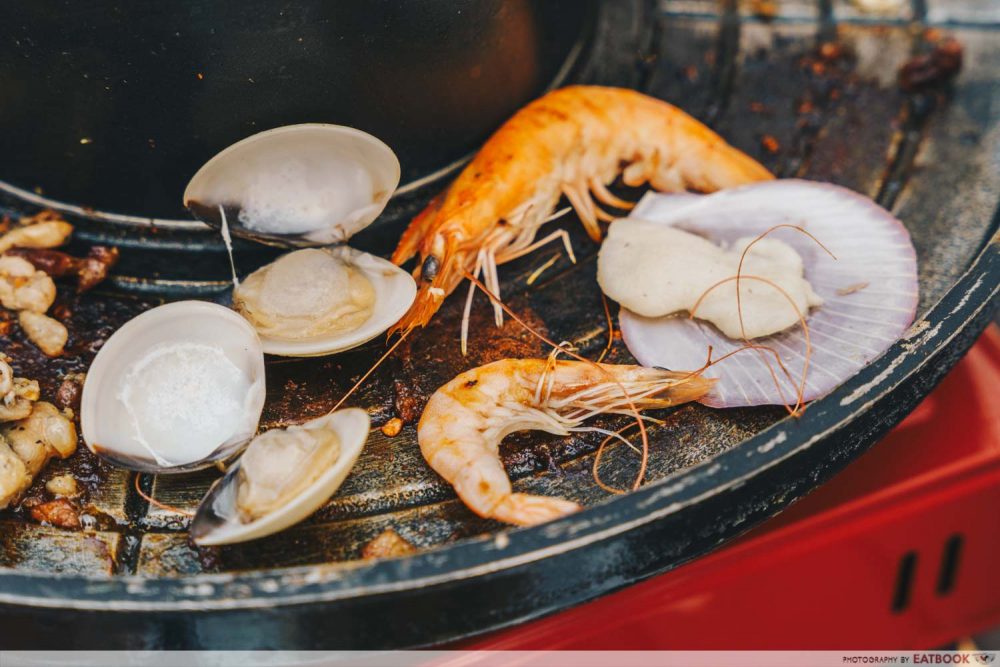 For seafood, don't expect ocean-fresh quality, nor massive shellfish. The Prawns and Scallops were smaller in size, but they were still tasty, though little to write home about.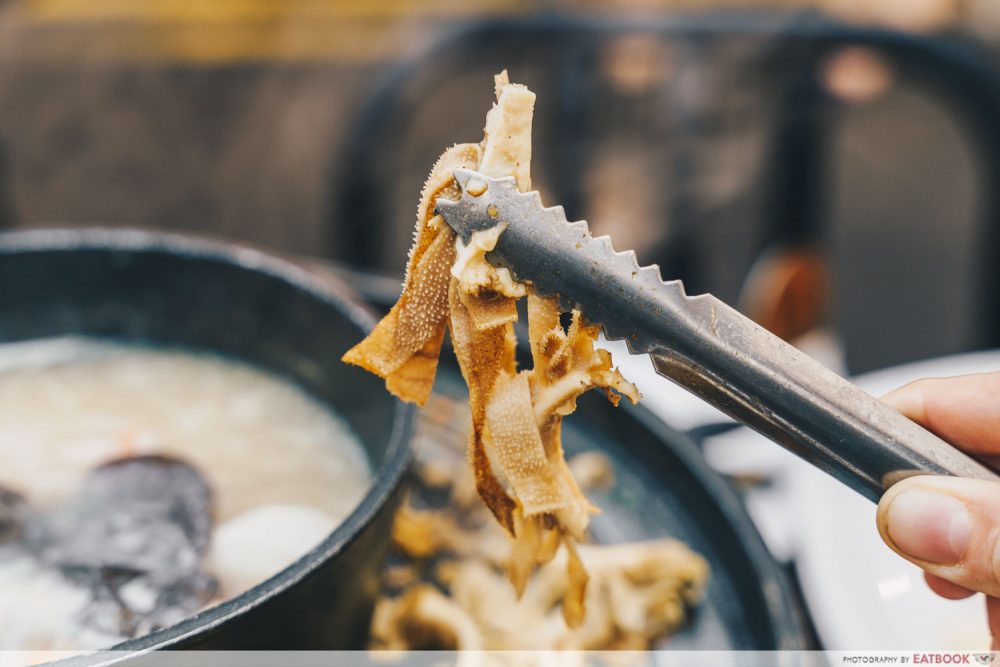 Adventurous eaters can enjoy the offal available, like Beef Omasum and Pork Liver. While the omasum could do with some seasoning to alleviate its blandness, the liver was generously portioned and far from powdery when grilled.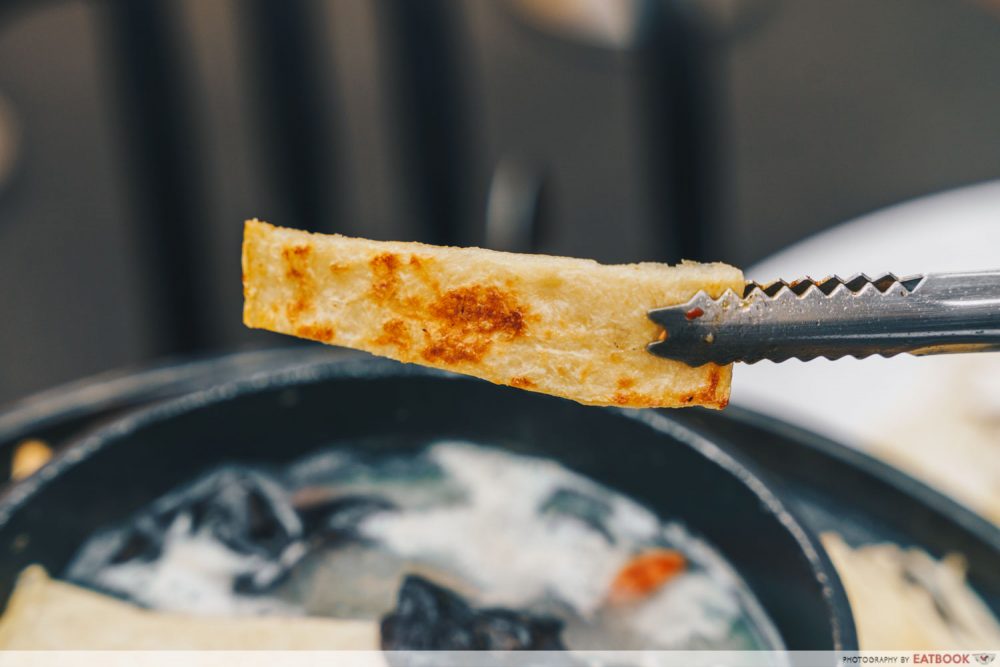 As I am not big on innards, I instead gunned for the other items on the menu, digging into Cheese Sausage, Fishballs, and the best part—unlimited Quail Eggs.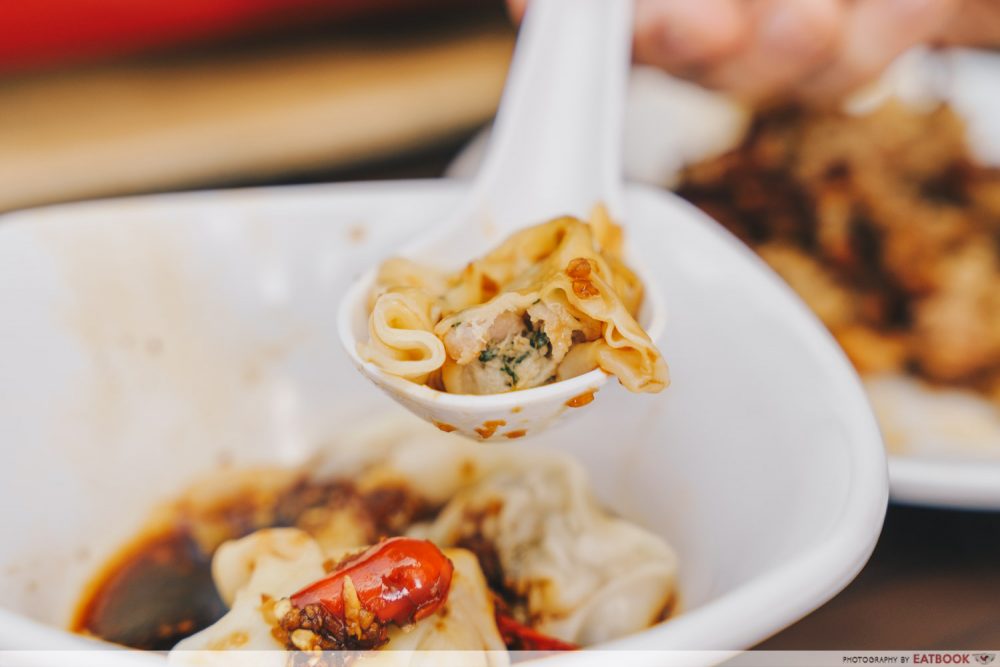 Apart from the ingredients, the cooked sides are worth getting more of, especially the piquant Wontons In Chilli Oil Sauce, dressed in aromatic chilli oil and tart rice vinegar.
Sweetea Caffe Review: IG-Worthy Rustic Cafe Has Afternoon Tea On A Balcony With Chinatown Views
Ambience at Lao Dong Bei Shao Kao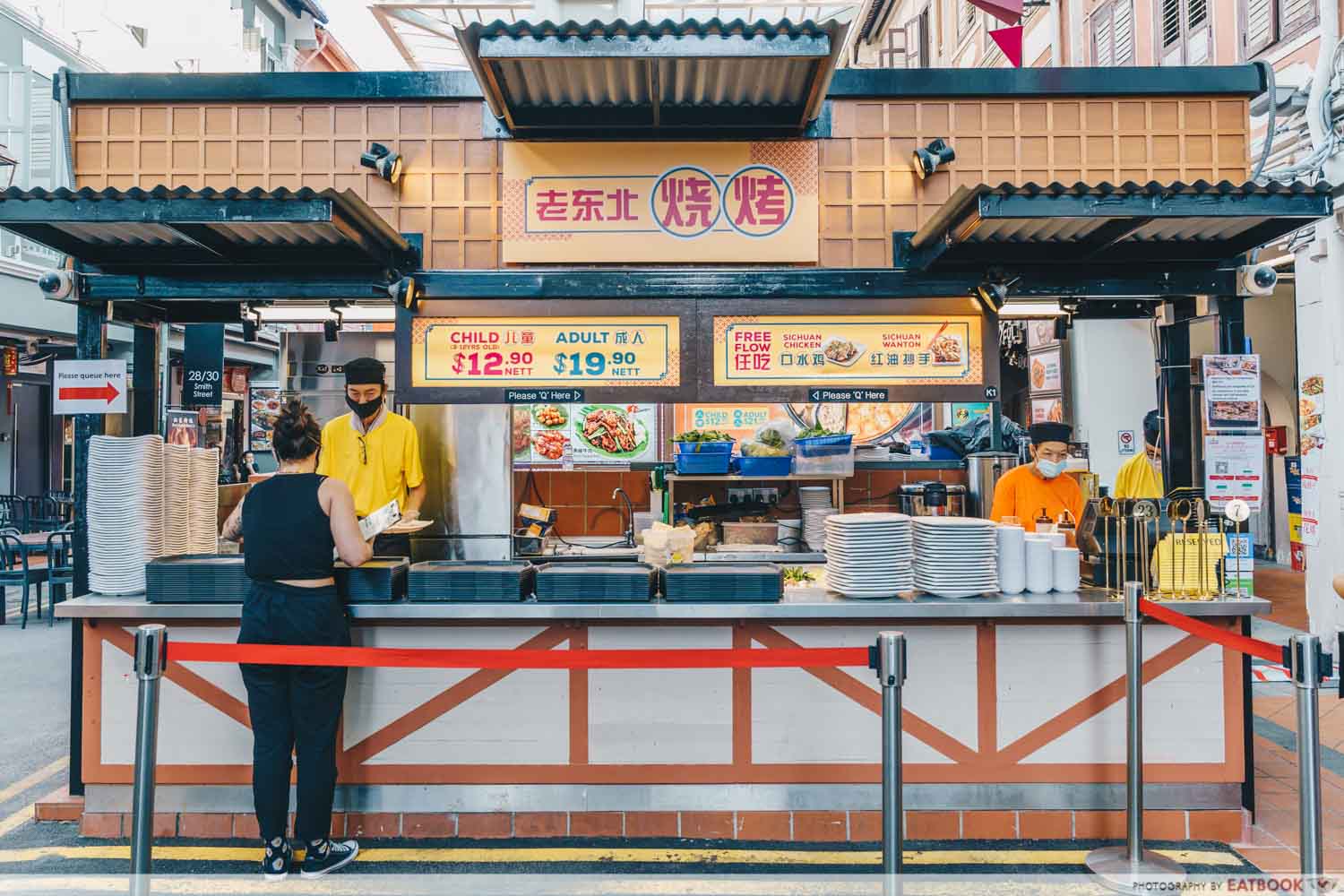 Located adjacent to Chinatown MRT Station, Lao Dong Bei Shao Kao fronts Chinatown Food Street. Seating is al fresco, but you're shaded from the elements and kept cool with fans around the street.
While the stretch is fashioned like a kopitiam, you do get very friendly and attentive service from the stall's staff, who ensure your hotpot soup is filled to the brim, and offer to change your grill mid-meal.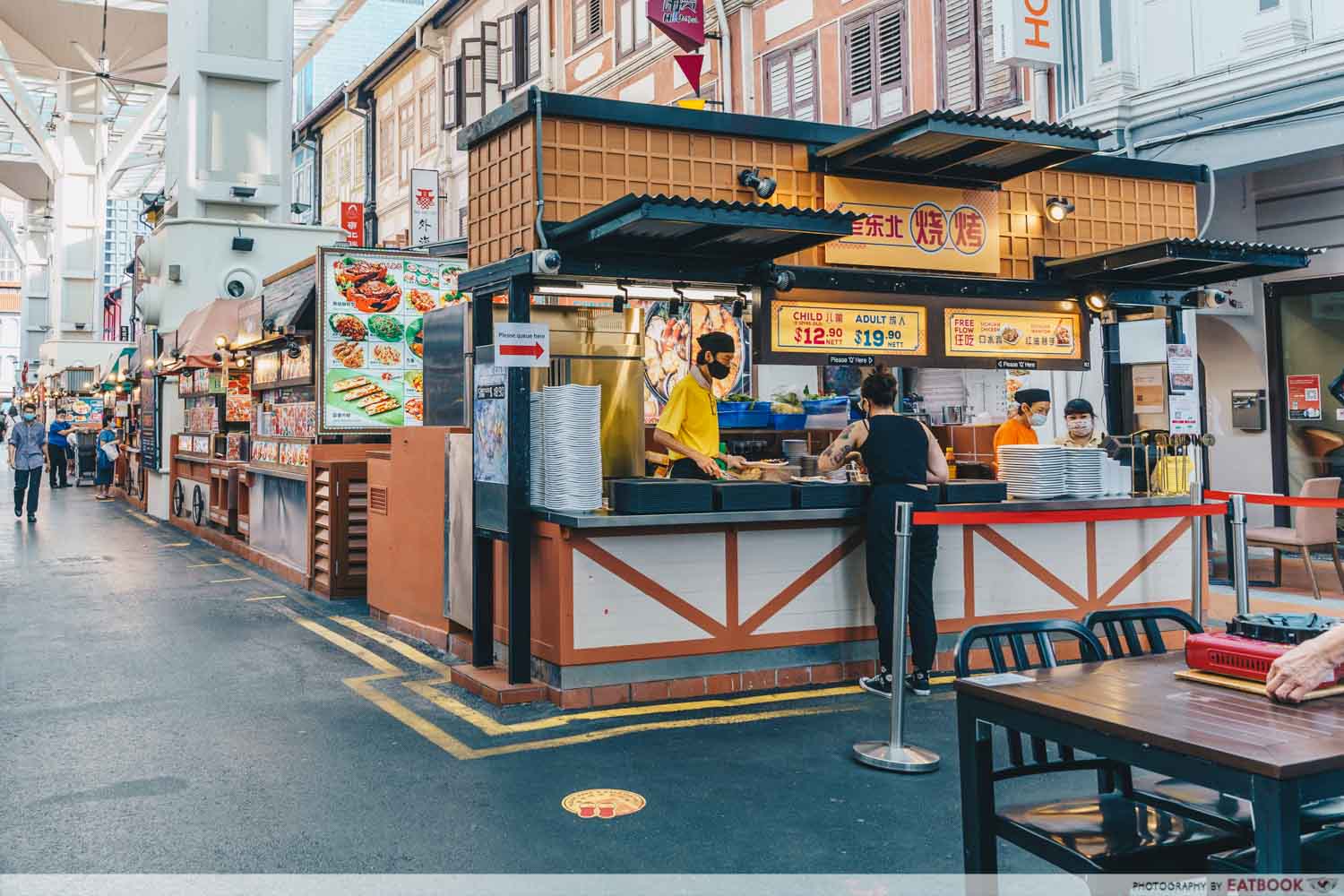 I also liked the fact you're surrounded by other food stalls, including renowned hawkers like Famous Eunos Bak Chor Mee so you can mix up your meal. The street also has five other newly-launched buffet concepts, from mookata to laksa steamboat, which you can also order from to have more all-you-can-eat options at your table, with a minimum of four diners.
20 Maxwell Food Centre Stalls Including $1 Noodles, Curry Chee Cheong Fun, And Ondeh-Ondeh For CBD Lunches
The verdict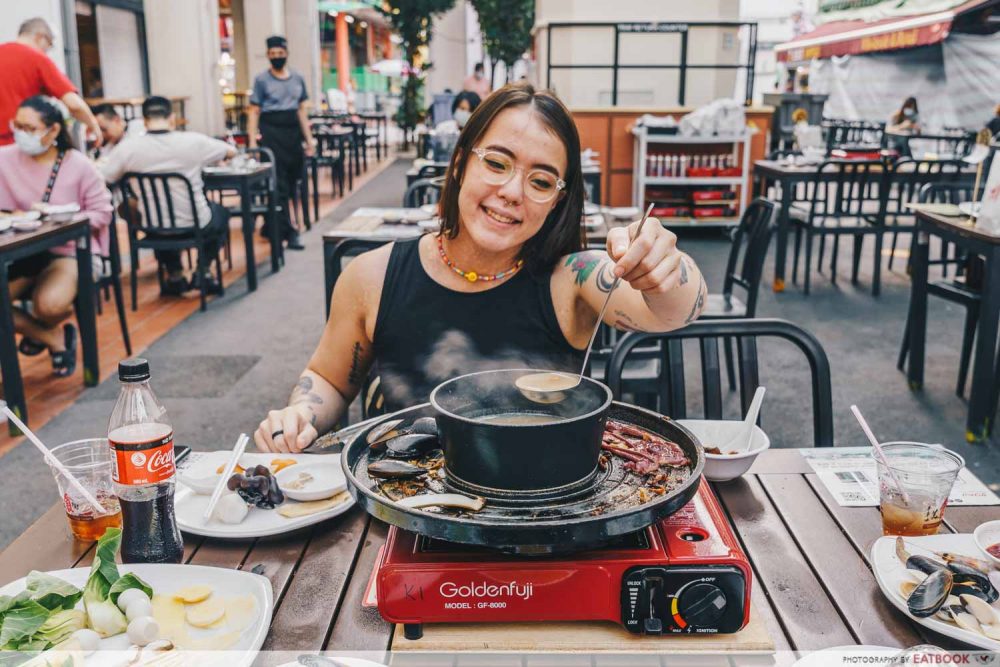 It's tough to come by buffets in the Chinatown area that are priced so affordably, especially during dinner hours. This value-for-money quality already makes Lao Dong Bei Shao Kao a win in my books, but match that with tasty ma la barbecue fare, hotpot, and attentive service, and it's a stall worth returning to. 
For more dining options nearby, check out our Chinatown food guide, including $1 noodles, or our Maxwell Food Centre guide, where we spotlight 20 must-try hawkers.
Address: Smith Street, Chinatown Food Street, Singapore 058938
Opening hours: Daily 5pm to 11pm
Website
Lao Dong Bei Shao Kao is not a halal-certified eatery. 
Photos taken by Hay Thi.
This is an independent review by Eatbook.sg.
Lao Dong Bei Shao Kao Review: 2-in-1 Ma La Barbecue And Hotpot Buffet In Chinatown Food Street
Lao Dong Bei Shao Kao Review: 2-in-1 Ma La Barbecue And Hotpot Buffet In Chinatown Food Street -

8/10
Summary
Pros
– Cheap buffet option in Chinatown
– Large variety of items
– Tasty ma la meats
– Good service
Cons
– Other meat options not well-marinated
– Seafood small in size
Recommended dishes: Spicy Lamb, Spicy Pork
Opening hours: Daily 5pm to 11pm
Address: Smith Street, Chinatown Food Street, Singapore 058938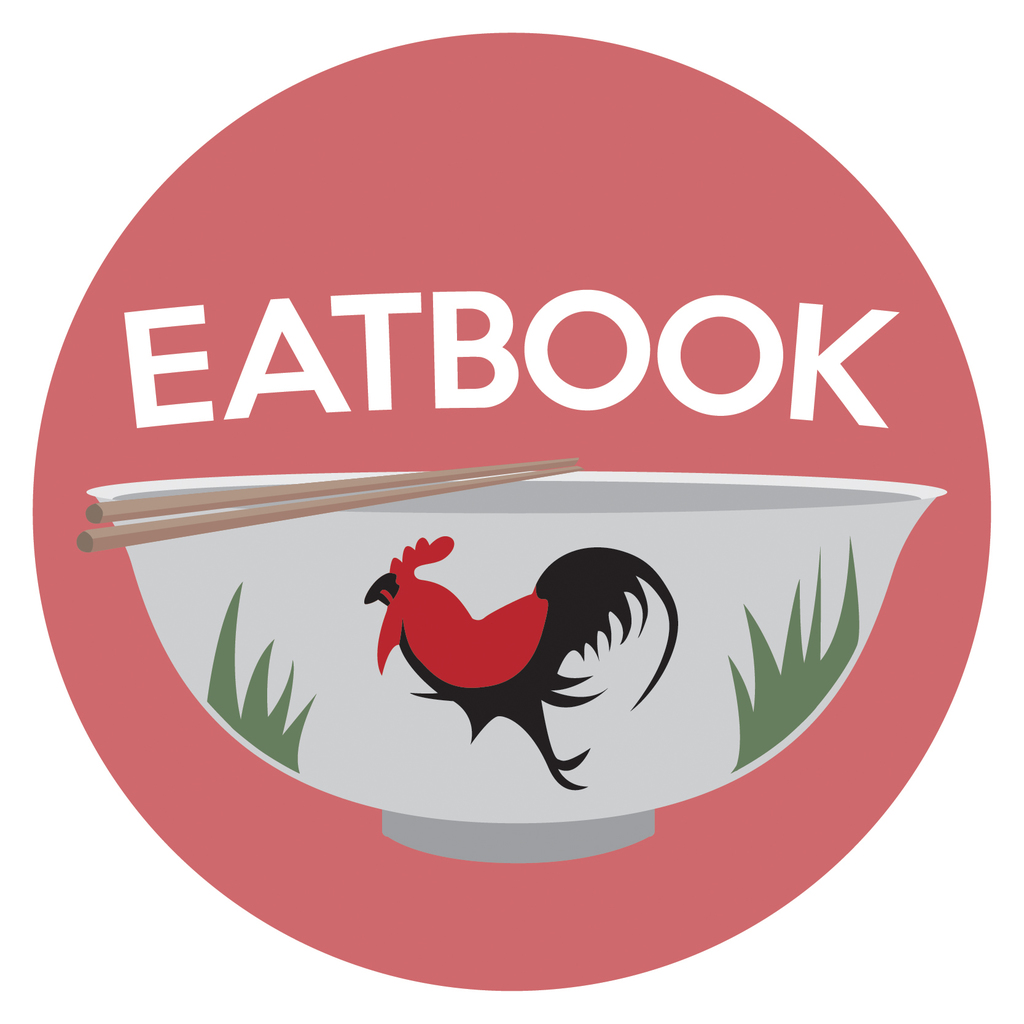 Drop us your email so you won't miss the latest news.