Afternoon tea set at Sweetea Caffe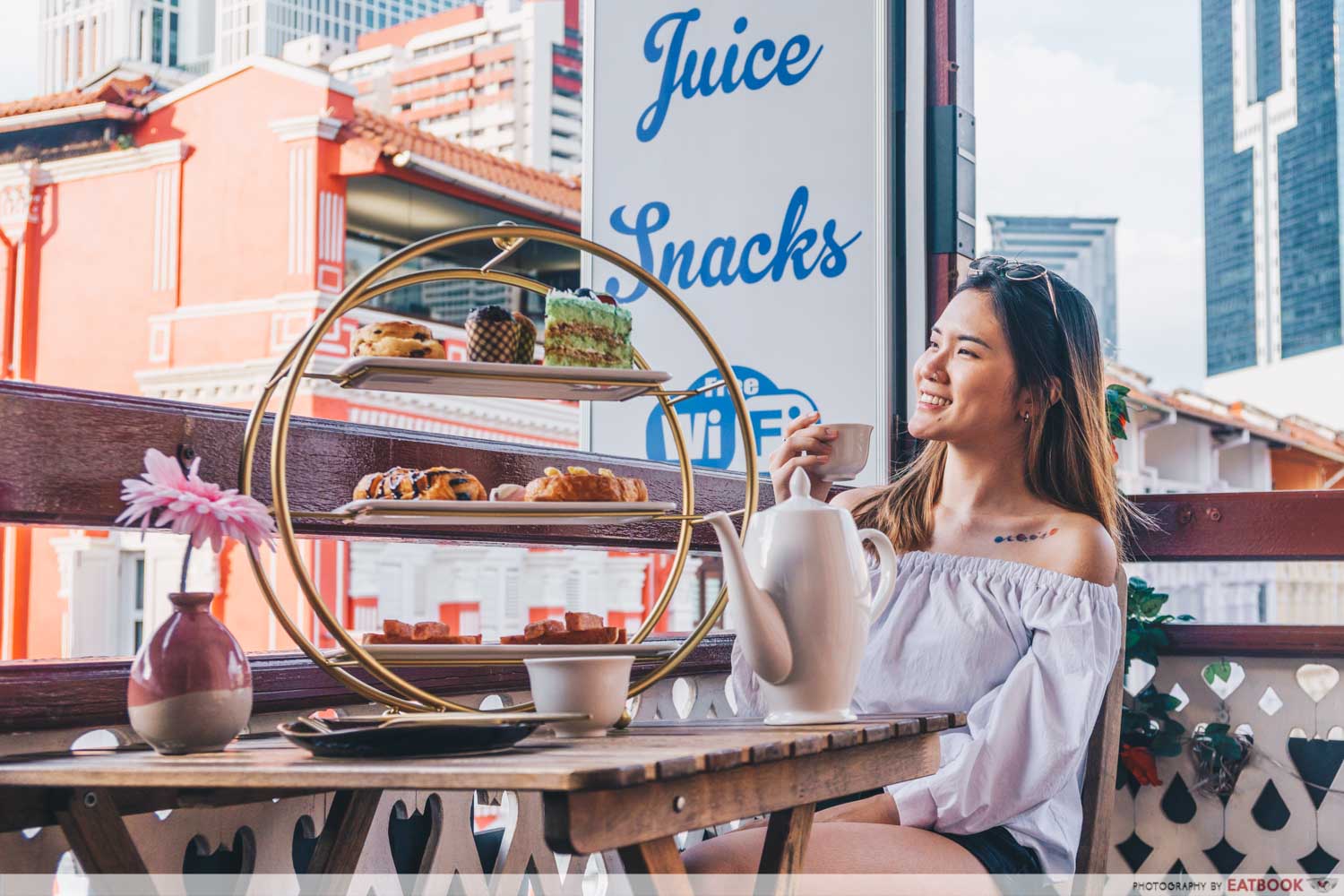 Afternoon tea doesn't always need to be in the setting of a hotel, or somewhere particularly fancy─this hidden cafe lets you enjoy afternoon tea while basking in the ambience of an old-school Chinese inn. Sweetea Caffe sits right in the thick of Chinatown, yet, this two-level eatery is so concealed, you wouldn't even know it's there. 
8 Affordable High Tea Sessions At $30++ Or Less So You Can Lead The Tai Tai Life
Sweetea Caffe serves an extensive array of food. I wasn't lying when I said extensive─you'll find pasta, fried chicken, waffles, pancakes, toasts, burgers, sandwiches, pies, dumplings, and desserts. But those dishes are for another day since we were here for their afternoon tea.
Food at Sweetea Caffe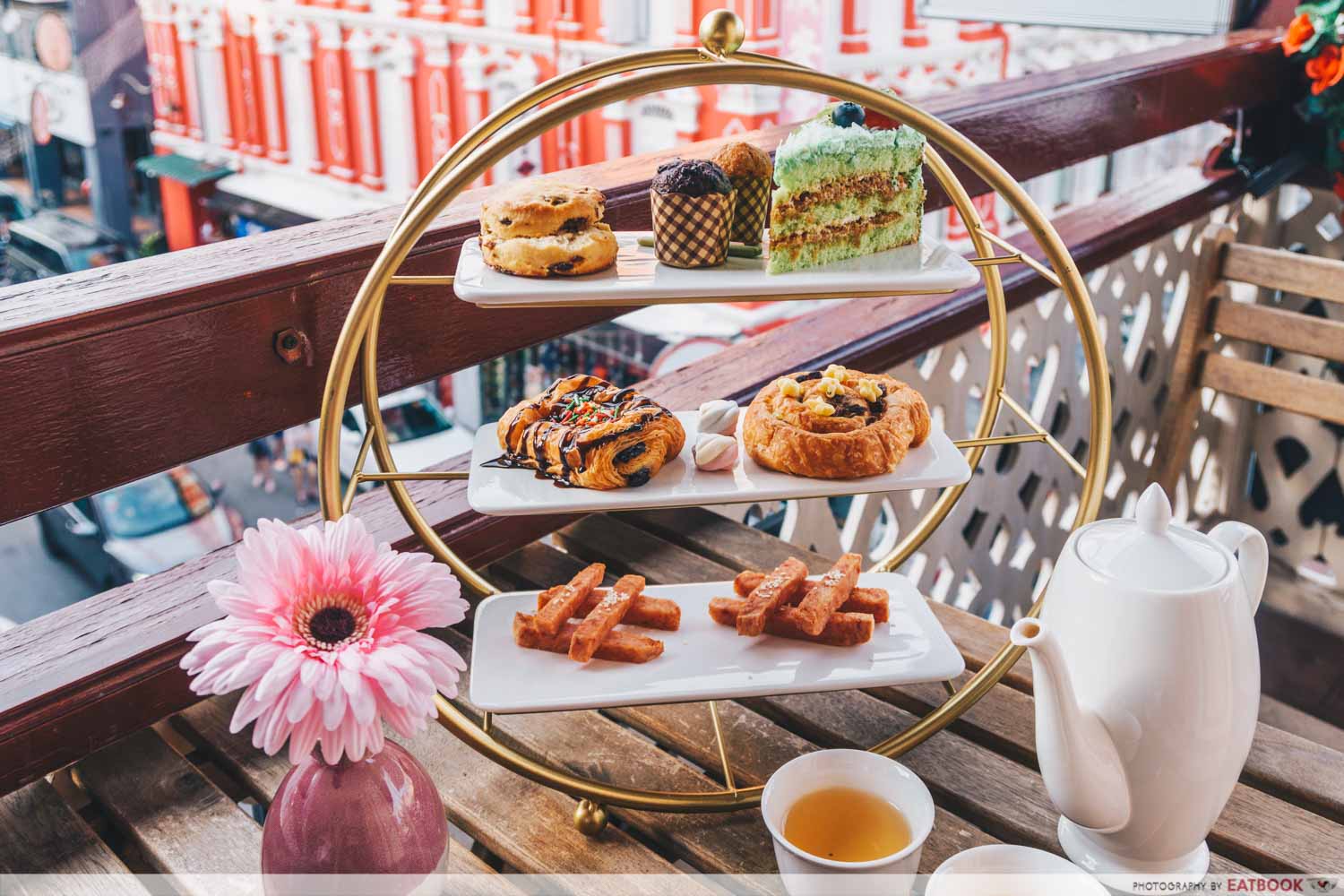 We went ahead and ordered the High Tea Set ($38.80), that comprises a slice of cake, mini muffins, a scone, a raisin swirl, a chocolate Danish, luncheon meat sticks, as well as a pot of tea. The presentation was pretty impressive since it was served in a three-tiered white and gold stand.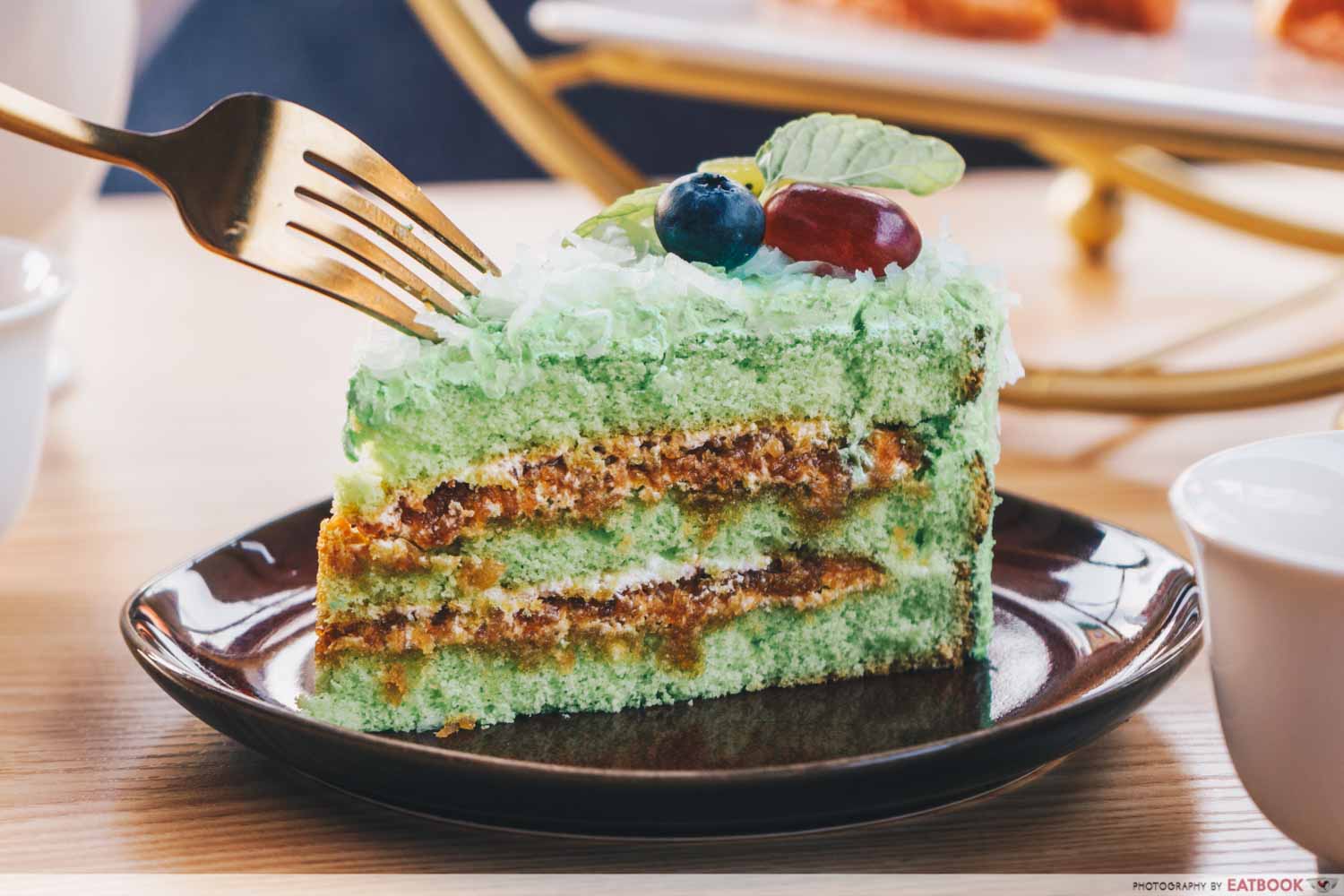 We heard only positive things about their Ondeh Ondeh Cake, so we decided to kick off this tea sesh with this crowd-pleasing dessert.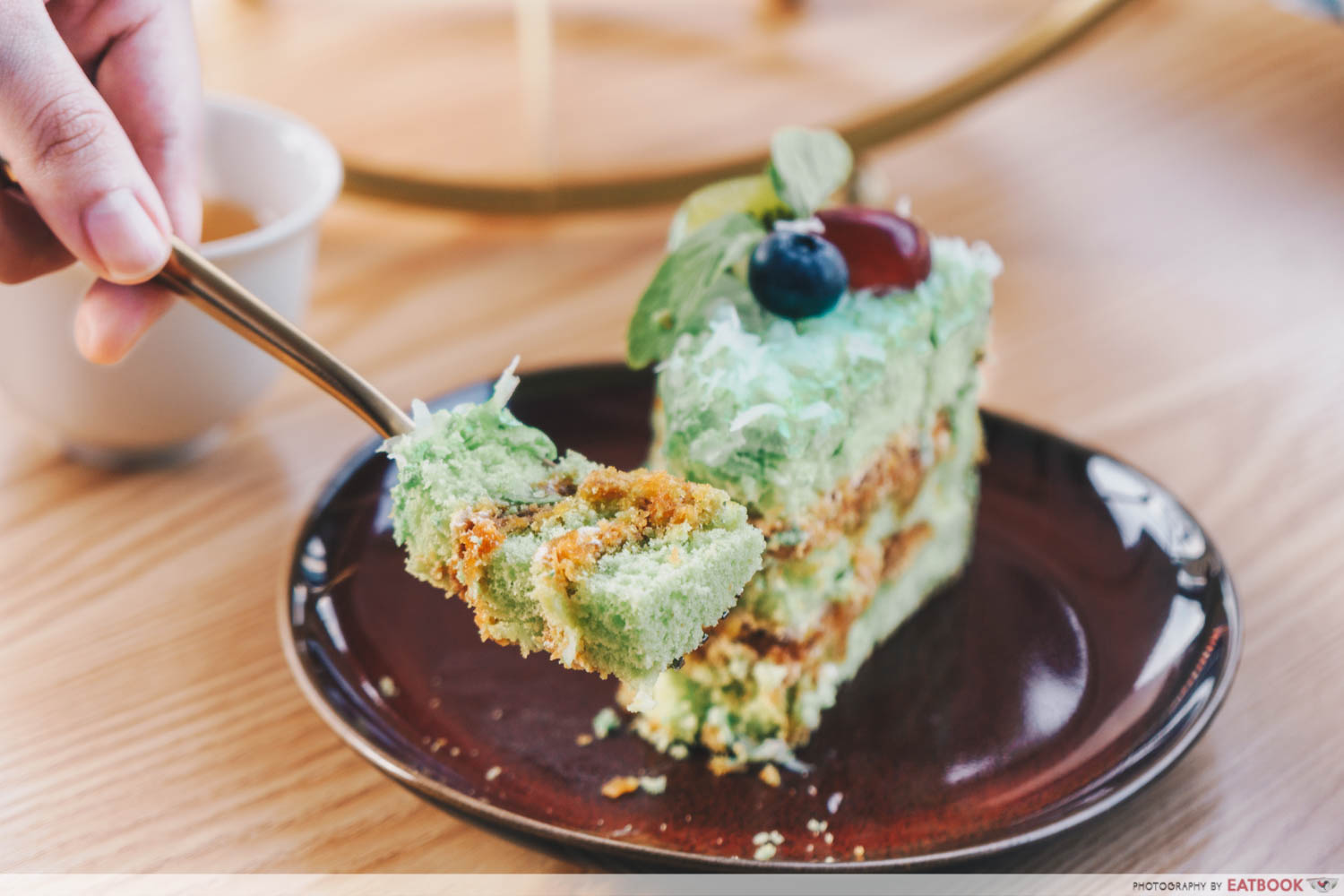 The cake was fluffy and moist. It had a well-balanced sweetness from the gula melaka and coconut. Besides its pleasant taste, I like that the grated coconut gave the dessert an element of crunch. I would definitely order this on its own if I return.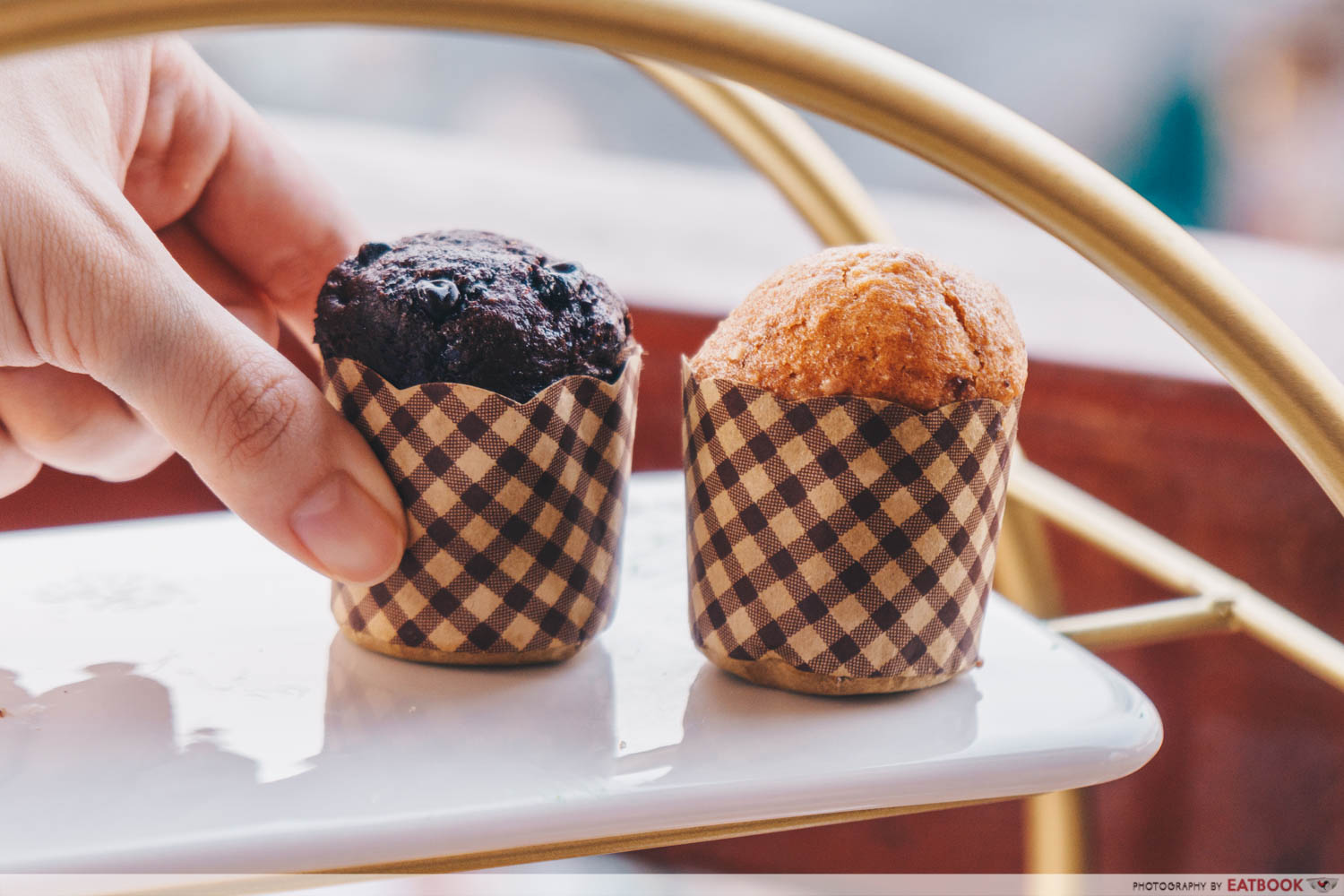 The Mini Muffins came in two flavours─chocolate chip and blueberry. The chocolate one wasn't too dry. With regards to their flavours, there was nothing out of the ordinary.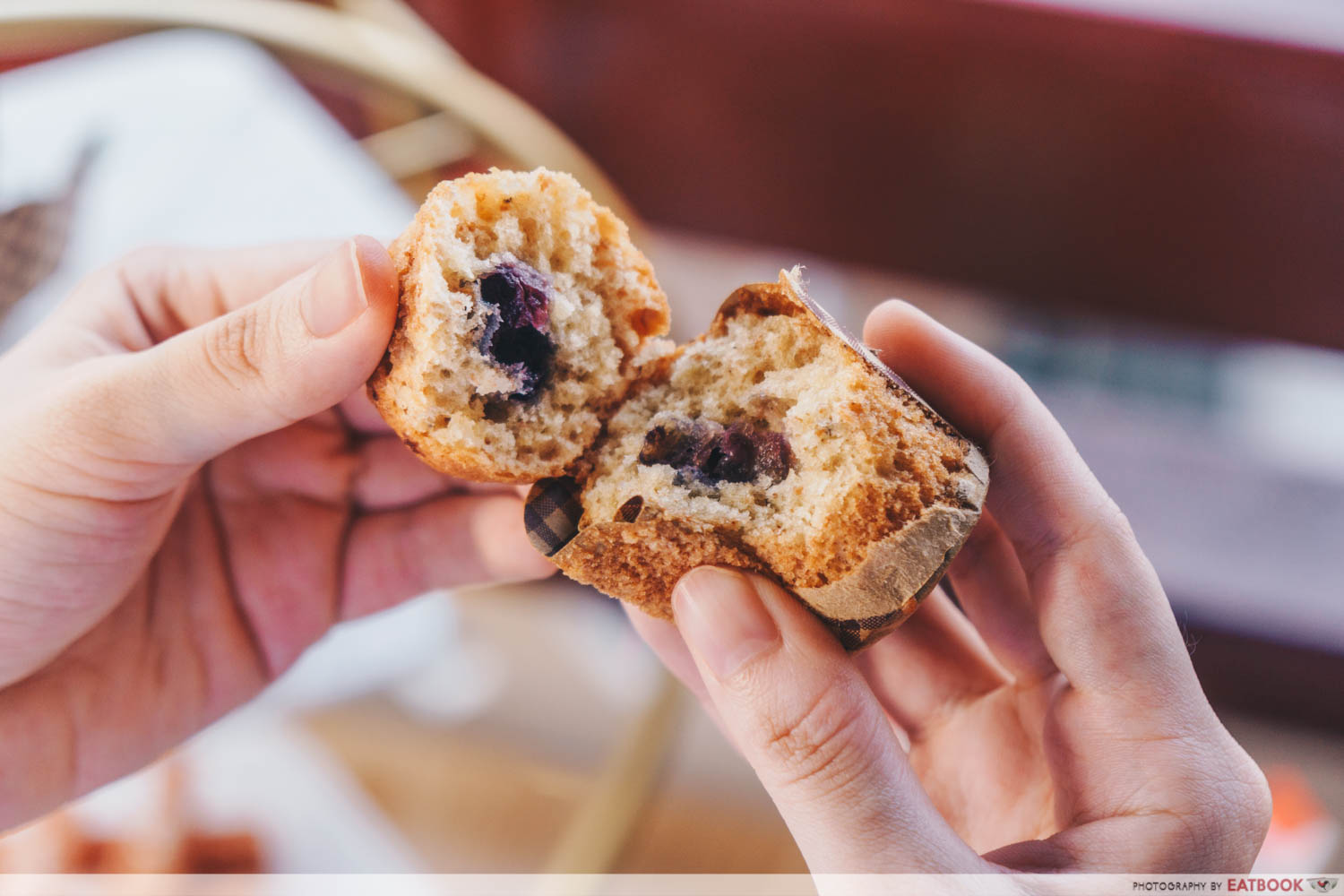 The blueberry muffin was a little drier in texture, and the filling to muffin ratio wasn't very proportionate as well. Because of the lack of blueberry filling, I couldn't really taste the fruit. Perhaps if they added more filling, it could also help to compensate for the dry muffin.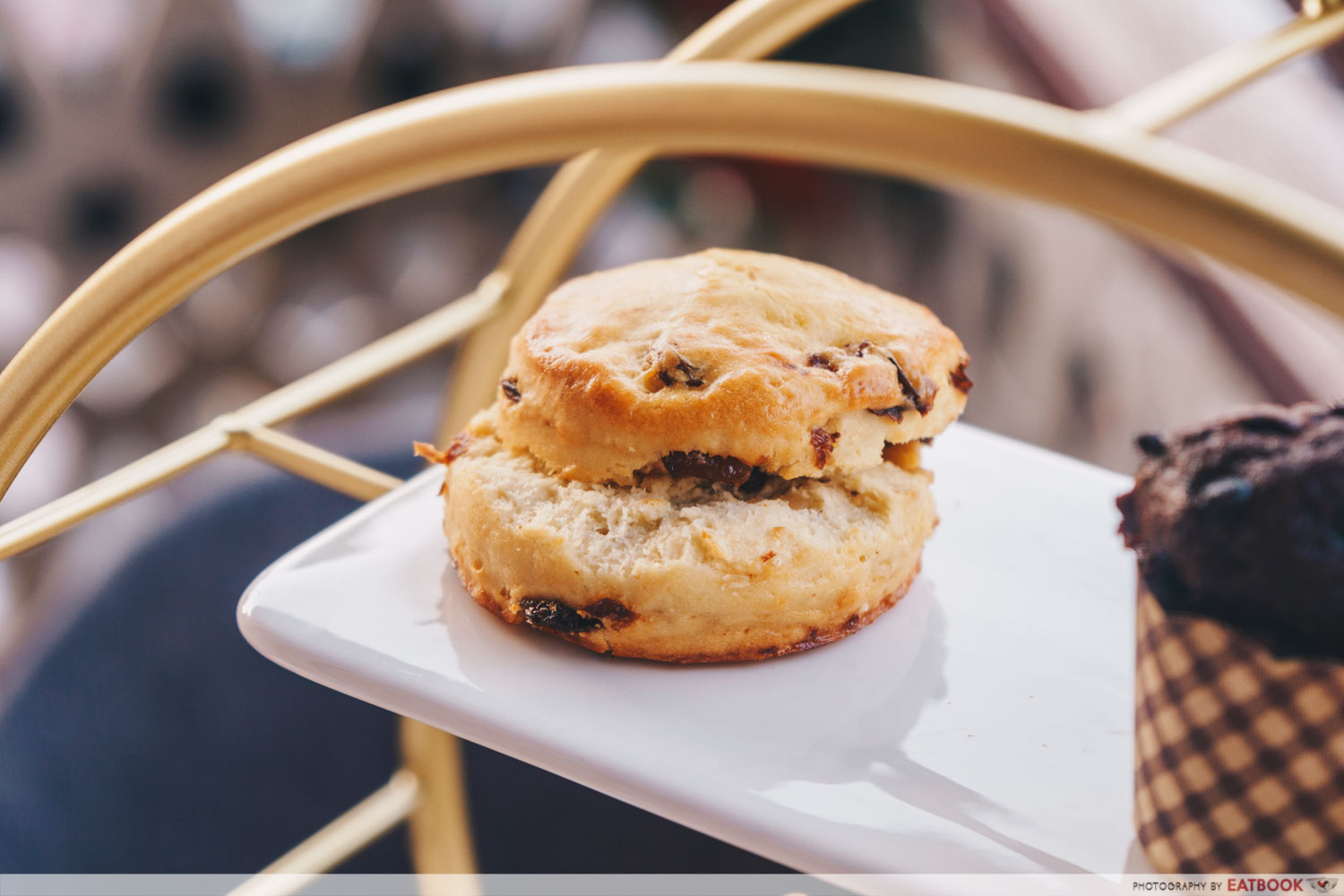 The English Breakfast Scone had plump raisins dotted around it. It was dense, crumbly, and a little dry. There was a subtle fruitiness from the raisins, though it still tasted quite plain. I would've loved for them to serve it with some clotted cream, jam, or butter.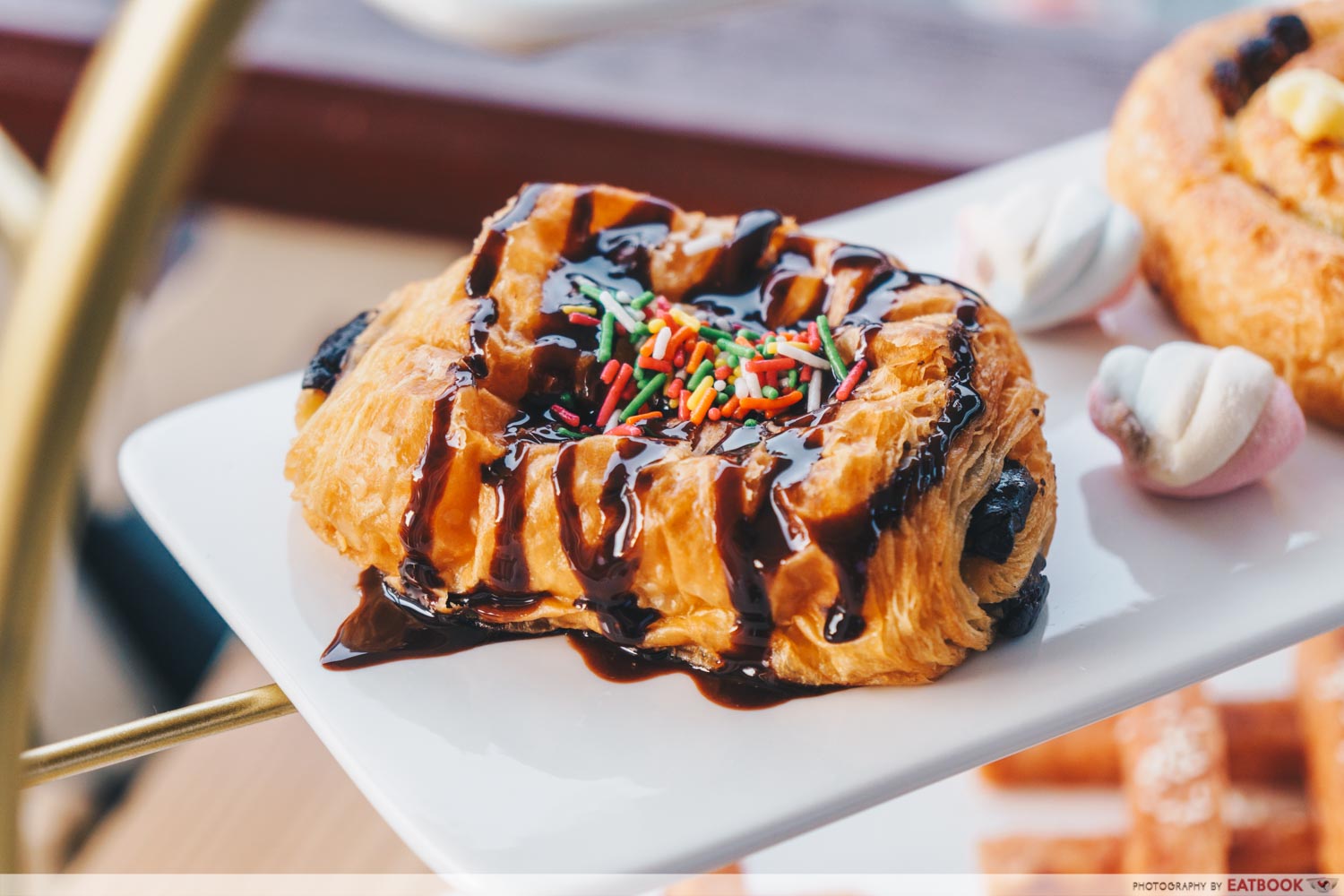 The Chocolate Danish was up next. I was excited when I saw all the layers in the pastry, but it fell short of my expectations because it wasn't as flaky and crisp as I hoped for. The chocolate syrup was also on the sweeter end of the scale. 
The taste of this pastry evoked a memory of the chocolate and rainbow sprinkles-laden bread I used to get from old-school confectioneries under HDB blocks as a child. As nostalgic as that might sound, at this age, I much prefer to savour crisp, flaky pastries that truly satisfies my tastebuds.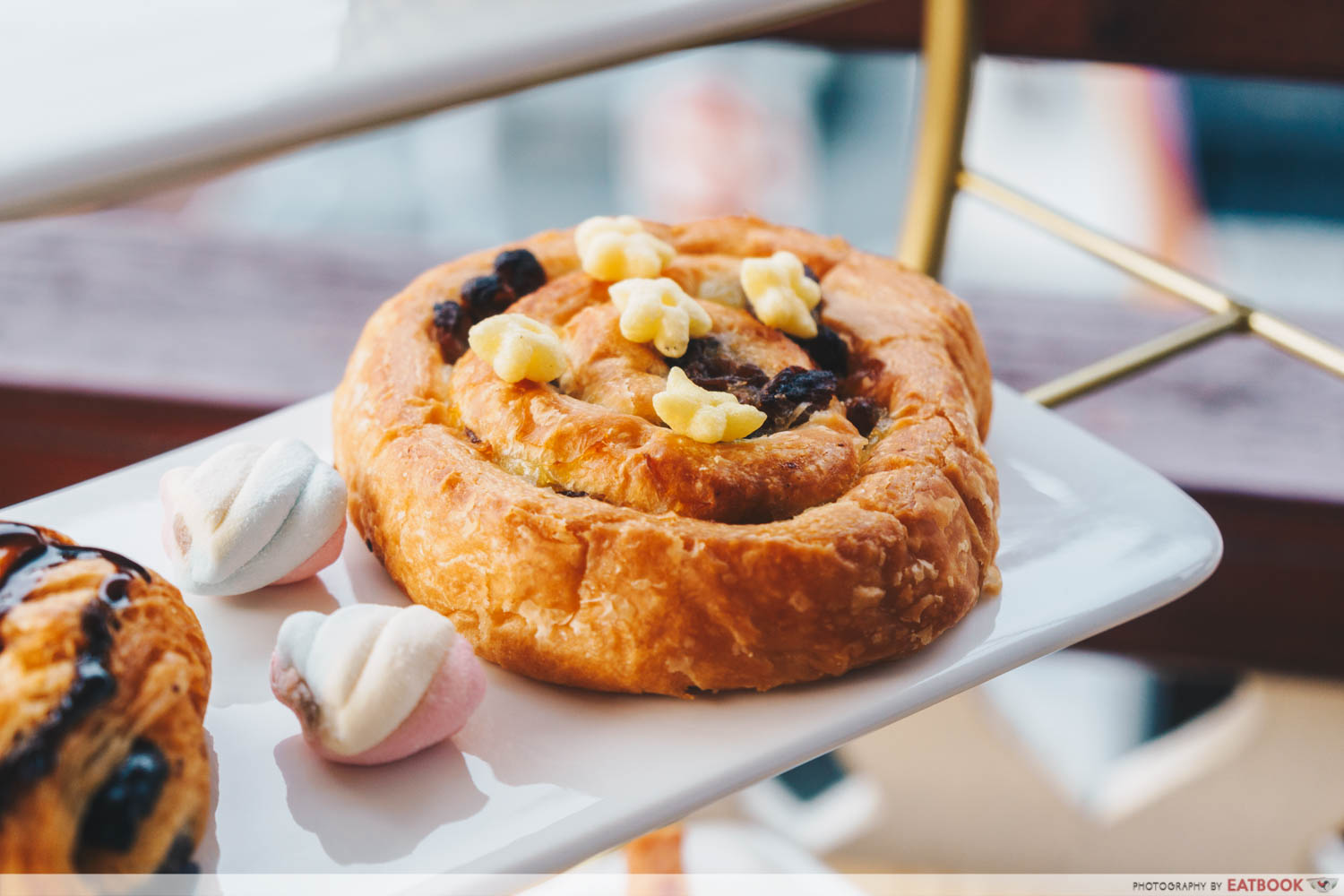 The Raisin Swirl was decent. It was slightly sweet, buttery,  and was quite flaky. It wasn't mind-blowing or anything, but I considered this to be the best out of the pastries included in the afternoon tea set.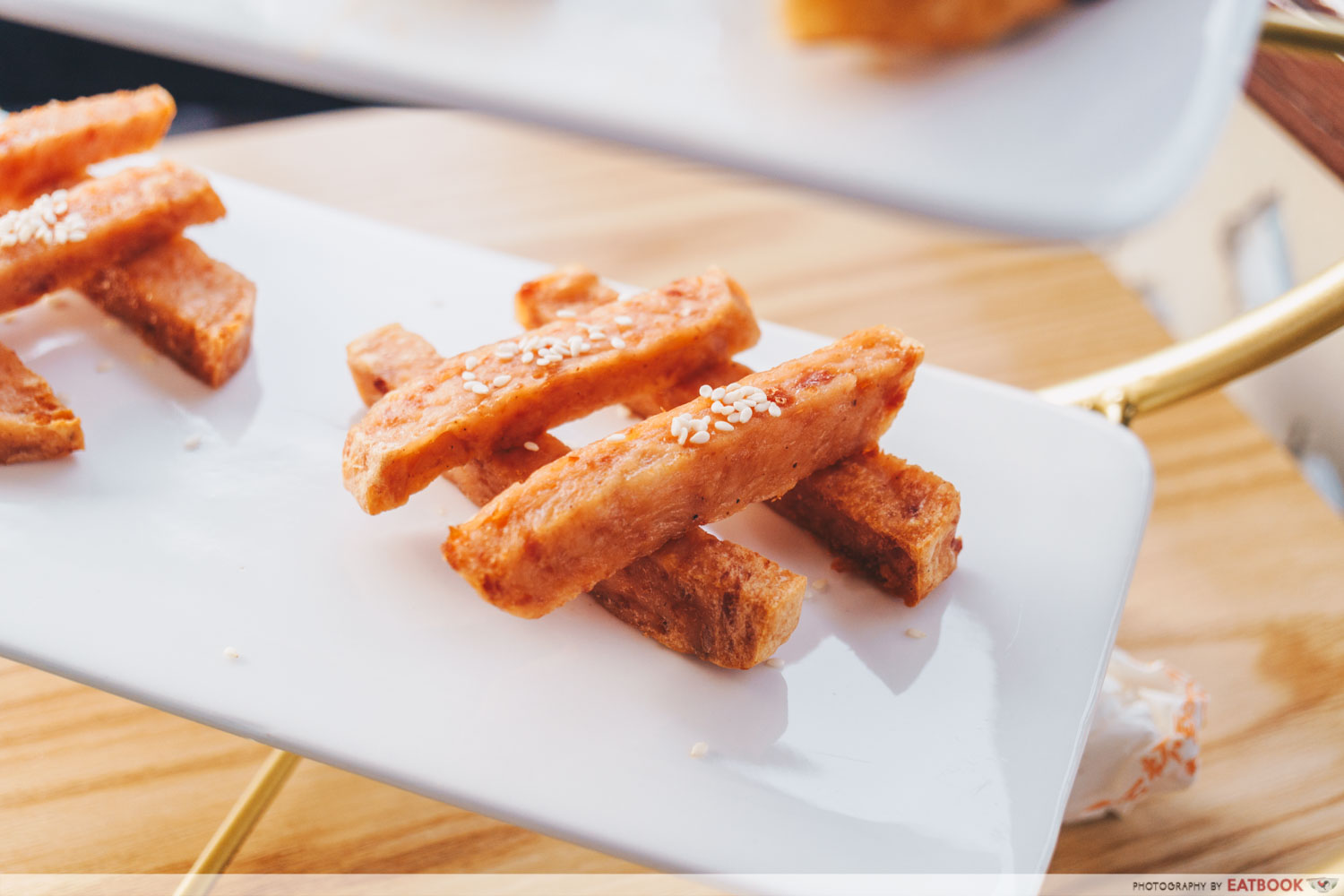 The savoury components of the afternoon tea set were the fried Luncheon Meat Sticks. Luncheon meat is good on its own, but I would've preferred them to be crispier. Maybe slicing them thinner and frying at a higher temperature would allow the sticks to be crispier, almost like Spam fries.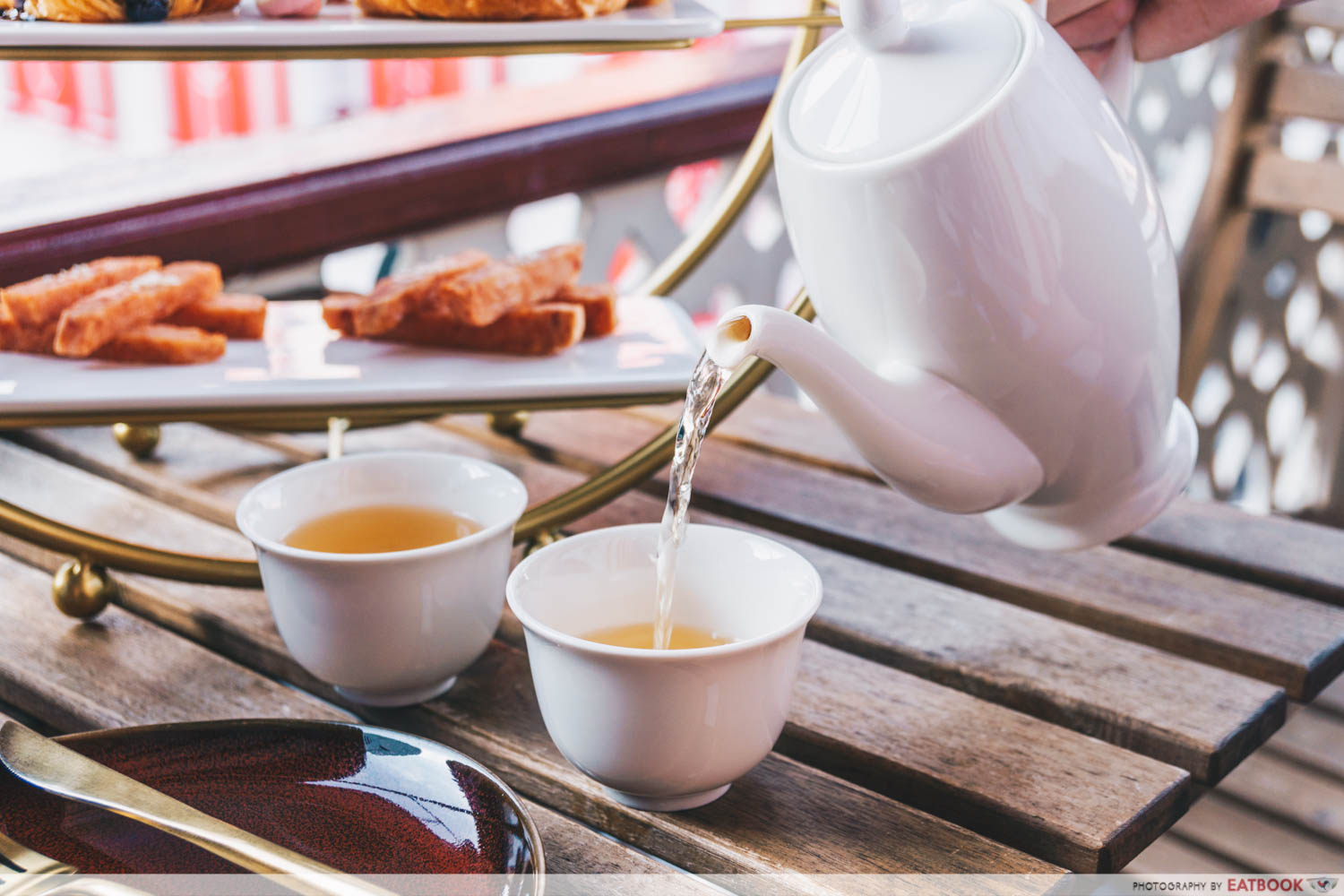 Sweetea Caffe allows you to choose among a variety of teas to be included in the high tea set. We went with the Green Dragon Tea, which was really well-brewed and refreshing to drink. It definitely helped to rinse my palate in between all those desserts. 
CHICHA San Chen Has New Taro Drinks, Including New Taro Fresh Milk And Orh Nee Pearls
Ambience at Sweetea Caffe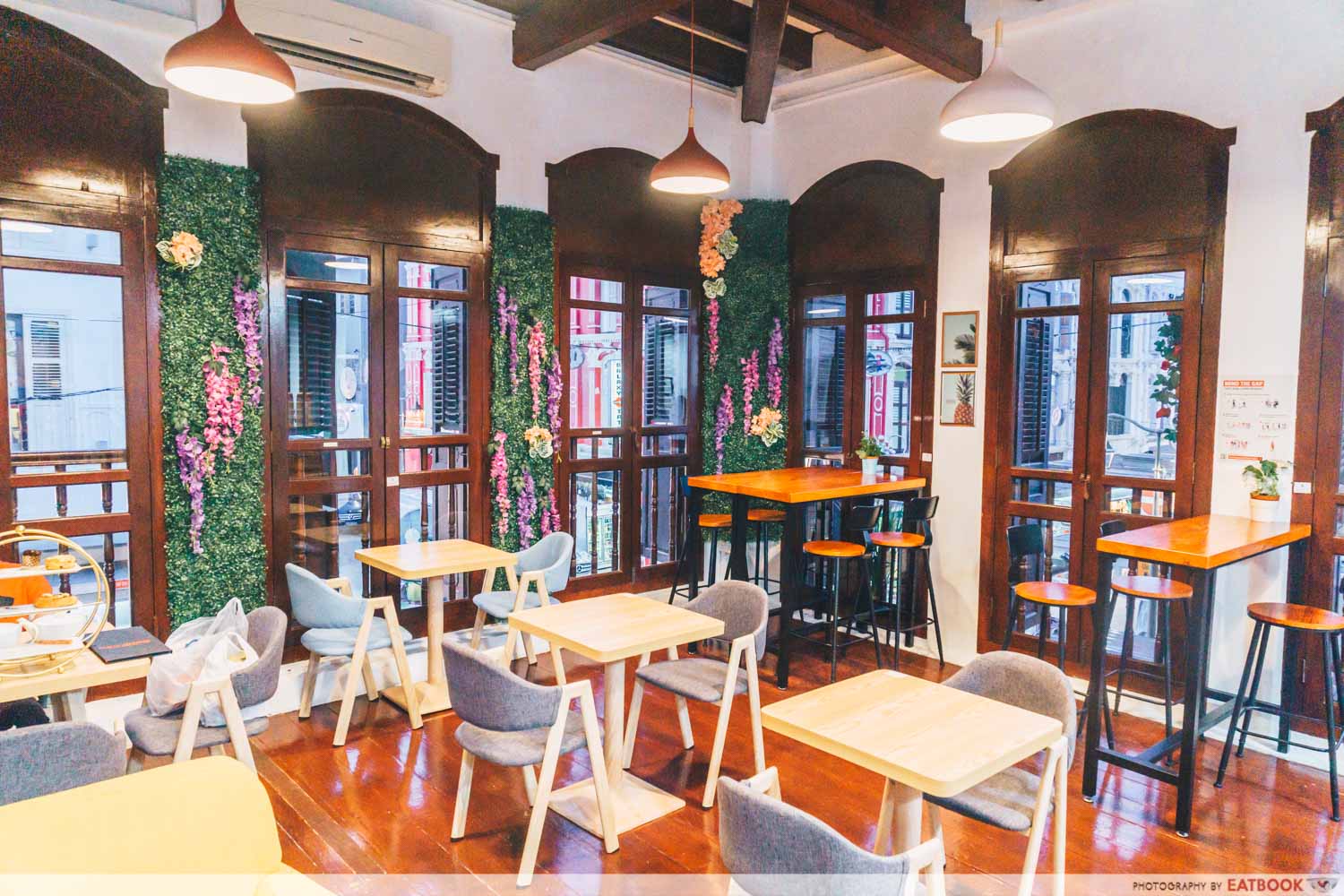 The entrance of the cafe starts on the ground floor, where instead of the seating area, you'll just be greeted with an unassuming flight of stairs. As you walk up, each step emits a creaky noise, which, I guess, contributed to the old, rustic charm of the place. As we reached the second floor, the mood and vibe of the space shifted straightaway. We were suddenly in the midst of a cosy cafe with a mix of old-school and modern decor.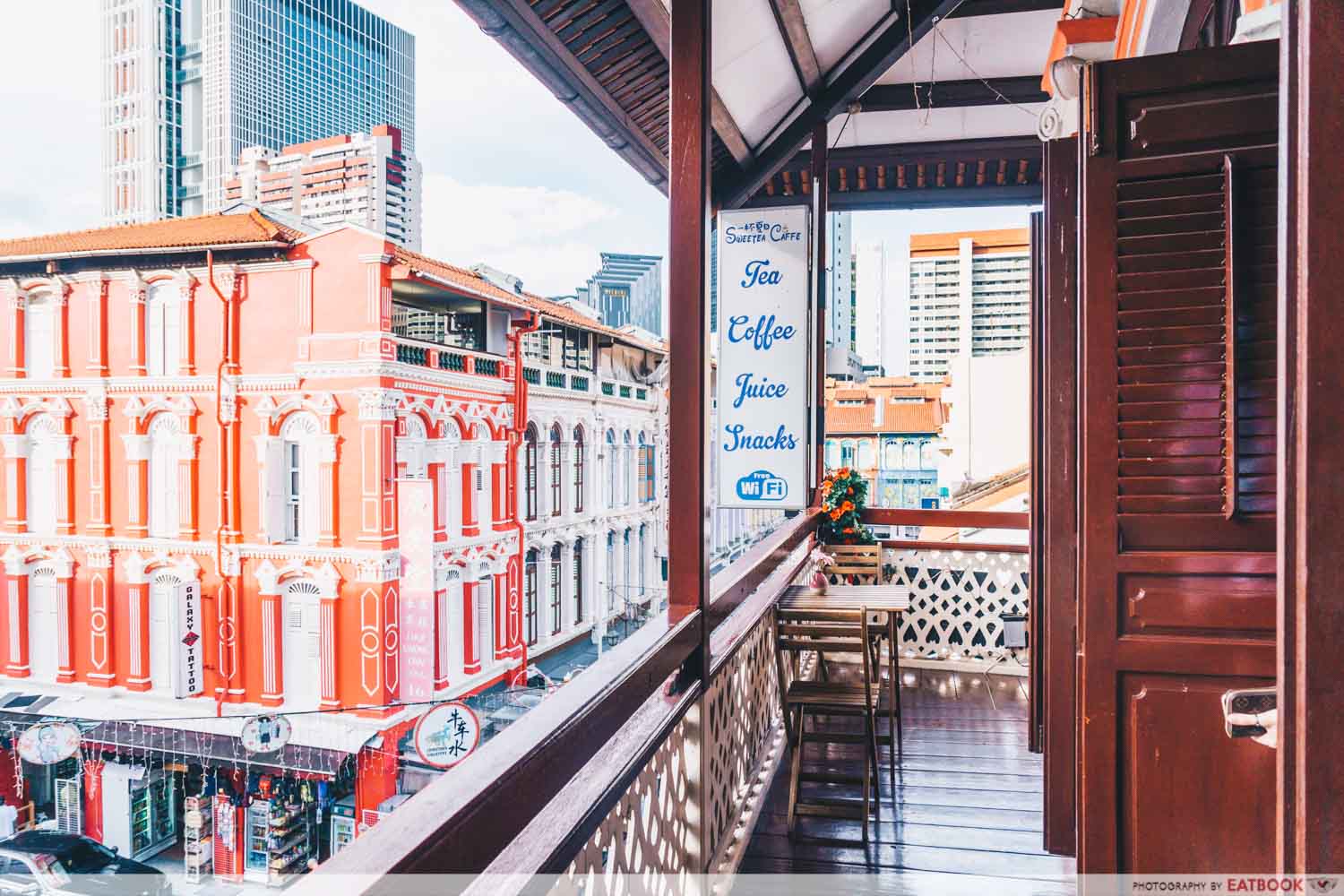 We were led to our reserved table, which was on the balcony. The balcony area reminded me of those traditional Chinese inns back in the days— if you watch the movie Ip Man, the era portrayed in the movie is what I'm referring to. I appreciated the ambience because it was a breath of fresh air away from the usual modern and minimalist cafe interior. I like how they kept the dark, mahogany planks and doors to preserve a slice of history.
It was therapeutic, to sit there, sip on a cup of tea, while you let your eyes rest on the landscape of Chinatown. If you decide to head there between 12pm to 5pm, just know that the afternoon sun can be merciless.  Do note that if you want a table here, you must reserve it in advance.
Simple Cafe Review: New Minimalist Cafe Hidden At West Coast With IG-Worthy Cakes
The verdict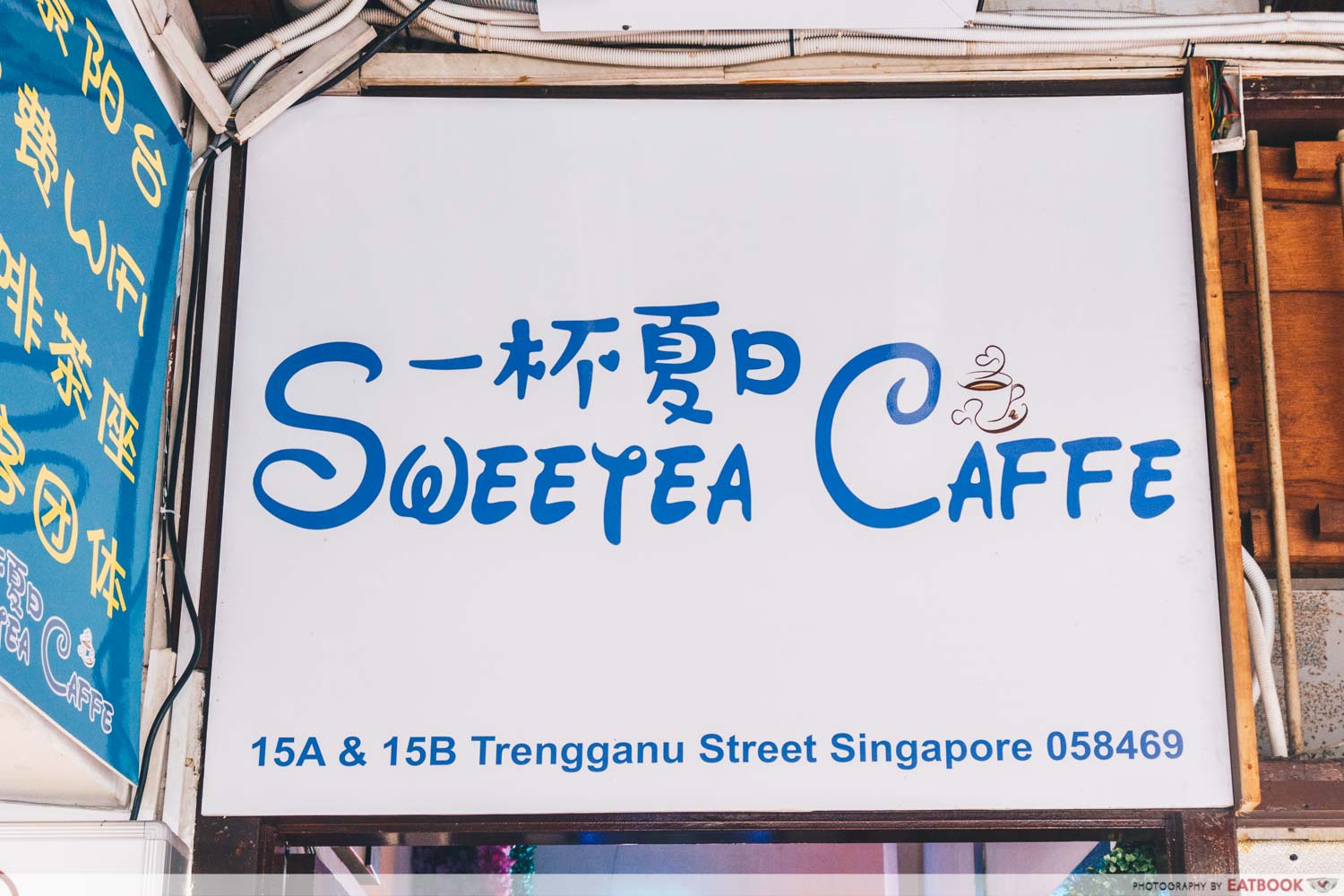 I was more impressed with Sweetea Caffe's ambience and view compared to their high tea set. Apart from the Ondeh Ondeh Cake, the components weren't very unique. I could tell sweet pastries weren't exactly their strong suit, since some of them were lacking. 
Perhaps you could try their savoury dishes outside of the Afternoon Tea, given that they have quite a vast menu. But I think the ambience is what truly makes this place worth going to if you enjoy taking photos, and would like to complete your #ootd shoot with some light bites.
Chinatown Food Street Reopens With Six New Buffet Restaurants, Get Unlimited Mookata And Korean BBQ For $9.90
While you're there, don't forget to pop by Chinatown Food Street, which has just recently reopened with six new buffet restaurants. For more food gems in Chinatown, read about our review on Heng Ji Chicken Rice and Ah Hua Assam.
Address: 15A & 15B Trengganu Street, Chinatown Complex, Singapore 058469
Opening hours: Sun-Thu 11am to 9pm, Fri-Sat 11am to 10pm
Website
Photos taken by Muhammad Hafiq.
This is an independent review by Eatbook.
Sweetea Caffe Review: IG-Worthy Retro Cafe Has Afternoon Tea On A Balcony With Chinatown Views
Summary
Pros
– Great view
– Cosy ambience
Cons
– Dishes in the high tea set were lacking in both flavour and texture
Recommended Dishes: Ondeh Ondeh Cake
Opening hours: Sun-Thu 11am to 9pm, Fri-Sat 11am to 10pm
Address: 15A & 15B Trengganu Street, Chinatown Complex, Singapore 058469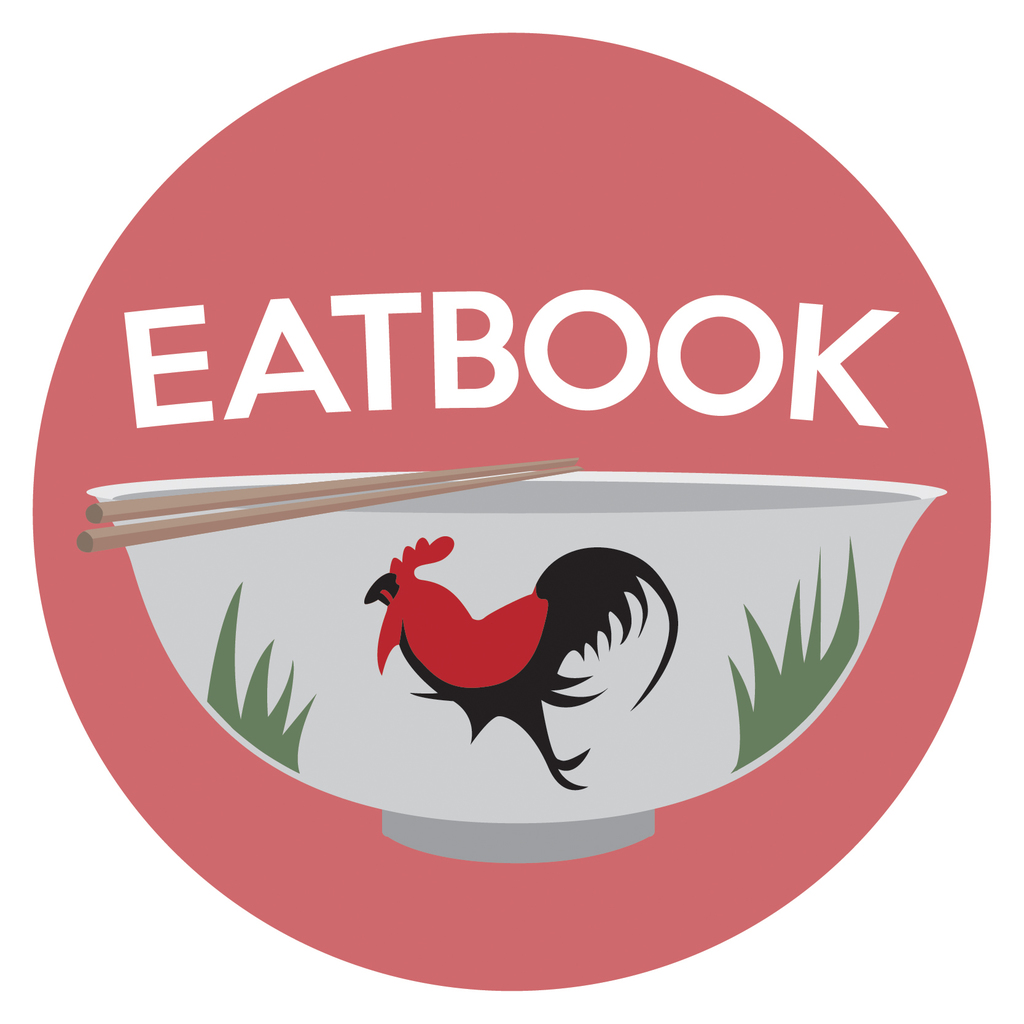 Drop us your email so you won't miss the latest news.