Mah Noh & Rose serves delicious ginger fried chicken rice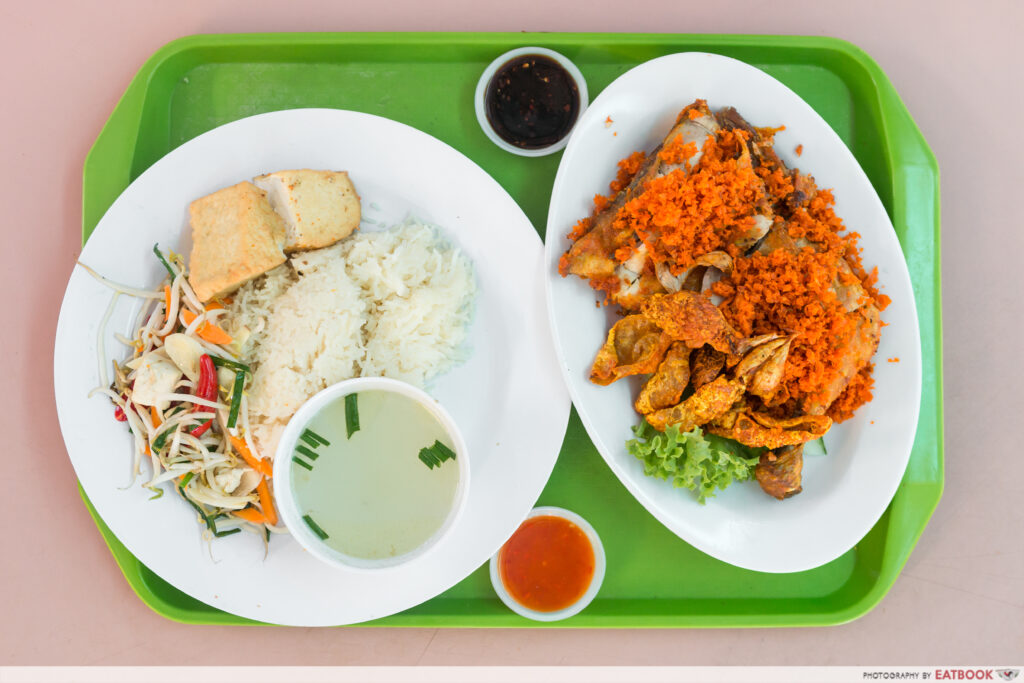 Growing up, chicken rice was the only meal I would eat at hawker centres, before I started exploring the options of laksa, nasi padang, and other dishes. When I stumbled upon an enhanced version of chicken rice, namely the ginger fried chicken rice at Mat Noh & Rose, a Muslim-owned stall at Whampoa Market, I simply couldn't keep the sedap news to myself.
Food at Mat Noh & Rose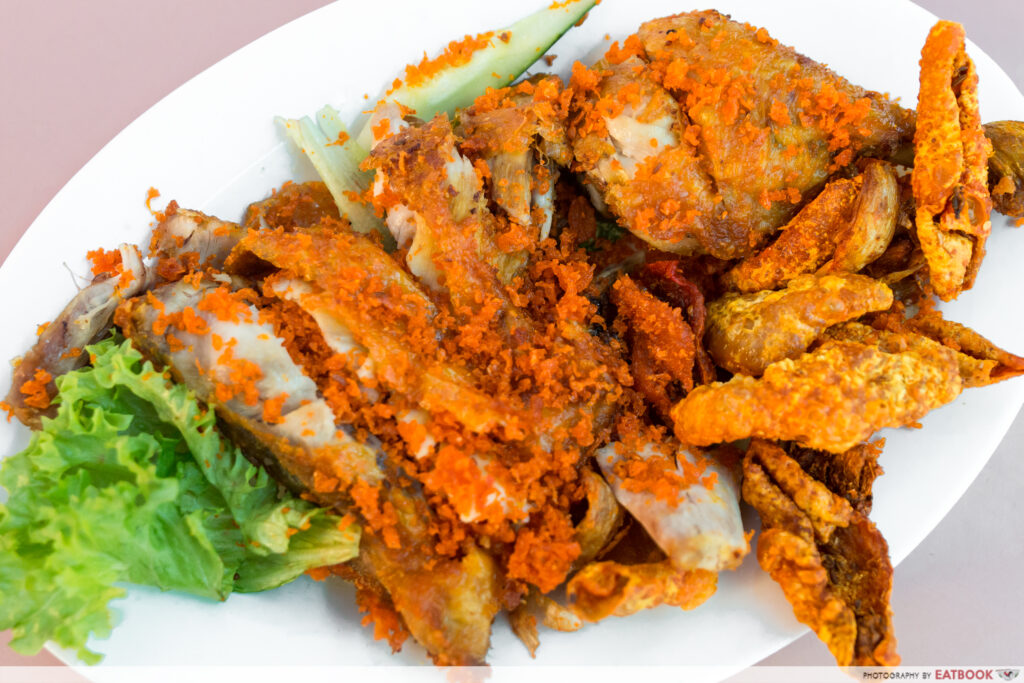 Feeling greedy, I ordered their Ginger Fried Chicken Leg with Rice ($6.50) instead of their regular Ginger Fried Chicken Rice ($3.50), and added tofu ($0.50), chicken skin ($1) and bean sprouts ($1).
The hawker stall aunty started chopping away and I licked my lips as she poured crumbs all over. She served me a large, indulgent portion of ginger fried chicken, a plate of chicken rice, slices of cucumber, the additional ingredients and a small bowl of soup.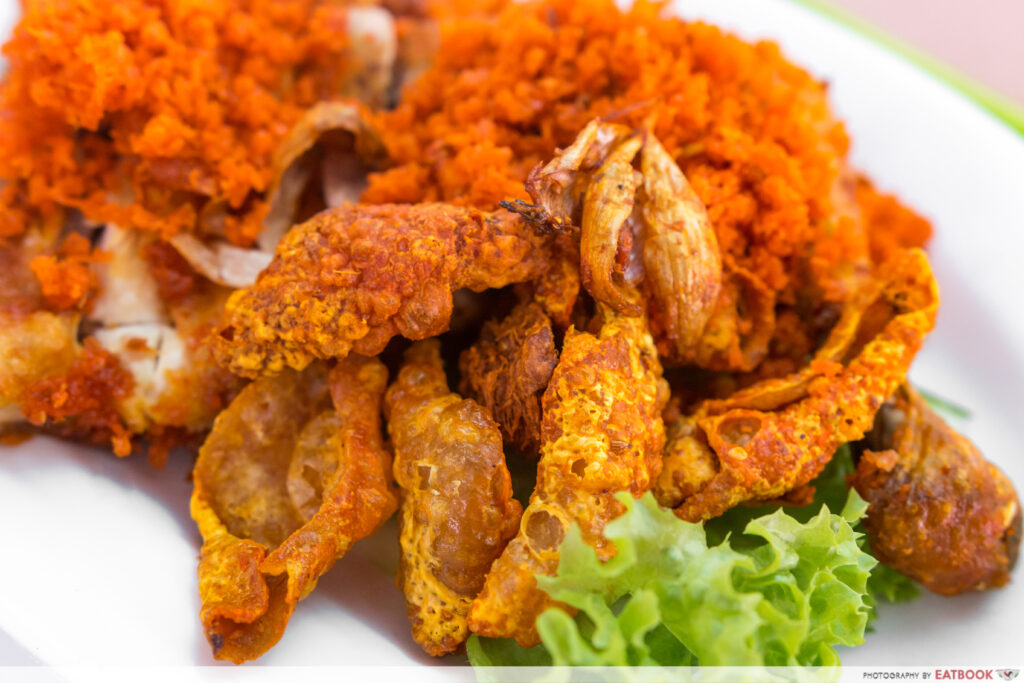 I went head first into the chicken skin. Being the most sinful part of the entire dish, I had high hopes. Its crispiness pleased me and  the ginger flavour was strong but not pungent. To my delight, it wasn't greasy and I was thrilled with my choice.
The skins are often accompanied by chicken giblets that go at a minimum of $2. If you're one to appreciate offal, be sure to order them here.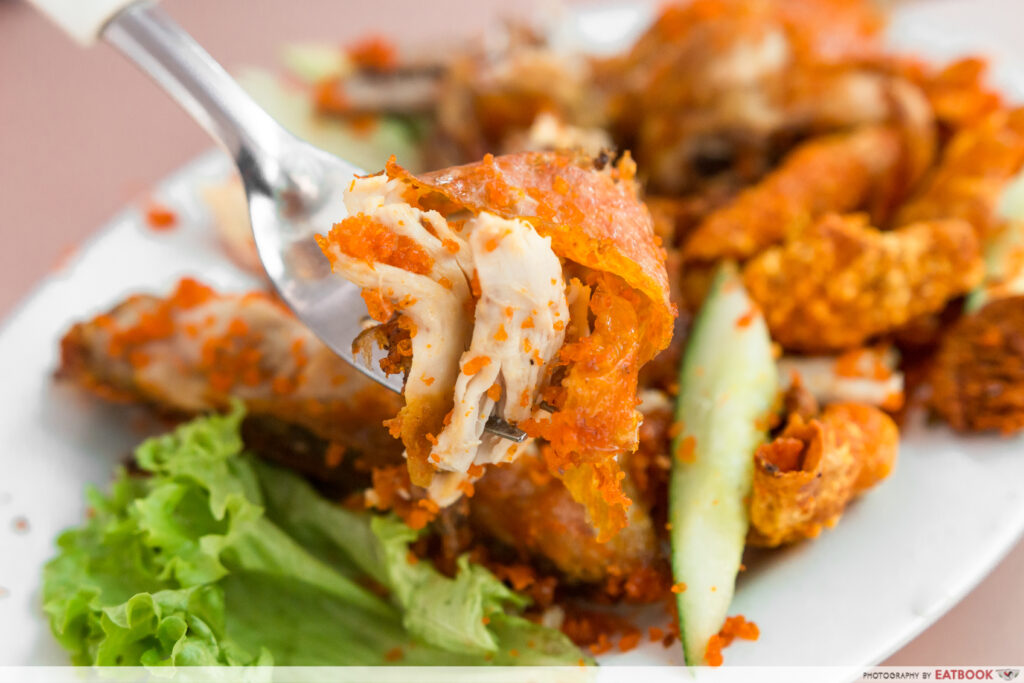 I was a little disappointed when I found that most parts of the chicken leg contained bones. The chicken was tender on the inside and incredibly crispy on the outside. However, it was rather salty. Compared to the chicken skin, the ginger wasn't as flavourful here. Nonetheless, it paired well with the crispy skin and crumbs that were absolutely lip-smacking.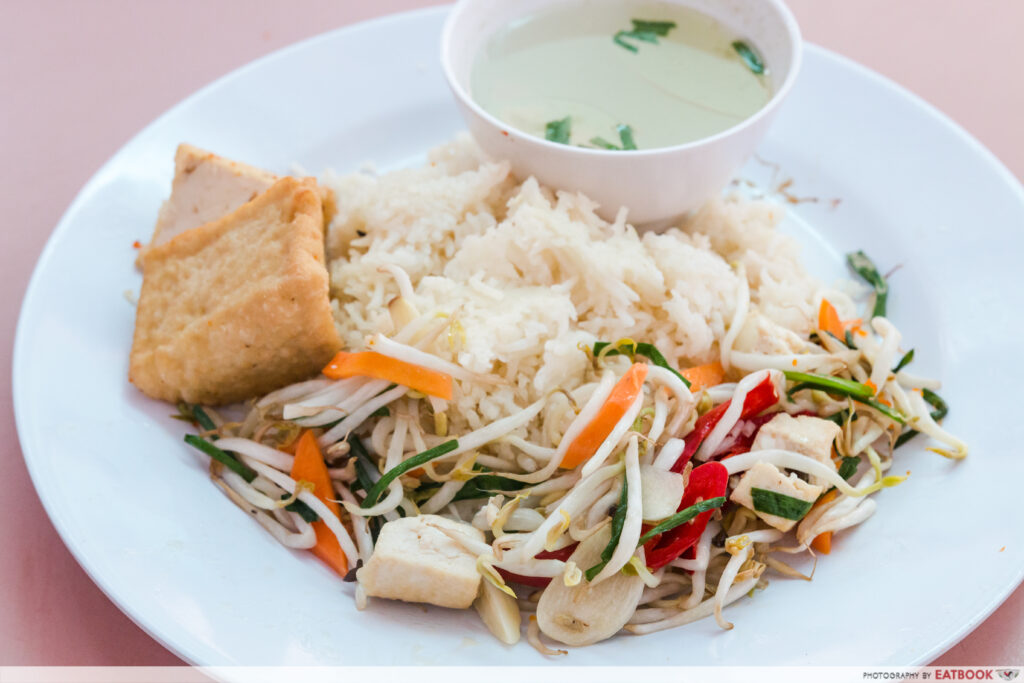 The competition of chicken rice is strong, but Mat Noh & Rose's chicken rice levelled up the game. I was intrigued once I noticed basmati rice was used. This game-changing rice was fragrant and rich in lemongrass flavour. I was thankful that it wasn't mushy or overly oily.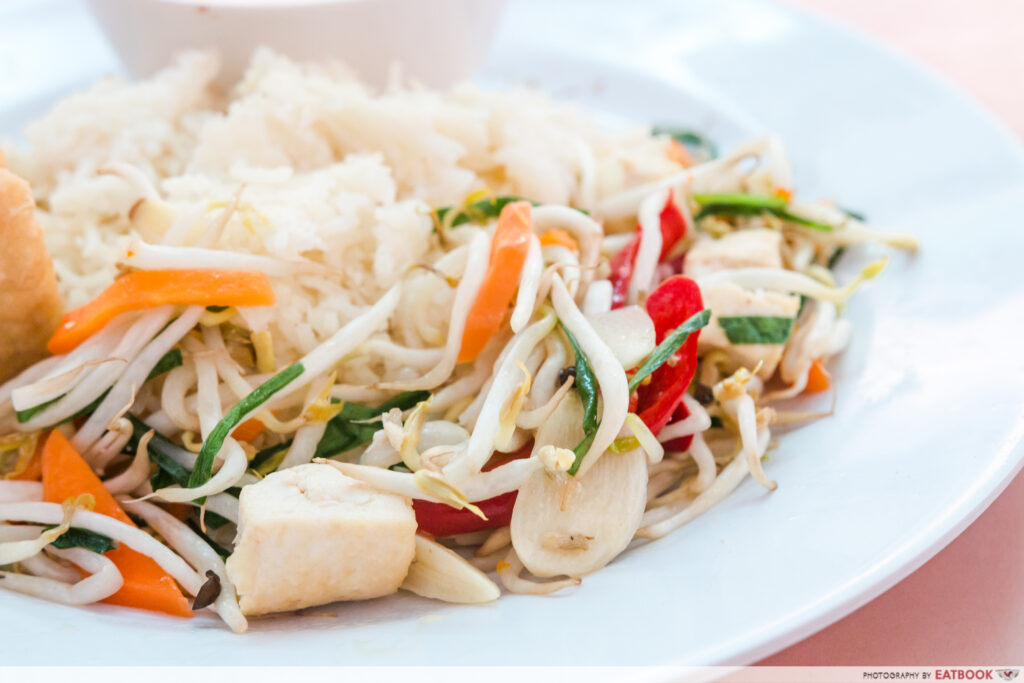 Along with bean sprouts, there were sliced carrots, tofu, chilli and garlic. Lightly pan-fried, these vegetables gave an extra crunch to each spoonful.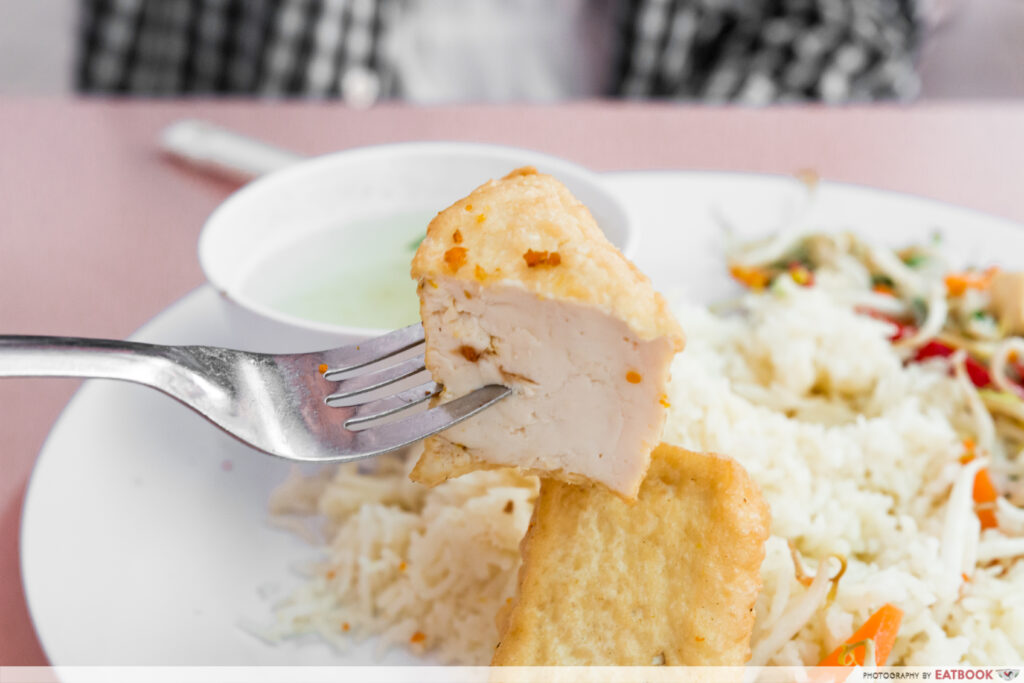 The fried tofu was soft and silky on the inside, like the typical tofu in an ayam penyet.
Mat Noh & Rose serves two types of chilli – one that's sweet yet tangy, and soy sauce chilli that's thick and fiery. My taste buds and the soy sauce chilli were a match made in heaven. I drizzled the thick, black and spicy sauce all over my rice and my stomach was pleased.
Ambience at Mat Noh & Rose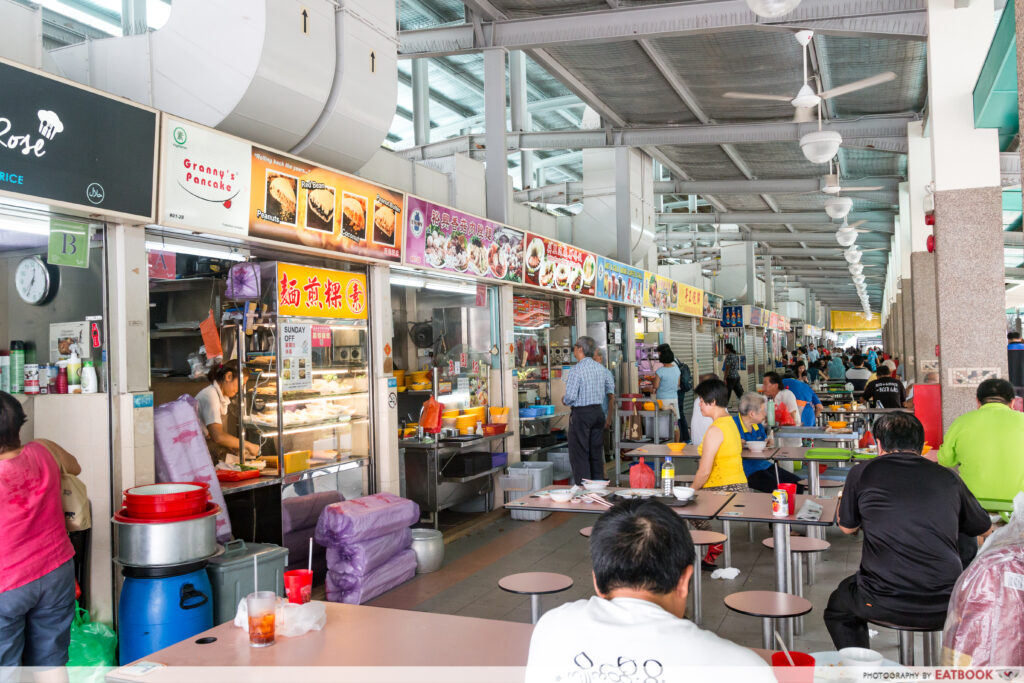 Mat Noh & Rose is located at the far end of Whampoa Market. The nearest MRT Station would be Boon Keng MRT Station, but in our humidity and heat, I wouldn't recommend walking over. Besides the crowd around this stall, I've noticed large orders being prepared for delivery. I reckon coming here early to prevent disappointment.
The verdict
Mat Noh & Rose truly knows how to cook up a scrumptious meal fit for the kings. In terms of quality, quantity and price, this stall wins many chicken rice stalls hands down. This exceptional place is definitely worth driving down for even if you're not having chicken rice cravings. If you're a lazy eater like me, opt for their regular chicken rice for a tender, juicy and boneless serving of chicken breast. For more chicken rice feasts, check out this list of unique chicken rice dishes!
Address: Blk 91 Whampoa Drive, #01-27, Whampoa Drive Food Centre, Singapore 320091
Opening hours: Mon-Sat 9am to 3pm
Tel: 8400 2206
This is an independent review by Eatbook.sg.
Mat Noh & Rose Review: Muslim-Owned Ginger Fried Chicken Rice At Whampoa Market
Summary
Pros
– Affordable
– Generous servings
Cons
– Inconvenient location
– Closes early
Recommended Dishes: Regular Chicken Rice ($3.50)
Operating Hours:
Mon-Sat 9am to 3pm
Address: Blk 91 Whampoa Drive, #01-27, Whampoa Drive Food Centre, Singapore 320091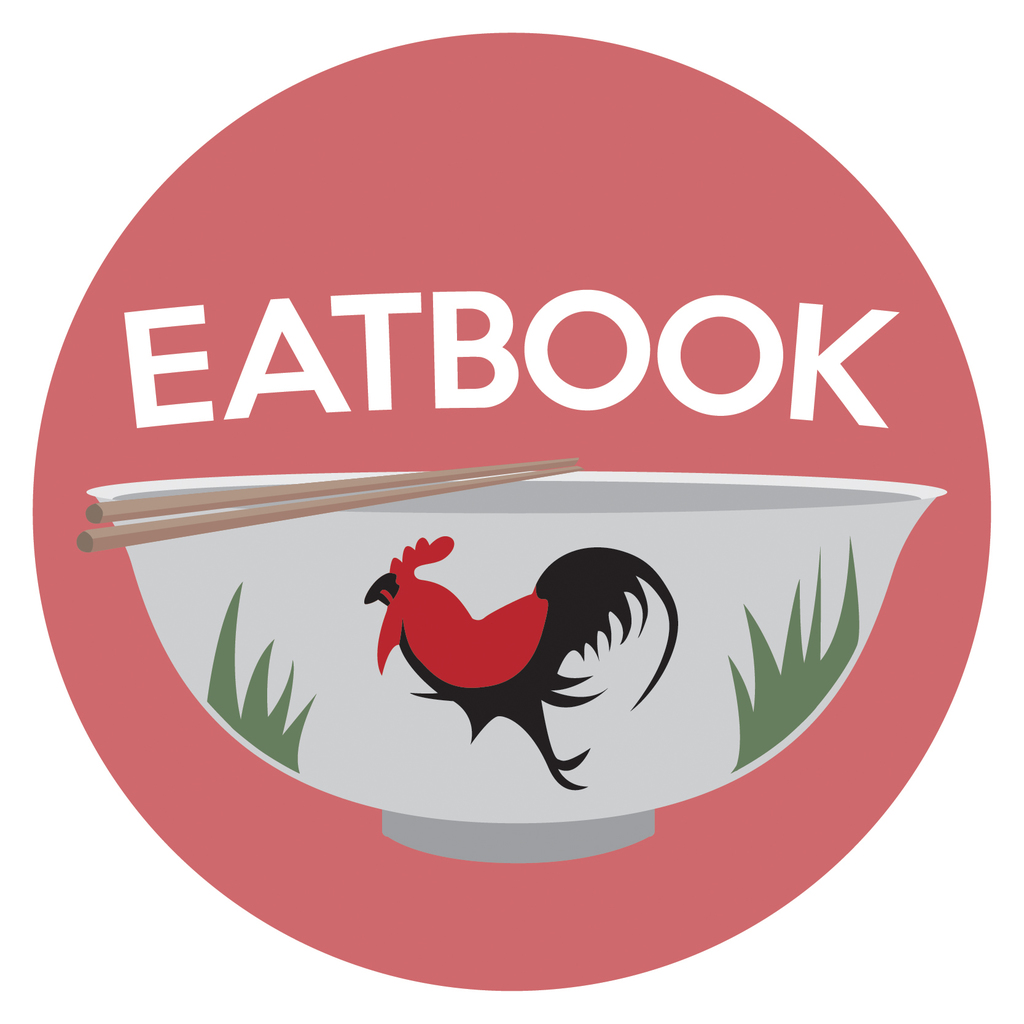 Drop us your email so you won't miss the latest news.