---
Unique chicken rice dishes around Singapore
---
Unless you are living under a rock, you would have heard about the nasi lemak burger or durian pizza. Whether it's #ForTheGram or that people are simply getting more adventurous, crazy food twists seem to be becoming a popular trend. It is therefore no surprise to find Singapore's well-known dish, Hainanese chicken rice, being reinvented in insane ways. In this list, we discovered 10 unique chicken rice dishes for when you are craving the fragrant dish but are tired of the usual steamed chicken with rice.
---
1. Chicken Rice Steamboat
---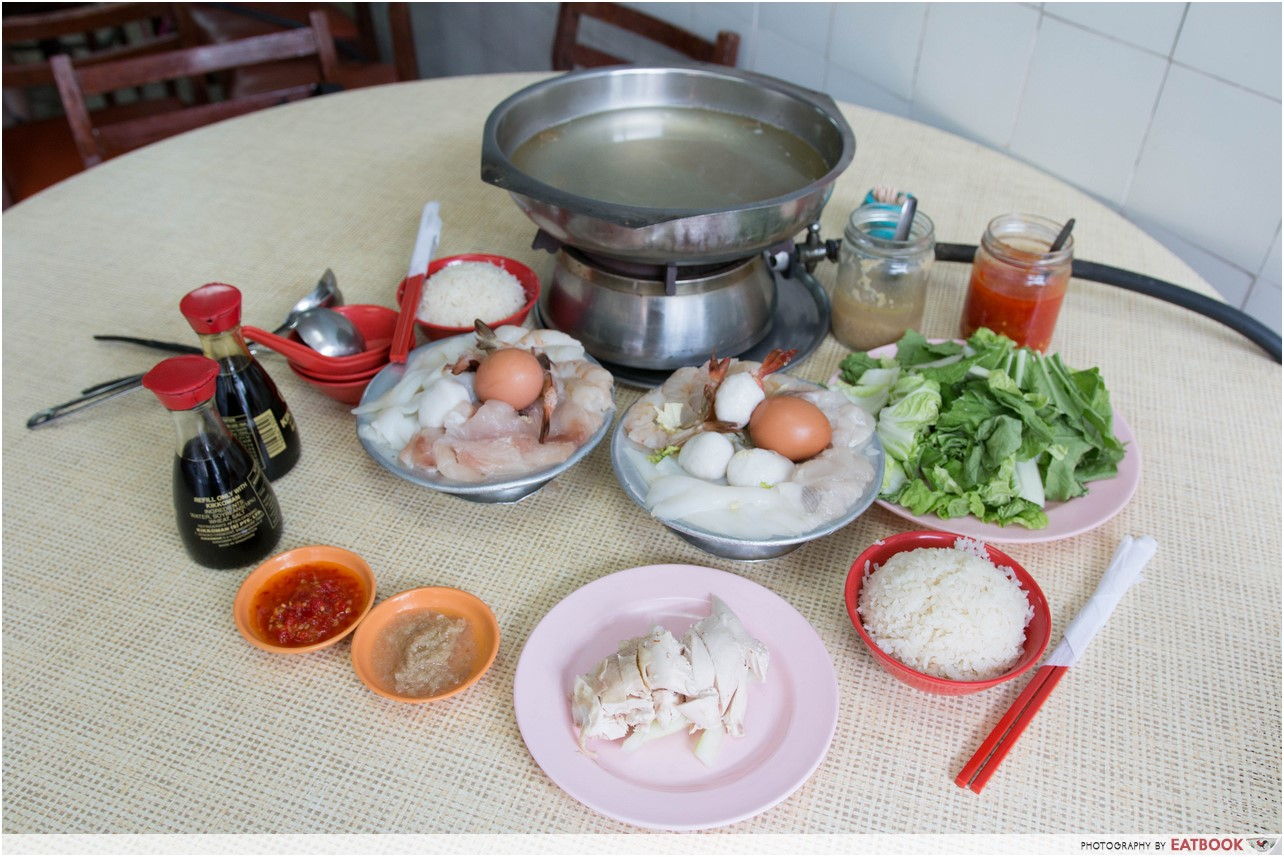 Founded in 1940, Yet Con has been serving their chicken broth and fragrant savoury rice for over 70 years. At $12 per person, you'll get to choose either a beef or seafood platter for your steamboat. Besides the flavoured rice, the broth is also made to give customers the full Hainanese chicken rice experience as it is boiled with chicken bones, garlic, chicken oil, and shallots. Of course, a chicken rice steamboat cannot do without chicken, but the meat comes as a separate order at $5 per portion.

Check out our full review of Yet Con's chicken rice steamboat!
Address: 25 Purvis Street, Singapore 188602
Opening hours: Daily 11am to 9:30pm
---
2. Hainanese Chicken Rice Risotto
---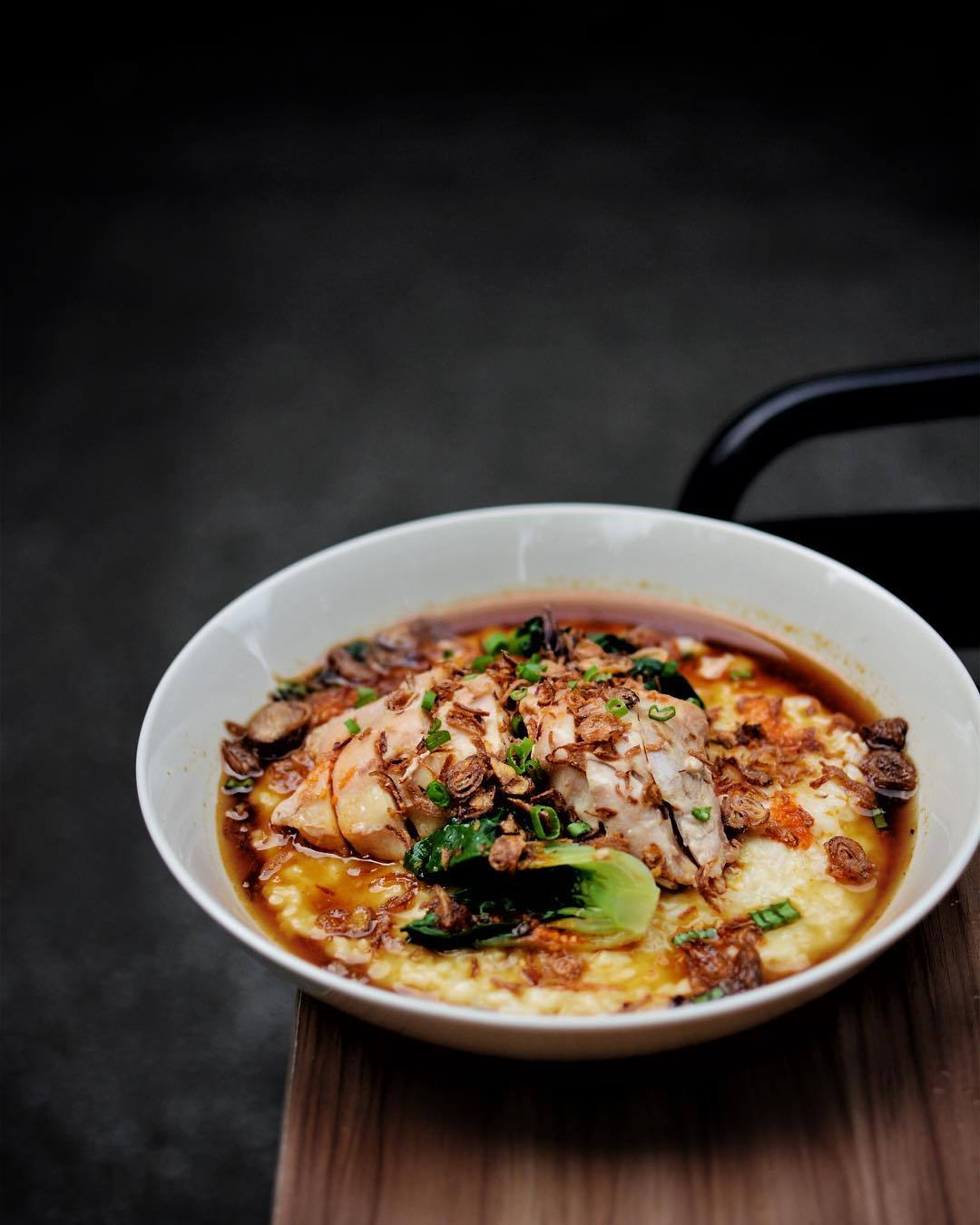 Image credit: @randylim97
Originating from northern Italy, risotto is a rice dish that is typically cooked with butter and cheese. At Stateland Cafe, however, this Western dish is recreated to become a hawker classic with their Hainanese Chicken Rice Risotto ($20). Besides the generous amount of poached chicken, the dish is also served with ginger-flavoured broth, fried shallots, and dollops of chilli.
Address: 30 Bali Lane, Singapore 189866
Opening hours: Wed-Sun 12pm to 10pm
Tel: 9296 4997
Website
---
3. Truffle Chicken Rice Set
---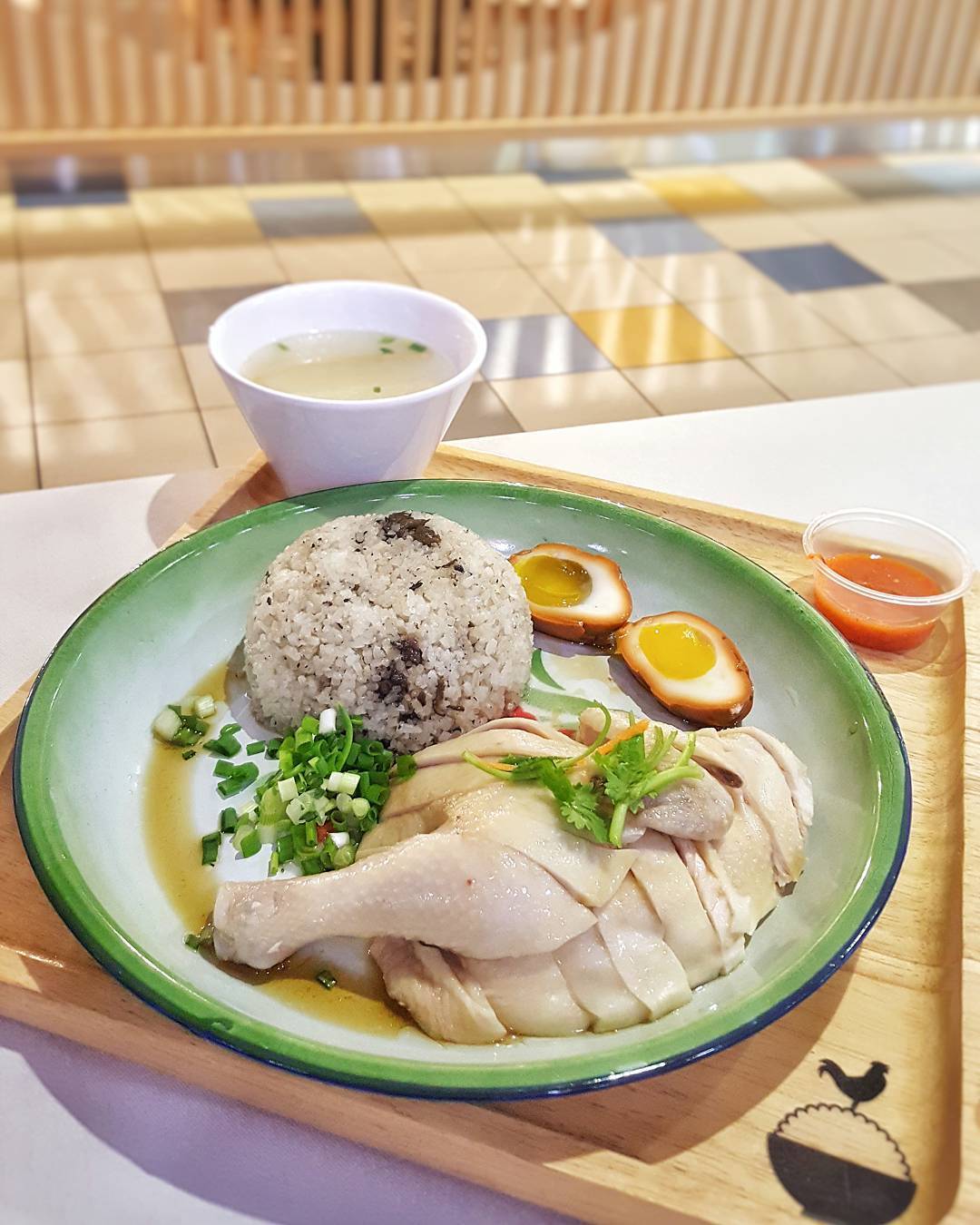 Image credit: @richelle_fate
Located at the basement of Cineleisure Orchard, Eat Chicken Rice is a stall that serves traditional chicken rice with a modern twist. Instead of the usual oily rice, Eat Chicken Rice serves truffle rice with bits of mushrooms mixed inside. Along with half a poached chicken and lava egg, the Truffle Chicken Rice Set ($8.90) looks nothing like typical plates of chicken rice you would find at hawker centres.
Address: 8 Grange Road, Koufu Foodcourt, Cineleisure Orchard, Singapore 239695
Opening hours: Daily 11am to 9:30pm
Tel: 9828 3490
Website
---
4. Chicken Rice tea
---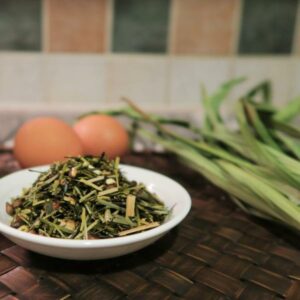 Image credit: ETTE Tea Company
At the mention of chicken rice, it is hard not to think of the greasiness that comes with the meal. ETTE's Chicken Rice tea allows you to enjoy the fragrance of the dish without all that. Along with their other unique tea flavours like Ice Kachang and Mango Sticky Rice, ETTE sells hand blended Chicken Rice tea made with kukicha tea, lemongrass, ginger, and fragrant pandan. At $8 for five tea sachets, you can get the tea either from their store or order them online at their website.
Address: 333 Kreta Ayer Road, #03-25, Singapore 080333
Opening hours: Mon-Fri 10:30am to 6pm, Sat 10:30am to 4pm
Tel: 9012 7600
Website
---
5. Ma La Chicken Rice
---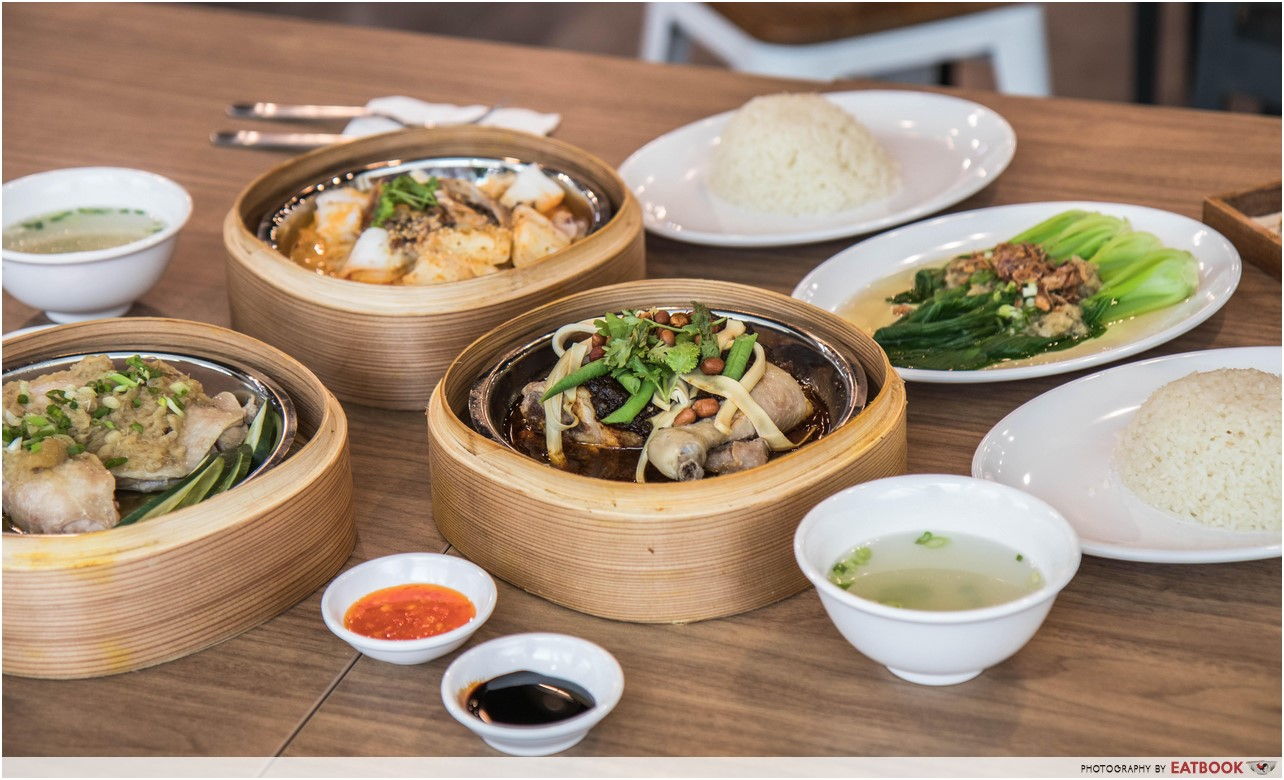 Opened by celebrity Mark Lee, 13 Stages is a restaurant in Kallang Wave Mall that serves seven different types of chicken rice. Most interesting of them all would be Mala Chicken ($8.90). Along with a plate of fragrant rice, the chicken leg comes covered with chilli oil and Sichuan spices, giving an exciting kick to the usual chicken rice.
Find out more about the chicken rice at 13 Stages!
Address: 1 Stadium Place, #01-41, Kallang Wave Mall, Singapore 397628
Opening hours: Daily 10am to 9pm
Tel: 6384 0502
Website
---
6. Hainanese Chicken Pasta
---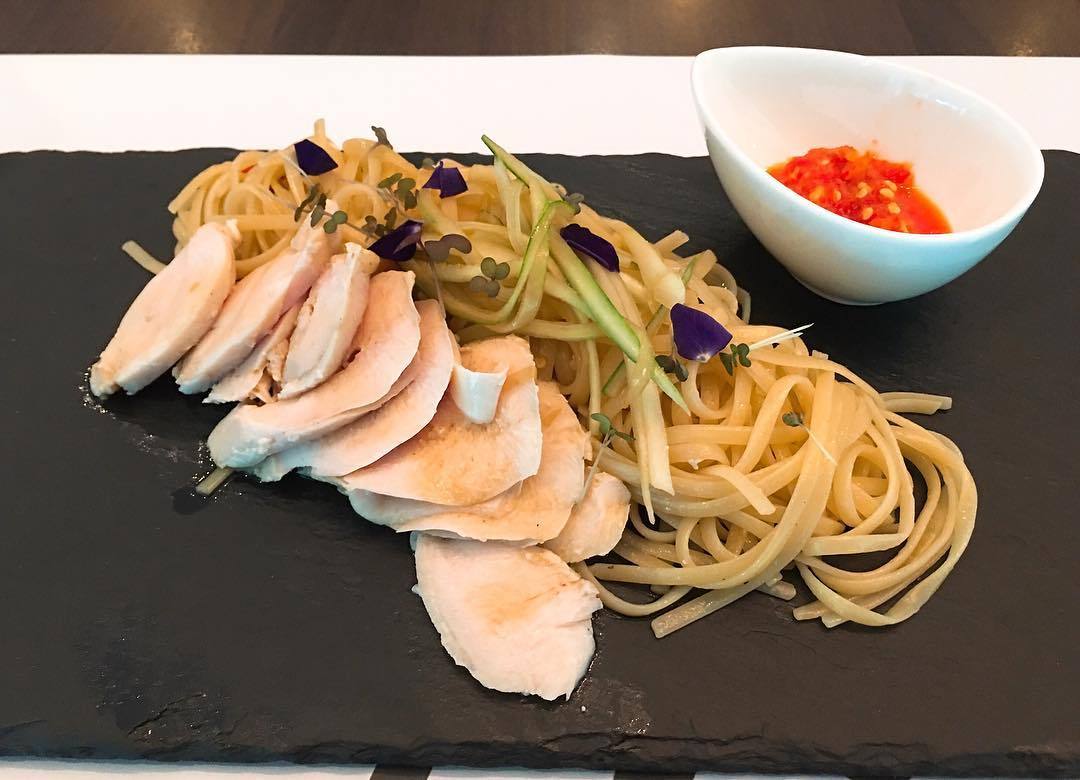 Image credit: @foodie_bearr
Priding themselves as a modern Asian fusion restaurant, Froth serves many hawker classics that come with a unique twist. Aside from their Siobak Aglio ($25.90++) and Sambal Stingray Burger ($26.90++), one of their most interesting dishes includes Hainanese Chicken Pasta ($25.90++).  While retaining the main feature of the traditional dish, which is poached chicken, Froth replaces the rice with linguine that is flavoured with ginger and garlic. Along with Hainanese-style chilli, this Western dish is transformed into an atas hawker gem.
Address: 2 Finlayson Green, Level 2, Singapore 049247
Opening hours: Mon-Sat 11:30am to 10pm
Tel: 6336 1228
Website
---
7. Chicken Sushi
---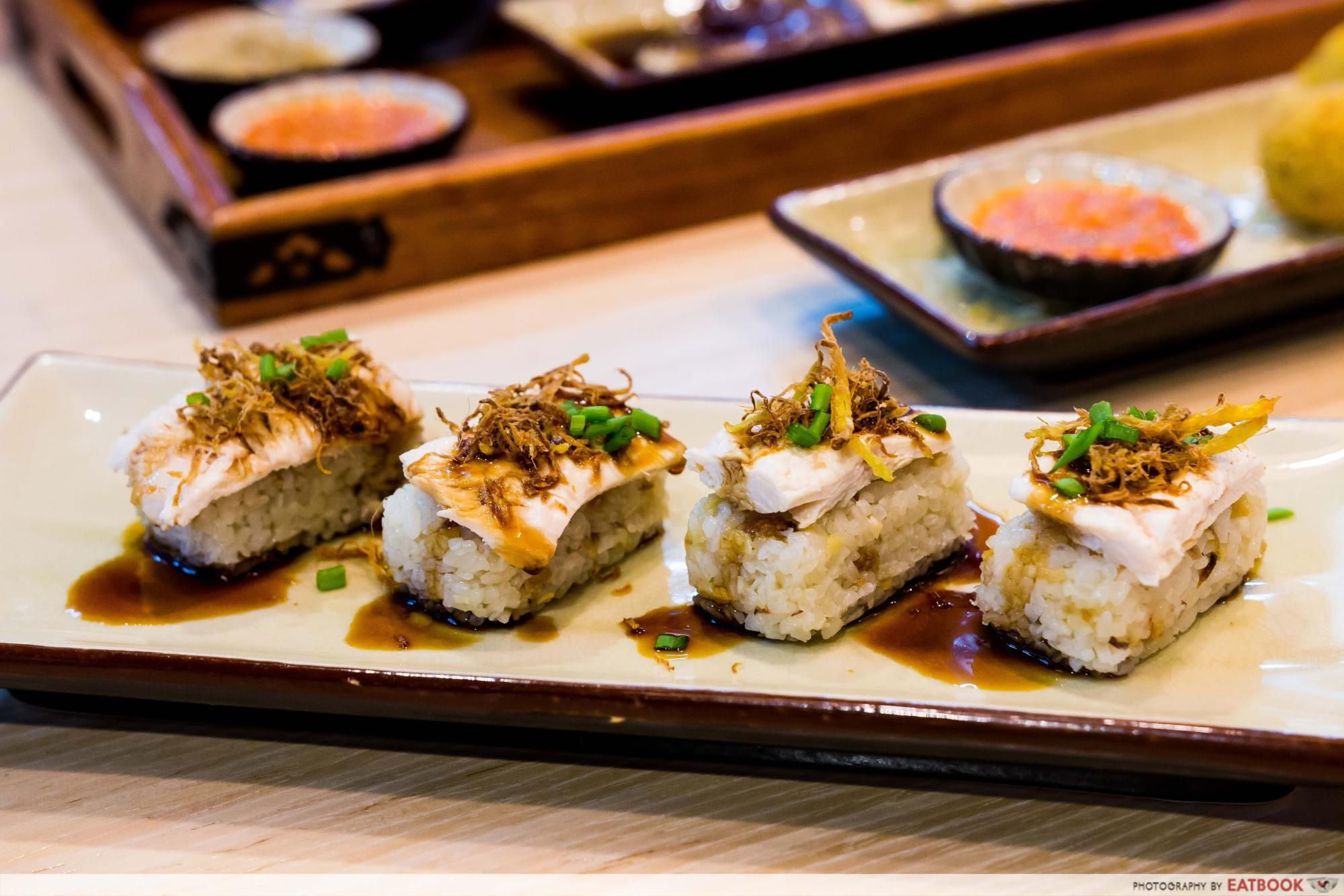 Opened last November at The Centrepoint, ROOST is a chicken rice-themed restaurant that serves not just the usual Singapore Poached Chicken Rice ($8.90++) but also creative twists like Chicken Sushi ($4.90++). Instead of Japanese sushi rice, ROOST replaces the base of the sushi with fragrant rice and garlic bits, with a slice of poached chicken sitting on top. Another interesting side dish that the restaurant offers is Crispy Chicken Rice Balls ($4.90++), a deep-fried snack made of mashed rice and chicken stuffing.
Check out our full review of Roost!
Address: 176 Orchard Road, #B1-17/18/19, The Centrepoint, Singapore 238843
Opening hours: Daily 11am to 9pm
Tel: 6909 0411
Website
---
8. Chicken rice cookie
---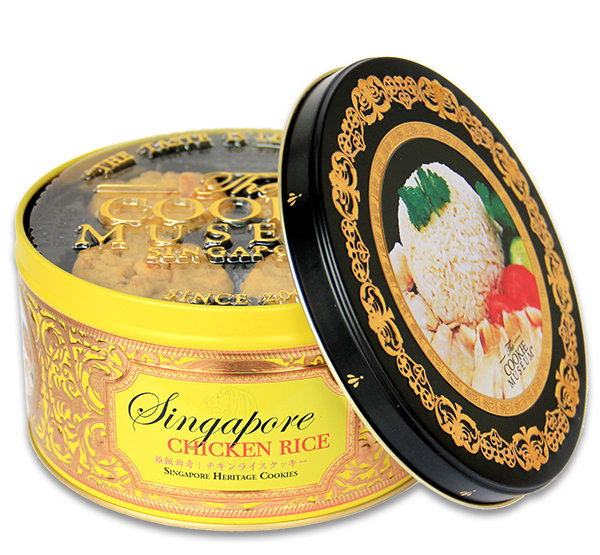 Image credit: The Cookie Museum
Those who know The Cookie Museum would know them for being one of the most atas cookie shops in Singapore, and also for their crazy cookie flavours. They have a "Singapore Heritage Cookies" series, with flavours such as nasi lemak, chilli crab, and chicken rice. The Singapore Chicken Rice ($47 for a box of 24 cookies) cookie is made using chicken rice spices, rice crisps, and pepper.
Address: 252 North Bridge Road, #B1-49, Raffles City, Singapore 179103
Opening hours: Daily 11am to 9pm
Tel: 6336 2866
Website
---
9. Sous vide chicken with rice
---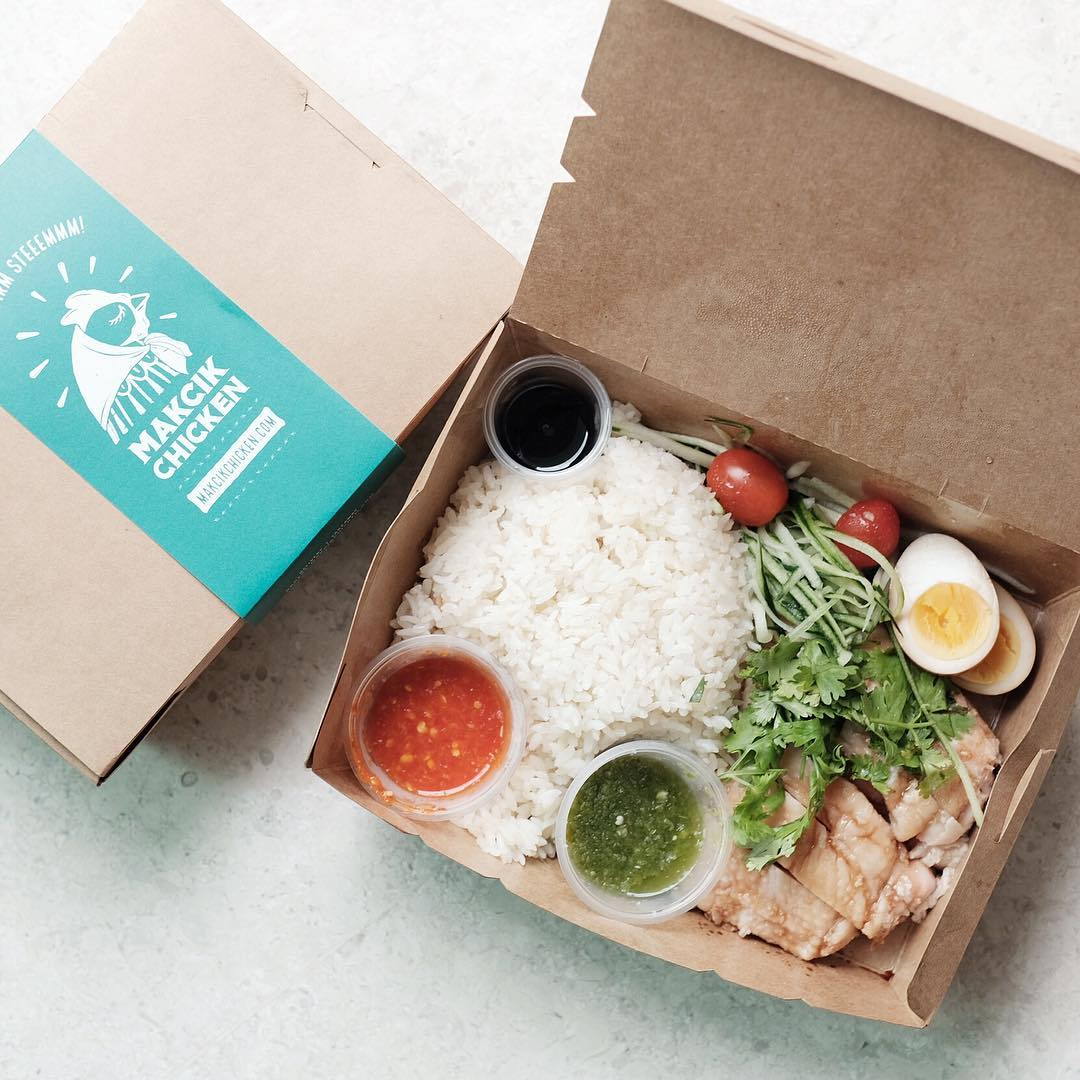 Image credit: @sooziemoozie
Selling only one main dish, Confirm Steeemmm Chicken Rice ($9.50), Makcik Chicken is a takeaway that serves chicken rice with a modern touch. Unlike the classic poached chicken rice, Makcik Chicken prepares chicken thigh using the sous-vide technique and serves the dish with cherry tomatoes and a hanjuku egg. The flavoured Japanese rice also comes with red chilli, green chilli, and dark sauce. While they have a store at Aliwal Street, Makcik Chicken only does takeaways as there are no tables for you to dine at. Their unique chicken rice is however, available to order on most food delivery sites.
Address: 77 Aliwal Street, Singapore 199948
Opening hours: Daily 12pm to 8pm
Tel: 8750 4121
Website
---
10. Hainanese Chicken Rice Bread
---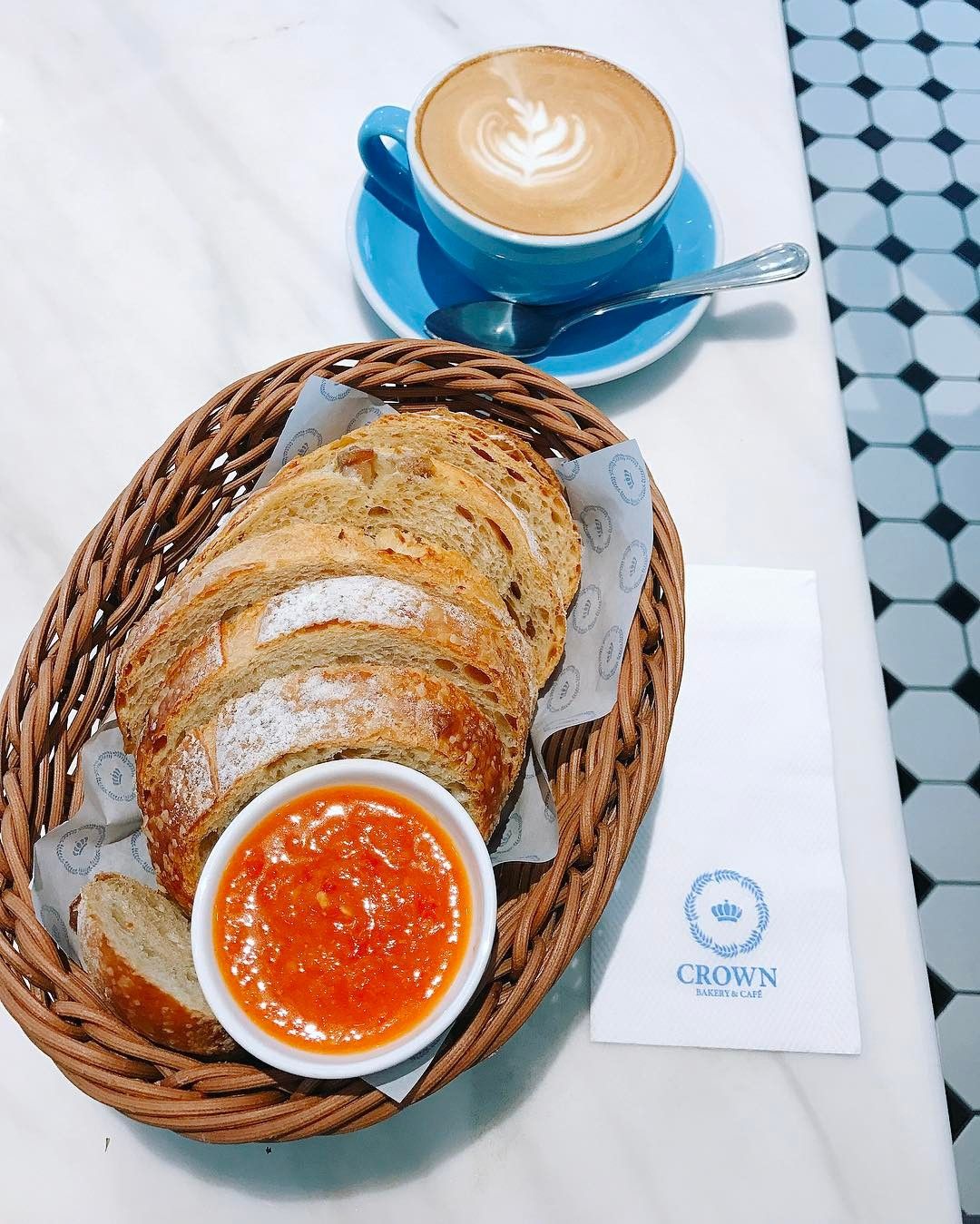 Image credit: @temporarylocal
While I am used to people ordering prawn noodles without prawns, having chicken rice without chicken or rice sounds absurd to me. At Crown Bakery, however, the cafe serves chicken rice without both its key players. Their Hainanese Chicken Bread ($4.50) is made from chicken soup, skinless chicken thigh, garlic, ginger, and shallots. Completed with chicken rice chilli, eating the loaf of bread is like having a chicken rice meal, but with an entirely different texture.
Address: 557 Bukit Timah Road, #01-03, Crown Centre, Singapore 269694
Opening hours: Daily 7:30am to 7pm
Tel: 6463 3066
Website
---
Don't chicken out of these crazy creations
---
Whether you are in a hawker centre or food court, it is impossible to not find at least one stall selling the usual plate of chicken rice. So if you happen to chance upon any of these unique chicken rice twists, bring out your adventurous side and give them a try! Besides chicken rice, we also have a list of over-the-top prawn mee noodles for when you are not feeling the ordinary hawker fare.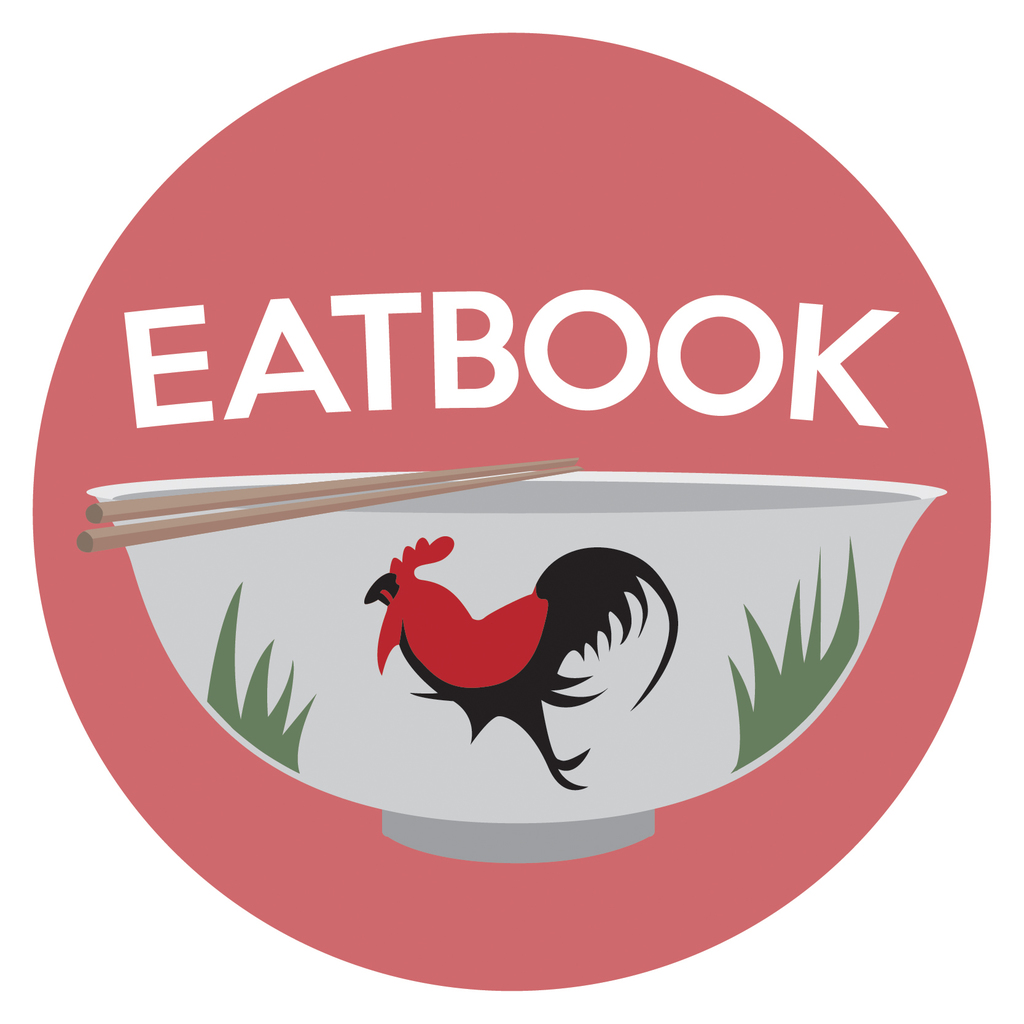 Drop us your email so you won't miss the latest news.