Mr Ramen for fusion ramen in Chinatown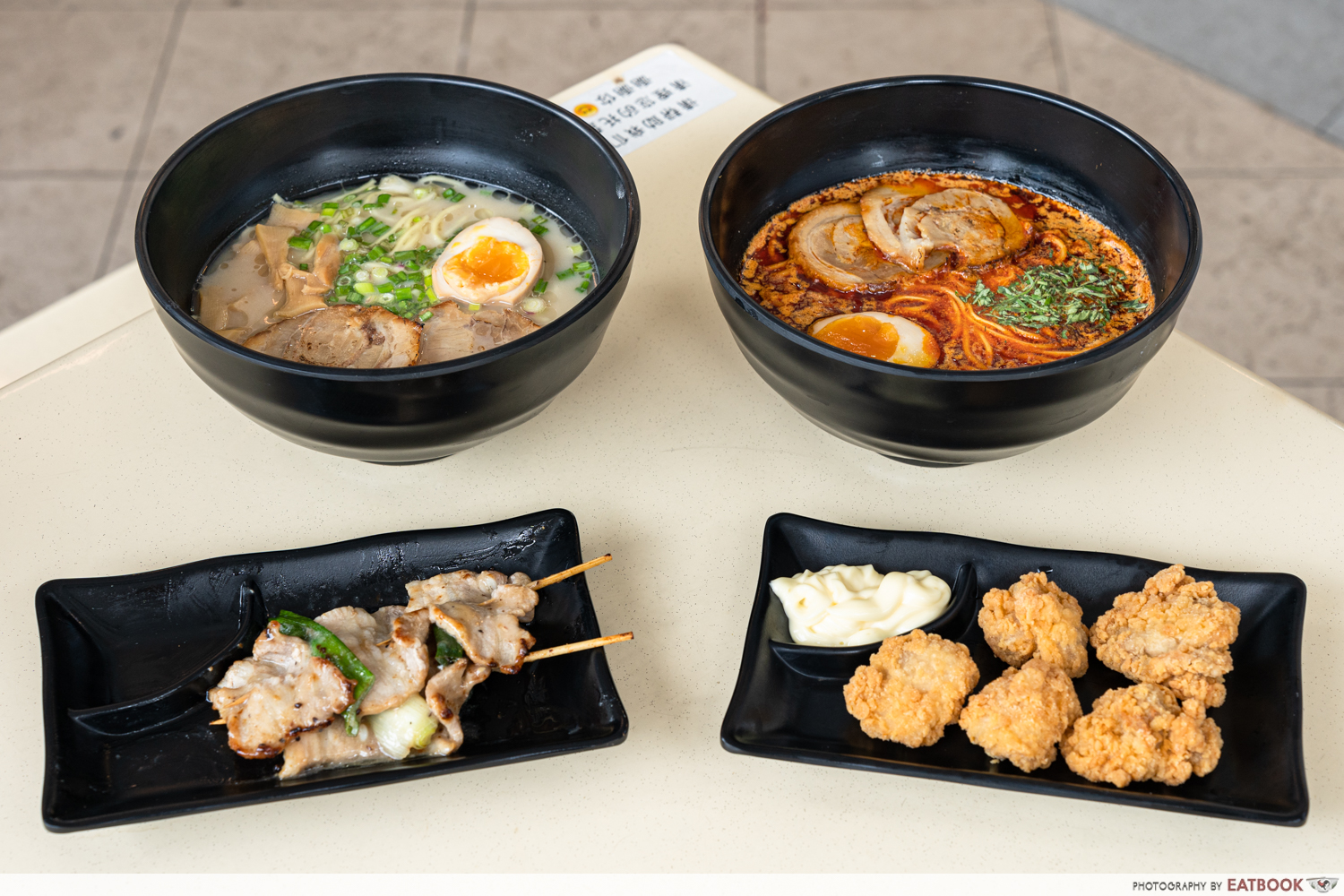 I'll admit that I haven't always enjoyed fusion food, though it has become more commonplace in restaurants and most recently, the hawker scene. So when I was assigned to review Mr Ramen, a fusion ramen stall just a stone's throw away from the newly opened Maxwell MRT Station, I couldn't help but feel a little skeptical. Nonetheless, I went down to the hawker stall with an open mind and a rumbling stomach.
Food at Mr Ramen
It took me a while to decide on what to eat as I was spoilt for choice with Mr Ramen's numerous offerings, including Miso Ramen ($7.90) and Tonkotsu Ramen ($7.90). I eventually set my mind on the Spicy Laksa Ramen ($7.90) and Truffle Ramen ($11.90) as they sounded the most interesting.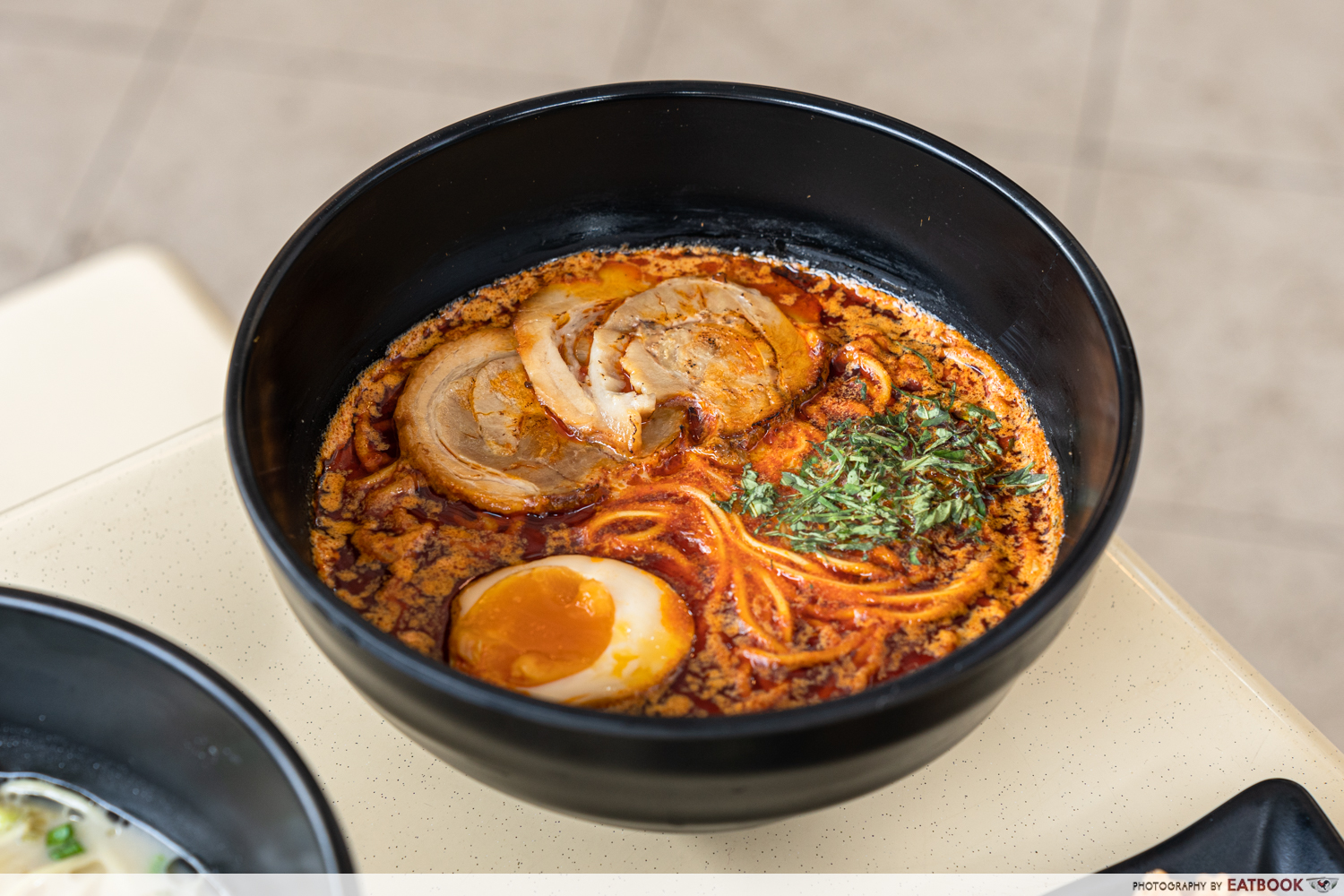 The Spicy Laksa Ramen came drenched in a viscous red laksa gravy and was topped with two slices of chashu and a gooey onsen egg. I looked at it nervously, clutched my packet of tissue paper, and nudged my colleague to take the first sip. She bravely slurped up the noodles and, after about three seconds, exclaimed "Wah the gravy is so thick!".
I hesitantly took a bite and could instantly feel the heat trickle down the back of my throat. Once the spiciness dissipated, I could taste a light creaminess from the coconut milk. My colleague and I agreed that this ramen was spicier than most others, though it wouldn't be a problem for fans of Samyang spicy noodles.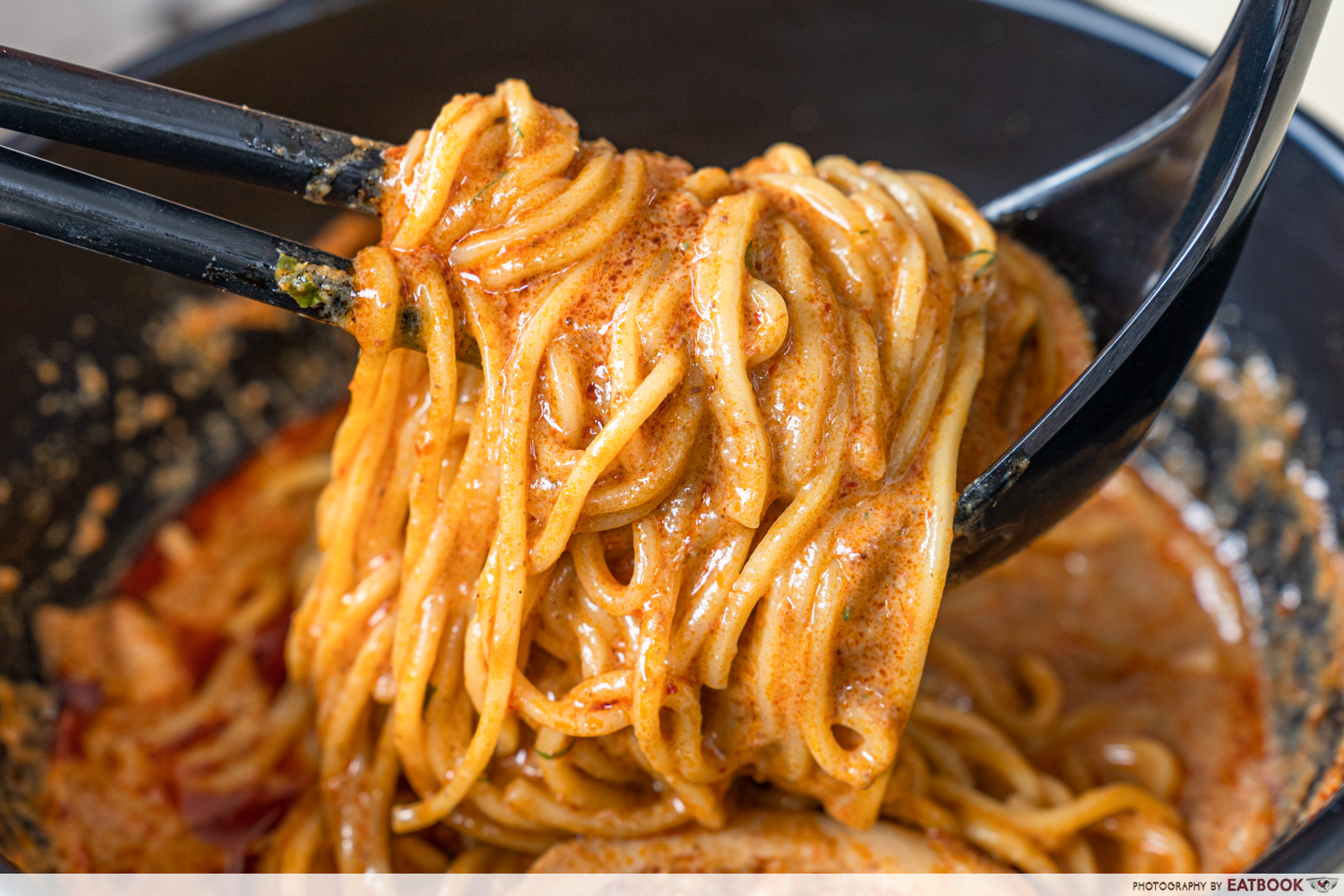 The noodles tasted like a cross between yellow noodles and thick vermicelli noodles but lacked the bitter alkaline taste commonly associated with the former. Unfortunately, they were slightly overcooked, though I do admit that I personally prefer firmer noodles.
As for the chashu slices, they absorbed the gravy well while still being able to hold their own shape. While they were not as tender as I would have hoped, I thought the addition of chashu was a nice nod to the classic Japanese ramen. The meat also offered a sweet respite to the spicy dish.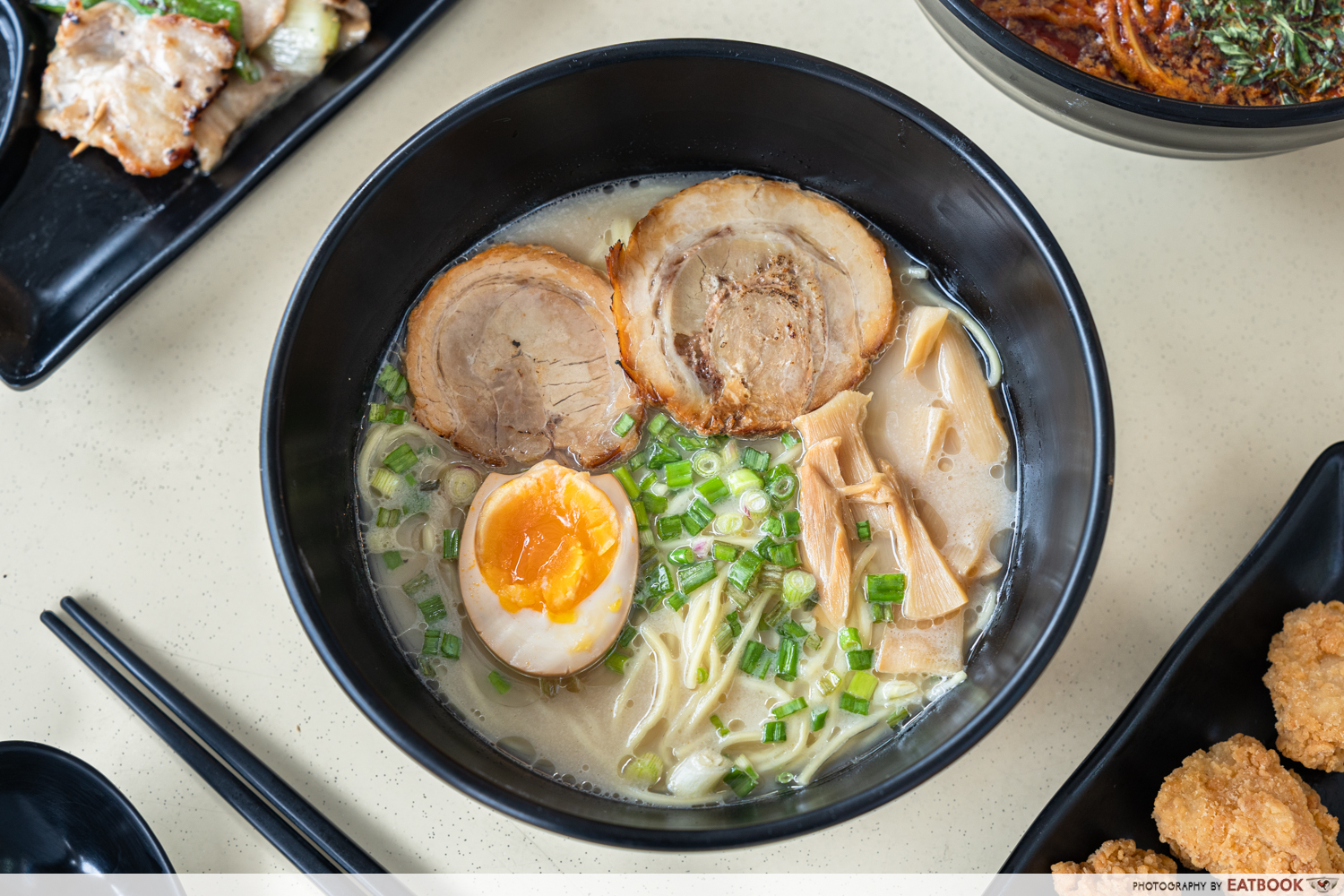 My tastebuds were later soothed by the Truffle Ramen broth, which was clearer and soupier than that of its laksa counterpart. The noodles came with the same chashu slices and onsen egg but with the addition of bamboo shoots. Each time I teased the noodle strands, I was overcome by the distinct truffle aroma, which I presumed came from the dollop of truffle paste on top of the noodles.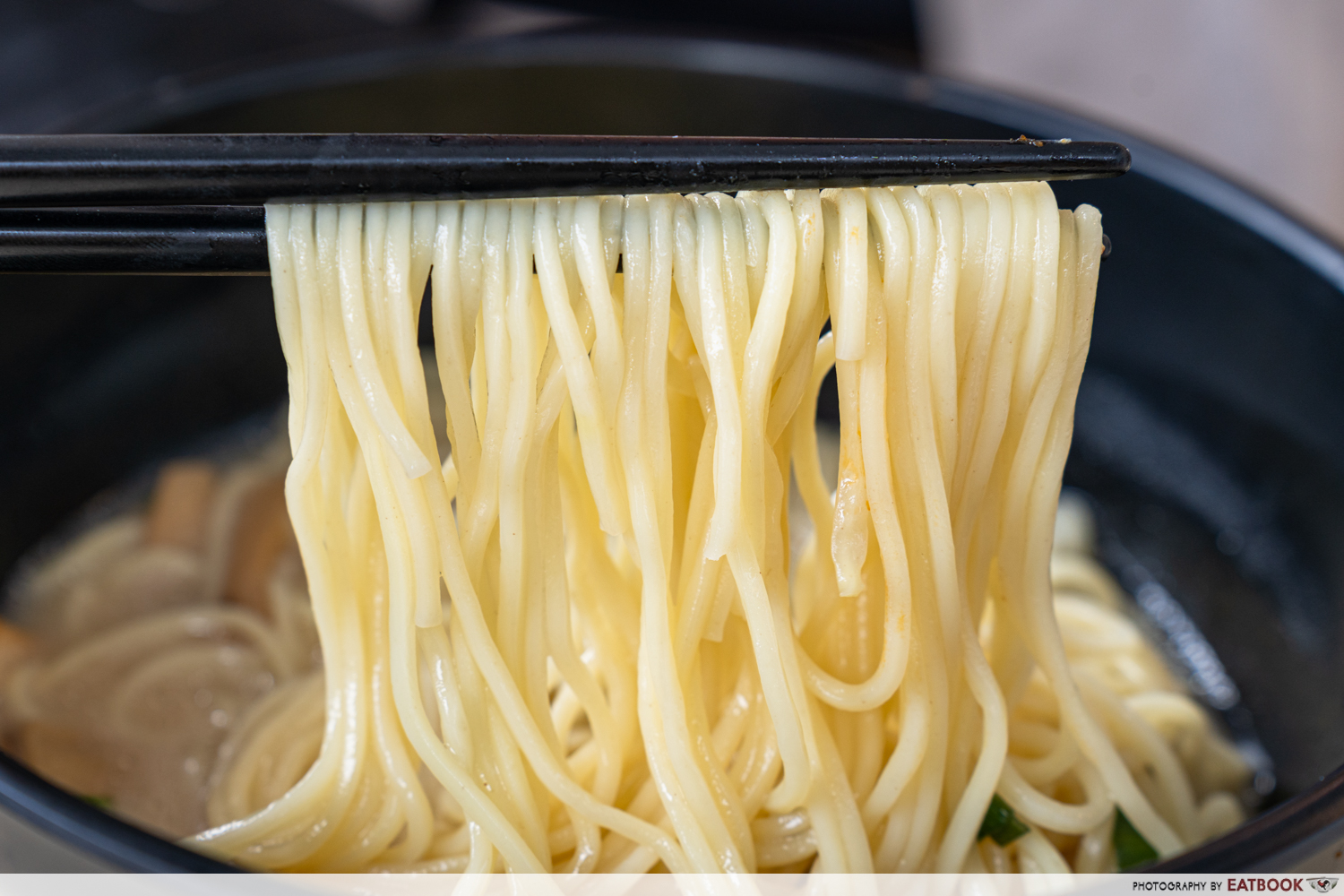 However, I found the taste of truffle to be less prominent than the smell itself, and the broth to be a tad too salty. Nonetheless, it was still a decent bowl of ramen and I liked how the truffle flavour did not taste overly artificial.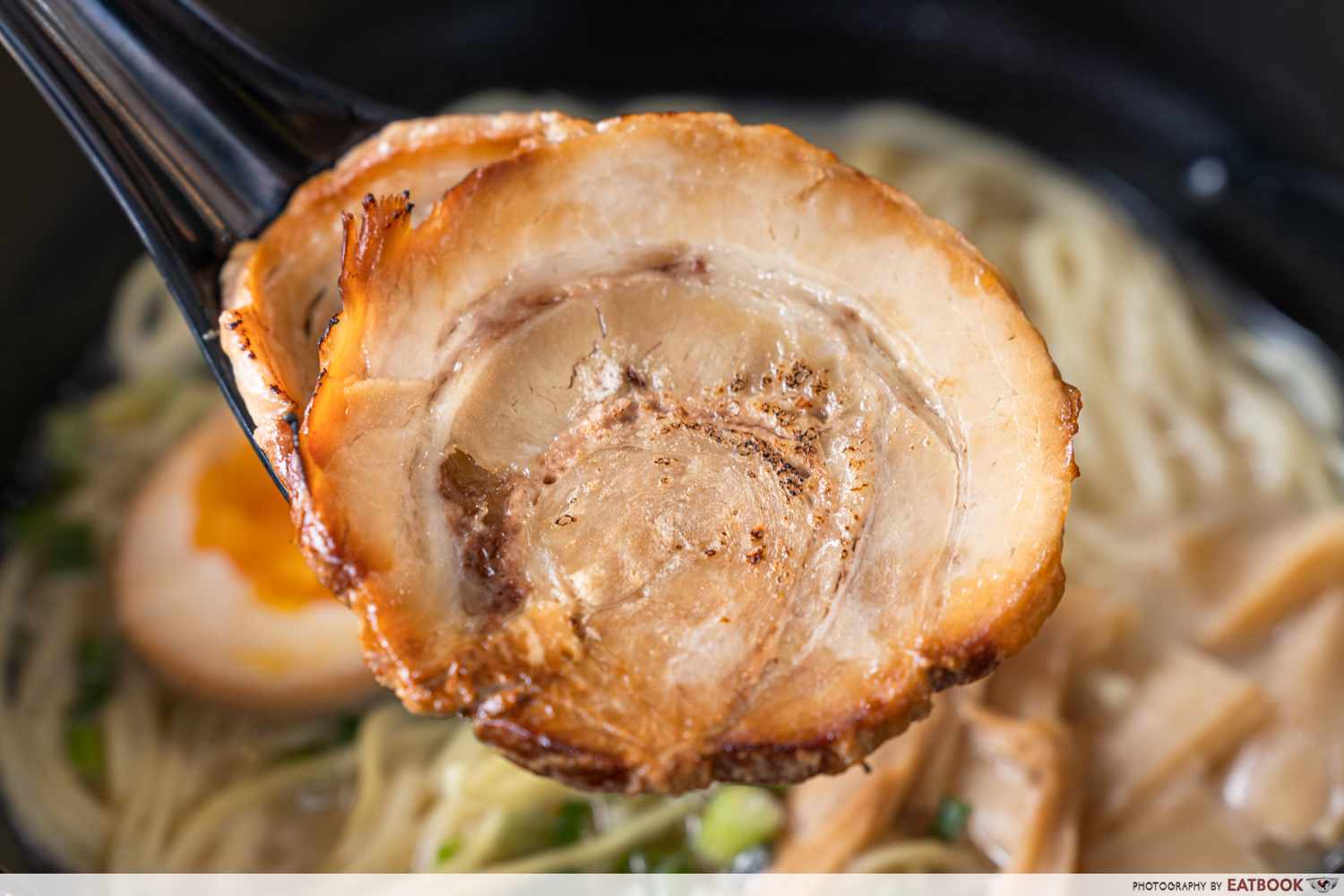 The chashu slices here were tender and soaked up the broth well, though I would have preferred them to be fattier. As for the ramen noodles, I found them to be soft with a few slippery strands sliding off my chopsticks upon every bite.
While the noodle portions were hearty enough, those feeling peckish can give their sides a try, which seem to be inspired by Japanese skewers. We went for the Karaage Chicken and Yakitori Pork Belly, each priced at $3.90.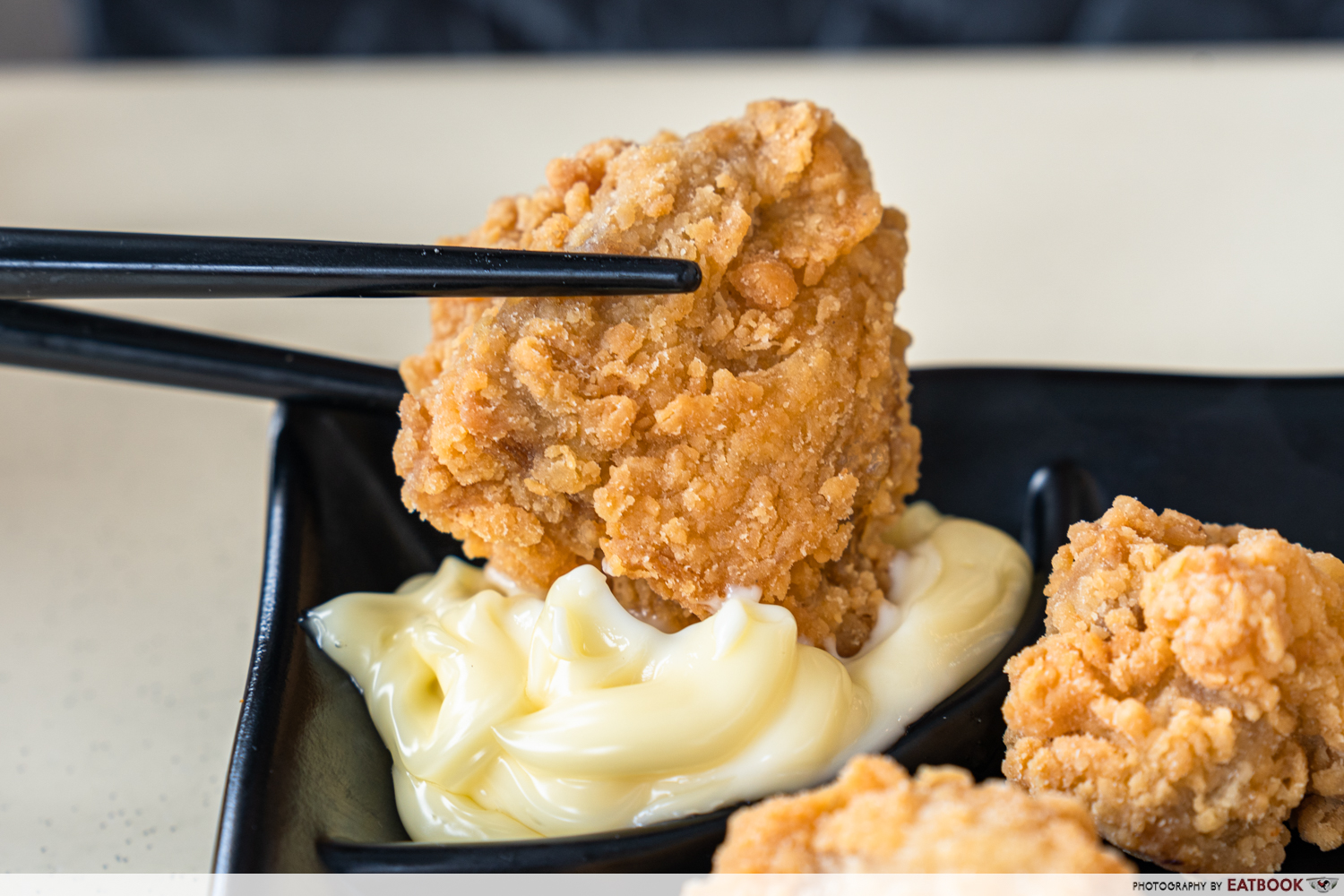 The karaage chunks, though plain-looking, were surprisingly tender on the inside. The batter was thick without being too starchy and offered a satisfying crunch.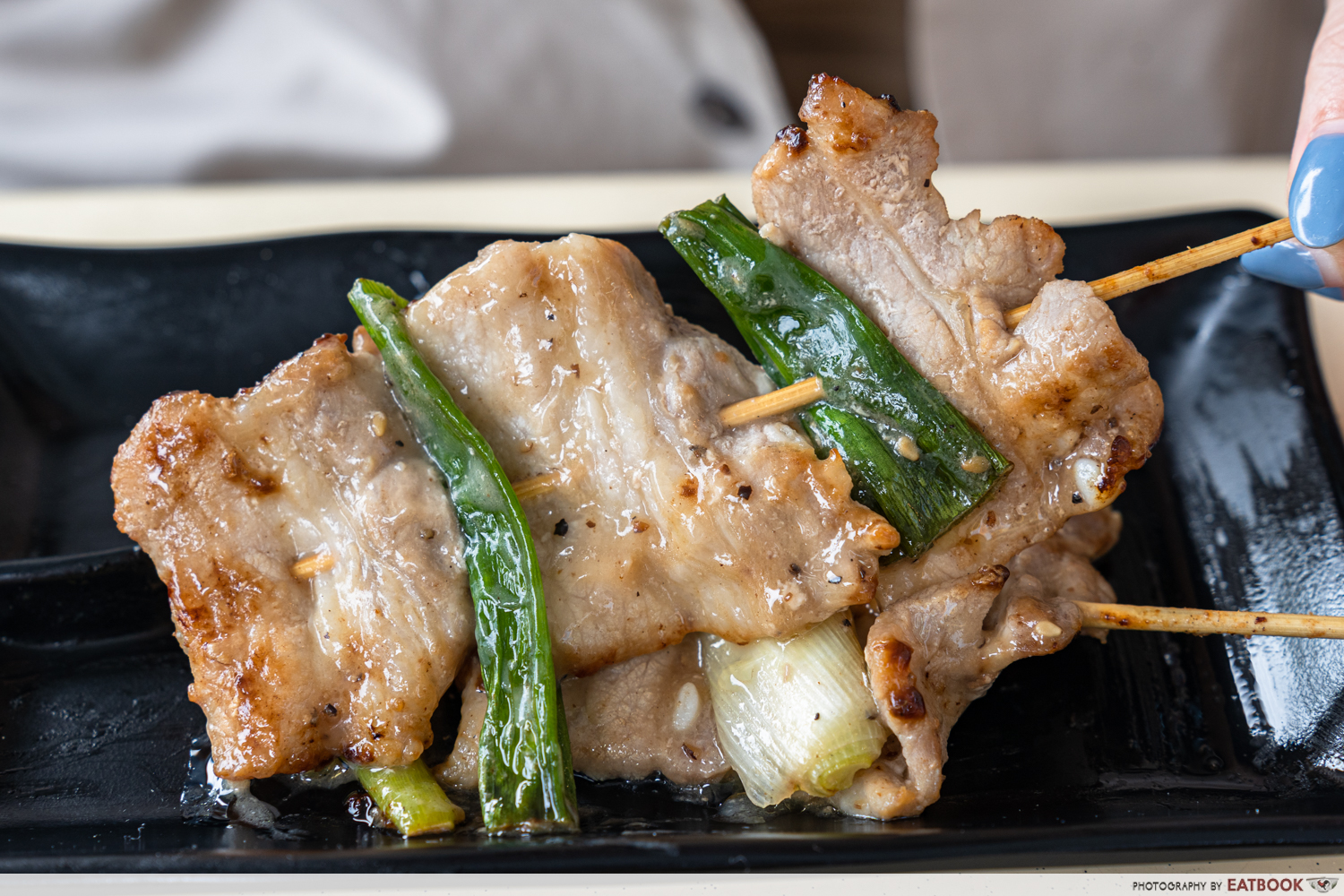 Unfortunately, I couldn't offer the same praise for the two sticks of pork belly, which were undercooked and bathed in oil. The pork was seasoned with so much salt that saltiness was the only flavour my tongue could discern.
Mr Meepok Review: $6 Mazesoba-Style Bak Chor Mee In West Coast
Ambience at Mr Ramen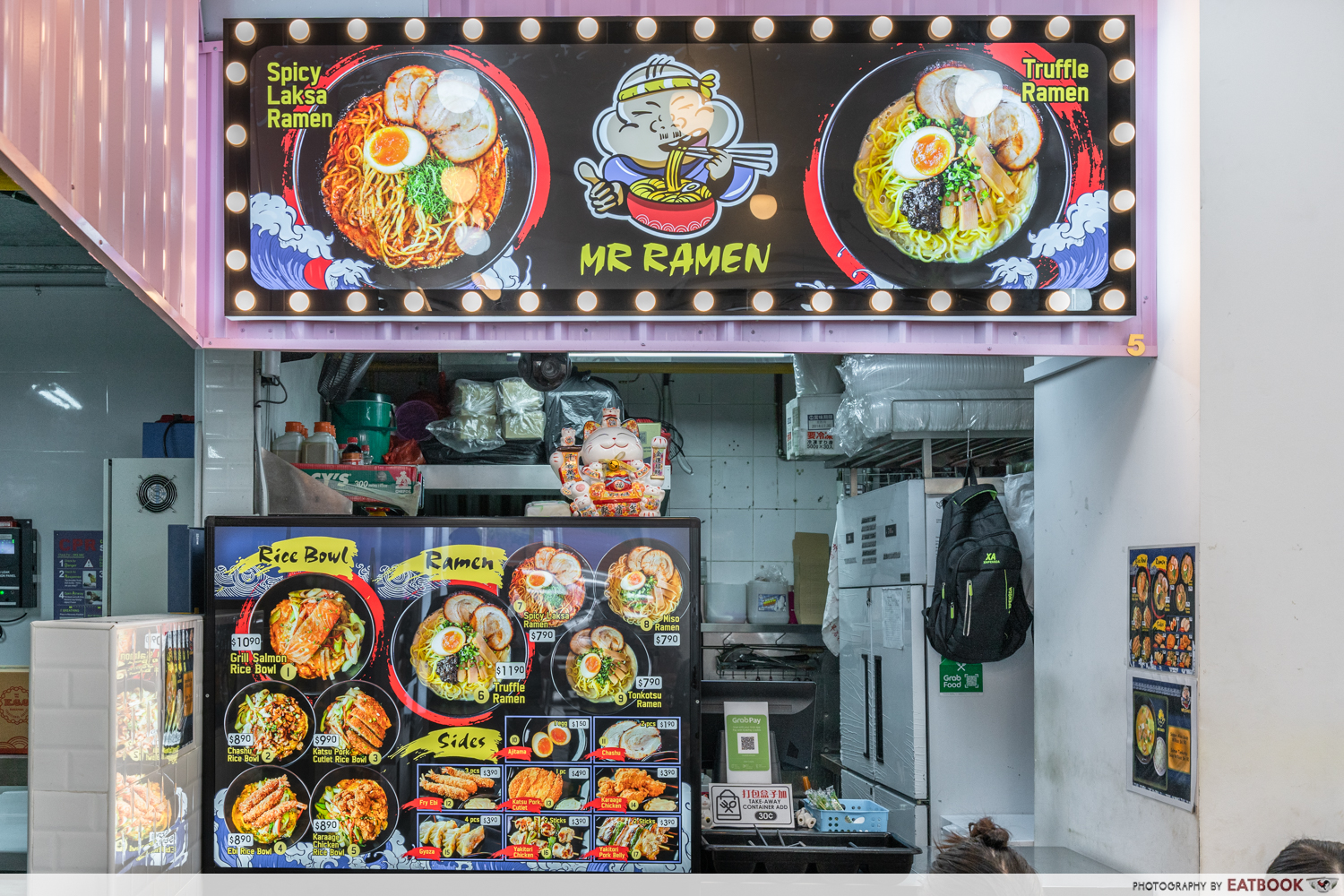 Mr Ramen is located in the bustling K88 Kopitiam within the Chinatown district. While they're situated at the corner of the coffeeshop, right next to the tray return station, it's hard to miss their bright and vibrant storefront showcasing the stall's numerous offerings. Their huge signboard menu covers almost half of the stall, so you'll have to make your presence known by calling out to the uncle who's busy manning the kitchen.
Mr Ramen is just a three-minute walk from Maxwell MRT Station.
The verdict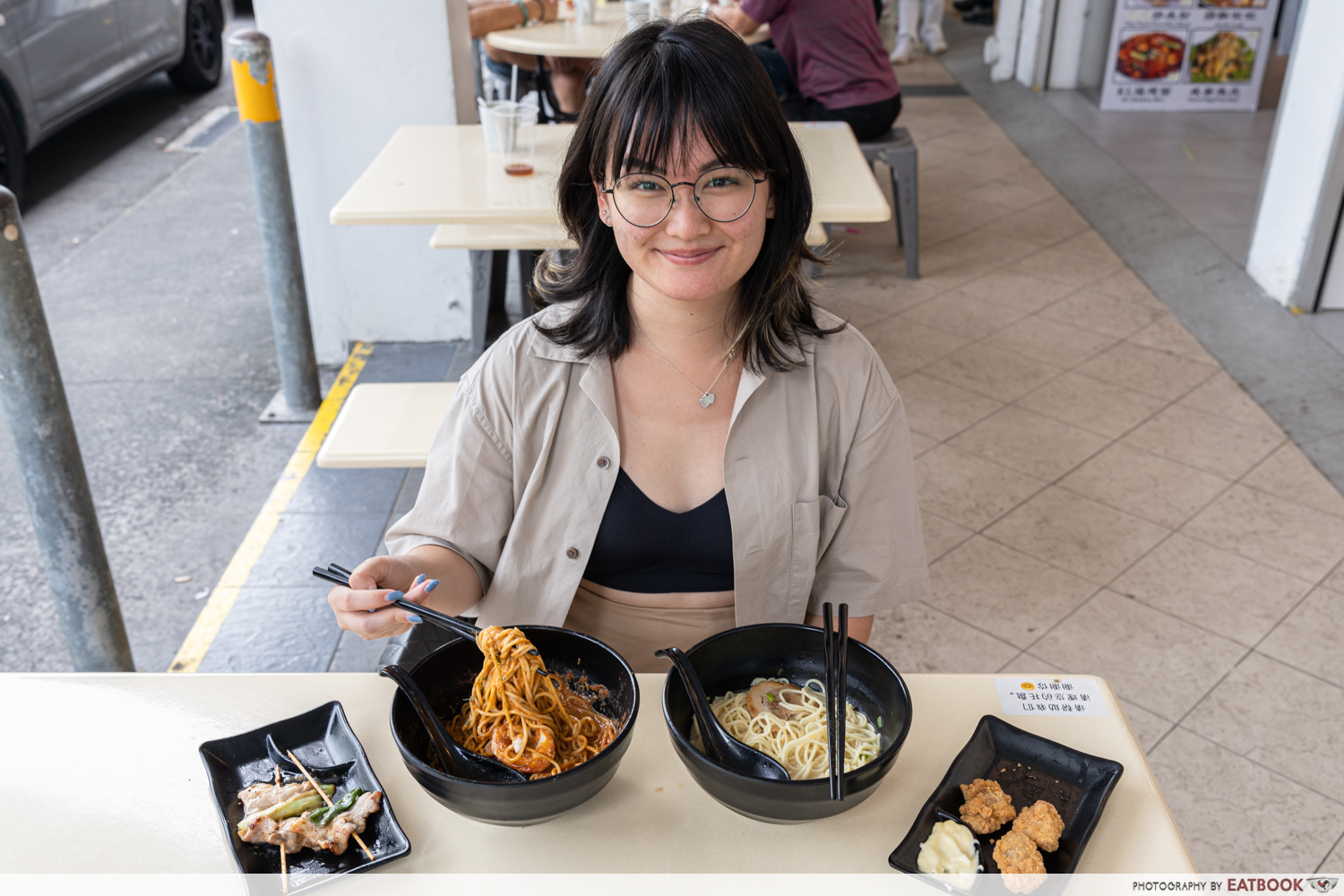 The dishes here may be on the pricier side, though I believe that the higher price point is justified by their restaurant-tier ramen and generous ingredients. I've spent money on more expensive ramen that turned out to be less satisfying, which is why I'm willing to pay them a second visit. I'll be skipping out on their side dishes the next time I'm here, but I look forward to trying the other kinds of ramen they have to offer.
For more good food along the Thomson-East Coast Line, check out our 16 Thomson-East Coast food places guide. If you're looking for more hawker stall ramen, read our Shinjitsu Ramen review.
Address: 5 Banda Street, #01-52, Singapore 050005
Opening hours: Daily 10:30am to 10:30pm
Website
Mr Ramen is not a halal-certified eatery.
Thomson-East Coast Line Food Guide: 16 Places For Korean Bagels, $1.30 Waffles And More
Photos taken by Hui Hui Lau.
This was an independent review by Eatbook.sg
Mr Ramen Review: $7.90 Spicy Laksa Ramen And More In Chinatown Coffeeshop
Mr Ramen Review: $7.90 Spicy Laksa Ramen And More In Chinatown Coffeeshop -

7.5/10
Summary
Pros
– Delicious and creative fusion ramen
– Near Maxwell MRT Station
Cons
– Quite pricey
– Sides are underwhelming
Recommended dishes: Truffle Ramen ($11.90) and Spicy Laksa Ramen ($7.90)
Opening hours: Daily 10:30am to 10:30pm
Address: 5 Banda Street, #01-52, Singapore 05005