Affordable lunch at Nawab's Briyani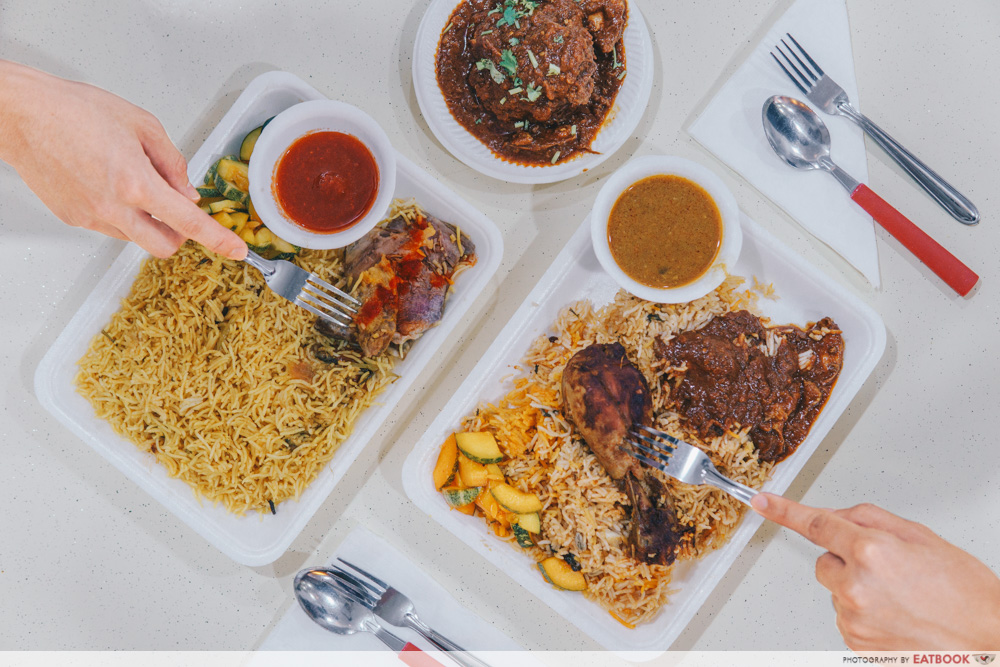 Nawab's Briyani is known to regular visitors of Desker Road for their affordable and generous portions of Indian-Muslim food, along with their catering services. Their briyani starts at a mere $3, and after seeing how big the portion sizes are on their Facebook page, we headed down to take a look for ourselves.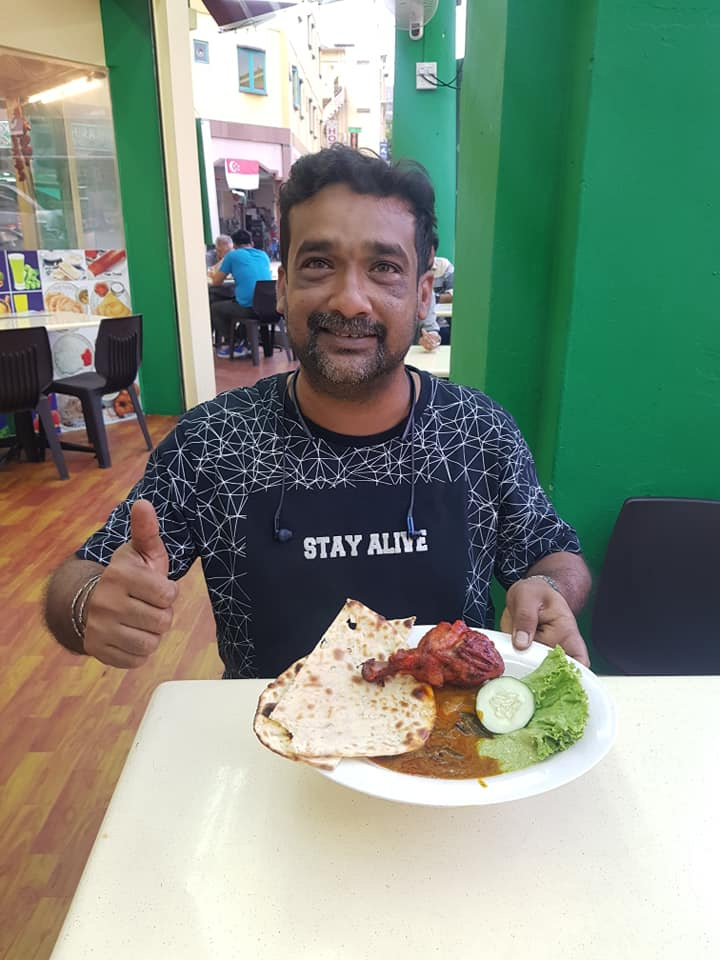 Image credit: Nawab's Briyani's Facebook page 
The restaurant was a spacious and cosy place. The owner, Mohammed Farook, started up his eatery for a good cause. It began when he caught sight of long queues at a mosque after Friday prayers. He noticed that the portions of nasi briyani being donated were small, and weren't enough to feed the crowd. The sight inspired him to start selling cheaper and larger quantities of briyani, so that he could serve as a reliable supplier. Donors could then give more to the less fortunate.
Nawab's Briyani has stuck to the charitable spirit since then. They offer free delivery if the food is being sent to a charity event or donation drive, and have also recently started an initiative to provide free delivery to healthcare workers. Not only do they sell good and wholesome food, they also help others out in the process.
Food at Nawab's Briyani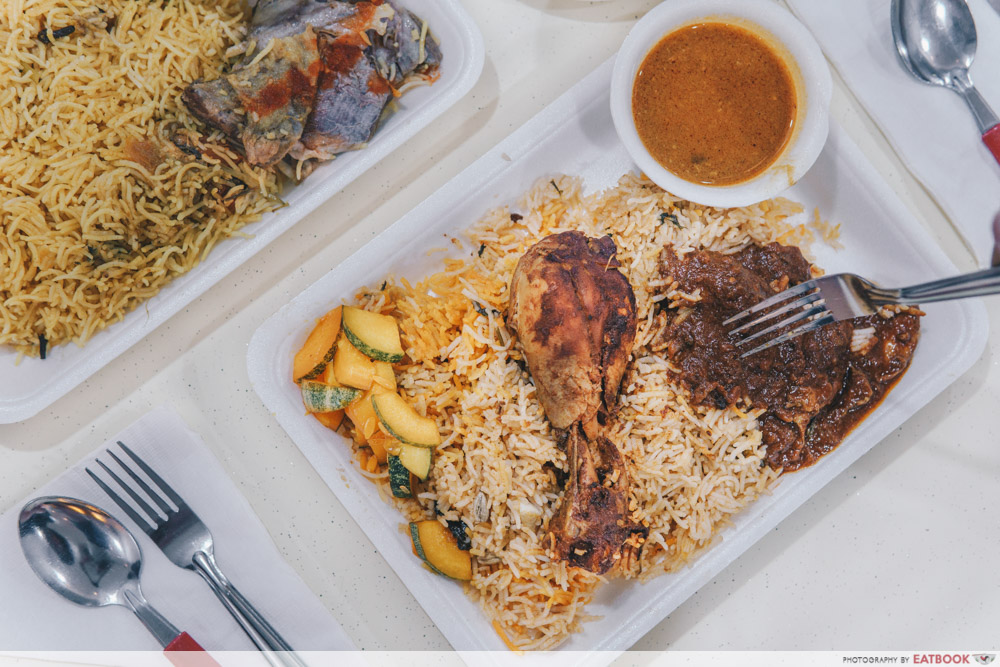 Our first order was the Chicken Briyani ($3), which came as a full-sized portion despite being half the price of briyani that you'd find anywhere else. It didn't skimp on anything at all. There was a full piece of chicken drumstick, thick curry on the side, and a bowl of lighter curry.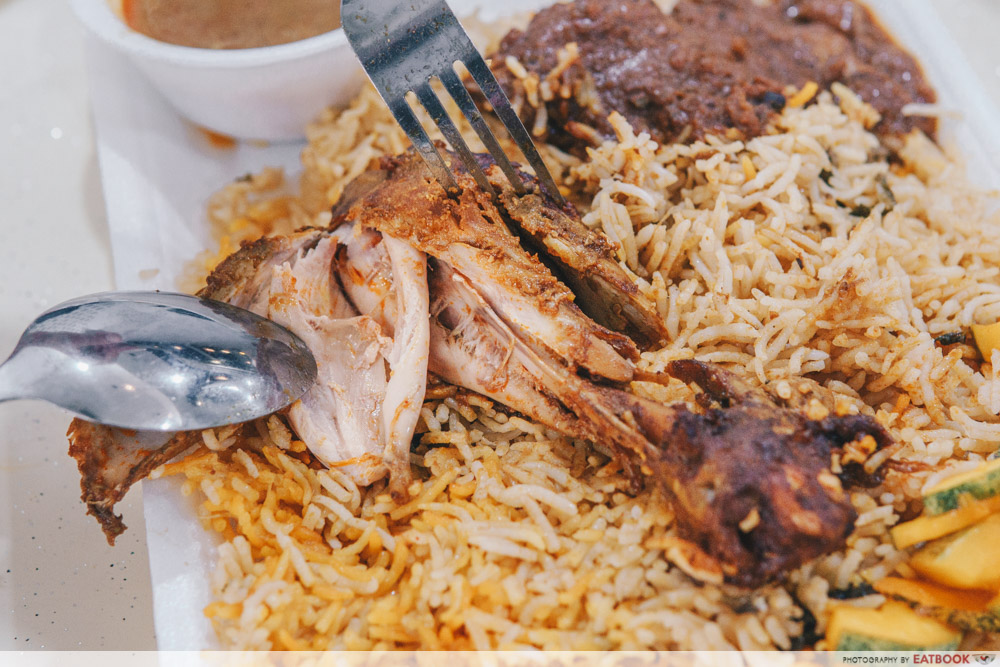 The tender chicken drumstick came apart easily when pried, and was delightfully juicy. The meals here are pre-cooked, so they can be dished out during the lunch rush and easily served up within minutes of ordering. Despite the whole batch being cooked at once, it was still fresh and warm when we ordered ours long after the lunch crowd dispersed.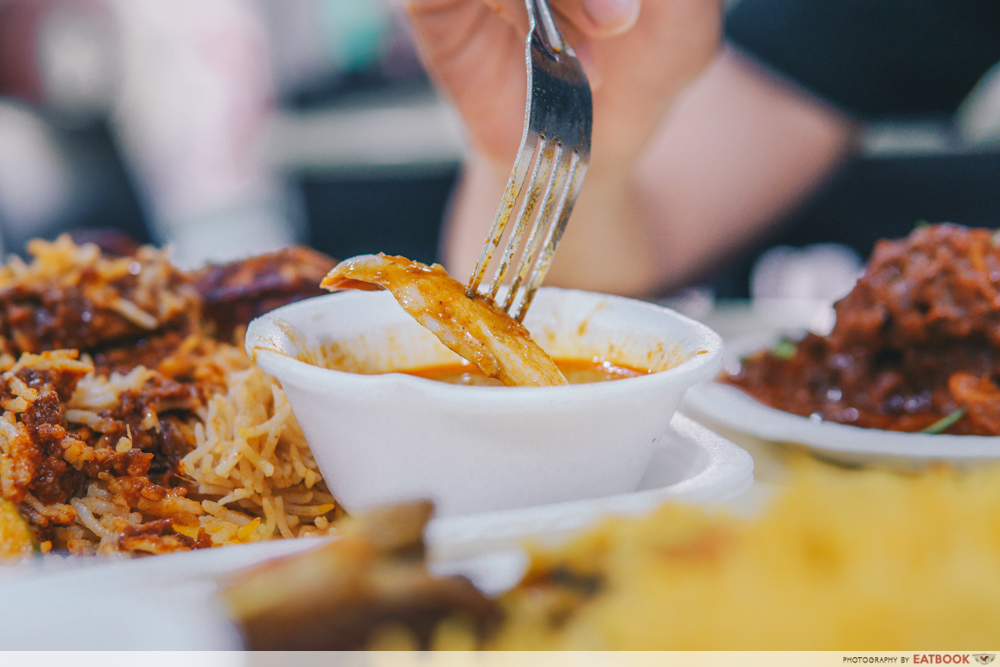 There was a bowl of lighter curry on the side to dip the chicken in. While this one was more flavourful, I preferred the thicker and creamier masala curry.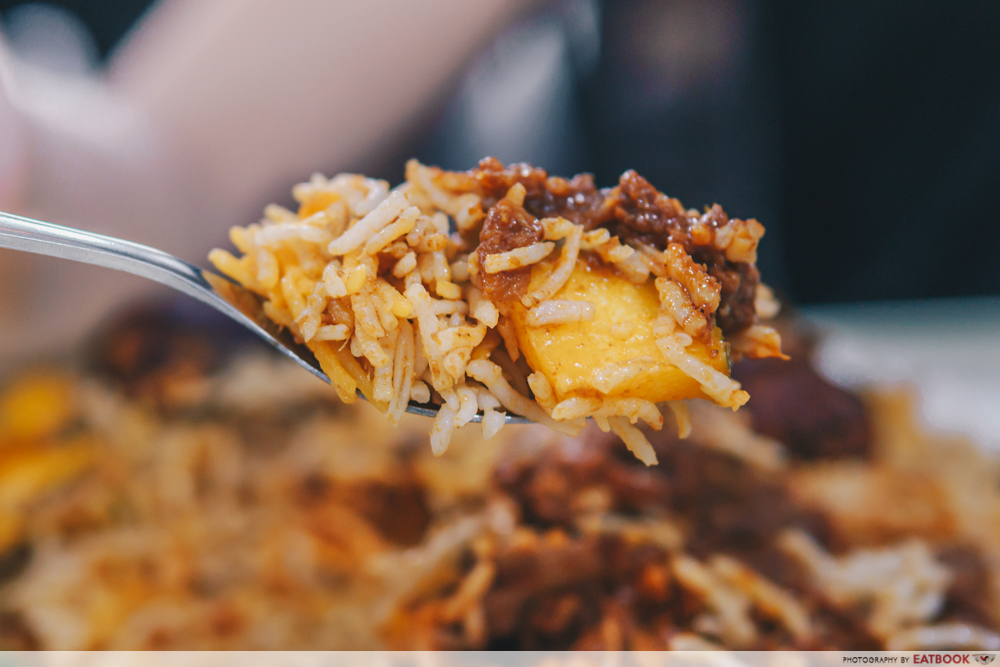 The rice was aromatic and light, with the distinct taste of saffron shining through. Combining it with the curry made for mouthfuls of velvety and spicy rice. The portion size of this platter was ridiculously big for its price, and the whole dish definitely offered value-for-money.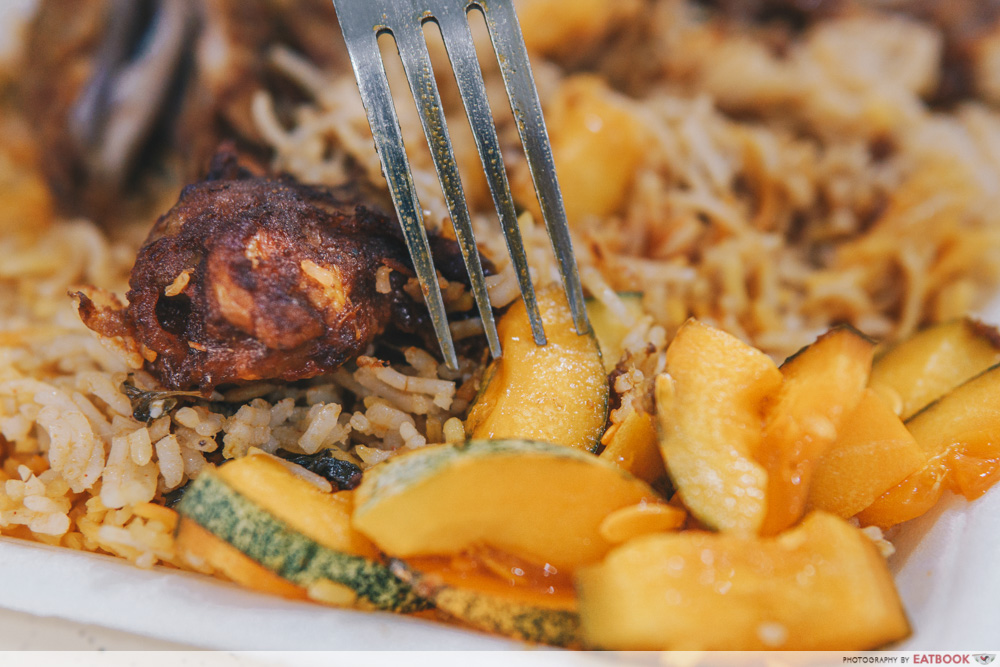 The briyani was accompanied by a side of sour and crunchy achar, which helped to cut through the spice.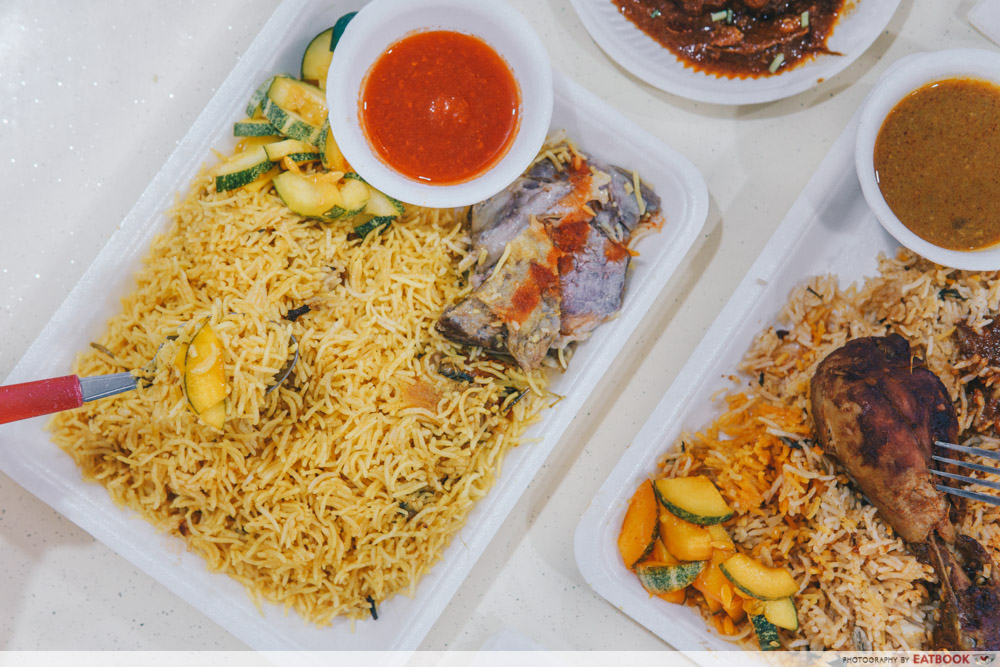 Next up, we got the Mutton Mandi ($5). I immediately noticed that it was a lot brighter than the briyani. It was a vibrant yellow, courtesy of the turmeric, ghee, and spice mix used for the rice. The grains of rice had a far stronger taste than the briyani, which matched the gamey mutton well.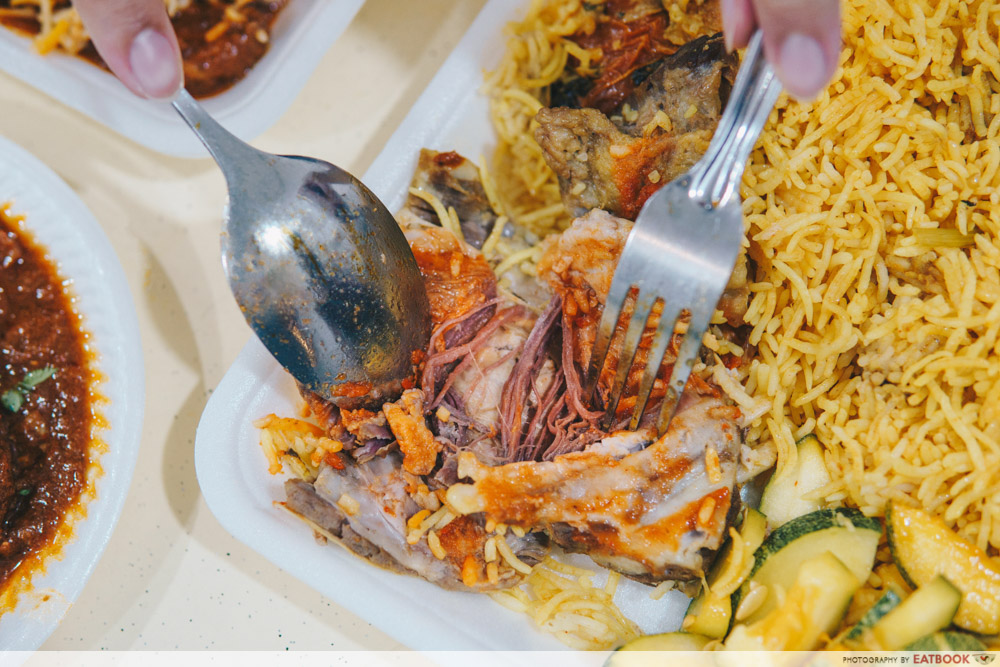 At first glance, I thought the mutton looked a little dry on the outside. However, once we pried it apart, we found that it was moist and chewy on the inside, albeit a little bit tough. It tended to get stuck between my teeth as I chewed. A layer of spicy curry helped to mask a bit of the meat's gaminess. 
The mandi and briyani each had their strong points. The briyani was light and fragrant, while the mandi had a stronger and more flavourful aroma.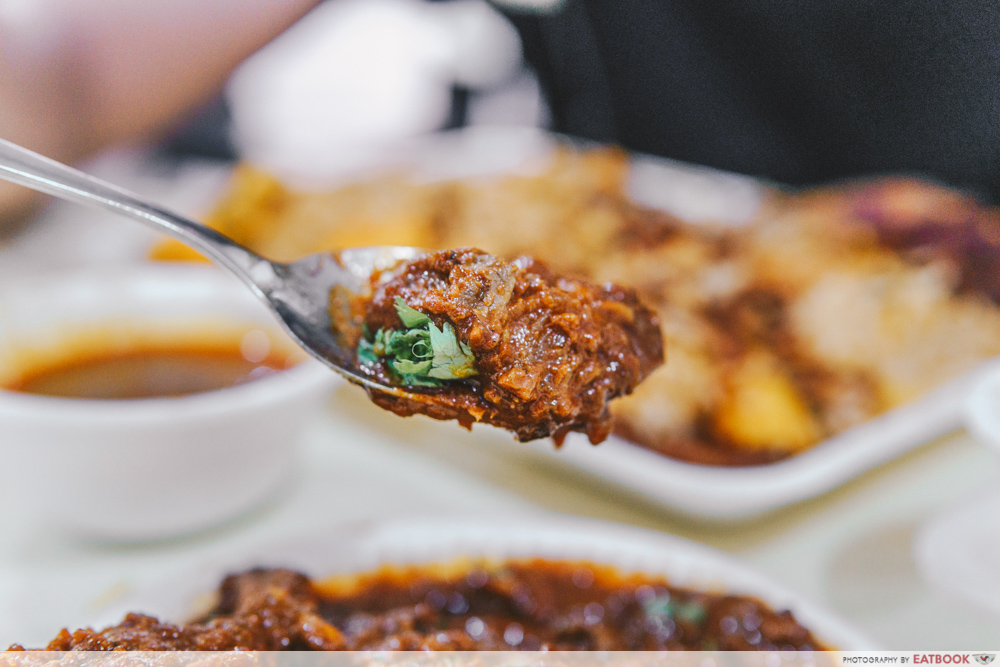 We wanted to get a sizzling serving of Hotplate Chicken Briyani ($6), but the hotplate options weren't available. We decided to get an a la carte side dish instead of another main, and settled on the Mutton Masala ($3). It came as a generous plate of mutton curry, with bits of fresh coriander on top. 
While the dark curry looked intimidating and spicy, the taste wasn't as fiery as the colour implied. It wasn't too hot to handle, but the spice kicked in after a while, and I had to quench my thirst with a cup of teh tarik.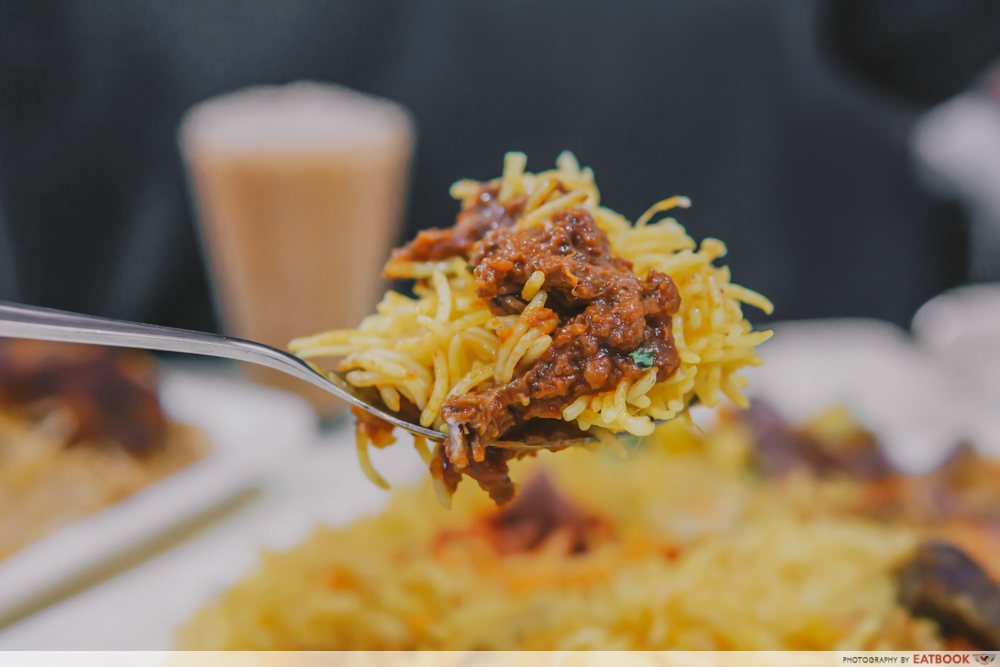 Considering how affordable the dishes are, I'd recommend getting a plate of mutton masala to go with your rice. The mandi didn't have that much moisture to it, but piling scoops of mutton masala into the rice helped to smoothen out the texture. The shredded meat was a lot more tender than the one in the mandi. I usually prefer mutton over chicken since it's a lot more flavourful, and the mutton masala certainly didn't disappoint. 
Some other items they have on the menu are Crab Briyani ($6), Hotplate Briyani ($7), and Chicken Ghee Rice ($4), all at equally low prices. If the other dishes are anything to go by, they'll be well worth the money.
Ambience at Nawab's Briyani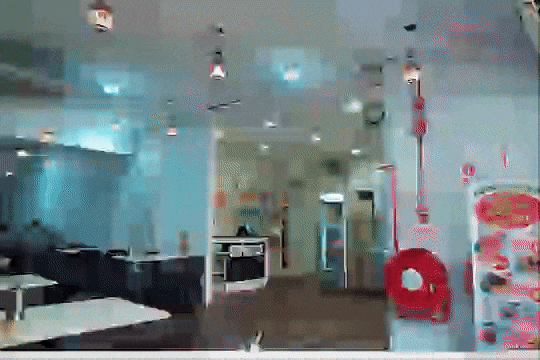 Despite being out in the middle of Desker Road, and looking like an open-air restaurant, Nawab's Briyani is air-conditioned. A huge AC blows cold air into the interior, and it's a lot cooler as soon as you step into the eatery. Still, the area is open enough for birds to fly in, so guard your food well.
Getting to the location can be a bit tough. You'll need to walk for about 10 minutes from Farrer Park MRT Station to reach Desker Road, and then navigate the streets to find Nawab's Briyani. 
The verdict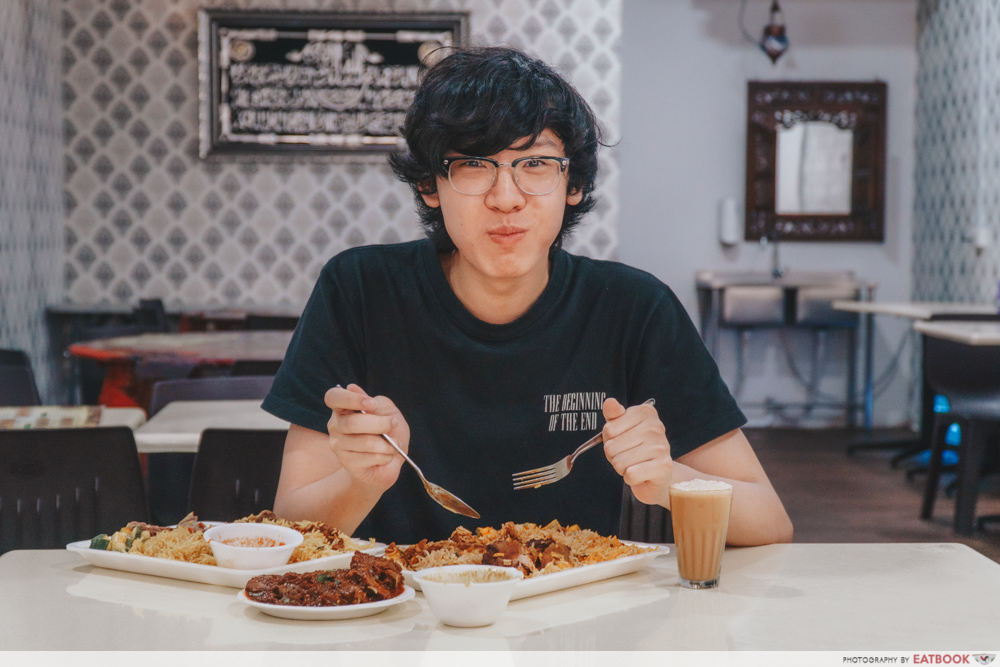 Nawab's Briyani is by far the most affordable briyani place I've come across. Despite the low cost, the dishes don't fall short on quality. They have a large variety of tasty items on their menu, and it's wonderful if you're on a budget. Each platter is almost too huge for a single person to finish.
If you're interested in more nasi briyani, check out Cafe Mariam, an eatery run by a third-generation briyani chef. Or check out Asyraf's Halal Corner, another halal restaurant that serves Western fusion food.
Cafe Mariam Review: Cheap And Good Nasi Briyani By A Third-Generation Chef
Address: 71 Desker Road, Singapore 209594
Opening hours: Daily 9am to 11pm
Tel: 8333 7786
Website
Nawab's Briyani is a halal-certified eatery.
Photos taken by Olivia Tan.
This is an independent review by Eatbook.sg.
Summary
Pros
– Super affordable
– Large portions
Cons
– Mutton Mandi was a little bit tough
Recommended dishes: Chicken Briyani ($3), Mutton Mandi ($5)
Opening hours: Daily 9am to 11pm
Address: 71 Desker Road, Singapore 209594