Tiong Bahru Yi Sheng Fried Hokkien Mee at Bukit Merah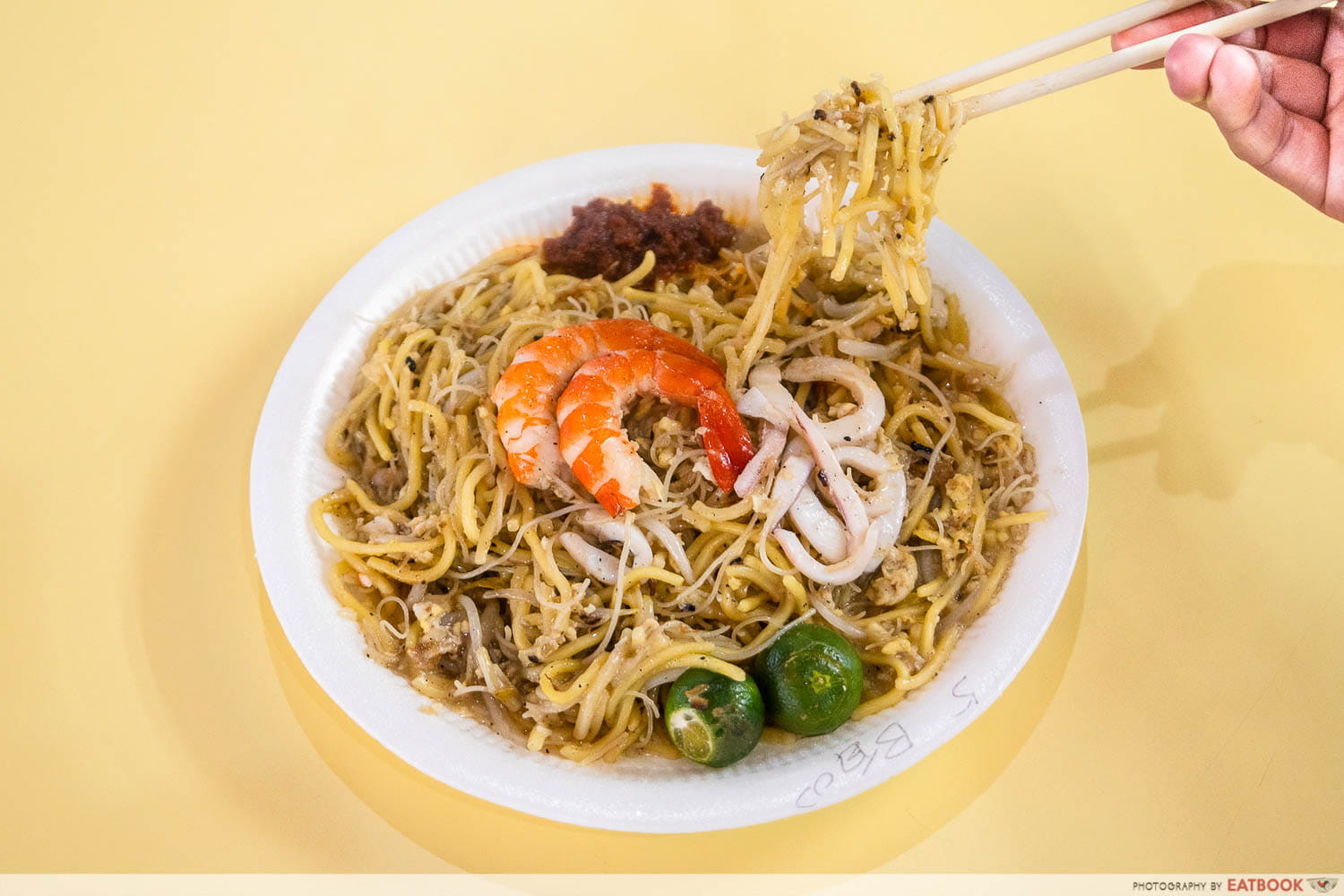 Bukit Merah is known to be a foodie haven, with many popular stalls housed at Alexandra Food Village and ABC Brickworks Food Centre. While there are other stalls selling hokkien mee at ABC Brickworks, Tiong Bahru Yi Sheng Fried Hokkien Mee is undoubtedly the one with the largest following, with waiting times stretching upwards of 40 minutes.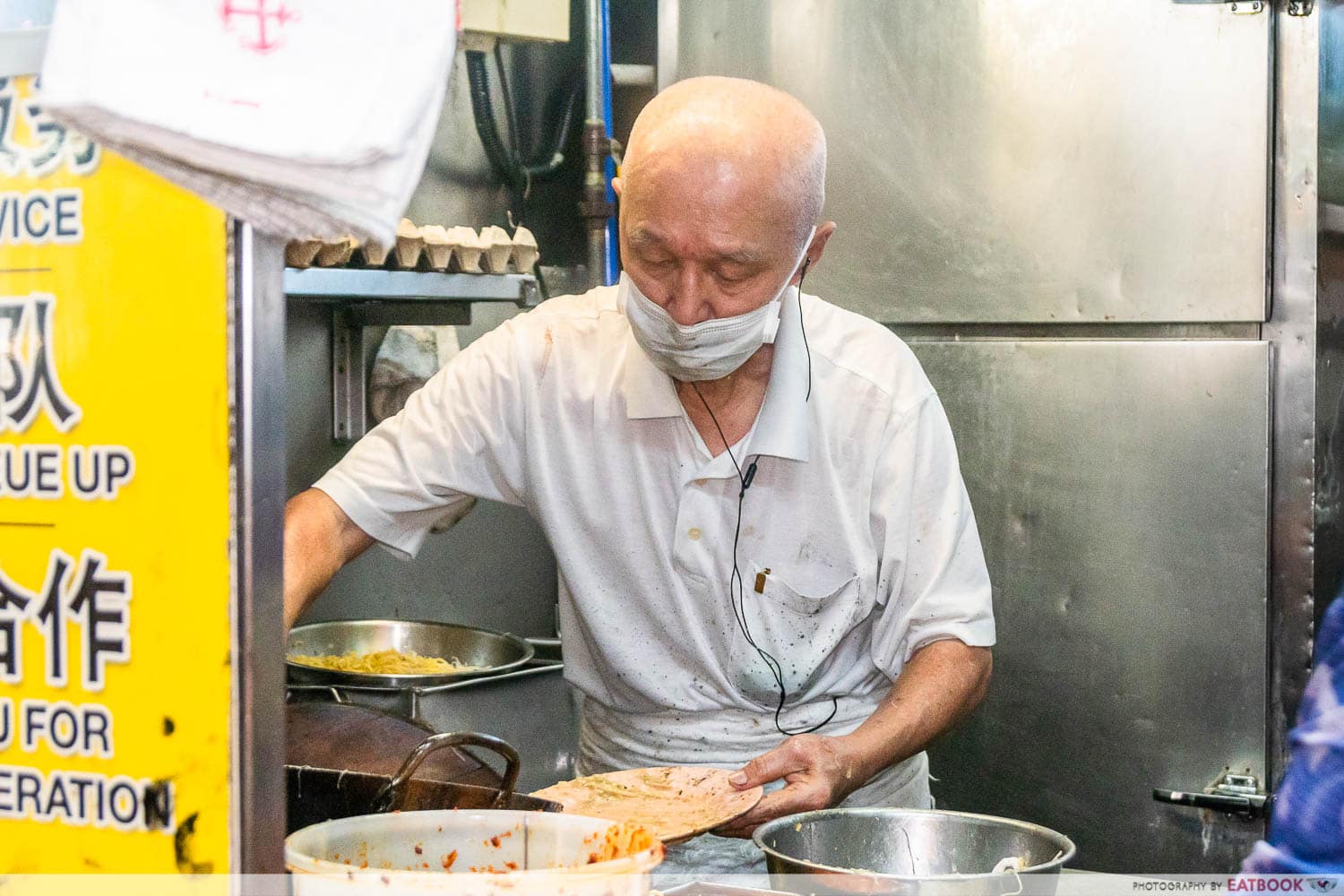 The head chef here is 73 year-old Mr Toh Seng Wang, who has been sweating it out behind the fire for the past 40 years. 
As I stood at the storefront speaking with him, I felt the blistering heat from flames that seemed too close for comfort. Unfazed by the fire, however, I watched as Mr Toh handled the large wok with nought but his bare hands.
I thought it was quite trendy for someone his age to be tuned in to music as he's working, so I asked him what he was listening to. Although I didn't think he would quote a title from the Spotify Top 50 chart, his response surprised me. He was plugged into his earphones, not because he was jiving to music, but because he could thus accept phone orders while cooking simultaneously.
10 ABC Brickworks Food Centre Stalls To Visit Including Taiwanese Porridge, Assam Laksa And More
Food at Tiong Bahru Yi Sheng Fried Hokkien Mee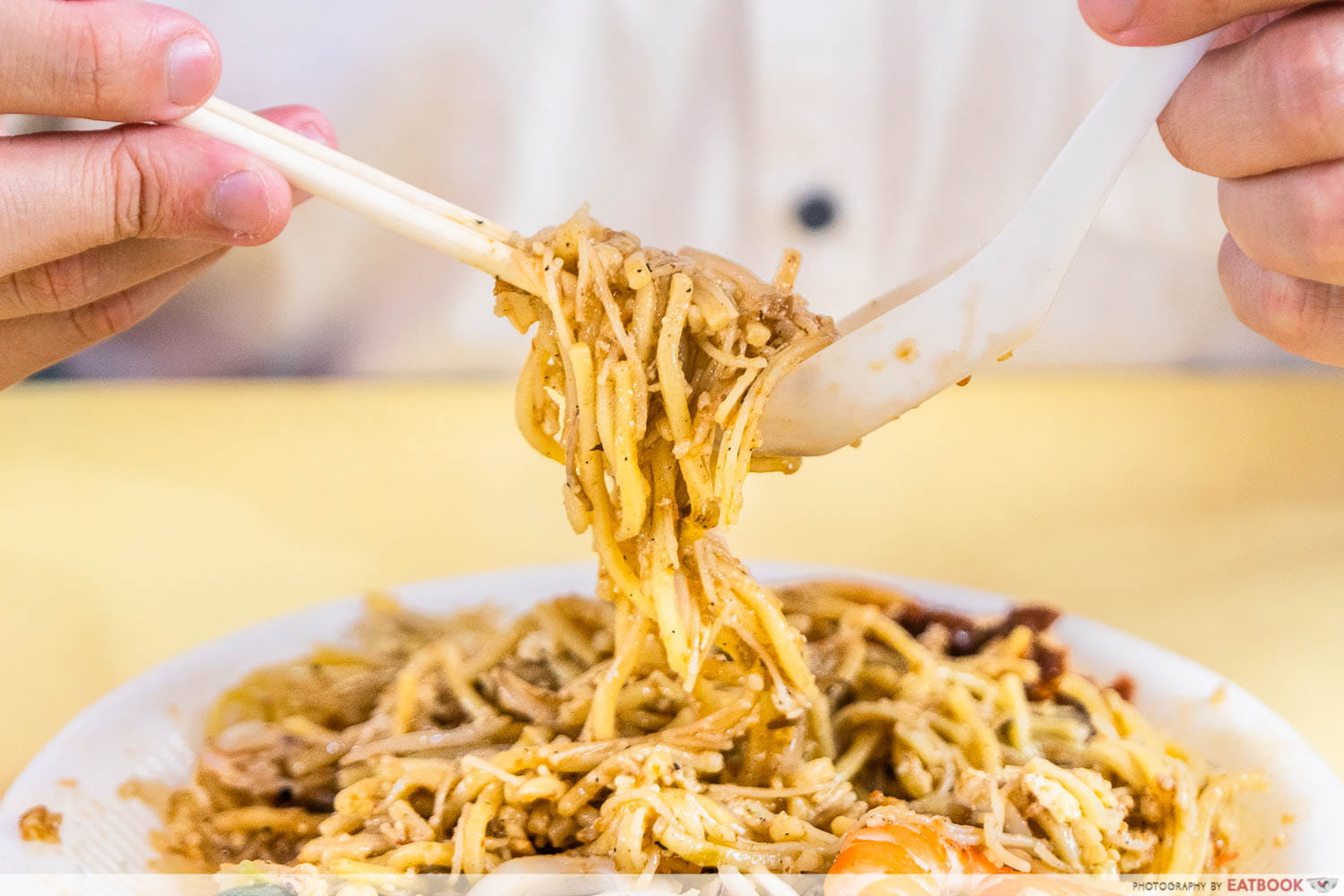 The only dish at Tiong Bahru Yi Sheng Fried Hokkien Mee is Hokkien Mee, which starts at $4 for a small portion, $5 for medium, $6 for large, and $8 for extra-large. Note that while prices for takeaway are largely the same as when you're dining in, the smallest packet costs $4.50. For my review, I ordered a medium plate, which is good for two.
The hokkien mee here lies on the soupier side, due to scoop after scoop of the prawn-and-pork-bone broth that is splashed into the wok. Bee hoon that's slightly thicker than the usual, and beansprouts, are mixed with the yellow egg noodles. Pork lard is periodically ladled into the wok, adding an irresistible fragrance.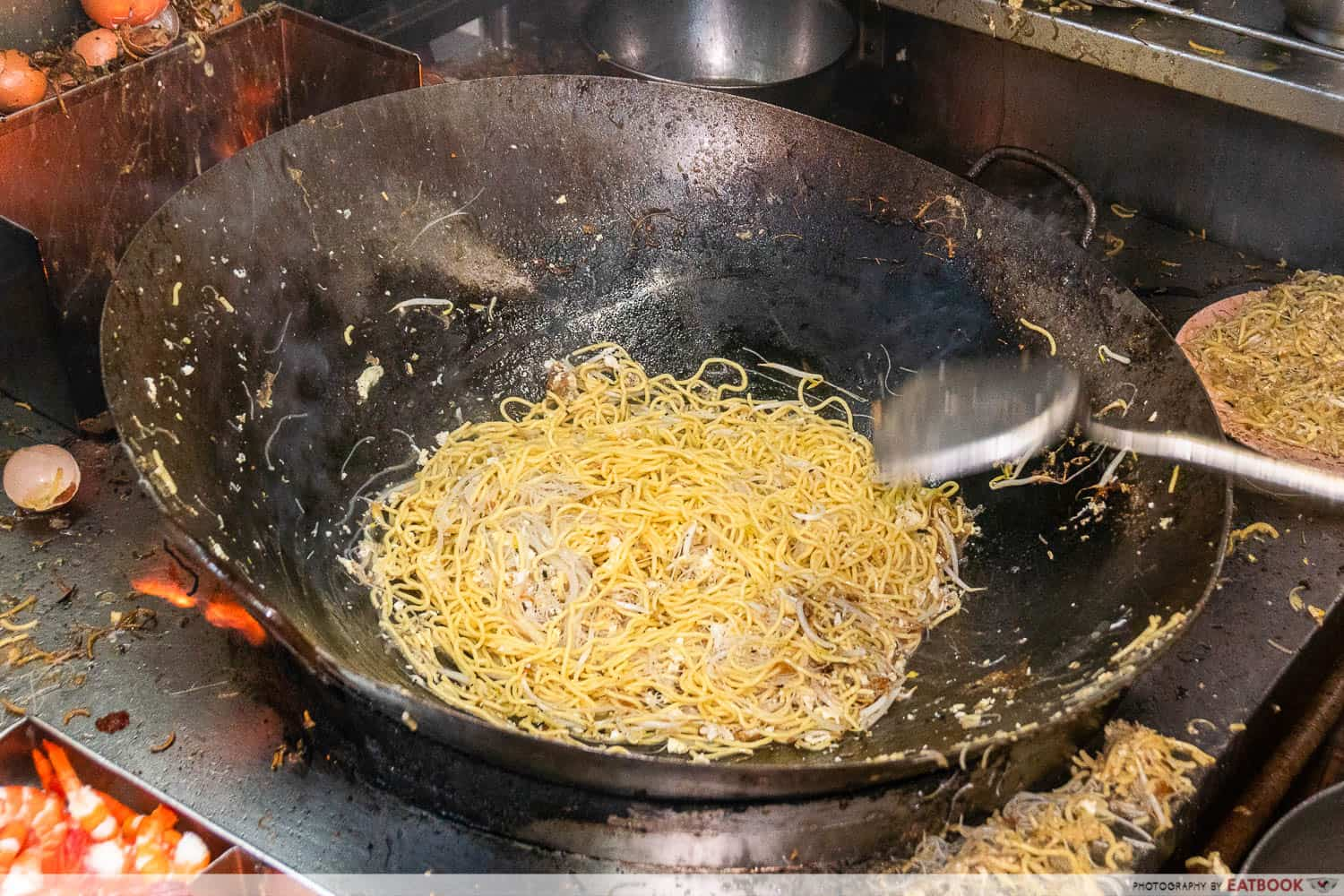 Mr Toh fries everything together with such gusto that he could have been mistaken for someone younger, if not for the wrinkles that betray his seniority.
The noodles are left simmering in the wok, which is then covered by a large wooden lid that's easily 50cm across. As Mr Toh took the lid off and cranked the heat up, steam wafted out from the grimy stall. The result of all this effort: a plate of hokkien mee that exudes wok hei. Some might not appreciate the heavy smokiness of the noodles but I, for one, enjoyed it.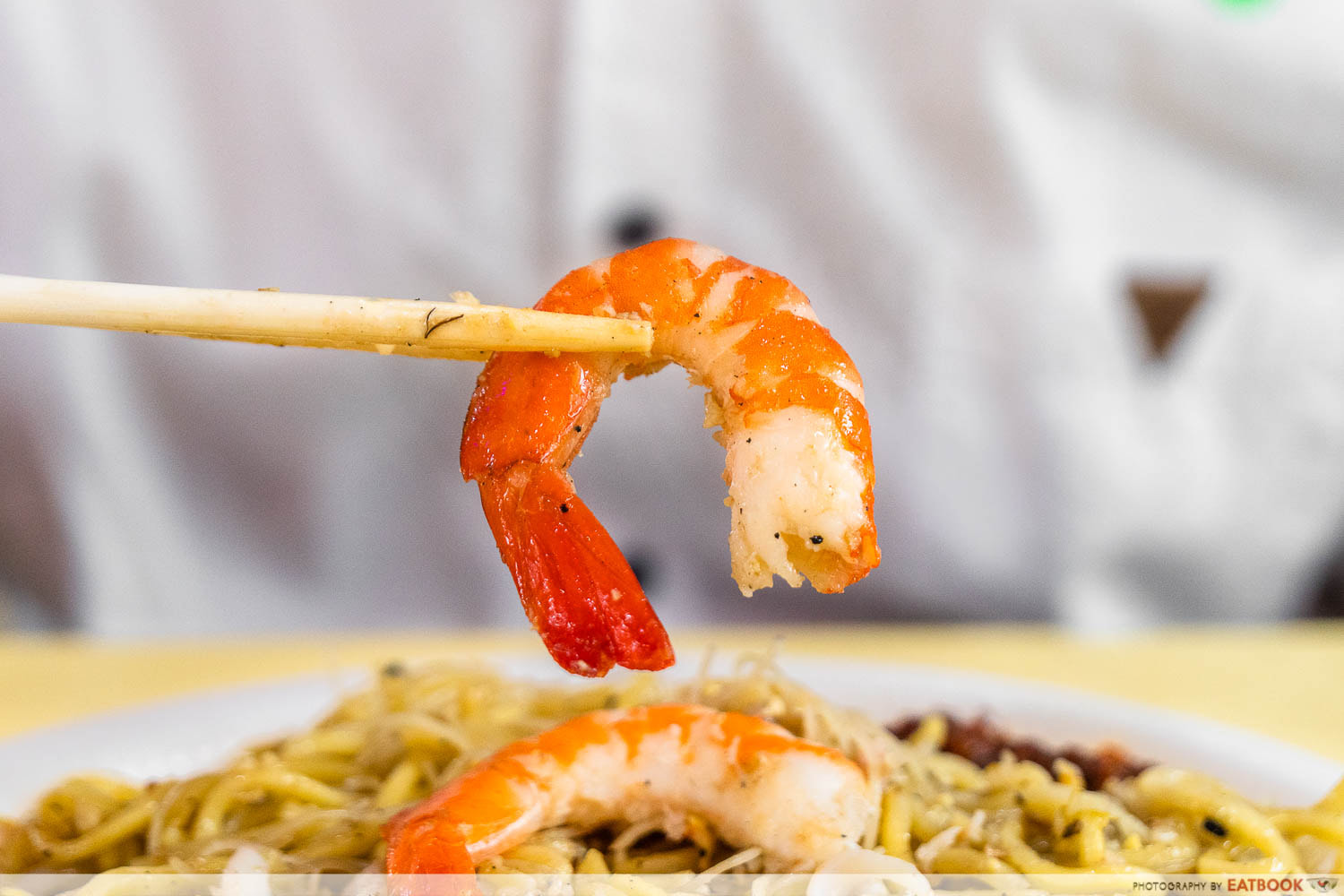 The medium-sized hokkien mee comes with two pieces of deshelled prawn and a few rings of squid. The seafood was fresh and came in a reasonable quantity at its price, but I felt that the squid could have been cooked a tad less.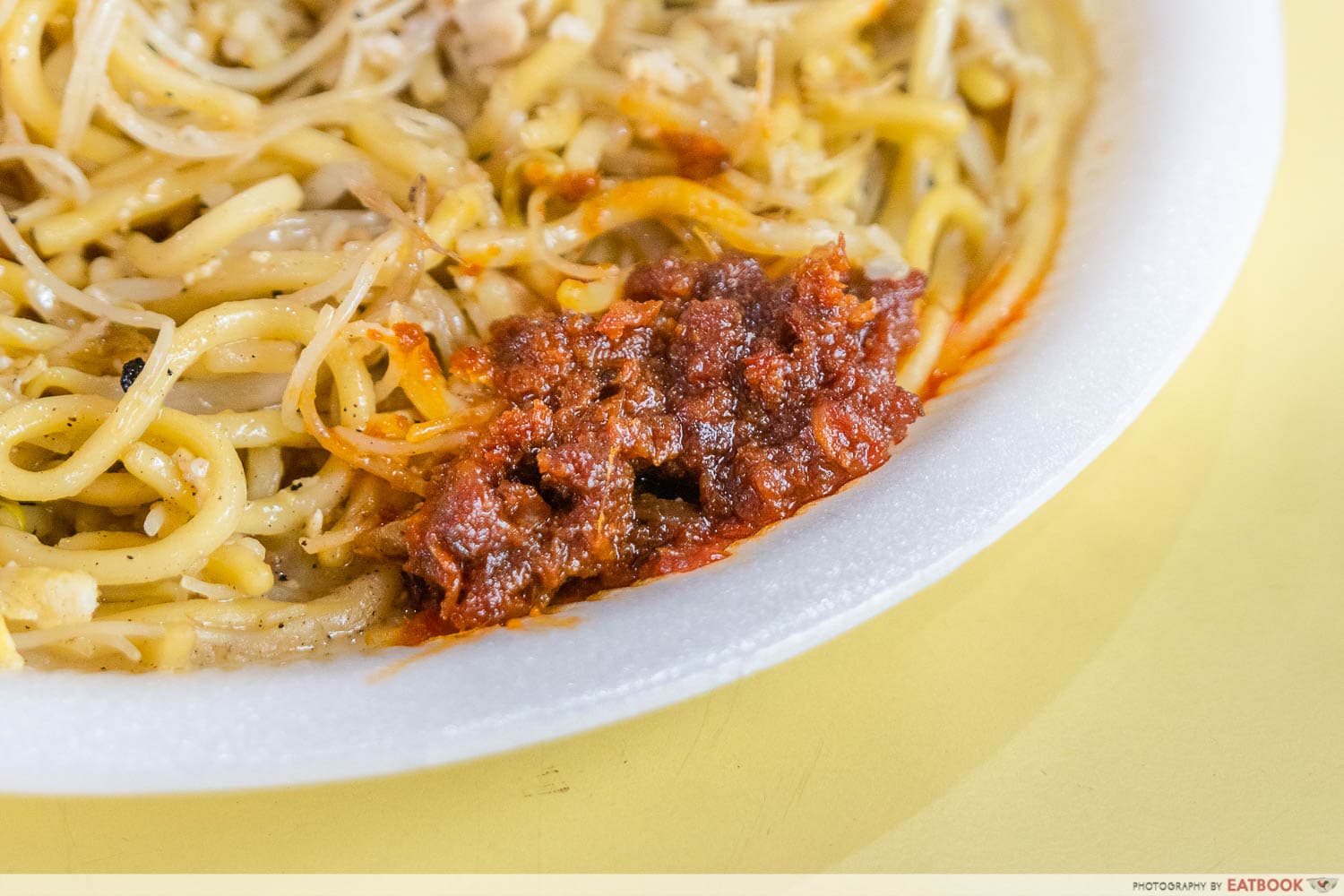 The generous amount of broth that was ladled into the wok lent a slight sweetness to the noodles but I would have preferred it to be saltier. However, this could have been intentional as the sambal chilli brought a savouriness that tied the dish together. 
Enhanced by the flavour of dried shrimp, the mildly spicy chilli was fragrant and delicious. Ask for more of it, so that you can coat every strand of noodles with it. In fact, I was so impressed by the chilli that I asked the stall assistant if they made it in-house. She shared, rather regretfully, that they no longer do that, as the process is far too time-consuming.
Ambience at Tiong Bahru Yi Sheng Fried Hokkien Mee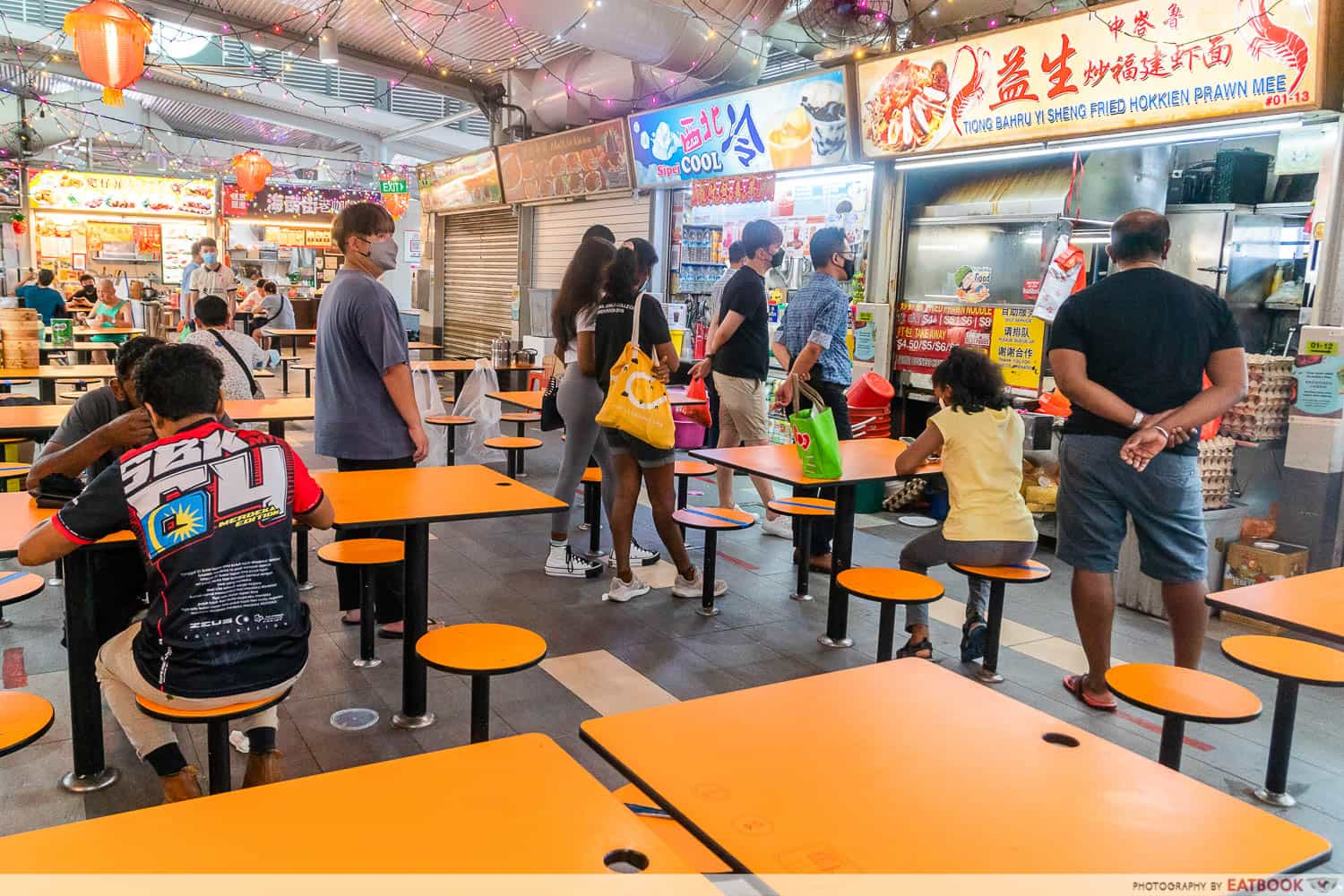 Tiong Bahru Yi Sheng Fried Hokkien Mee is situated at ABC Brickworks Food Centre, a 10-minute bus ride from Commonwealth MRT Station. Despite it being a Friday evening, the hawker centre was quite empty, barring the long queues in front of this stall.
Some might find the stall to be in disarray, with noodles and eggshells strewn all over the stove. Personally, I saw this as a sign of an endlessly busy stall that is too busy to tidy up during operating hours.
12 Hokkien Mee Stalls In Singapore Every Local Foodie Must Try
The verdict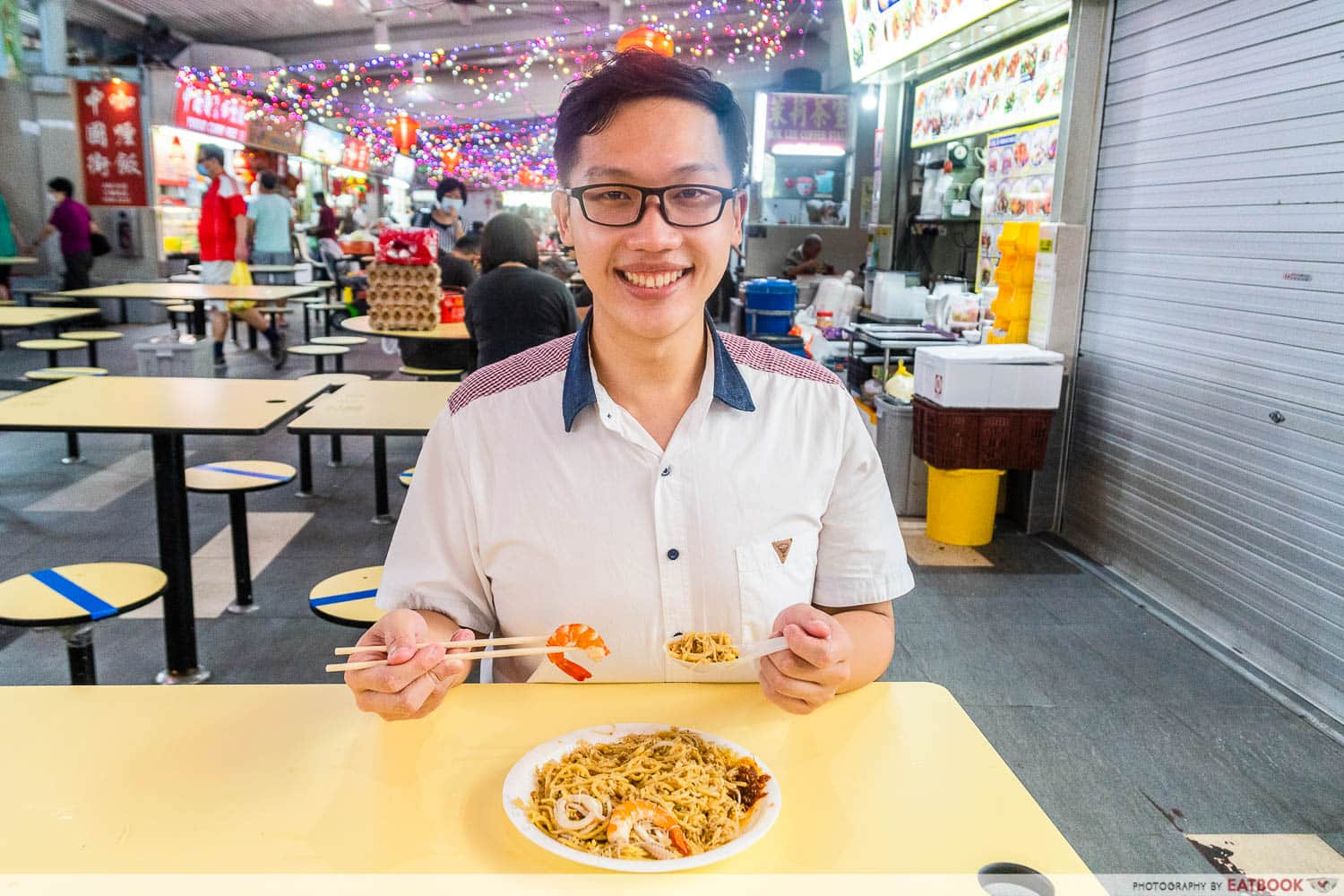 There's a reason why Tiong Bahru Yi Sheng Fried Hokkien Mee was awarded a Michelin Bib Gourmand in recognition of good cooking. Their hokkien mee is full of wok hei, which when paired with the moreish chilli, becomes a plate of pure bliss. Each batch of noodles takes about 20 minutes to fry, so if you happen to place your order in between batches, here's a note to be prepared to wait. 
Mr Toh has devoted the last 40 years of his life to mastering the art of cooking hokkien mee, and his dedication to the craft is obvious. In the length of time I was there, he barely even had time to take a sip of water.
With none of his children willing to take over the ropes from Mr Toh, I wonder how many more of us will get the opportunity to try this heritage hawker's hokkien mee. I'd urge you to try Tiong Bahru Yi Sheng Fried Hokkien Mee before Mr Toh retires.
For a unique seafood penyet experience at ABC Brickworks Food Centre, check out our review of Project Penyek. If you want to try other recipes passed down through generations, look at what we have to say about Chun Seng Noodle House's braised pork BCM.
Chun Seng Noodle House Review: Bak Chor Mee With 100-Year-Old Braised Pork Recipe In ABC Brickworks
Address: 6 Jalan Bukit Merah, #01-13, ABC Brickworks Food Centre, Singapore 150006
Opening hours: Sun-Tue, Thurs-Fri 3pm to 10:45pm
Tel: 9862 9296
Tiong Bahru Yi Sheng Fried Hokkien Mee is not a halal-certified eatery.
Photos taken by Tan Zi Hui.
This was an independent review by Eatbook.sg
Tiong Bahru Yi Sheng Fried Hokkien Mee Review: Michelin-Approved Hokkien Mee With 40-Year History
Tiong Bahru Yi Sheng Fried Hokkien Mee Review: Michelin-Approved Hokkien Mee With 40-Year History -

8/10
Summary
Pros
– Hokkien mee has a lot of wok hei
– Chilli is very fragrant
Cons
– Long waiting time
– Hokkien mee could be saltier
Recommended dishes: Hokkien Mee $4/$5/$6/$8
Opening hours: Sun-Tue, Thurs-Fri 3pm to 10:45pm
Address: 6 Jalan Bukit Merah, #01-13, ABC Brickworks Food Centre, Singapore 150006