---
New restaurants to visit in February 2019
---
A divide between foodies is usually seen in the month of February. Date-night restaurants are filled to the brim with happy couples, while those who are "single and ready to mingle" steer clear from such swish restaurants – opting for communal dining with their pals instead.
No matter what team you're on, our list of new restaurants to visit in February will please all. From a cheap steamboat buffet session with fellow lonely hearts, to beautiful cafes for love birds, spend your weekends here this February.
---
1. Kazan
---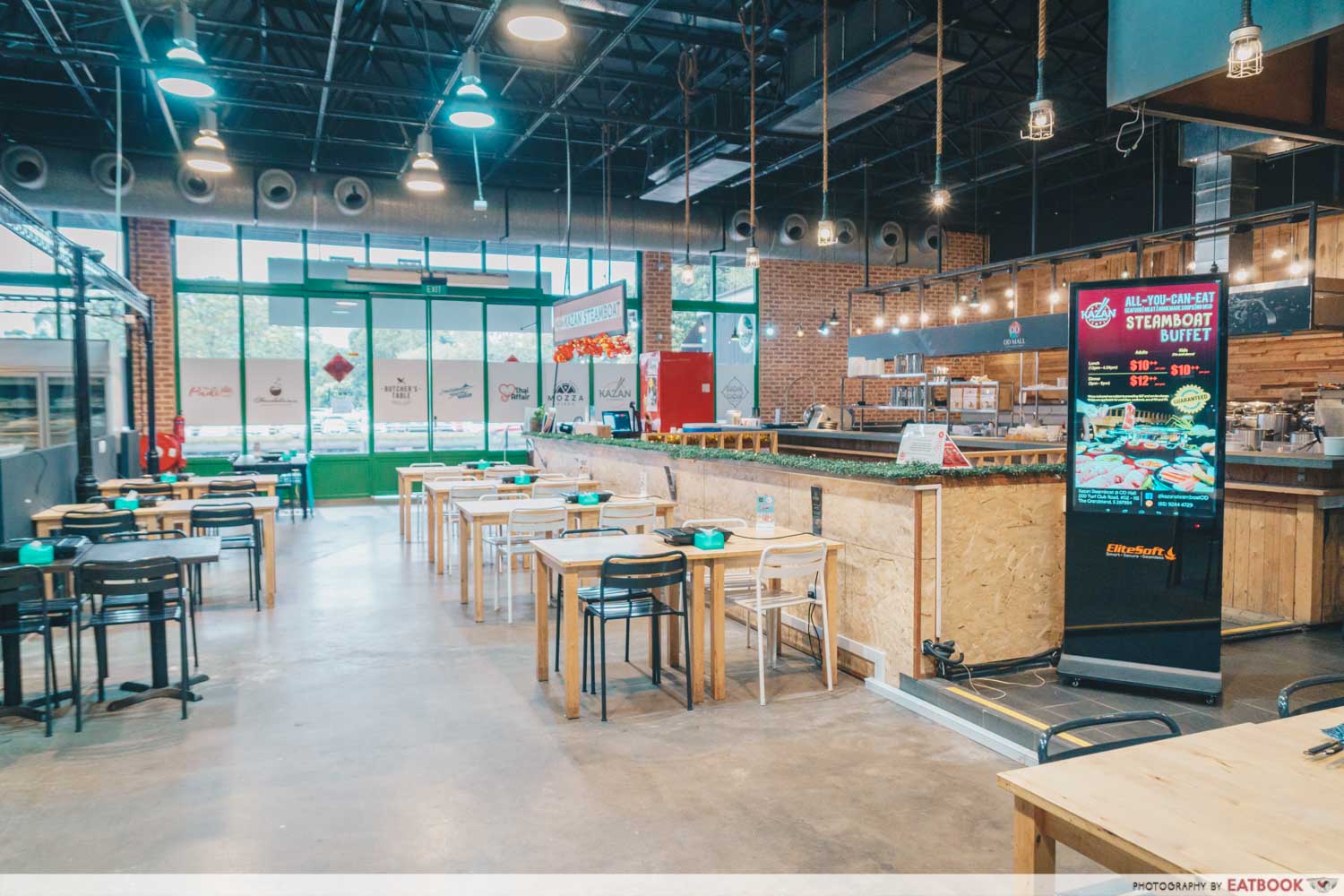 For just $10++, you get to pig out to a scrumptious meal at Kazan Steamboat. Everything from bamboo clams to beef slices is available for your hot pot meal. You are invited to choose from a selection of soup bases: Tomato Tom Yum, Herbal Chicken, Miso, and Imperial Mushroom (vegetarian). We recommend the herbal chicken, for its light herbal fragrance which complements well with the delicate sweetness of seafood.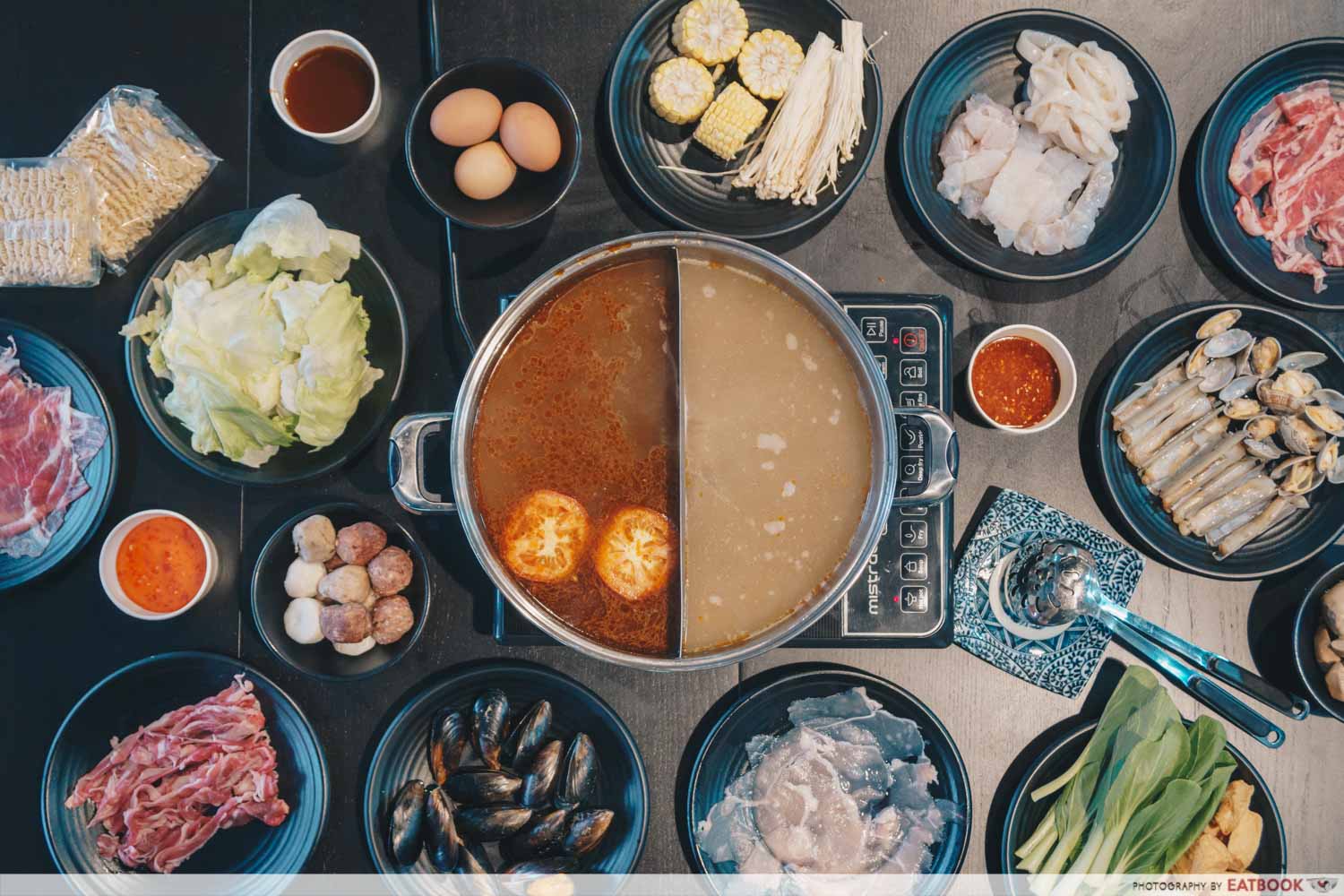 Throw in bamboo clams into your steamboat. They may be smaller than those you are familiar with, but these sacs of juicy flesh are plump and saturated with a wave of oceanic flavour. Beef slices are also a good bet; they have streaks of fat that confer an unctuous mouthfeel.
Kazan Steamboat Review: $10++ Hot Pot Buffet With Premium Seafood And Tom Yum Broth
Address: 200 Turf Club Road, #02-K06, The Grandstand, Singapore 287994
Opening hours: Daily 12pm to 9pm
Website
---
2. Baristart Coffee
---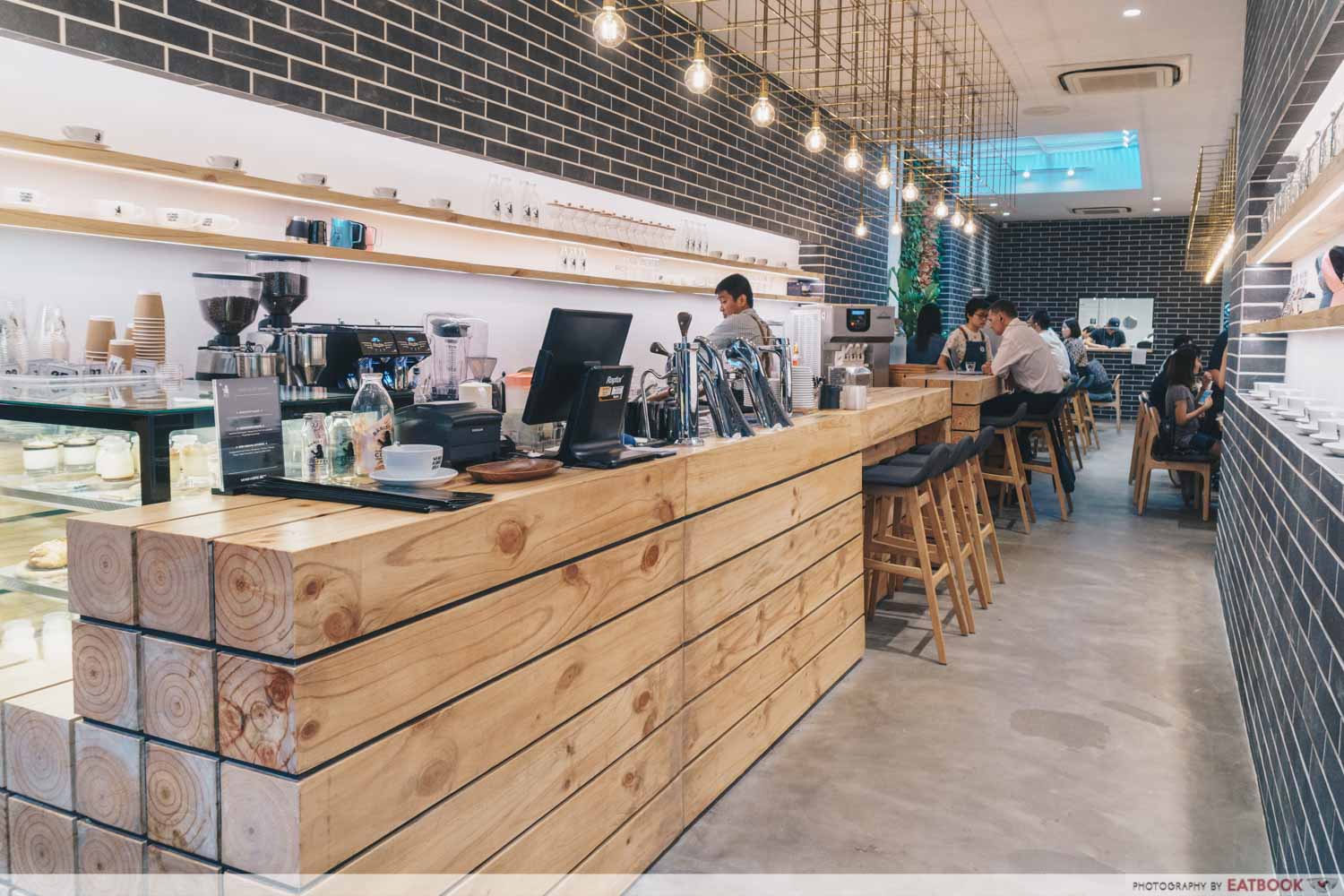 Baristart Coffee is a new cafe from Hokkaido. Apart from their drop-dead-gorgeous furnishings, their main draw is the uber creamy Biei milk used in most of their menu items. This milk boasts a viscous consistency similar to cream. When mixed with a shot of espresso, it produces a well balanced Latté ($6.70++). You can taste notes of chocolate and caramel that weave into the mellow sweetness of the Biei milk.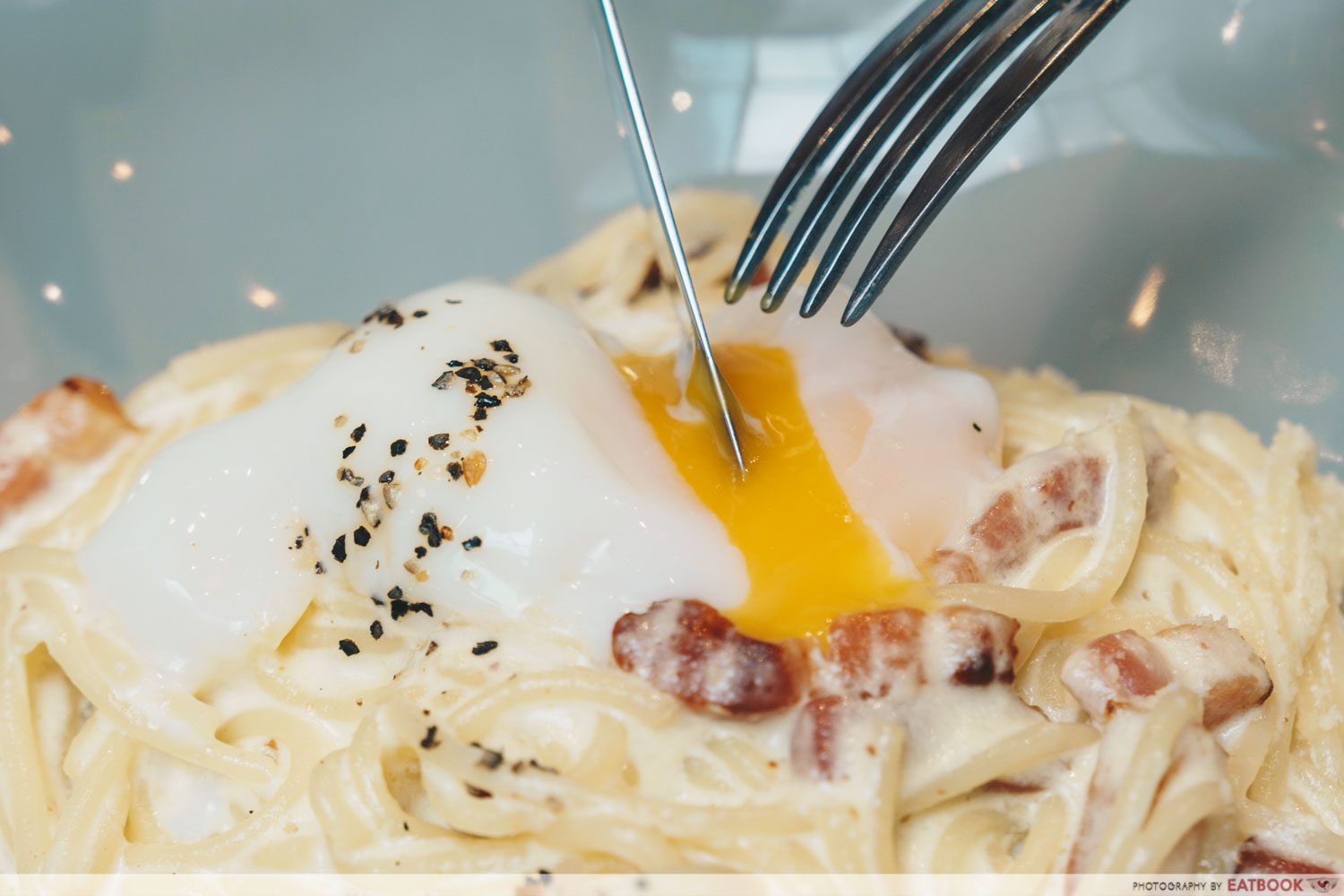 No surprise there, but the Hokkaido Carbonara ($17.80++) is doused in a thick coat of Biei cream. Crowned at the top is a wobbly onsen egg that provides an intense milky lusciousness to the pasta. For the lactose-intolerant, you could opt for the Tuna & Avocado Salad with Wasabi Dressing ($14.80++).
Baristart Coffee Review: New Japanese Cafe With Kawaii Dessert And Pork Cutlet Sandwich
Address: 65 Tras Street, Singapore 079004
Opening hours: Daily 10am to 10pm
Tel: 6904 3169
Website
---
3. Almost Famous
---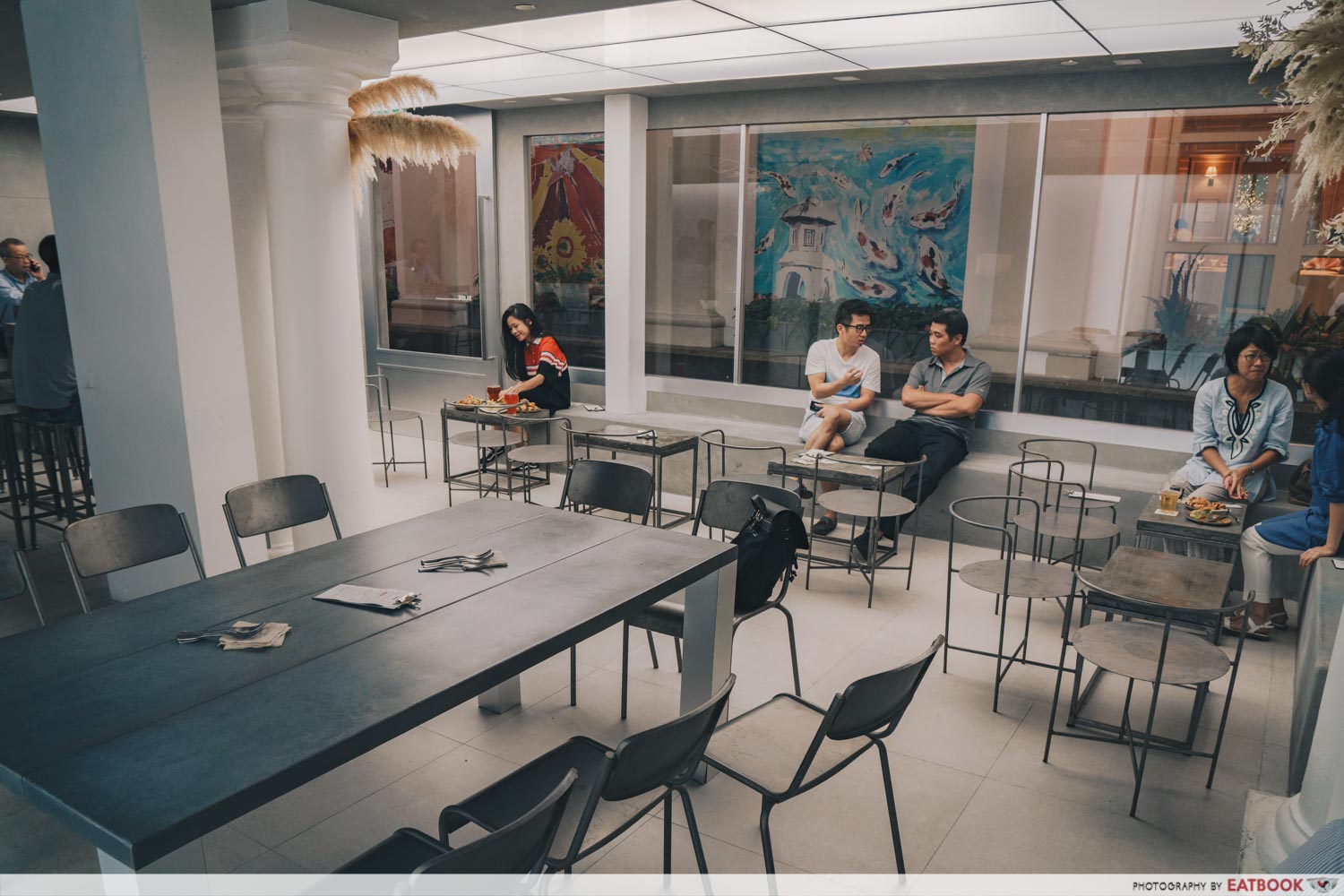 Almost Famous is a new watering hole at CHIJMES that takes minimalism to a whole new level. Their interior is as clean as their menu, which features a small selection of tasty bar bites. All of them hit the spot, but if there's a dish you die die must order, it's the Luxury Fries ($16+).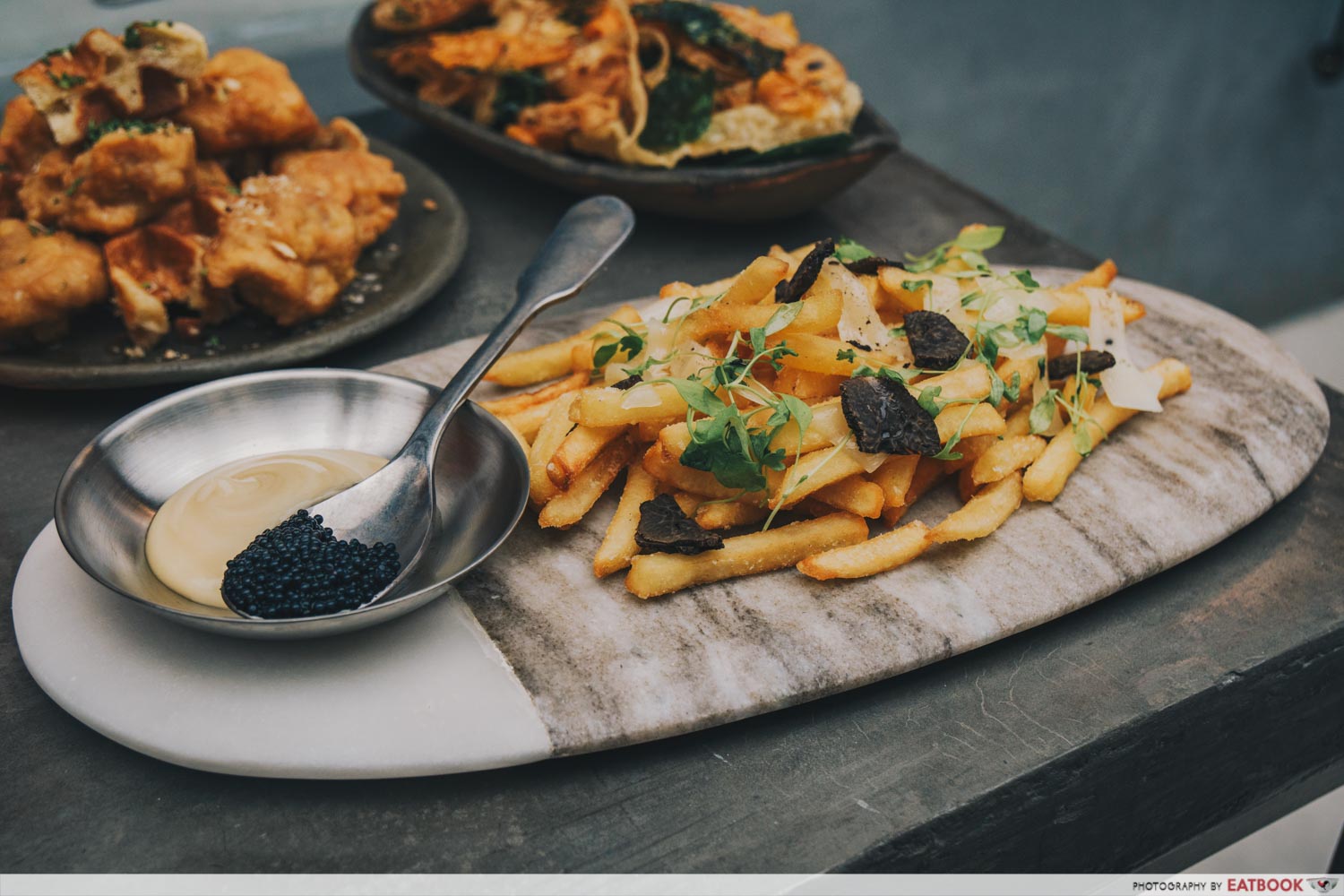 Here, truffle oil, parmesan and truffle shavings garnish the fries, making it absolutely addictive. On the side is a generous serving of caviar, giving an interesting brininess to the fried golden goodies. Pair this with a pint of creamy Hazelnut Nectar ($14+), which has a rich nutty flavour.
Almost Famous Review: Marie Kondo Will Approve Of This Minimalist Craft Beer Bar Serving Tom Yum Gyoza
Address: 30 Victoria Street, #01-06, CHIJMES, Singapore 187996
Opening hours: Daily 3pm to 12am
Email: always@almostfamous.sg
Website
---
4. Kilo Kitchen
---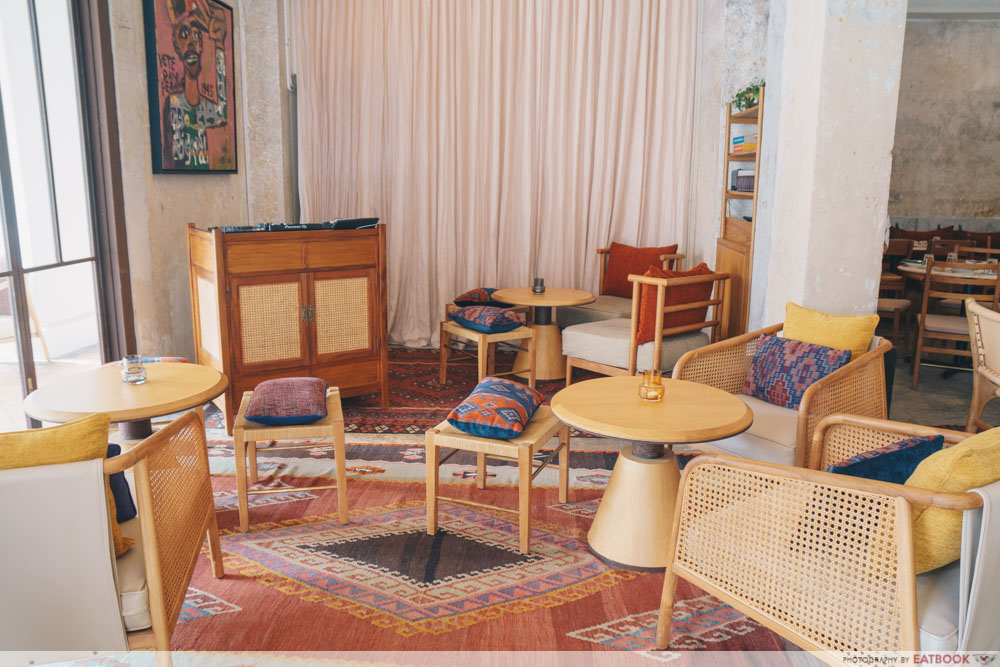 Kilo Kitchen is finally back at Duxton Road. Located where MeatLiquor used to be, the sprawling new space is a respite from the seedy bars and hipster cafes dotting the stretch. It has a breezy safari vibe, and we especially love their lounge area pictured above. They only have a dinner and drinks menu for now, and reservations are highly recommended, as it gets packed past 7pm.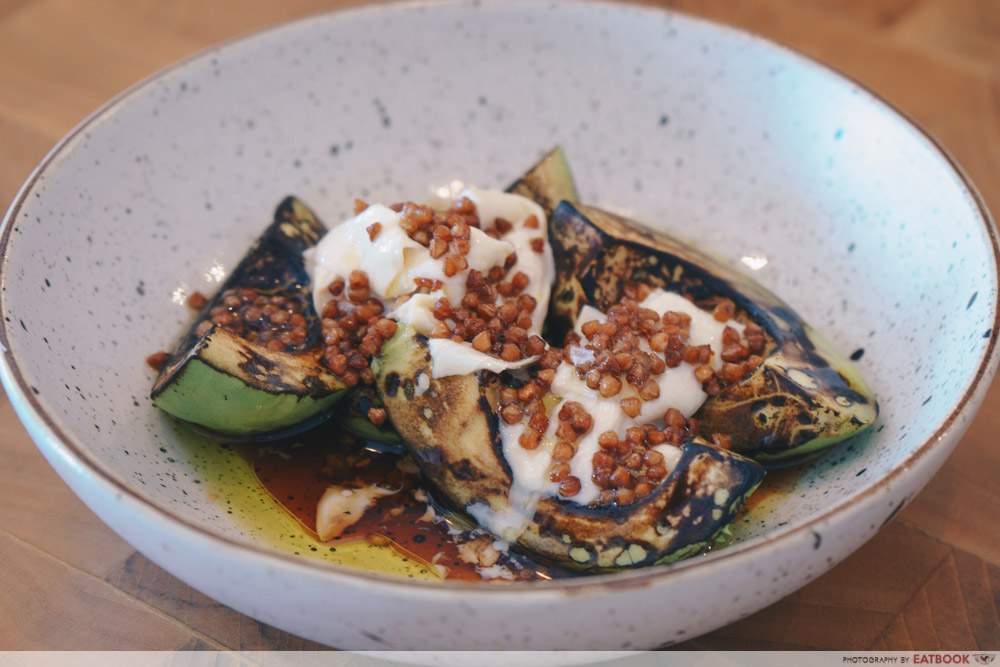 There are many small plates to go along with your tipple. A dish that caught us by surprise was this Grilled Avocado ($10++), featuring a velvety layer of soybean milk skin topped with buckwheat puffs. Their Crab Croquettes ($8++ for two, $15++ for four) is another must-order, and is filled with luscious bechamel infused with fresh crab meat.
Address: 97 Duxton Road, Singapore 089541
Opening hours: Tue-Fri 5:30pm to 12am, Sat 6pm to 12am
Tel: 6304 8064
Website
---
5. The Orchard Cafe
---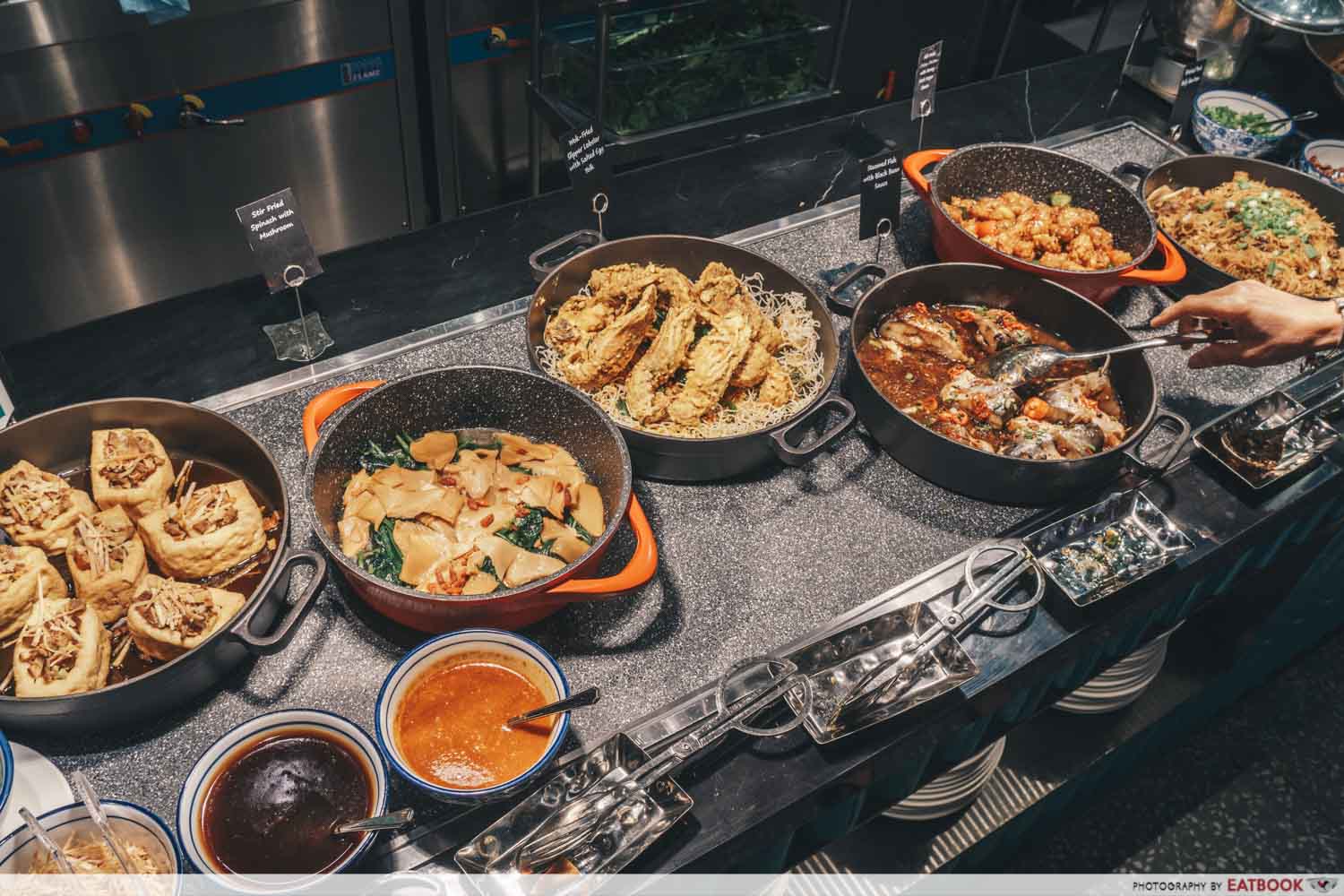 The Orchard Cafe has recently reopened after undergoing a facelift last year. The spanking new space looks sophisticated, bright, and offers a huge spread of delicious grub. Some of our favourites were Wok-Fried Slipper Lobster with Salted Egg Yolk Sauce, charcoal-grilled satay, and roast meats prepared by Hua Ting Restaurant – the Chinese fine-dining spot located within the same hotel. Sashimi and raw oysters are also available during dinner hours.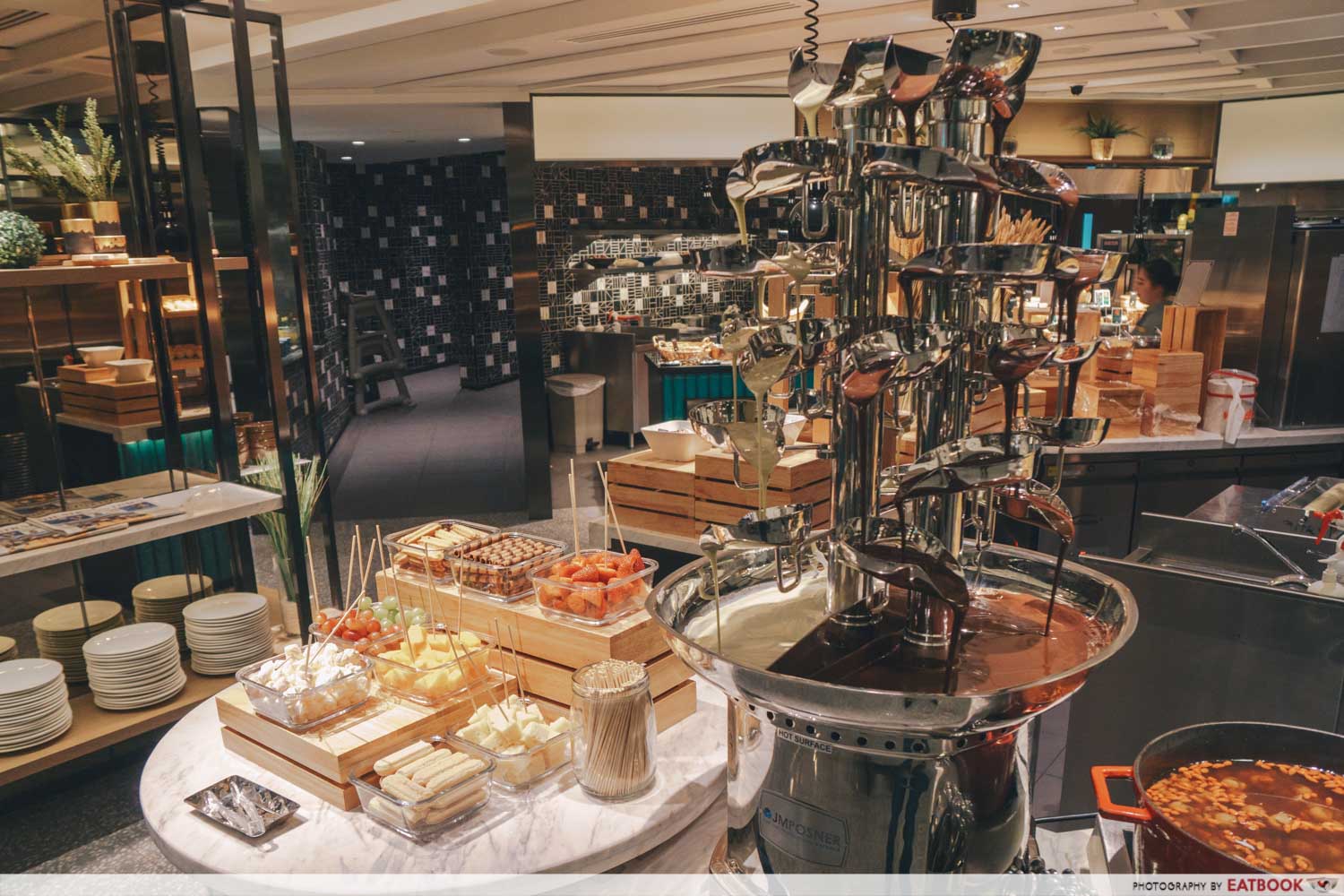 Be sure to stay for desserts because they've got shelves of it ready for you. From durian pengat to bite-sized cakes and kueh, the selection of sweets is so wide that you'll have a hard time picking your must-haves. A sight to behold is their multi-layered chocolate fondue machine, which looks like something that came straight out of Willy Wonka's factory.
Prices for the buffet are $58++ for weekday lunch, $62++ for weekend lunch, $78++ for dinner every Monday to Thursday, and $88++ for dinner every Friday to Sunday. The hotel's breakfast buffet go at $32++ daily.
Address: 442 Orchard Road, Orchard Hotel Singapore, Singapore 238879
Opening hours: Daily 6am to 10:30am, 12pm to 2:30pm, 6pm to 10pm
Tel: 6739 6565
Website
---
6. Pusheen Cafe
---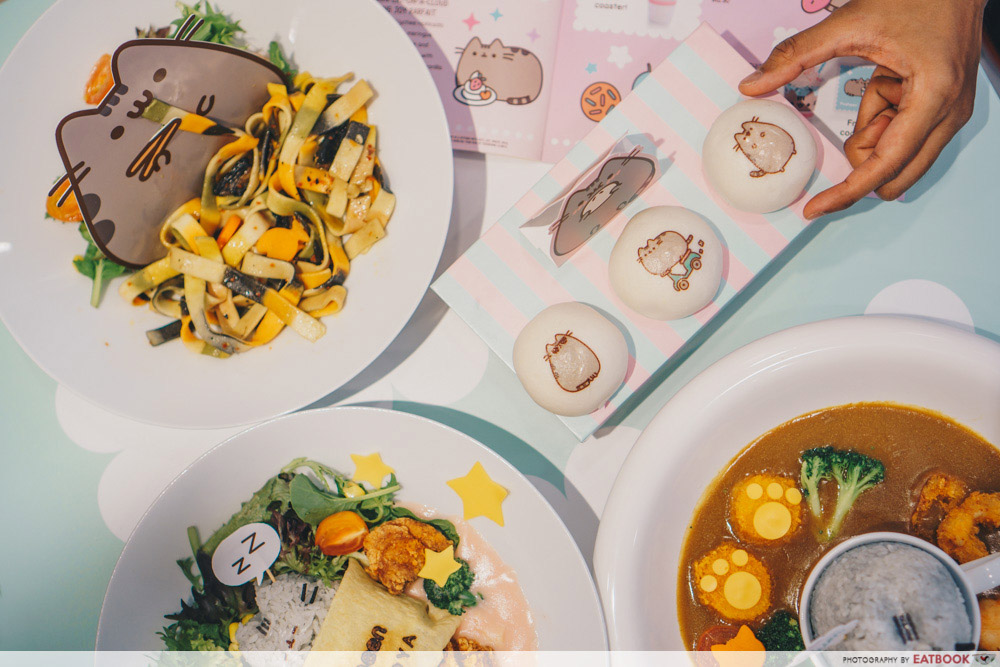 Fresh off their My Little Pony collaboration, Kumoya will now be featuring dishes themed after Pusheen – the adorable Internet feline. Every item here is designed by Little Miss Bento which explains why they look ultra kawaii. From truffle pasta to enormous desserts, you can expect a huge range of good food here.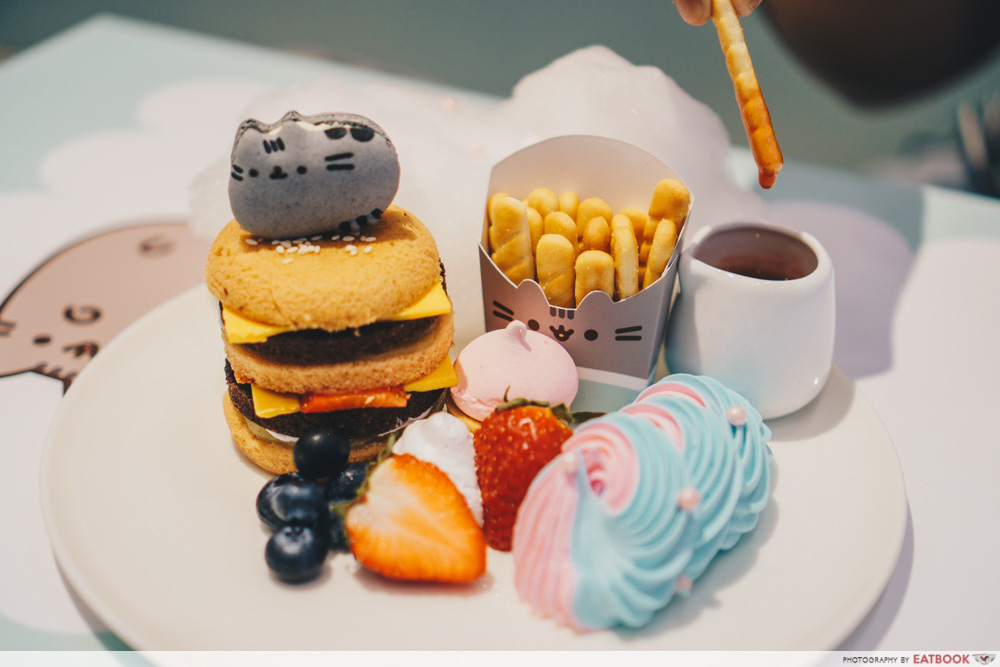 We strongly recommend getting the Pusheen Double Delight Fruitcake Burger ($17.90+) as it checks off all the boxes of a must-have dessert. The item comprises a mini fruitcake burger capped with a 3D Pusheen macaron. Surrounding it are a hodgepodge of treats like meringues, berries, cotton candy and cream.
What's interesting here are the spiral biscuit fries. They paired beautifully with the treacly strawberry sauce and were addictive to boot!
Claw machine lovers will also be glad to know that there's a claw machine at the entrance of the store.
Pusheen x Kumoya Cafe Review: Cat-Themed Green Tea Buns And Truffle Pasta Near Bugis
Address: 8 Jalan Klapa, Singapore 199320
Opening hours: Tue-Thurs & Sun 12pm to 9:30pm, Fri 12pm to 10pm
Website
---
7. Omurice Keisuke
---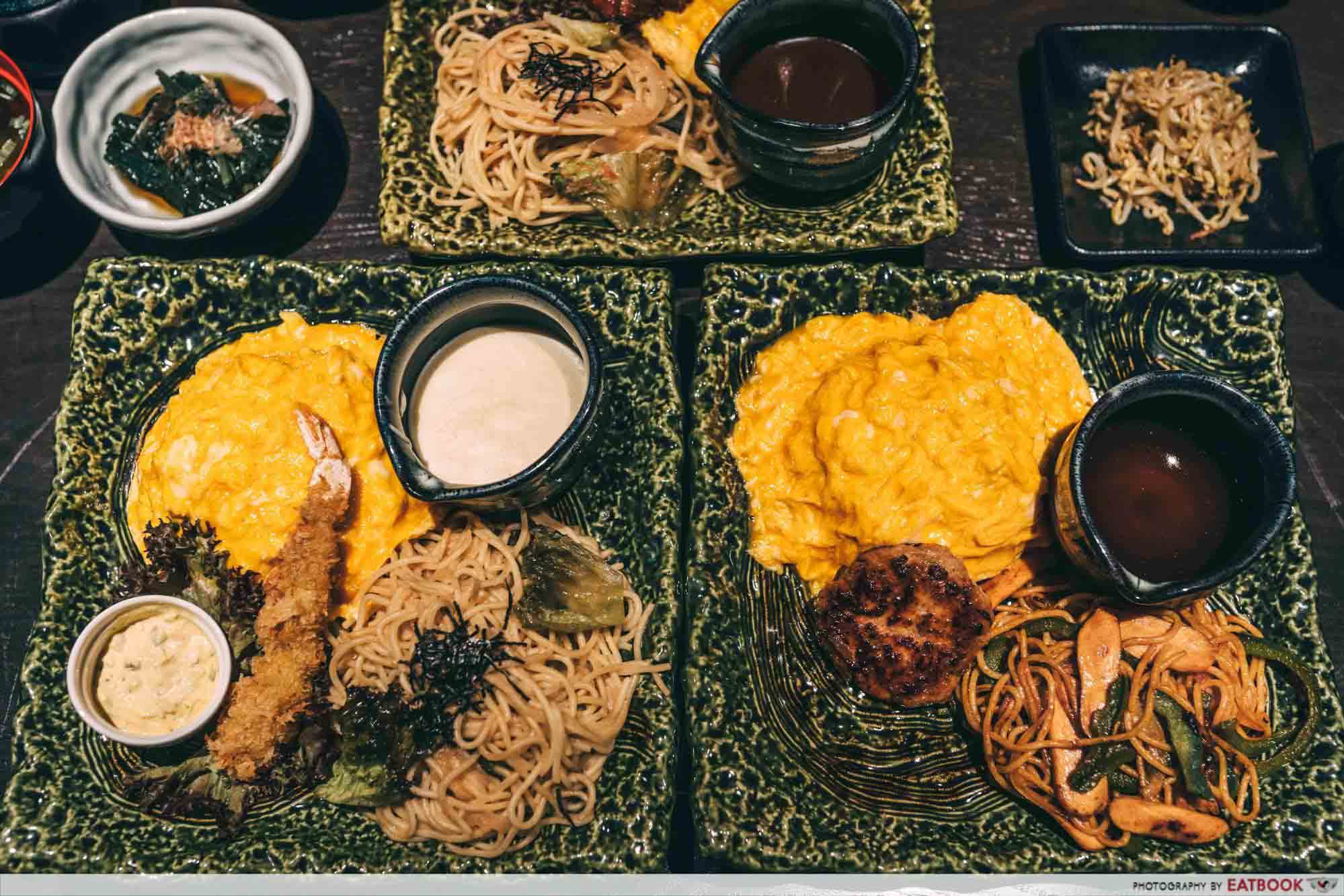 Keisuke Takeda adds another name to his growing list of restaurants with Omurice Keisuke. Serving up just two main dishes, the Omurice ($9.90++) and Spaghetti Set Menus ($9.90++) are popular among carb lovers out there, with a free upsize of rice and noodles.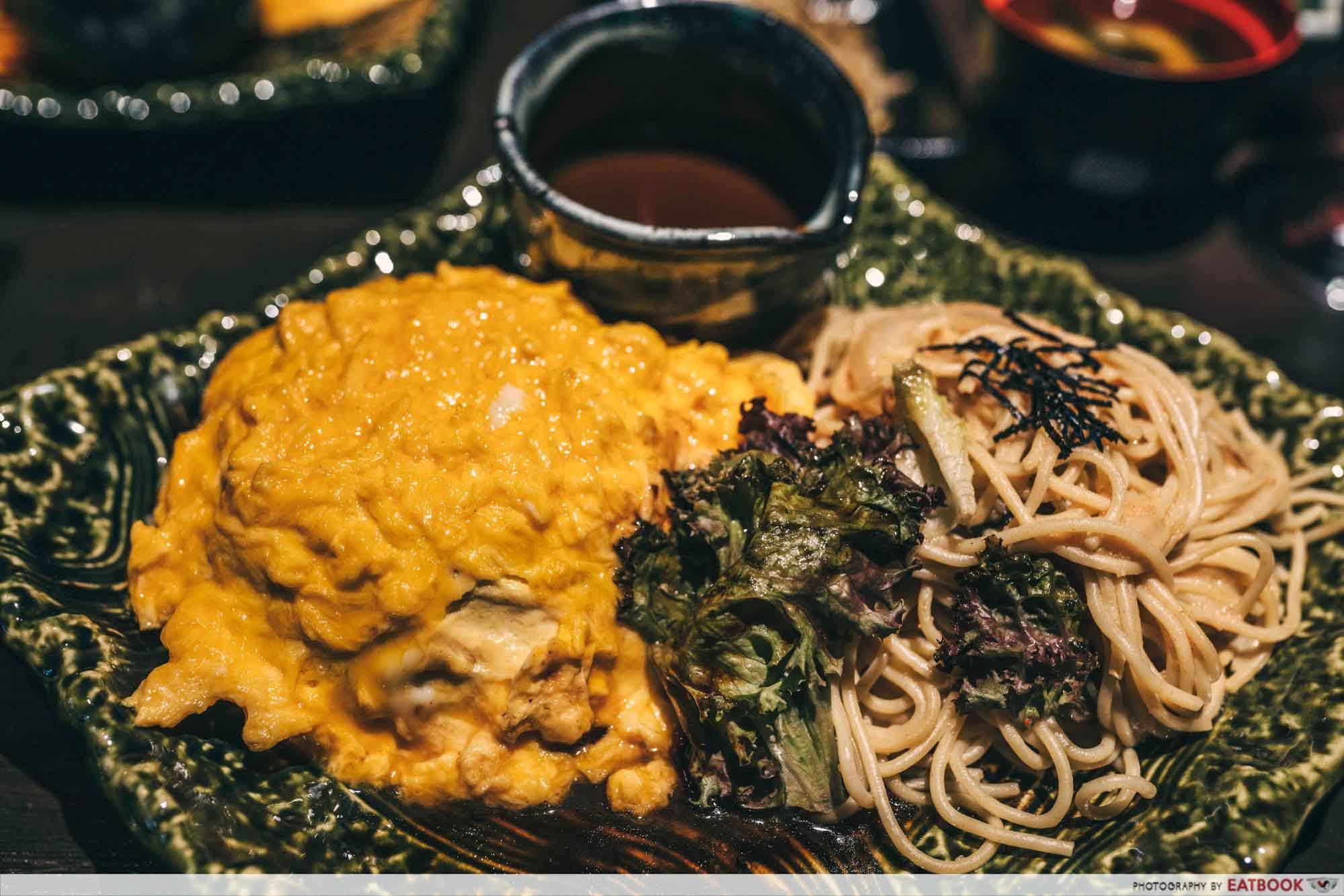 For those who want a bit of everything, get the Omurice Combo ($12.90++) that comprises creamy scrambled eggs, ketchup fried rice and a choice of Neopolitan or Mentaiko Spaghetti. Along with four salads to choose from, it's hard to find such great value for Japanese fare in town.
Omurice Keisuke Review: Omurice And Spaghetti Combo With Free Upsize At $12.90++
Address: 200 Victoria Street, #04-01, Bugis+, Singapore 188067
Opening hours: Daily 11:30am to 9:30pm
Tel: 6634 4558
Website
---
8. Peppercorn30
---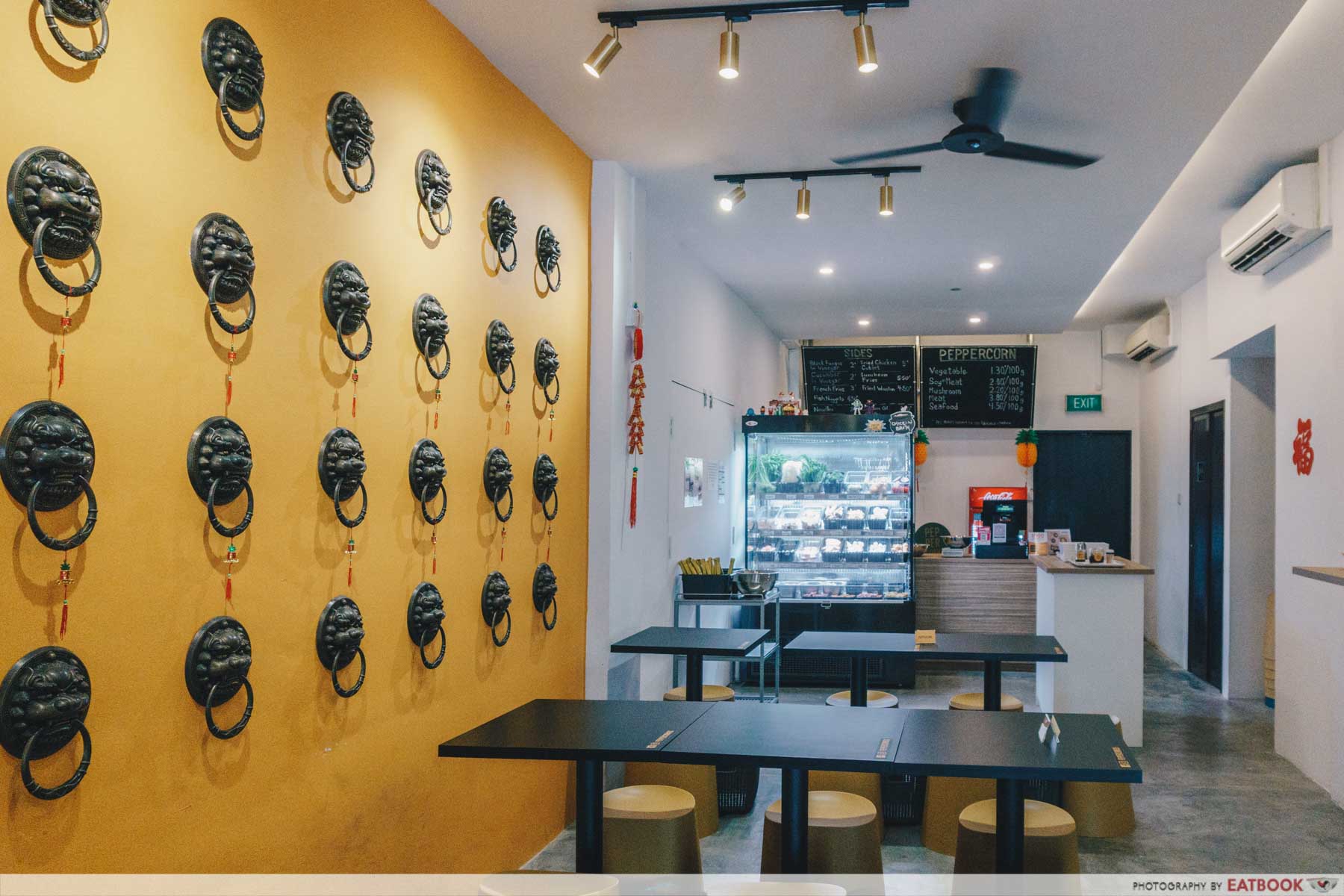 Located at the Malay-centric Kandahar Street, Peppercorn30 is a halal cafe specialising in ma la dishes. The dishes here come with a dollop of ma la sauce on the side instead of being mixed in, making it suitable for ma la newcomers to get acquainted with the lip-numbing flavour.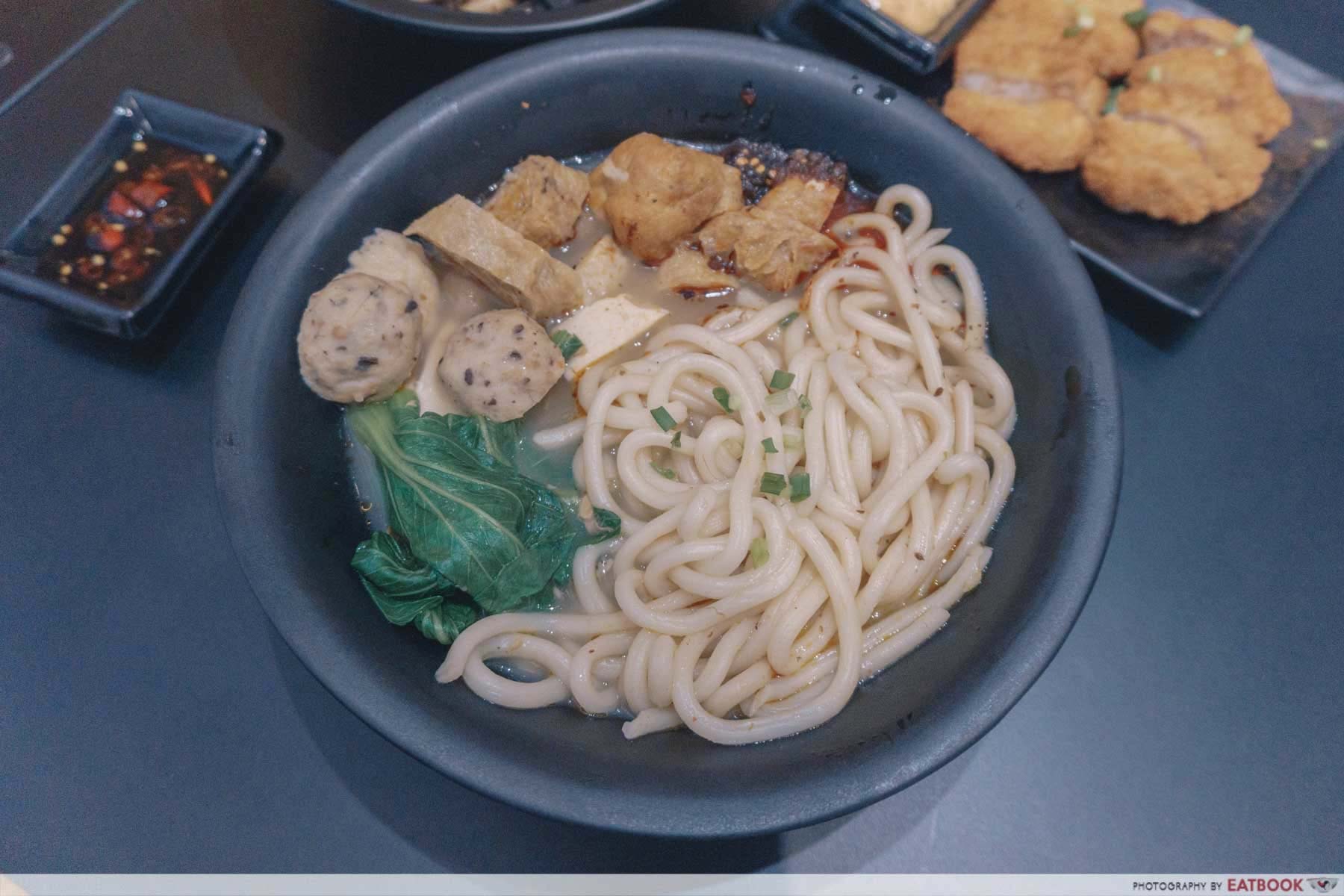 The main draw here is the soup-based Ma La Tang (Price by weight). What makes it special is its chicken broth, which is simmered for up to a day. The result is a cloudy soup with a comforting, deep flavour and a tinge of sweetness. We prefer ordering this less spicy, to enjoy it as a ma la-flavoured yong tau foo bowl. Grab a side of fragrant Scallion Oil Noodles ($4.50+) to complete your meal.
Peppercorn30 Review: Get Ma La Yong Tau Foo At This Halal Cafe In Bugis
Address: 30 Kandahar Street, Singapore 198890
Opening hours: Daily 11:30am to 2:30pm, 5:30pm to 9:30pm
Tel: 9862 2559
Website
Peppercorn30 is a halal-certified restaurant.
---
9. THE MAST' of Mozzarella & Co
---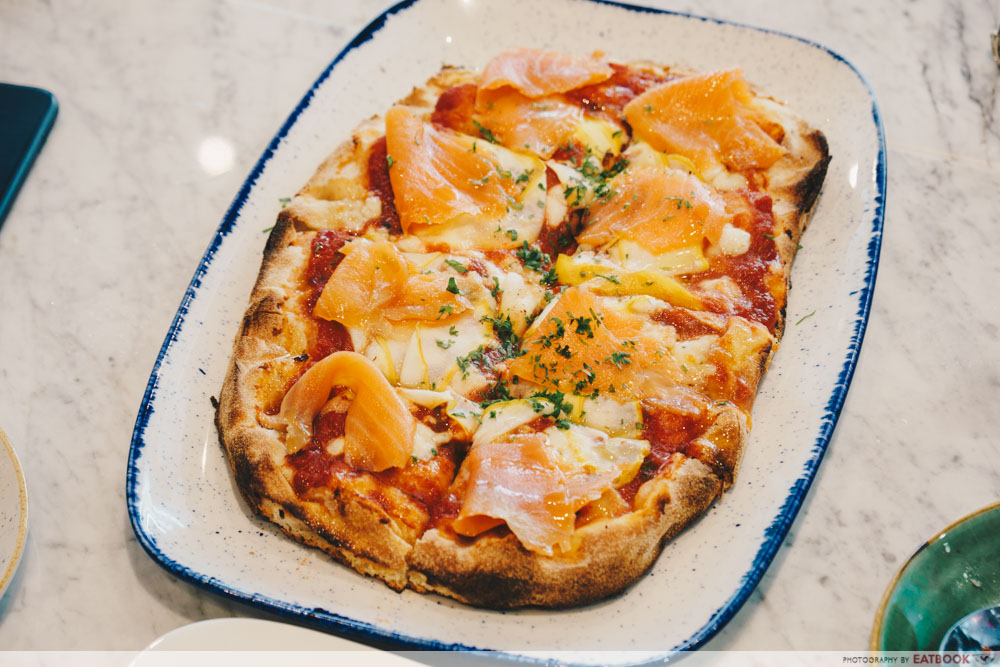 Imported from Rome, THE MAST' of Mozzarella & Co at Frasers Tower is Singapore's first restaurant that offers fresh, house-made buffalo milk cheese. Made daily at the restaurant in a see-through cheese laboratory and only using ingredients imported from Italy, the freshness of the cheese is apparent as you enjoy it as-is, with a full milky flavour and soft creaminess.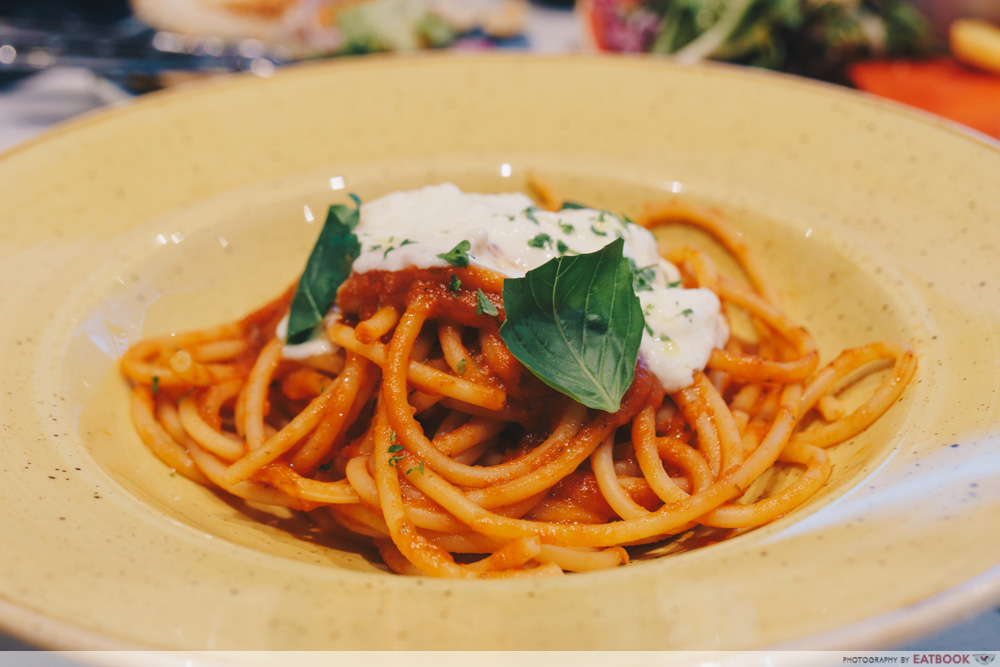 There are plenty of hot grub on the menu too, all of which incorporate the cheese. Tossed in a house-made tomato sauce and topped with basil and stracciatella is the Bigoli Pasta ($20++). Mixing it all up brings forth a rich, creamy tanginess that's simple but satisfying.
Do share the Salmone Scozzese Zucchine Pinse ($18++ for medium, $22++ for large), where the combo of smoky salmon, melted mozzarella and thick chewy base is a match made in heaven.
Address: 182 Cecil Street, #01-05/08, Frasers Tower, Singapore 069547
Opening hours: Mon-Sat 10am to 10pm
Tel: 6513 8010
Website
---
10. Piao Xiang Ma La
---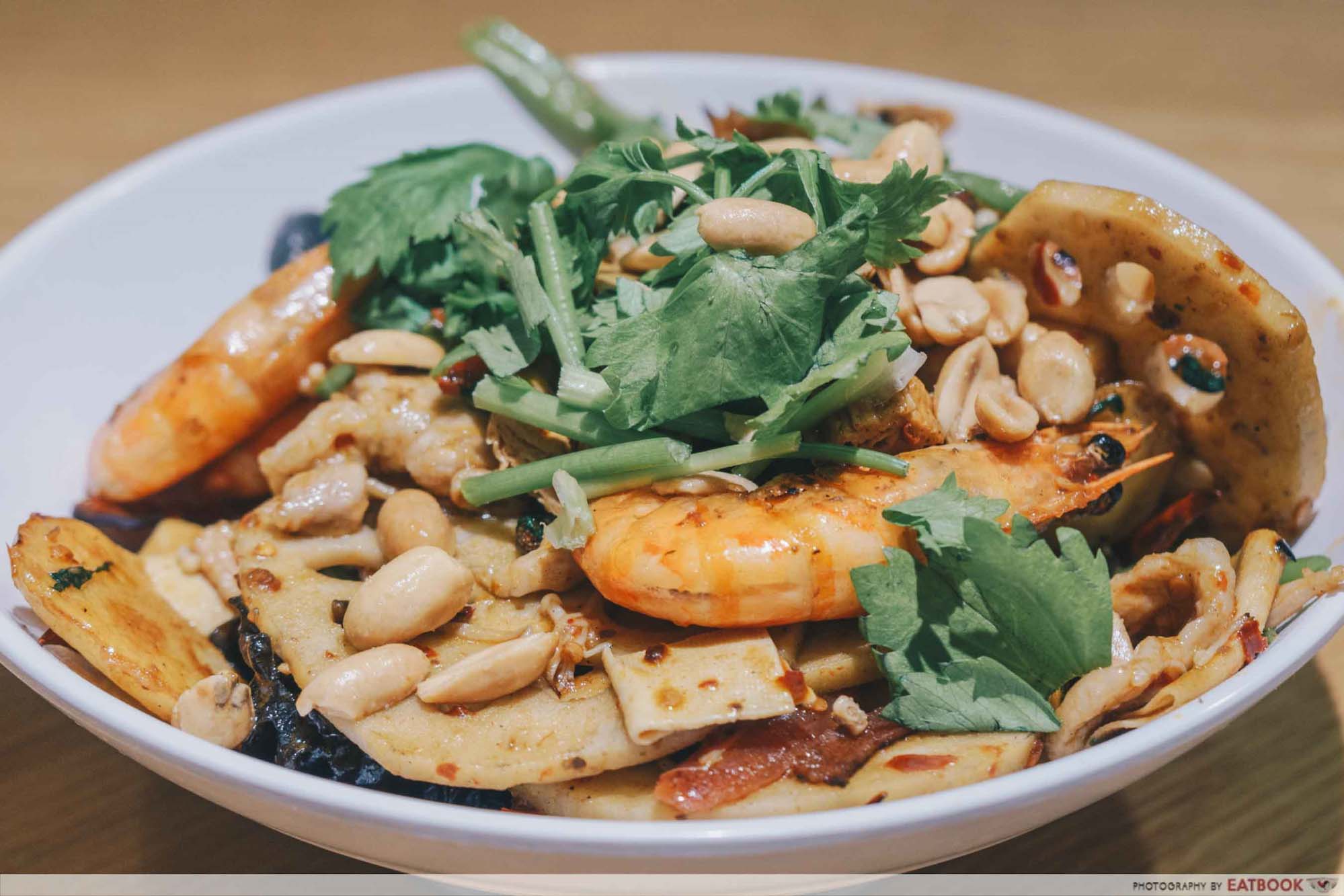 Having recently opened its second stall at Food Opera @ ION Orchard, Piao Xiang Ma La is one of Singapore's pioneers in ma la. Tailored to the local palate, the sauce lacks the tongue-numbing spiciness characteristic of ma la. Of the three spice levels in their Ma La Hot Pot, most diners will find themselves comfortable with the zhong la. They also use less oil and less salt, so a bowl of rice is scarcely needed as an accompaniment.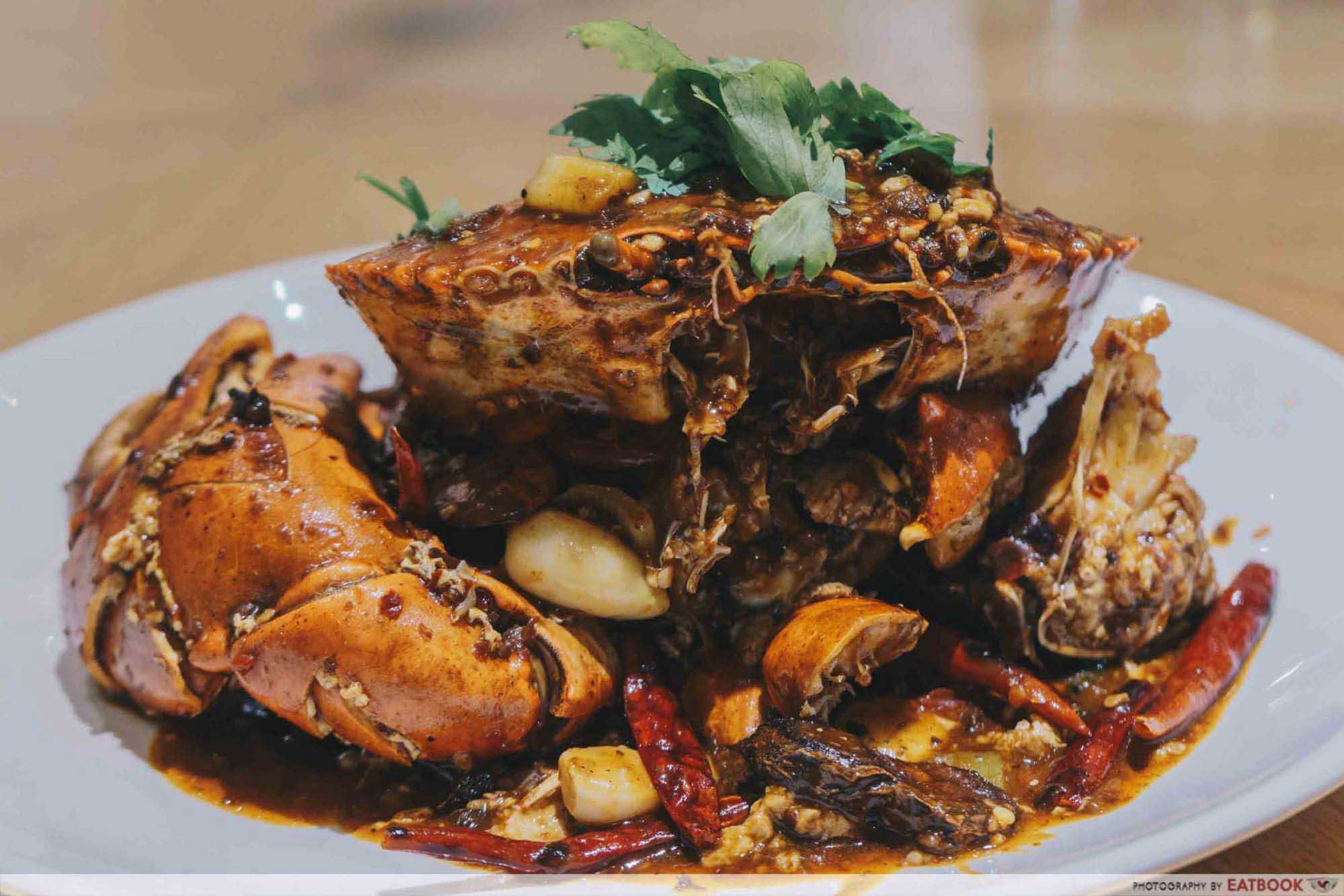 A dish ensuring return visits is the Ma La Crab (Seasonal). Infused with Sichuan peppercorn and dried chilli, every bite leaves a robust burn in one's mouth while preserving the briny sweetness of the crab.
Address: 2 Orchard Turn, #B4-03/04, ION Orchard, Singapore 238801
Opening Hours: Sun-Thur 10am to 10pm, Fri-Sat 10am to 11pm
Tel: 6509 9198
---
Bonus 1: Folklore
---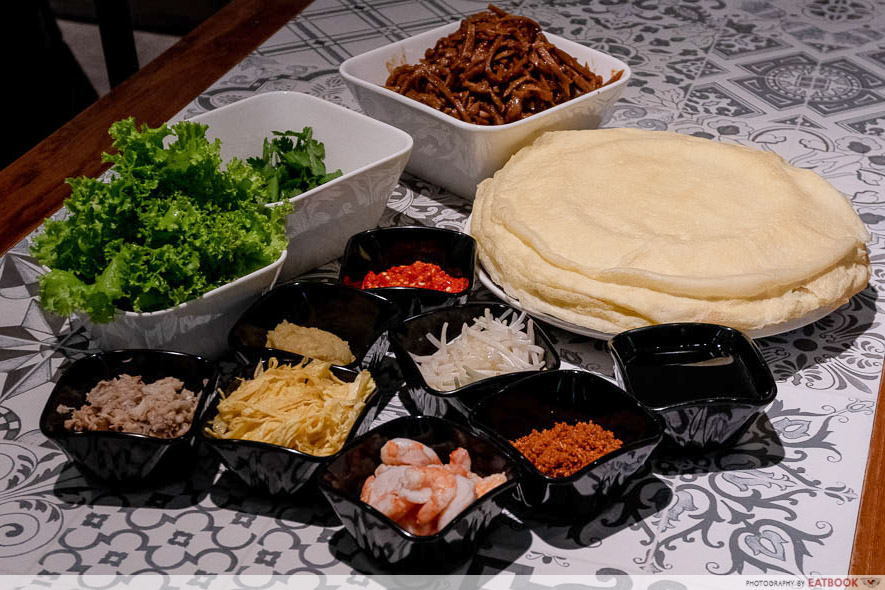 Known for dishing out quality Peranakan fare, Folklore is the place to go for a different type of Chinese New Year feast. Available from 4 to 19 February, this DIY Popiah Set ($60++ for four to five people) can up your reunion dinner game instantly.
The dark brown filling is cooked in preserved soybean paste as well as braised pork and prawn stock, resulting in crunchy and savoury mouthfuls of jicama and bamboo shoots. Complete your popiah with ingredients such as steamed crab meat, poached prawns, minced garlic, which are all included in the set.
If you're having your CNY feast at home, you can dabao this for a party of 20 people at $321 – just remember to call and reserve at least five working days in advance.
Address: 700 Beach Road, Level 2, Destination Singapore Beach Road, Singapore 199598
Opening hours: Daily 12pm to 2:30pm, 6pm to 9:30pm (last order 15 minutes before closing)
Tel: 6679 2900 / 9021 9700
Website
---
Bonus 2: JUMBO Seafood
---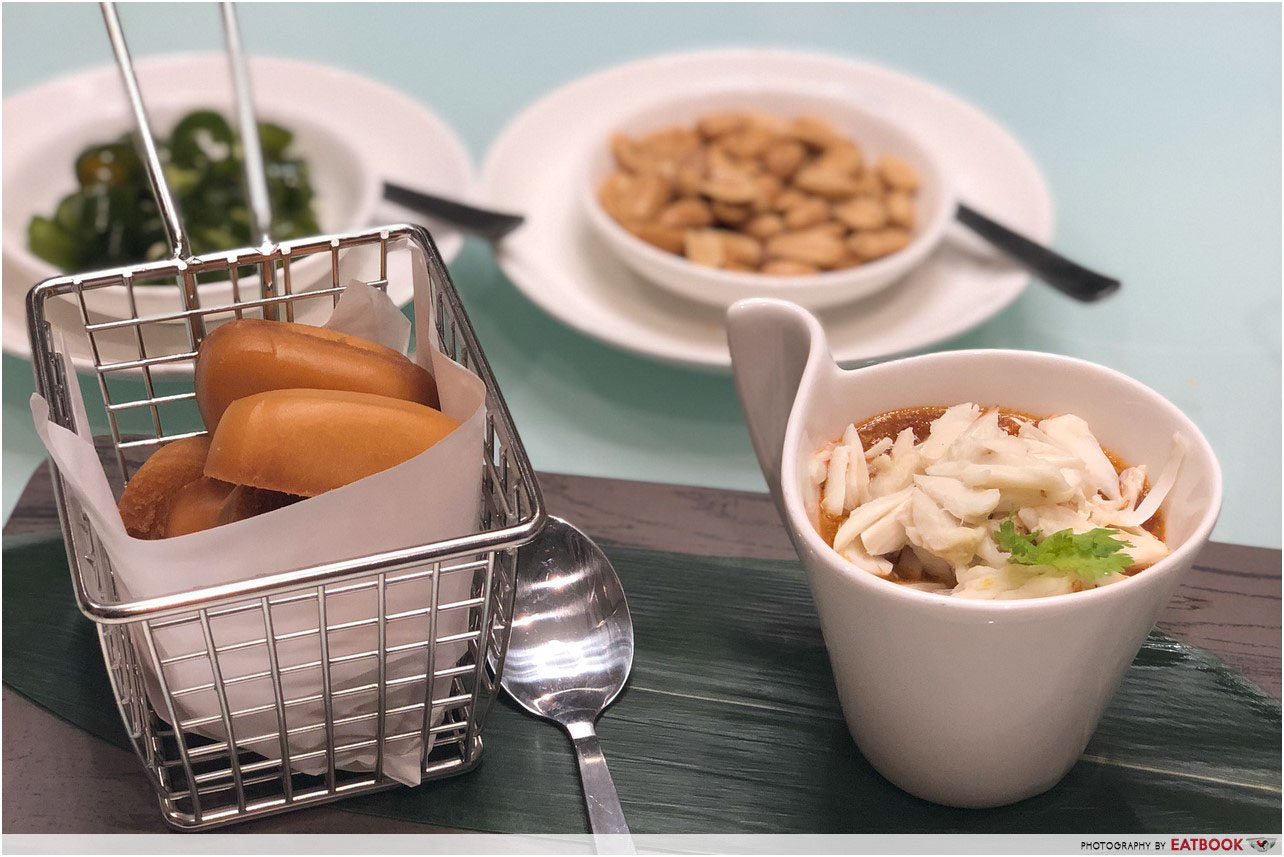 Don't dismiss JUMBO Seafood's latest outlet as just another place to get your chilli crab fix. This posh new restaurant at ION Orchard offers a range of new grub that is exclusive to this outlet.
Joining their classics are delicious dim sum dishes such as Baked JUMBO Chilli Crab Puffs ($8.80++) and Chilli Crab Meat Sauce with Sliced Fried 'Mantou' ($16.80++). Dim sum is only served during lunch and high tea hours, so head over bright and early for a sumptuous meal.
Another must-try is King Prawns and Fragrant Rice in Rich Seafood Broth ($38++). The combination of umami soup, giant prawns and crispy rice puffs make this a top choice for those in need of some comfort food.
Address: 2 Orchard Turn, #04-09/10, ION Orchard, Singapore 238801
Opening hours: Daily 11:30am to 3:30pm, 6pm to 10:30pm
High tea hours: Sat-Sun & PH 2:30pm to 5:30pm (last order at 4:45pm)
Tel: 6737 3435
Website
---
Bonus 3: Lawry's The Prime Rib Singapore
---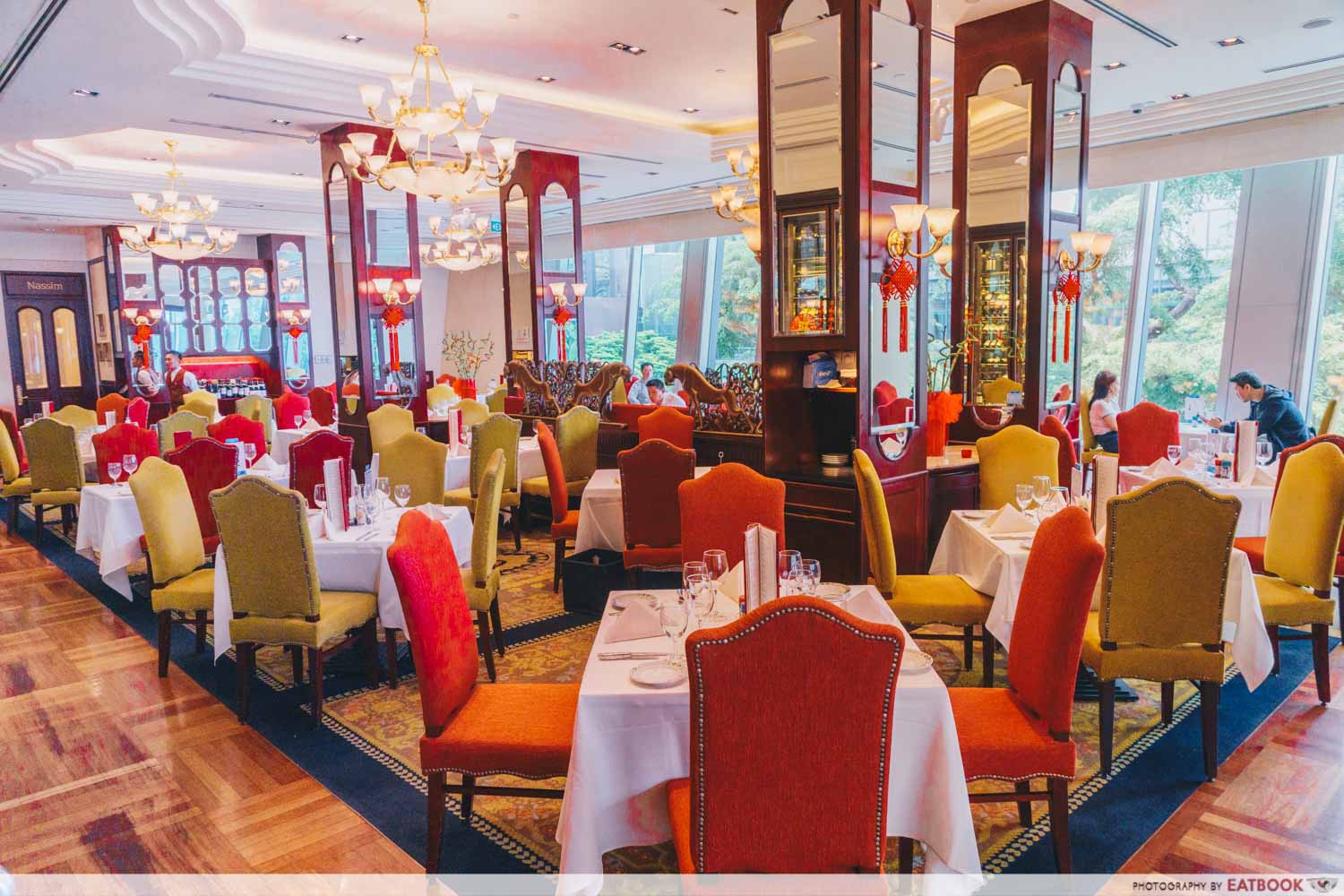 Lawry's The Prime Rib Singapore is not only known for their prime roast but also their impeccable service, so you need look no further for an ideal V-Day restaurant. Basking in the romantic ambience, every couple will get bring a complimentary bottle of Ruffino Moscato d'Asti home to celebrate this special occasion.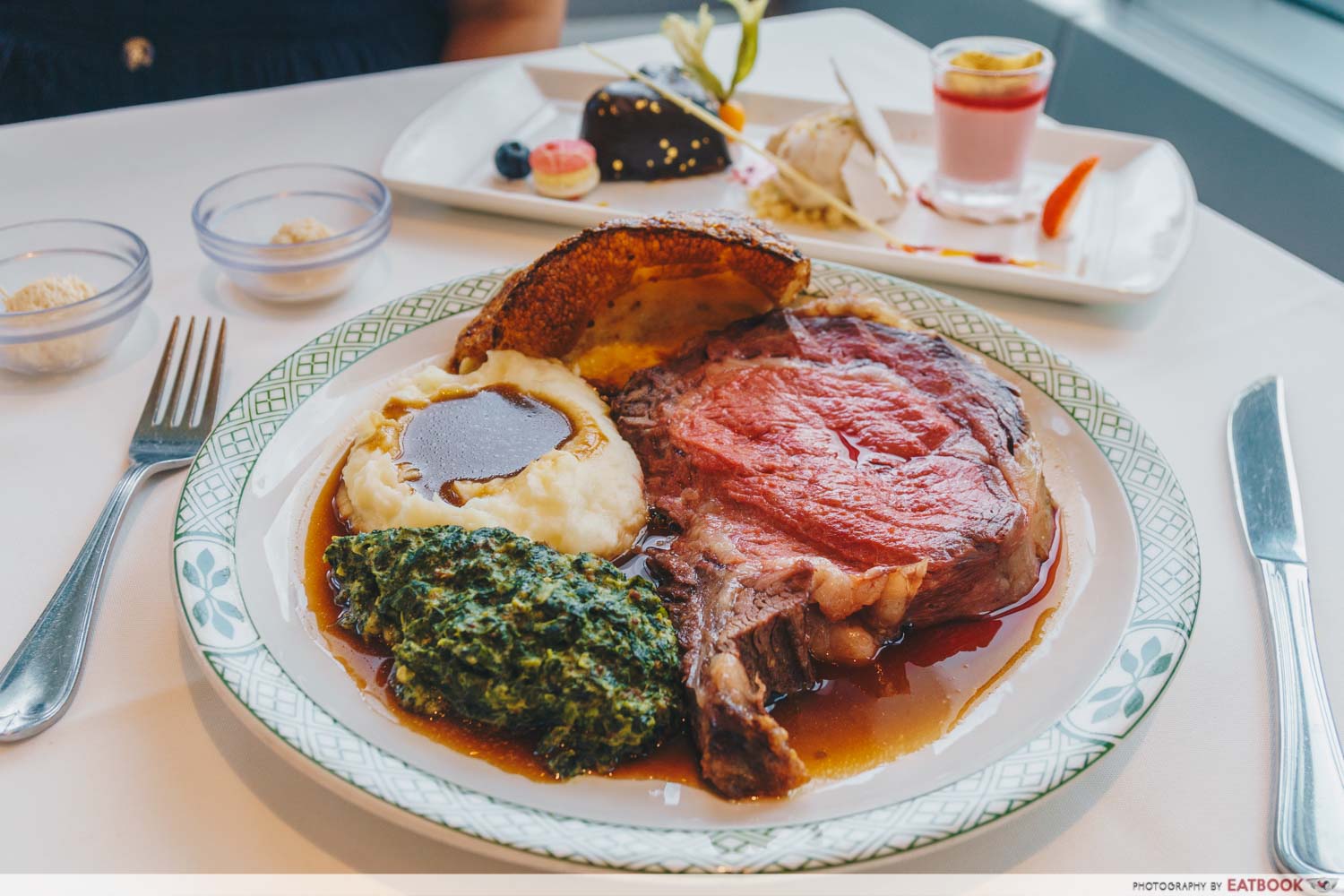 The six-course Valentine's Menu ($188++ per person) includes aphrodisiacs such as Foie Gras Macaron, Grilled Spanish Octopus and Smoked Salmon with Avruga Caviar, and their Signature Roasted USDA Prime Rib of Beef. Those with a sweet tooth can also look forward to the beautifully plated dessert which features a praline dome, tiramisu mochi ice-cream, and strawberry mousse.
Address: 333A Orchard Road #04-01/31, Mandarin Gallery, Singapore 238897
Opening hours: Sun-Thur 11:30am to 10pm, Fri-Sat 11:30am to 10:30pm
Tel: 6836 3333
Website
---
New restaurants and cafes in February 2019
---
These restaurants might be just what you're looking for, if you can't decide where to bring bae this Valentine's Day. Know a new restaurant popping up? Do share with us in the comments section below!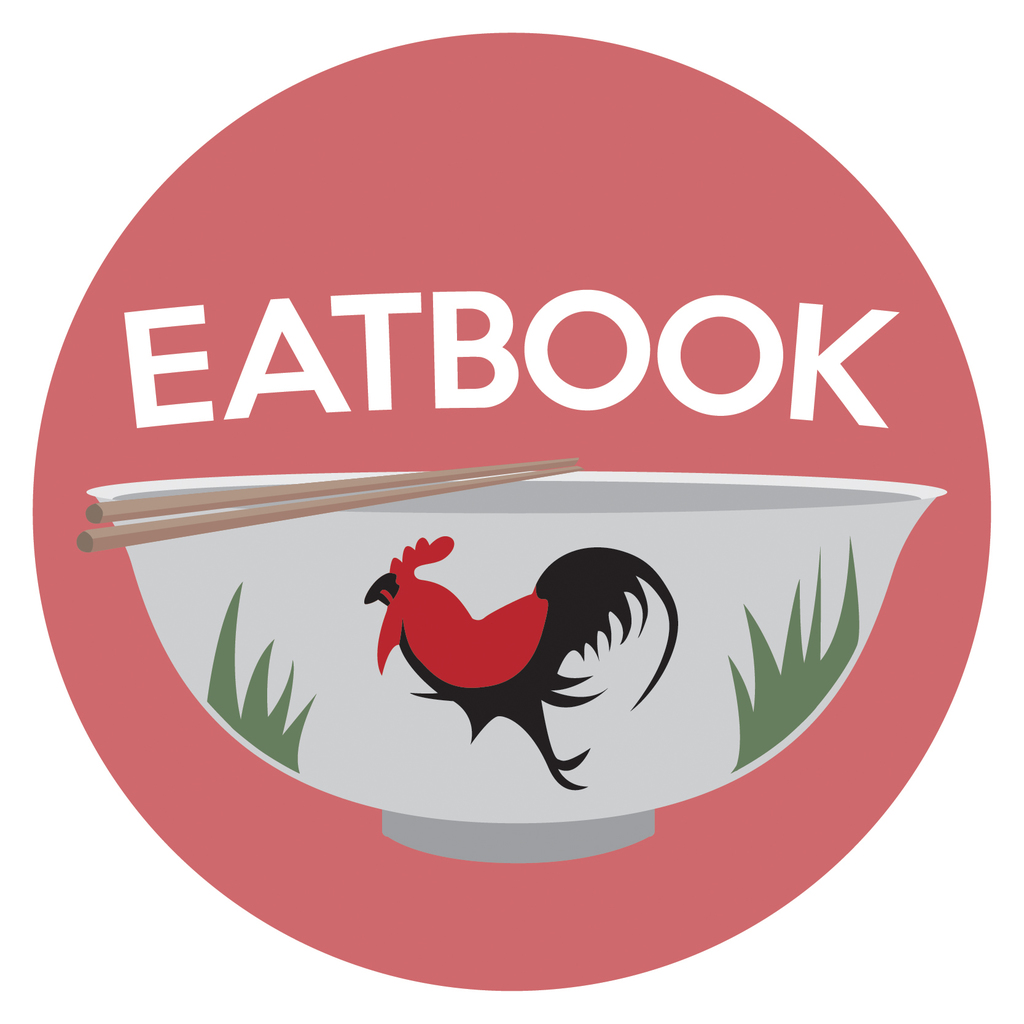 Drop us your email so you won't miss the latest news.