---
Popular cafes that offer brunch food for dinner
---
Despite supposedly encapsulating the best parts of breakfast and lunch, the great thing about brunch is that it can be consumed at any point of the day. I prefer brunching when I don't have to spend an hour queueing for a communal table shared with a bunch of people I don't know. If you're like me, here's a little secret: go for brunch on a weekday night instead. When the rest of Singapore is out prowling hawker centres or restaurants for dinner, we're headed to these popular cafes to get brunch food for dinner.
---
1. The Populus Coffee & Food Co.
---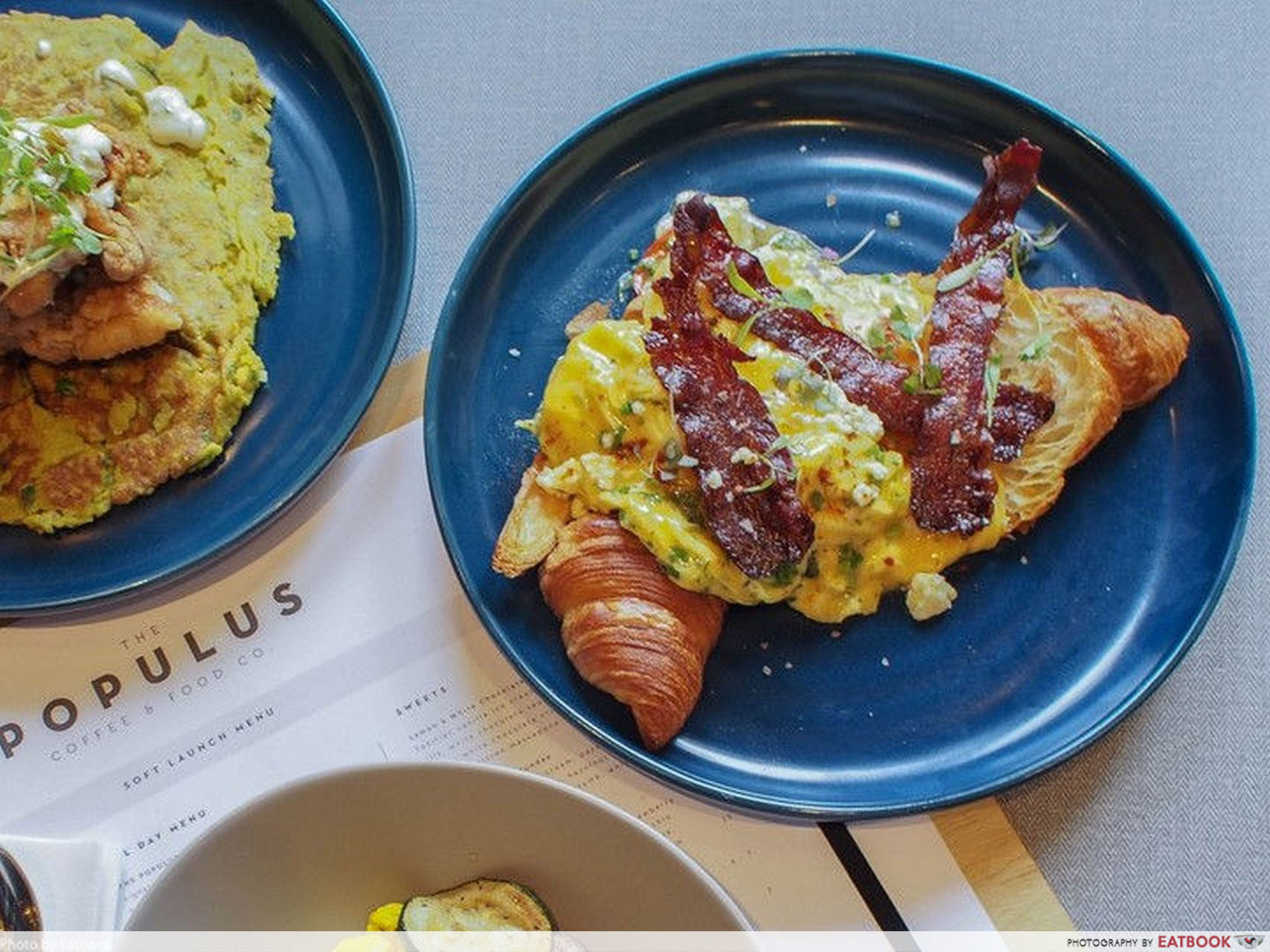 The Populus Coffee & Food Co. is no stranger to the brunch scene. Their ever-popular The Populus Scramble ($17+) – a buttery, flaky croissant topped with creamy scrambled eggs – is one of the main reasons why weekends here are crazy packed. Thankfully, they're open on most evenings, so be sure to check it out sans overwhelming crowds.
Check out our full review of The Populus Coffee & Food Co!
Address: 146 Neil Road, Singapore 088875
Opening hours: Mon & Wed 9am to 7pm, Tue 9am to 4pm, Thur-Fri 9am to 10:30pm, Sat 9:30am to 10:30pm, Sun 9:30am to 7pm
Tel: 6635 8420
Website | Menus
---
2. Craftsmen Specialty Coffee
---
Craftsmen Specialty Coffee now has three outlets in Singapore, serving breakfast and brunch all day. Their brunch items include Croissant Sandwiches ($11 to $13) as well as a range of brioche sets with eggs, including Smoked Salmon ($15) and Moroccan Chicken ($17). Not only do they open till 9pm on weekdays, but their prices are also nett, which makes this one of the top places we'd frequent.
Check out other cafes with nett prices around Singapore!
Address: 173 Thomson Road, Singapore 307623
Opening hours: Sun-Thur 8:30am to 9pm, Fri-Sat 8:30am to 10:30pm
Tel: 9658 0769
Website
Menu
Full list of outlets

---
3. The Daily Roundup
---
The Daily Roundup is best known for their crepes. They offer both sweet and savoury crepes for brunch all day long. My favourites are their Salted Caramel Crepe ($12+) and Mushroom Complete ($18+). Pair the sweet crepes with a scoop of ice-cream ($4+ onwards) for a more satisfying meal.
Address: 1 Keong Saik Road, #01-02, Singapore 089109
Opening hours: Mon-Fri 8am to 9:30pm, Sat 9am to 9:30pm, Sun 9am to 7:30pm
Tel: 9780 2920
Website
---
4. Habitat Coffee
---
Upper Thomson is a gold mine when it comes to brunch spots. Habitat is one of those that stands out not only for their delicious food, but also because they open till 10pm, making them a great spot to fulfill those breakfast-for-dinner cravings. Mama's Banana Pancakes ($10) is my standard order when I'm here, as the combination of fluffy pancakes and caramelised bananas is to die for.
Address: 223 Upper Thomson Road, Singapore 574355
Opening hours: Tue-Sun 10am to 10pm
Tel: 6456 2567
Website
Menu
---
5. Carpenter & Cook
---
Carpenter & Cook serves more pastries and sandwiches rather than mains, but coupled with a cup of coffee, these still make for some pretty hearty meals. Their pastries include Cinnamon Rolls ($4.50) and Banoffee Tarts ($5.80). Pair one of these or a Quiche ($8.60) with a Cafe Latte ($5.20) and you've got brunch sorted.
Address: 19 Lorong Kilat, #01-06, Singapore 598120
Opening hours: Mon-Fri 10am to 10pm, Sat 9am to 10pm, Sun 9am to 9pm
Tel: 6463 3648
Website
---
6. Hatched
---
As its name suggests, Hatched is all about eggs. Fried, scrambled, poached, or baked, they serve it all. Oozy Baked Egg ($12++) and Philly ($14++), a steak omelette filled with cheese, are some of the options you're unlikely to find at other brunch places. They also serve a variety of pasta and salads for those who are not in the mood for eggs.
Address: 267 Holland Avenue, Singapore 278989
Opening hours: Tue-Sun 9am to 11pm
Tel: 6463 0012
Website
---
7. D'Good Cafe

---
D'Good Cafe is no stranger to the brunch scene, especially among students. Having rocketed to fame several years ago for their Insta-worthy interior and latte art, their food doesn't lag far behind either. If you're looking for something different from the traditional French toast and eggs Benedict, go for their Deutsch Skillet Pancakes (from $12++) that come in a variety of sweet and savoury flavours. Breakfast is served all day, so avoid the crowds and head over in the evening for a quick and easy meal.
Address: 273 Holland Avenue, #02-01/02, Singapore 278992
Opening hours: Sun-Thur 10am to 10pm, Fri-Sat 10am to 11pm
Tel: 6219 9807
Website
Full list of outlets
---
8. Cafe Melba

---
Cafe Melba not only gives off Aussie vibes right from the door with its minimalistic decor, but also serves Australian classics all day. While their full brunch menu is only available on weekends, they do have some brunch items on weekdays, including Free Range Eggs Benedict ($18++) and Full Melba Cooked Breakfast ($22++). They also have an outlet at one-north for those living around that area.

Check out other one-north food places worth making your way there for.
Address: 90 Goodman Road, #01-56, Block N, Singapore 439053
Opening hours: Mon-Fri 10am to 10pm, Sat-Sun 8:30am to 10pm
Tel: 6440 6068
Website | Full list of outlets
Menu
---
9. Gudetama Cafe
---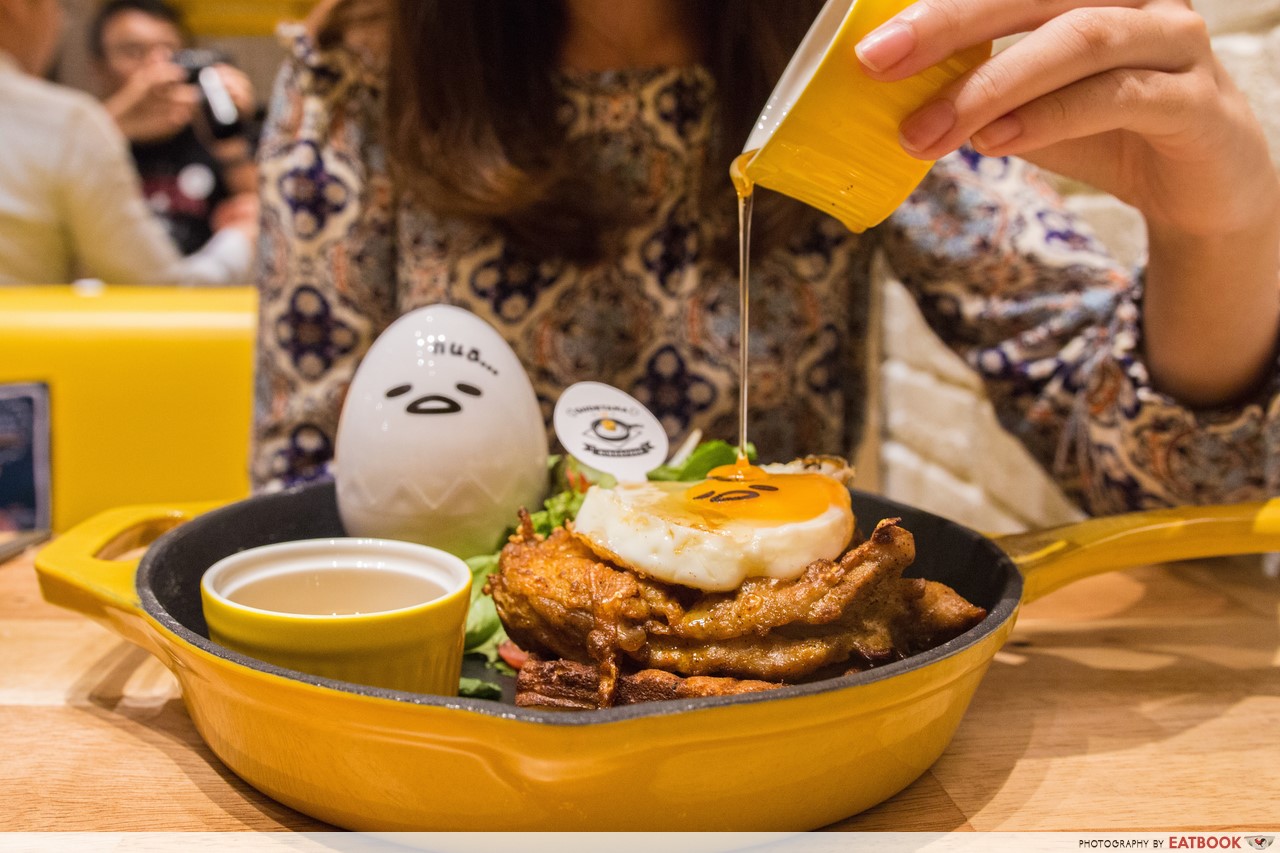 Character cafes have taken Singapore by storm recently, and Gudetama Cafe is perhaps the most popular of the lot. Serving breakfast all day, this cafe tends to get pretty crowded on weekends and during lunch on weekdays. Thankfully, they're open till 10pm on weekday nights, which means you can get your Eggcited Cajun Chicken with Waffles ($23.90++) without the long waiting time.
Check out our full review of Gudetama Cafe!
Address: 3 Temasek Boulevard, #01-361, Suntec City Mall Tower 3, Singapore 038983
Opening hours: Mon-Thur 9am to 10pm, Fri-Sun 8am to 10pm
Tel: 6677 6195
Website

---
10. Wild Honey
---
Wild Honey specialises in breakfast, and features breakfast sets representative of cuisines across the world. Their breakfast menu runs all day, every day, so it's probably one of the best places to get your breakfast-for-dinner fix even at 9pm. Some of their brunch options include English ($26++), a traditional English breakfast with scrambled eggs, mushrooms, and bacon, among other things, and Tunisian ($20++), which is shakshuka served with eggs and brioche.
Address: 333A Orchard Road, #03-01/02, Mandarin Gallery, Singapore 238897
Opening hours: Sun-Thur 9am to 9:30pm, Fri-Sat 9am to 10:30pm
Tel: 6235 3900
Website
Full list of outlets

---
Brunch for dinner
---
Now you know how to get your fix at your favourite brunch cafes without the hassle of crowds and queues. Let us know down below if there are any other cafes that are quieter on weekday nights!
---
Featured image adapted from Instagram.