Spice & Rice at Telok Ayer
Update: Spice & Rice is no longer operating at Telok Ayer.
It hasn't been long since we discovered Mad Roaster's lifechanging babkas at Amoy Street Food Centre. Our latest find in the same space is Spice & Rice, a nasi lemak stall with just three items on the menu.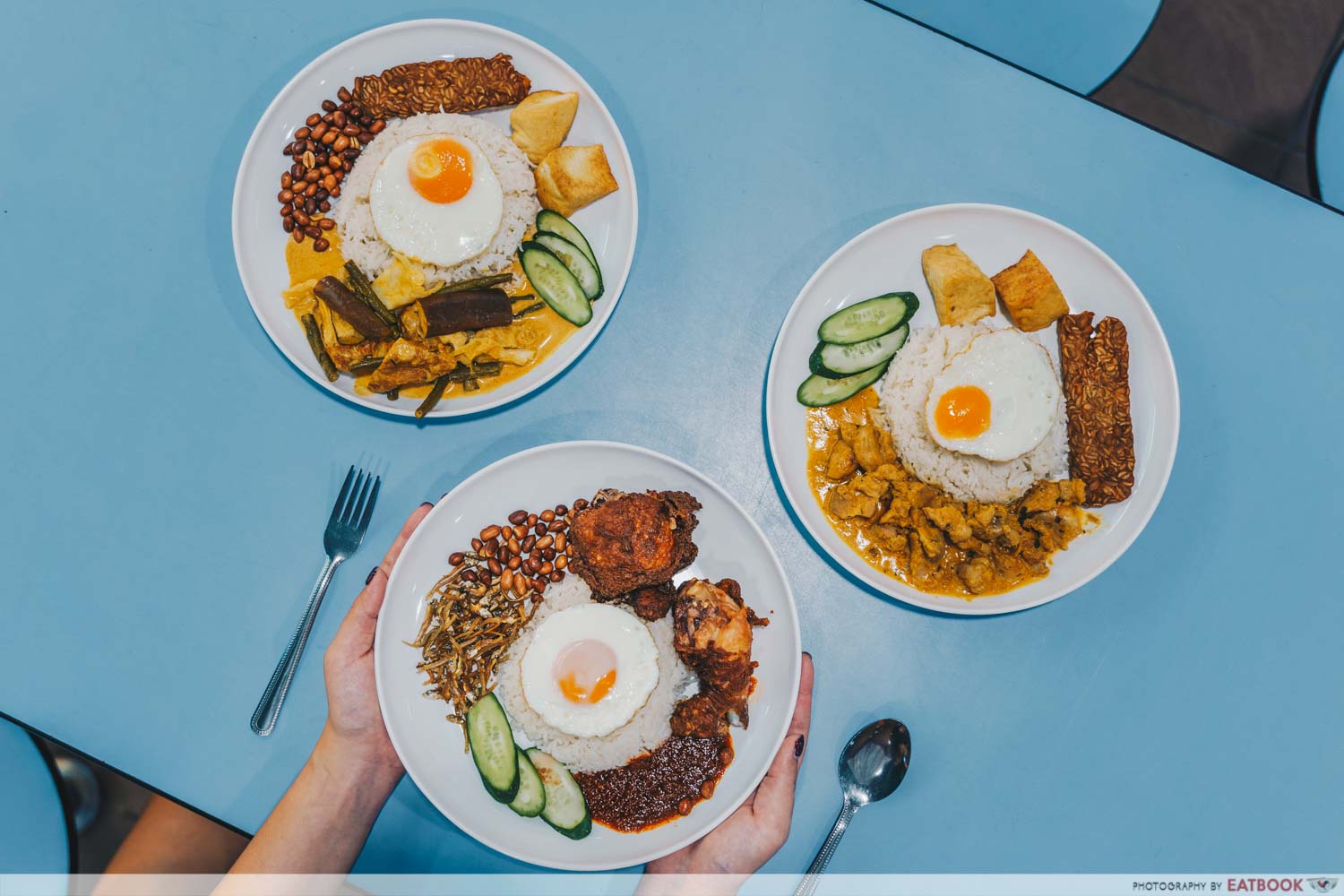 The recipes at Spice & Rice are a closely guarded secret, some of which have been in the family of one of the founding partners for generations. Previously from the corporate world, the three friends behind this stall decided to put their legacy recipes together in order to share their idea of perfect, classic nasi lemak with the rest of Singapore.
LUNA Review: New Cafe At Amoy Street Selling Orh Nee And Dark Chocolate Cakes Under $10
Food at Spice & Rice
Good raw ingredients are the making of a great dish. The nasi lemak here makes use of specially selected produce, for a difference you can taste.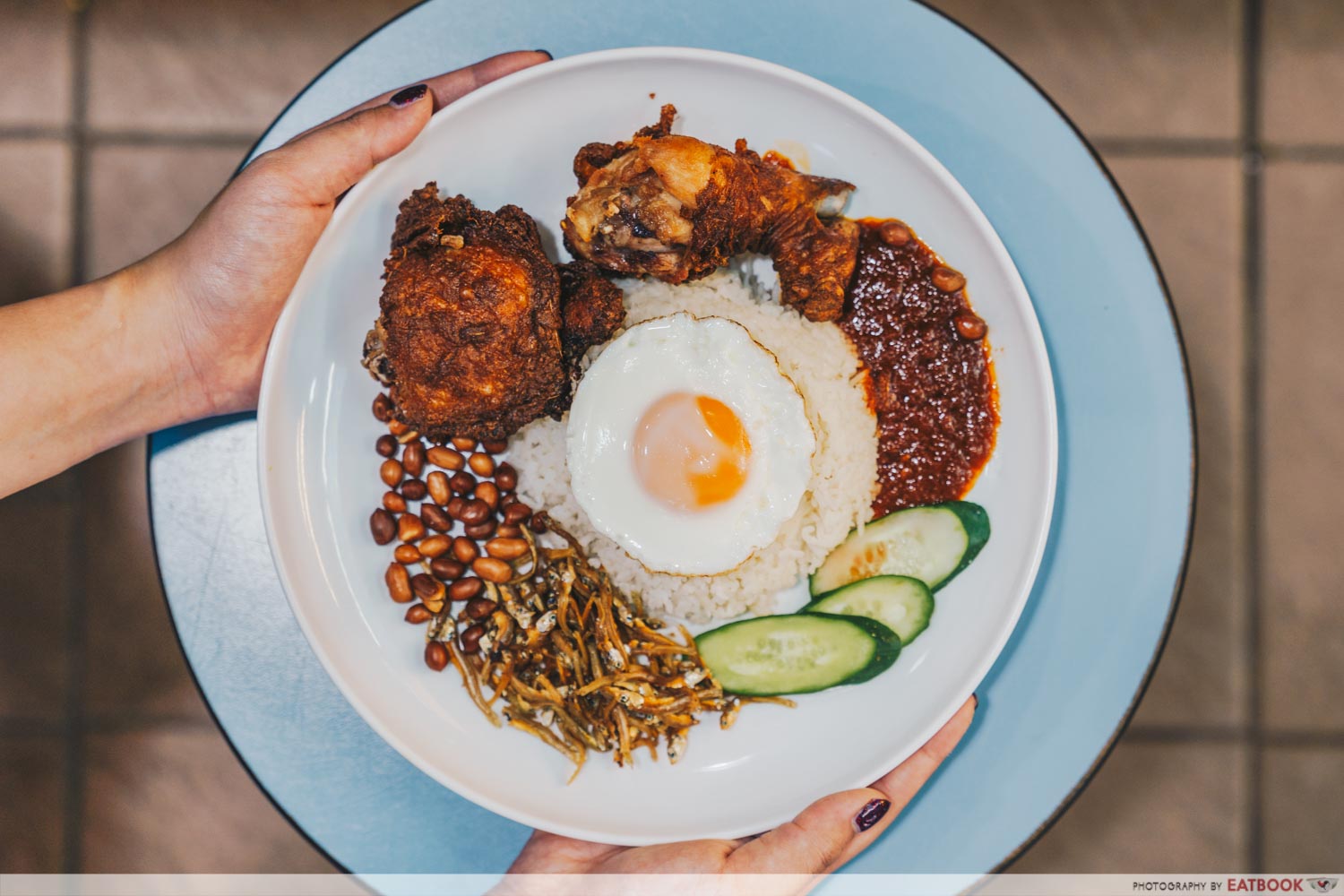 We started with the Classic Nasi Lemak Fried Chicken ($7.50), that came on a plate loaded with what you would expect from this dish─coconut rice, a sunny-side-up egg, fried ikan bilis, peanuts, cucumber, sambal, and their house special fried chicken.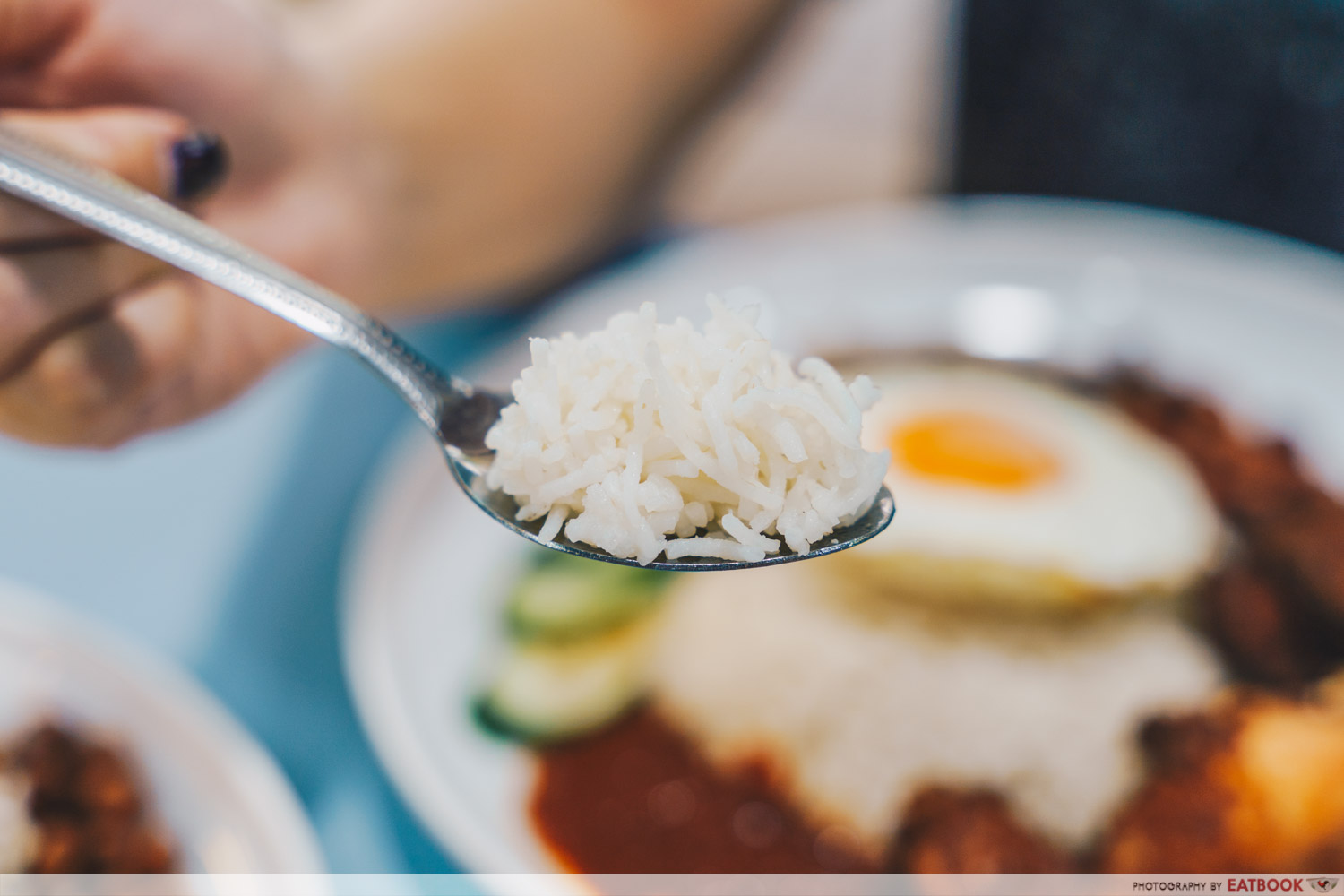 Whenever I'm faced with a plate of nasi lemak, I dive into the rice. Unadorned with sambal or any of the fixings on the plate is where the test of good nasi lemak rice lies. Premium basmati rice is used here, selected for the bite that it offers. It's fragrant with coconut and a slight whiff of pandan, the grains are distinct and fluffy like a good nasi lemak rice should be.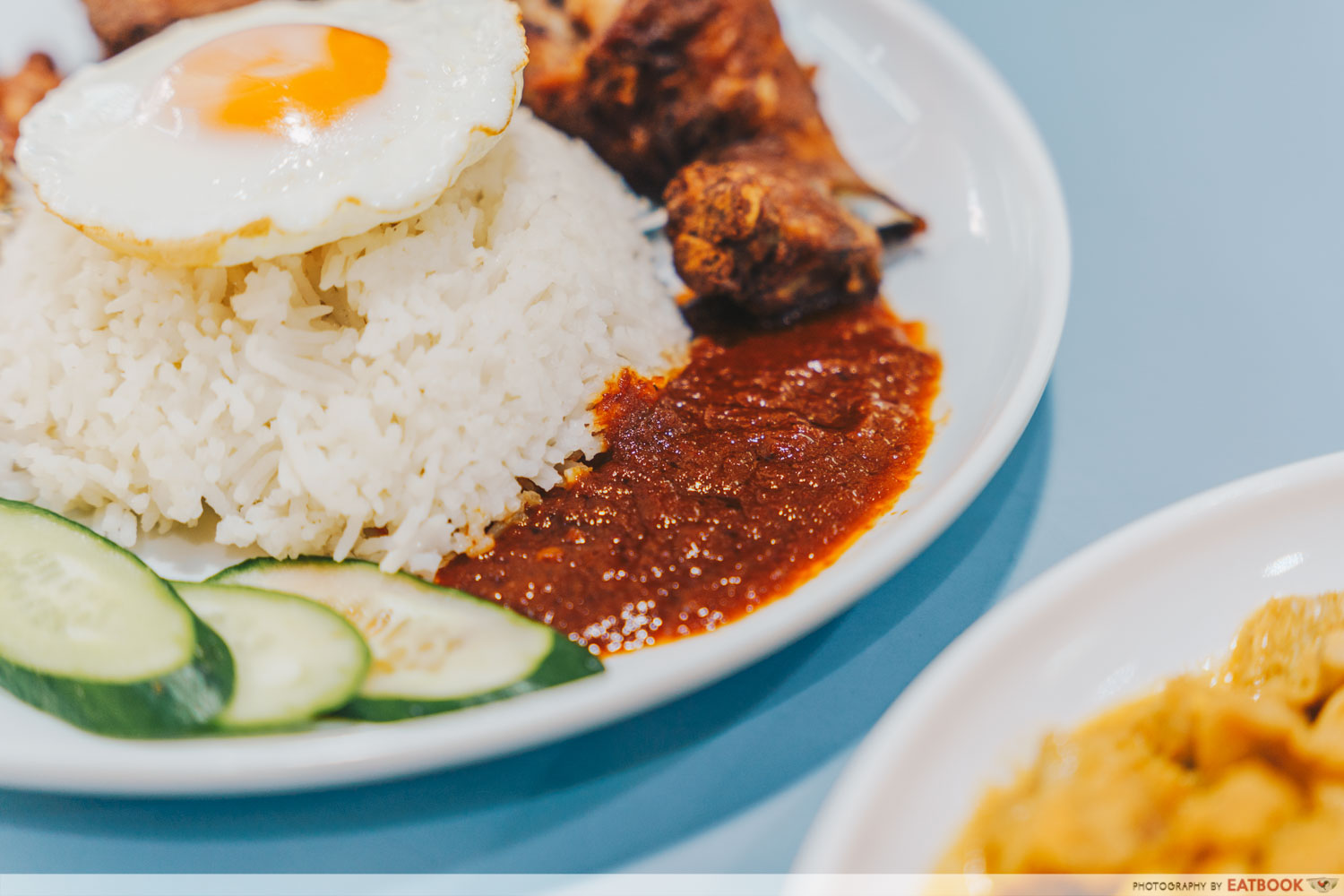 Another important component of nasi lemak is the sambal, which here is also made in-house. You can taste the natural sweetness that comes from the slow cooking of the shallots, chilli, and other ingredients that go into this. I wished, however, that the sambal was a little chunkier, for a more rustic, homemade feel.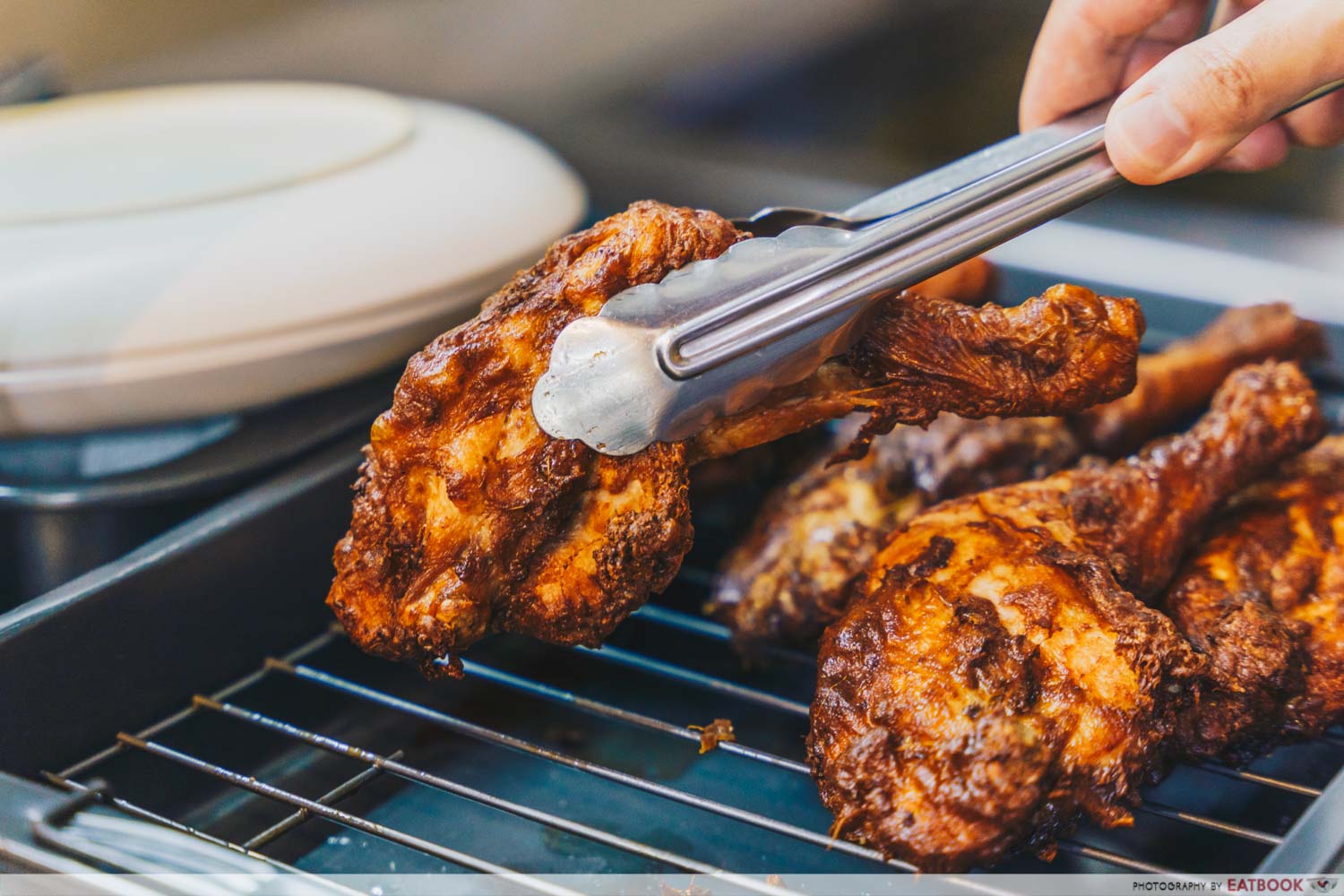 Halal chicken is used at Spice & Rice. You get a whole leg with your order, which is pretty worth it. Each piece is marinated overnight in a specially curated blend of 16 different spices before it's coated with a lemongrass and spice batter to fry.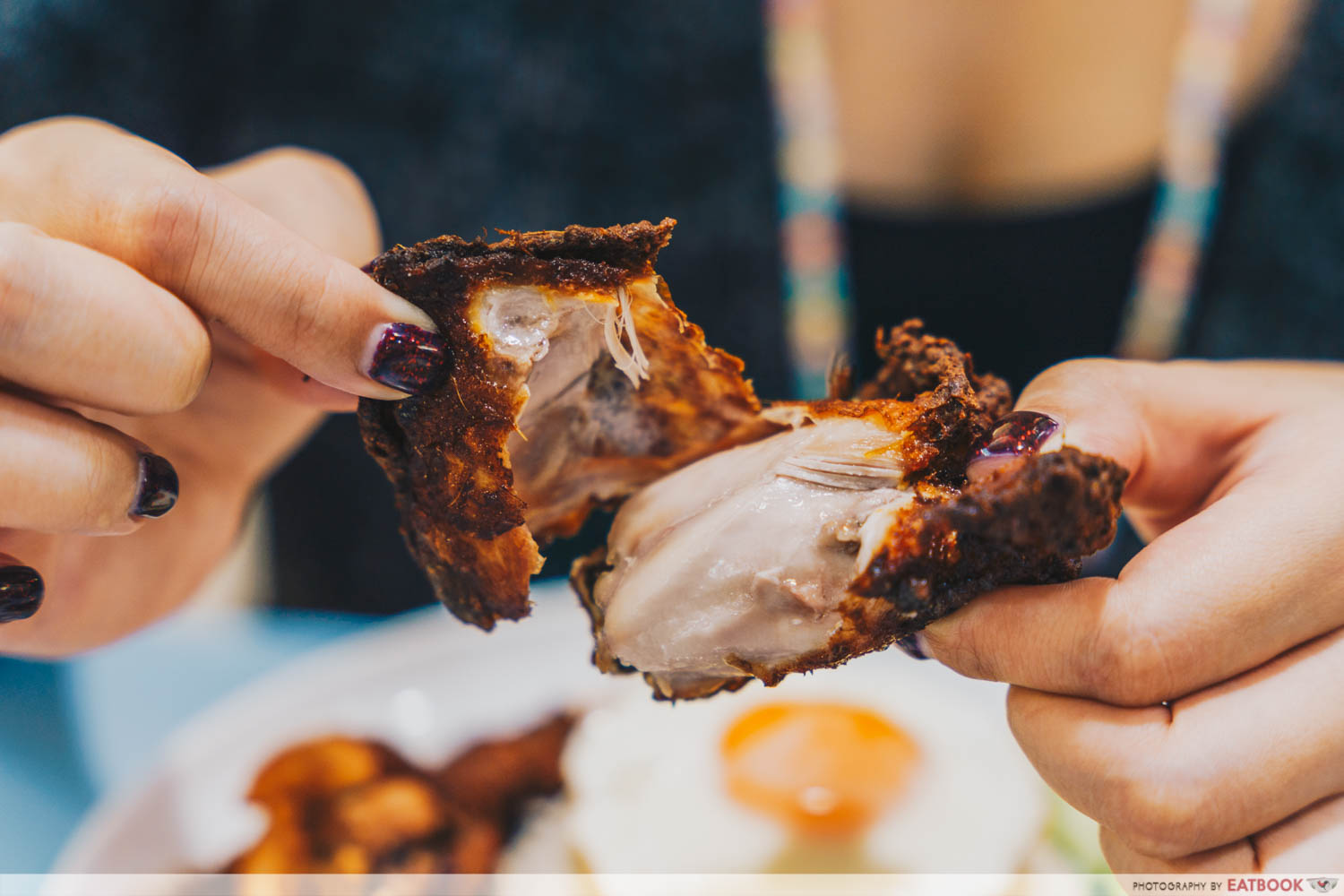 It's not fried to order, but they do give the chicken a quick re-fry before serving, and I appreciated this greatly. It was juicy within, and the very tasty skin was fried to a crisp, although some parts were a little more chao ta than others. The chicken drumstick was also more thoroughly flavourful than the piece of thigh that I got, perhaps since the latter is a thicker piece of meat.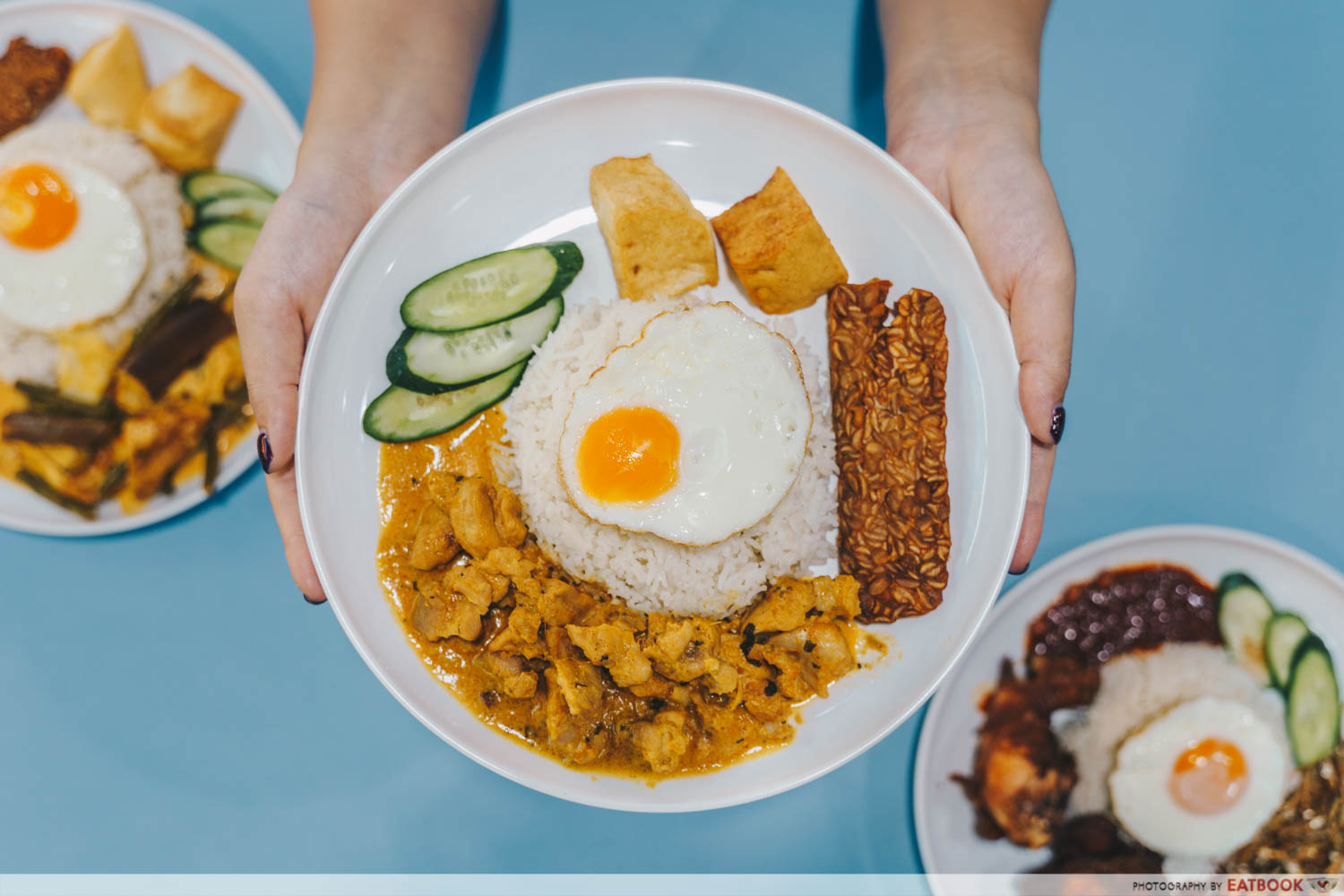 If you're not into the bone-in fried chicken, I'd suggest you go for Butter Chicken ($7.50). You do get a lot of chicken to go with the big serving of nasi lemak rice─this plate, in fact, is probably good for two to share. It's made with a recipe formulated by one of the founders, in remembrance of the years he spent working in London.
The chicken was surprisingly not dry or stringy. I enjoyed the gravy that it came in, and the boneless pieces made it easy to keep popping spoonfuls of it in my mouth.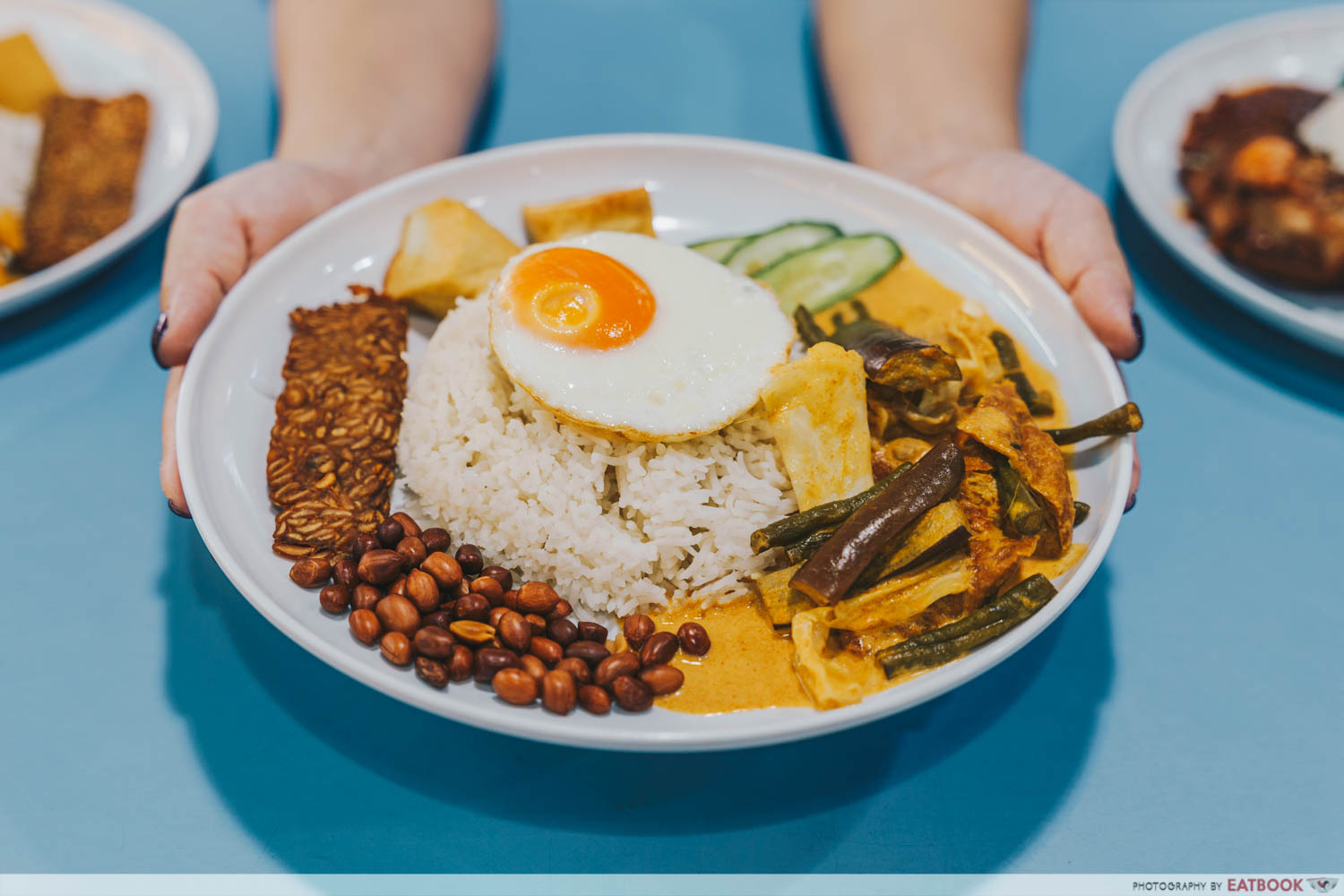 I also liked that they had a Vegetarian Nasi Lemak ($7.50) on the menu. While it was nice to crunch on, on the side, I found the tempeh a little on the burnt side. As with the butter chicken, I enjoyed the lemak, piquant gravy of the sayur lodeh on the side, which is also house-made.
Mad Roaster: Hawker Stall Has Chocolate Babka And Honey Butter Coffee At Amoy Street Food Centre
Ambience at Spice & Rice
Amoy Street Food Centre is located in the heart of the CBD, just a short stroll from Telok Ayer MRT Station or Tanjong Pagar MRT Station. Slightly further away, as well, is Raffles Place MRT station.
Spice & Rice is on the first floor of the hawker centre in a central aisle, just two stalls in. The tables here are well-spaced out, with social distancing seats blocked out. However, the hawker centre got rather crowded around lunchtime. I'd recommend dropping by before, or after the lunch hour.
Their opening hours are currently in the midst of being fixed, so do take note that what we have listed may differ on days like public holidays, subject to Spice & Rice's management.
The verdict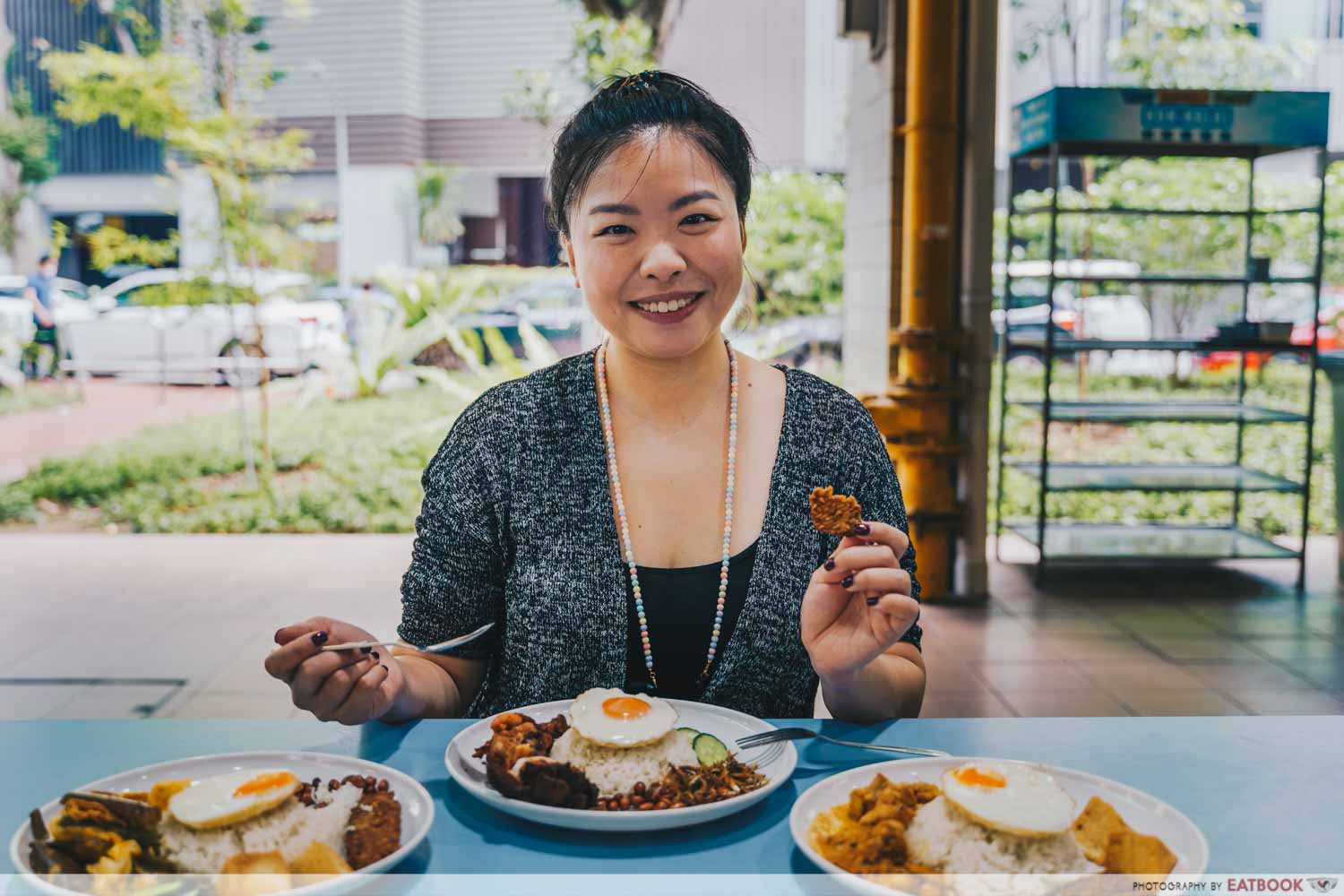 The nasi lemak at Spice & Rice is slightly pricier than what you might expect at a hawker centre, but I find myself willing to pay that little bit extra for the generous portions, and quality of the food here. If you share it with a friend, it works out too. Nasi lemak may not be the healthiest dish, but knowing that there isn't MSG or artificial flavouring on the plate makes it slightly less of a guilty indulgence.
While there are some improvements that I personally feel can be made, everyone probably has a slightly different opinion on what makes great nasi lemak components. You'll get a generally good nasi lemak here for sure, so here's to hoping the standards are maintained, or even improved.
If you're at Amoy Street Food Centre, why not check out LUNA Patisserie, or try the fare at Koryori Hayashi, which is just a few stalls down from Spice & Rice.
Address: 7 Maxwell Road, #01-15, Amoy Street Food Centre, Singapore 069111
Opening hours: Tues-Fri 11am to 3pm, Sat-Sun 9:00am to 3pm
Tel: 9618 9511
Website
Spice & Rice is not a halal-certified eatery.
Photos taken by Lim An.
This is an independent review by Eatbook.sg.
Koryori Hayashi Review: Cheap Japanese Hawker Serving Mentaiko Pasta And Katsu Don In The CBD
Spice & Rice Review: Nasi Lemak With Crispy Fried Chicken Marinated With 16 Spices In Amoy Street Food Centre
Summary
Pros
– Fluffy and fragrant nasi lemak rice
– Tasty gravies
– Crispy fried chicken
Cons
– Tempeh was a little burnt
– Slightly pricey
Recommended dishes: Vegetarian Nasi Lemak ($7.50), Butter Chicken ($7.50)
Opening hours: Mon-Fri 11am to 3pm, Sat-Sun 9:30am to 2:30pm
Address: 7 Maxwell Road, #01-115, Amoy Street Food Centre, Singapore 069111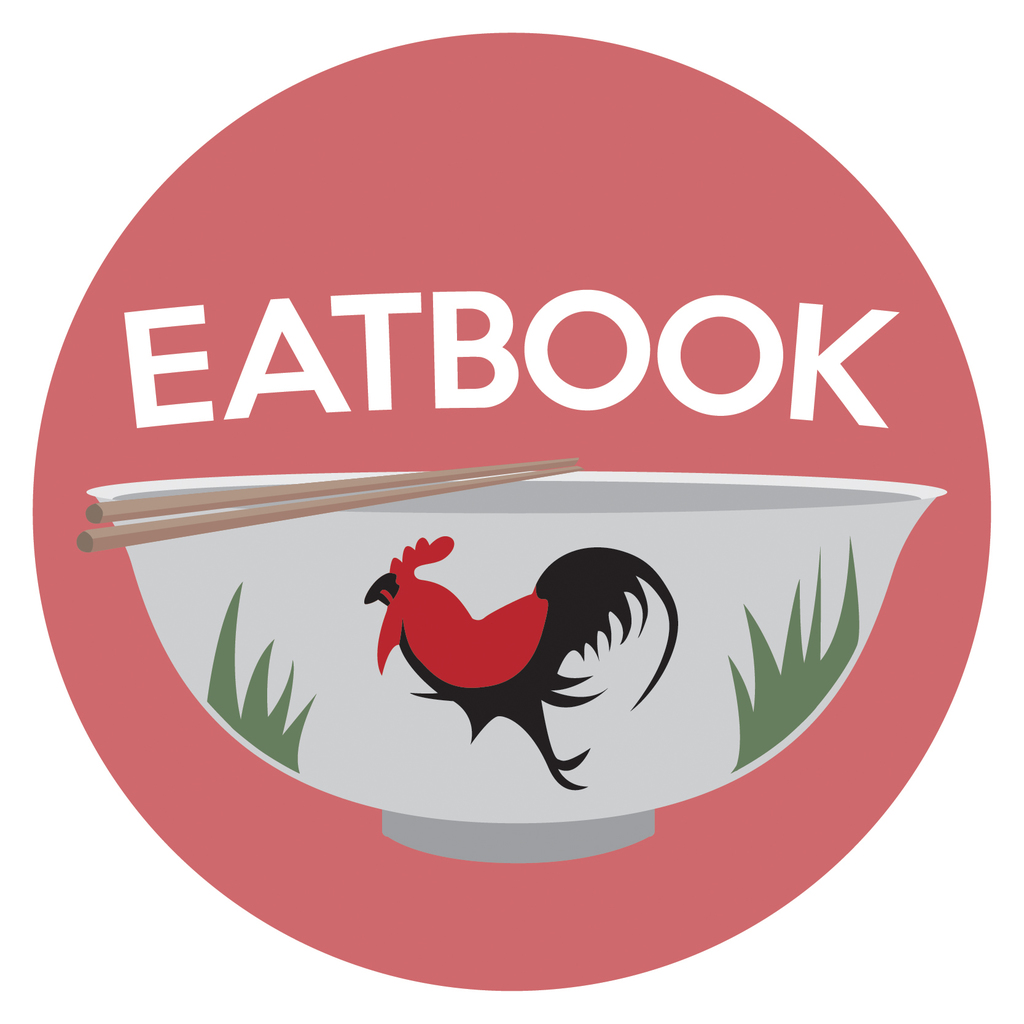 Drop us your email so you won't miss the latest news.